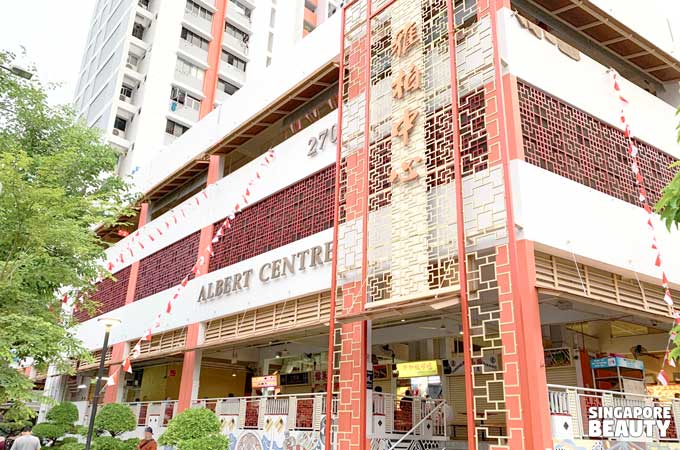 Albert Centre Food Centre is located at the Bugis and Rochor area which is known for shopping, worship and hungry belly with lots of good food to eat. With so many sales ongoing, there is a good percentage that you will end up at Bugis Junction for retail bargains that goes as low as 50% off. Whether you are there for the ultimate shopping experience or for worship at many of the institutions such as Kwan Im Thong Hood Cho Temple, Sri Krishnan Temple or St Joseph's Church, a meal at the Albert Centre hawker is a must. Not only will you find the best variety of local Singaporean favourite street aka hawker food, you can also get them at pocket friendly cheap prices.
What to eat at Albert Centre Market and Food Centre Hawker
1. Li Fang Congee (丽芳粥品) Li fang Zhou Pin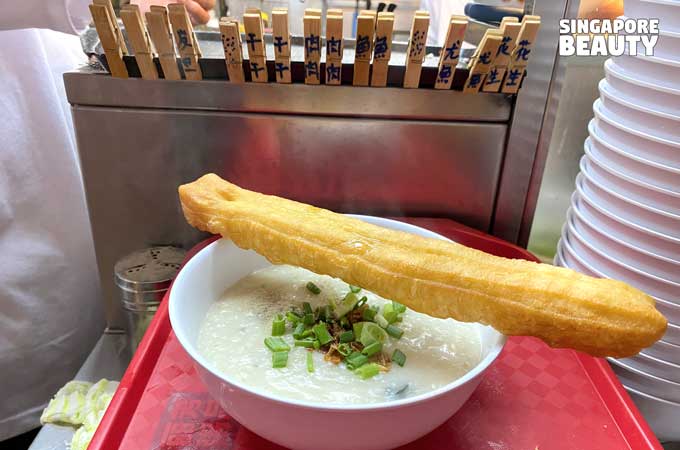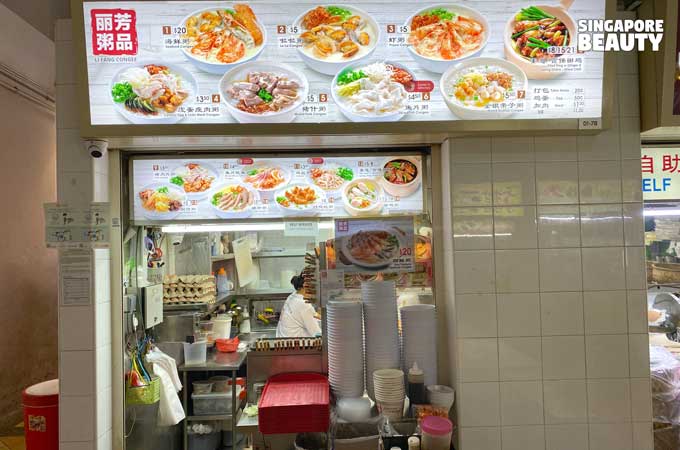 Li fang Congee specialises in Chinese "Jook" that is a great pick for any rainy day. They serve congee with seafood such as lala, prawns, fish, scallops, cuttlefish, with century egg lean meat and congee in boat style with pork offal such as liver and intestines. A simple basic set of century egg lean meat congee that comes with a fried dough stick will set you back by $3.50. The congee has a strong umami flavour and the thick viscosity of the congee will make you thirst for more.
Operating hours: 7am till 9pm
Unit no of Li Fang Congee (丽芳粥品) Li fang Zhou Pin: #01-78
2. Good Taste Zhu Chao (美味小炒) Mei Wei Xiao Chao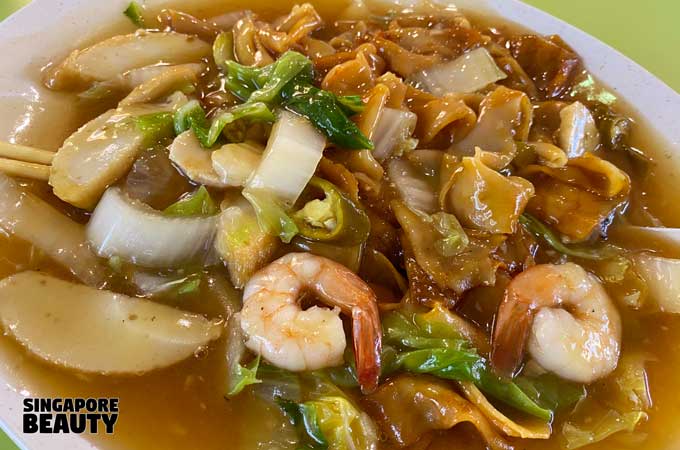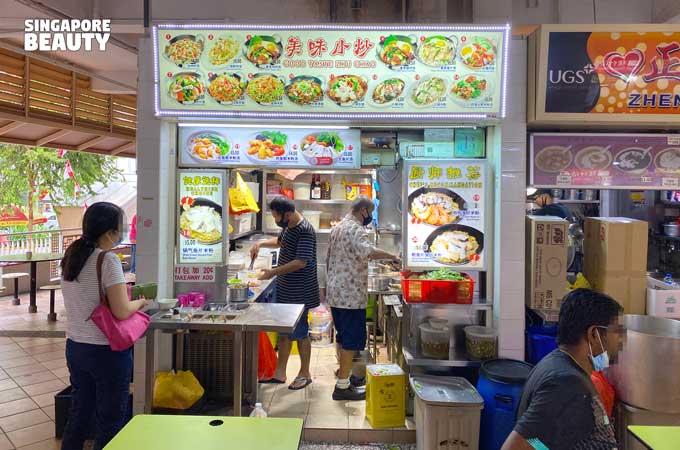 Good Taste Zhu Chao is an underrated zichar stall that has fallen through the radar of many food bloggers. Serving over 20 types of noodles and rice dishes in single portion starting from $4.50 each. The zichar dishes here are full of wok hei aka the breathe of the wok. The signature of the hor fun dishes is the luxurious amount of smooth gooey dark gravy that is drizzled over the lightly smoked hor fun. The angry hissing wok with red hot flame licking the wok before the chef starts frying the hor fun says a lot about how delicious the hor fun is. Must try when you are in the mood for some Singapore style zi char seafood Hor fun.
Operating hours: 11.30 am till 9.45pm ( or when sold out)
Unit no of Good Taste Zhu Chao ( 美味小炒) Mei wei xiao chao : #01-63
3. Bai Nian Niang Dou Foo (百年酿豆腐)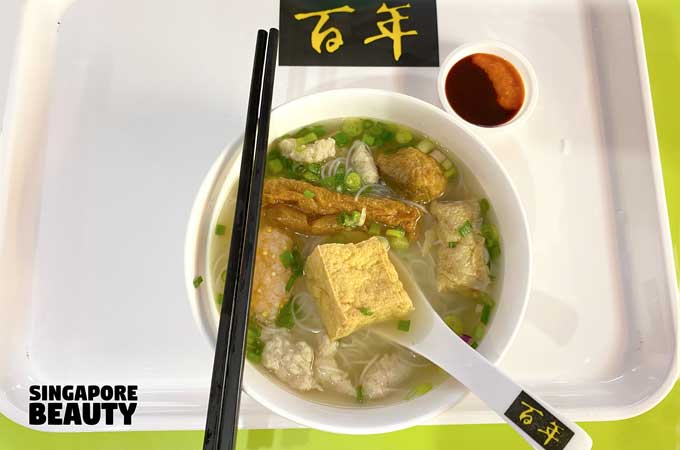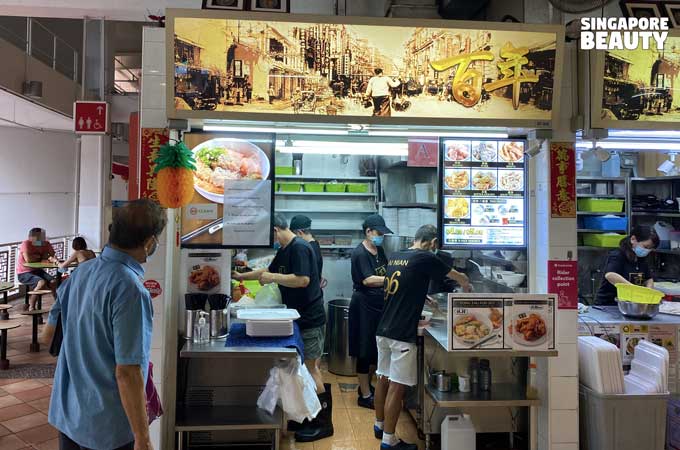 Bai Nian Niang Dou Foo is a chain hawker stall selling Yong Tau Foo YTF from $4.90 each bowl. Each bowl consists of only one type of carbs (bee hoon) and 7 pieces of YTF. If you need more beehoon, please inform them before ordering as add on bee hoon is free of charge.
The items in the bowl are a wedge of fried golden beancurd, meat tender, a bitter gourd with meat paste, pork sticks, prawn paste with roe, deep fried black and white meat rolls in bean curd skin. The prawn paste is my favourite of the lot as it has a unique bouncy texture to it with the shrimp flavour. The soupy bowl of YTF is also void of any added MSG as they mentioned that the soup is made by boiling soya beans and anchovies.
Operating hours: 9 am till 8pm
Unit no of Bai Nian Niang Dou Foo (百年酿豆腐) : #01-106
4. Singapore Famous Rojak (新加坡啰㘃)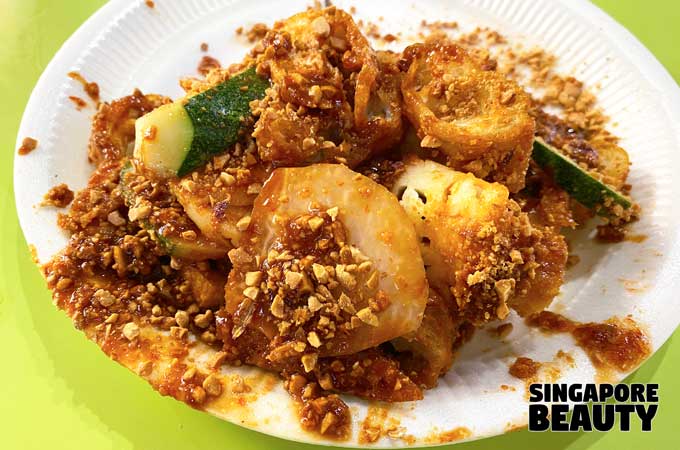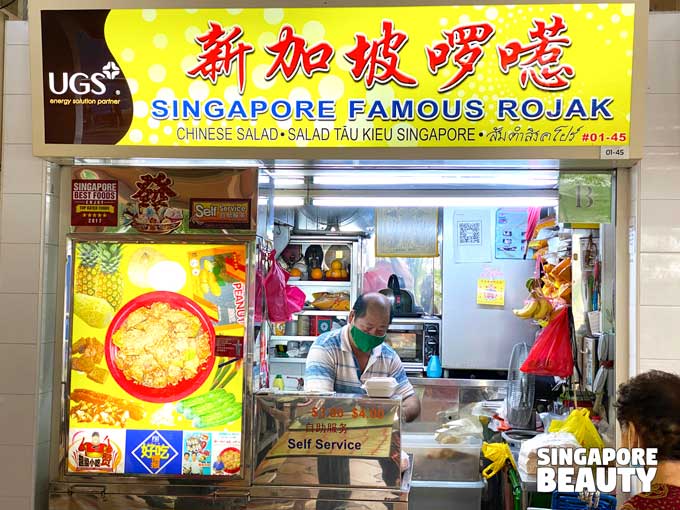 Singapore Famous Rojak with recommendation from Michelin Guide in 2018 and 2019 sells affordable Chinese style rojak starting from $3. The rojak has a good variety of ingredients such as sprouts, fried dough sticks, cucumber, bean curd pockets, pineapple and jicama.These are then mixed with a secret gooey thick sweet sauce and topped with a generous amount of crushed toasted peanuts.
Operating hours: 12 pm till 8.30pm Daily
Unit no of (新加坡啰㘃) Singapore Famous Rojak : #01-45
Fu Cheng Shi Pin 富城食品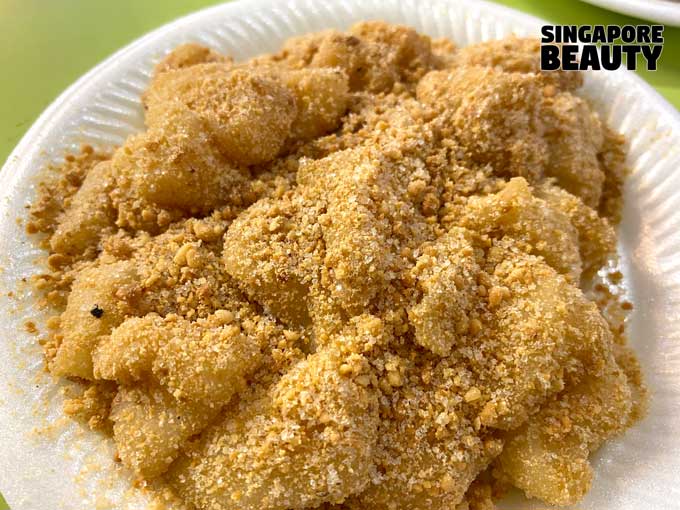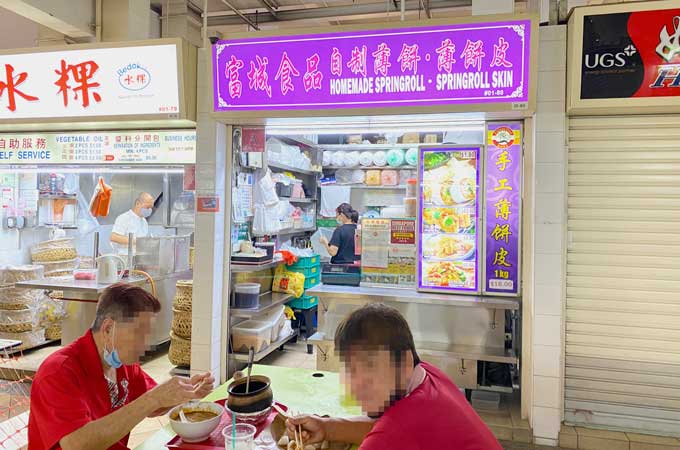 Fu Cheng Shi Pin 富城食品 is a chain hawker stall selling handmade popiah, kueh pie ti, muah chee and fruit rojak. The signature of this stall is likely to be the handmade popiah but I gravitate towards the muah chee after trying both. The muah chee is served slightly warm and scissor cut into bite size pieces. The chewy and elastic soft texture is commendable with a generous amount of nutty flavour from the crushed ground nuts and sugar topping. Great snack for the sweet toothed diners after the main meal.
Operating hours: 8 am till 8pm Daily
Unit no of 富城食品: #01-80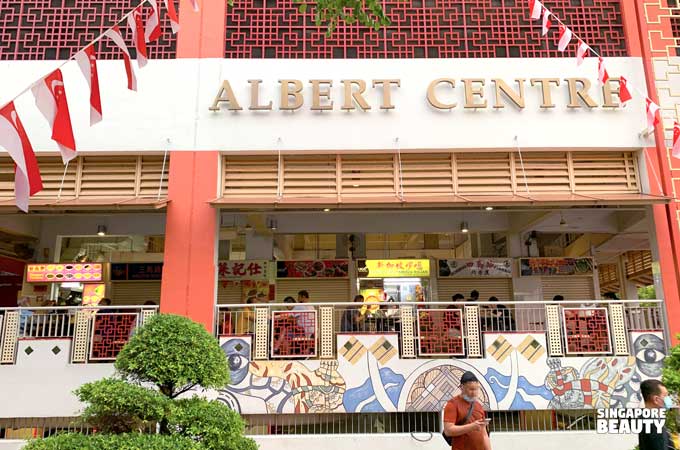 Do hope over to Albert Hawker Food Centre after you are done with your shopping or worshipping in the area. There are a good variety of hawker foods to choose from. Lately the Bugis Rochor area has seen the mushrooming of many new eateries as the shopping belt develops. This place is one of the perfect local food spot to go that is very accessible by MRT and other means of transport. It is also near to bargain hunting shopping areas like Bugis street, Village, Plus and Junction too. See you there.
Albert Centre Market and Food Centre
Address : 270 Queen Street, Singapore 180270
Nearest MRT station : Bugis (EW12/DT14)