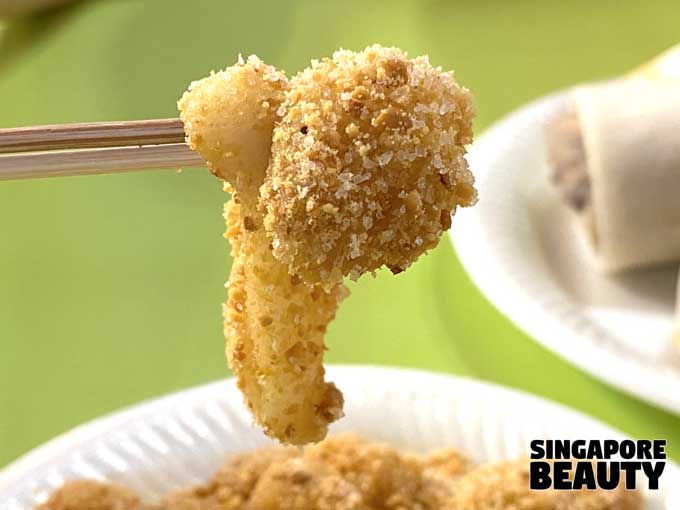 Fu Cheng Shi Pin (富城食品) Fortune Food Popiah (Homemade springroll, spring roll skin) is a hawker stall at Albert centre selling popiah, kueh pie ti, muah chee and fruit rojak.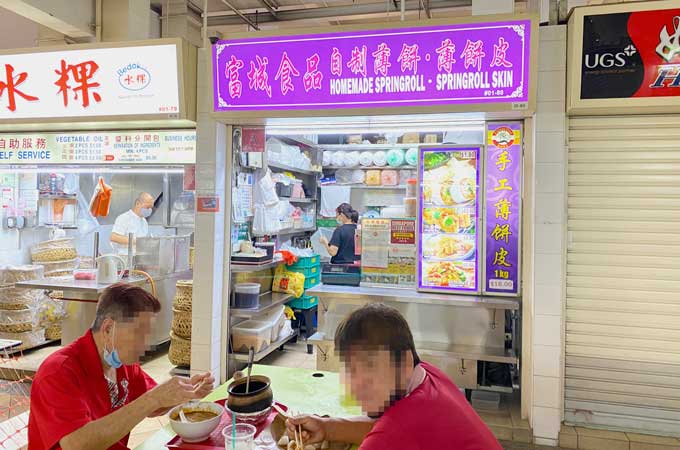 The selling point of this popiah stall is the handmade popiah skin. Popiah is typically the healthier version of a spring roll. The popiah skin is made by rubbing a ball of soft dough over a heated plate and creating a thin layer of crepe-like skin through cooking. This skin is used to wrap the ingredients of a popiah. The ingredients used are generally grated jicama(sweet radish or bangkuang), chopped hard boiled egg, beansprouts, grated carrots, lettuce, fried tofu cubes, Chinese sausage, dried shrimps and even fried pork lard.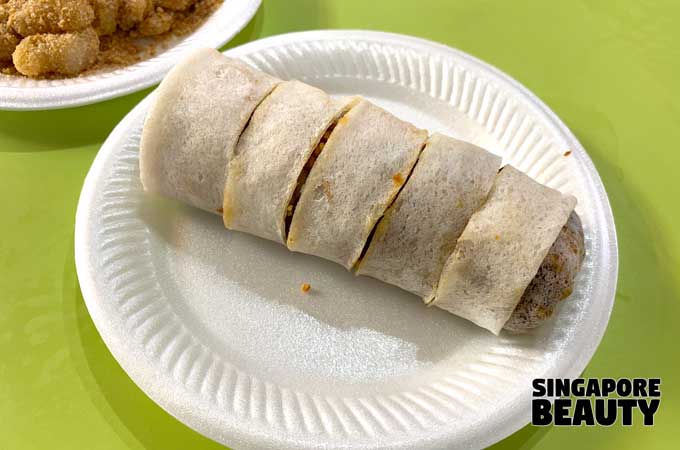 The ingredients used in Fortune popiah are grated jicama from a stew. This is how the popiah is done: on a popiah skin, slather on some dark sweet sauce, sprinkle some crushed sugared peanuts, shredded cucumber, grated jicama from a stew, a spoonful of fried dough bites for crunch, some beansprouts and chilli paste. Gather the sides of the skin and roll it the way you would to a burrito. Cut the popiah into bite size chunks and serve.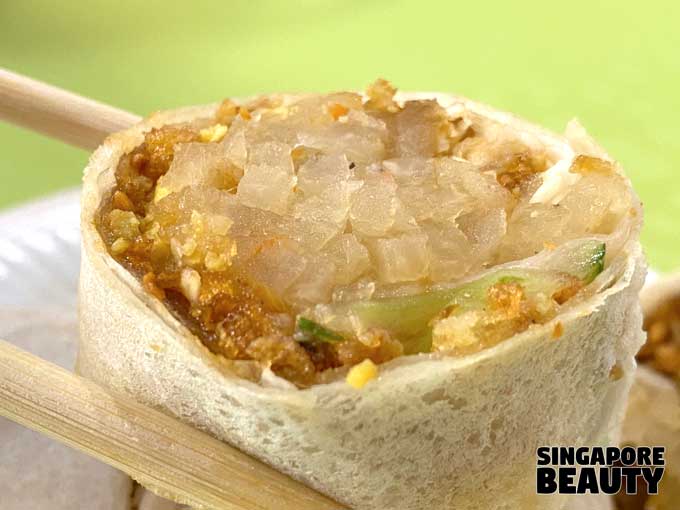 The skin of the popiah is extremely delicate and soft. The stew grated jicama is soft and moist with a weak munch. The crunch from the fried dough a bit is very pronounced in each bite and is overall a sweet juicy bite. Do ask for more chilli if you love your popiah with a kick. Although popiah is the forte of this stall, our preference is their muah chee.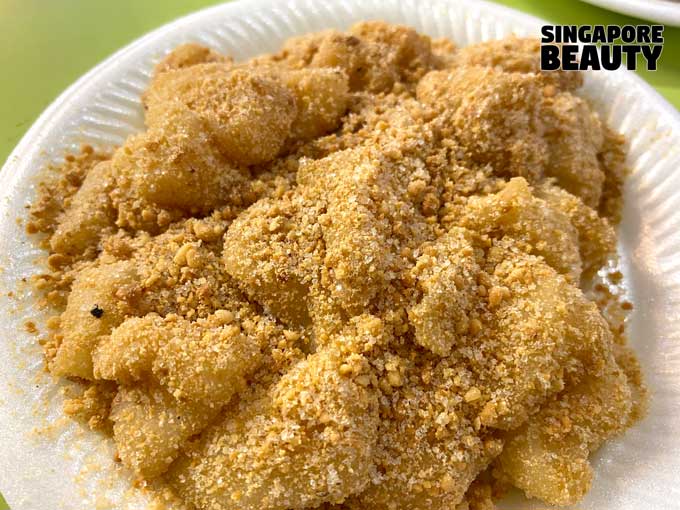 Muah chee is like mochi but in a more traditional Chinese style. The Muah chee is made by steaming a mixture of glutinous rice flour, tapioca flour, water and oil. The cooked mixture will yield a soft sticky white cake. Using a tong and scissor, cut strip of these into 2cm by 1 cm chunks and coat them with sugar-peanut powder.
These muah chee bites are soft and chewy. The muah chee are slightly warm to the bite with burst of nutty flavour and sweet crunch from the fine sugar granules. The muah chee does not stick to the teeth and are slightly moist. Can try the muah chee at Fu Cheng Shi Pin if you are craving for a sweet snack.
Operating hours: 8 am till 8pm Daily
Location:
Albert Hawker Centre and Market
Fu Cheng Shi Pin 富城食品
270 Queen Street, #01-80, Singapore 180270
Number to call: 6243 2118