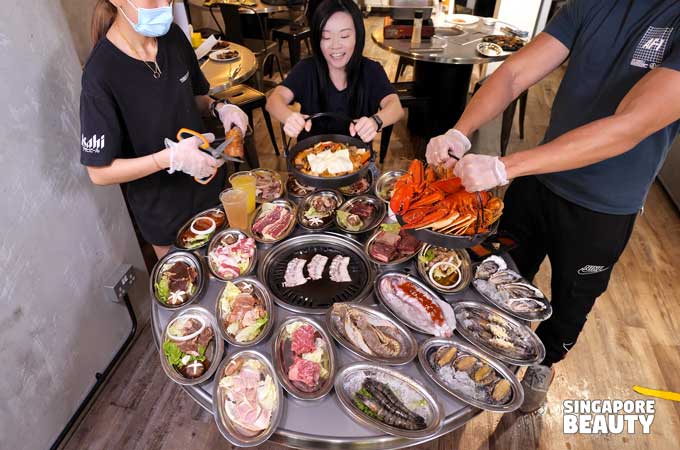 91 Korean BBQ Buffet has added a new seafood buffet into their popular meat buffet menu. There are 4 buffets to choose from – the Premium, Luxury, Ultra 1 and 2. The premium set is for the meat lovers on a budget with marinated chicken, different cuts of pork and beef. The luxury menu are for meat lovers who loves exquisite cuts of beef with marbling, black pork and an amazing spread of seafood. The ultra combo buffet are for those who wants the best of everything, meat, seafood and the Kings of seafood such as Boston Lobsters and snow crabs. The buffet also include Korean fried chicken, Korean style cuisine, sushi and unlimited soft drinks.
91 Korean BBQ Seafood Buffet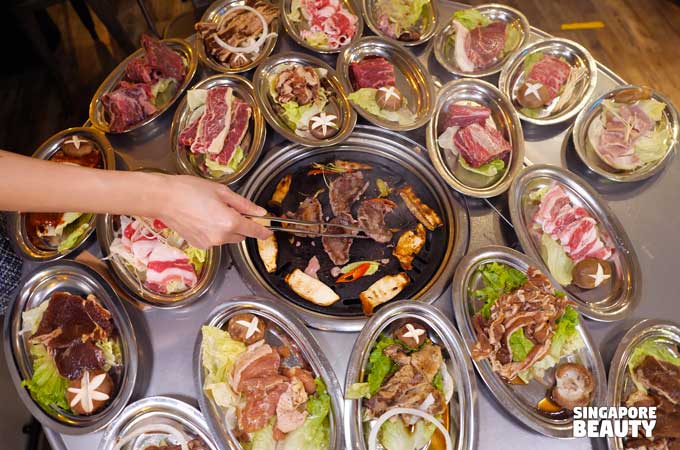 Their most basic is the Premium package. For the Premium buffet ($29.90+), they are offering 22 types of marinated meats and cuts. There are Korean spicy, bulgogi, teriyaki, honey soy garlic for chicken and pork meat lovers. Spicy, pork collar, belly and jowl is also included for those who love some cartilage like elasticity in their cuts of pork. Seafood is not included in the Premium package.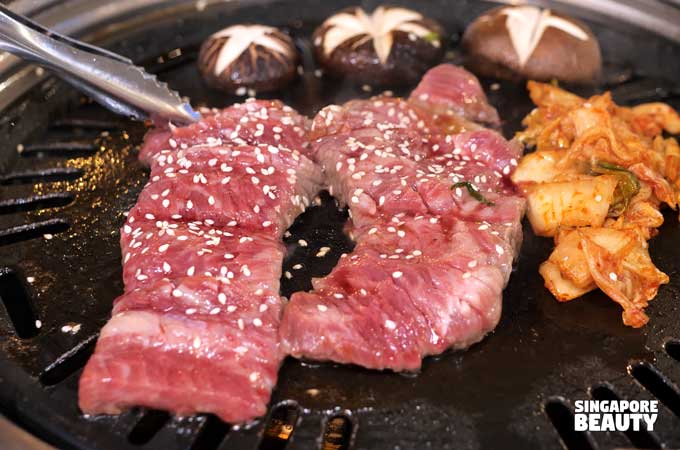 They also devoted 11 out of the 22 types to beef. Great news for those who are big on the red meat. spicy bulgogi short plate, in minced garlic marinade, Angus, ribeye steak, galbi, flat iron and marinated finger ribs, just to name a few. It will be an unforgettable meat barbecue experience with so much meat on the table.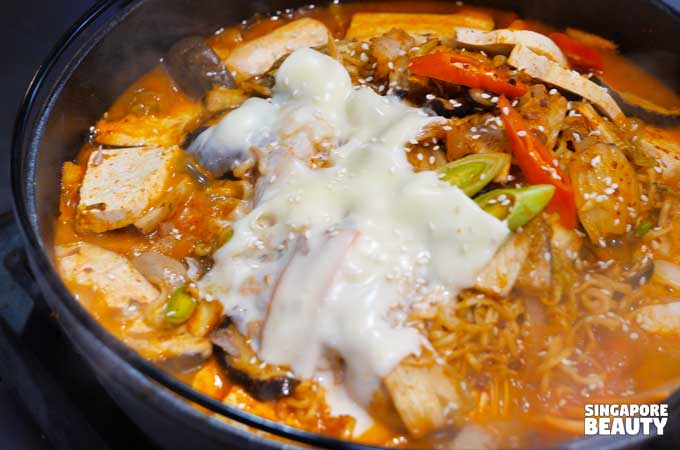 By the way, sides such as kimchi stew, Korean soft tofu, cold noodles and assorted maki are also part of the premium set buffet. You can enjoy these while waiting for the meat to grill on the hot pan, which at the same time helps to cut the grease if any.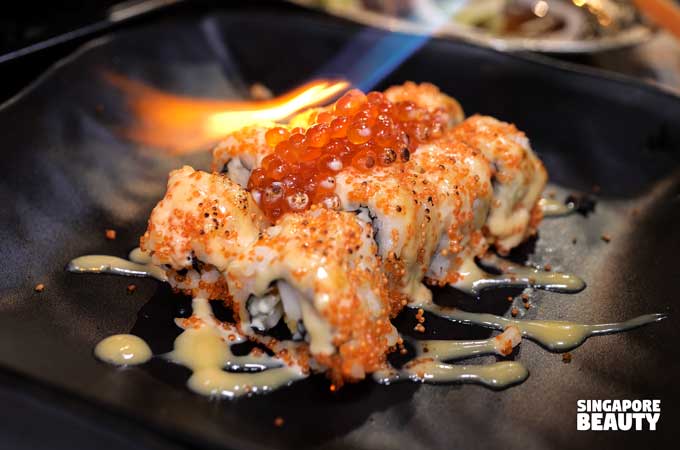 There are a few carb choices included in the premium buffet such as kimchi fried rice, stir fried glass noodle, pancakes, spicy noodle, cold noodles, assorted makis and white rice for those who like it neat.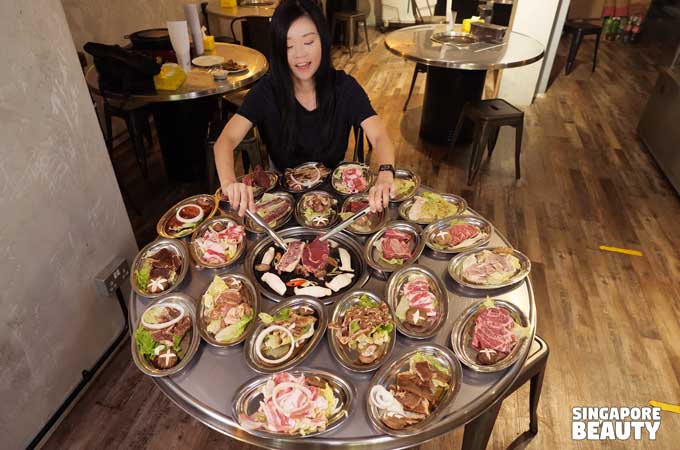 The Luxury buffet ($39.90+) comes with prized cuts of Wagyu cubes, black pork, a splendid spread of seafood and all you can eat from the Premium menu as well. The luxury meat menu extends with 12 more selections from the menu of the premium, this time with more exotic cuts. Expect ribeye steak, Angus boneless short ribs, galbi gui, brisket, tongue, Wagyu cubes, skirts, oyster blade and the Wagyu of pork – The black pork belly and collar.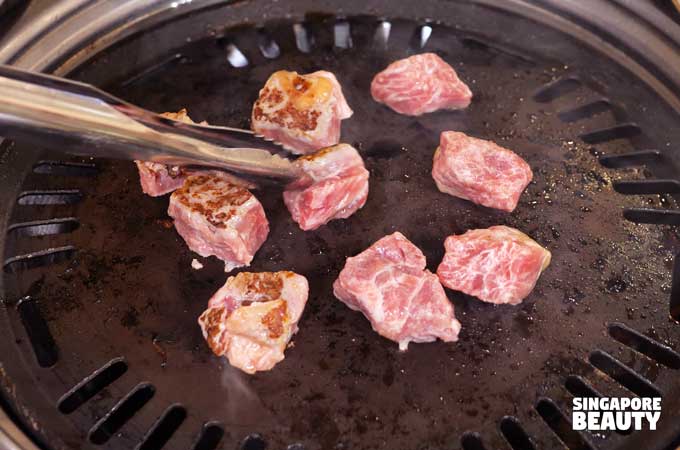 Enjoy unlimited marbled cubes of fatty Wagyu cubes. The delightful morsel of premium beef is not seasoned so that you can enjoy the au naturel flavours of the Wagyu. Grill the cubes on all face to seal in the juicy proteins known as myoglobin.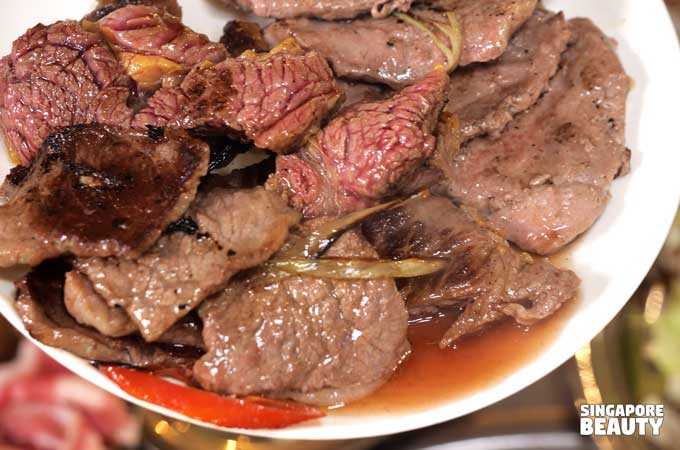 Check out the savoury juices from these premium cuts of beef. The dark juices come from the beef cuts after grilling. These cuts of meat are different from the premium set as they contains more melty marblings and "juicier" too. The meat is definitely tenderer to the bite.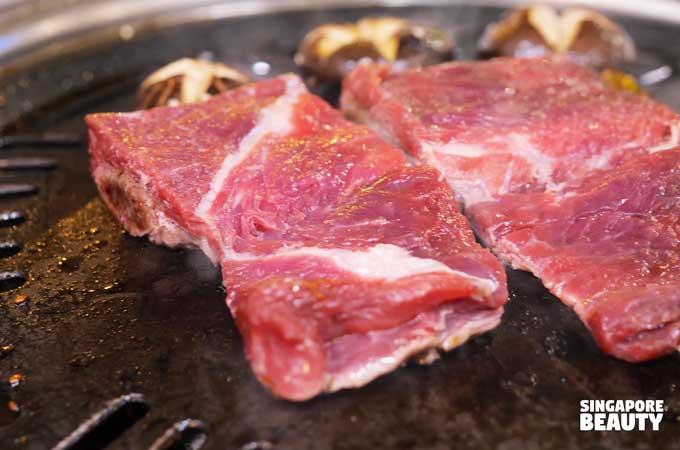 These are big bone beef ribs or short ribs. These ribs take some time and skill to cook in order to achieve the fall of the bone type of texture.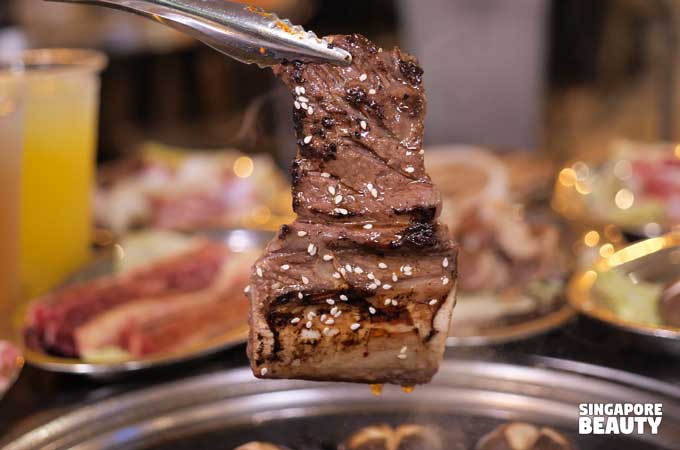 These big ribs are the cuts where the muscles are most used so it is great for prolong low heat cooking on the grill best covered with a sheet of foil. The marinated big bone ribs will be a good bet to slow grill towards the end of the buffet when you are chilling out.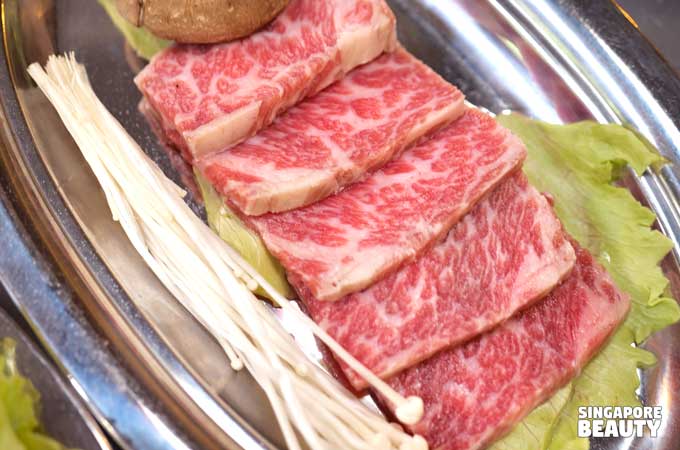 Check out these marbling on the boneless short ribs. The marbling is so intricately distributed across each slice almost like art on a canvas.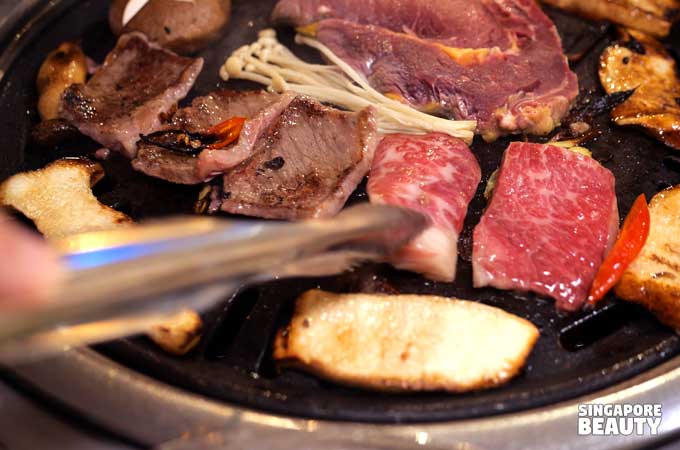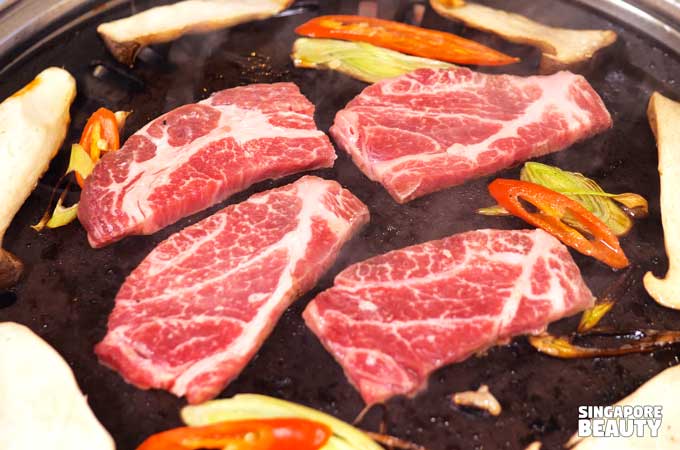 Black pork is also another meat choice that you can try on the luxury menu. Held together by lace of pearly muscles, these cuts are extremely tender and juicy.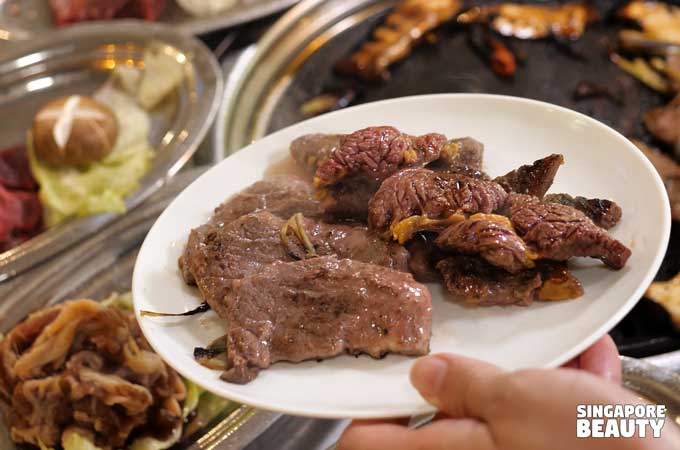 The cooked meat has a nutty and umami flavour to it. The chewy texture is delightful and addictive. The detestable porky flavour is almost non-existence in black pork. This is the Wagyu of pork, check out the glistening gem on the left of this plate, right of it is Wagyu beef.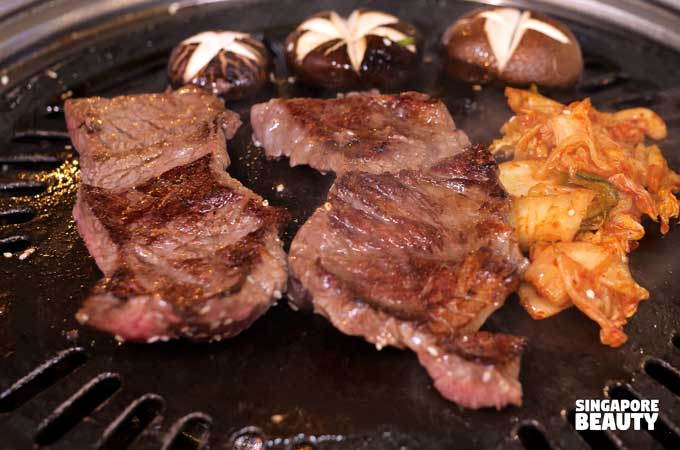 The Galbi gui is also on the list of must try if you are a fan of premium beef cuts. I love my galbi gui with some stir fry kimchi at the side.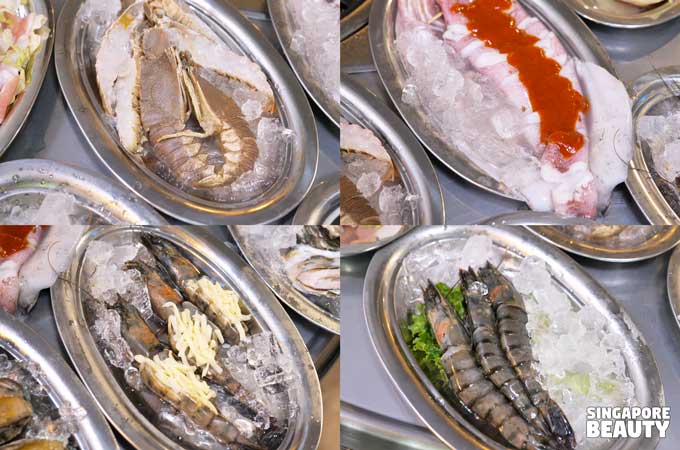 The luxury menu also includes seafood such as tiger prawns, white clams, whole squids the size of your hand, half shell scallop, NZ mussels, bamboo clams, crawfish, scampi, special seafood in foil trays with in-house marinade, cold platter prawns and LIVE OYSTERS!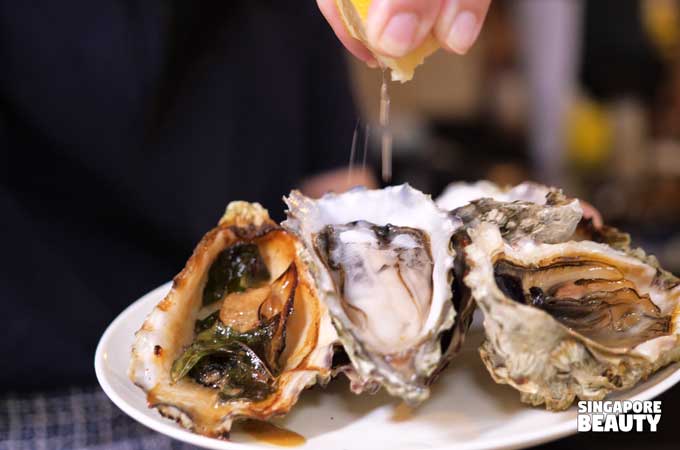 Live oysters can be eaten with a zest of lemon juice or you can request them grilled from the kitchen with spicy sauce, garlic butter, herbs or miso. I prefer them soft and slippery right off the shells with a zing from the lemon juice.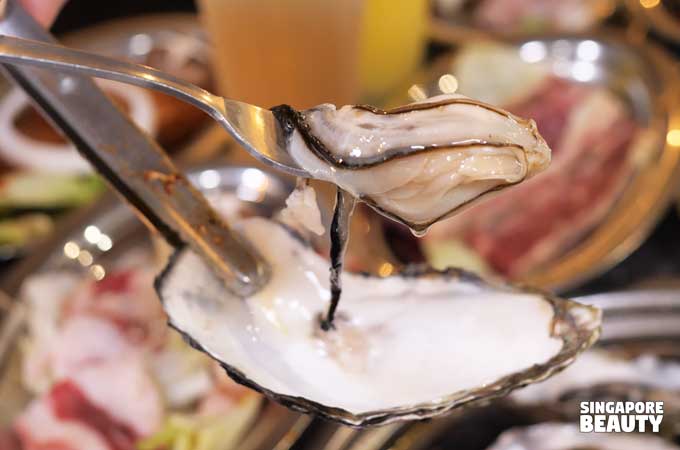 Even though the live oyster is as fresh as they can get, there is a limit of how much raw food our stomach can handle. As with all raw food, control is the key to properly enjoy this buffet, also save some room for other seafood in the menu too.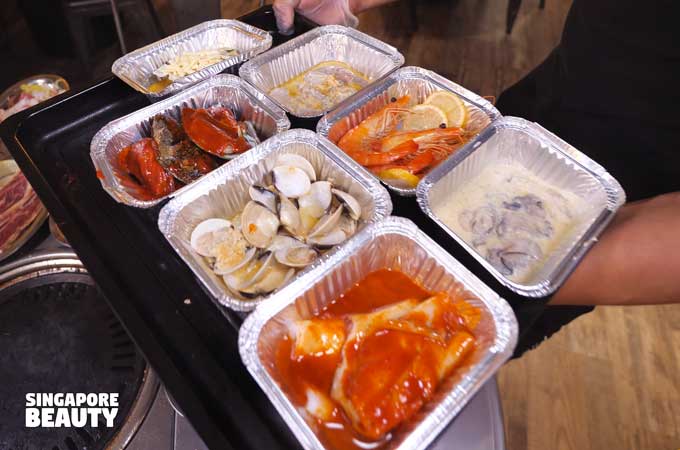 These are the special table service items – seafood in trays. They have scallops in Korean spicy sauce, whole squid in belacan garlic, mussels in Korean spicy, garlic clams, dory in black pepper, oyster meat in garlic lime and others. These are meant to be grilled with the sauce in foil trays over the bbq pan.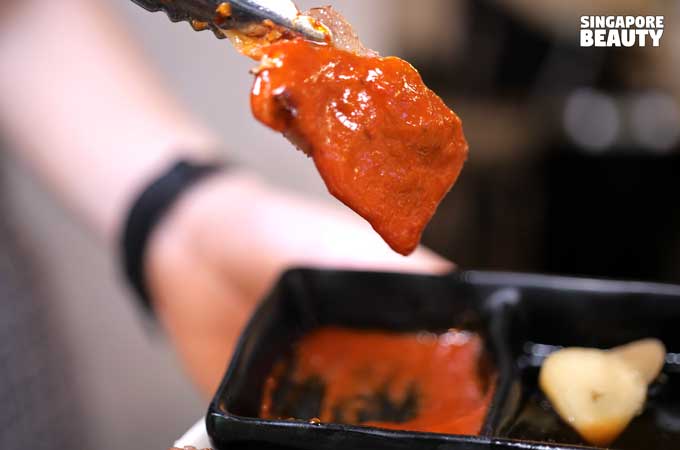 They have 3 homemade secret recipe dips – Korean Gochichang, Ponzu and local flavourite belacan if you need additional dimension to your meat.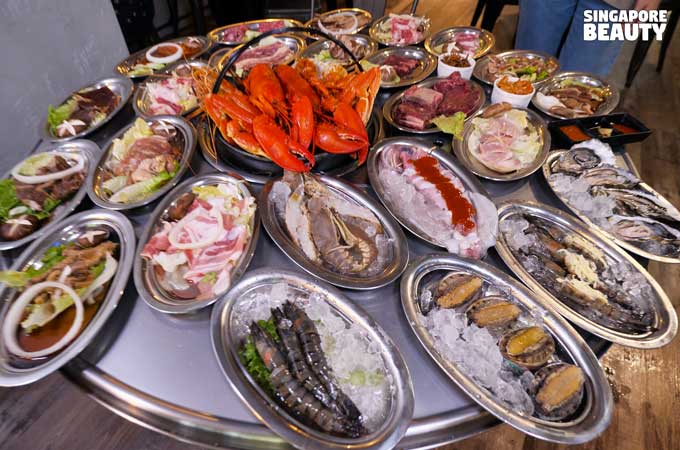 For the Ultra lobster stew 1 (add $10) and Ultra snow crab stew 2 (add $15) buffet, you get access to all the items in premium and luxury menu buffet. The ultra stew 1 comes with half a Boston lobster and 1 piece of shelled abalone per pax.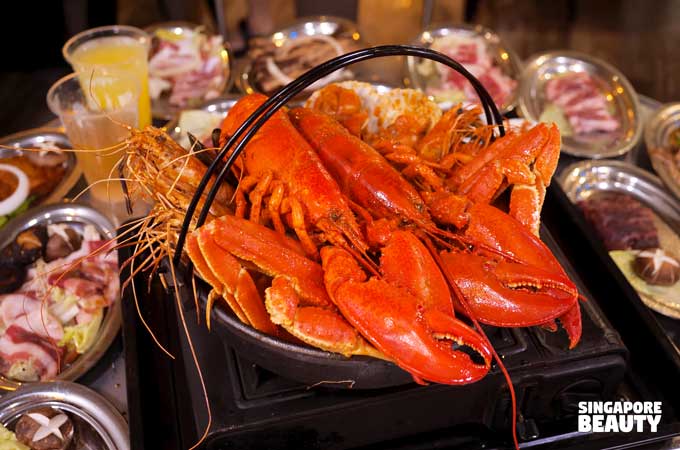 For instance, if there are four pax in the buffet upgrading to the ultra package, depending on which package, you will get something like the seafood stew (only served once) with the lobster or snow crab legs pictured above. The stew comes with some Thai river prawns, scallops, clams, mussels and sweet prawns. The Ultra lobster stew 1 entitles each pax to half a Boston lobster.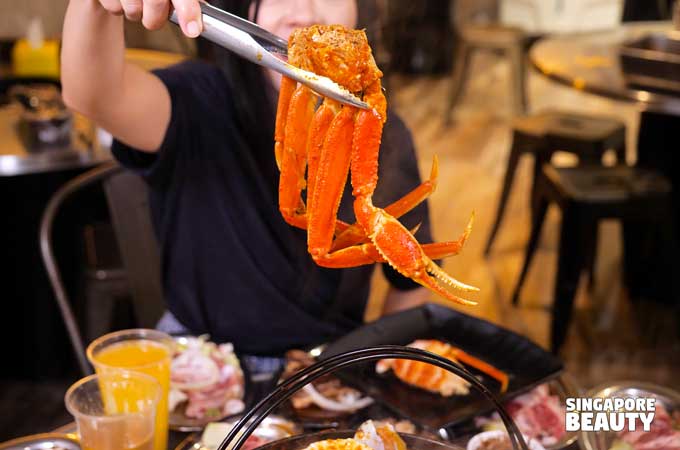 Here's the cluster of snow crab legs if you upgrade to the Ultra stew 2 buffet.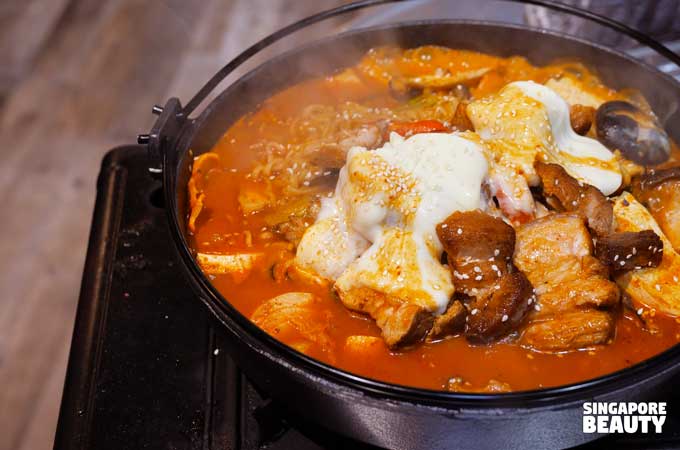 You have an option to add on roasted pork belly and instant noodle to complete your stew that is in the Ultra package.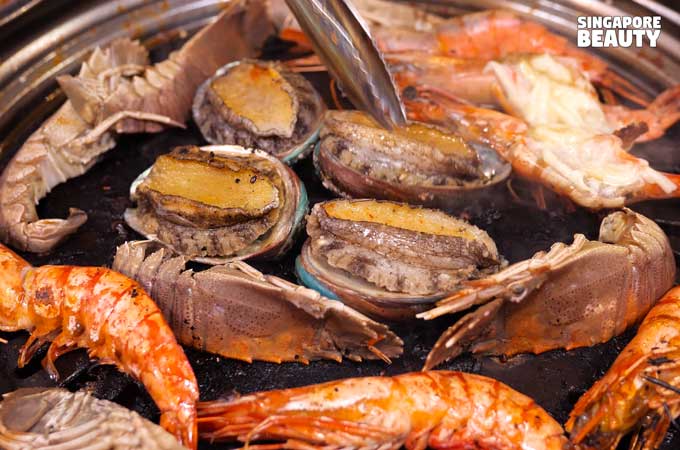 Remember to get your complimentary abalone in half shell (per pax) too if you order the Ultra stew 1 or 2. One each! Our word of caution while grilling the abalone: beware of "popping abalone" when you grill them. The gas may build up between the shell and the abalone meat and cause the abalone to "catapult" off the grill or do a "back flip" on the grill.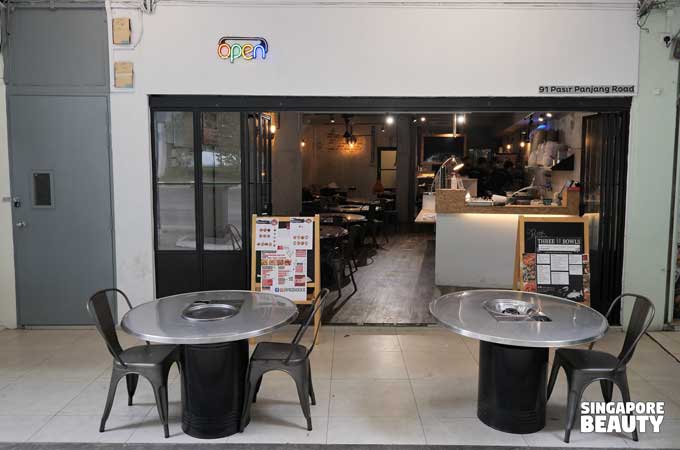 We had experienced both during our grilling so here's a heads up for all the abalone fans out there. This "popping" experience can be eye opening for some and while others may frown upon it. When it is done cooking, just take it with a pinch of salt and enjoy the Barbecue experience.
Menu: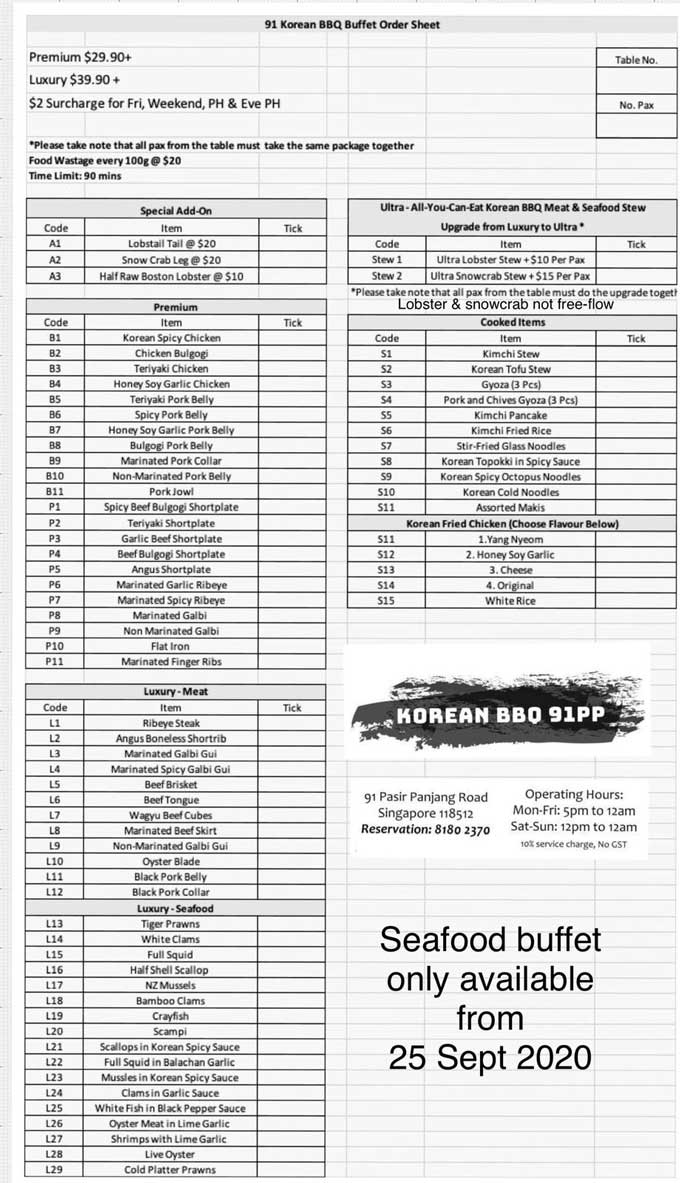 Location:
91 Pasir Panjang Road Singapore 118512
(6mins walk from MRT Station Pasir Panjang Exit A)
Dine in time: 90 Minutes
4 buffet pricing:
Premium (meat only, no seafood) $29.90+
Luxury $39.90+
Ultra lobster stew 1 $49.90+
Ultra snow crab stew 2 $54.90+ .
$2 surcharge Friday, Weekend, PH, Eve
10% service charge, No GST.
Ultra 1 – (each pax get half a boston lobster )
Ultra 2 – (each pax get 1 cluster of snow crab legs each)
For ultra 1 or 2, each pax is entitled to a half shell abalone.
Seafood stew only order once
Opening Hours:
Mon-Fri: 5pm to 12am
Sat-Sun: 12pm to 12am
Reservation: 81802370