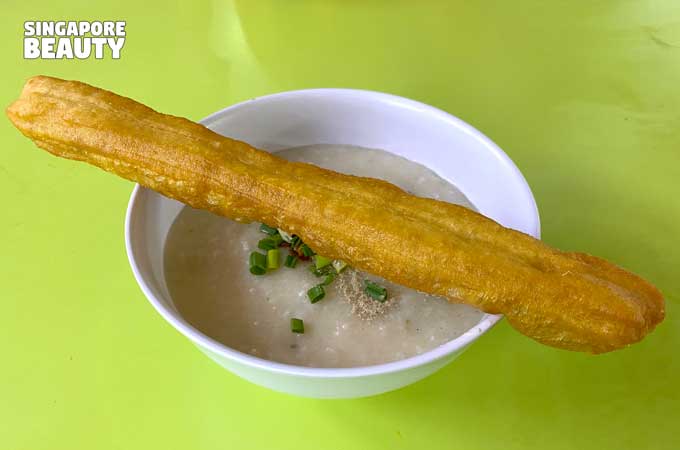 Li fang Congee is a stall in Albert Hawker centre specialised in selling 17 types of congee. Their signature plating is a bowl of hot piping congee straddled across with a single piece of fried dough stick. This long and slender stick is also known as the sexy leg.
Li fang Congee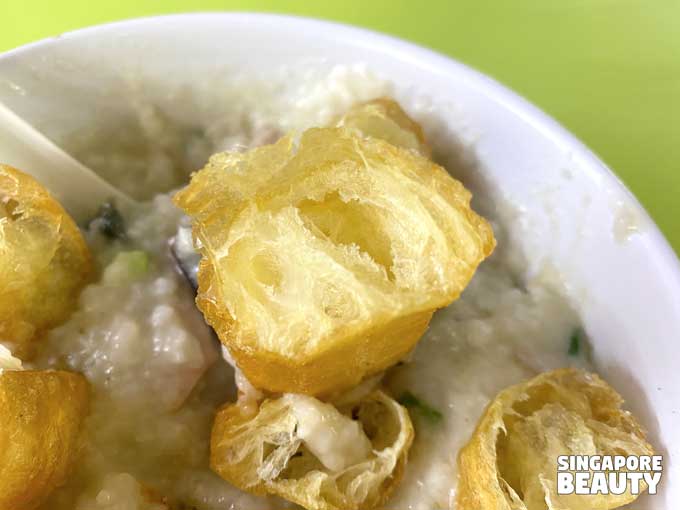 The fried dough sticks are light in flavour. Crispy on the outside, fluffy and pillowy inside. The cruller is well developed with delightful layers of flaky interiors. Judging from the light golden coat, it is the tell tale signs of well controlled temperature and the clean oil used to fry it. The trick to removing the excess oil from the Chinese fried dough, is to remove it from the fryer after turning on the heat to expel the excess grease.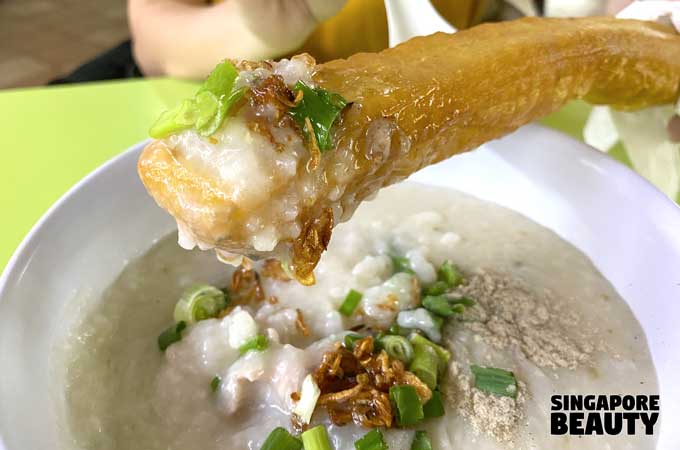 This is like a churro with the congee as a dip. Get your hands dirty and enjoy this by dipping it into the congee. The dough stick after dipping takes on an umami flavour with some chewy texture. The ridges of the fried dough held on to grains of congee, spring onion and fried shallots rendering it extra green crunch and oomph from the aromatic shallot oil.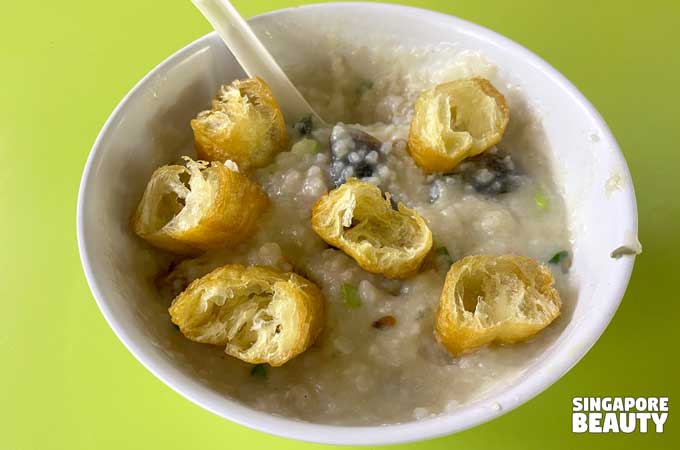 The dough is firm enough to hold but soft enough to tear without much effort with your teeth. The texture of the fried stick is croissant-like with layers of laminated leavened dough.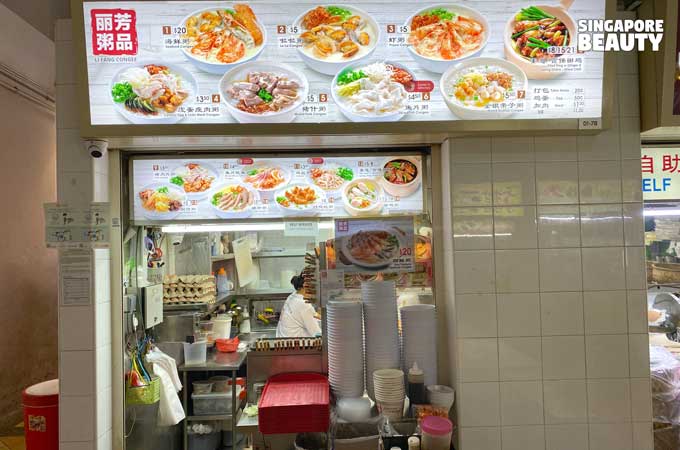 There are 9 Li fang Congee outlets island wide and we tried the one at Albert hawker centre. We ordered the century egg & lean meat congee $3.50 that comes with a Chinese fried dough stick. For those who love a silky kind of congee, you can add on an egg for 50 cents. Li fang Congee menu items are as follow – seafood, lala, prawn, century egg & lean meat, mixed pork, sliced fish, mixed scallop, fried frog with ginger & spring onion, pork, sliced fish with cuttle fish, chicken, pig liver with ginger & spring onion/dried chilli, congee in boat style, pig's liver, popcorn chicken, frog and four treasure seafood congee.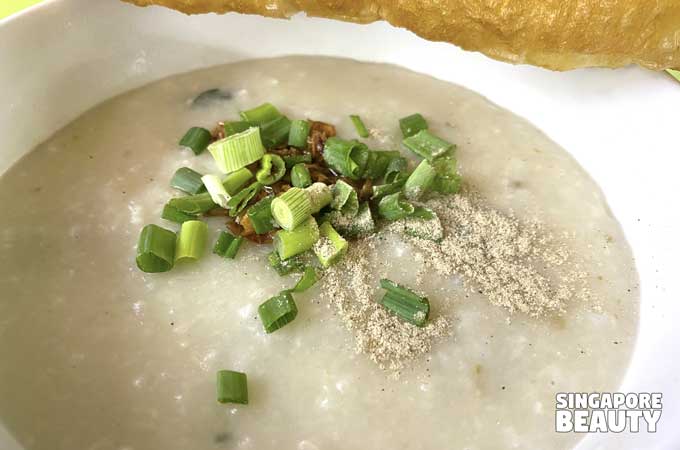 Century egg & lean meat congee is topped with chopped green onions, fried shallot with oil and a good dash of white pepper. The seemingly unassuming bowl of plain looking congee packs lots of flavours within.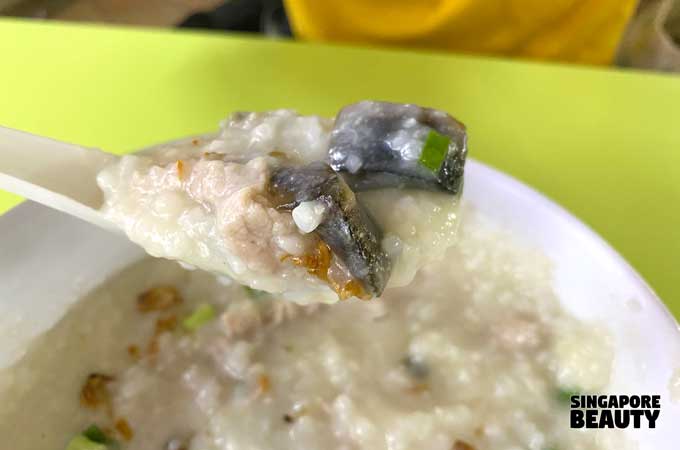 The mention of century egg might bring joy to some and repel others. Century egg is believed by some to be soaked with horse urine and a thousand years old. This myth is blasted by the firm supports of century egg lovers.
Century egg is actually made with lye and a layer of mulch to cover it while it cures. The mulch is actually made up of clay, lime, salt, ash and rice husk to prevent them from sticking to one another. The century egg is duck eggs that is cured and eaten right after peeling, no cooking is needed. The better ones are those with deep copper colour gelatine like egg "white" and a dark green-grey yolk. Some of these century egg will have a pretty snow flake pattern on the jello egg "white" due to the crystallisation of various salts during curing.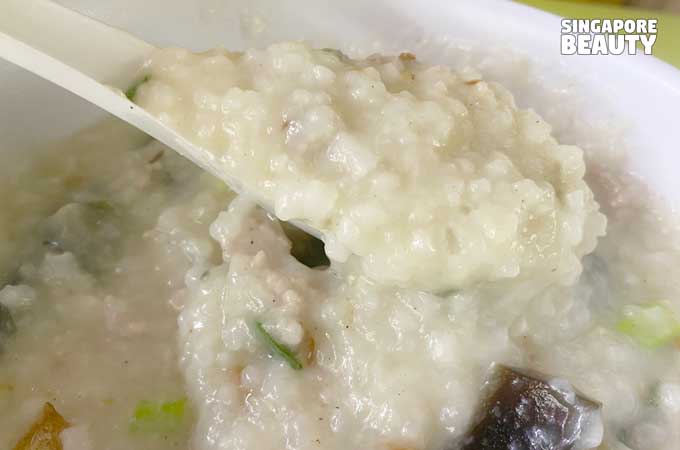 The use of century egg in this congee creates a buttery and rich texture to it. The yolk of the century egg is soft and melty. The century egg yolk imparts a smooth texture to the congee. These eggs are specially chosen using the "tang xin" 糖心 types has a molten like yolk that is intense in flavour. There is a lingering ammonia & sulphur after tone that is so sought after by those who love it. For those wondering what ammonia smell like, it smells like the rebonding cream used on your hair but intensity of this century egg is only a fraction of it.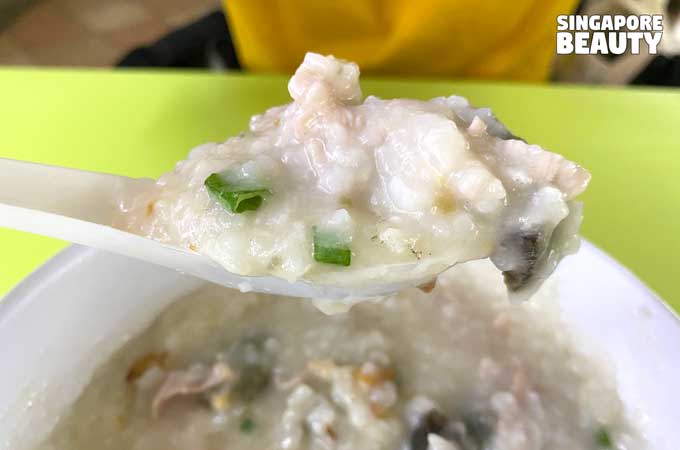 The lean meat is well marinated and tender. The meat looks like it has been tenderised with the back of a chopper before cooking to break down the fibrous texture of a lean piece of pork.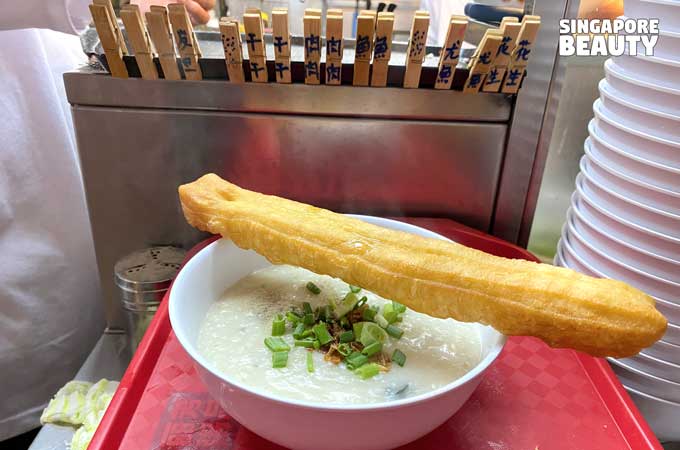 Overall it is a satisfying bowl of Chinese "jook" with great consistency in the viscosity of the congee. The rice grains are prominent broken bits that are fluffed up after the long hours of simmering. The congee has an umami flavour and will leave you thirsty for more. This is definitely the comfort food on a cold rainy day you will get at this hawker stall.
Operating hours:
7am till 9pm
Location:
Albert Hawker Centre and Market
Li Fang Congee (丽芳粥品) Li fang Zhou Pin
270 Queen St, #01-78, Singapore 180270
Contact number: 96348383