Bucketta is popular for its seafood bucket buffet with sides, drinks and booze included. This is their latest buffet promotion with all you can eat sides, Thai red milk tea and free beer buffet all included for $49.90++ per head. To make it better, they have this buffet made available daily for both weekends and weekdays. New menu and price update: https://singaporebeauty.com/bucketta-seafood-bucket-buffet/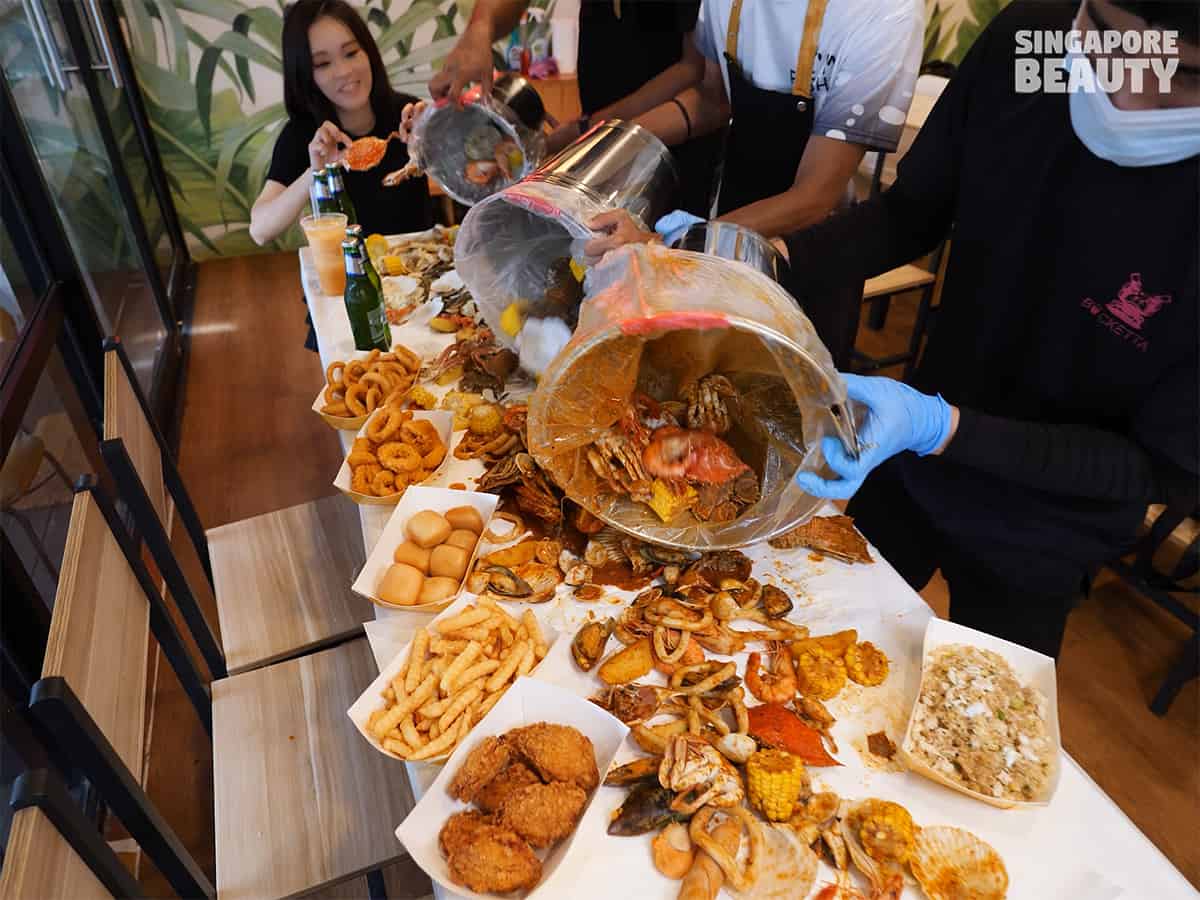 Enjoy this Bucketta buffet with a minimum of 2 people. If you are looking for seafood at Turf City, you can try this Bucketta seafood buffet located at level 1, first restaurant on the right at the food street there. The seafood are served in a bucket and then laid on the table with grease paper for you to share among your love ones.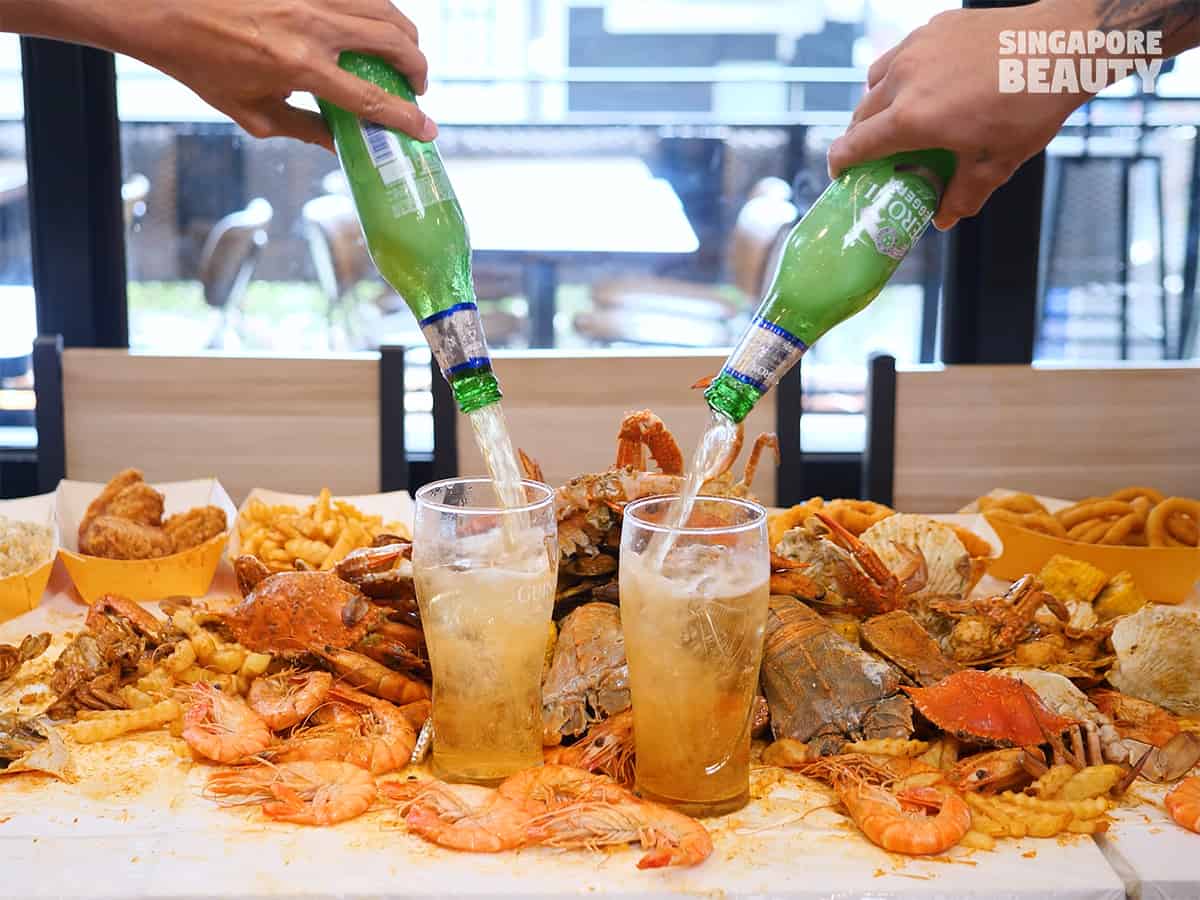 Bucketta has up the game of the seafood bucket buffet in Singapore with free flow booze of the day. You can enjoy unlimited beer of the day within your 90 minutes session of seafood bucket buffet. If you are not a beer lover, you can also load up on their free flow Thai red milk tea. Bucketta is a bucket seafood bar and bistro, so you can get the best of both worlds here.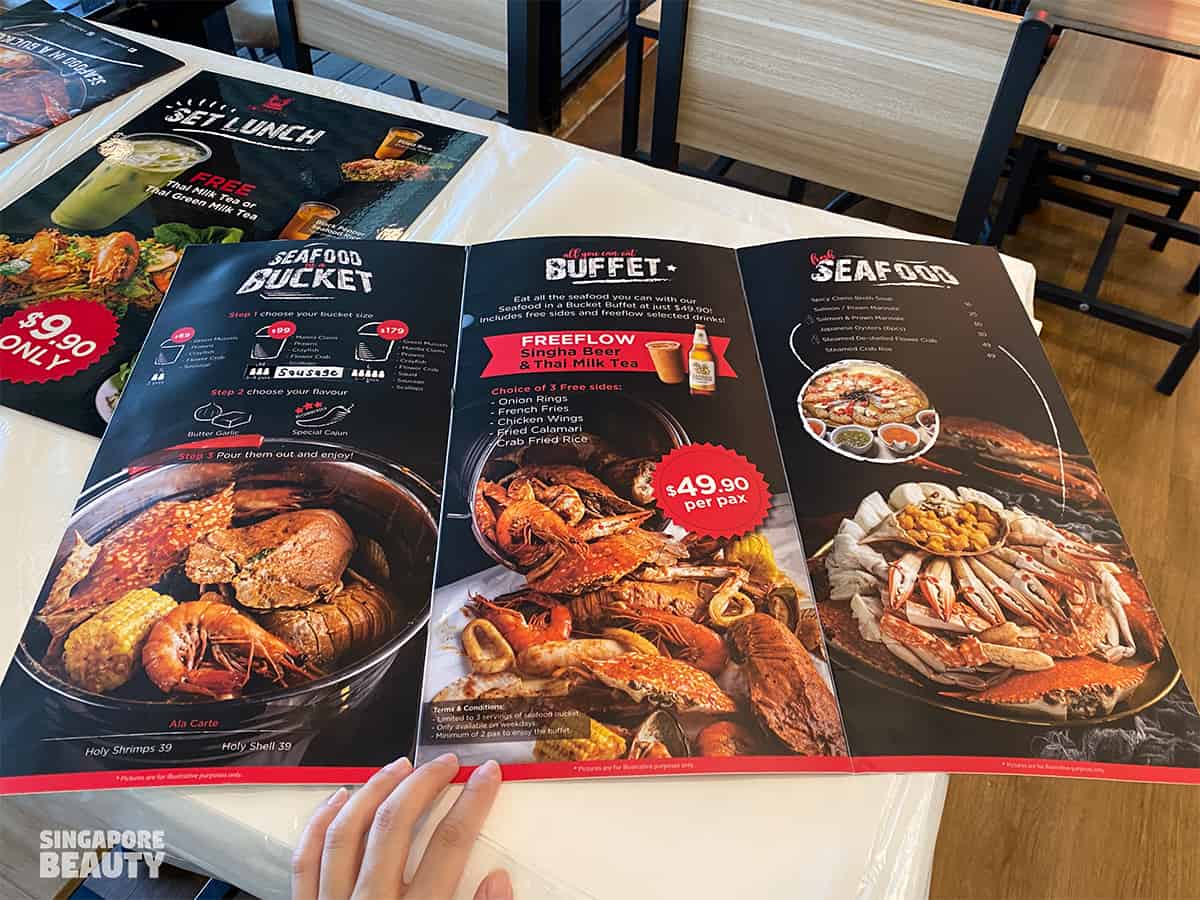 This is Bucketta menu for seafood bucket buffet (center part). This buffet is available daily for 49.90++ per person for a 90 minutes session. There are 3 bucket sizes. Large bucket for more than 5 pax, Medium bucket for 3-4 pax and Small bucket for 2 pax. Refill your bucket with a limit of 3 buckets in 90 minutes session. They require a minimum of 2 pax to dine in. The seafood is available in either Cajun or butter garlic. Included together with this buffet is unlimited sides, crab fried rice, Thai red milk tea and free flow beer of the day buffet. They have made this seafood bucket available daily instead of just weekdays. Instead of choosing only 3 free sides, you can now choose all the 6 sides inclusive of mantou – newly added side that is off menu. They also have ala carte buckets and other popular thai dishes.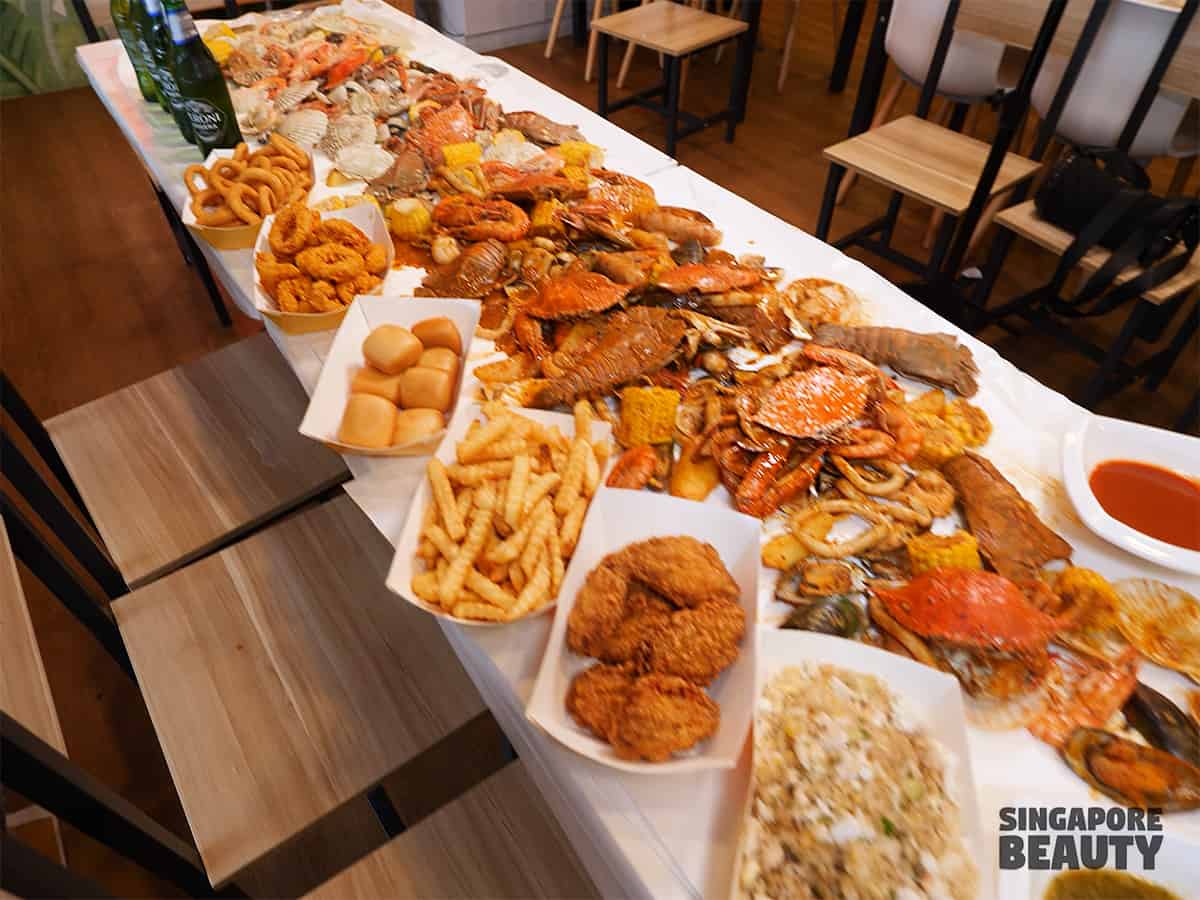 The 6 free flow sides included in Bucketta seafood bucket buffet are onion rings, French fries, chicken wings, fried calamari, crab fried rice and fried mantou. These are served in a paper tray and good for 2 or more pax to share per serving. Despite sitting on the table for 5 minutes, they are still pretty crunchy.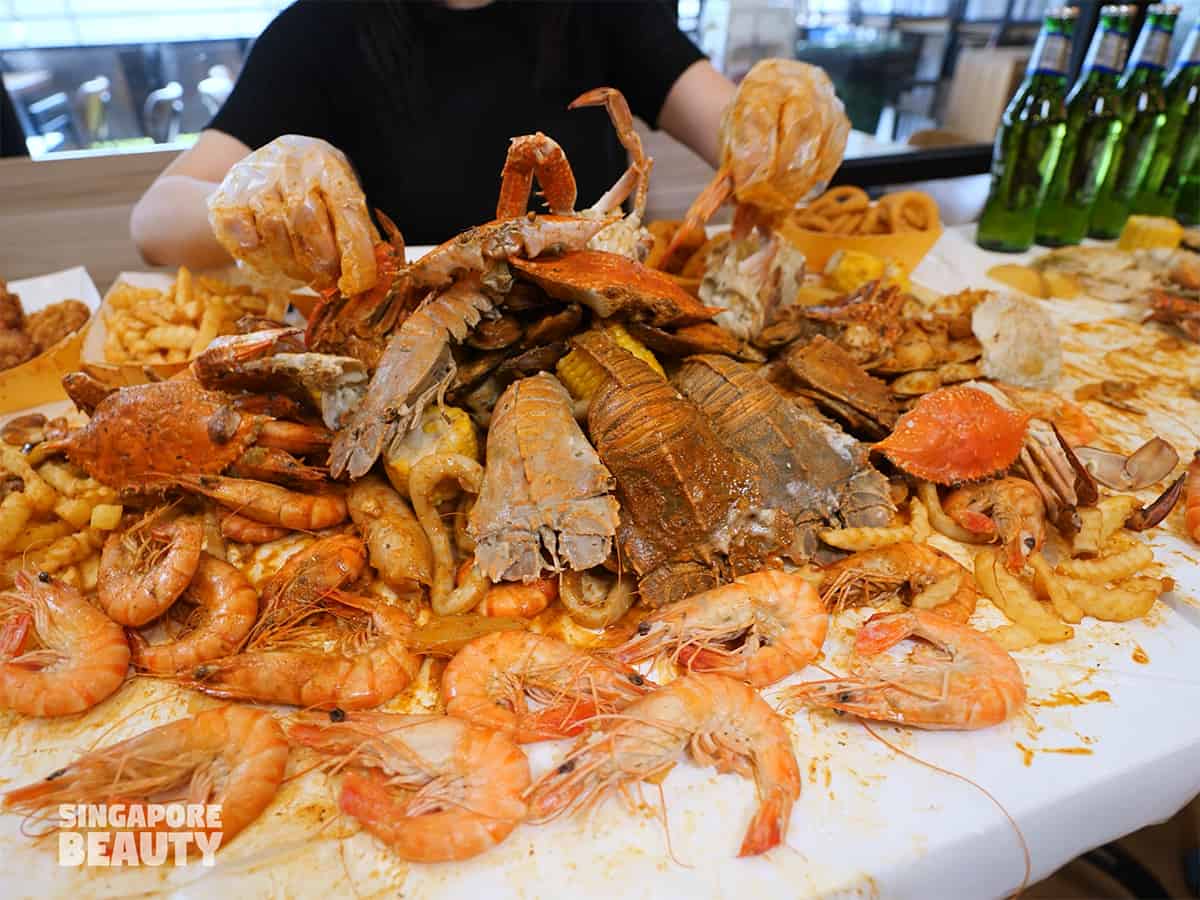 This is our Bucketta seafood review on both their flavours Cajun and butter Garlic sauce seafood bucket buffet. We had servings meant for 5 pax above and the variety is good. The large seafood bucket consist of green mussels, manila clams, prawns, crayfish, flower crabs, squid, baby cuttlefish, sausage, scallop, sweet corn cobs and soft potatoes wedges. The Cajun sauce is well incorporated into the seafood. It can get a little spicy as you go along and the Thai red milk tea helps to ease that spiciness a lot. The butter garlic sauce has a nice pungent herb aroma. It has a good balance between creamy and buttery. Both the sauce goes well with the seafood in their own unique way.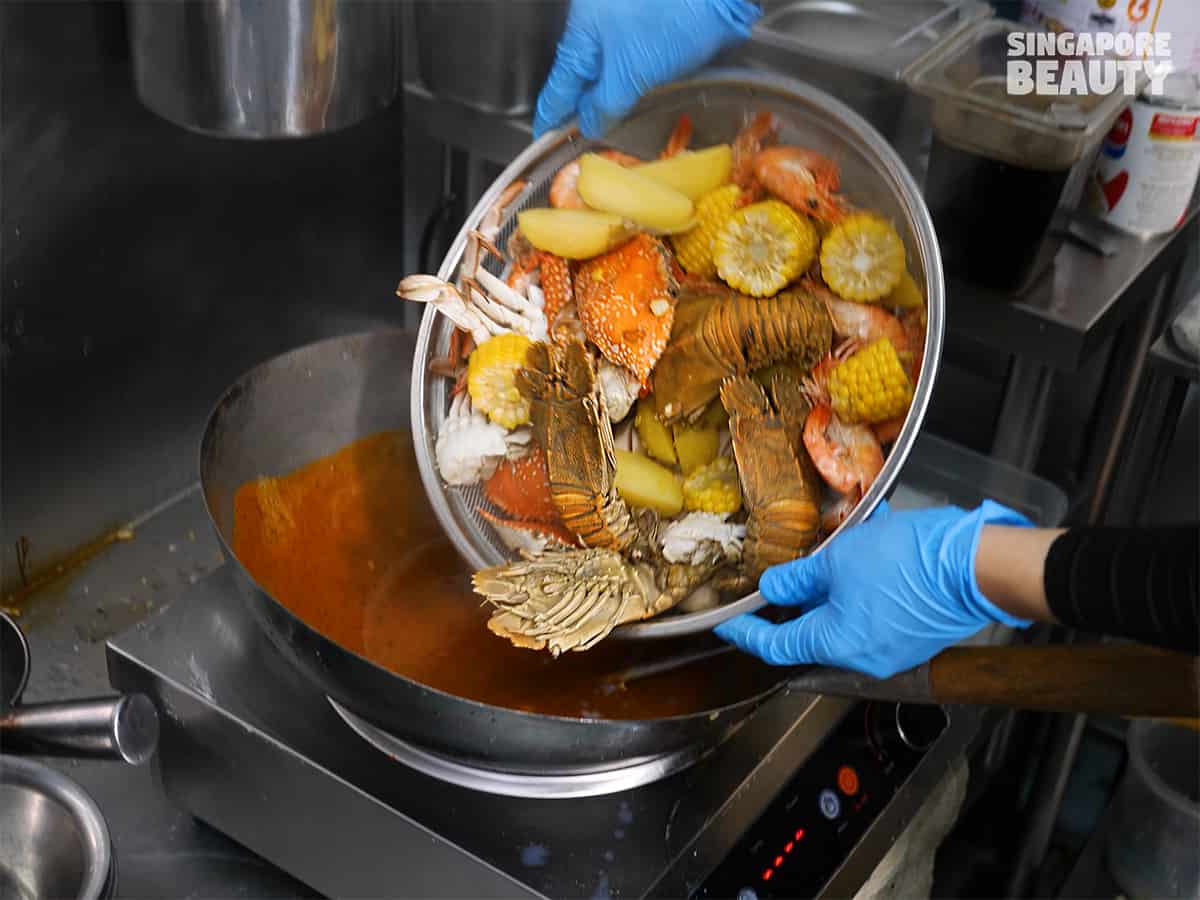 This seafood bucket buffet in Singapore is uniquely prepared by Authentic Thai chef. This is how seafood bucket is prepared. The Cajun sauce is made using their in house secret recipe and evaporated milk is added for a light richness. Seafood are poached lightly and steamed to retain their oceanic sweetness. These seafood are then tossed into the sauce of your choice in a wok. Stir fry till the hot sauce are infused into the steaming hot seafood.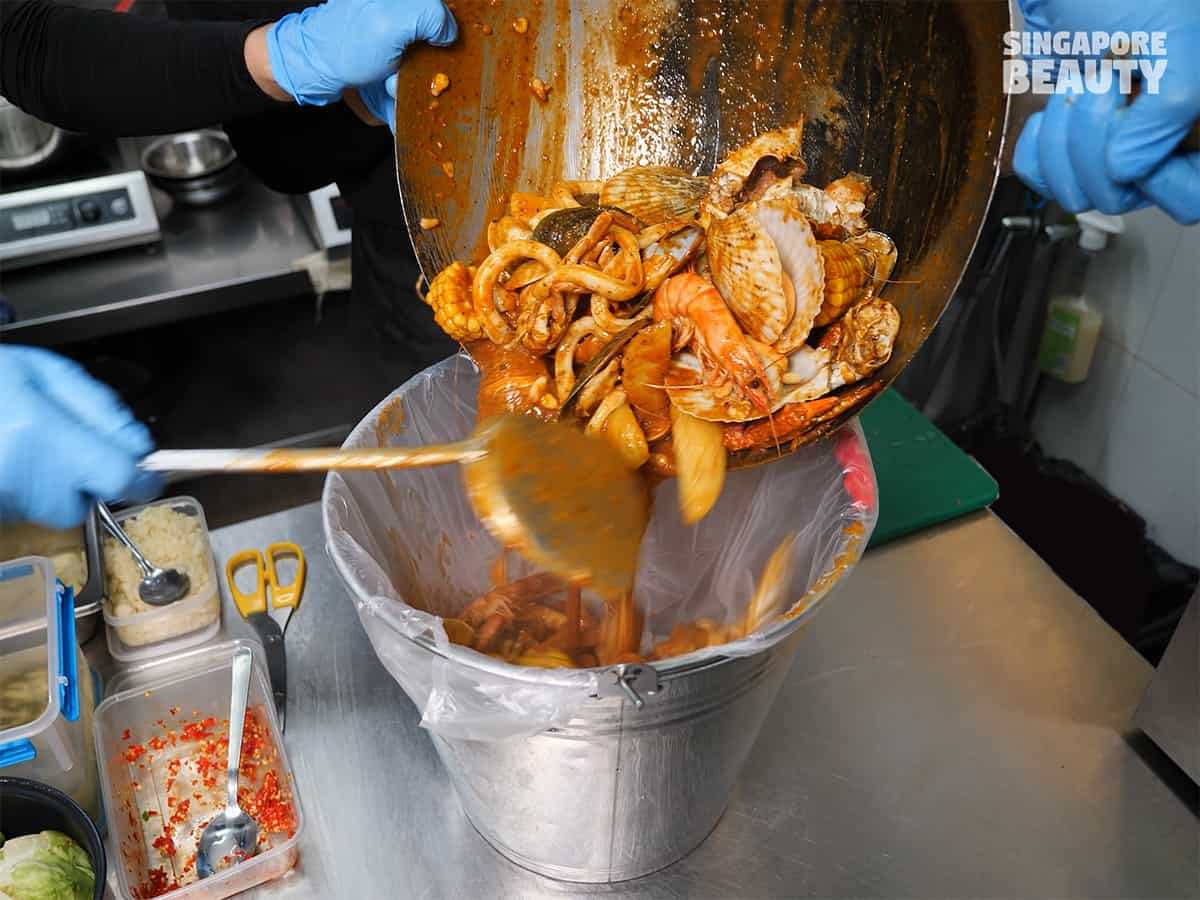 This piping hot seafood in sauce is then transferred into a bucket and serves straight to the diners. To retain the heat, these are served to the customer in a bucket and laid immediately on grease paper on the table. This is how seafood in a bucket is served in Singapore.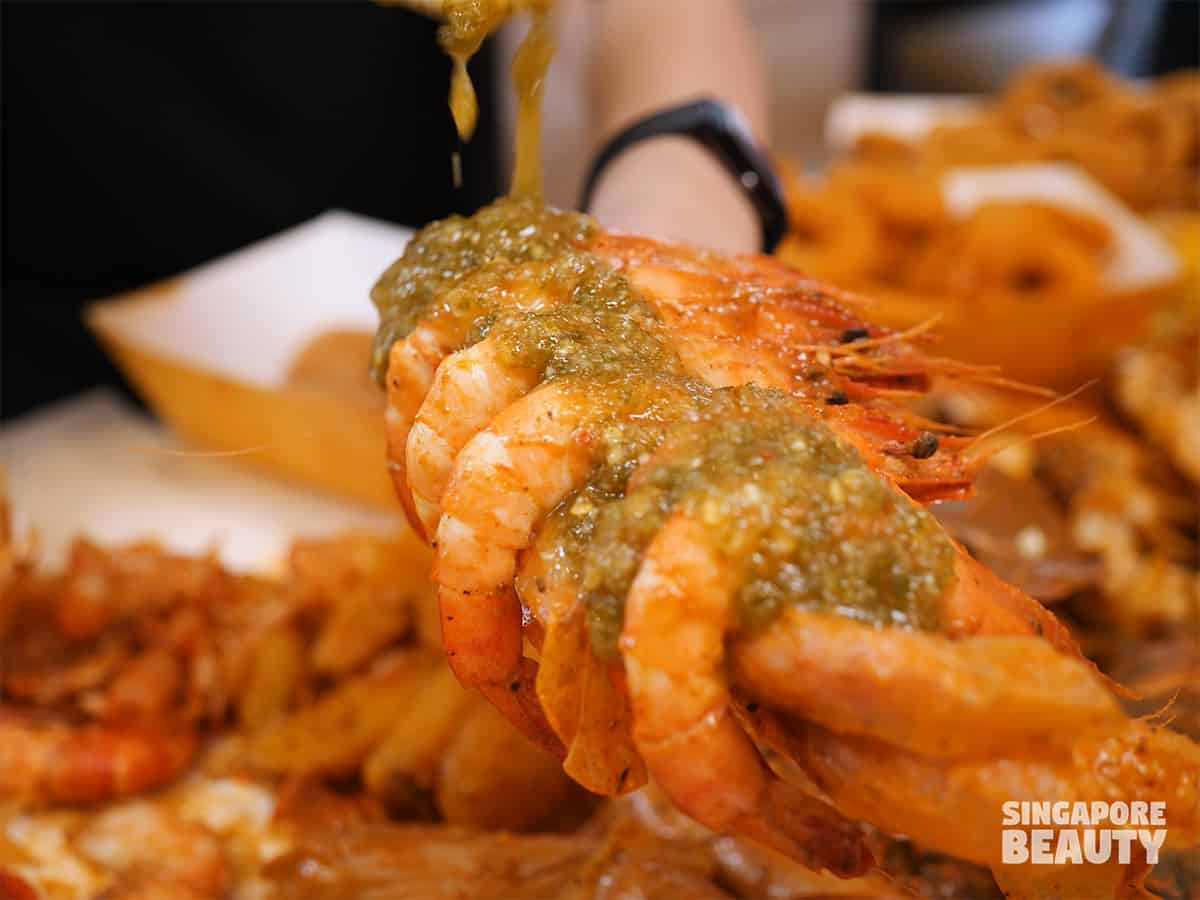 The prawns use in this seafood bucket are of good sizes with a nice crunch. It deshells easily with firm sweet meat. The prawn head hold some nice head butter with a mild bitterness to it. Those prawn head connoisseur will know that it is the real deal when they suck on these head butter. The prawns are one of the highlights of this seafood bucket.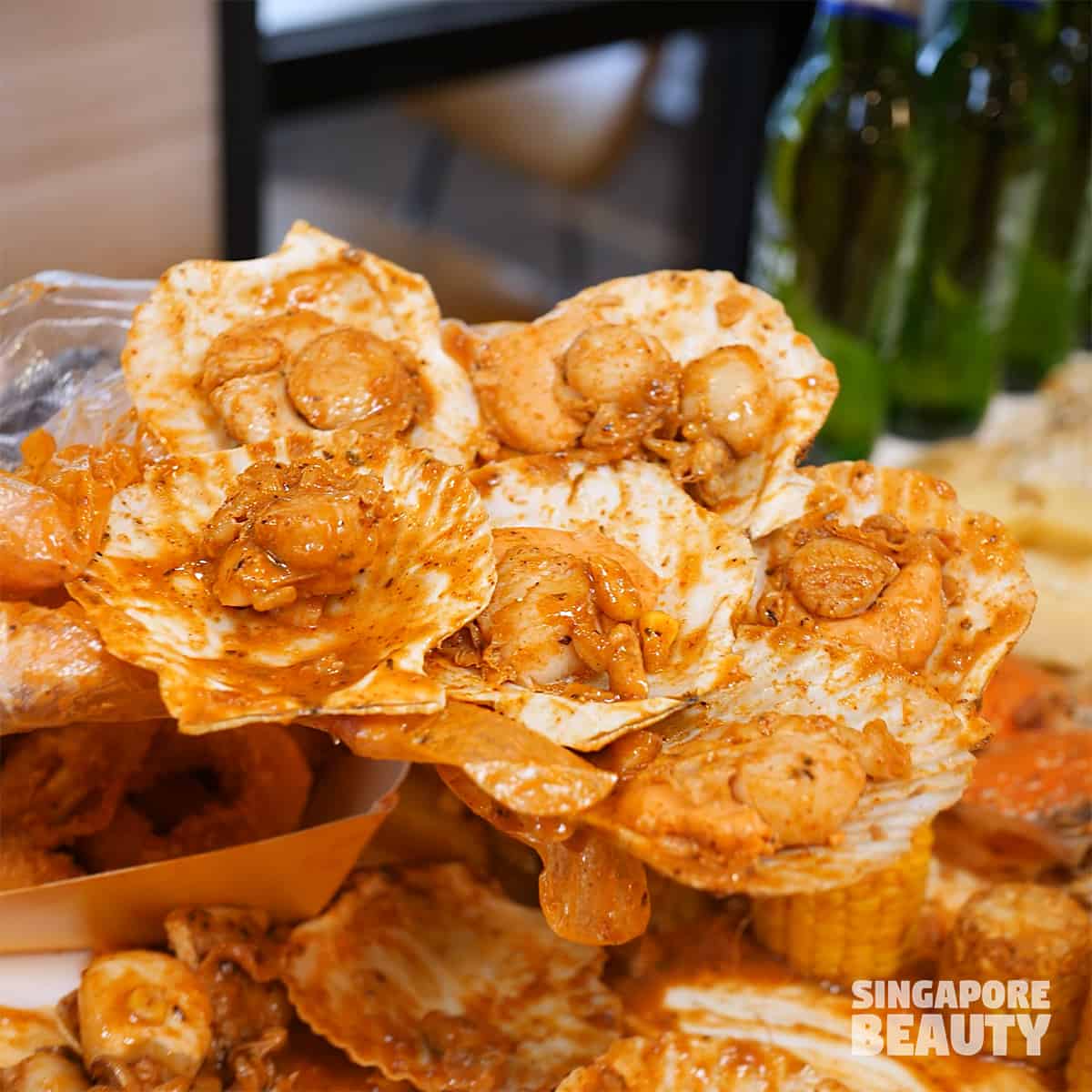 The half shell scallops are well cooked till soft and tender not the chewy elastic types. These are fat scallops with some rich creamy roe. The sweet seashell flavour is well complemented by the spiciness from the Cajun sauce.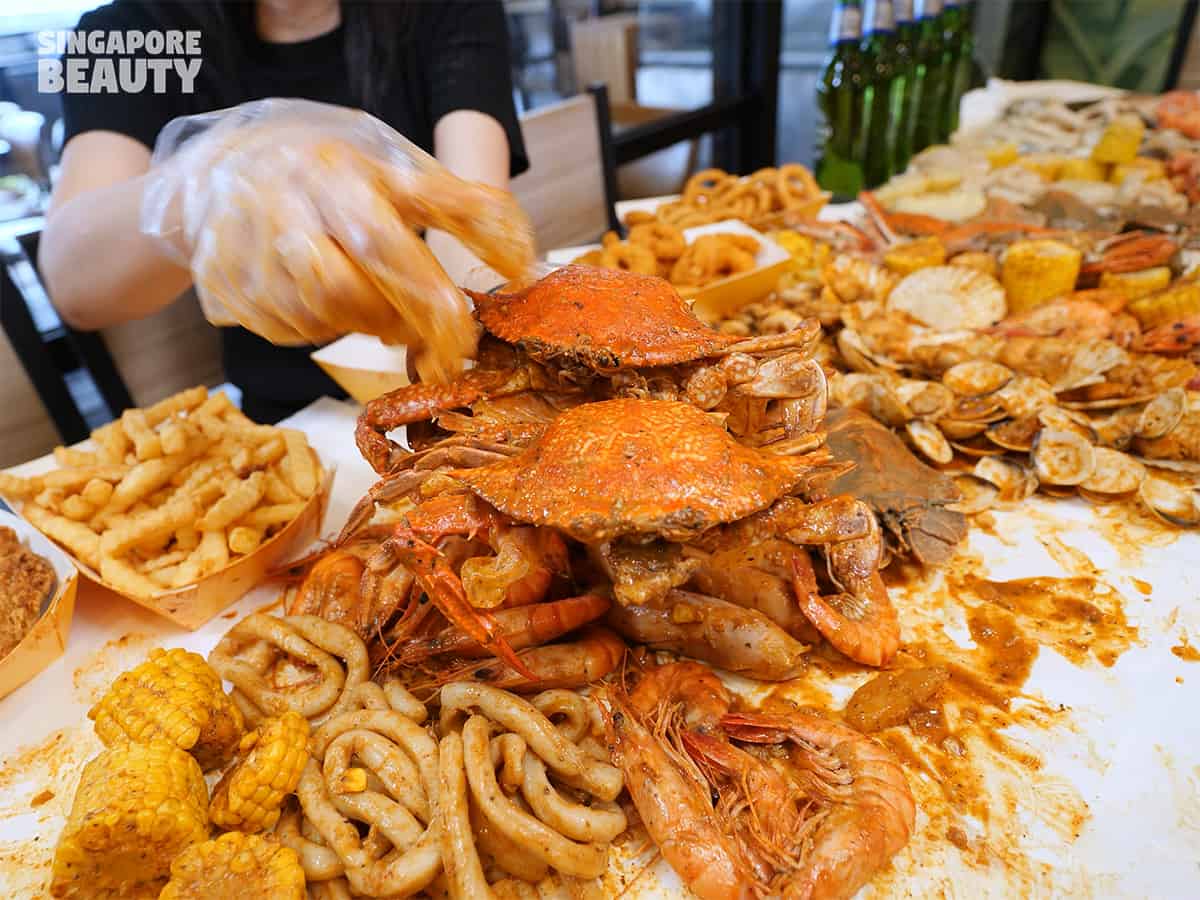 Flower crab is prized for their sweet meat. The flower crabs are served in two parts for ease of consumption. To enjoy it, lightly twist and pull to get lollipops of crab meat. These are best enjoy with the Cajun, butter garlic or their unique in house seafood sauce.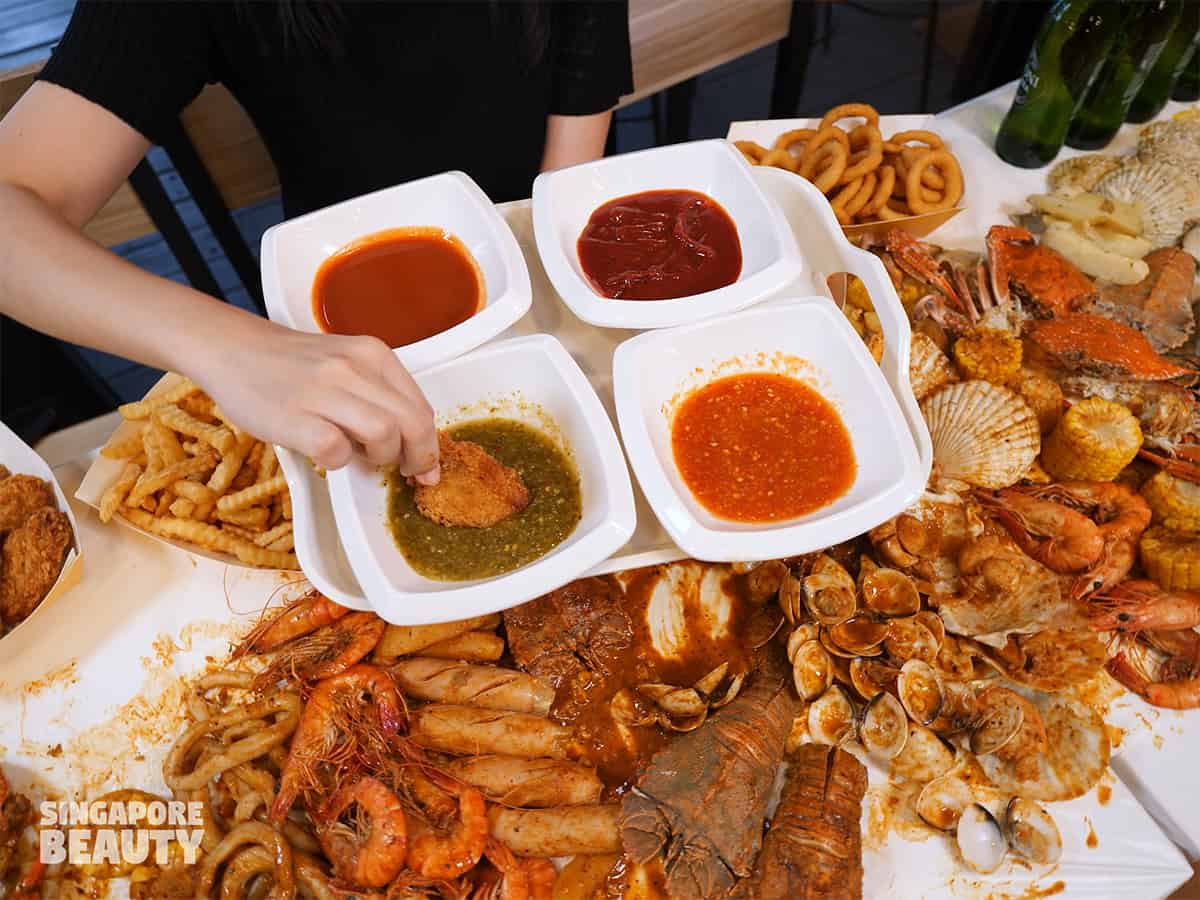 They have 4 types of seafood sauce and some are made in house. The red chilli, ketchup and red sauce is best for meat, carbs, noodles and fried finger food items. The green chilli fish sauce chilli is the best dip for their seafood. The tang and heat from the sauce with the pepper flavours heightens the seafood buffet experience. The green chilli seafood fish sauce is our favourite of the 4 sauces, it is also the popular Thai seafood chilli sauce that our local loves.
These is one of the sides that is served with the seafood Bucketta buffet. It is their popular crab fried rice. The fried rice is pre-seasoned and fried to release the aroma of the grains. With a hot wok, the chef prepares a scrambled egg and toss the rice into a smoking wok. You can hear the cracking of the grains as they are being fried. In goes some crab meats. More stir frying with a toss of green onion. The fried rice is served with more topping of steamed crab meats and a dash of pepper around the rice. I have nothing but compliments for this simple luxurious plate of fried rice. Try it while it is hot.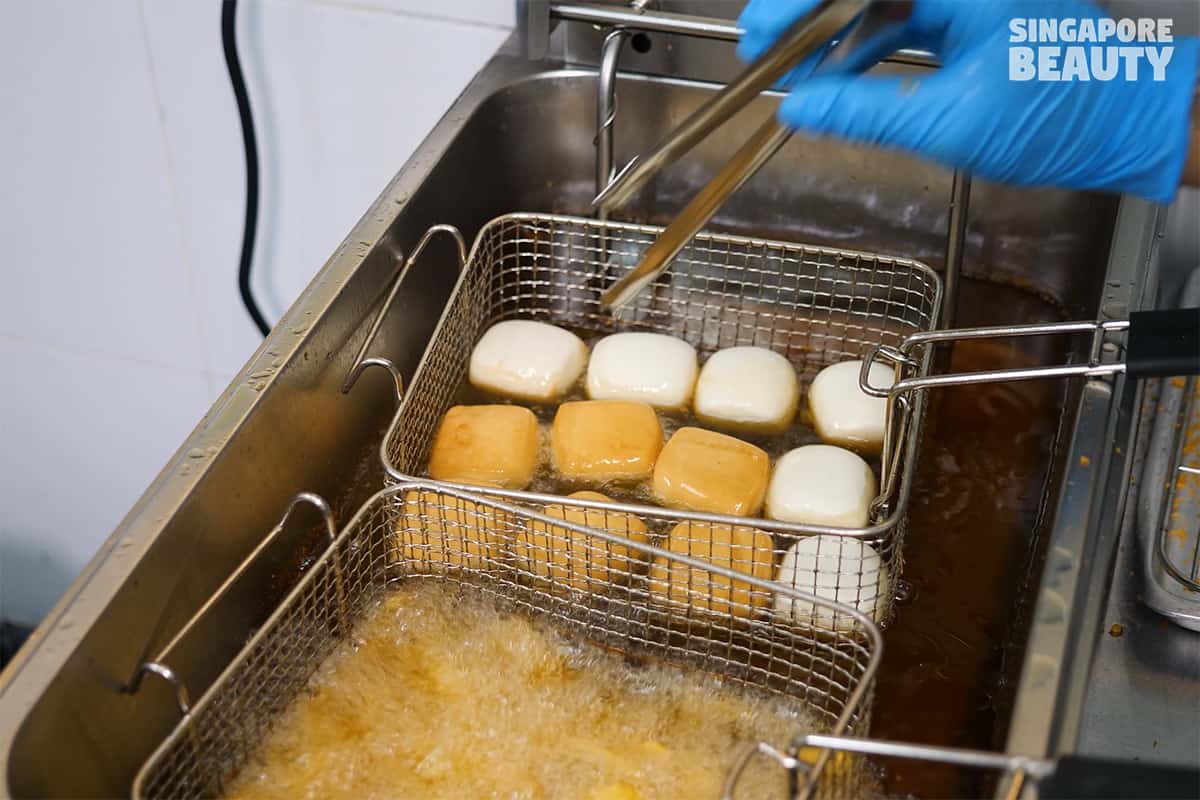 The sides included in the Bucketta seafood bucket buffet are all freshly fried to order. They are fried Mantou, Chicken wing, Crab fried rice, French fries, Calamari and onion rings. The fried mantou are individual flipped while frying. The chef quickly lifted the mantou once they turned a golden brown hue to a piece of kitchen towel to remove excess grease. These are then picked up by the service crew stationed next to the kitchen with the ding of a bell. You can be assured that the fried food will be served pretty hot to your table. Shout out to their fried chicken wings and crinkled cut French fries. Super juicy and crunchy for the former; crunchy and soft on the inside for the latter.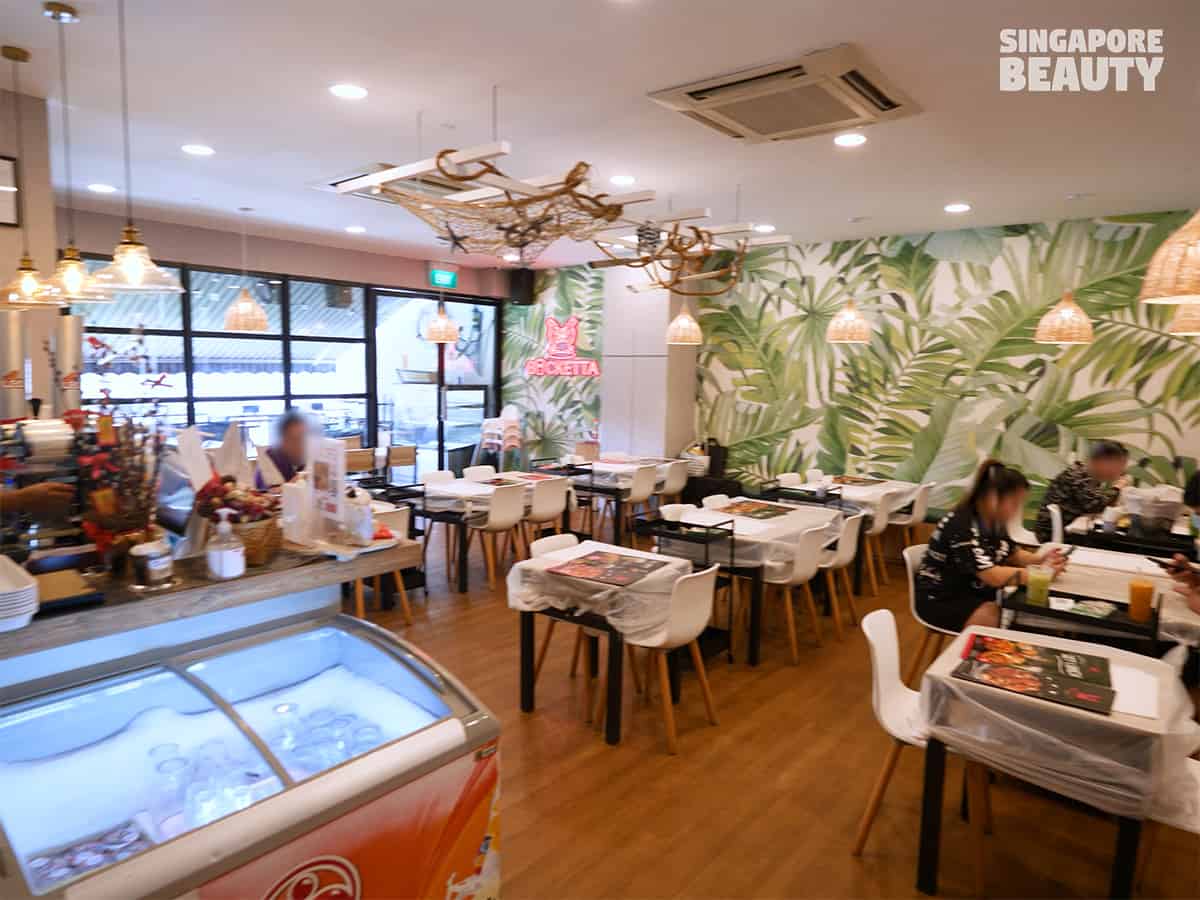 Bucketta has cosy indoor seating with a dedicated bar counter for drinks. They also have Alfresco outdoor dining available overlooking a playground with a green corridor. They have seats for cosy 2 pax as well as seat that can accommodate a big group up to 10-12 pax along their window seats. With great music and seafood, this could be your next family or friend gathering venue. Reservation is recommended for big groups.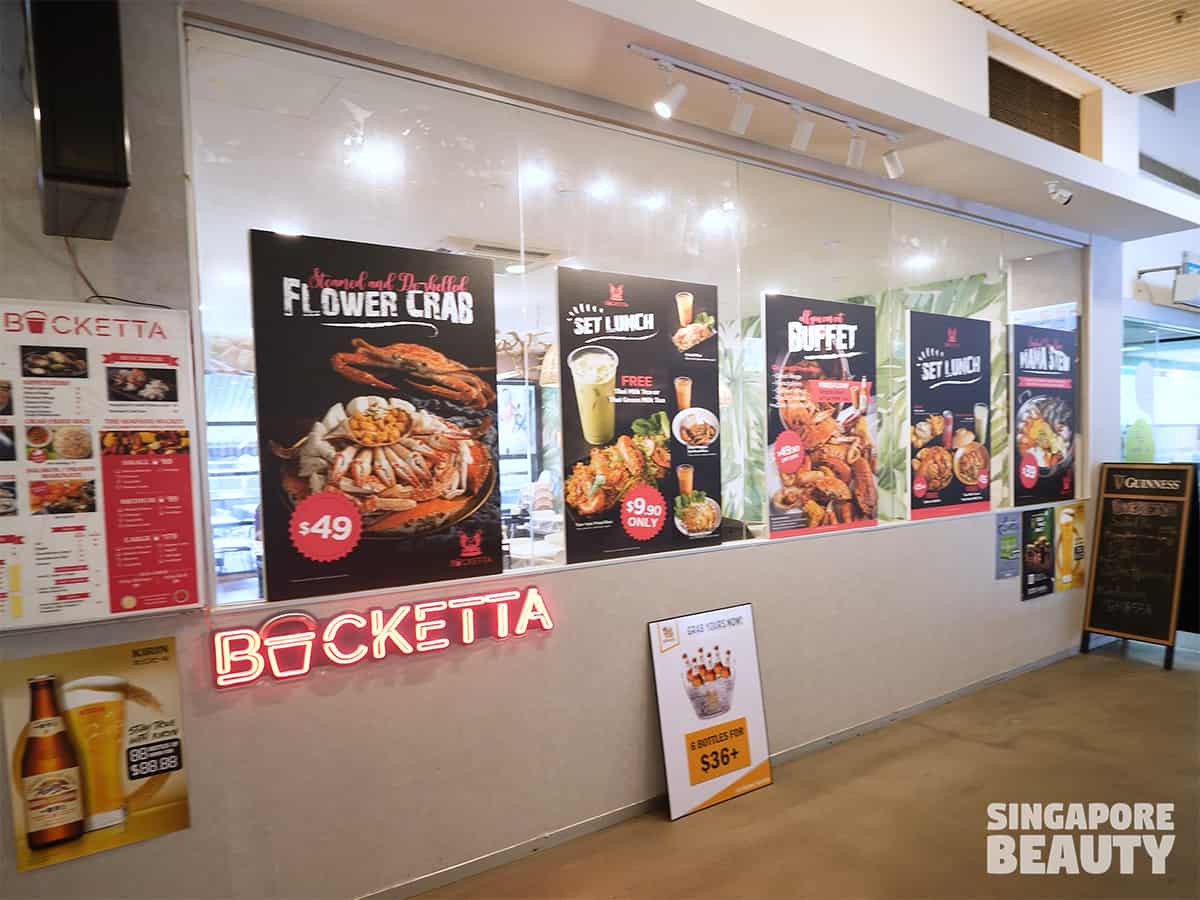 Bucketta seafood in a bucket buffet is located at Turf City. Plenty of outdoor parking is available a short throw away from the restaurant. This is the shop front of Bucketta. They have various promotion on going for the seafood bucket buffet, lunch deals from 9.90++ only, ala carte Thai wok cooked food by Thai Chef and booze deals too! If you are looking for where to eat seafood bucket in Singapore or seafood buffet in Singapore, come and try.
Bucketta seafood bucket buffet: $49.90++ per person.
They have updated their menu and pricing, for the latest update: https://singaporebeauty.com/bucketta-seafood-bucket-buffet/
Large seafood bucket consist of green mussels, manila clams, prawns, crayfish, flower crabs, squid, baby cuttlefish, sausage, scallop, sweet corn cobs and soft potatoes wedges.
Includes 6 free flow sides (onion rings, French fries, chicken wings, calamari, crab fried rice and mantou), free flow beer of the day buffet, Thai red milk tea. seafood bucket in either cajun or butter garlic sauce. Limited to a maximum of 3 buckets per session, with minimum 2 pax to dine.
Buffet is available daily, weekdays and weekends.
Restaurant is closed every Tuesday.
Dine in time: 90 minutes
Address of Bucketta :
200 Turf Club Road
The Grandstand #01-06
Singapore 287994
Call for Reservation: 98458558
Brought to you by Bucketta