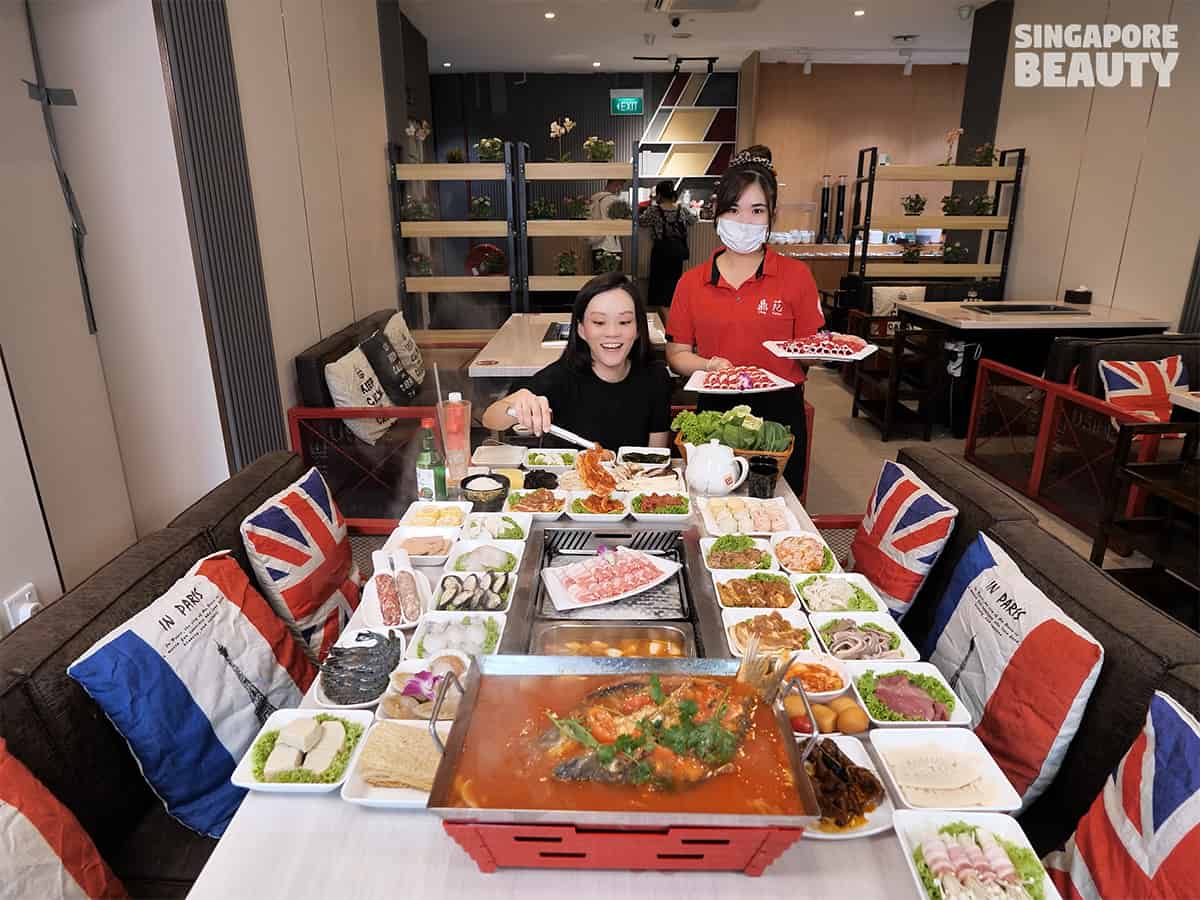 Ding Garden buffet at Chinatown, Singapore is welcoming everyone with its newly renovated dining halls. They are popular for their 3 In 1 buffet that includes barbecue, hotpot and unlimited grilled fish. They have added new items to their menu which includes fish head soup, kimchi soup, black pepper chicken thighs, bacon, ala carte soju, a series of ala carte hot beverages like barley tea pot and more. They also have minced pork and beef meat ball paste sticks as part of the buffet.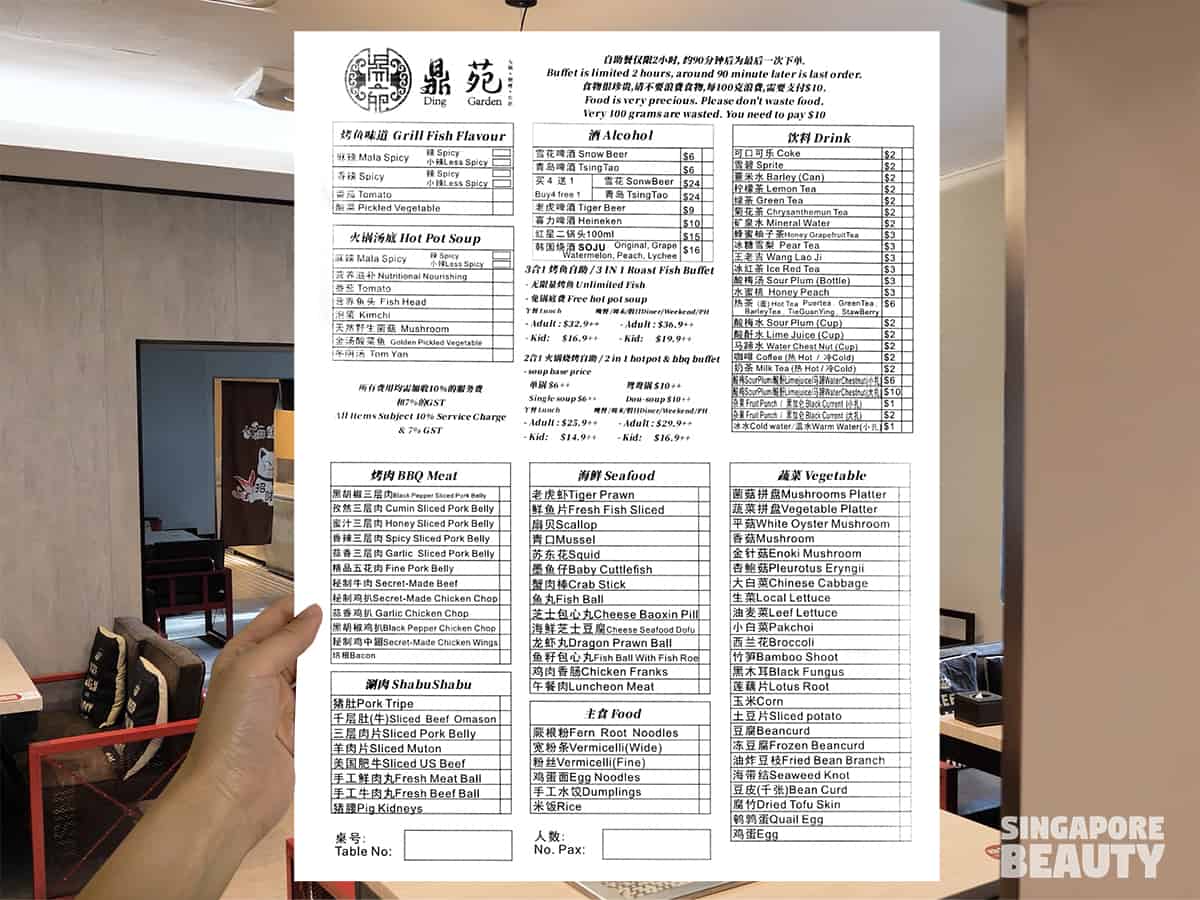 This is Ding Garden buffet menu that consist of 4 choices of grilled fish flavours, 8 types of soup bases to choose for your dual soups, alcohol soju, soft drinks, homemade teas, fruit punch, marinated barbecue meats, shabu shabu meats, seafood, main carbs and assorted vegetables. Do note that all foods are included in the buffet with exception of alcohol and drinks. They have 2 options for their buffet, 3-in-1 with bbq, hotpot & unlimited roast fish; or 2-in-1 with bbq & hotpot only. Lunch buffet adult price starts from $25.90++ to $36.90++ depending on which option you are going for. Soup base are pretty affordable with add on from $6++ for single and $10++ for dual soups for the 2-in-1 buffet without unlimited roast fish.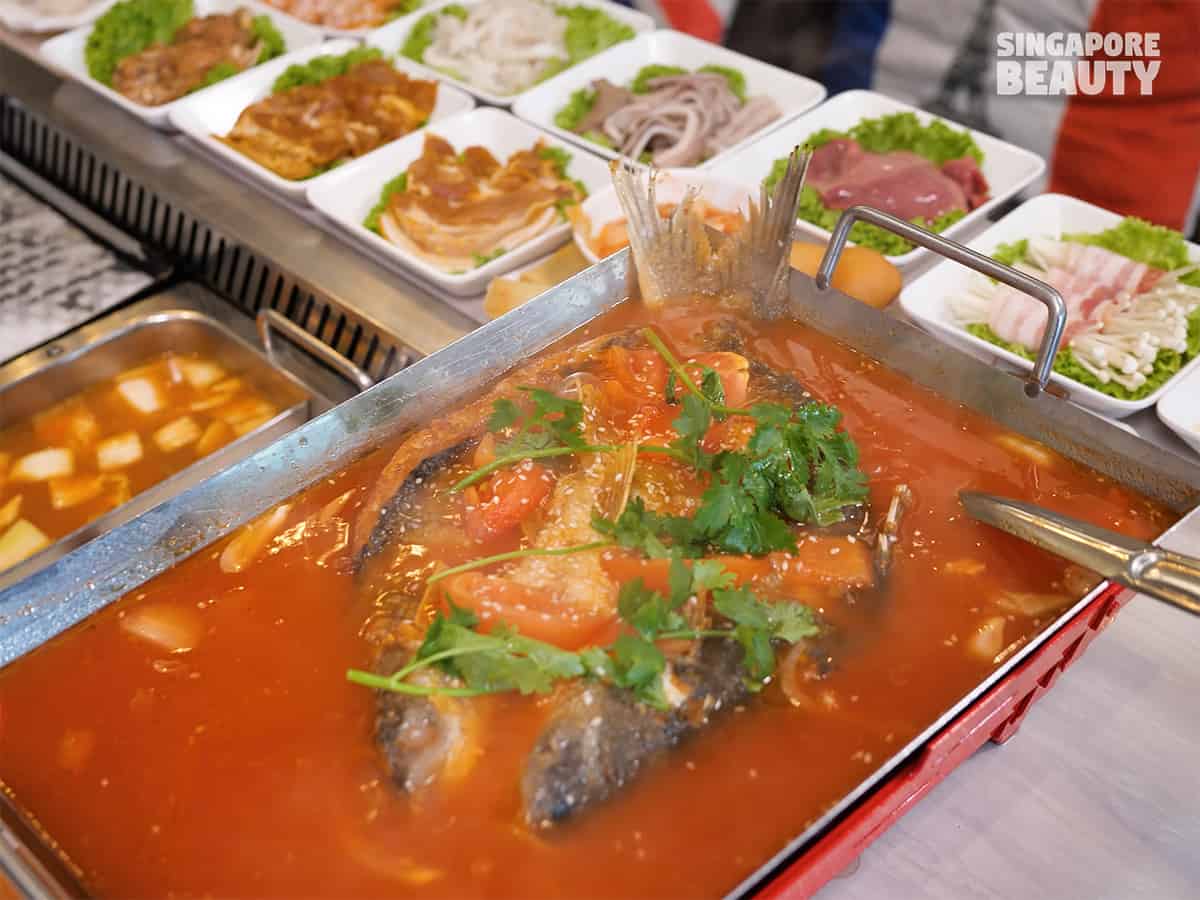 If you are going for Ding Garden roast fish buffet, you can enjoy unlimited roast fish in 4 flavours. Ding Garden roast fish buffet price starts from $32.90++ (adult price) with free hotpot soup bases included. The must try for their grilled fish is the mala spicy flavours and the tomato flavours. The tangy tomatoes are cooked till soft and goes well with the lightly fried fish meat. Tomato gravy is rich and gooey, great as a rice topper. If you like something more sharp in flavour, you can try their pickled vegetable roast fish in golden vege gravy.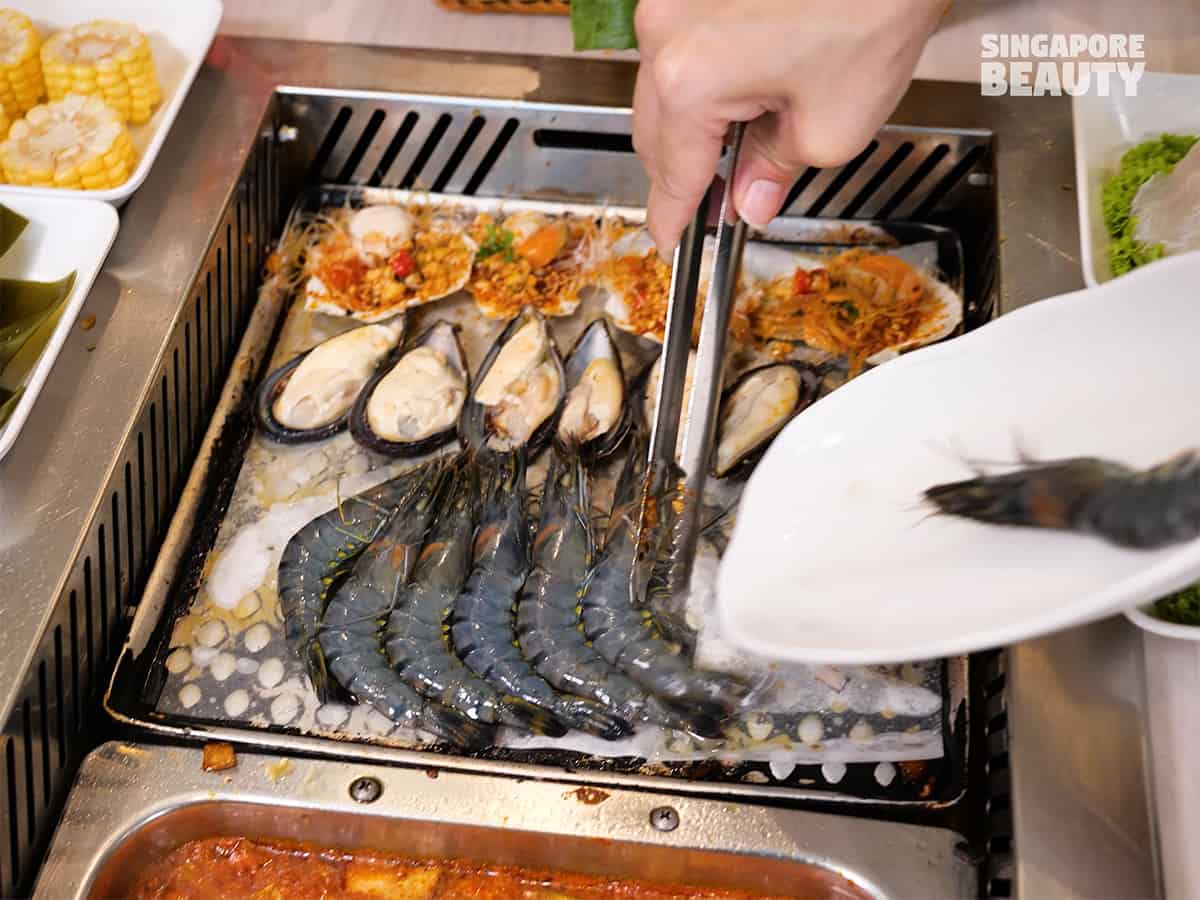 Here's our Ding Garden Buffet Singapore review. In all, there is a good variety of seafoods, marinated meats and shabu shabu meats. The bonuses are the unlimited grilled fish, assorted vegetables and free flow appetizer & condiments bar. It is a seafood and meat lover's haven without breaking the bank.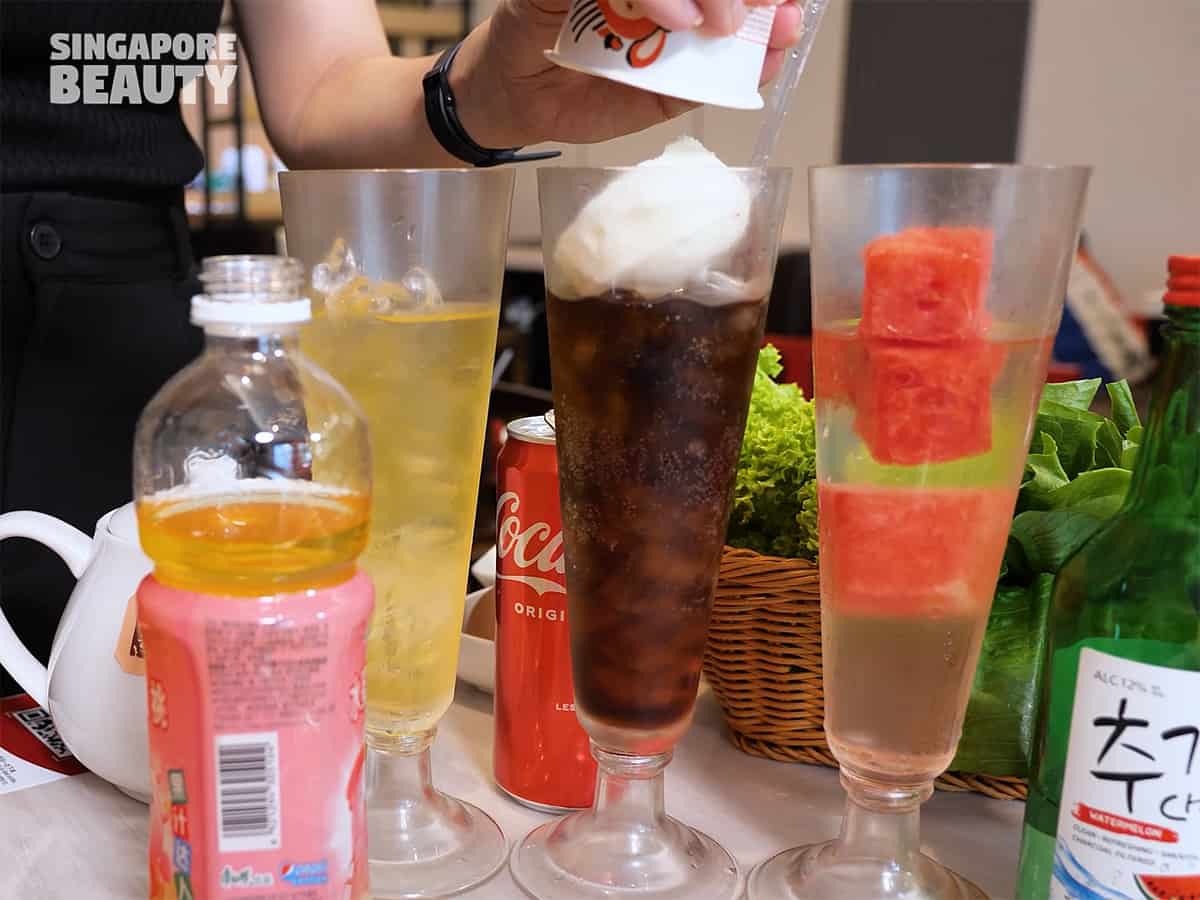 For a more fancy Korean style bbq, you can add on their newly added Soju series with freshly cut watermelon. For cola lovers, try making your own vanilla coke with their ice cream tubs. It is creamy and fizzy refreshing with bbq meats.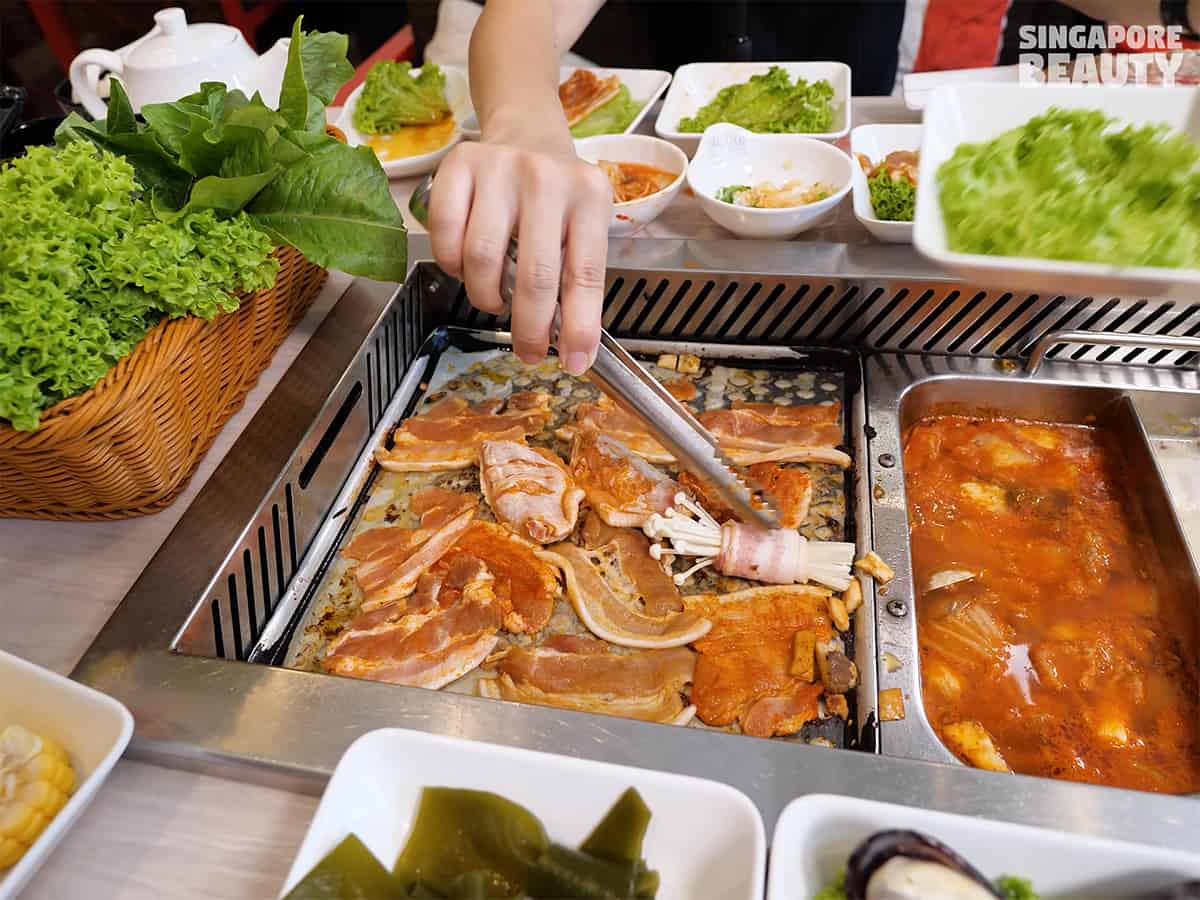 Ding Garden buffet is also popular for their marinated meats. They have 12 type of bbq meats in several flavours to choose from. They have pork belly in black pepper, cumin, honey, spicy and garlic sauce. Chicken and beef in secret in house sauce. Whole debone chicken thigh in black pepper, garlic and honeyed wings. These are the OG of their marinated meats.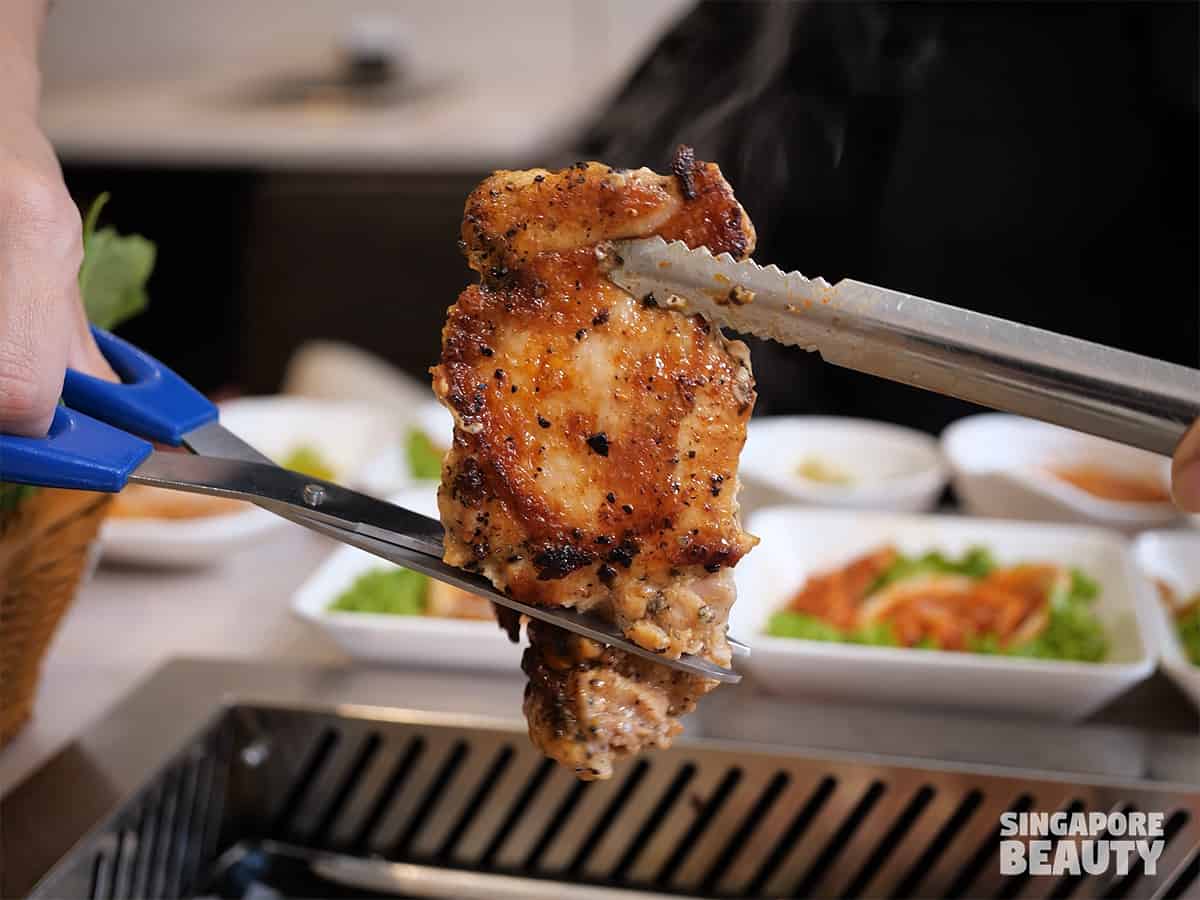 Our favorites are their black pepper chicken thigh. Lay the chicken thigh on a high heat skin down. Turn over the thigh when you smell the aroma of peppery chicken skin, and grill the rest of the meat over low heat. Sizzling and crispy skin with juicy chunks of chicken. Cut to bite size to enjoy.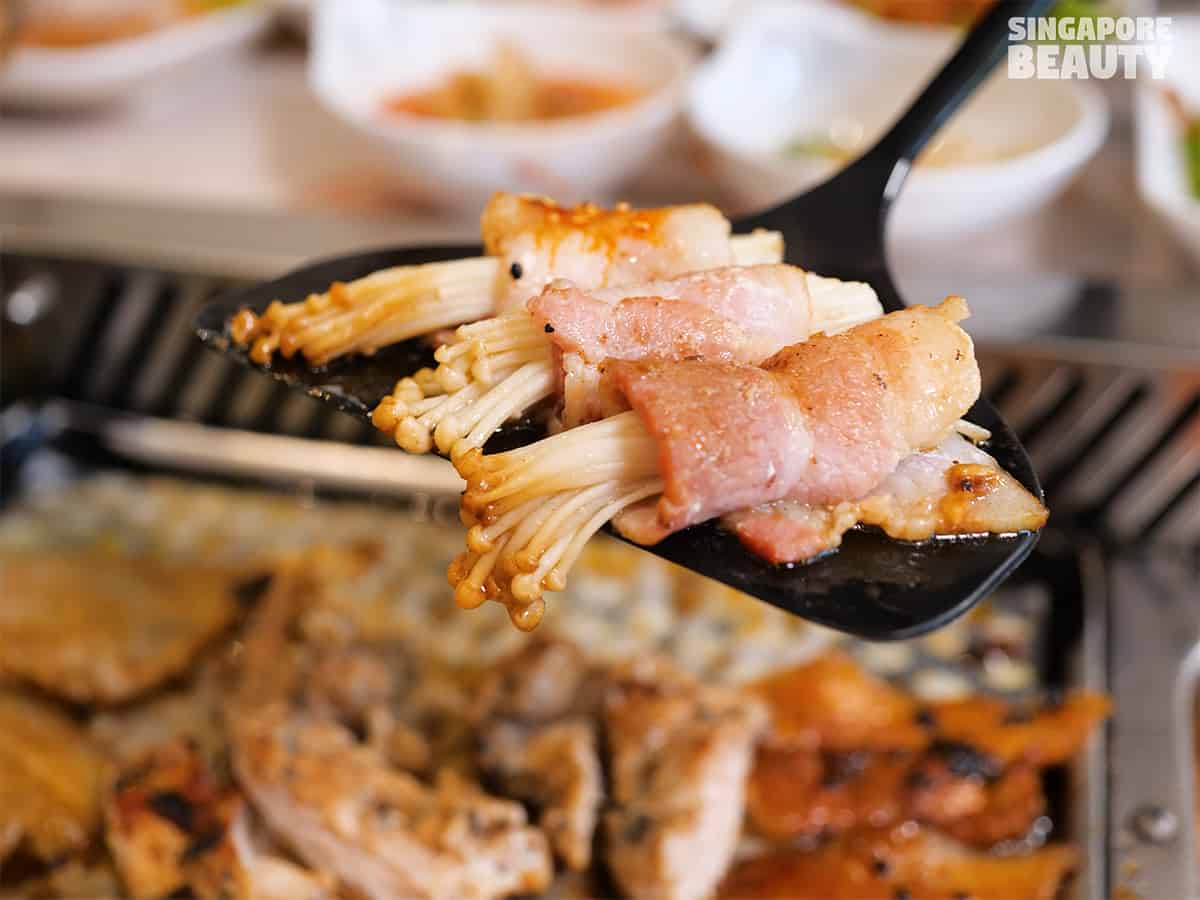 The latest contender with the OG marinated meats is their bacon with enoki. Depending on how you like your bacon, some prefer it chewy with the briny flavours, some like them all crisp up. We enjoy it as bacon enoki roll with the umami of the fungi and the salty kick of bacon. Watermelon soju with this bacon is the perfect combo.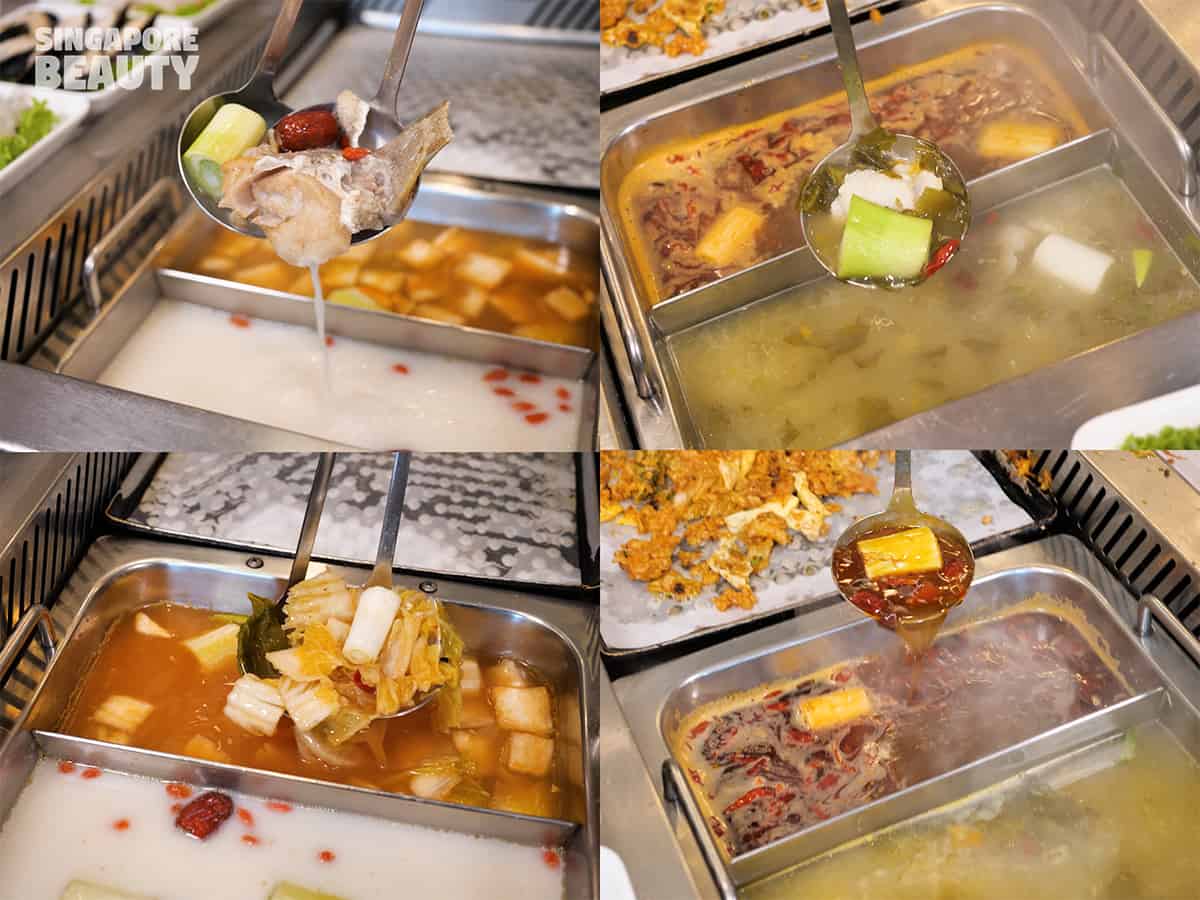 These are some of the popular soup base that the regulars like. The mala soup, fish head soup, kimchi soup and pickled veg soup. They have 8 types of hotpot soup base to choose from – Mala spicy, nourishing, tomato, (New) Fish head, kimchi, mushroom, golden pickled vegetable and tom yan soup base. Although they only have dual soup choice, here's a soup base hack to get 3 types of soup bases.  In the 3 in 1 buffet, the grill fish soup base is similar to the hotpot ones but thicker in consistency. So now you can enjoy 3 different soup gravy.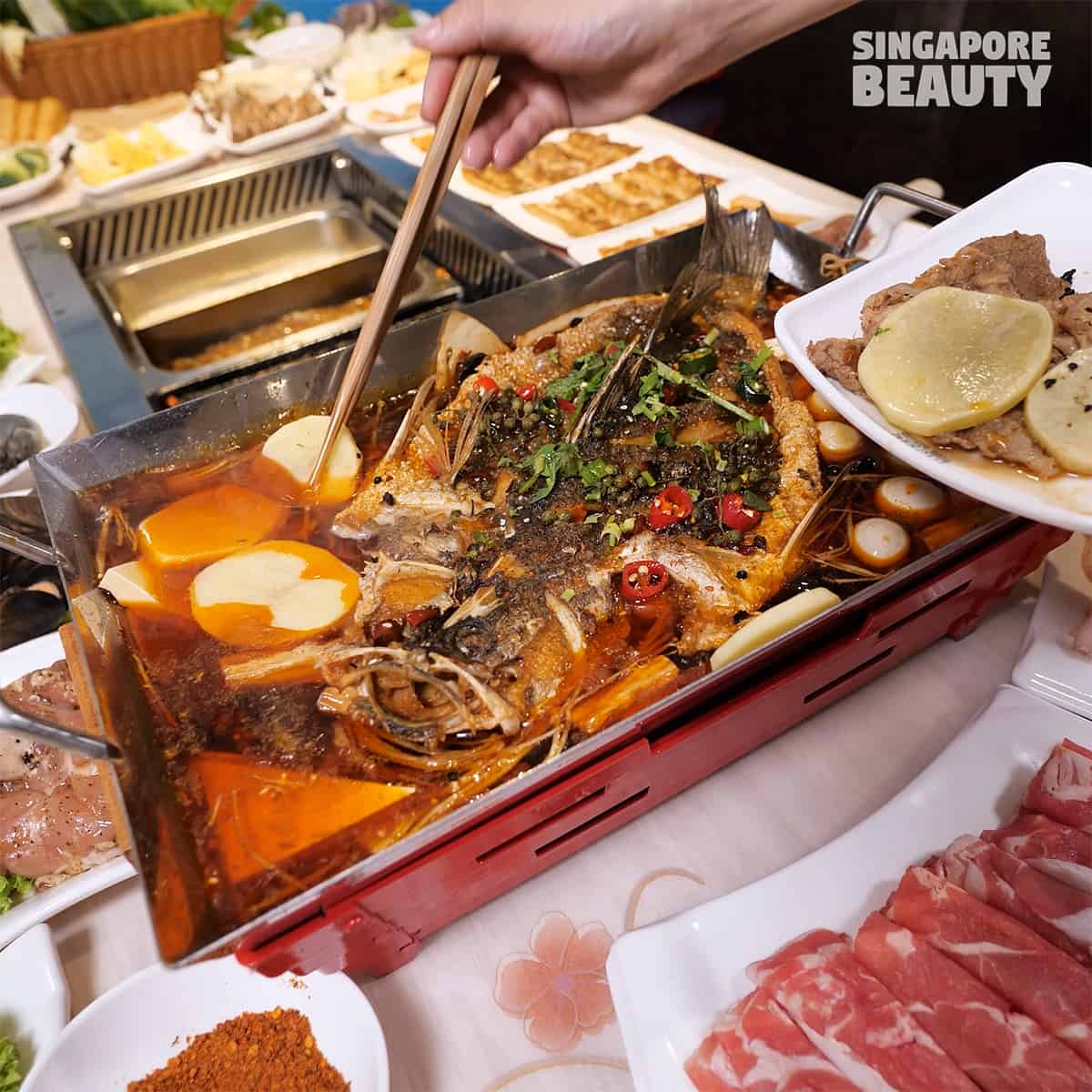 The roasted fish are served on 2 warmers and you can cook luncheon meats, beancurd, quail egg and potato in it. Pictured above is their mala spicy roast fish with fresh peppercorn. The gravy is numbing and spicy so proceed with caution if you attempt to slurp it. The fish meat is soft and delicate, so eat it as soon as it is served.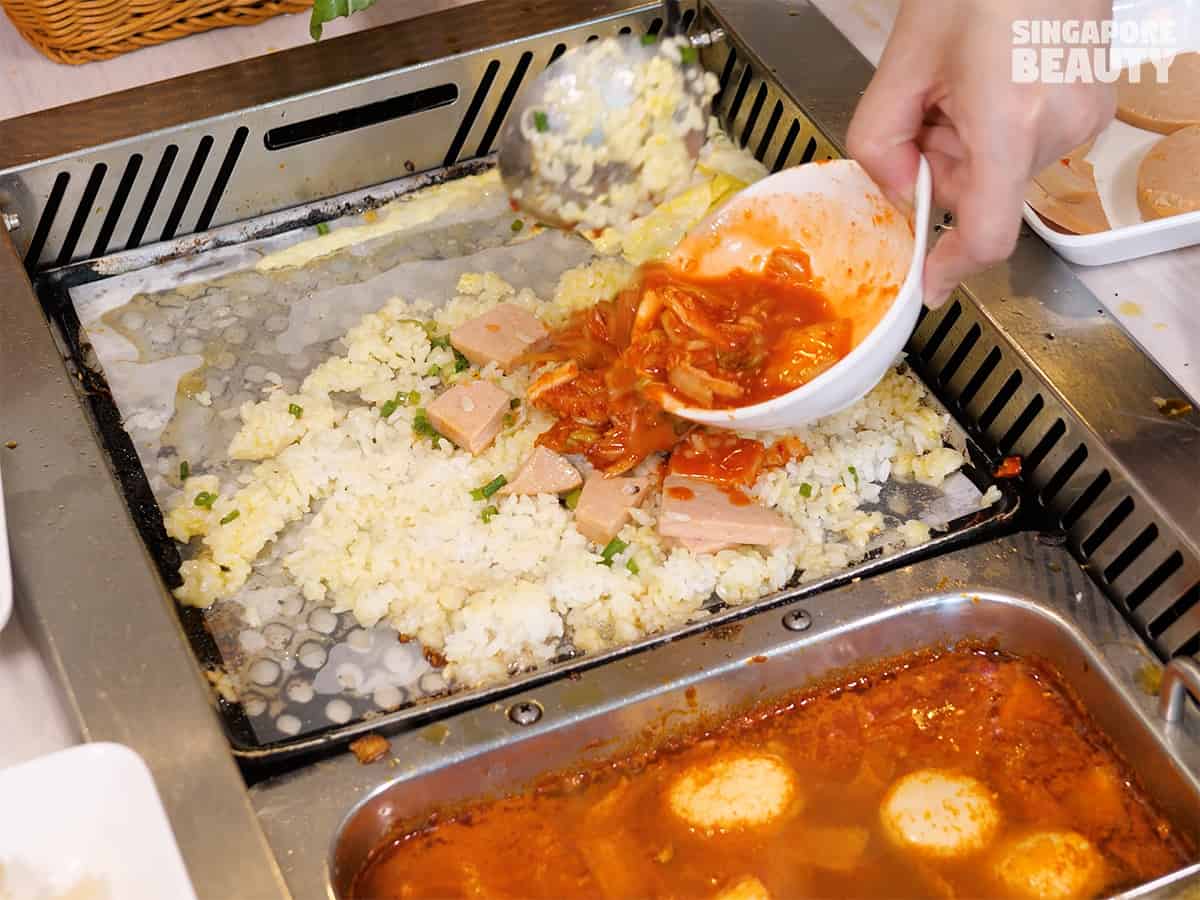 Towards the end of the bbq session, the grill is super hot. It is time to DIY some kimchi fried rice or garlic fried rice whichever ticks your box. Heat up some minced garlic in oil, add rice, luncheon meat and kimchi last. Mix well and enjoy.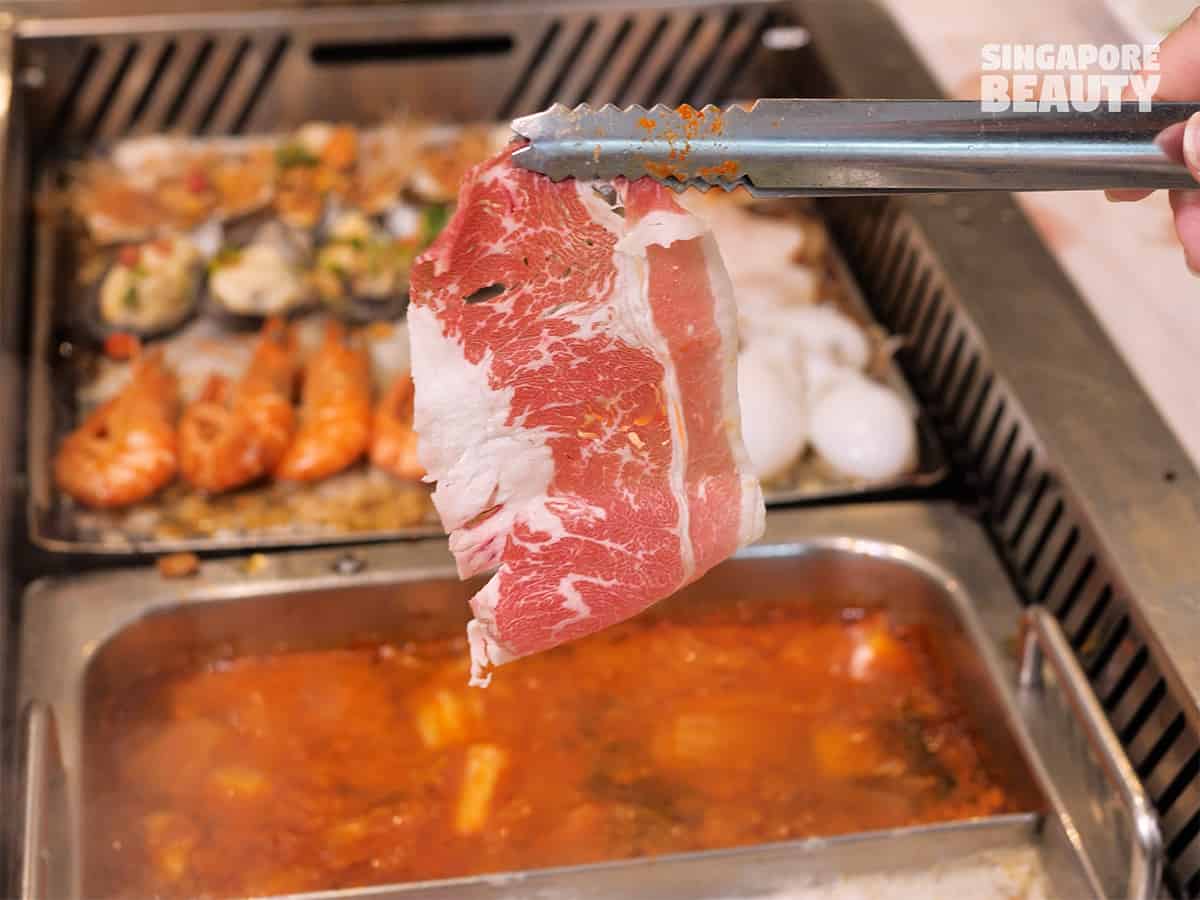 BBQ and slurp on unlimited kimchi soup too at Ding Garden BBQ & hotpot buffet. Add their shabu shabu meats to the kimchi soup. The meat adds a rich flavour to the piquant soup. Eat these as a lettuce wrap or with kimchi.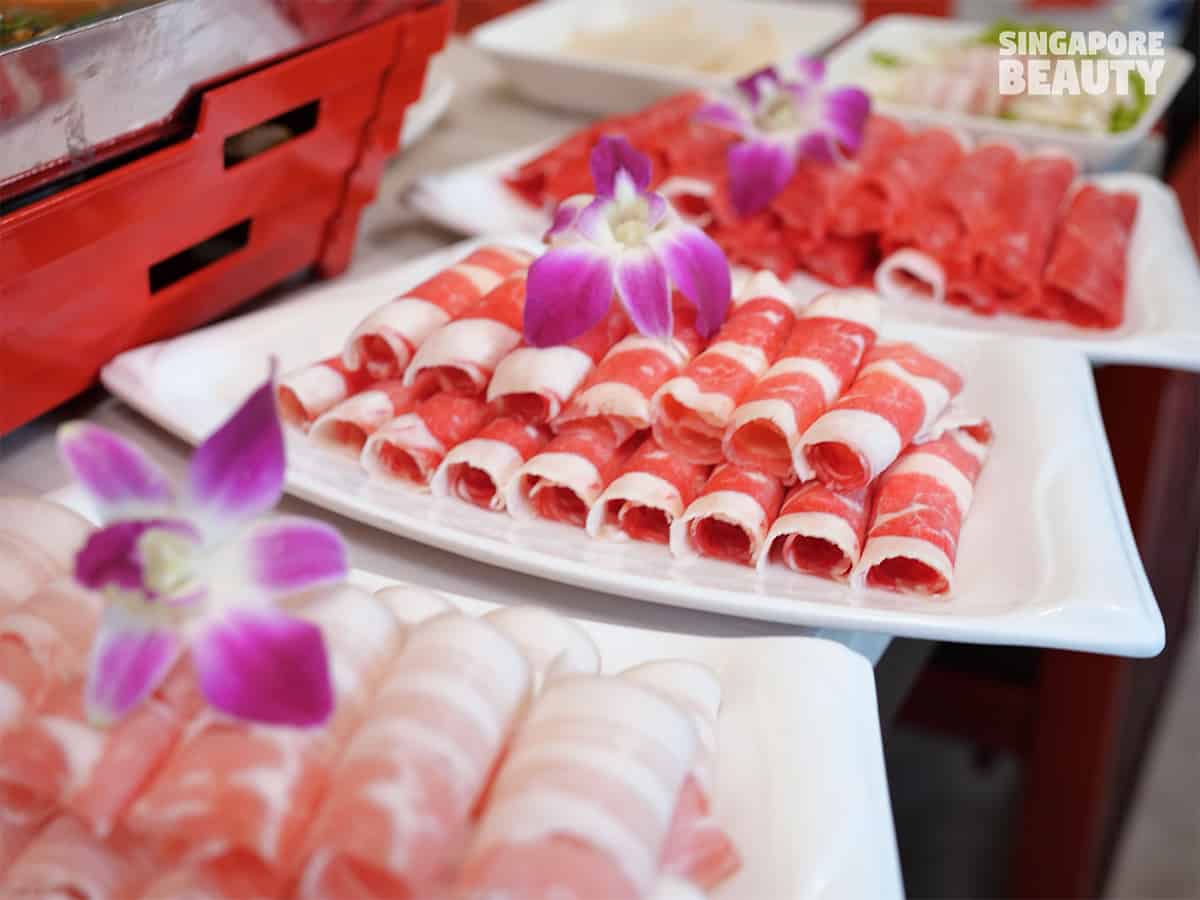 Shabu shabu meats are must try here. These are freshly sliced in-house such as pork belly, mutton and US sliced beef. These are best cooked in hotpot quickly and dip in a customized meat dip from their condiments bar.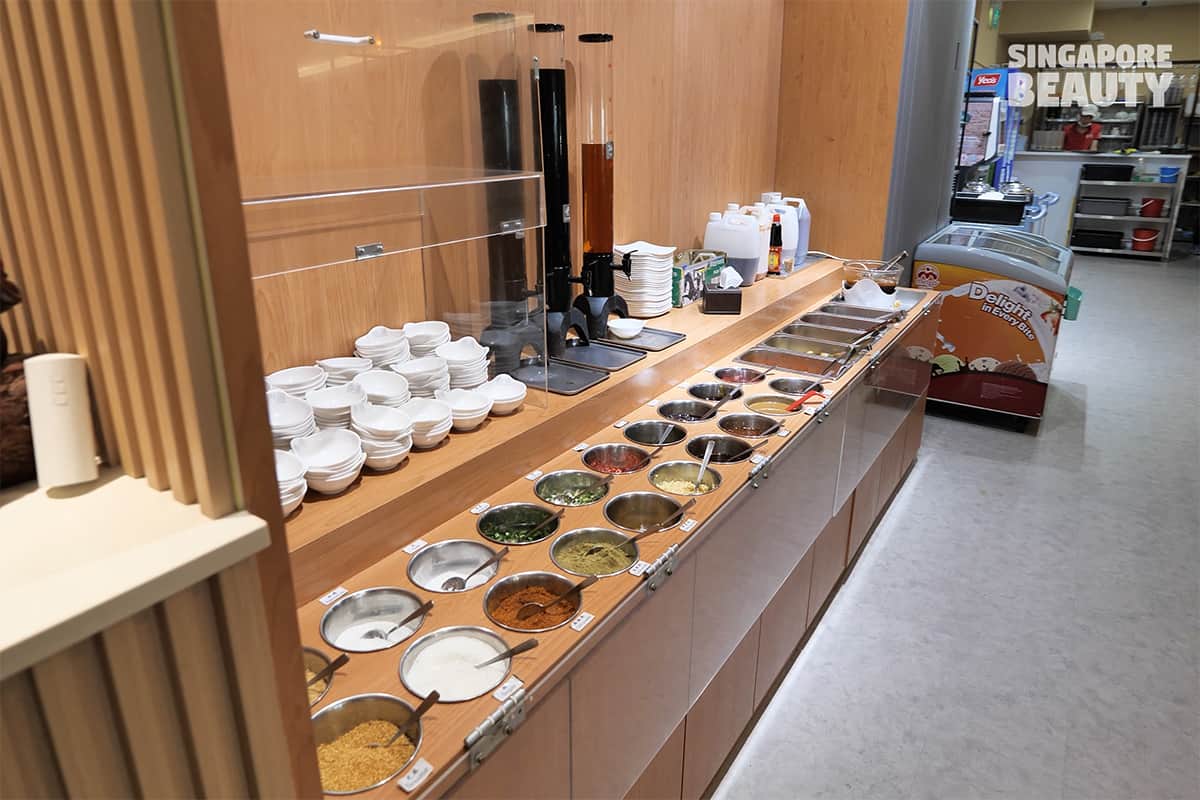 This is the condiments, sauce dip and appetizer bar. You can get all sorts of dips and ingredients to spruce up the usual way you bbq, customize your preferred meat and seafood dips. This is also where you get your appetizers such as braised chicken feet, fried spring roll, mantou chinese fried buns, cherry tomato, kimchi and watermelon. These appetizer menu are on a rotational basis so you might get something new on each visit.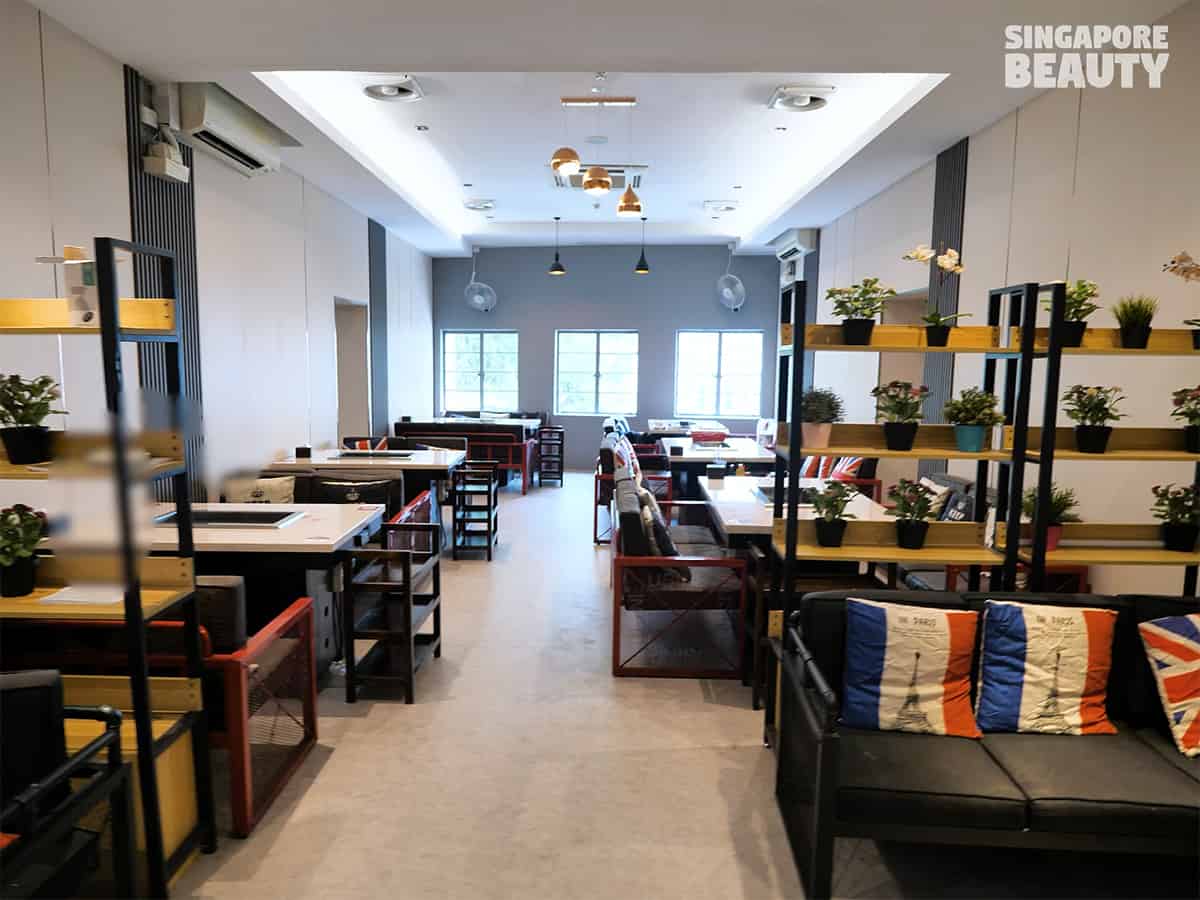 This is the newly renovated interior of Ding Garden Buffet restaurant. There are window seats that overlook the busy Chinatown. These are the hot seats during Chinese Lunar New Year where you can watch the street parade during the festive season. The other seats are the cooler seat where you get the full blast from the aircon while you bbq and hotpot.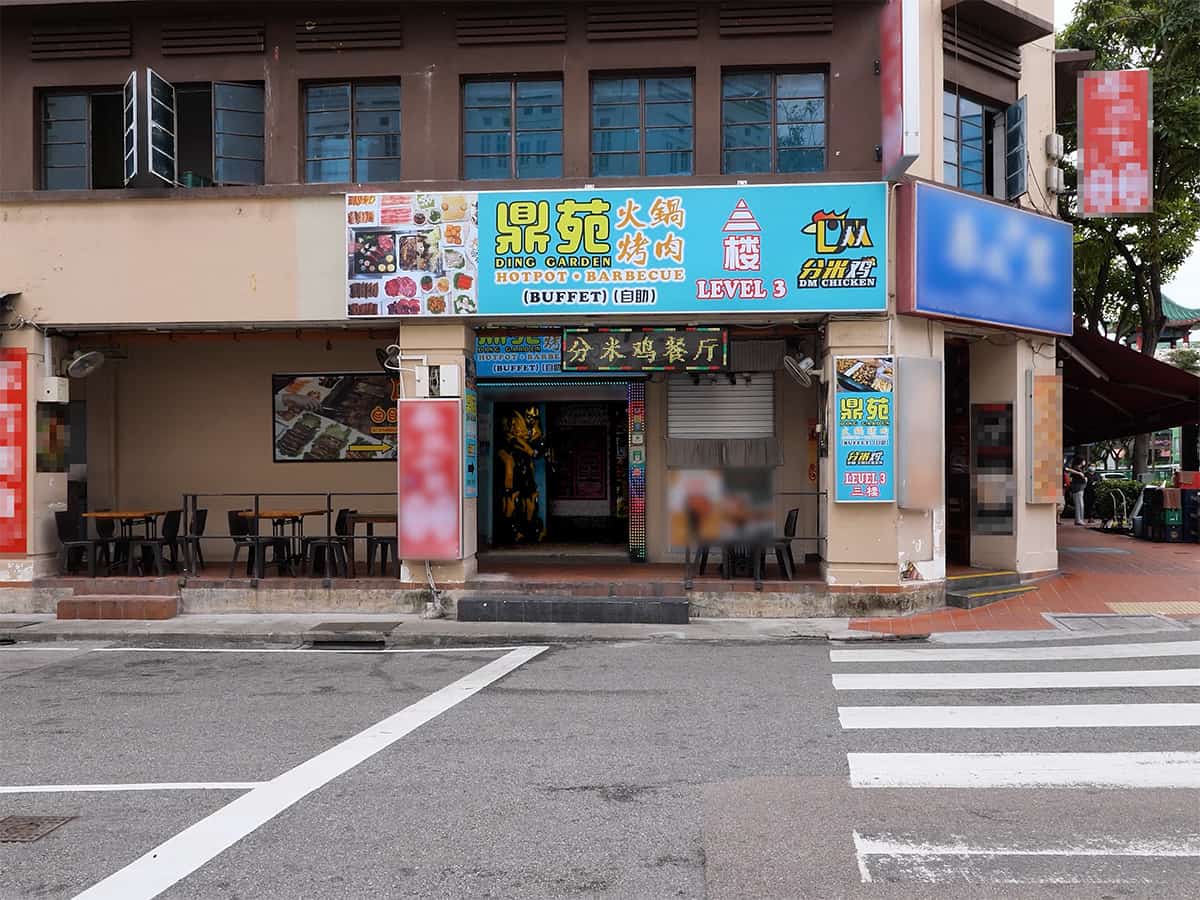 Ding Garden bbq & hotpot buffet at Chinatown Singapore is great for large group as the restaurant spans the whole of the 3rd storey space. To get to Ding Garden, the nearest mrt station is at Chinatown Exit E or A, walk till you see a Yellow Bumblebee Transformer at the entrance. Take their private lift access to level 3 , it will drop you right at the restaurant entrance from the busy street level.
Address of Ding Garden:
191B New Bridge Road, #03-00
Singapore 059423
Buffet Price of Ding Garden
3-In-1 Roast fish buffet
Unlimited fish & free hotpot soup
Lunch
Adult:32.90++
Kid:16.90++
Dinner/Weekend/PH
Adult:36.90++
Kid:19.90++
2-In-1 hotpot & BBQ buffet
Single hotpot soup + $6++
Dual hotpot soup + $10++
Lunch
Adult:25.90++
Kid:14.90++
Dinner/Weekend/PH
Adult:29.90++
Kid:16.90++
Drinks are ala carte for both buffet options
Call for reservation: 6909 2758
Brought to you by Ding Garden