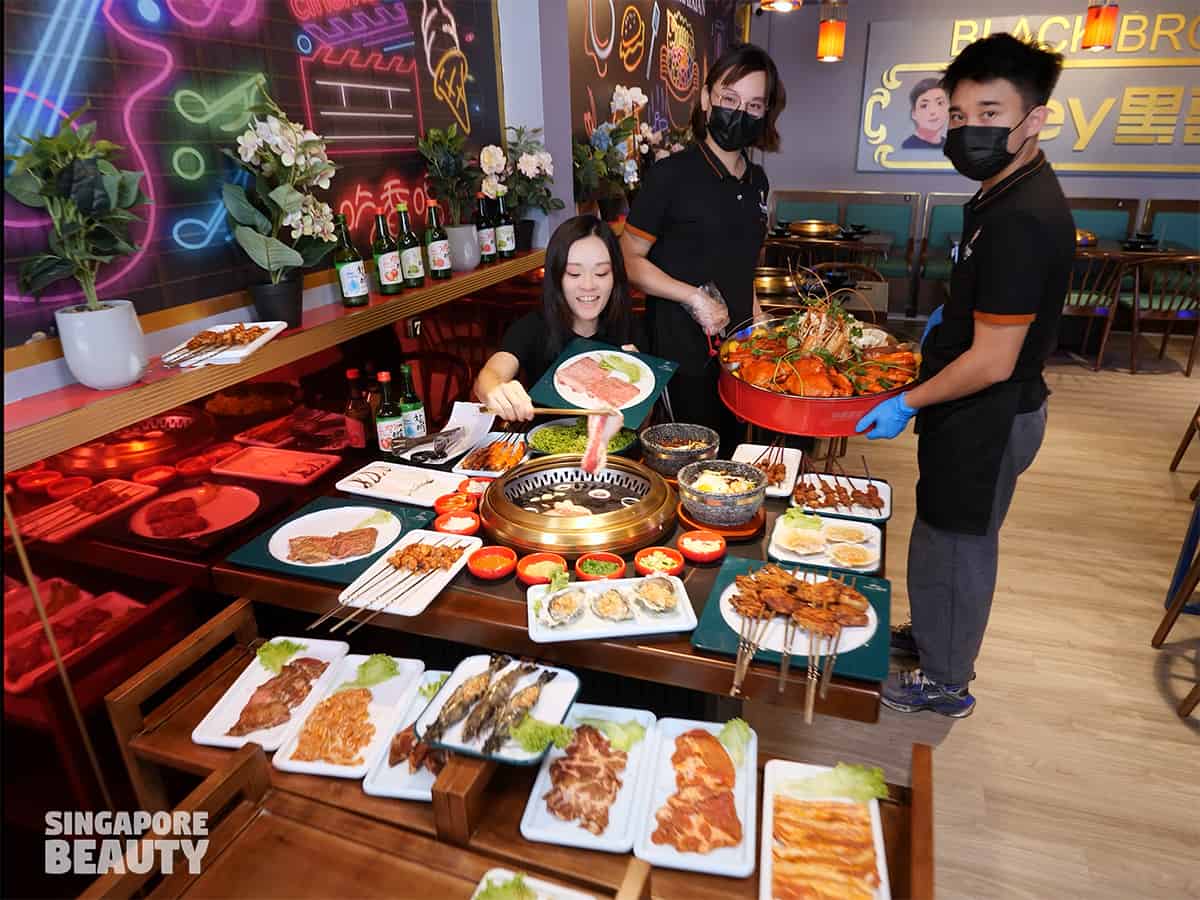 Hey Black Bro is a new 3 storey restaurant with music hall and karaoke place. With a full fledged kitchen that serves BBQ, skewers, seafood feast, seafood bbq, zi char wok dishes, appetizers, noodles and rice with wok hei. They also served Korean style bbq meats, banchan, XO, beers and soju.
Ground floor of Hey Bro restaurant specialised in Korean style bbq meats at Bugis Singapore. They have premium cuts such as Kagoshima Japanese A5 wagyu, beef ribs, marinated chicken, black pork belly, wagyu beef steak. Those who are into seafood bbq can also get their craving fixed with bbq garlic butter prawns, garlic oysters, scallops and crabs. While barbecuing, you can also enjoy their cook-to-order bbq skewers.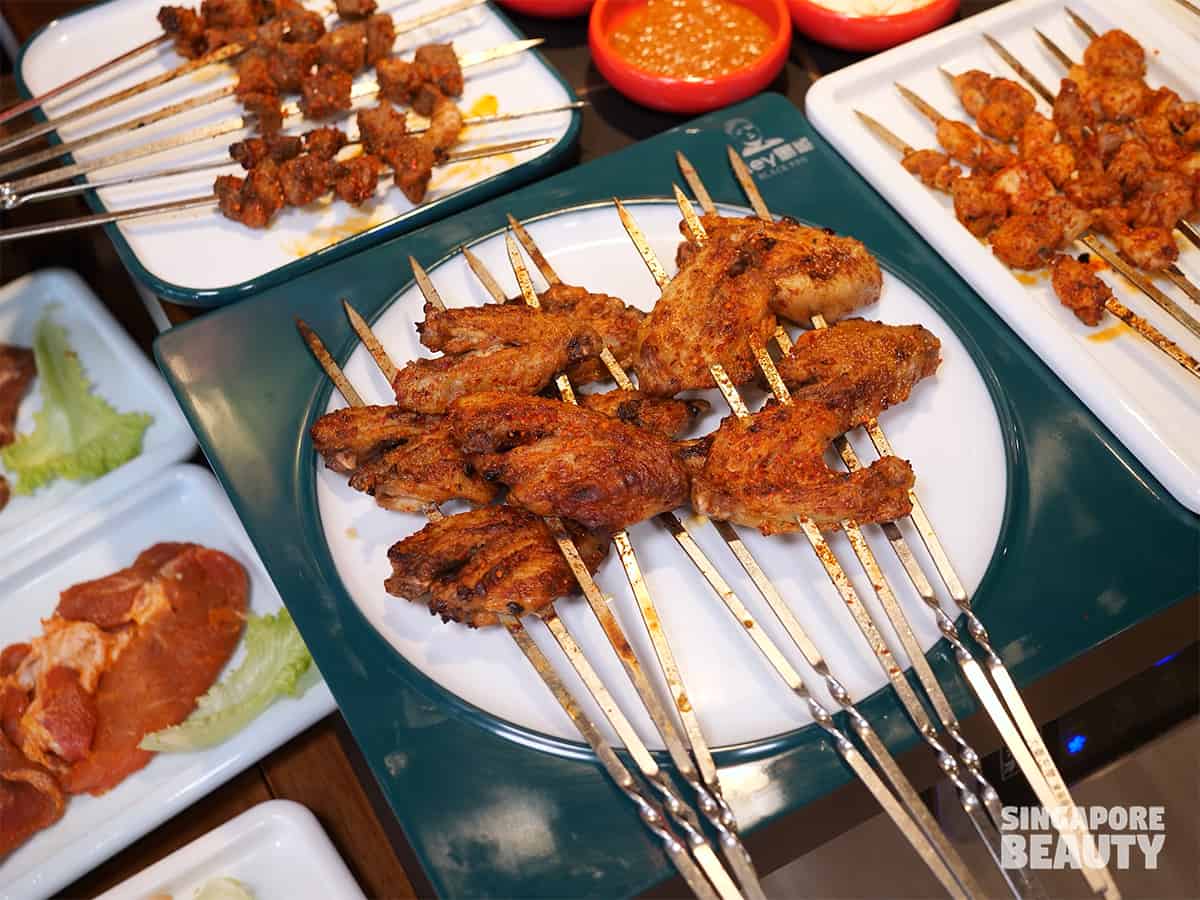 There are a total of 25 types of bbq skewers in their chef-cook-to-order menu. The price for BBQ skewers starts from $1.20 – $9.80. The meat skewers are priced at $1.50 per stick with a good amount of flavourful tender meat on them. The meats skewers available are mutton, chicken and pork. Hey Black Bro restaurant also have many unique bbq skewers such as chicken feet, pork knuckles, lamb short ribs, pig kidney, beef tendon, chicken gizzard, chicken heart and Taiwan sausage.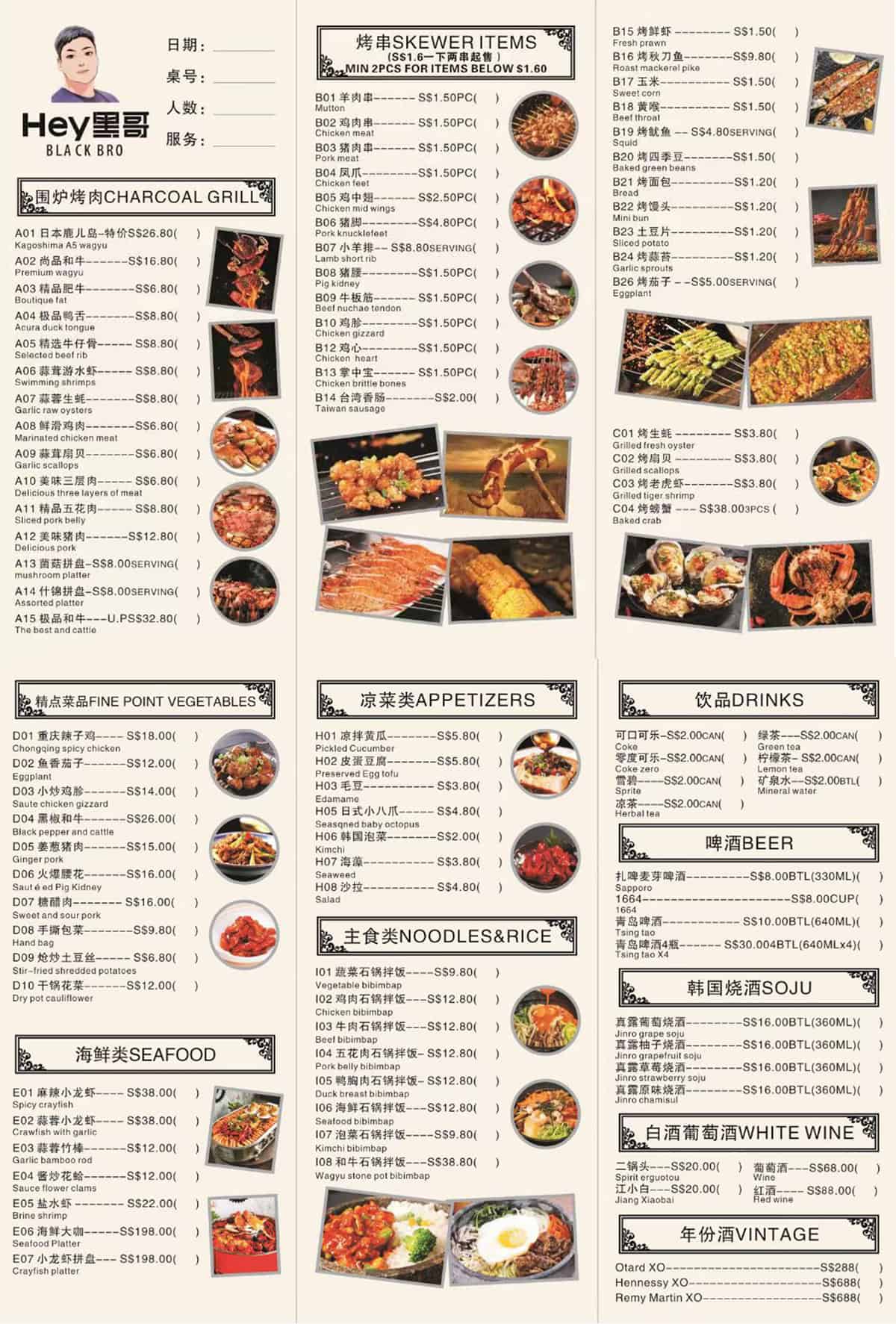 Here's the price and menu of Hey Bro BBQ, seafood and Karaoke Restaurant. There are more than 100 types of dishes to choose from. From bbq grill, bbq skewers, bbq seafood, zi char Chinese dishes, giant seafood platter feast, appetizers, noodles, rice, XO, beers to Soju, there's something for everyone.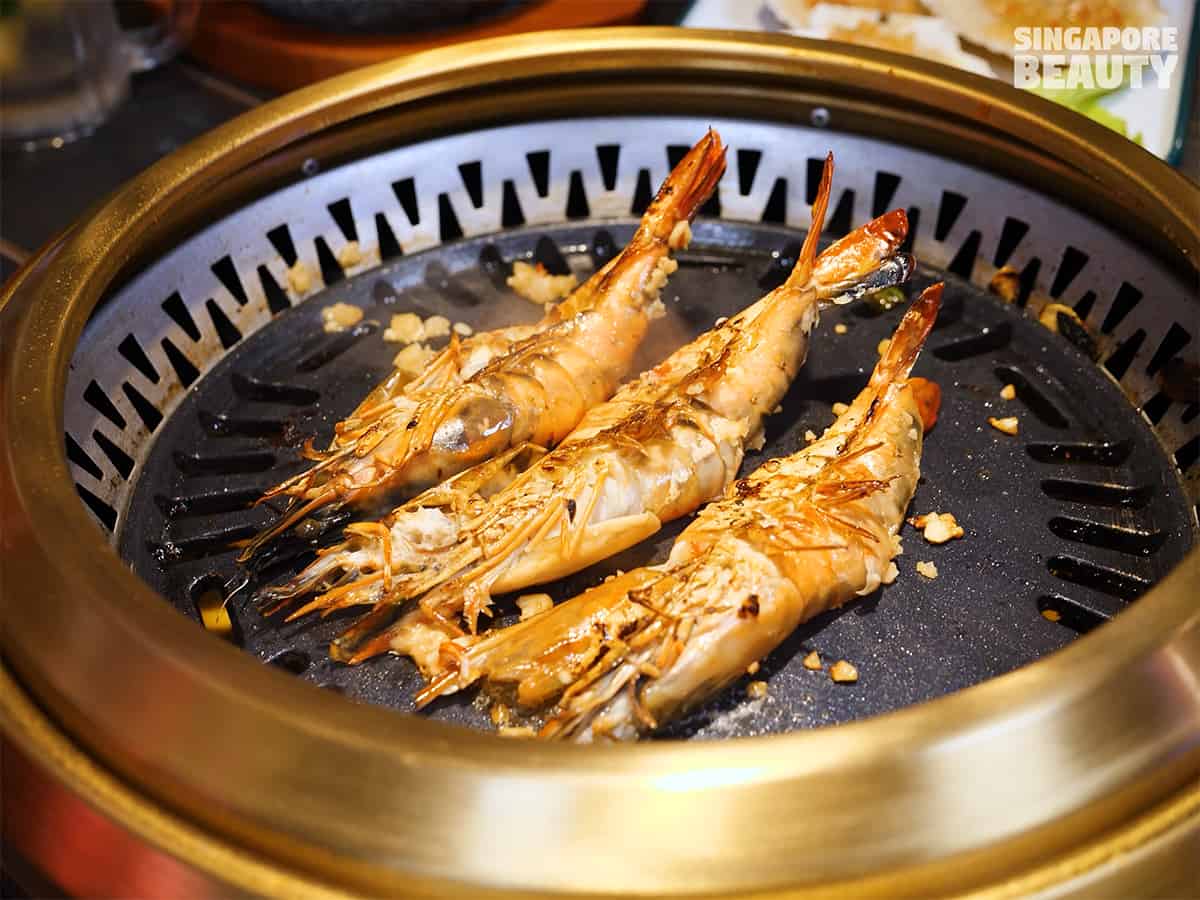 Besides meat barbecue, they also have seafood bbq here. The seafood available are garlic butter tiger prawns, garlic raw oyster, mackerel, squid and baked crabs. The size of the garlic prawns are pretty big with head butter and firm meat. Barbecue seafood are great as the juice are kept intact and the flavours becomes more intense as you grill. We love their grilled prawns, oysters and scallops. The rare find here are their mackerel, grilled squid and baked crabs, do try these while you are there.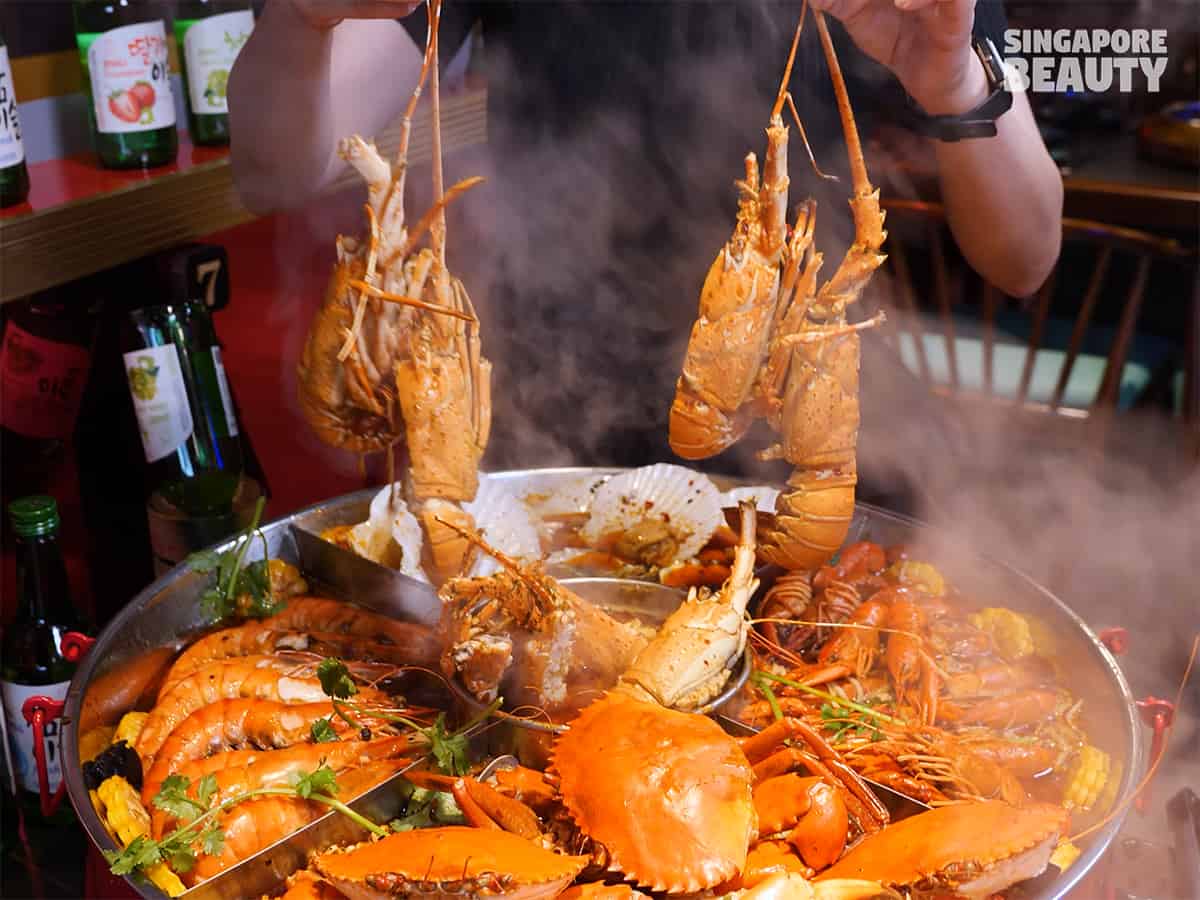 For seafood lover, Hey Bro restaurant have their signature giant seafood platter that can feed more than 4 people. This is their giant seafood platter $198 with mud crabs, large tiger prawns, crawfish, bamboo lobsters, half shell scallops, sweet corns and noodles in simmering hot broth. Must Try!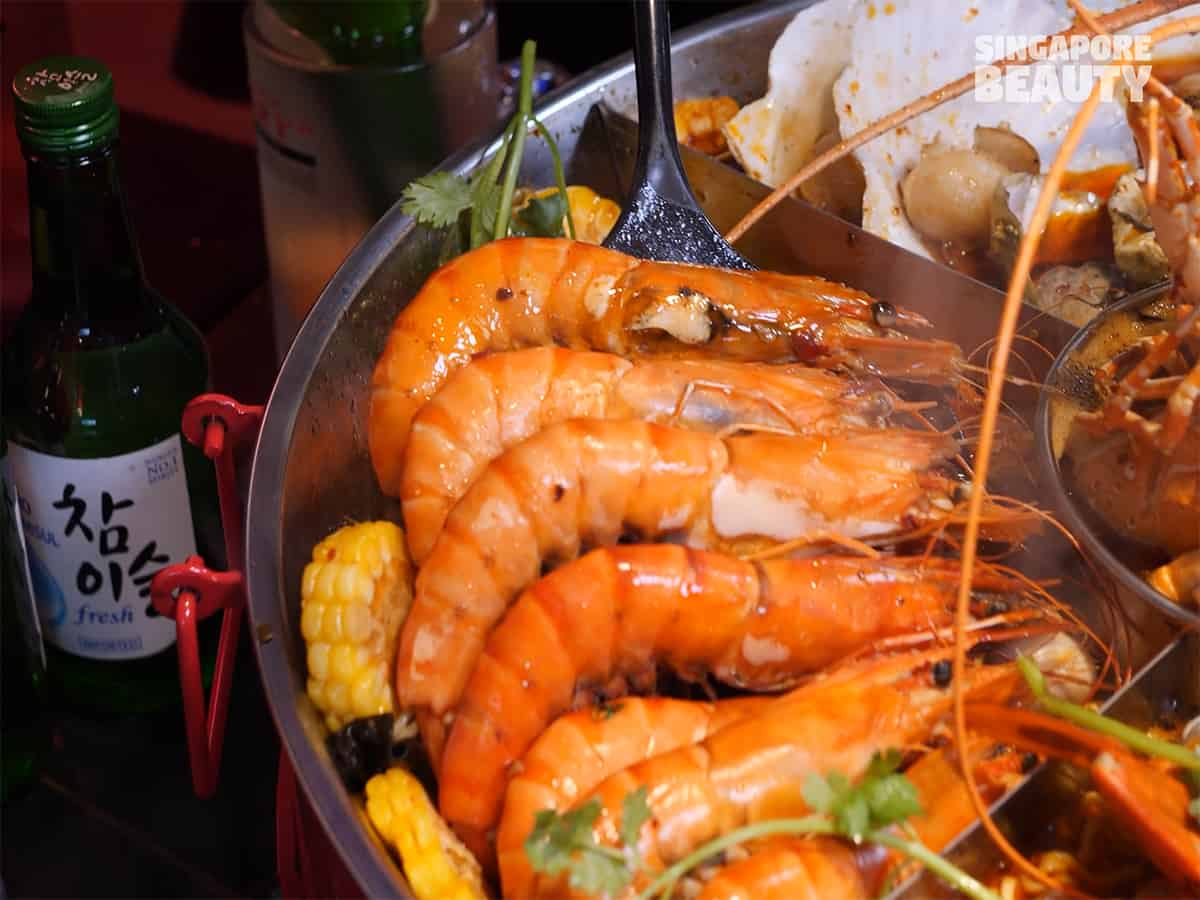 Tiger prawns are firm, meaty and crunchy. The sweet meat pairs well with the spicy hot broth. The creamy head butter has a bitter sweet flavour.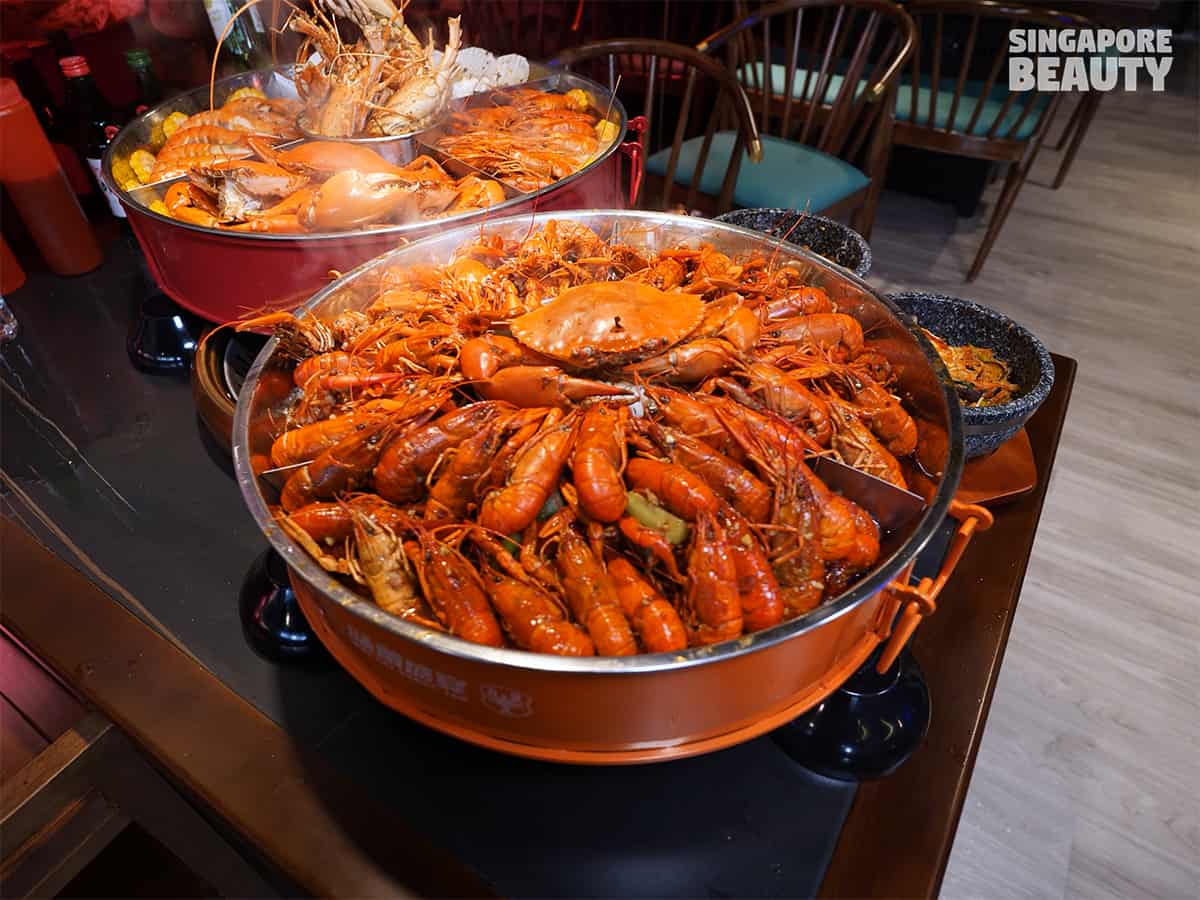 They also have jumbo size crawfish platter for those who loves spicy mala crawfish and mud crab. This is a huge platter that can feed more than 4 people. The crawfish are very flavourful with sweet morsel of meat. Enjoy the head butter with it sweet meat that taste like a combination of crab and prawn. This is also one of the signature dish in Hey Black Bro restaurant.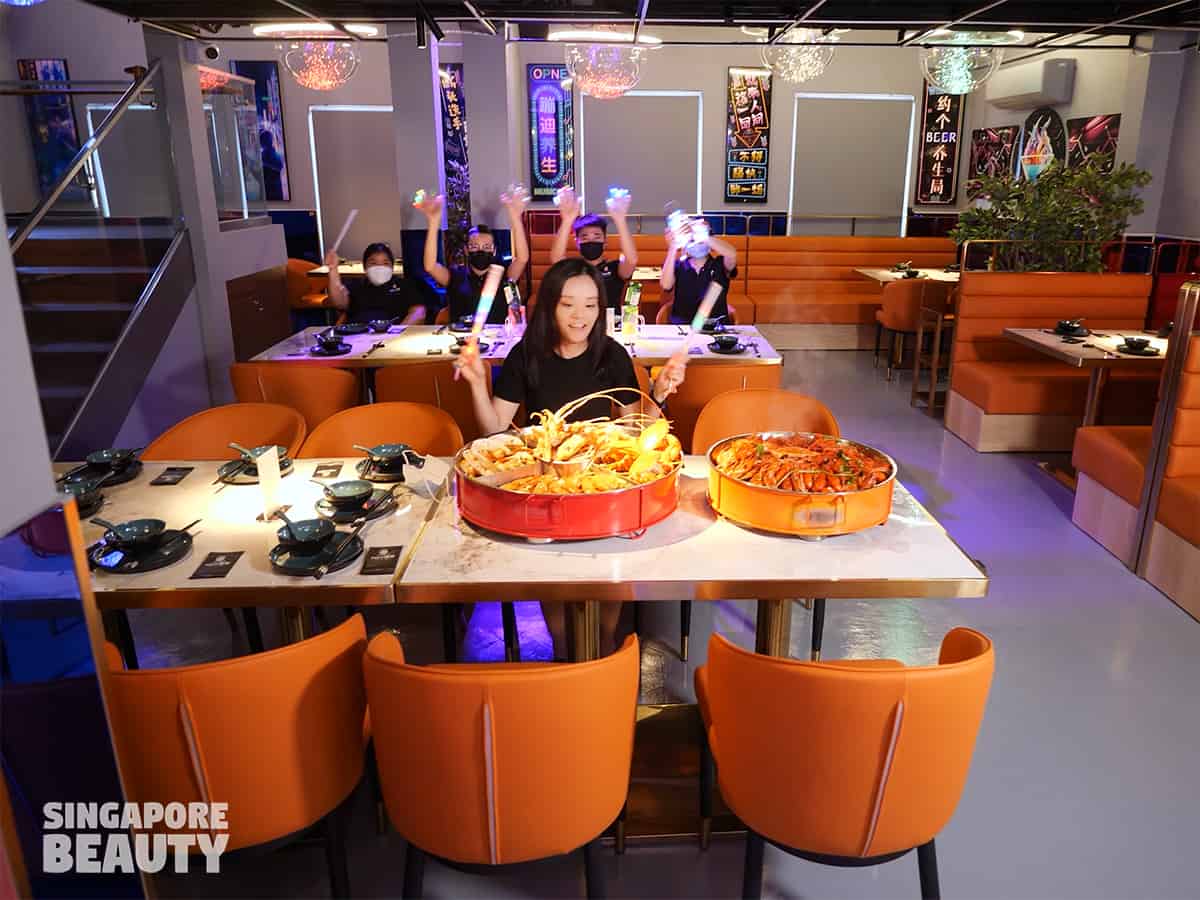 Level 2 and Level 3 of Hey Bro restaurant is dedicated for seafood platter, cooked dishes and bar drinks and karaoke VIP rooms. These levels have dimmed low lights and more like a drinks club bar with music hall. The space theme here has a futuristic and magical ambience to it. The setting is relaxed and has a good surround sound system with pop music.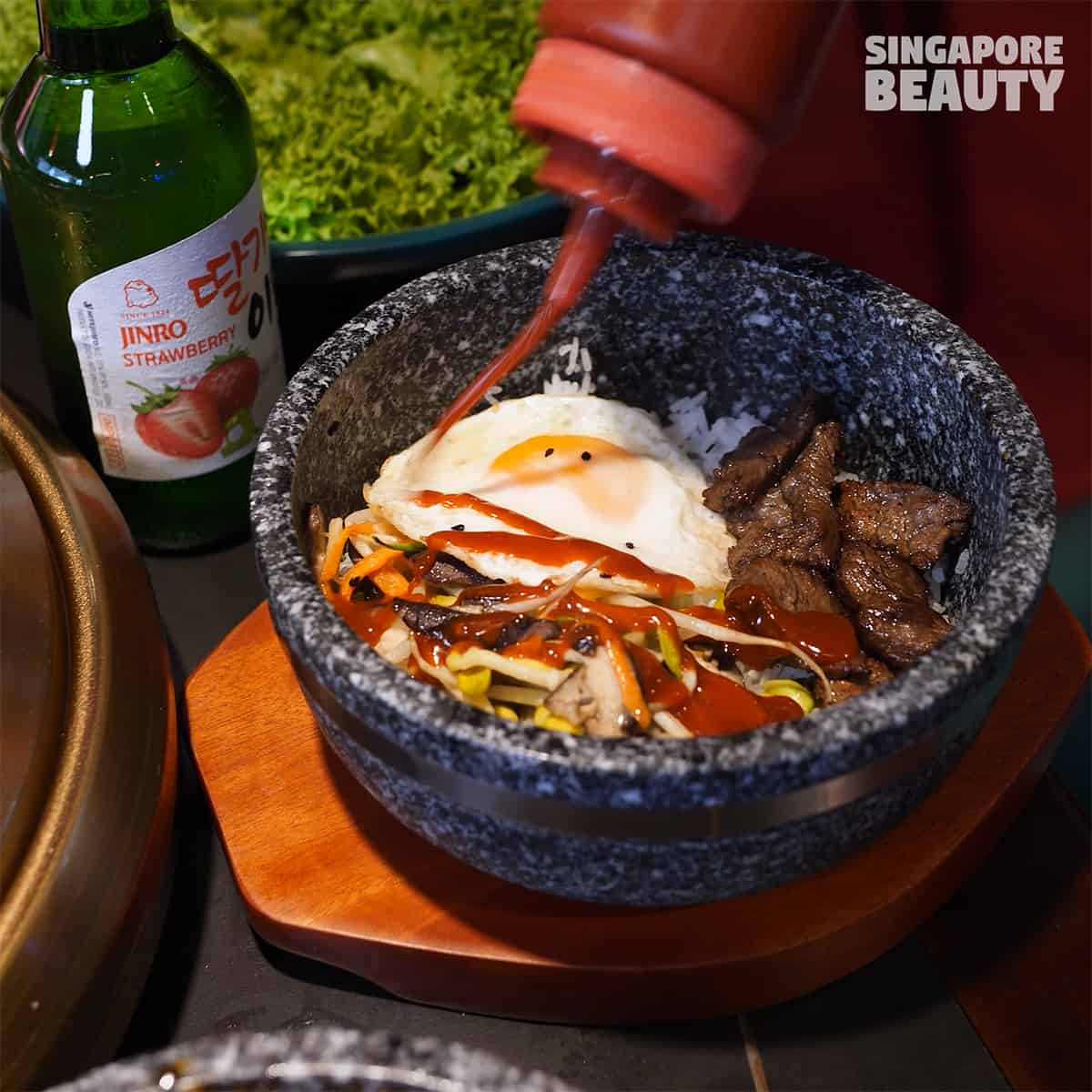 There is also a bar counter where you can order your alcoholic drinks such as soju, beer or hard liquor such as XO to go with your Korean food such as bibimbap. They have vegetable, chicken, beef, pork belly, duck breast, seafood, kimchi and wagyu stone pot bibimbap. If you are looking for where to eat Korean food and meat bbq in Bugis, Hey Black Bro has it all. This is the wagyu bibimbap with wagyu steak, sunny side up fried egg, soybean sprouts, carrots, shittake mushroom and bibimbap sauce. Mix them well and enjoy the sizzling sweet and spicy rice in the stone pot. This is a great idea for lunch if you are looking for something nutritious, quick and comforting meal at Bugis.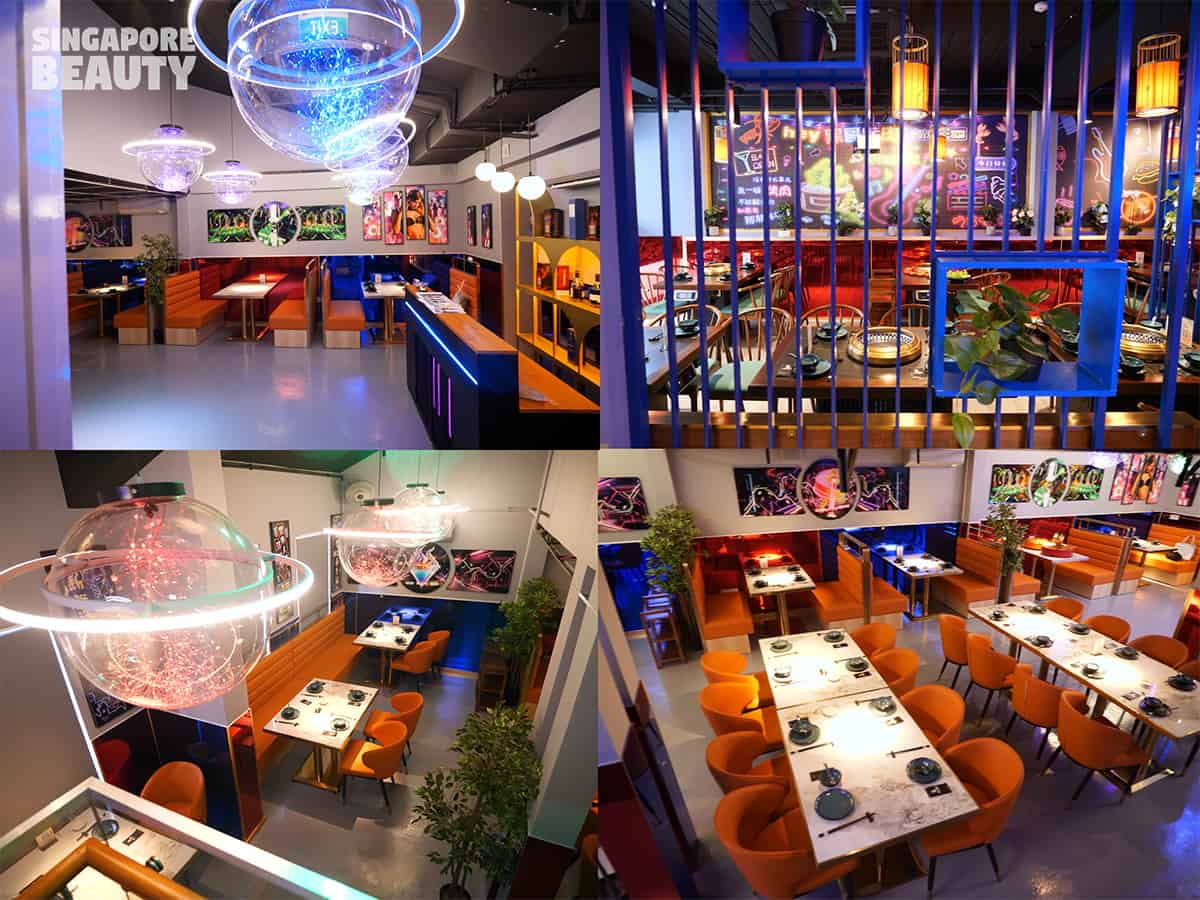 This new multi food selection and entertainment concept restaurant has 3 storeys with different theme and functions. There are long cushioned settee for large groups and bench ones for intimate couples. This hall is also linked to several KTV Karaoke rooms on the same level.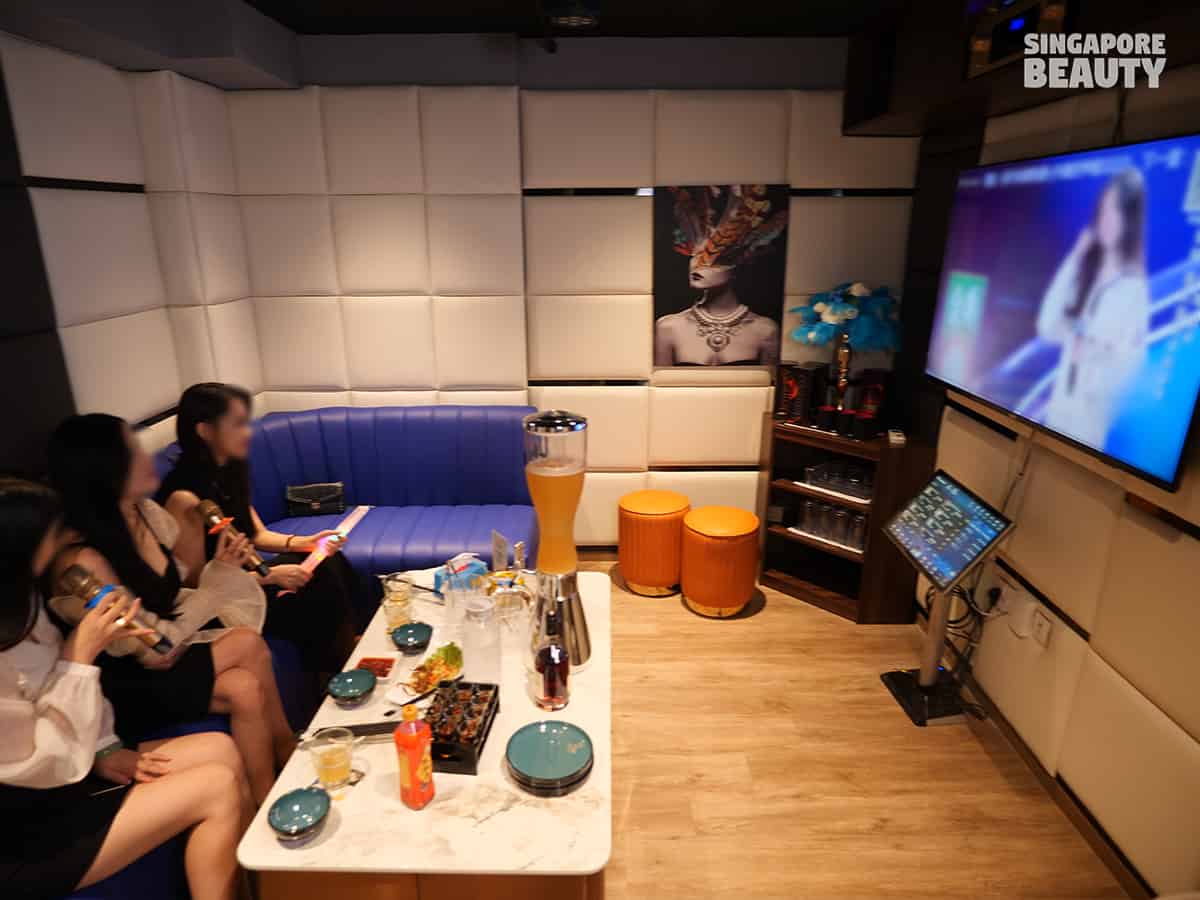 Hey Bro restaurant have karaoke rooms that are of various size. The largest Karaoke KTV room is at level 3 that can house up to 8-10 people. The Karaoke room pictured above is the medium size karaoke room that comes with an attached washroom. Food and drinks ordered from their kitchen can be consumed in this karaoke room. To book these room, minimum spend applies. For small karaoke room is $388+, medium is $588+ and large room is $888+. This is great for special occasions where you want to find a venue where you can sing karaoke, eat, gather and have fun together with your love ones and friends.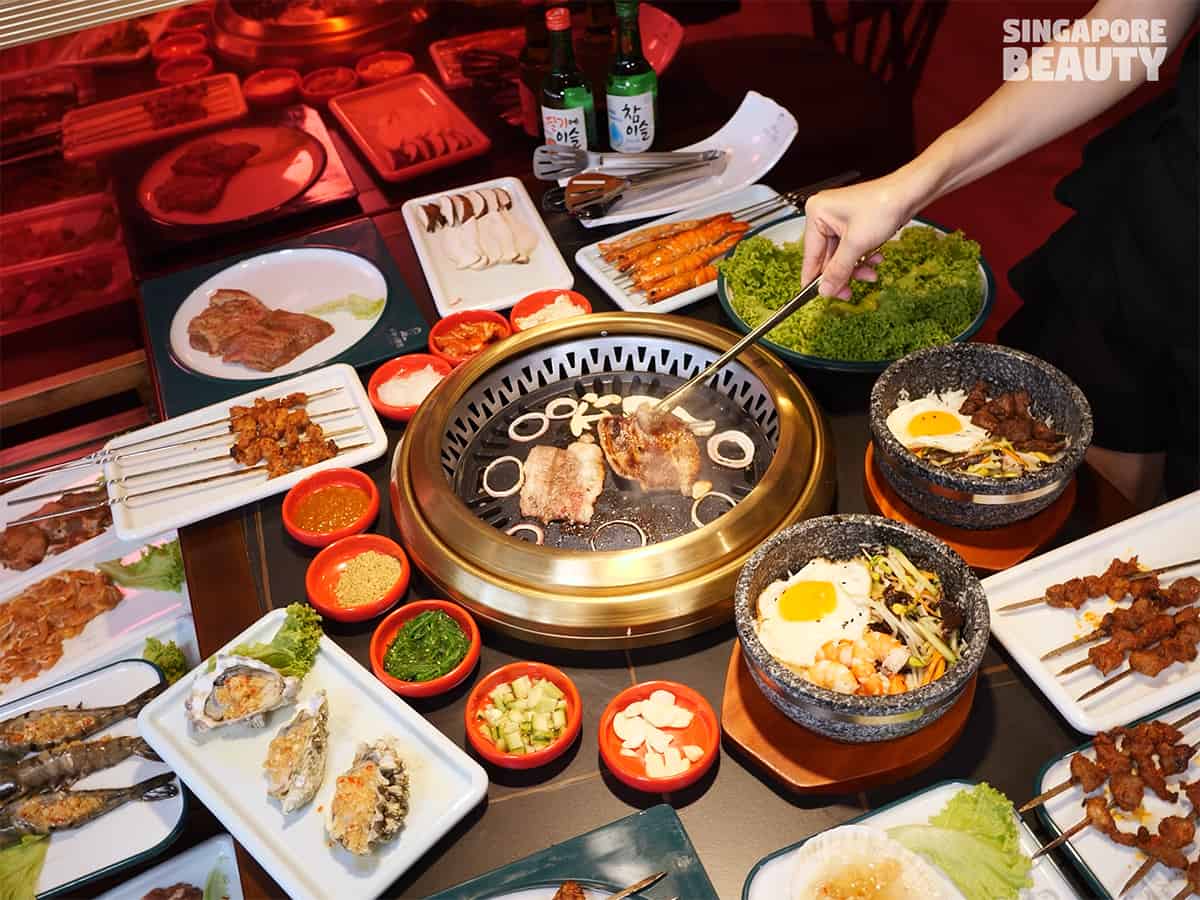 There are various type of meat that are well marinated. Grill the meat and enjoy the delicious aroma of sizzling hot cuts Korean style BBQ in Bugis. Add more layered flavours with the banchan, condiments and dips such as sliced raw garlic, pickled cool cucumber, seaweed, sesame, gochujiang, kimchi, green pepper, pickled radish and more.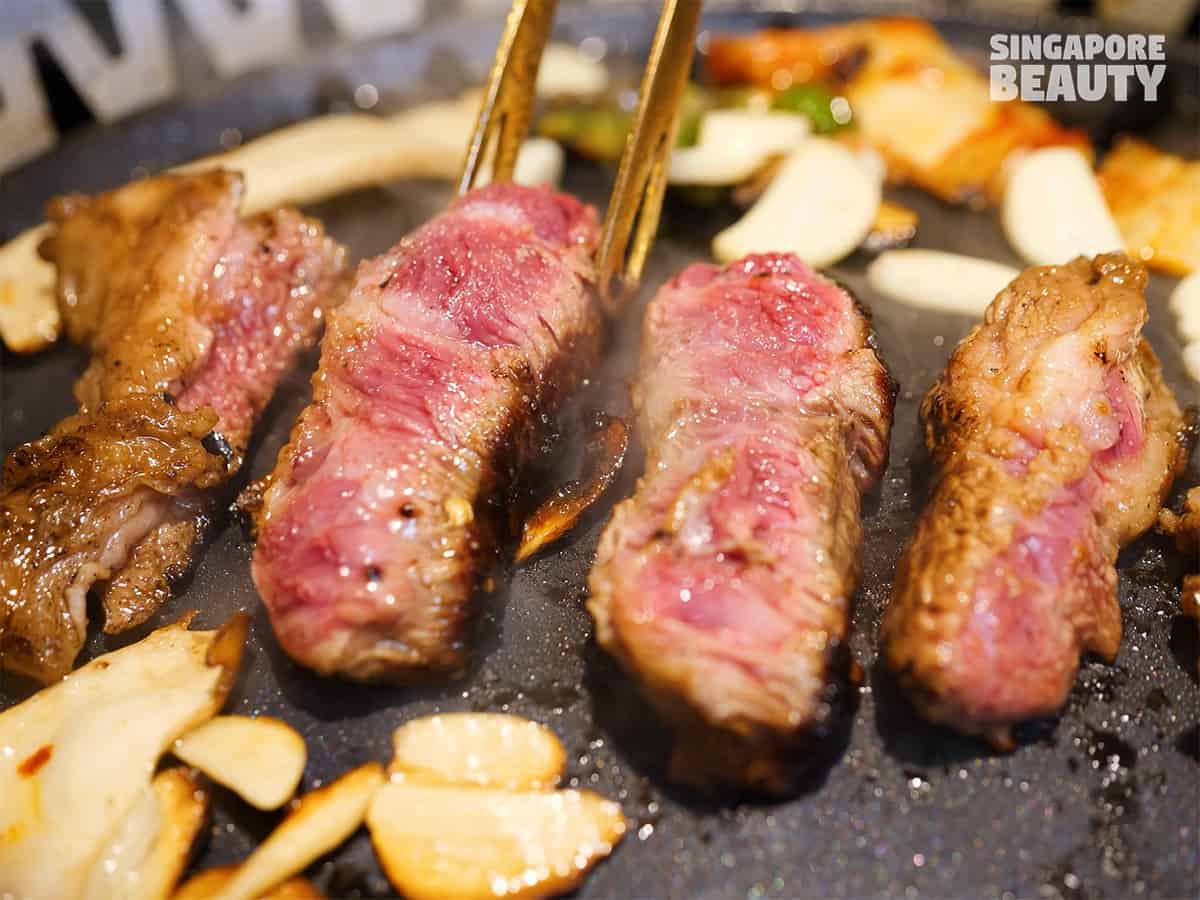 This is the wagyu steak grilled to medium rare. The steak comes in a thick slab that is butterflied for quick even cooking. The steak is best enjoyed by grilling it in its own marbling and adds a pinch of salt to taste. The outside is lightly charred brown and the inside is umami tender. Make sure to not overcook it, the hotplate is very hot and the meat can get burnt relatively fast.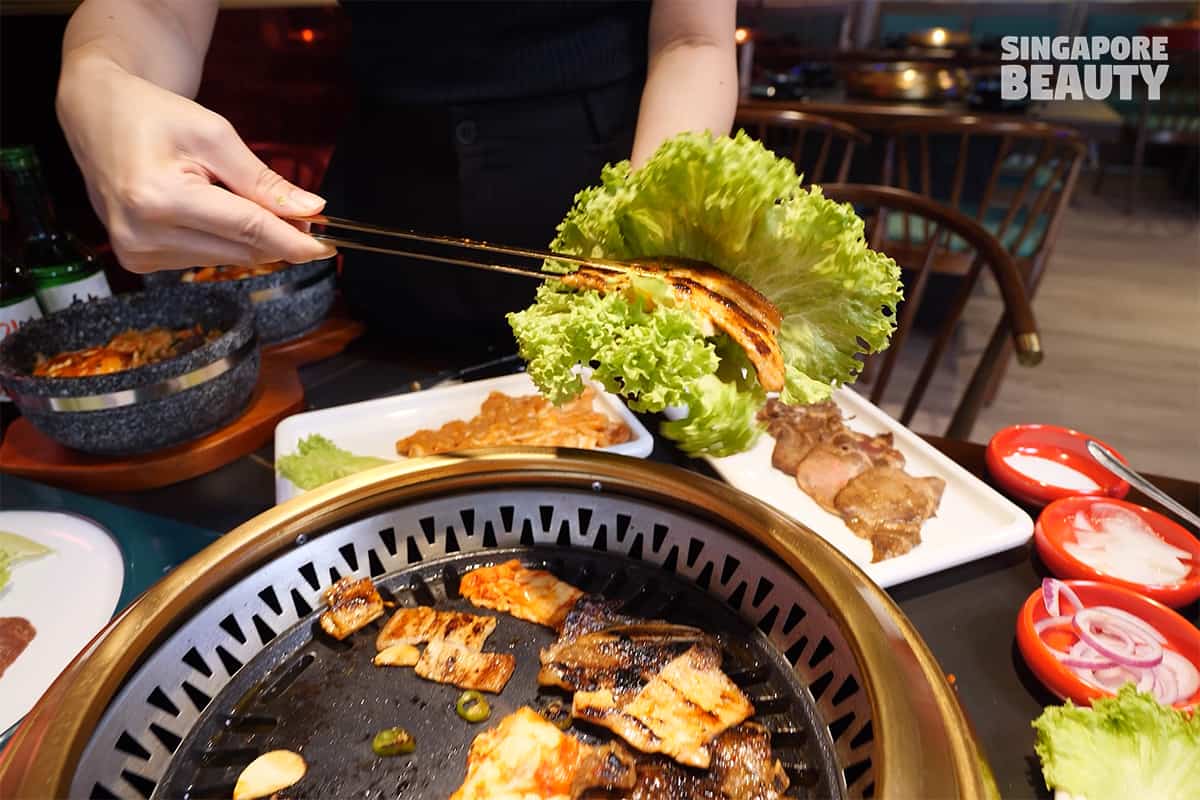 They also have a variety of well marinated meats for barbecue. These are best enjoy as a lettuce wrap. Load your lettuce wrap with gochujiang, raw garlic, sesame seeds, pickled radish, grilled kimchi, a hot slice of grilled pork belly for a hearty bite. Together with an icy soju, the Korean style meat and seafood bbq experience is completed.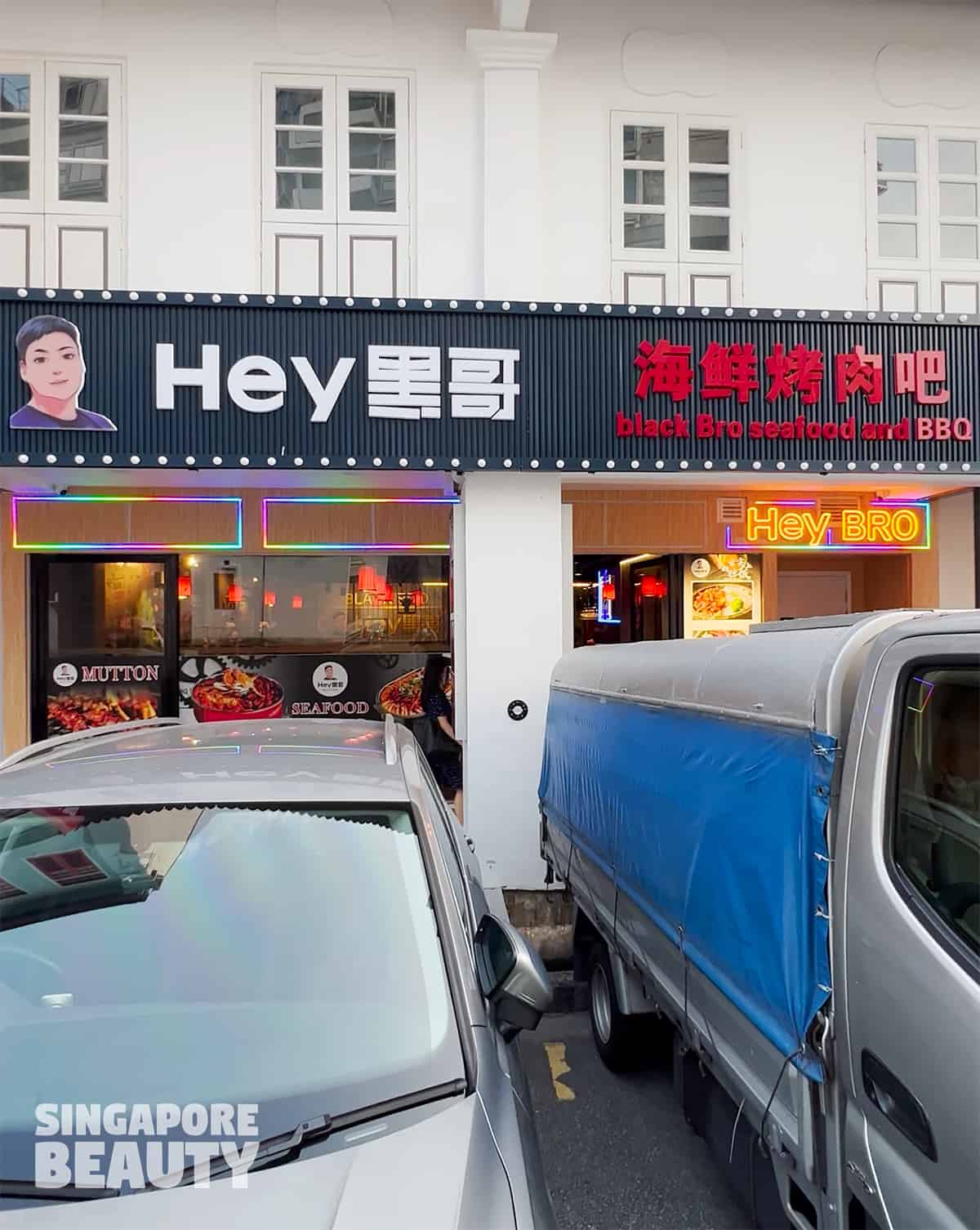 Hey Bro is a seafood and meat bbq restaurant bar and karaoke place at Bugis, Tan Quee Lan Street Singapore. With plenty of parking next to the shop and stone throw away from Bugis MRT, this is a great location to plan for gathering with friends and family. The restaurant is spacious with 3 storey of dining and entertainment space. With more than 100 varieties of food, there will be something for everyone.
Address of Hey Black Bro :
7 Tan Quee Lan Street
Singapore 188096
Opening Hours : 1130am till 2am daily
Call for reservation: 8363 8841/ 6015 0380
Brought to you by Hey Bro (Hey 黑哥)