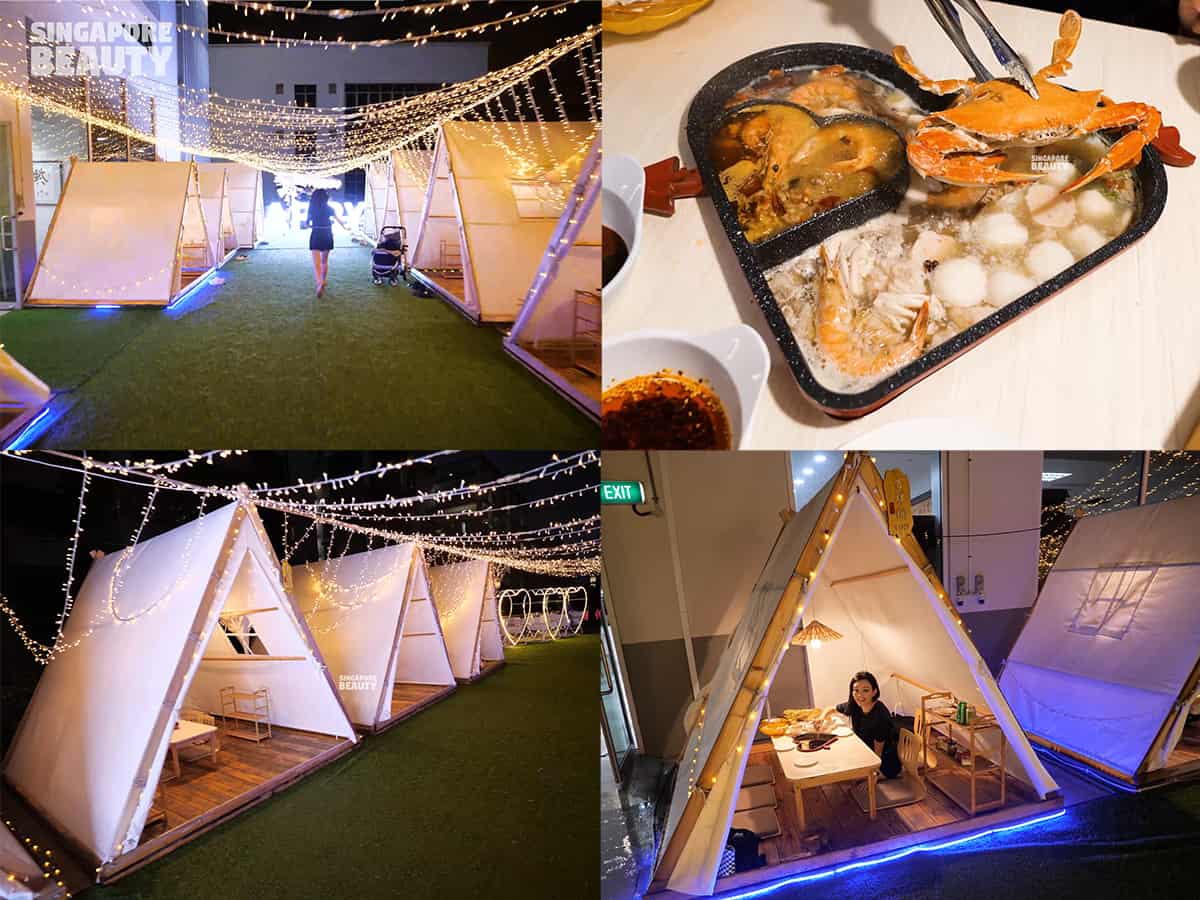 Zhong He Xiao Zhen aka ZhongHe Town Internet-Famous Restaurant 中河小镇网红餐厅 officially opened on 19 Dec 2021. We were there to experience this hotpot in tent during their soft launch. They do not have much online presence for this hidden restaurant. If you are looking for videos of it, you can check out Singaporebeauty tik-tok platform, Singapore beauty's Xiaohongshu and our facebook page.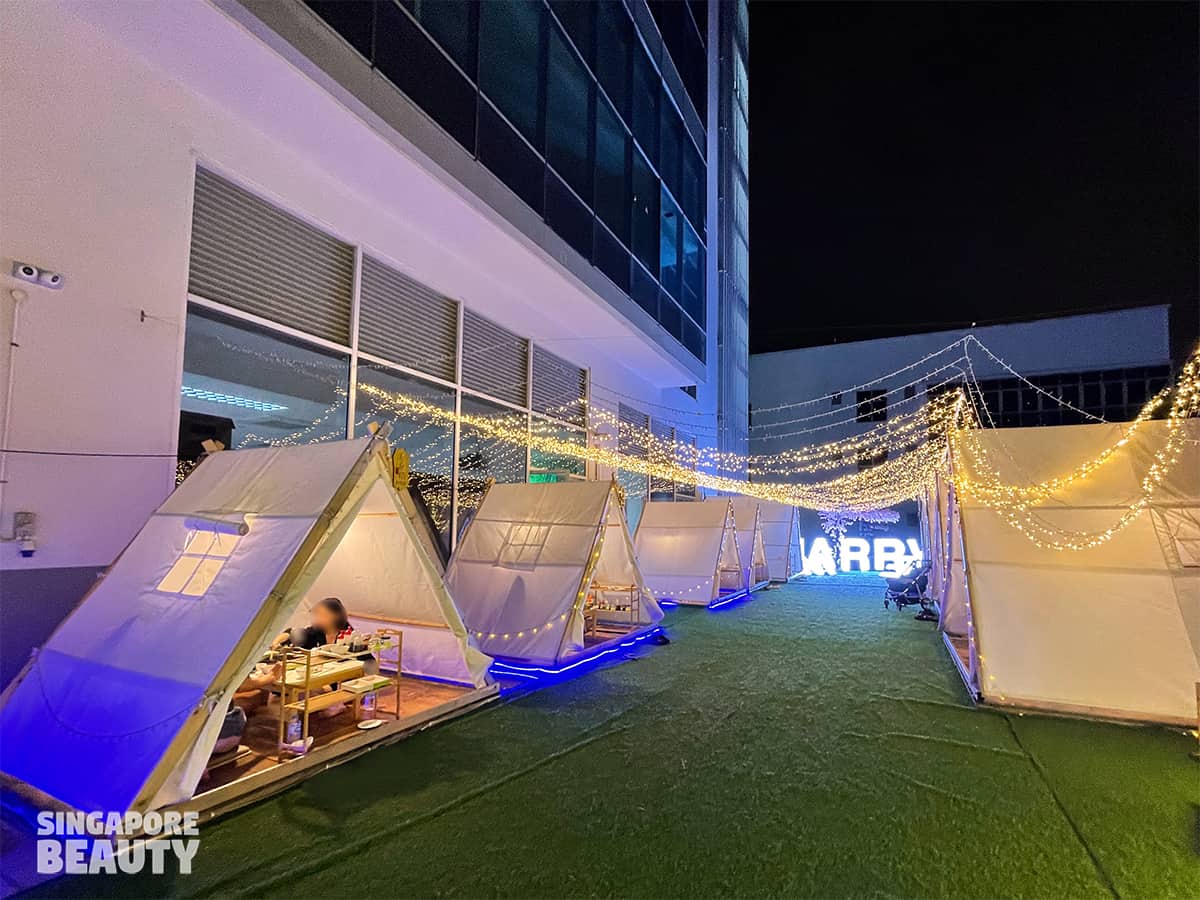 Here's our review of Zhonghe xiaozhen Town Internet-Famous Restaurant 中河小镇网红餐厅. There are plenty of opportunities to take instagrammable pictures as there were only a handful of diners during our visit. The aisle between the tents was slightly wet due to an earlier shower. The best time to be there is after sunset when the night breeze sets in. The tents are openable on both ends. There is also a square window that is openable or can be held down using the velcro tapes. Overall, the hotpot dining experience is not as hot as expected.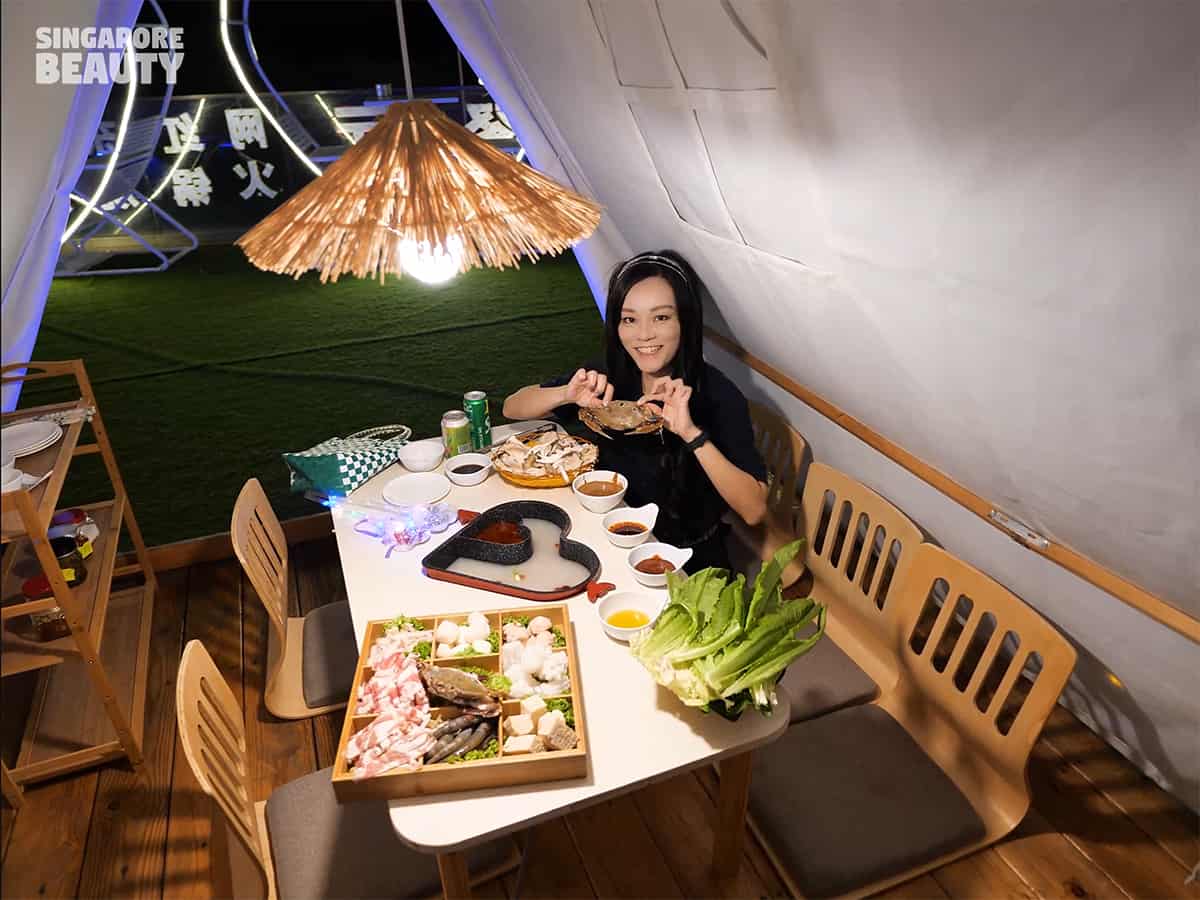 Zhonghe xiaozhen Town Internet-Famous Restaurant 中河小镇网红餐厅 menu includes Chinese cooked food, barbecued food and hotpot platters for 2-6 pax. The hotpot set for couple 网红九宫格套餐 cost $58.80, add on $10.80 for a dual soup, $6 for condiments and drinks starts from $2 each. Currently they do not charge gst and service charge. There is now a minimum $100 spending to reserve a tent.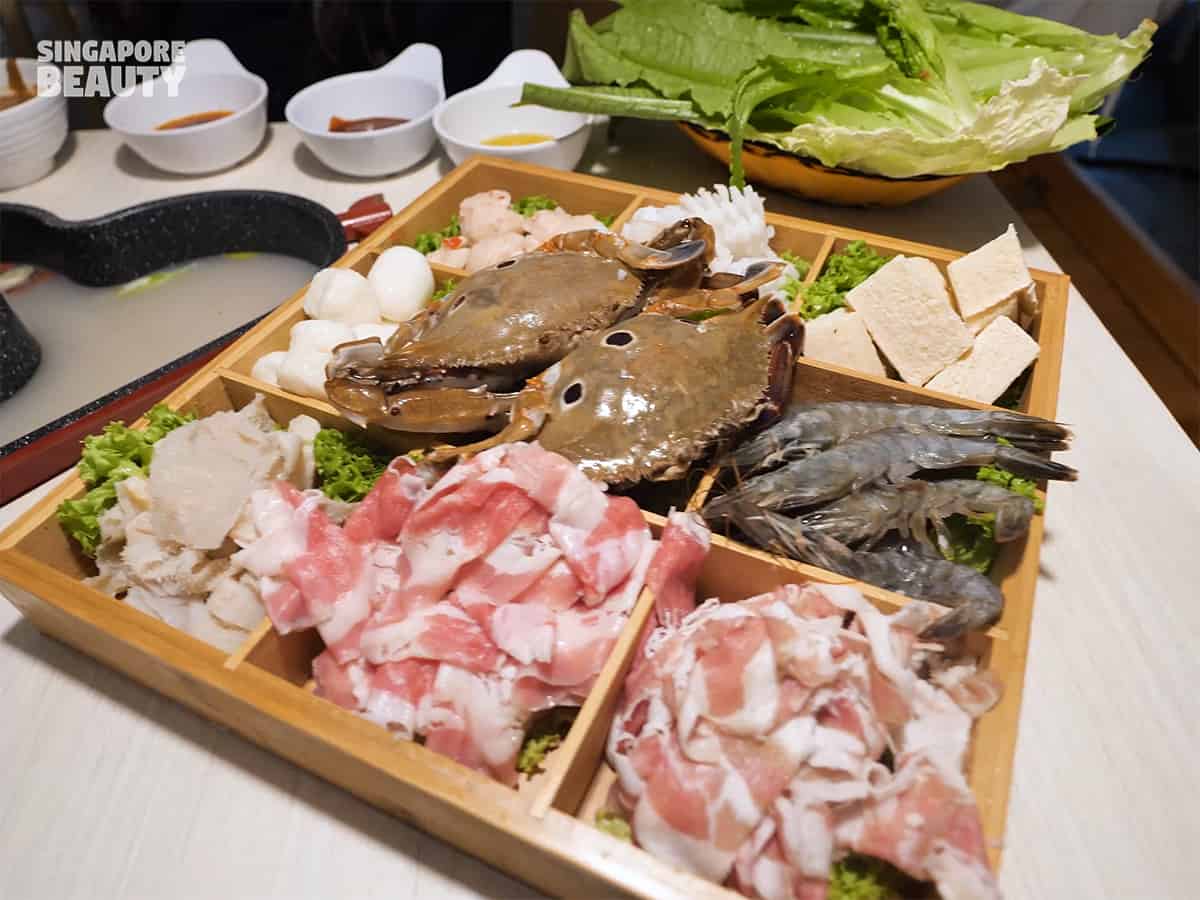 This Zhonghexiaozhen 中河小镇网红餐厅 couple hotpot set 网红九宫格套餐 include 2 flower crabs, prawns, shabu beef & pork belly, surimi balls, lobster flavoured balls, beef offals, frozen tofu, squid, 1 large basket of green and mushrooms.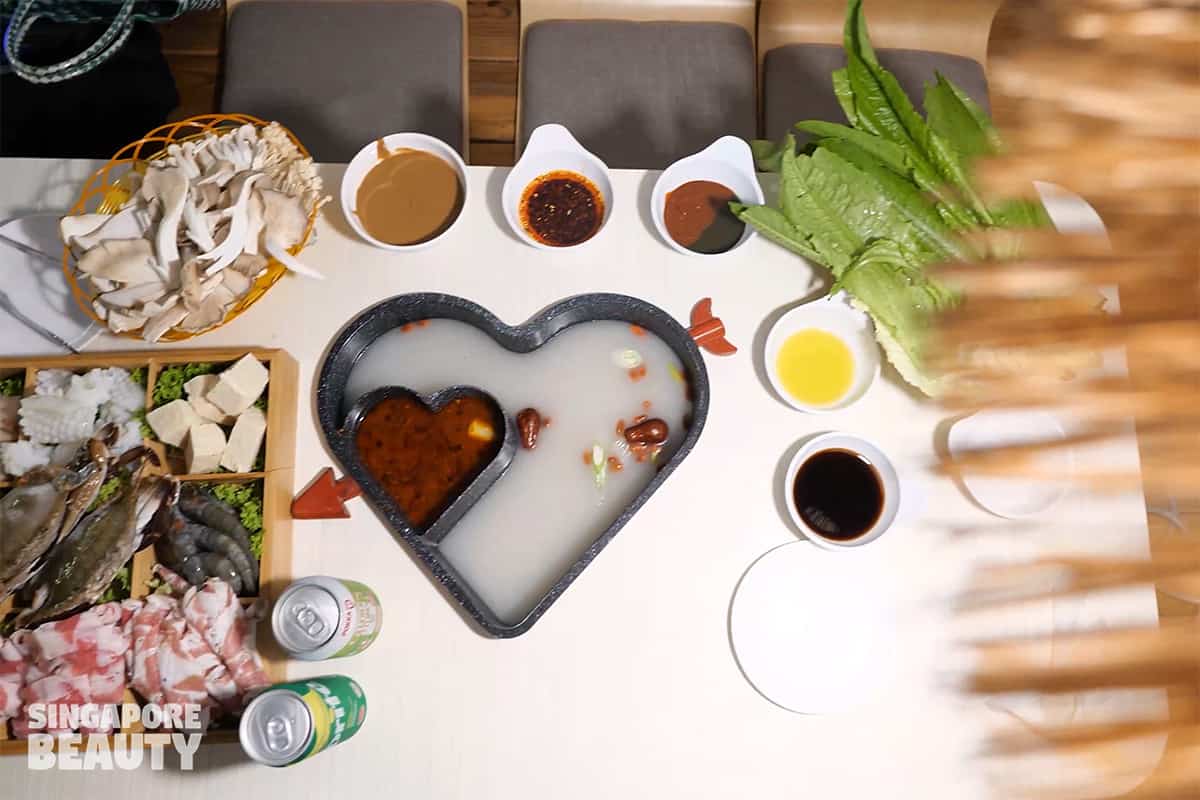 The hotpot pot is a cupid heart within a heart shaped pot. The soup choices are spicy beef like mala, mushroom with a hint of herbs and pork bone soup.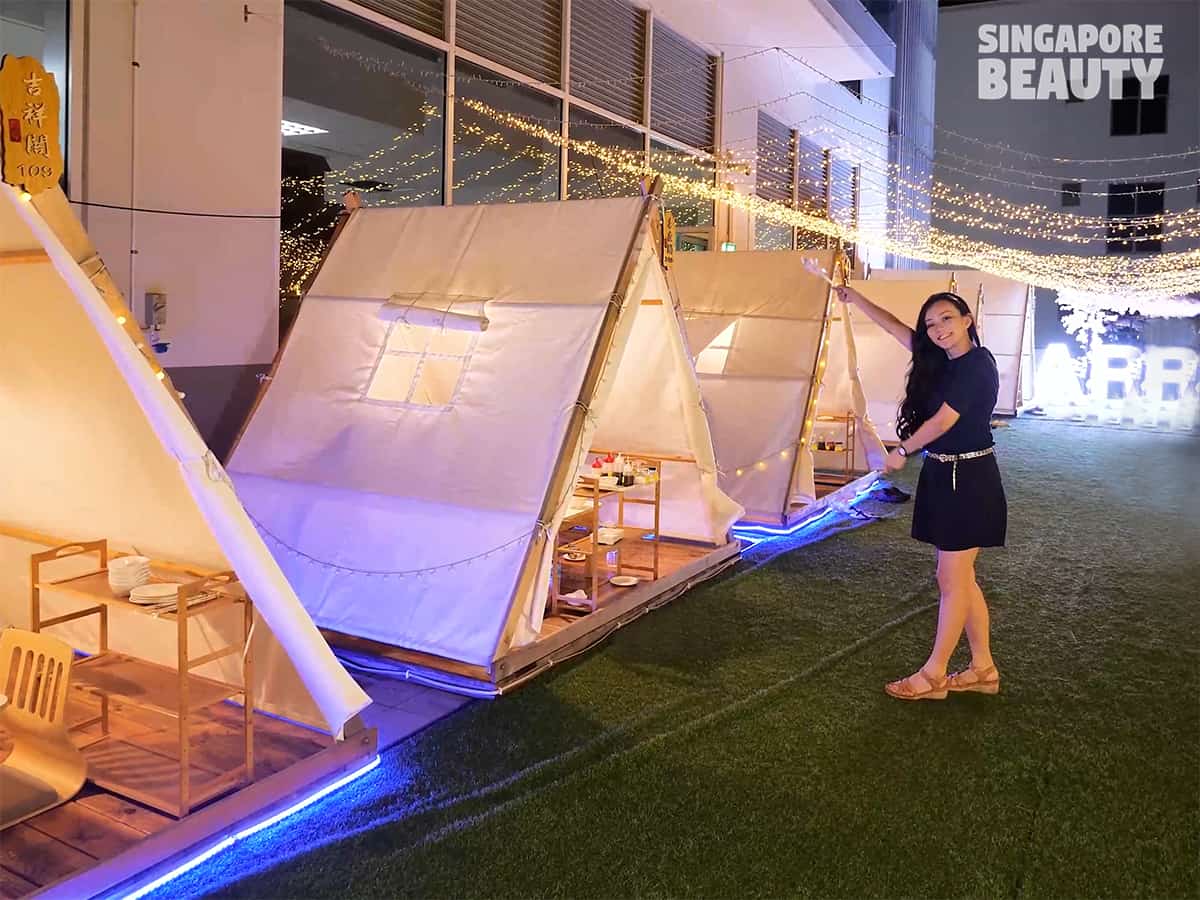 中河小镇网红餐厅 is considered the first in Singapore to have hotpot in a tent. This concept is also available in other countries such as China and Malaysia. The tents are set up on the 2nd level porch in open air area. While we are there, the night was relatively windy.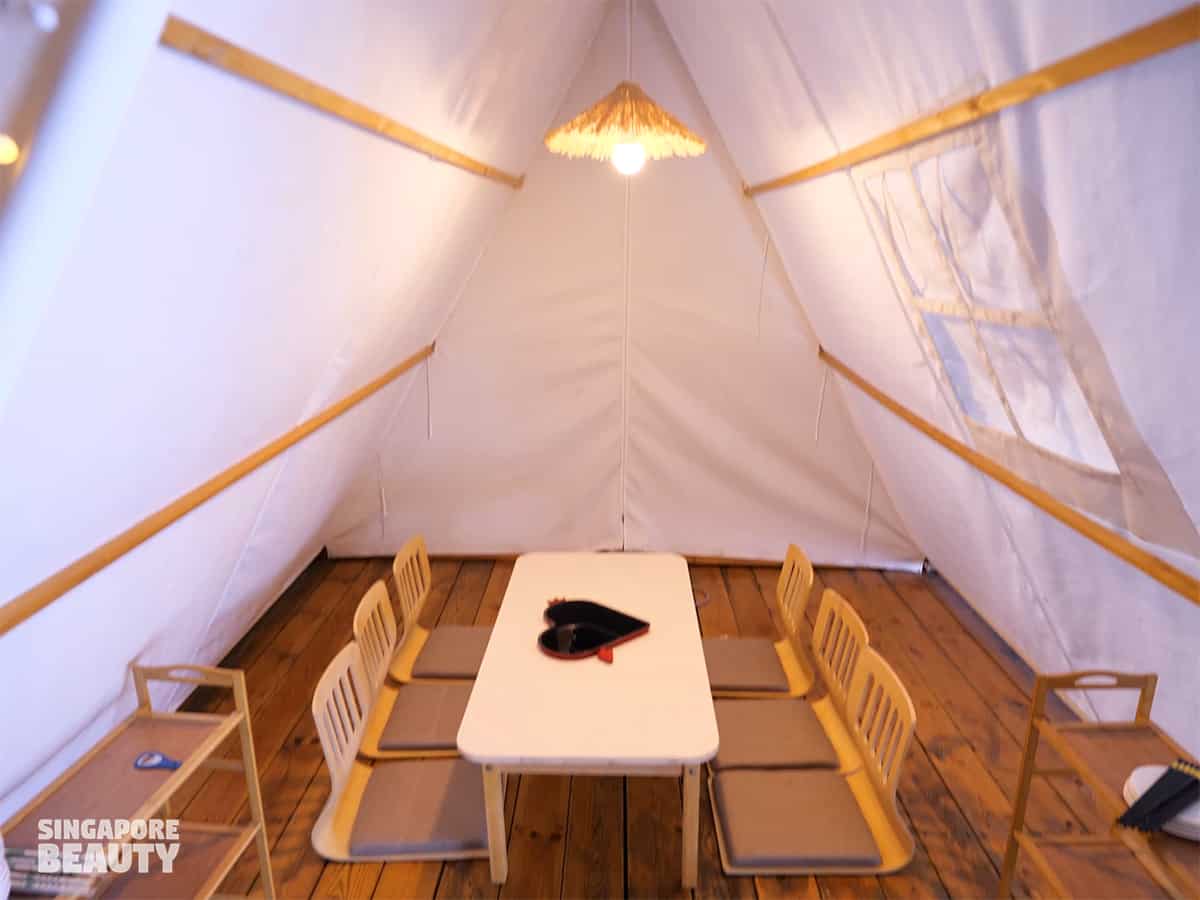 There are a total of 10 tents with some larger tents that hold up to 6 pax and some smaller couple tents. These tents are lined with fairy lights and lined with artificial turf for a picnic feel.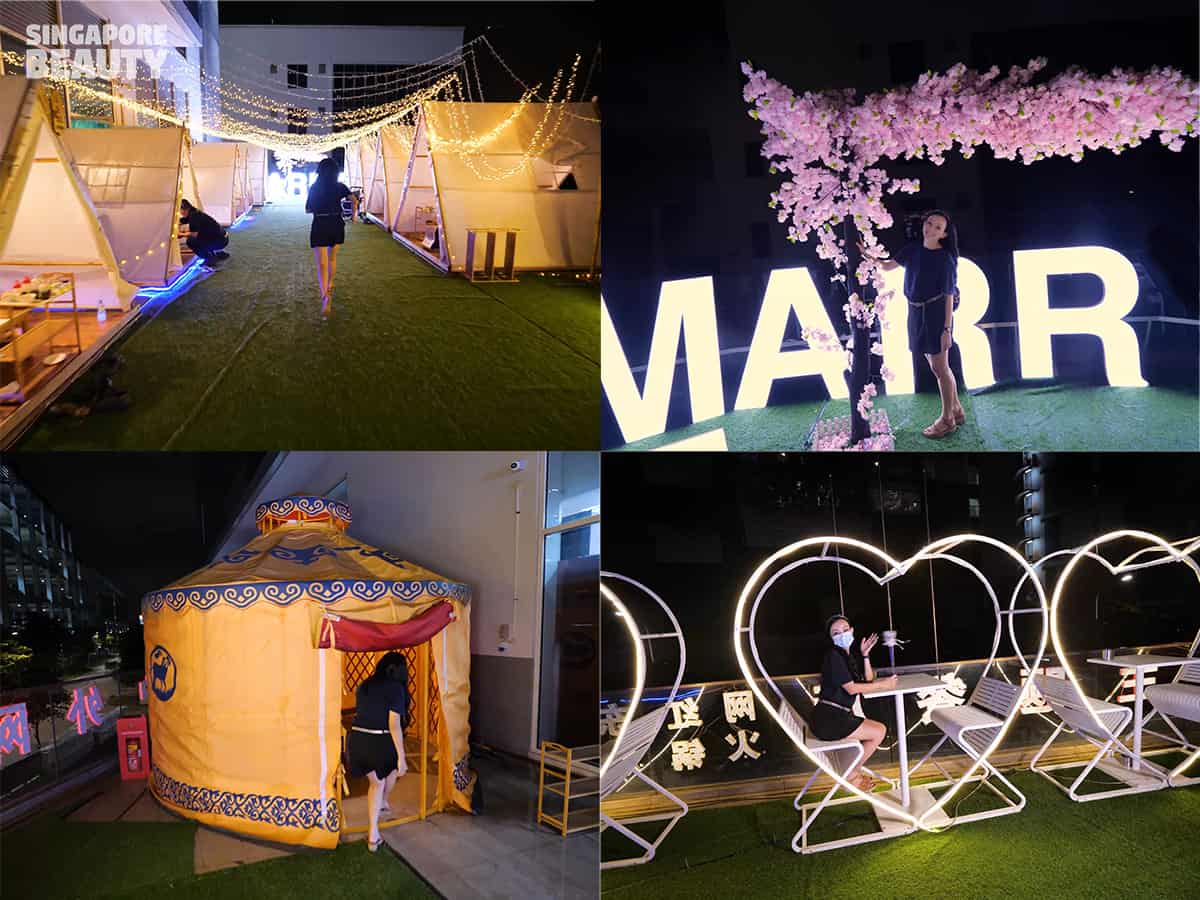 We took the opportunity to take some instagrammable pictures at their photo spots. The photo spots are along the aisle between the tents, the sakura tree with the MARRY ME light box, the heart shaped bar seats and the Mongolian style yurt. Mongolian style yurt is also set up on the outdoor balcony that can house up to 8 pax with chairs and a large round table. This is considered an instagrammable rooftop restaurant.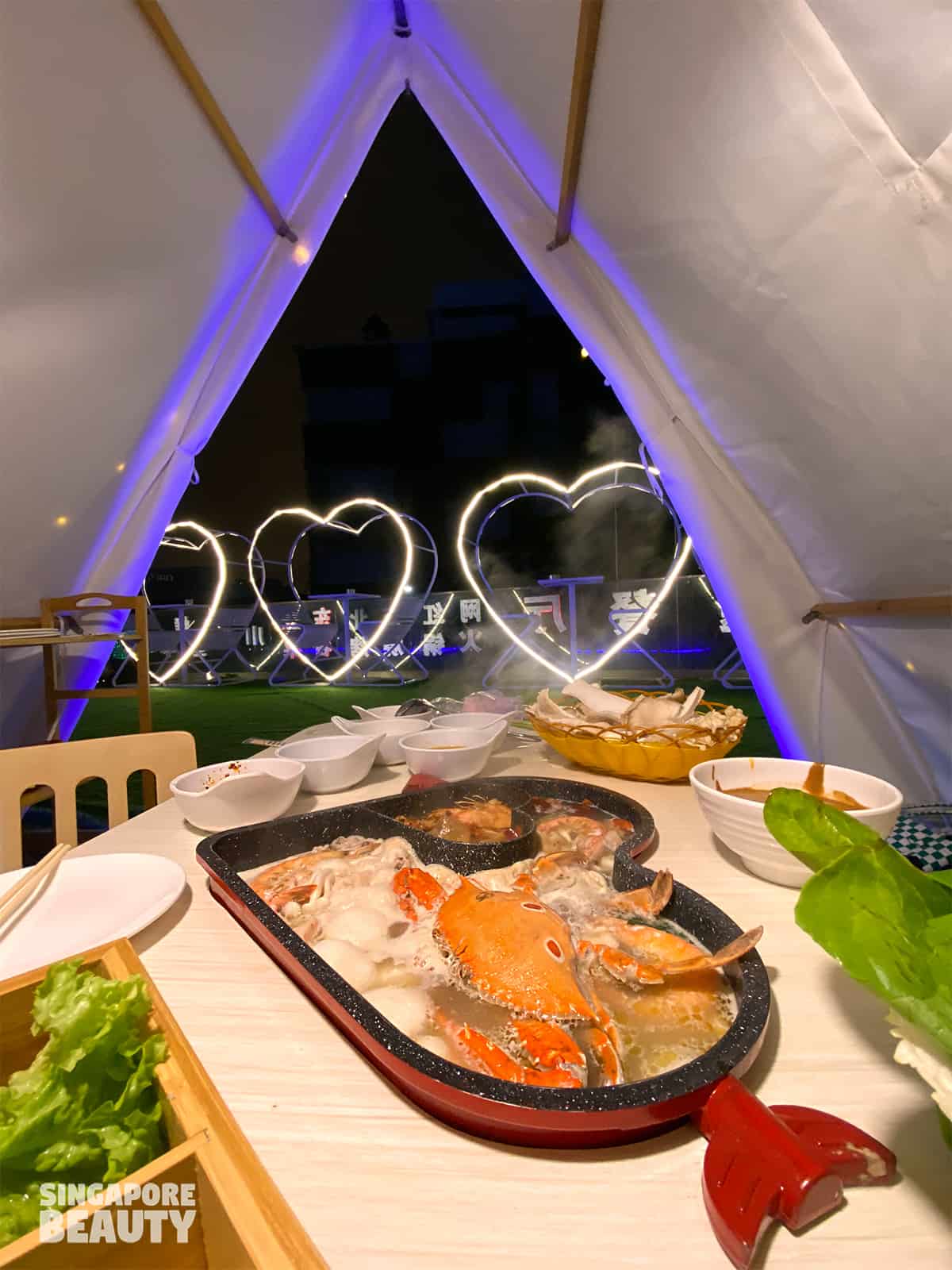 Halfway through the hotpot in the tent, it started to rain. The good news is that these tents are waterproof. The boss was a little concerned and walk down the aisle commando style to check on the diners if they wanted to zip up the tents. Everyone kept the tents open and enjoy the light shower while hotpotting. We had the experience of dining in a tent at Zhonghe Town Internet-Famous Restaurant 中河小镇网红餐厅 enjoying the elements of nature just like an outdoor hotpot picnic. Their soft launch is not all smooth sailing.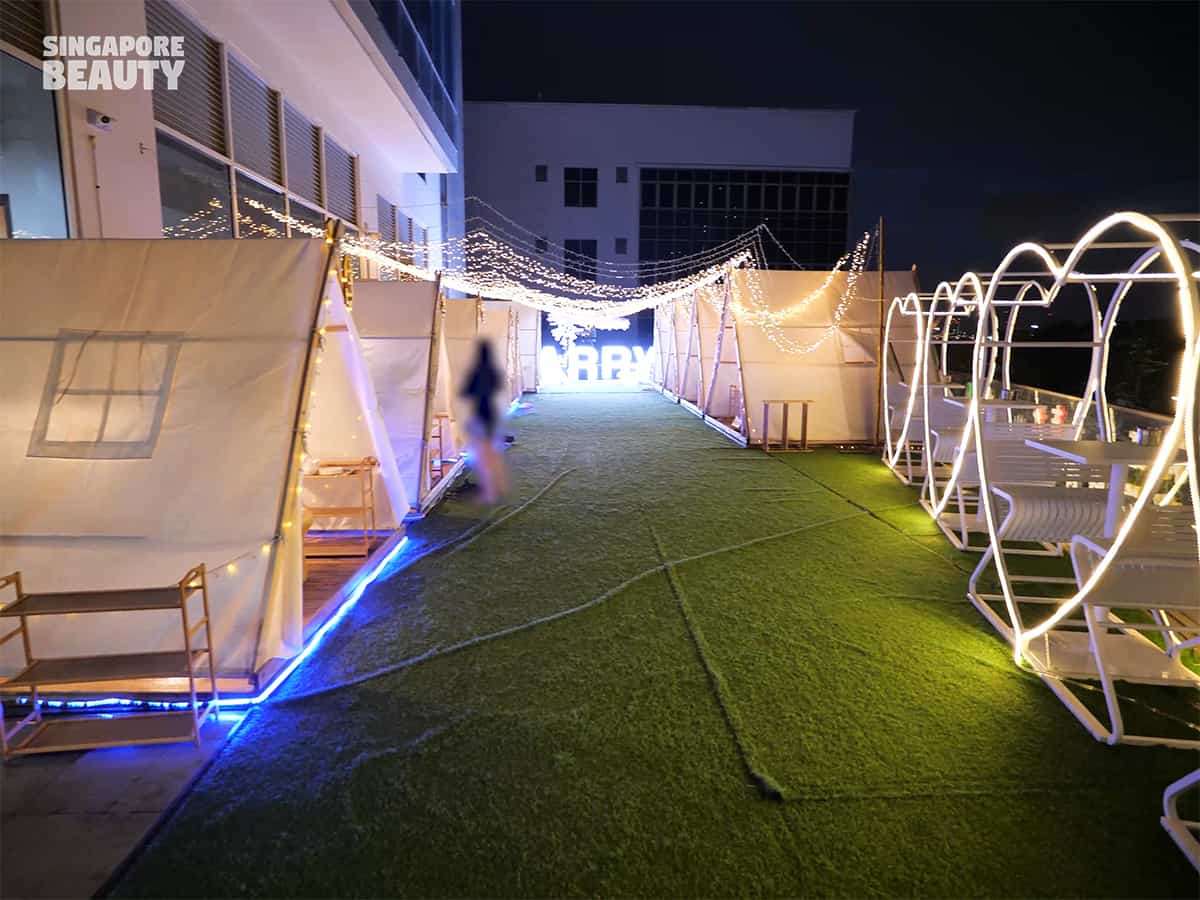 There are a total of only 10 tents at Zhonghe Town Internet-Famous Restaurant 中河小镇网红餐厅. To get hold of these tents, reservation is a must. Do note that there is a required minimum spending of $100 to dine in these tents.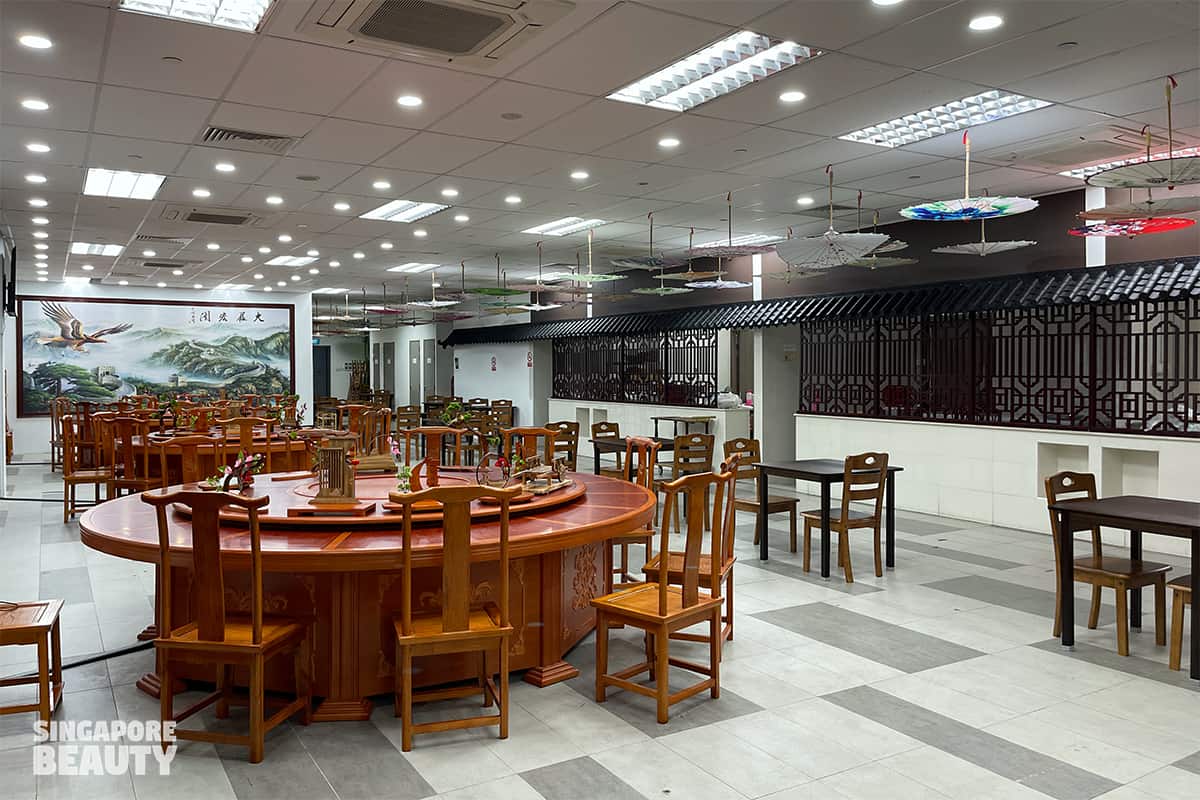 If you are unable to get the tents, they also have indoor seatings that can house up to 160 pax with private rooms as well. This venue used to be SL7Eating House, so the setting is like a food court for the indoor seating.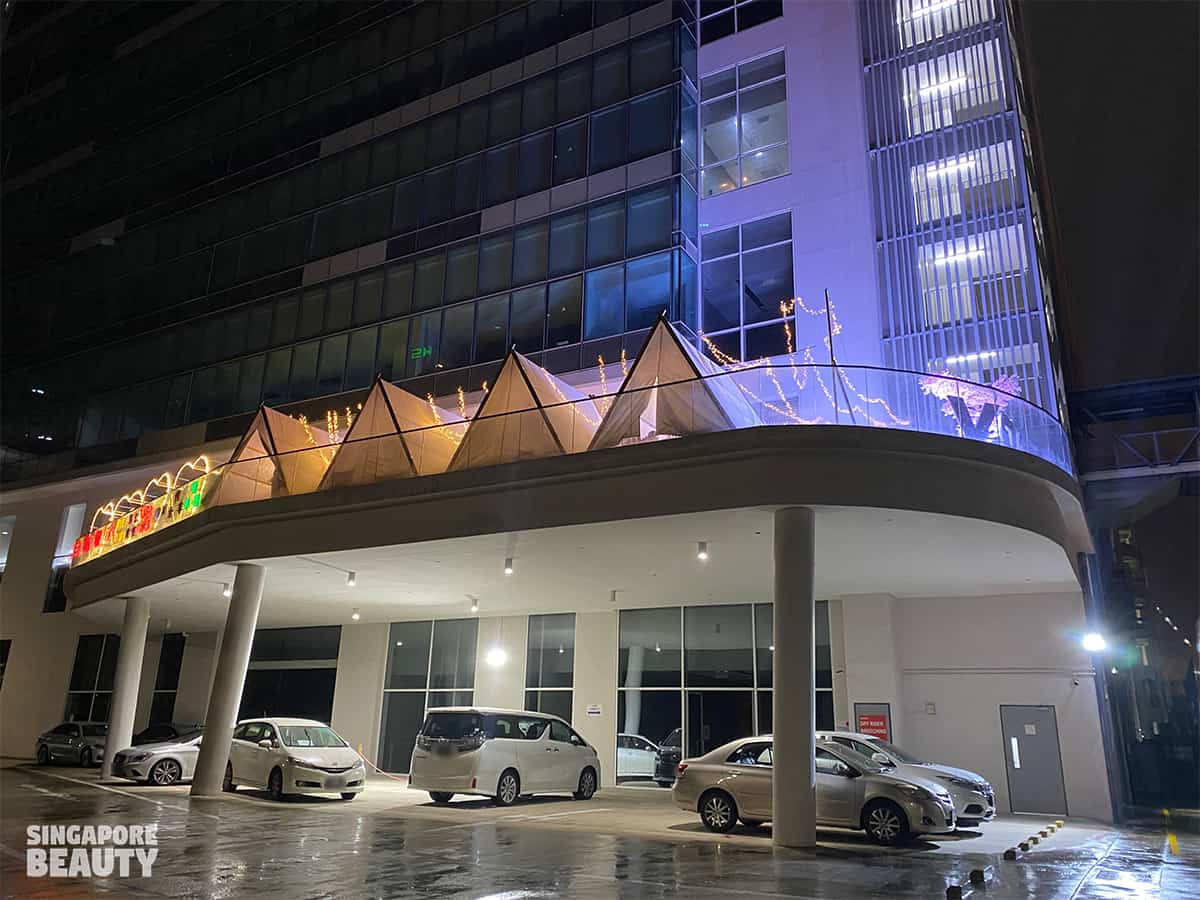 Parking is free at Zhonghe Town Internet-Famous Restaurant 中河小镇网红餐厅. It is located at 42A Mencast building, to access the restaurant, you enter via a dark lift lobby after sunset in front of an unloading car poach. Many have asked how to get to Zhonghe Town Internet-Famous Restaurant 中河小镇网红餐厅. Here's how : Take Bus 78 from CPF Jurong Building, alight at Sanmina-SCI, walk along the bus direction, turn right on the first junction and walk another 3 minutes to reach.
Address of  Zhonghe Town Internet-Famous Restaurant 中河小镇网红餐厅 :
42A Penjuru Road, Level 2, Singapore 609164
Opening hours : 11am to 11pm daily.
Call : 96805989 (Reservation is a must for tents)