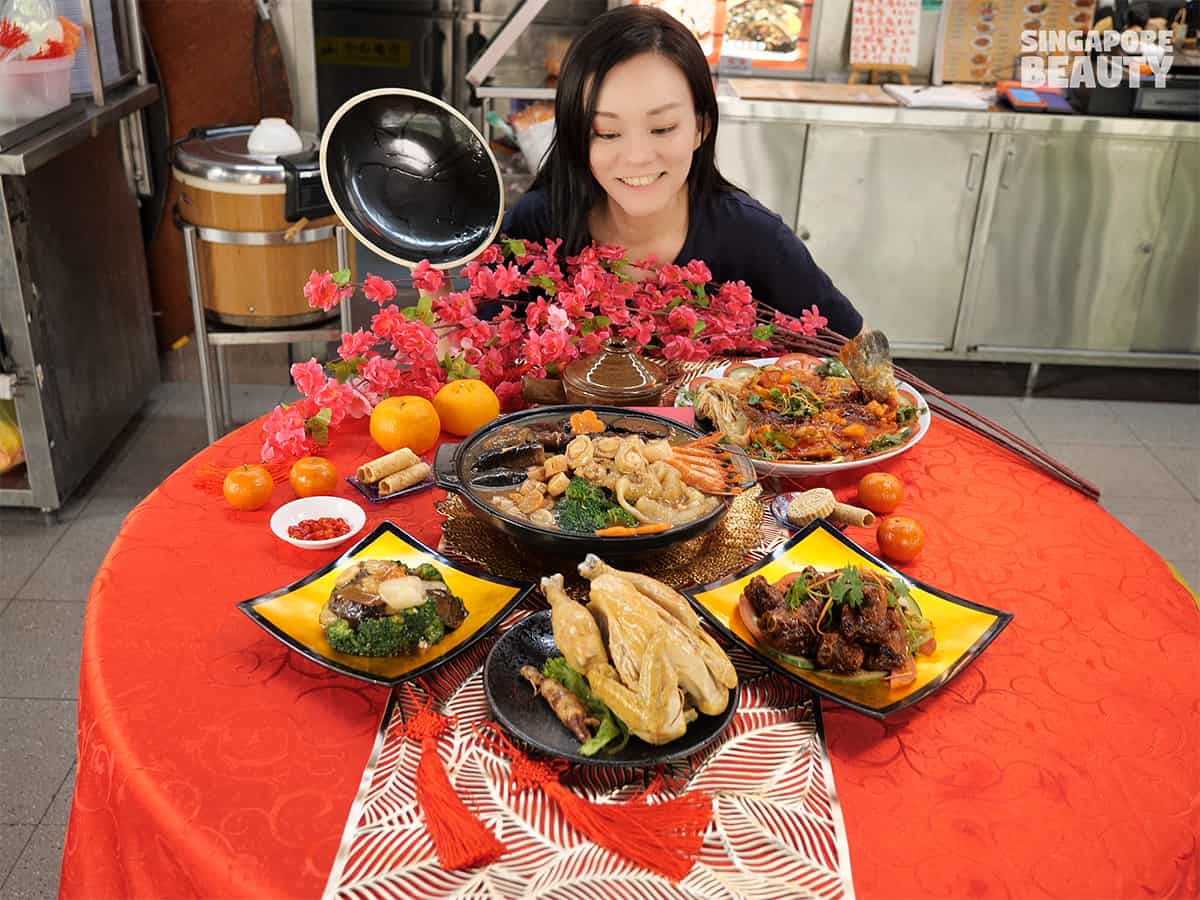 Katong Jago Zhi Char has a new Chinese New Year menu to deliver to your door step. This 5 course CNY menu consist of Fa Cai Pen Cai, Nian Nian You Yu sweet & sour seabass, tang cu pai gu sweet & sour pork ribs, scallop broccoli and Ginseng Chicken. This CNY set menu is great for sharing for 5-8 pax. This is an all in one package with all the auspicious food, such as a whole fish, broccoli, ginseng & sea gems in the pen cai. For those who are on a lookout for budget pen cai that is not going to burn a hole in your pocket but still enjoy a good old pot of these delicacies, you can try their pen cai this year. This 5 course CNY menu is available for delivery or cash & carry. As reunion dinner feast are usually a gathering of family, you may consider take away options as the dine in for this eatery is only up to a max of 2 pax.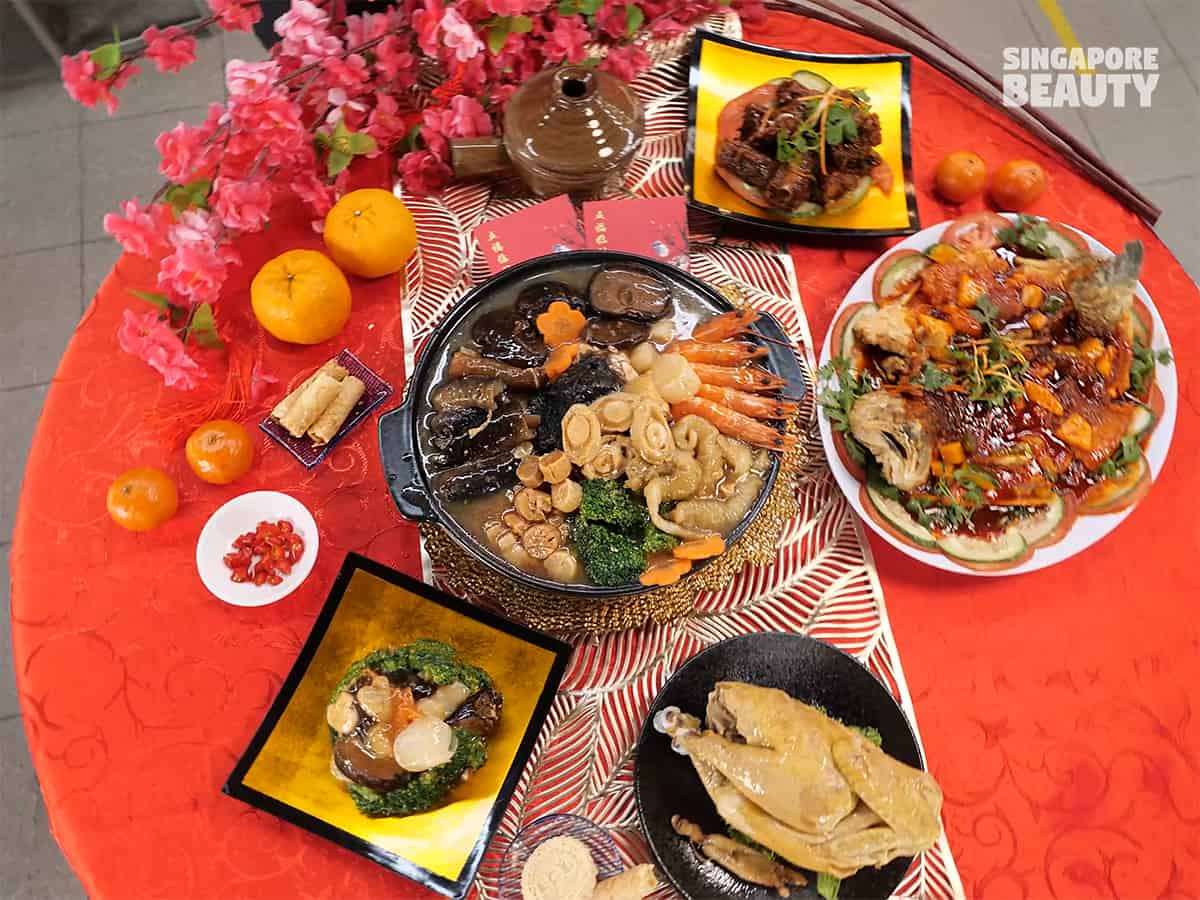 Katong Jago Zhi Char CNY pen cai menu consist of 12 ingredients such as abalones, shiitake mushrooms, fish maw, conpoy (dried scallops), Hokkaido scallops, black sea moss, tiger prawns, broccoli, Napa Chinese Cabbage, half a golden chicken, sea cucumber and dried oyster (ho see). This pot of Pen cai consist of all the necessary ingredients that should be included in a pen cai. Here is why you should try this Katong Jago Zhi Char Pen cai.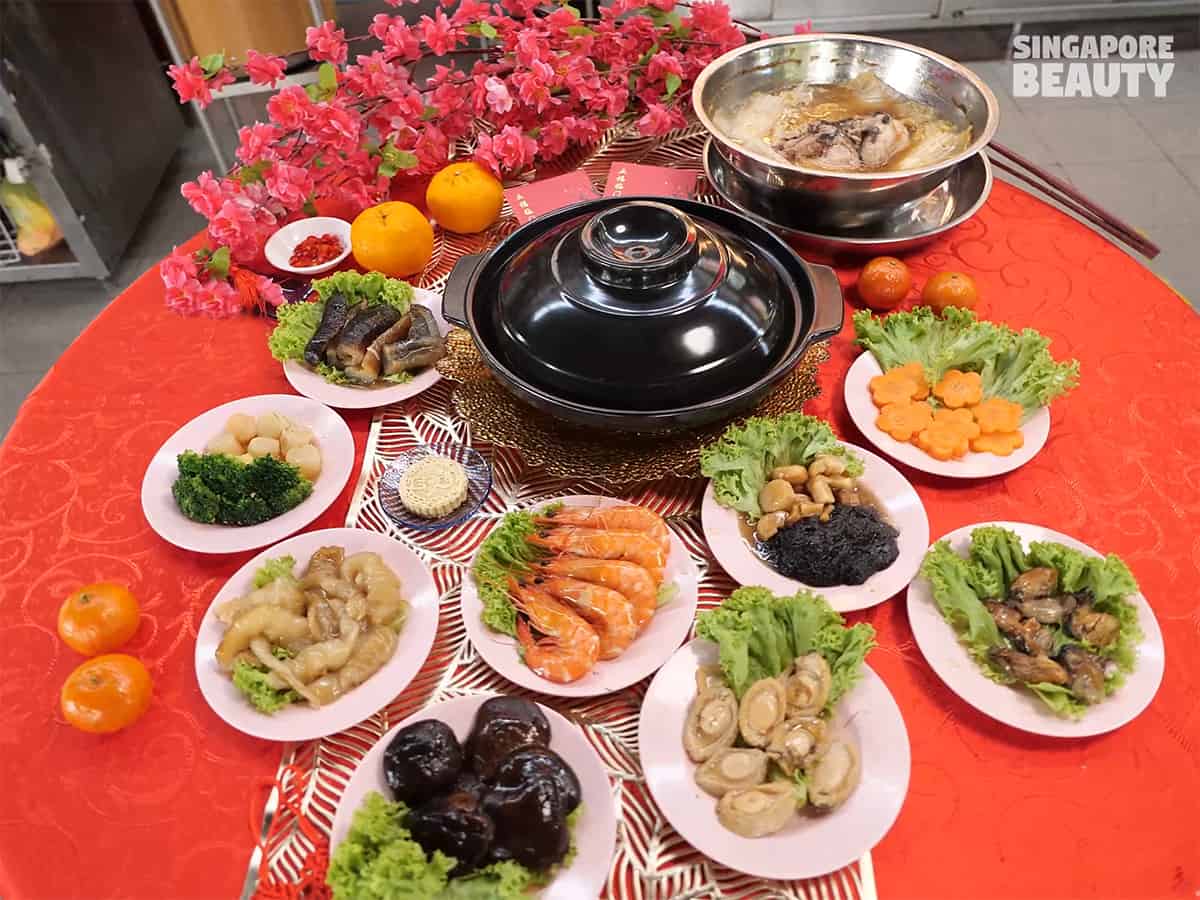 Here are the ingredients for Katong Jago Zhi Char CNY pen cai. Each ingredients represent a well wish for the coming Lunar New Year for those who order this set. The preparations of all these ingredients are laborious and needs some culinary knowledge to make them perfect. The cooking time and the preparation needed before the final pot can be assembled makes it more sensible to do a takeaway here versus preparing our own pen cai at home. This takeaway set let you enjoy your new year with minimum effort but still get the festive feel at home.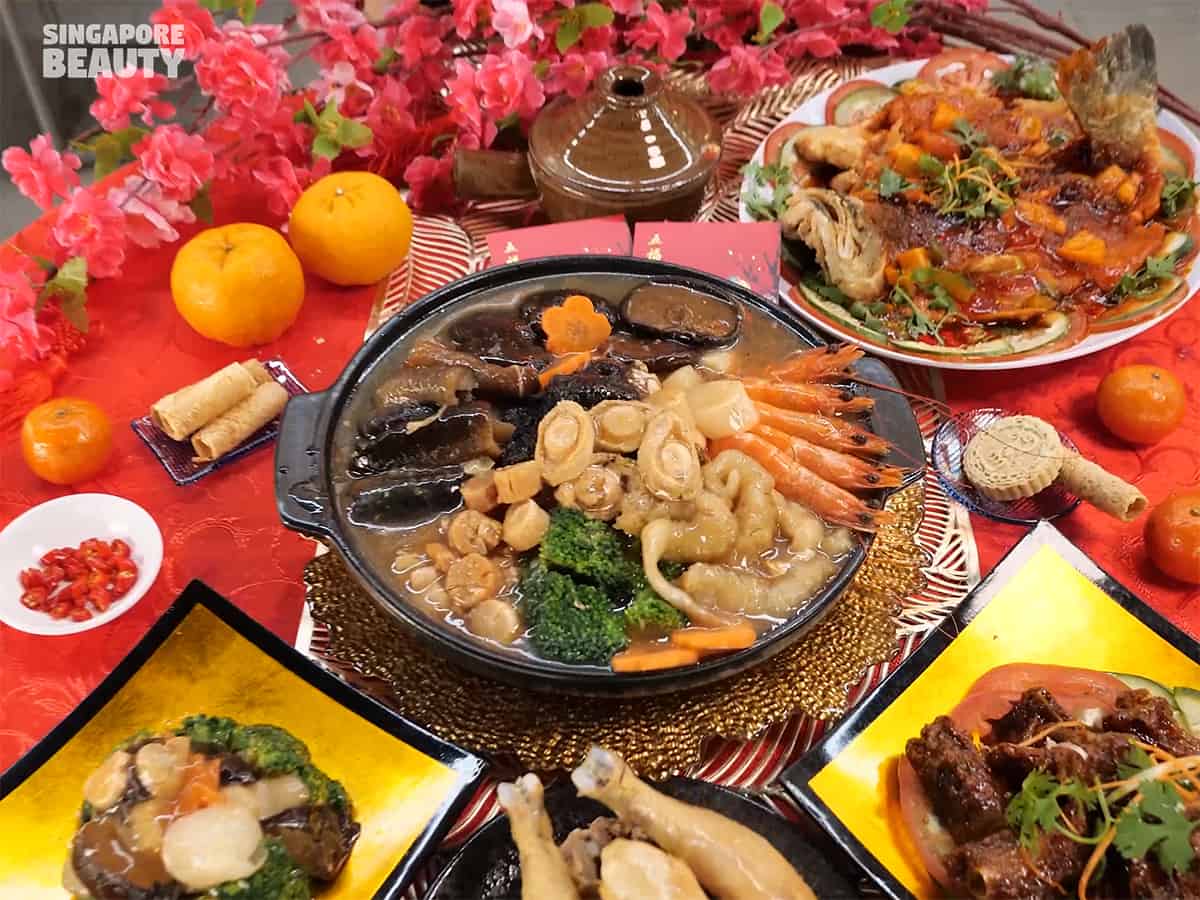 The Katong Jago Zhi Char pen cai is first assembled with a base of Napa Chinese cabbage, followed by half a golden poached chicken. The toppings are braised sea cucumber, thick shiitake mushrooms whole, poached tiger prawns, poached sea maw, Hokkaido scallops, soften conpoy, steamed broccoli and a whole can of abalones. The stock is made with chicken stock and pork bones. The thicken stock is then lathered upon these sea gems for a luxurious glaze and the wow factor. This Katong Jago Zhi Char pen cai and 4 dishes (5 course set) is priced at $300 for cash and carry. Delivery is also available and delivery charges apply for different location.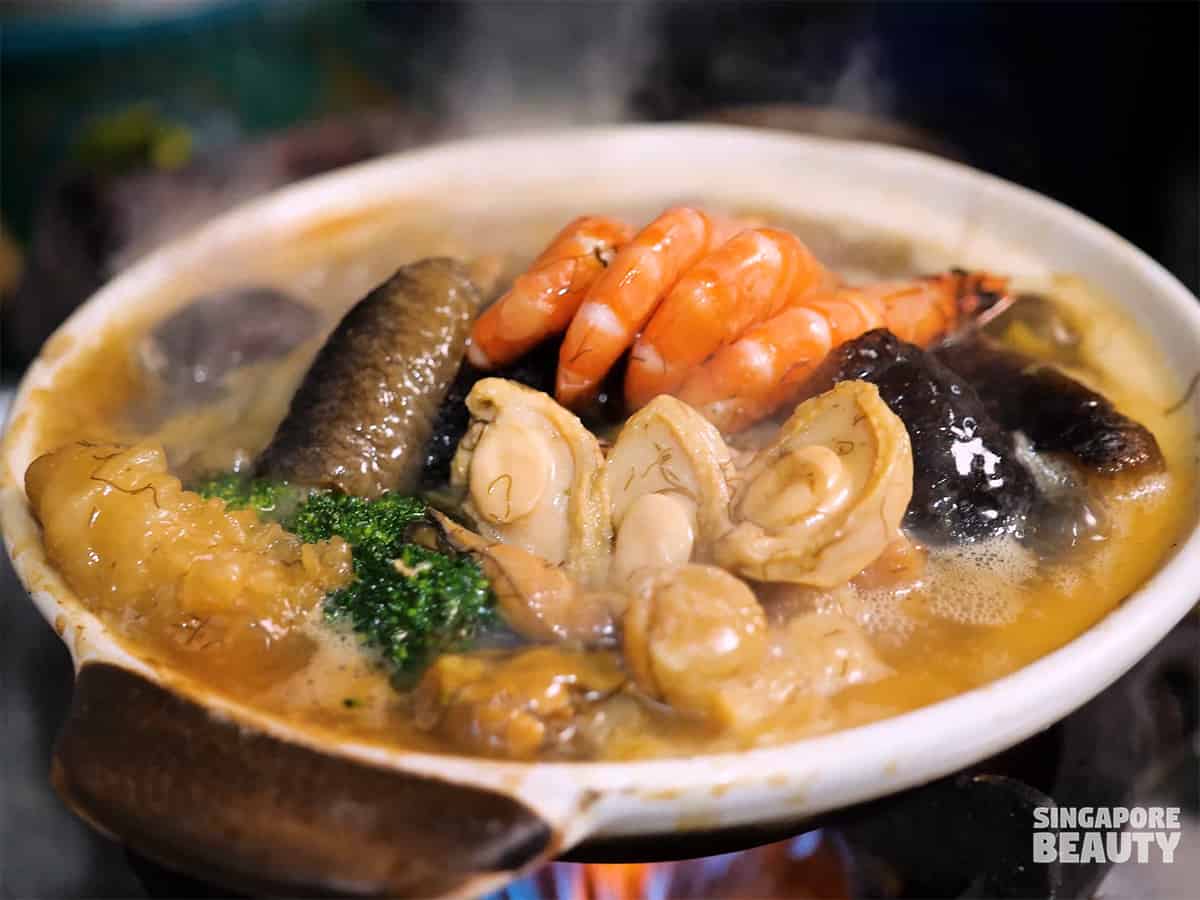 Katong Jago Zhi Char CNY pen cai is also available for dine in for a maximum of 2 pax. If you are just going for the pen cai, you can still opt for the dine in at the eatery coffee shop style. The pen cai comes in only one size at $228 for ala carte order without the other 4 dishes. The pen cai is served simmering hot in a clay pot and goes very well with some steamed rice. The clay pot helps to seal in the flavours into the ingredients. It keeps the sea gems relatively hot even though it is off the stove while you enjoy the ingredients.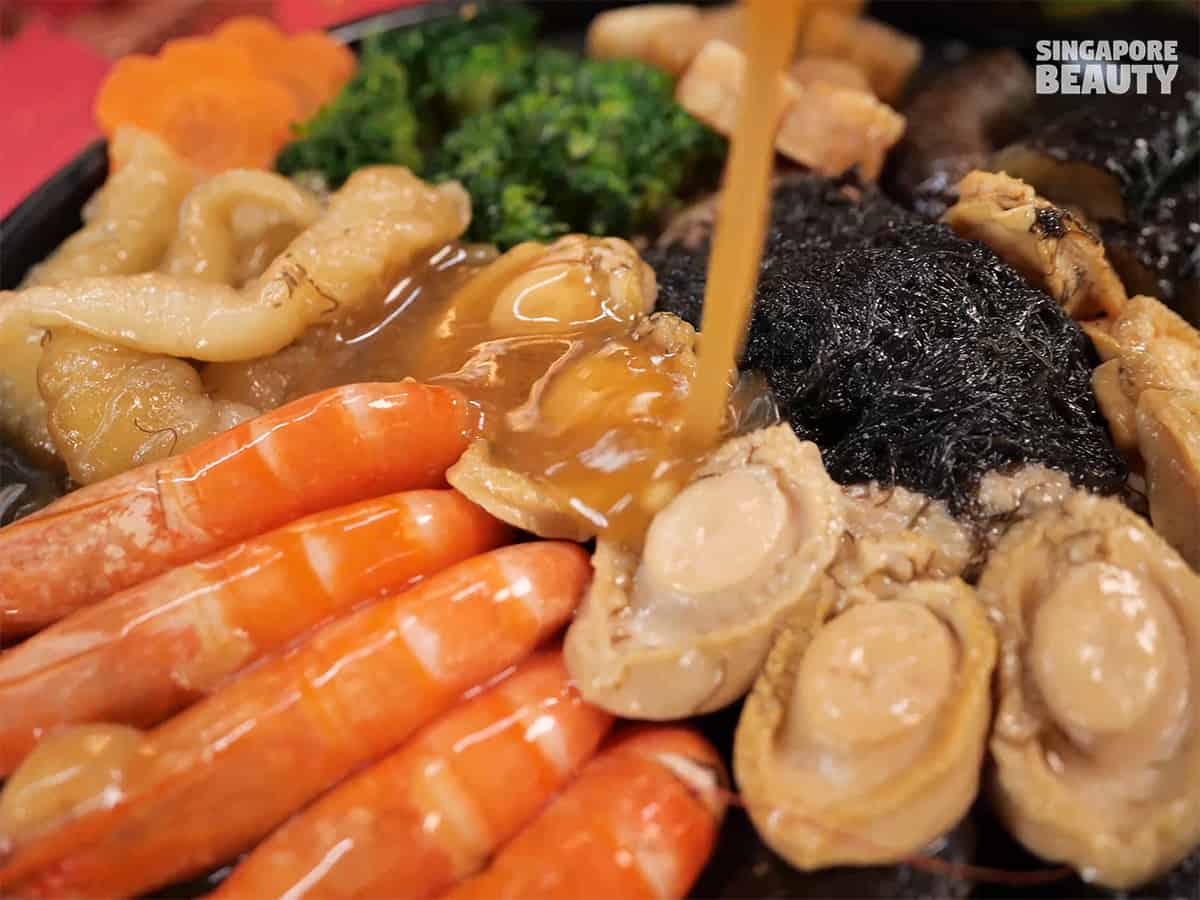 Ingredients in Katong Jago Zhi Char CNY pen cai menu besides being savoury also has symbolic meaning to each ingredients. The abalone has the shape of an ingot and represents gold. This pen cai consists of one whole can of abalones to get the bang for your bucks. These are abalone in brine so you get to enjoy the oceanic flavours. Tender with a nice texture.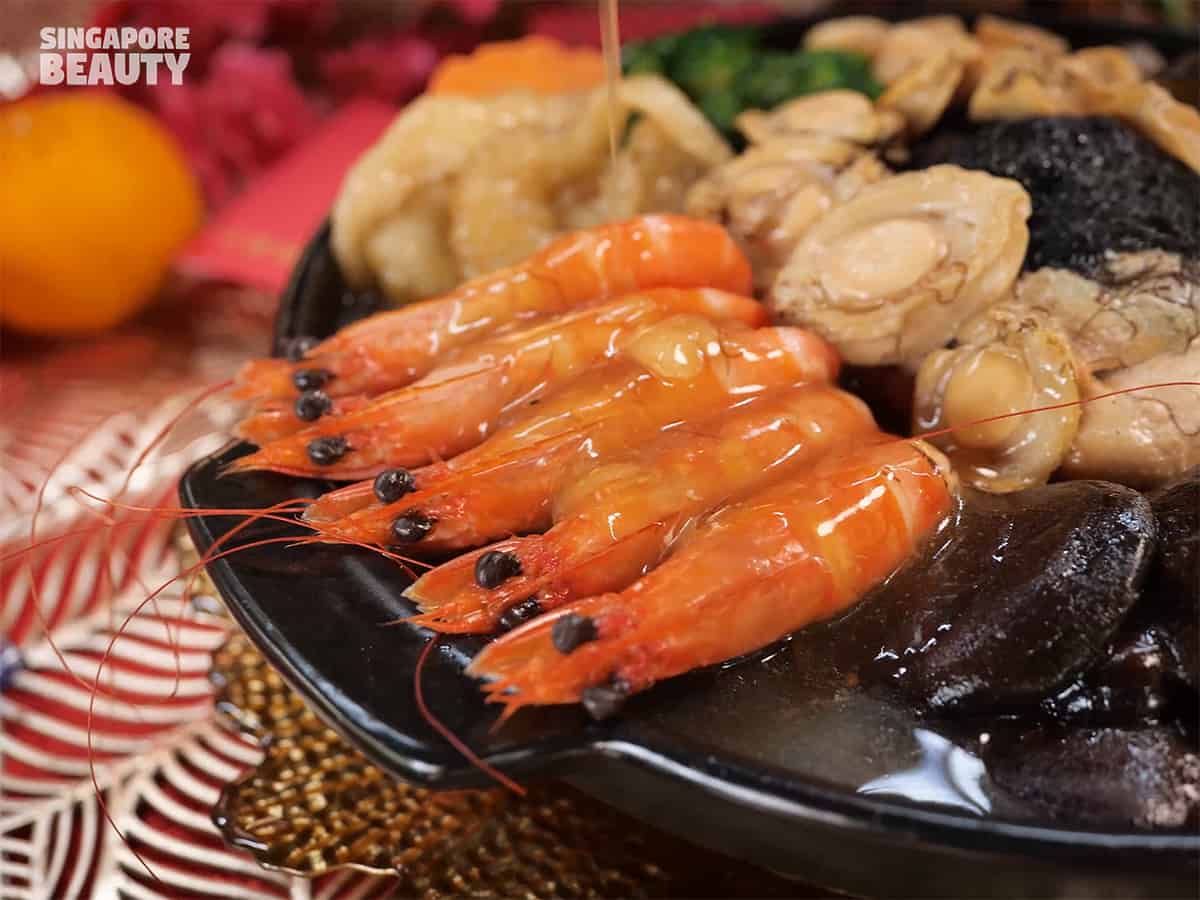 Tiger prawns which is "Ha" in dialect means life will be full of laughter & happiness. The prawns used are tiger prawns and has extra crunch that is unique to this type of prawns. The prawns are lightly poached and you can still enjoy the sweetness without losing the flavours. For those who love the head butter of prawns, there are some to suck on for prawns of these size.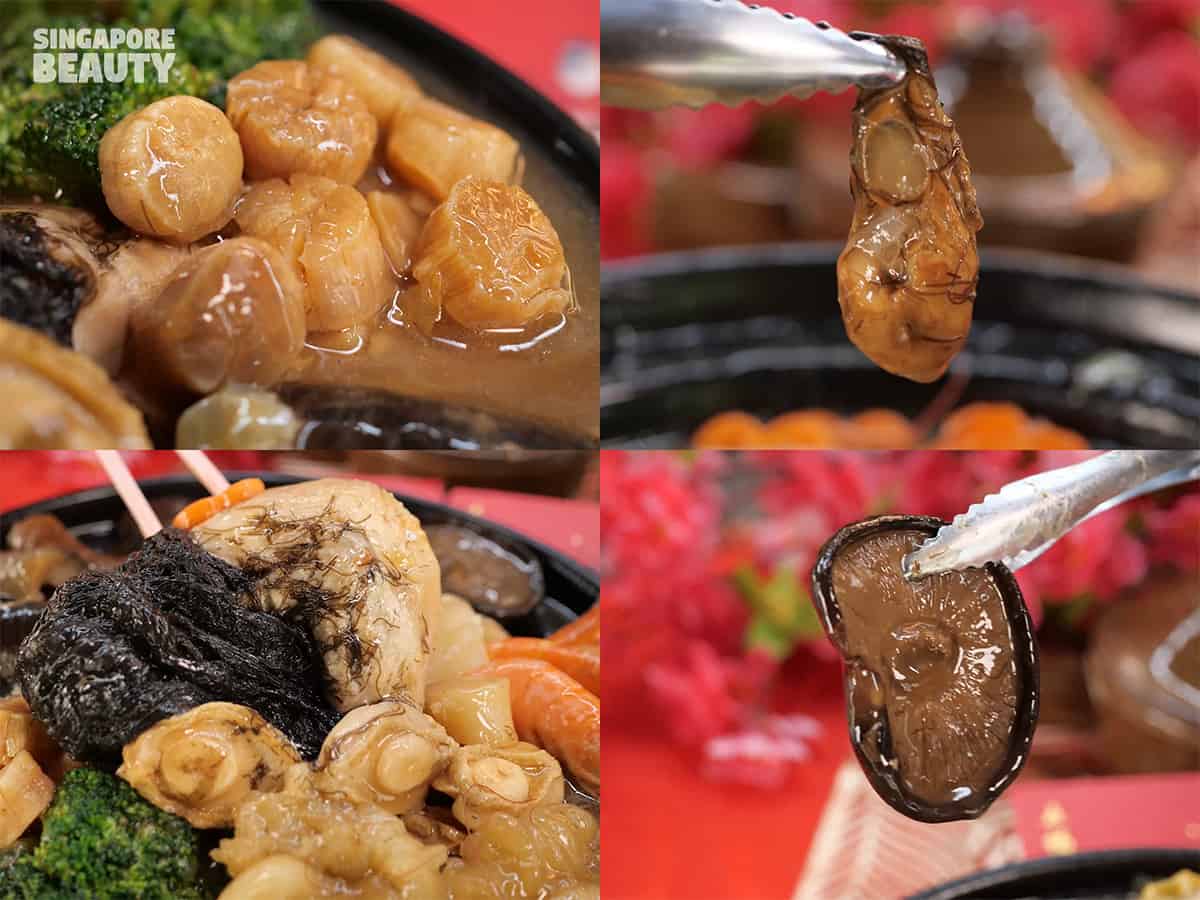 These are the four essential items in the pen cai that give it the rich flavours. The dried oyster, the conpoy, shiitake mushrooms and the half golden chicken. The dried oysters are chewy with a fatty texture. The conpoy has a savoury but pleasant fish flavour. The dried oysters "ho see" is a pricy delicacy and is a show of generosity of the host for the CNY dinner. The shiitake mushroom are large and umami. The half golden chicken renders the dish with depth of flavour.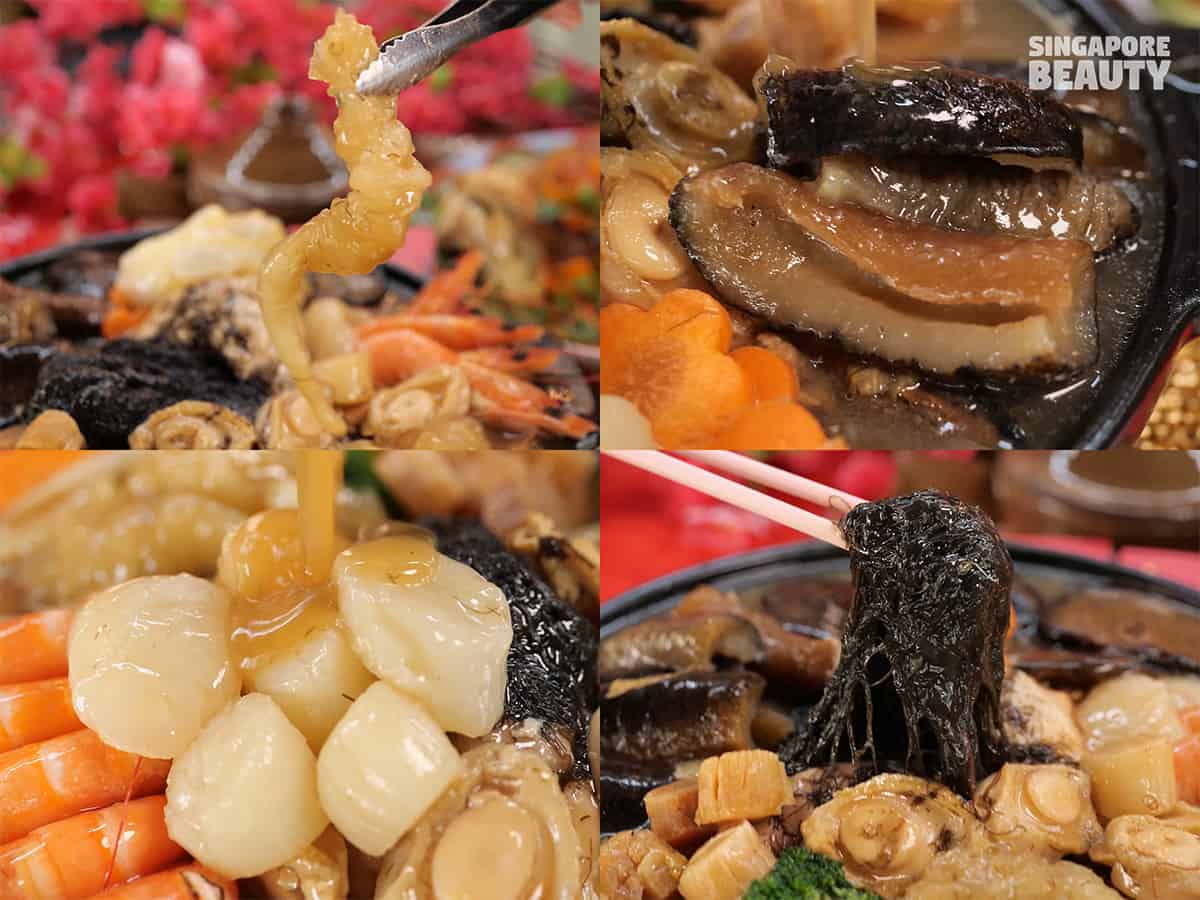 These other ingredients such as sea cucumber, fish maw, Hokkaido scallops and black sea moss are rich source of protein and collagen. For those who are after these beauty benefits, these are the items you should aim for while having this pen cai. The sea cucumber is believe to be a fertility boosting ingredients and hence symbolises many offspring to come. The black sea moss also known as "fatt choi" symbolised getting rich or great fortune.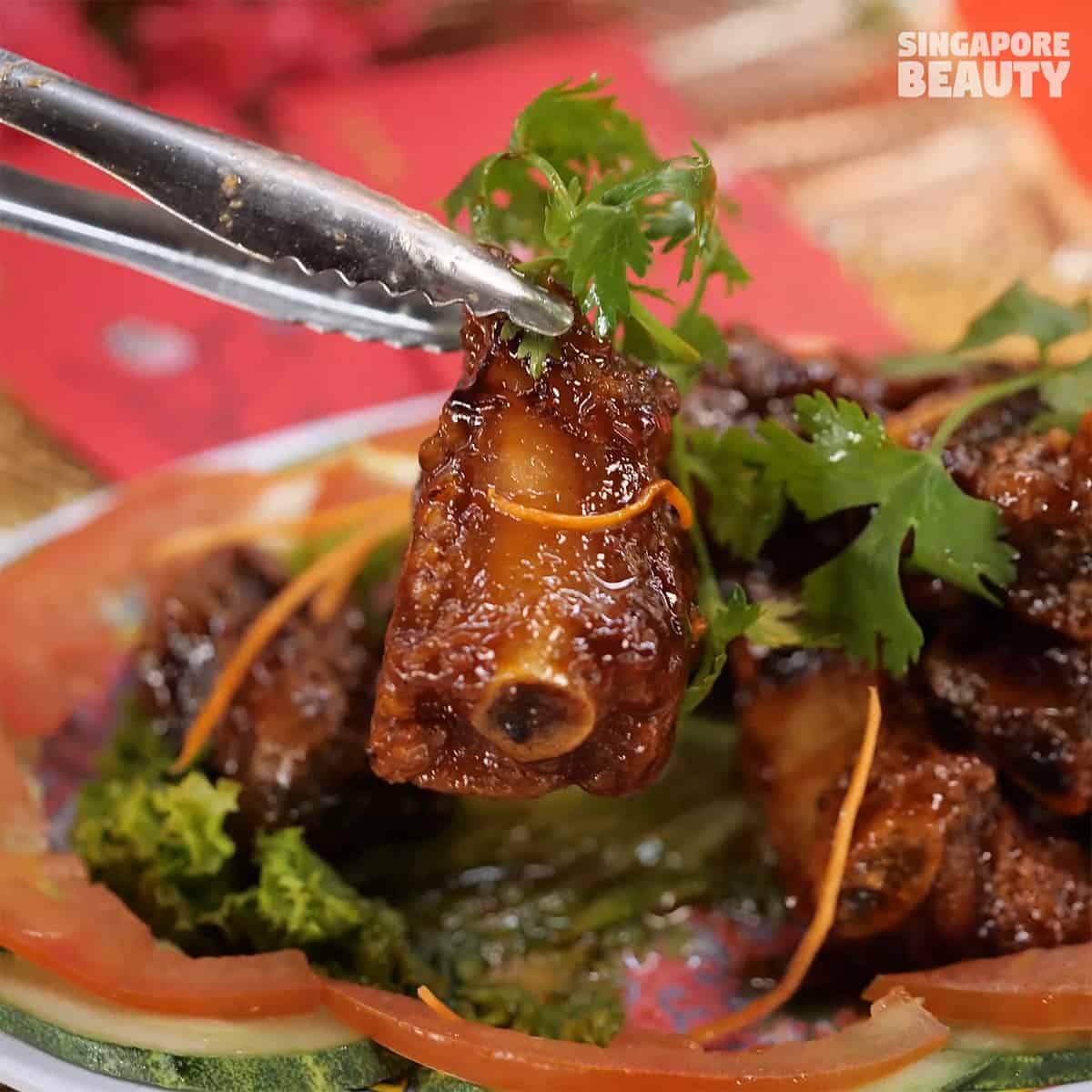 Tang cu pai gu sweet & sour pork ribs ($18) consist of pork ribs that are deep fried and stir fry quickly in a thick rich gravy that is sweet and tart. The ribs have a smoky almost coffee-like aroma to it. The sweet and glossy coating makes this an interesting eat.
Scallop broccoli ($24) consists of broccoli, Hokkaido scallops, shiitake mushrooms, carrots and white button mushroom. This is a dish that represents longevity and good health as the ingredients are mostly greens with antioxidant properties. Broccoli with its rich green translates to youth and good health. The CNY feast for many of us is going to be full of sinful indulgence, this is a nice change for a hearty refreshing choice.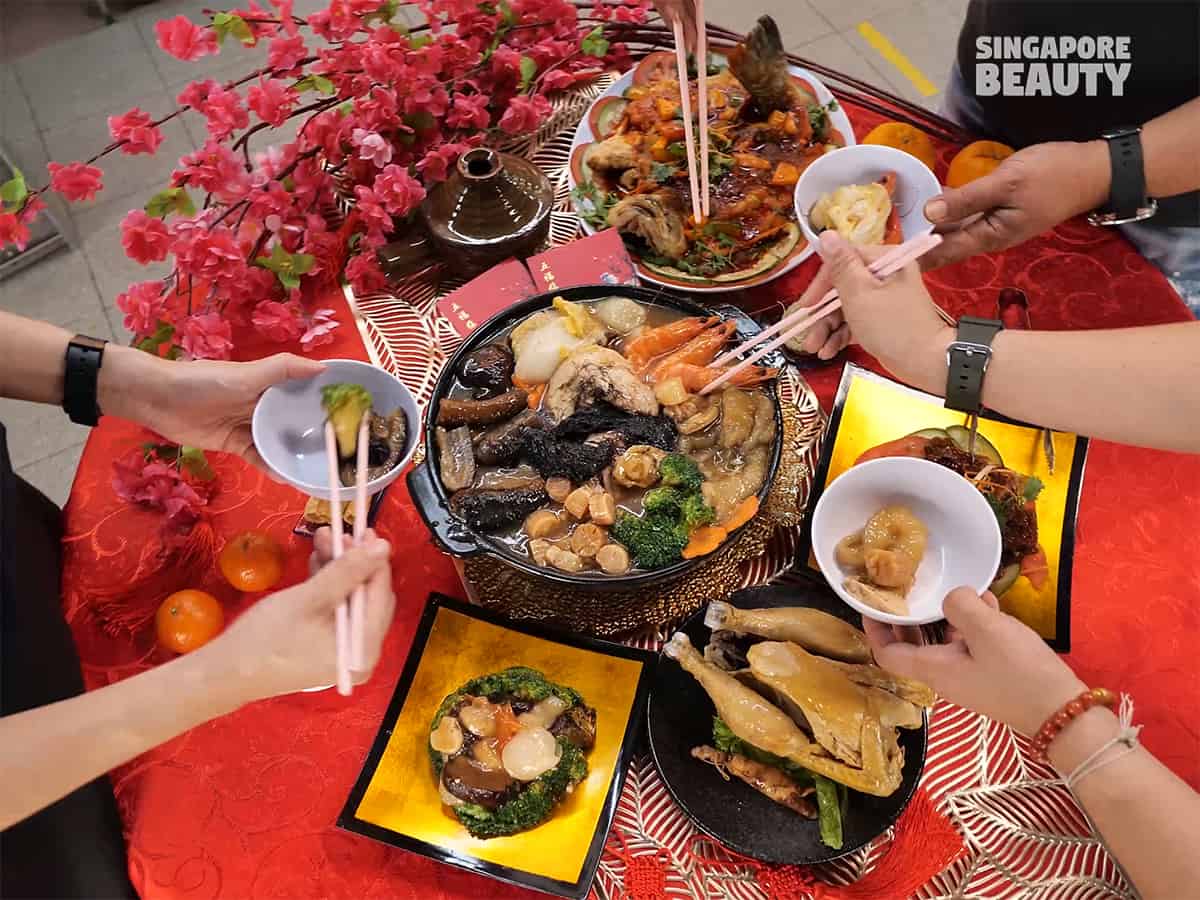 At Katong Jago Zhi Char, they understand that some of us may like to order ala carte CNY dishes instead of the full set. For those who want to order some of the items as ala carte items, you may also do so. The price for the individual items are: Fa Cai Pen Cai ($228), Nian Nian You Yu sweet & sour seabass whole ($24), tang cu pai gu sweet & sour pork ribs ($18), scallop broccoli($24) and Ginseng Chicken whole ($32). Besides these, they also have a full fledged menu of local zi char menu if you need more variety.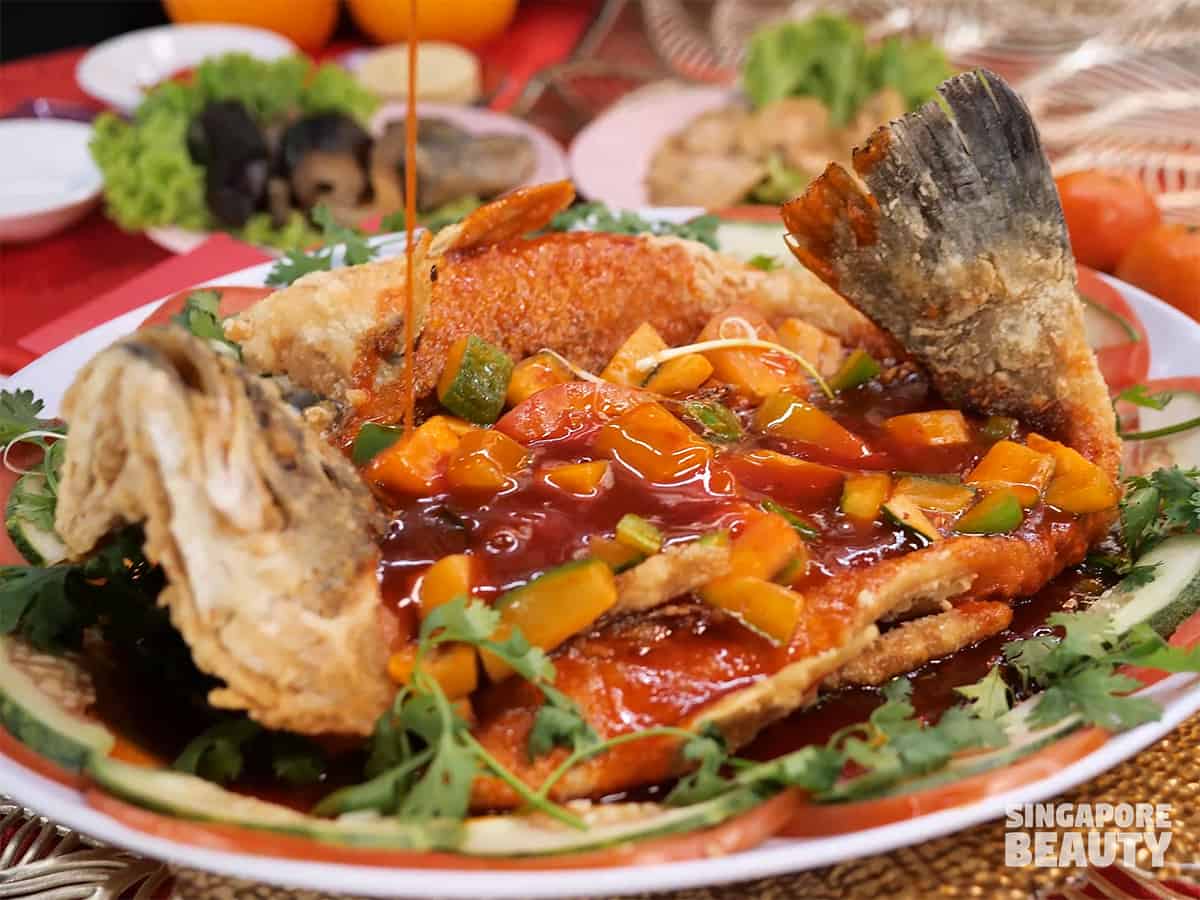 Nian Nian You Yu sweet & sour seabass whole ($24) is a deep fried whole seabass of a good size that is good for 2-4 pax to share. The sea bass is lightly coated, deep fried till golden and crispy. The fish head, fins and tails are brittle like crispy fish crackers. The skin of the fish is crispy with a saline kick, while beneath the skin lays some very tender meat. A sweet and sour gravy is drizzle on the fish for an extra tang. Cubes of cucumber, carrot, pineapple and tomato are added for a refreshing take.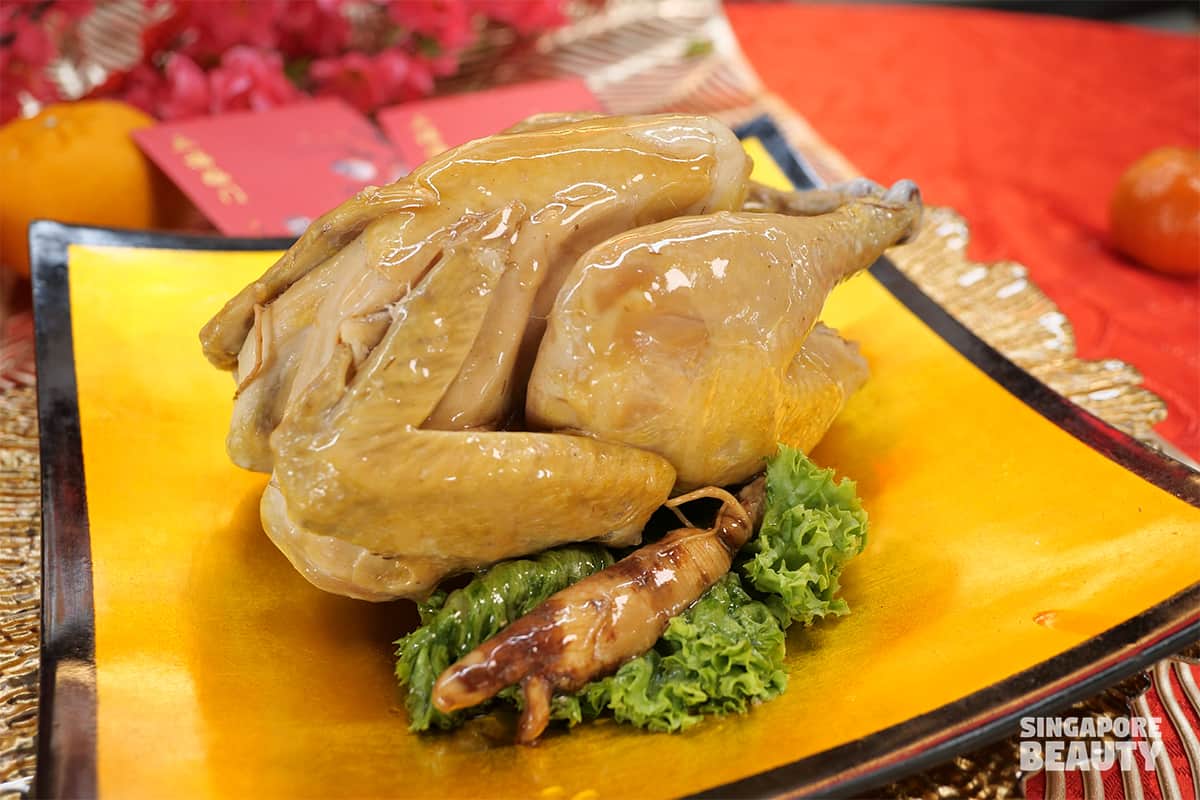 Ginseng chicken ($32) is a good size whole chicken not the spring chicken type, so it is good for sharing for 2-5 pax. This ginseng chicken is made by stuffing the chicken with real ginseng and some other herbs for it to be fully infuse with flavours. The meat is tender and with savoury notes. It is almost a fall off the bone type of texture and the aroma of ginseng is strong. The chicken also comes stuffed with ginseng that you can chew on for the full blast of ginseng kick.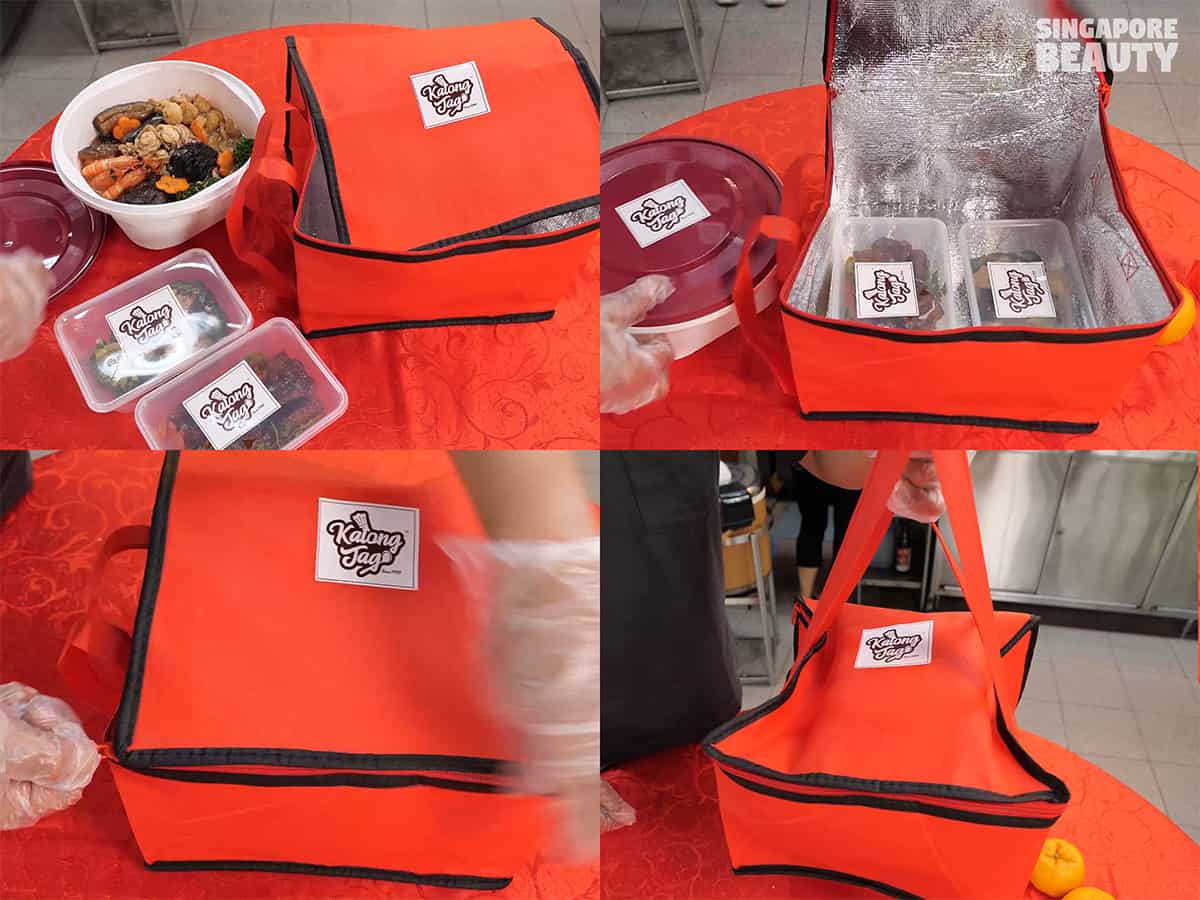 For delivery the Pen Cai is sealed fresh in a microwavable container. If you are ordering the Pen Cai + 4 dishes (5 course set menu), these will be delivered in a red auspicious looking thermal bag. To enjoy them, piping hot, just unseal the pen cai container and leave a small gap before you microwave for the steam to escape.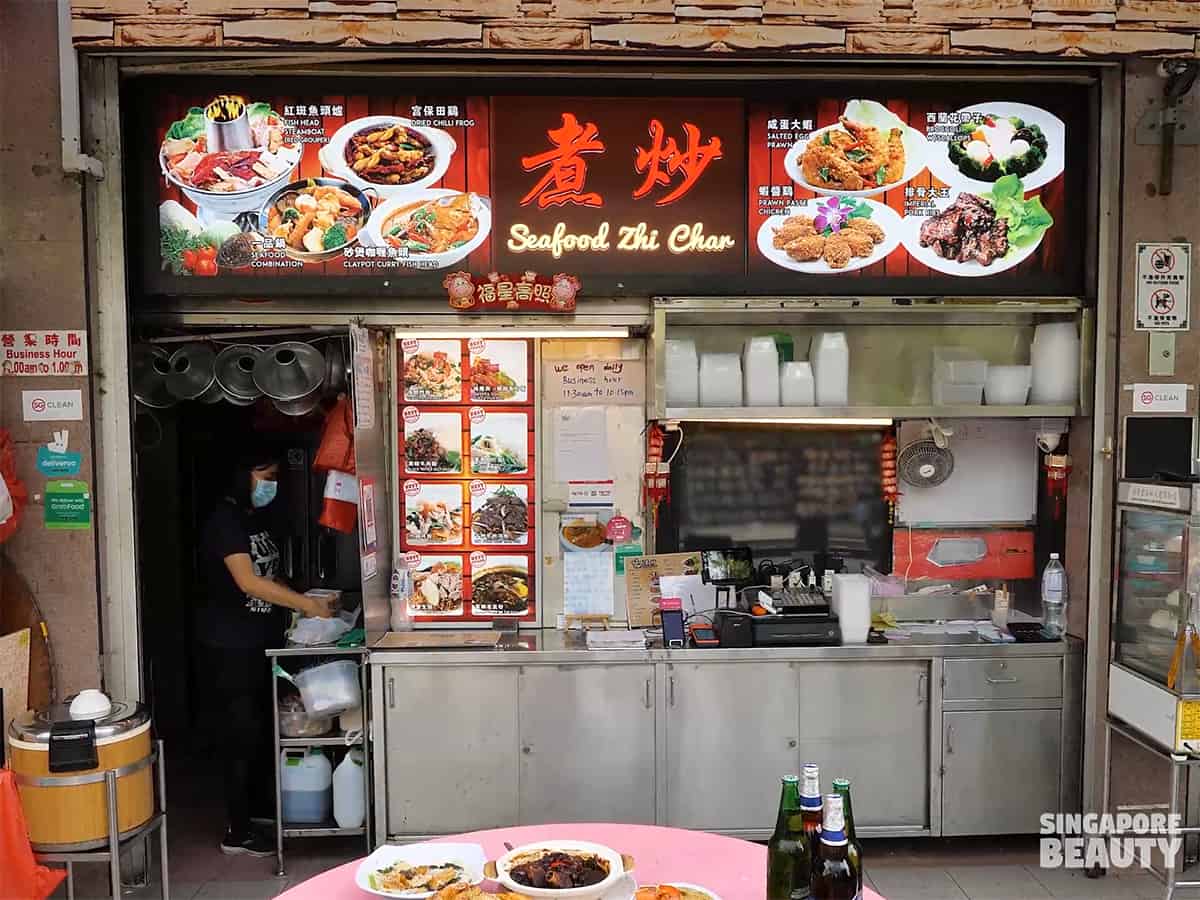 Head over to Katong Jago Zhi Char today for a localised Singaporean favourite Zi Char or the CNY lunar Chinese new year food menu. You may also whatsapp them at 93373334 for advance order of Pen cai and reservation of New year food. They are located within Brunners Coffeeshop at East Coast road. See you there!
Address of Katong Jago Zhi Char :
228 East Coast Rd
Singapore 428925
Self pick up/ delivery of Pen Cai
Please call : 93373334 93373344
Brought to you by Katong Jago Zhi Char