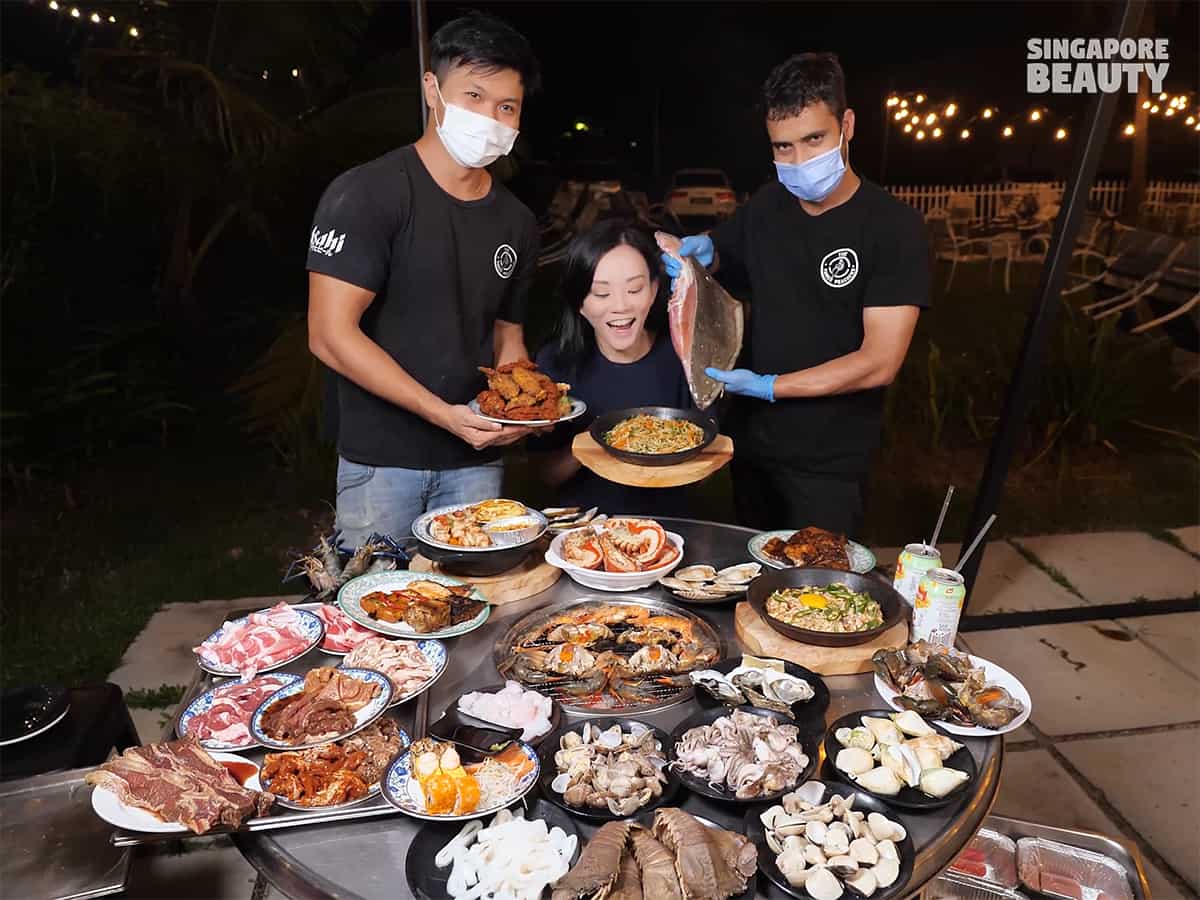 Singapore's largest Al fresco bbq buffet – The Three Peacocks – has over 100 items in their all you can eat seafood & meat charcoal barbecue buffet. They have marinated meat, seafood stations serving aluminium boats, seafood bed, live seafood station, live station of appetisers, buffet line style hot station with ready to eat international food, hotplate station, claypot kiosk and even a sauce display chiller. Enjoy unlimited serving of seafood on ice such slipper lobsters, giant prawns, live oysters and even live mud crabs. To top it off, each diner gets to redeem half a Boston lobster drizzle with their dressing of the day such as chilli crab dressing, lemon butter, Peacock's special garlic sauce and more.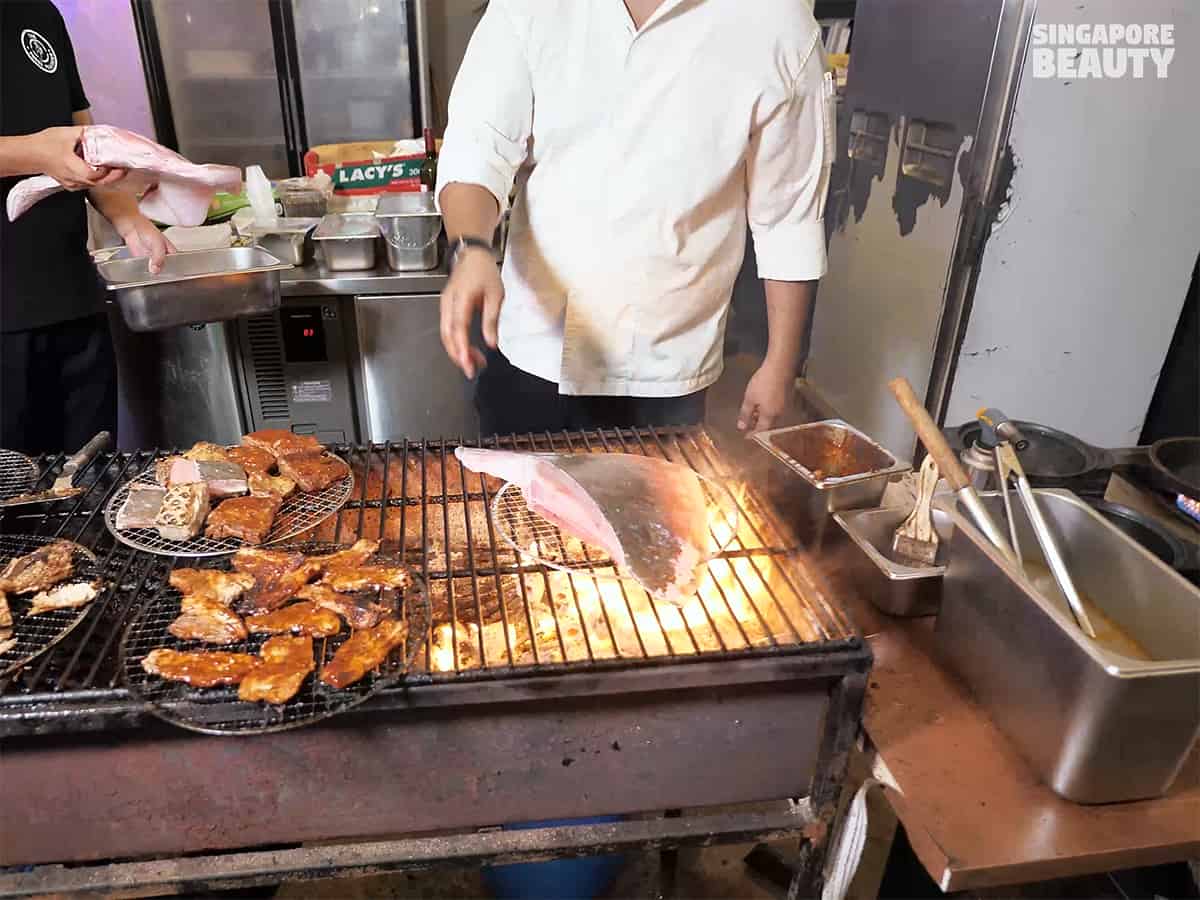 There is a live station with daily specials such as barbecue sambal stingray, garlic chicken, pork belly, ribs and Muah otahs. This is a unique feature at The Three Peacocks where there are live stations manned by their BBQ chefs to freshly cook meats and seafood over charcoal BBQ pits.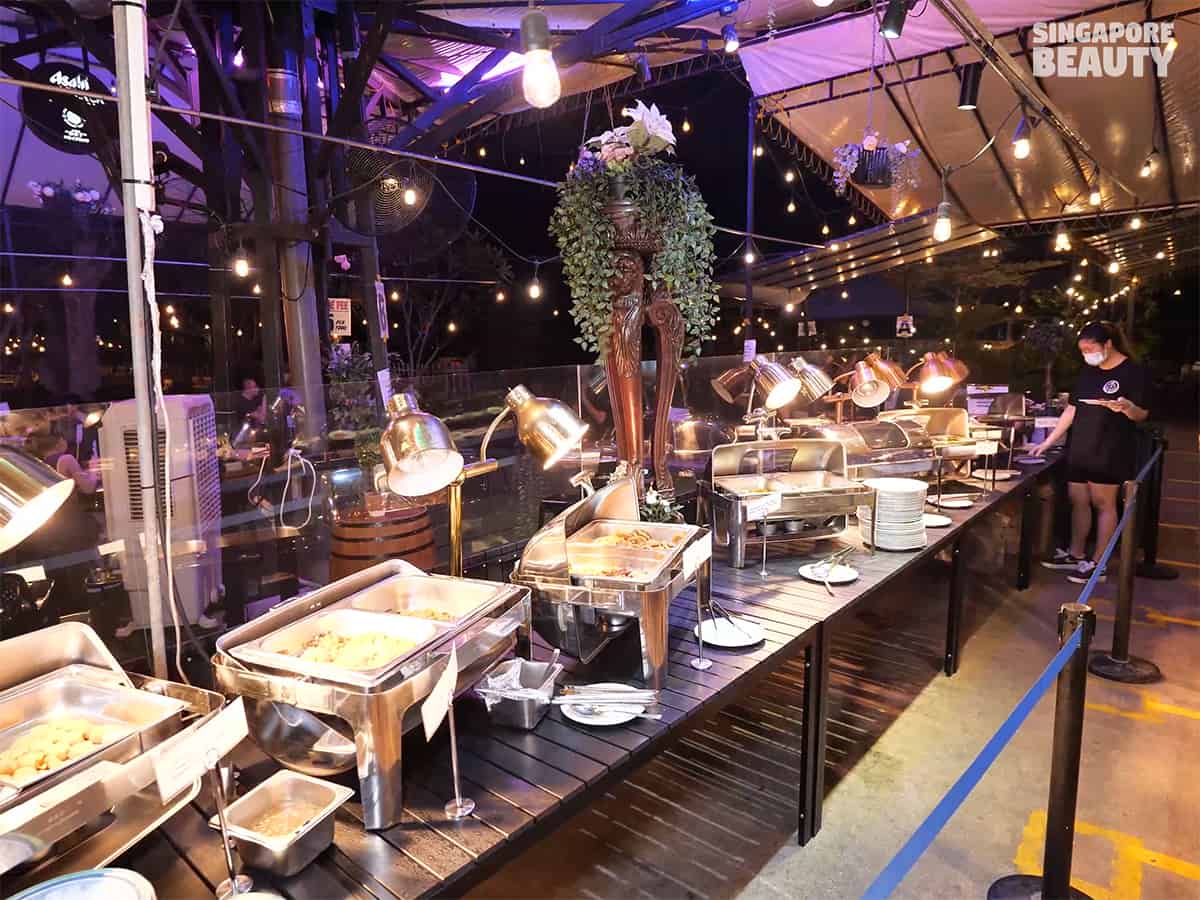 Take your pick from The Three Peacocks long buffet line of cooked food on chafing dish. The food items are cooked fresh and served from their onsite kitchen to the buffet line. The dishes are on a rotational menu basis so that every visit you might find some new creations.
Indulge in The Three Peacocks international buffet delights such as chilli crab prawns, typhoon garlic prawns, sambal fried rice, sweet sour ribs, broccoli scallops, and more. These are staff served buffet line where you can mix and match your desired platter of cooked food.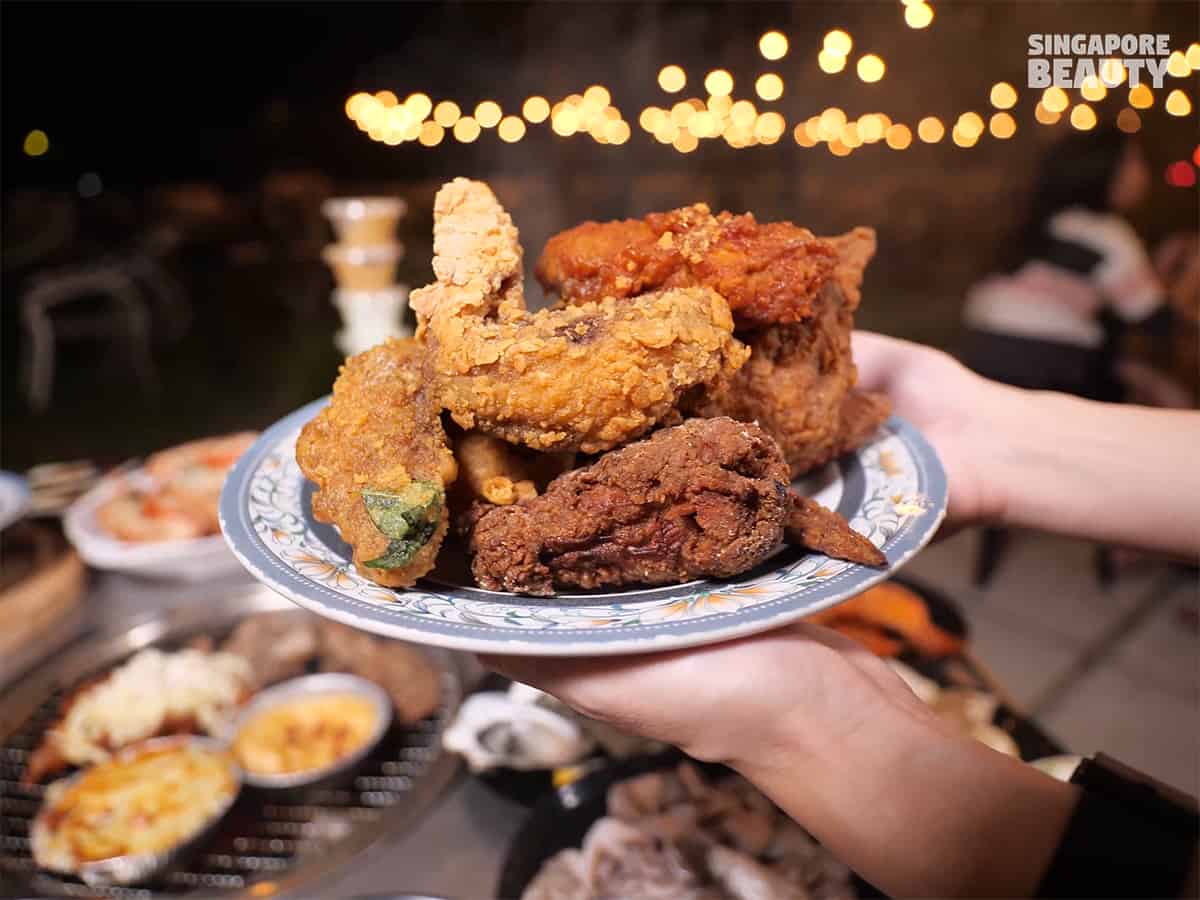 They also have finger food such as Korean fried chicken in 8 flavours to choose from daily. The flavours available are salted egg sauce, wasabi, buffalo sauce, tom yum flavours, teriyaki sauce, mala satay sauce and cheese.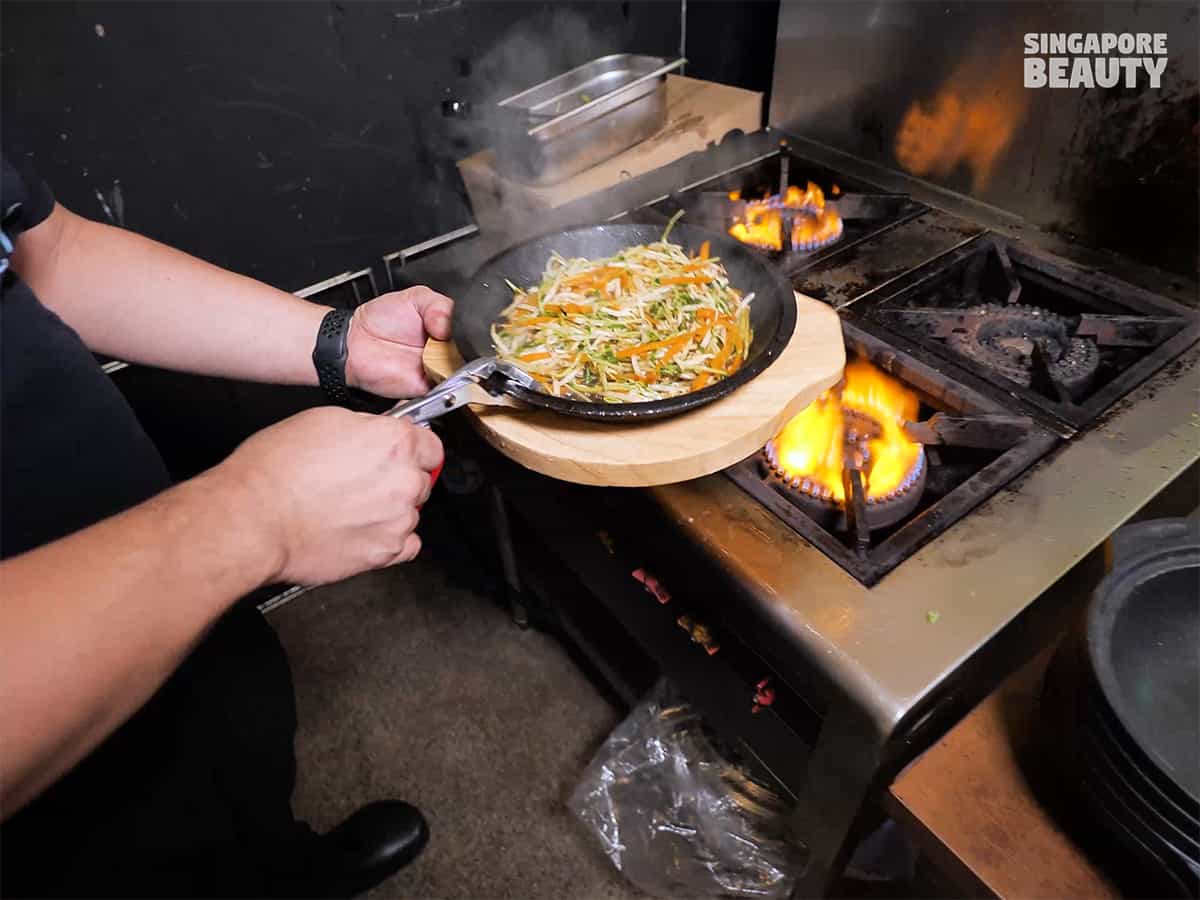 The Three Peacocks has added hotplates and claypot dishes to their menu. These are cooked individually to order. The hotplate menu is changed daily. The menu may include lechon sisig, sizzling beef, roasted potato & ratatouille, teppanyaki mixed greens, tebokki cheese rice, salmon claypot don buri and beef bibimbap.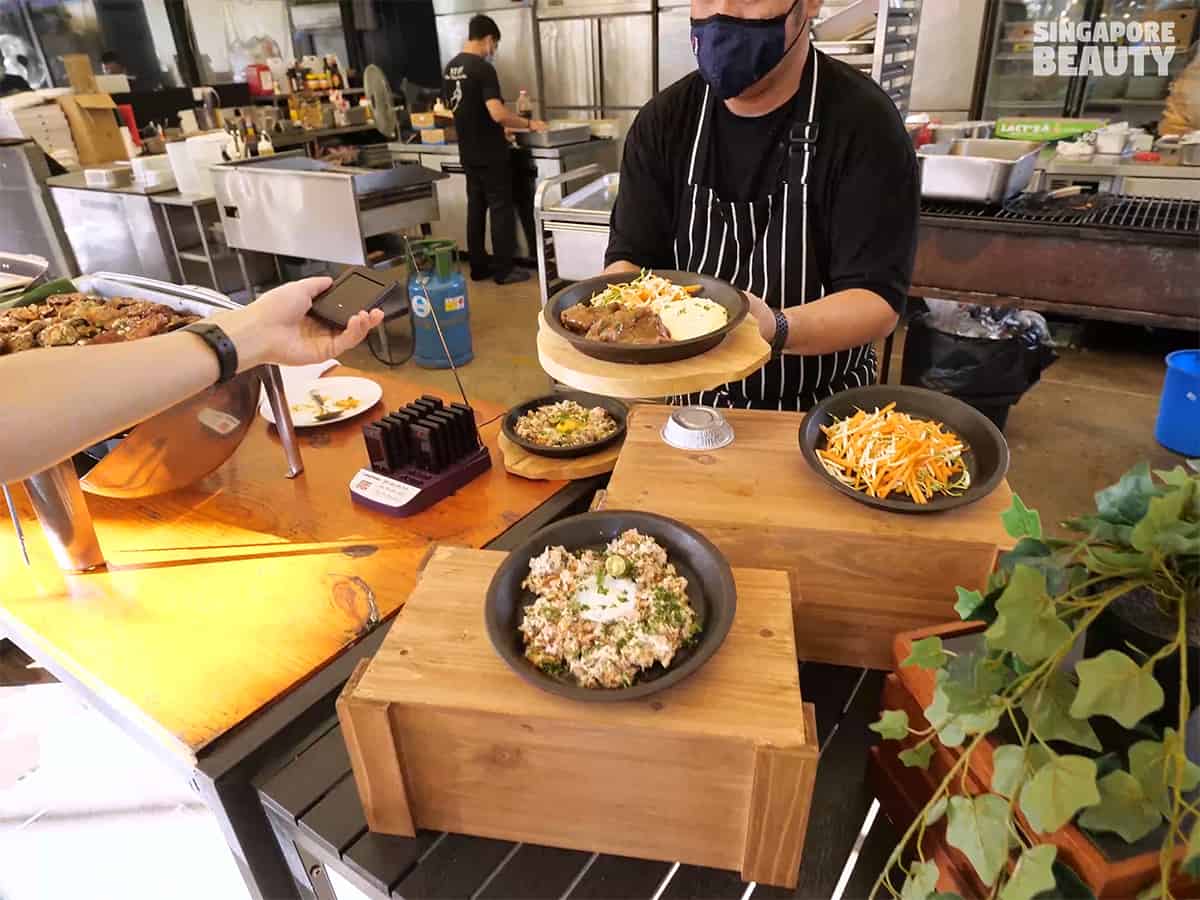 Collect the special hotplate and claypot dishes with a food paging system when they are ready. Return the paging tag to the server and walk away with a sizzling dish of meats or green cook to order for you. This save you the hassle of queuing and you can enjoy the cooked food at the comfort of your table.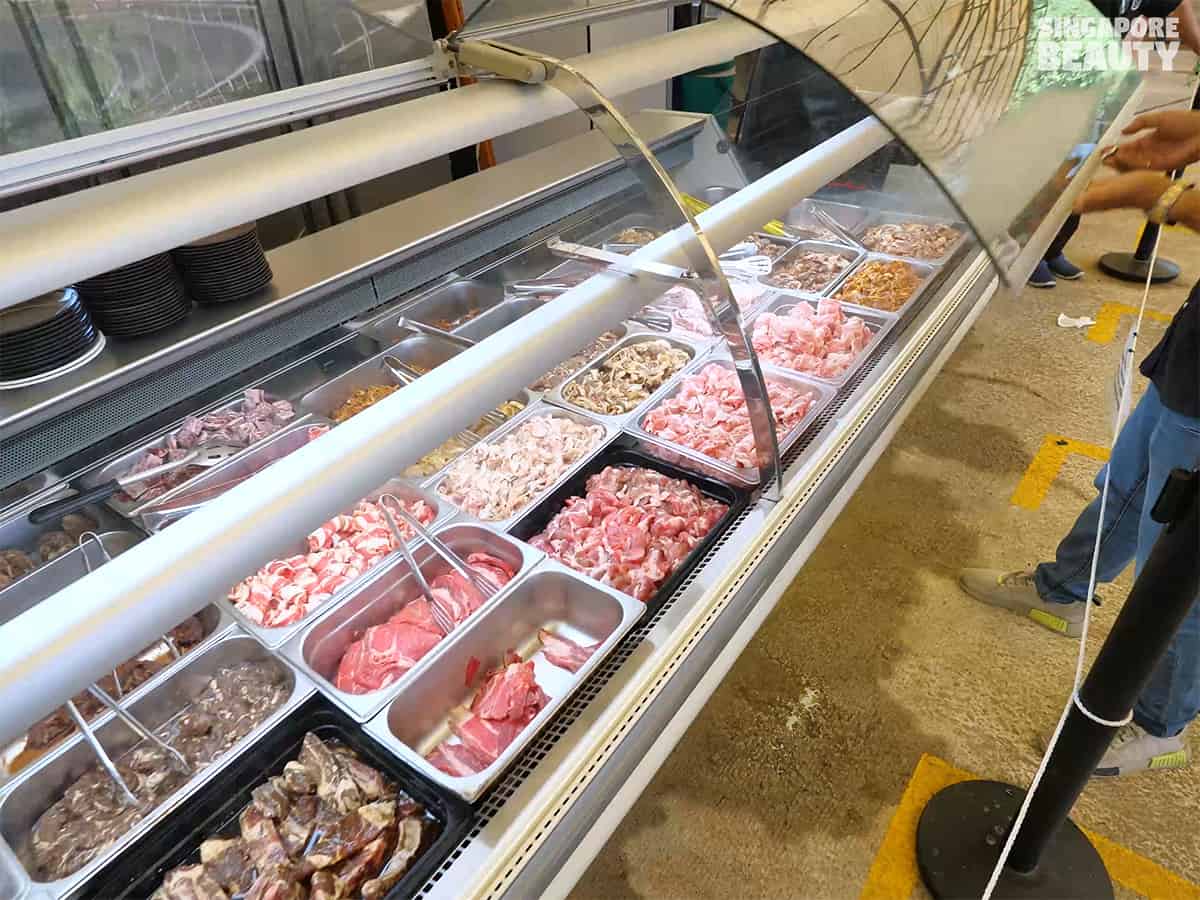 For meat lover, rejoice with the newly added 3 meter long spread of premium meats and marinated meats for your BBQ needs. With 26 cuts of meat inclusive of wagyu cubes and black pork filets. The non marinated meats are thick cuts of pork belly, black pork collar, US pork skirt, shortribs, Angus beef and more.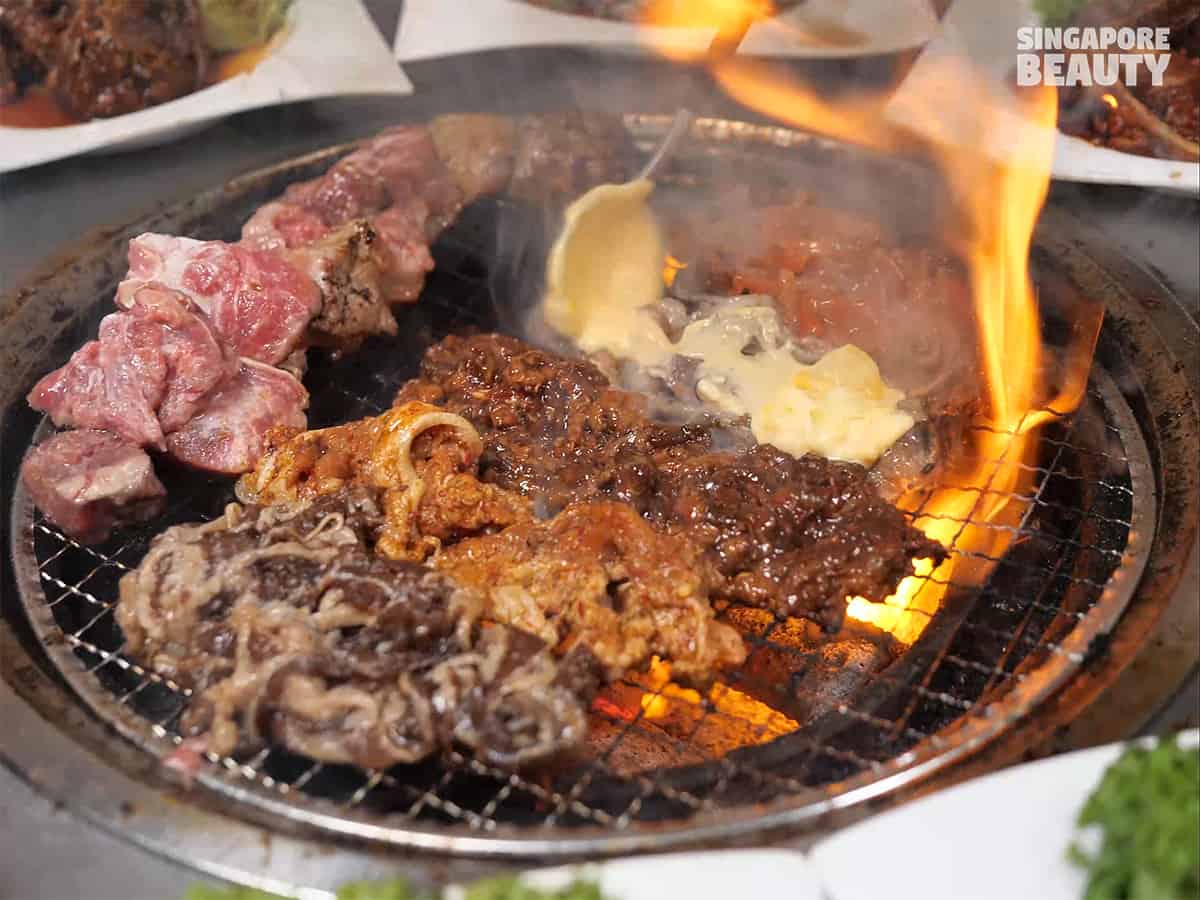 The selection of marinated meats are available in chicken, pork and beef. Choose from different cut of meats with salivating type of marinade. These meats are marinated in many style such as Korean, Chinese, Japanese, Thai and with American BBQ seasoning too. Get a platter of Teriyaki, Thai Tom Yum, Black pepper, beef bulgogi. Enjoy your BBQ marinated meats from all over the world all in one place – The Three Peacocks.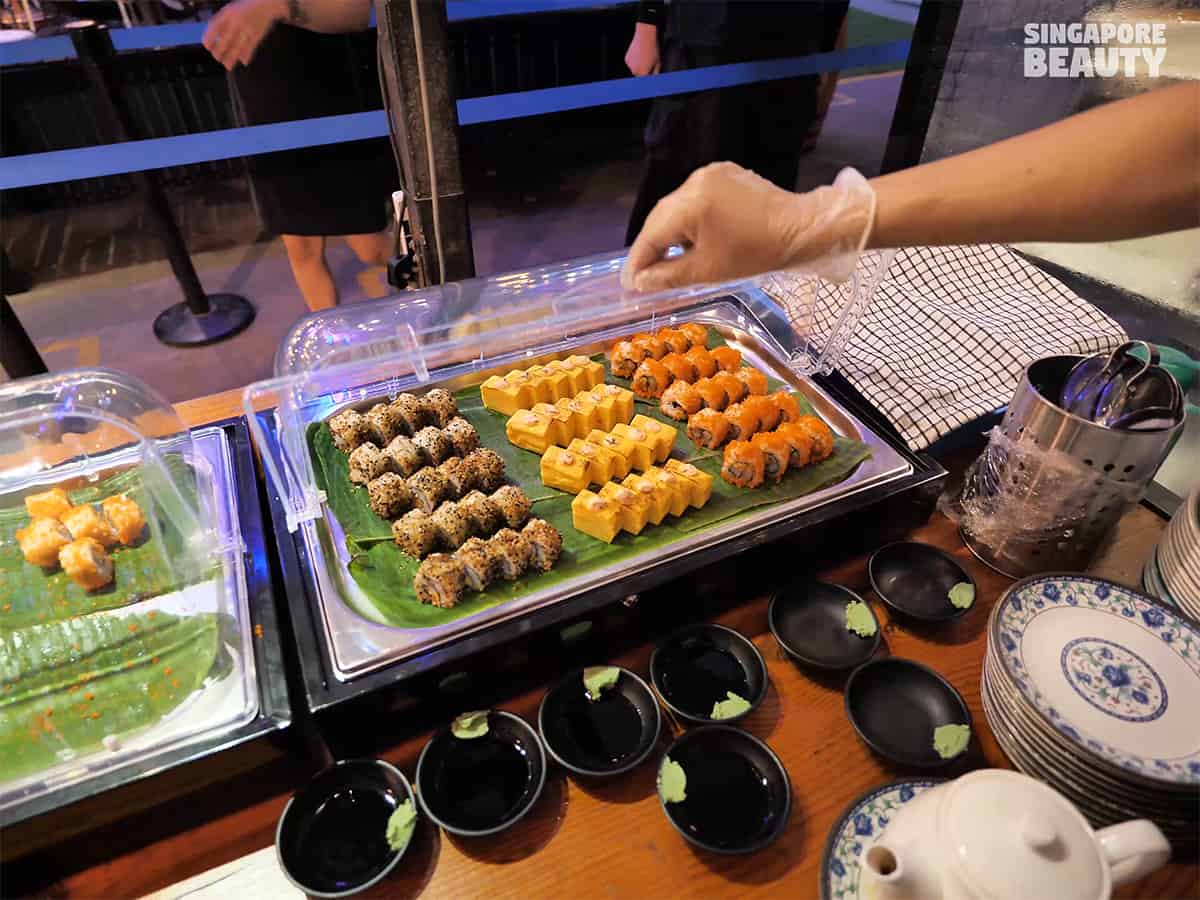 Sashimi and sushi Japanese cuisine is also available at their buffet line. Enjoy freshly cut salmon sashimi, sushi and maki with sizzling hot salmon don buri. For something with a crunch, head over for some takoyaki and gyoza from their staff served food counters next to this.
Fancy some teppanyaki? Check out their daily specials such as teppan salmon, prawns and scallop mentaiko. Grilled right before you and served straight away sizzling hot to the buffet line.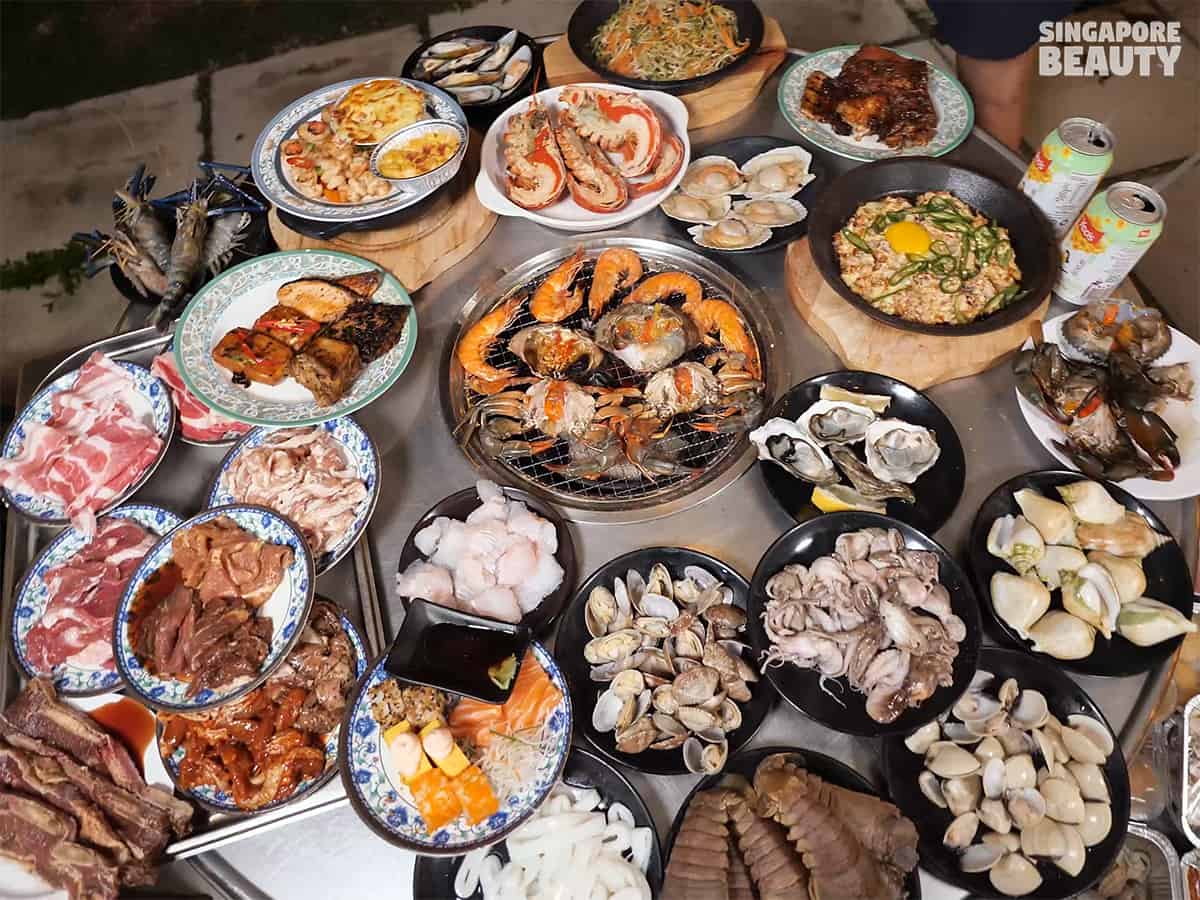 Enjoy The Three Peacocks BBQ meat and seafood buffet. Load up on their live seafood such as freshly shucked live oysters and despatched live mud crab. This is the over the top seafood and meat buffet in Singapore that you need to try at least once and get hooked on it. The seafood on ice includes slipper lobsters, all kind of shellfishes, octopus, prawns, giant river prawns and more.
Get up to 18 types of sauce such as ponzu, wasabi mayo, peacock special sauce and more to go with your grills and customised the non marinated meats the way you want it.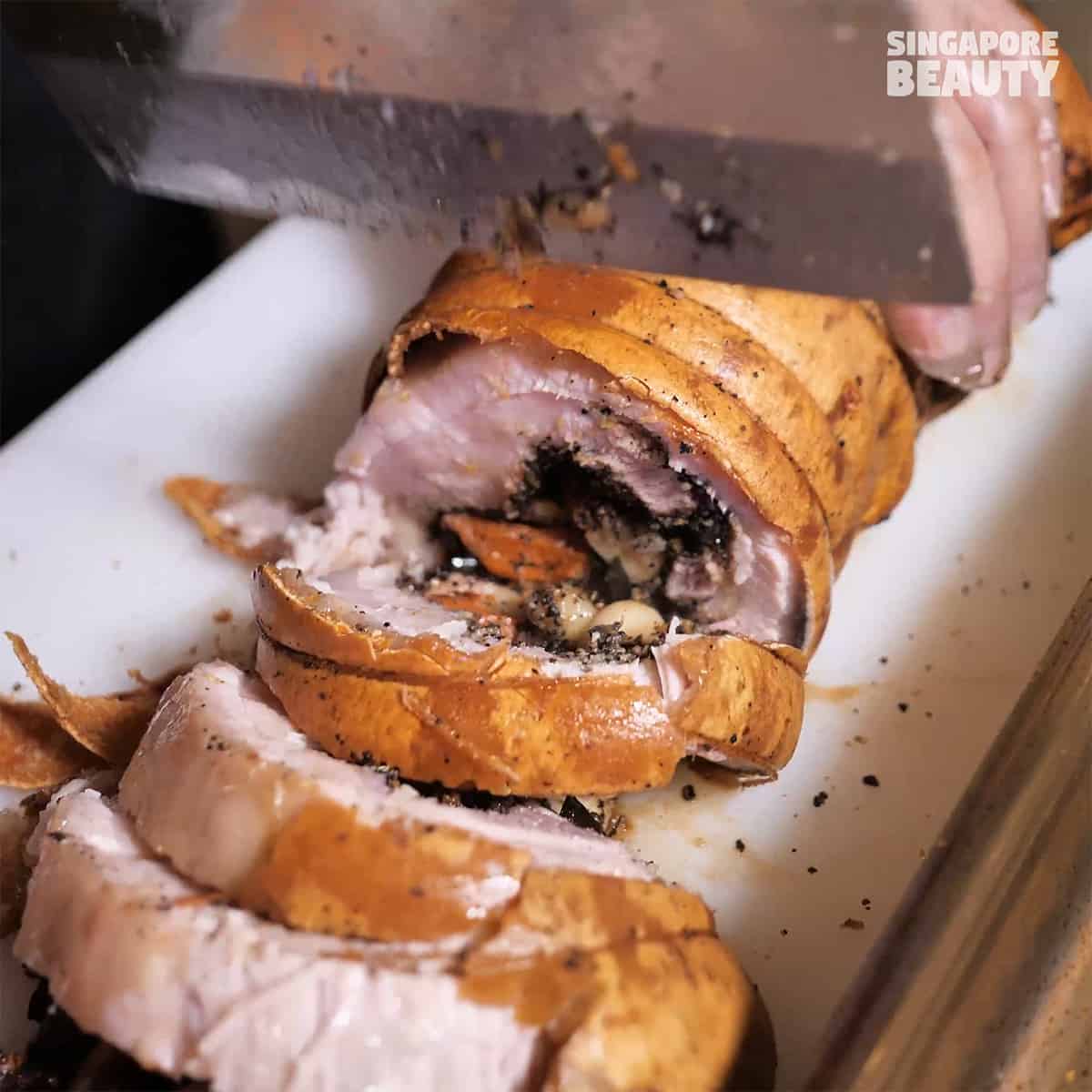 For those who love lechon – a famous Spanish and Filipino dish – oven baked to a golden roll of delight crispy meat roll. Large slab of pork belly are marinated, stuffed with herbs and spices and rolled. The lechon spots a juicy and tender meat with a super crunchy skin. Wolf down as much as your heart desires without risking an attack. Proceed with caution with this sinful delicious chef pick.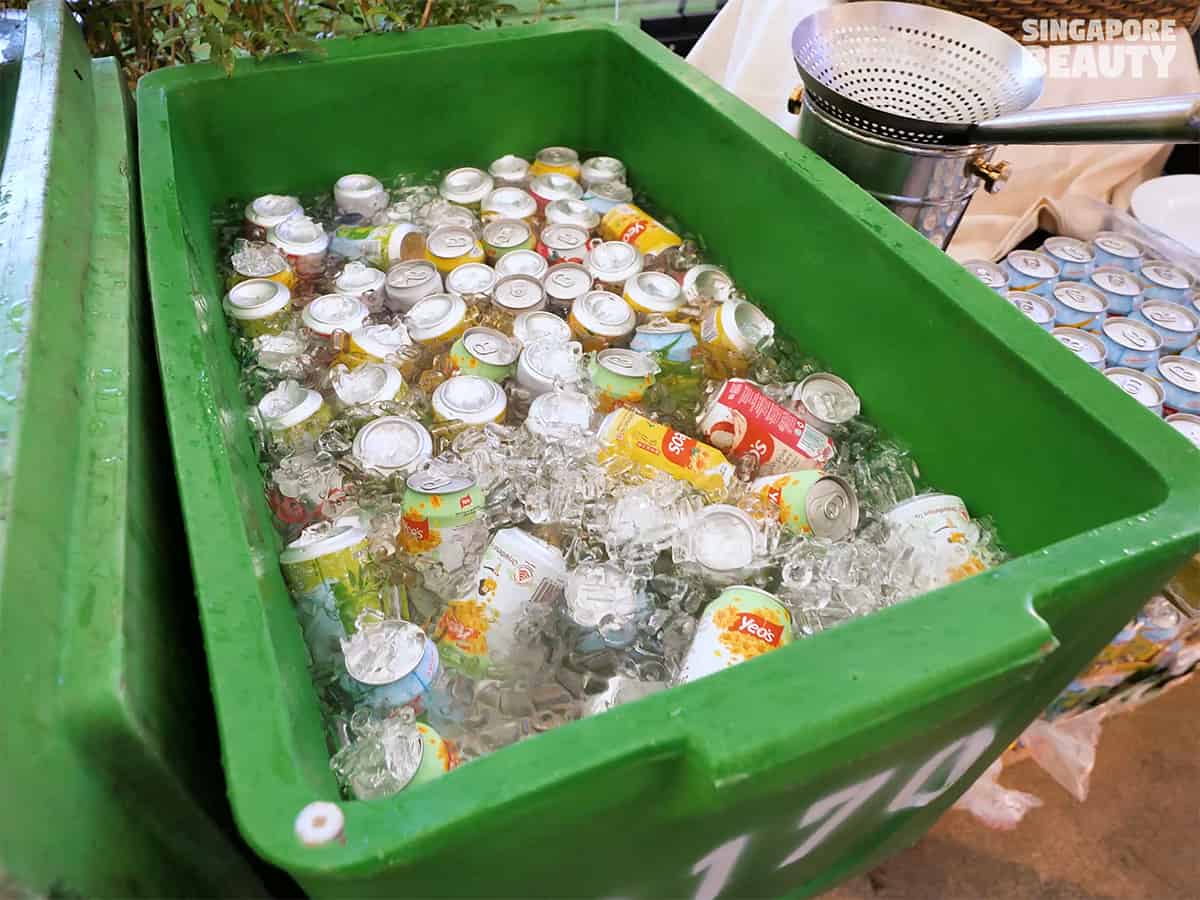 Tons of drinks in an air cooler box are up for grabs from the servers. Select from yeos non gassy canned drinks to fizzy soda to wash that all that bbq goodness. Chill with as much drinks as you possibly can, all included in this buffet at no extra charge.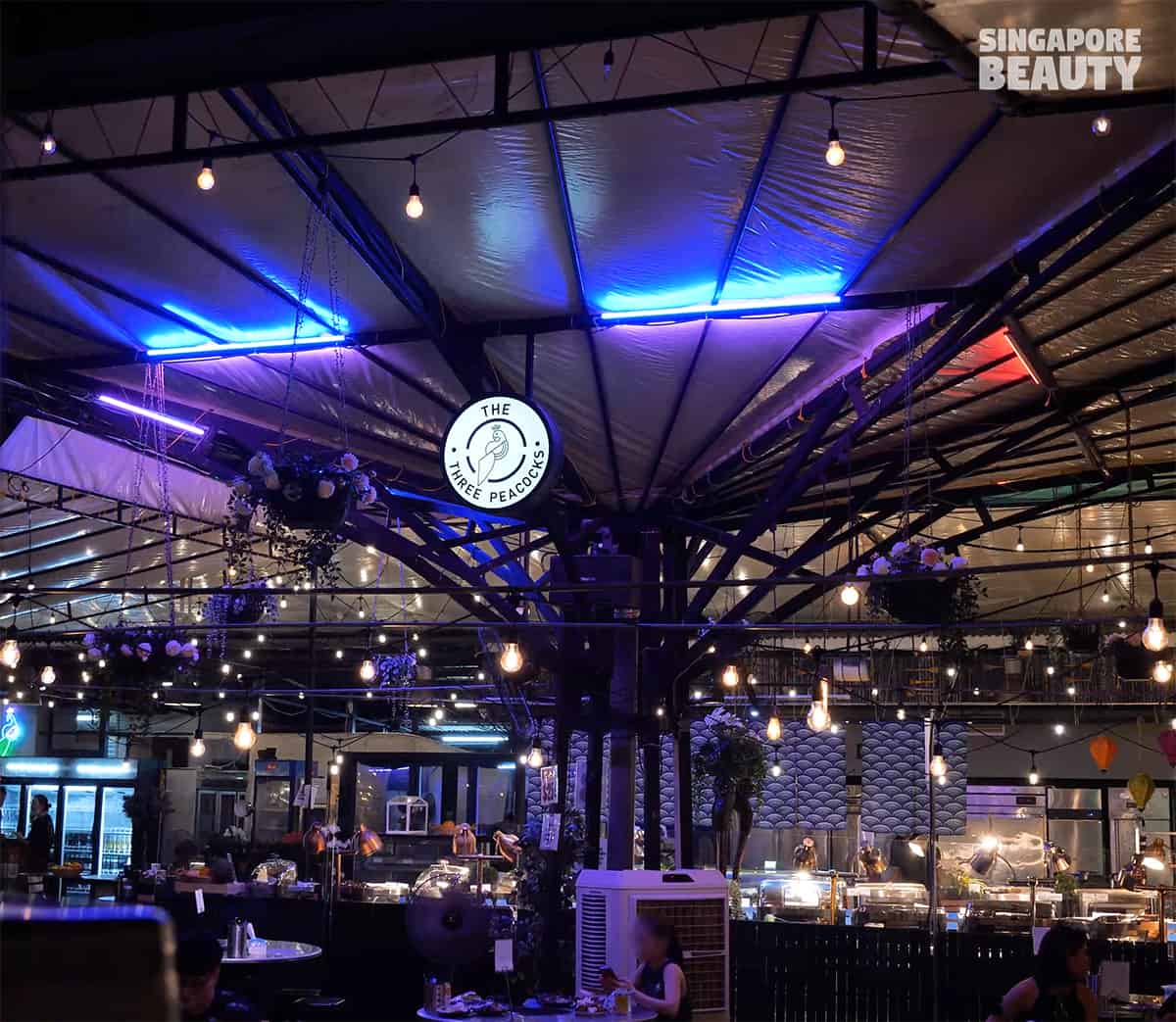 Head over to The Three Peacocks for this epic al fresco buffet. With mesmerising fairy lights dotting the large marquee and set in a chill lush resort like landscaped grounds. Sip in the starry night with cool night breeze amidst a busy scene of furious chefs cooking up a storm to fill all the hunger diners. Free shuttle bus pickup is available at Labrador mrt exit and free ample parking lots for all diners. See you there today!
Address of The Three Peacocks:
8 Port Road, Singapore 117540
Buffet Price:
Weekday -Adult: $ 50.90, Senior: $ 47.50, Kids: $ 33.00
Weekend -Adult: $55.90, Senior: $ 52.50, Kids:$ 38.00
Public Holidays – Adult: $ 58.90 ,Senior: $ 55.50, Kids: $ 41.00
GST and Service charge applies to all price.
Free Parking and shuttle bus.
For reservation, call: +65 31292374
Brought to you by The Three Peacocks