He Jia Huan is a Chinese restaurant serving unique Asian street food with insane BBQ items. With over 180 rare cuisines at pocket friendly prices, you will be spoilt for choice. They specialise in handmade grilled rice cake stickers in Earth Pot chicken Stew, Manchuria Pot Wrap meat, mala fish steak, Braised Pork Belly and last but not least the barbecued skewers. There are also some other rare Chinese dishes that can be found here such as Squirrel Fish, Hot Stone Pot Fish Head and NorthEast Cold Noodles. For those who miss Chinese street food, they also have a variety of on-the-go bites such as onion pancake, pork buns and various types of pot stickers.
He Jia Huan is proud to present dishes that are plated to tease your palate and feed your instagram. Try the signature dishes such as this Squirrel Fish ($25.80) topped with a crimson glaze made with sweet tomato and vinegar.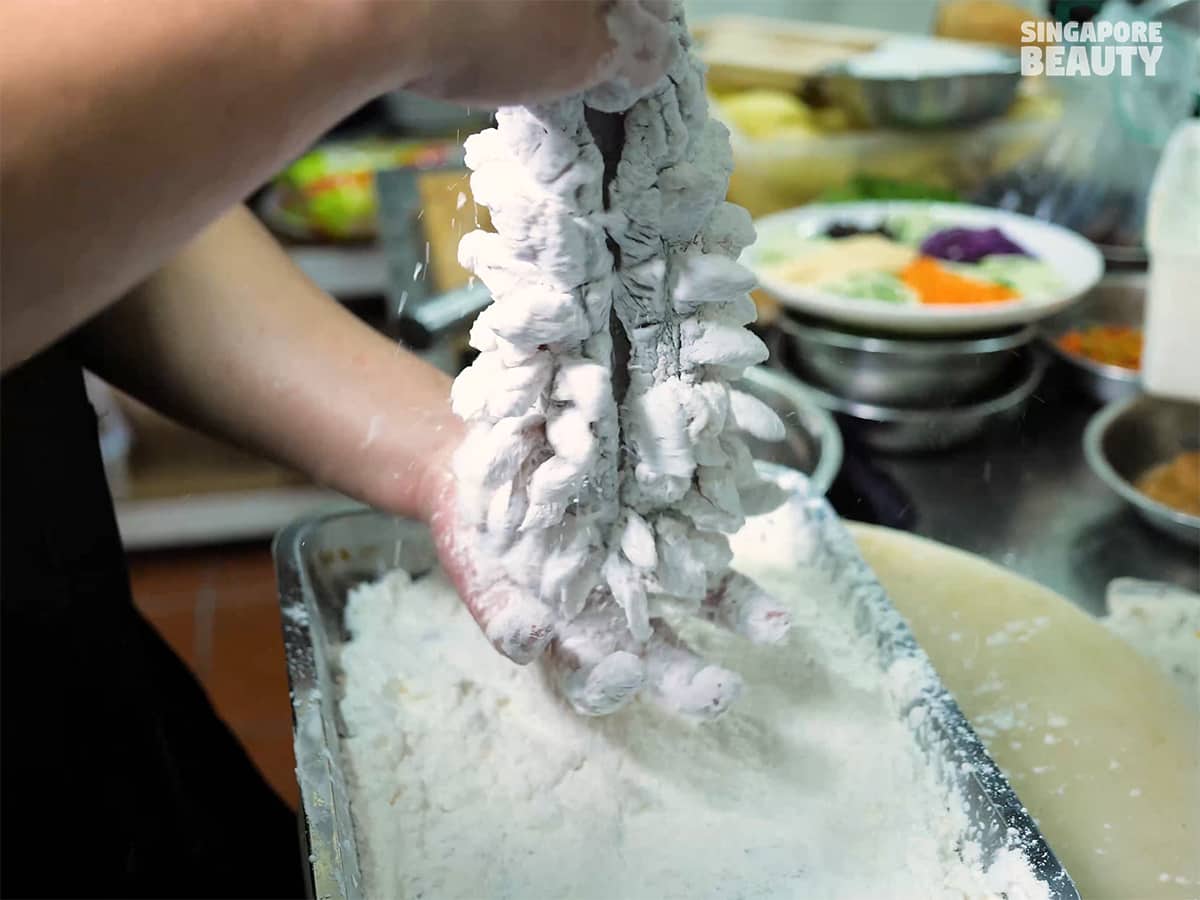 This dish is a labour intensive dish as the meat is skilfully carved into cubes of equal size along the spine of the fish. The chef has to season and dust each cube of flesh to ensure that they are evenly coated with a thin layer of flour. The flour batter consist of a special mix of flours for the best crispy and texture. This is one of the must try dish in their menu at He Jia Huan.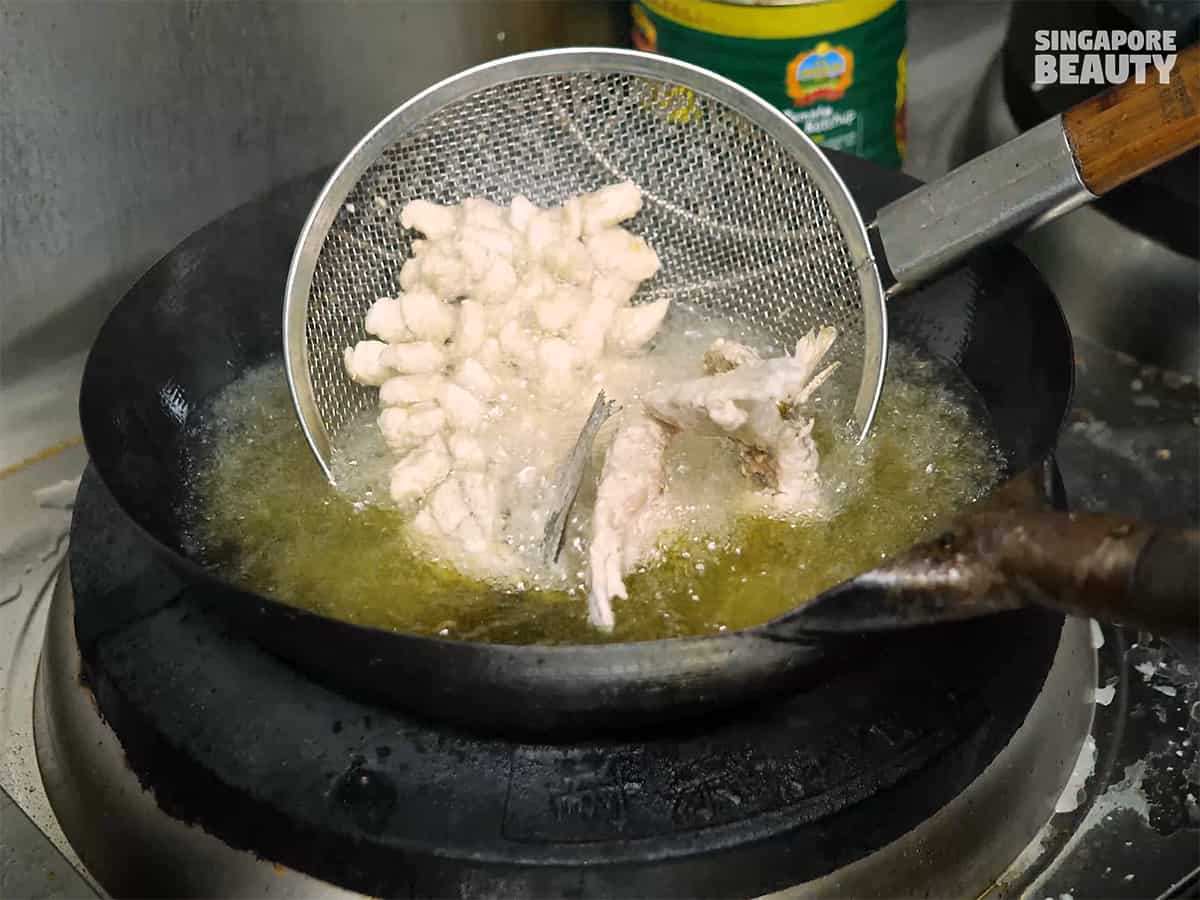 Since the fish is deboned, the frying of the whole fish to create the curvy profile is purely dependent on the skill of the chef. The temperature of the oil has to be well controlled and great care is taken while lowering the fish into the oil. The fish is lowered by hand into the hot oil to create the desired profile of a flowering pattern of the fish meat with the tail turned upwards like the tail of a squirrel. We are treated to a visual feast of how the squirrel fish is prepared at He Jia Huan in the preparation kitchen with their Head chef.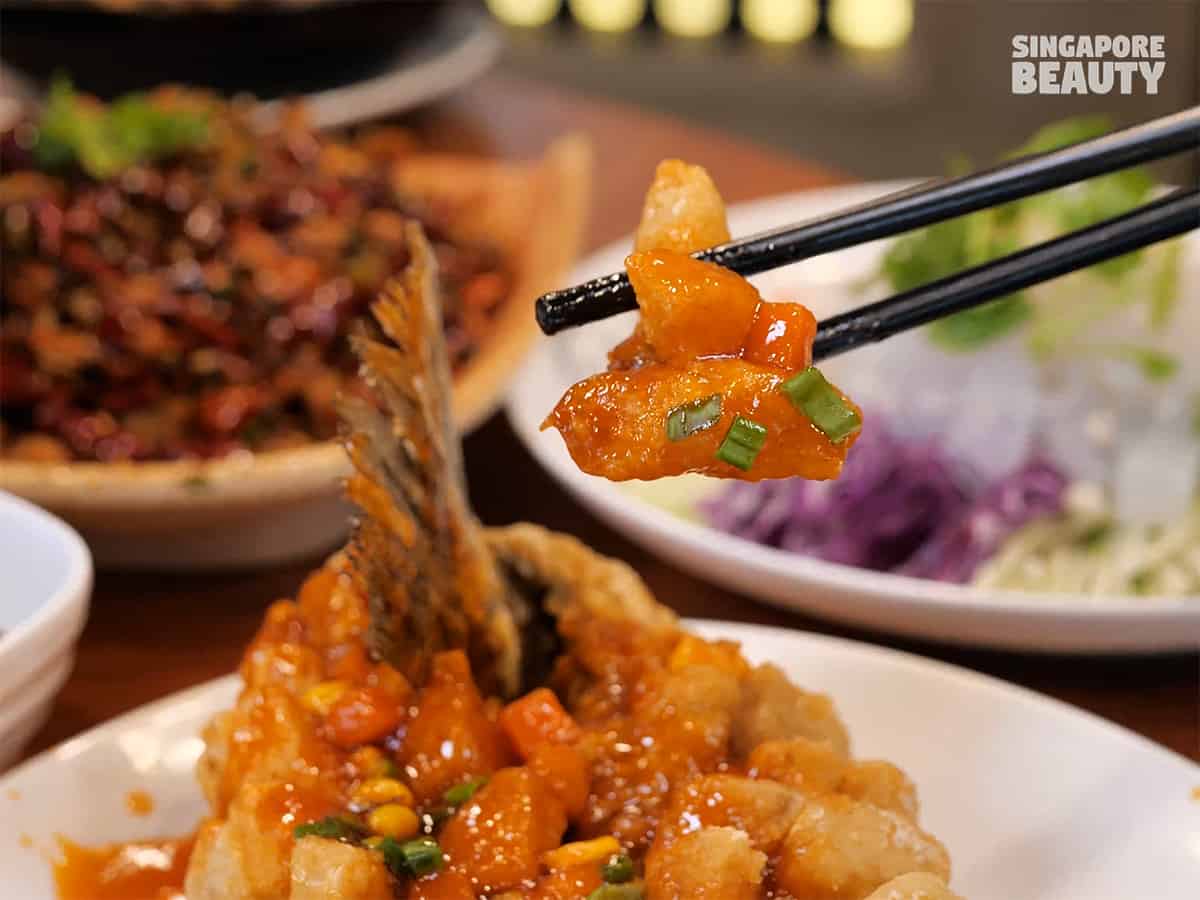 The squirrel fish are morsel of fish pops held together with a crispy fish skin. Bite into delicate meat within thin golden crust. They glazed these fishpops with in house sauce for a sweet and tangy kick.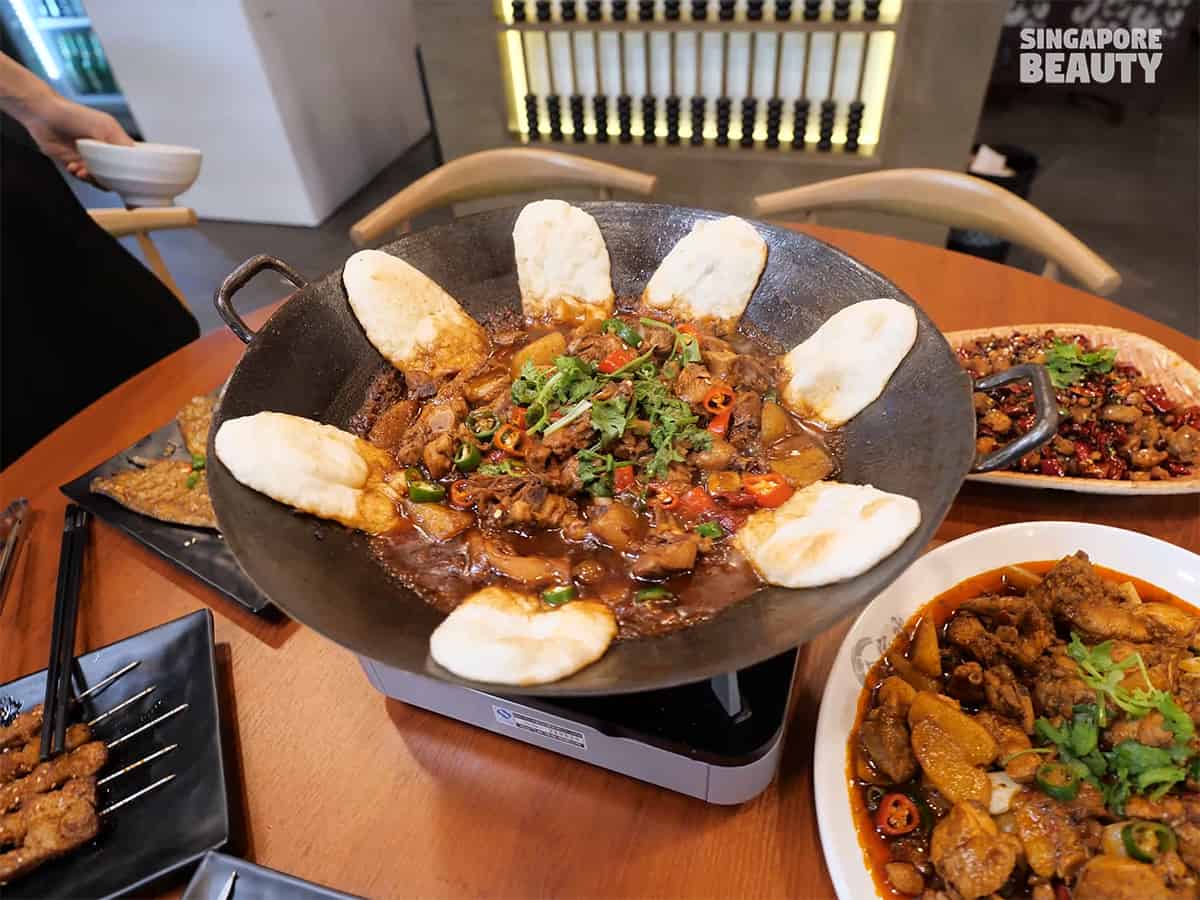 Earth Pot chicken Stew with grilled rice cake stickers ($32). This is a dish that He Jia Huan can proudly present as one of their signature dish. This dish consists of marinated chicken and potato wedges in a rich bean sauce stew with spices and herbs.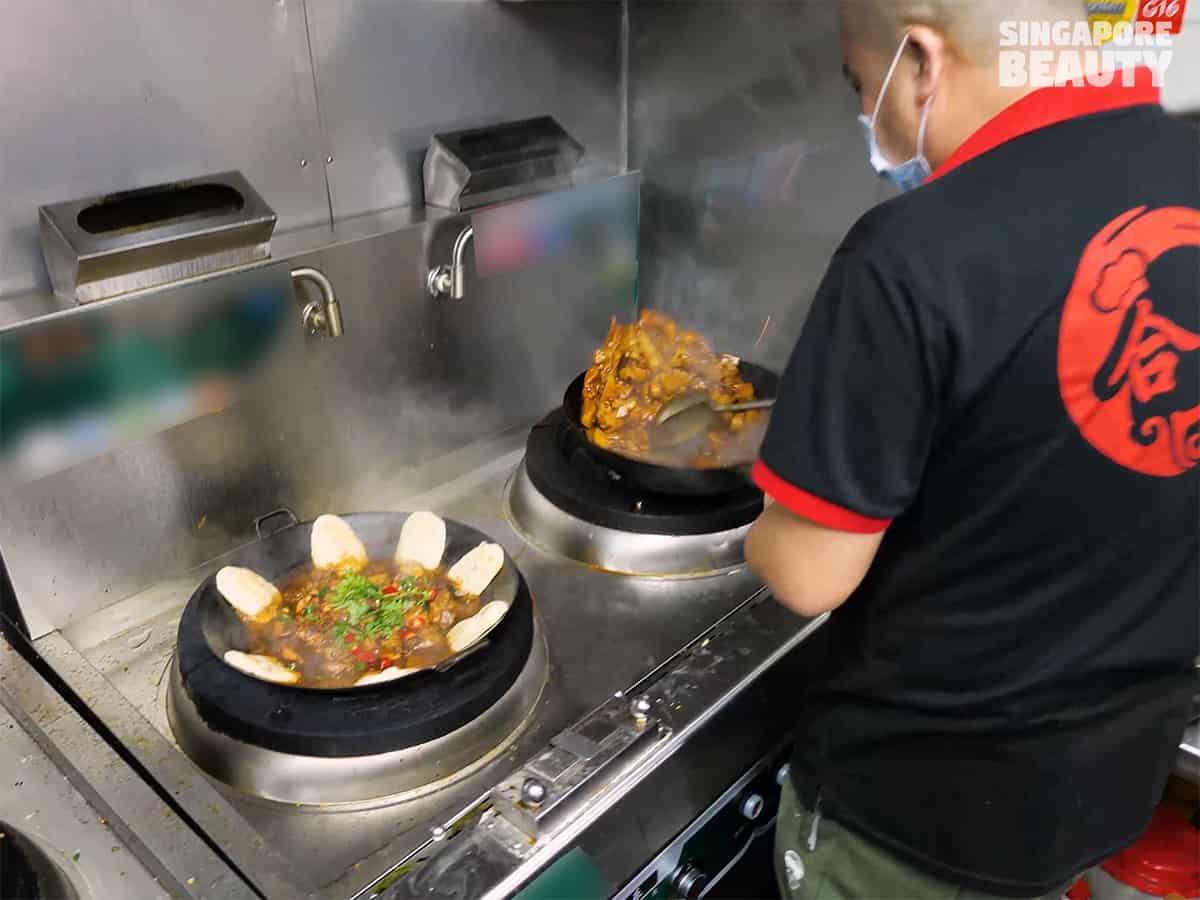 It is served straight from kitchen to table in a Chinese wok while it is piping hot. The chicken marinated, stir fried in rich bean sauce and stewed together with the pot sticker before serving.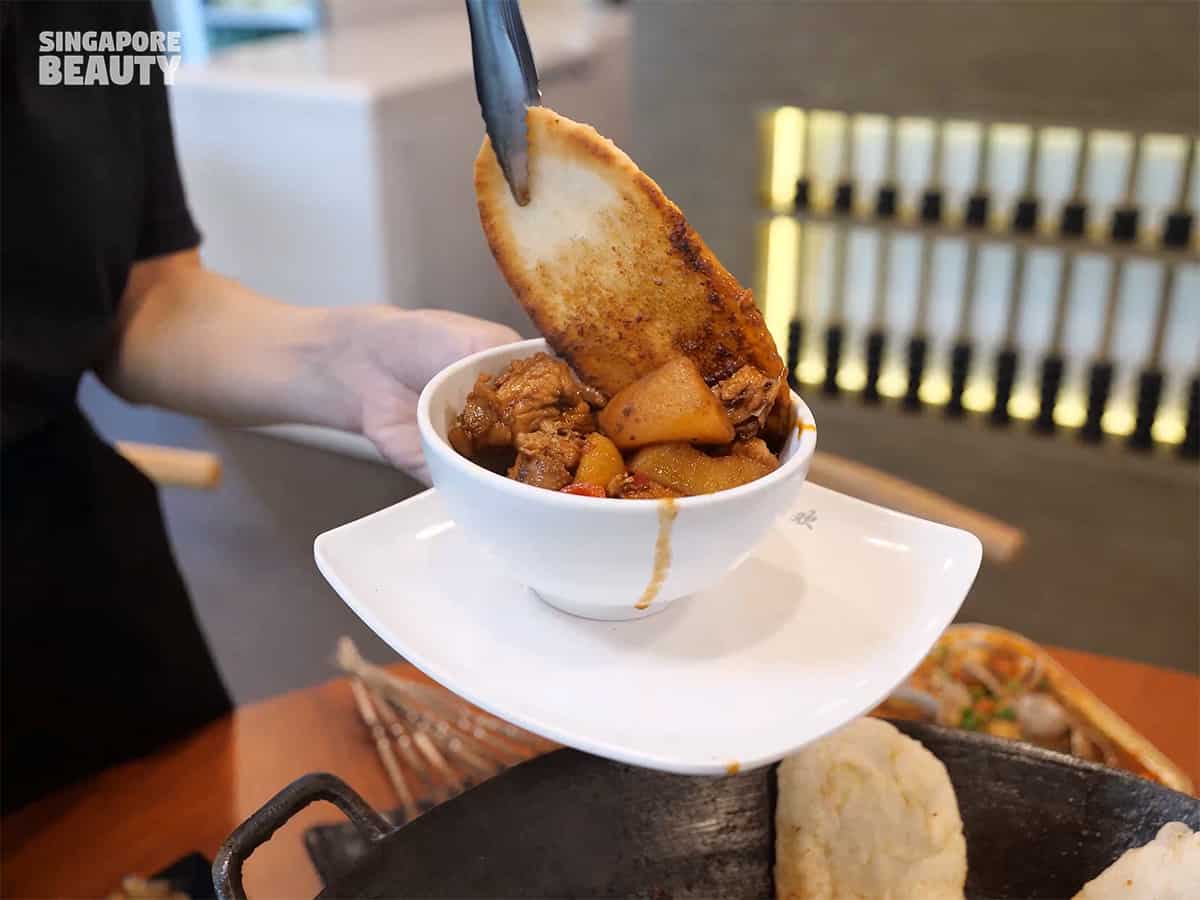 The white toast in the profile of flower petals is handmade from a mixture of rice flour and some other secret ingredients. This white toast is better known as the rice pot sticker, soft and fluffy inside and light crunchy outside.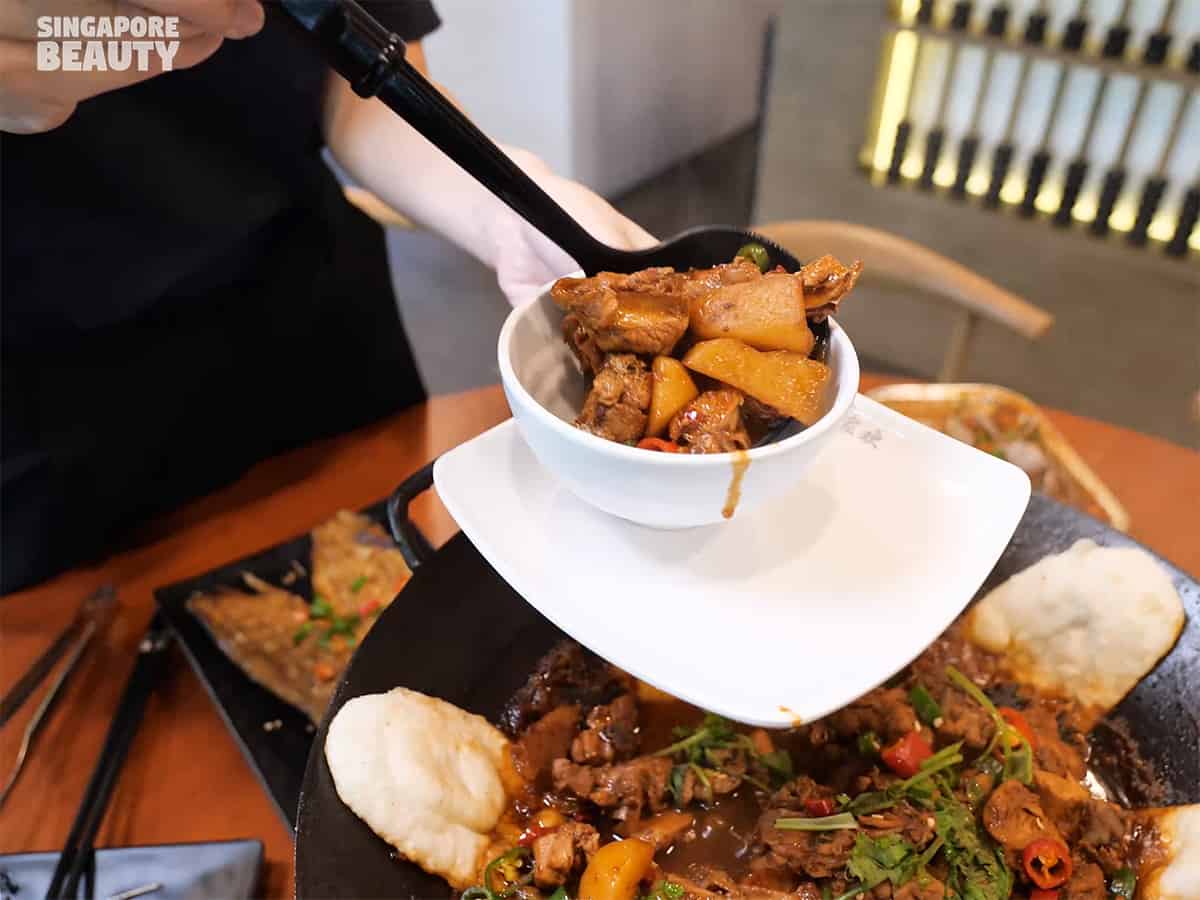 Beware of the hot wok while you are enjoying this dish as the wok is heated on a portable stove. Each serving of the chicken is piping hot and gets the stew gets richer and thicker as you polish off the food from the wok. The chicken is superbly well marinated and the potato is semi-firm with melt in the mouth texture.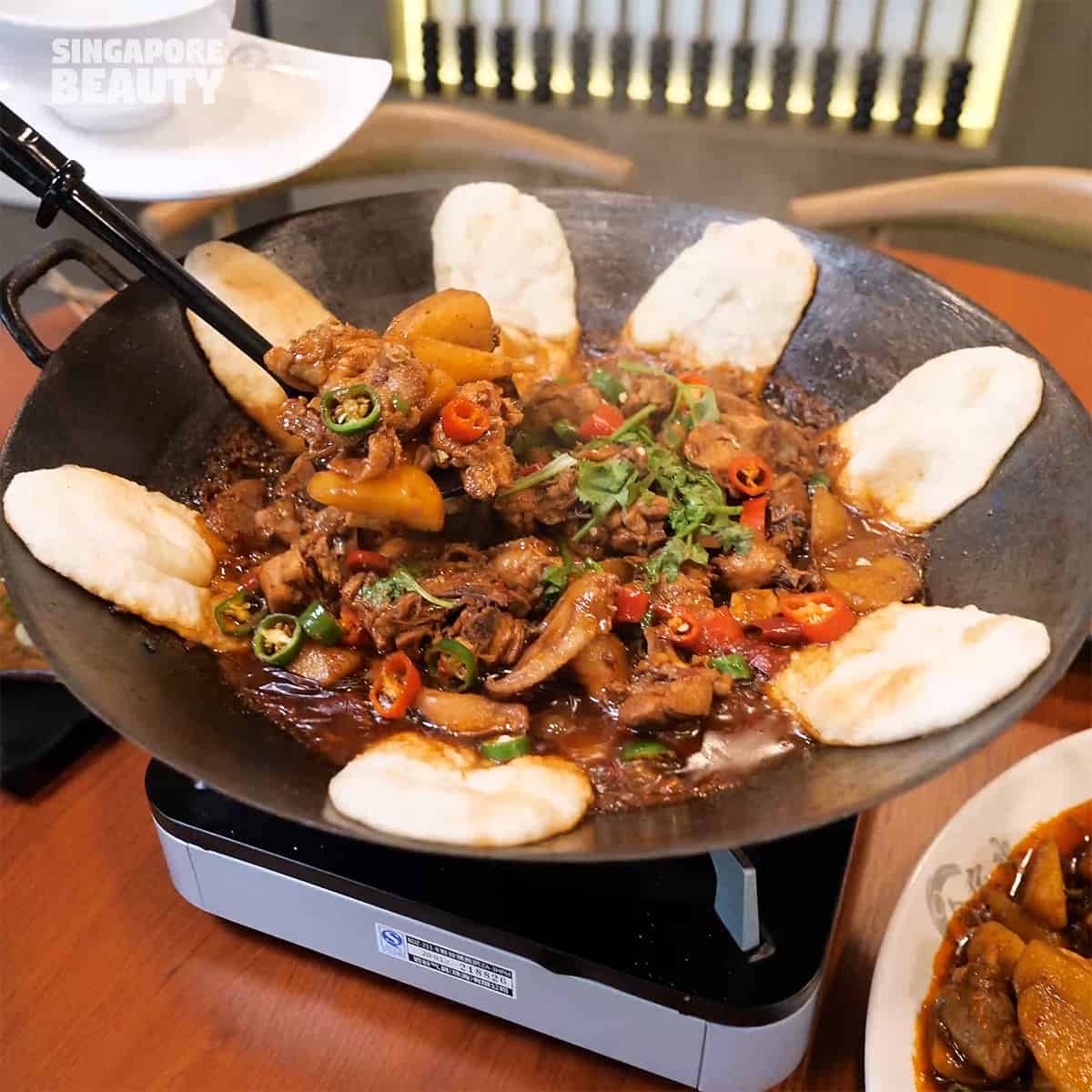 This Earth Pot Stew dish is available in either chicken or Fish ($36). The portion of this stew is generous and great for sharing for 3 pax and above. The rice pot stickers are well paired with this dish as they soak and pick up the thick chicken gravy. There is a mild peppery kick from the green and red cut chilli. A great side order to add on would be the spring onion pancake to dip into this luxurious sauce.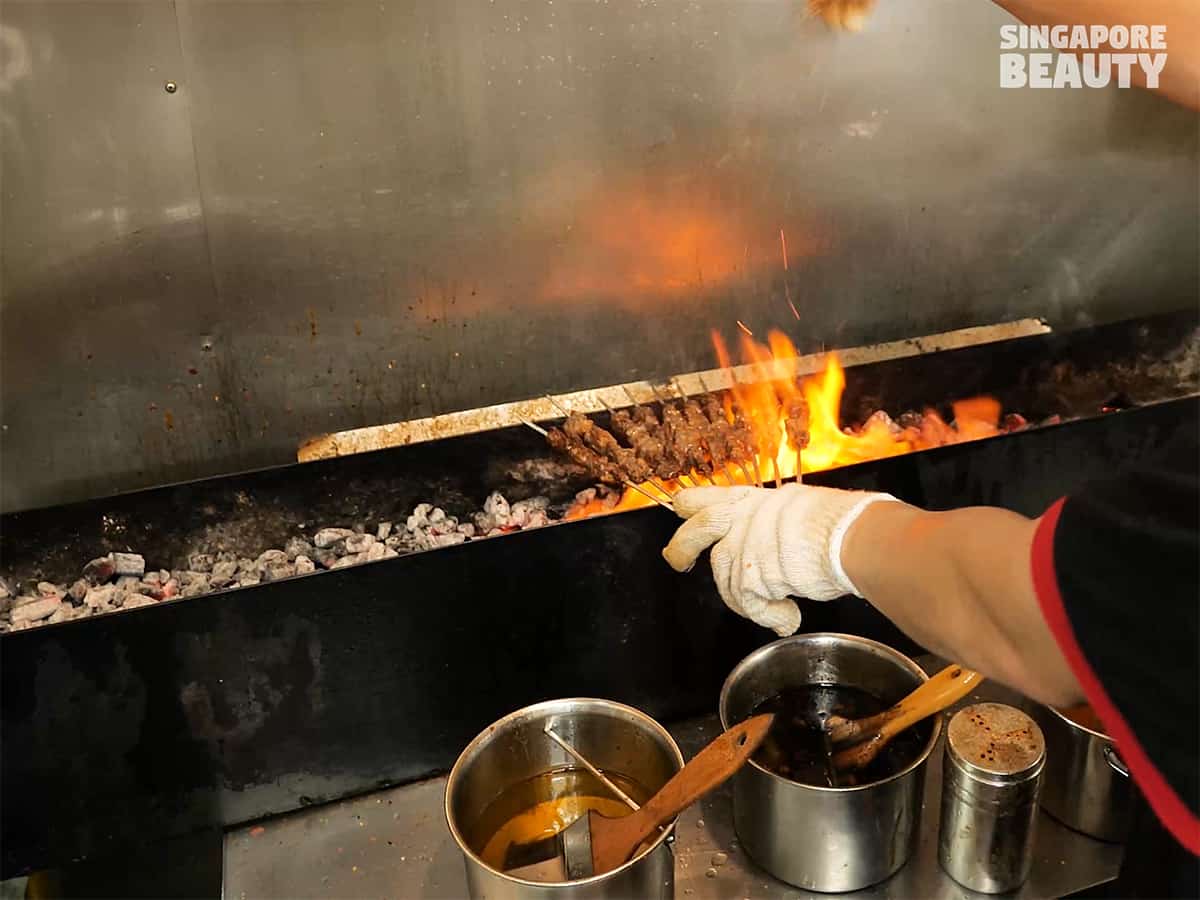 Ever crave for some real barbecued skewers with the char flavour and smoky aroma from white charcoal? They grill all the skewers in house with their 2 meter long charcoal pit over an open flame. The meat skewers are seasoned with 13 spices, pepper and more while grilling.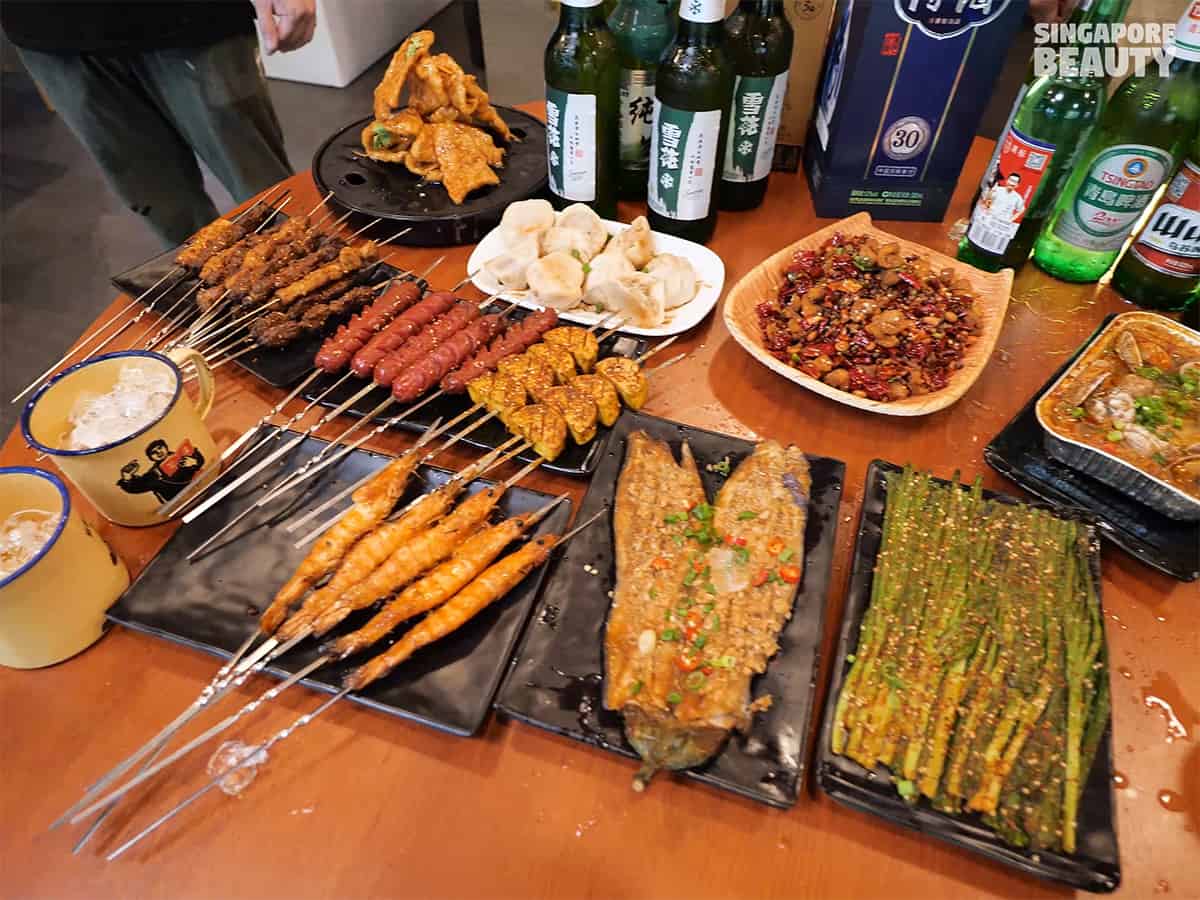 He Jia Huan has close to 50 barbecued skewers to choose from. You may be surprised by their innovative choice of ingredients that can be grilled and enjoyed. They have special finds such as chives, green pepper, egg plant, lettuce, eggs, bread, garlic, veg roll, sweet potato, mantou, squid, lala, cabbage, pork skin, mutton kidney, mutton egg, pork trotter, pork tendons, pork intestines, pork lard, a variety of seafood and even shishamo. They also have the usual suspects for bbq skewers such as meat skewers in mutton, pork beef and chicken.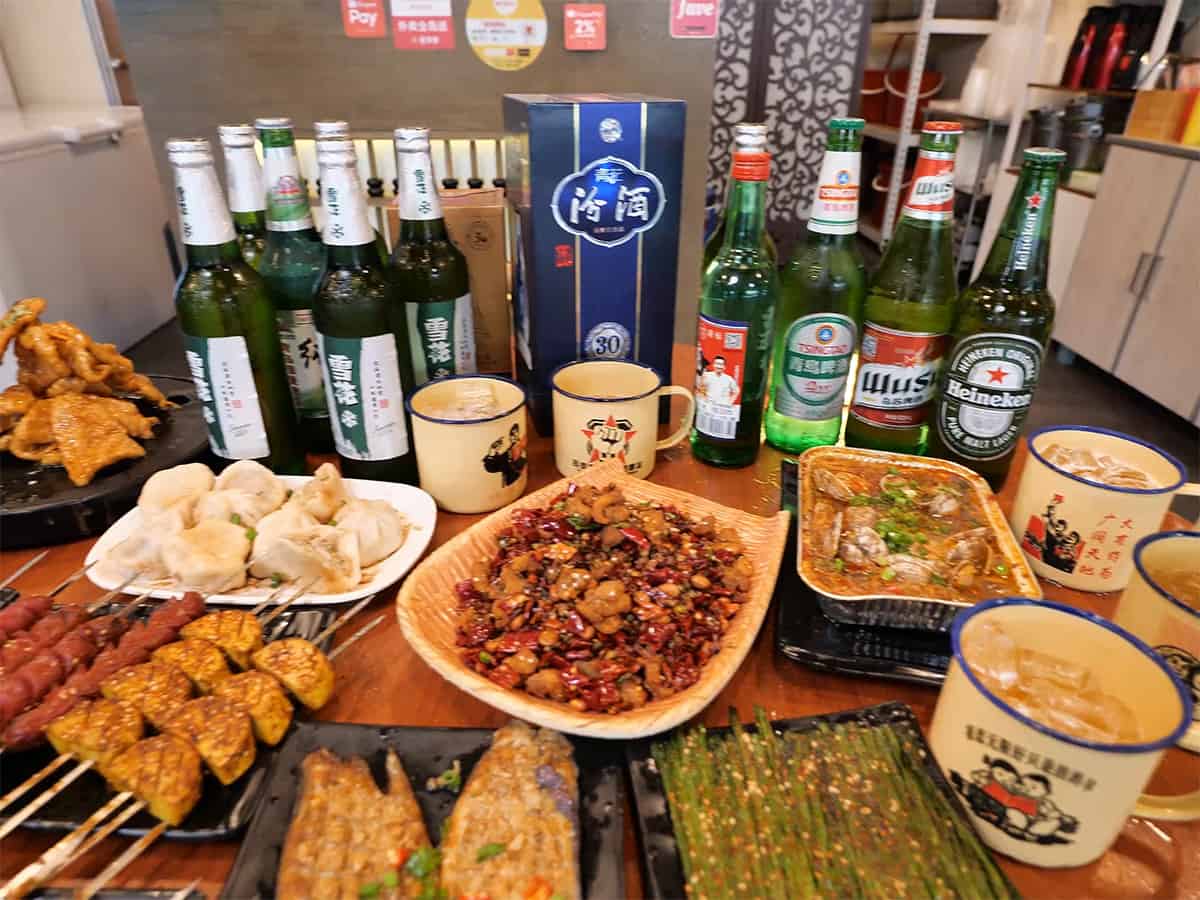 If you are looking for a place to enjoy Chinese style bbq skewers after work, over lunch at a chill place, you need to be at He Jia Huan. Now is the best time to enjoy these BBQ skewers with their Char grilled BBQ skewers promotion, buy 20 sticks, get 5 free meat sticks of your choice. They also have an All Day Happy Hour Buy 5 Beers, get 1 Free beer of the day too. Most of the meat skewer starts from $1!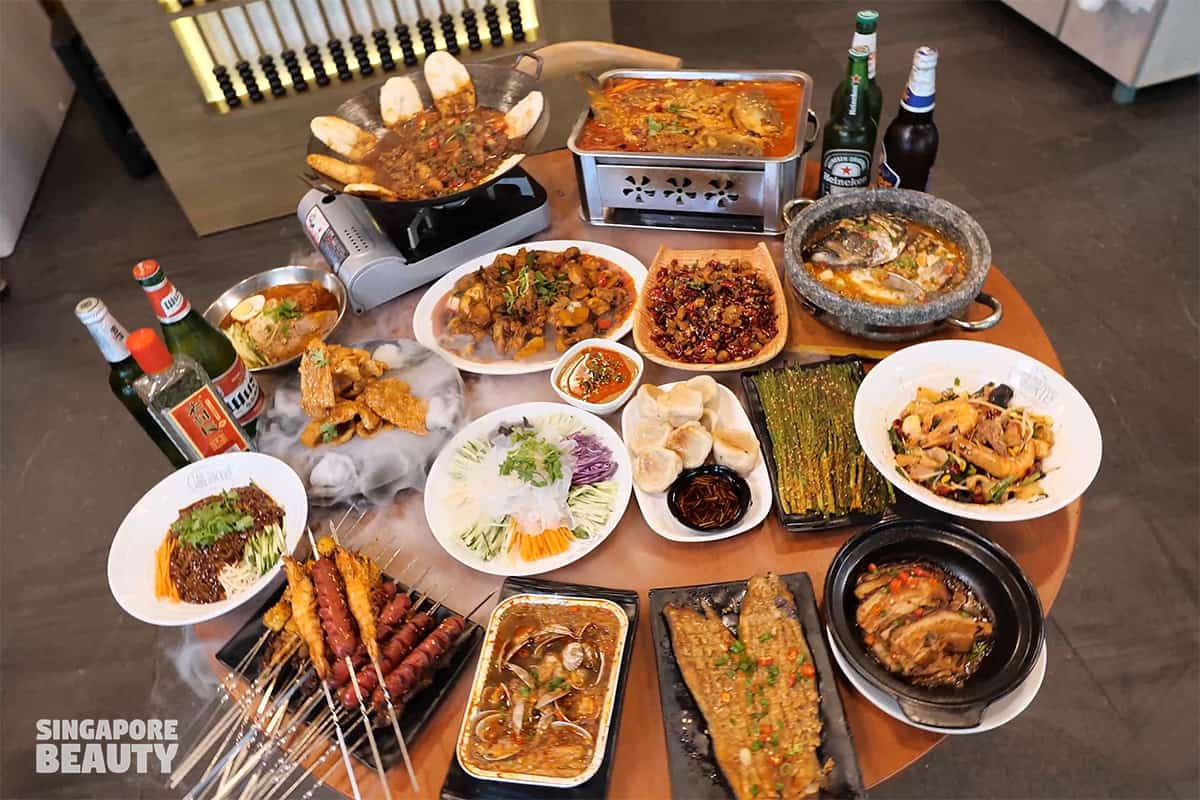 They also have other popular dishes such as Manchuria Pot Wrap meat glazed with sweet and sour citrus, Hot Stone Pot Fish Head in fermented chopped chilli, DongBei Crystal Noodle jelly in nutty sesame sauce, ChongQing Grilled Fish, ZhaJiang Noodles springy with a crunch, Pan Fried Buns crispy base with juicy pork, NorthEast Cold beef Noodles in icy broth with kimchi, Braised Pork Belly in melty salted cabbage, Mala Xiang Guo, Mala Tang, ChongQing Spicy chicken and more.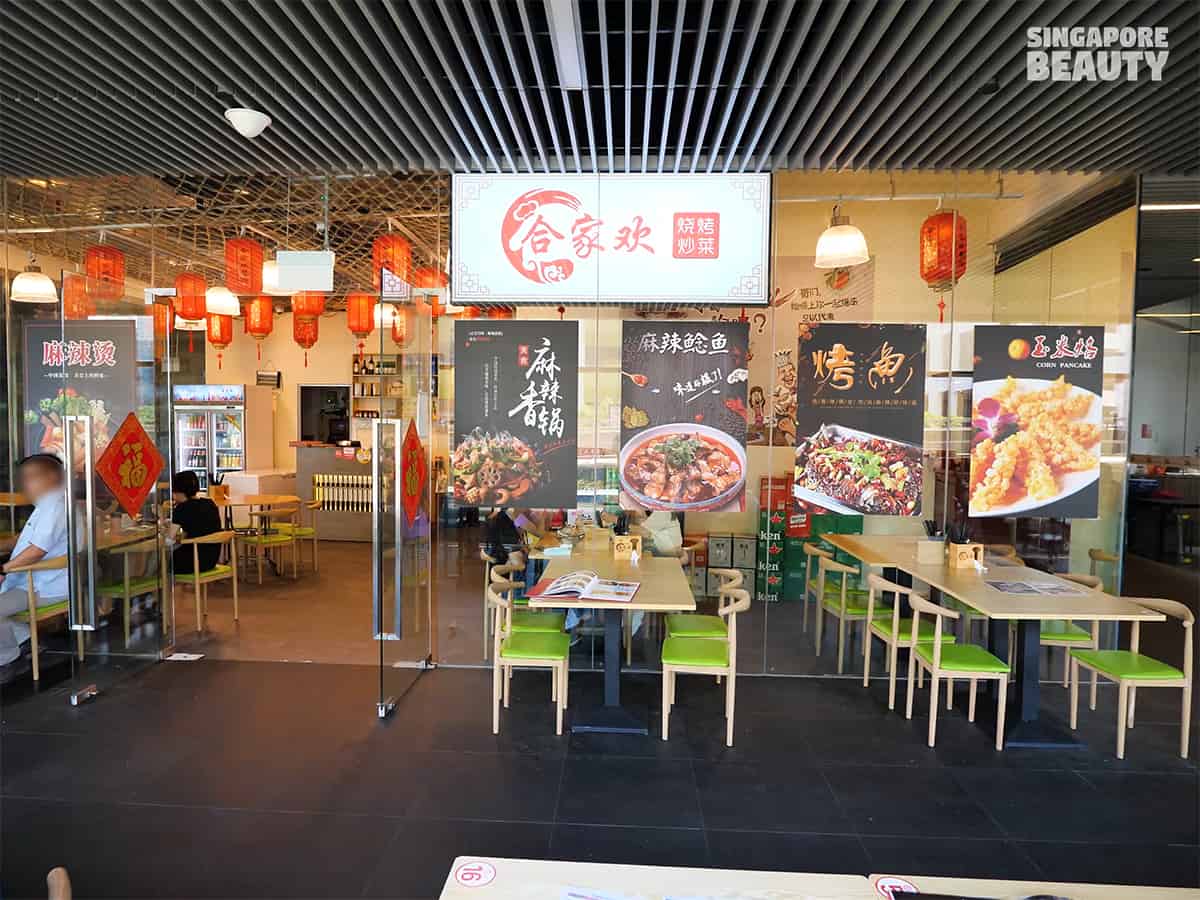 Head over to He Jia Huan today to enjoy endless types of authentic Chinese Cuisines at pocket friendly prices. This is a great place with BBQ skewers and beer promotion.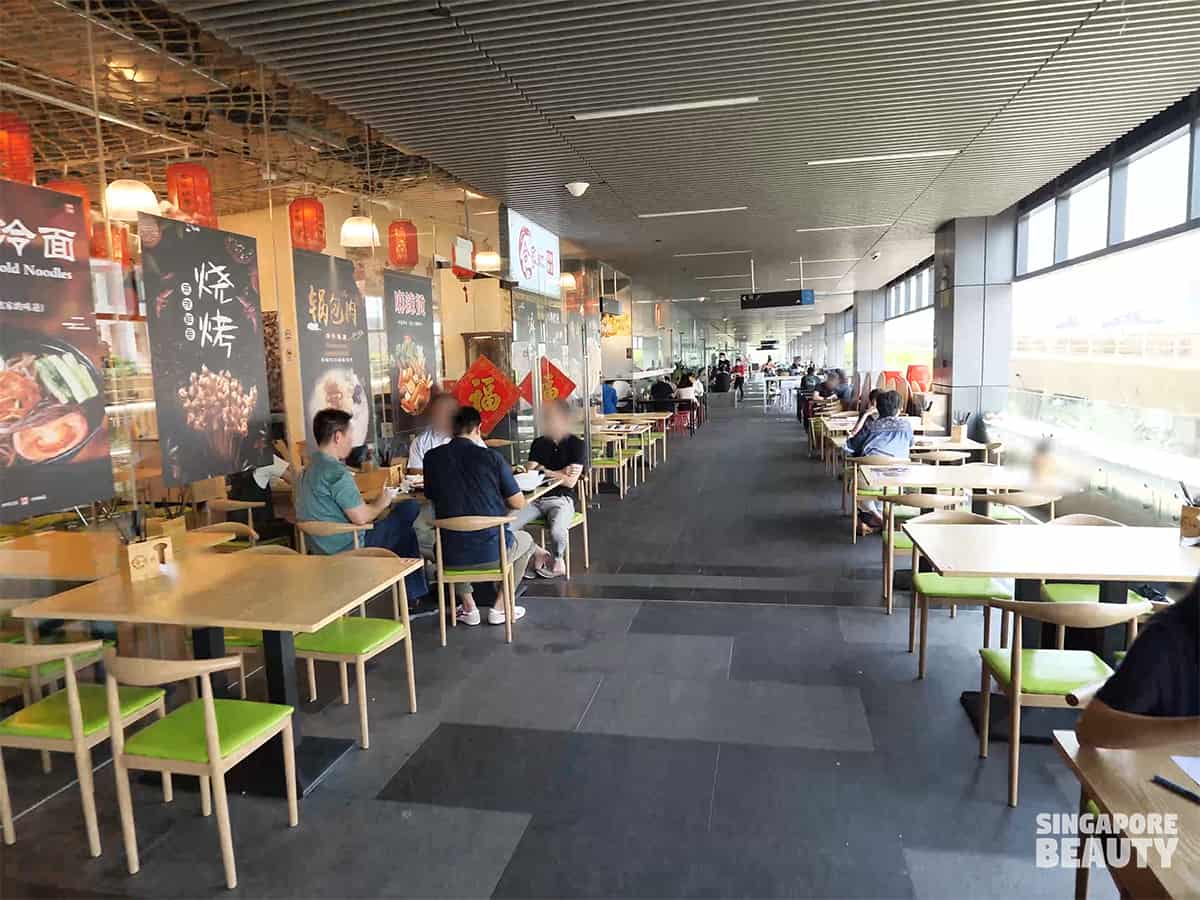 At He Jia Huan, there is sufficient outdoor seating as well as indoor air conditioned seating. A great place to chill after work or for lunch. Located inside Vision exchange near JCube Jurong East vicinity. It has a good size multi-storey car park with great lift access. See you soon!
Address of He Jia Huan 合家欢:
2 venture Drive, #02-39
Vision Exchange,
Singapore 608526
Opening Hours:
11 am to 10pm daily
Call: 62327855
Brought to you by He Jia Huan合家欢