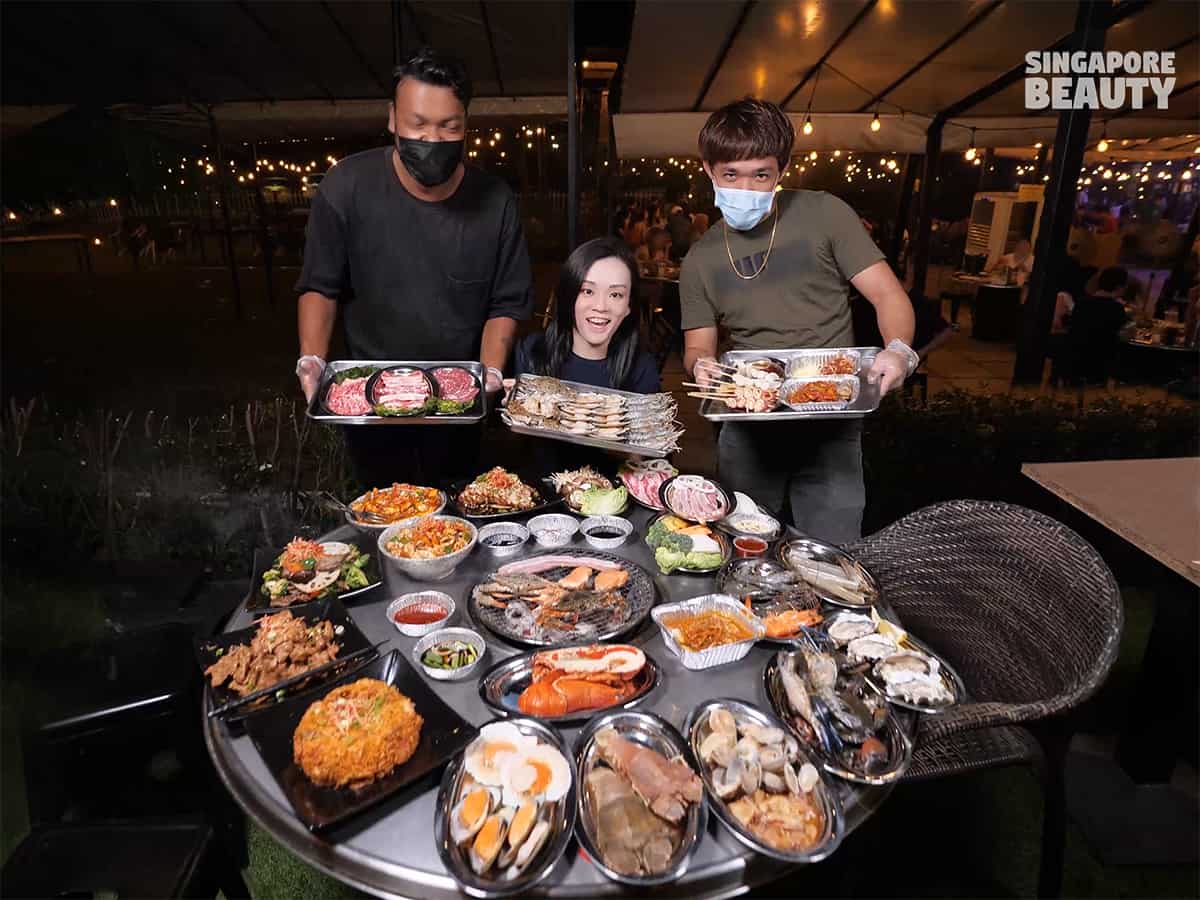 The Three Peacocks has Singapore largest al fresco buffet with Korean street food and pop up market on now. This pop up Korean style buffet has Korean cooked food such as spicy cheese tteok-bokki, Bossam, Beef bulgogi with broccoli, Garlic ginger pork, Korean fried chicken, Yachaejeon (pancake), Kimchi fried rice, Spicy squid and more. Beside their popular BBQ meats and seafood, you can also enjoy a customised Army stew with eomuk, ham, mandu, tteok-bokki and ramen. The seafood has taken a Korean twist with seasoning sauce such as Gochujiang & cheese, marinated with Ganjang soy sauce and topping such as chogochujang and mozzarella.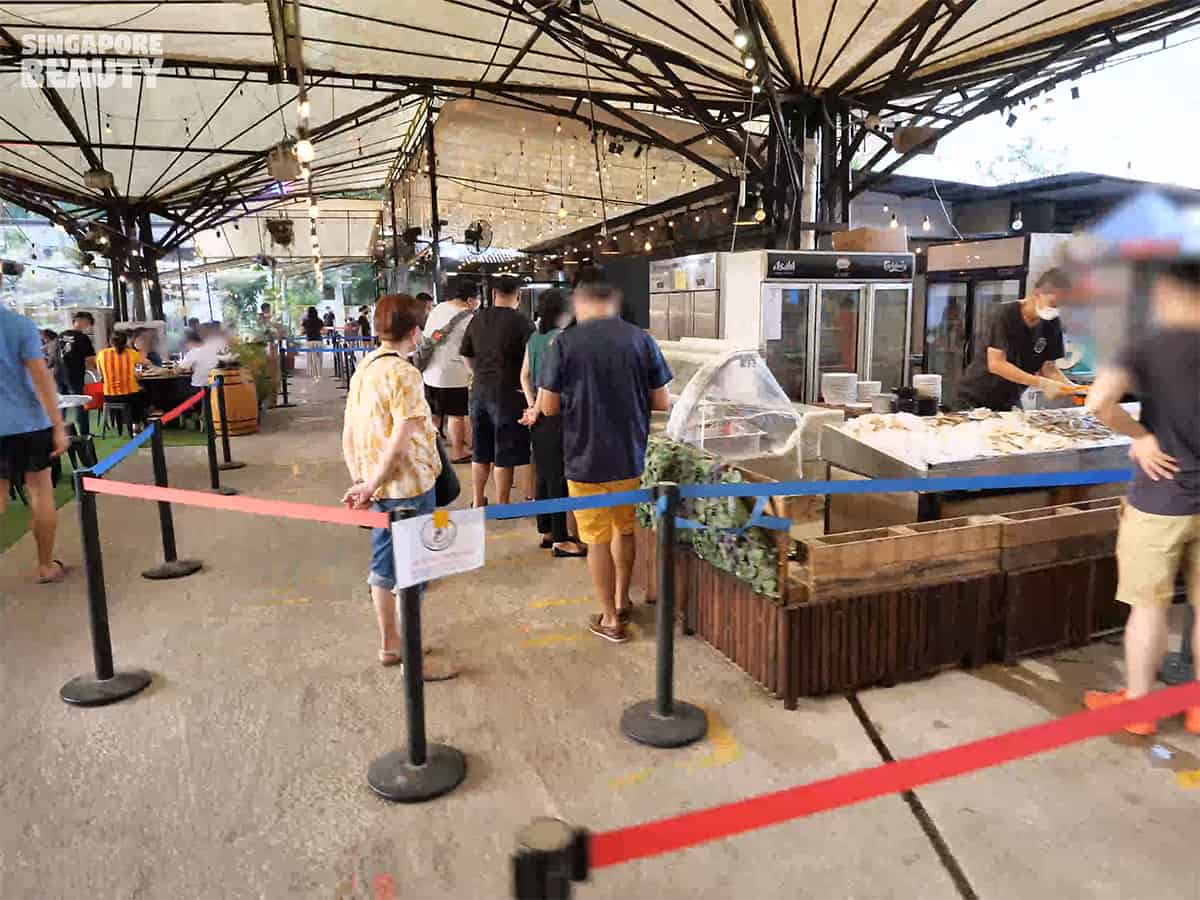 The Three Peacocks with Singapore's longest BBQ buffet line has more than 100 items line up for you. In this buffet line, there is a seafood station, a gourmet meat selection, a marinated meat bar, Korean food counter, hot station, western food, finger food, appetiser station, sashimi & sushi station, drinks & ice-cream counter, alcohol bar and lobster redemption counter.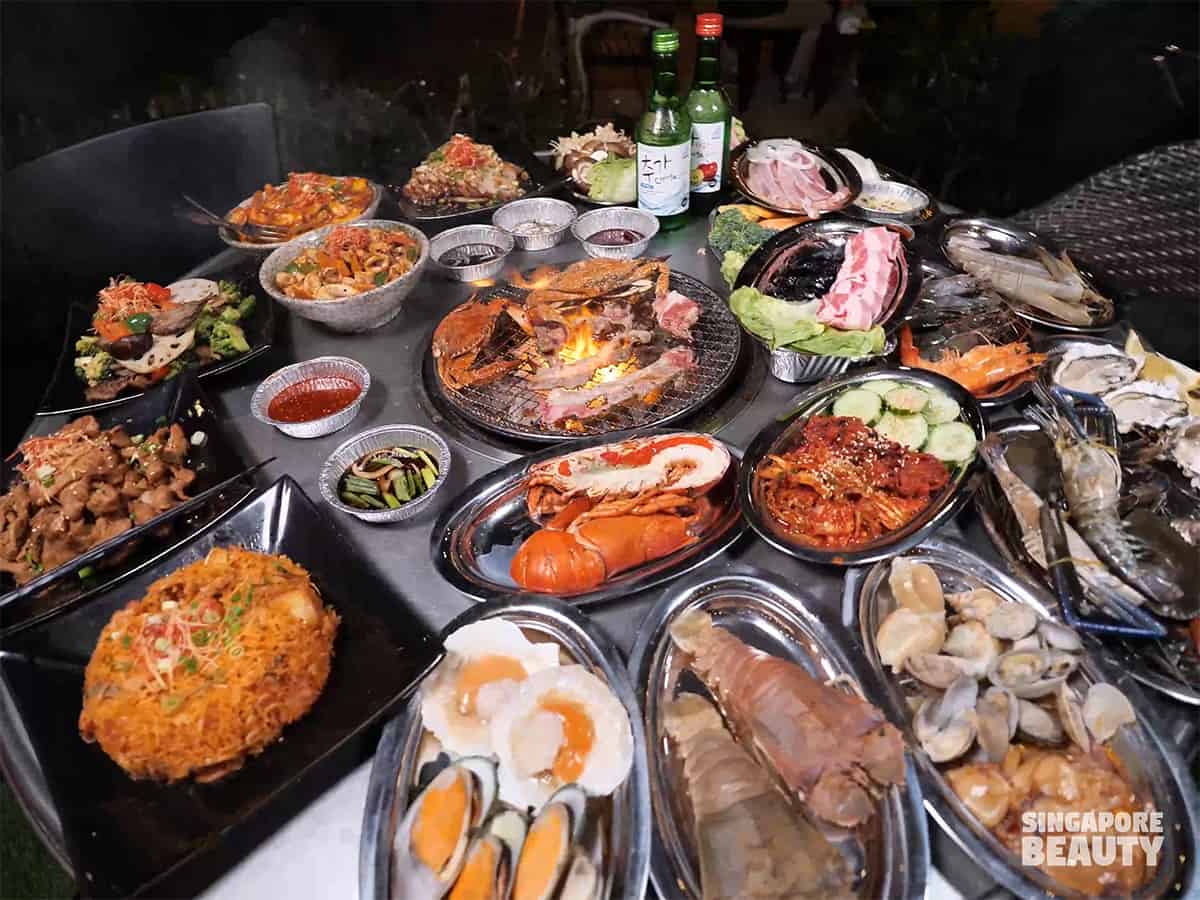 The Three Peacocks with this new Korean style pop-up market buffet is set to attract those who love Korean food with BBQ seafood & meat buffet. This new concept is modelled like a Korean pop up market with lots of Korean dishes, Korean marinated meats, seafood and cheese. You get the best of both worlds with char-grilled BBQ experience and hotpot with army stew.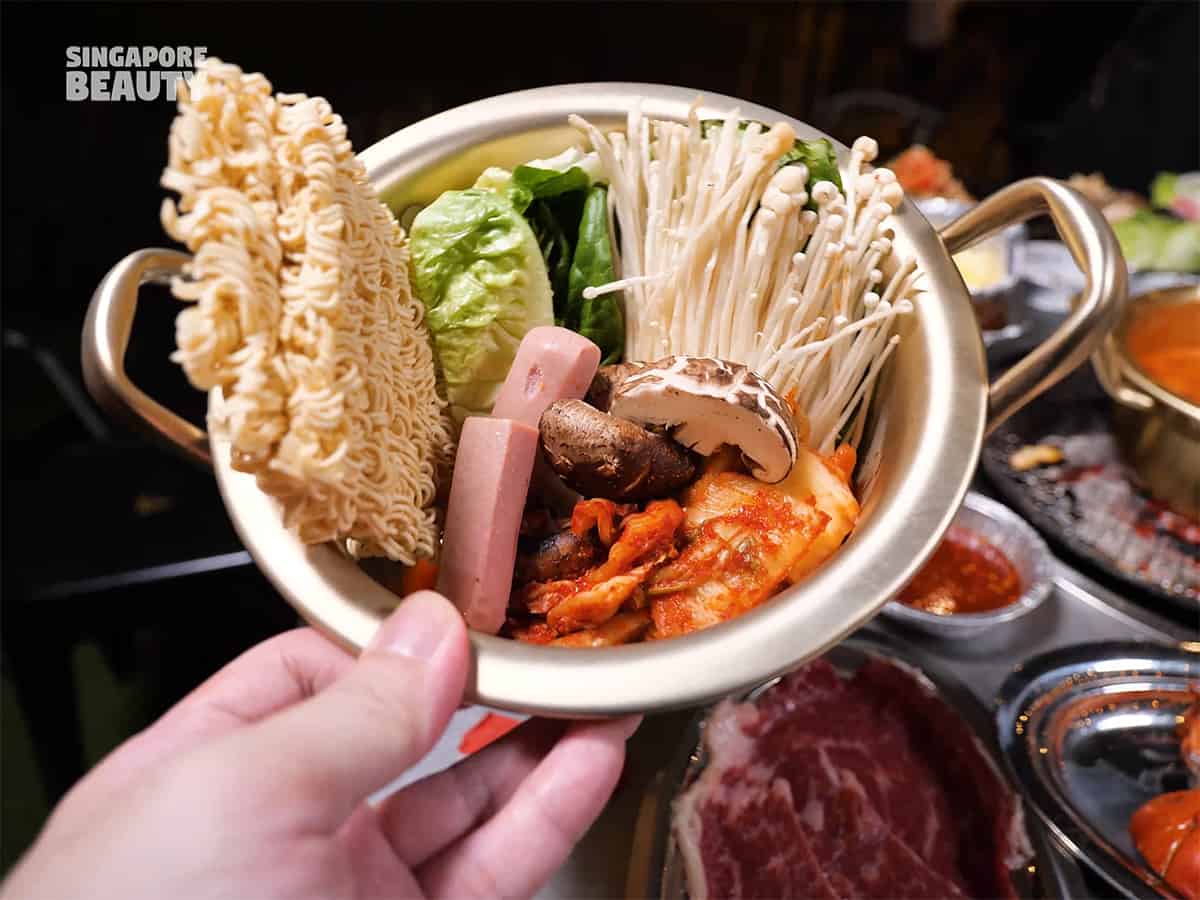 You can customise your own hotpot with this mini army stew that is available at The Three Peacocks bbq & Korean army stew hotpot buffet. The army stew comes with some basic ingredients such as shiitake mushrooms, hotdogs, enoki in a kimchi soup base. You can build this mini army stew with ingredients of your choice at their Korean food counter.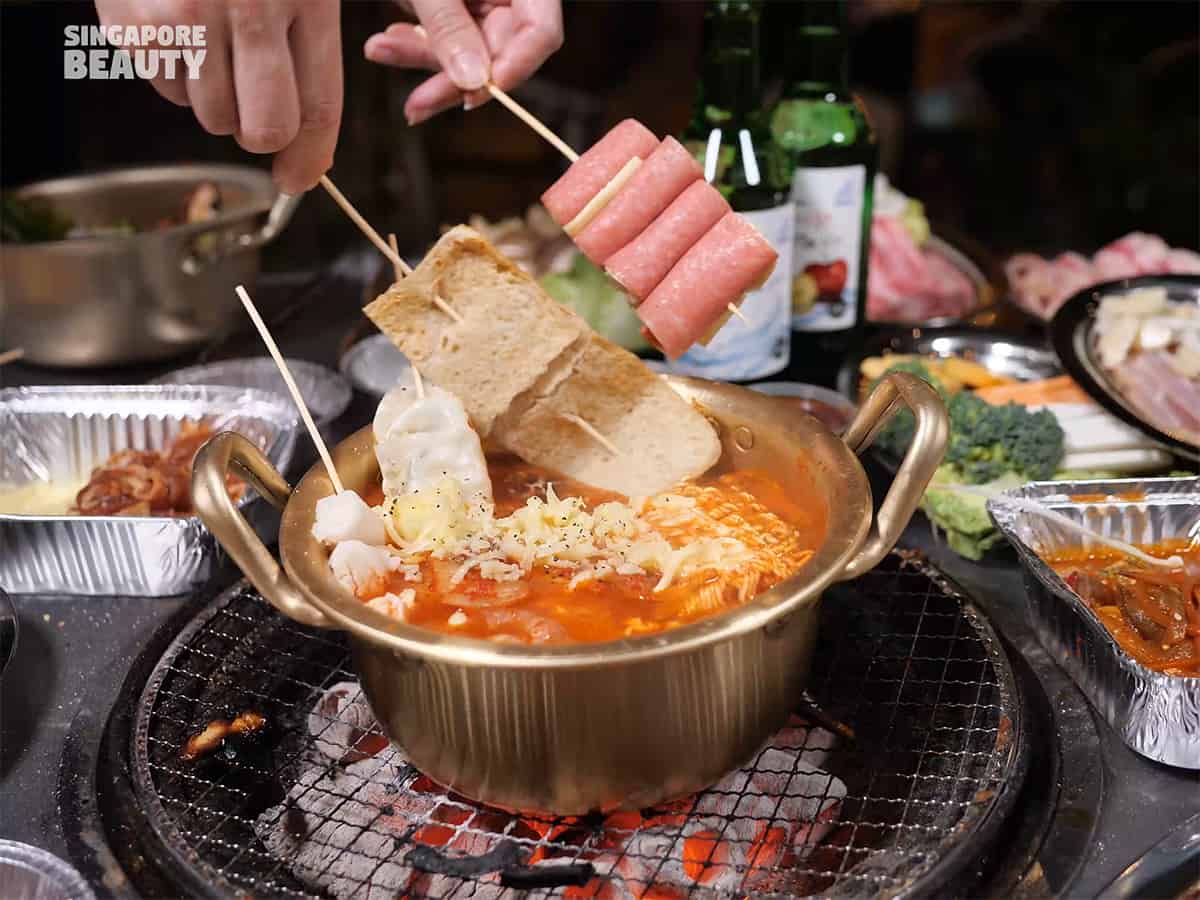 The Korean food counter have selections such as eomuk (fishcake), ham, hotdogs, mandu(dumplings), tteok-bokki, ramen, fresh onions, garlic, chives, kimchi, Kraft cheese, mozzarella, tteok-bokki, broccoli, pumpkin, lettuce,cabbage, radish and sweet potato. Get the army stew boiling on the charcoal stove and build your own army stew. For a more savoury kimchi base, they suggest to add some of their bacon, shabu meats and seafood to this army stew. Popular selections to add are the baby octopus, clams, mussels, flower crabs and fish chunks.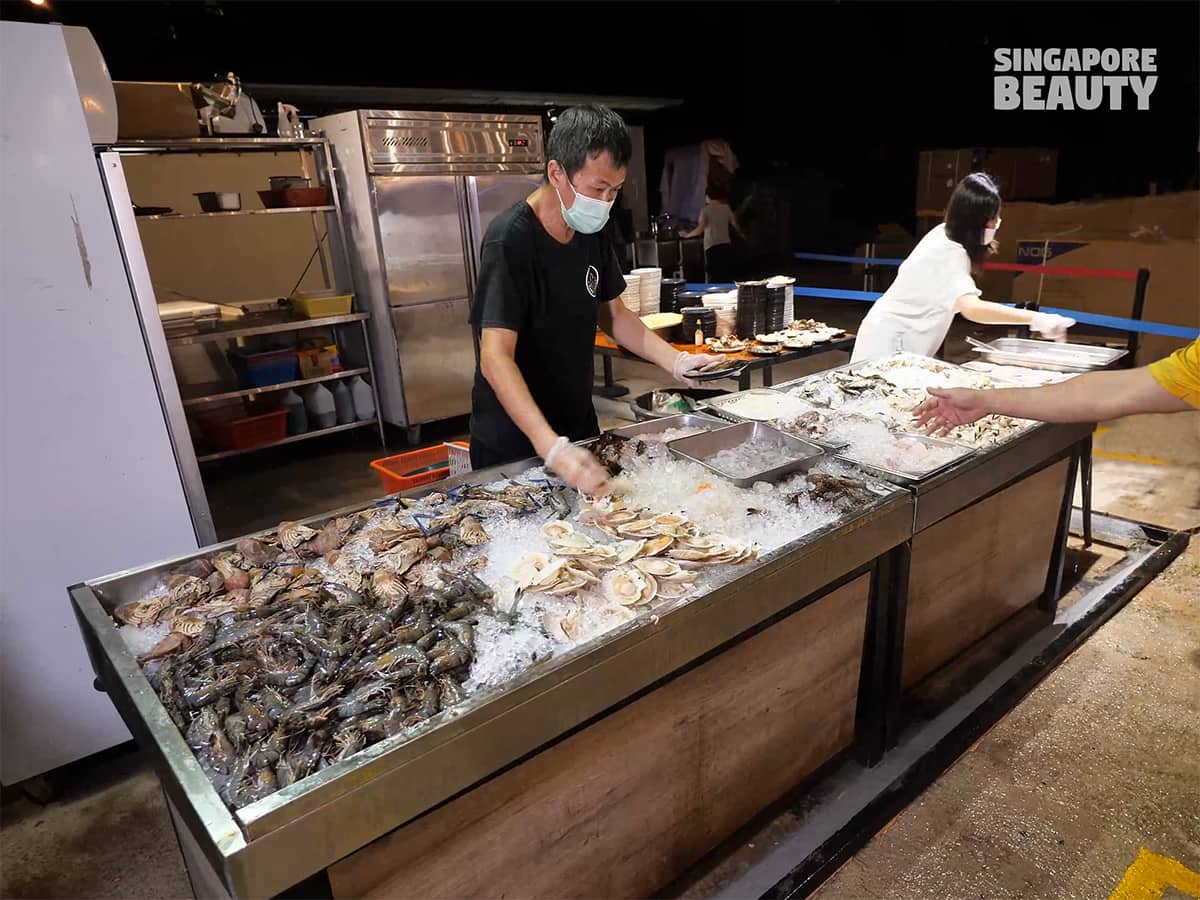 This is The Three Peacocks seafood counter with a good variety of seafood such as tiger prawns, slipper lobsters, giant river prawns, scallops, gong gong, asari clams, mud crabs, sweet prawns, vannamei prawns, mussels, oyster meats, freshly shucked sashimi grade oysters, white venus clams and more. These seafood are free flow and the server will assist to assemble your selections. However do note that food wastage is not encouraged and will be charged accordingly.
This is the gourmet meat bar with 26 selection of meats. The meat types available are chicken, pork and beef. The mat available are on a rotational basis. Premium meat such as marbled beef, chestnut pork, Angus shortplate, Aus wagyu Karubi, marbled beef cubes, thick cut pork belly, US pork skirt and more. The marinated meats includes Korean marinated pork collar, spicy pork, beef bulgogi, honey soy beef, finger ribs, ribeye steak and more.
They have up their game with these unique creations such as seafood Gochujang boats and meat bulgogi cheese boats. Barbecue these aluminium boats over the charcoal, watch the mozzarella & cheddar cheese melt. Great news for cheese lovers, you can now enjoy some melty cheese pull with Korean marinated meats. These cheese boats comes in a duo combo of cheese and 1 marinated meat such as beef bulgogi, soy ribs and more. It also comes in the duo combo of seafood and cheese. Wrap these cheese pull around the meat to enjoy the rich elastic soft cheese flavours.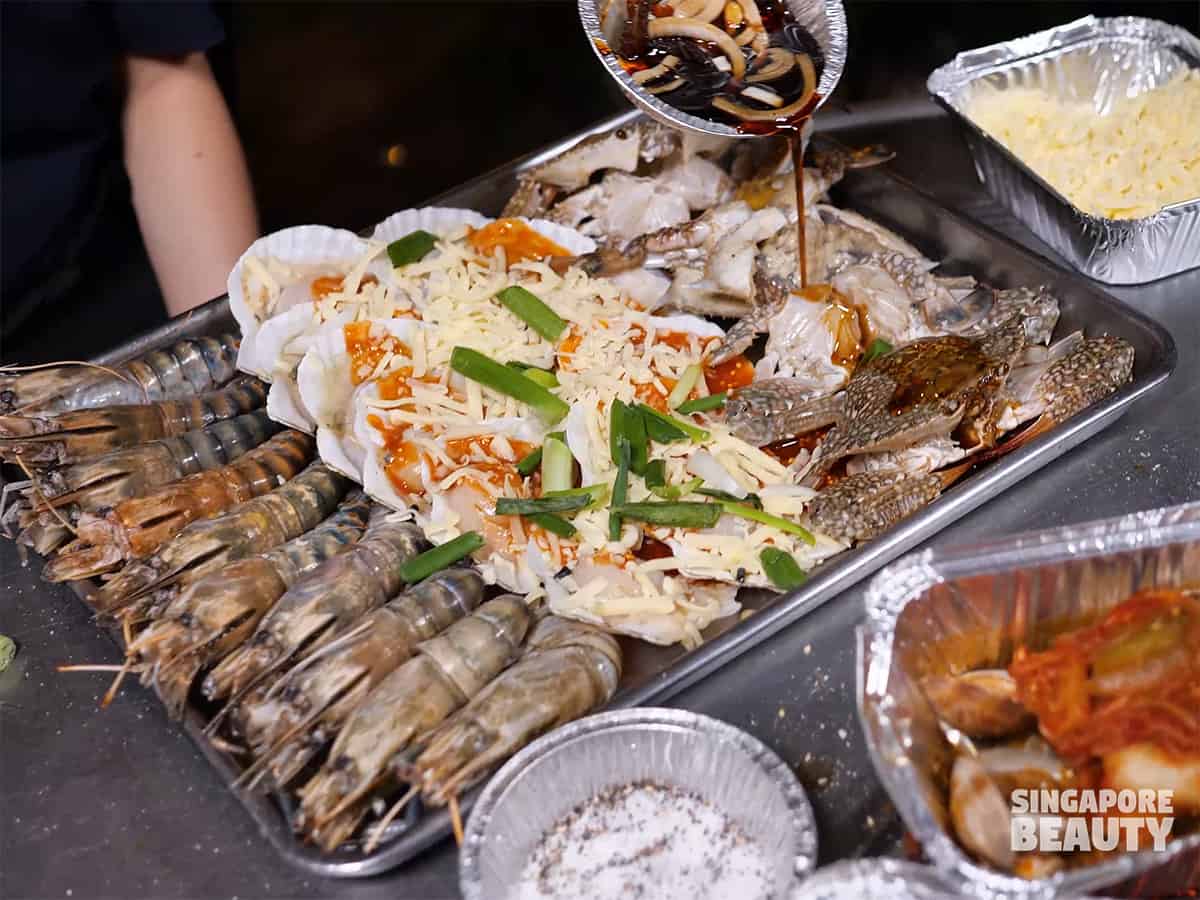 The new seafood items are spicy tiger prawns, marinated flower crabs with Ganjang soy sauce, oysters in chogochujang topped with mozzarella and seafood platter topped with Gochujiang cheese. These needs to be grilled over the charcoal before you can enjoy them.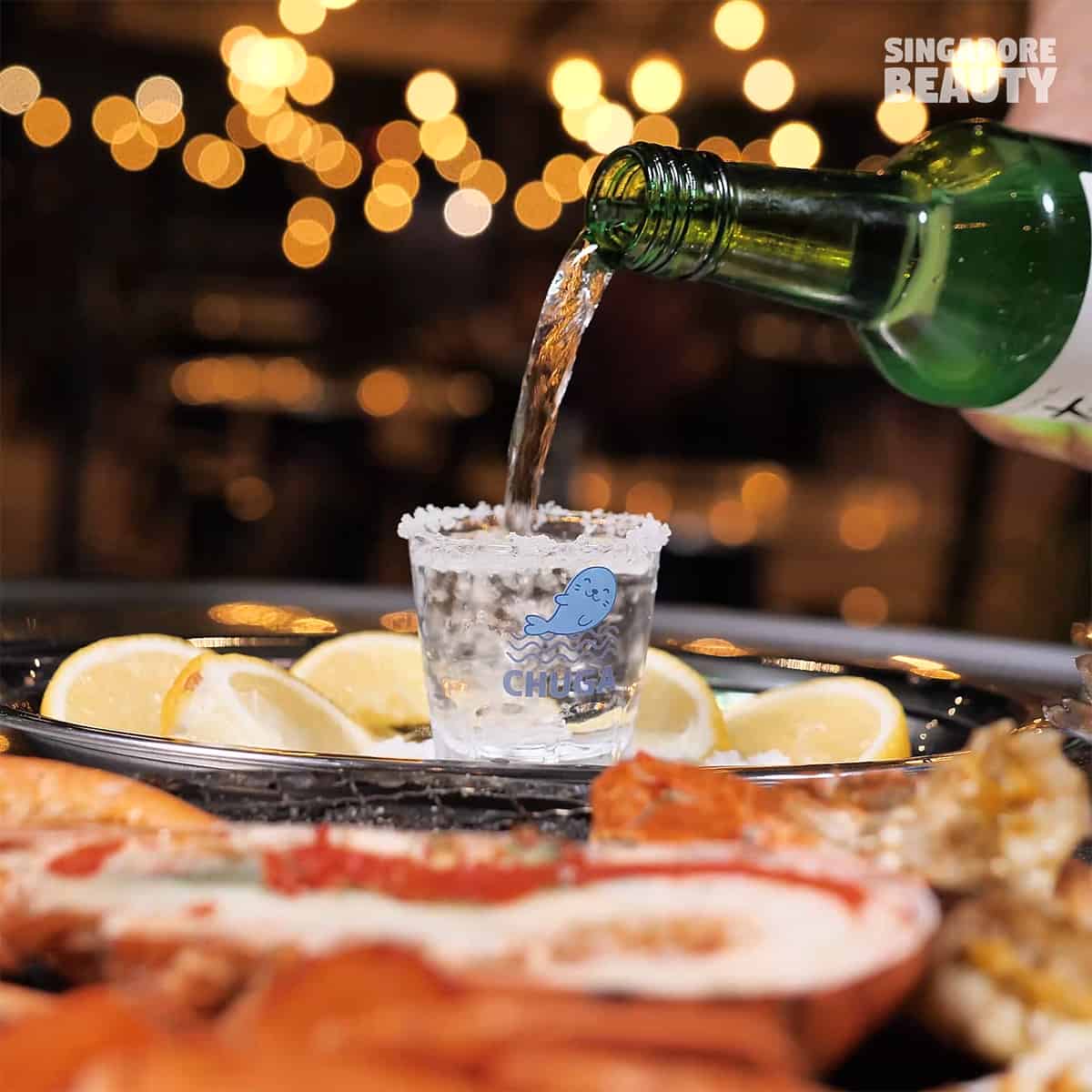 In conjunction with this Korean pop up market seafood & meat BBQ buffet, there is a soju promotion on going with 3 bottles of soju at $48.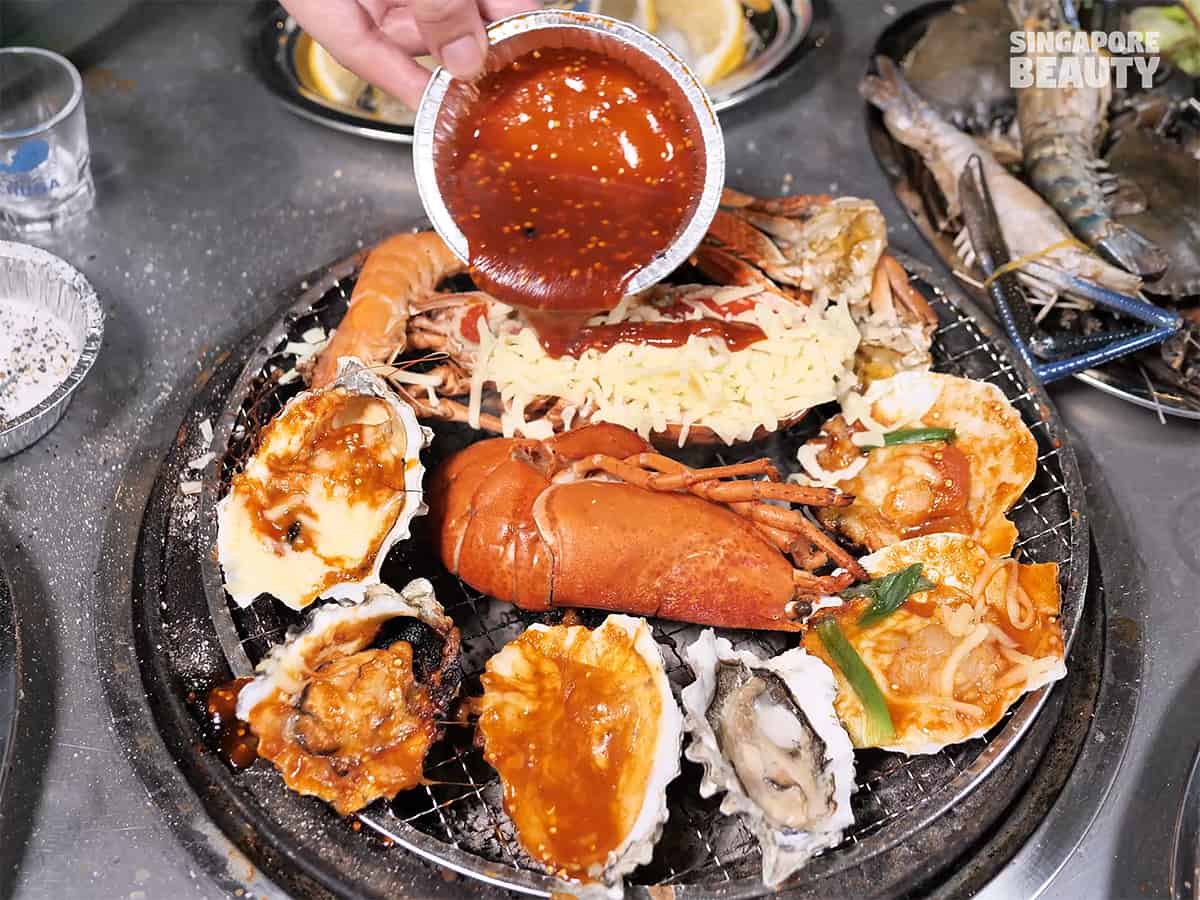 Each diner can redeem half a lobster in this buffet. The redemption counter is next to their cashier counter where you can also get your free flow fruit punch dispenser drinks, canned drinks and ice cream. The type of lobsters rotational either Boston lobster of spiny lobster. For this Korean style buffet, you can grill your lobster Korean style with Korean sauce and mozzarella cheese. Look out for their servers and get their help with torching the cheese for a smoky flavour.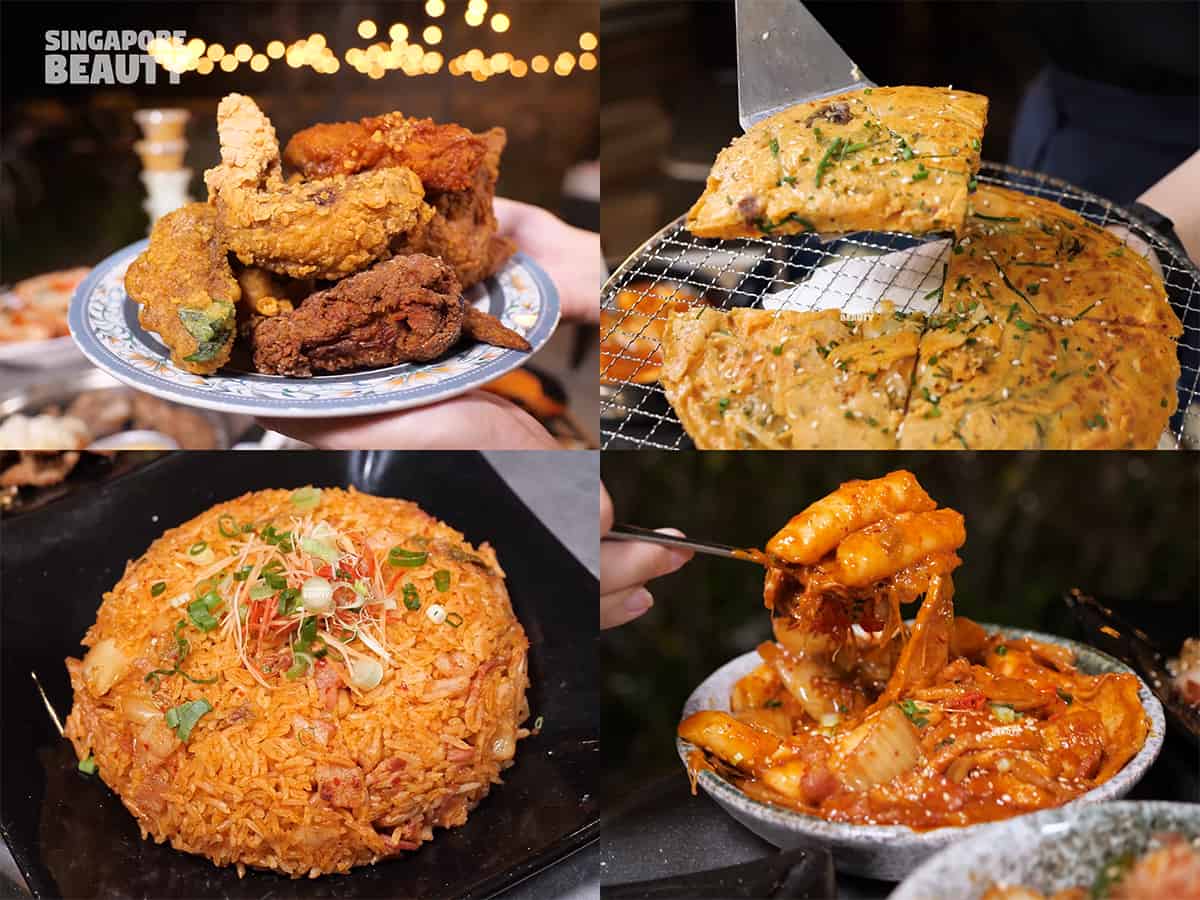 The Three Peacocks has prepared some Korean dishes at their hot station for you to enjoy while you barbecue. Bossam is pork shoulder that is boiled with spices and enjoyed as a wrap with Korean sauce, kimchi, garlic and radish. Get some of their banchan such as spicy squid and cucumber for a spicy kick and a refreshing crunch. Beef bulgogi with broccoli, stir fry minced garlic ginger marinated pork, Korean fried chicken, Yachaejeon (pancake), kimchi fried rice with luncheon meat, spicy squid and more on a rational basis.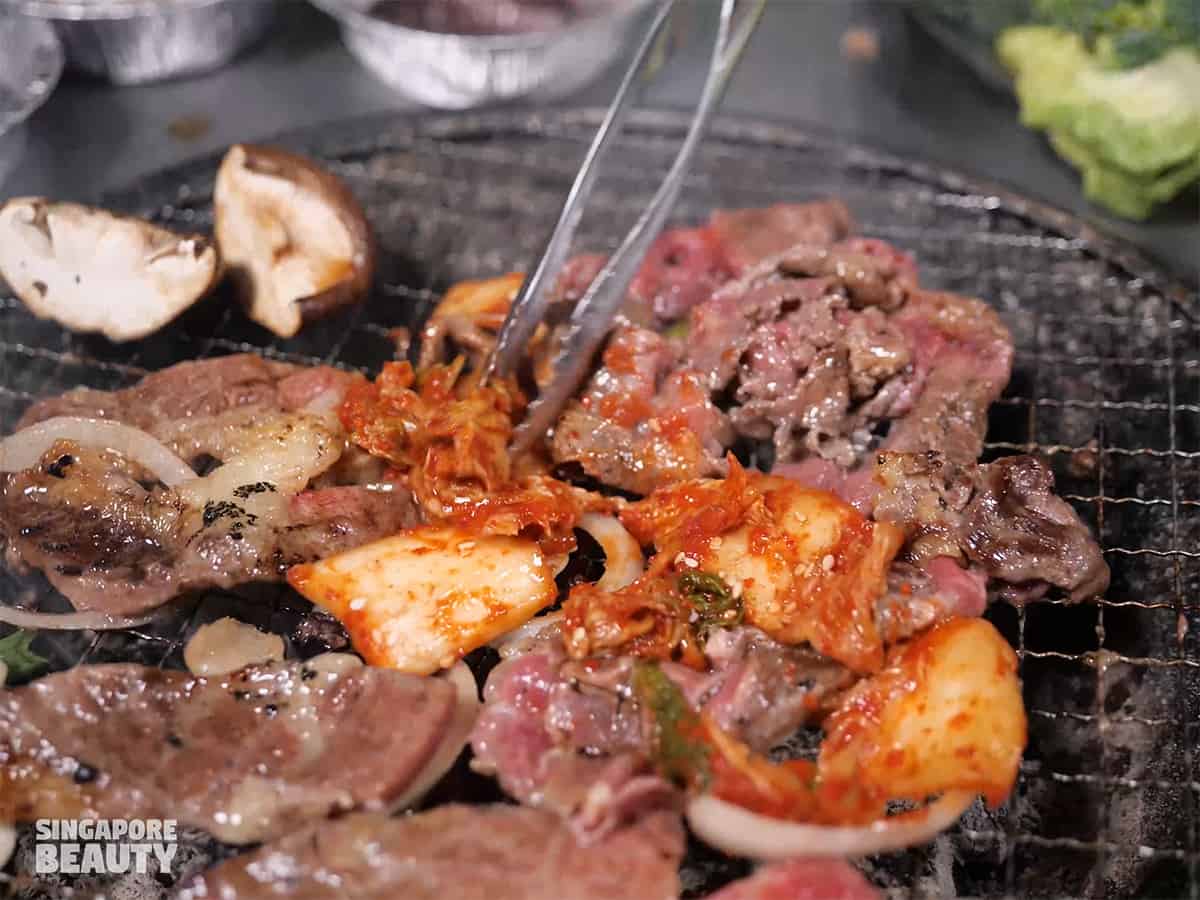 To fully enjoy the Korean style marinated meats such as Korean beef bulgogi or honey soy garlic beef, do add some kimchi to the grill. The grilling of the kimchi elevated the flavours with the caramelization making is a perfect match with the savoury marinated meats.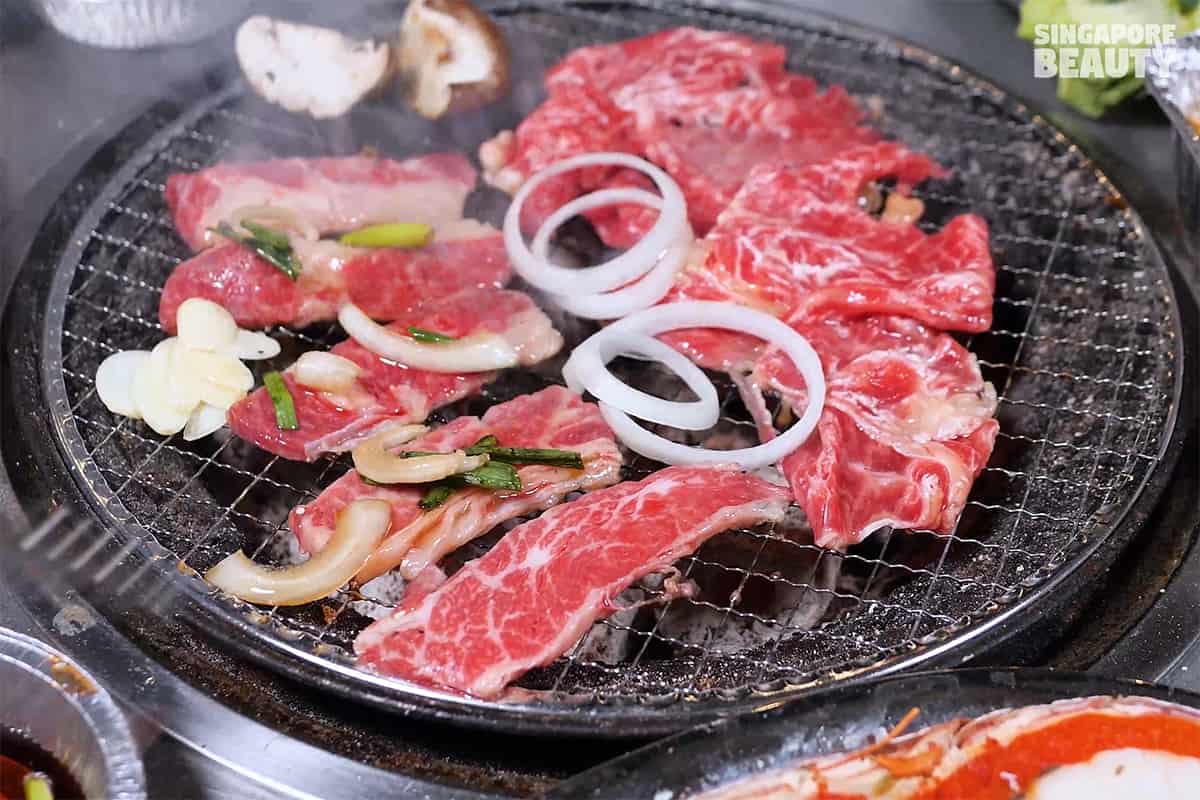 Check out the marbling on these briskets, add some fresh onions, garlic, chives for the extra oomph. The sweet onion rings melts and soften in the heat, add some soy dressing for the umami flavour.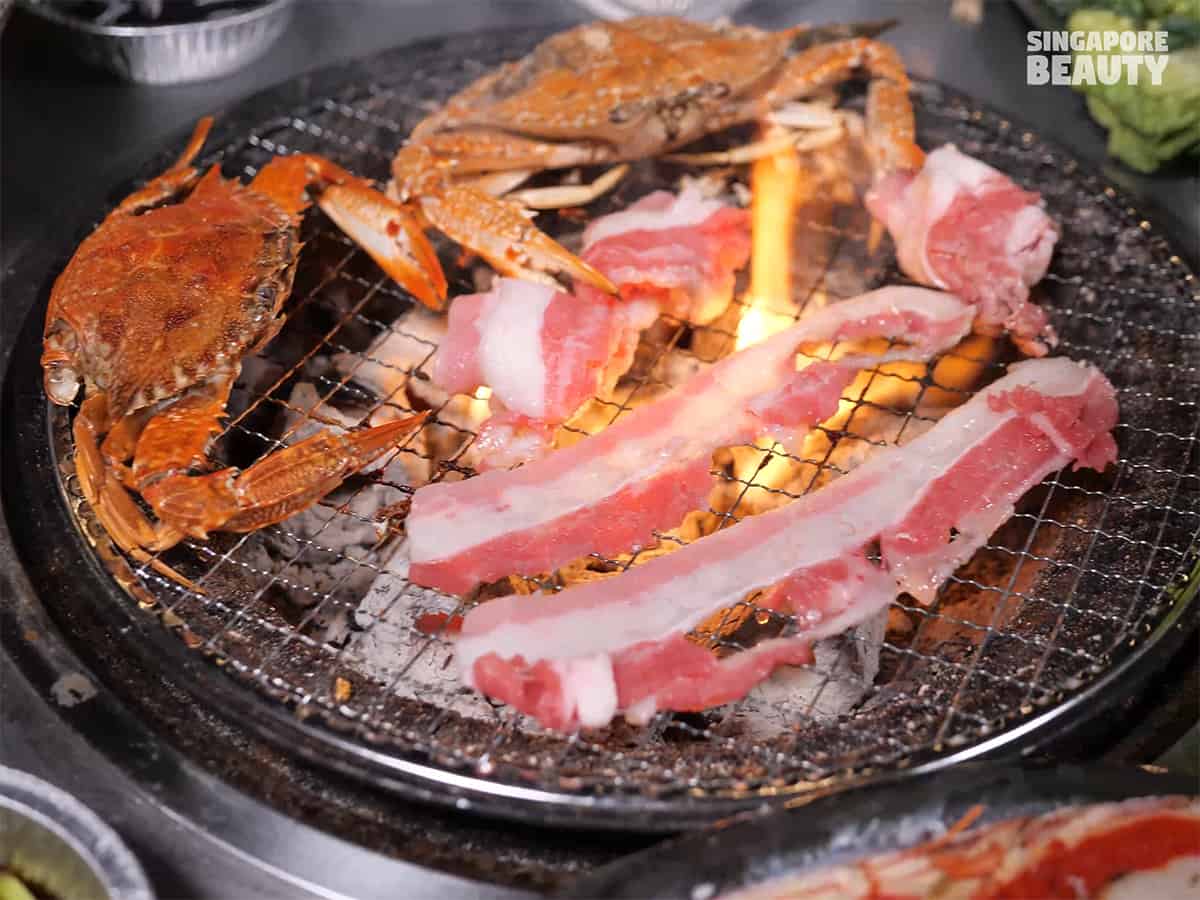 Look out for their premium Angus short plate and Australian wagyu Karubi. These are perfect for grilling expect some tender texture when grilled right. The balance of fat versus lean marbled meat ratio, makes it a joy to eat. Enjoy it hot off the grill with their condiments. Get your own dip customised with the wide variety of sauces.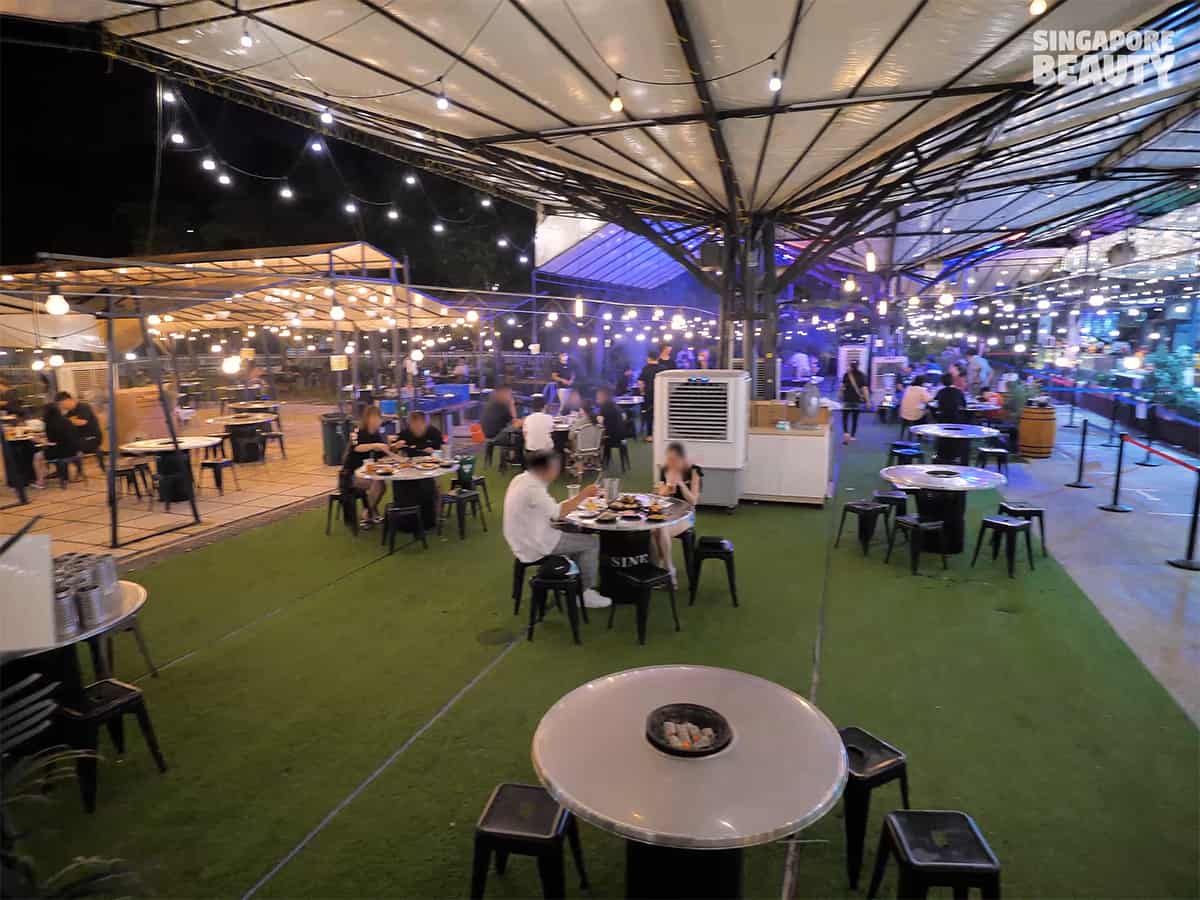 The Three Peacocks BBQ buffet with over 100 items and newly added Korean BBQ is now available till late. Their supper club is up to 1 am. Chill and drink in the stars with BBQ seafood buffet. Free parking and shuttle bus from Labrador MRT at Exit A, if you are wondering how to get to The Three Peacocks. This bus service starts from 5.30pm daily with 30 minutes intervals. Head over to this buffet with your oppa today – The Three Peacocks Korean pop up market buffet.
Address of The Three Peacocks:
8 Port Road, S117540
Current Price Buffet:
Weekday Adult: $ 50.90++
Weekday Senior: $ 47.50++
Weekday Kids: $ 33.00++
Weekend Adult: $55.90++
Weekend Senior: $ 52.50++
Weekend Kids:$ 38.00++
PH Adult: $ 58.90++
PH Senior: $ 55.50++
PH Kids: $41.00++
Reservation: (+65) 3129 2374
Brought to you by The Three Peacocks