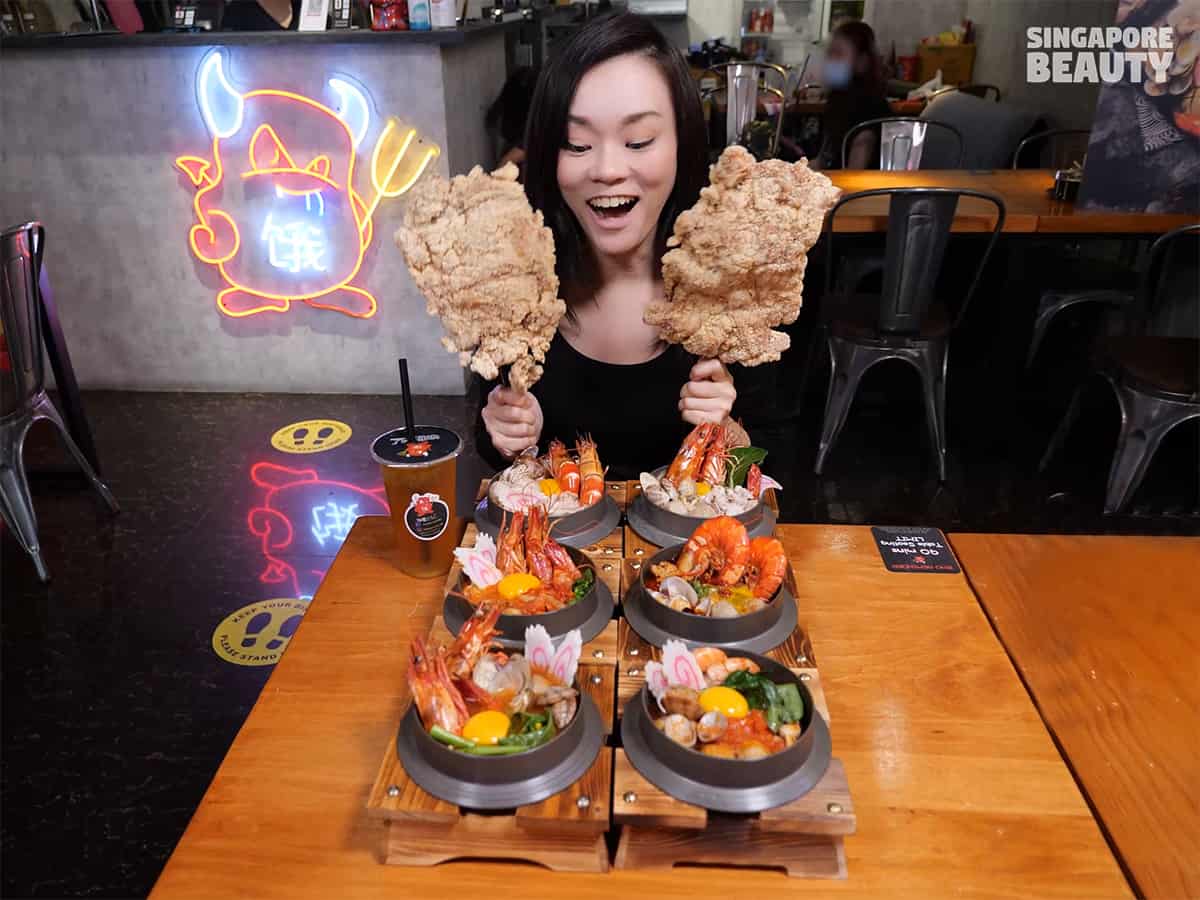 Emo snacks has some new items on their menu. They have a burnt Pot Nabeyaki Egg Noodle to go with their XXXL crispy chicken chop. These burnt pot nabeyaki are noodle soup that is served with 2 large prawns, asari clams, runny egg, greens, meat balls, narutomaki and a noodle of your choice. The ingredients are fixed for nabeyaki so that you can have a variety of texture and flavours. The nabeyaki is available in 6 soup bases such as Kimchi, milk, tomato, Mala, Tom yum and original bone soup. You can also choose the type of noodles to go into this nabeyaki such as Taiwan egg noodle, chicken mee, bee hoon, udon or rice for a robust meal.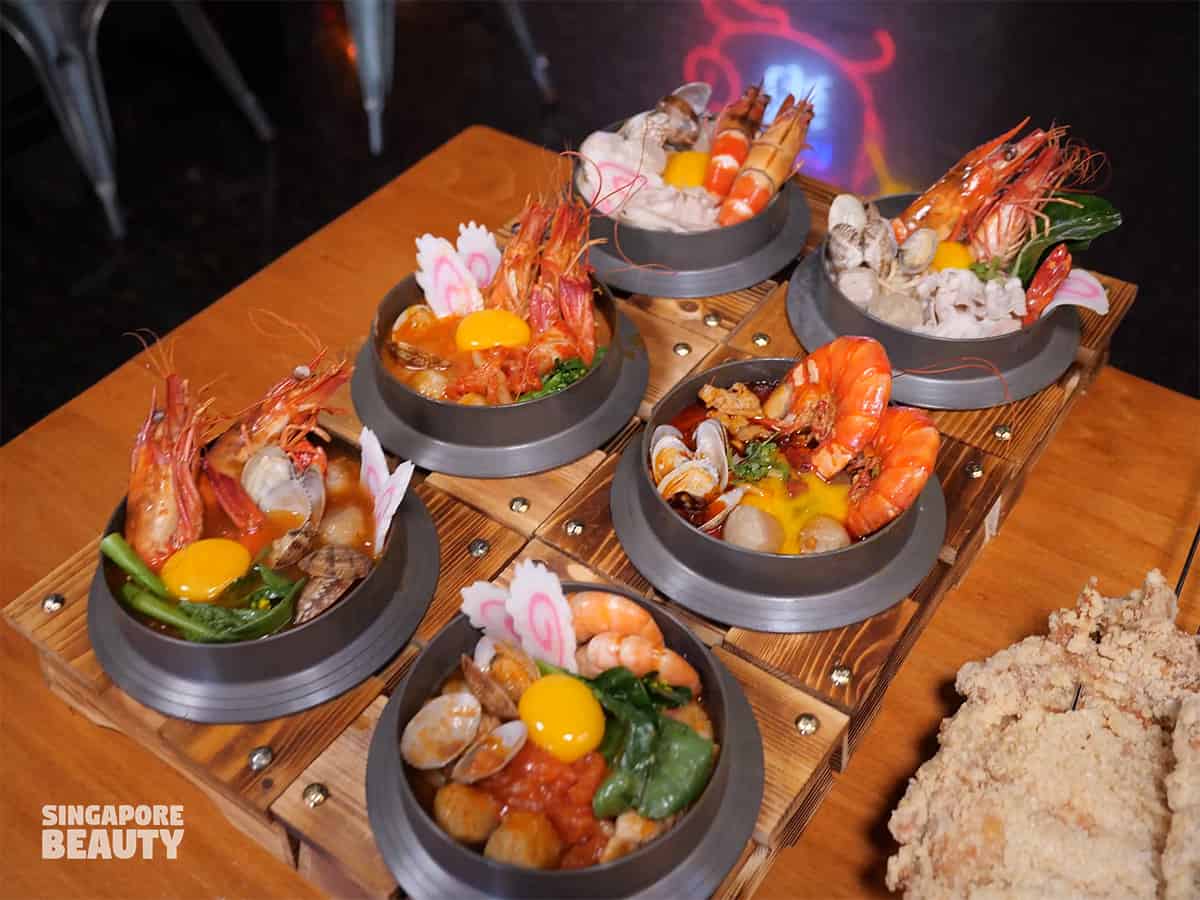 Nabeyaki Egg Noodle – the new Emo Snacks menu – is topped with a runny egg after the noodle is cooked. While slurping the noodle, break the yolk and coat each strand of noodle with the yolk for an extra silky noodle texture. The burnt pot holding the noodle soup is of an unique food grade material that holds the heat well while you enjoy the noodles. Be caution, avoid touching the grey pot while you eat, as it is hot. Each burnt pot is held within a pine textured base to hold the pot in place while you eat.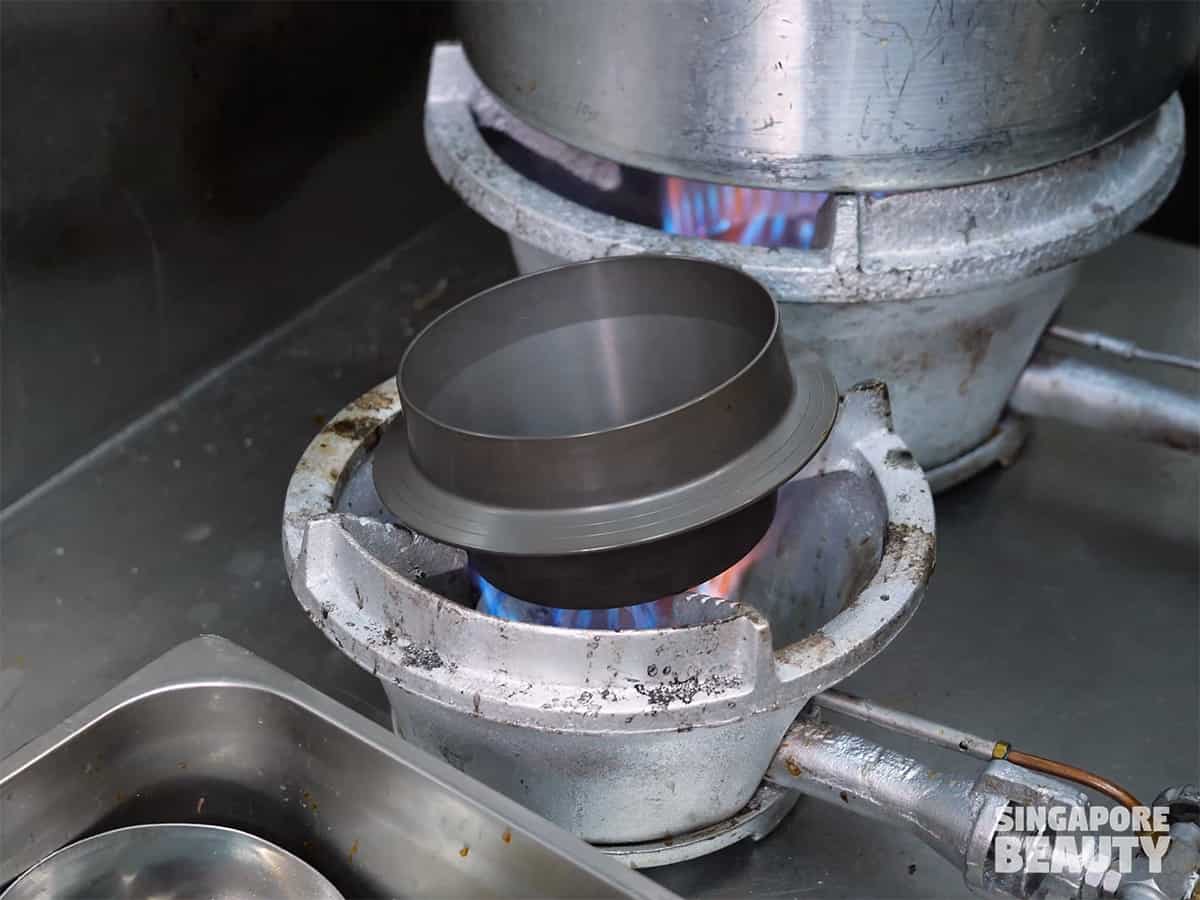 Here's the secret to the burnt pot Nabeyaki egg noodle. The reason why it is called burnt pot or Guo Shao , is that the pot is heated till red hot over a stove. After which, the cooked noodles and ingredients are poured in. This is Emo Snacks latest creation.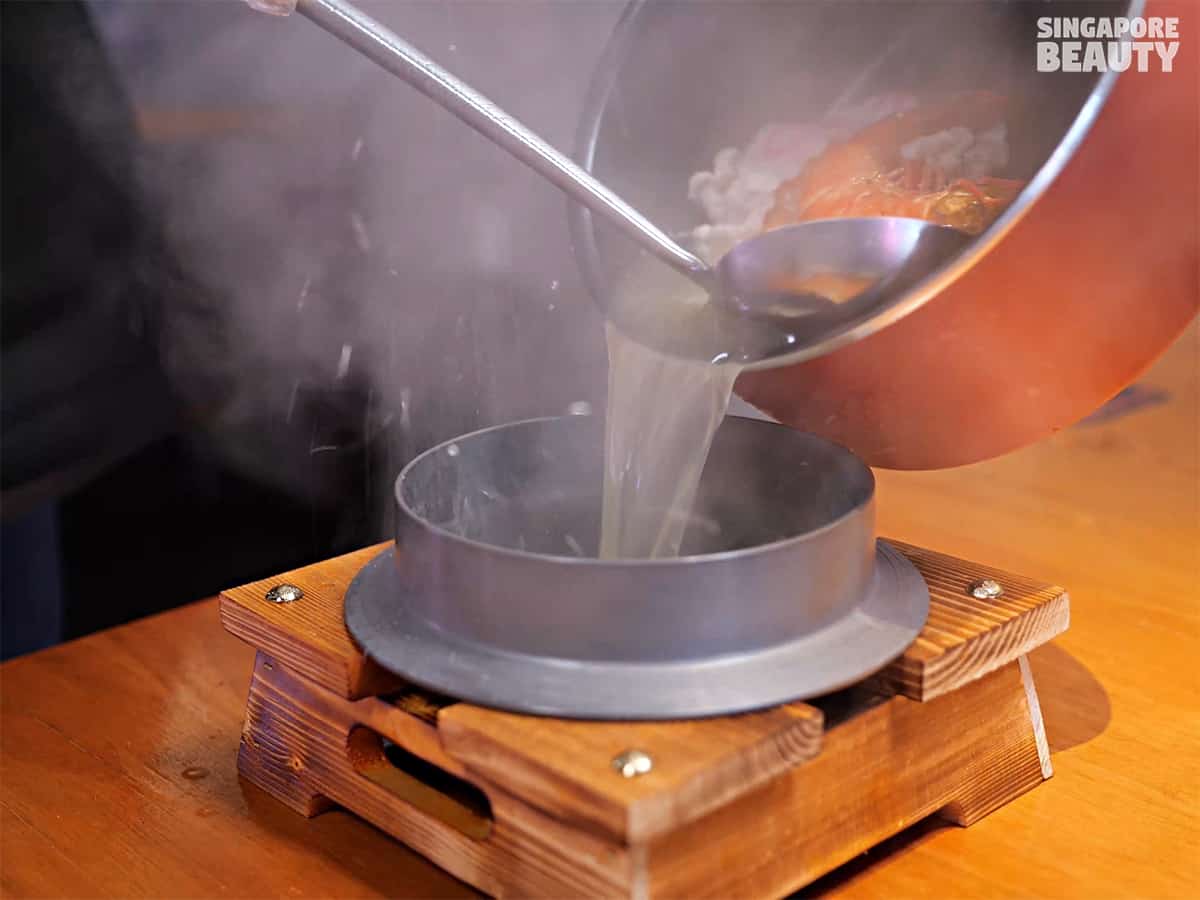 The noodle is then poured into this burnt pot. The soup upon contact with the red hot pot sizzles furiously and the aroma of the soup is prominently dispersed into the surrounding air. It literally filled the air with a delicious aroma of which ever soup is ordered. This is Emo Snacks reason for using this burnt pot for this nabeyaki series. This sizzling bowl of noodle soup is served immediately upon plating for the diner to enjoy this piping hot bowl of comfort food.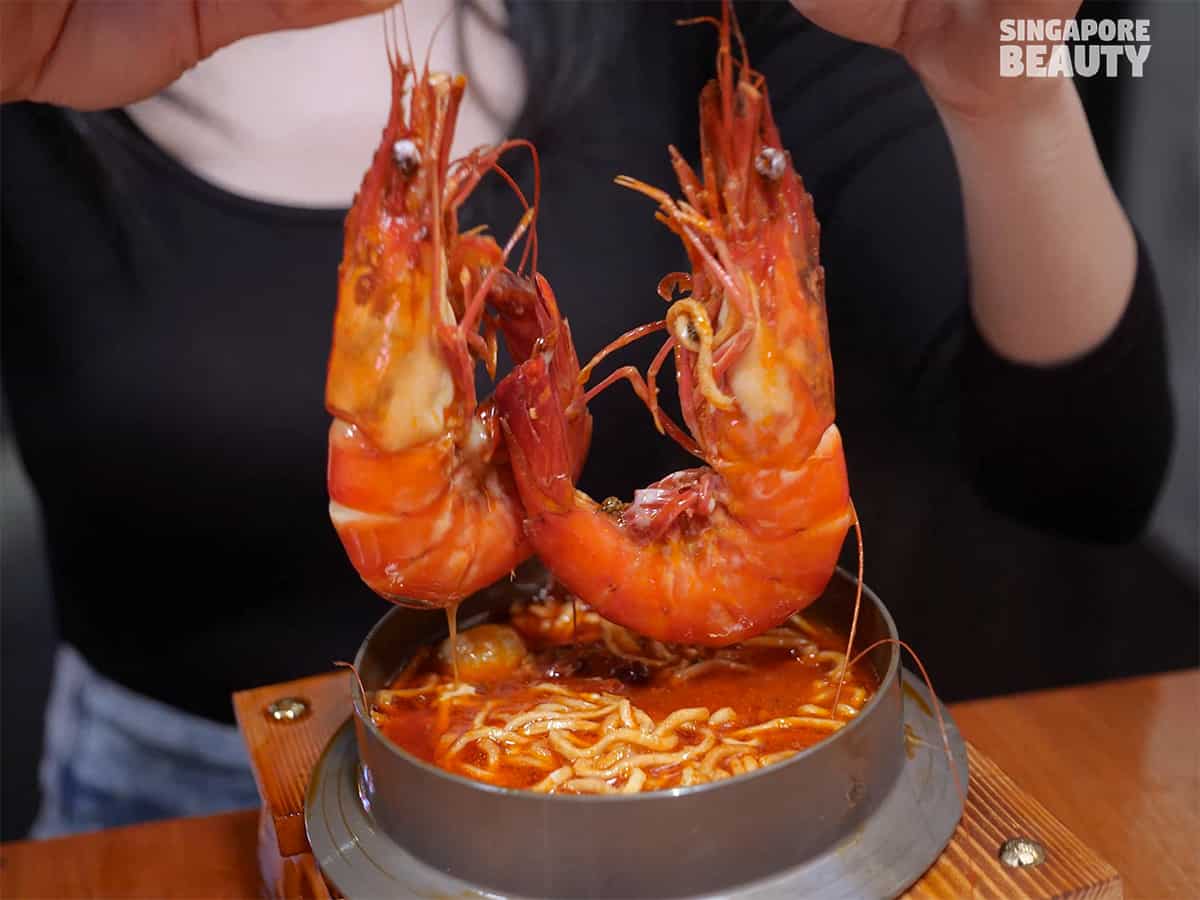 Check out the size of these tiger prawns used in this nabeyaki egg noodle. The prawns have a good amount of head butter and thick meat. The inclusion of these good size prawns into the soup add a sweet depth of flavour to the soup base. The diameter of the pot is kept small to retain as much heat as possible. The depth of the pot is of a good size to hold enough ingredients to fill the tummy of an adult.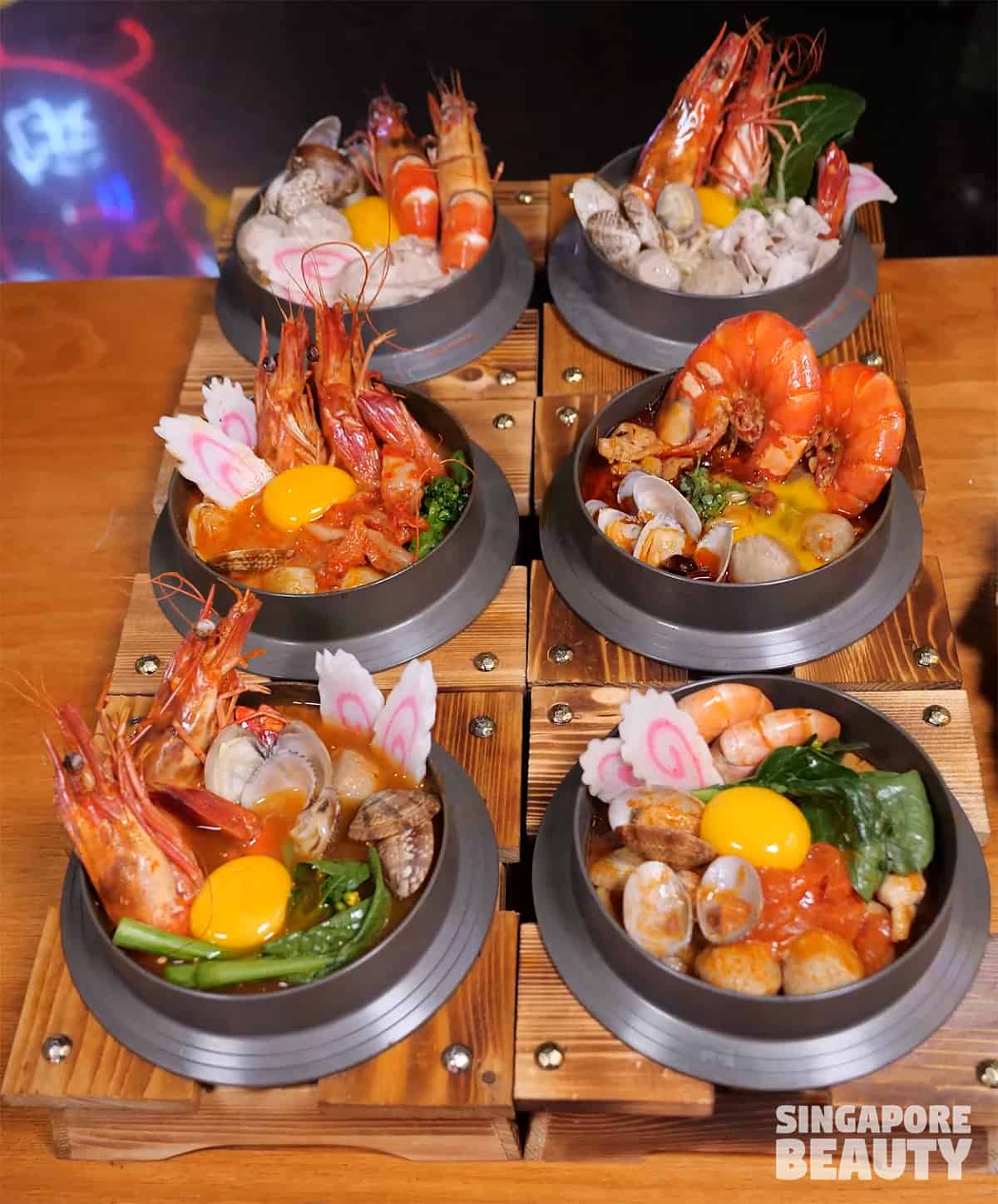 Emo Snacks chef recommends the below matching noodles with 6 types of soup base for nabeyaki. The nabeyaki starts from ($9.90) for the original flavour, $10.90 for the rest of the soup flavours. Kimchi goes best with the steamed rice, milk soup goes best with chicken mee, tomato goes well with udon for a tangy flavour with real tomato chunks. Mala soup base are for those who loves heat and savoury bite to their noodles. Tom yum has a sharp appetising kick to it, made with lemon grass, kaffir leaves, lemon juice and more. It is the best noodle soup to get on a hot sweltering day. Original bone soup for those who love a clean tasting soup. All these soup uses big bones and chicken as the base broth.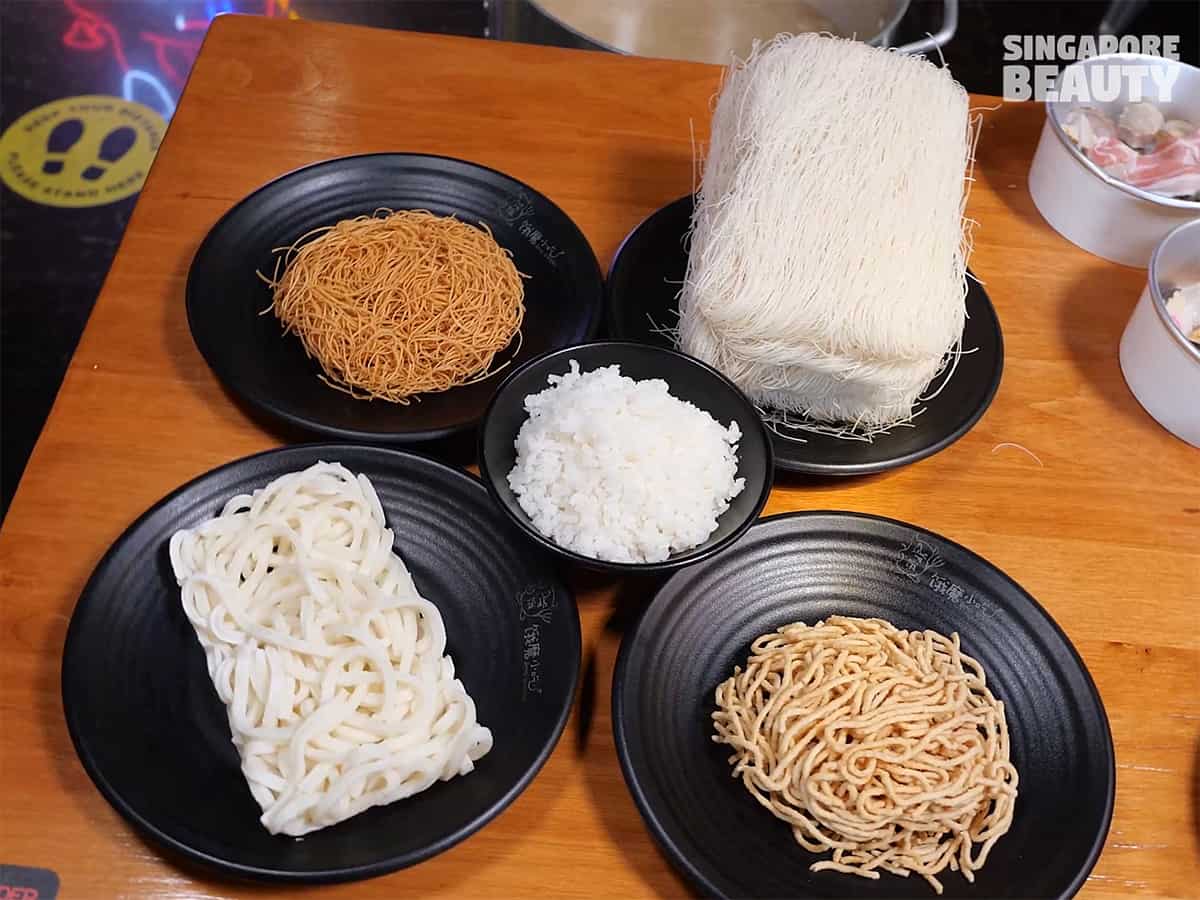 These are the 5 noodle choices for the nabeyaki. You can choose from udon (+$1), Taiwan egg noodle, chicken mee, bee hoon or steamed rice. The most popular choice is the chicken mee as these are not commonly found in the local noodle dishes. This noodle is very fine and has a bite to it. It taste almost like mee sua that is fried and then cooked into noodle soup. It also has a nice roasted aroma to it like our yee mee aka e-fu noodles. The other TW egg noodle is thicker and has a more springy bite to it. This noodle holds the flavour of the soup better than the chicken mee as it is thicker and more porous. It depends on what kind of texture you like your noodles to be, there will be one that suit your palate.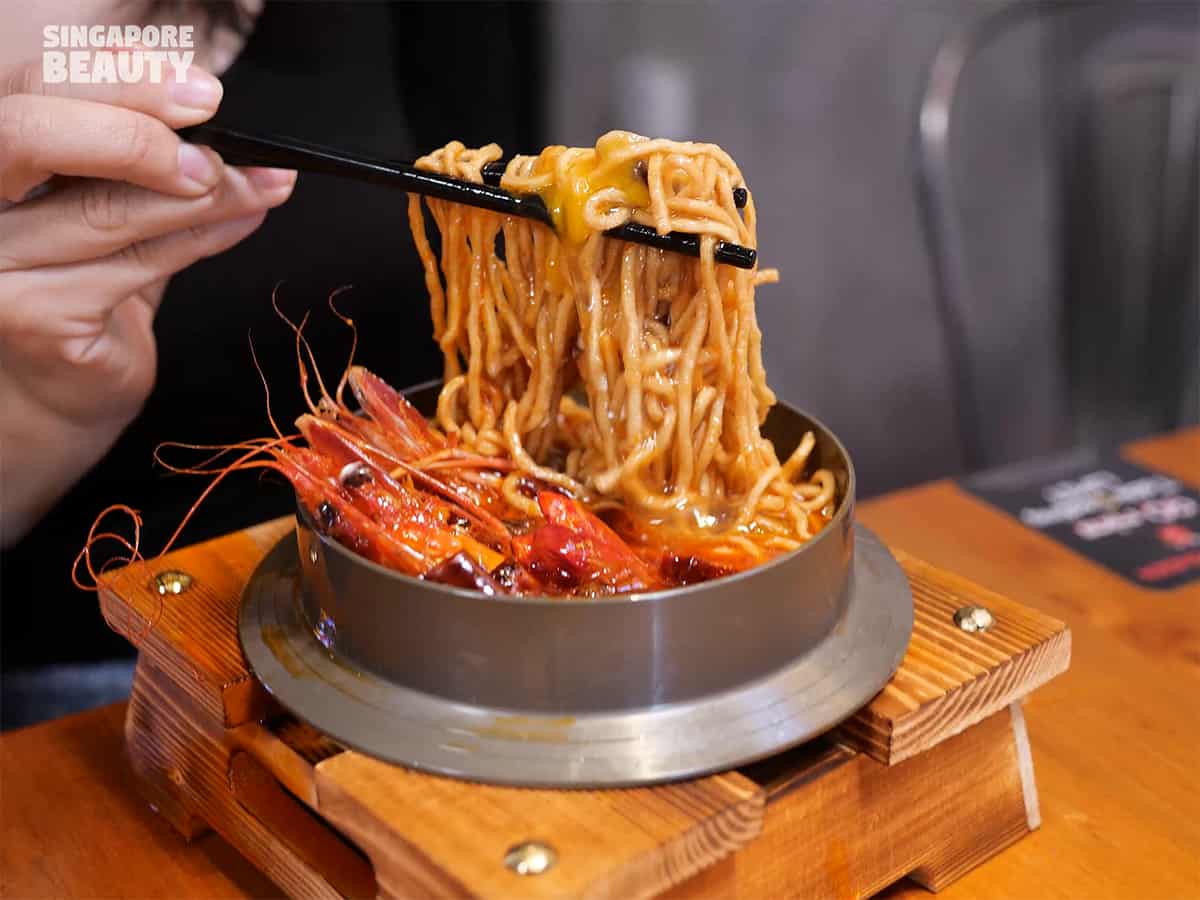 Here's how to enjoy the Nabeyaki egg noodle. Mix the noodle well with the soup, break the runny yolk. Coat the mouthful of noodle with a light egg wash as you slurp it. You may add some soy sauce for a more savour bite.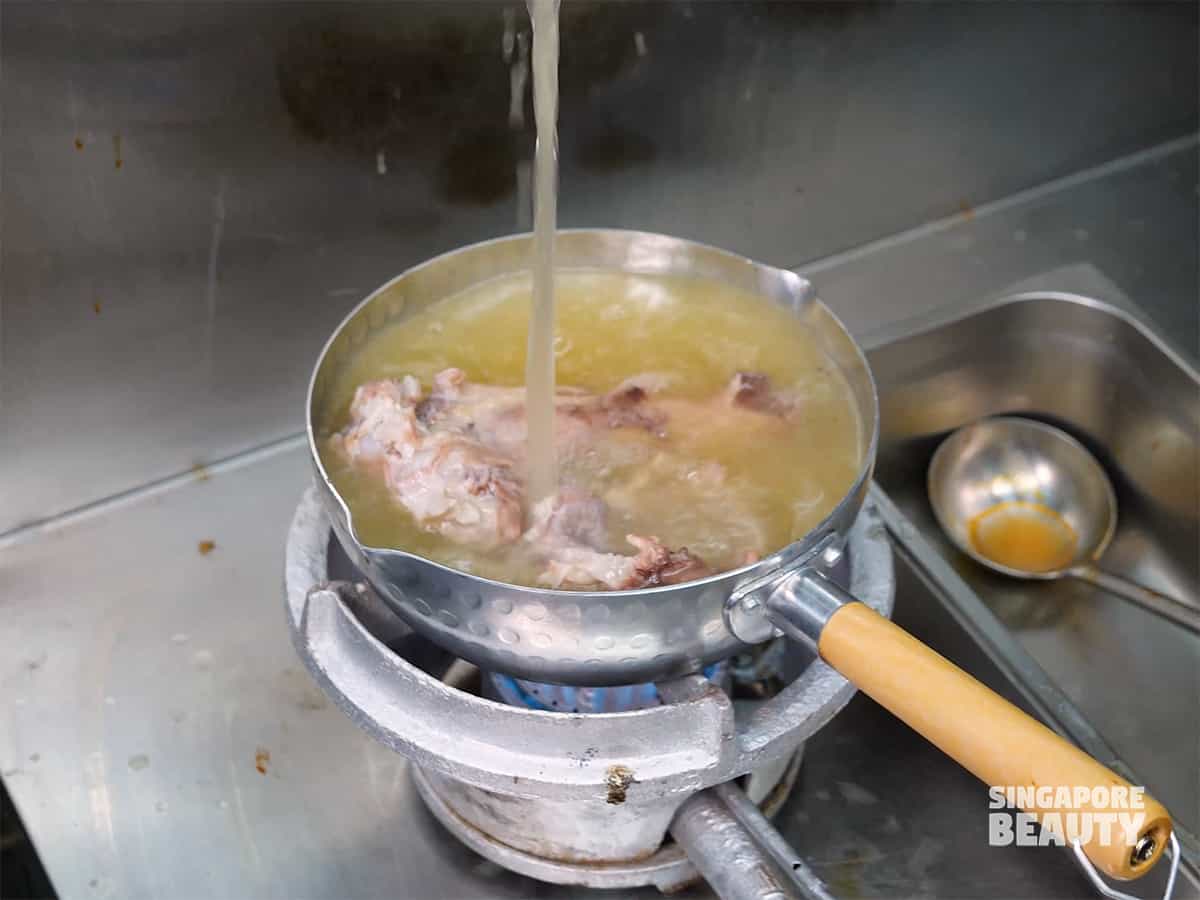 The chef reveals that the secret to a good nabeyaki noodle soup is in the soup base. The soup base for all the 6 choices is made from big bones, some other meat & seafood. This soup base is made by boiling till the soup takes on a rich creamy tone. The tell tale sign that the soup base is of the correct consistency and flavour. It is also mentioned that the soup is very nourishing for the body.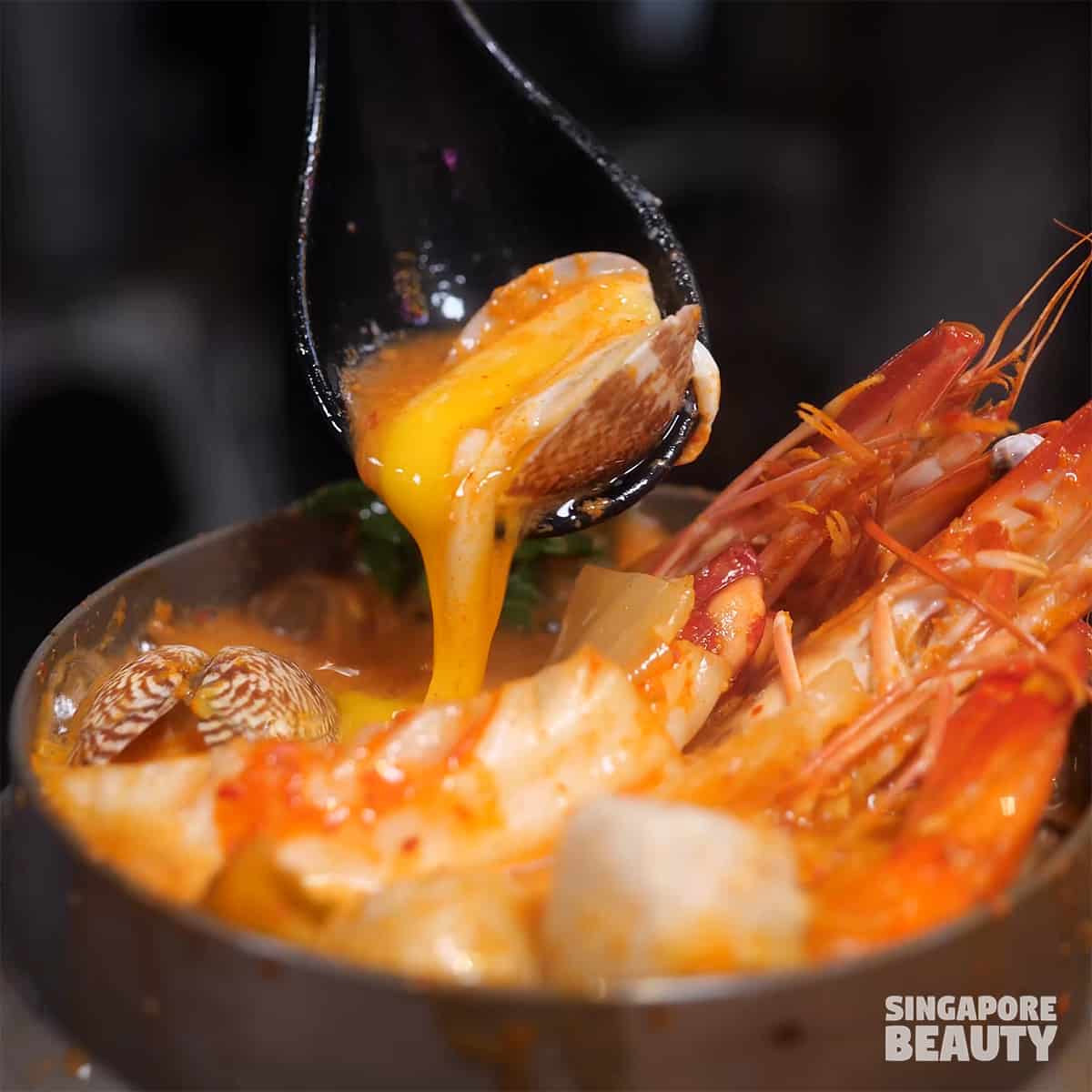 This is the consistency of the runny yolk in order for you to dip the noodles into it. The soup has an added dimension to it with a velvety, rich and umami taste. Imagine a half boiled egg yolk on top of your noodles, where you are dipping the pork belly, meat ball, noodles, prawns or clams in it. All the ingredients wears this golden glaze of sweet yolk flavour. If you prefer your egg fully cooked, you may inform the waitress in your order.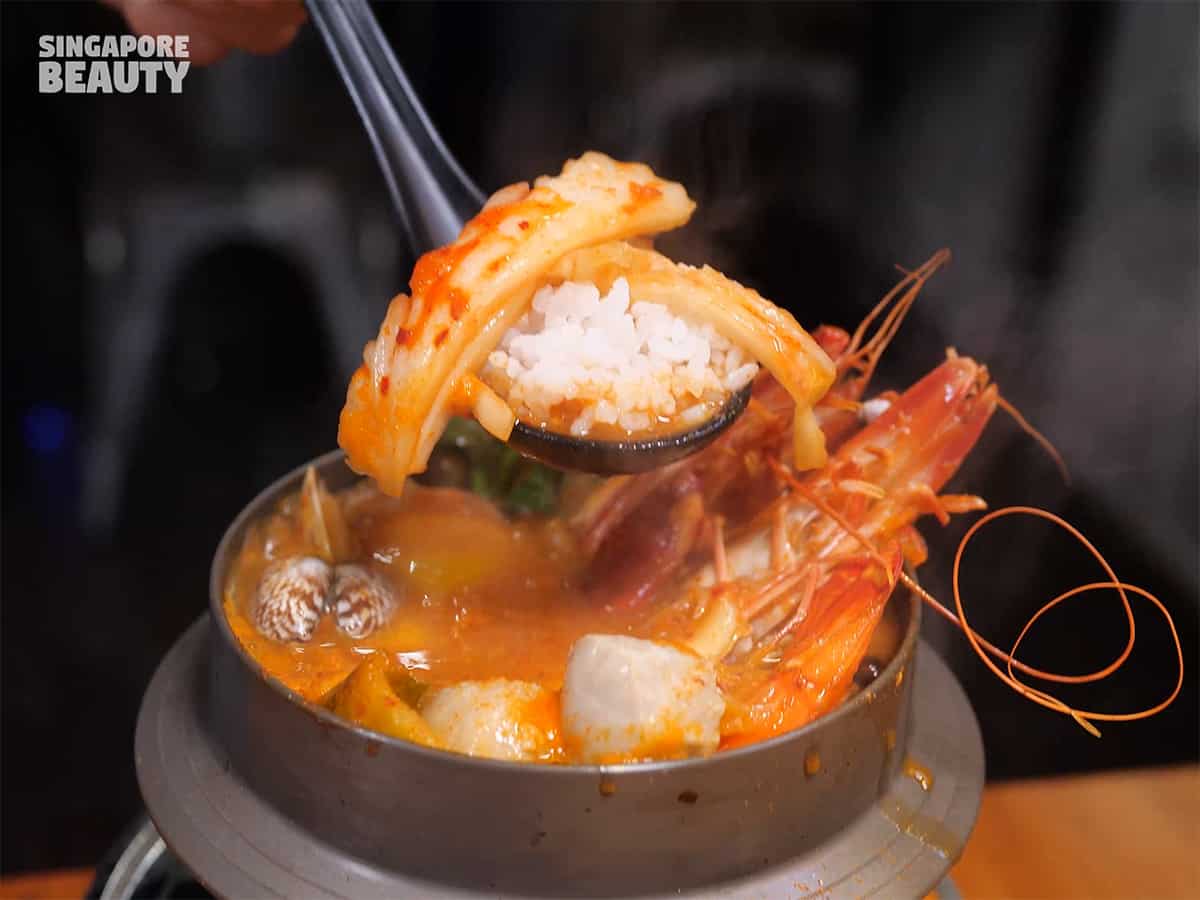 Kimchi nabeyaki soup base with 2 large tiger prawns, clams, meat balls, greens, pork belly and kimchi. This kimchi based nabeyaki goes well with steamed rice. The kimchi are nicely fermented with a refreshing crunch, the flavours of the sweet cabbage is prominent with the slight sour and spicy notes from the seasoning.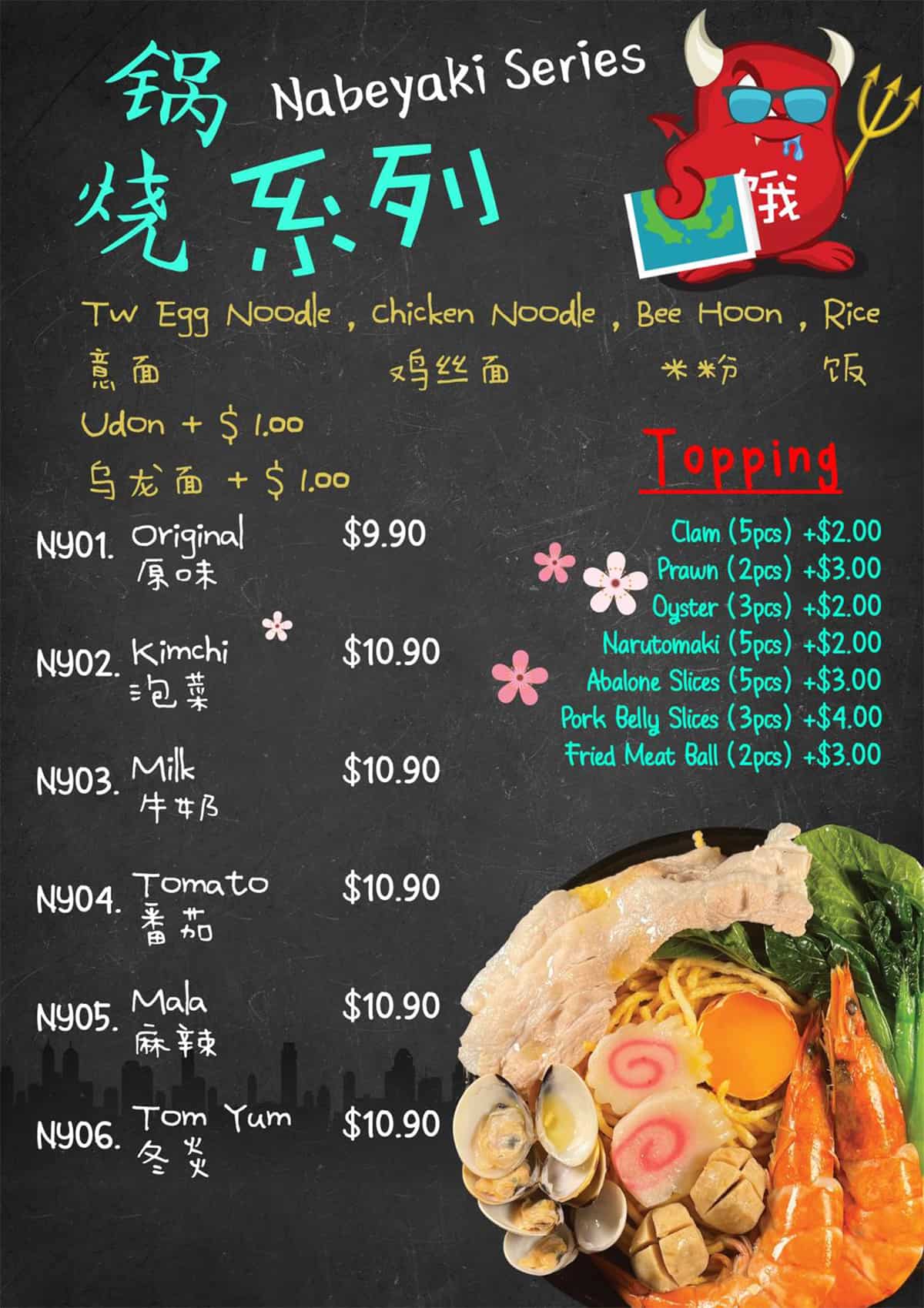 This is the menu for the Emo Snacks nabeyaki series also known as the guo shao or burnt pot noodles. Each bowl of soup noodles comes with the ingredients, pork belly, prawns, clams, meat balls, egg, soup & noodle of your choice. Besides the choice of noodles and soup flavours, you can customised your bowl by add ons. The add ons available are clams, prawns, oysters, narutomaki(fish cake), abalones slices, pork belly slices and fried meat balls. These add ons ranges between $2 -$4.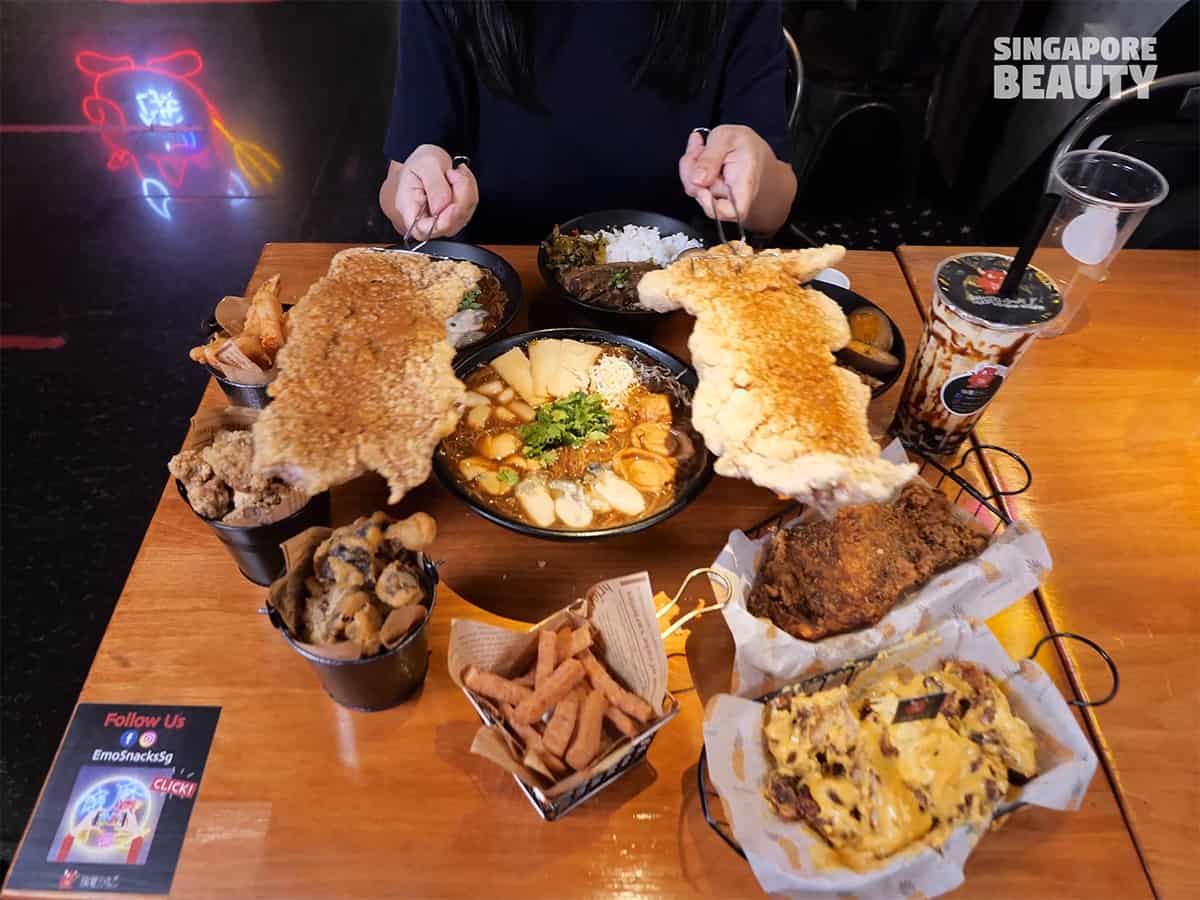 Emo Snacks is also famous Popular for their Taiwanese Food, extra large XXXL chicken chops with 5 levels of spiciness. Rich brown sugar boba milk tea, single and family size mee sua. Munch on their Taiwanese night market snack together with a bowl of family size mee sua. The choices available are salted crispy chicken, shiitake mushrooms, sour plum sweet potato fries, luncheon meat fries.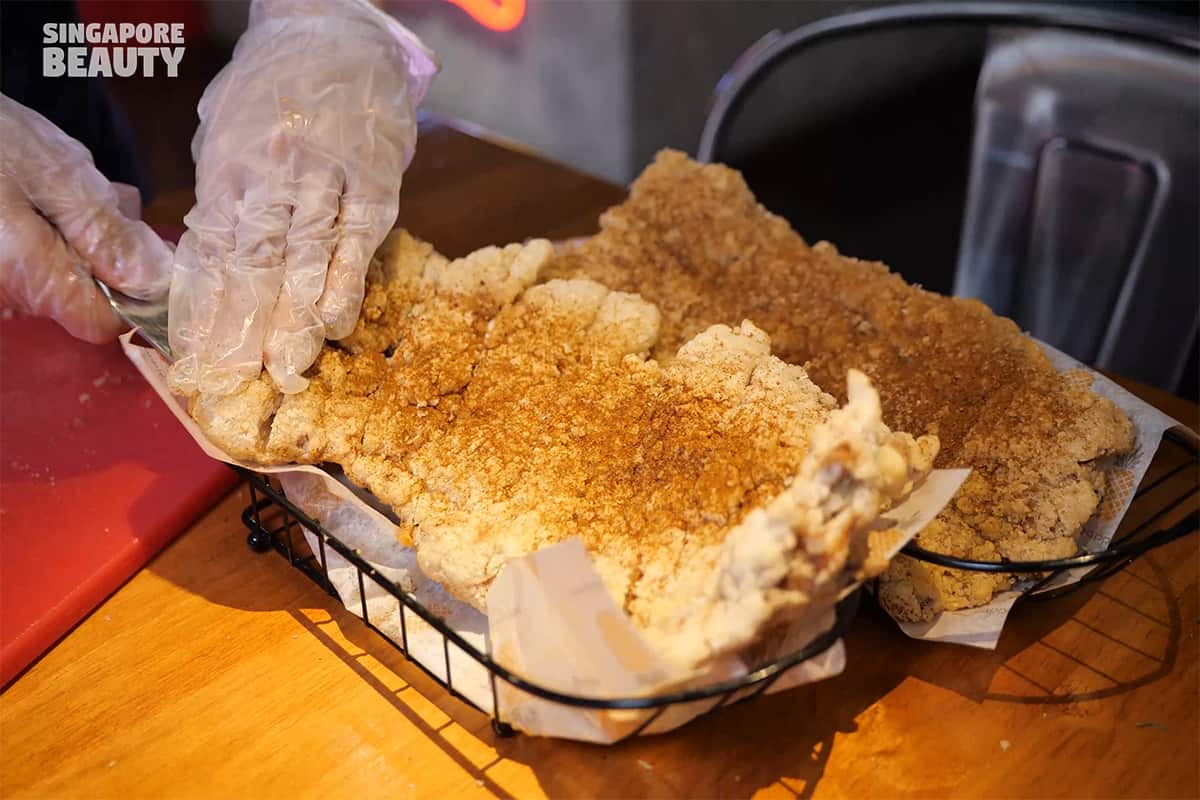 Their signature XXXL crispy chicken chop are light and crunchy. These chicken chop are fried to order to get that loud crunch. You can either opt for the natural fried flavour or spice it up with their chilli powder seasoning with 5 level of heat. Meaty chicken thighs are used for a tender chop and these are coated in their secret formula to achieve a light fluffy yet crunchy crust. The coated chop is then deep fried till golden brown. The cutlet is served chopped long steaks for ease of consumption. If you want them as a whole cutlet, please inform them before ordering.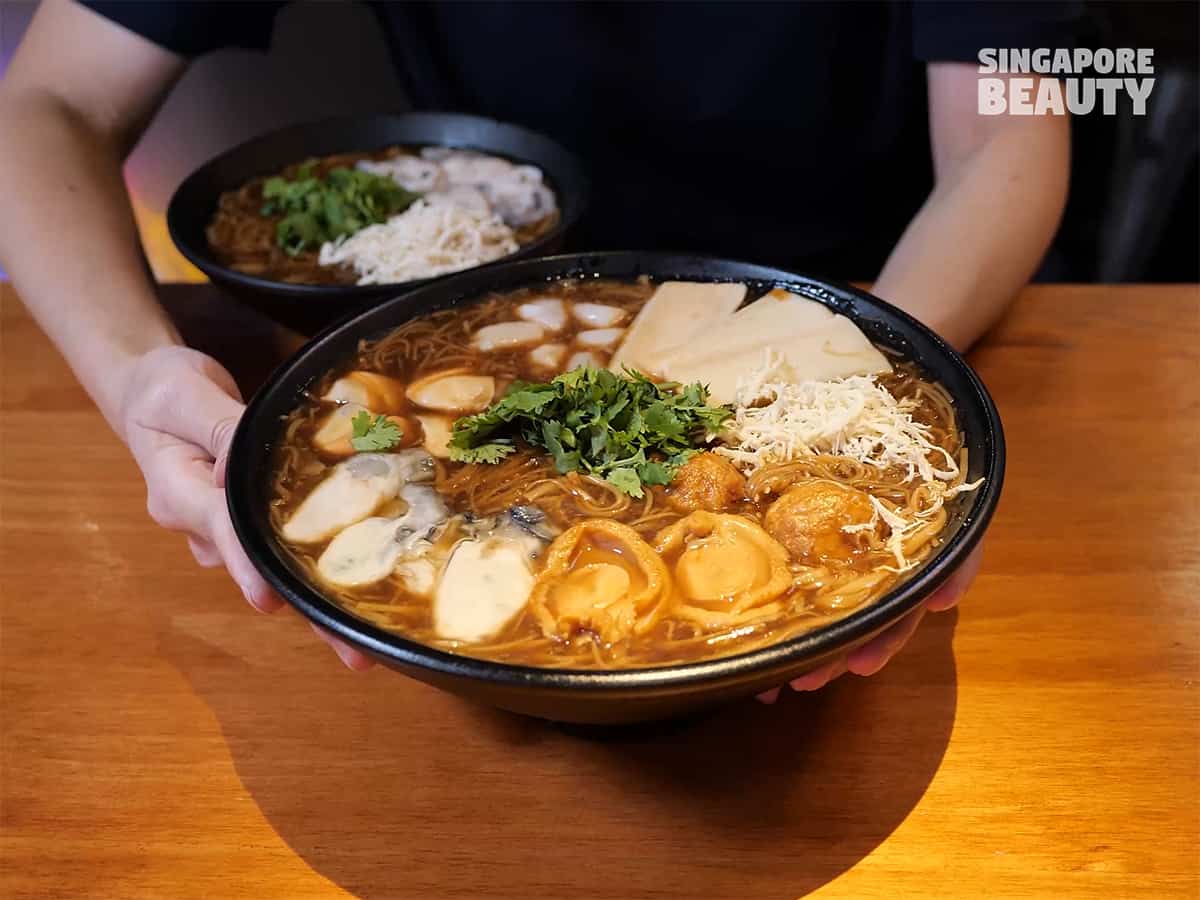 Family size mee sua is good for sharing for 2-4 pax. It comes with toppings such as baby abalone, oysters, razor clams, scallops, abalone slices, chicken floss, stuffed meat balls and some extremely velvety mee sua.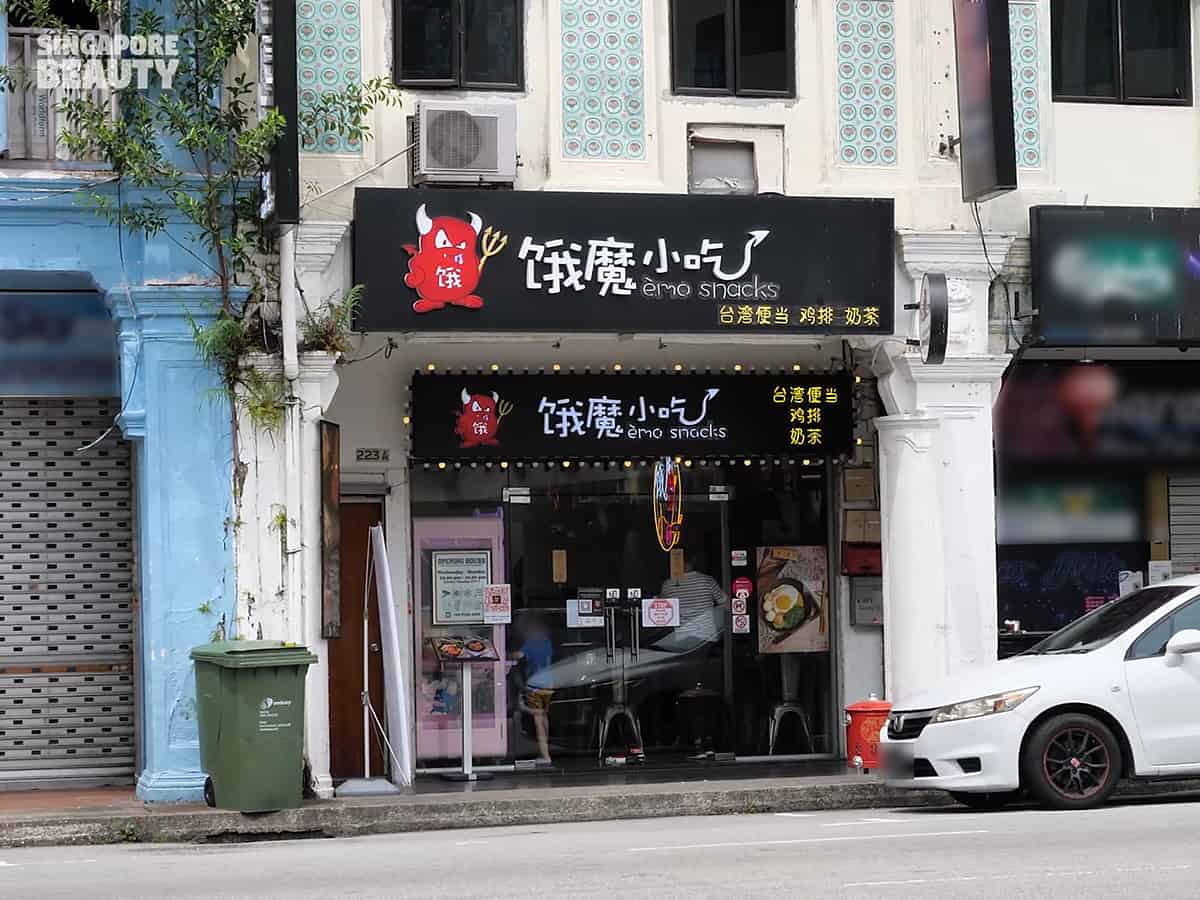 Bring along a hungry friend to enjoy Emo Snacks at Geylang with you. Parallel parking are available along the frontage of Emo Snacks if you are there early. Do note that they are closed every Tuesday. See you at Emo Snacks.
Emo Snacks Address:
223 Geylang Road, Singapore 389283
338 Anchorvale Crescent #01-01 Stall 1, S540338
For Anchorvale orders whatsApp : 97324016
498 Jurong West Street 41, S640498
For Jurong orders whatsApp : 88228468
Opening hours: 11am-10pm daily
Brought to you by : Emo Snacks 饿魔小吃