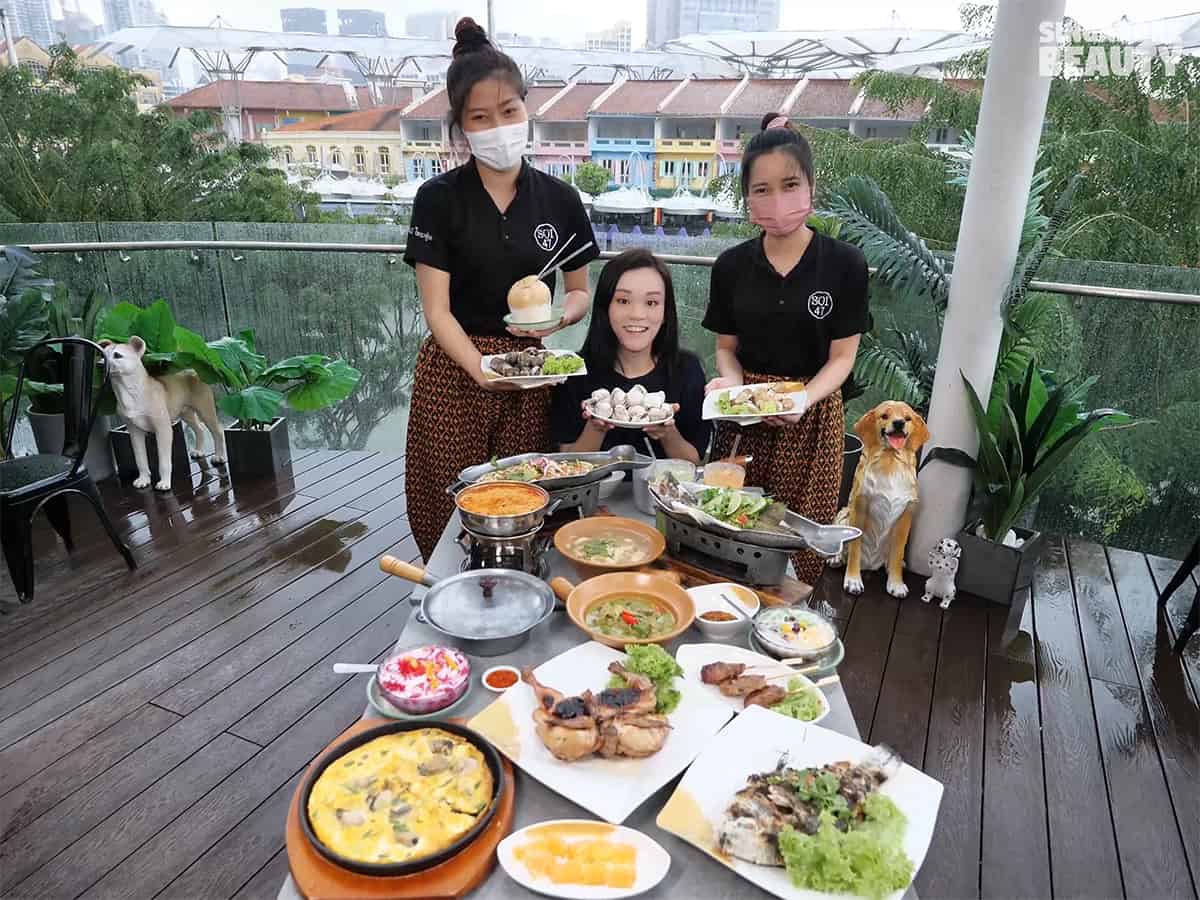 Soi 47 Thai Food has a new outlet at Clarke Quay by the Singapore river with bbq meat and seafood. They now have a total of 3 Soi 47 Thai Food in Singapore inclusive of two other Toa Payoh and King George's Avenue outlets. Besides these, they also have 3 outlets of Soi 47 Mookata at Bukit Batok, Tanjong Pagar plaza and Ang Mo Kio. Let's take a look at the wide variety of Thai food they are serving up at their new outlet at Clarke Quay. There are also some new exciting additions to Soi 47 menu such as barbecued dishes.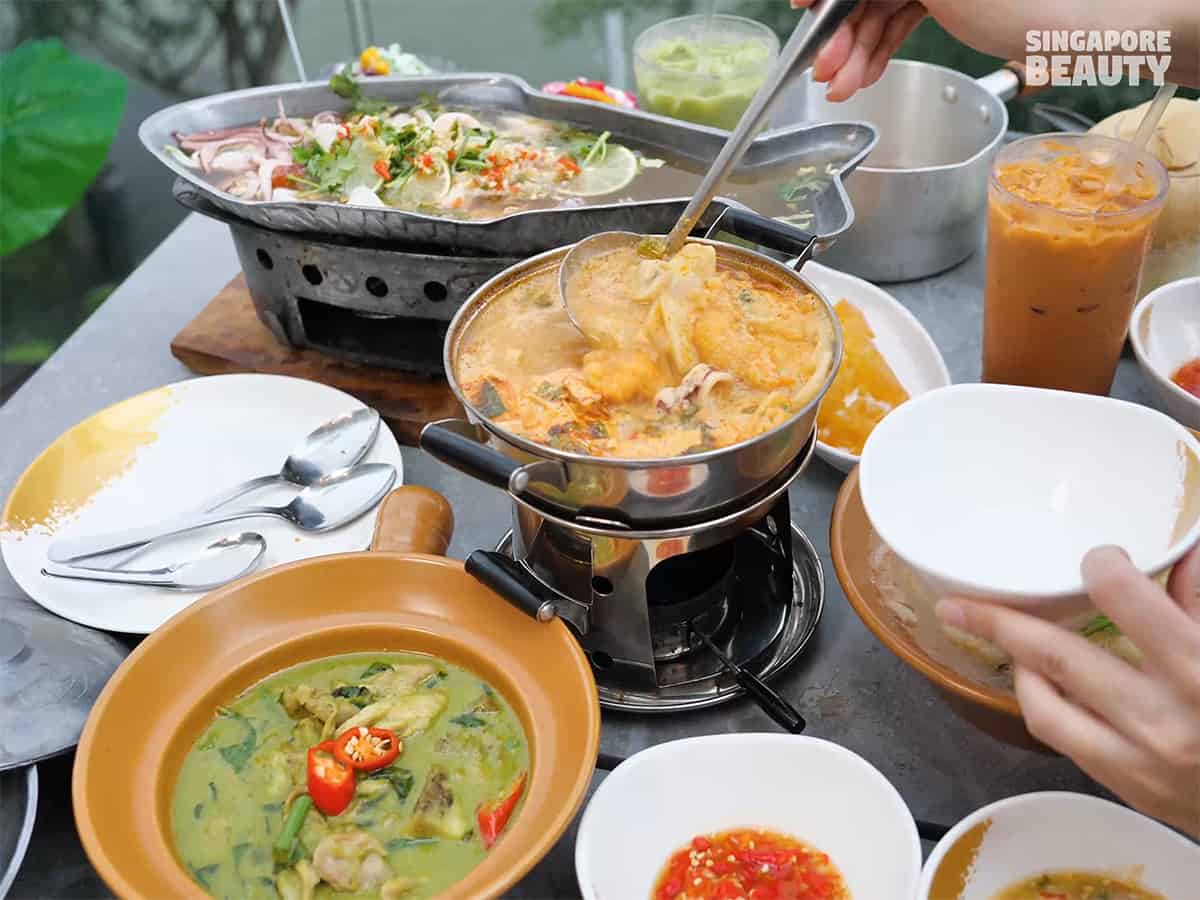 Soi 47 Thai Food at Clarke Quay have more than 100 items on their menu. The menu includes finger food, salad, soup, vegetables, omelette, curry, rice dishes, noodles, seafood, chicken, beef, pork and desserts.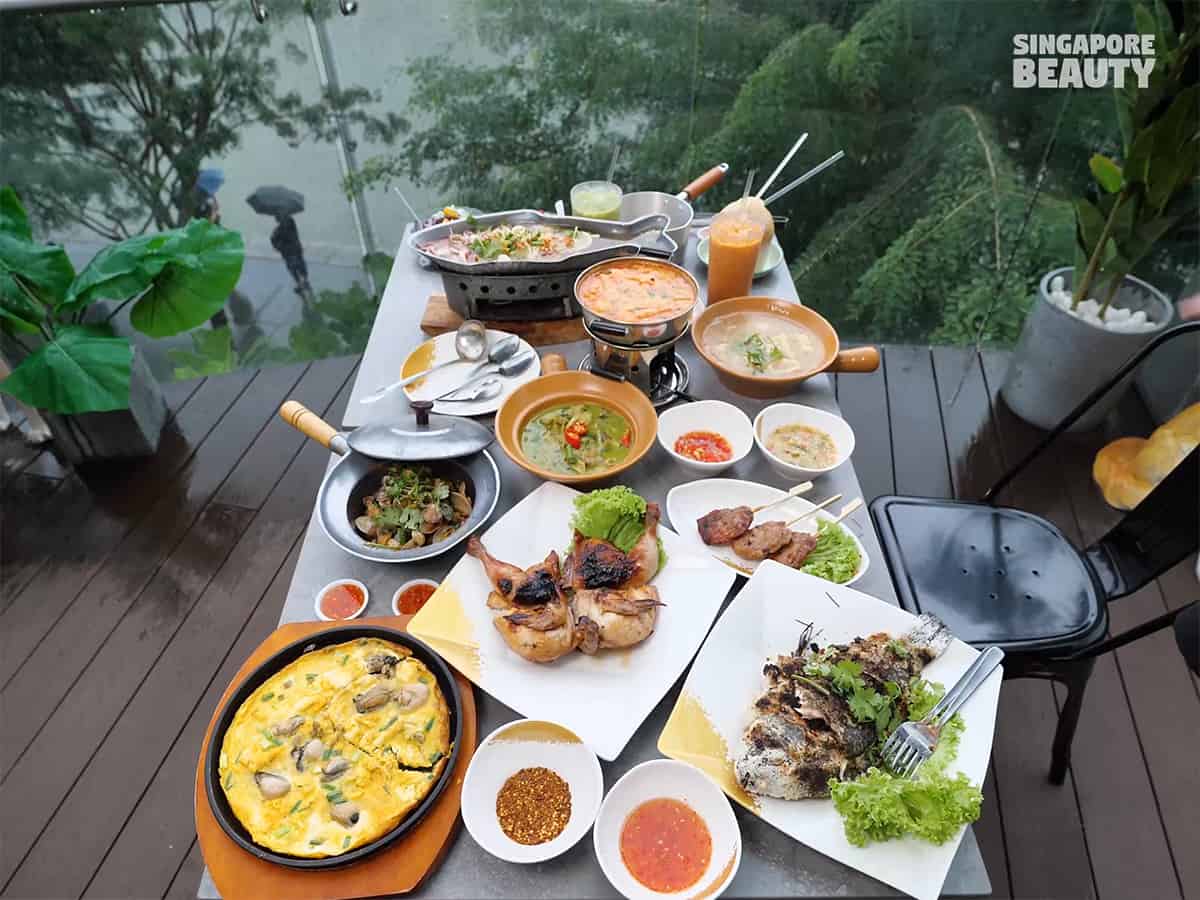 We have selected some of their popular and cheap Thai food in Singapore to be featured in this new Soi 47 Thai Food outlet at Clarke Quay Central. The dishes are oyster omelette, bbq whole chicken, bbq salt crusted fish, moo ping, green curry with chicken, claypot lala, fish maw soup with crab meat and quail egg, tom yam soup (cream style) with seafood, steamed sotong with Thai lime sauce, steamed seabass with Thai lime sauce and desserts.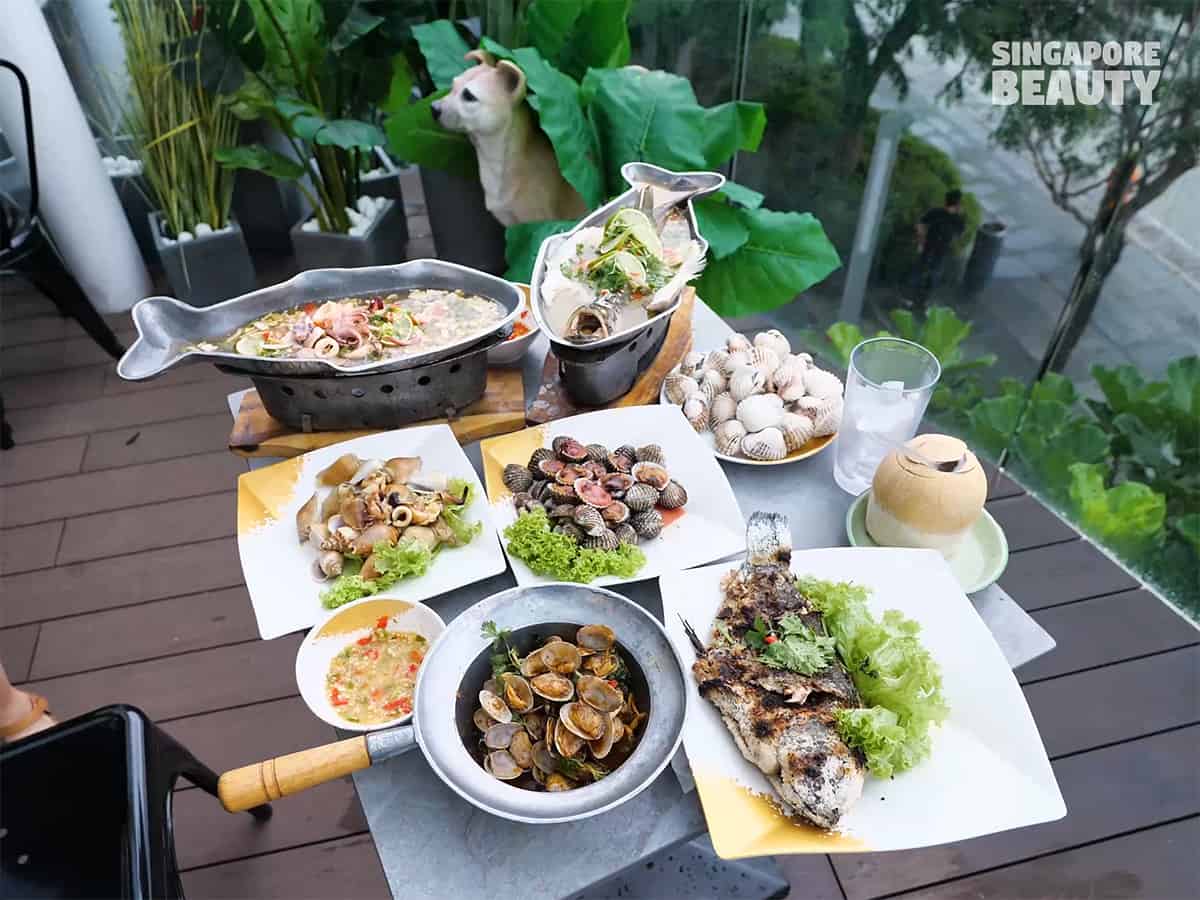 For those looking for seafood at Clarke Quay Central but on a shoestring budget, you can try Soi 47 menu with a good range of seafood. Their seafood can be enjoy salad style, as finger food, in soup, as omelette, seafood curry, noodles, steamed and barbecued. They have tang hoon seafood salad, mango salad with prawns, sotong salad, cockles with spicy sauce, claypot lala, bbq salt crusted fish, steamed seabass or sotong in Thai lime sauce.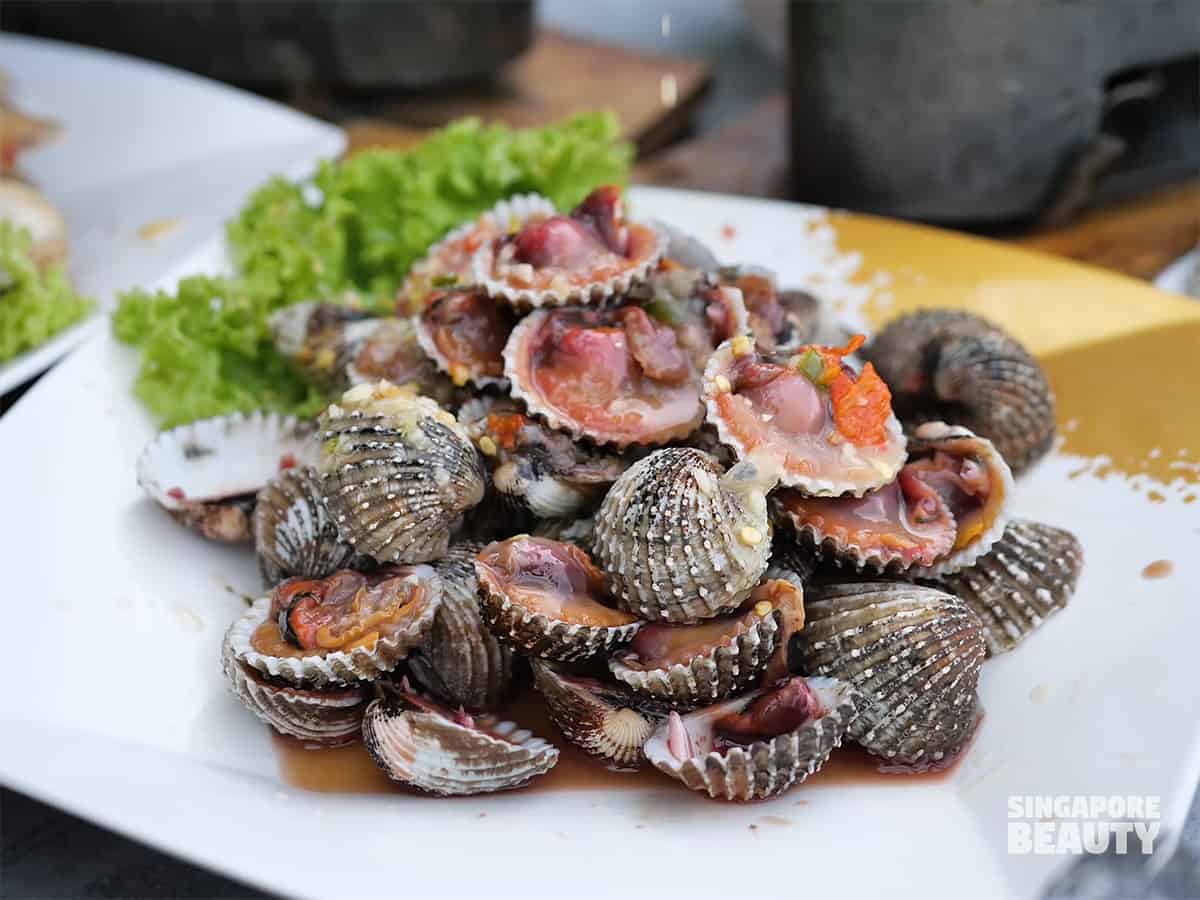 Here's a plate of their freshly boiled blood cockles with Thai lime chilli sauce drizzle for an extra kick (only available at Toa Payoh outlet). These normal sized cockles are served whole and you have to pry them open to enjoy the plump fresh. They are cooked perfectly retaining the redness of the flesh and the succulence of raw blood cockles. This is a shout-out for them as these cockles are only available at their Toa Payoh outlet as a limited menu. For those who are more adventurous, they also have jumbo cockles going at $16 per plate (only available at Toa Payoh outlet). For those craving for cockles at Soi 47 Clarke Quay outlet, you can try their salad style cockles in spicy sauce ($12).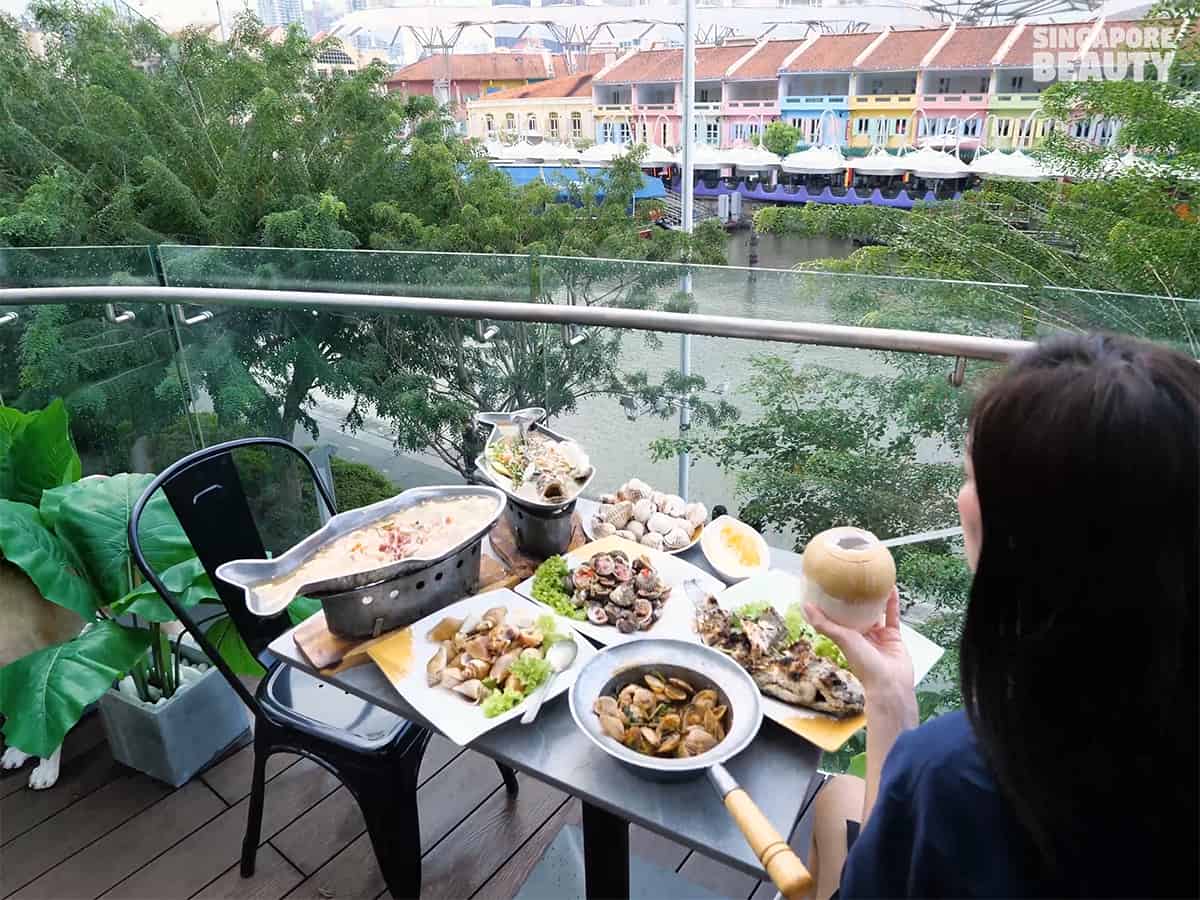 For those who are planning for a romantic date for your love one this coming valentine day, do consider Soi 47 Thai Food sheltered outdoor seating. Impress your date with a seafood and meat feast by the Singapore River with a treetop view. As the outdoor seats are limited, it is recommended to make a reservation for these prime seats. There are 3 new Thai dishes on their menu that is highly recommended by their chef.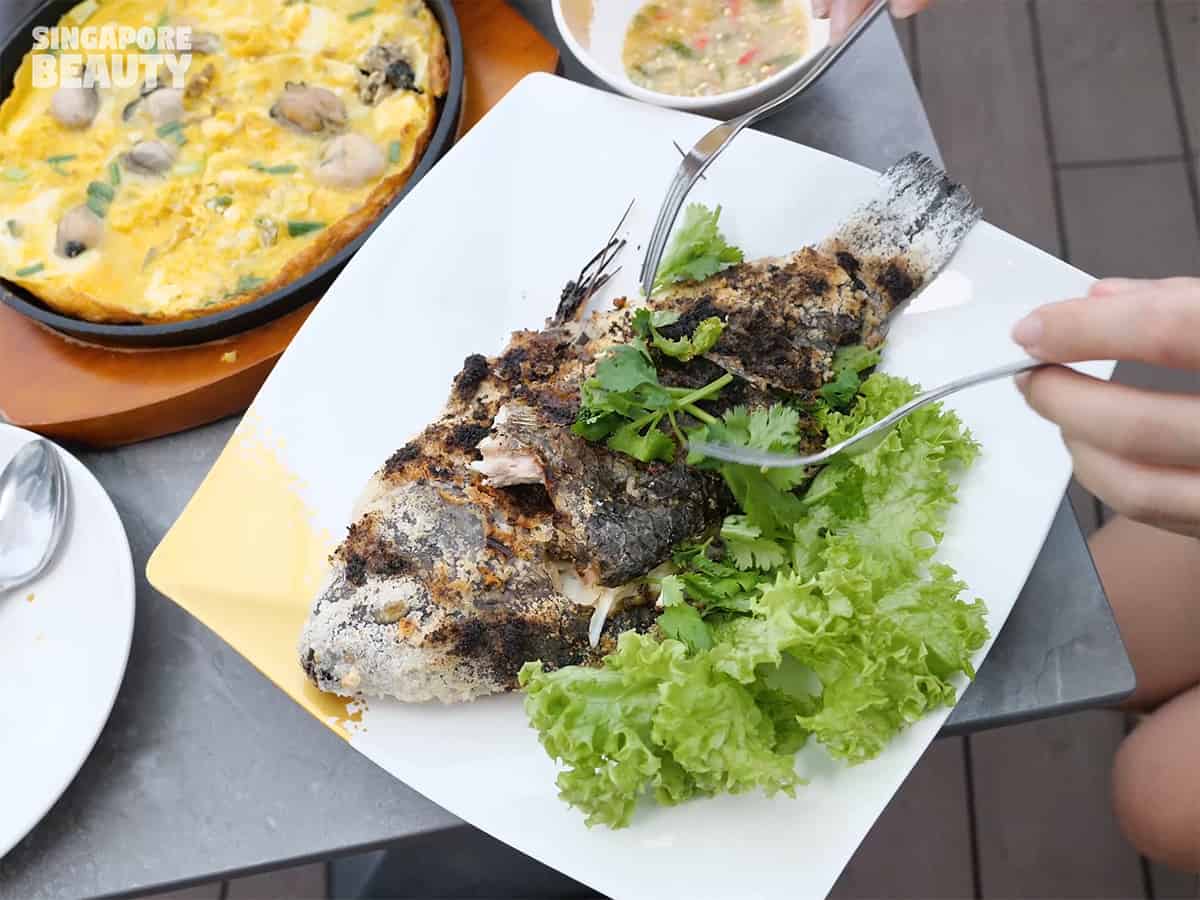 BBQ salt crusted fish ($19) – is known as Pla Pao in Thailand. This is a whole tilapia that is encased in sea salt with skin and scales intact. The salt crusted skin is like amour that keeps the fresh tender and moist while cooking. The fish is seasoned by the salt crust as it barbecues.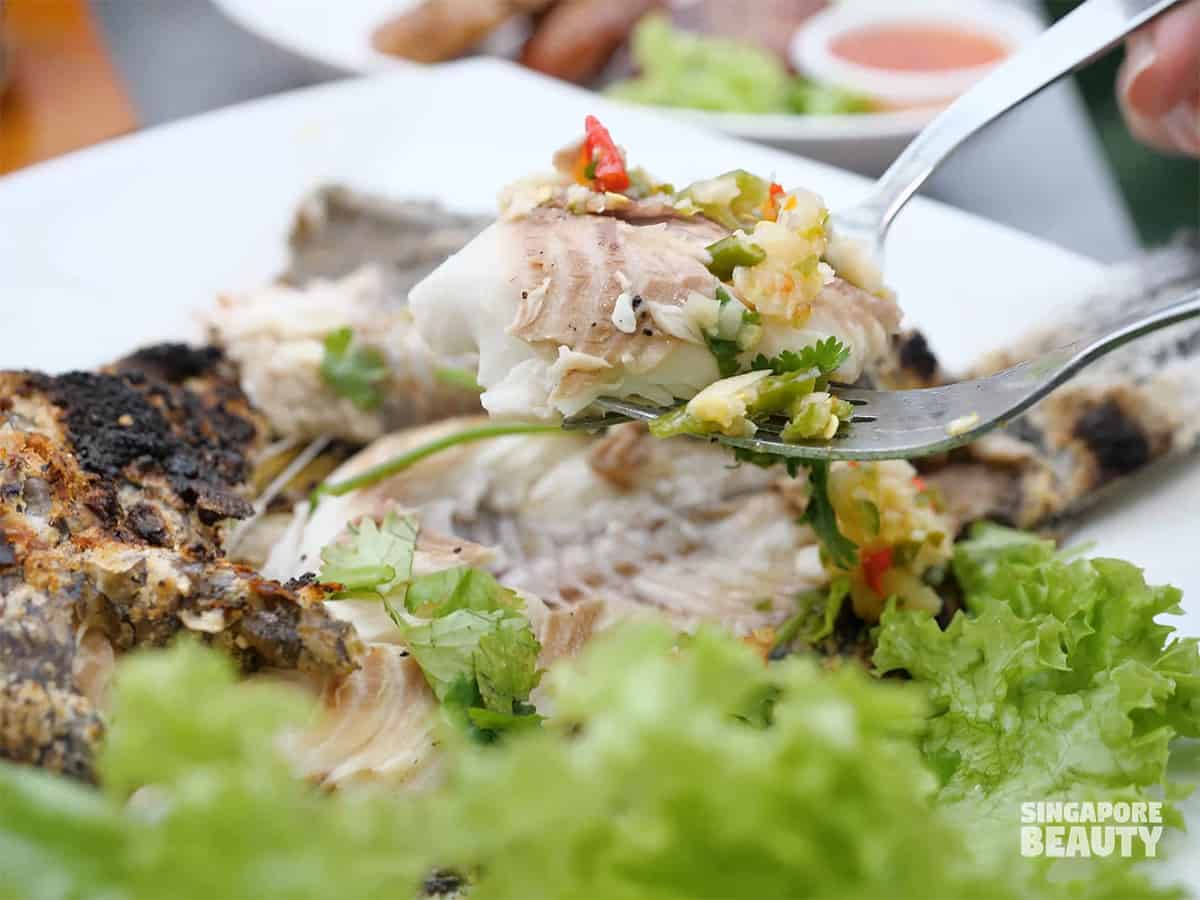 The salt crusted hardens as the fish cooks. When it is fully barbecued and cooked, the fish skin is lifted off the skin revealing the superbly tender moist flesh. In this Thai street food dish – salted baked crusted fish – we do not eat the fish skin. The flesh are fork tender and best enjoyed on their own. You may choose to drizzle some of their Thai chilli that has a nice sour punch to heighten the sweetness of the fish.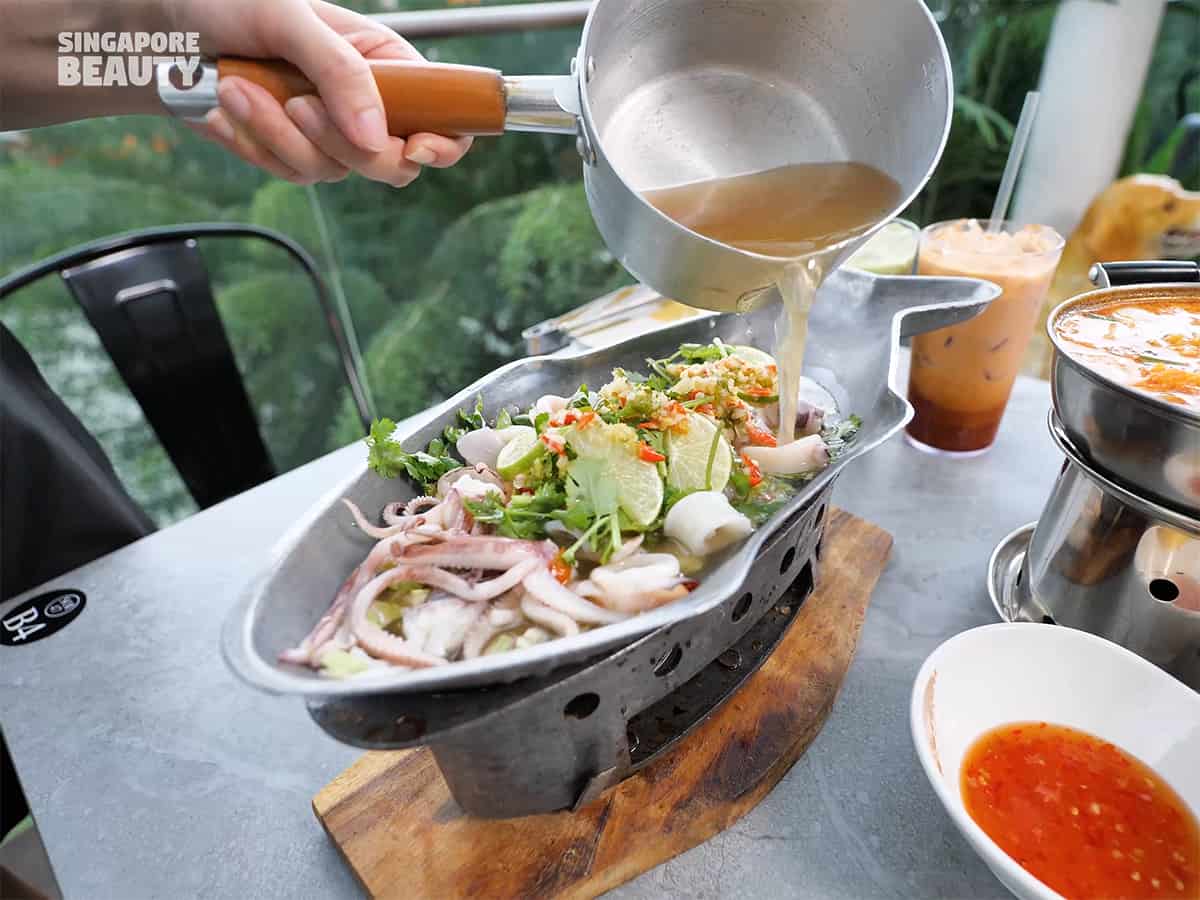 Steamed Sotong in Thai lime sauce ($18) – are squid that are steamed and topped with lime, minced garlic, chopped chilli padi with seeds, coriander leaves and pounded lemon grass. A savoury piping hot broth is then poured over it to release all the flavours. Succulent squid with tones of mild sourness, citrusy, garlicky and heat from the chilli padi pounded seeds.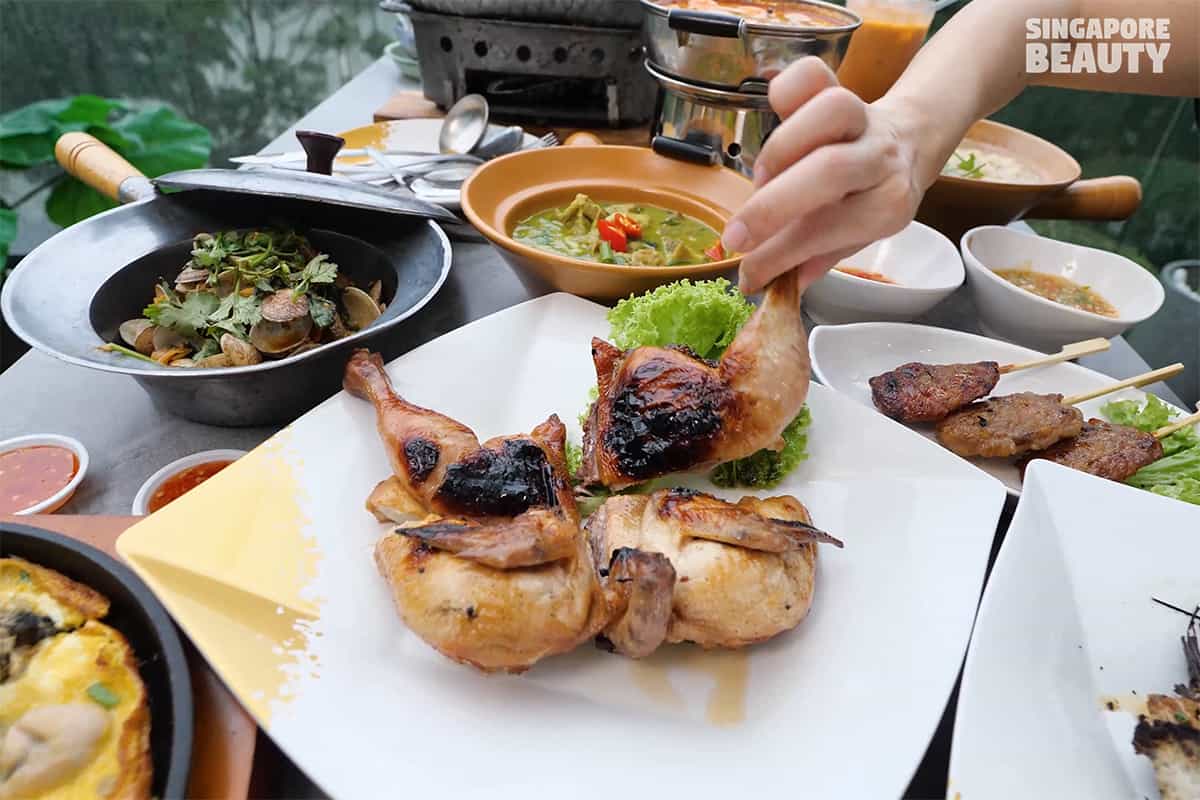 BBQ Whole Chicken ($15) – is a butterflied chicken that is rubbed with a secret Thai seasoning. The chicken has a nice glowing glaze on the skin with some part of it intentionally grilled till caramelised for a smoky flavour. The browned caramelised skin of the drumsticks have some nice crisp to it. Tender chicken with aromatic notes of lemongrass and honeyed tones to it.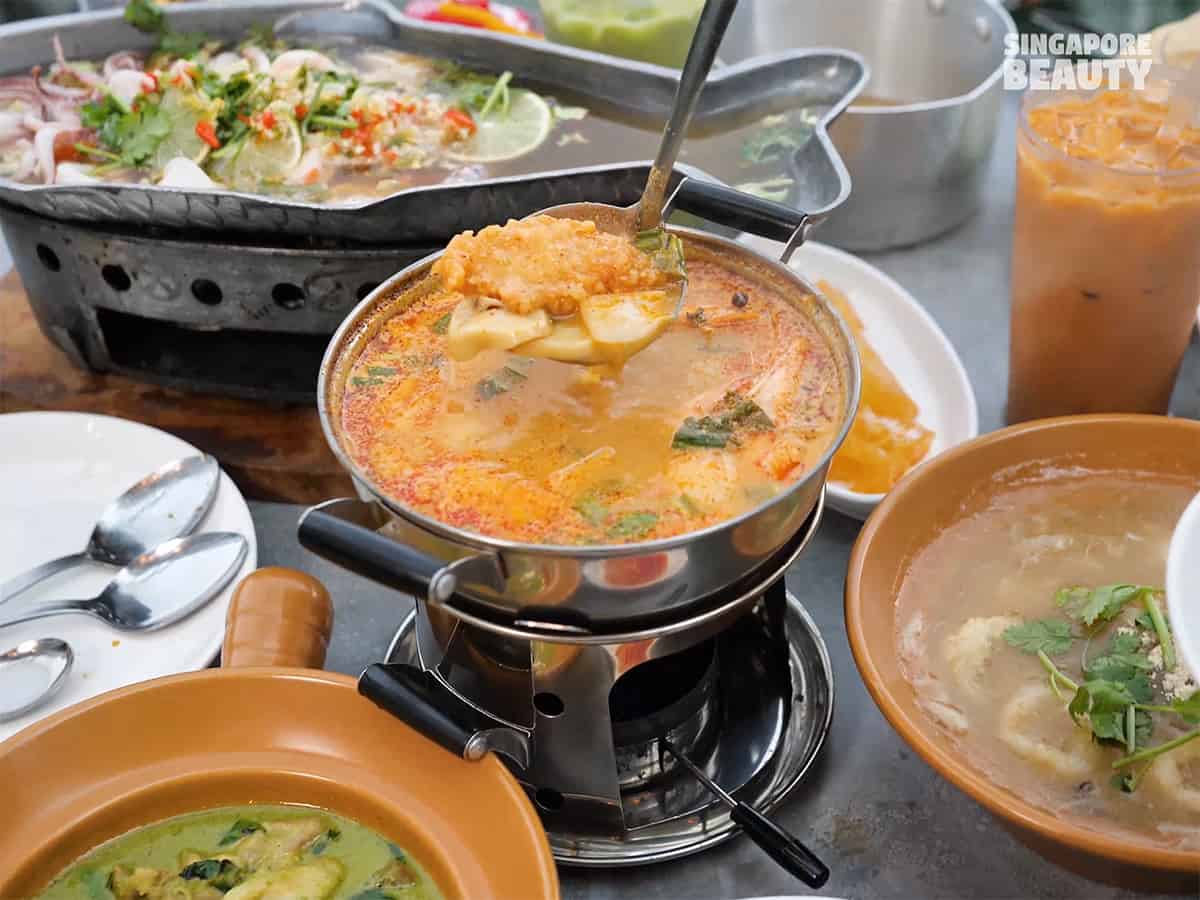 Tom Yam Soup (cream style) with seafood ($6.80) – is one of the most order soup at Soi 47 Thai Food. Firstly, at the cheap price point, the soup is overloaded with ingredients such as huge chunk of fried savour fish, prawn, squid, mussel, mushroom and more. The flavour and consistency of the tom yam is on point and is a joy to eat with a bowl of steamed rice. The bonus and brownie point is that it is served piping hot atop a warmer that keeps it simmering while you sip the hot soup.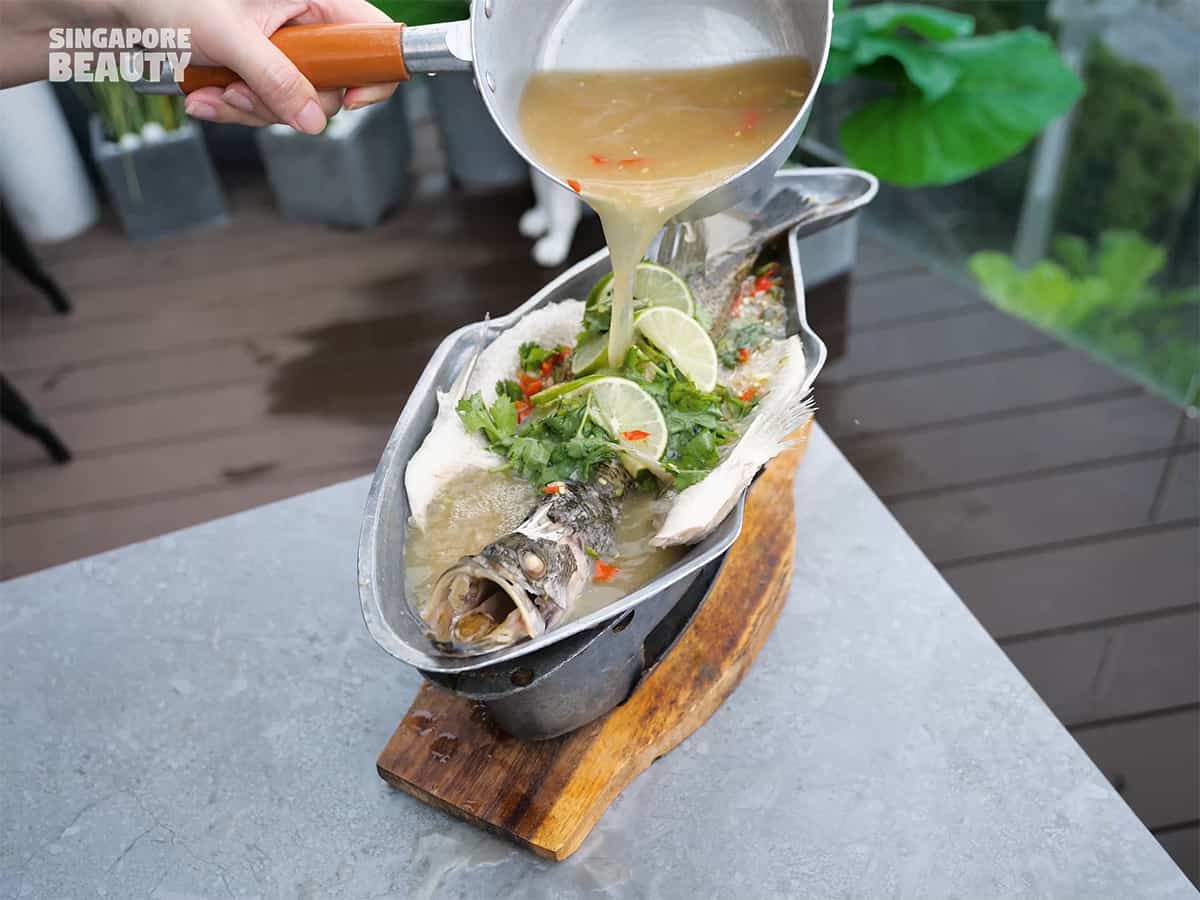 Soi 47 Thai Food Signature Steamed seabass with Thai Lime sauce ($19) – is a whole steamed seabass that is butterflied and steamed. A savoury meat broth made with palm sugar, lemongrass, coriander roots, Thai lime juice and more is then poured on the fish.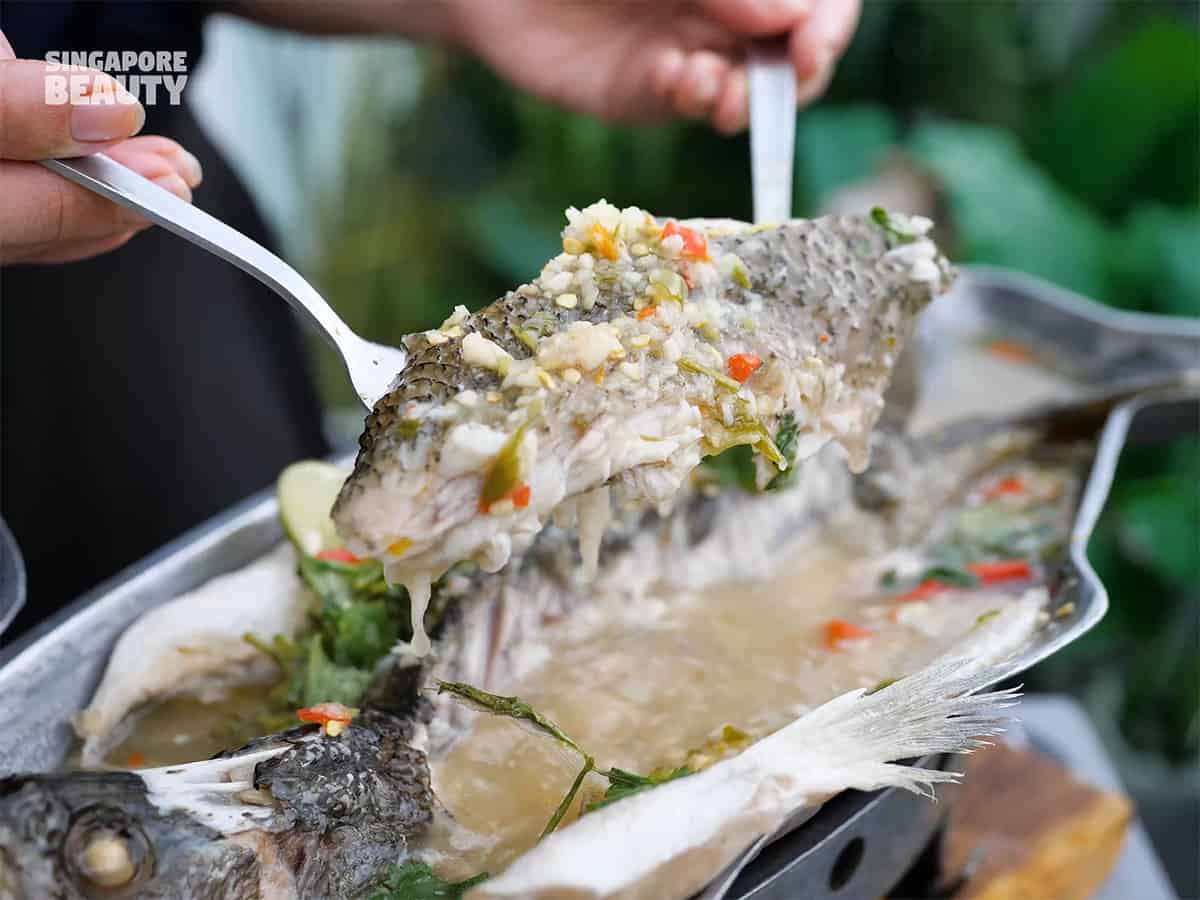 The fish is served on a tradition fish stove with some warmers to keep the broth and fish warm while you enjoy. The delicate fish texture with the citrusy savoury appetising broth is the highlight of this dish.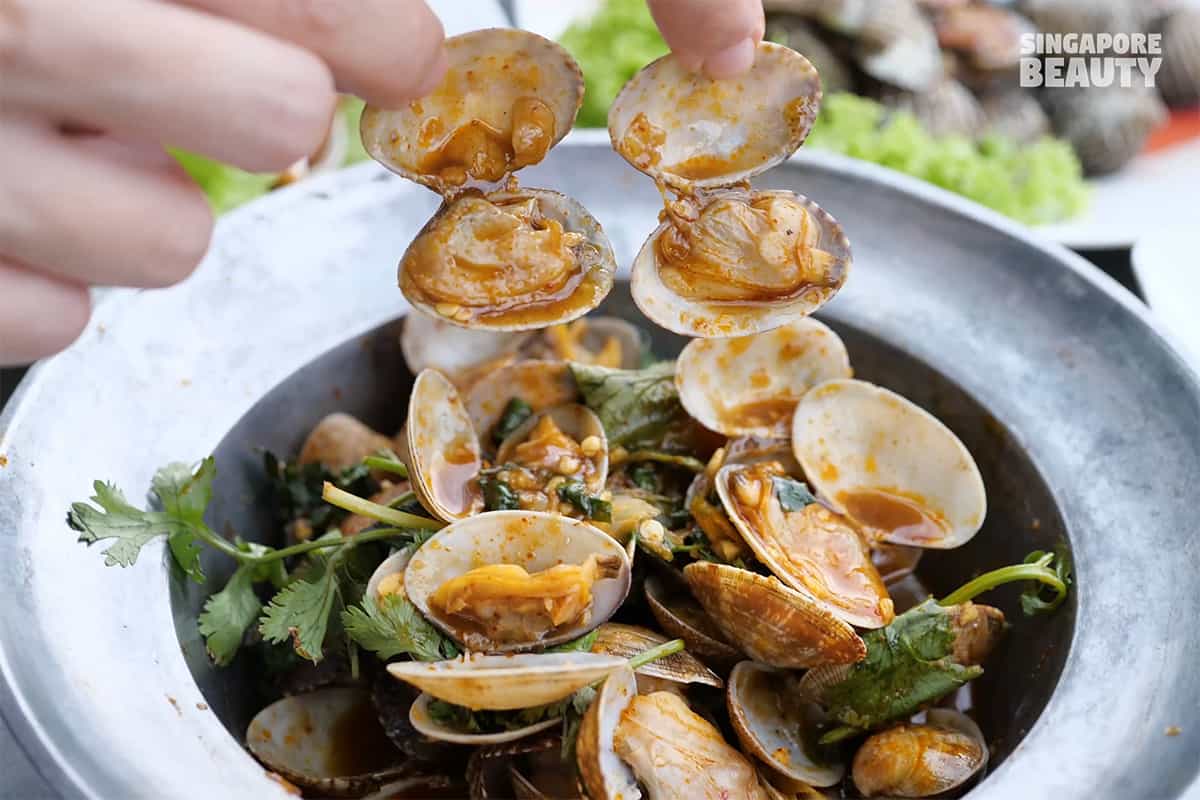 Besides the above dishes, they also have other Thai food at their Clarke quay central outlet such as oyster omelette ($12), green curry with chicken ($6), moo ping (3 for $6), claypot lala ($15) and more. Each of these dishes is a star in their own league.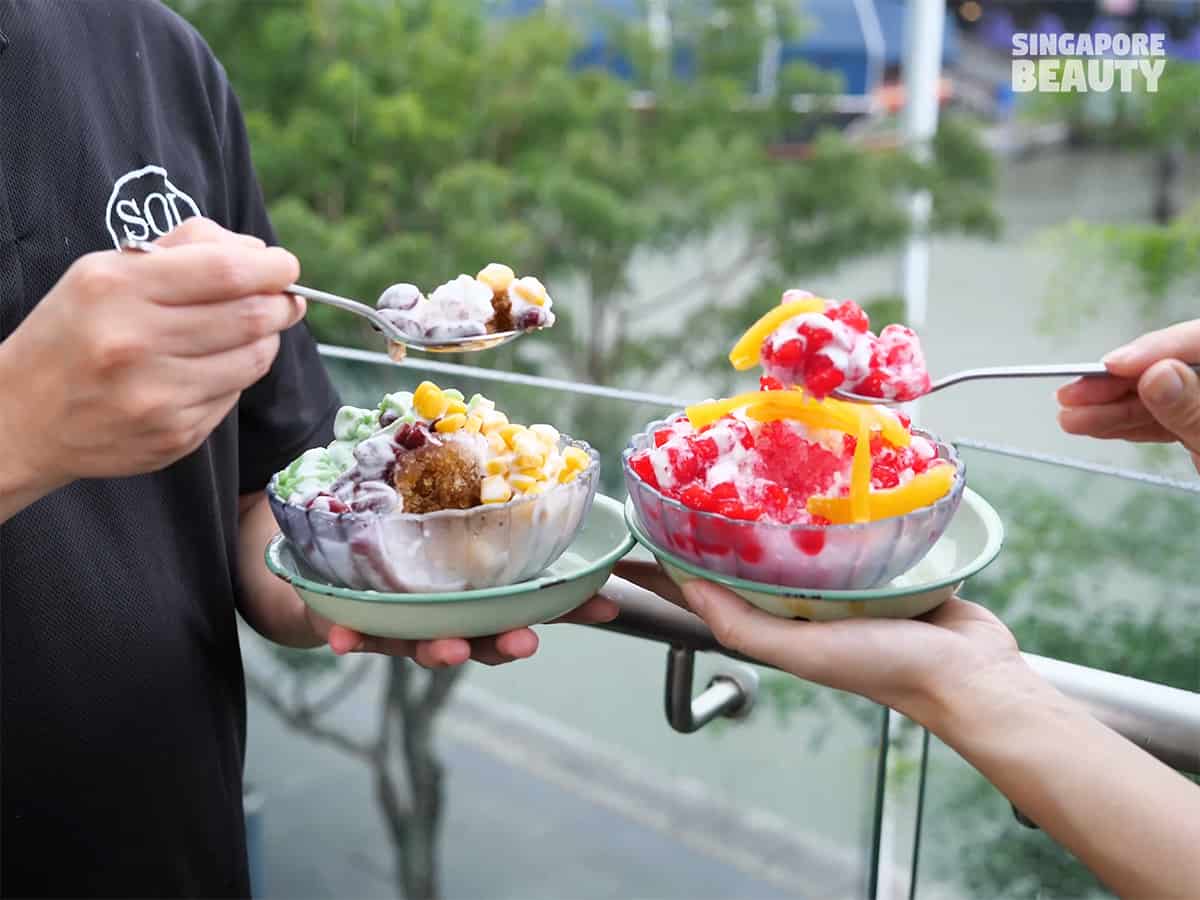 Desserts at Soi 47 Thai food is super affordable starting from $3 for a bowl of red ruby. Red ruby is finely shaved ice with a rich coconut cream dressing. It is topped with crunchy red ruby and sweet honeyed yellow jackfruits. The chendol ($4) is also a steal. It is a colourful hill of fine shaved ice with thick gooey palm sugar syrup. Loaded with green chendol jelly made with pandan juice, soften red kidney beans and sweet corn kernels and given a final dressing of coconut milk. These are good ways to end the meal on a sweet note.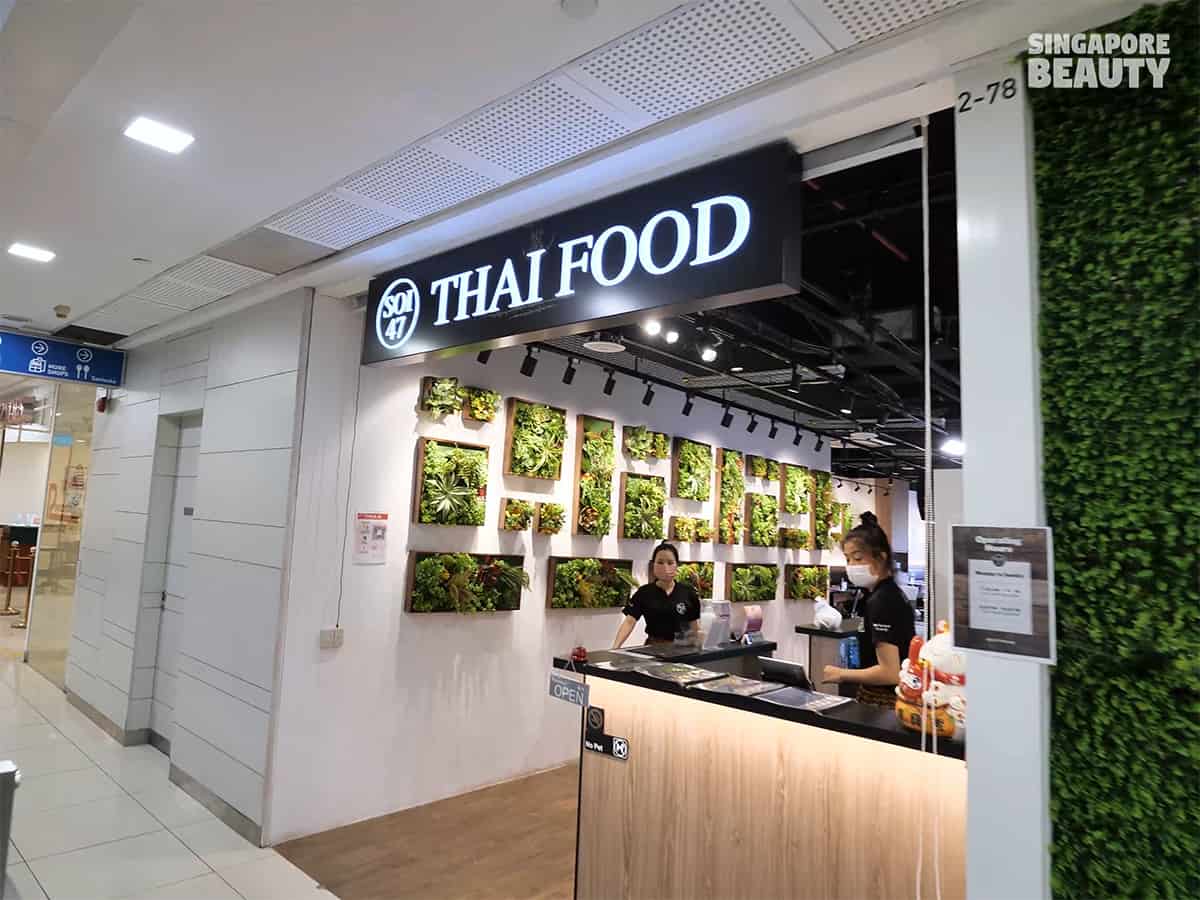 Soi 47 Thai Food at Clarke Quay central has over 100 choices to please every palate. This new outlet also boost of a view overlooking the Singapore River with dining amongst the tree top experience as well. The perfect place to lunch with the affordable price tag and chill after work with the mesmerising night scenery of Clarke Quay. See you there today!  
Soi 47 Thai Food Address: 
Clarke Quay Central
#02-78
6 Eu Tong Sen Street
Singapore 059817
Call : 6788 4747 (for enquiries)
Brought to you by Soi 47 Thai Food