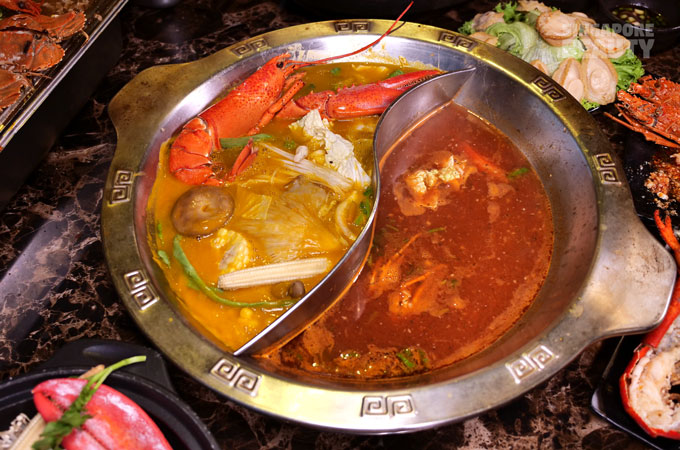 The Three Peacocks hotpot restaurant has some exciting new soup brewing in their kitchen. Introducing western soup bases such as pumpkin soup, lobster soup and onion soup into the selection of soup bases for hotpot.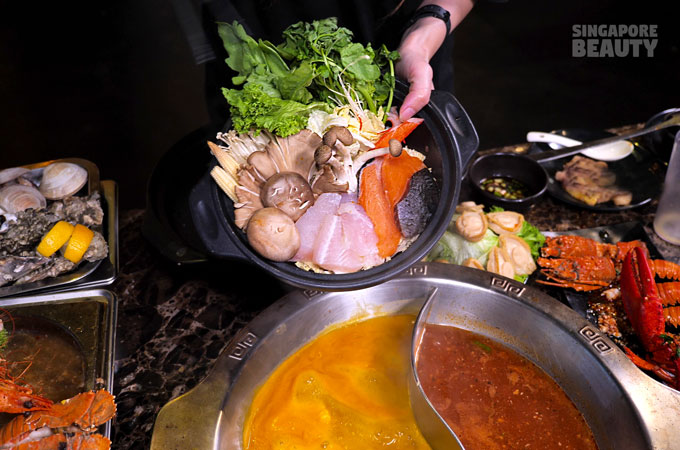 Sweet pumpkin hotpot soup base goes well with lots of garden greens, mushrooms and salmon.
Soak up the warm pumpkin soup with some baked naan.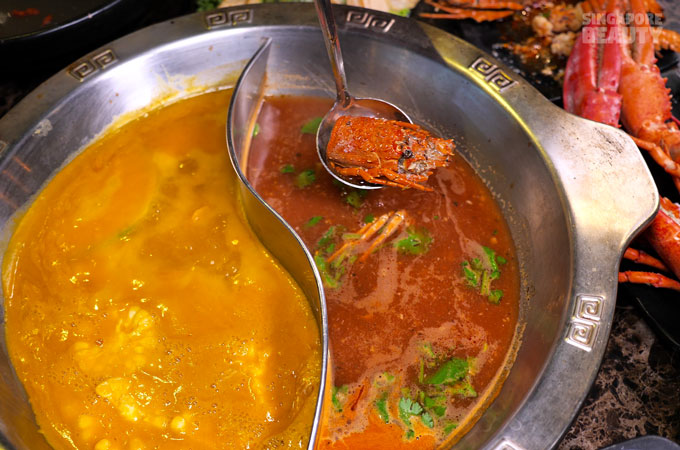 Pair the pumpkin soup base with a lobster soup base to get the best of both worlds – the sweet and savoury.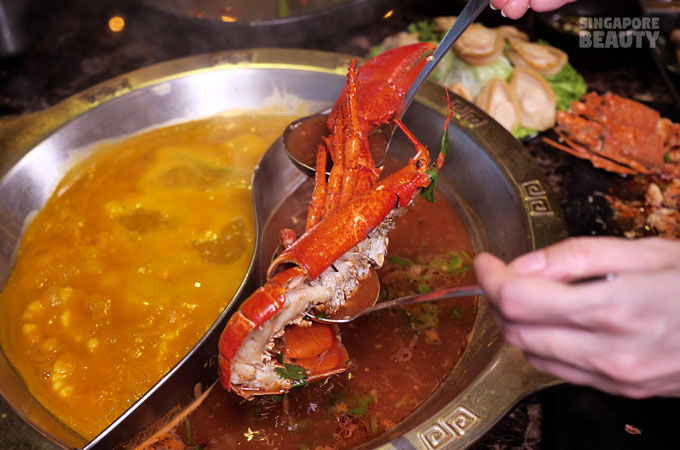 Add in the complimentary personal half Boston lobster into the lobster soup base to enjoy the tangy and aromatic flavours.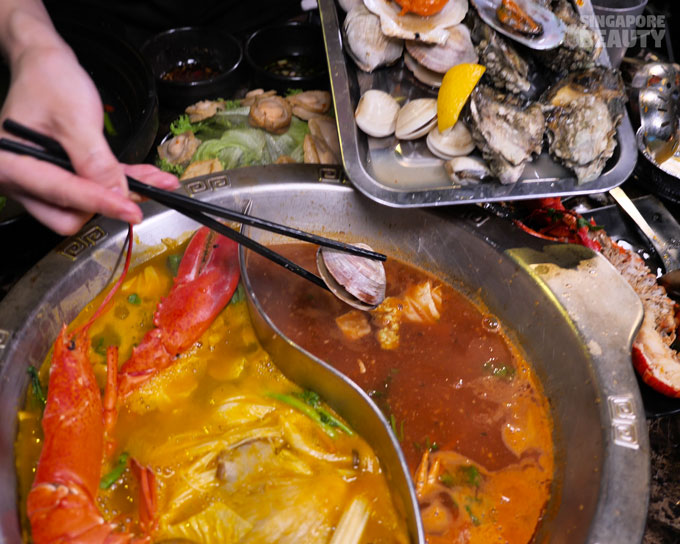 The lobster soup base is best enjoyed with some shell fish such as the large clams, Venus clams, scallops, mussels and live Japanese oysters (best to deshell them before cooking).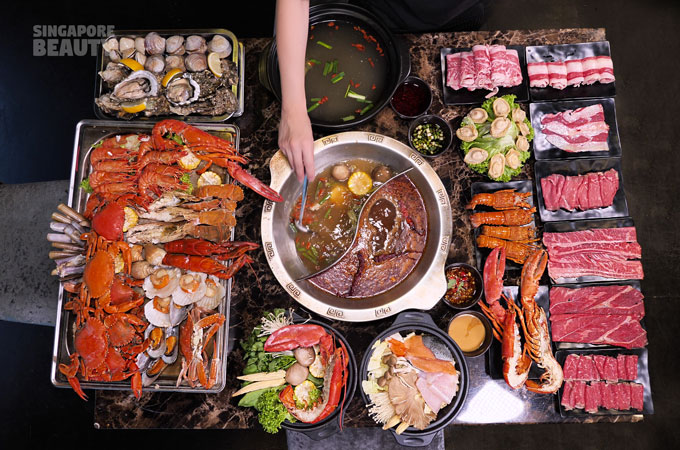 The Three Peacocks hotpot restaurant has a total of 8 soup bases – collagen, chicken, seafood, mala, bak kut teh, pumpkin, onion and lobster soup. This is a truly east meets west style hotpot.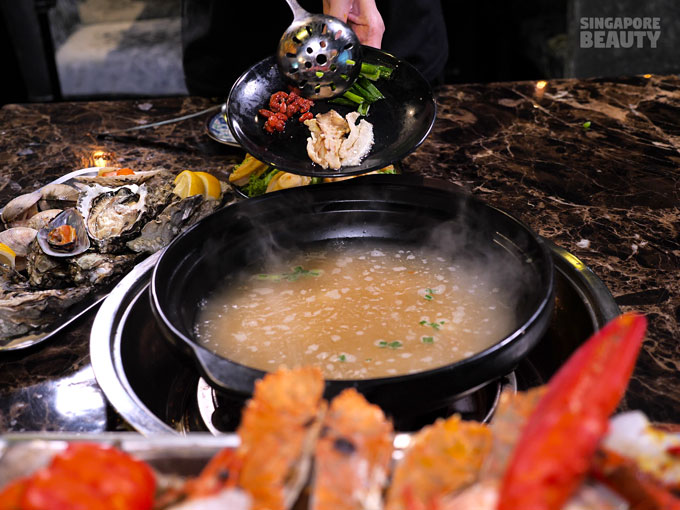 You can also choose to hotpot using a clay pot instead of the traditional split dual pot.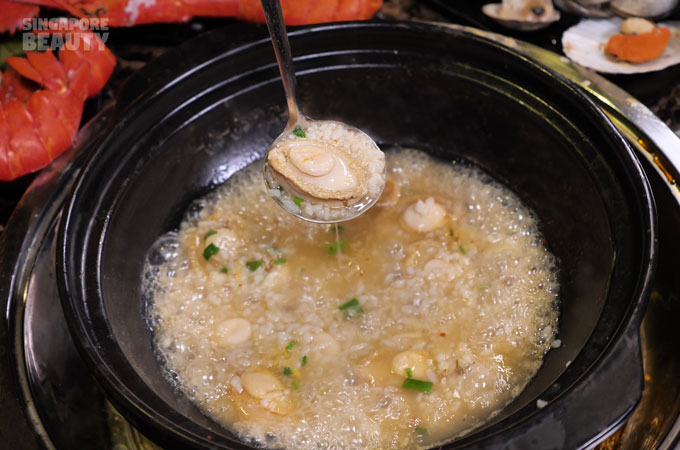 This is how it works, choose a soup base (collagen, chicken, pumpkin, lobster) and hotpot as usual after which use the thicken broth to cook a clay pot of piping hot porridge or (Cantonese) jook.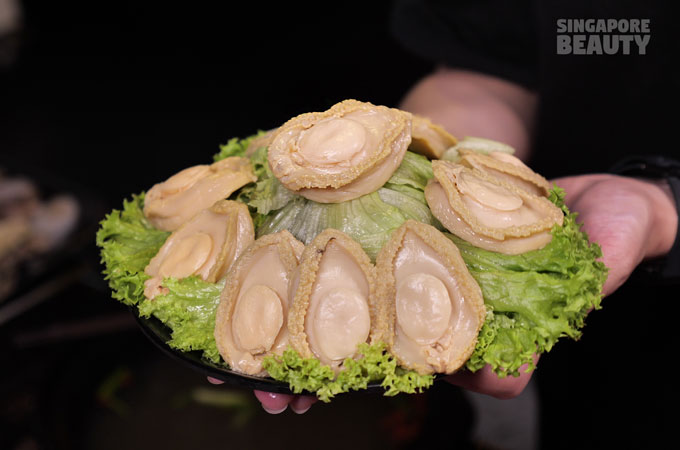 Quote Singaporebeauty and get a set of abalones (8-10 pcs) for 4 pax diners (limited to the first 60 sets) to make your very own complimentary abalone porridge infused with all the seafood goodness.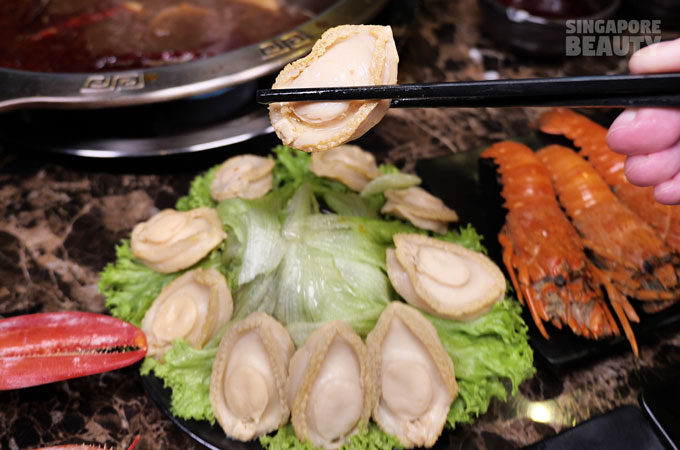 Check out the size of the abalones. This is an offer too good to pass.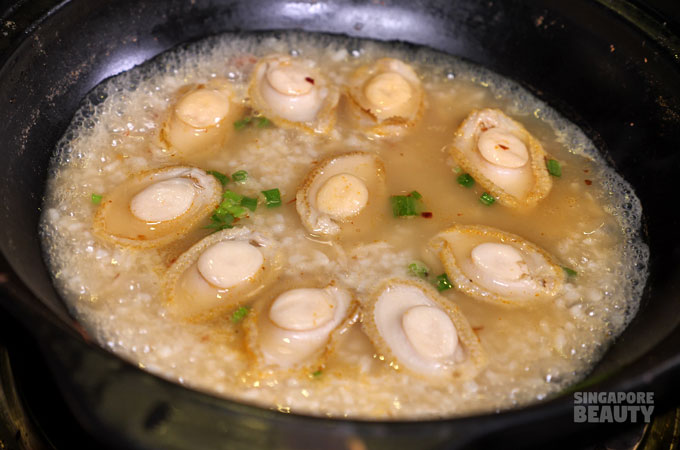 How to resist a bubbling pot of thick abalone porridge? You have to say yes to this! Call and check if the abalone sets are fully redeemed to avoid disappointment.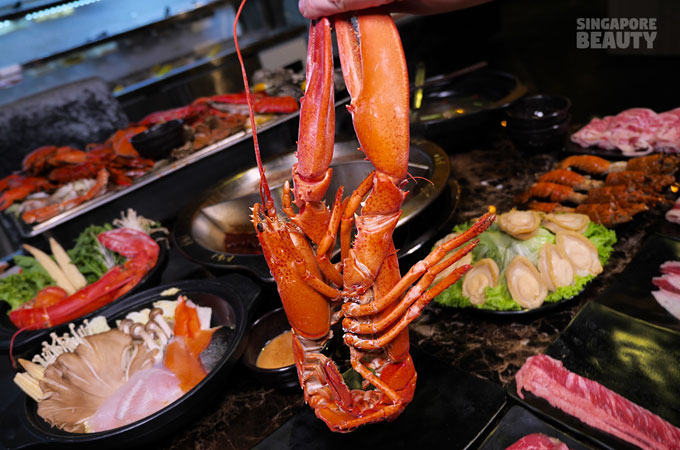 Each diner also gets half a complimentary Boston lobster for those choosing the seafood hotpot buffet with the international buffet.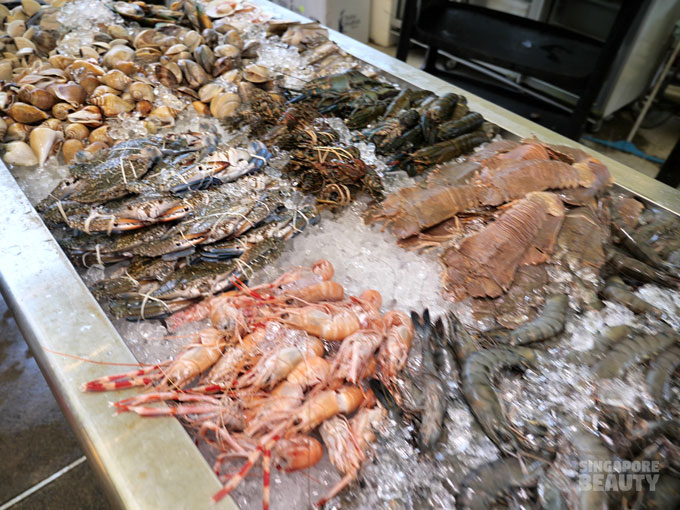 No matter which soup bases you are into, the seafood is a must have at the Three Peacocks hotpot buffet.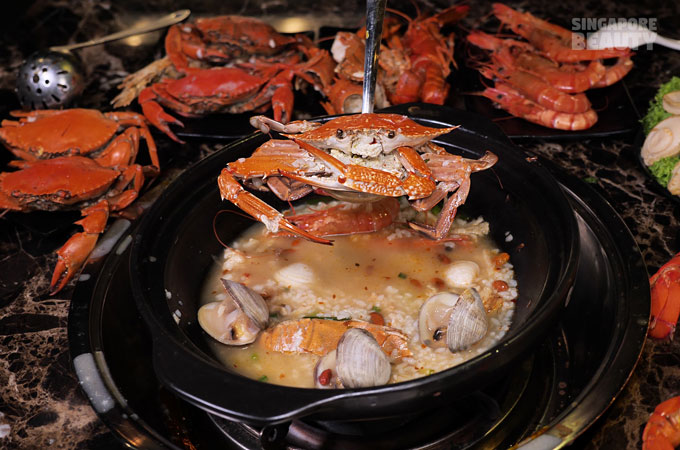 Simmering flower crab and clams in thick porridge add a sweet seafood flavour to it.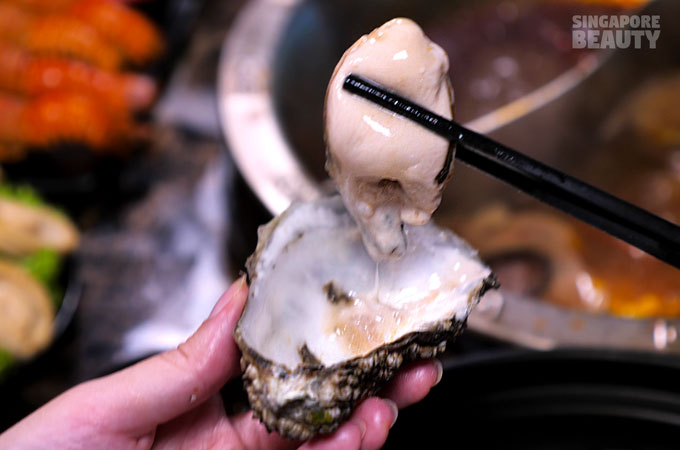 Live Japanese oyster best eaten fresh with lemon juice. Plump, creamy and soft texture. Best of all, this is included in buffet and free flow.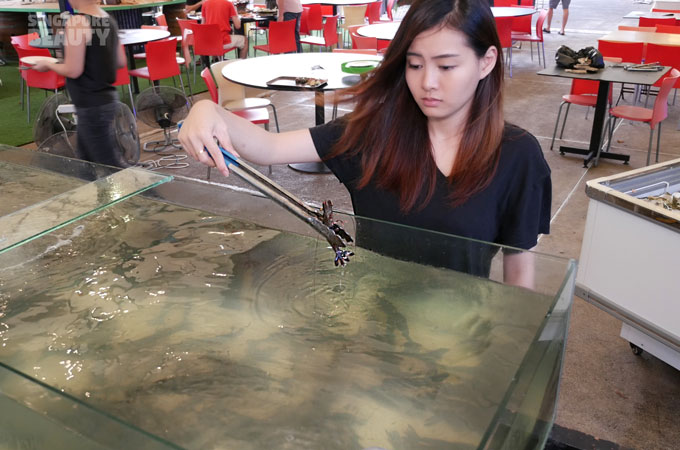 Catch your own live prawns from the 2m tank.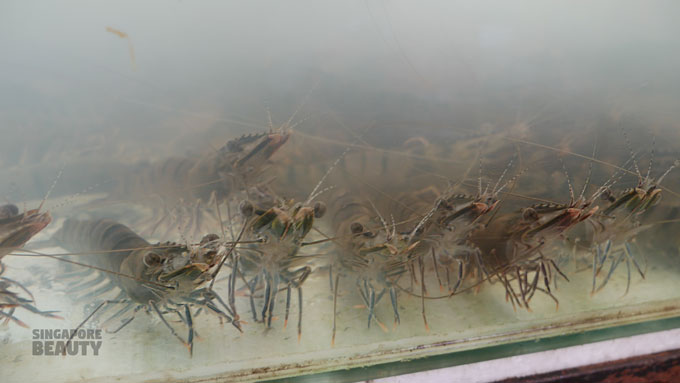 With so many live catch, this seafood hotpot buffet is worth going to!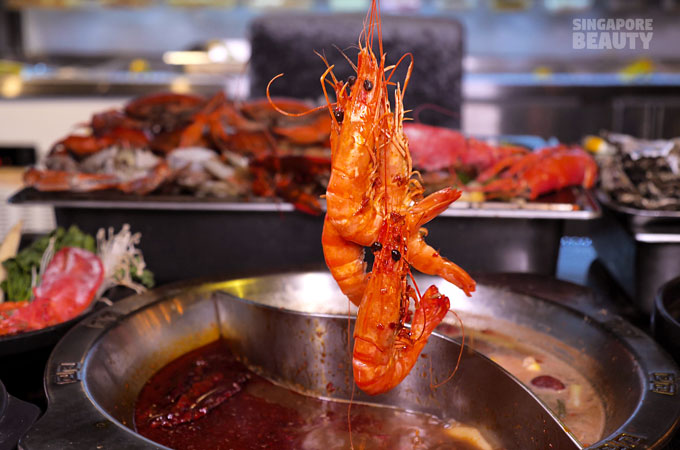 Reward for catching will be some crunchy sweet prawns, so fresh you will be wowed.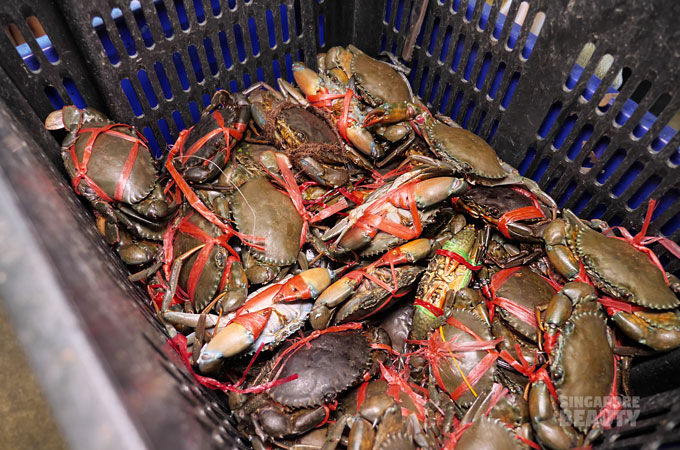 Look out for this basket of live mud crabs too! These are dispatched for your convenience at the seafood ice bed.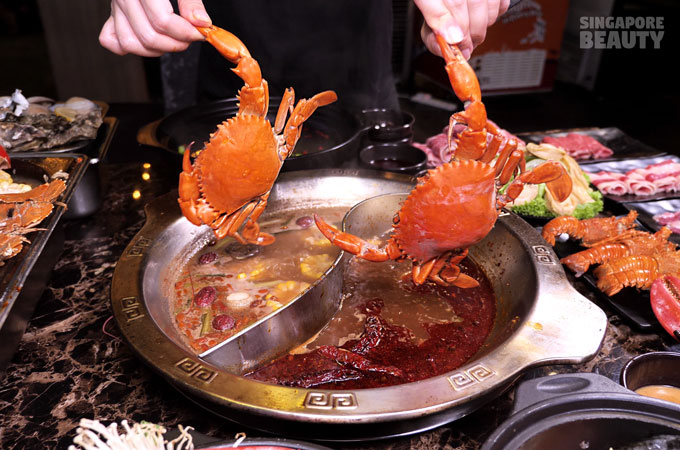 Mud crab to go with some savoury soup bases of your choice.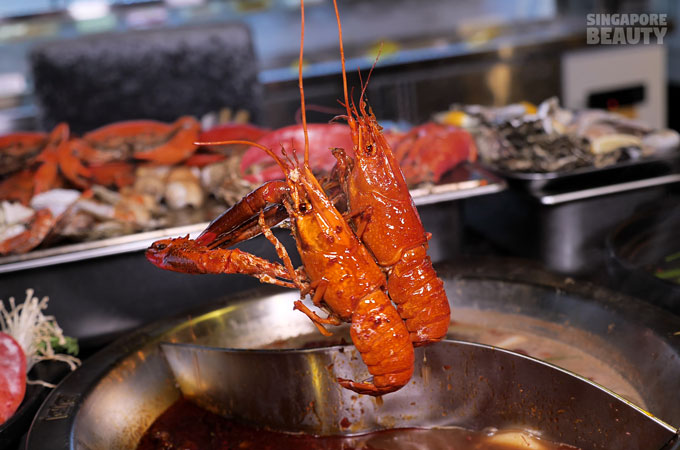 How about some mala crawfish?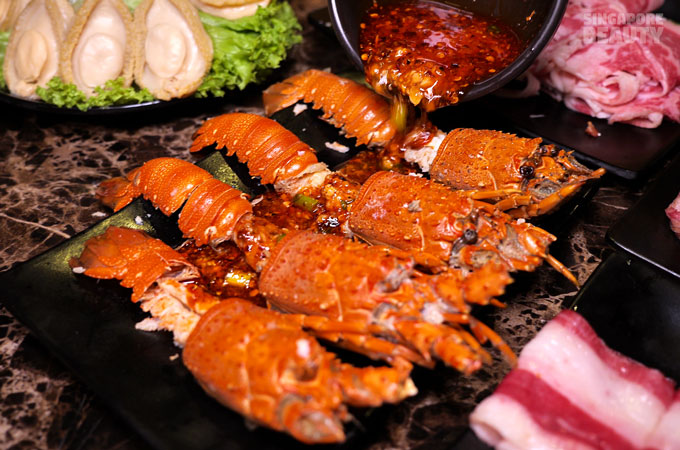 Mala baby lobsters? Yes please.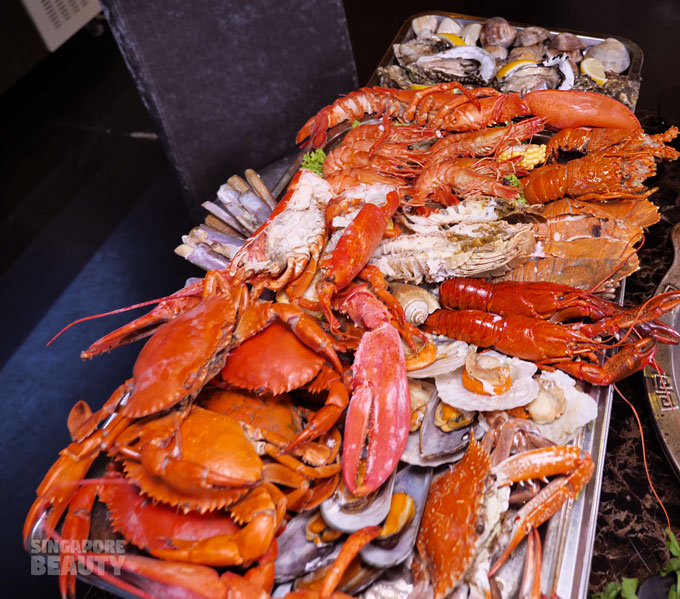 This seafood spread is insane for a buffet and you need to give it a try.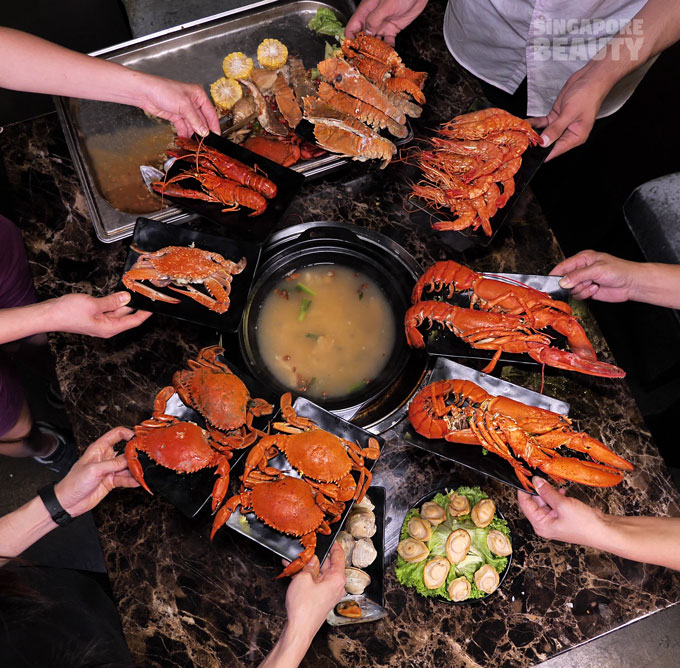 Enjoy your seafood party at The Three Peacocks seafood hotpot buffet restaurant with access to the international cuisine spread at the BBQ alfresco area.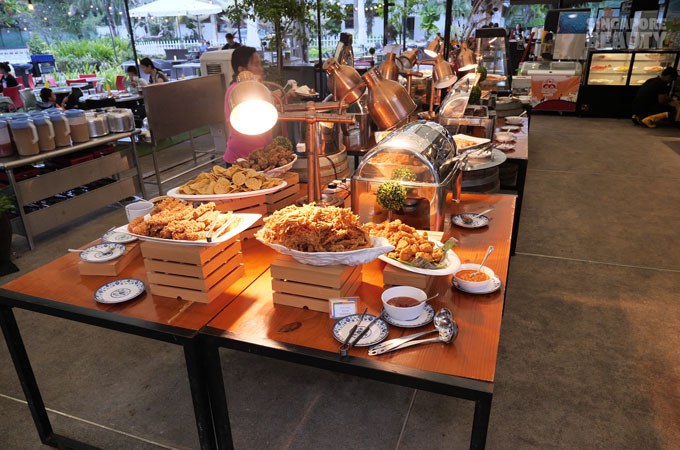 The international cuisine spread at the BBQ alfresco area.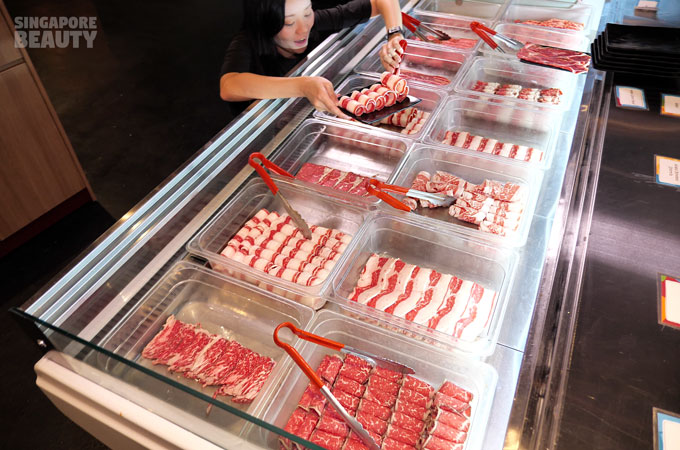 Want more? There are 14 types of beef and pork daily including wagyu and iberico pork.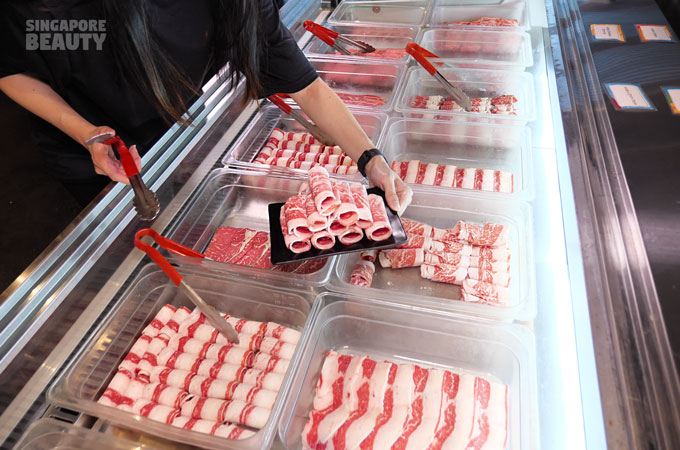 Beautiful meat rolls cut daily for hotpot with a good balance of fat and meat ratio. Some are more tender with higher marbling fats and some are higher in lean meat ratio.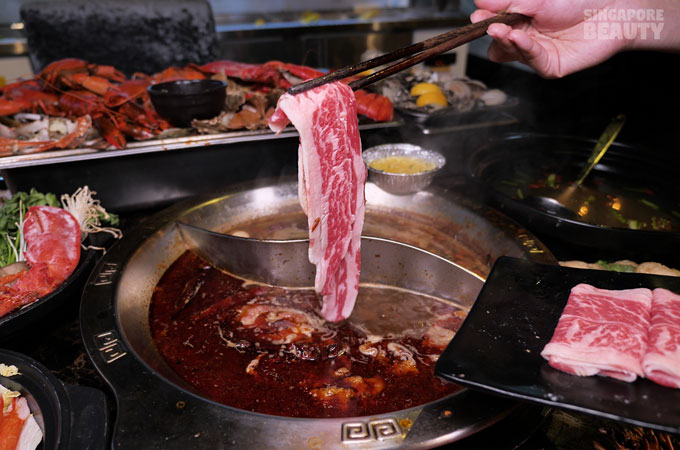 These are perfect for hotpot cut to the optimum thickness.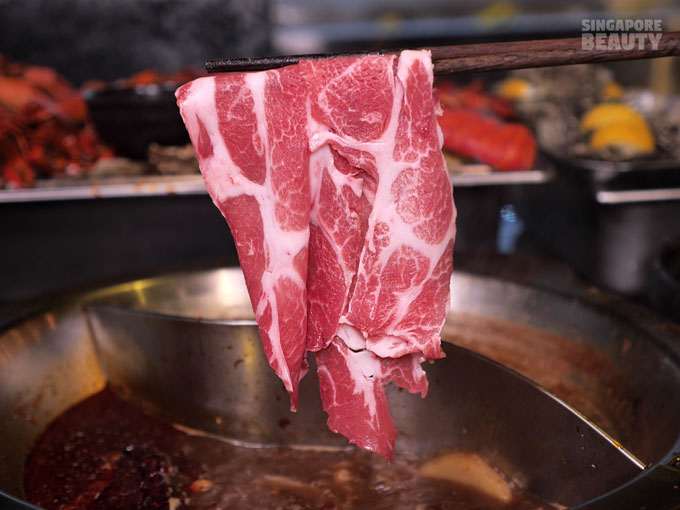 These Iberico pork are great for hotpotting too.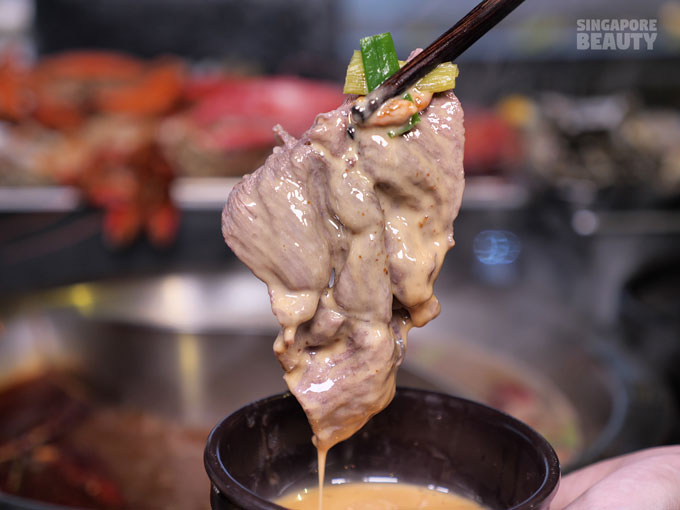 There are more than 20 types of dips available to please everyone. For meats, the peanut butter and sesame sauce dip compliments them well.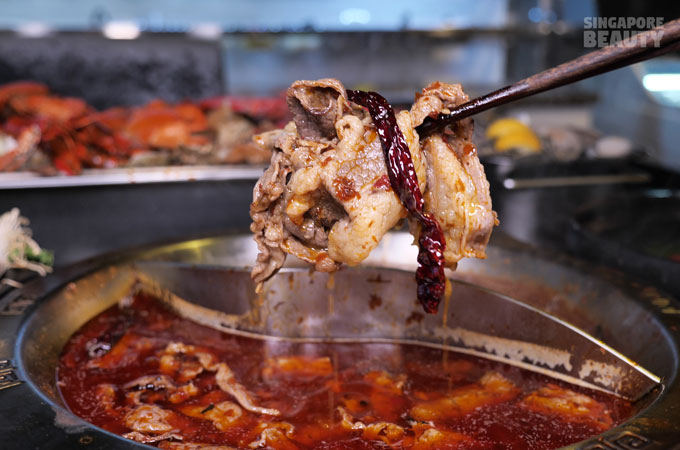 For mala soup base, the meats are best eaten without any dips, the meats are very flavourful after cooking in the rich mala.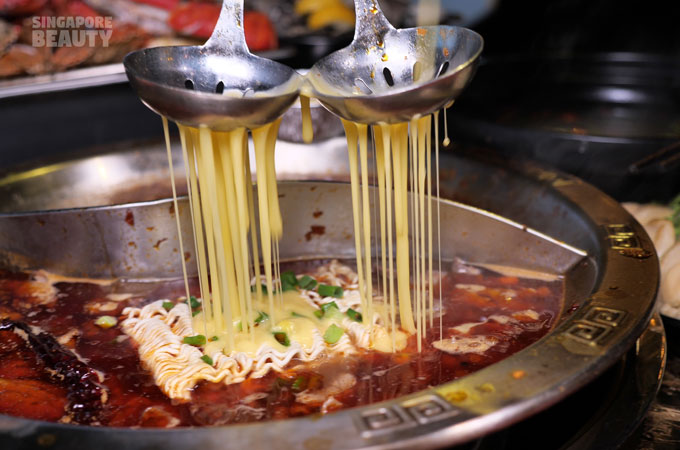 End your savoury soup base with instant noodle and a egg wash to soak up the rich soup base after cooking all the seafood, meats, greens and surimi.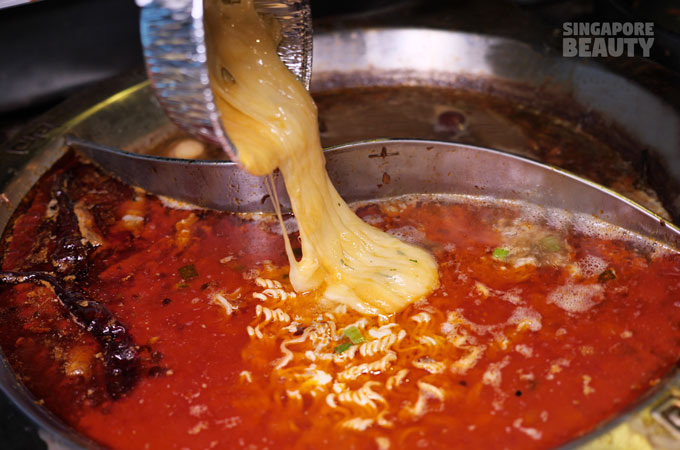 Enjoy a blanket of melted cheese on these noodles or any way you fancy.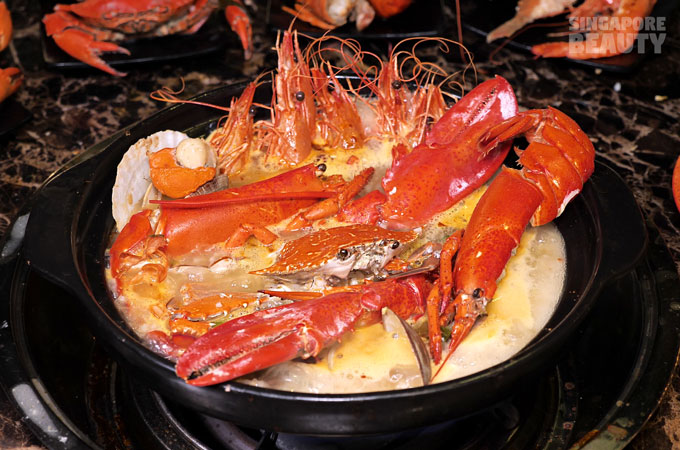 Be it this clay pot porridge hotpot style that brings you to The Three Peacocks hotpot buffet or the dual split traditional pot or the western soup bases (pumpkin, onion and lobster soup), there is something for everyone here.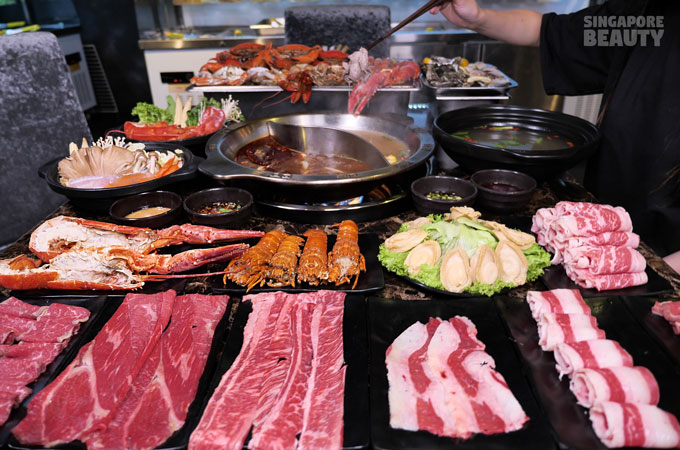 Time to head over today for this seafood, Iberico, wagyu buffet with International cuisine spread.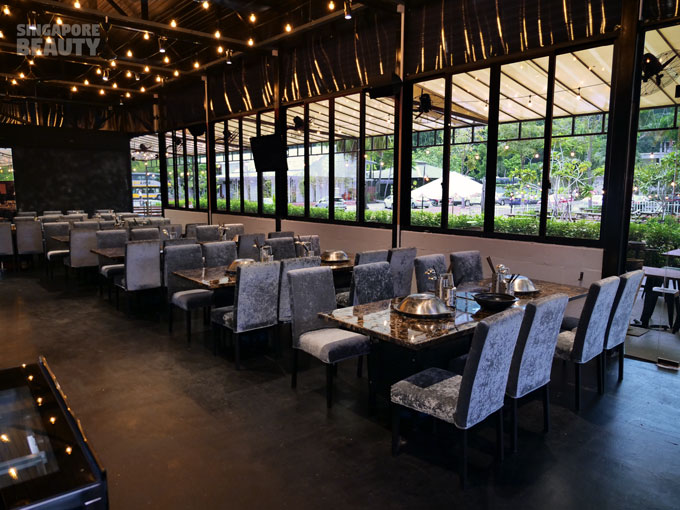 Indoor air conditioned setting with cushioned high back chairs and unbroken lush green landscaped views.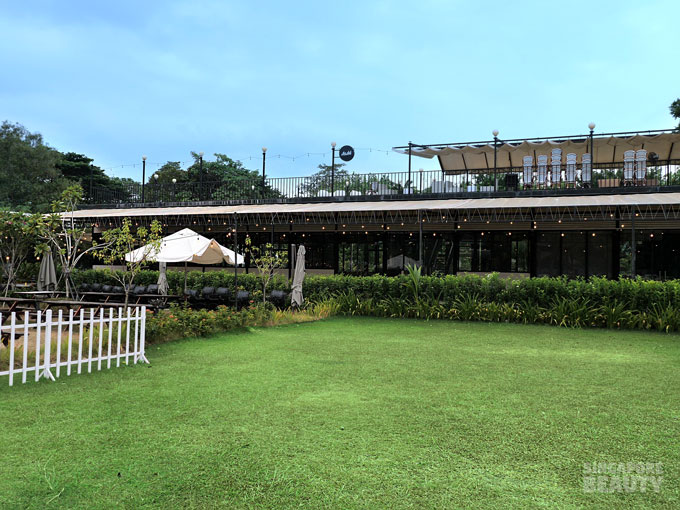 Head over to The Three Peacocks Seafood Hotpot buffet restaurant today.
Two pricing for The Three Peacocks hotpot buffet.
a) Full hotpot buffet – seafood+meat+iberico+wagyu Hotpot/porridge claypot + international buffet.
Adult $41+
Kids (7-12 years old) $20.5+
Kids (6 and below) FOC
Senior Citizen $31+
Milk tea and soft Drinks add $4+
Free half Boston lobster per pax
Promo1 : Quote Singaporebeauty at the cashier to get free abalone (require min 4 paying adults of $41+ buffet) only 60 abalone sets available!
b) Meat only hotpot buffet – iberico & wagyu & veg & surimi (Exclude All seafood & international buffet)
Adult and Senior $31+
Kids (7-12 years old) $15.5+
Kids (6 and below) FOC
Soft drinks add $4+
No time limit for both options.
No GST. All price SGD per pax and subject to 10% service charge.
Hotpot buffet operating hours:
Mon-Sun: 5.30pm to 11pm
Last walk in 9.30 pm
Location:
The Three Peacocks
8 Port Rd, Singapore 117540
(Close proximity to Labrador Nature Reserve)
Upon arrival, you will see their huge outdoor BBQ section. Indicate to the cashier you want indoor hotpot. You will be guided to their indoor restaurant for hotpot after payment.
If you are driving, parking is free with lots of space.
15 mins walk from Labrador MRT station (CC27)
Reservations:
Call them at 91787876 or 62510213
Brought to you by The Three Peacocks