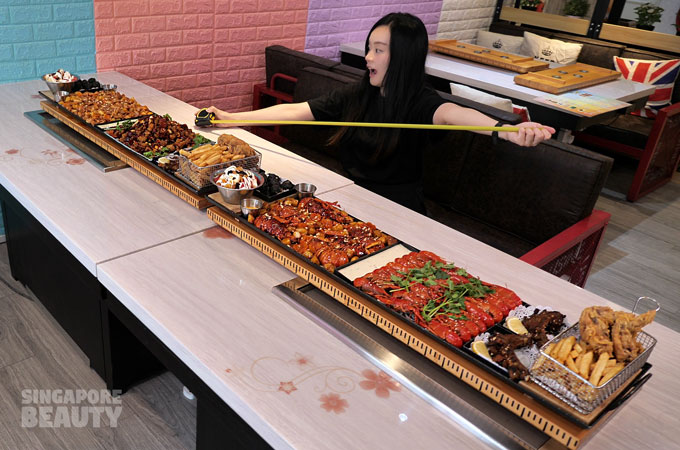 DM Chicken has mixed platters that can be as long as 2 metre to feed 8 pax & more. Spicy pop corn chicken and a duo seafood – crawfish and lobster platter – are newly added to the DM Chicken platter menu.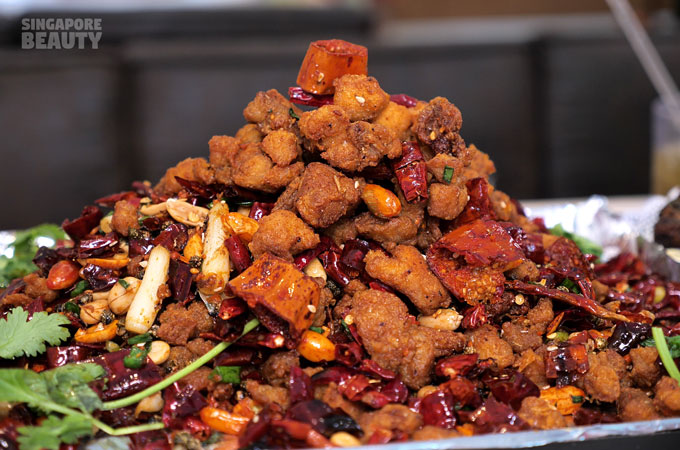 Spicy pop corn chicken with a good amount of crunchy bell peppers, dried chilli, ground nuts, spring onion, parsley and a strong aromatic dust of grounded spices coating each morsel of chicken.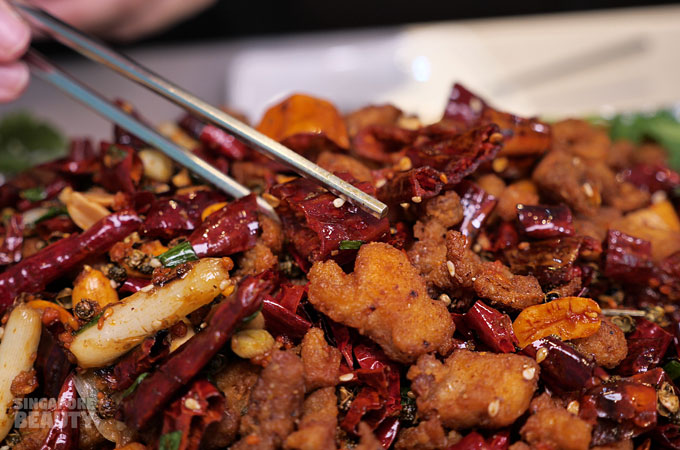 Light golden crust chicken bites peppered with savoury chilli pepper flakes and occasional pops of sesame seeds.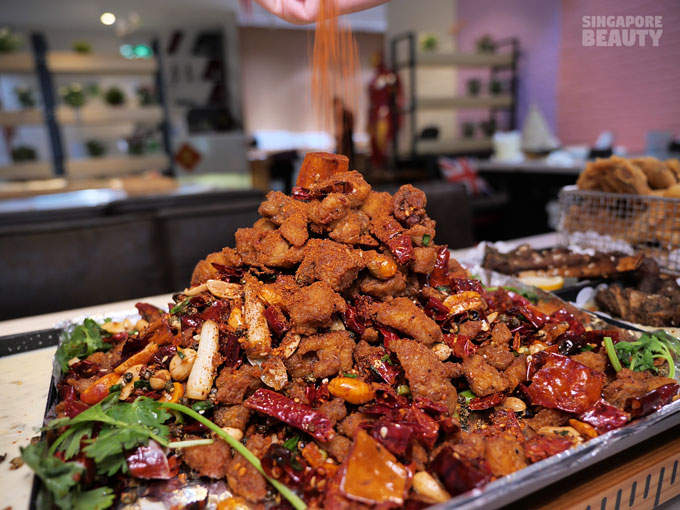 You are welcomed to up the game with extra chilli powder (request from the service crew for extra kick of dry chilli powder).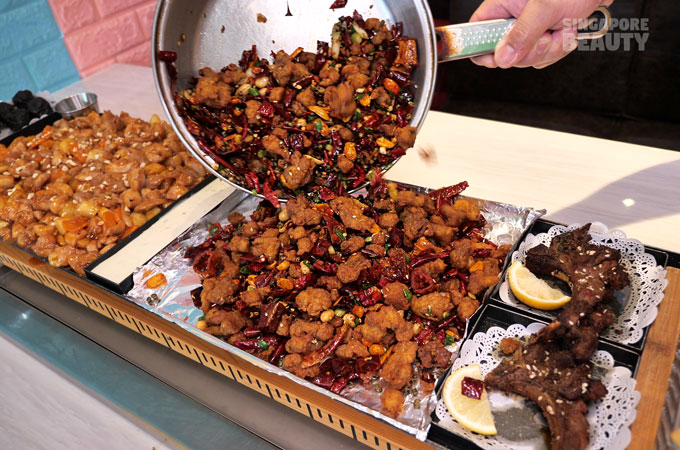 Freshly prepared for each order, these spicy pop corn chicken are created from a special recipe and gone through many rounds of refining to get the perfect golden bites and flavours.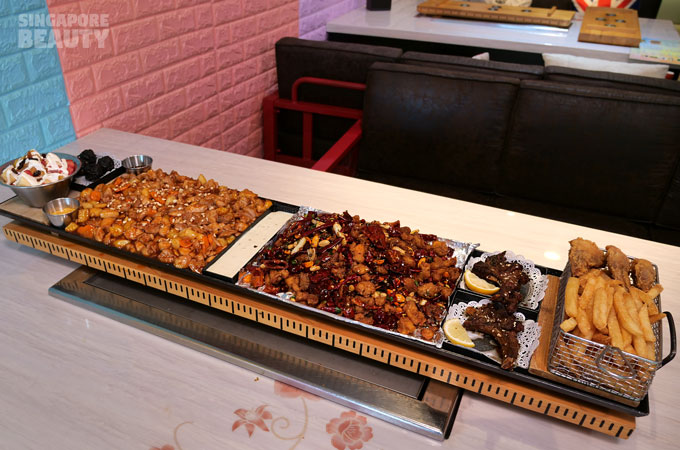 This spicy pop corn chicken and DM chicken platter combo (1 metre long) consist of a basket of fat chunky fries, 3 set of chicken wings, 2 set of lamb chop, 3 dips, a salad bowl and squid balls at $90++.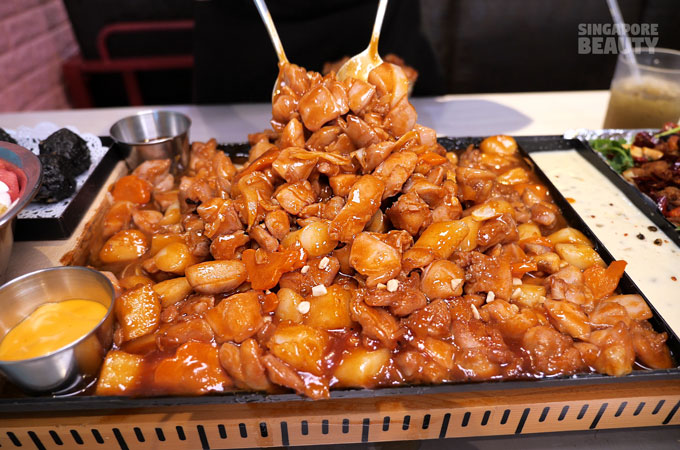 Besides the spicy pop corn chicken, the platter also has the signature DM chicken in sweet and savoury sauce with bite size rice cake, potato, carrots and garlic cloves.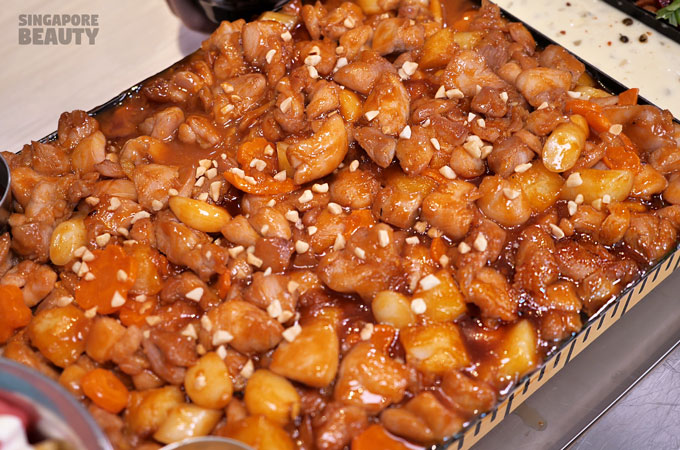 Each morsel of chicken is tender and coated with a sweet sauce with a light hint of heat.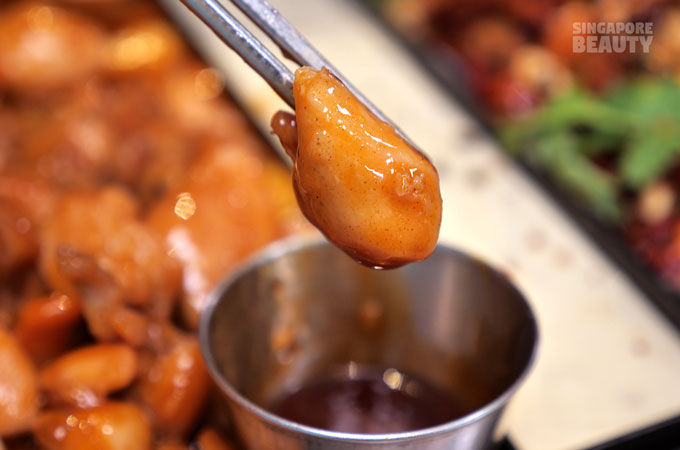 You can layer the flavours with the dips provided for an added tangy dimension to the original sweet flavour.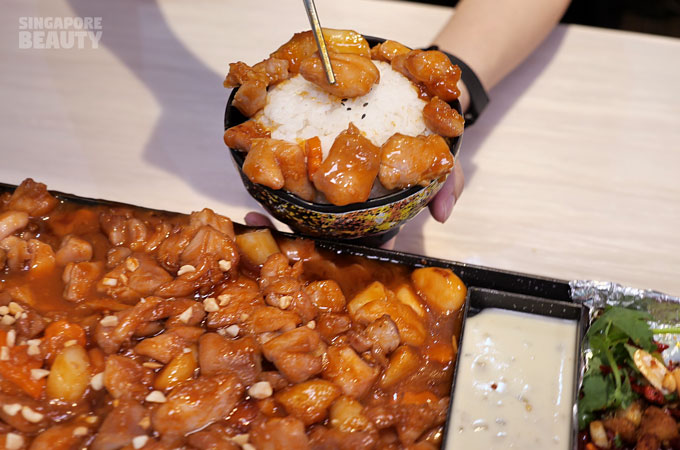 Best to eat these savoury chicken bites with the steamed rice (add on order).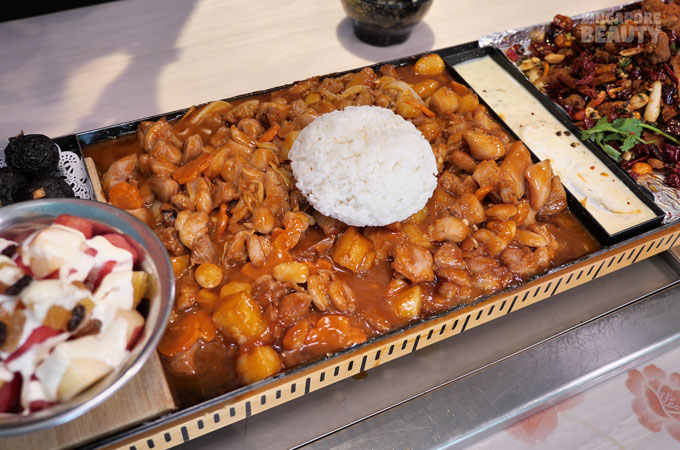 Or you can mix in the bowl of steamed rice to soak up the gravy.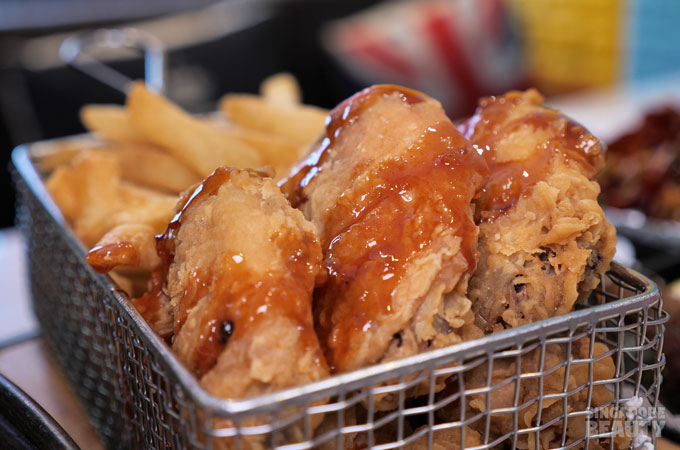 Enjoy the chicken wings in fryer basket with a drizzle of sweet chilli sauce.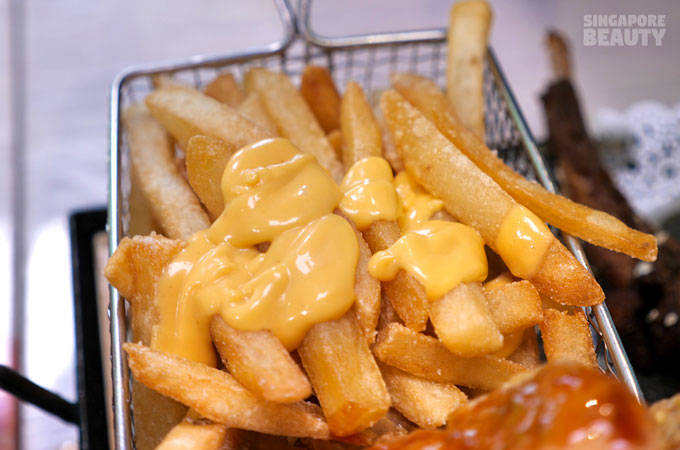 Fries with good amount of crisp on the outside to go with the cheese sauce.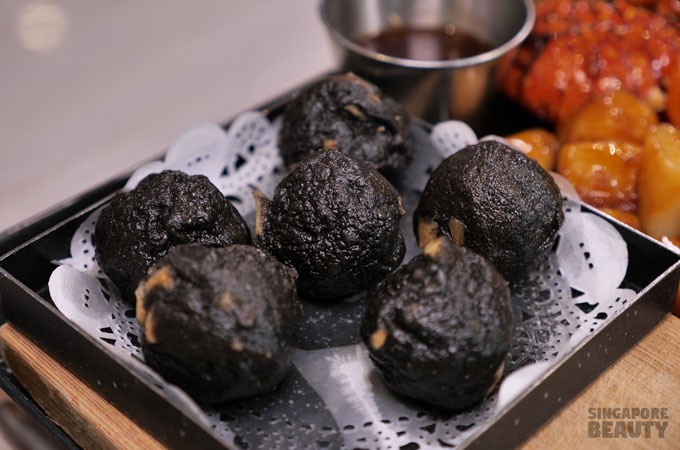 Good old umami squid ink balls with real squid bites and a chewy skin.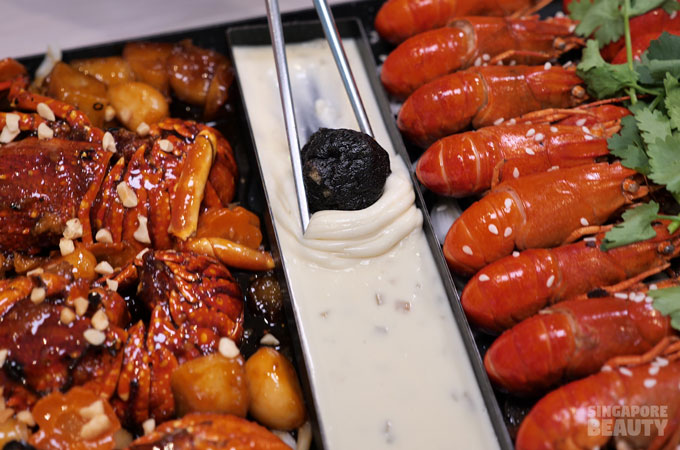 Dip them in the lap pool style mayonnaise to add that creamy sharp flavour to the squid ink balls.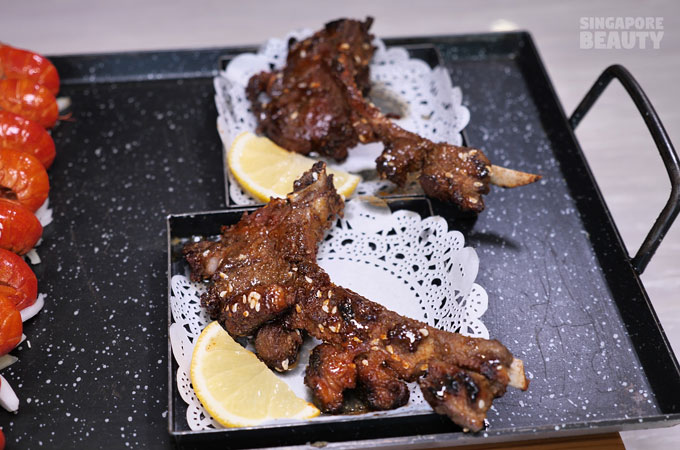 2 intensely marinated lamb chops on bones that ooze strong flavour of grounded spices and herbs.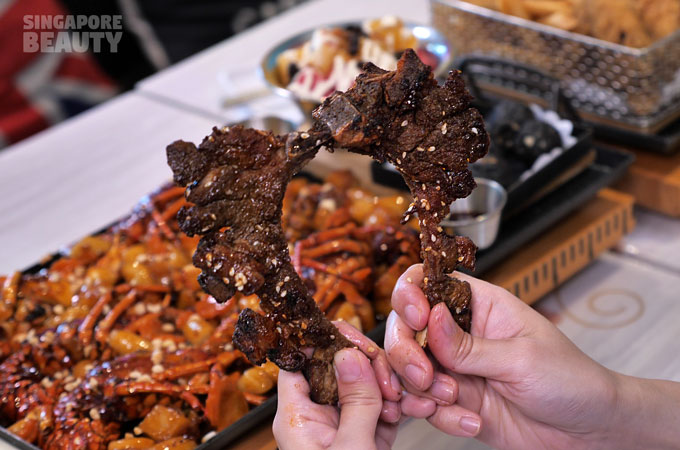 Not the fall off the bone type and has a bite of chew to it.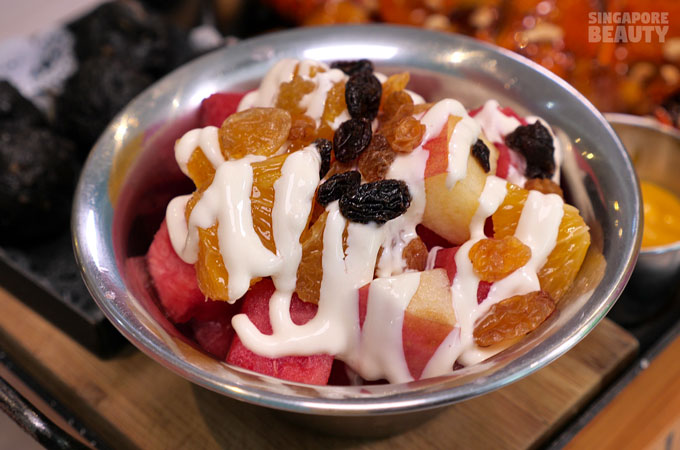 They also have a bowl of mixed fruit salad with a creamy dressing to cleanse the palate after the savoury meal.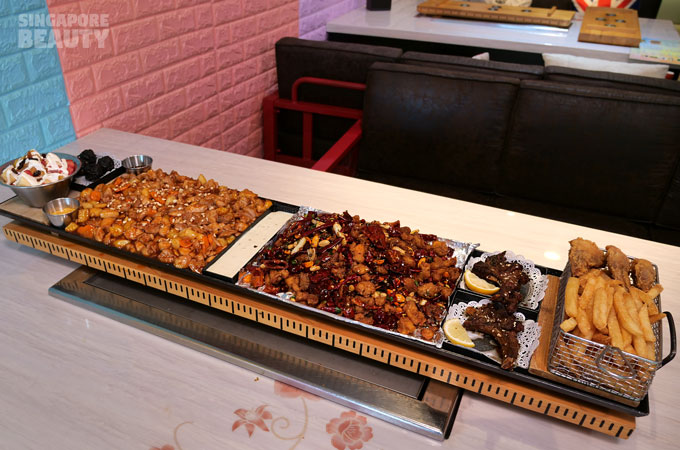 The other lobster and crawfish combo platter (1 metre long) consist of a good amount of lobster halves, crawfish, a basket of fat chunky fries, 3 set of chicken wings, 2 set of lamb chop, 3 dips, a salad bowl and squid balls at $168++.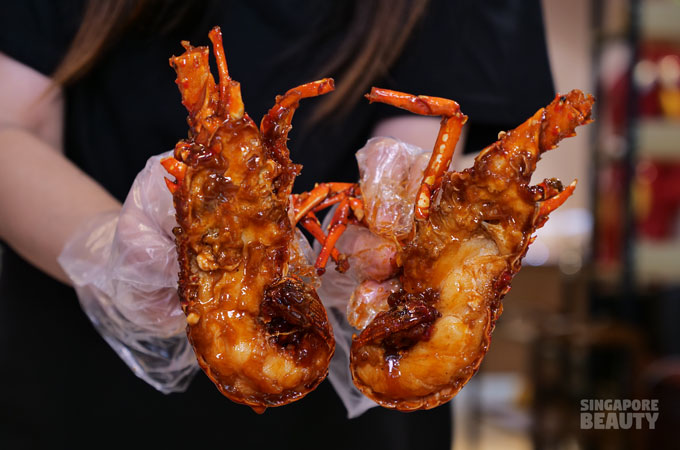 Consist of lobsters halves drenched in sweet savoury sauce and a fair amount of crunchy lobster flesh.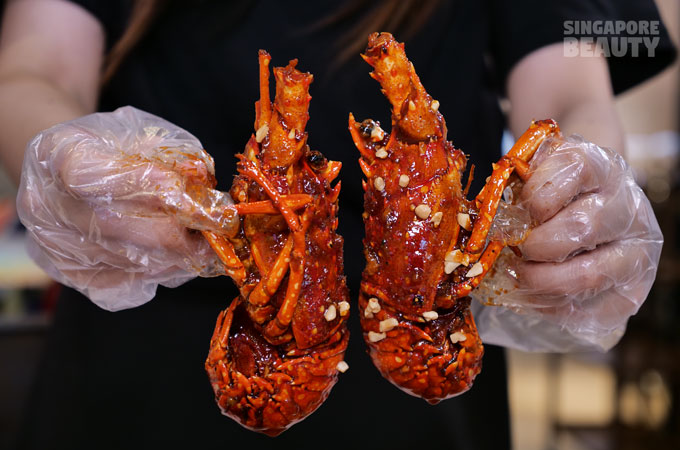 The types of lobster used are the spiny lobsters. Gloves are provided so you can enjoy the savoury crustacean fuss-free.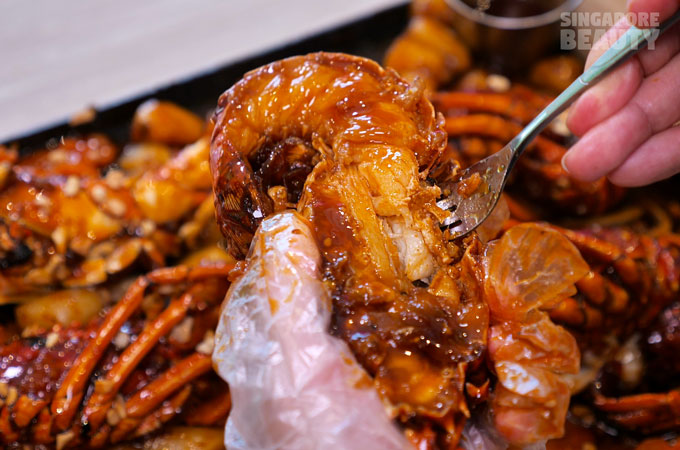 Lobster is palm size and has a fair bit of flesh to dig into.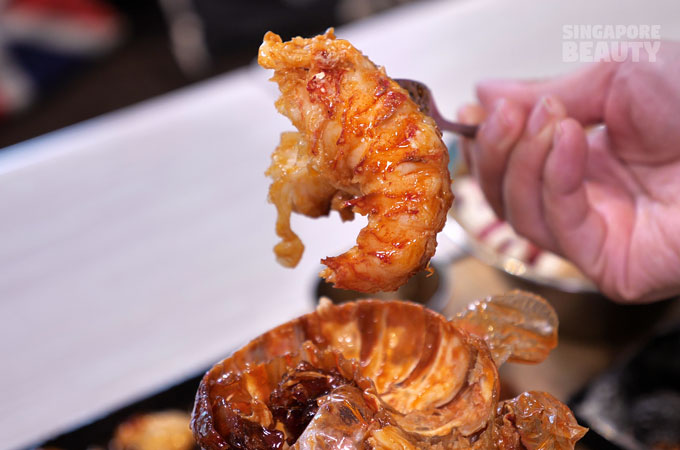 Takes a bit of effort to get the flesh out from the shell but the reward is sweet.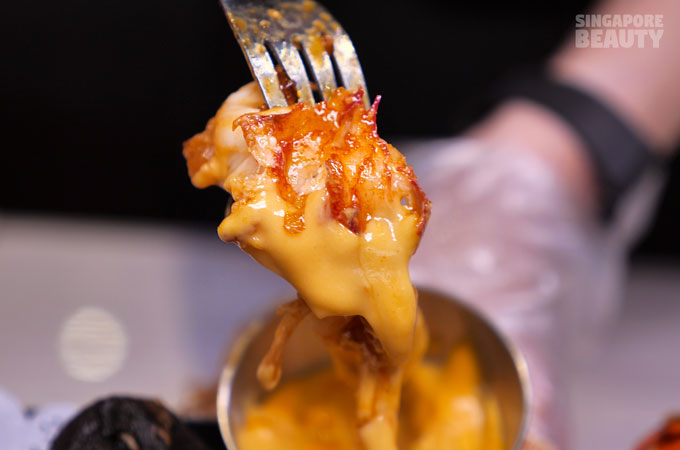 The cheese sauce makes it even better.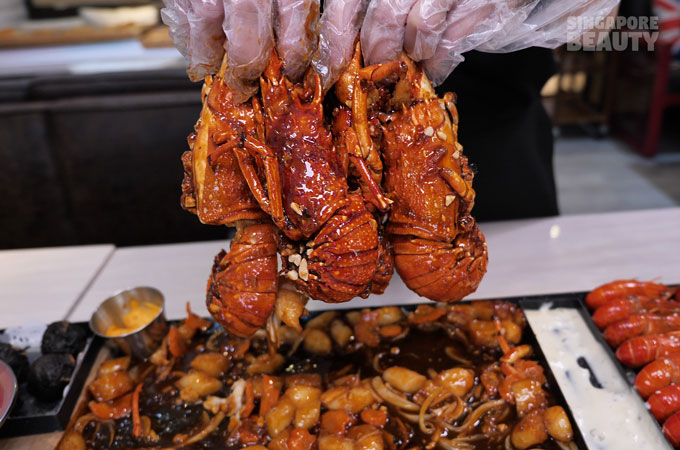 Time to share the joy among your friends.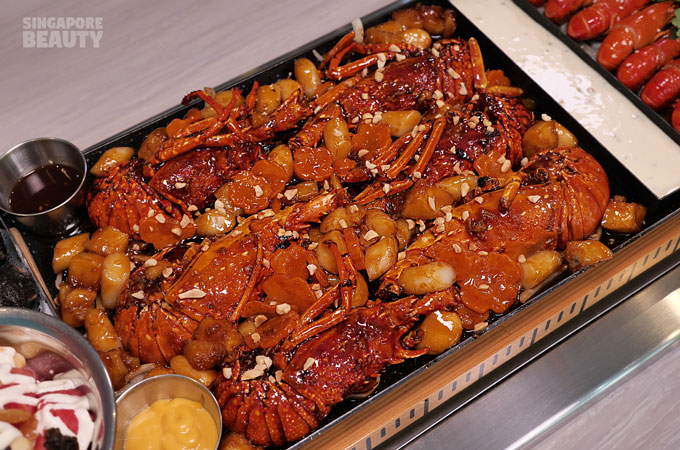 Very tempting lobster halves in savoury crimson red sauce and some chewy rice cakes.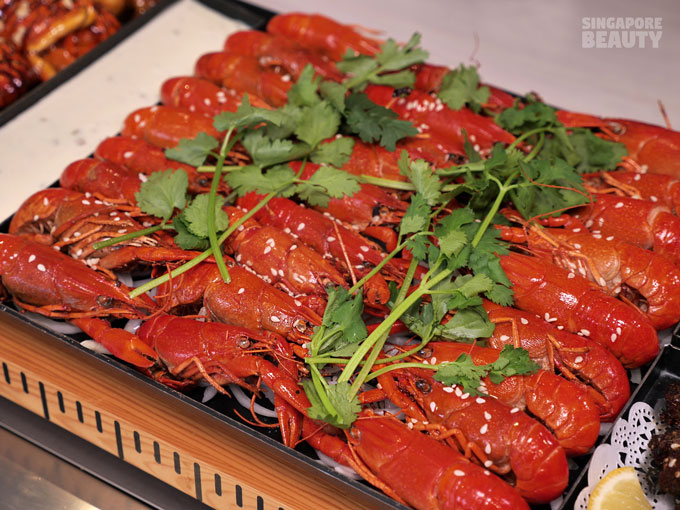 Crawfish on a bed of crunchy onions with sweet morsel of flesh in a tight bright red armour. Take a bit of effort to pry open those shells and enjoy the head butter.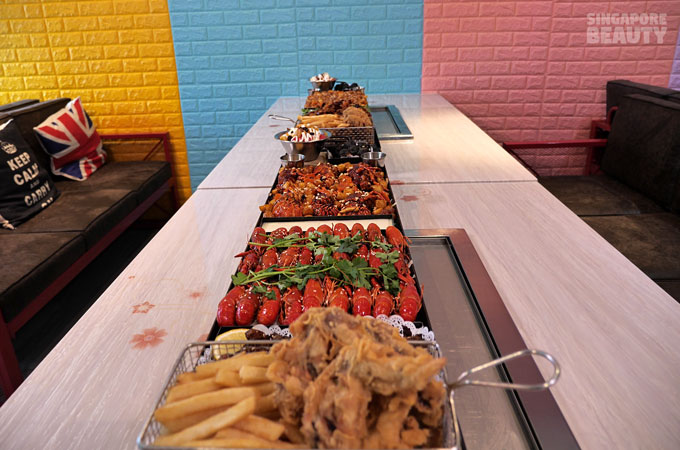 The amazingly 2 metre long platter for 8 pax or more with a good mix of hearty seafood and meats, sinful wings with fat fries and healthy salad sides.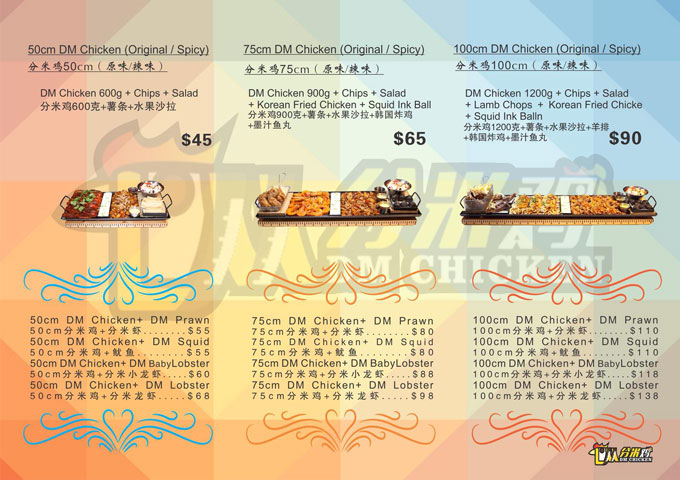 The two meter platter spicy pop corn chicken set with duo lobster set combos are newly special combos that is not yet in the menu.
The following two are also not in menu:
Spicy popcorn chicken with normal chicken combo $90++
Crawfish (named DM BabyLobster in menu) and lobsters combo $168++
You probably need to make reference to this article to place your order. They have a total of 7 combo types of three different length to order starting from $45++ for the most basic combo.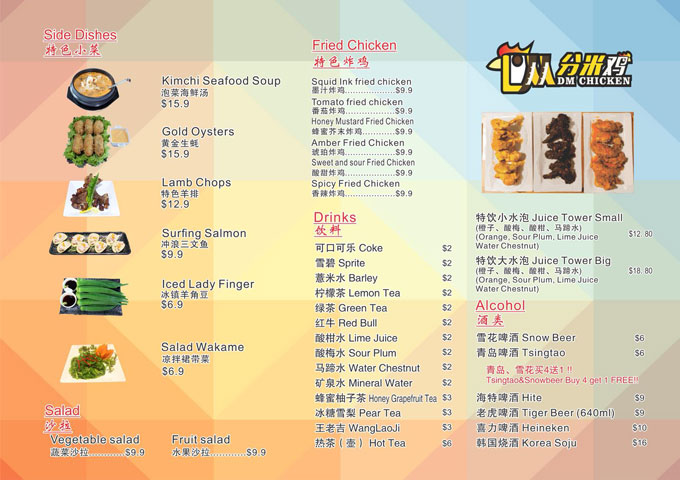 Beside platters mains, they also have sides and beverages to add on. Time to explore these new platter combos and you might find some new favourites added to your what-to-eat list.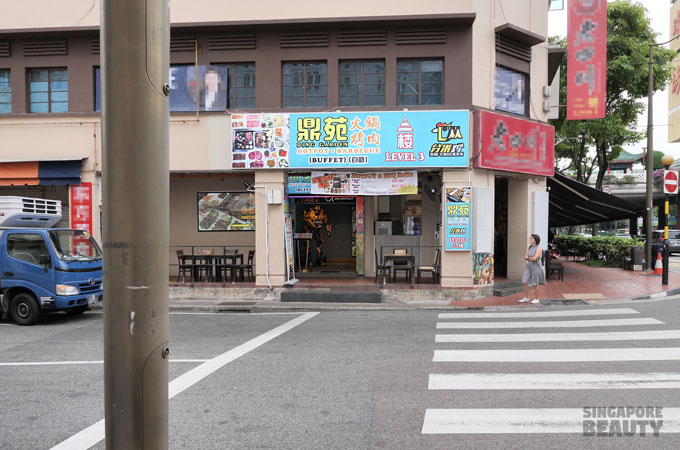 Head over to DM Chicken (Ding Garden) today!
Location:
Exit E or exit A from Chinatown MRT.
191B New Bridge Road (take their lift up to level 3)
Singapore 059423
Operating Hours:
11:30AM – 11:30PM daily
Reservations:
69092758
Brought to you by DM Chicken.