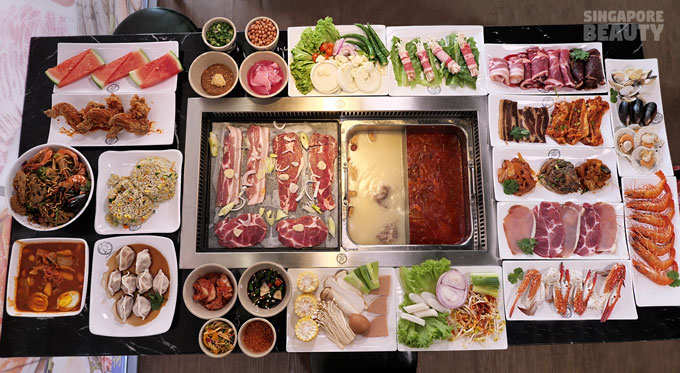 Shi Hao Hotpot BBQ is an all-in-one Korean style buffet restaurant.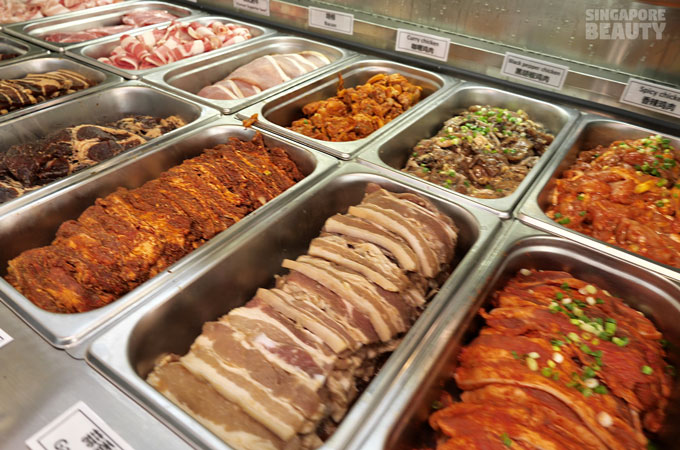 Serving up to 16 types of marinated meat and non marinated meats. Spicy chicken, black pepper chicken, curry chicken, garlic pork belly, bacon, cumin pork belly, black pepper pork belly, Korean superior beef, black pepper steak, non- marinated tenderloin pork, pork belly, spicy pork belly, beef ribeye, Korean sweet sauce pork, shabu shabu pork, beef and many more.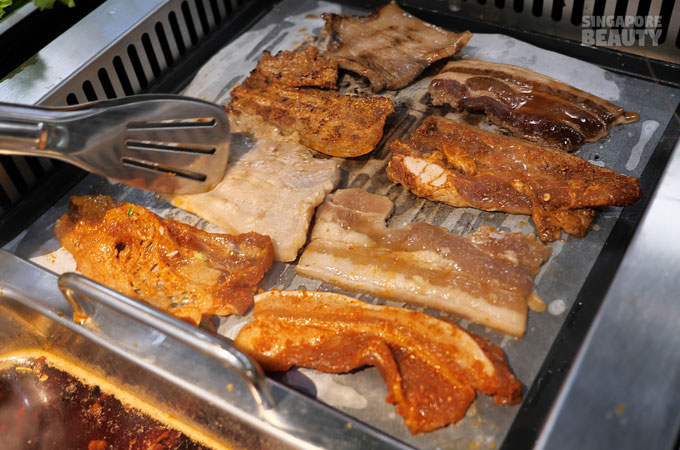 Offering different large cuts of meats in various thickness and marinade for that perfect barbeque experience.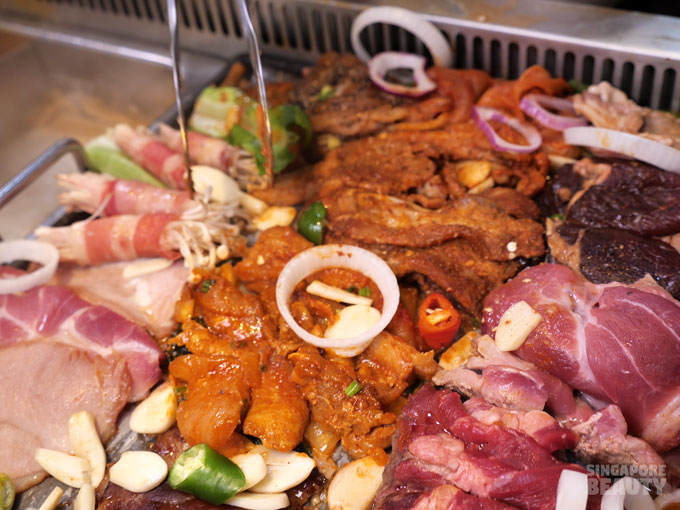 Spicy, salty, sweet and spice-infused types of marinated meats grilling away on the pan.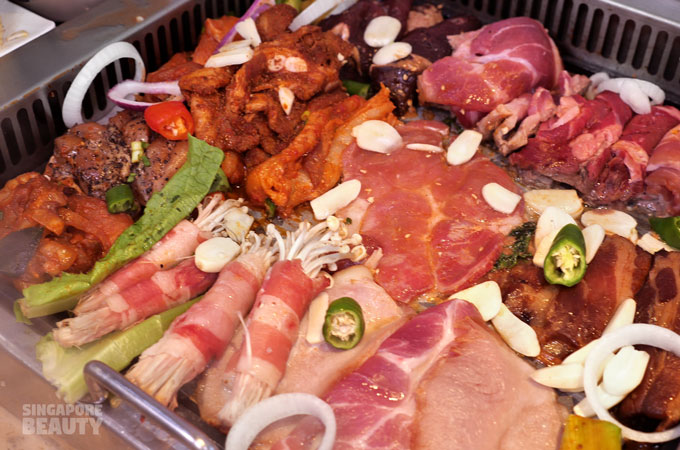 Add in freshly cut garlic, green pepper, sweet onions and leeks for that extra refreshing bite to the golden brown grilled meats.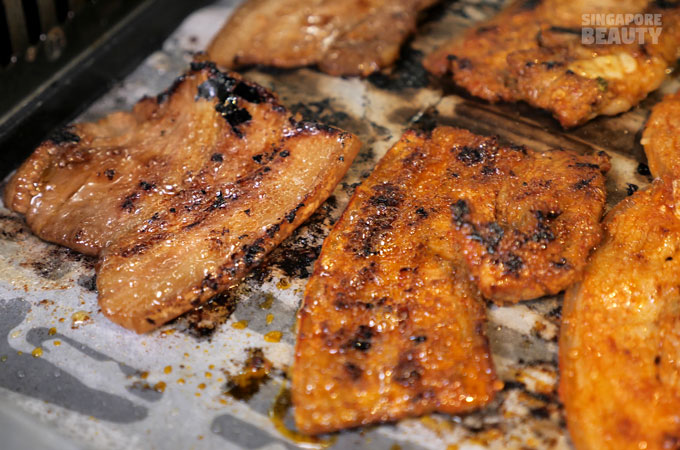 Bacon and pork belly glistering and cooking in their own fats to crunchy strips that is good enough to be eaten on their own.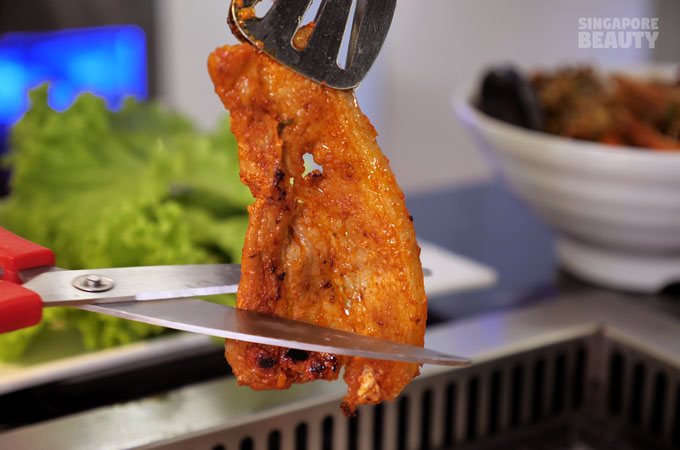 Cut these slabs of char and flavourful pork belly with layer of translucent gelatine like skin to make your own lettuce wrap.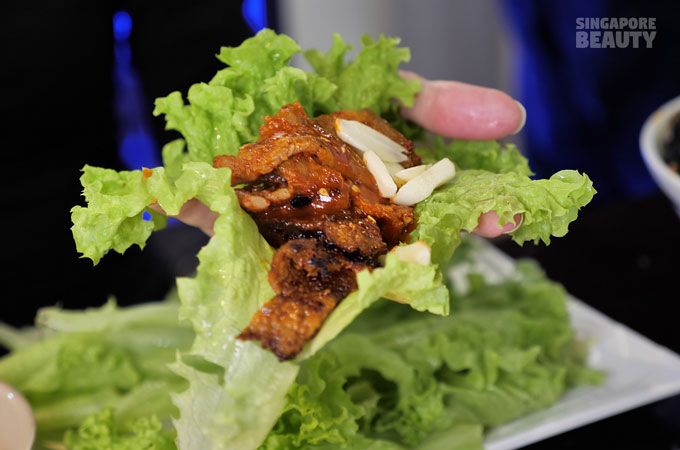 Crisp fresh lettuce wrap with smoky flavoured pork belly topped with Korean spicy sauce and add a few garlic for that extra kick.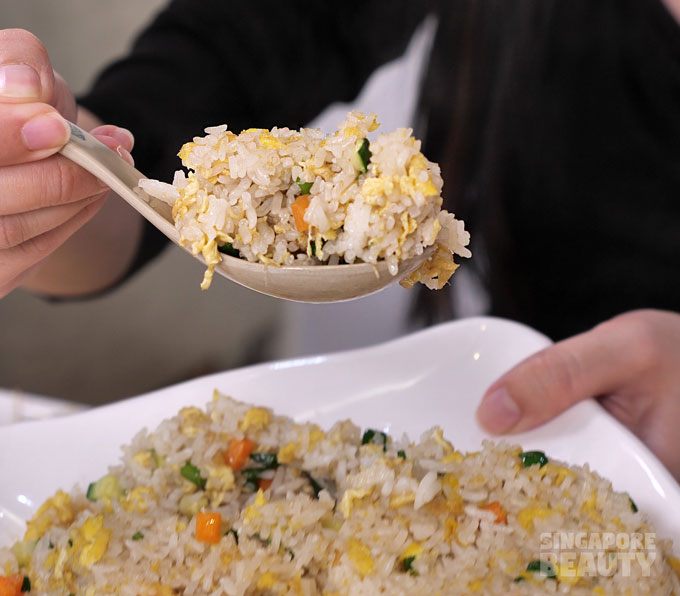 Add in some fried-to-order scrambled egg rice to your lettuce wrap for more body. (Included in buffet)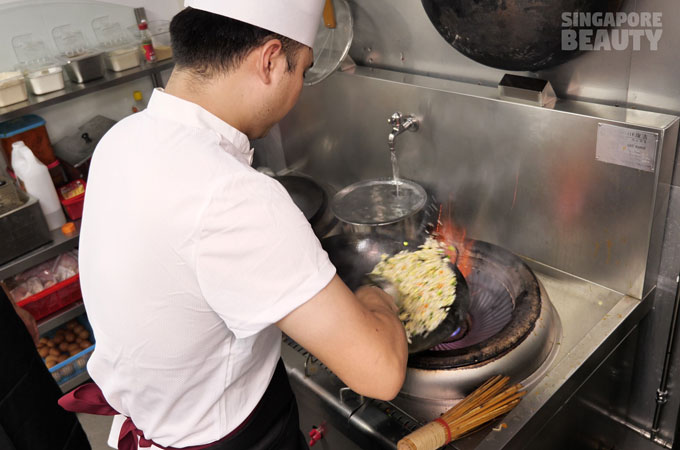 Rice has a slight wok-hei to it, not overwhelming "ashy" but good enough to be enjoyed. The chef tossed the fried rice repeatedly to kiss the hot flame and coat the grains with golden eggy finish for better aroma and texture.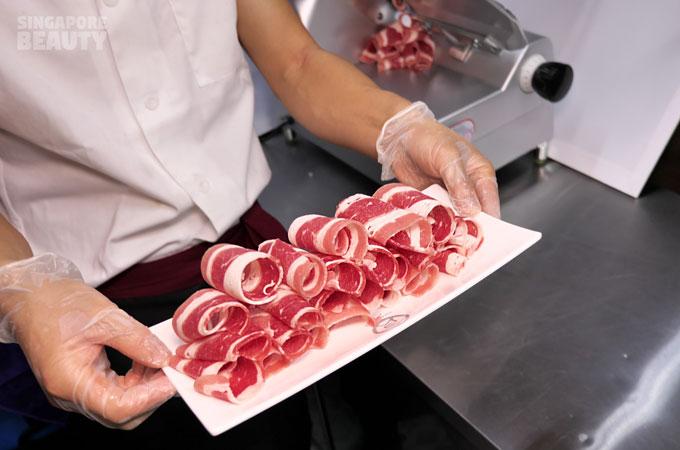 Do remember to get the freshly cut in house superior beef and pork shabu shabu rolls. (Included in buffet)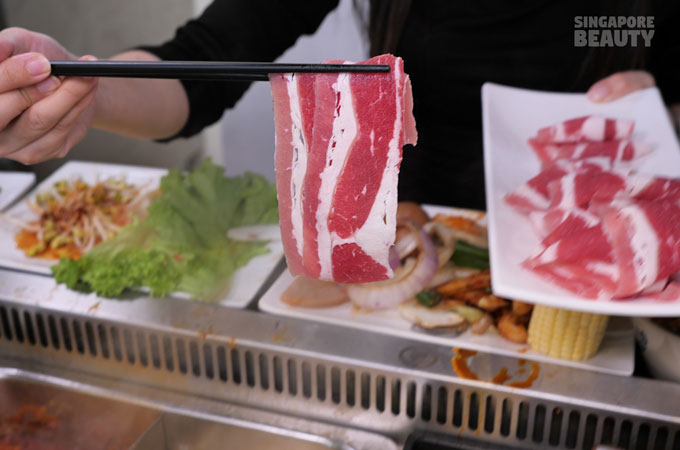 Great for shabu shabu in collagen or chicken soup base to bring out the original sweet flavours of the pork and beef.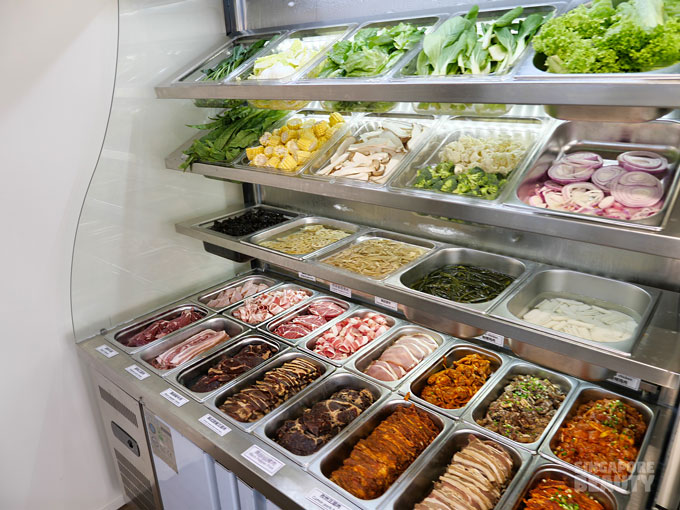 Good selection of 15 types of greens and 16 types of meats for hotpot and grills.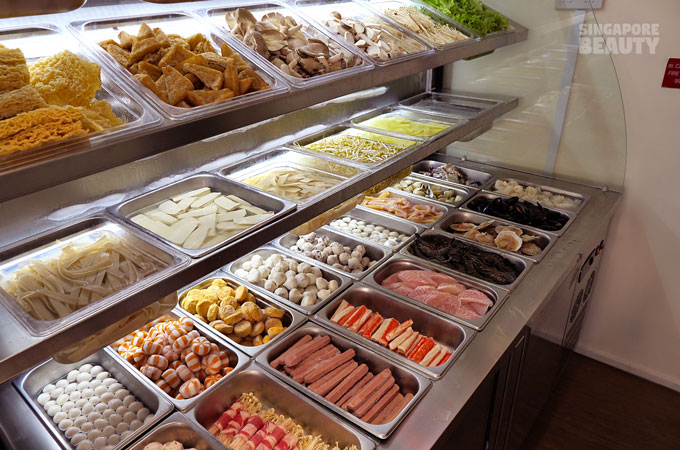 Seafood, surimi, bean products, fungi and various ramyeon (noodles) for hot potting. 2 types of free flow drinks of the day are also included in the buffet.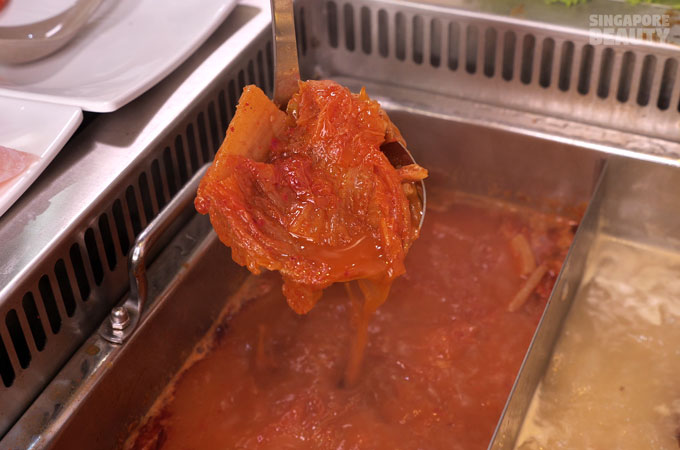 Kimchi, collagen, chicken, tomato, spicy and wild mushroom soup are the soup bases available. The fermented kimchi lends a deep flavour to the soup and is a great soup base to go with the pork belly.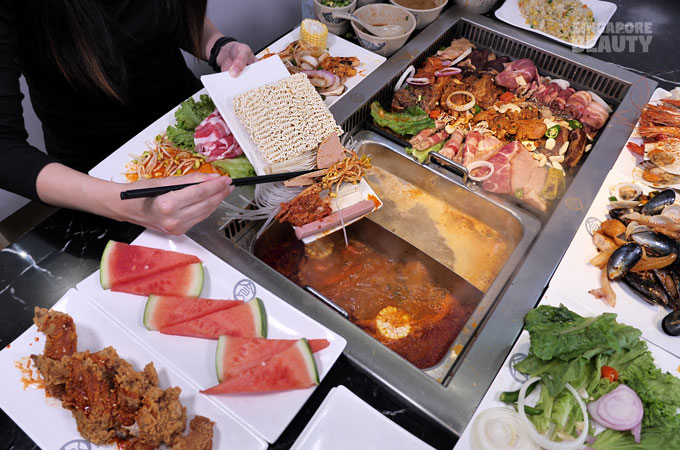 Create your own budae jjigae (army stew) with unlimited hotdogs, luncheon meats, soybean sprouts, glass noodle, enoki, dangmyeon and ramyeon in the kimchi soup base.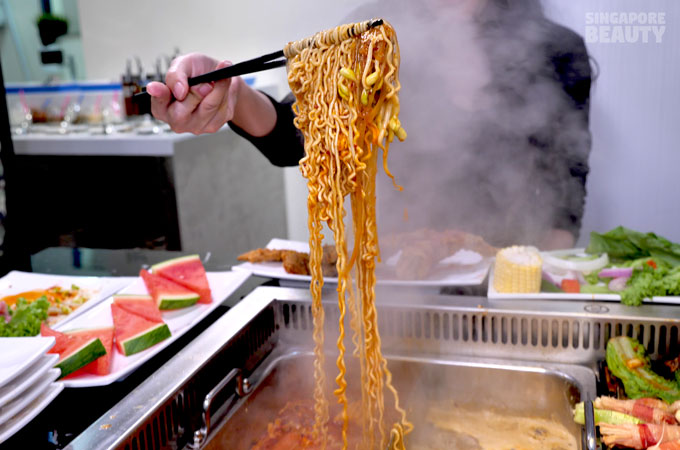 Slurp these piping hot springy thick ramyeon infused with the goodness of kimchi soup.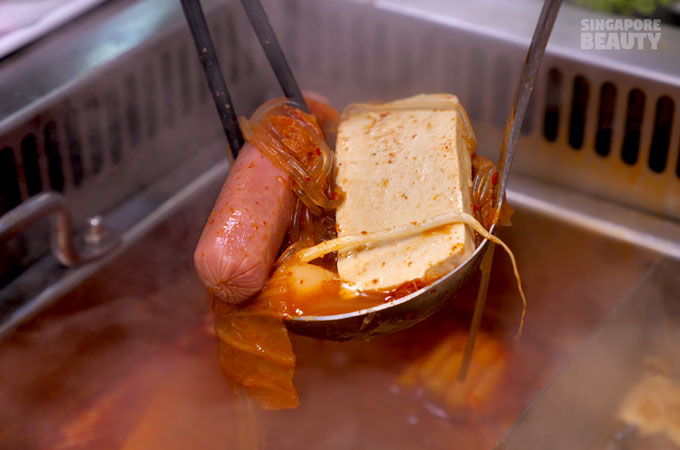 The sinful but delightful hotdogs, beancurd and dangmyeon (glass noodle) soaking up the savoury kimchi flavour.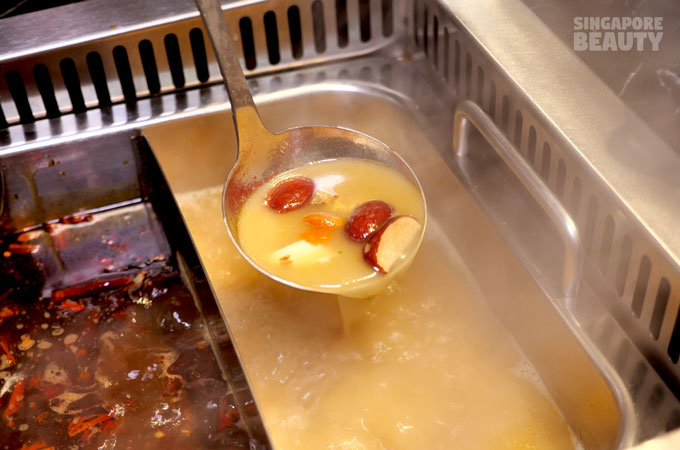 Spicy soup base(left) made with 5 types of spices and dry chilli pepper, nourishing chicken soup base(right) boiled with chicken bones, dates, wolfberry and priced ginseng "dang gui" (Angelica sinensis). Chef recommends the rich chicken soup for those who believes in a high nutrient content soup base, helps to build stamina and up your energy level.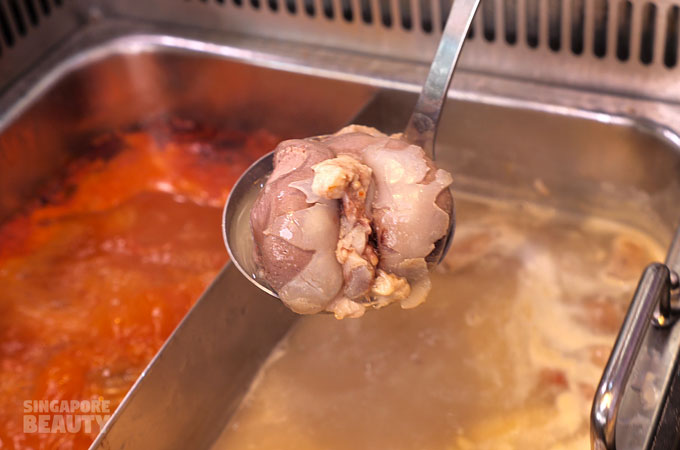 Try the collagen big pork bone soup for home cooked flavours and for the beauty properties that is associated as with most collagen based soup.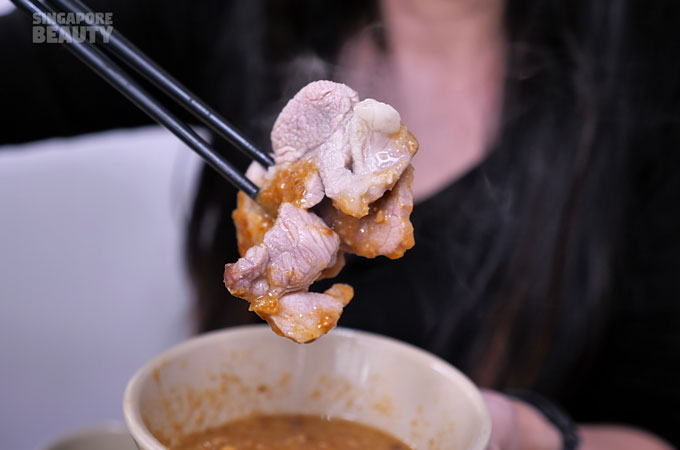 Enjoy these cooked juicy meat with the Korean bean sauce.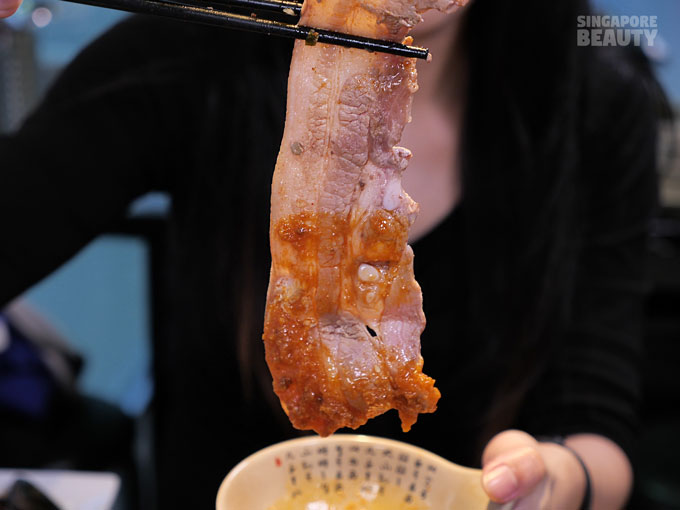 Dip the meats in Korean spicy sauce with sweet savoury tones.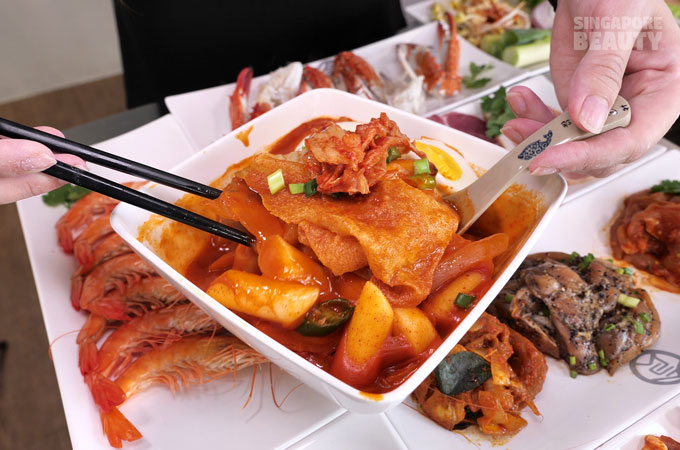 Ddeokbokki, a popular Korean street food is also available. Made fresh for each order with rice cakes, sausage, chicken, spring onions and a boiled egg. The thicken red sauce coats the rice cakes with a spicy and savoury kick. Rice cake is soft and chewy.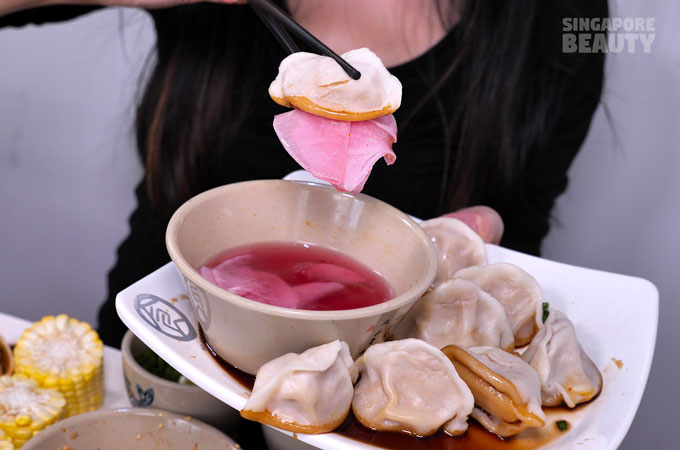 Pair these vibrant pink radish pickles with the mandu (cooked fresh with each order) or the grilled meats for an additional tart, tangy and sweet notes to the savoury mandu or meats.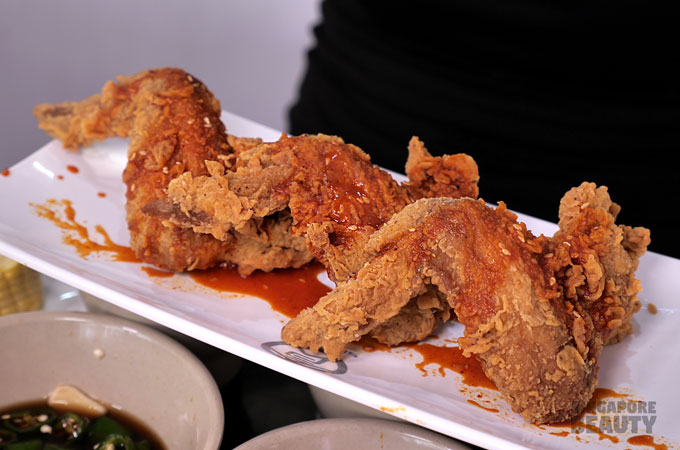 There are ready-to-eat food like crispy chicken wings with Korean spicy-sweet sauce, mixed salad, nuts, kimchi and pickled radish while waiting for the grills.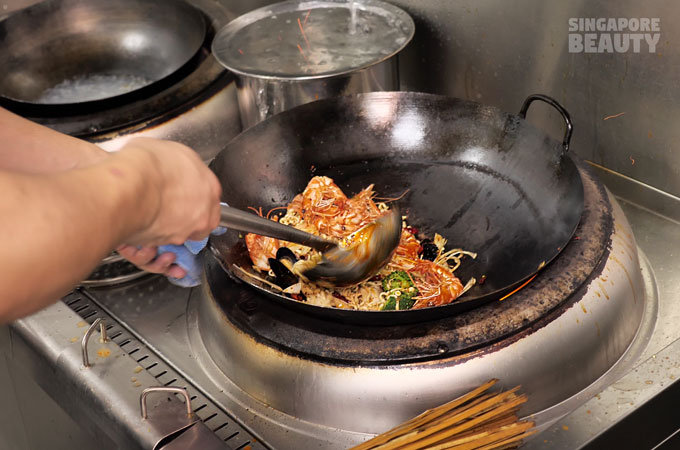 Get unlimited Mala xiang guo by choosing your own ingredients and the chef will whip up a xiang guo for you based on your preferred level of spiciness. (Included in this all-in-one buffet)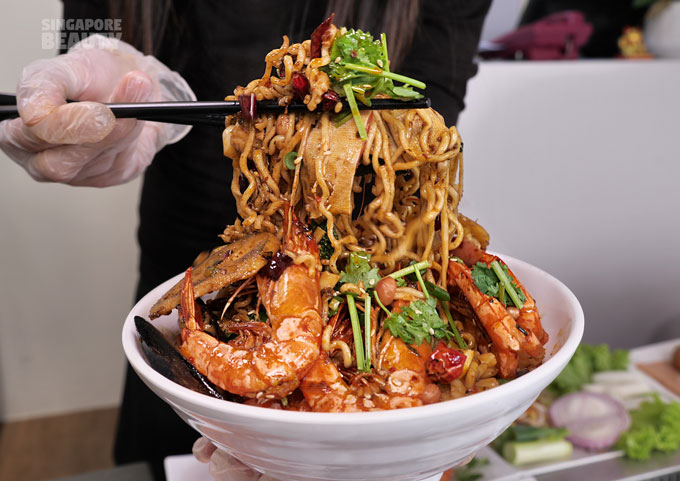 Glorious mala coated spicy numbing noodles with prawns, sliced lotus roots, nuts and seafoods with aromatic chopped cilantro, dried chilli pepper and roasted sesame seeds.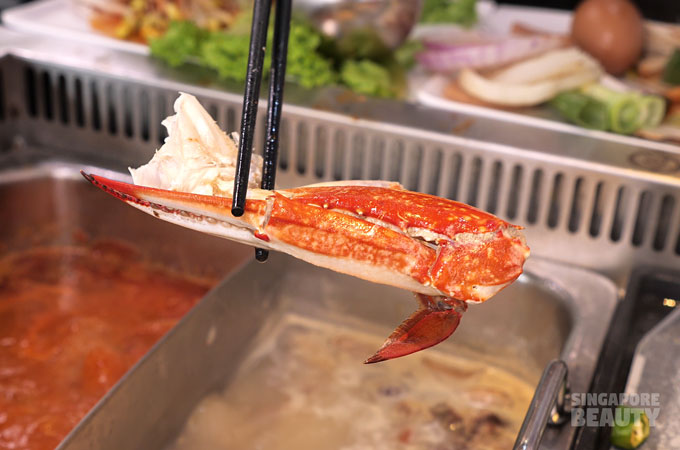 Surprisingly for this Korean style hotpot and BBQ, there is a good variety of seafood.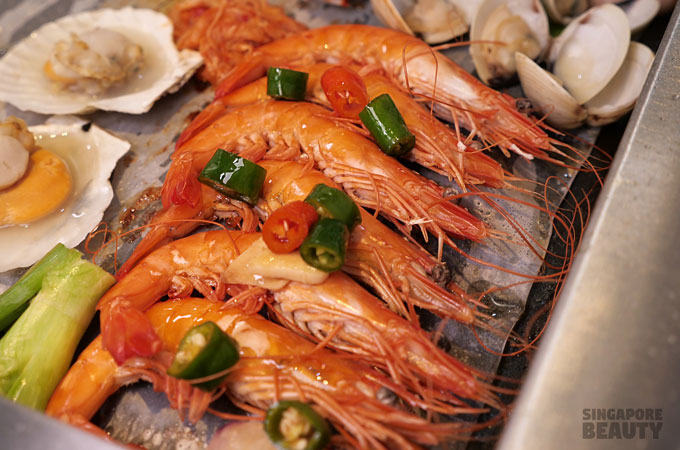 These tiger prawns are a hit, patrons are seen loading up plates of these delicious crustaceans.
Crunchy yet firm reddish orange prawns go well with the inhouse Korean spicy sesame sauce.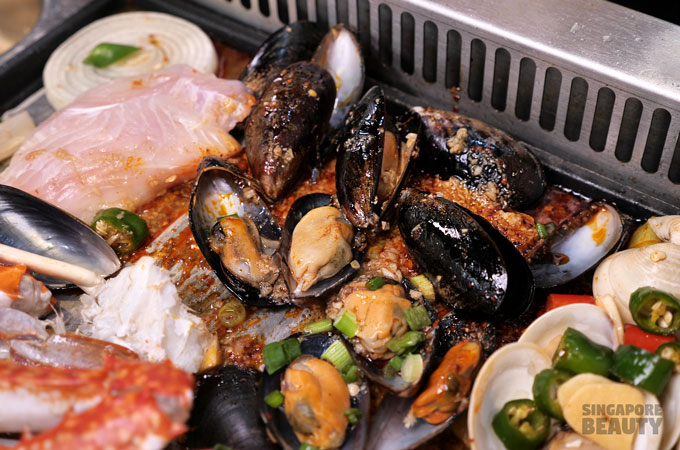 Mussel stir fried with lots of minced garlic, spring onion and spicy chilli sauce.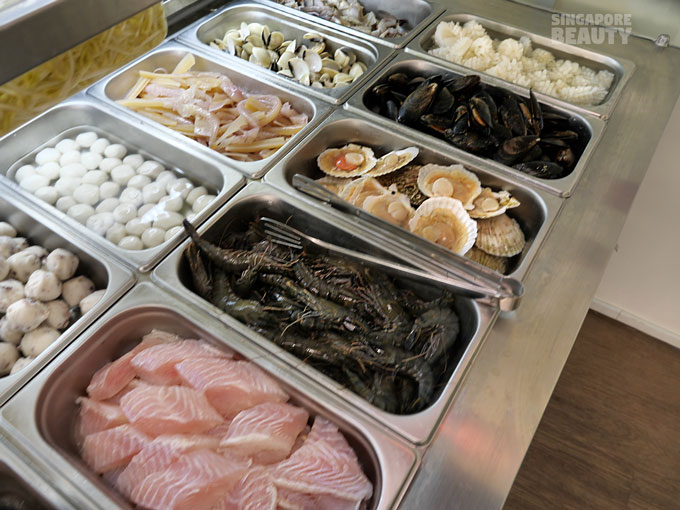 Time to whack the seafood here. Sweet flower crab legs, tiger prawns, big pinkish chunks of fish, scallops and many more.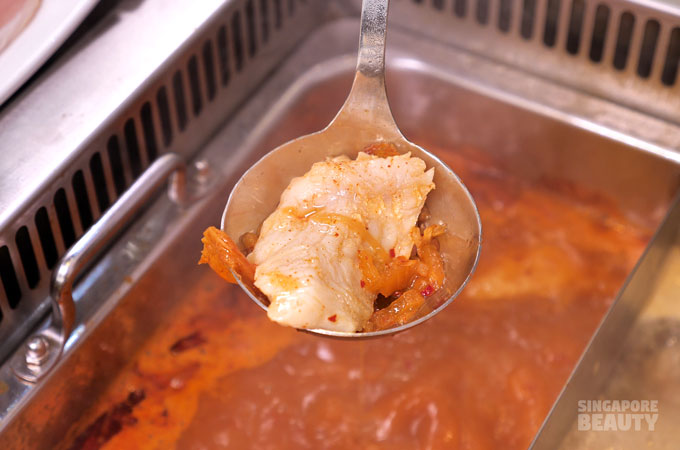 Thick flaky chunks of fish bursting with flavours from the soup base to sink your teeth into.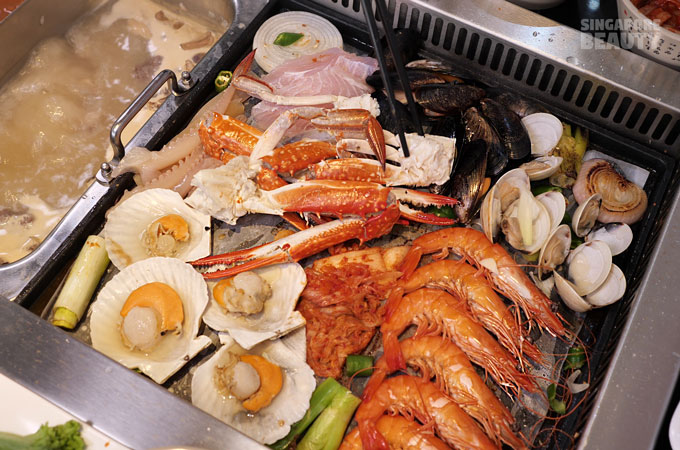 These seafood are great for BBQ and you can customise your own seasoning with the condiments at the counter.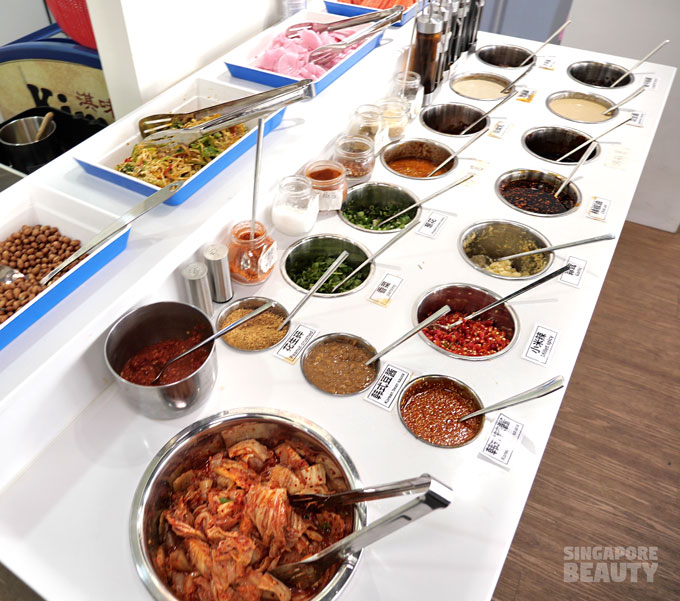 With over 30 condiments and sauce (Korean bean sauce, Korean spicy sauce etc) to choose from, banchan (kimchi, nuts, pickled radish) are also free flow here.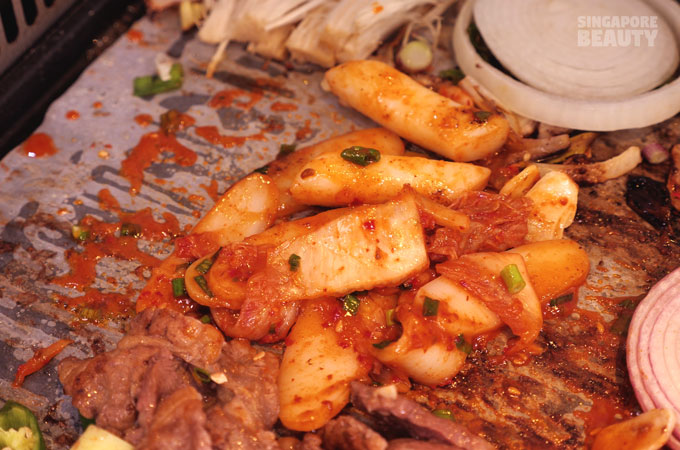 Fried those chewy rice cake with kimchi for the melty sticky rice cake texture, add in some onions and green peppers to impart some sweetness to the rice cake as they melt and soften in the heat.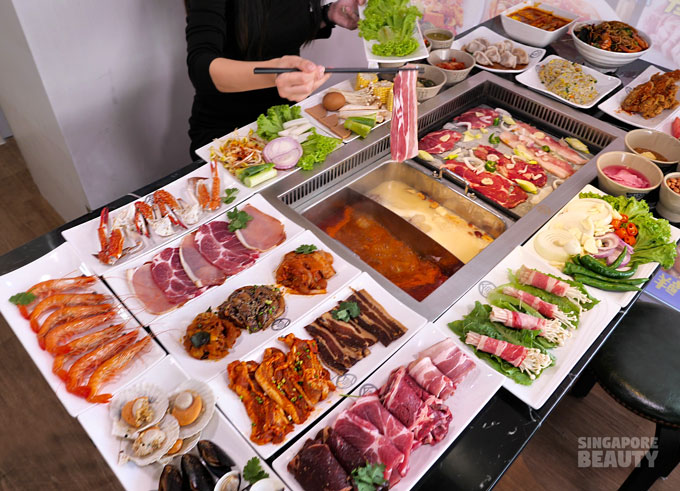 Time to head over for this Korean style hot pot and BBQ now. Simply walk in or make a reservation.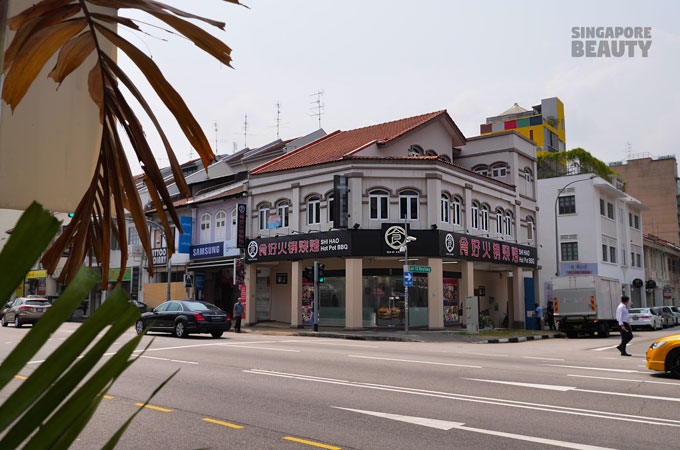 Shi Hao Hot Pot BBQ restaurant serves buffet from 4pm till 3 am daily.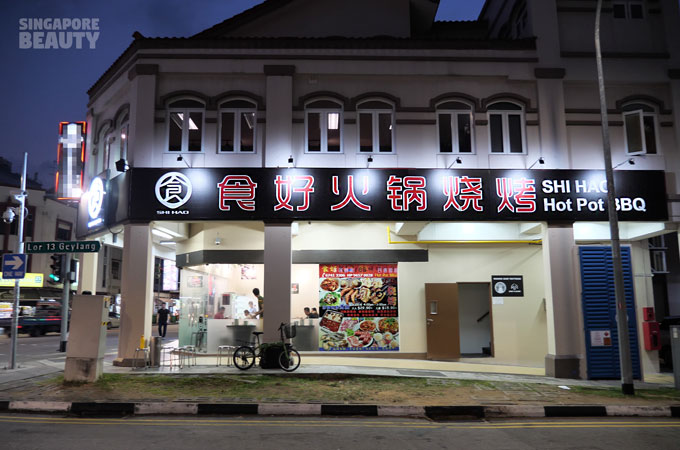 This is your go to place for late night supper.
Only for the month of September 2019, quote Singaporebeauty to enjoy 10-20% off the usual price of $29.90+. For more details, please check the promotion below.
Shi Hao Hot Pot BBQ
Address: 267 Geylang Road, Singapore 389688
Reservation: (+65)67413306 or 96570028
Buffet price per person:
Adult $29.90+
Kids (age 7-12) $15.90+
Operating hours: 4pm – 3am daily
Selected drinks and soup included.
BBQ, Hotpot & Mala Xiang Guo are all part of buffet.
Quote Singaporebeauty to get the following % off (only till 30 Sept 2019)
Promotion happy hour timing (September 2019):
Mon-Fri & Sun:
4pm-530pm 20%
7pm-9pm 10%
10pm-2am 20%
Sat:
4pm-2am 10%
Daily October Promo:
4pm-530pm 20%
11pm-3am 20%
All price in SGD and subject to 10% service charge.
Last walk-in 230am.
Dine time:
Non-peak period: no time limit
Peak period: 90mins
Brought to you by Shi Hao Hot Pot BBQ (食好火锅烧烤)