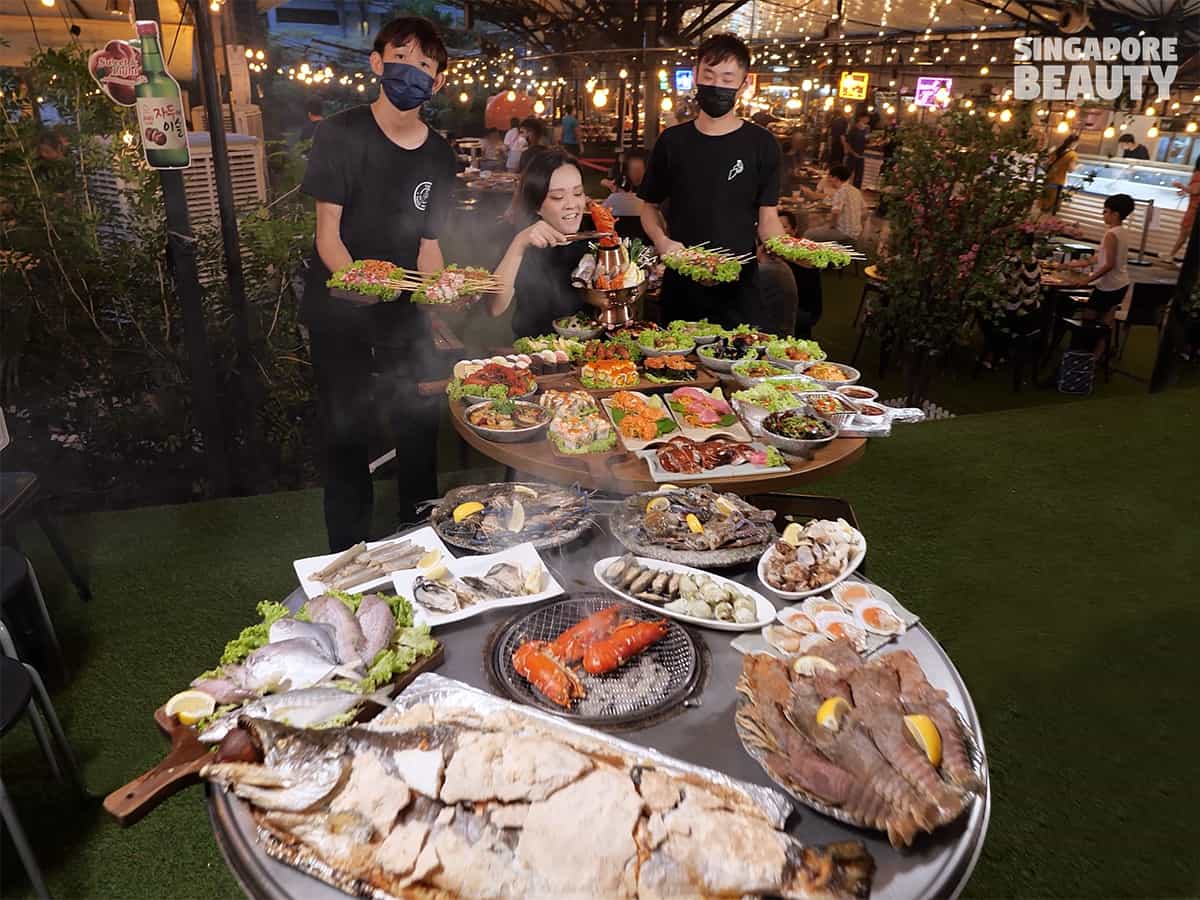 Singapore's largest buffet with charcoal bbq and hot pot at The Three Peacocks is going to sweep you off your feets. With an amazing new menu that includes western fusion cooked dishes in their buffet line. The buffet is getting bigger and better with live seafood such as live tiger prawns and oysters.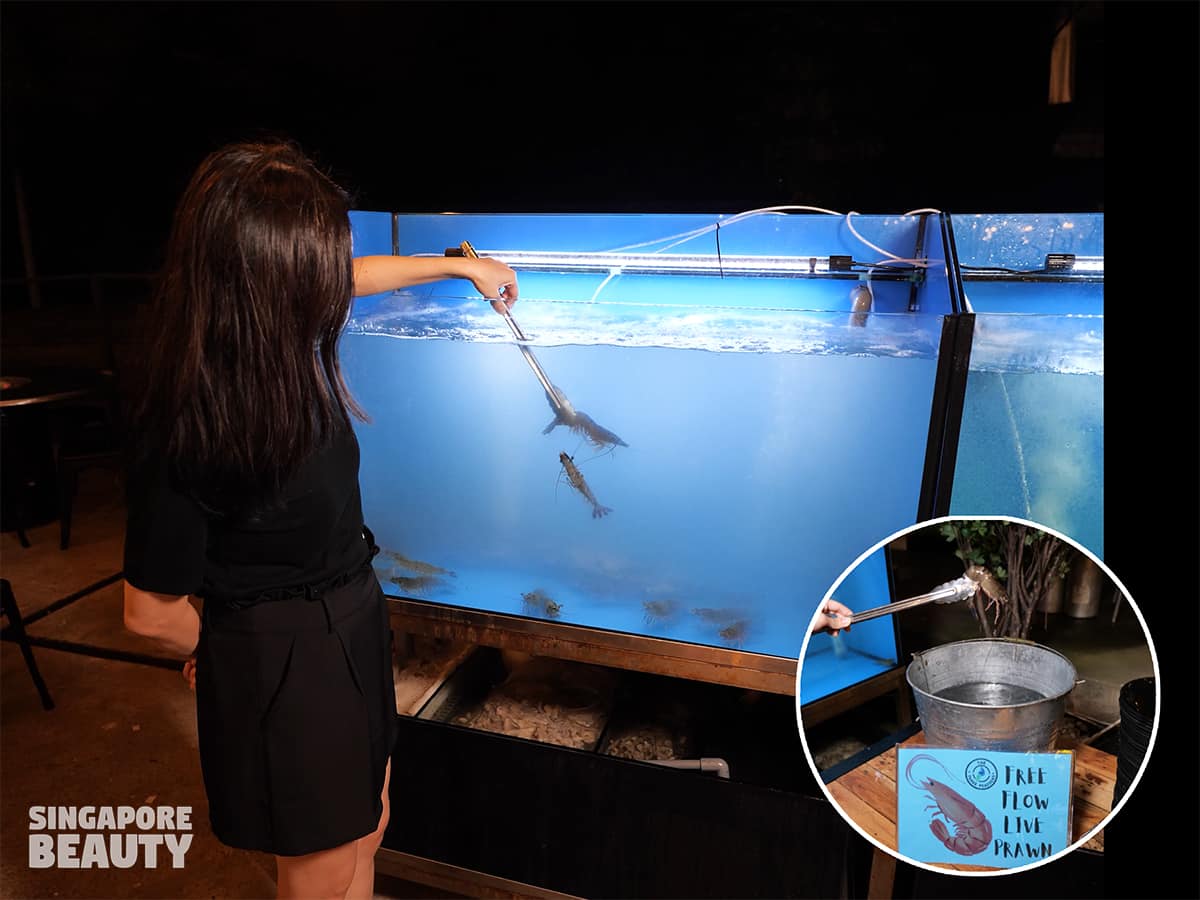 This is a charcoal bbq and hotpot buffet with free flow premium meats and seafood on ice. The Three Peacocks have brought back the catch your own live prawn to make this a sweeter deal for all their patrons. This is a live seafood buffet in Singapore with live tiger prawns and Japanese Oysters. The tiger prawns are housed in aerated sea water tank near the iced seafood bed. There is a sign that say free flow live prawns and a tong provided for you to catch them.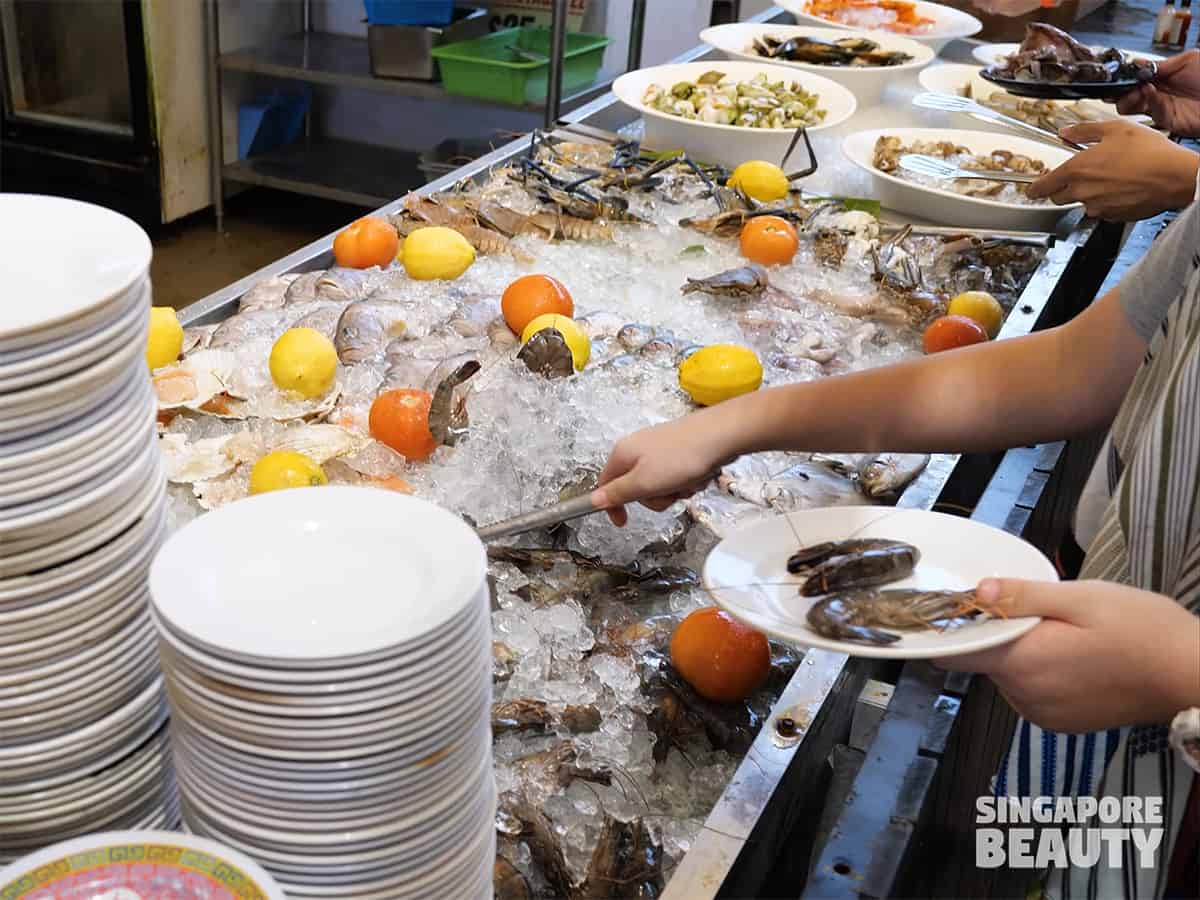 We really love their wide selection of seafood on ice at the Three Peacocks seafood buffet. You can pick and choose your seafood from the ice seafood bar. Create your desired seafood platter with seafood such as whole fishes, prawns, sea snails, live oysters, squid and more. This market style grocer section for seafood buffet is a dream come true for seafood lovers as seafood are free flow.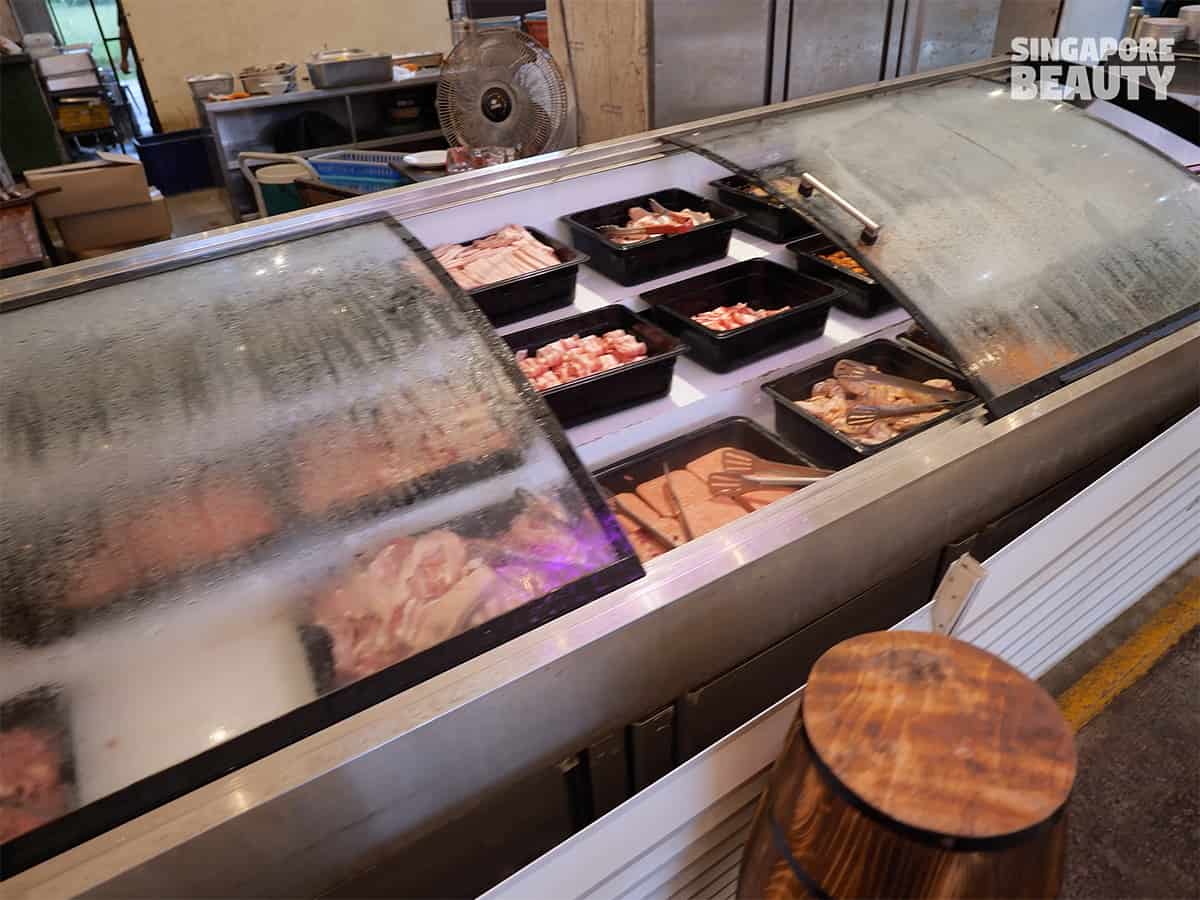 That is not all for The Three Peacocks at Labrador Park bbq buffet. They have an amazing selection of premium meats at the market-style grocer bar. Premium pork and premium beef cuts are included in this bbq buffet. To name a few, Wagyu cubes, striploin, Korean ribeye, oyster blade, Kurobuta pork, chestnut pork and more. You can pick and choose your own cuts and the amount of meat for your barbecue needs. By the way, different types of marinated chicken cuts are also available, if you are someone who prefers Korean style bbq marinated meats.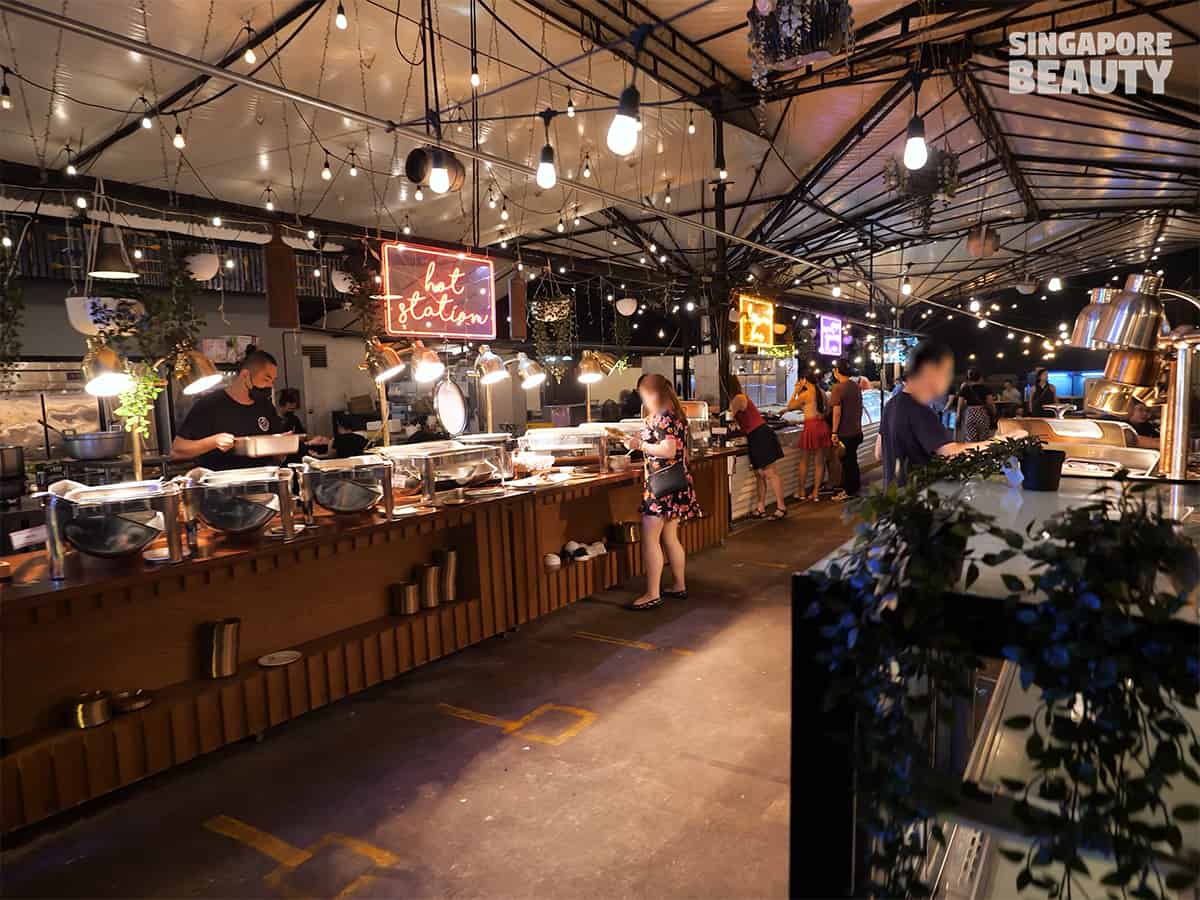 Be wowed by over 100 food variety at their dedicated stations and bar. They have lobster redemption counter, appetiser station, salad bar, hot stations, market style meat grocer, seafood on ice bar, pick your own live seafood prawn counter and more. The buffet line seems to stretch on and on after the entrance of The Three Peacocks.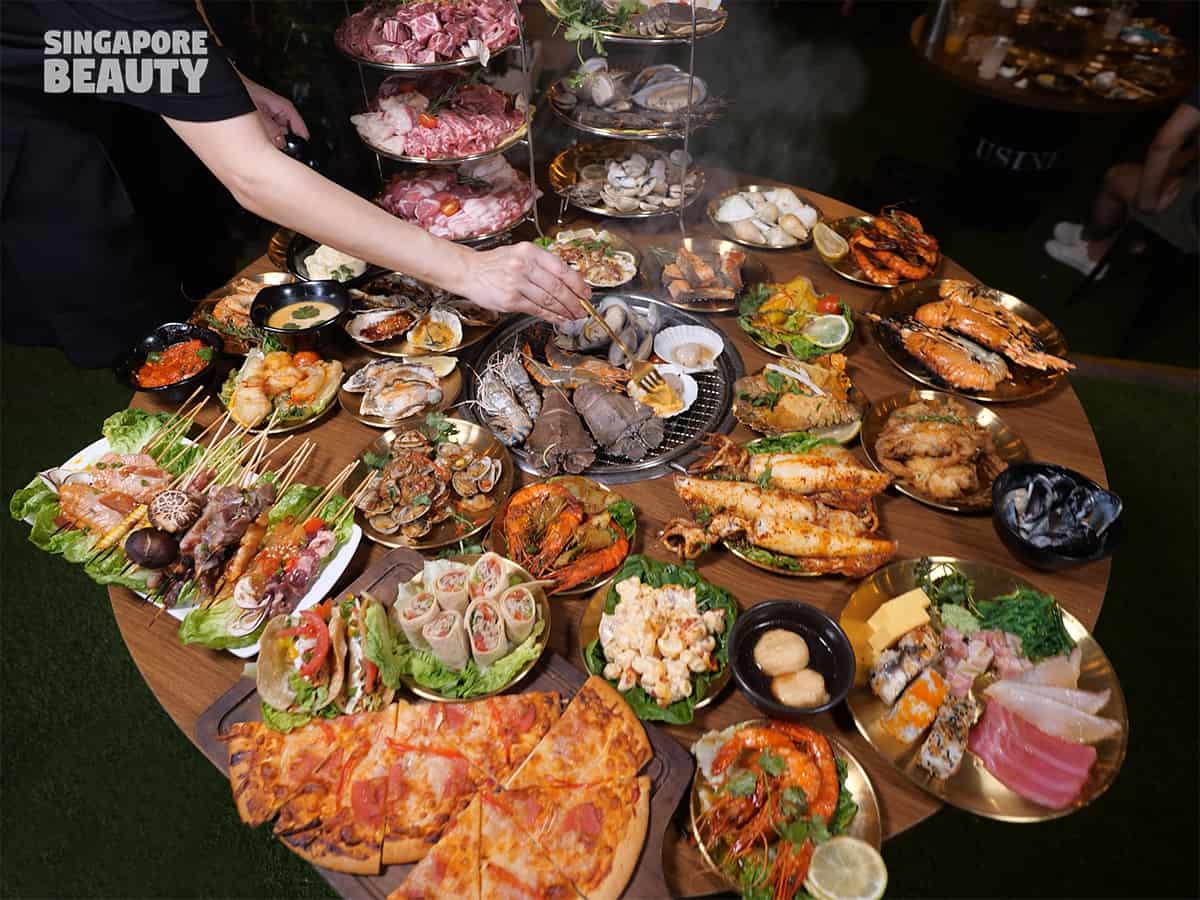 This is Singapore largest all you can eat outdoor charcoal bbq and charcoal hotpot. Indulge in unlimited seafood and meats at The Three Peacocks. These are some of the spread we took from the food stations and bars to start our bbq feast. The hot station food are on rational basis with daily changing menu. If you are looking for a particular cooked food from their hot station, do check with them the menu for cooked food prior to heading over. Currently, they are serving western fusion style cooked food at their hot station buffet line.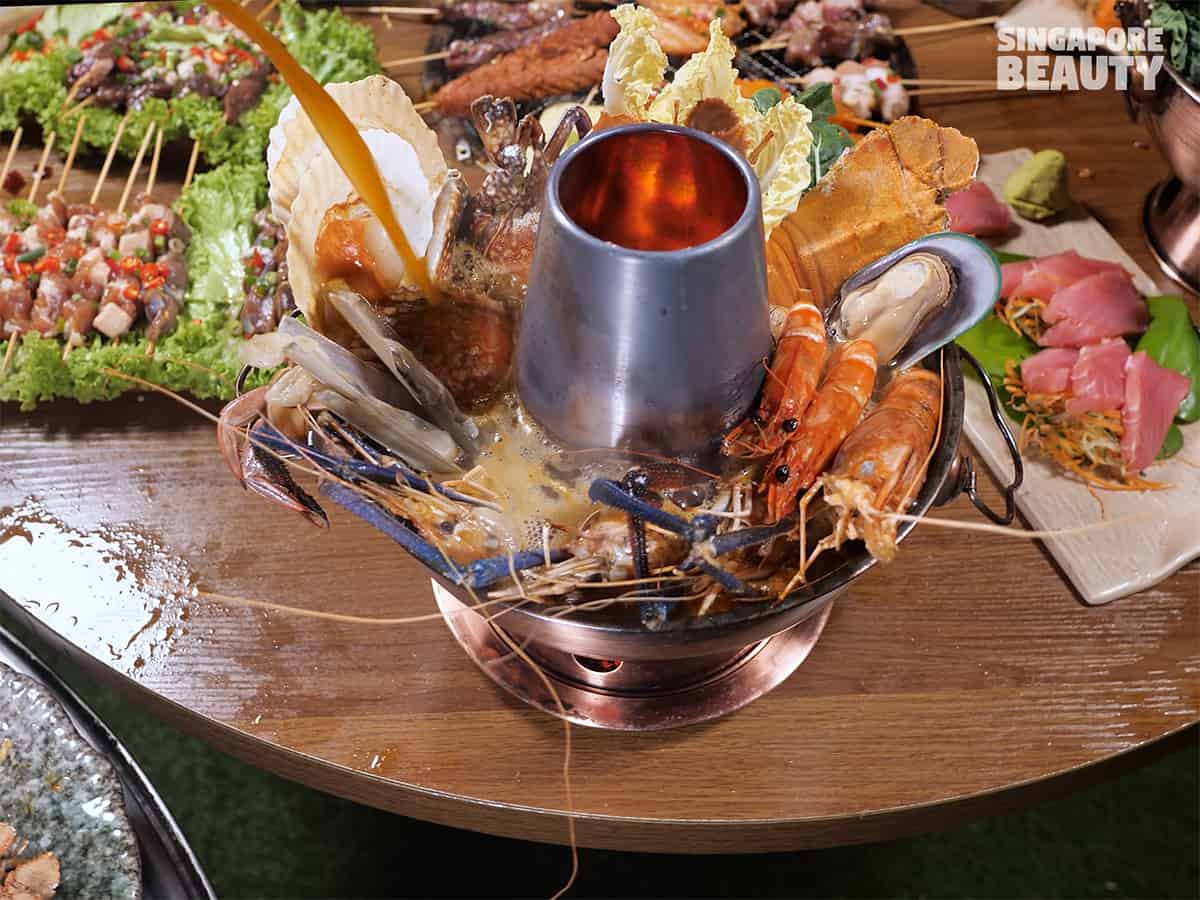 Let's start with the charcoal hotpot. We get the best of both worlds with this Thai style tom yum soup charcoal hotpot in addition to their charcoal bbq. The soup available for this hotpot is either Tom yum or Herbal soup. The hotpot is now available and included as part of the bbq buffet at no extra charge. This hotpot is available even to lone diner, no minimum number of diners needed to redeem.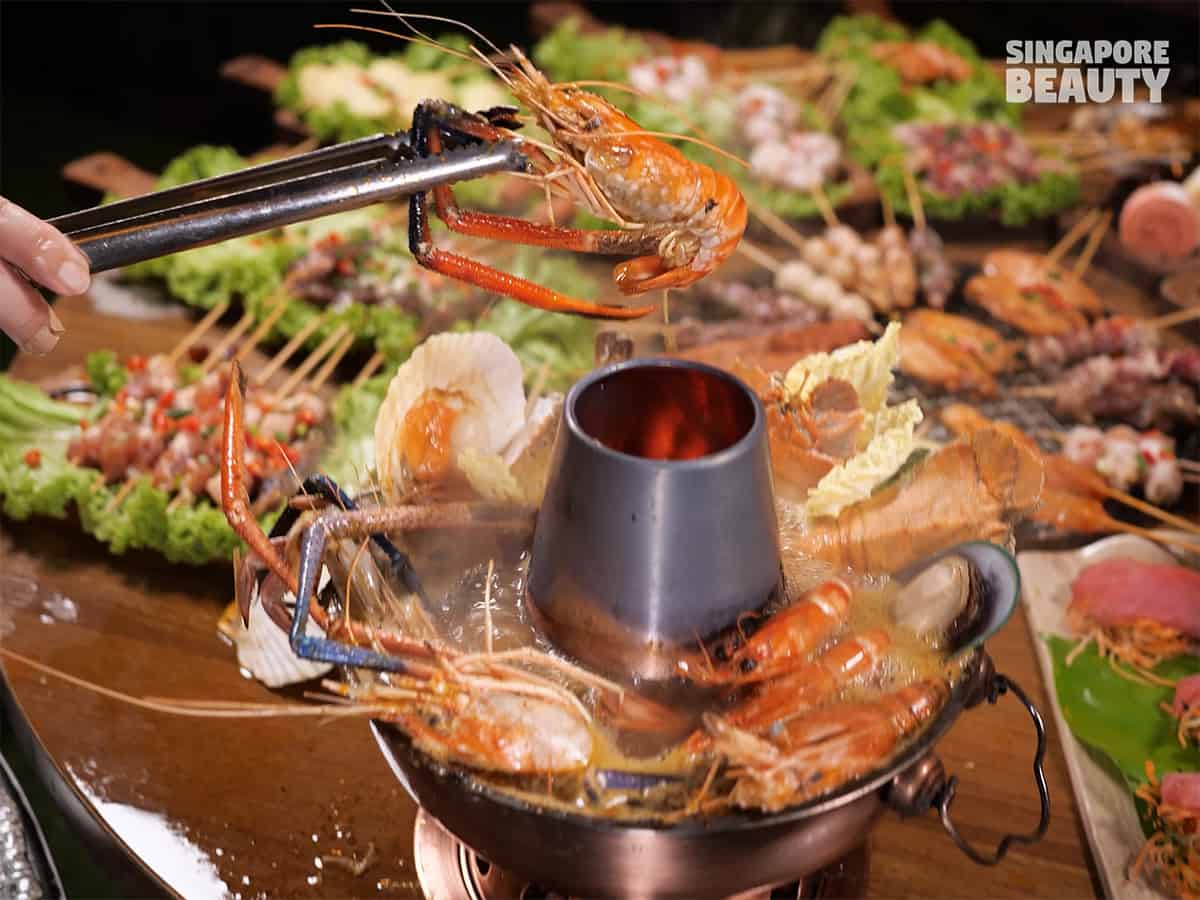 This is an authentic charcoal hotpot buffet with the char aroma of the charcoal smoking away. The hotpot is super hot and you get to enjoy constant bubbling hot tom yum soup. I love my tom yum hotpot with Thai river prawns, slipper lobsters, scallops, mussels and tiger prawns. The sweet prawn with the citrusy tom yum is delightful.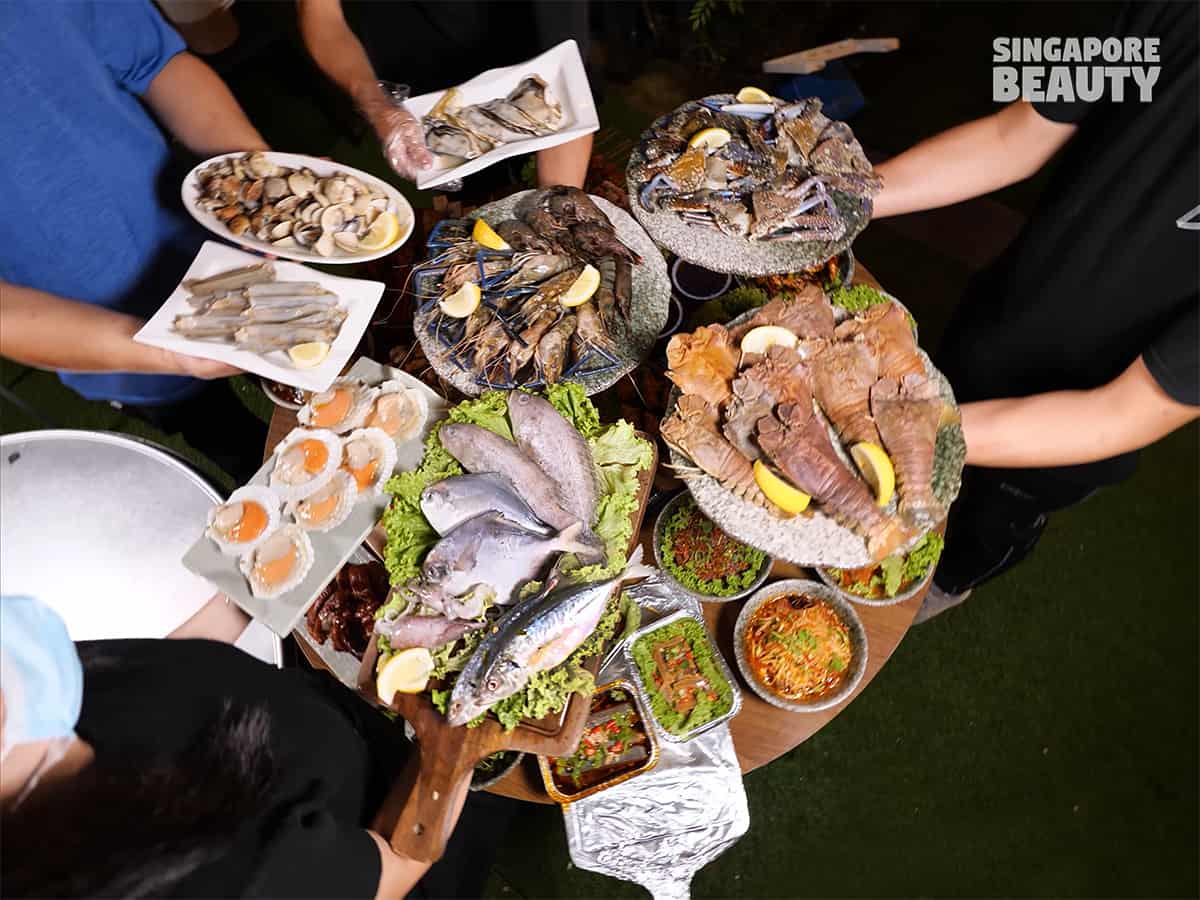 We are getting ready for our seafood feast with these seafood. Pick your own seafood from the seafood on ice bar at the end of the buffet line. We have with us the slipper lobsters, baby pomfret, greasy groupers, kunning aka yellowstripe scad fish, scallops, bamboo clams, various sea snails, live Japanese oysters, flower crabs, squid, giant river prawns and tiger prawns. We can't wait to start our seafood feast at The Three peacocks.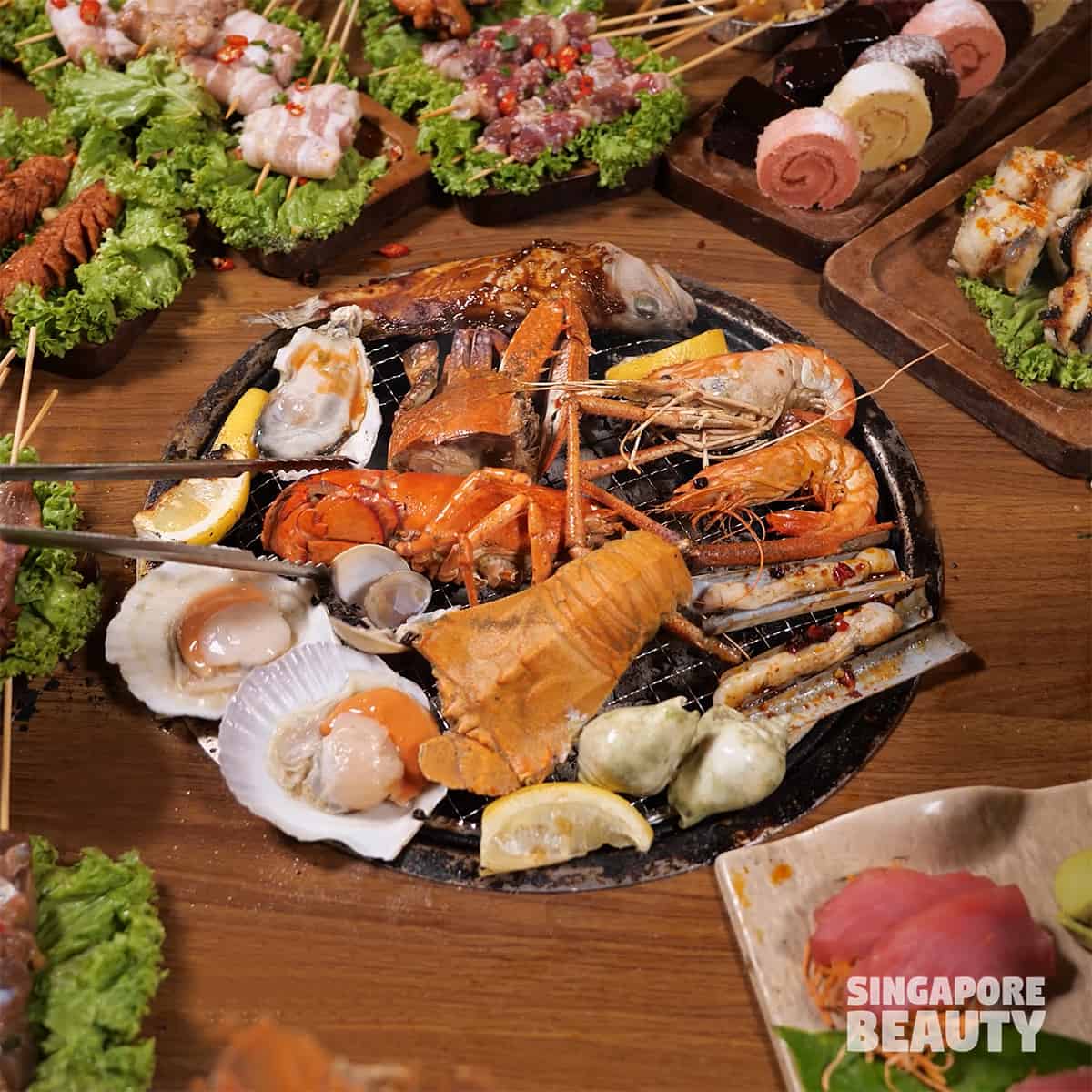 Basically the seafood are quite easy to cook over the charcoal as the coals are pretty hot. Being pretty hot is also a double edge sword, as it resulted in burnt seafood if you leave them sitting there unattended. Although it is a buffet, we shall not waste food. Just side note, do take note that food wastage are chargeable as with all buffets.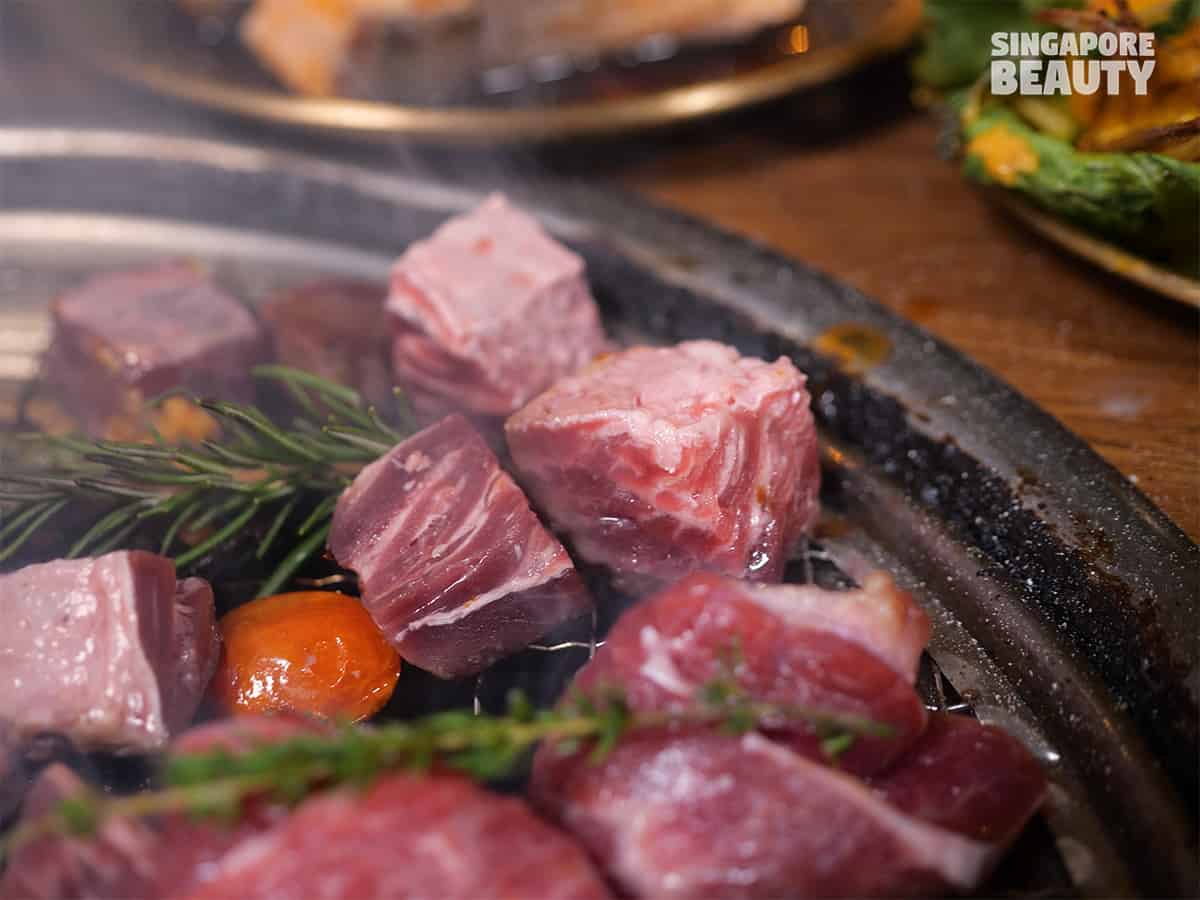 I always have a soft spot for char-grilled meats as they have that nice char aroma imparted by the charcoal. The flavours also seems to be more intense for bbq meats.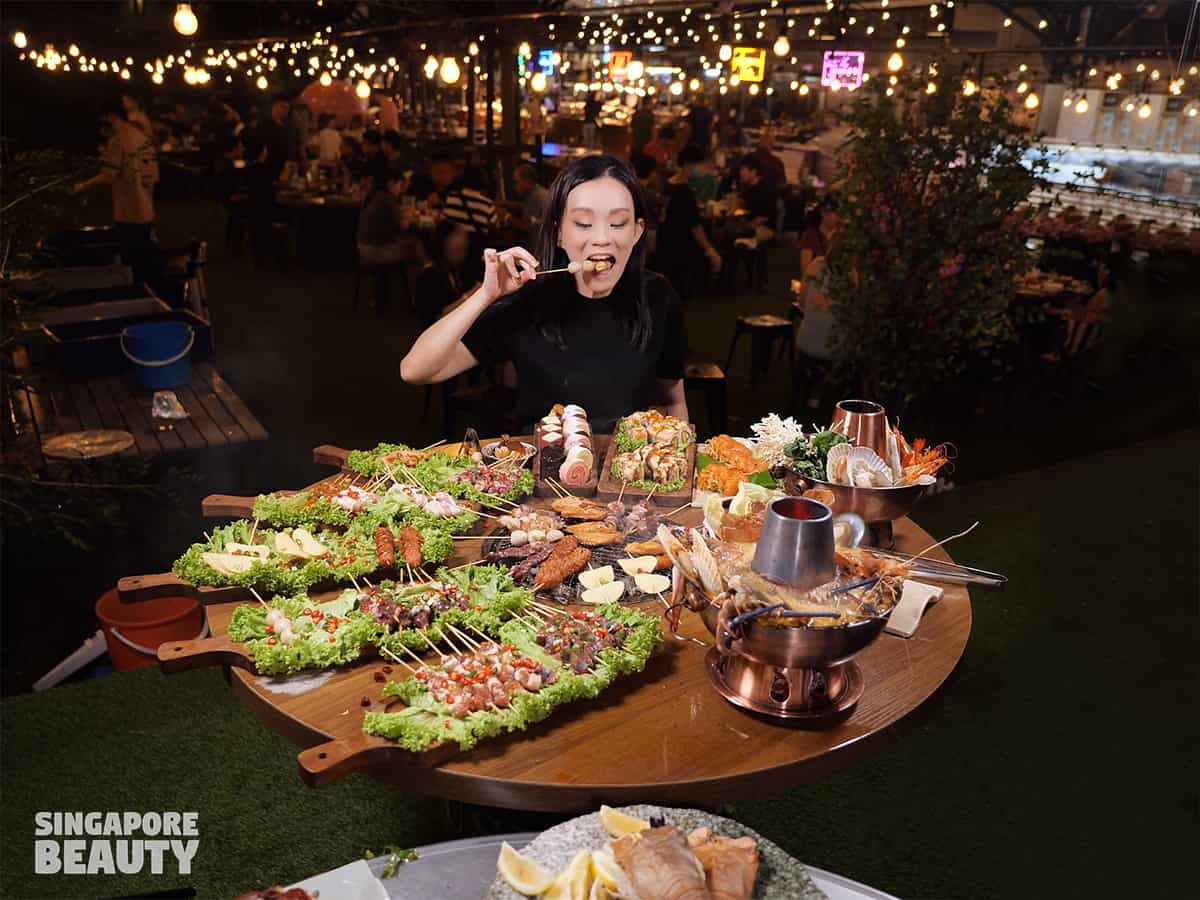 To me, barbecue food is always top on my list of best Singapore buffet. At The Three Peacocks, there are so many variety of barbecue food, skewers, hotpot ingredients, live seafood, iced seafood, cooked food and desserts. I have to admit I am overwhelmed and felt spoilt for choice.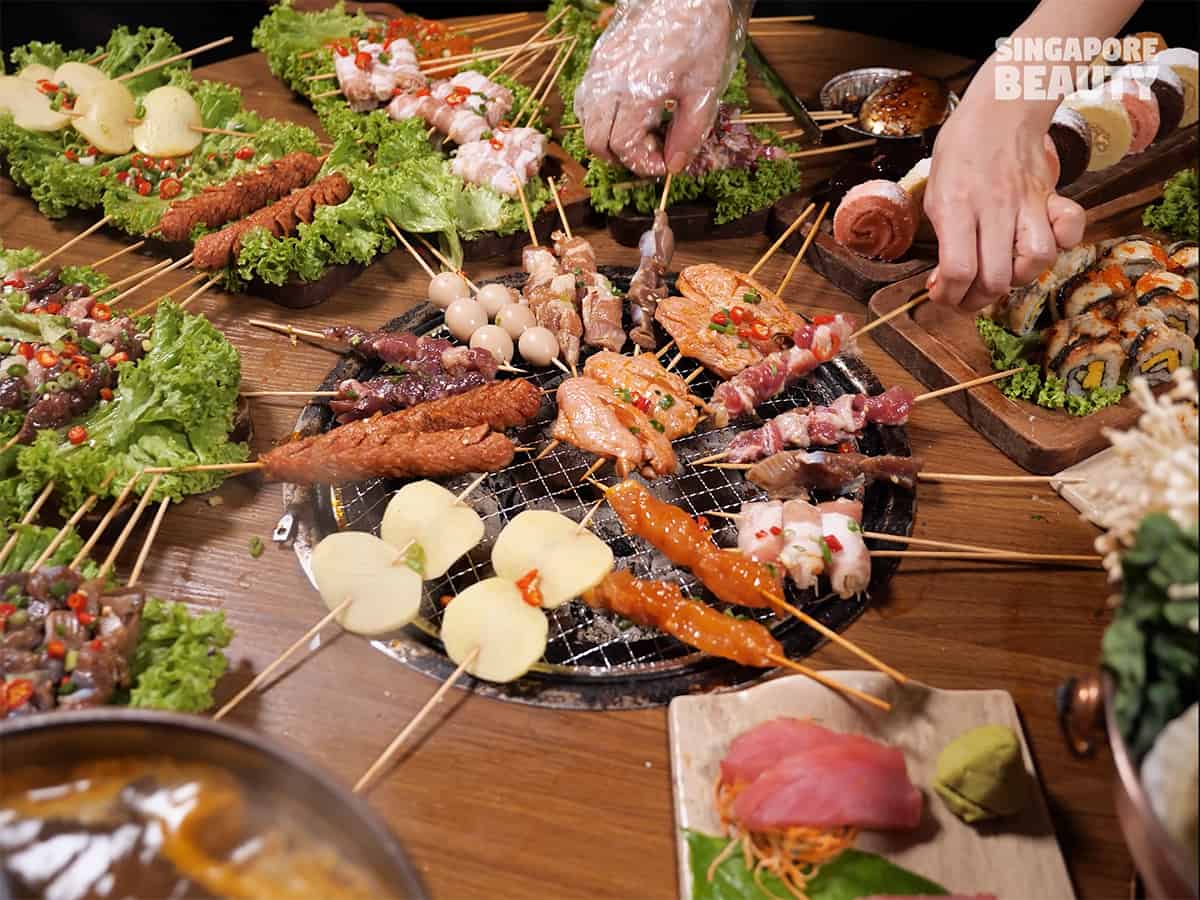 Besides the seafood and meats, we also had a fun time grilling all the skewers. These are flavourful nibble of various meats, greens and offals. We like that these bbq skewers cook pretty fast and are great bites to go with their ala carte beers, soju or cocktails.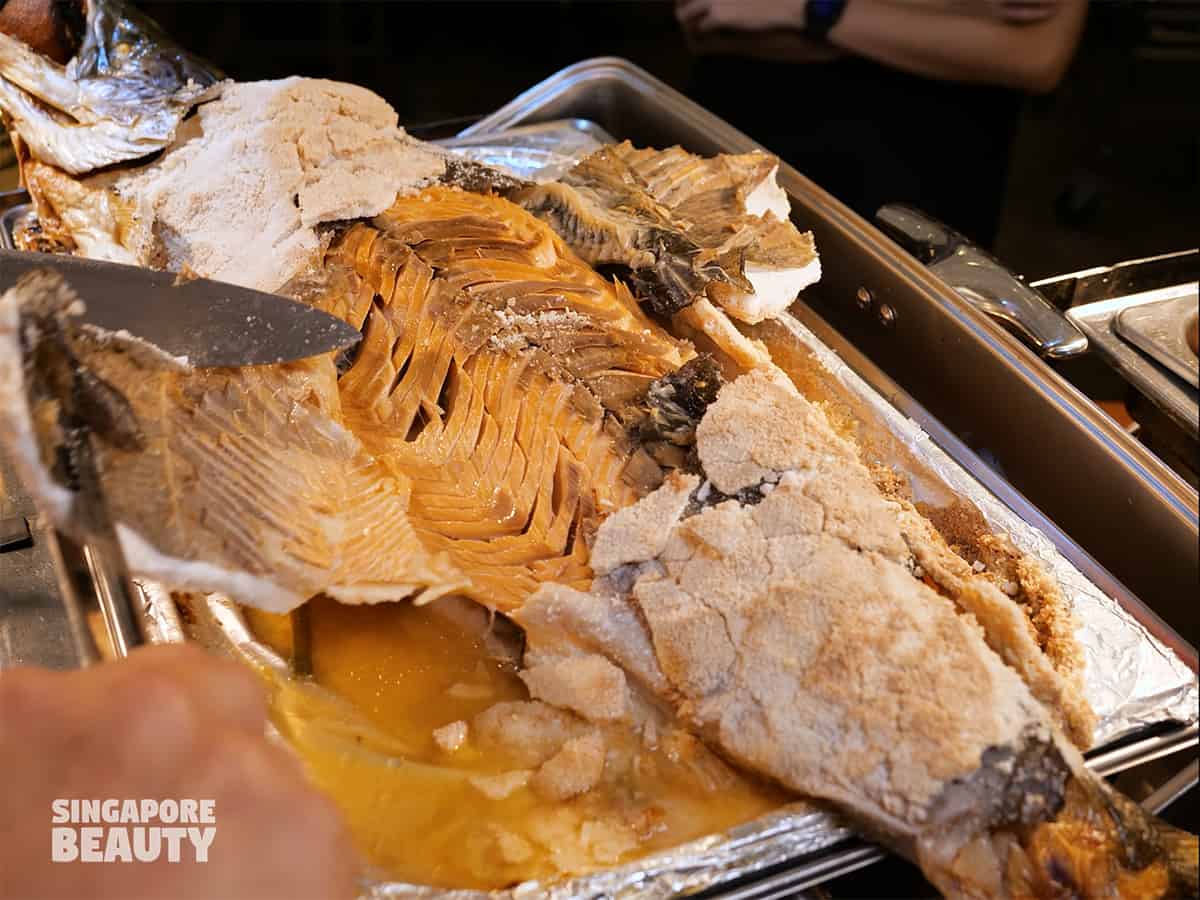 Currently the hot station cooked food are on the Western Fusion food theme. We stumbled upon this massive salmon. This is the salt baked whole salmon. We took a serving and is surprised by the tender and moist texture of the baked fish. This baked salmon definitely was the highlight for the buffet line spread and very photogenic too.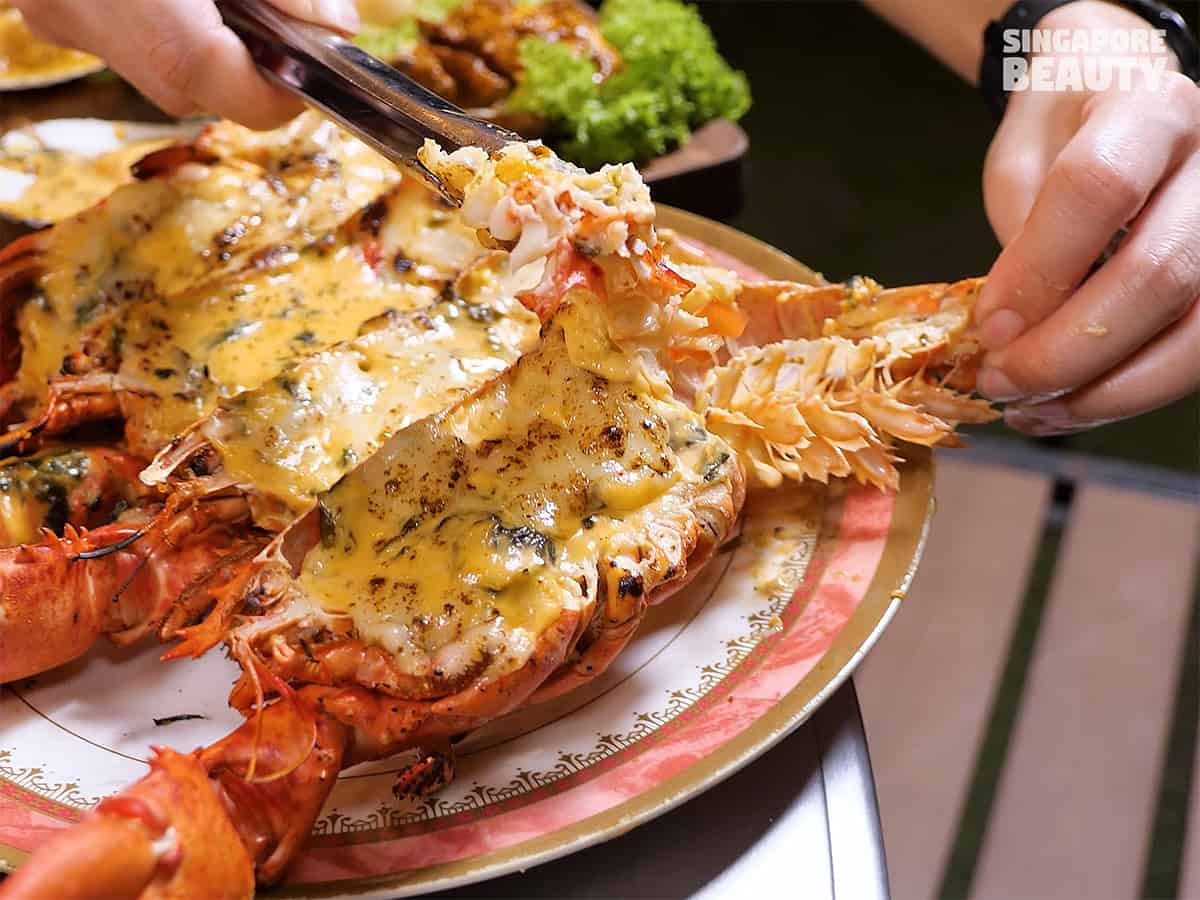 We are entitled to redeem a complimentary half lobster for each adult diner. The Boston lobster is rendered in cheese mentaiko topping for us. We were informed that the toppings of the lobsters varies from time to time, from garlic butter to mentaiko mayo to cheese mentaiko.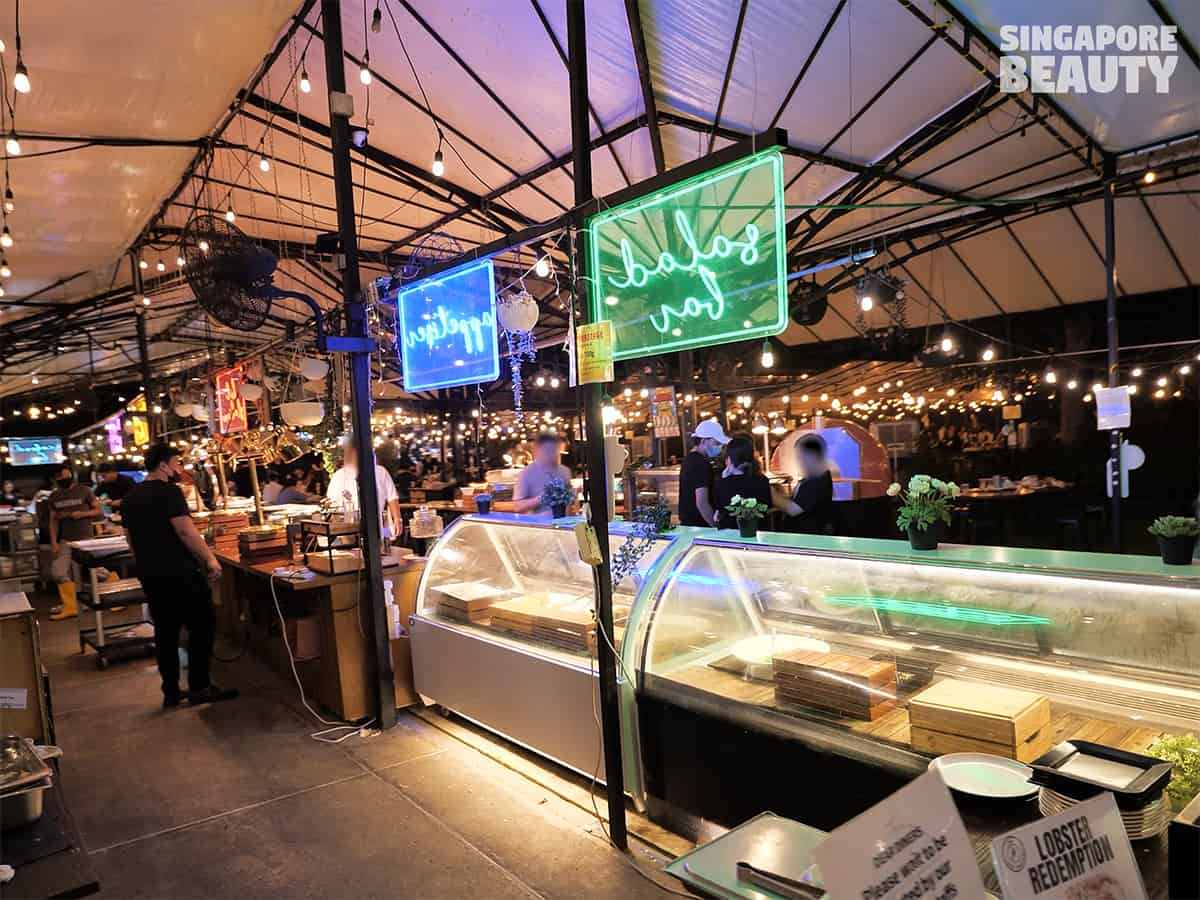 Our overall review of The Three Peacocks is that we enjoyed the festive market grocer vibes with the wide variety of seafood, premium meats, live seafood on charcoal bbq stove and hotpot. The Three Peacocks is located at Labrador Park with close proximity to the sea. After dinner, you can take a nice long stroll along the sea at Labrador Park with the mesmerising lights from the distanced ships.
The Three Peacocks Buffet Price :
Weekday (Mon-Thurs)
Adult: $ 55.90++
Senior: $ 52.50++
Kids: $ 38.00++
Weekend (Fri-Sun)
Adult: $ 60.90++
Senior: $ 57.50++
Kids:$ 43.00++
PH/FESTIVE
Adult: $ 63.90++
Senior: $ 60.50++
Kids: $ 46.00++
Dine in time :
3 Pax < = 2 hours
4 Pax > = 2.5 hours
Opening Hours :
Mon to Thurs 5.45pm -11pm
Fri to Sun 5pm -11pm
For enquiry & reservation call: 3129 2374
How to get to The Three Peacocks:
Free Parking available or take shuttle bus at Labrador Park MRT Exit A from 5.30pm-10.30 pm (every 30 minutes intervals)
The Three Peacocks Address:
8 Port Road, Labrador Park Singapore 117540
Brought to you by The Three Peacocks