In Singapore, the typical soup bases for hotpot are strong in flavour so that the ingredients added to it will get enhanced by the flavours of the soup. Today we are trying a different type of hotpot with Singapore first congee hotpot at Congee Legend Hotpot restaurant.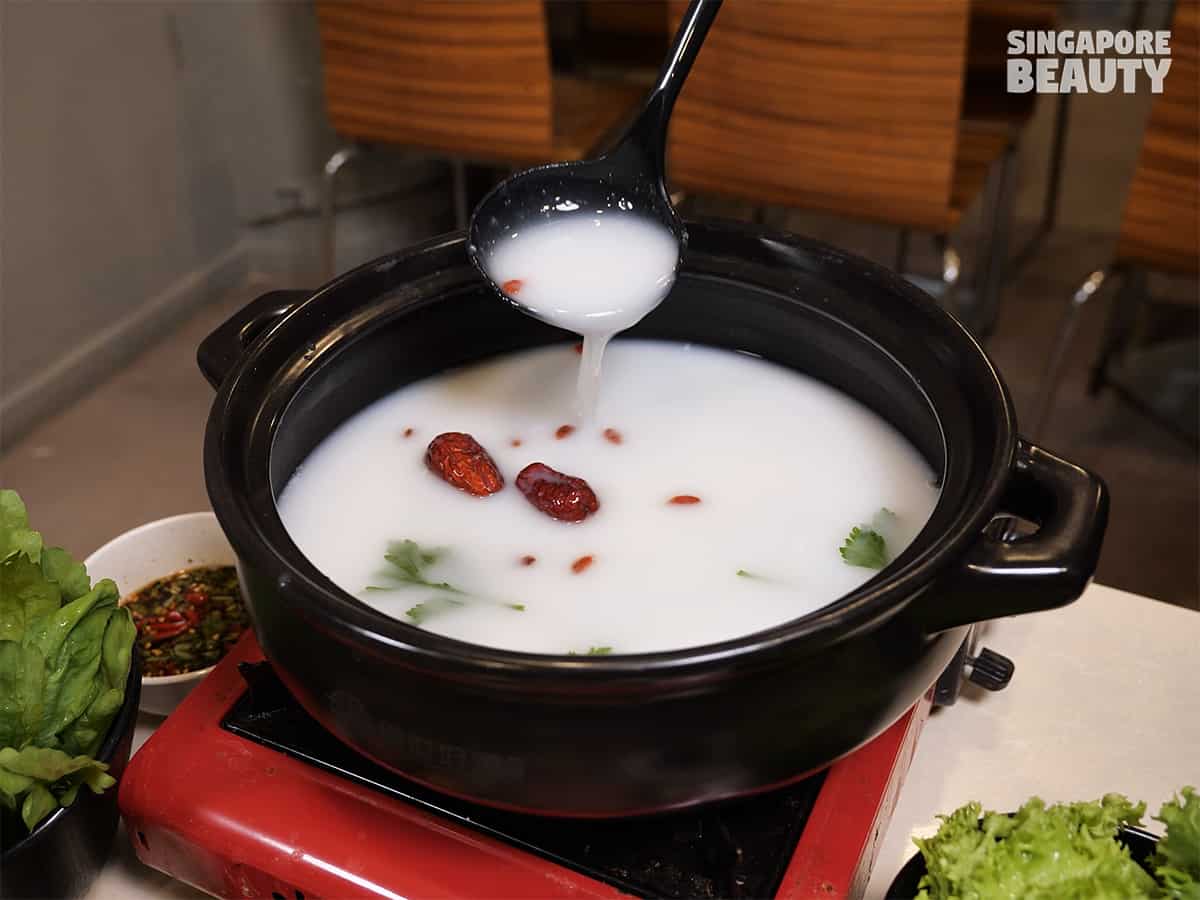 At Congee Legend Hotpot, they take their congee hotpot base to a new level. Silky congee broth is the signature soup base used in this hotpot restaurant. This congee base ($3) is like a very velvety rice grain broth with no visible grains in it. The grains are boiled till it forms a snow white consistency to become a rice broth.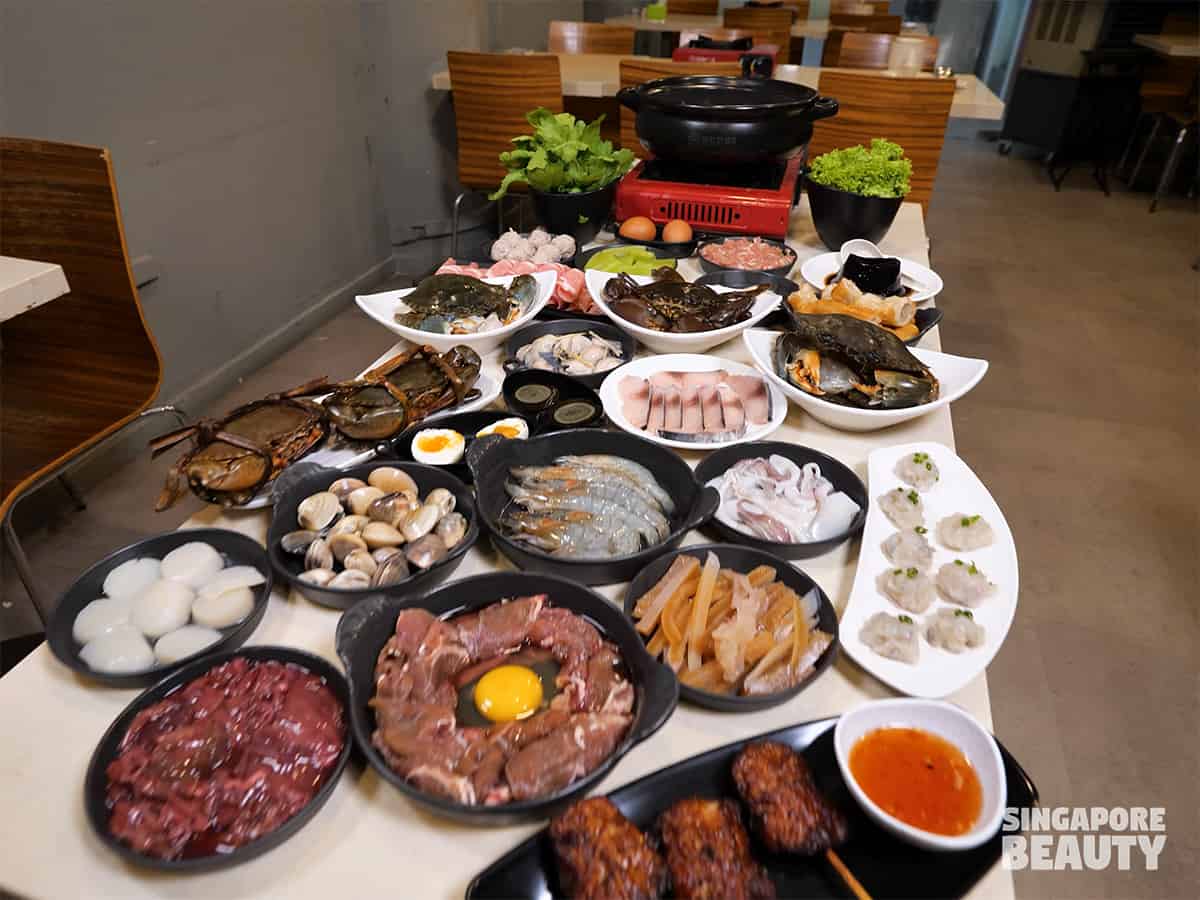 Here's what we had for this congee legend hotpot review. The Congee Legend menu consist of a total of 71 items – starter, seafood, meats, vegetables, other surimi, special menu, dessert and drinks. We are having moo ping with Thai chilli sauce ($8), marinated tender beef ($8), pork liver ($5), scallop ($8), cuttlefish ($5), lala ($6), prawns($8), prawn paste ($8), mud crabs($22), batang fish sliced ($9), minced pork paste ($6), salted egg ($2.50), century egg ($2.50), Kurobuta shabu black pork ($12), meat balls($7), fried youtiao ($2) and some greens. Prices at Congee Legend Hotpot looks pretty reasonable in view of the portions of food served.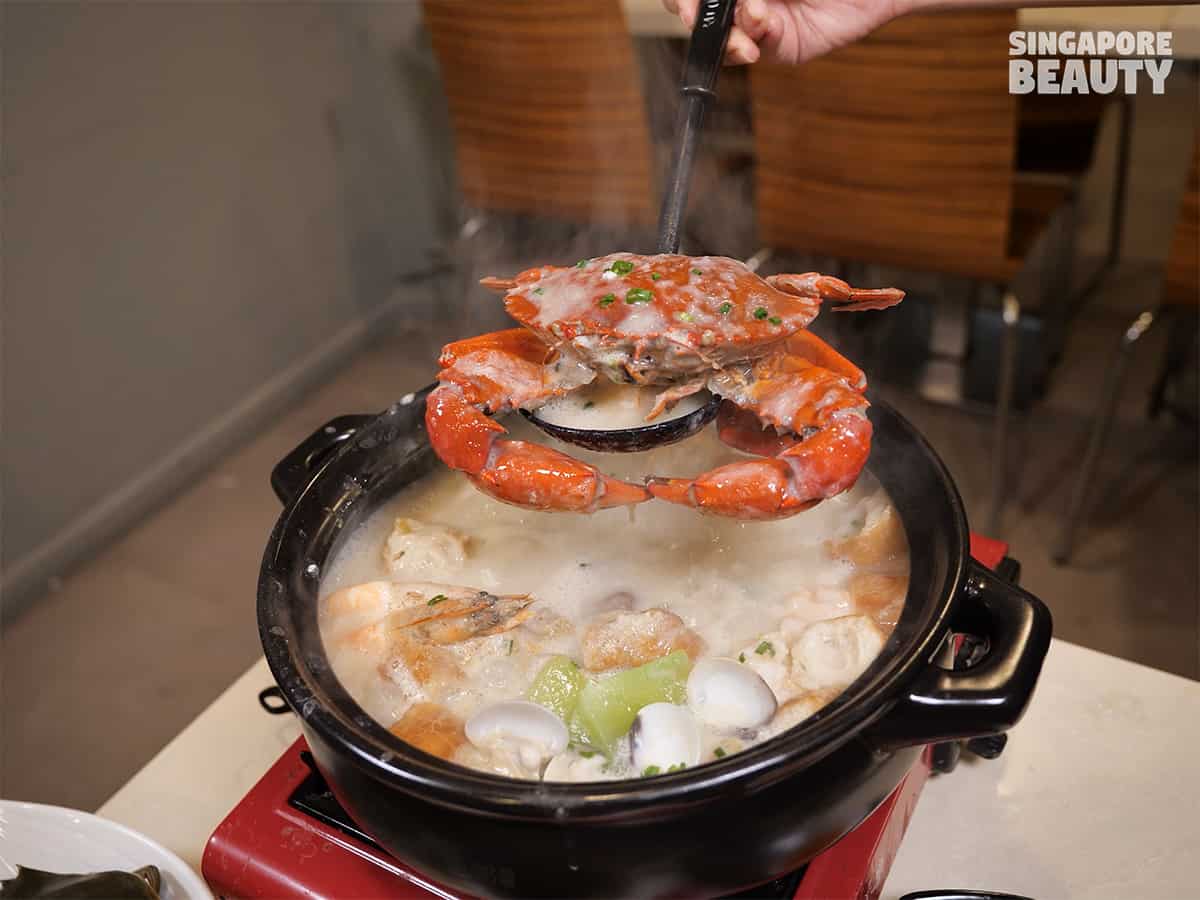 These menu items are very well curate in my opinion as they are very suitable for congee base hotpot. The ingredients have their own unique flavours which is heightened by the congee broth. The aroma of the simmering congee broth is also loved by many congee connoisseurs. The congee takes on a deeper and richer hue after cooking some of the ingredients. The hotpot broth has become even more flavourful with the additions of seafood, meat and greens. Toward the end of it, the chef at Congee Legend Hotpot recommends to cook it into a porridge steamboat by adding a bowl of steamed grains.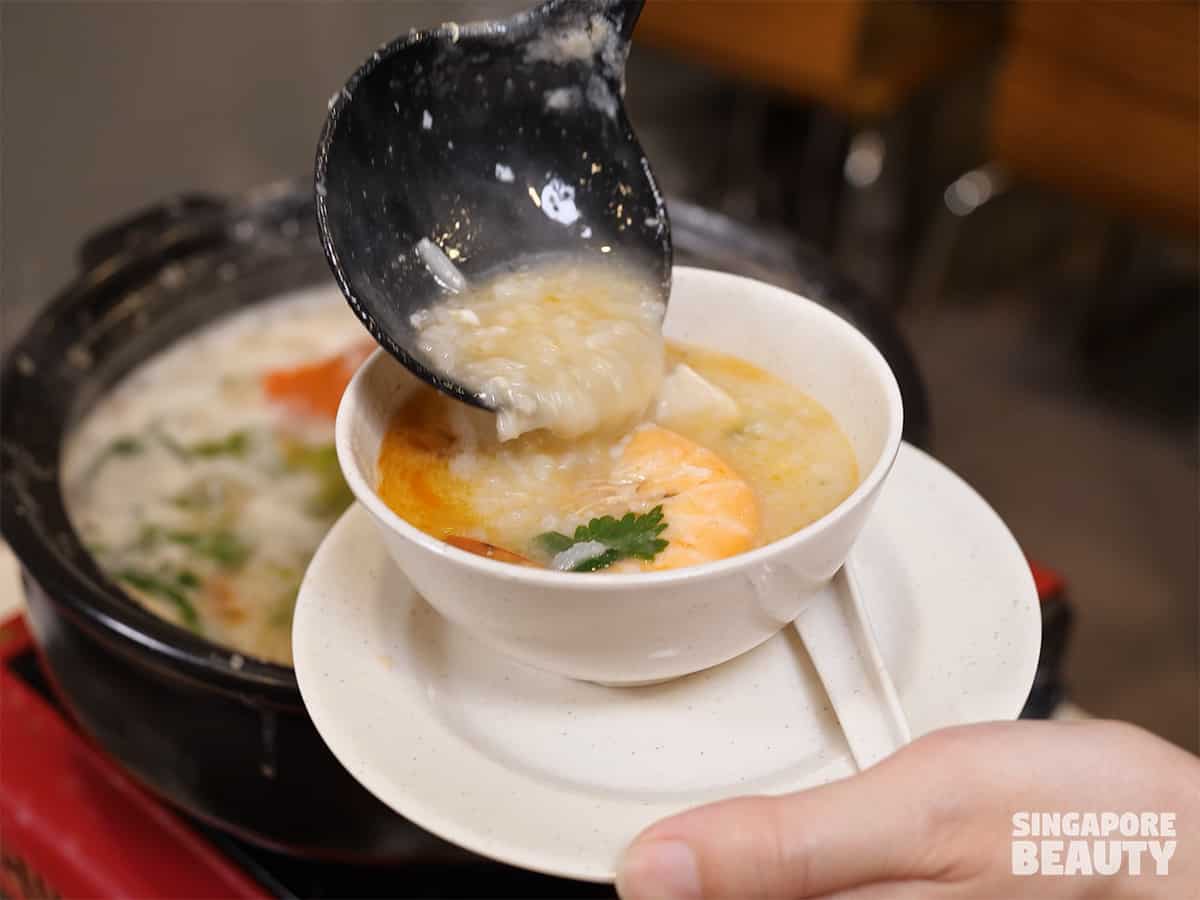 This is a porridge steamboat recipe that originated from Shunde in Guangdong Province. It was brought to Singapore by the owners for their love of steamboat porridge after a trip to China. The co-founder felt better from an upset stomach after having the local Guangdong style congee hotpot. The steamboat congee hotpot is believed to have soothed her upset stomach with its beneficial properties. This is the sparkle that brought Congee Legend Hotpot to Singapore.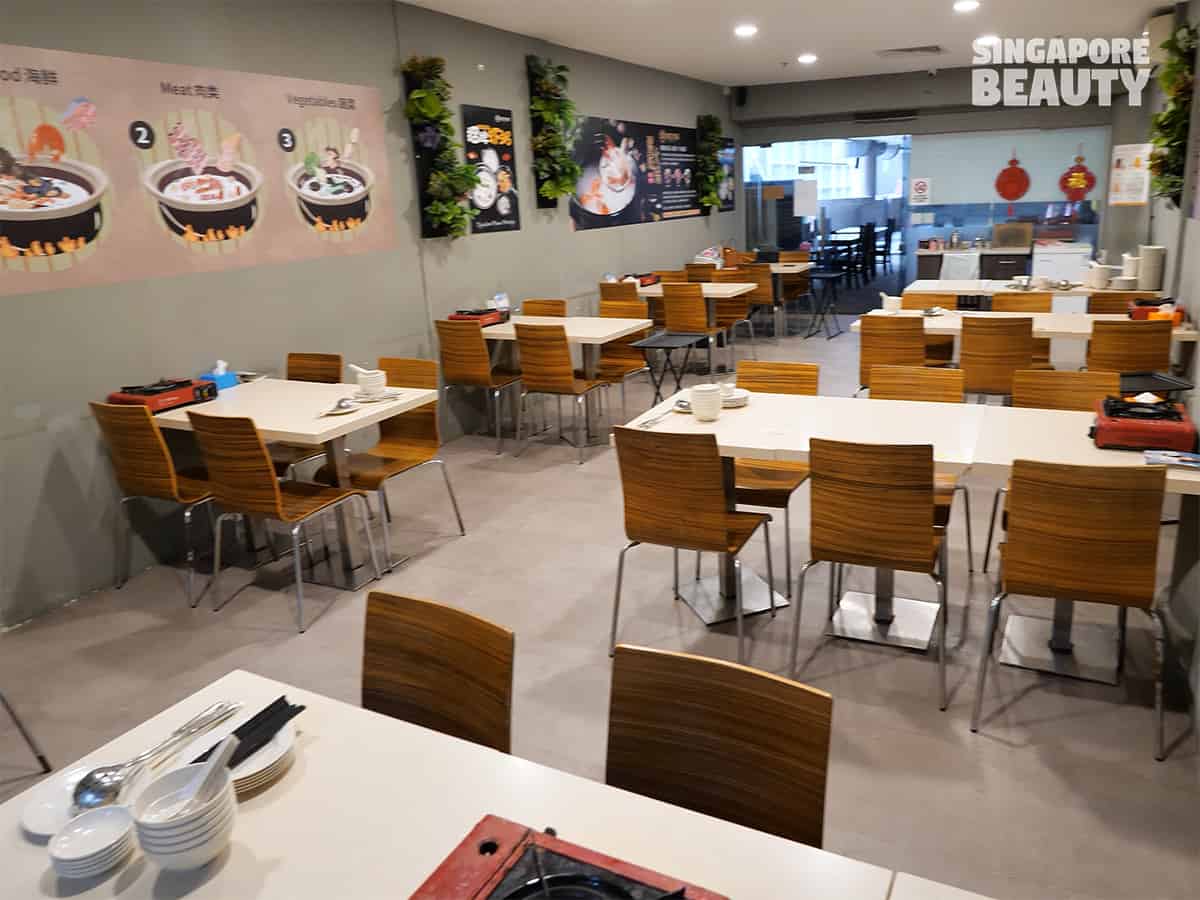 To make a Congee Legend hotpot reservation at Golden Mile Tower, please call +65 9115 6524. They are located near the entrance of Golden Mile Tower close to the car park entrance. Both outdoor and indoor air conditioned seating are available. The restaurant has a cosy ambience with tables for 4-6 pax seating.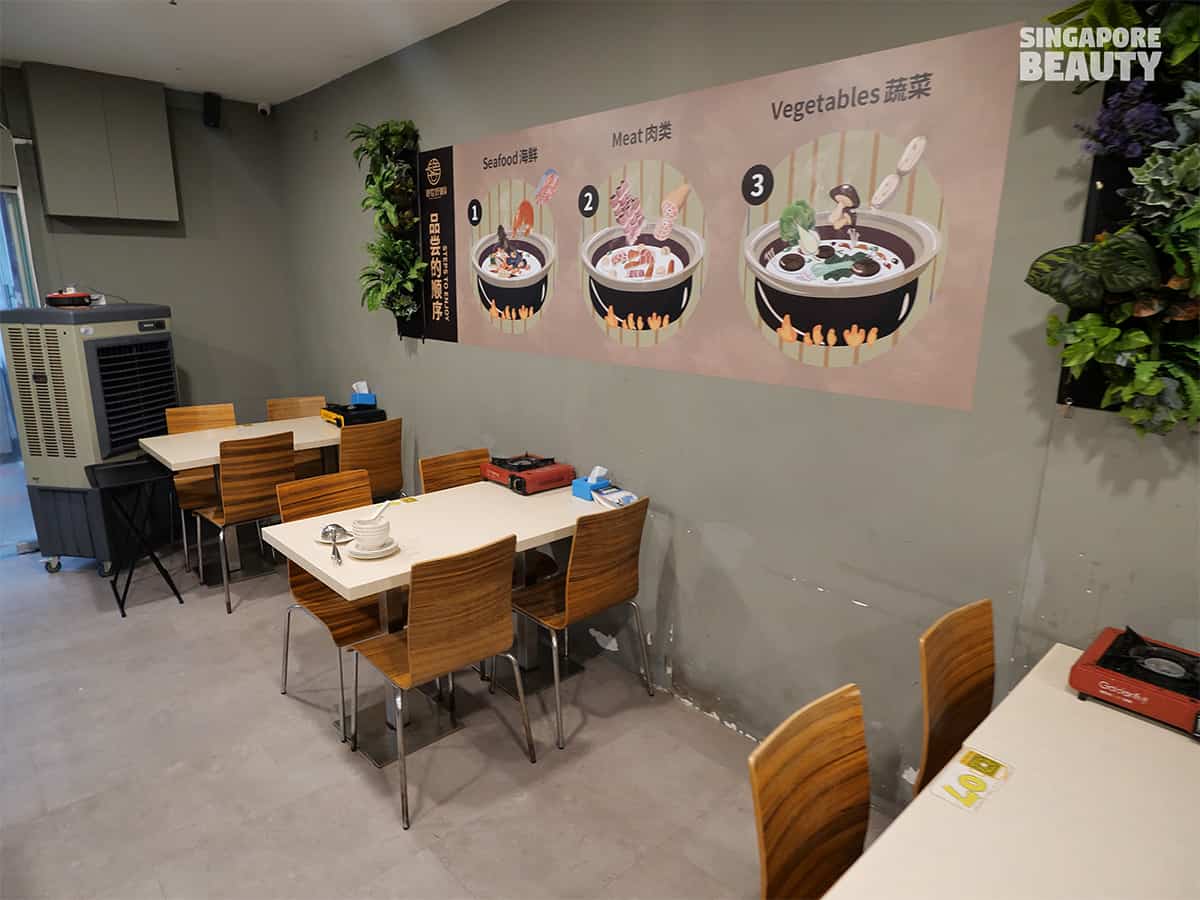 If you are new to this porridge steamboat, do check out the 3 step guide to enjoy this congee hotpot. They recommend to add food in the following order – Step 1 add seafood, followed by step 2 meat and lastly step 3 vegetables.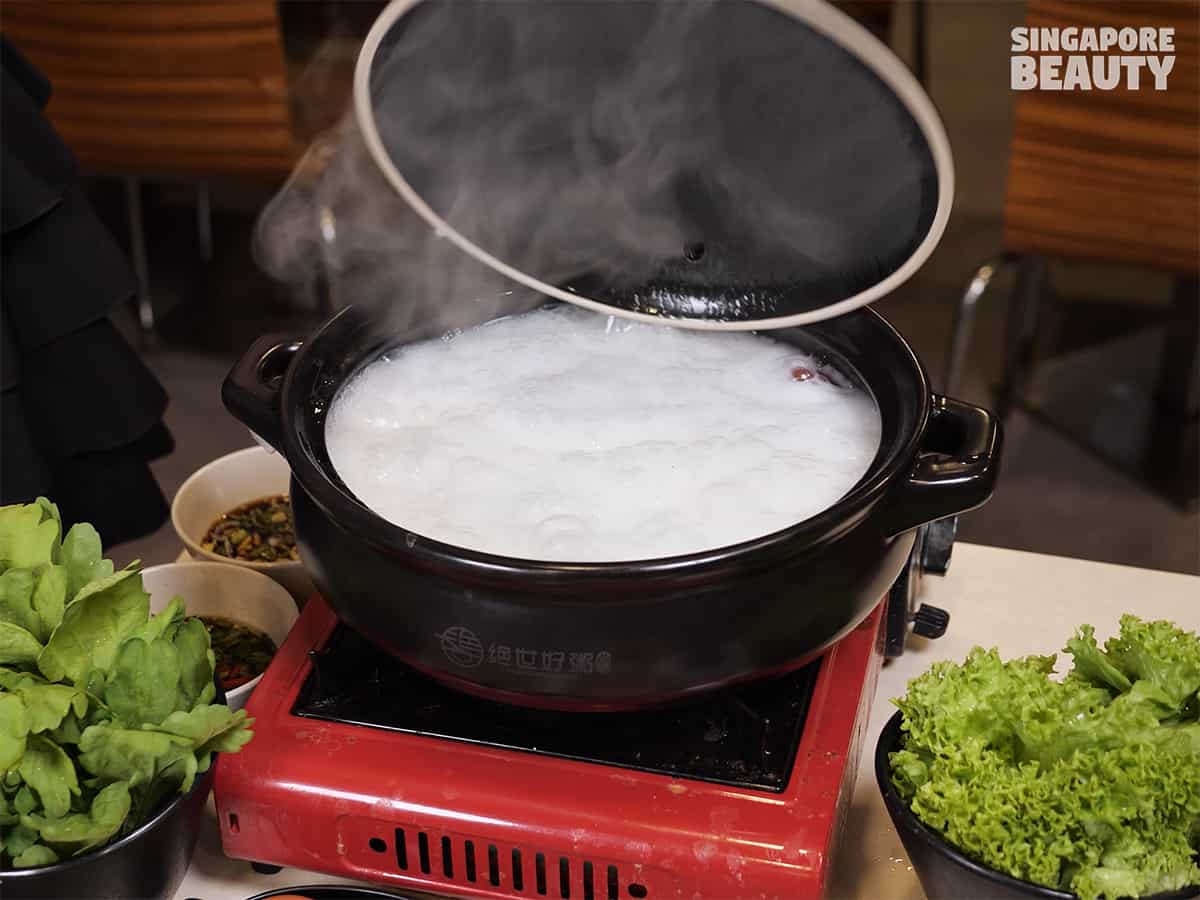 The Congee is served atop a portable stove to keep it simmering while you hotpot. This Shunde Guangdong style congee hotpot is served inside a claypot that keep it hot even on a low heat. The original congee base has a mild sweet rice flavour and gets a little gooey it simmers.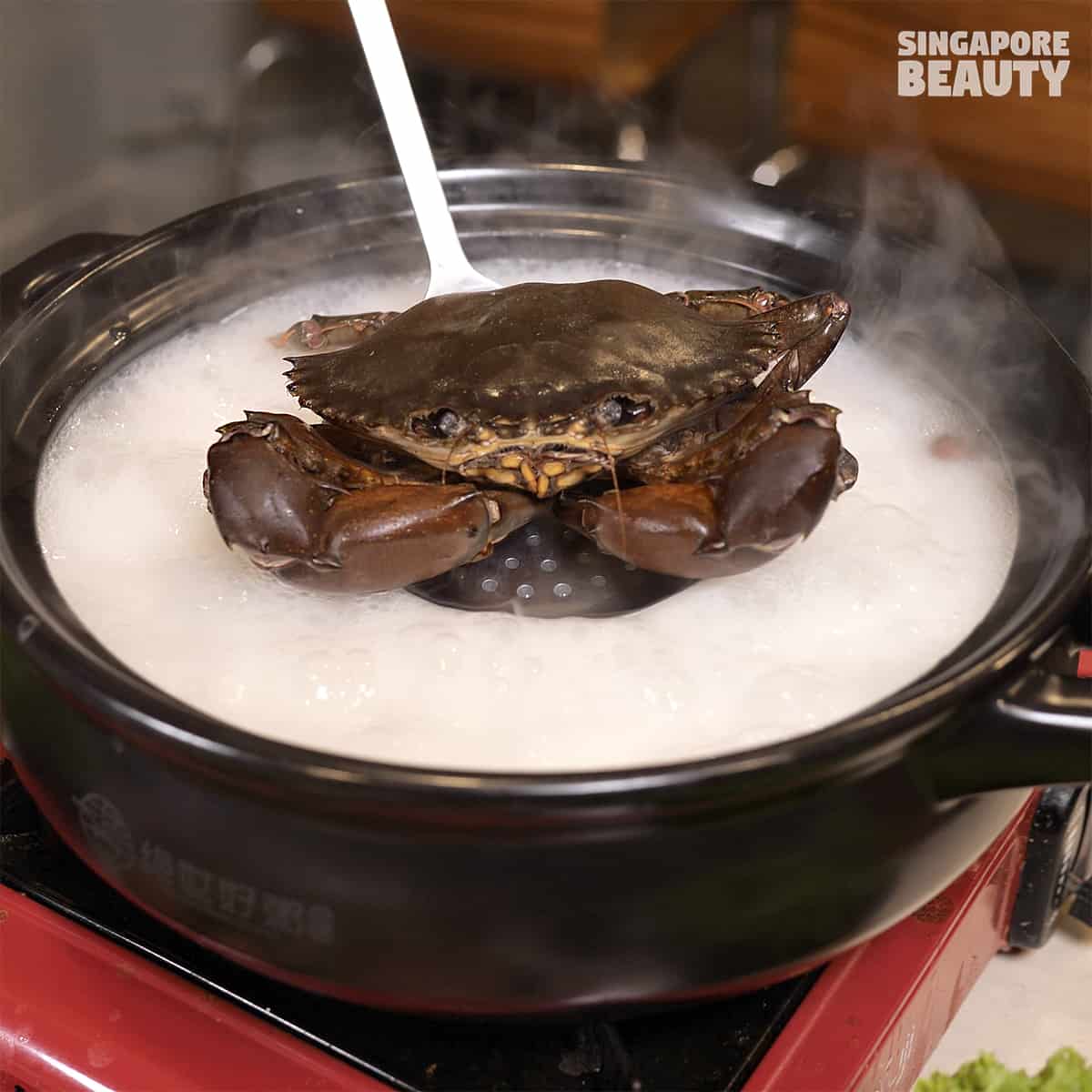 Step 1 – Add Seafood. We wanted to create a really tasty seafood congee. We added the mud crab to the boiling congee broth to create our own live mud crab congee. The mud crab shells will be cracked and dispatched into two halves for ease of cooking. It also helps to release the crab sweet flavours into the congee. Usually we cook the crab first as it has a longer cooking time.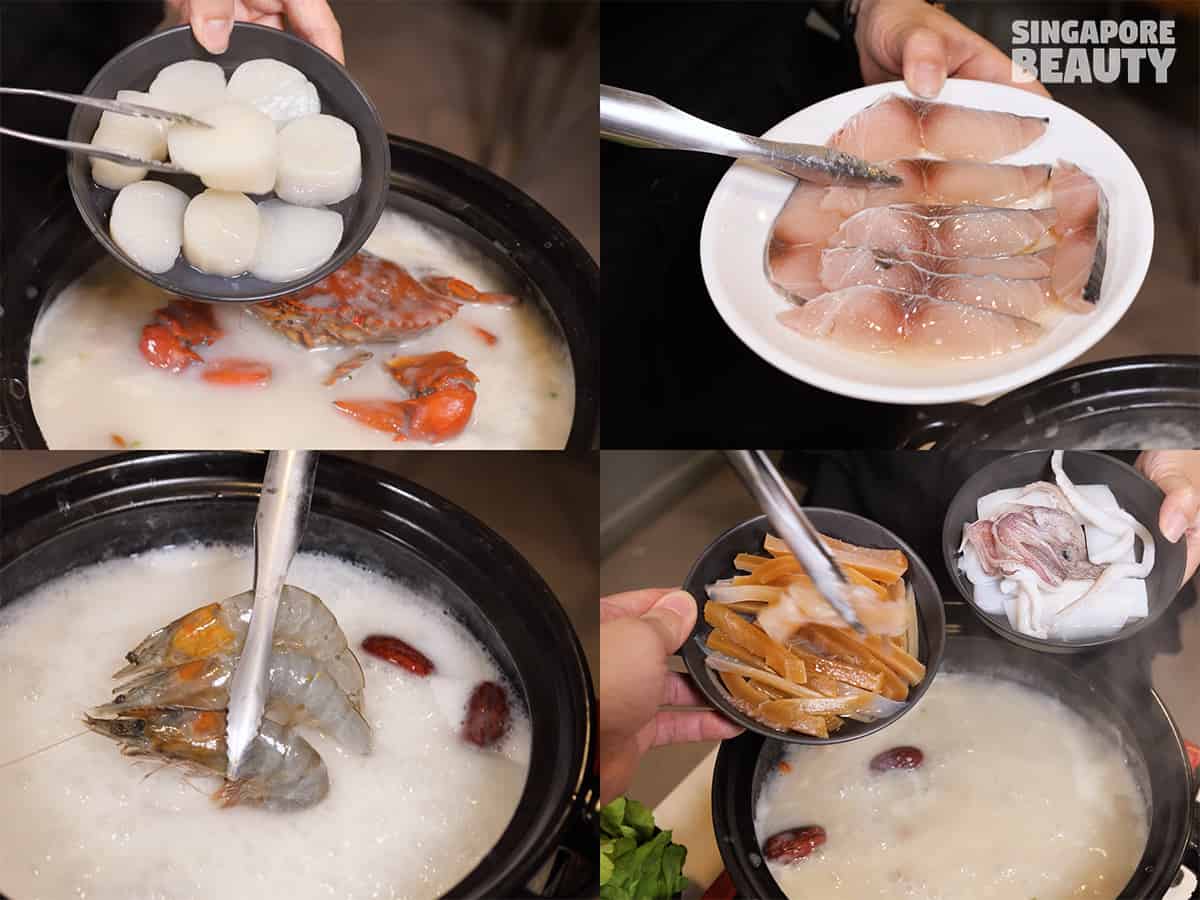 Next we added scallop, cuttlefish, lala, prawns, prawn paste, mud crab and batang fish sliced when the crab is cooked as they cook faster. The seafood cooks well in the congee soup and coated the cooked seafood with a thin glaze of congee gravy.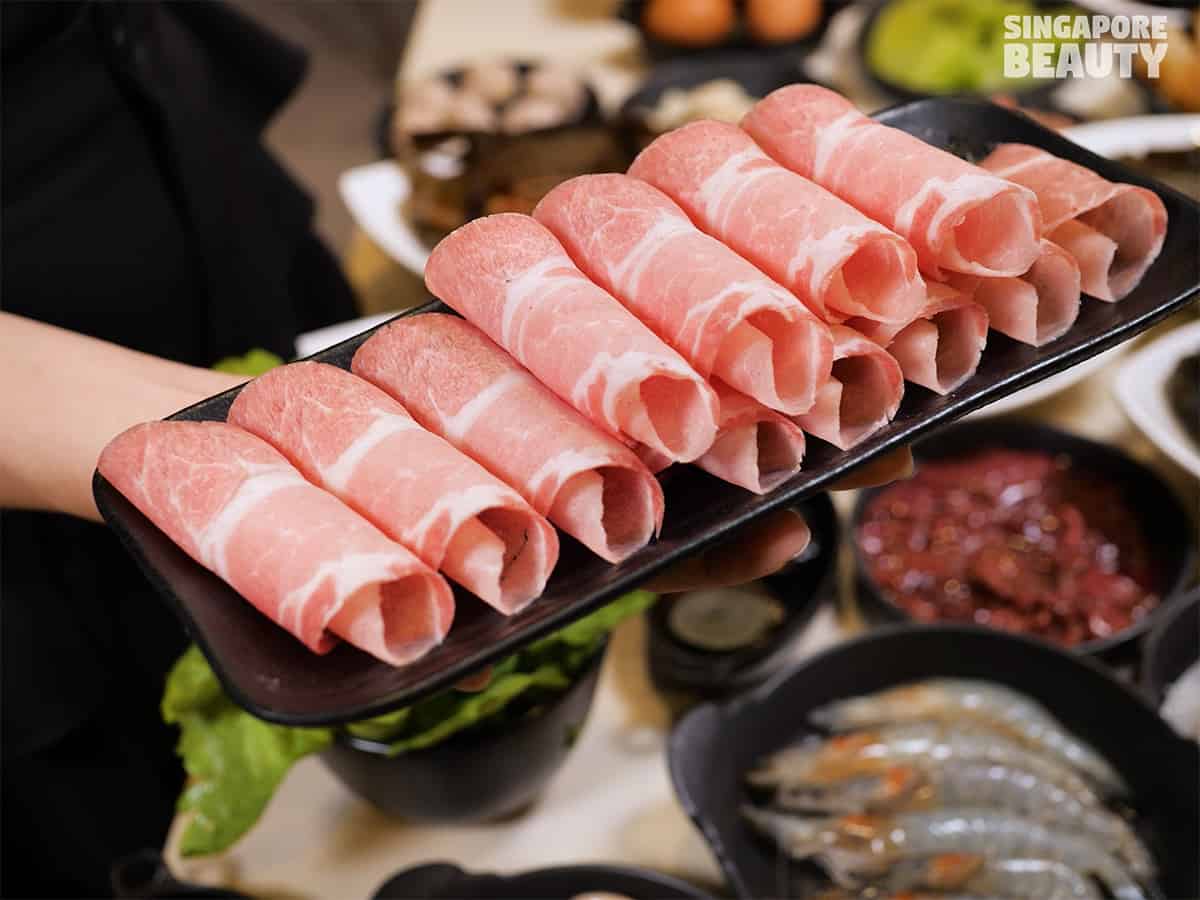 Step 2- add the meats after the seafoods. The Kurobuta pork above was served freshly cut in shabu shabu rolls. The marbling is beautiful with meat in distinct red hue. Kurobuta pork is also black pork know for it premium texture. These are great for congee hotpot as they cook quickly with a superb tender texture.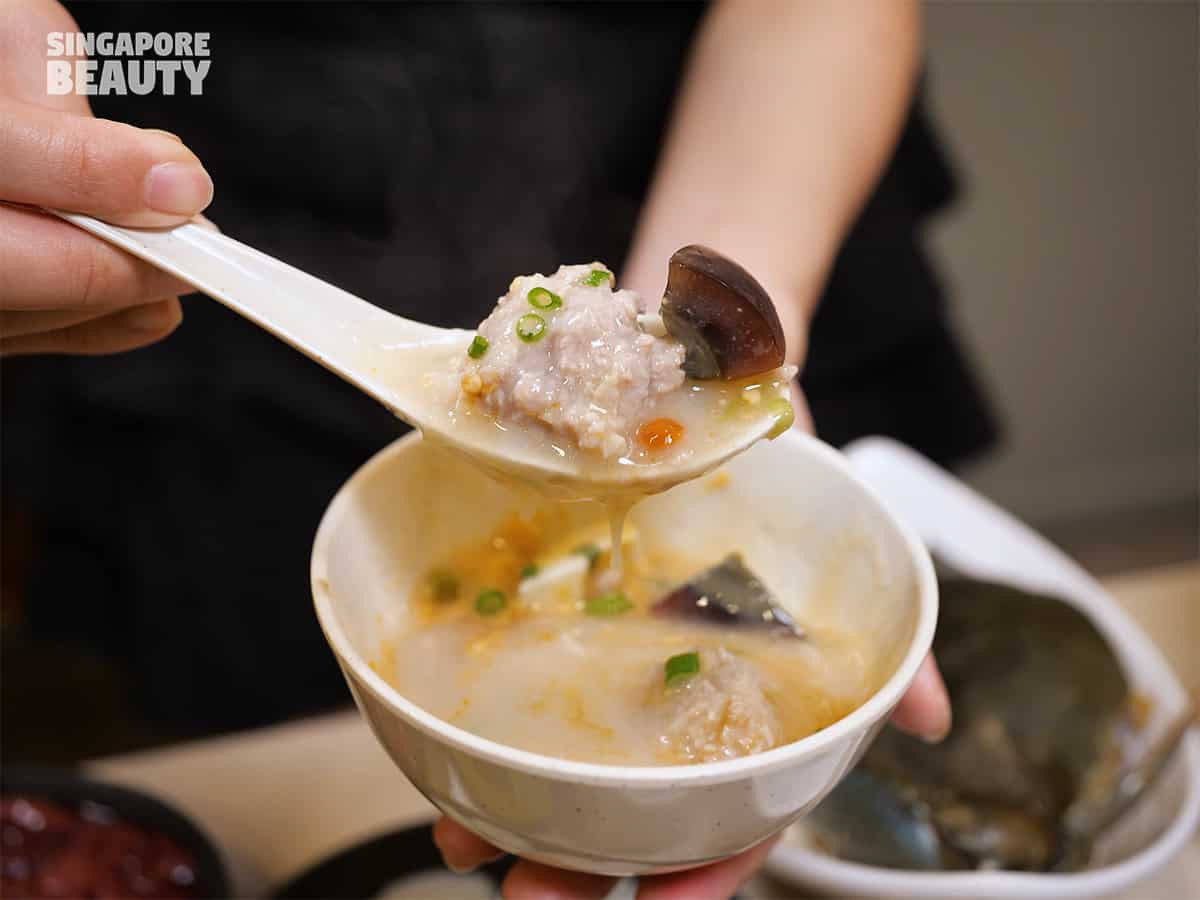 We added the rest of the marinated tender beef, pork liver, minced pork paste, and meat balls. To add a saline and rich flavour to the congee, a serving of century egg and salt egg is a must. We kind of DIY our version of century egg with pork congee with the additions of the eggs. The resulting congee is an umami explosion of flavours and we are only at step 2 of adding meats. If you are looking for porridge at Golden mile, you can try this Congee Legend Hotpot place.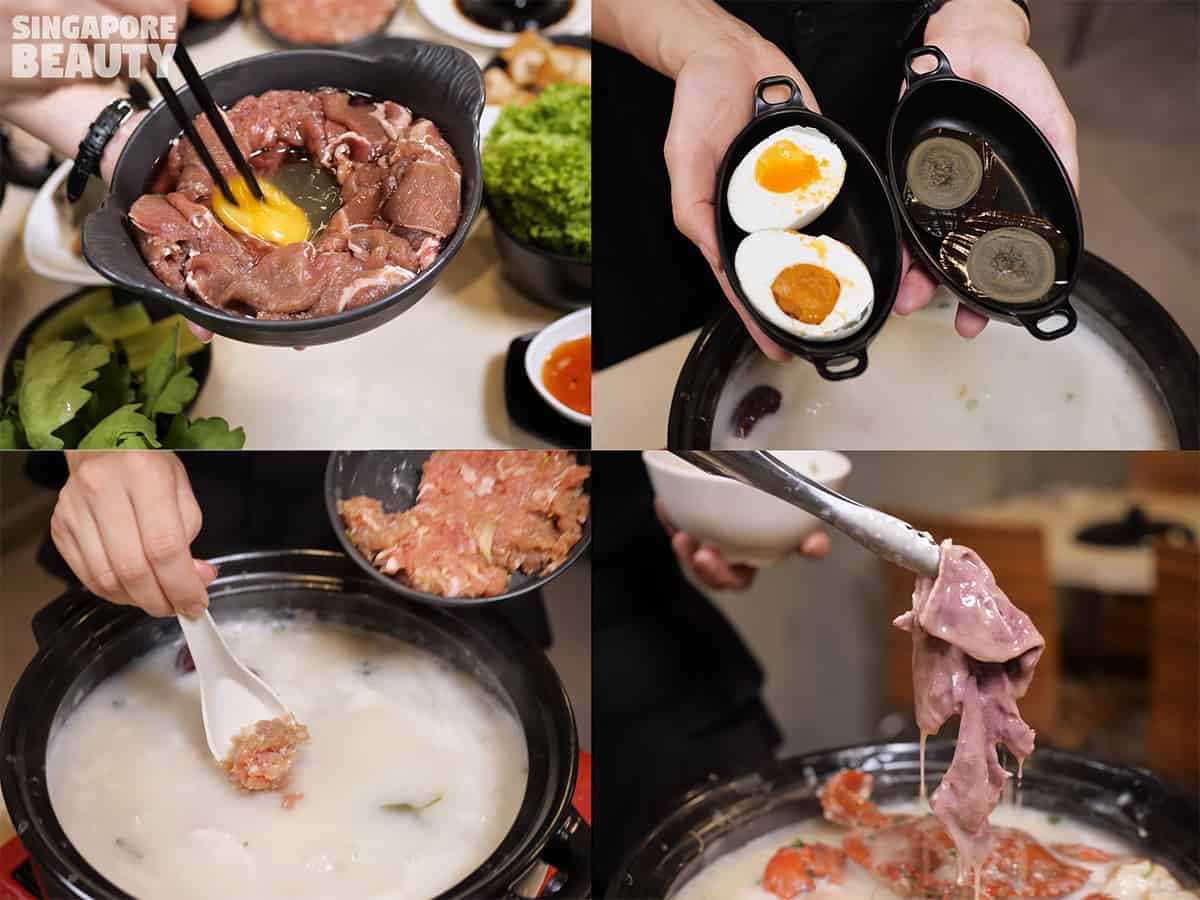 The marinated beef is served with a raw whole egg. Gently mix the egg into the sliced beef. The chef mentioned that it makes the beef tenderer when cooked. For me, it feels fun to prepare your own ingredients for cooking. We also diy our own meat balls with the minced meat paste into  little round spheres. Special mentions goes to the salted egg, we are lucky to get one that is oozing with orangey golden oil from the yolk – a sign of a very tasty well made salted egg. Although the century egg is not those molten lava yolk type, it has a nice firm pungent almost ammonia gassy flavour to it – which I enjoy. The pork liver is also surprisingly tender after cooking.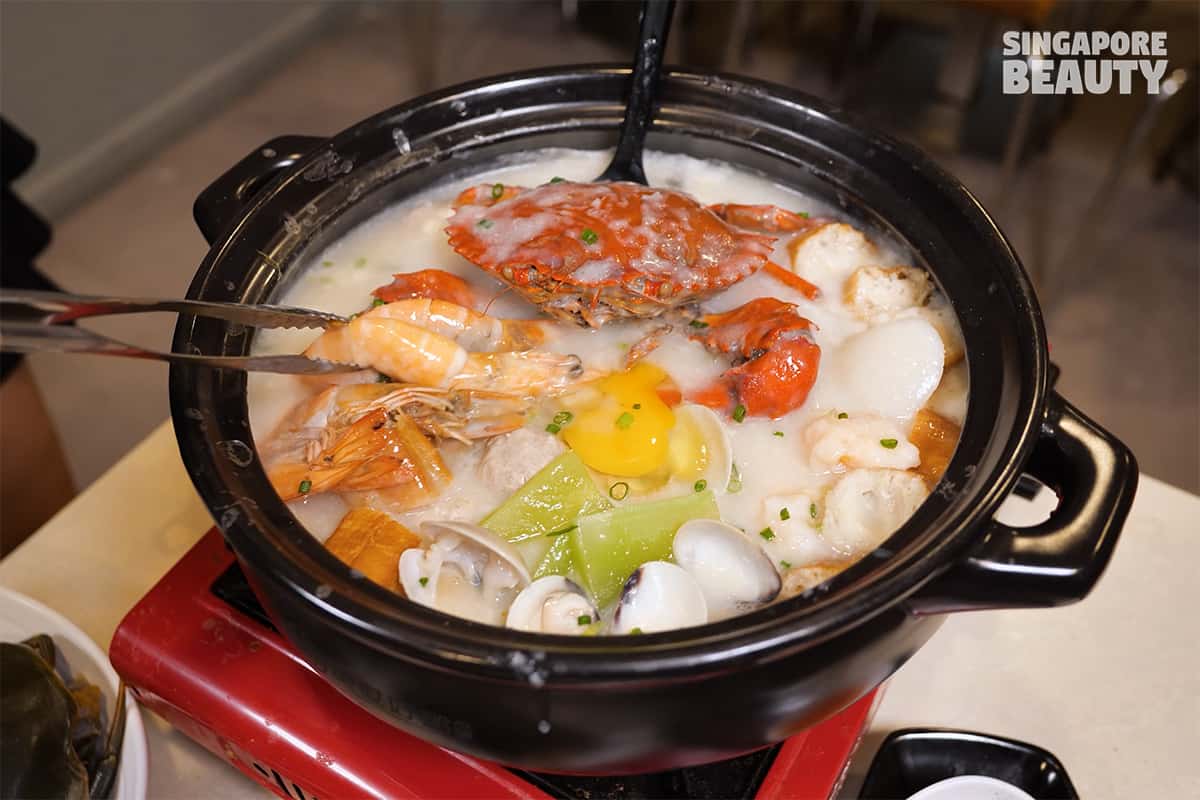 Lastly step 3, we added the greens to the seafood and meat congee hotpot. We choose lettuce for the crunch, Wo Sun for the sweet kick and tang Oh with a bitter sweet flavour. The resulting pot of congee hotpot is filled to the brim with goodness. The congee soup broth has taken on a richer cream hue. If you are looking for a popular porridge hotpot at Golden Mile, this is the legendary bowl of Congee Legend Hotpot.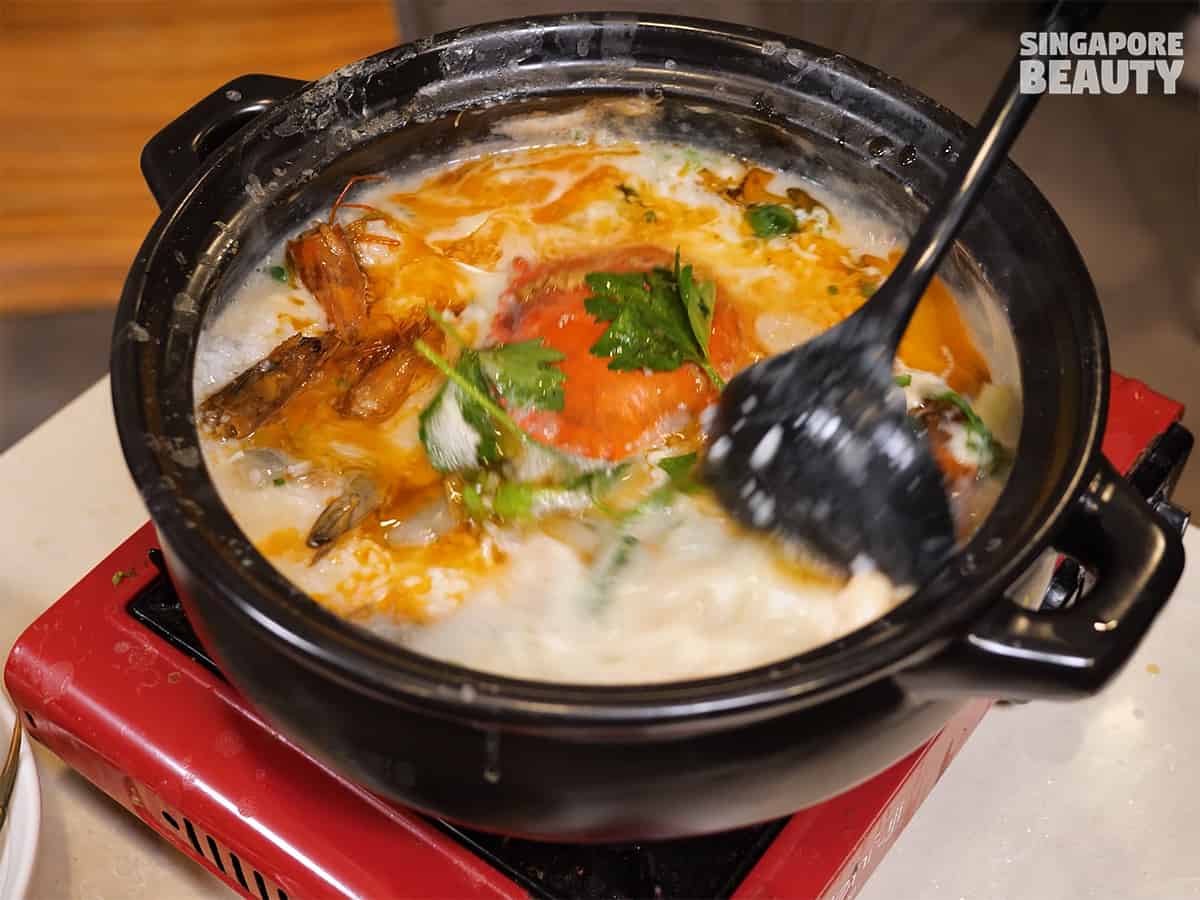 In the special menu of Congee Legend Hotpot, they have an heirloom recipe that was passed down from the co-founder's granny. The signature prawn congee ($8) consists of 3 food items – a large bowl of soft fluffy moist rice grains, prawns and prawn head essence oil. The 3 steps to creating this prawn congee is by adding the grains, prawns followed by the prawn head oil. The resulting is a thick gooey type of Cantonese porridge with visible broken down soft grains. The porridge has a nice umami shrimp flavour and is very filling.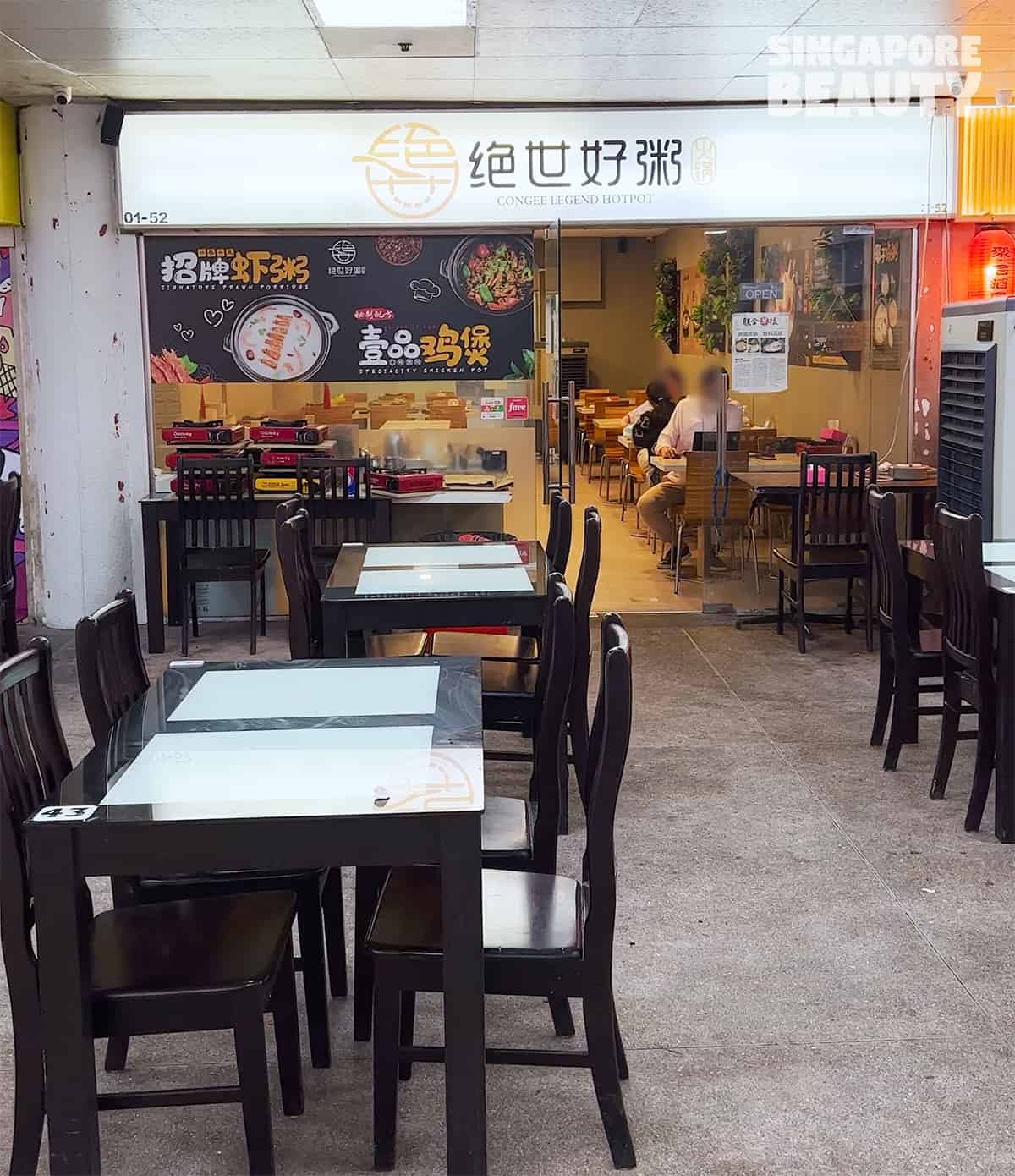 Head over to this Singapore First Congee Hotpot that originated from Shunde in Guangdong Province. Congee Legend Hotpot is located at Golden Mile Tower at Beach Road. Whether you are there for nutritious epic seafood hotpot congee porridge or for their Signature prawn porridge, they have it all. This is also a supper place where you can get congee and porridge till 3am or till 5 am for certain days.
Address of Congee Legend Hotpot:
6001 Beach Road, Golden Mile Tower
#01-52, Singapore 199589
(Located near the entrance to the multi-storey car park)
Opening Hours:
5pm till 3am daily, extended hours for Thursday and Friday till 5 am.
For reservations, call: 9115 6524
Brought to you By Congee Legend Hotpot