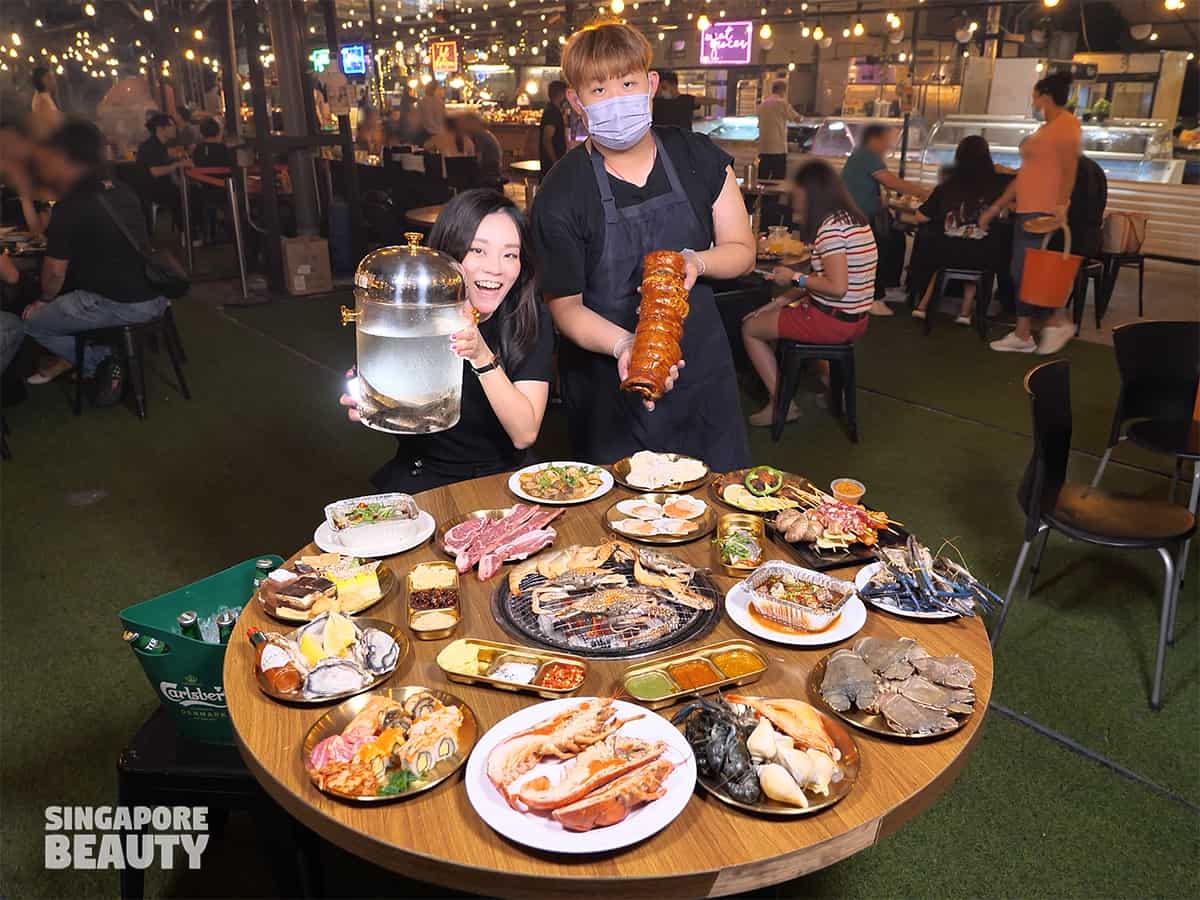 The Three Peacocks at Labrador Park has over 100 types of seafood on ice, live seafood, marinated seafood, premium meat cuts, international cooked food buffet line, skewers, sashimi, cakes, complimentary beer and Boston lobster.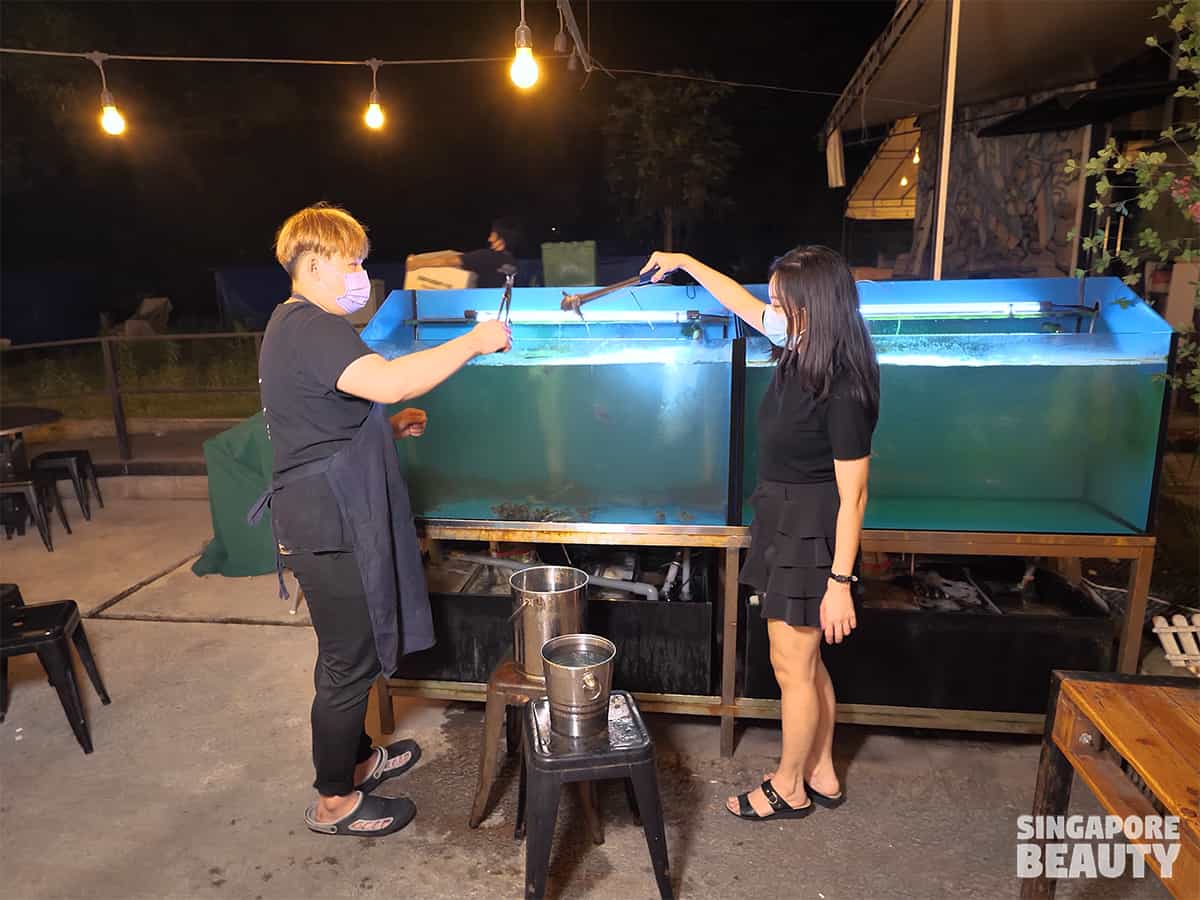 You can catch your own live seafood at this icy live tiger prawn tank near the seafood bed at The Three Peacocks buffet. They provide tongs for you to catch the swimming prawns. After catching the live prawns, you can ice them to knock them out before bringing them back to your bbq grill.
I am surprised not many patrons try to catch these live prawns even though it is part of the buffet. The live tiger prawns are plump and has great texture when barbecue. Try it when you are there for the experience of catching your own live seafood at The Three Peacocks at Labrador Park Buffet. The prawns can be grilled with some melting mozzarella cheese or just a pinch of salt. With seafood this fresh, not much seasoning is needed, the tiger prawns taste great even on their own.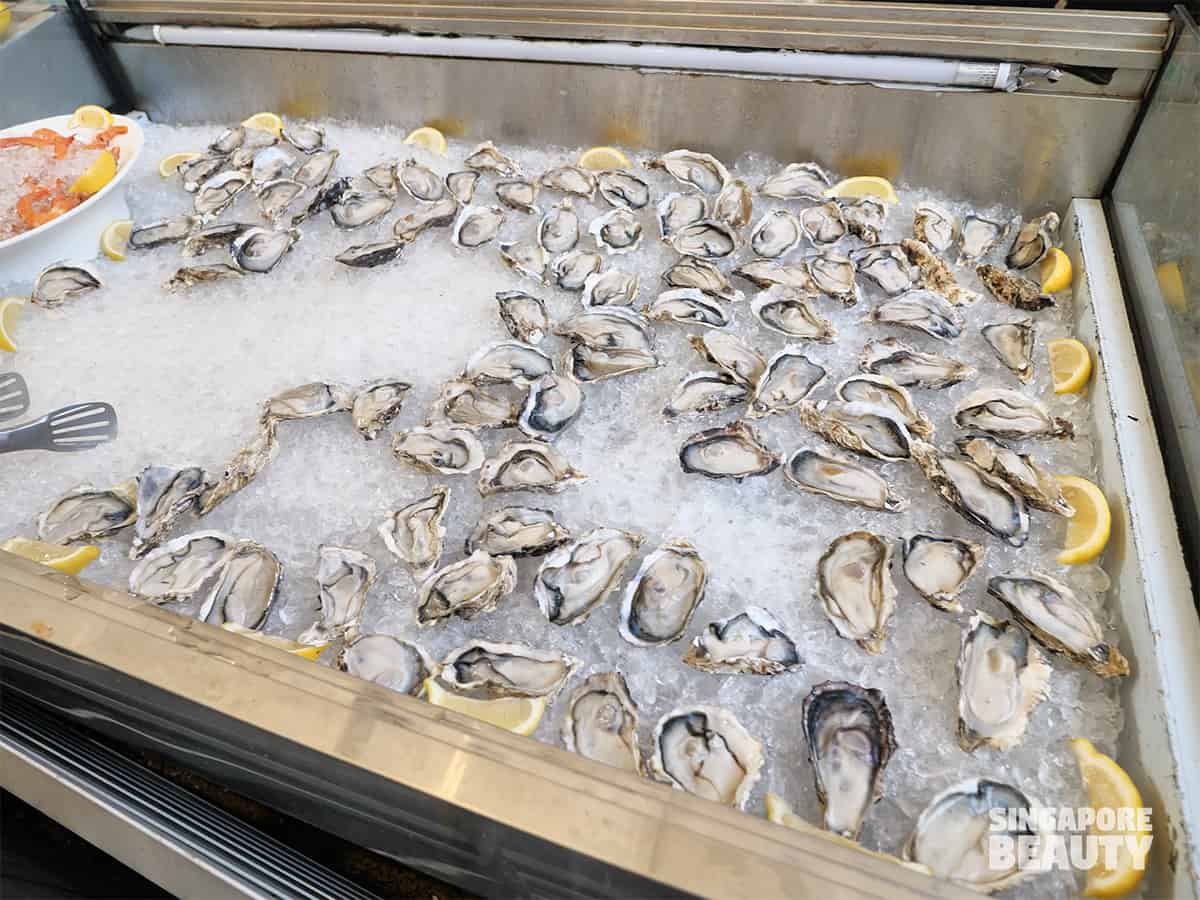 Are you a lover of live oysters buffet? If yes, you need to get your hand on these shuck for you live Japanese oysters that are free flow. These live oysters are freshly shucked and laid on an ice bed so you can take as many as you can finish on your plate at one go. The oysters are of a good size, super plump and fresh.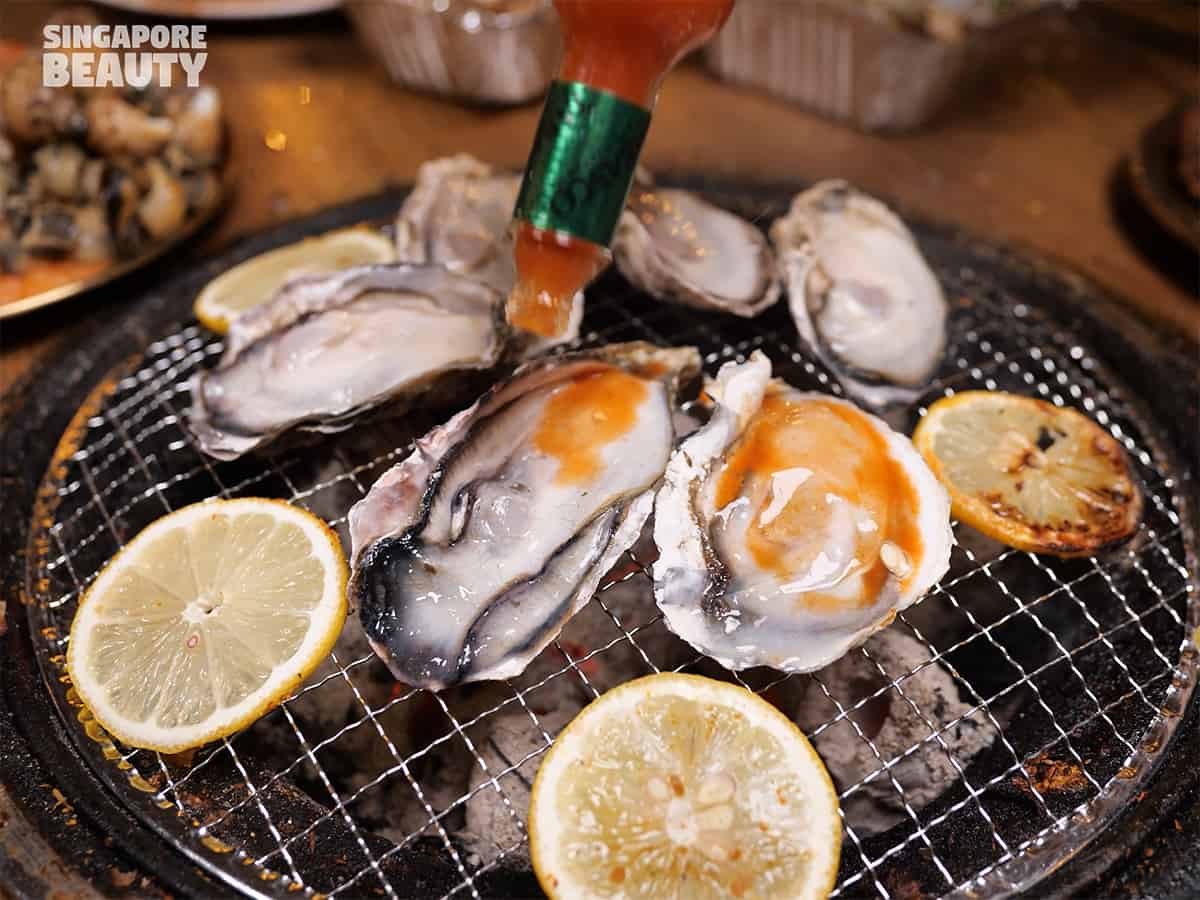 You can enjoy these live oysters with the lemon wedges and a dash of Tabasco  sauce. The oyster literally burst into a briny oceanic bomb in your mouth, a pleasing mix of vinegary, citrusy and mild heat. You can also barbecue them with The Three Peacocks wide range of dipping sauce. They have a good range of condiments for barbecue and to dip your food in. These oysters are so fresh you can see the simmering translucent glaze on each oyster.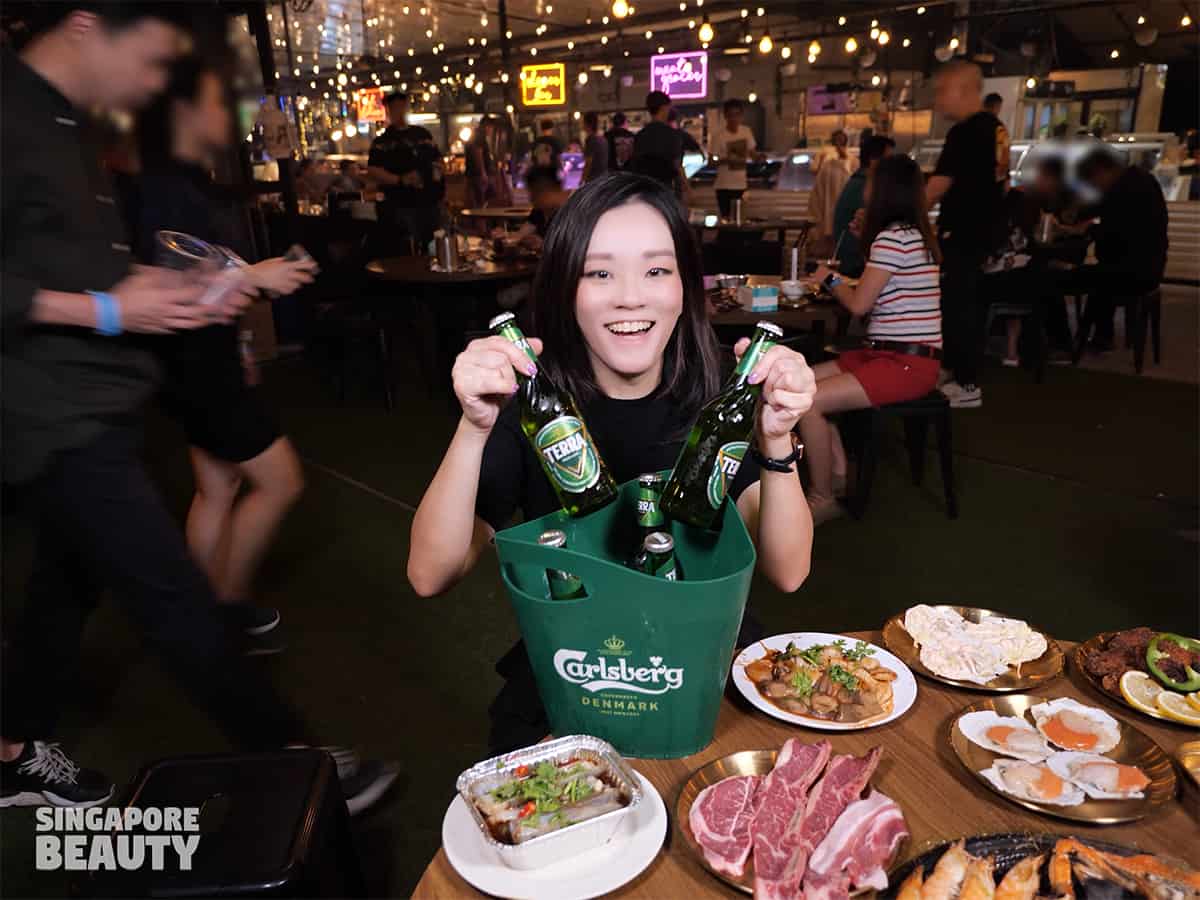 Happy Hours at The Three Peacocks happen every Tuesday and Wednesday evening till 14 Dec 2022. This is one of The Three Peacocks Promotion for this 2022. Every table of 5 paying buffet adults get a free bucket of selected beers. This is a real happy hour for me, I love icy cold booze with hot off the grills seafood and meats. My mid week working blues gets an instant lift and relaxes me for the coming weekends!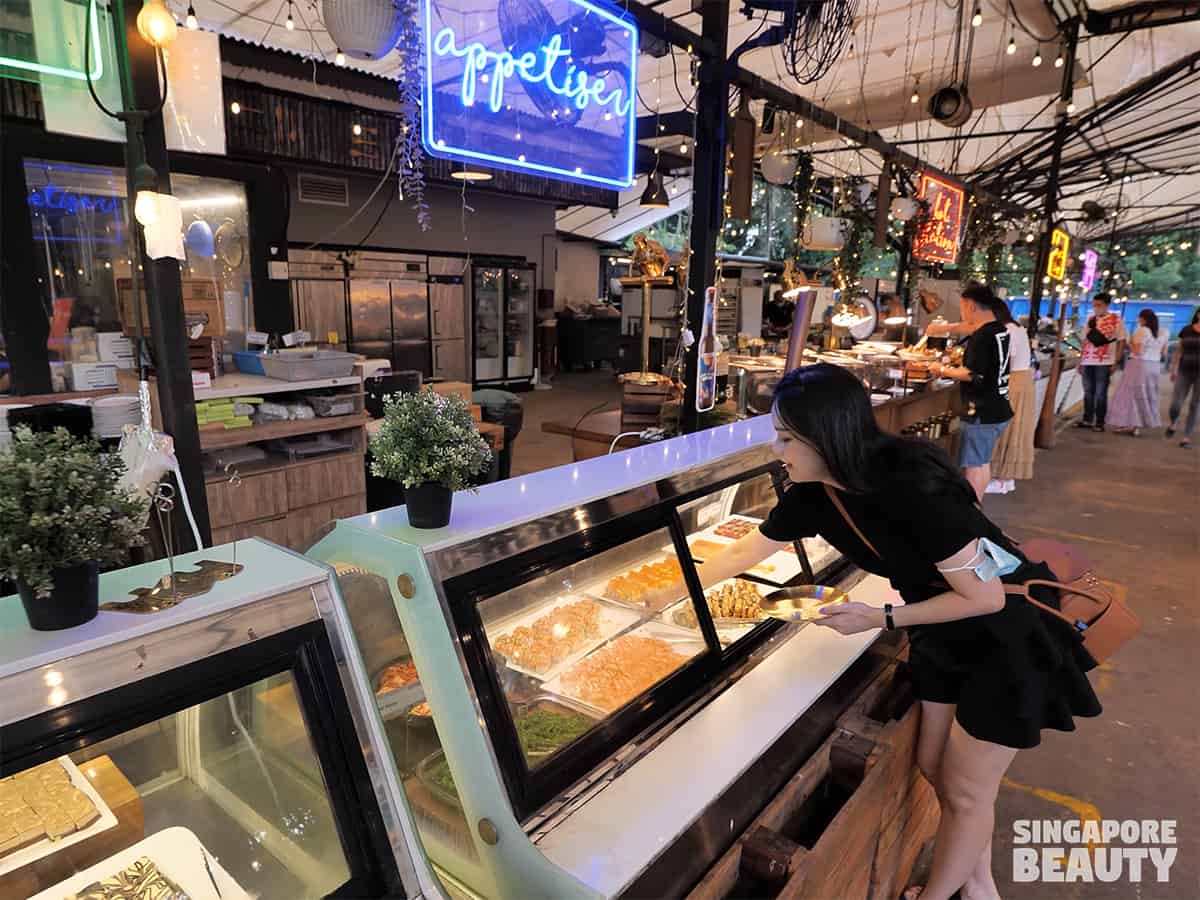 Sashimi such as freshly sliced salmon sashimi and tuna carpaccio are also available here. It is like a Japanese buffet where you can feast on sashimi as appetizers. They also have sides such as kimchi, wakame salad and potato salad to get you started.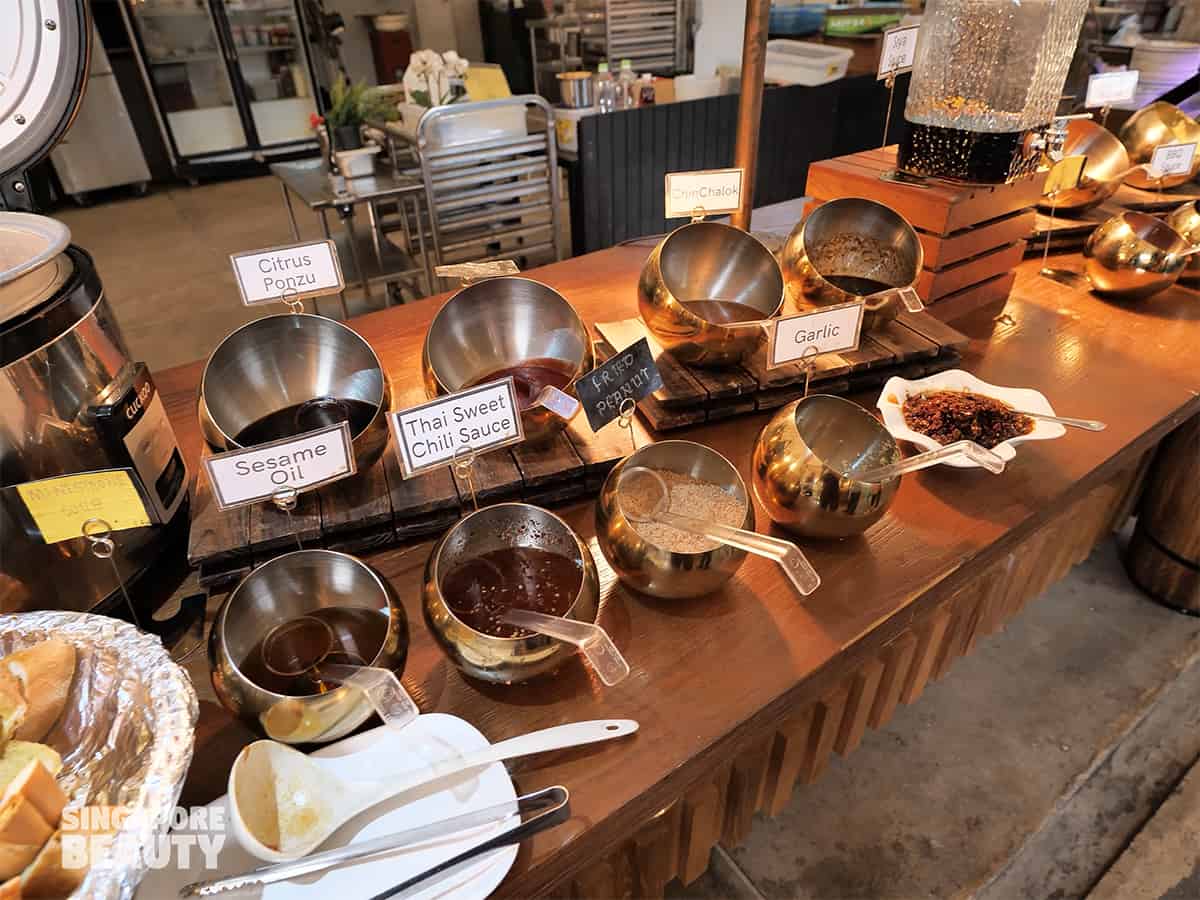 They really know the way to a good bbq experience besides serving premium meats and fresh seafood. Just check out their 2 counters of seasoning, condiments and dip sauce. The sauces range from Japanese, Thai style, Vietnamese sauce, Indonesian sauce, Chinese, Local and western sauces. Citrus ponzu, Thai sweet chilli, Thai seafood sauce, garlic, fried peanuts, fish sauce, kecap manis, chilli paste, Chinese bbq mixed spices chilli flakes seasoning, chilli oil with crunchy peanuts,vinegar, Local chinchalok, chilli sauce, smoky barbecue sauce, garlic butter, pepper salt and more!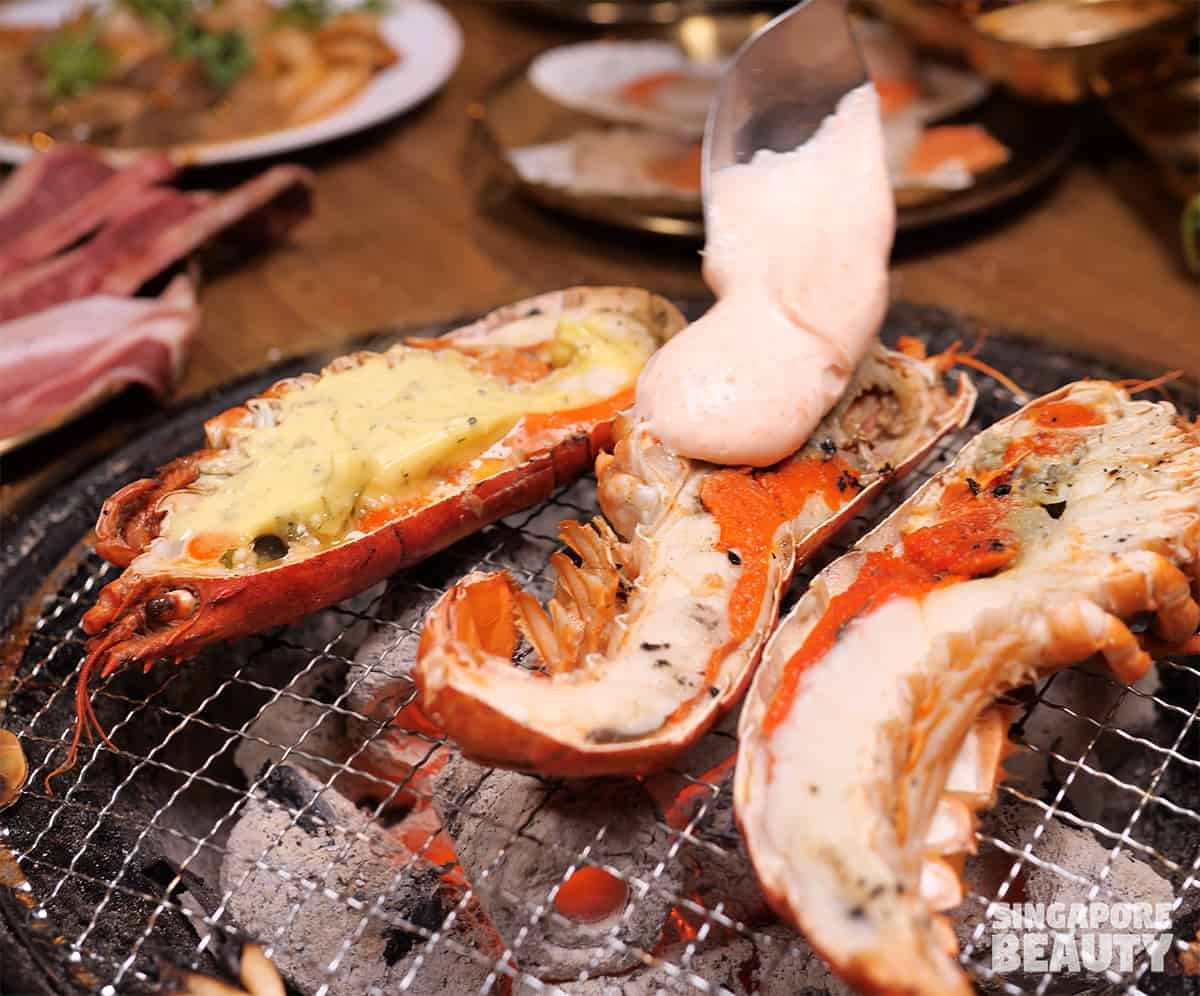 I also found mentaiko mayo and wasabi mayo near their Japanese cooked food buffet line. These are so good for barbecuing seafood and as dips for fried tempura and finger food. Make sure you get them. Remember to redeem half a Boston lobster each, first thing after paying as it is next to the cashier. Barbecue these beauties with garlic butter, mentaiko mayo or wasabi mayo on the grills.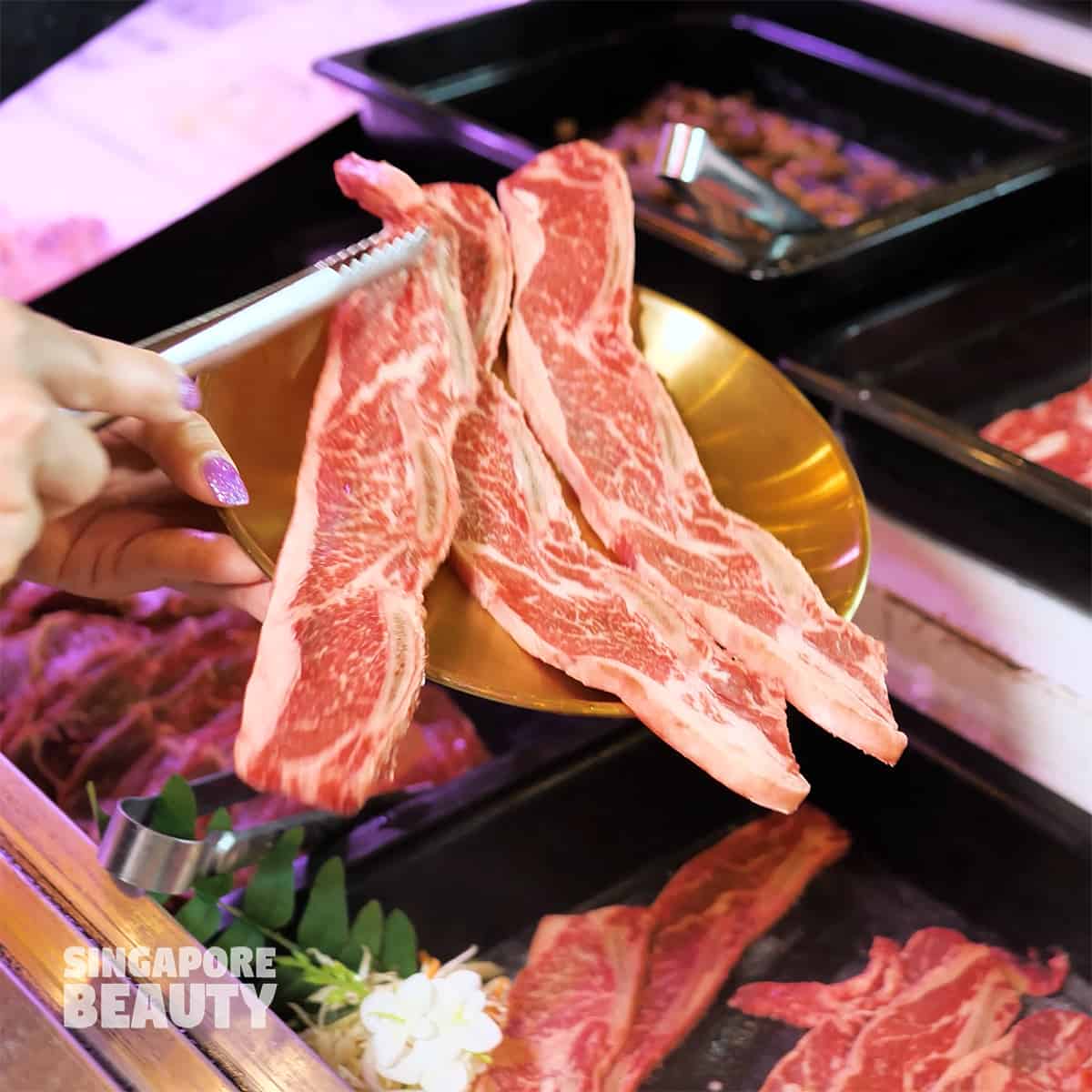 They are also known for the 18 cuts of premium meats inclusive of beef, chicken and pork. Get all these amazing selection buffet style at the market-style grocer bar. I love the pick and choose concept here where you pick your own cuts of meats. Premium pork and premium beef cuts included are Australian Wagyu cubes, US Prime beef, premium pork, chicken chop, bone in ribs, striploin, ribeye, chestnut pork and more. Enjoy Korean style marinated meats and grill some kimchi too.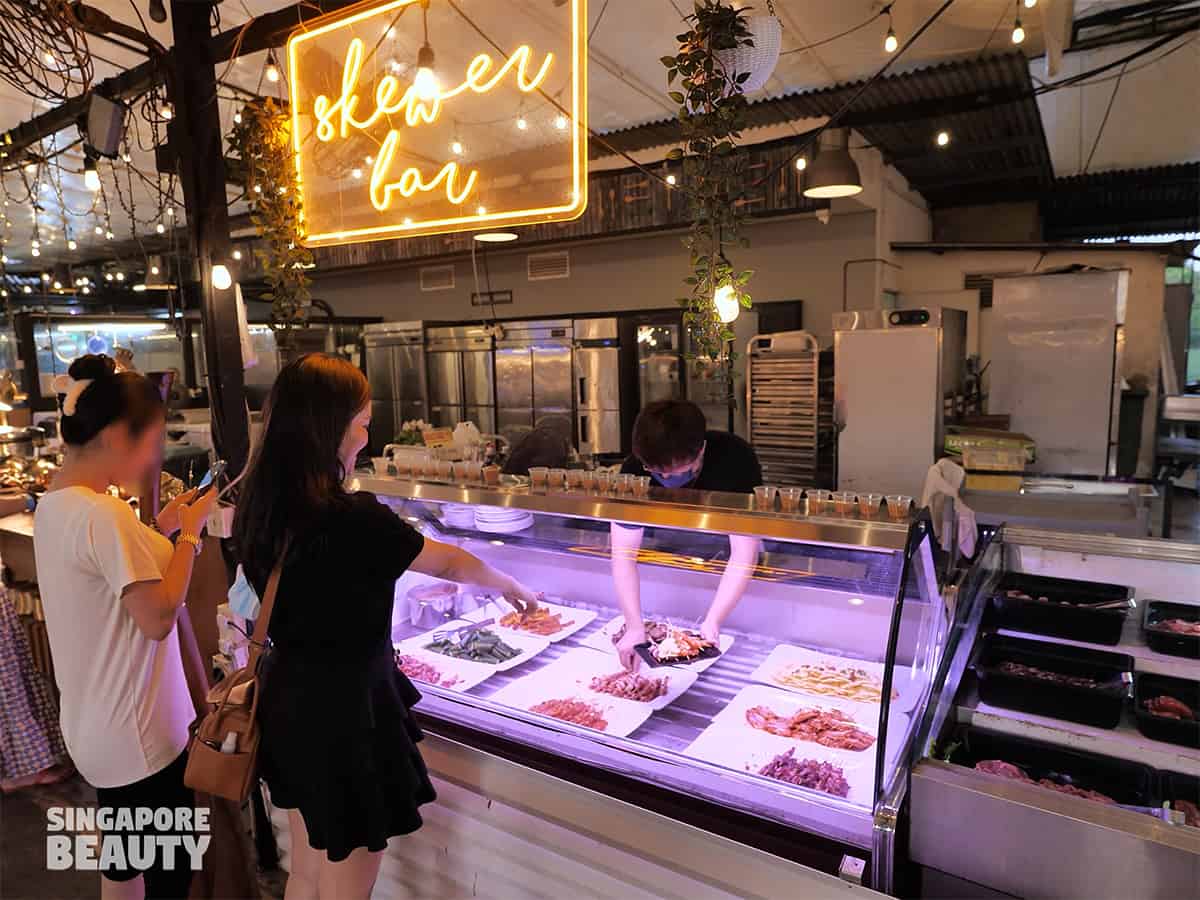 Love lok lok and chuan chuan? They have a whole skewer bar dedicated to barbecue skewers. Get tender sticks of chicken, beef, lamb & mid wings to grill. Get the vegetable sticks such as sliced potato, ladies finger and corn to grill too.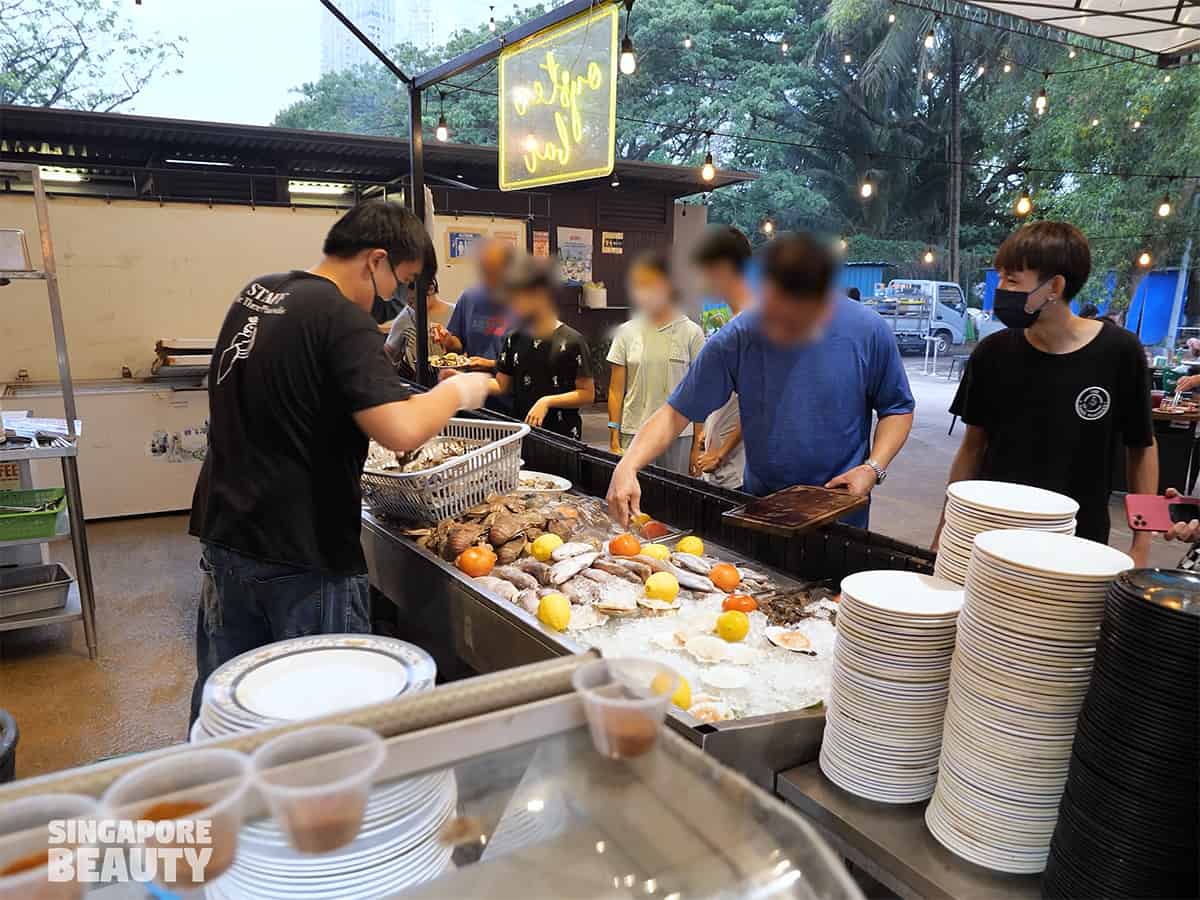 Slipper lobsters, scallops, bamboo clams, various sea snails, live Japanese oysters, flower crabs, squid, crawfish, giant river prawns and live tiger prawns. The Three Peacocks menu for the seafood buffet includes an impressive selection of seafood on ice. My favorites are their live tiger prawns, giant river prawns, gong gong, slipper lobsters and live oysters.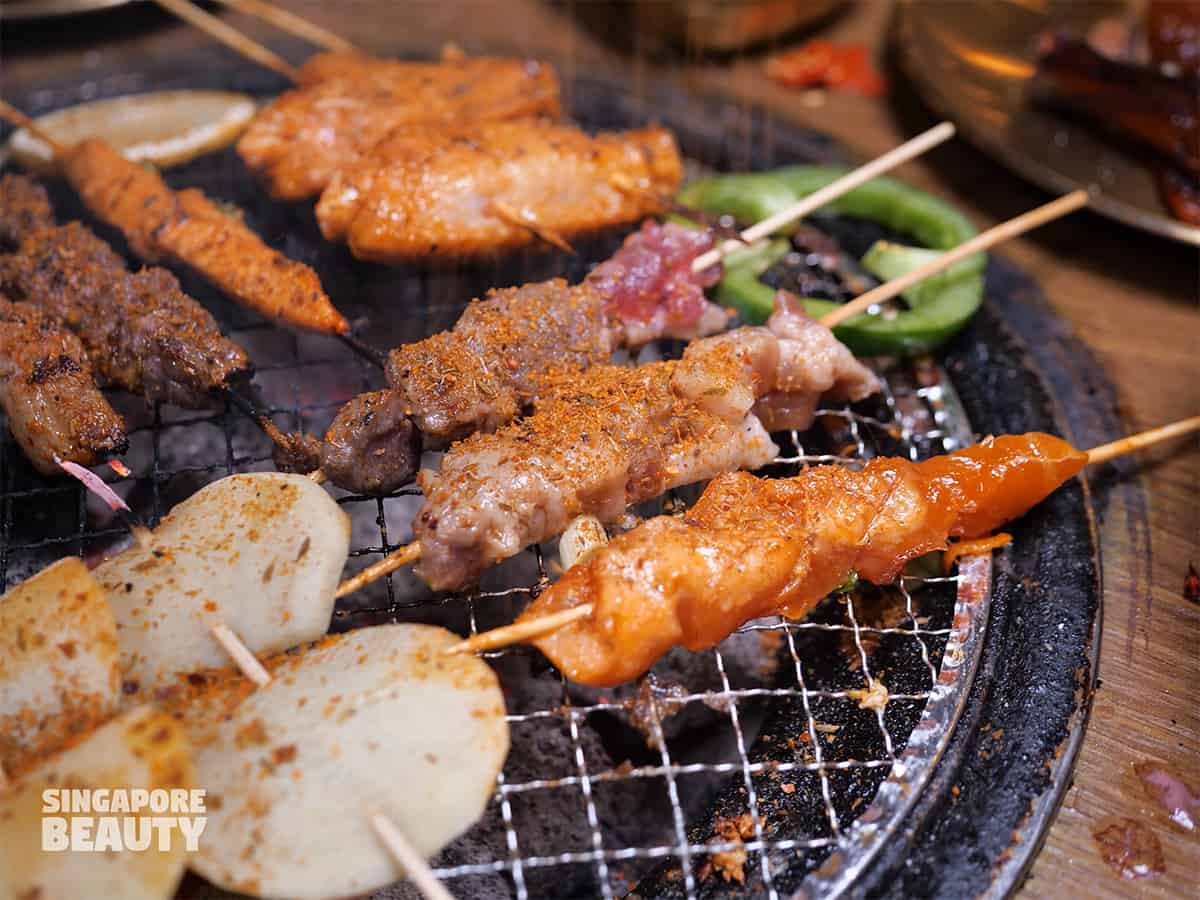 At the Skewers bar, get a tub of dry grounded spices that consist of cumin, Sichuan pepper flakes, peppercorn, fennel seeds, nuts, cinnamon, ginger, garlic, sugar, salt and more. You can now grill your own authentic Chinese style chuan chuan with these seasonings. These seasoning are great for their premium meats and seafood too.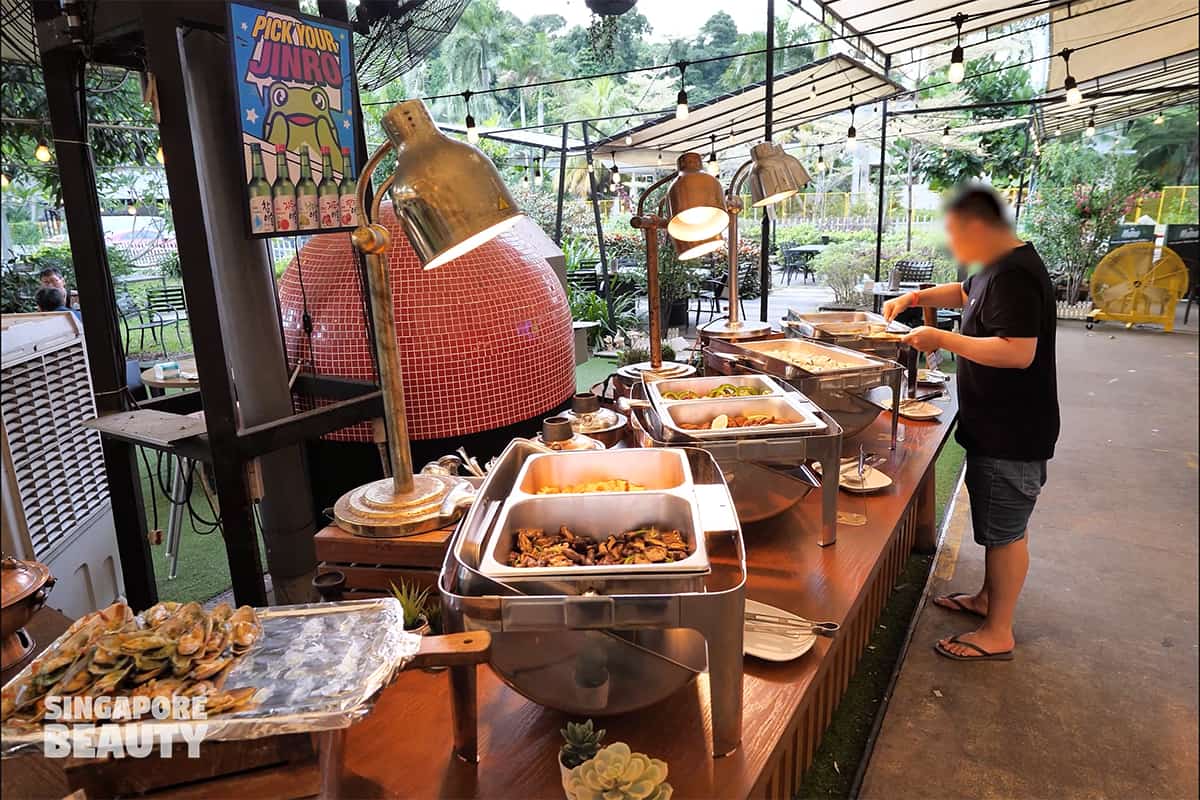 The buffet line starts from the cashier all the way and seems to stretch beyond what our eyes can see. The hot food stations are displayed hotel style with heat lamps to keep all the food warm. While we were there, the cheese bakes mussels, carbonara white wine clams, pepper roasted chicken, baked cheese potato, mala prawns, roasted ducks & roasted pork belly caught our eyes. We cannot resist and stack up on these goodies before the actual bbq session starts.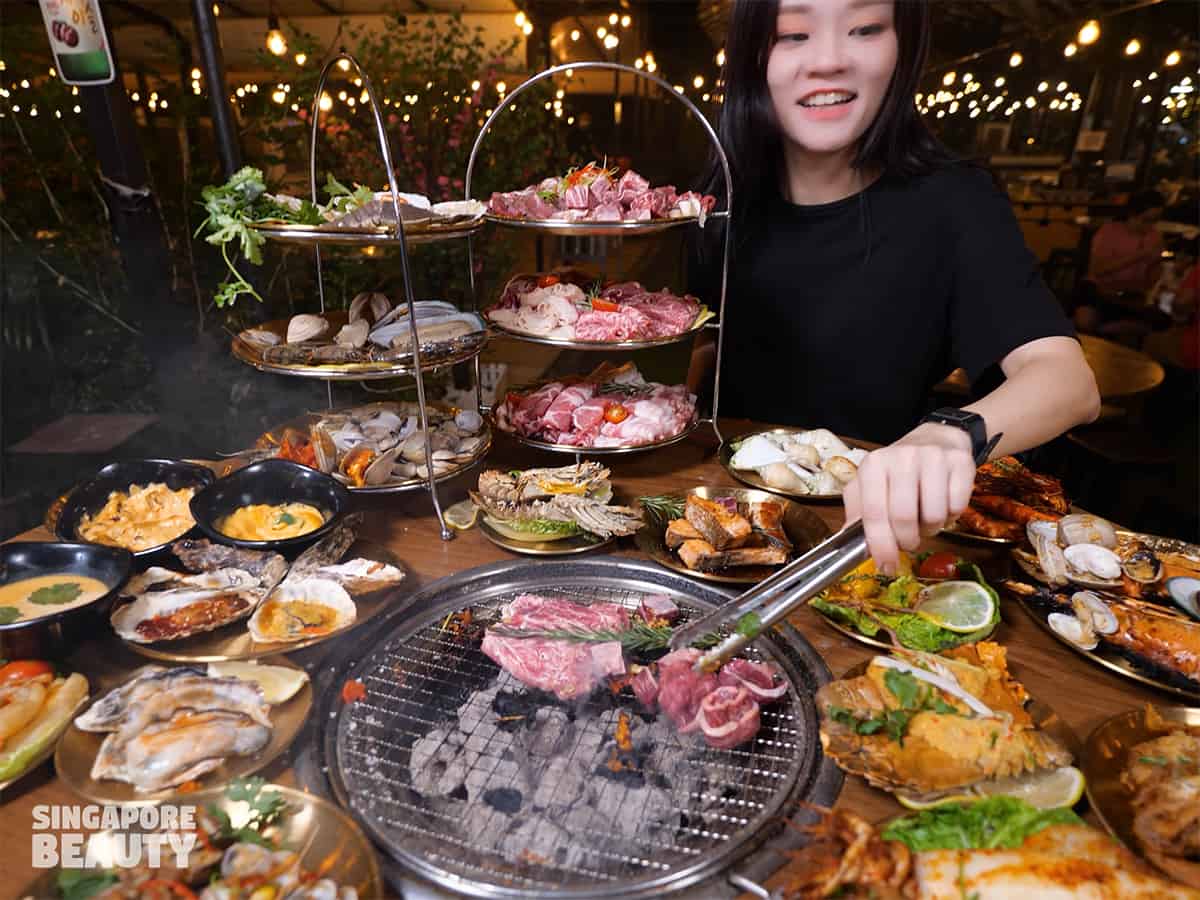 There are vast amount of food selections at The Three Peacocks buffet. There are cooked food buffet lines in international style such as western, Japanese, Chinese, Philippines and Local delights. Seafood on ice, live seafood, skewers bar, artisan cakes, Japanese sashimi bar, premium meat bar, salad bar and so much more. It is really Singapore largest bbq buffet, you need to be here at least once if you are visiting Singapore.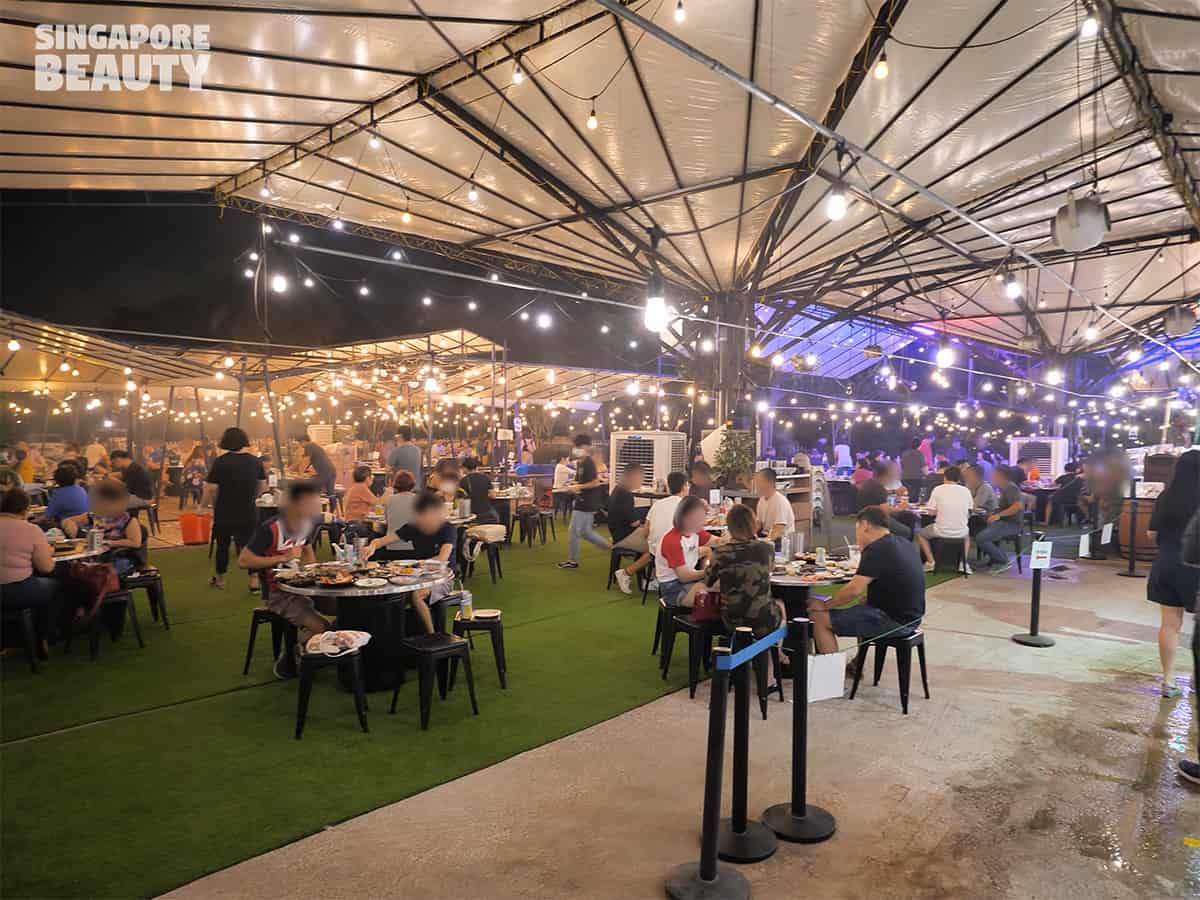 Following The Three Peacocks buffet at Labrador Park success, the same owners have a new outlet –  Live Seafood Market by The Three Peacocks at Marina One recently. The difference between the two outlets is that 3 Peacocks at Labrador Park is international Buffet with premium meats, live seafood and alfresco dining. The Three Peacocks at Marina One is Japanese Theme Buffet and indoor air conditioned dining. The Three Peacocks buffet price 2022 and menu also differs for both outlets due to the different food selections. If you are heading to Labrador Park outlet, you can take their shuttle bus from Labrador MRT exit. The Three Peacocks shuttle bus timing is from 5.30pm at every 30 minutes interval.
The Three Peacocks Address :
8 Port Road, Labrador Park Singapore 117540
The Three Peacocks  @ Labrador Park New Buffet Price
FROM 28 NOVEMBER 2022
Weekday (Mon-Thurs)
Adult: $ 49.90++
Senior: $ 47.50++
Kids: $ 33.00++
Weekend (Fri-Sun)
Adult: $55.90++
Senior: $ 52.50++
Kids:$ 38.00++
Eve/PH/Festive
Adult: $ 58.90++
Senior: $ 55.50++
Kids: $41.00++
Festive Period eg. Christmas Eve, Christmas day, Boxing Day, New Year's Eve, New Year's Day etc.
*Kids 7- 12 years old.
Children under age of 6 years old dine for free.
Dine in time :
3 Pax < = 2 hours
4 Pax > = 2.5 hours
Top up $3.90 for dispenser drinks
1 Free beer bucket on Tuesday/Wednesday with 5 paying adults till 14 Dec 2022 per table.
All prices are subjected to service charge and prevailing GST.
Opening Hours
Monday – Sunday 5pm – 10:30pm
For enquiry & reservation call: 3129 2374 / 9178 7876
How to get to The Three Peacocks:
Free Parking available or take shuttle bus at Labrador Park MRT Exit A from 5.30pm-10.30 pm (every 30 minutes intervals)
Brought to you by The Three Peacocks