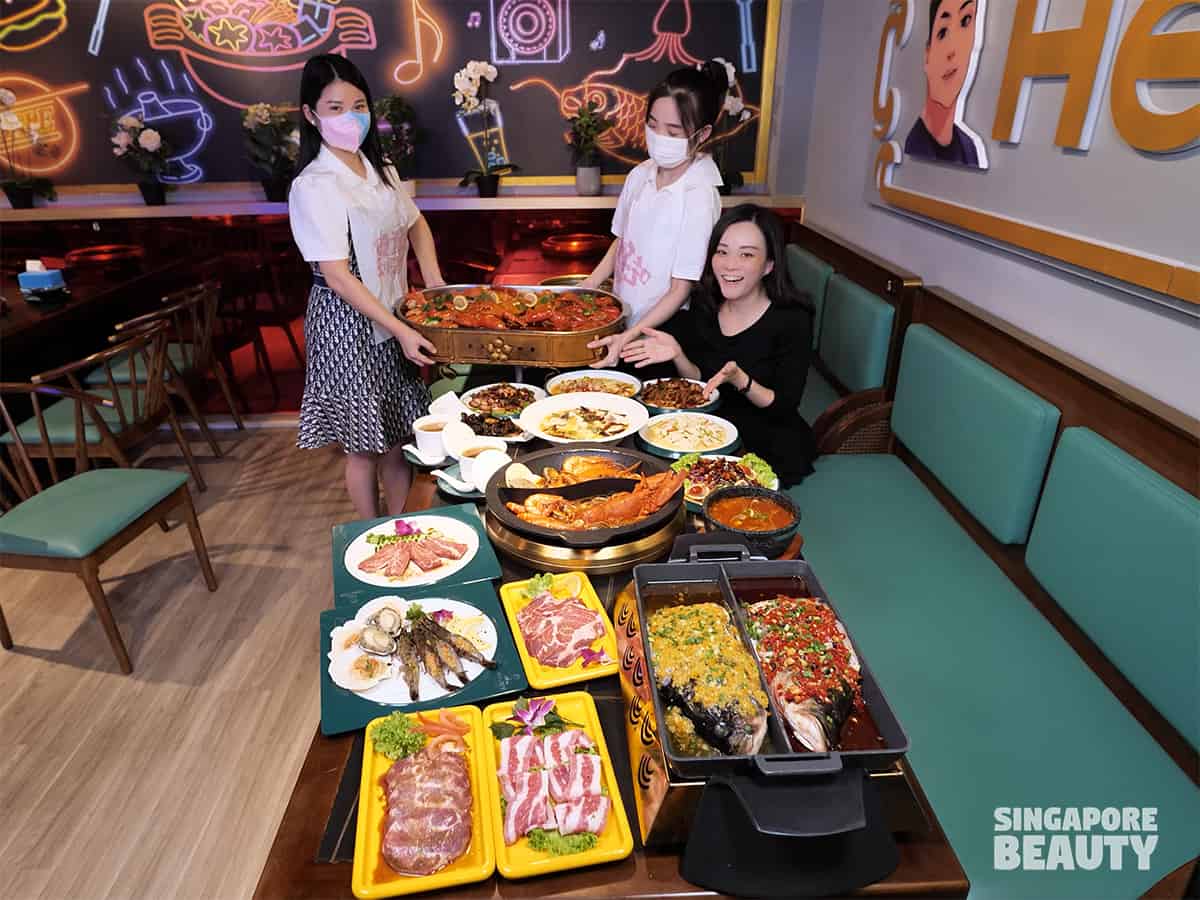 Enjoy giant seafood platter, barbecue meat, grilled seafood, Chinese Hunan cuisines, and bar with private karaoke rooms all under one roof at this newly opened Hey Black Bro Restaurant and Bar. In conjunction to celebrating the opening, there are some opening special dishes that you should try here.
This is Hey Black Bro seafood pot that you should try at the restaurant. It is currently one of the opening special dishes that is at a promotional price of $38+ valid only till 22 Dec 2022. With a full Boston lobster, mud crab, abalone, tiger prawns, scallop and more, this seafood pot is a steal. The seafood pot comes in a dual soup pot with savoury mala broth and pork bone fermented bean gravy. Good for sharing for 3-4 people.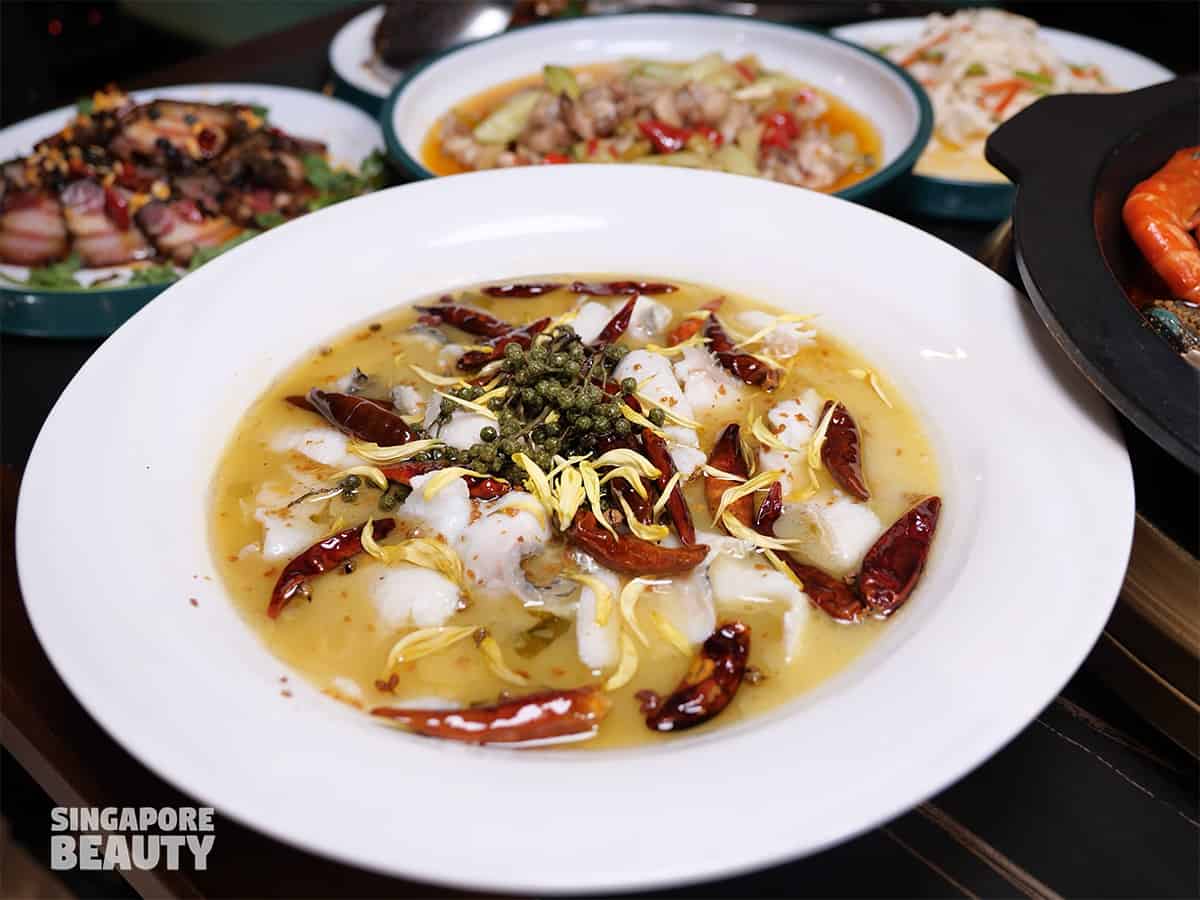 Hey Black Bro Signature Sauerkraut fish ($8.80) is also one of the dishes on their opening special promotion menu, good for 3-4 people to share. The broth has a piquant taste that is pleasant on the taste bud. The broth has a peppery aroma that is imparted by the dried chilli, fresh peppercorn, numbing peppercorn and a sweet floral aroma from the chrysanthemum petals. This instagrammable food with the bright yellows, reds and green in a golden broth taste great too. The pickled vegetables has a mild crunch that is great with the springy glass noodles. I could wolf down bowls of steamed rice just with this Hey Black Bro Signature Sauerkraut fish, it is that appetizing. I somehow find the flavour quite similar to a chain store at Jewel and was surprised by the comforting taste. Must try!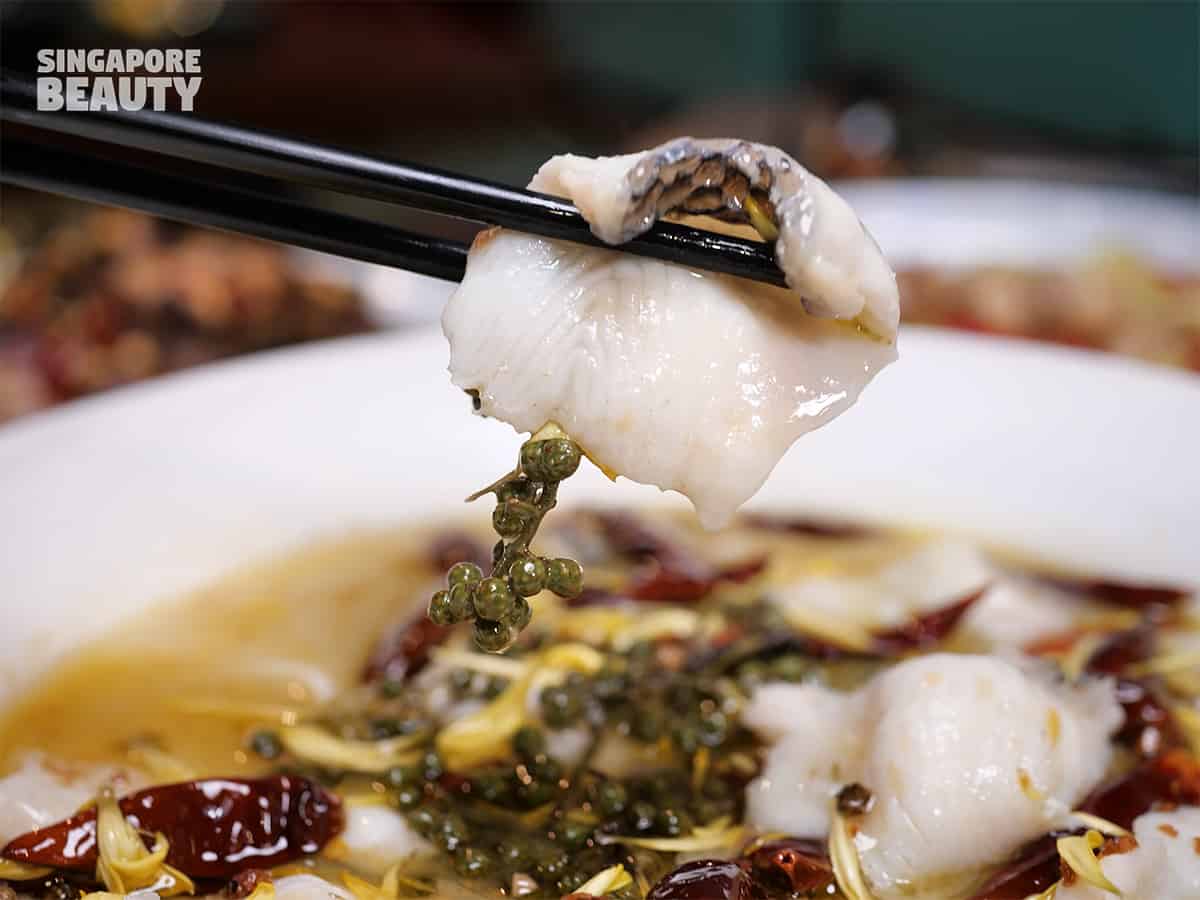 You will unwittingly salivate to the sharp spicy and sharp flavour of the fish. Using Tioman fish, the fillets are firm to hold with the chopsticks but tender enough to melt in your mouth. The glass noodles soaks up the savoury broth and are superb slippery.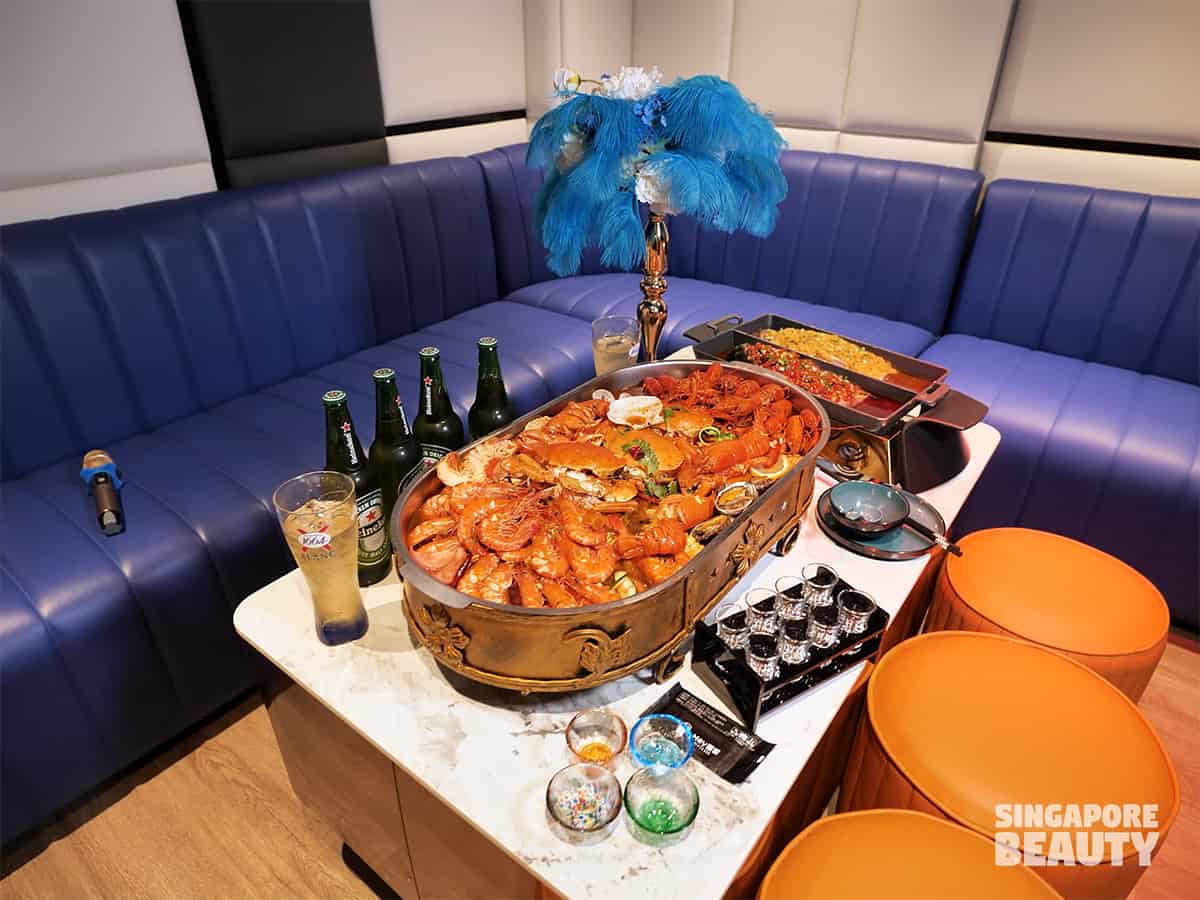 Hey Black Bro Bugis restaurant's private karaoke room requires advance booking. They have 3 sizes for the Karaoke rooms – small, medium and large. These can house 4-6 people, 6-10 people and 10-20 people respectively. The minimum spend to book these room are – small karaoke room is $388+, medium is $588+ and large room is $888+ – great when you have a group gathering. Do note that the opening special priced items are excluded from the minimum spending required to book these karaoke rooms, but you can nevertheless order the special promotion dishes as they are really good value in my opinion.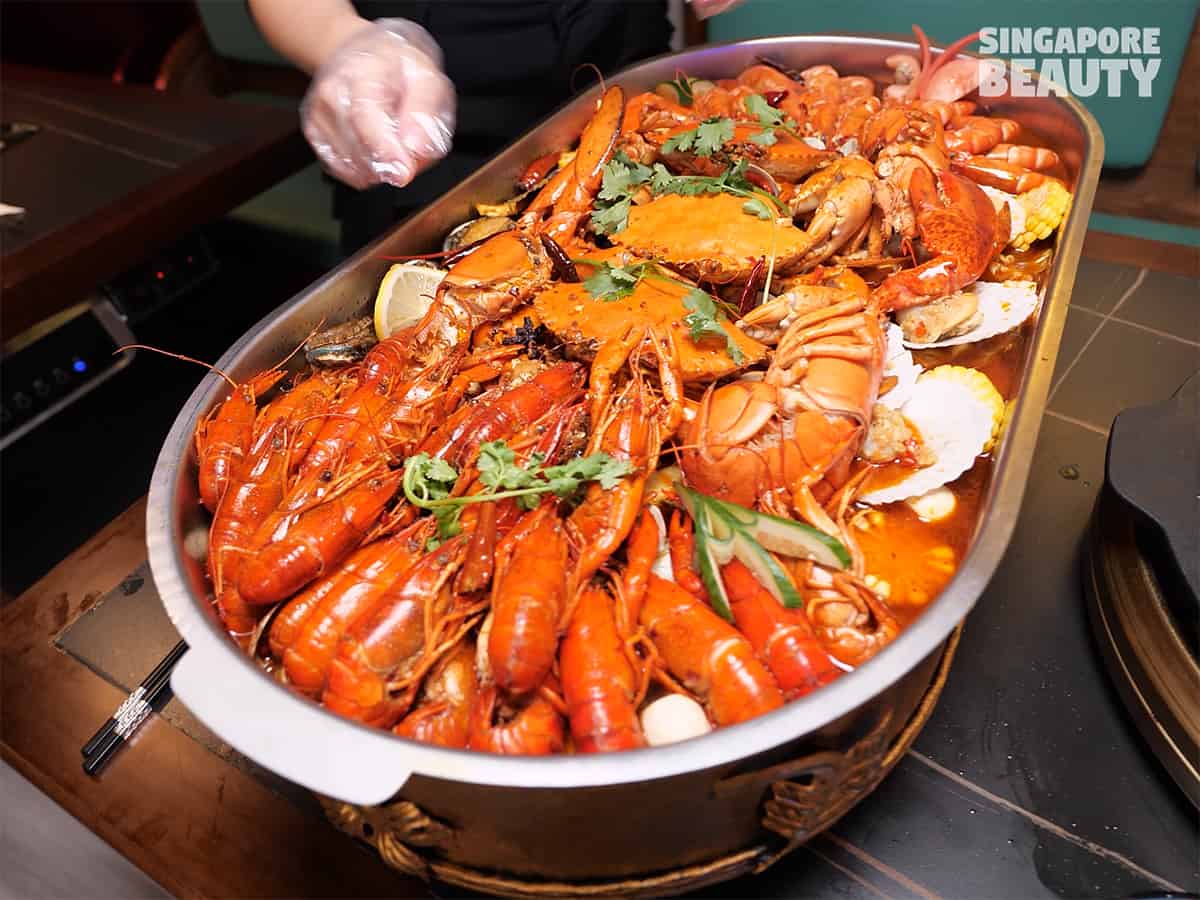 Giant seafood platter ($198) is good for 3-4 people to share. This giant seafood platter needs 2 service crews to serve on your table, yes it is that heavy. Whole Boston lobster, mud crabs, tiger prawns, crawfish, half shell scallops, abalones, quail eggs, sweet corn corns and some springy noodles in a mala broth. This is a seafood dream come true and large enough for everyone to get a good portion of seafood.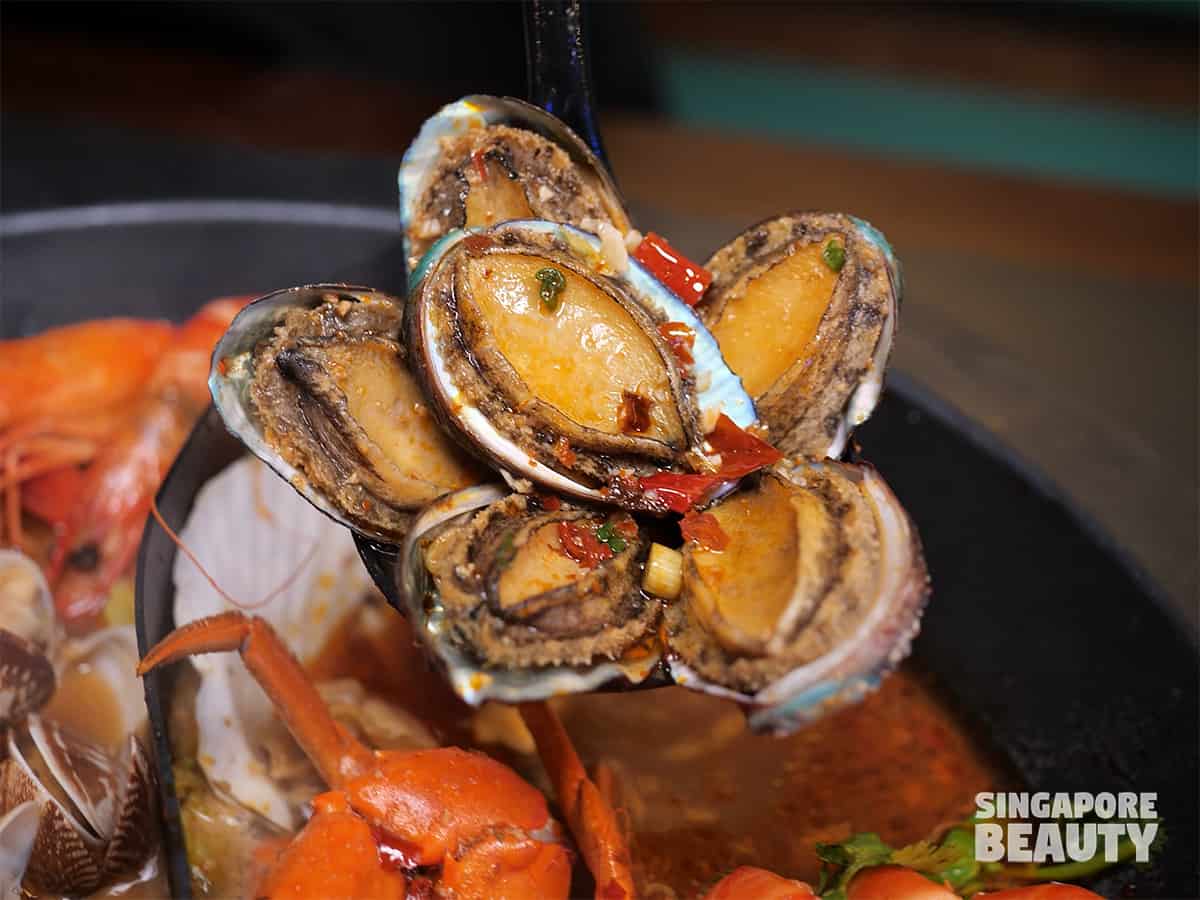 They have added half shell abalone to this giant seafood platter in place of oyster for more crunch. The snappy texture of the abalone are delightful. These mala abalone are a nice change from the briny ones we are used to having during Chinese Lunar new year. The mala kick enhanced the oceanic briny flavours of these abalone and makes it even more umami. I feel almost guilt-ridden to have these delicacies that are specifically reserved for festive period like CNY.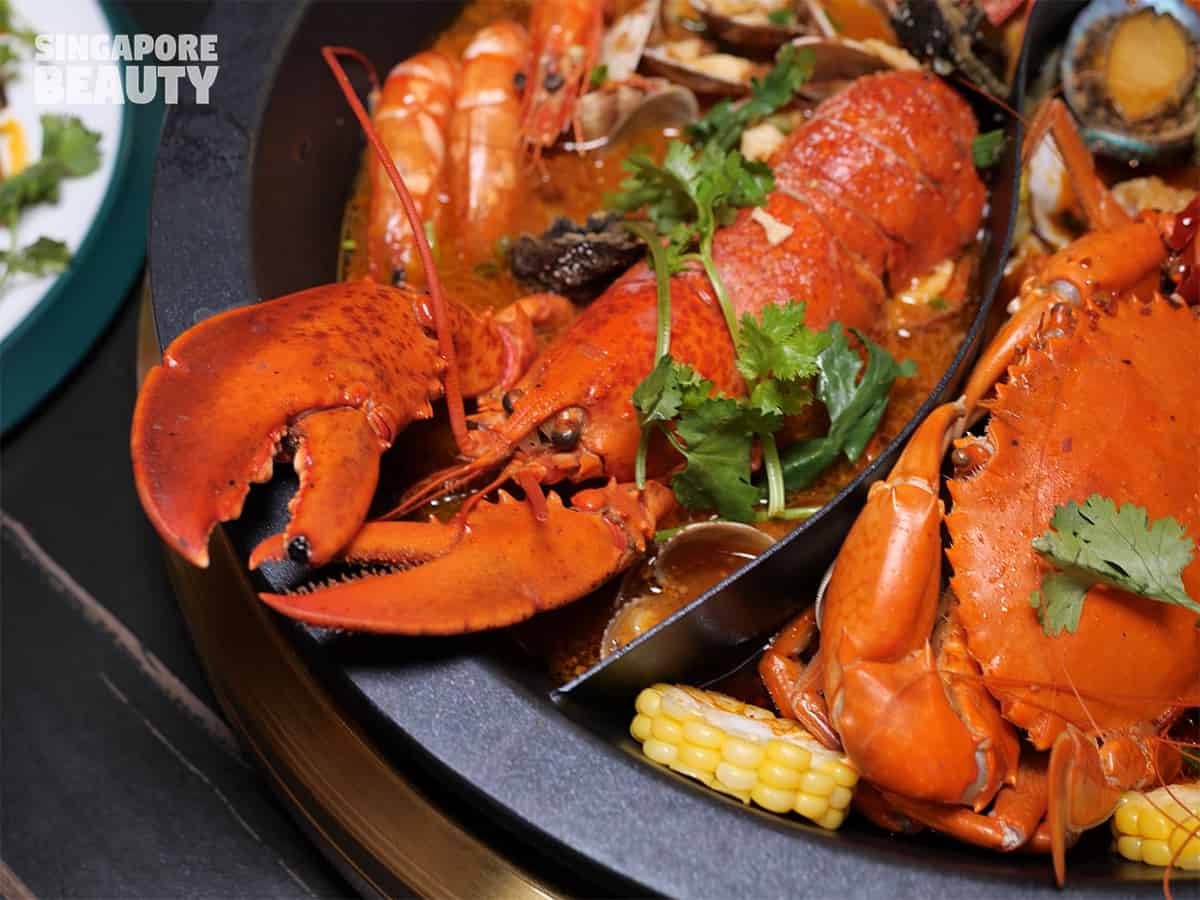 For both the giant seafood platter and value seafood pot, they have included Boston lobster to spice up the flavour. The tomalley aka the lobster liver and roe melts into the broth and gives it a rich lobster flavour. Lobster is cooked just right with a mild bite and the buttery roe can be used as a dip sauce for the other seafood.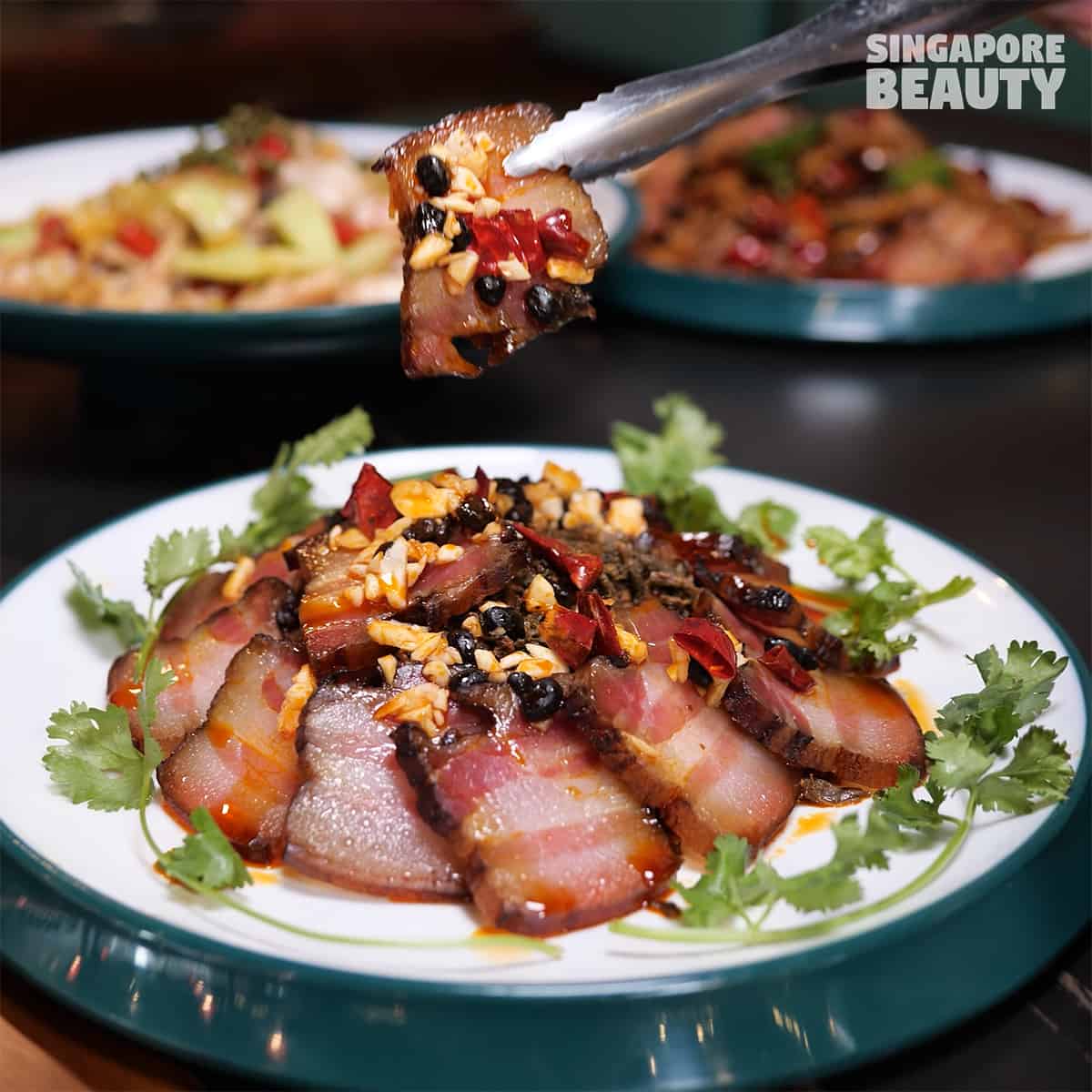 With a certified Hunan chef in house, if you are looking for some authentic Hunan cuisines at Bugis, you can head over to try them here. Serving some speciality dishes that is uniquely Hunan cuisines such as spicy salad, black fungus salad, herb smoked pork belly ham, pork belly ham with bamboo shoots, ham with pickled vegetables, double flavour spicy pepper fish head and some boiled soups. Featured above is the smoked pork belly ham with garlicky hot black beans and pickled vegetables ($32.80). These is a smoked ham dish famous for it rich smoky flavour with crunchy fats and rich aroma.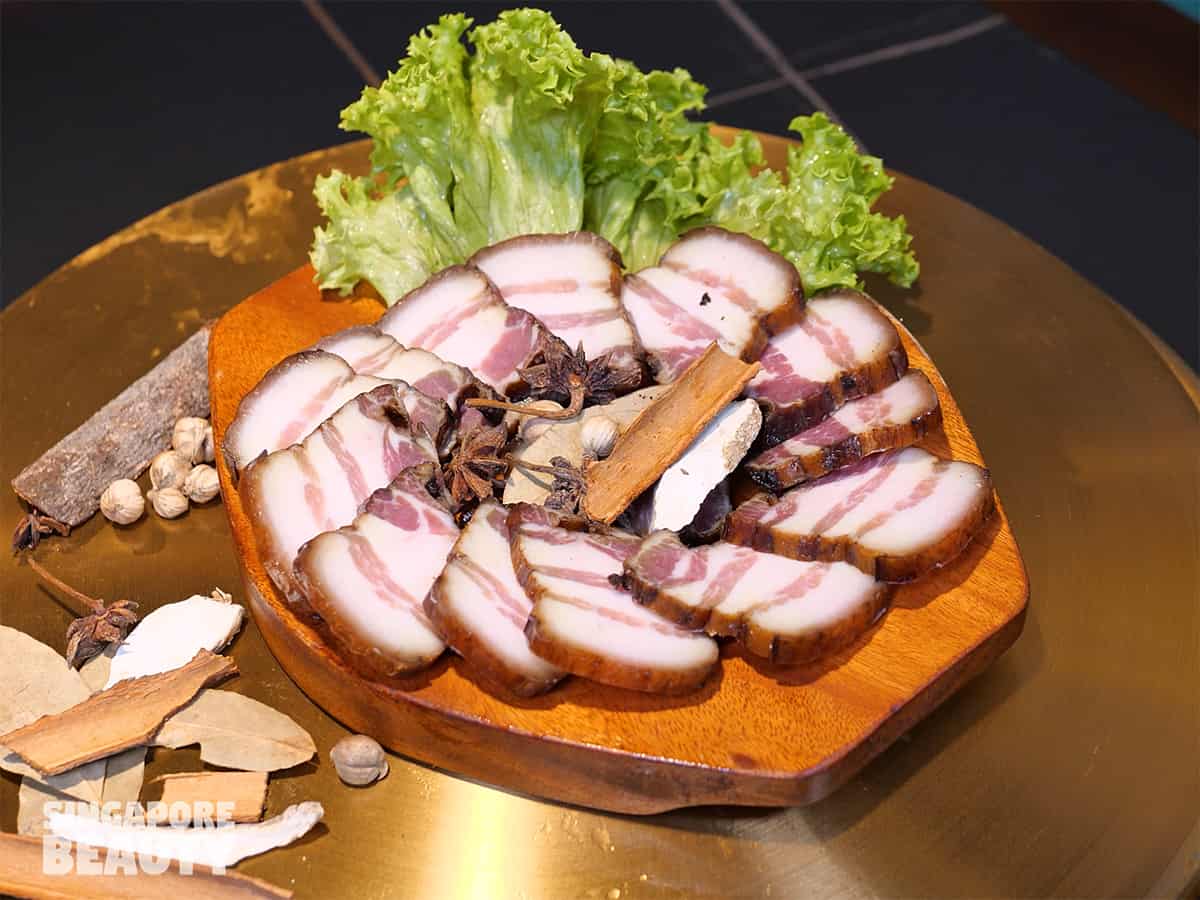 The pork belly is made in house by smoking it with herbs mixture such as Szechuan peppercorn, star anise, bay leaves, cinnamon, dark brown sugar, Chinese white liquor, rice wine, curing salt and more. The smoking takes about 2-3 hours followed by a steaming process to cook it. These Hunan smoked ham is versatile and can be used in stir fry, soup, steam or salad.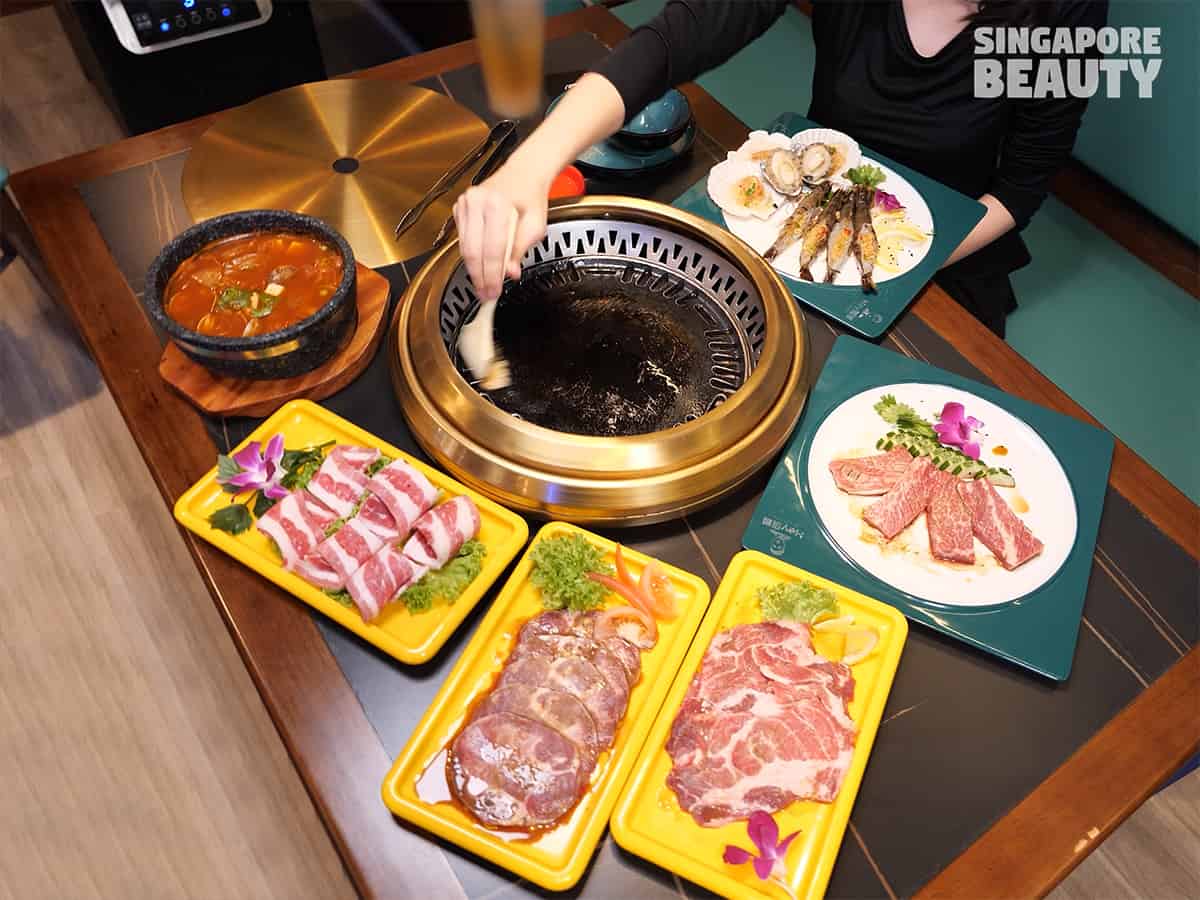 Hey Black Bro also has bbq set ($98) with various premium meats combo, seafood and a soup of your choice. The above is their bbq meat and seafood set that is good for 2-3 people to share. Barbecue some garlic topped tiger prawns, abalone and scallops with this set. The 3 choice of soup are Chinese boiled ginseng soup, kimchi stew or miso soup.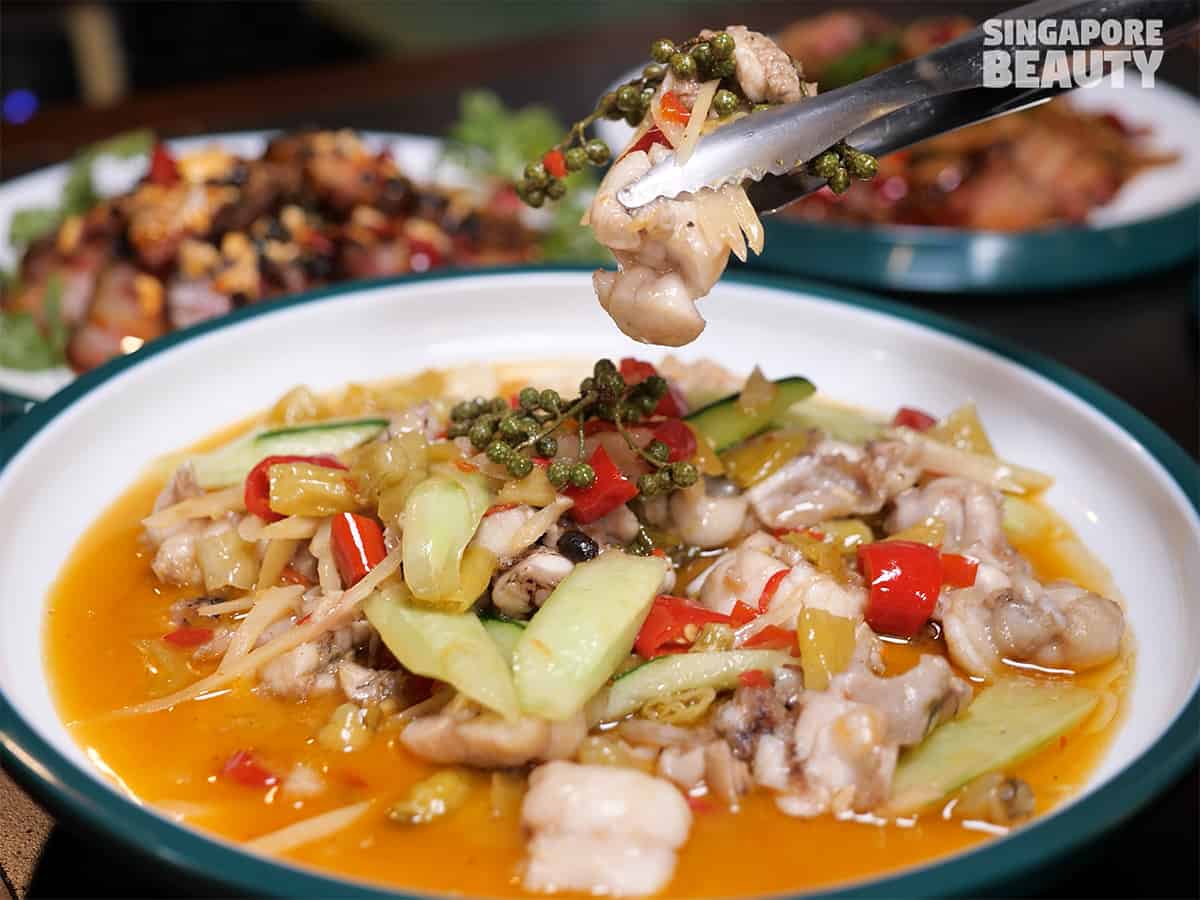 Pickled Pepper Bullfrog ($32.80) is also one of the dishes that I enjoyed at Hey Bro. The meat are tender and savoury with a slight peppery undertone. The sharp pickled pepper is just on point without being overwhelming and compliments the sweet meat. The meat is a mixture of tender bites and crunchy cartilage. For Hunan cuisines frog lovers, this dish will delight your taste buds.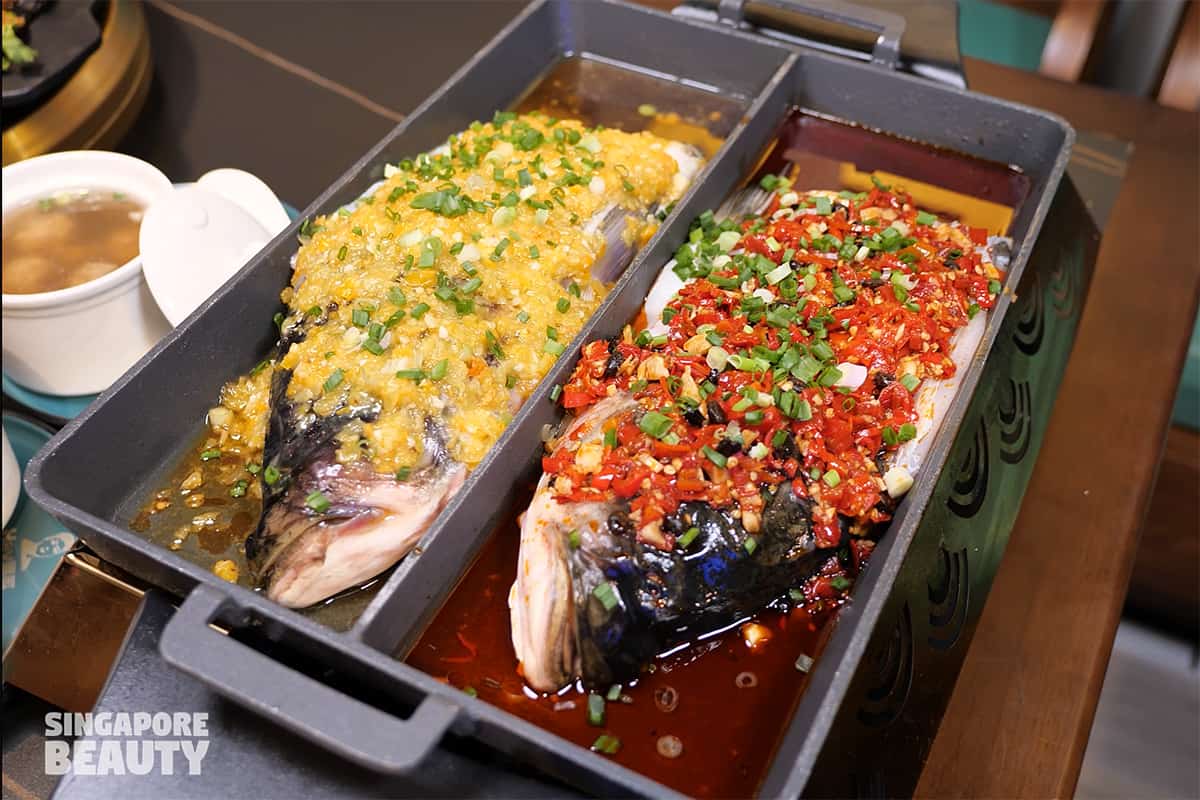 Chopped chilli fish head ($38.80) Hunan style is also served here. They have it in dual flavours in pickled chilli pepper flavour and the red pepper chilli flavour. The fish head is considered huge in my opinion and is good to feed 3-4 people, one of the best dish here to go with steamed rice. I love that these fish head are kept simmering throughout on a heated dual sauce pan. With dual flavour, the fish head experience is really a unique one with the best of both worlds- in spicy soup sauce and a garlic sauce. Hunan style fish head lovers needs to unite here to try this.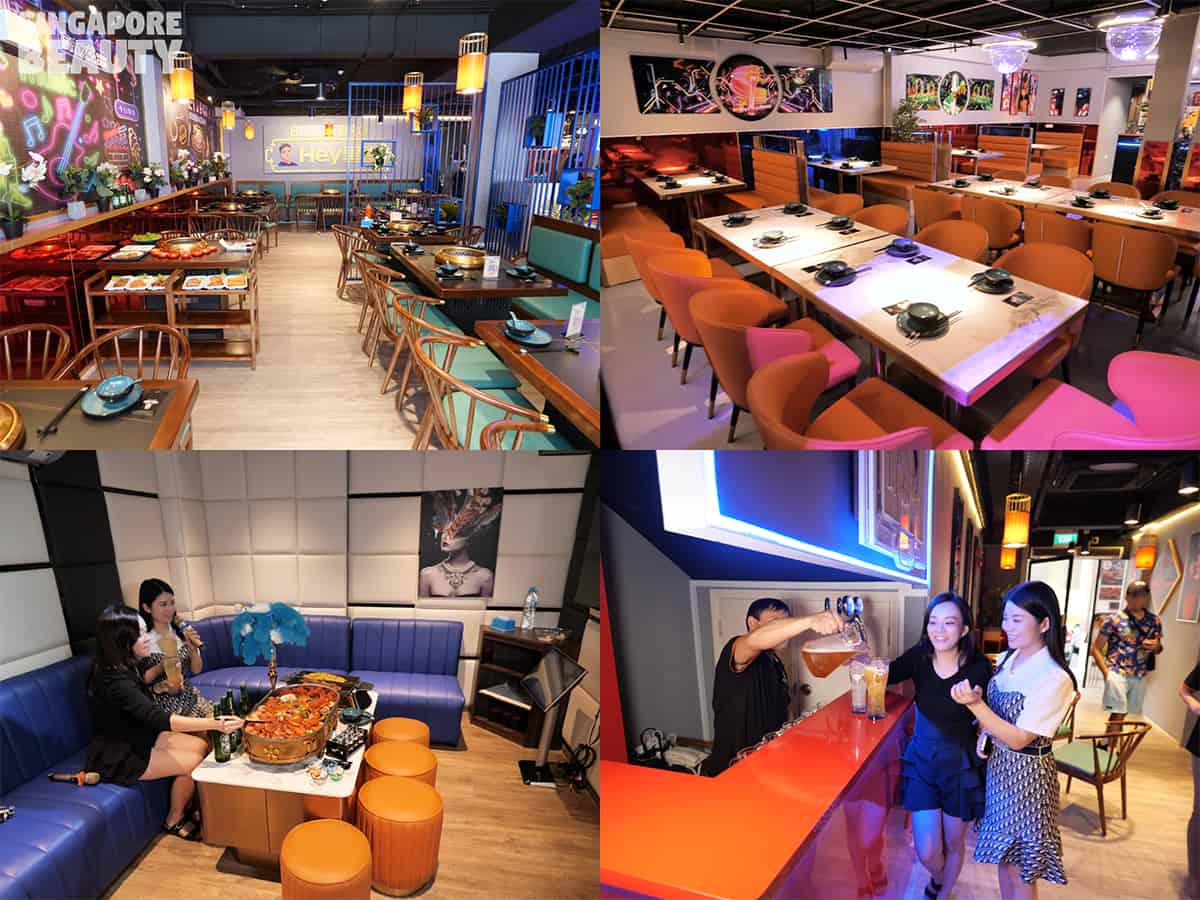 Hey Black Bro is a 3 storey eat, sing and bbq concept at Tan Quee Lan street Bugis Singapore. The first floor is a standing bar with draught beer and diy bbq area. This is where you can bbq seafood and meats over ice cold draught beers with friends. The 2nd floor is a large musical hall dedicated to large seafood platters and cooked Chinese zi char dishes. This floor can accommodate large group gathering with its spacious layout. The private Karaoke rooms with ensuite bathroom is also located at this 2nd floor. The penthouse floor is purely dedicated to their largest Vip Karaoke room that can hold up to 10-20 people for a intimate friends and family gathering.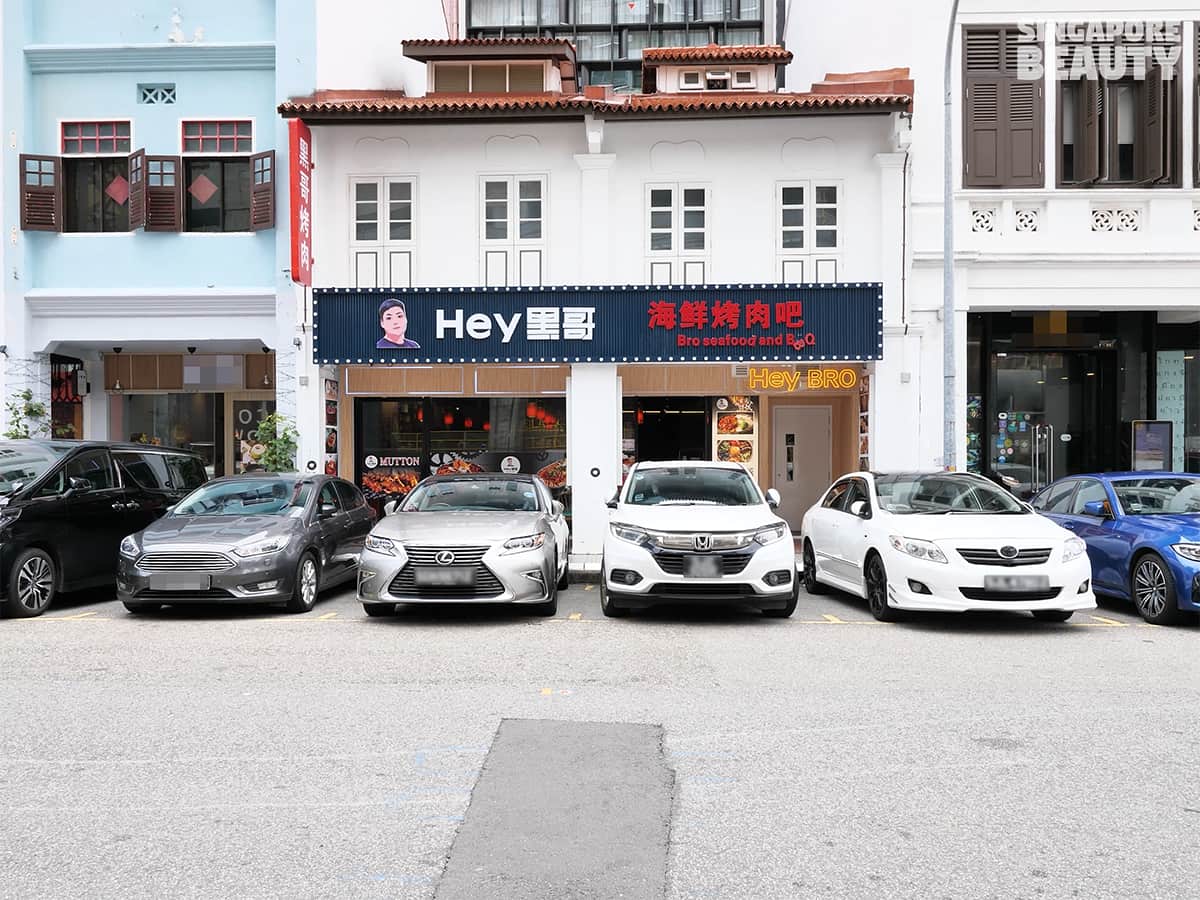 Head over to Hey Black Bro today to try this newly opened bbq seafood, meat place. The eat, sing and bbq concept is uniquely here. They also have bbq for you service for those in the karaoke rooms where they will serve ready to eat bbq food for you. For Hunan food lovers, this is your new hunt for speciality dishes from a Hunan chef. I personally will be there for the value seafood pot, Hey Black Bro Signature Sauerkraut fish, pickled pepper bull frogs and their premium bbq meats and seafood and giant seafood platter to impress my love ones.
Address of Hey Black Bro :
7 Tan Quee Lan Street
Singapore 188096
For reservation, pls call : 8363 8841 / 6015 0380
Brought to you by Hey Black Bro Hey黑哥