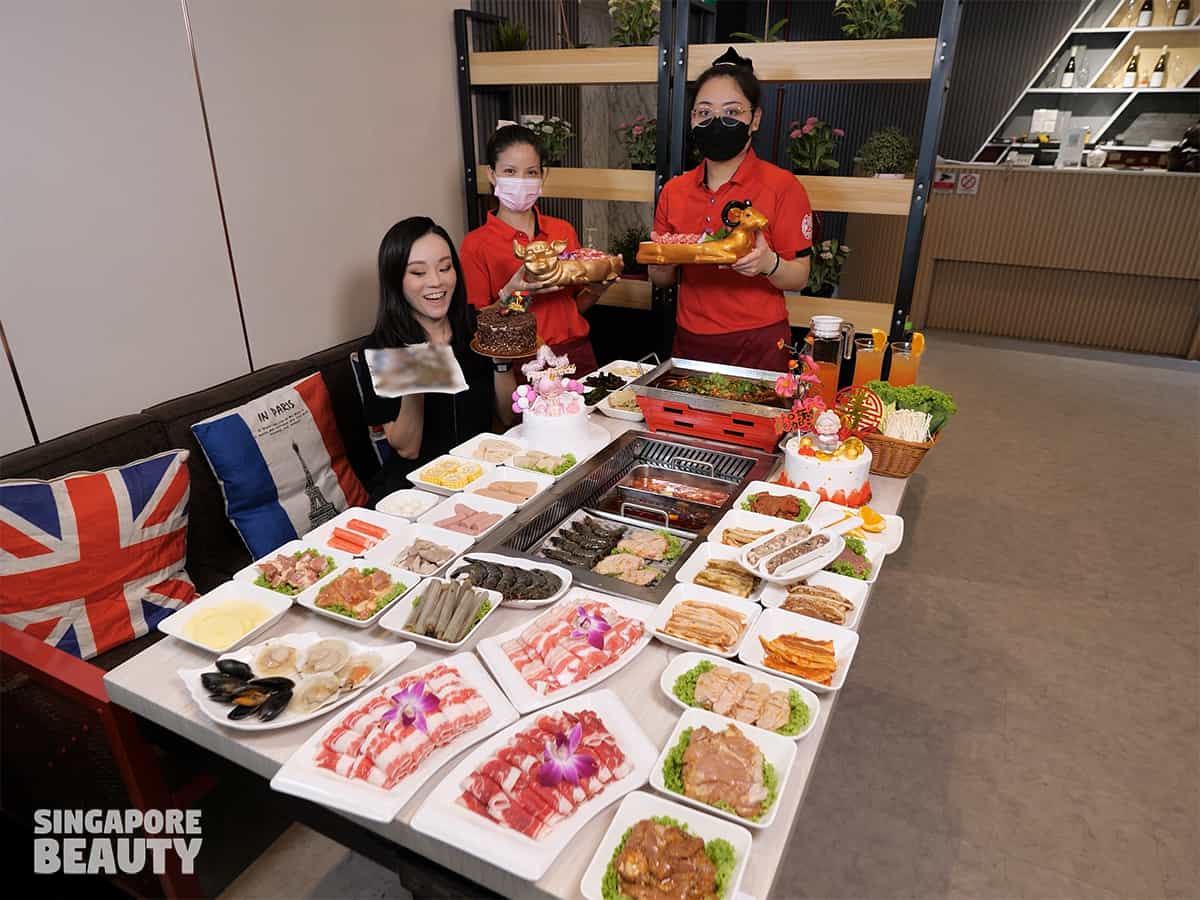 Ding Garden buffet has a new ala carte menu for those who love premium meats. We were told that there are some super value dishes that are offered in the menu at their cost price. To make the buffet a sweeter affair, Ding Garden is also throwing in free birthday cake for diners. They are known for their 3-In 1 buffet with unlimited roasted fish buffet, seafood and meats. Check out some of their new soup base as well while you are there, my new personal favourite is their white pepper pork stomach chicken soup.
If you are craving for roast fish buffet while you are at Chinatown, you can try Ding Garden 3-In-1 hotpot, bbq and roast fish buffet. The roast fish are free flow and available in 4 flavours. The flavours are mala spicy, fragrant spicy, tomato and pickled vegetable grilled fish. My usual go to when am there for the grilled fish is their mala flavour roast fish. The fish is deep fried to a golden crisp and soaks up the flavourful mala broth.
The roast fish is served hotpot style on warmers. There are so many ingredients in the Ding garden buffet that goes well with mala flavour grilled fish. Usually I will add their quail egg, fried bean curd skin, lotus roots, sweet corn, sliced bamboo shoots and the instant noodles. The instant noodle has a delightful springy texture that is so addictive.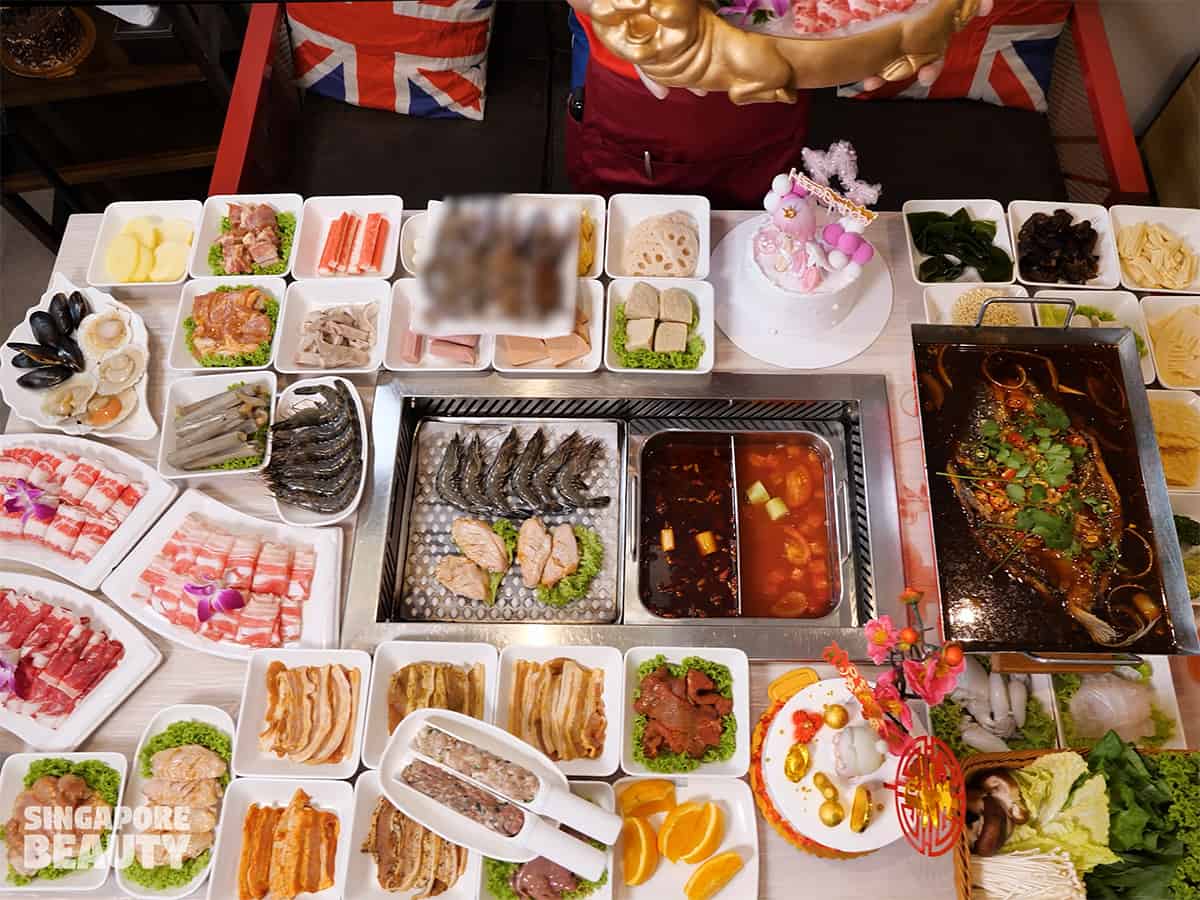 Here's a pictorial presentation of what you can expect in Ding Garden buffet menu. There are ala carte super value dishes, soup bases, grilled fish, bbq marinated meats, shabu shabu meats, seafood, vegetables, mains, alcoholic, drinks and even ala carte cakes. There are more than 70 ingredients to choose from in this 3-In-1 Buffet.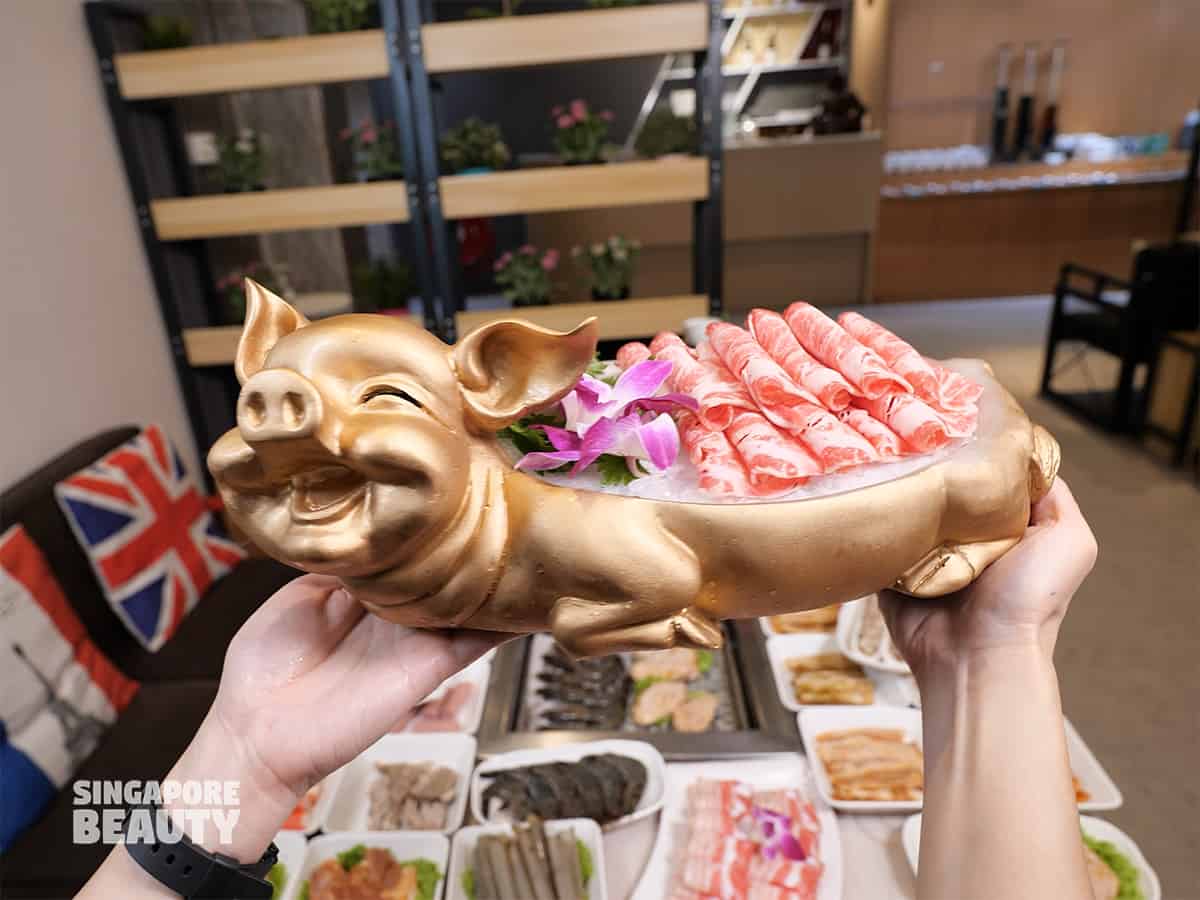 If you are there for the buffet, they have some super value dishes that are new on the menu. Check out the cute golden piglet that holds some really tender nutty shabu shabu black pork ($7.80 per 100g), Snow beef ($12.80 per 100g), thick cut marble beef ($12.80 per 100g), black tripe ($10.80), handmade shrimp slip ($3.80 per 100g) and one whole crab ($4). We were informed that these are dishes that are offered at their cost price and is a must try if you love these meat cuts. The shrimp slip and shabu shabu black pork are my picks on their ala carte menu.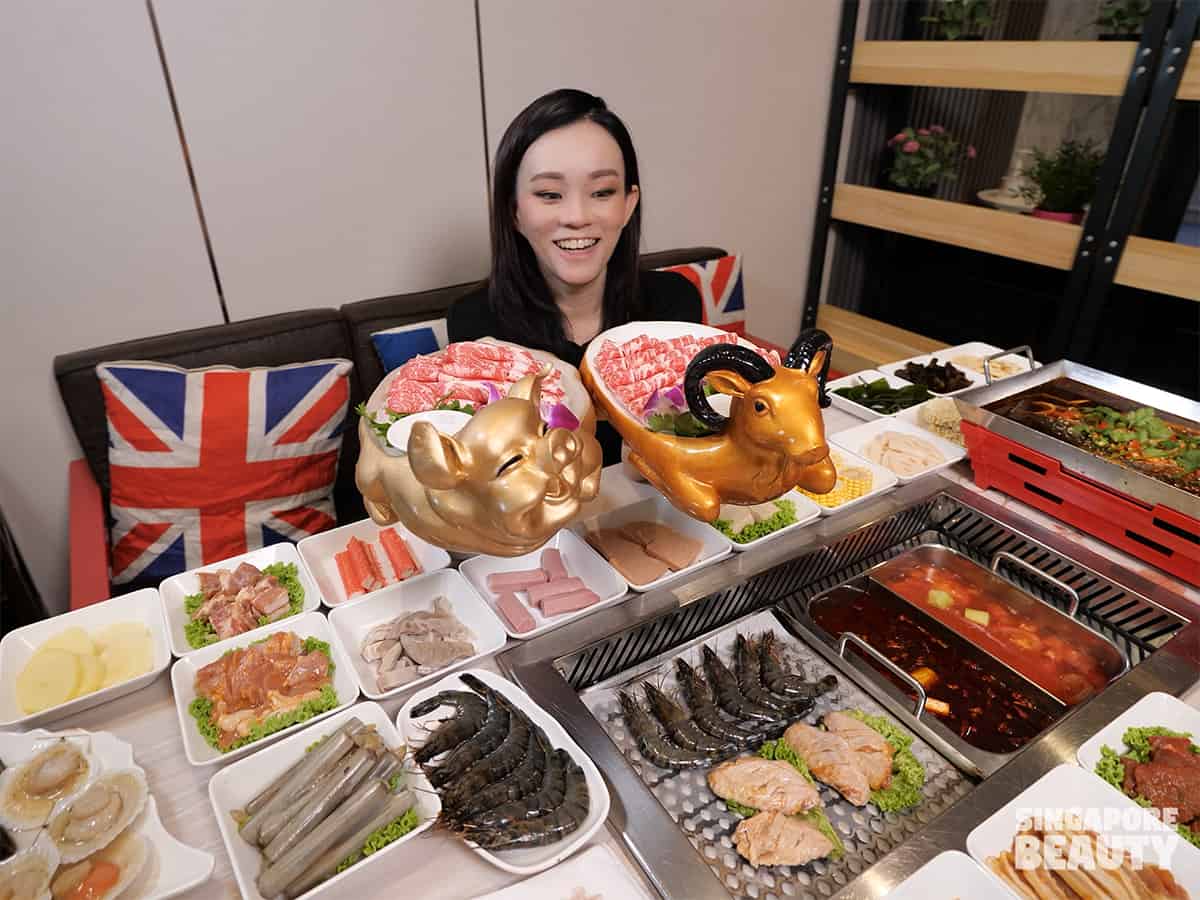 Here's our Ding Garden review of their 3-In-1 buffet. The spread are impressive for marinated meats, shabu shabu meats and seafood too. The premium ala carte add-on shabu shabu meats are presented in cute piglet and calf holders. I love the fact that I can enjoy 3 different experiences concurrently the grilled fish hotpot, the traditional dual hotpot and bbq!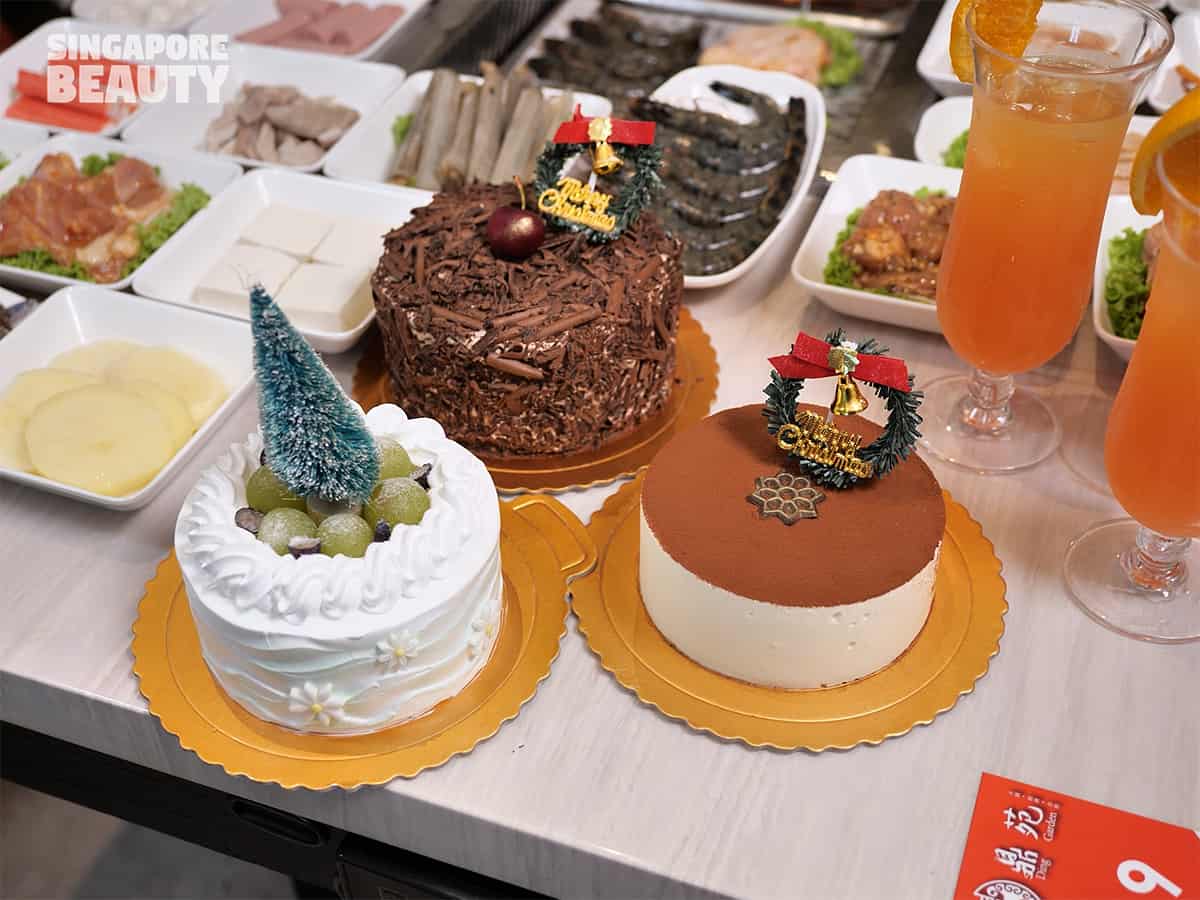 Attention to anyone who intends to celebrate your birthday at Ding Garden, you are entitled to 1 birthday cake on your birthday month. To redeem this birthday cake, you need to have at least 3 paying buffet adults and advance booking. The complimentary cakes are available in 3 selected flavour, grape cream, black forest or tiramisu. They have 4 inch cakes for 3-4 people, 5 people and above can redeem a 5 inch cake.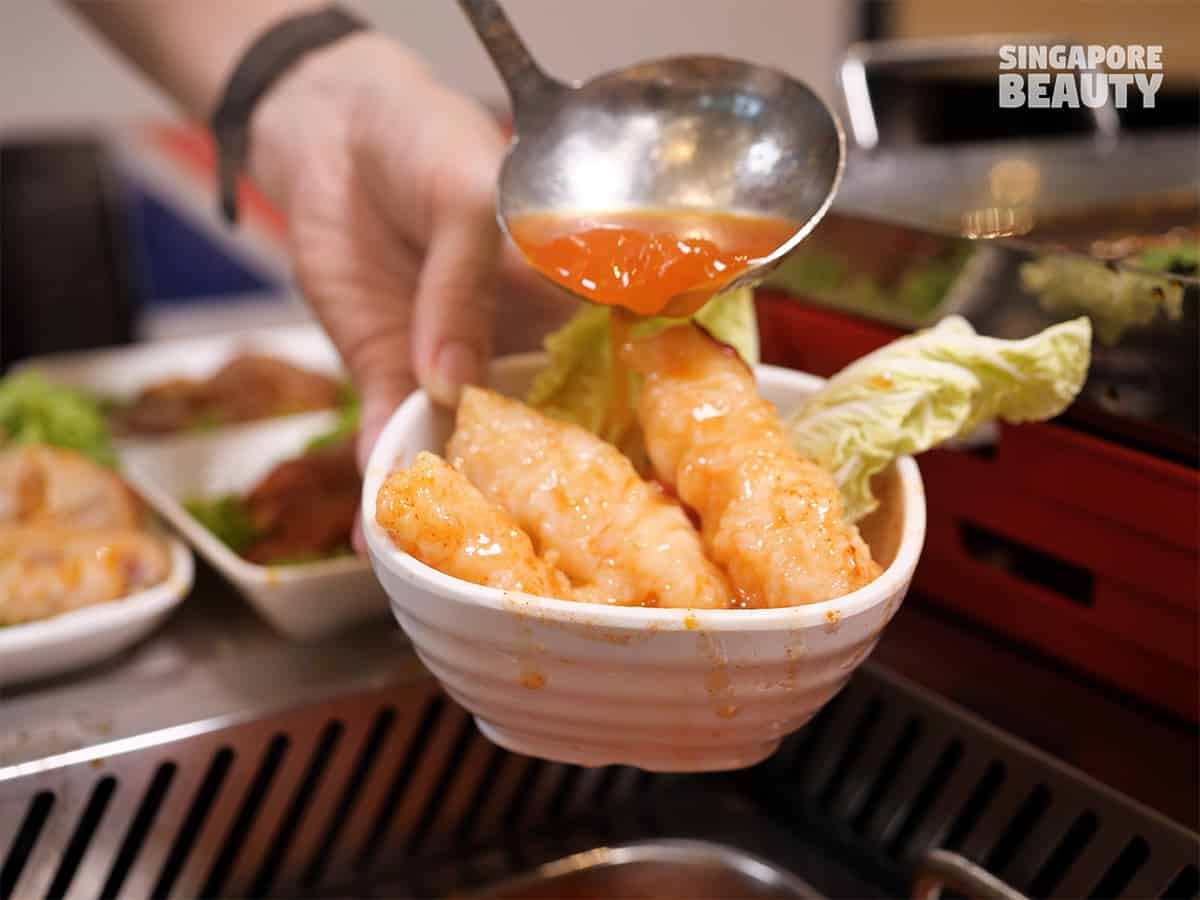 This is the ala carte shrimp slip ($3.80 per 100g). The shrimp slip is well made and springy. It goes well with their tomato soup base and each bite also reveals chunks of real shrimp meat. These shrimp slip will balloon to twice the size after cooking and you can even grill them if you want to have some crunchy bite to it.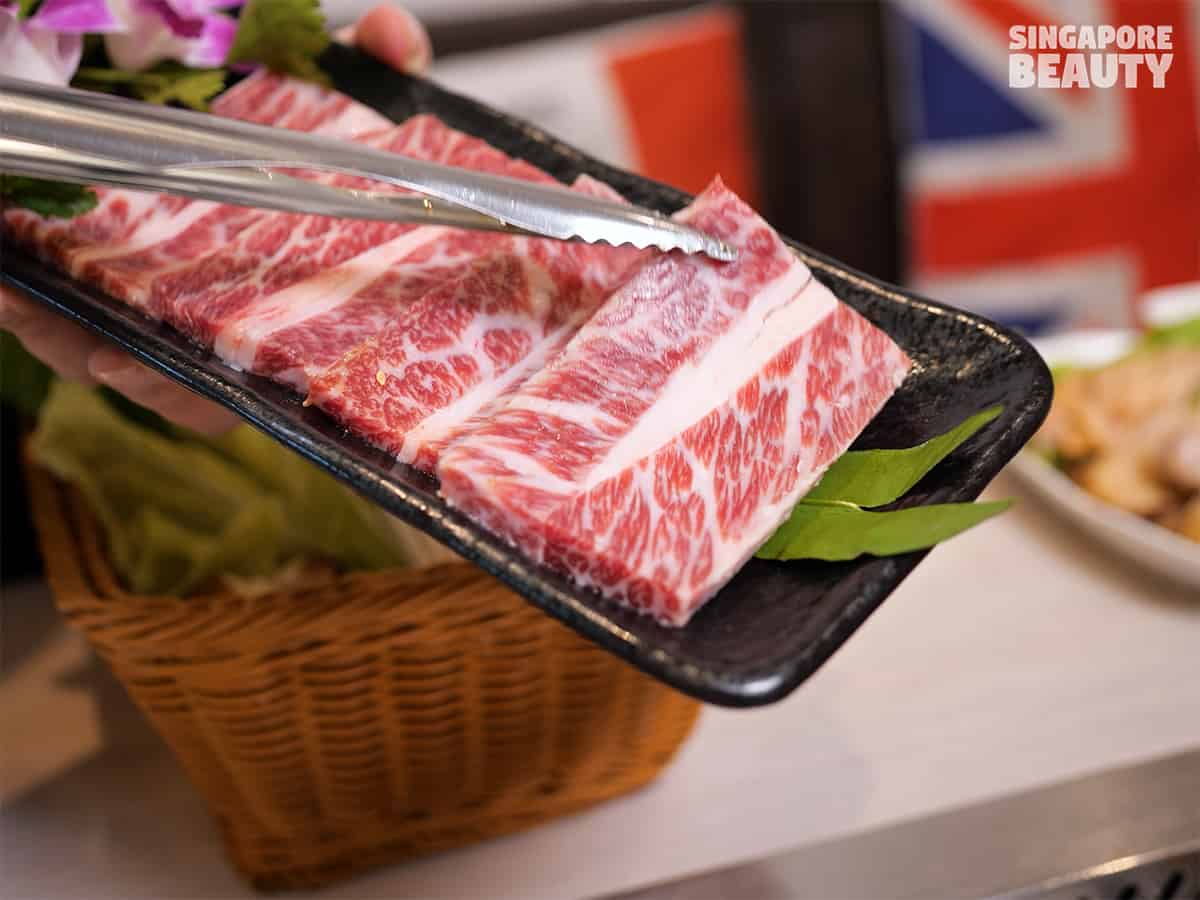 Thick cut marbled beef ($12.80 per 100g) are thick cut fatty beef that are good for barbecuing. The lean meats are held together by a laced of fatty tissues. The meat is oozing with meat juices while you grilled them. The cooked thick cuts are snappy and best enjoyed with a pinch of salt.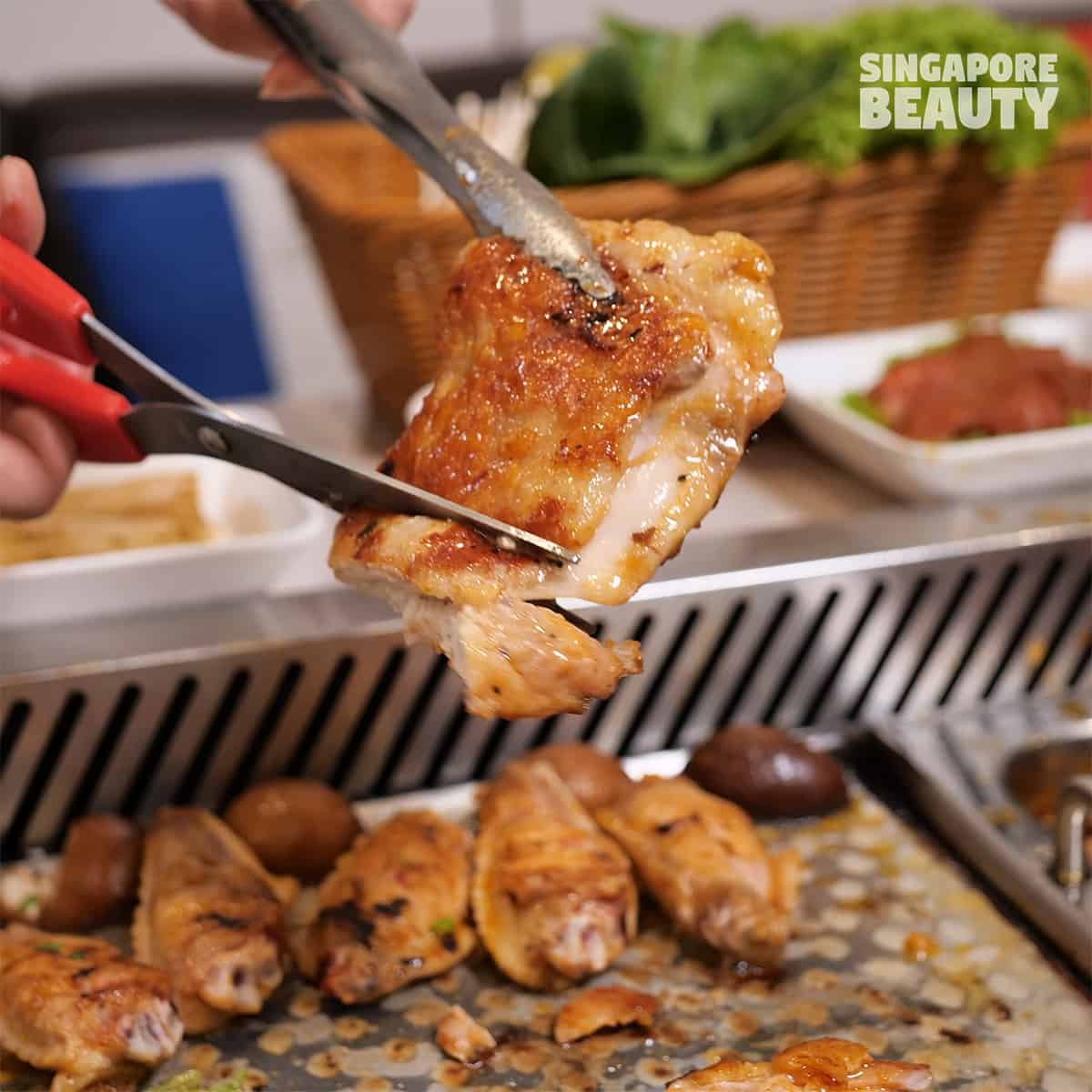 I am wowed by their chicken steak from their buffet menu. The marinated chicken steak is one huge debone thigh with skin on. It comes in 3 marinades – secret recipe, garlic and black pepper flavour. The meat is well marinated and thick. If you cook them well like us did, the meat is one juicy slab with a super crunchy skin like a good roasted chicken. Must try!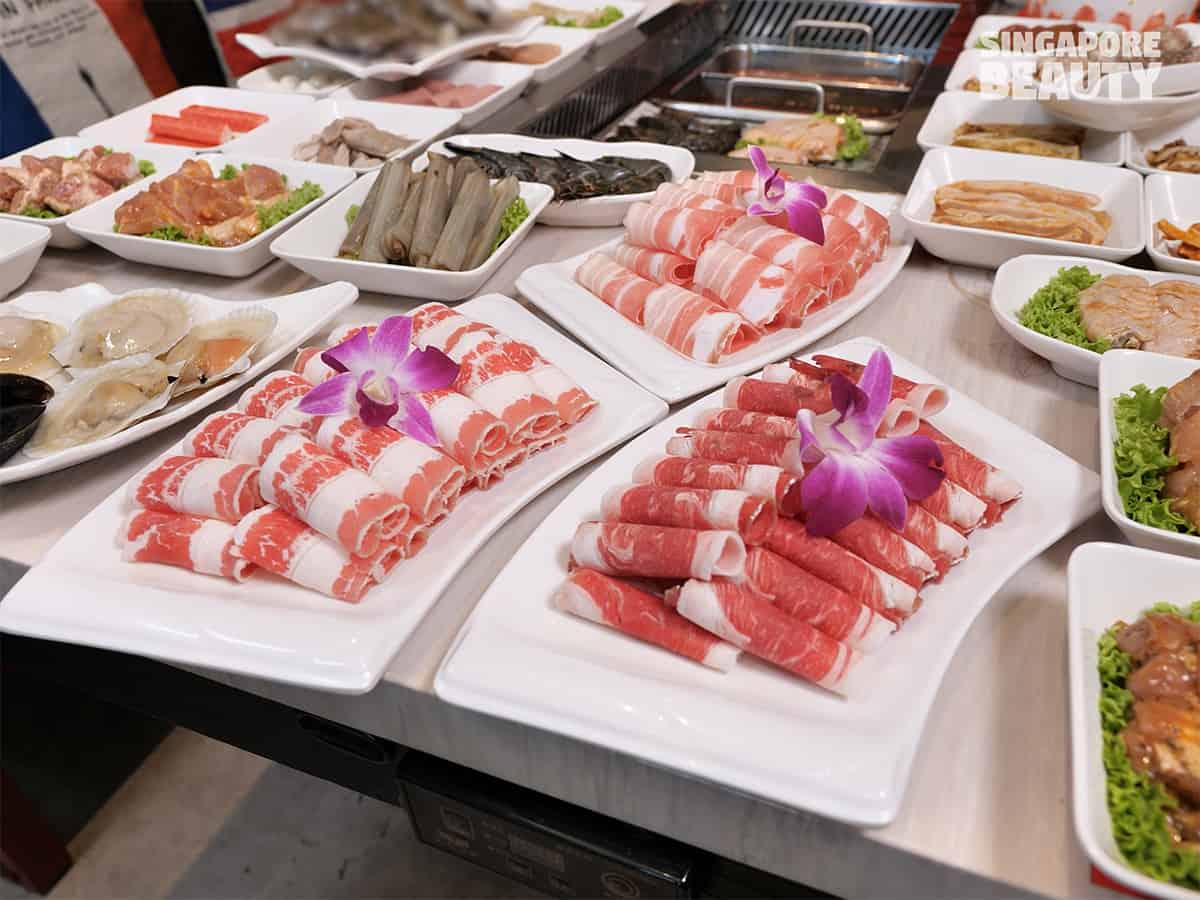 Just like what was said earlier, these are the impressive shabu shabu meats that they have included in the buffet menu. Cut to order and delicate rolls of umami meat for your perfect hotpot experience. Be sure to load up on these. These just melt in your mouth after cooking.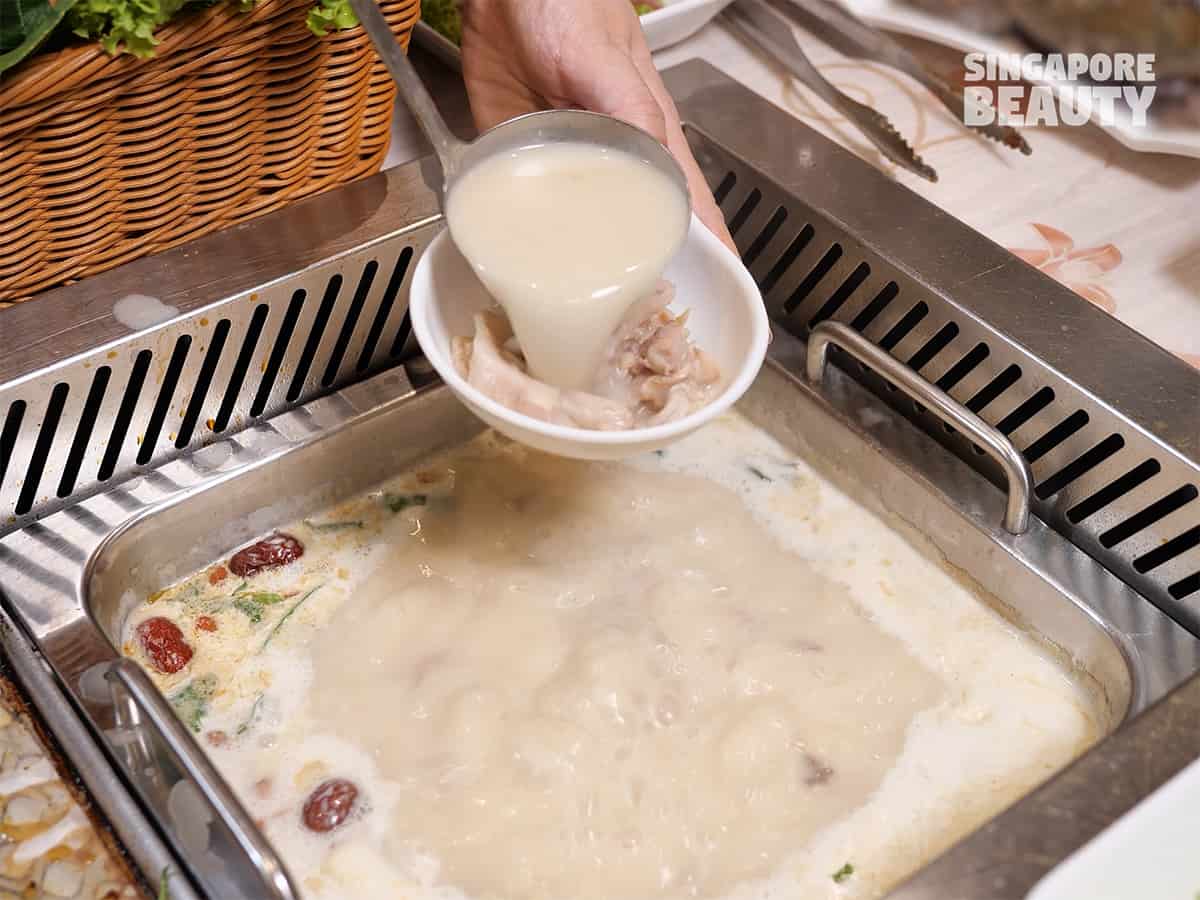 This is their latest proud creation – white pepper pork stomach chicken soup base. The soup bases for this 3-In-1 buffet is included . For 2-In-1 buffet, you need to top up $6 for single soup and from $10 for double soups. Ding Garden new soup base is rich and creamy. The soup has a thick consistency and the pork belly are cooked till soft. The peppery nourishing soup with melty pork belly is so delightful.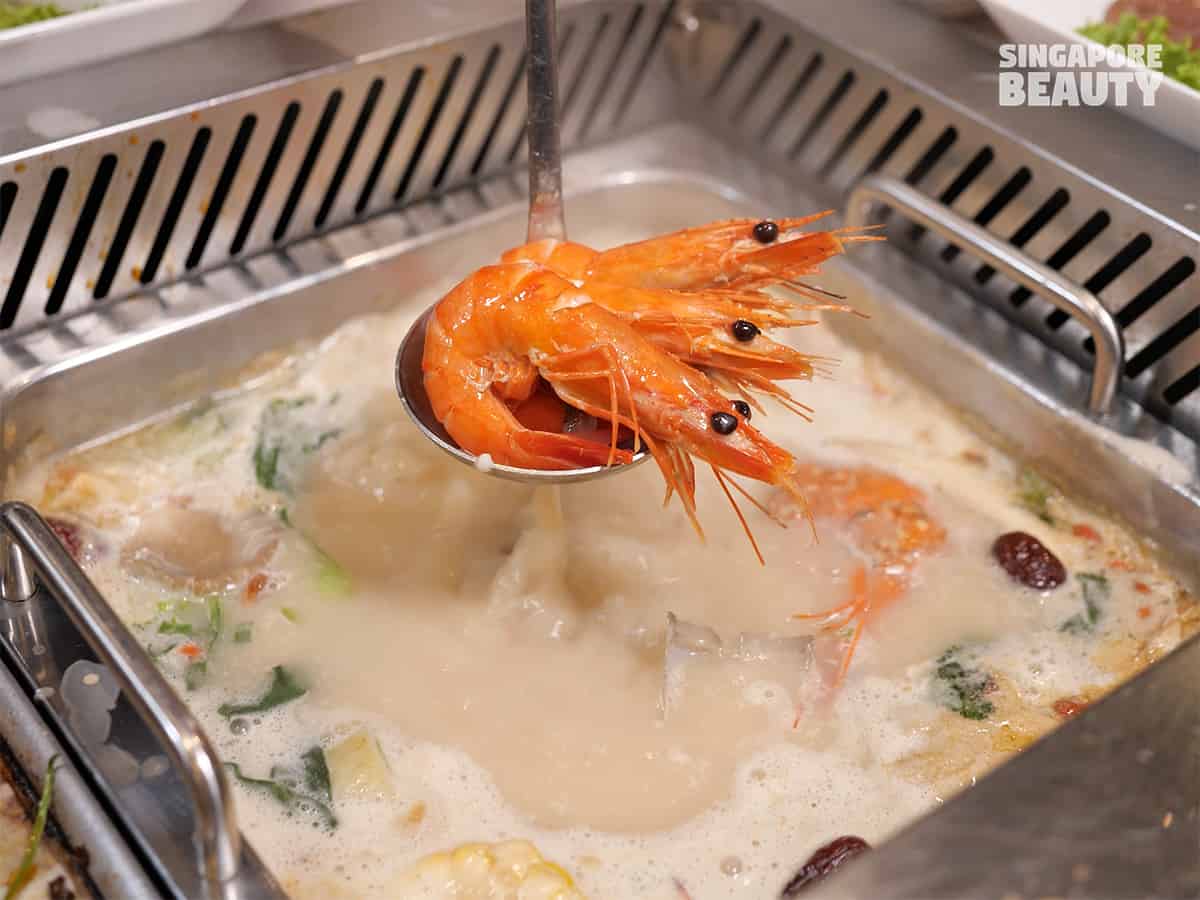 If you are a hotpot connoisseur, you probably know that meat soup base is best for hotpotting seafood. The meats and seafood brings out the best flavors in each other. Hotpot lots of tiger prawns, scallops, fresh fish chunks, bamboo clams, mussels and baby cuttlefish in this lovely white pepper pork stomach chicken soup.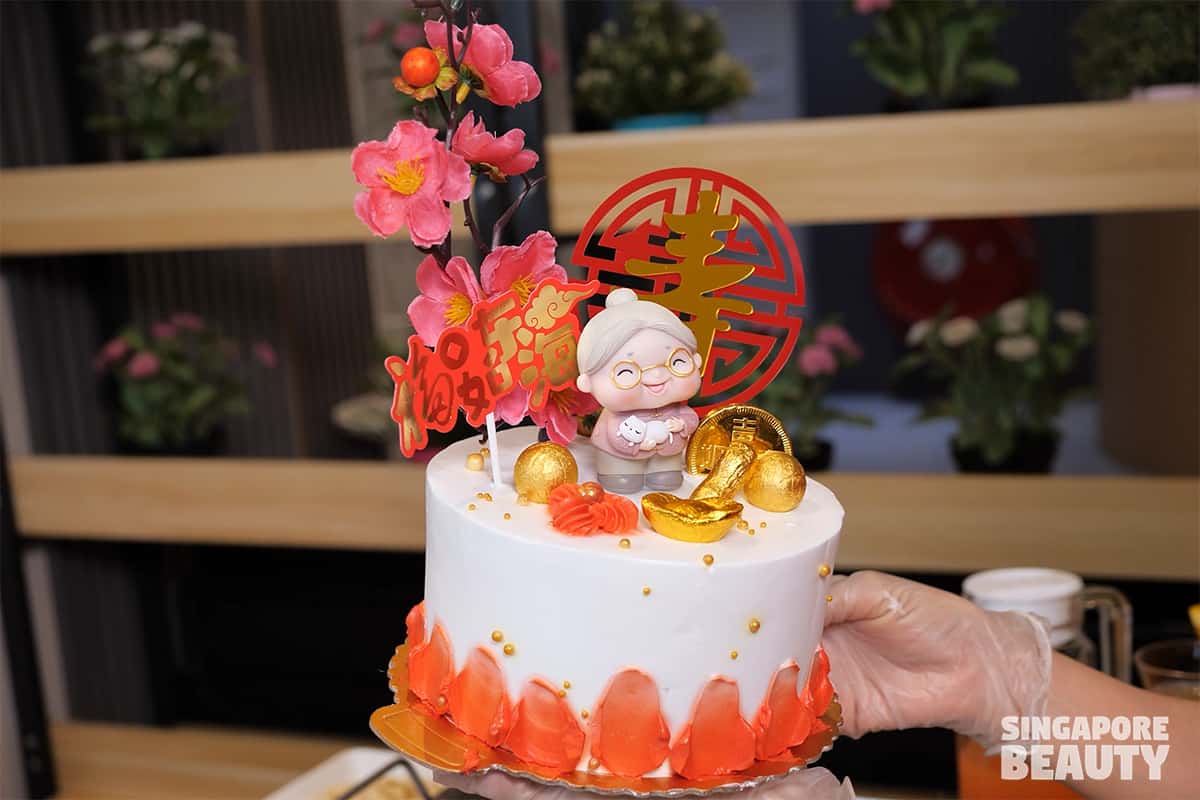 Ding Garden now has freshly baked cakes on their menu as well. The cakes ranges from 4 to 5 inches from $36, $38 to $48 for more elaborate ones. Personally, I am very much attracted to the creative looking cakes with a personal touch. They have one whole display chiller that showcase their cake design, check them out if you are a cake lover.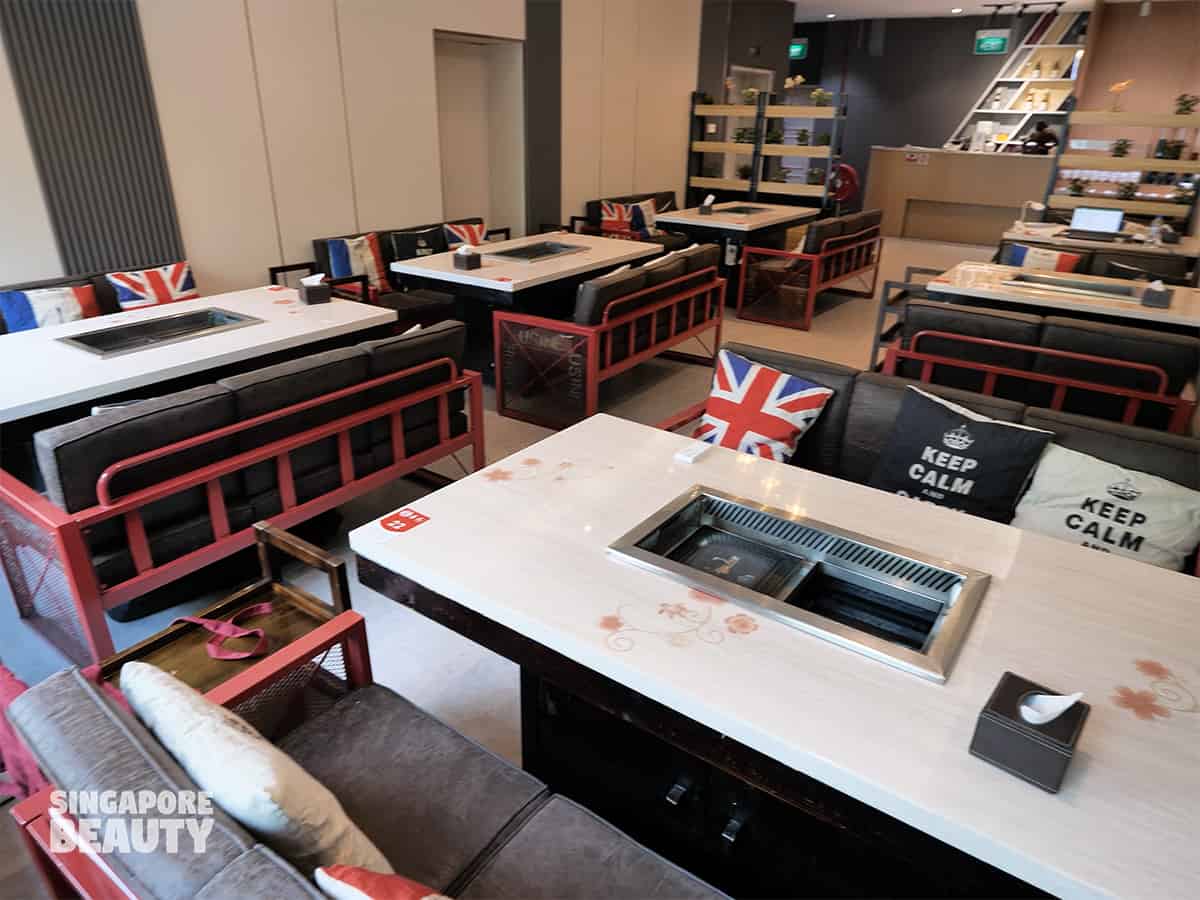 They have recently done an overhaul to their interiors. The newly renovated interiors are classy and great for more formal gatherings. You can organize company parties and family gathering here. The tables are designed to be flexible to create the perfect configuration for interactions between diners or even a nice group photo. Christmas and CNY are around the corner, if you are still looking for a place to celebrate, give them a buzz.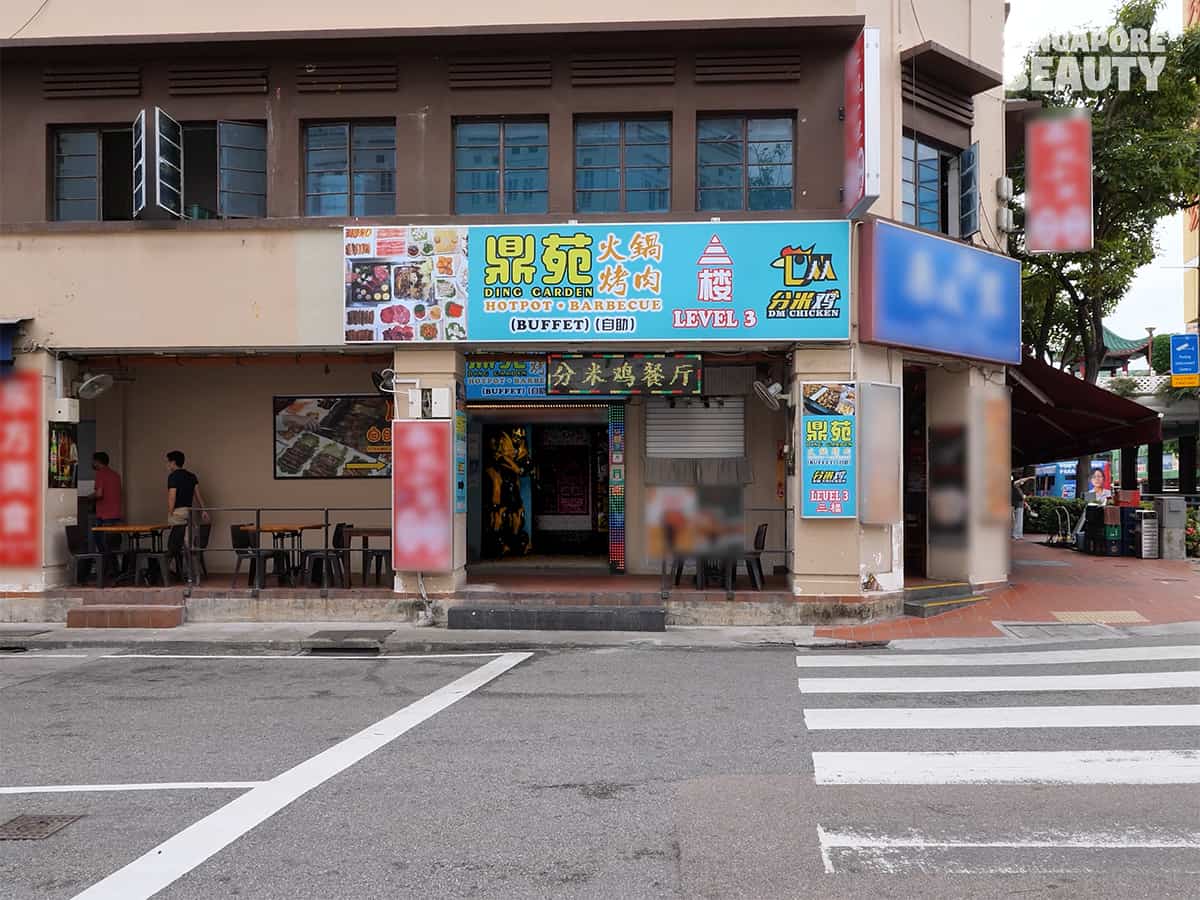 Ding Garden is conveniently located at Chinatown on Level 3 with a private lift. You can even watch the yearly CNY light up and parade held along this street where they are situated. This is the place to soak in the festive holiday's mood. Do check with the price for CNY period as it has some surcharge for the festive seasons.
Ding Garden Buffet Price :
Option 1 (2-in-1 hotpot and bbq buffet ) price:
Monday-Friday (exclude PH)
Lunch buffet (Enter before 3pm)
Adult at $25.90++
Kids at $14.90++
Dinner, PH & weekends Buffet
Adult at $29.90++
Kids at $16.90++
**Single soup base $6++, Duo- soup base from $10++
___________________________________________________
Option 2 (3-in-1 roast fish, hot pot and bbq buffet ) price:
3-In-1 Roast fish, bbq and hotpot Buffet
Monday-Friday (exclude PH)
Lunch Buffet (Enter before 3pm)
Adult at $32.90++
Kids at $16.90++
Dinner , PH and Weekend
Adult at $36.90++
Kids at $19.90++
***Single/dual soup bases are included for 3-in-1 buffet.
Drinks are ala carte, call to check CNY price.
Birthday Month Special (Advance booking needed)
-3-4 paying adults can redeem 4inch cake
-5 paying adults and above can redeem 5 inch selected cakes
Address of Ding Garden:
191B New Bridge Road Singapore 059423
Exit E or exit A from Chinatown MRT.
(take lift up to level 3)
Opening hours:
11:30am to 12am midnight
Brought to You by Ding Garden