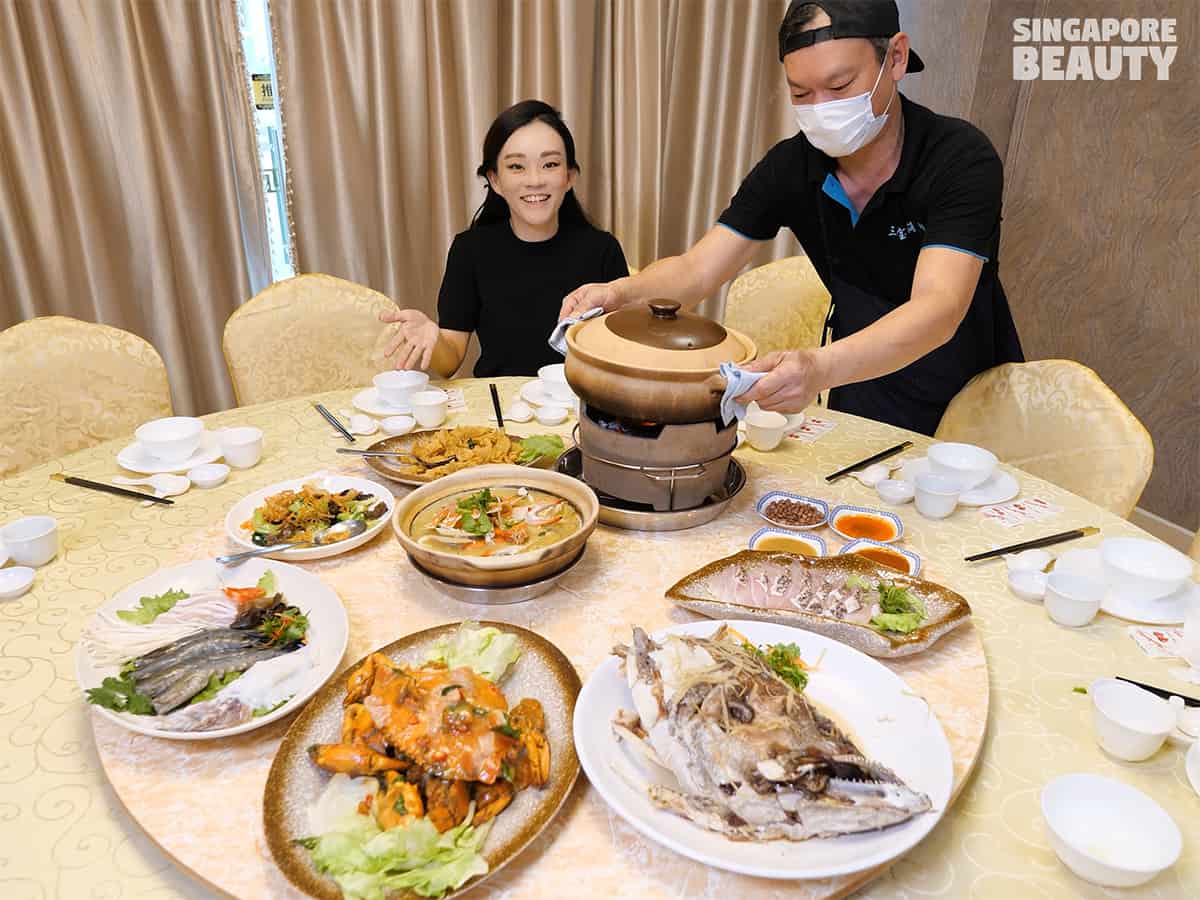 Charcoal claypot fish soup is a rare find in Singapore but we found it at Sumbao Seafood restaurant. They have a few unique dishes on their menu such as this herbal soup base claypot fish soup on charcoal stove, steamed XXL fish head, Seafood pao fan, salted egg crispy chips, lotus lead steamed chicken and more.
Sumbao Seafood restaurant is located at Race Course Road near Little India. This restaurant is newly opened in Sept 2022 serving Ipoh Malaysian style restaurant zi char dishes. This restaurant is housed in shophouses, it occupies 4 shop fronts with 2 private VIP rooms and a main dining room that can sit up to 9 banquet style tables.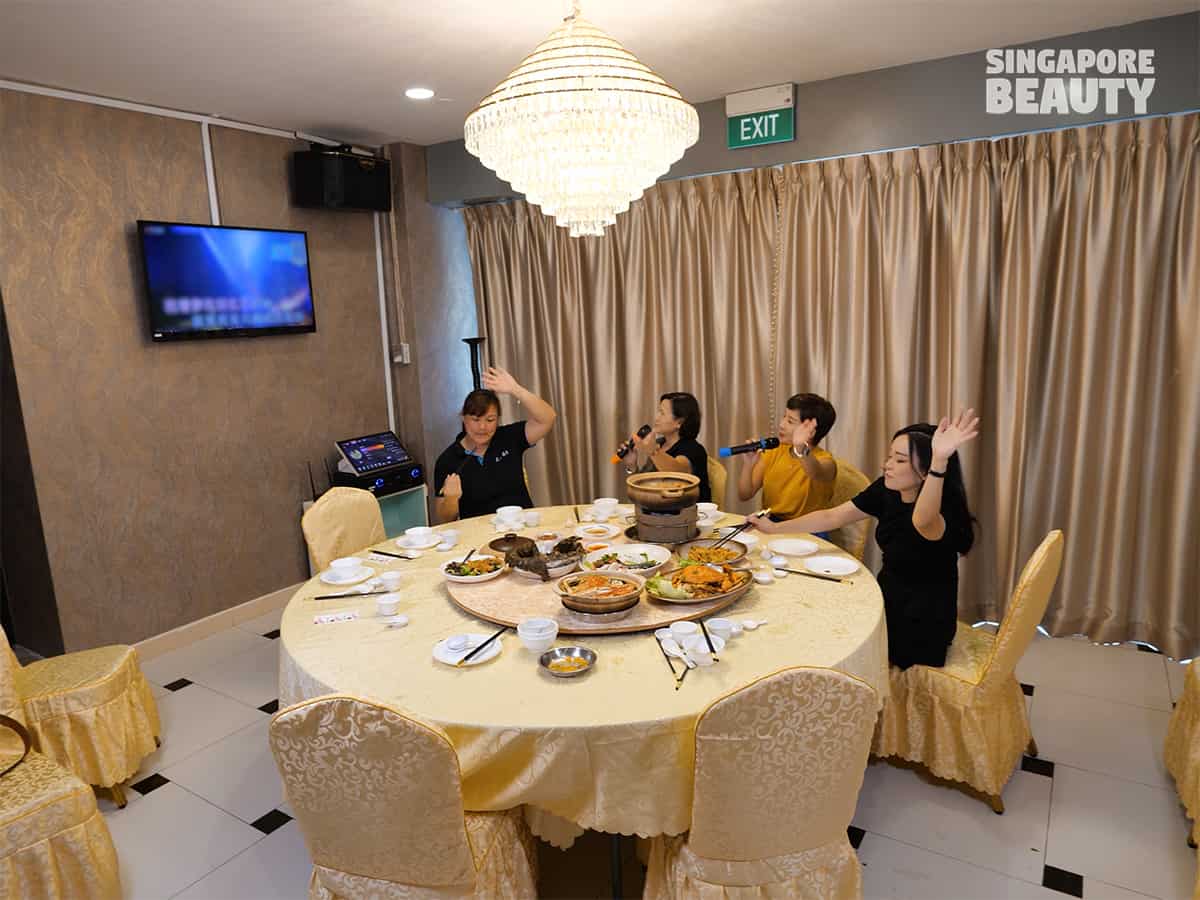 This is the VIP private dining room that can sit up to 10 people where you can hold party and birthday celebration. It also has a sing and eat concept where you can karaoke and enjoy dining at a banquet table with a rotating lazy Susan. Do note that to book and use this room, the minimum spend is $350. This room does gives off very classy vibes with a diamond shaped crystal chandelier in the centre of the room, coupled with a good surround sound Karaoke system. Time to show off some nice vocals to impress your love ones.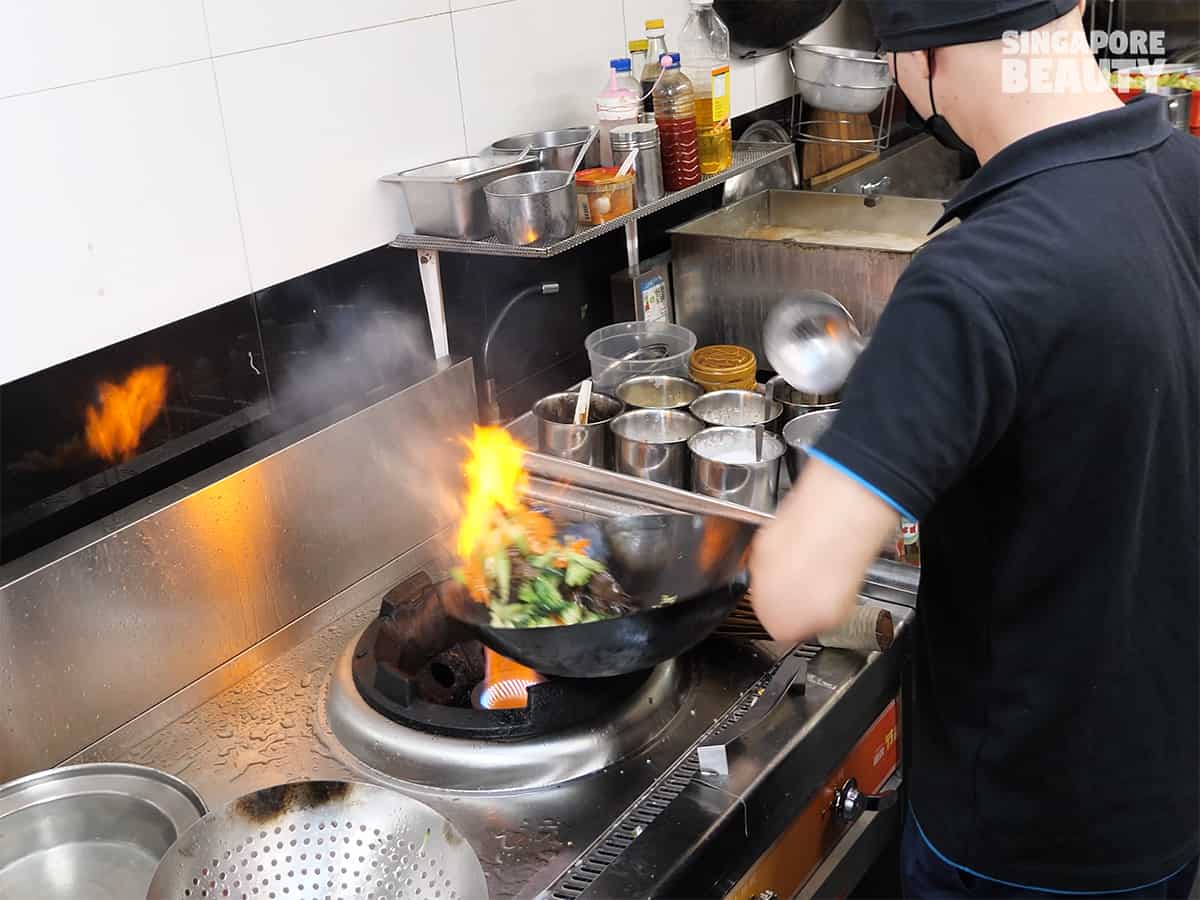 Their kitchen is helmed by seasoned chefs from Ipoh Malaysia. They specialise in zi char dishes that is uniquely Malaysian and herbal based cuisines. They also pride themselves in creating new dishes to cater to the taste palette of Singaporeans. Their dishes have strong wok hei and the chef has some really innovative dishes up his sleeves that are to be introduced to the menu from time to time.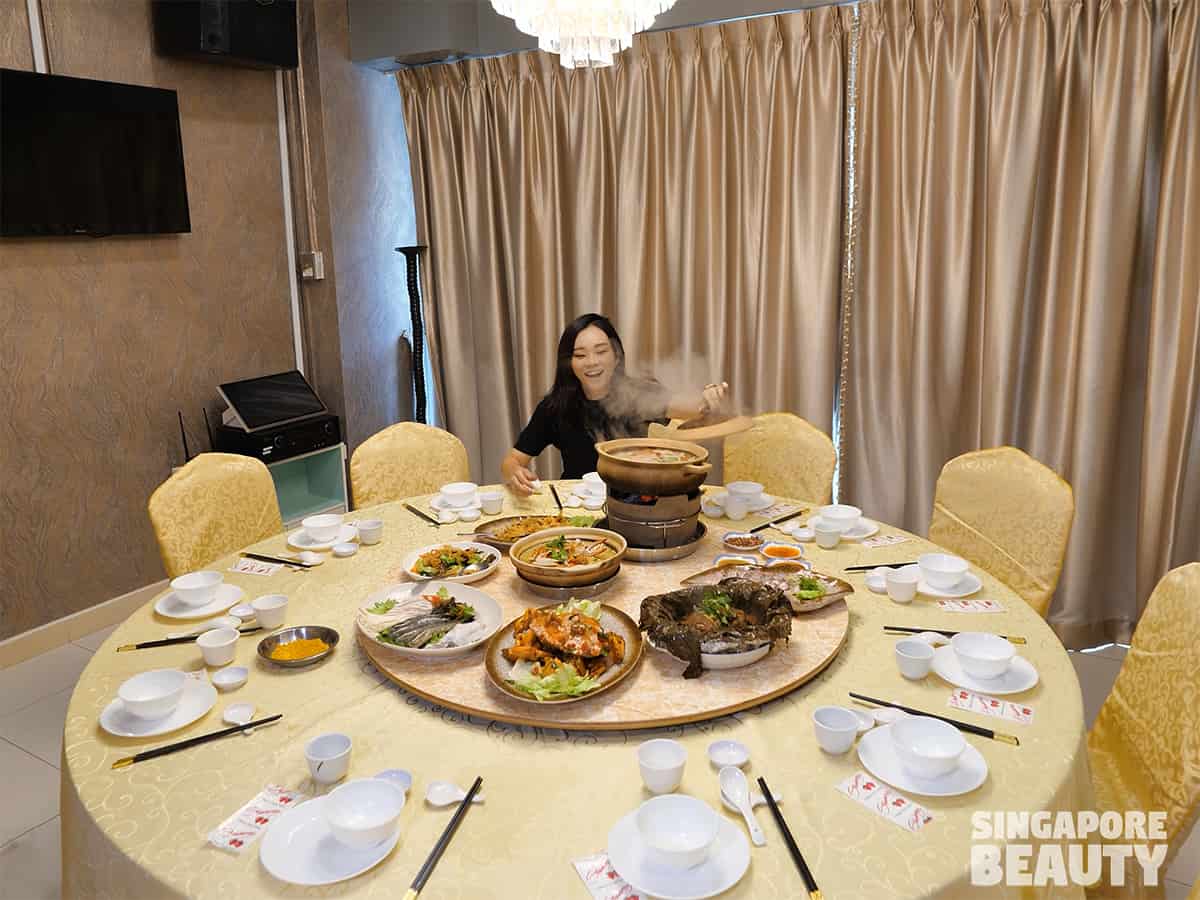 This is one of the few Malaysia zi char restaurant in Singapore. This time round they are showcasing these 6 dishes. Signature charcoal claypot fish soup, seafood claypot pao fan, lotus leaf wrapped steamed chicken, salted egg crispy chips, mixed greens and Three Flavours salted egg roe crab. Let's start our Ipoh style zi char feast now.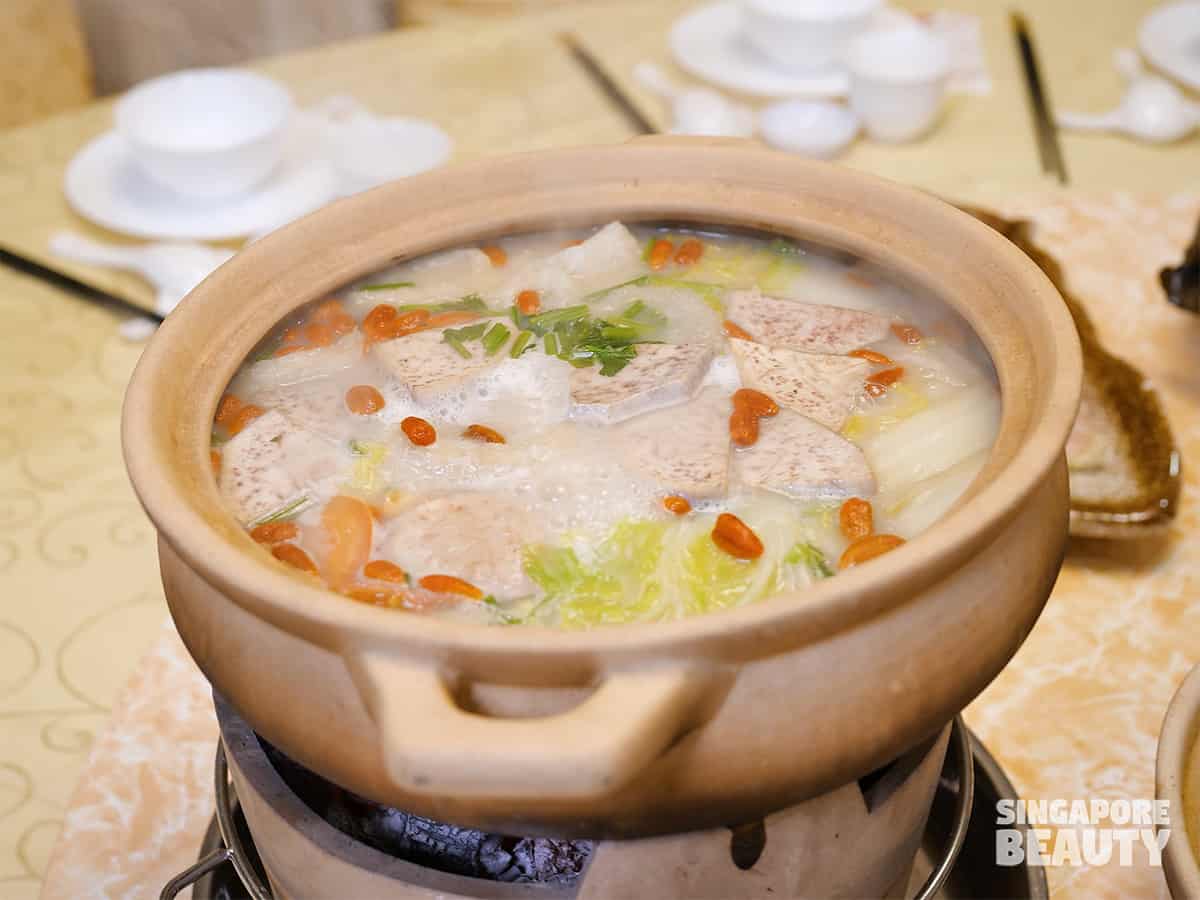 Here's our Sumbao Seafood review on their charcoal claypot fish soup hotpot. This is their signature fish soup hotpot served on red hot charcoal stove. The ingredient in this claypot includes Freshly cut grouper, premium fish maw, yam, Napa cabbage, wolfberries, tomato, tofu and more.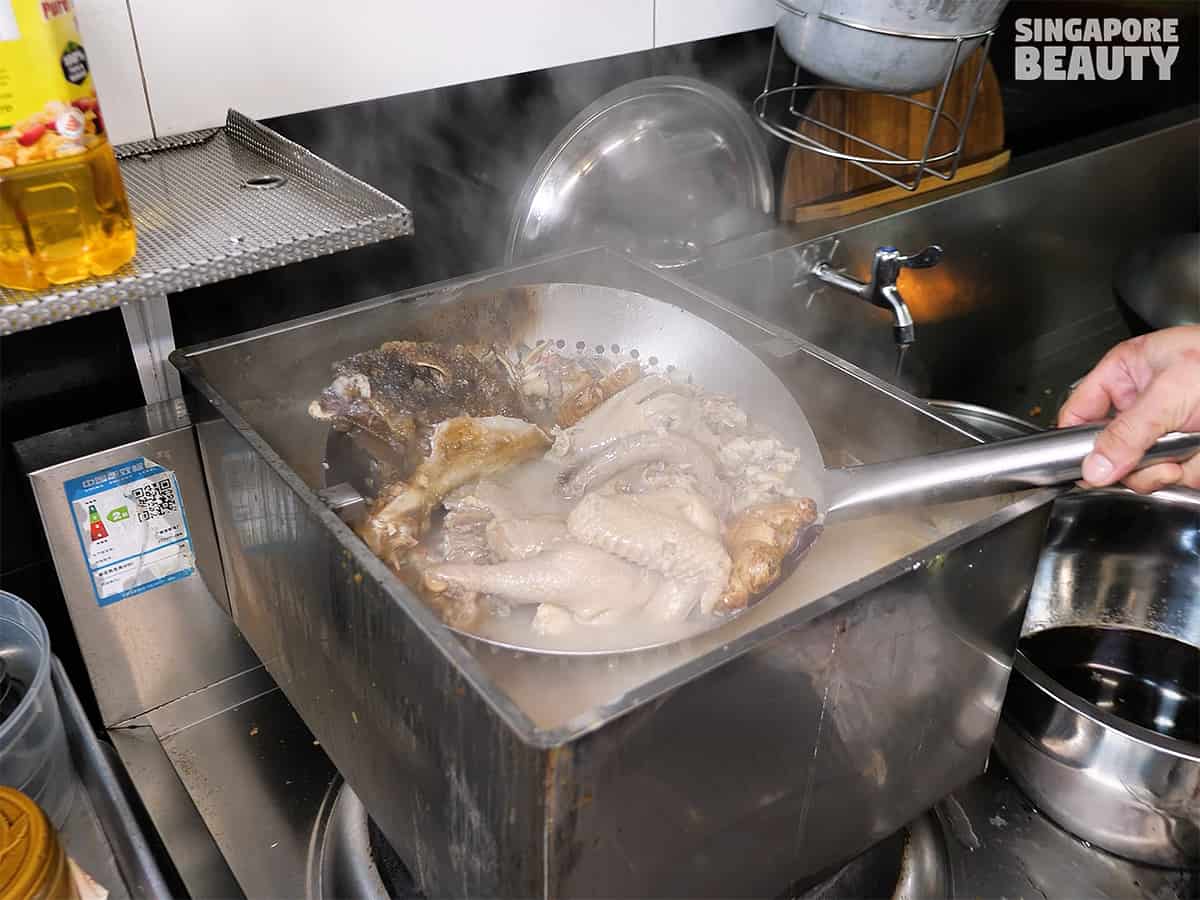 The soup base of the charcoal claypot fish soup hotpot is made by boiling the above ingredient till it turns creamy and rich. The ingredients needs to slow boil for 4-5 hours to achieve the milky consistency. The soup has a depth of flavours from the whole chicken, fish head, legs and more.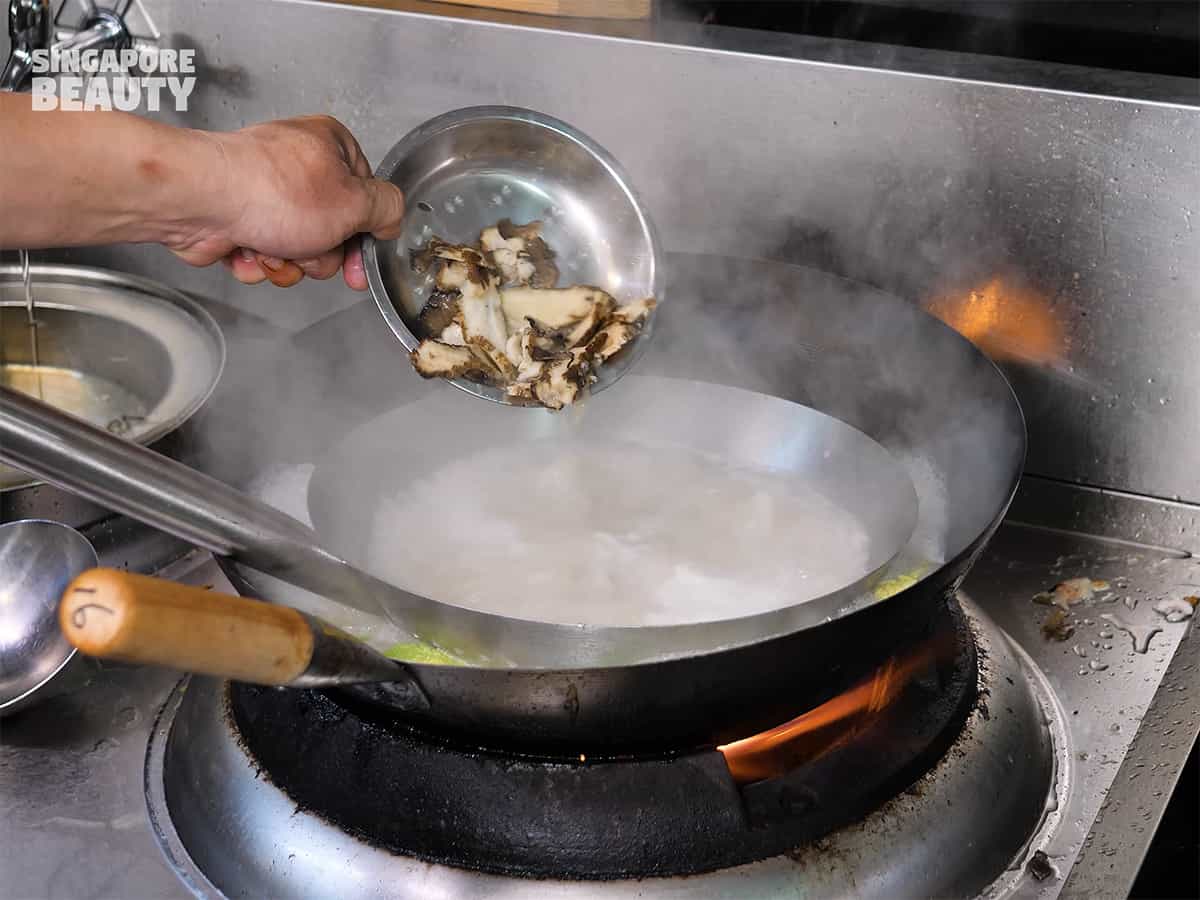 For each claypot of fish soup, some very nutritious Chinese herbs such as dang gui and more secret herbs are also added that is believed to boost energy level. It is a very rich pot of fish soup indeed. If you are feeling tired and needs some nourishing soup, do order this dish when you are here.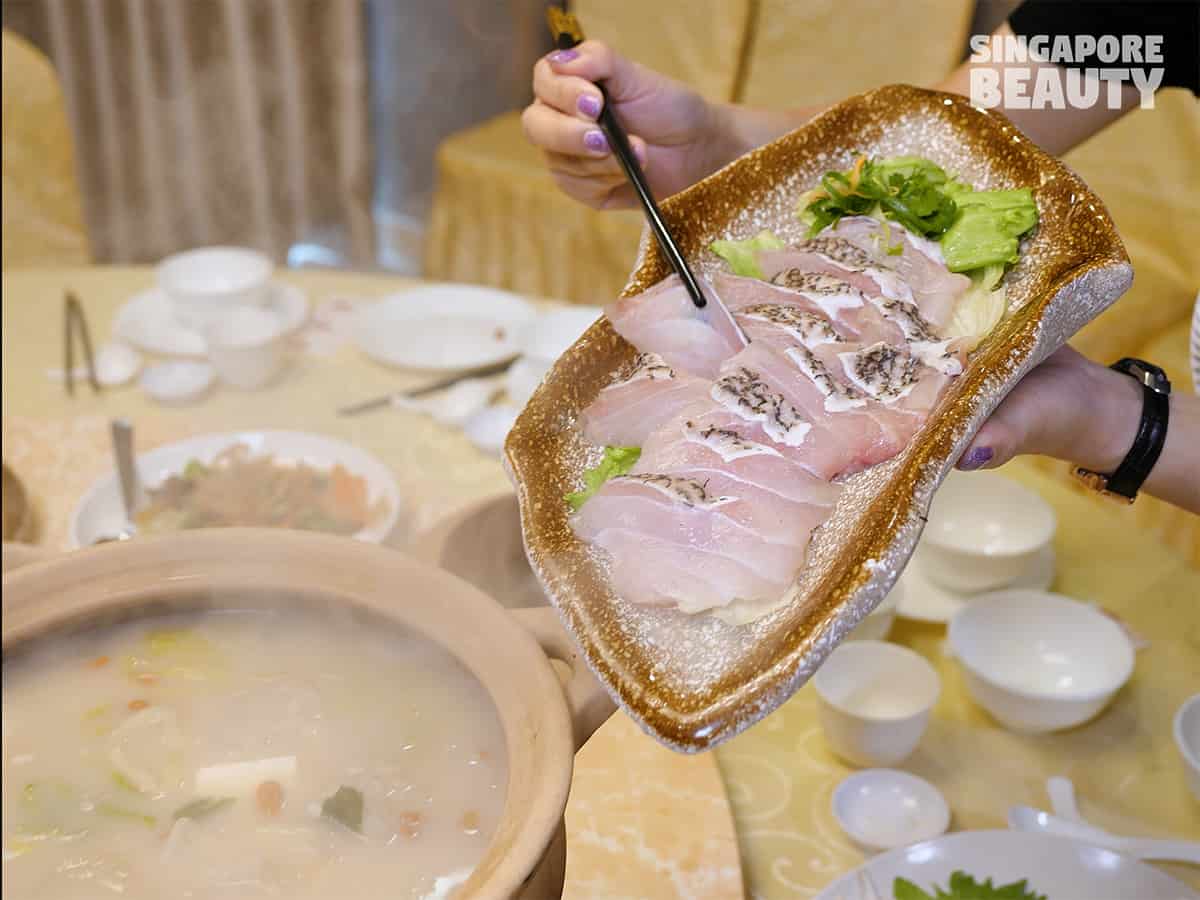 For this claypot fish soup, you can choose different type of fishes such as red grouper, greasy grouper, seabass and more. The sliced fish are cooked hotpot style so that every piece can be cooked just perfectly for a tender and succulent texture.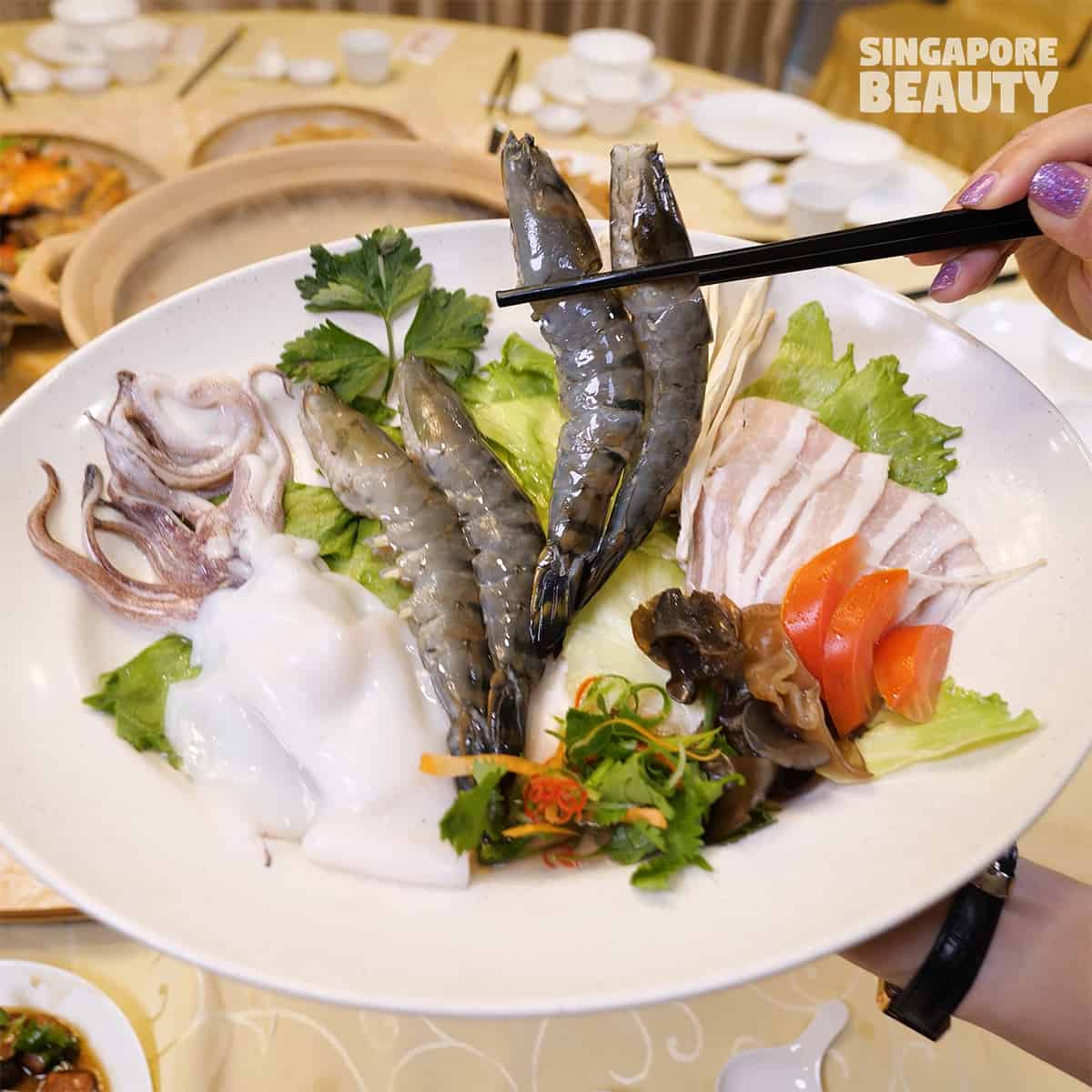 After finishing the sliced fishes, you can continue to enjoy the nourishing soup by adding some ala carte seafood and meats that are sold by portions. These are great add on to the charcoal aroma soup base and you can cook them hotpot style. By the way if your soup runs low, they are happy to top it up with more soup.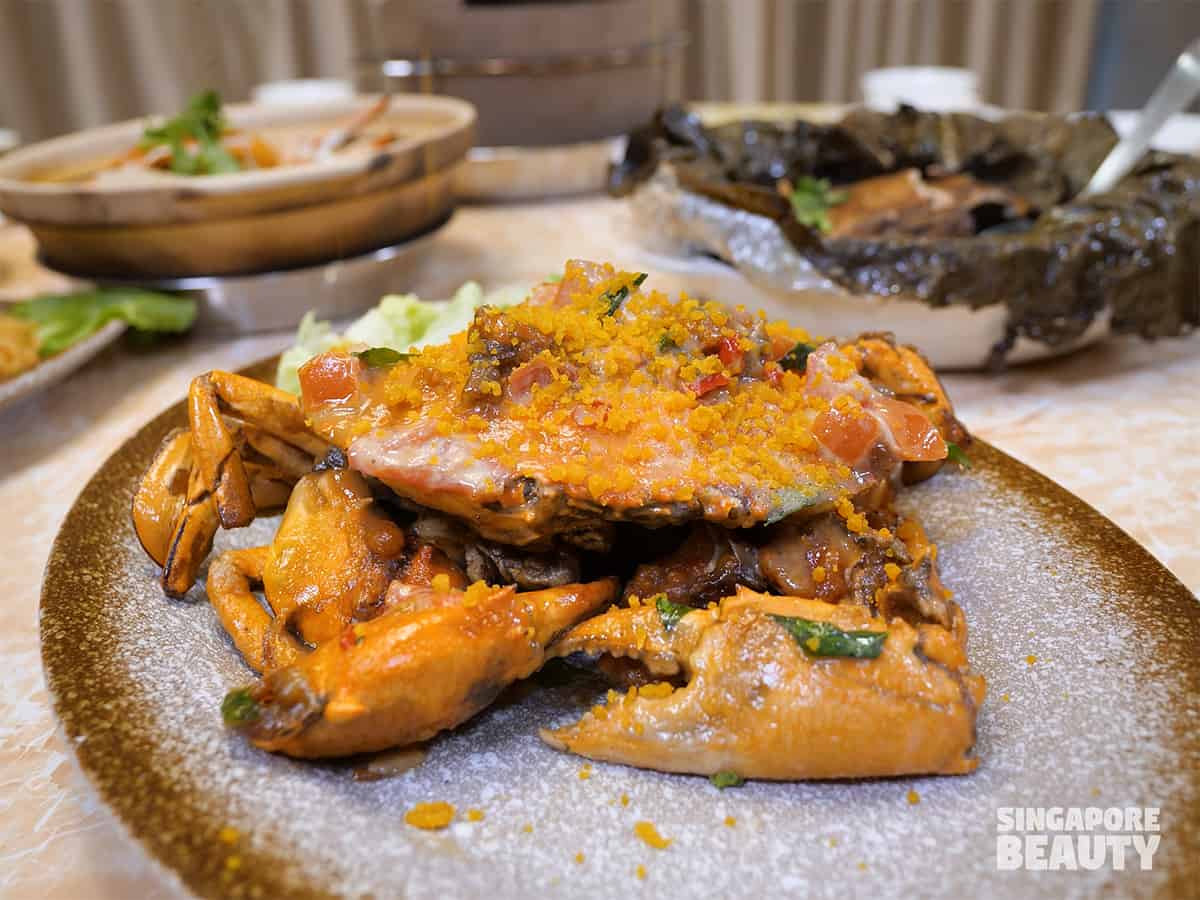 Three Flavours salted egg roe crab is one of their chef recommended dishes. This crab dish is done Malaysian style. They have to lightly coat it with flour and deep fried it till golden. The crispy golden crab is then stir fried in their unique yummy Three Flavour sauce. The Three Flavours presented are salted egg, tomato and the fragrant of scallions.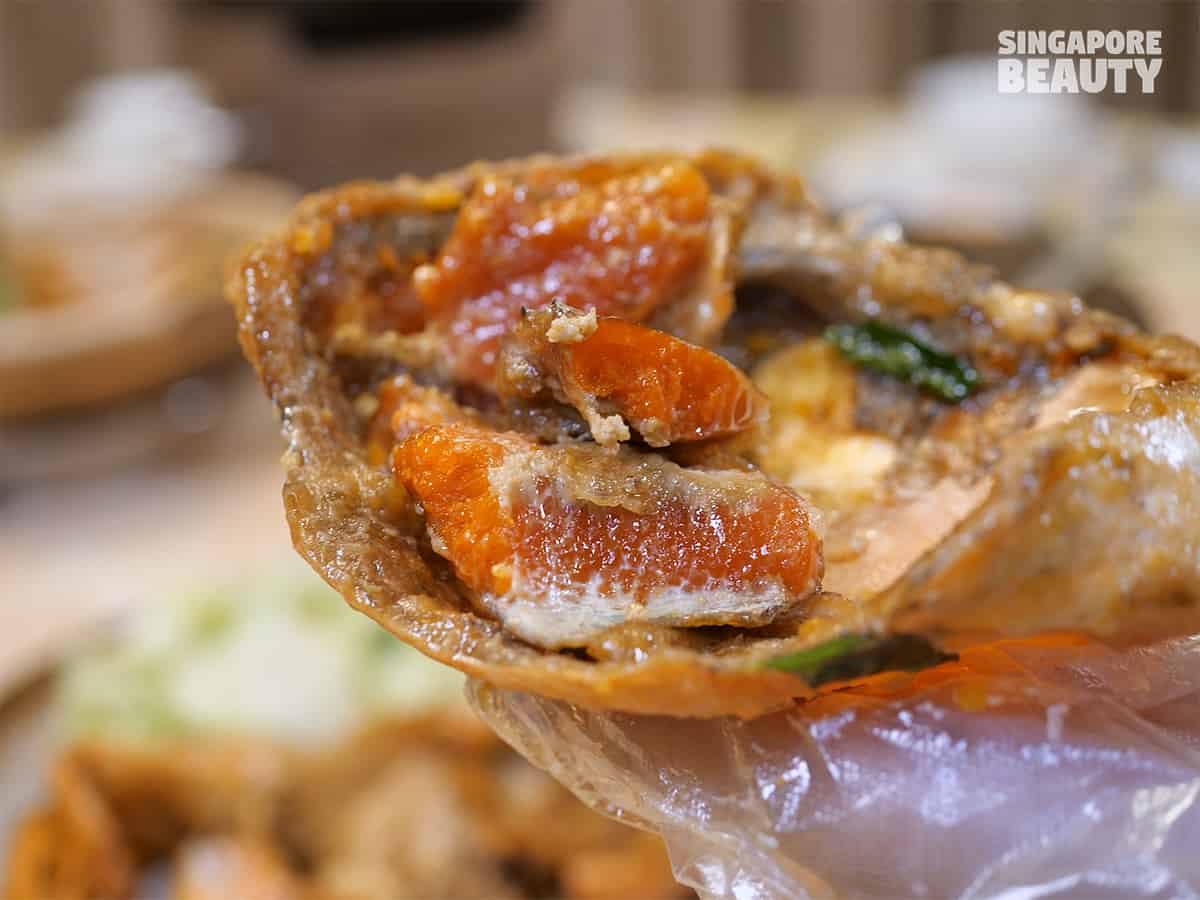 Check out the amount of crab roe in this Sumbao Seafood signature Three Flavour Salted Egg Roe Crab dish. The crab roe is thick and grainy with a briny rich flavour. You can see the distinct round roe in this thick roe cake. For crab roe lovers, you need to try this crab dish full of roes.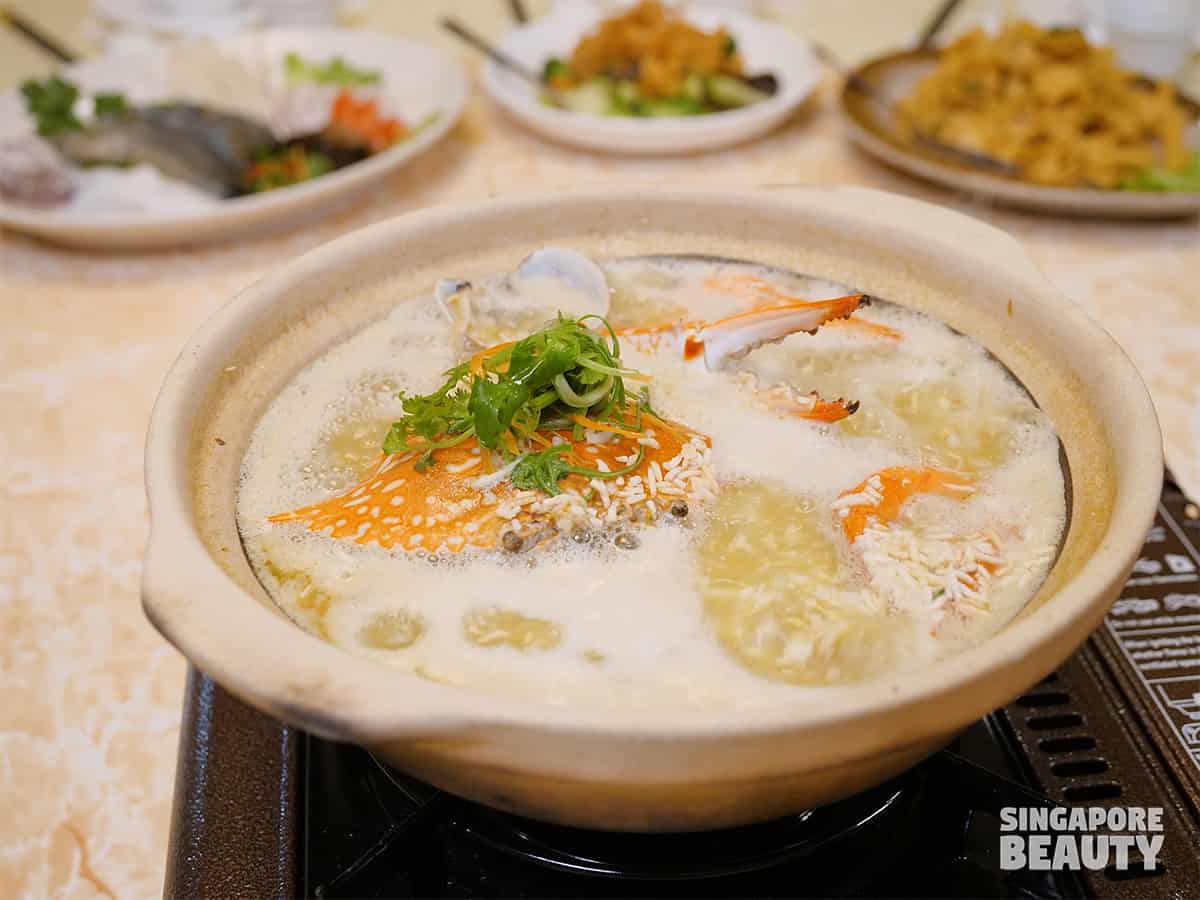 Seafood Pao fan at Sumbao Seafood is also made differently. The seafood pao fan has a strong egg aroma with the sweetness of a pumpkin based soup. The base of the pao fan is rice that is coated in eggs with a strong wok hei. The golden pumpkin soup with seafood is added to "Pao" aka soak the rice. The dish is finished off with some crispy rice pops.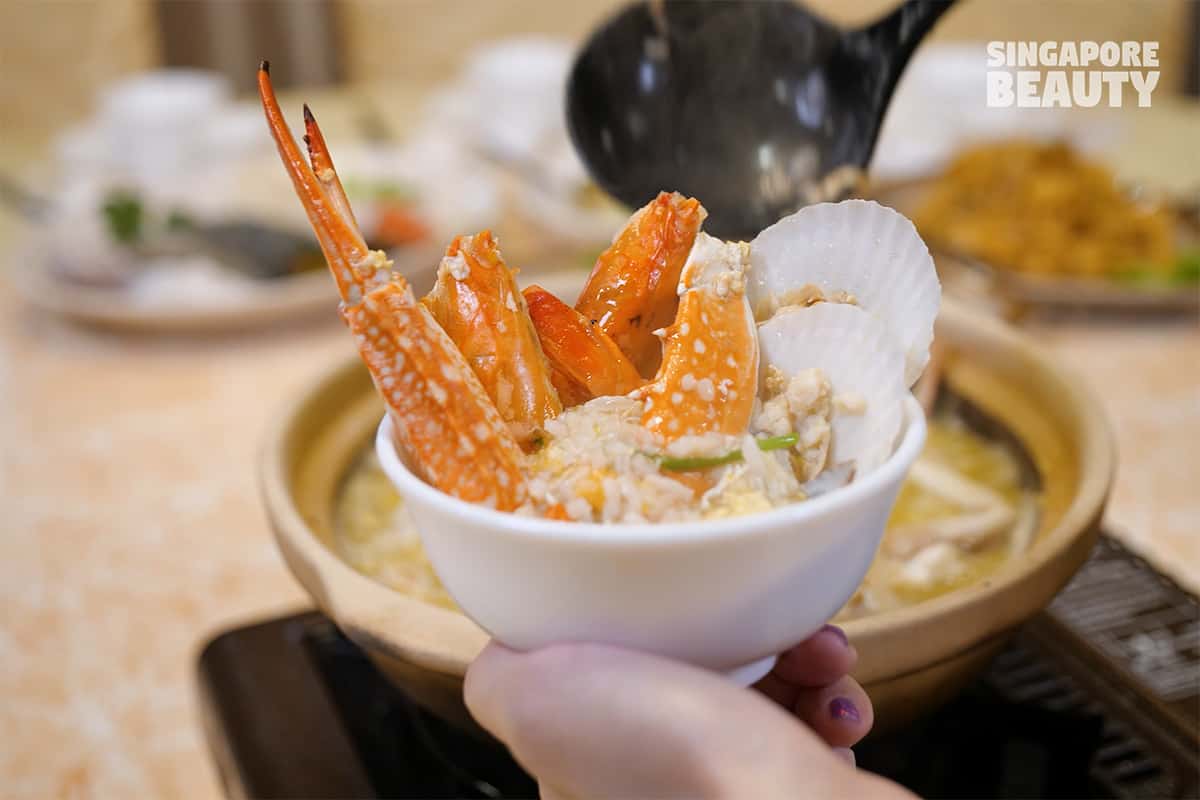 The seafood pao fan is made with lots of seafood such as a whole flower crab, scallops, large prawns and Asari clams. The end result is a super satisfying bowl of velvety porridge that is rich with seafood goodness and a strong aroma of egg flavour.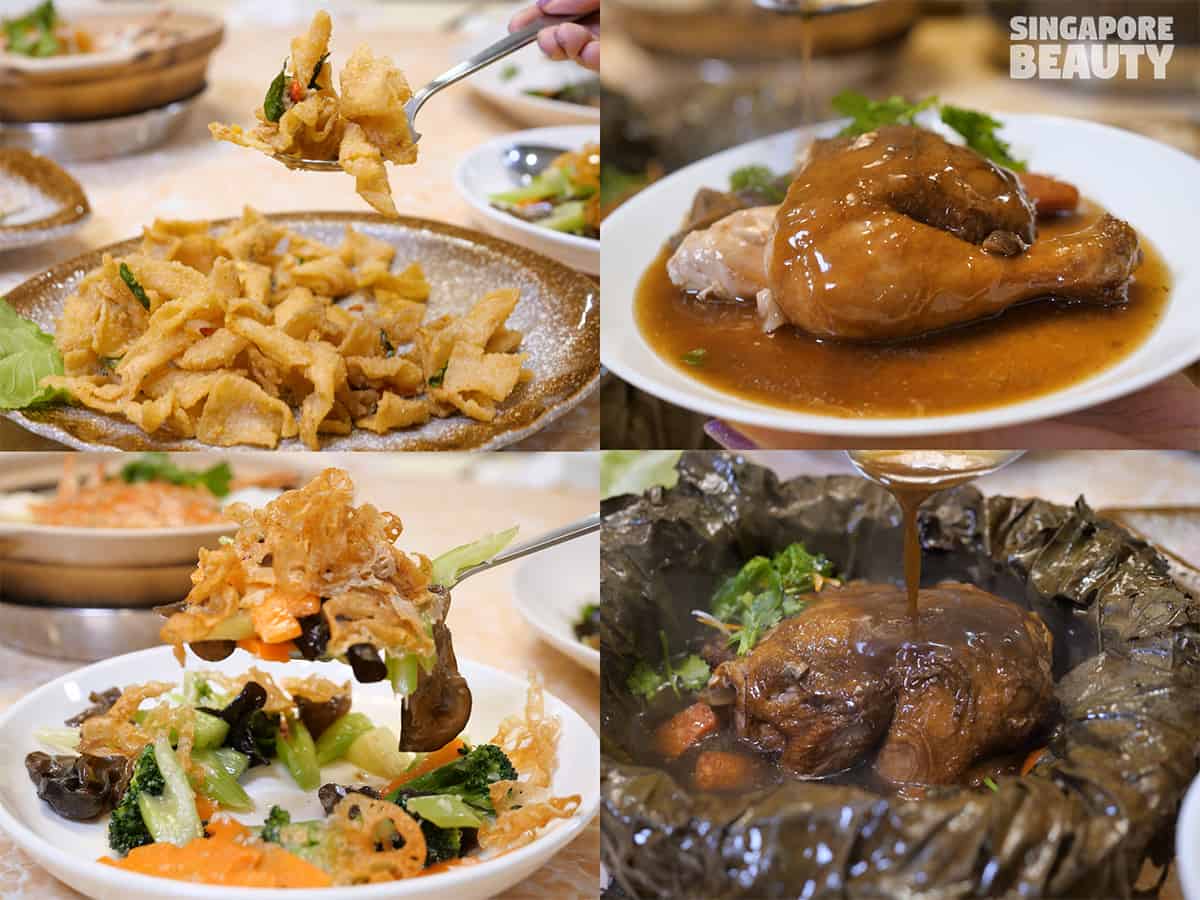 We also tried their mixed green with crispy lotus chips which is a refreshing dish of crunchy sweet greens. The lotus leaf wrapped steamed chicken is well flavoured with a lovely earthy tea scent and Fork tender chicken in a rich herbal glaze. Must try their salted egg crispy chips that are rich with salted egg flavour and occasional burst of sugared grains.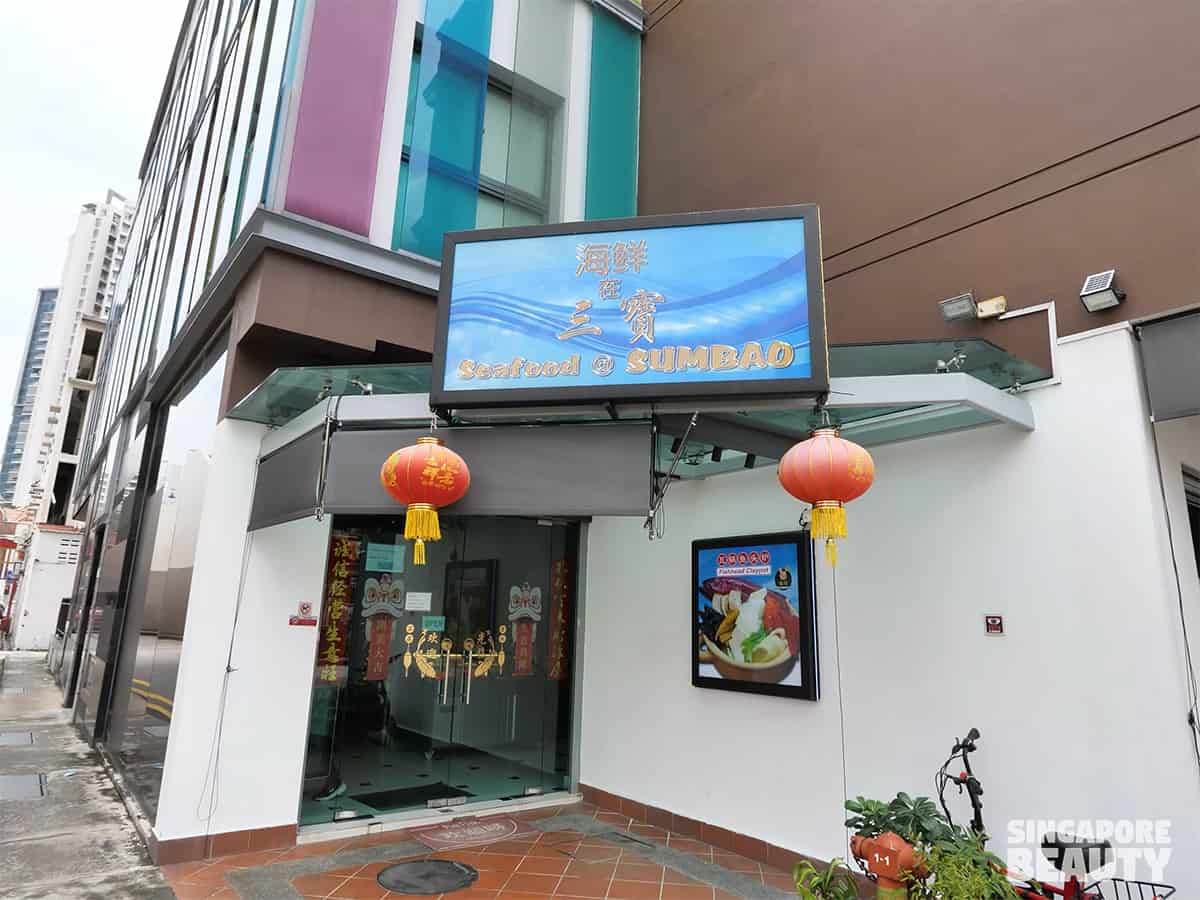 Head over to Sumbao Seafood Restaurant for their authentic Malaysian Ipoh style restaurant Zi char dishes. The restaurant is spacious with a classy interior that is great for guest of all ages to gather. Small to large gatherings are welcomed at Sumbao Seafood, reservations can be made via their hotline below. For Seafood lovers who are inclined towards charcoal style fish soup hotpot, claypot dishes that are served hot and seafood cuisines, this is the place you can consider for your next family gathering!
Address of Sumbao Seafood :
378 Race Course Road
Singapore 218646
For reservation , pls call : 9132 8083
Opening Hours :
Wednesday to Monday 11.00am to 2.30pm, 5pm to 10.30pm
Tuesday closed.
Brought to you by Sumbao Seafood 海鲜在三宝