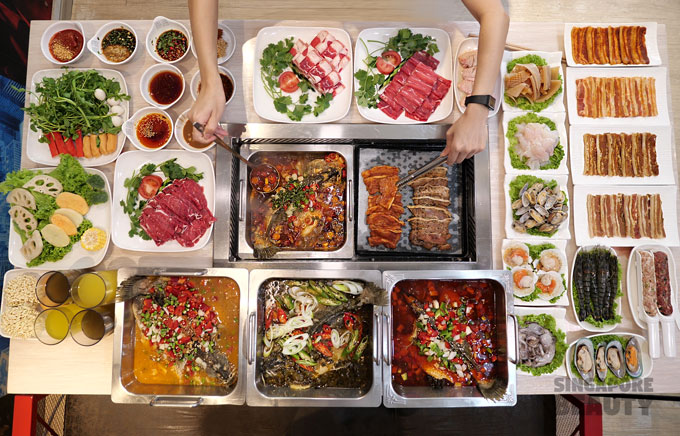 Ding Garden hotpot and barbeque buffet restaurant is having all-you-can-eat 3in 1 roasted fish buffet with BBQ and hot pot using the fish broth after you are done with the roasted fish.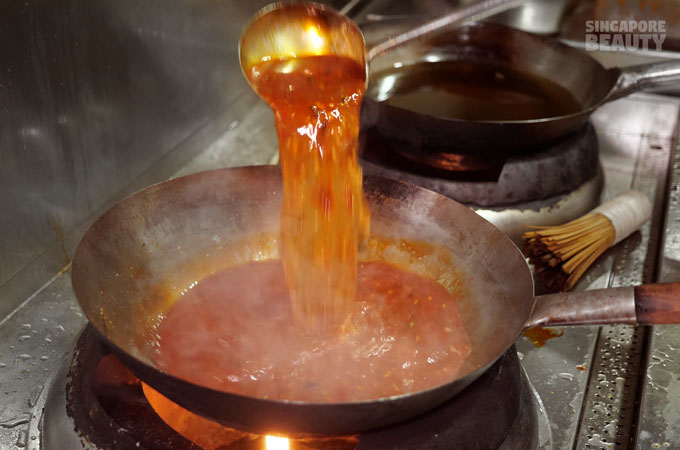 Soup base for roasted fish is made fresh for each order, meaning you will be served a fresh soup base with a newly ordered fish flavour of your choice.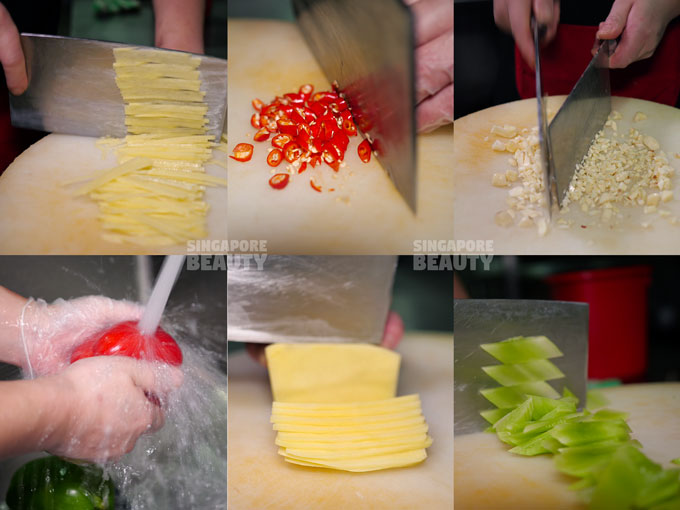 Most of the ingredients are store bought on the day itself to ensure the freshest greens are served with the roasted fish.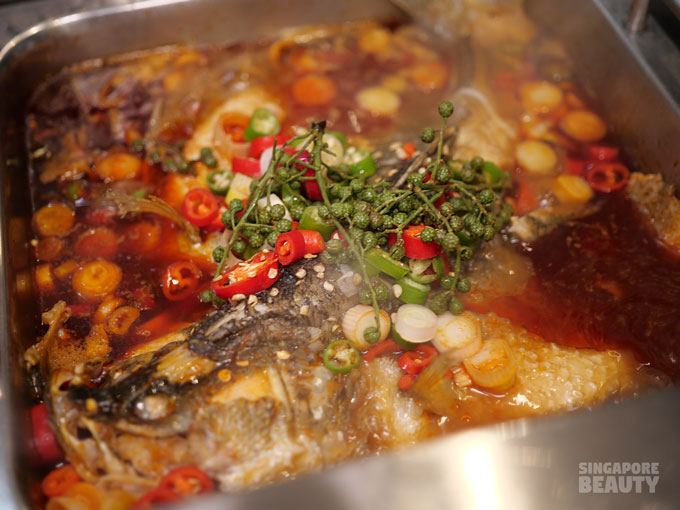 The roasted fish is available in 4 flavours – Mala, fragrant spicy, pickled cabbage and bean paste. The mala roasted fish is served simmering in mala broth made with a special inhouse pre-prepared paste, ginger, garlic, red hot chilli oil and fresh Sichuan pepper corns. The numbing factor is bearable and leaves a mild tingling sensation on your lips after first bite.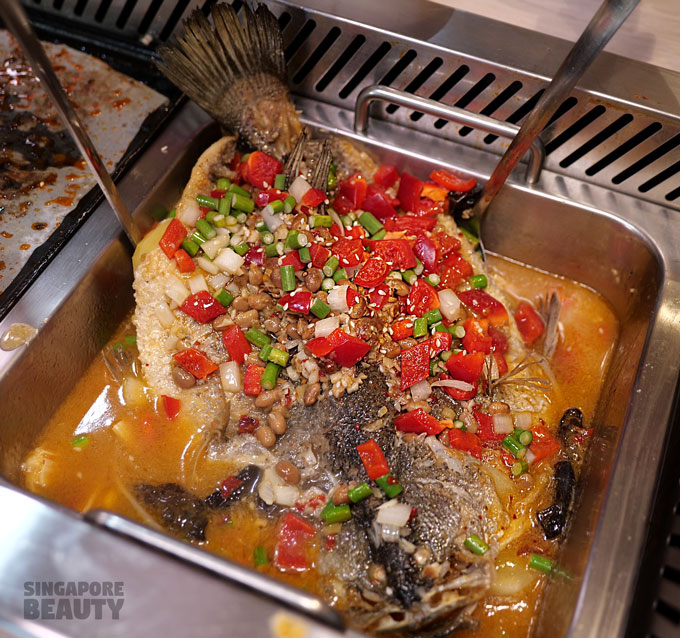 Fermented bean roasted fish is served simmering in a savoury soya soup base topped with red pepper and onions.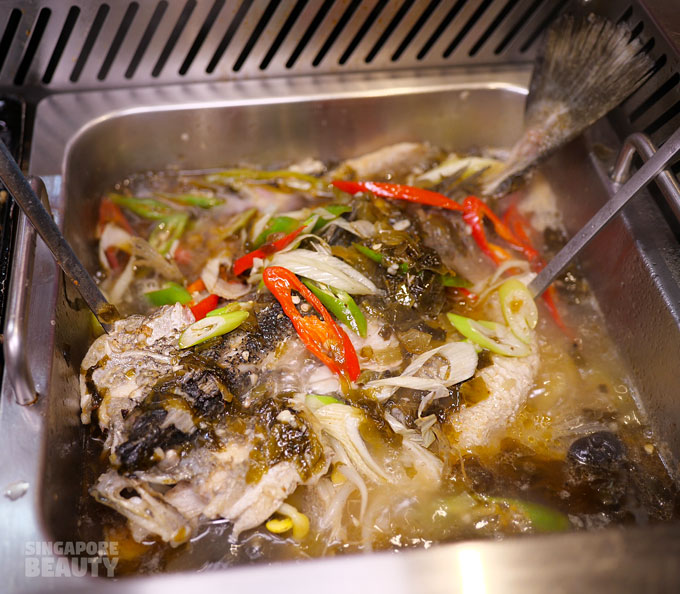 Pickled cabbage roast fish is served in a mild tangy pickled cabbage soup base top with some sweet leeks, red and green chilli for a mild kick of heat.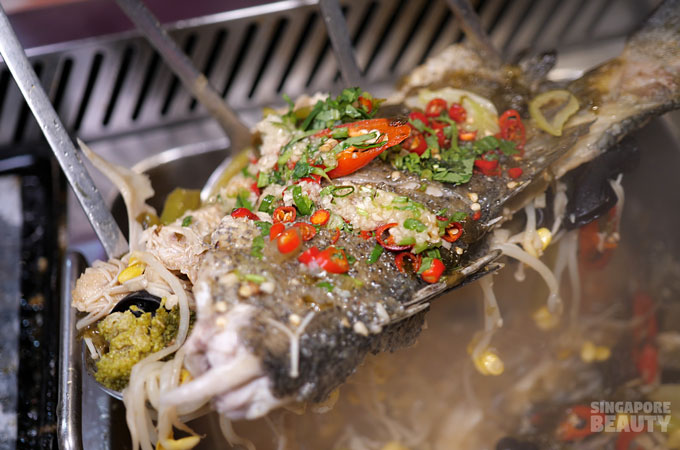 Up the heat with chopped chilli padi to go with the chunks of tender moist meat with a gelatine-like skin.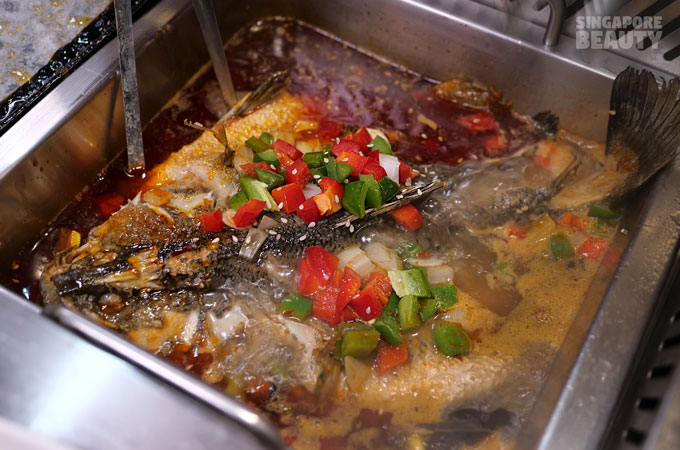 Fragrant spicy roasted fish in a red hot oil and sesame oil topped with red and green pepper simmering in spicy garlicky savoury broth.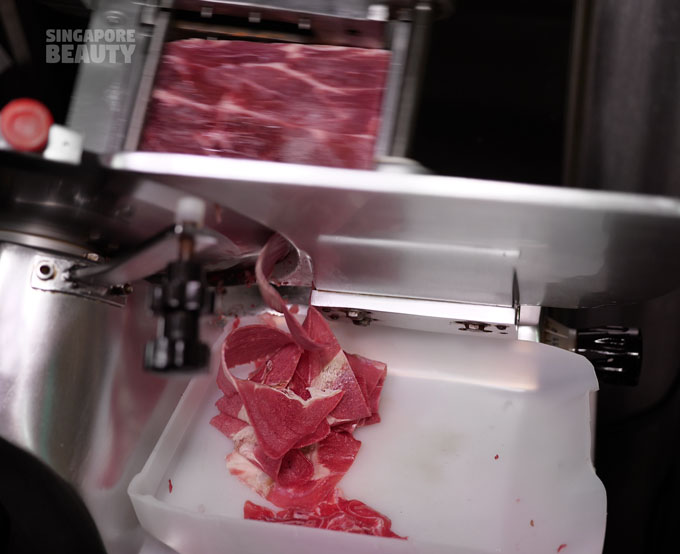 Freshly cut shabu shabu meat are also included in the roasted fish buffet.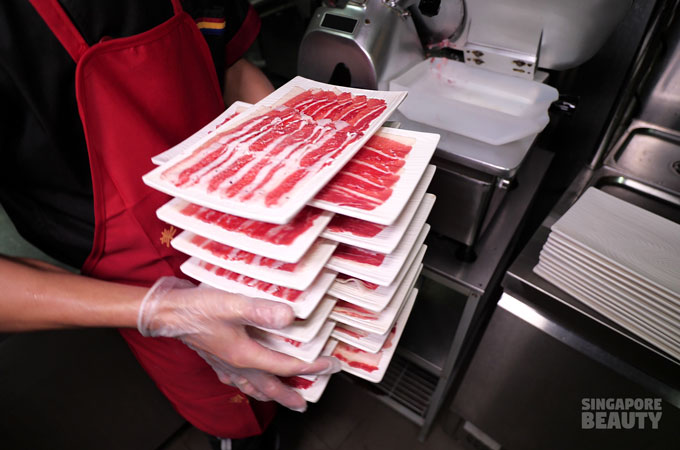 Eat all you can shabu shabu meats (beef, pork and mutton).
2mm paper thin shabu shabu rolled meat that cooks quickly.
Good proportion of meat and fats ratio for a tender bite.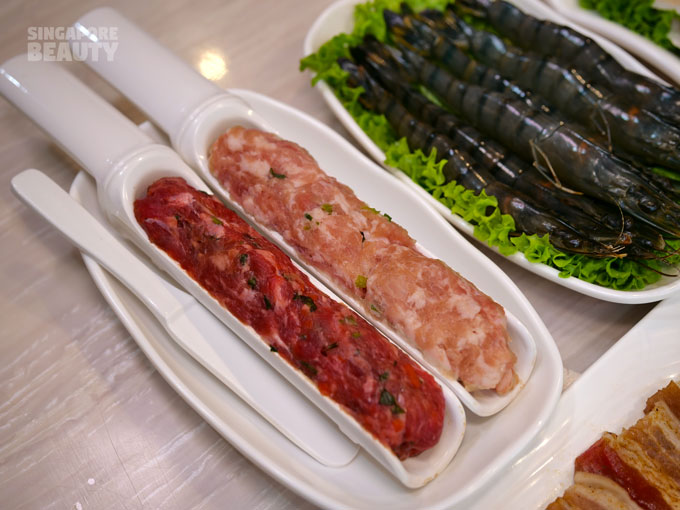 Handmade beef and pork balls are also available for hot pot as well.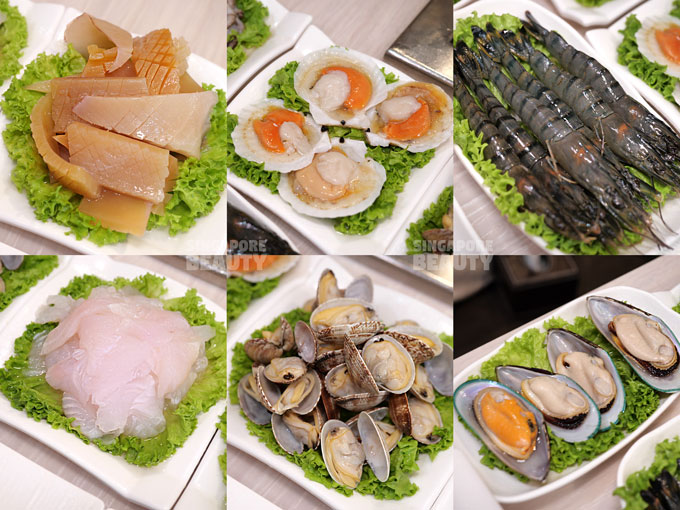 There are 5 types of seafood available – lala, mussels, prawns, cuttlefish and dory fish.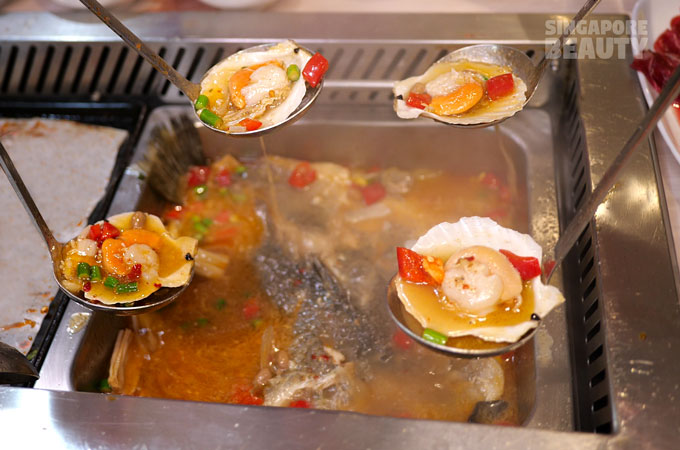 You can either hotpot them or BBQ them on the hotplate.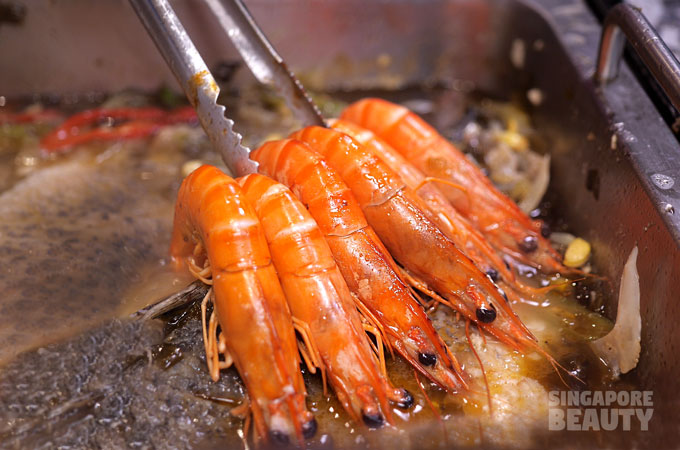 Crunchy prawns boiled and enjoy sinful mouthfuls of head butter.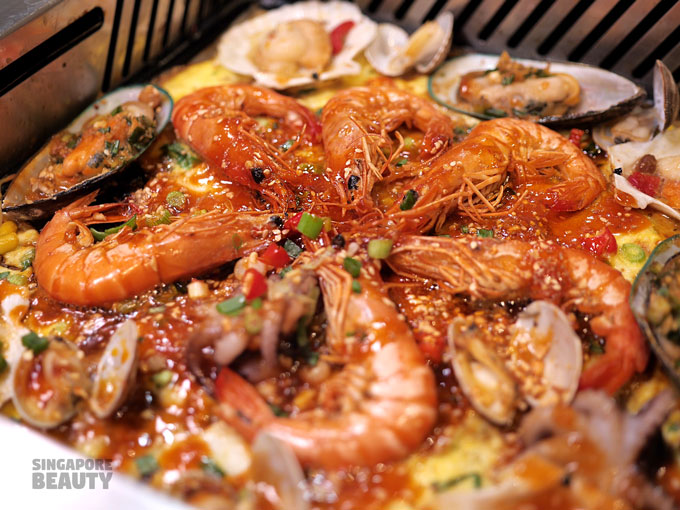 Enjoy a seafood omelette of prawns, mussels and any other seafood that you fancy on the BBQ grills. Top with savoury tomato sauce, green onions and sesame seeds.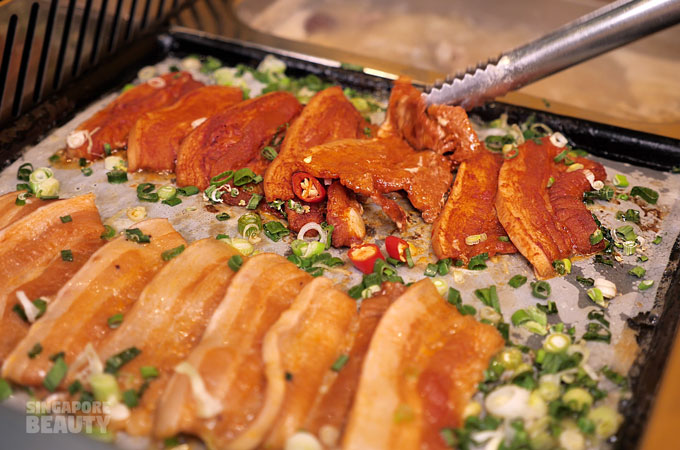 There are a good variety of marinated meats for BBQ – black pepper pork belly, honeyed pork, beef, chicken and mid wings.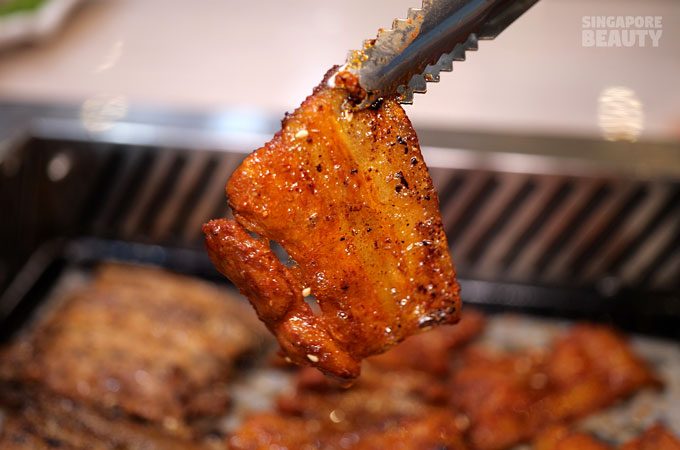 Grill them on medium high heat for extra crunchy fat rims.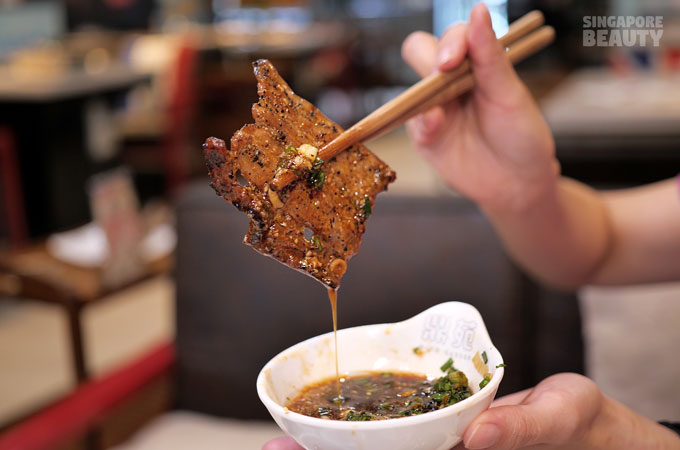 Customise your own DIY dips from the condiments counter to add some umaminess to your BBQ meat.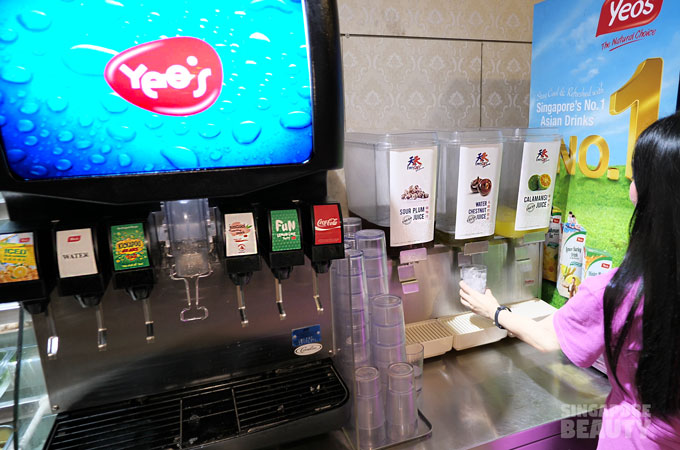 8 types of drinks are included in this roasted fish buffet. Iced lemon tea, Kickapoo, ice peach tea, lime, cola, sour plum, water chestnut and calamansi too!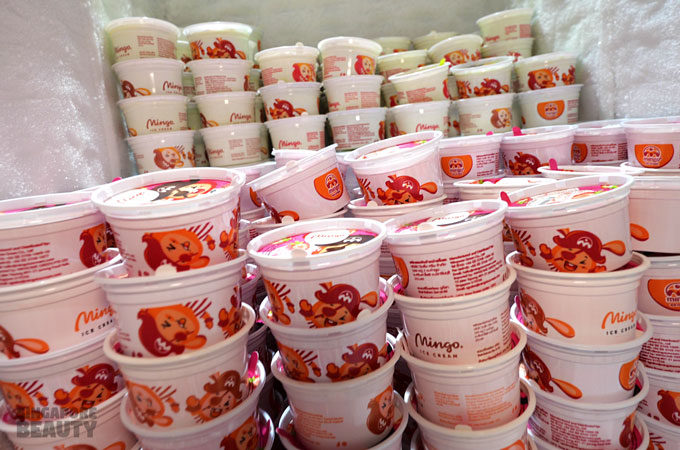 End the meal with a truckload of free flow ice cream. Chocolate, vanilla, strawberry and some others seasonal flavours.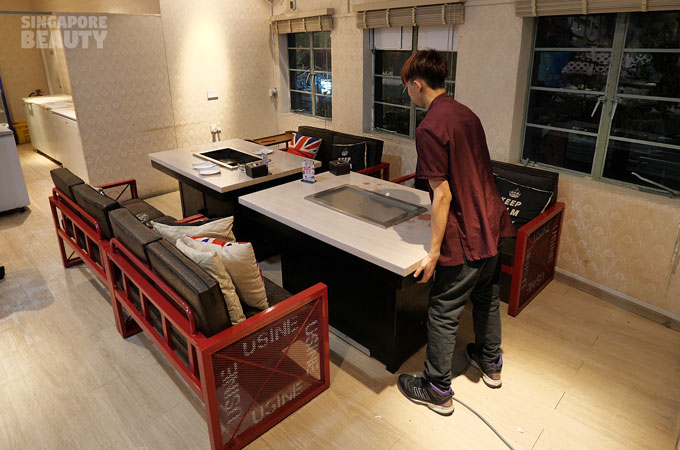 Ding Garden hotpot and barbeque buffet restaurant are able to host large groups and gatherings, thanks to the flexible spacious interior and customised furniture.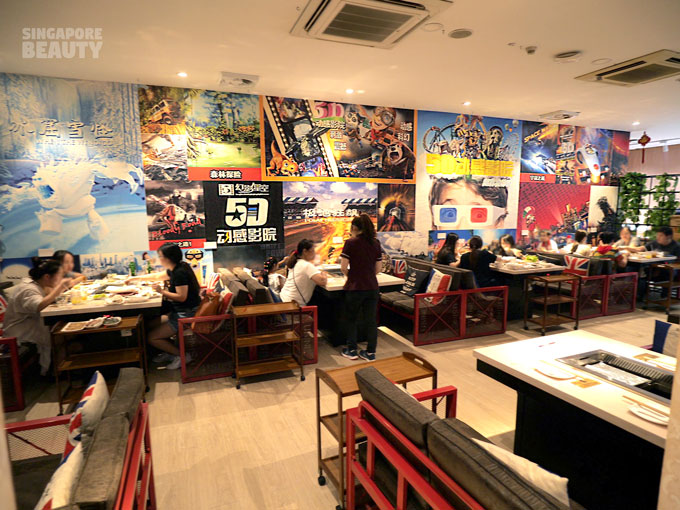 Cosy cushioned mid back couch seating with high ceiling and air-conditioned interiors and wide aisle.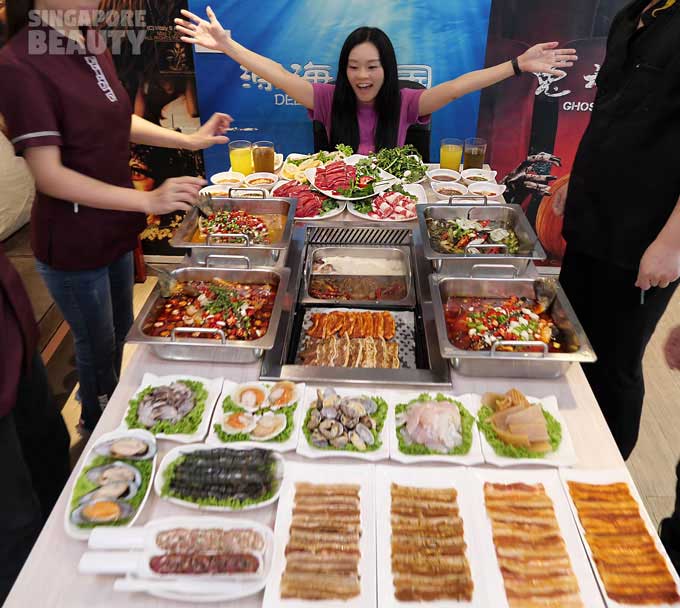 This unlimited roasted fish buffet is finally available. Time to head over to Ding Garden for unlimited roasted fish in 4 flavours, seafood, BBQ meat, shabu shabu meats and selected drinks included too for one flat rate per pax.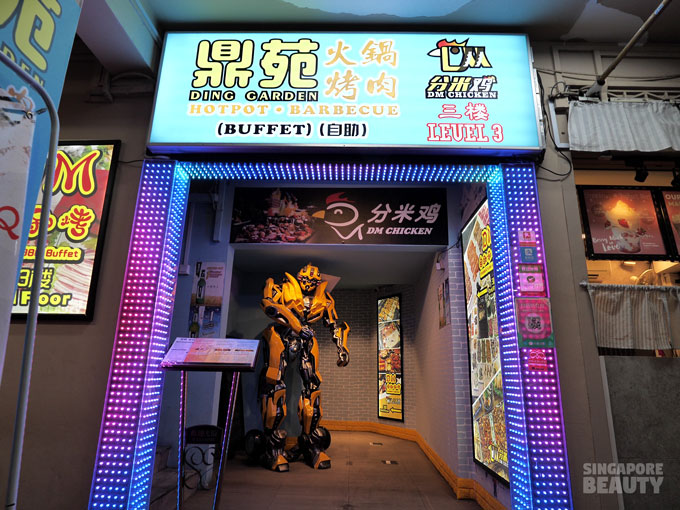 Look out for the "bumblebee" and the very loud instagramworthy neon gate to this insane roasted fish buffet and BBQ. Conveniently located near Exit E or exit A from Chinatown MRT, take their lift up to level 3. Ding Garden shared the same lift and floor as DM Chicken, so just head right in.
Drinks are included in the following buffet price per pax.
Mon-Fri Lunch (exclude PH) Roasted Fish Buffet:
Adult at $25.90++
Kids (5-12 years old) at $13.90++
Mon-Fri Dinner Buffet, Sat & Sun & PH Buffet (lunch and dinner same price):
Adult at $35.90++
Kids (5-12 years old) at $17.90++
They have a lower priced buffet excluding the roast fish, do check out with them.
Time limit:
120mins
Minimum 2 pax to dine
Lunch time 11.30-3pm (last order)
Dinner time 3.01pm-1am
Location:
191B New Bridge Road (take their lift up to level 3)
Singapore 059423
Exit E or exit A from Chinatown MRT.
Operating Hours:
11:30AM – 1:00AM
Reservations:
69092758
Brought to you by Ding Garden (formerly known as DM Steamboat & BBQ Buffet)