Overice Roast (Overice 烧腊) is a newly opened popular lunch shop in the CBD central business district. Serving Japanese style roasted meat in Japanese sauce over short grain rice.
Barbecued honey chashu double dipped in special dark gooey teriyaki sauce, meaty slabs with charred rims.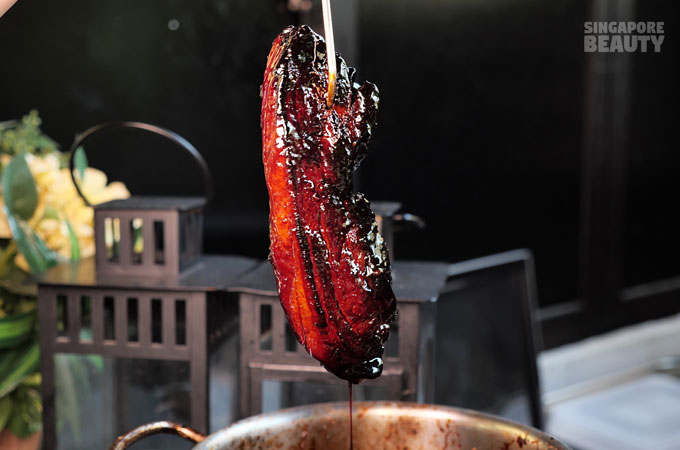 Lean cuts of tender pork loin with strings of fats to hold them together glistering in a glaze of umami sauce.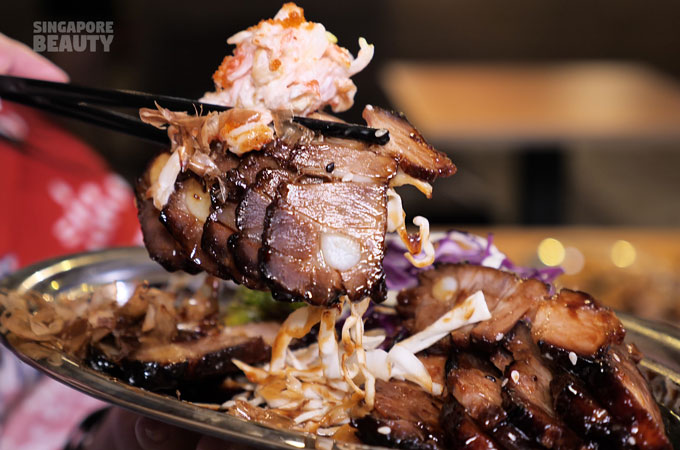 Each slice of chashu is coated with the sweet and savoury dark gooey teriyaki sauce, comes with sides such as cabbage salad.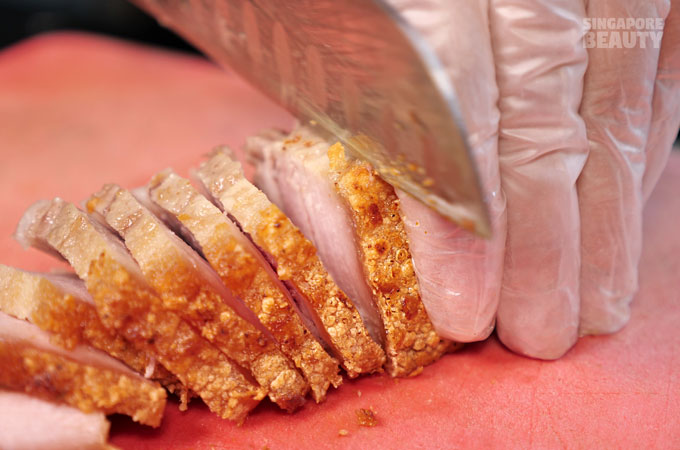 Slabs of oven baked pork belly (siu yuk) with blistered cracklings and tender moist lean pork.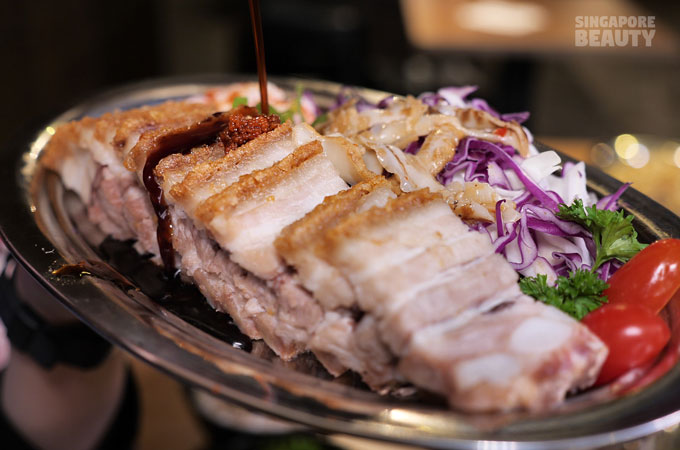 These pork belly in tonkatsu sauce are the healthier version of roasted pork belly (siu yuk) with crackling crust, soft lean pork and interwoven layers of meat, fats and soft bones.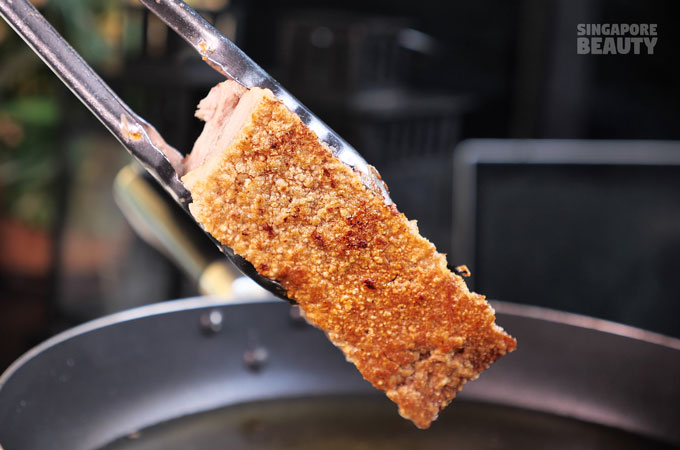 Check out these blisters on the thin crunchy skin.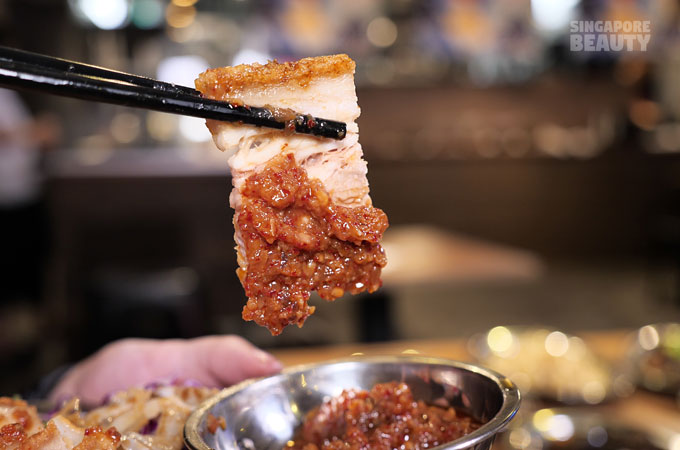 DIY your own dipping sauce from the sauce counter with up to 7 sauces to go with the roasted pork belly (siu yuk).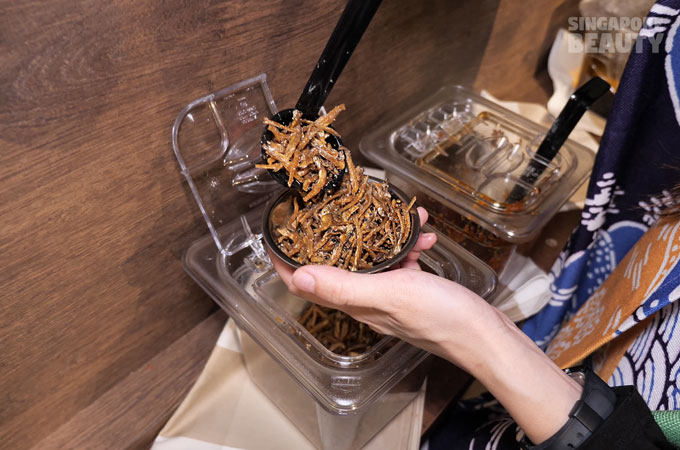 There are free flow salted ikan bilis at the sauce counter up for grabs to add some crunch to your meal.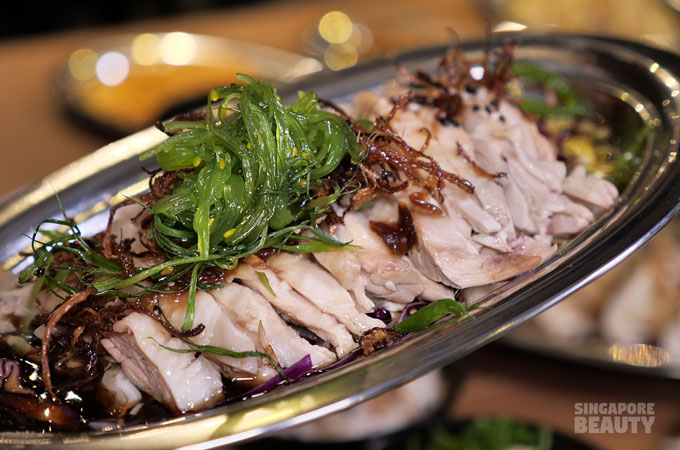 White chicken with sukiyaki sauce topped with seaweed. A Japanese and Asian fusion dish to get the best of both worlds. Healthy boiled chicken with sinfully delicious fragrant shallots oil from the shallots (Bawang goreng).
Curry (karē) beef cubes stew with potato, carrot, onions, beef cubes in sweet and a little spicy curry.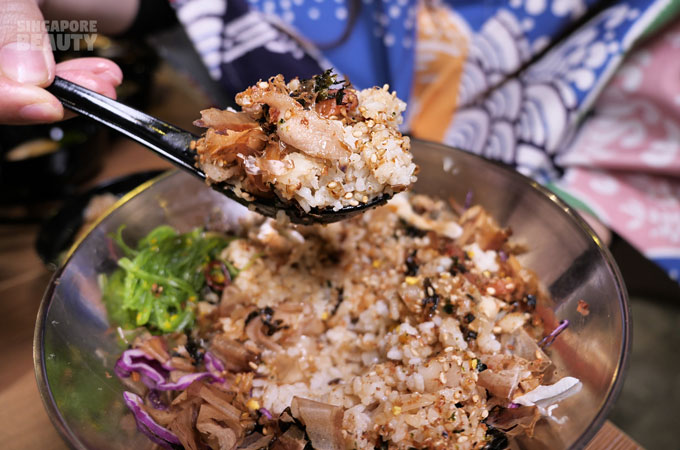 Shiru stewed rice with furikake, bonito fish flakes, seaweed, pork belly and sausage.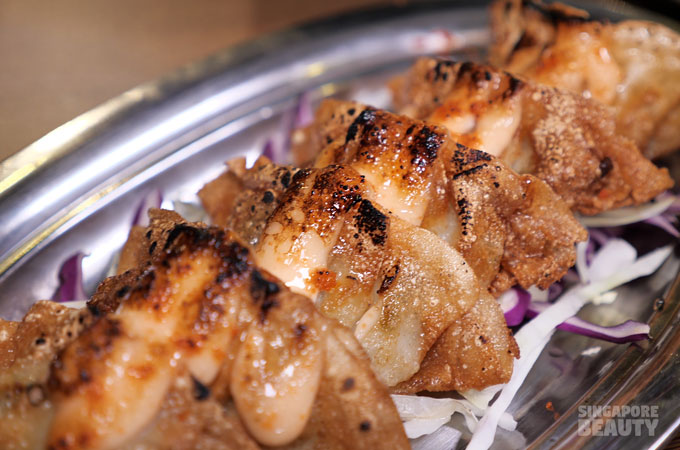 Mentaiko crispy cabbage pork gyoza topped with torched salted roe in a golden crunchy skin paired with shoyu.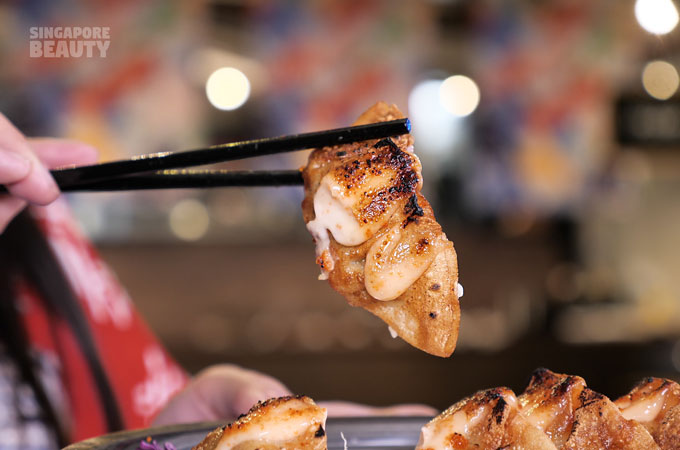 Best eaten right after serving to get the best of that crunchy skin with creamy smoky mentaiko sauce.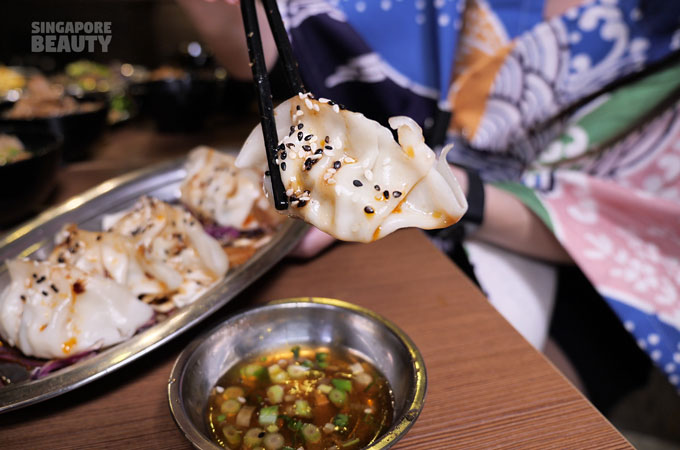 The other alternative is the boiled gyoza in rayu sauce.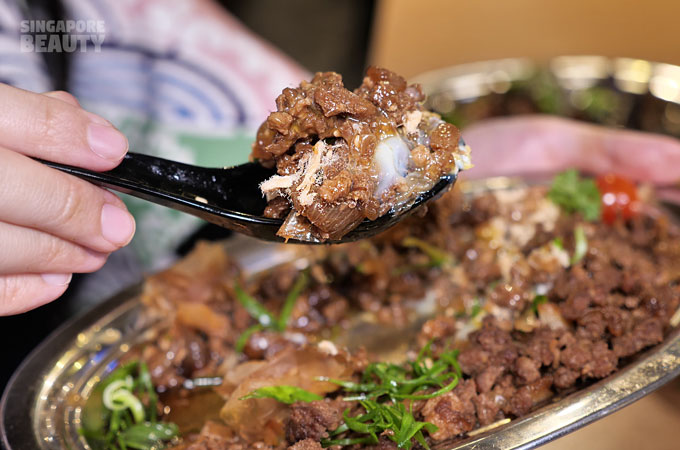 "Moonlight" Braised minced meat with onions in savoury shoyu.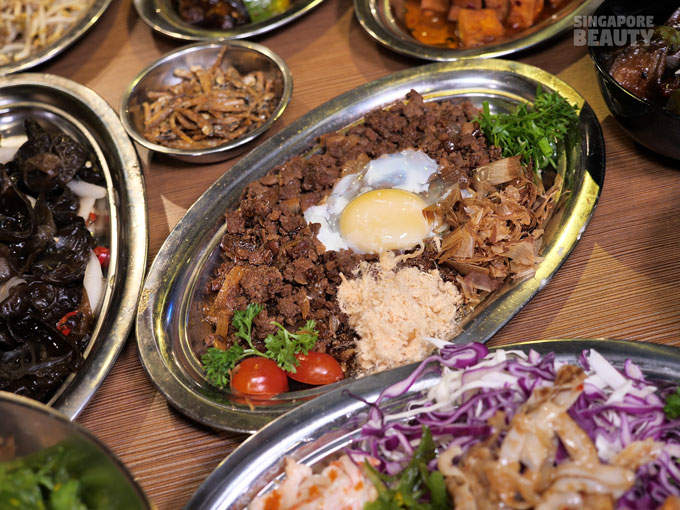 Break the yolk and mixed well for a silky texture to the braised minced meat. All the above ala carte mains dishes are good for 1-2 pax sharing starts from $6.80 nett.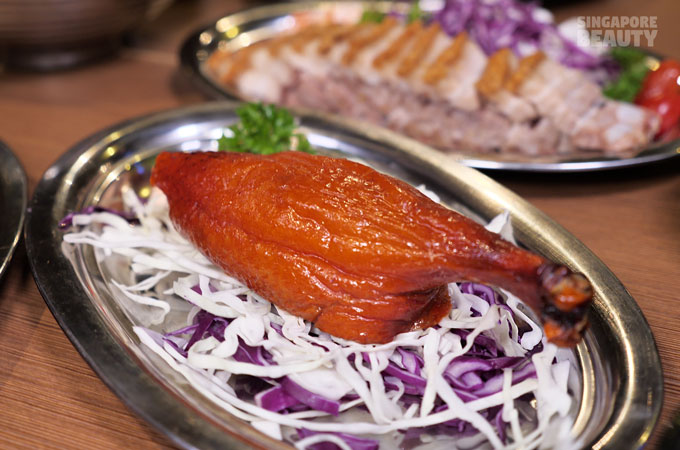 Roasted duck in Kabayaki sauce will be on the menu soon. Look out for this new item!
As an opening special, there is a complimentary side dish (weekdays lunch only from 11.30 am till 3pm) to go with the personal set lunch of 1 main (serves personal portion instead of the ala carte portion – choice of barbecued pork, white chicken, crispy pork belly, braised minced pork and curry beef cubes), a soup and a bowl of rice.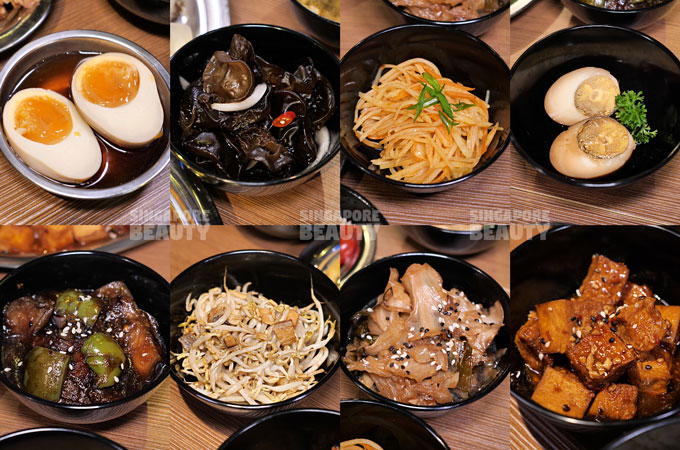 For set lunch, you can add more side dishes starting from $1 nett onwards. Sides includes braised hard boiled egg, mala dumplings, marinated black fungus, marinated potato strips, onion savoury egg, salted fish bean sprout, braised egg plant, braised cabbage and mapo tofu. Add-on drinks such as grass jelly soya milk, white fungus with red dates & ginkgo and Yuzu with longan & lychee starts from $2 ($3.50 for ala carte).
Here is a menu of what they have to offer for lunch.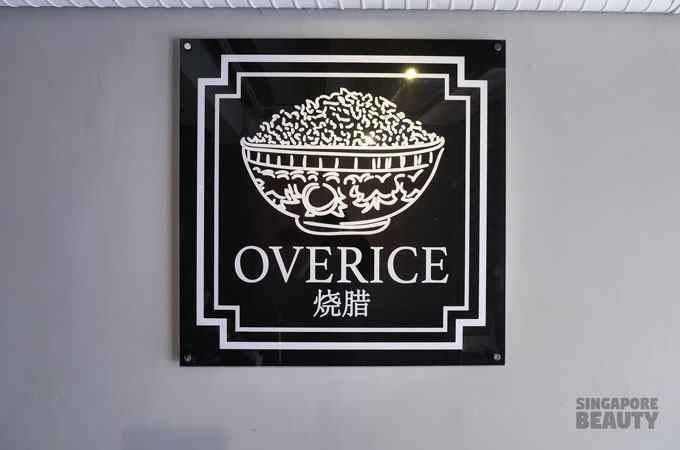 As of now, Overice Roast is only opened for weekday from 11 am till 3pm and dinner from 5pm-9.45pm.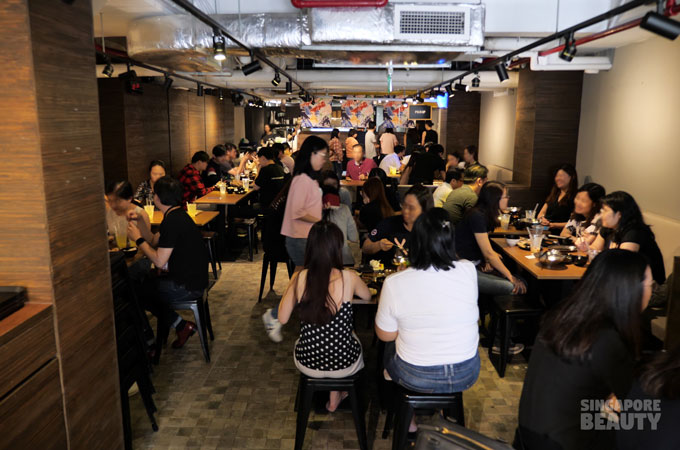 Seats are limited, do head over early to secure a good seat and grab some of the barbecued chashu before they are sold out.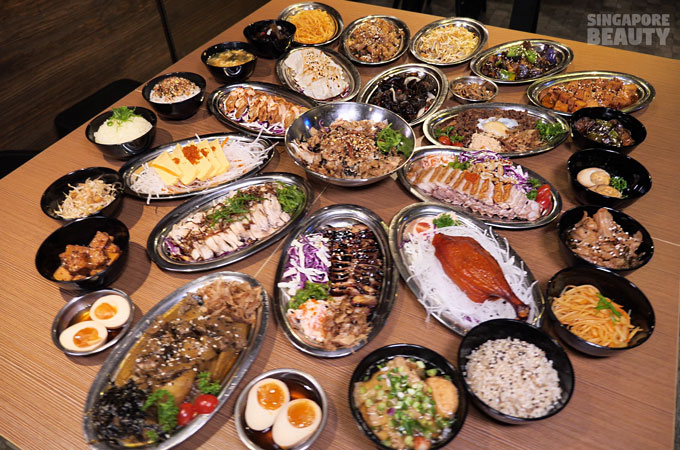 Come with a bunch of colleagues and friends, from $6.80 nett onwards each dish, you can share a feast with your lunch buddies, like this!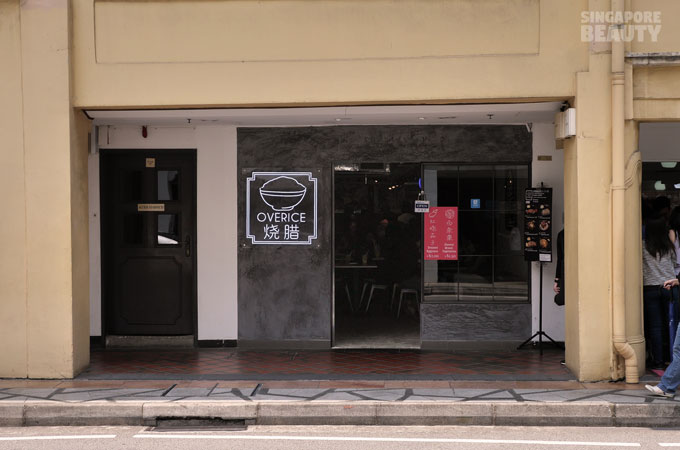 The shop front is a discreet screed finished wall with white neon signboard that shouts Overice 烧腊. Overice 烧腊 is (along the same stretch as Ya Kun Kaya Toast) at 21 china street.
Price starts from $6.80 nett onwards for lunch set meals.
No GST & service charge. All price SGD.
Shop operating hours:
Monday to Friday- 11.30am to 3pm, 5pm to 945pm
Weekends lunch and dinner will start from Nov (To be advised)
Location:
Overice 烧腊
21 China Street #01-01 , Singapore 049563
Brought to you by Overice 烧腊