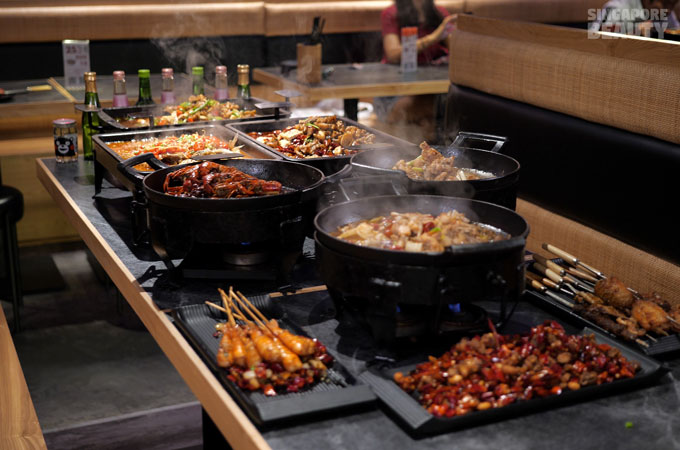 Bubbling hot grilled fish, hotpot frog, skewers, mala seafood and a variety of Sichuan zi char dish in a Japanese club setting.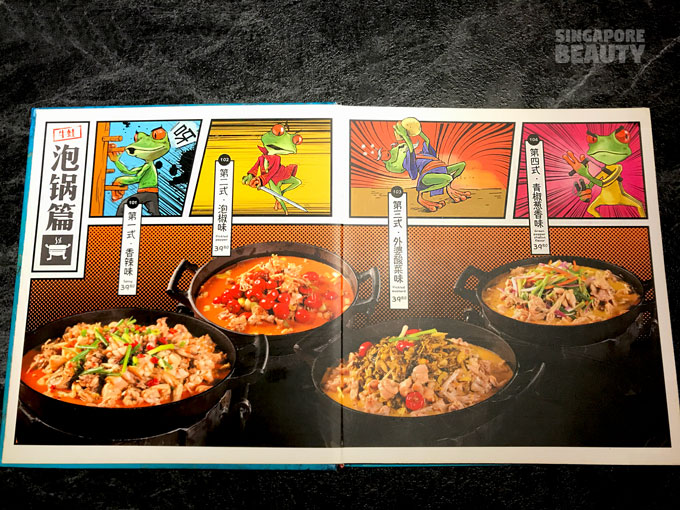 Presented in a 10 page-menu Japanese manga style. There are a total of 10 flavours for these bullfrog cruisine.
Bullfrog with soup – Spicy, Pickled pepper, Pickled mustard and Green pepper shallot flavour.
Grilled bullfrog – Special pepper, Chongqing spicy with tofu, Perilla flavour, Red & green pepper, ginger spicy and Black pepper.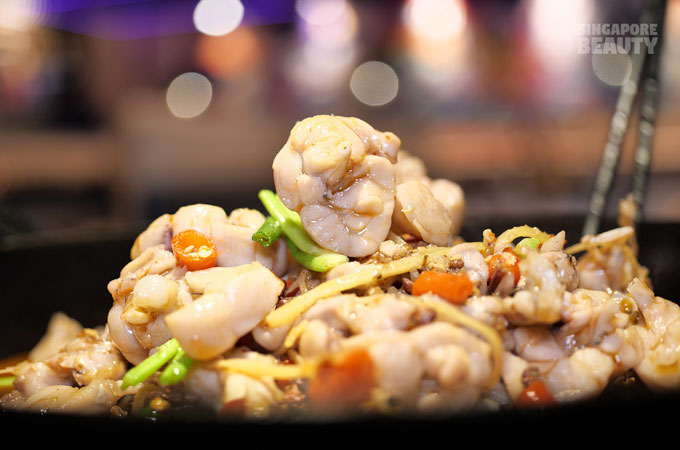 (Bullfrog with soup) Spicy frog hotpot ($39.80) – boiled chunks of tender frog meat stirred fried into an aromatic pot of ginger, chilli pepper and stock.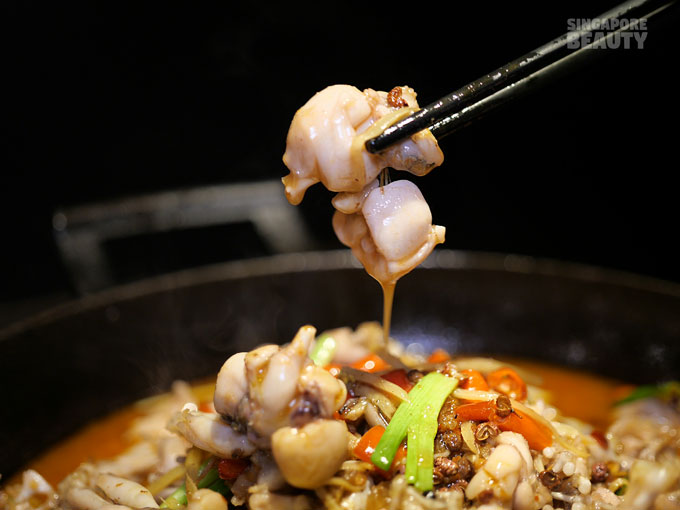 Morsel of meat held together by the gelatine like muscles of the frog from the bones. Chunks of frog meat with a sweet undertone and Q texture.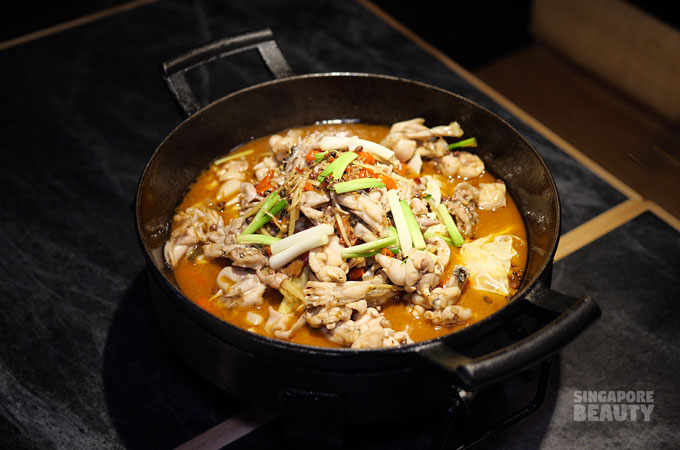 Topped with a good handful of Sichuan peppercorn and doused with hot oil to release the peppercorn flavour and intense numbing tingly sensation on your tongue when eaten with the chunks of frog.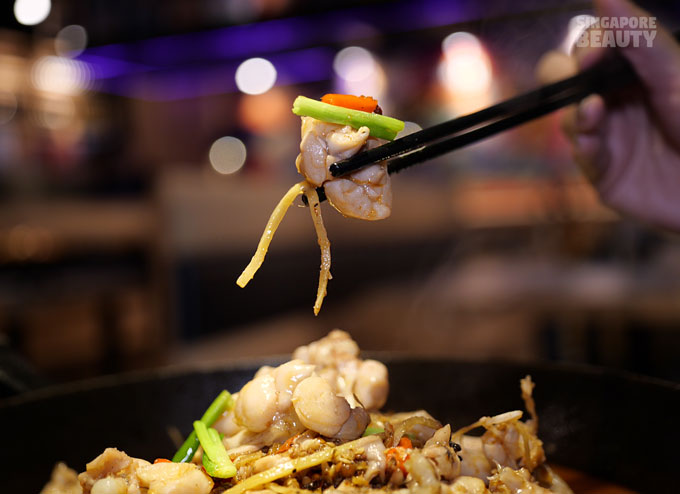 Take in the chunks with the delicate ginger strips, stalk of fresh green onions and chilli padi for the extra kick.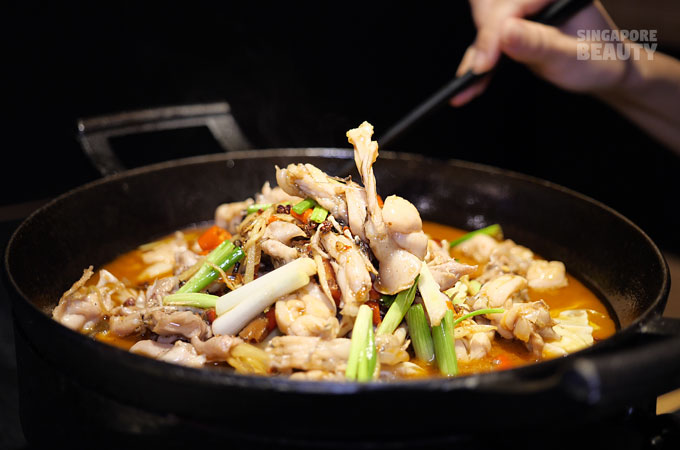 A generous portion of frog chunks to go with the savoury gravy with spring onion and gingery undertones.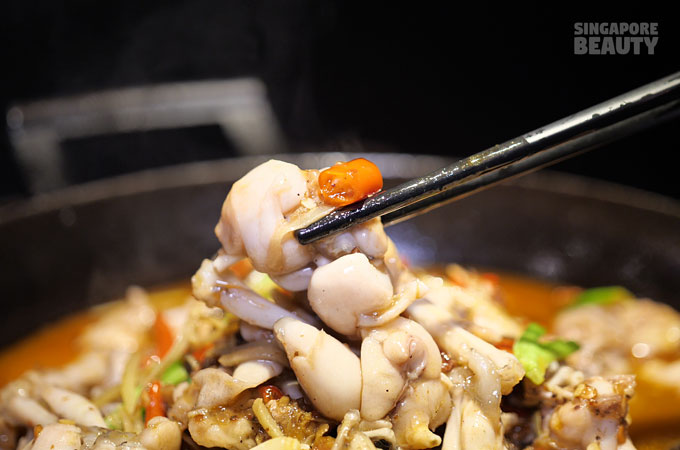 The frog legs are fatty and full of the gelatine translucent Q muscles that is much sought after by frog lovers. Drizzle the golden gravy upon a bowl of steamed rice to enjoy the full umaminess of the goodness of frog broth. Highly recommended.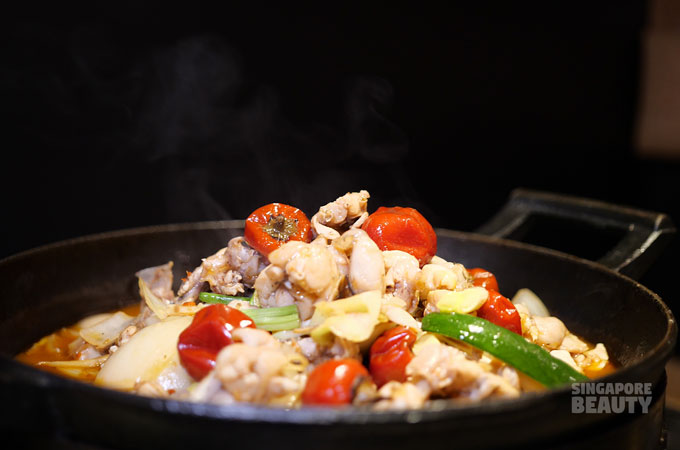 (Bullfrog with soup) Pickled pepper frog hotpot ($39.80) – Tender chunks of poached frogs in spicy and pickled gravy with an aromatic garlicky undertones.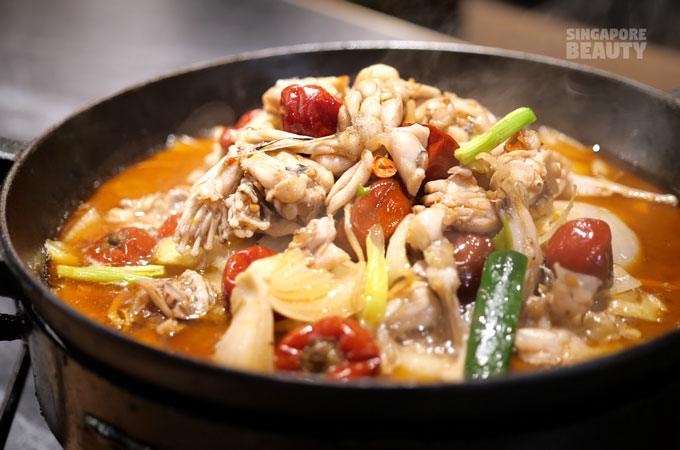 The pickled red bell pepper has a sharp zest to it and a mild pepper flavour.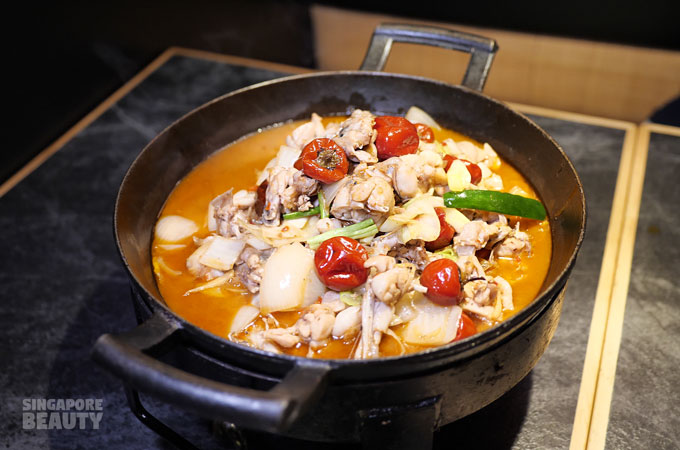 Generous chunks of bullfrogs with chunks of sweet white onions and soft cabbage to soak up the savoury gravy.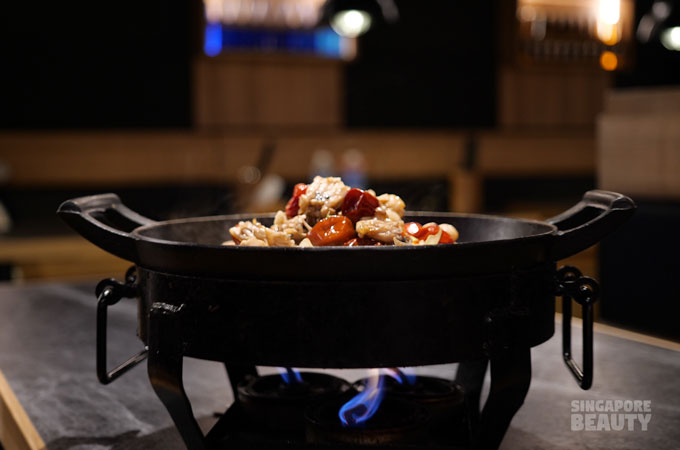 These bullfrog dishes are always served simmering on some hot heat gel pad. Hotpot soup style uses poached frogs – meat is tender and Q. Pan style grilled frogs are golden fried frogs – meat is fragrant.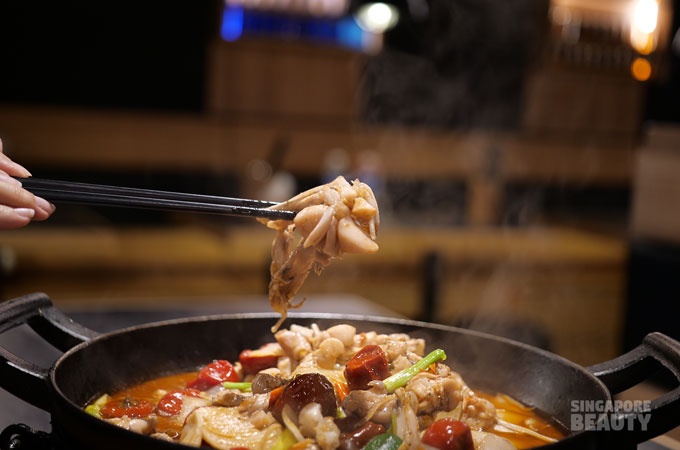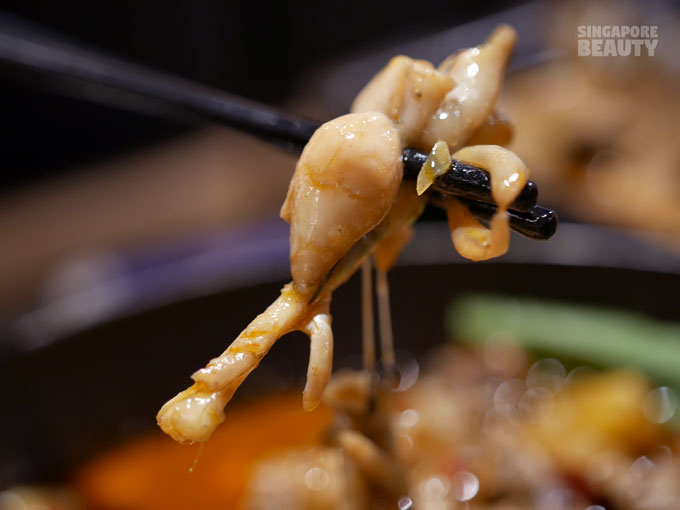 Every chunk is always warm and comforting. Best dish to eat on a cold wet rainy day.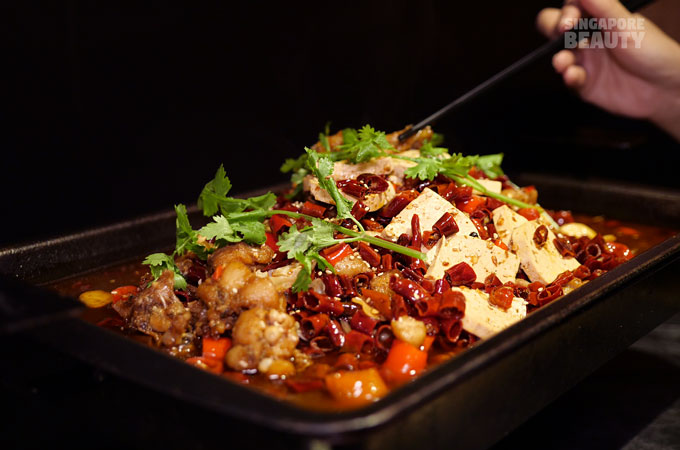 (Grilled Bullfrog) Chongqing spicy frog with tofu ($39.80) – Golden fried chunks of bullfrogs with slightly saline coat tender chunks of meat,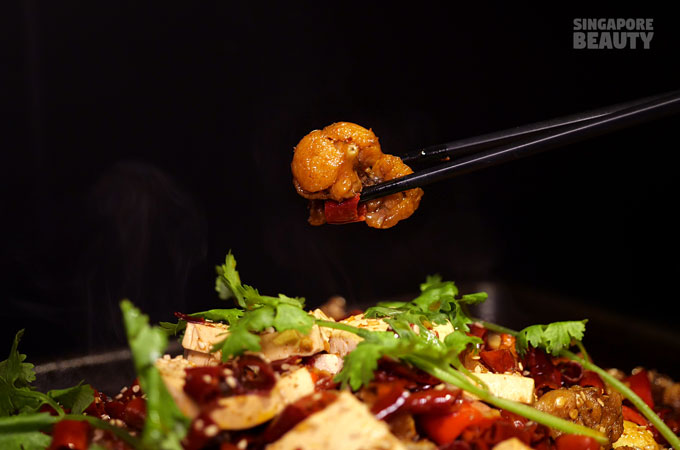 stir fried in rich dried chilli pepper, garlic and spicy chilli oil topped with soft but yet had a body savoury tofu. Stalks of fresh cilantro and sprinkle of roasted sesame seeds added an additional dimension to the aroma factor of this dish.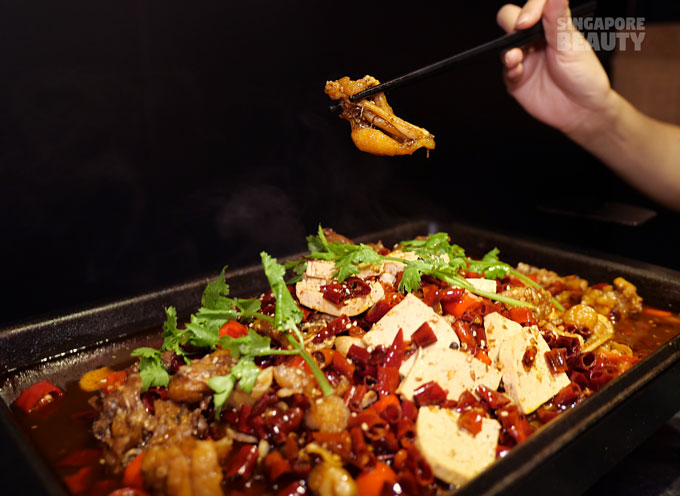 The plump bullfrog leg is the prized part of a bullfrog just like the drumstick of a chicken.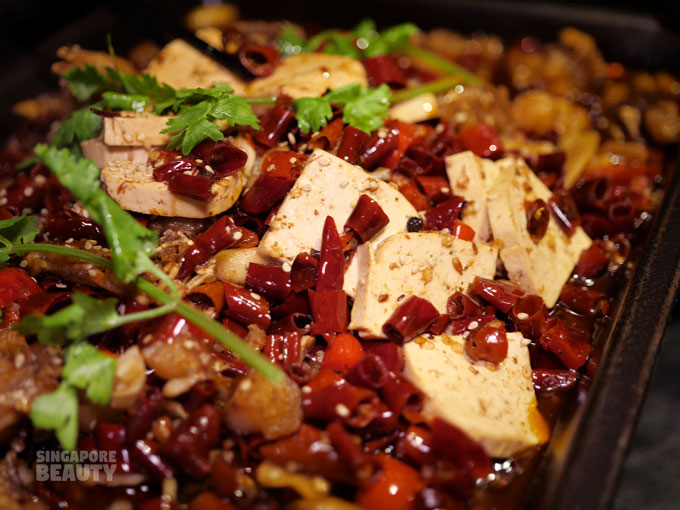 Check out these tofu that is infused with the savoury goodness of the mala gravy, peppered with heat from seeds of the chilli and sesame seeds.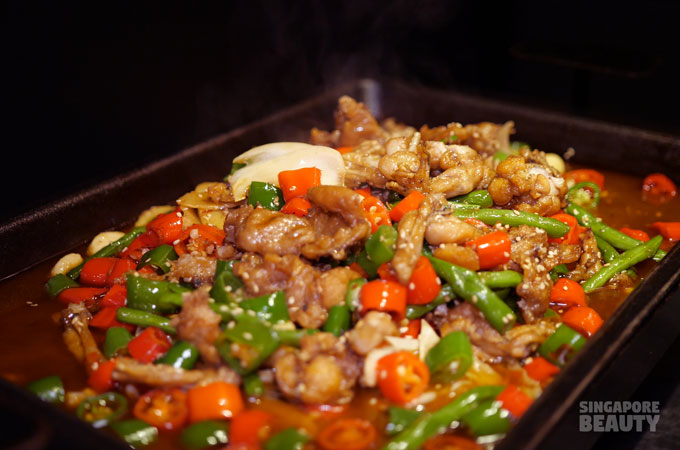 (Grilled Bullfrog) Red and green pepper frog ($39.80) – golden fried bullfrogs stir fried into a rich broth of green and red chilli pepper with robust sweet string beans and caramelised white onions.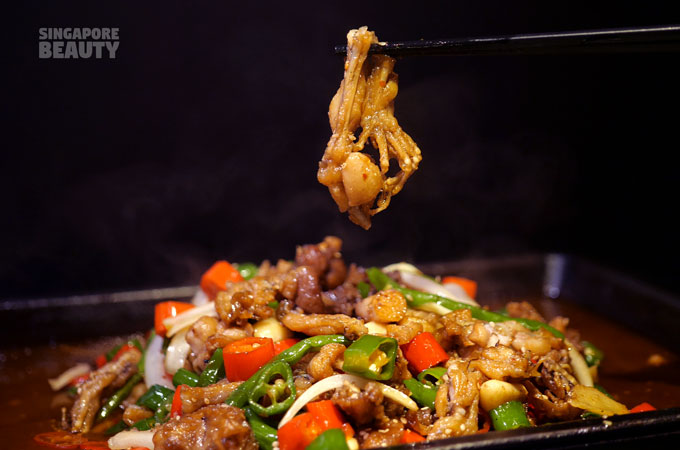 The red and green chilli pepper actually imparts a peppery tone to the dish without being overly spicy and is a joy to eat.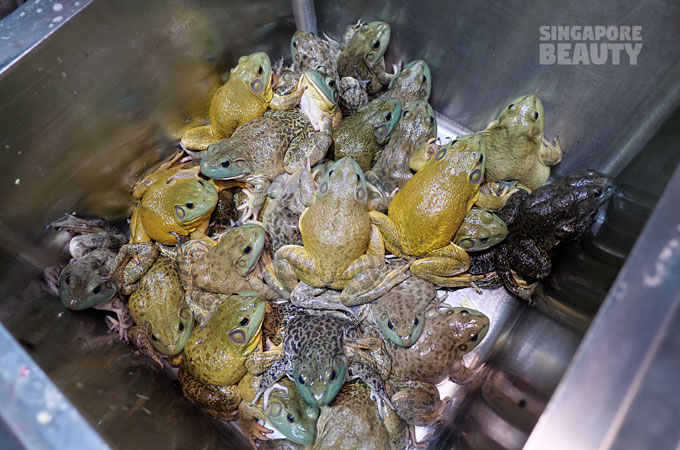 Wah Kungfu uses up to 10 kg of live bullfrogs delivered from frog farm daily. Every bullfrog dish is prepared using freshly dispatched bullfrogs for maximum freshness. The bullfrog are either poached or deep fried. Uses only freshly dispatched bullfrog, even for the fried ones.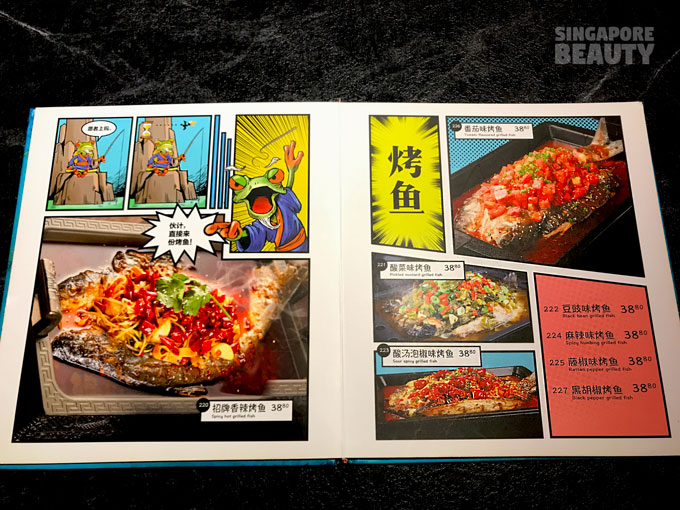 For fans of grilled fish, they have 8 flavours to choose from – Spicy hot , Pickled mustard, Black bean, sour spicy, Spicy numbing, Ratten pepper, tomato and Black pepper grilled fish.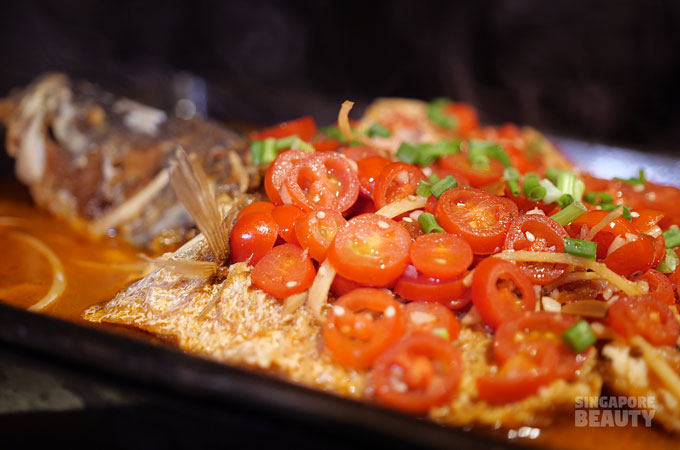 Tomato grilled fish ($38.80) – golden brown grilled fish topped with a luxurious about of cherry tomatoes with a gingery zest.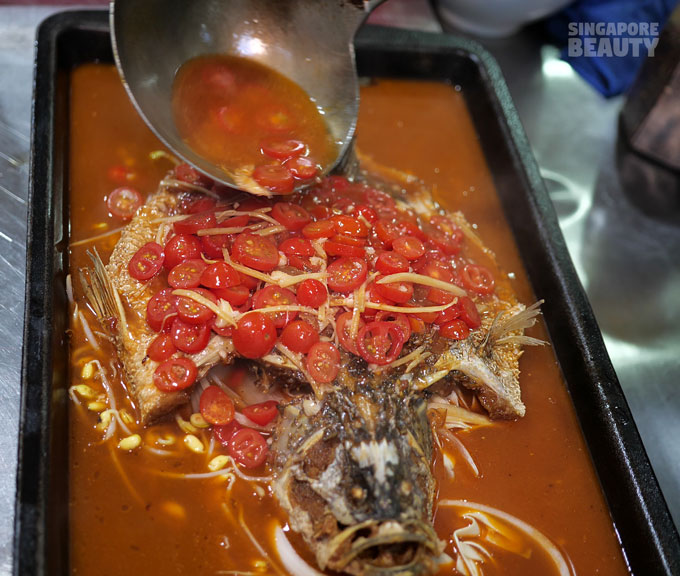 Enjoy tender chunks of fish fillets with the savoury tomato soup base on a bed of soy beans sprouts, cabbage, ripe sweet cherry tomato and sweet onion. Extremely appetising.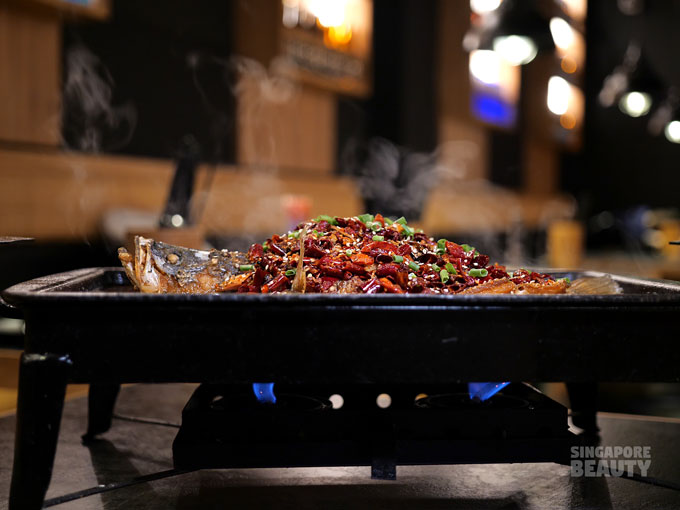 Spicy Hot grilled fish ($38.80) – crispy golden fried fish grilling in a pan of aromatic dried chilli, spiced broth topped with extra chilli spice powder.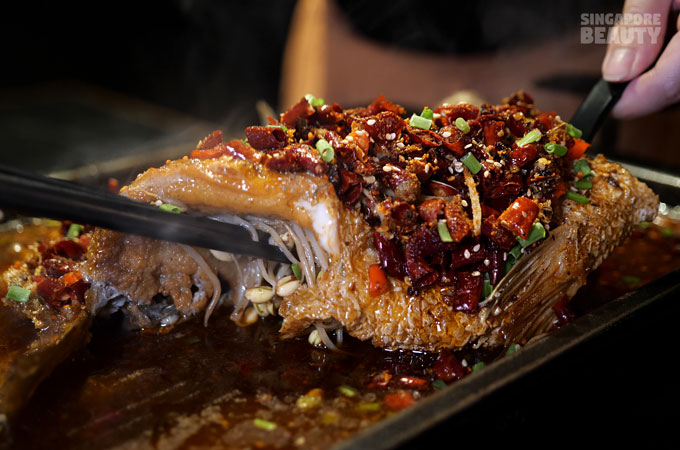 Despite the copious amount of crunchy dried chilli pepper and chilli powder, the heat and spicy level is manageable and is a joy to eat.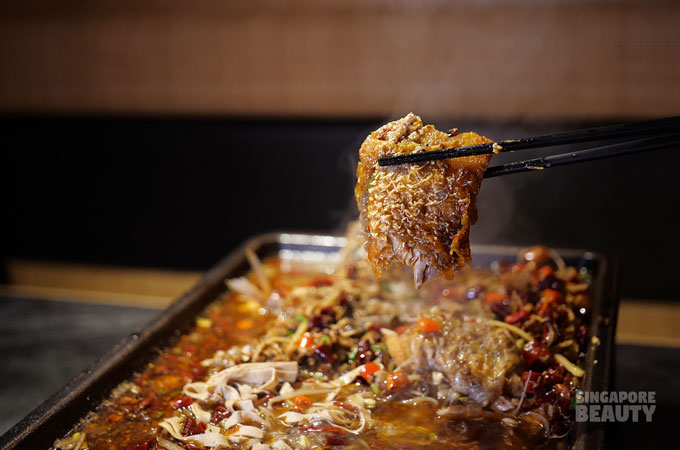 For those who like a chewy skin with a bit of elasticity on tender chunks, this fish texture will please you.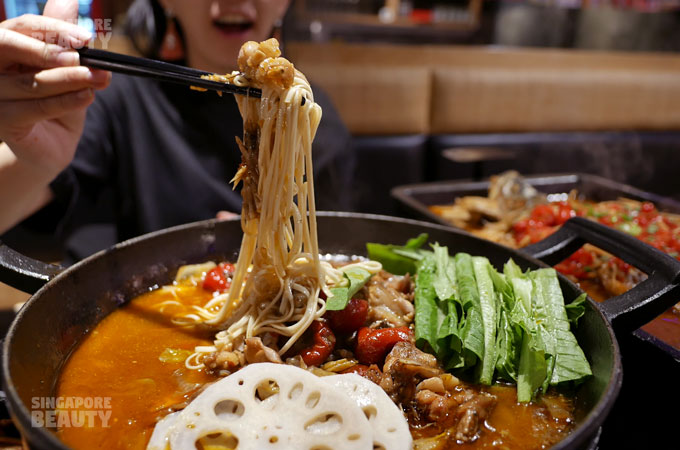 They also have add on items for the grilled fish, grilled bullfrog and hotpot frogs. Add-ons start from $3.80 and have items such as potatoes, black fungus, chinese cabbage, lotus roots, bean sprouts, dried tofu, cucumber, enoki, tofu skin, winter melon, bamboo shoots, lettuce, vermicelli, crab sticks, kelp, dried beancurd skin, plain noodle, tang-o and tapioca noodles.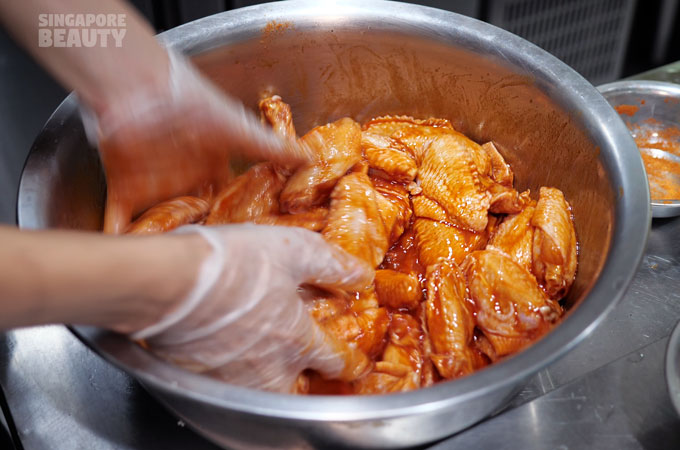 The skewers are also a hit with the patrons here. Marinated daily with a mixture of spice and chilli powder.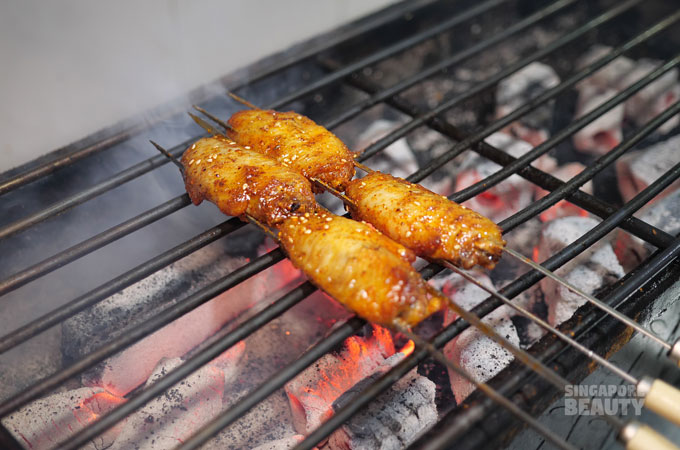 Barbecued shrimps, corn, mixed vegetables, duck neck, duck palm, chicken mid wings, beef, mutton, pork sausage, sliced bread, cumin or black pepper squid starting from ($1.20).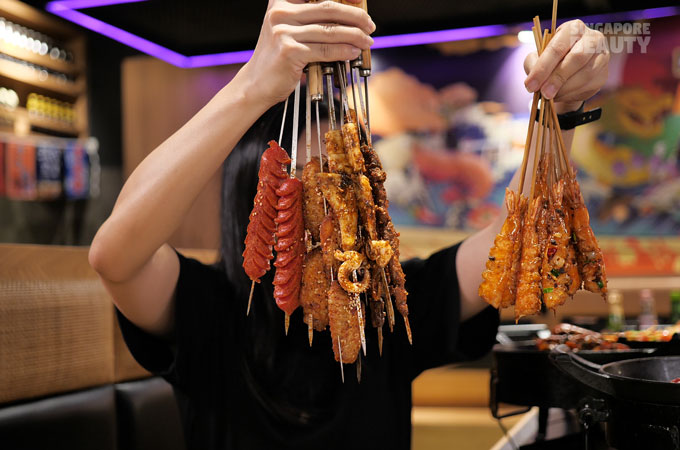 These are great supper snack to go with their in-house alcoholic beverage or mocktails.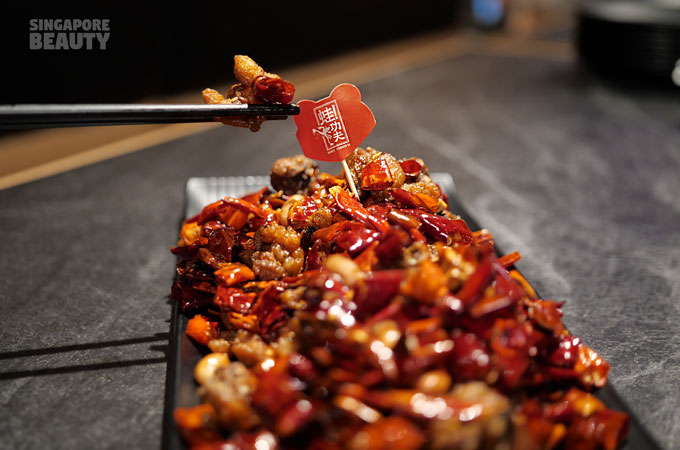 The spicy chicken ($16.80) is also popular with the supper crowd for it aromatic bite of chicken chunks with crispy spicy flavour and crunchy dried chilli pepper.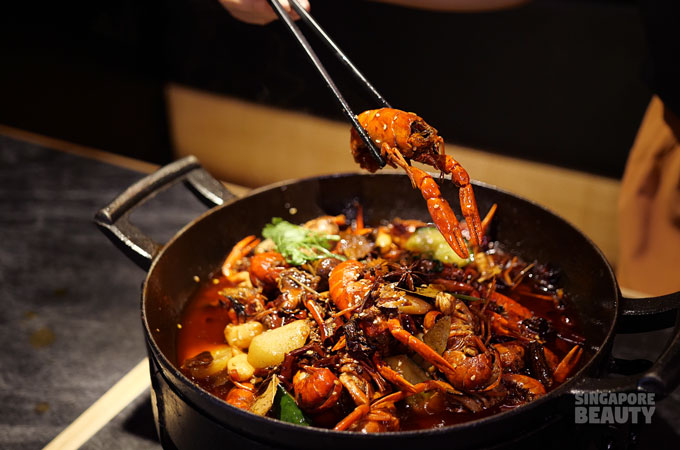 The other must order dish is the special flavour mini lobster (crawfish) in big soup ($35.80) – poached mini lobsters stir fried in a spicy numbing gravy made with more than 10 types of spices.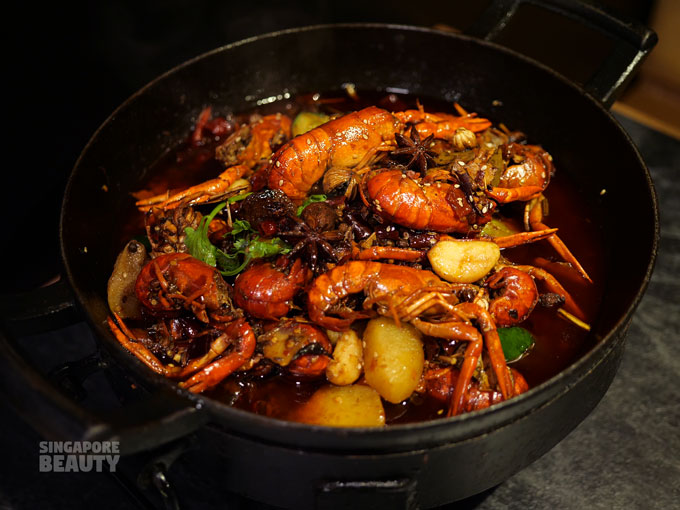 Comes with crunchy cucumber and fluffy potato chunks with a bite. Intensely aromatic and flavourful. Rich mala tones with the sweet morsel of mini lobster flesh.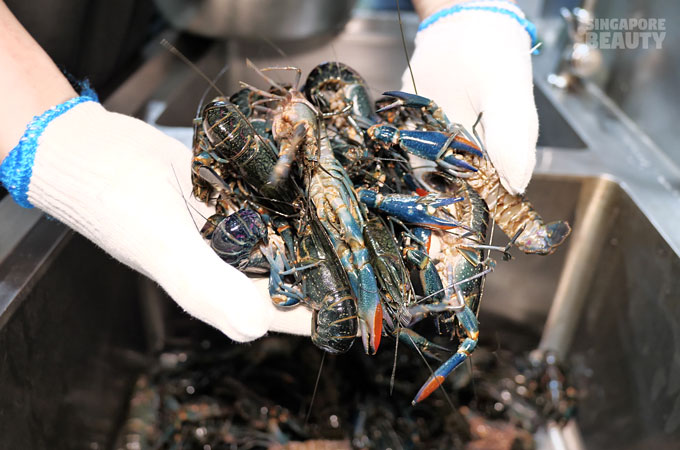 Wah Kungfu pride themselves with the freshest mini lobsters by using only live mini lobster for the special flavour mini lobster (crawfish) in big soup. Accordingly to the chef, about 10 kg of mini lobsters are delivered and used daily.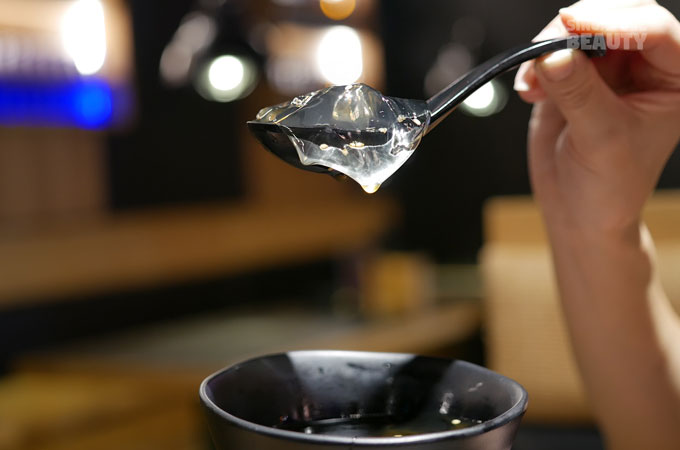 End the feast with an icy sweet and silky smooth raindrop jelly, complementary and limited quantity daily.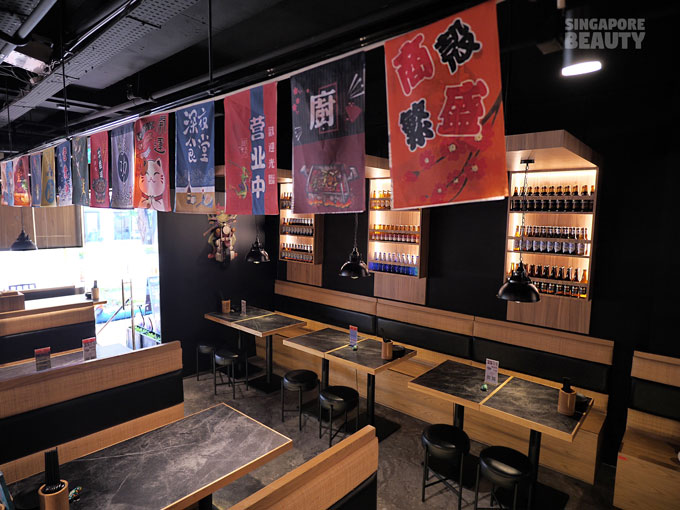 This is Singapore's First Frog theme restaurant with spacious Japanese club design.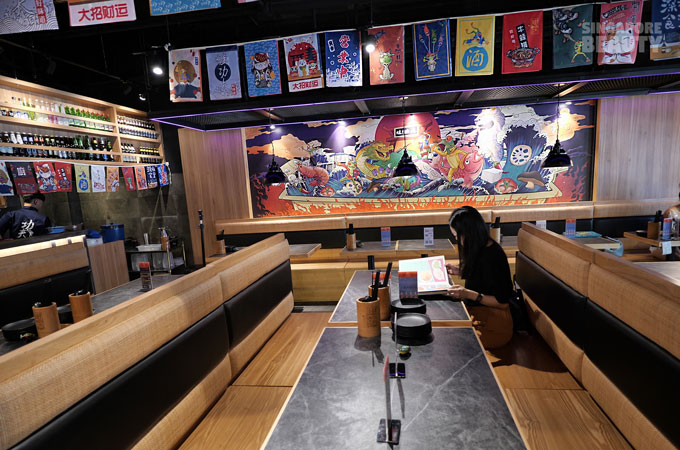 Spacious cushioned high back bench seating in a cool relaxed environment, surrounded by Japanese style fusion mural depicting Chinese kungfu frog, carp, shrimps and dragon mascot in a simmering pan set in Singapore context with the merlion overlooking a landscape of Mount Fuji.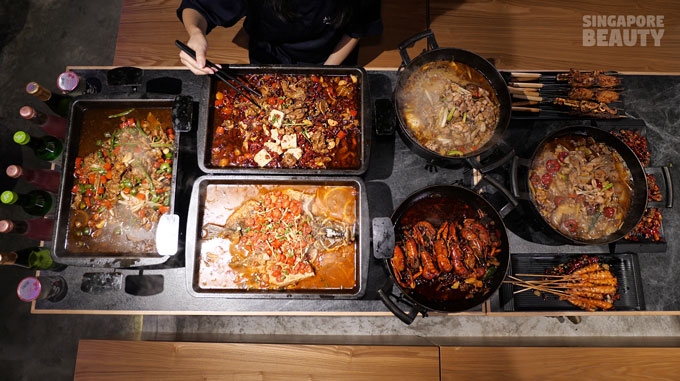 Enjoy a feast of grilled frogs, hotpot frogs, grilled fish, grilled shrimps, spicy min lobsters, barbecued BBQ skewers and many more.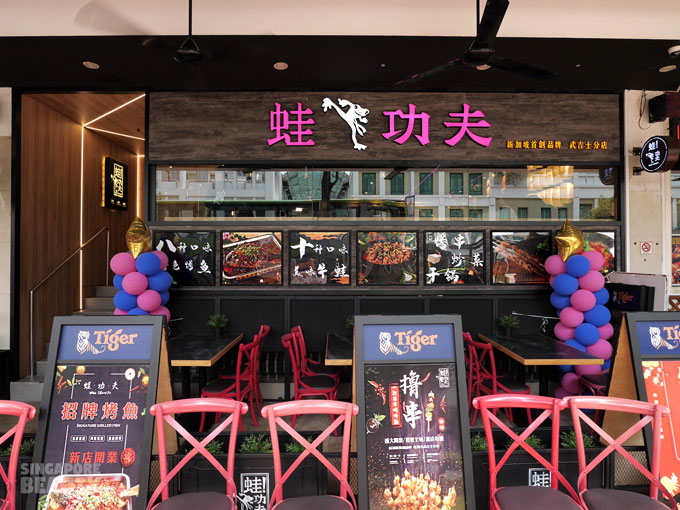 Head over to Wah! Kungfu today. Featured here is the Bugis Cube branch. They also have the main shop at Pagoda Street.
Addresses:
Wah! Kungfu (Bugis Cube Branch)
470 North Bridge Road #01-04
Bugis Cube
Singapore 188735
Nearest MRT – Bugis
Call: +65 6275 5088
Wah! Kungfu (Chinatown Main outlet)
76 Pagoda Street,
Singapore 059235
Nearest MRT – Chinatown exit A
Call: +65 6225 5981
Operating hours:
11.30 am to 12.00 am daily.
They have Ala Carte menu and Set Meal.
Special 55% promo Set Meal for all the wah kungfu fans!
Set meal promo only from Monday to Thursday
From 28Oct to 31Dec2019
Value Set meal (no frog) $29.80++ (UP$54.80++)
-2 appetizers of your choice
-2 Dry pot or speciality dishes (choice of one meat and one vege each below $20)
-2 steamed rice.
Premium Bullfrog/grilled fish Set meal $49.80++ (UP$83.80++)
-2 appetizers of your choice
-Choice of either 1 bullfrog or 1 grilled fish in ten flavours
-2 sets of add-on sides to the pot
-1 BBQ skewers platter (mutton, squid, chicken mid wings, pork sausage and prawn)
Jumbo Bullfrog / grilled fish Set meal $79.80++ (UP$142.80++)
-3 appetizers of your choice
-Choice of either 1 Jumbo Bullfrog or 1 grilled fish in ten flavours each
-3 sets of add-on sides to the pot
-Dry pot or speciality dishes
-1 Jumbo BBQ skewers platter (mutton, squid, chicken mid wings, pork sausage and prawn)
Brought to you by Wah! Kungfu.