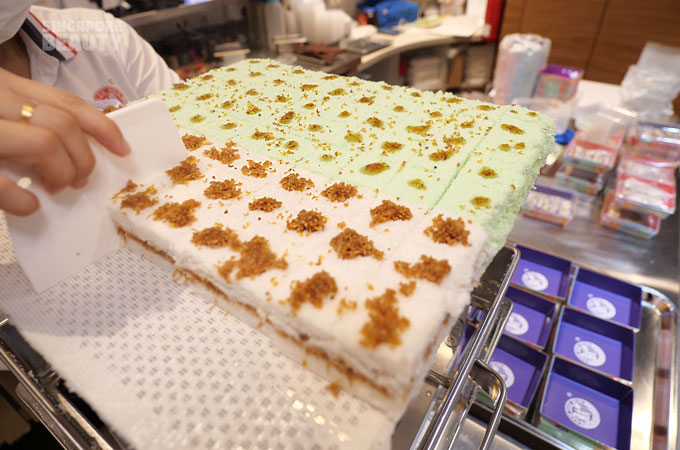 Nam Dae Mun's global flagship store has finally reached our Singapore's shore.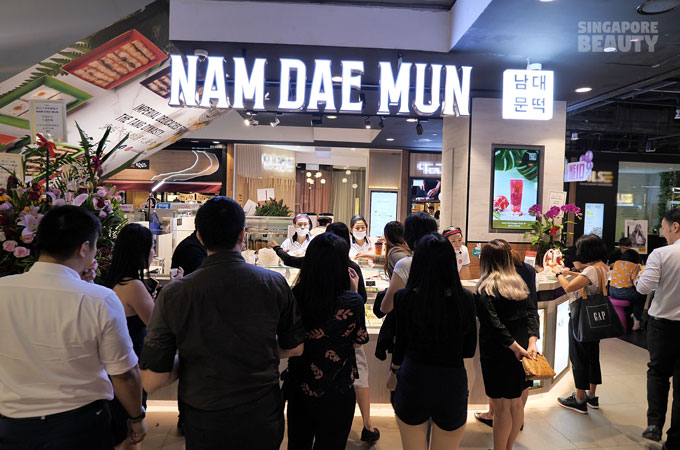 Nam Dae Mun has over 300 stores in Asia where hour-long queues are the norm during their store launch.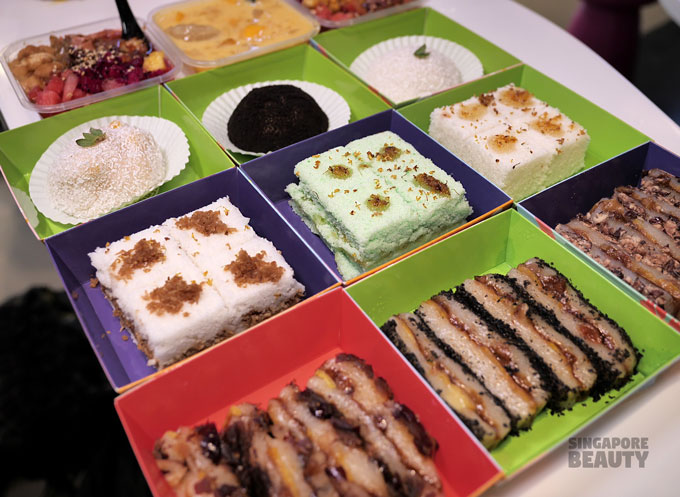 It has opened its doors at 313 Somerset bringing to Singapore Korean style rice cakes Songpyeon.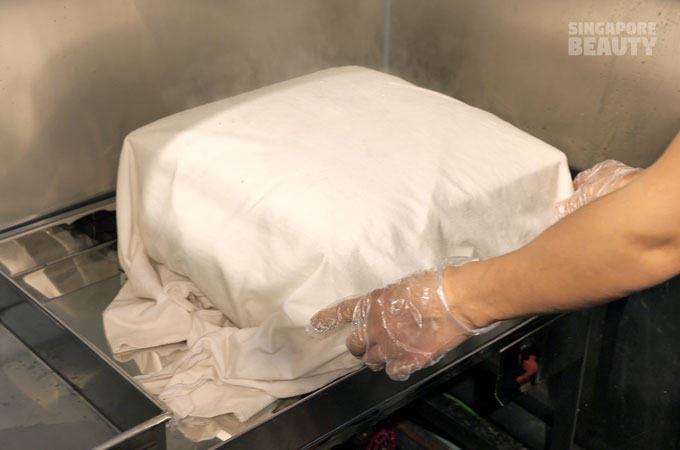 Nam Dae Mun is famous for its steamed Korean style traditional sticky rice cakes, osmanthus rice cake and glutinous mochi. These cakes are steamed on gentle steam to ensure a delicate rice cake texture for a minimum of 45 minutes below a food grade linen.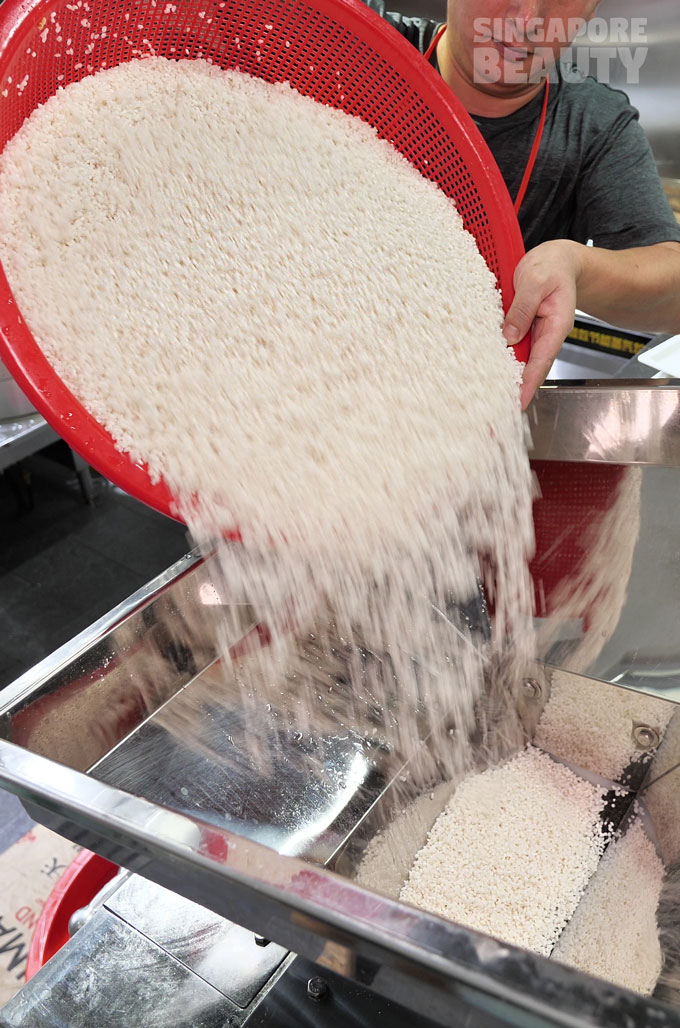 This is how it is made: Japanese Grade A short grain rice are soaked and grounded to extreme fine rice flour using a specially curated equipment designed for the purpose.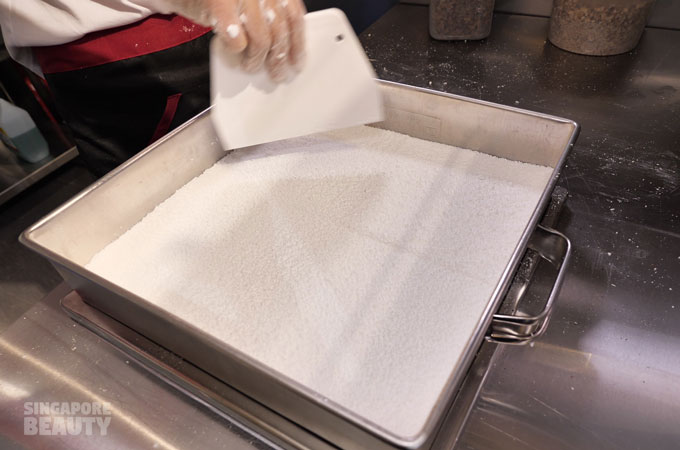 These fine delicate jade-like rice icing are then laid on a special steamer to form multiple layers of rice flour mixture, filings and toppings.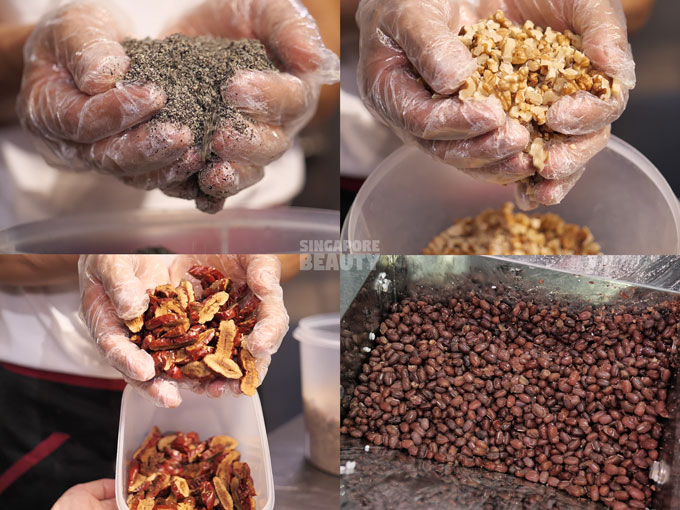 Nam Dae Mun pride themselves on using 100% natural ingredients for their sticky rice cakes, osmanthus cakes and glutinous mocha. Chopped walnuts, raisins, dates, black sesame, flora such as osmanthus, honey, grated coconut, Grade A Japanese short grain rice, sweet potato and adzuki red beans.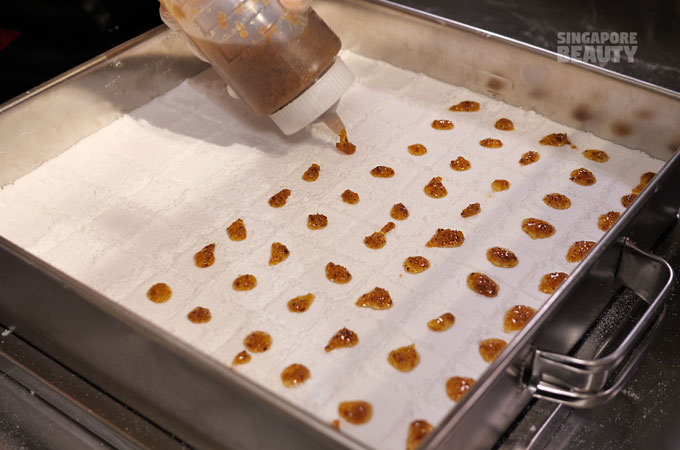 These are imperial style delicacy made for the palace as tea snacks during delegates meeting in the ancient time.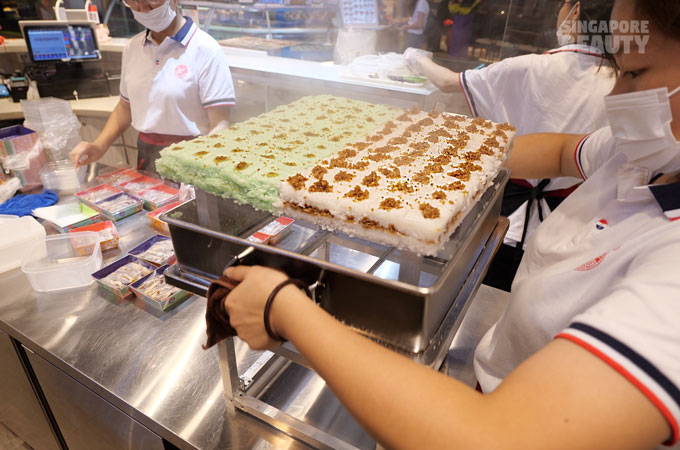 These jade osmanthus cake are demoulded on a stand straight off the steamer.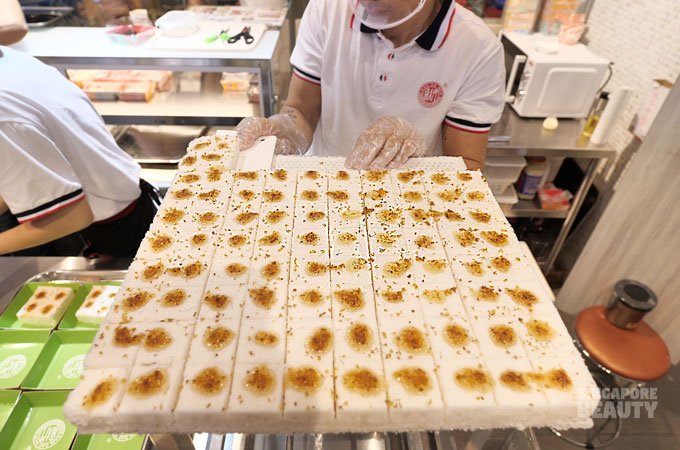 These jade Osmanthus cake are then cut into pack of fours, packed into a festive packaging.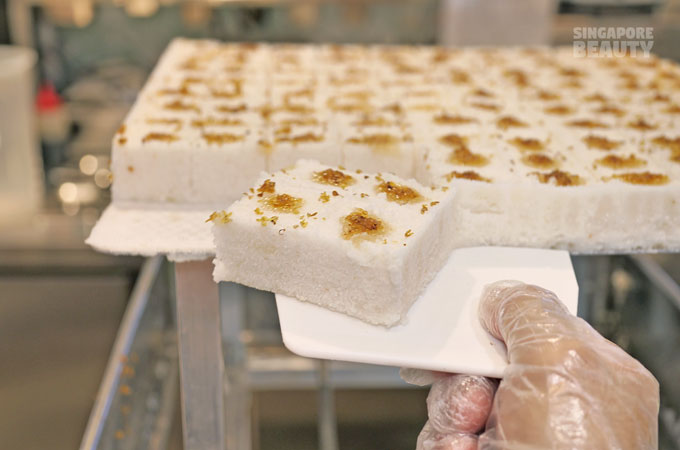 There are 4 varieties of Jade Osmanthus cake, Snow Jade Osmanthus cake (shown above), Durian snow Jade Osmanthus cake (will be launched at a later date), kaya Jade Osmanthus cake and coconut Jade Osmanthus cake.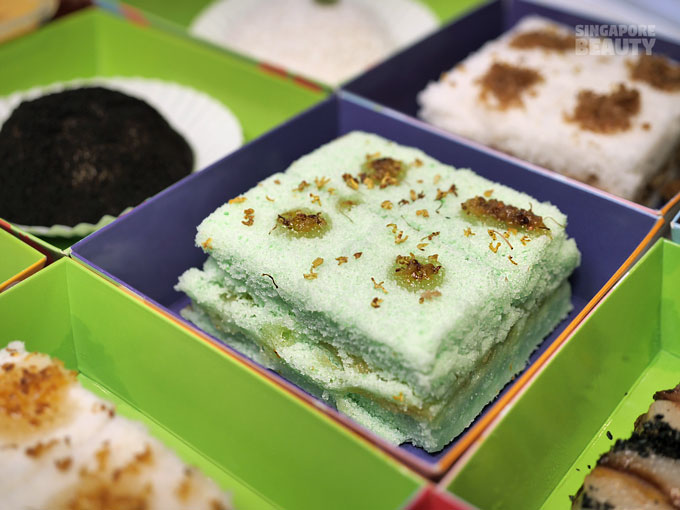 Kaya Jade Osmanthus cake is the best seller of the four, this flavour is exclusive to Singapore flagship store only and not available in other global stores.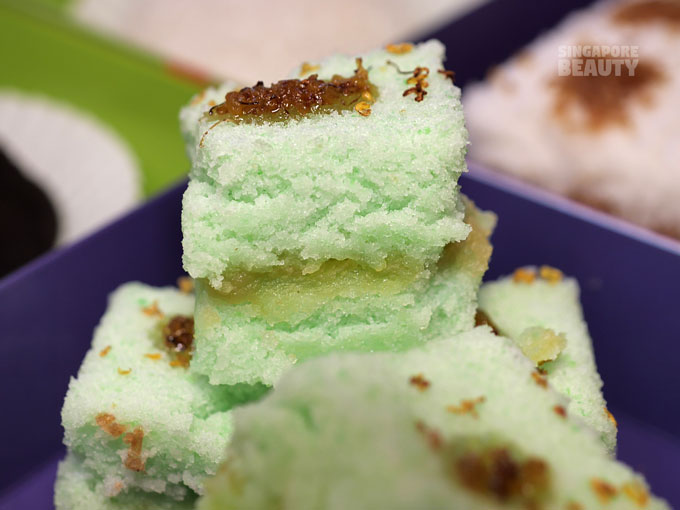 Kaya Jade Osmanthus cake is spongy, soft and delicate in texture and melts in your mouth. Topped with honeyed Osmanthus and moist thick kaya fillings. The cake has a light flora scent from the Osmanthus petals and is a joy to eat.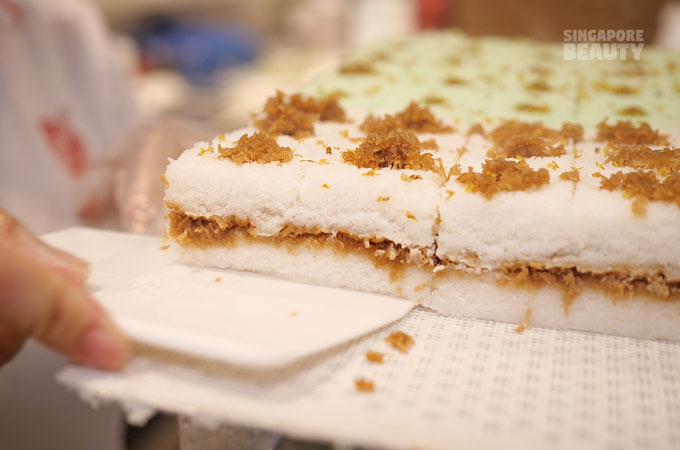 Coconut Jade Osmanthus cake is a favourite choice among the mature crowd. Topped with roasted grated coconut flesh in a gula Melaka style brown dessing.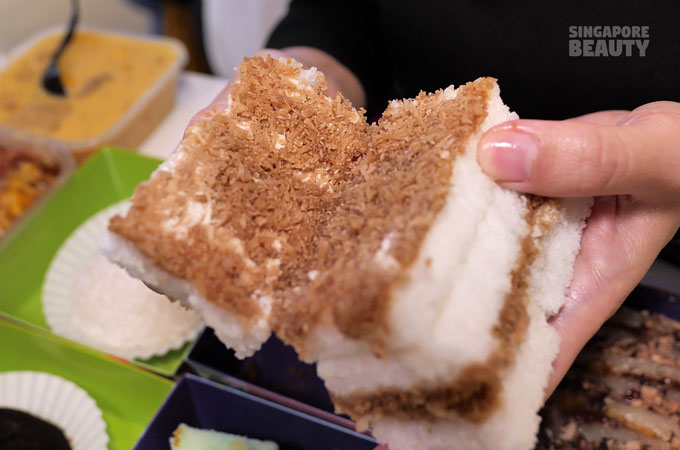 The texture is denser and filling is rich with smoky caramelised toffee like coconut gratings. Luxurious amount of fillings between the two soft Jade Osmanthus rice cake.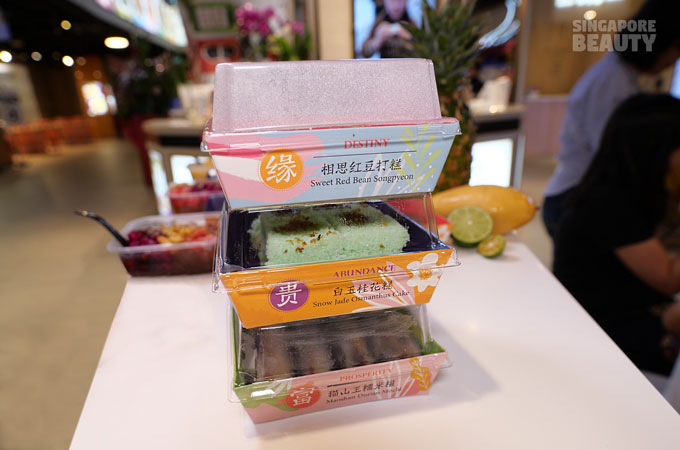 Each cake brings with it a different blessing, for example Snow Jade Osmanthus cake signifies abundance, Maoshan Durian Mochi signifies Prosperity, Sweet red bean Songpyeon signifies destiny and black sesame Songpyeon signifies success. This is the excellent gift to bless your love ones with for the festive season and a new year ahead.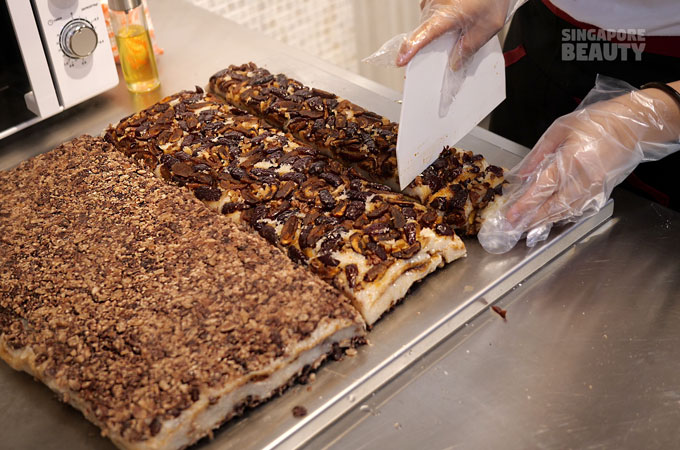 Nam Dae Mun is also popular for the Sticky rice cake or Songpyeon – A Traditional Korean rice cake eaten during the Korean Harvest festival.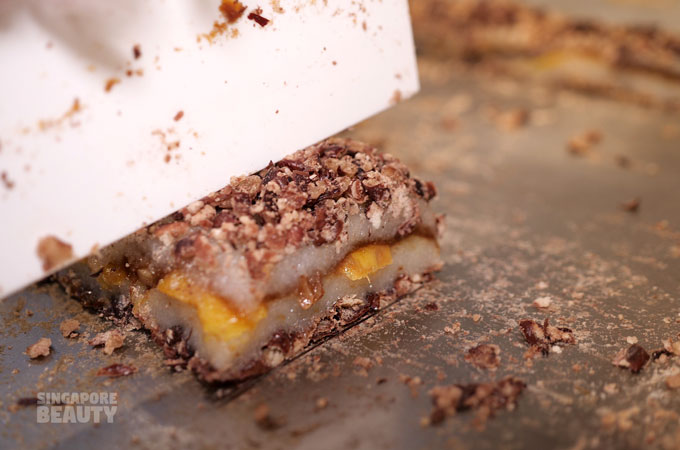 There are 3 types of Songpyeon(sticky rice cake) -sweet red bean, red dates and black sesame – to choose from. The one shown above is the sweet adzuki red beans rice cakes with sweet potato and rasin fillings.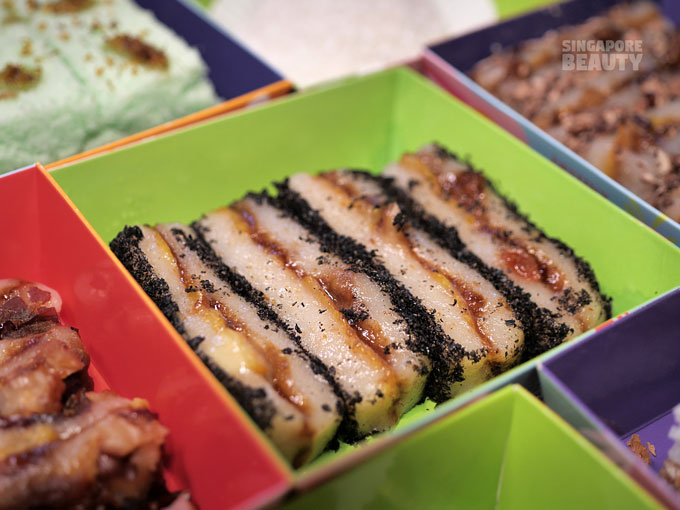 This is the black sesame sticky rice cake. Coated top and bottom with roasted black sesame and held together with a rich caramelised sweet potato fillings.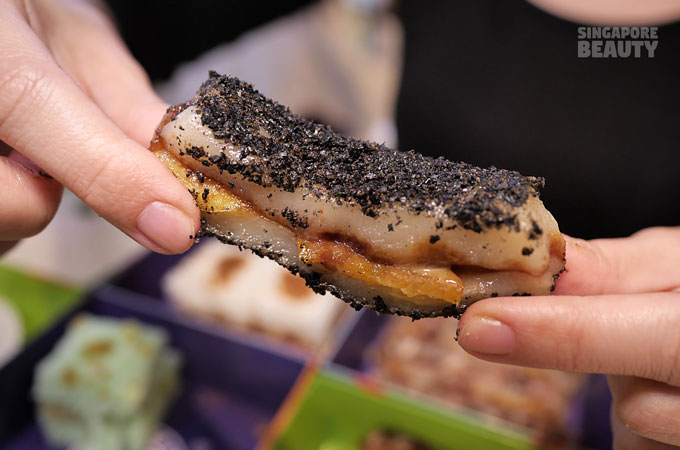 These sticky rice cakes are only sticky in your hands but amazingly does not stick to your teeth when you are eating. They do provide disposable gloves for you to enjoy these with ease.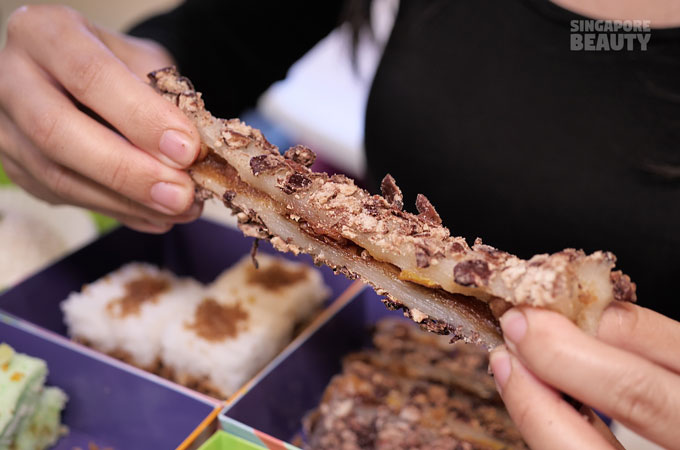 Look at how stretchy they are!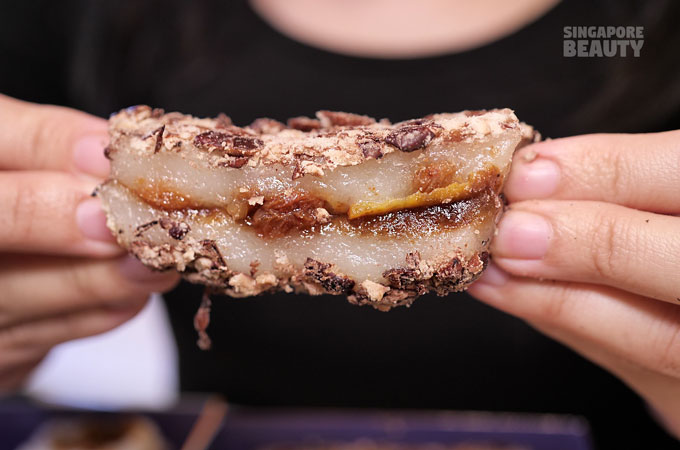 The smooth and chewy texture goes well with the warm semi sweet fillings.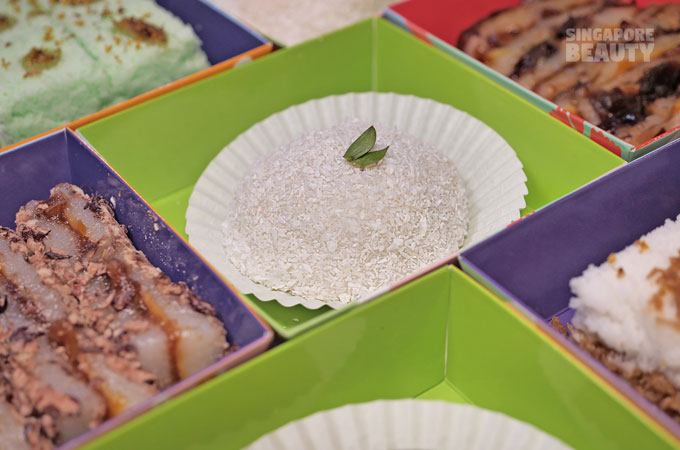 Maoshan Durian Glutinous mocha is the chef recommended mocha to try at Nam Dae Mun.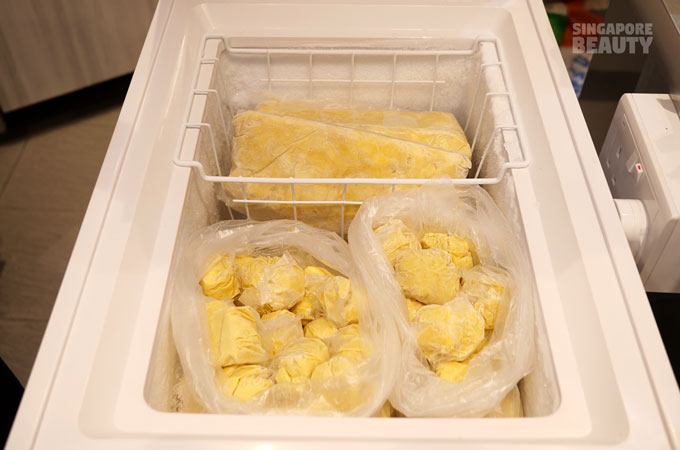 These are Maoshan durian pulps filling for their popular mochi. On a daily basis, they use up to 10kg of such fillings.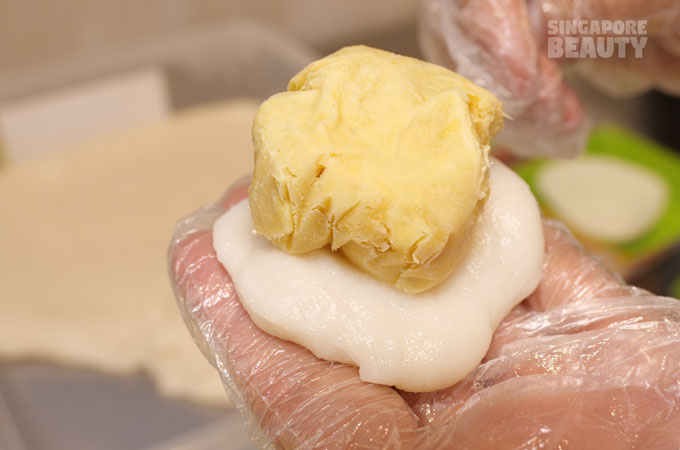 Look at the ratio of the durian pulp filling to the mochi. The amount used is overwhelming and is music to Maoshan durian lovers!
Each of these Maoshan durian mochi are handmoulded with love. A thin layer of mocha is used to wrap the Maoshan durian pulp fillings and finished off with a snow white coconut gratings.
The mochi is amazing stretchy but tender soft as butter. Try it!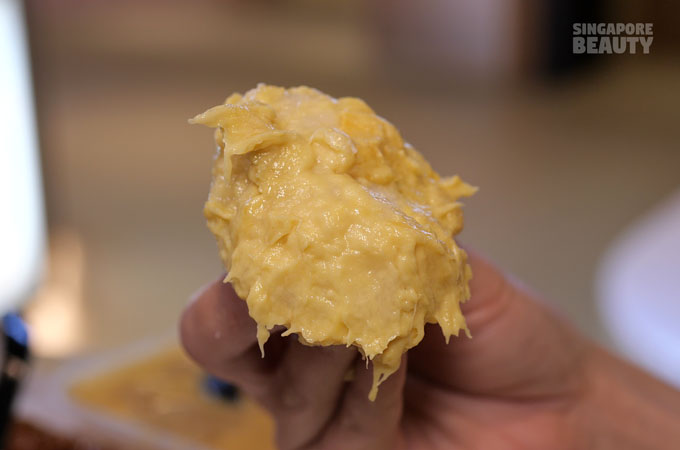 Smooth and creamy with a strong Maoshan aroma. Check out the durian pulp with the fine fibres.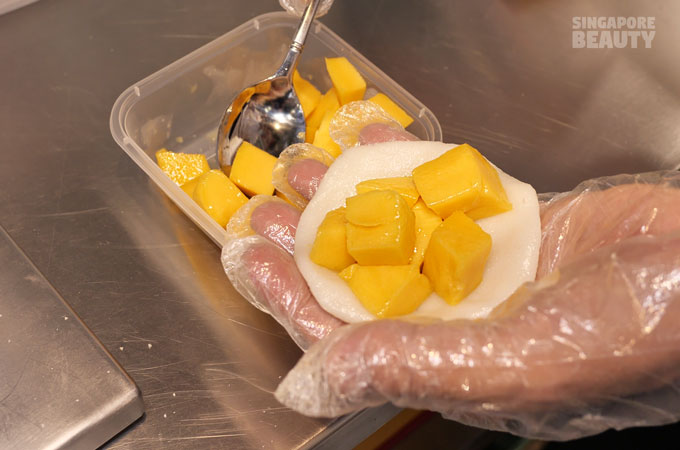 Nam Dae Mun also has Honey mango and Cheese mochi.
The Cheese mocha has an extremely velvety texture and taste like cheese cake in a mochi.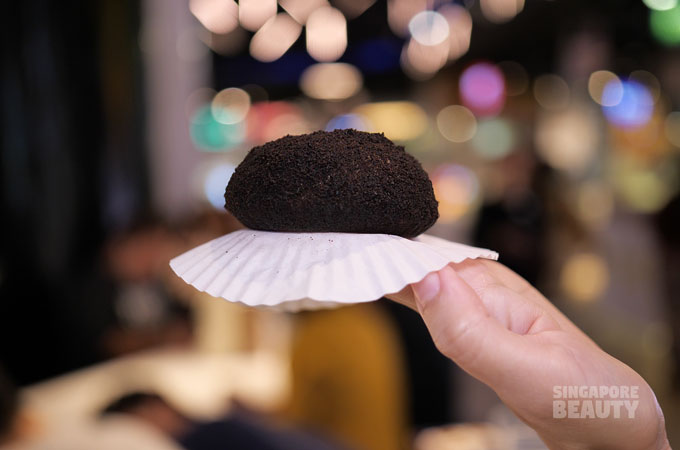 The cheese mochi is powdered with Oreo powder as a finishing touch. Oreo with cheese is the best combination. I think they nailed this mochi.
Together with Nam Dae Mun, Herme – a Taiwanese brand of fruit tea ,is also brought in alongside as a drink to compliment the rice cake.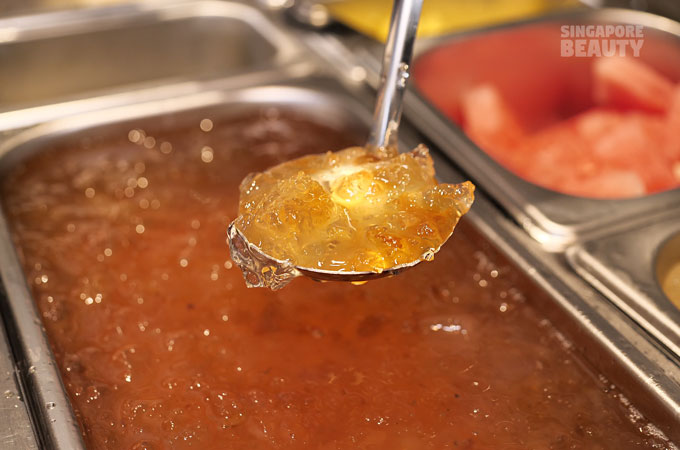 Herme specialised in a series of Peach Gum fruit tea.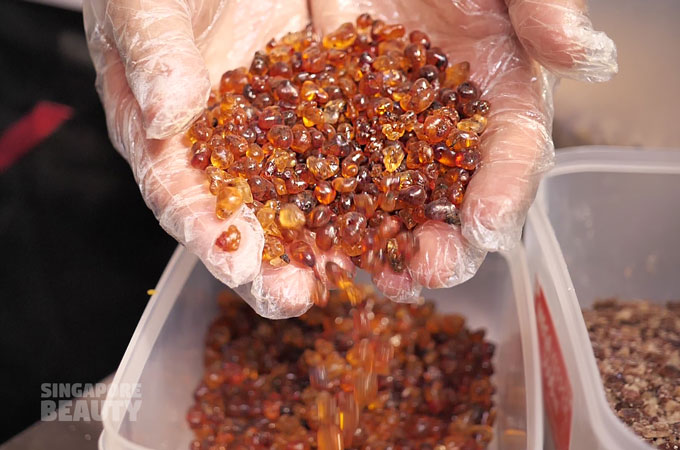 These peach gums are collected in solid gem form and has an amber glow to it. These are made of resin from the Chinese wild peach trees.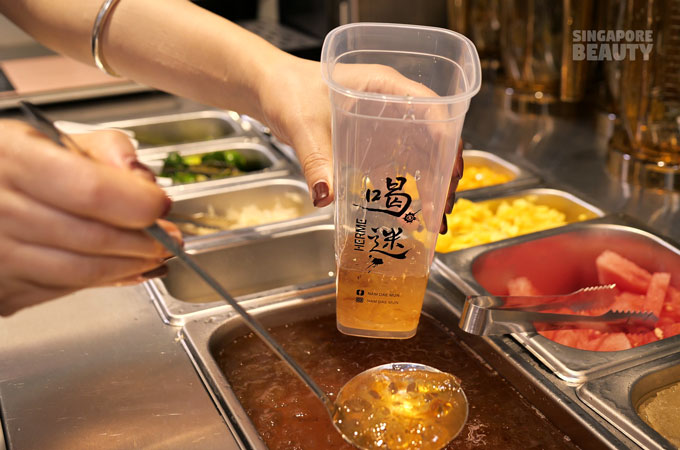 Peach gum is a healthy natural ingredient that is rich in collagen and helps to promote healthy skin. It is otherwise known as the civilian bird nest or tears of the peach blossom. Copious scoops of these "bird nest" jelly are added to the Herme Fruit tea series.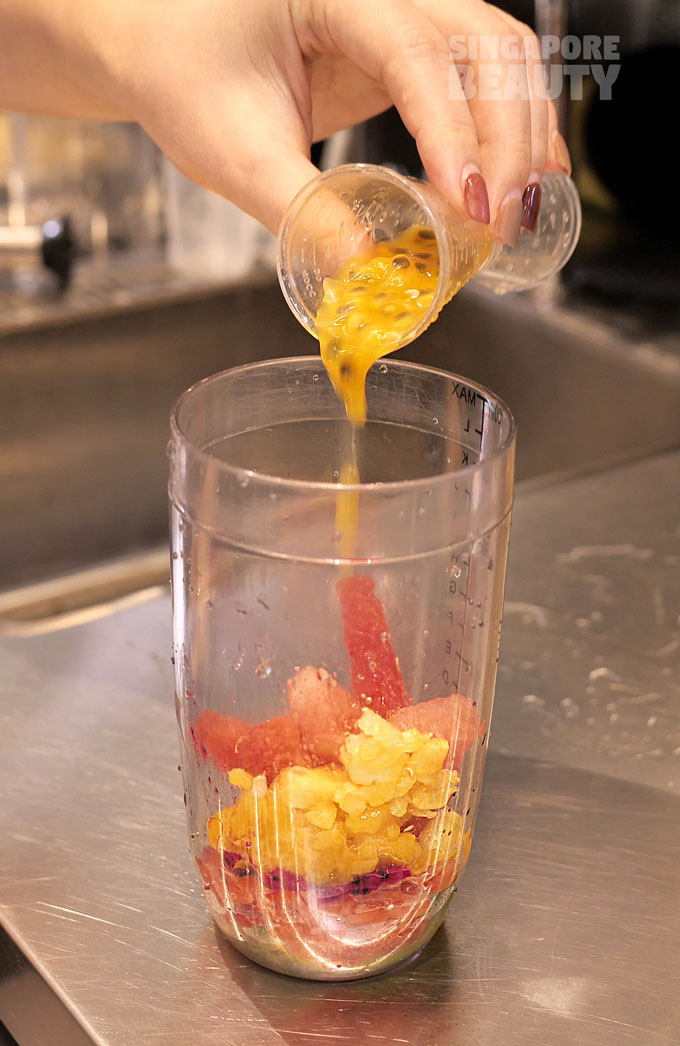 These fruit tea are popular with ladies for it acclaimed beauty benefits. Try the super fruit tea.
Together with a precise proportion of 8 types of freshly cut fruits bits and cold brewed tea with the soft peach gum, the Herme Super Fruit Tea is born.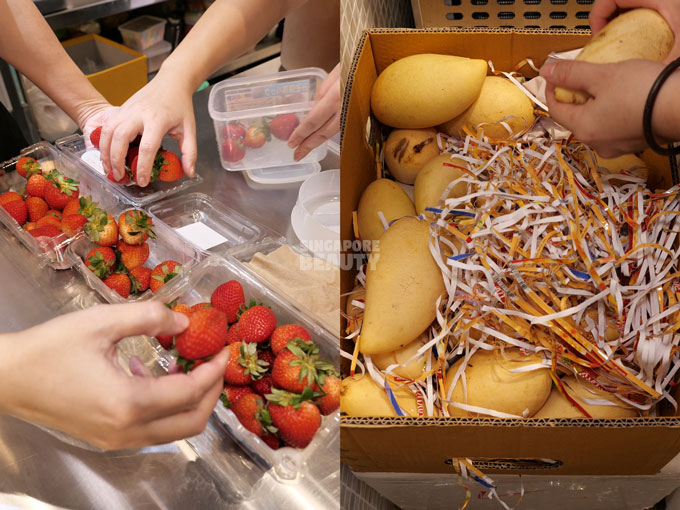 To bring you these premium quality fruit tea, the fruits are handpicked for the correct ripeness and stipulated size for the texture.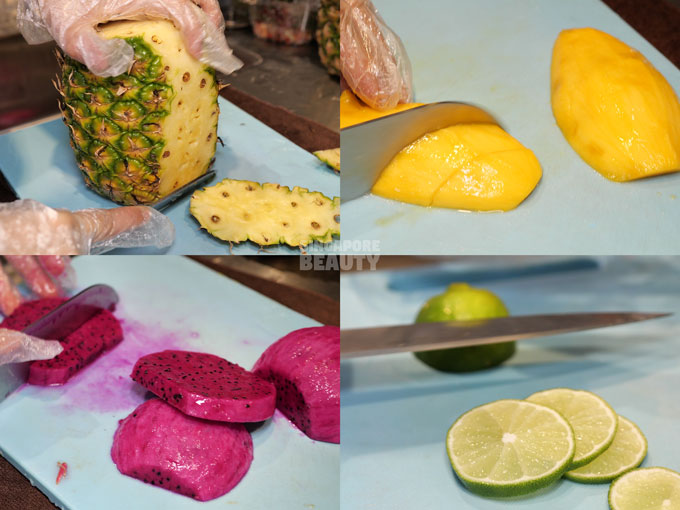 Fresh fruits are used for the fruit tea and prepared daily in store.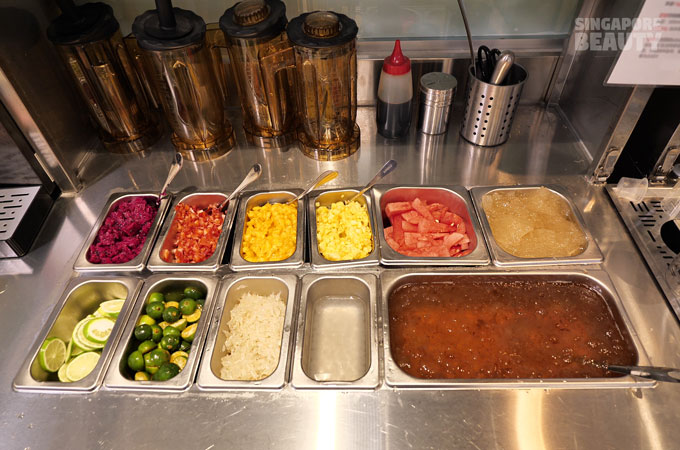 This is the fresh cut fruit counter, brilliant fresh colours of the fruits speaks volumes.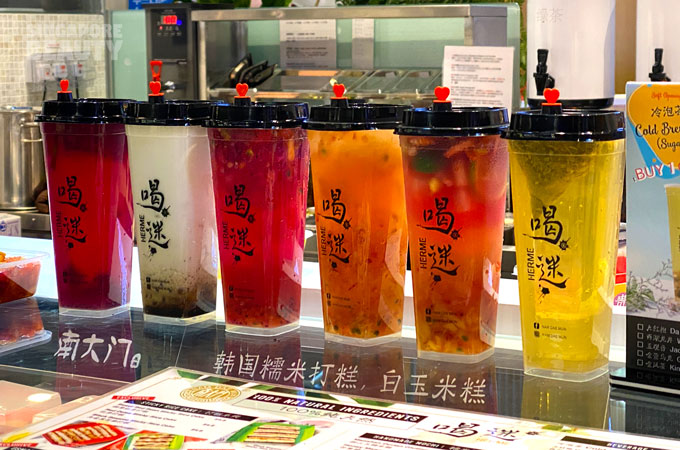 With over 9 types of peach gum fruit tea and 4 types of cold brewed tea, you will be spoilt for choice. These fruit tea are rich with fruit fibres – perfect drink to enjoy and detox at the same time.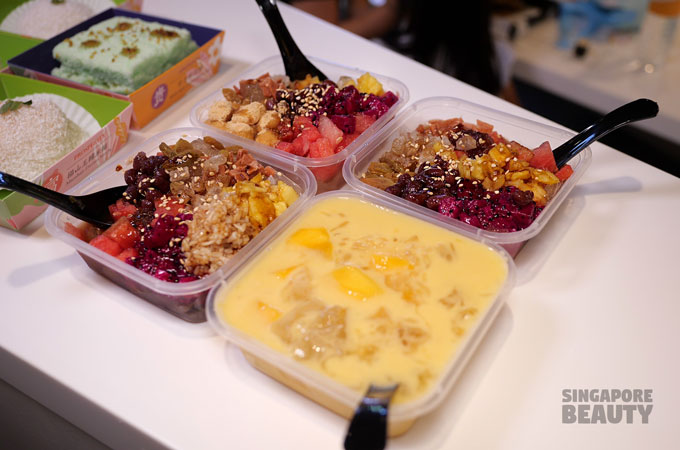 Ice jelly desserts are also available. Mini rice cake with ice jelly, Rosey with ice jelly, fermented sweet rice with ice jelly and Mango sago with peach gum. Great way to cool down on a scorching hot day.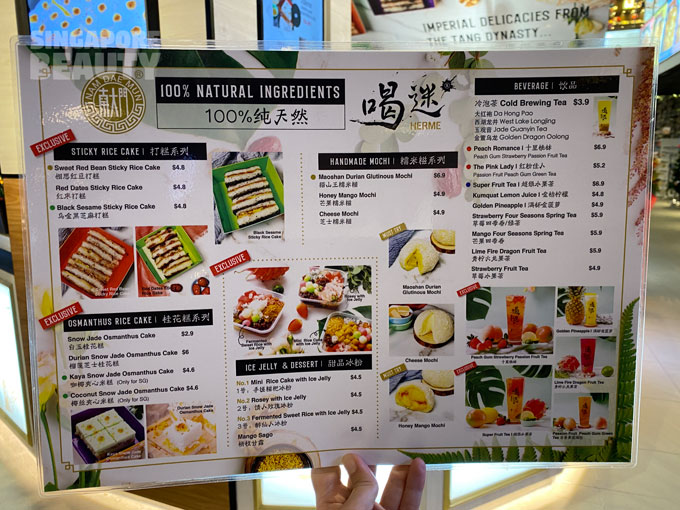 Check out this menu for the price and the variety that is available at Nam Dae Mun + Herme.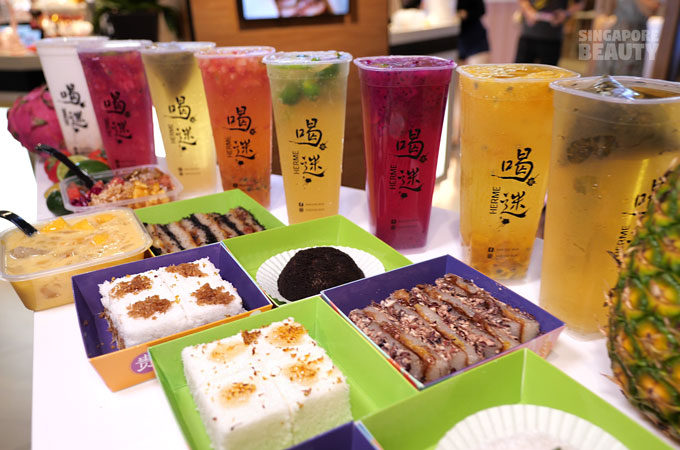 Head over to Nam Dae Mun + Herme today for the Korean style rice cakes, Jade Osmanthus cake, Mochi and Peach Gum fruit tea today!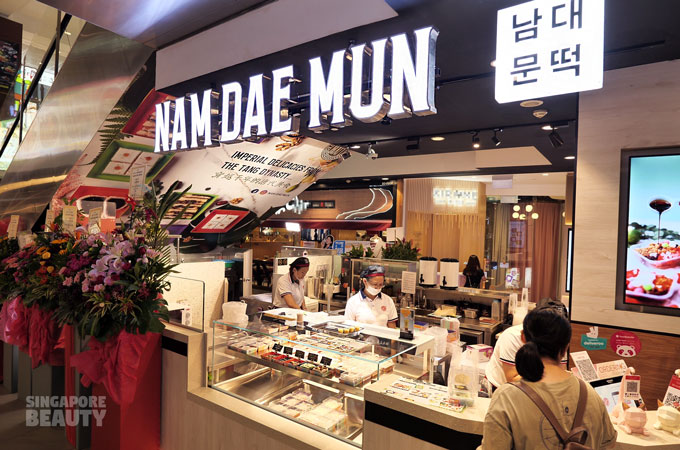 Nam Dae Mun + Herme is located at 313 Somerset Basement 3 – unit 54 right at the start of the 313 Somerset food hall.
Shop Operating Hours:
10am to 10 pm daily
Location:
313 Orchard Road, B3-54, Singapore 238895
Alight at Somerset MRT
Their social pages:
https://www.facebook.com/NamDaeMun.sg/
https://www.herme.shop/
Hotline:
(+65) 8688 8475
Brought to you by Nam Dae Mun + Herme