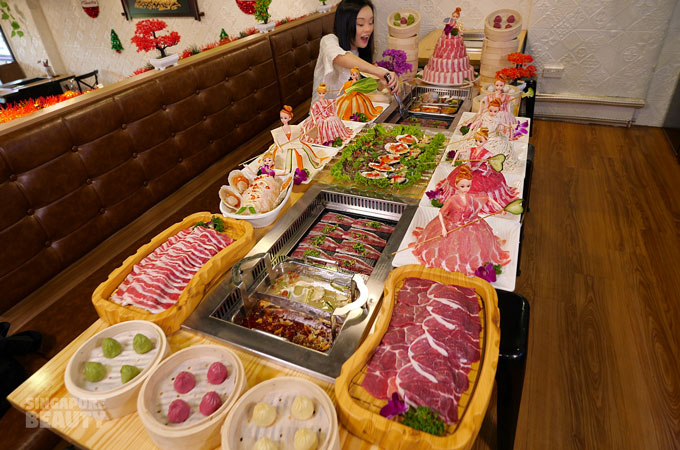 Hot Pot & BBQ Buffet is a newly opened 3-in-1 Hot Pot & BBQ buffet restaurant with an automated self-lift hotpot tray inside the hotpot.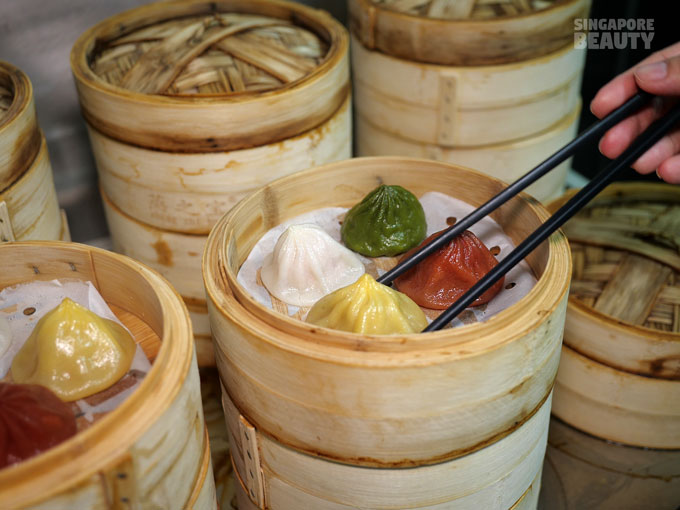 They offer free flow xiao long bao in 4 different flavoured skin – original, chives, pork cabbage & mushroom with glass noodle.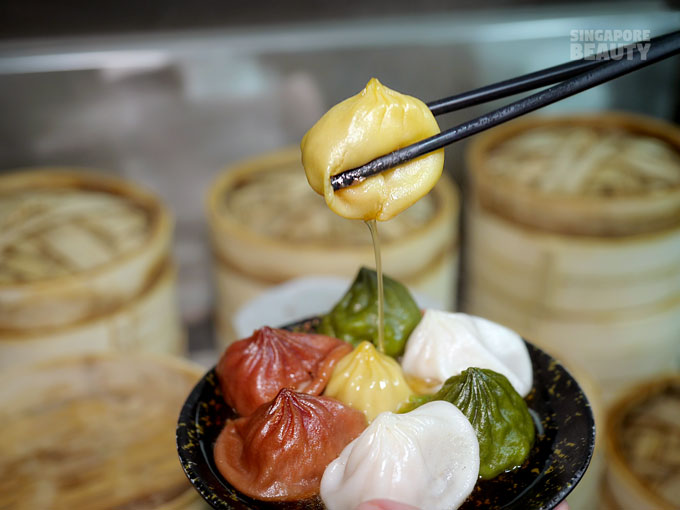 These xiao long baos are thin skinned chinese dumplings packed full of savoury soup. These goes well with finely shredded ginger stripes in black or red vinegar as dips.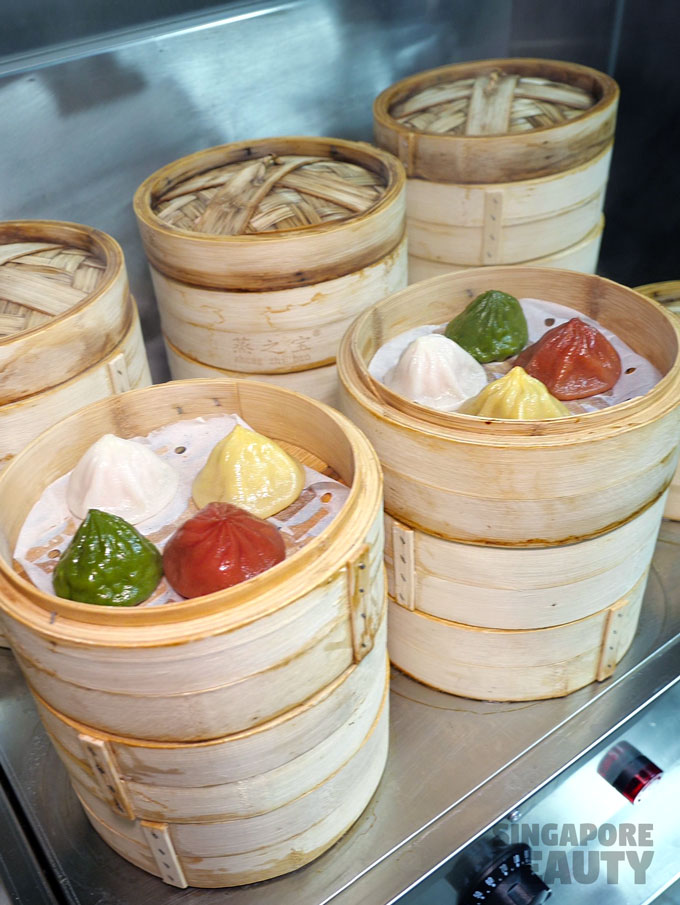 Served straight from the kitchen, each steamer hold 4 xiao long baos or soup dumplings. These are part of the buffet and you can eat to your heart's content. Try it.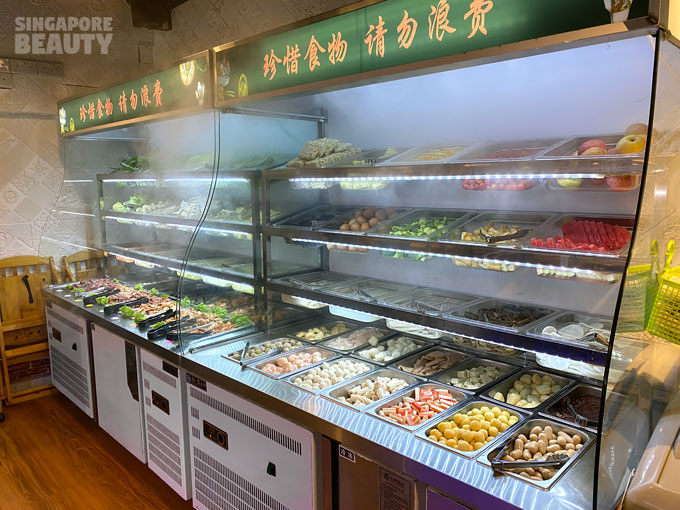 They have up to 70 types of seafood, marinated meats, shabu shabu meats, greens, noodles, xiao long bao and surimi to choose from.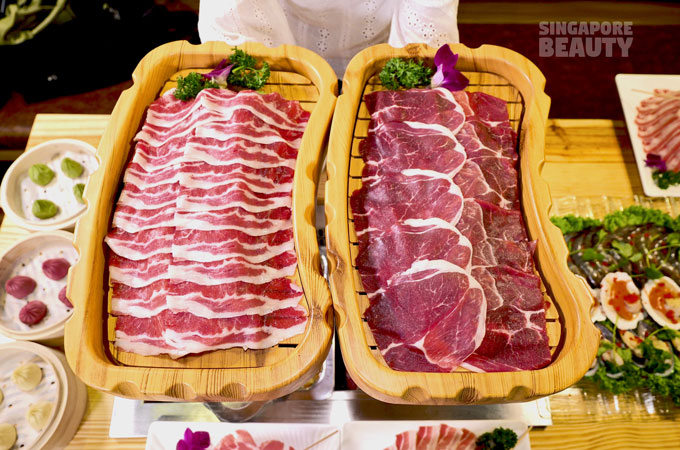 They even have XL size shabu shabu meat platter in pork or beef. This is part of the buffet, great for meat lovers!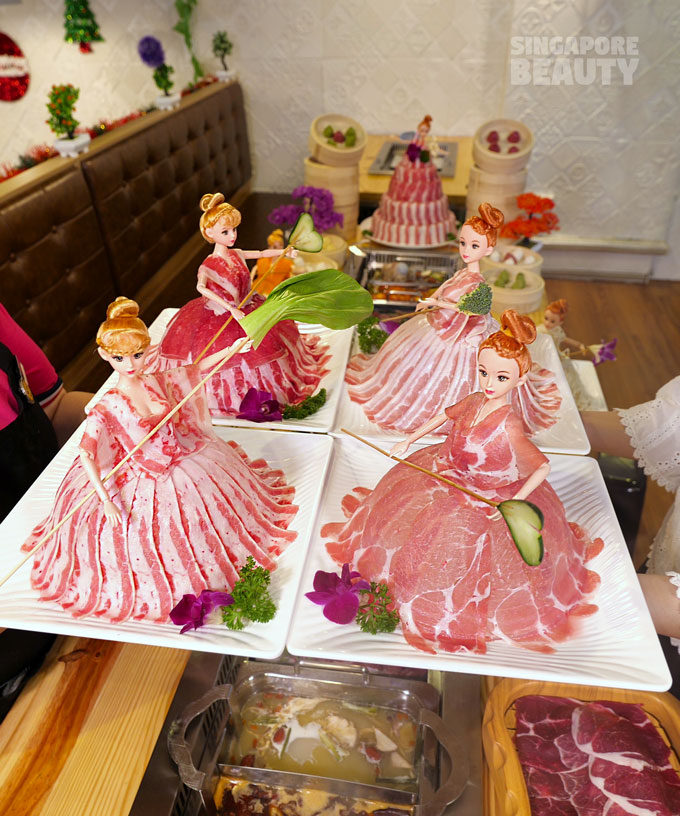 Choose from 6 types of dolls cladded in different cuts of pork, beef, greens or noodles. This meat doll is limited to 1 per table. However, you can order unlimited shabu shabu meat platter that uses the same type of meat on these dolls.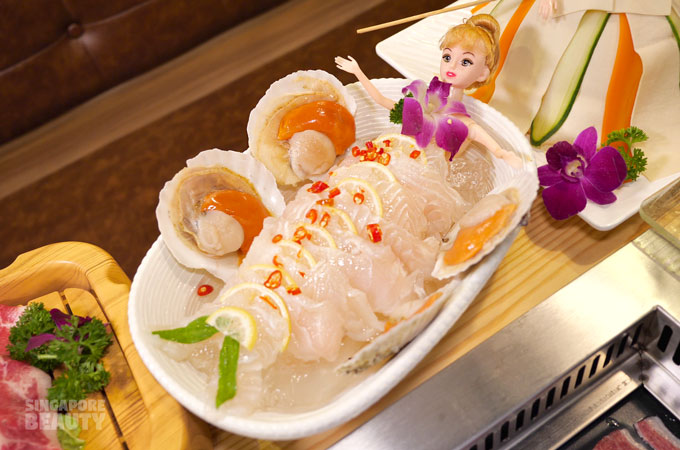 This mermaid fish platter which consist of 4 medium size scallops and dory fish chunks is complimentary for 6 pax or more. If you are under 6pax, these dory fish chunks are available on the DIY food display chiller.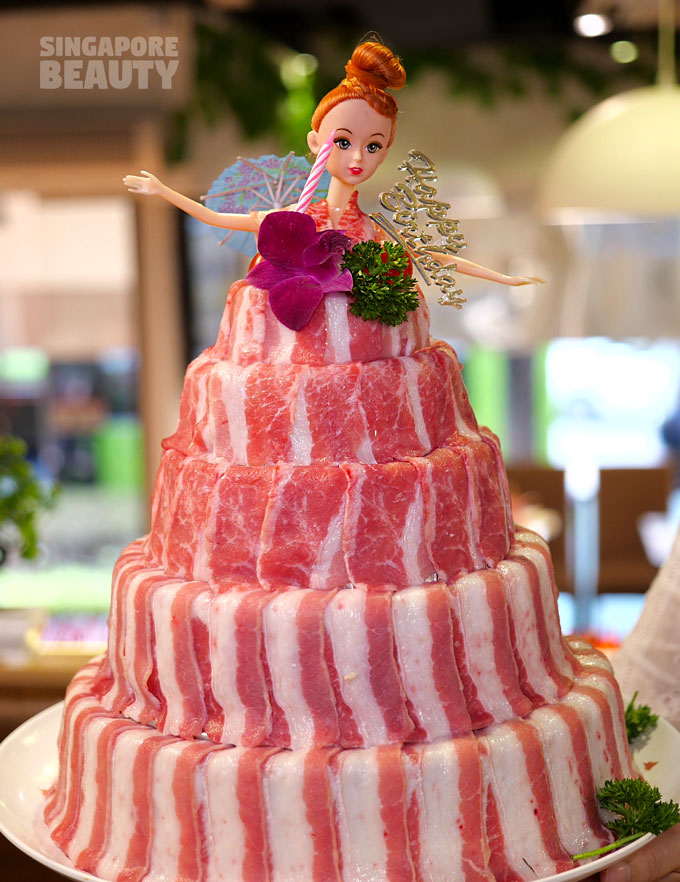 For special occasions like birthdays or anniversary, you can add on $38++ for a 5 tier meat doll cake that comes with a candle and birthday tag.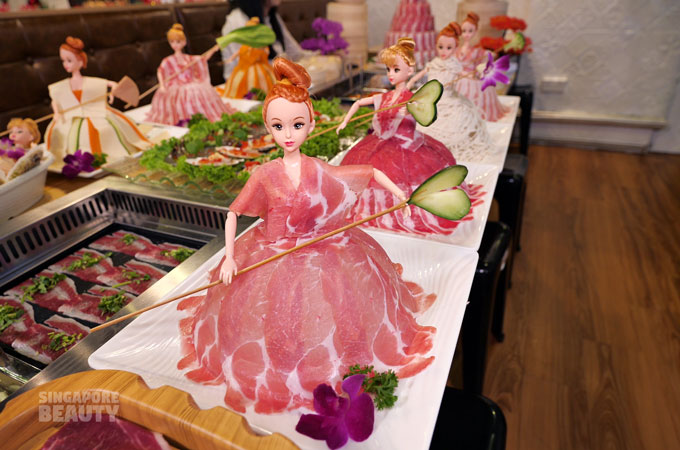 This is a creative meat doll type of hotpot and BBQ buffet.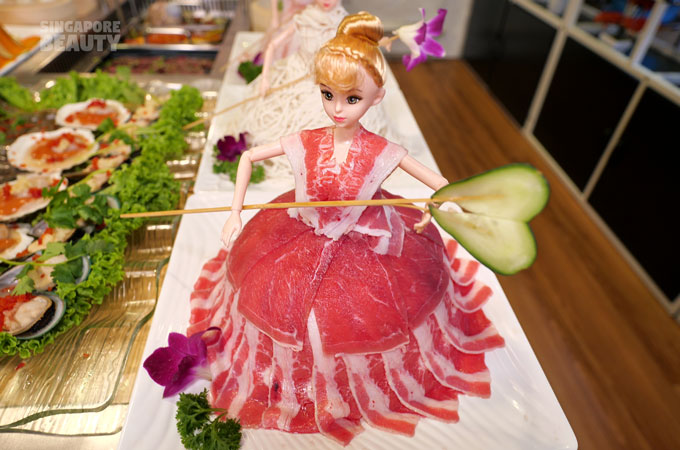 Meat doll in beef shabu shabu dress.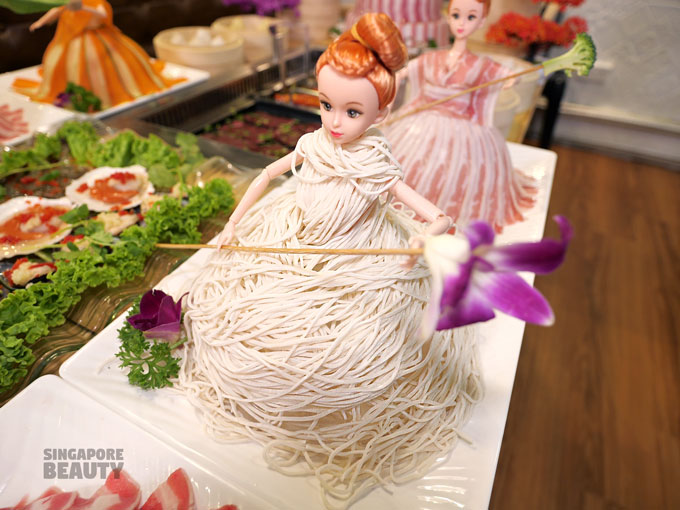 Noodle doll in handmade egg noodles.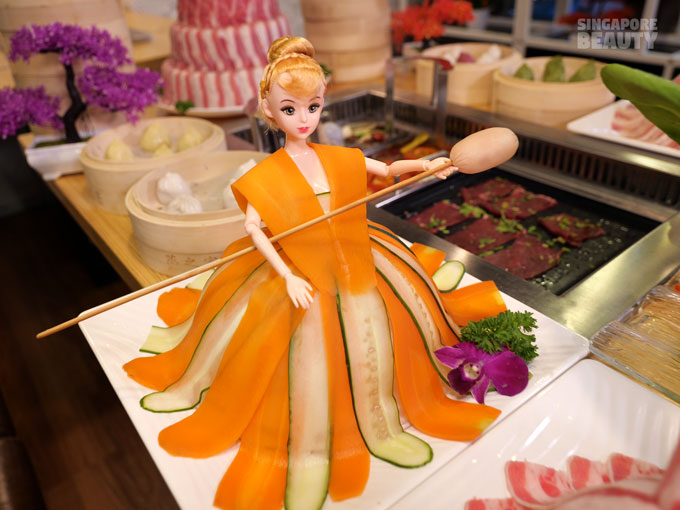 Doll cladded in seasonal greens for the health conscious diner.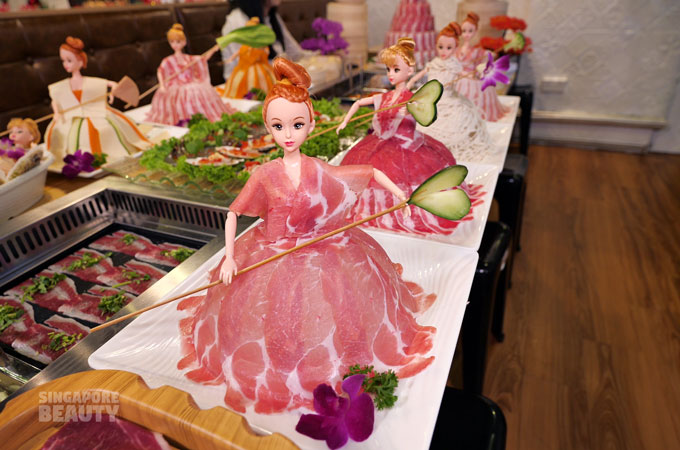 Doll cladded in pork collar shabu shabu meat.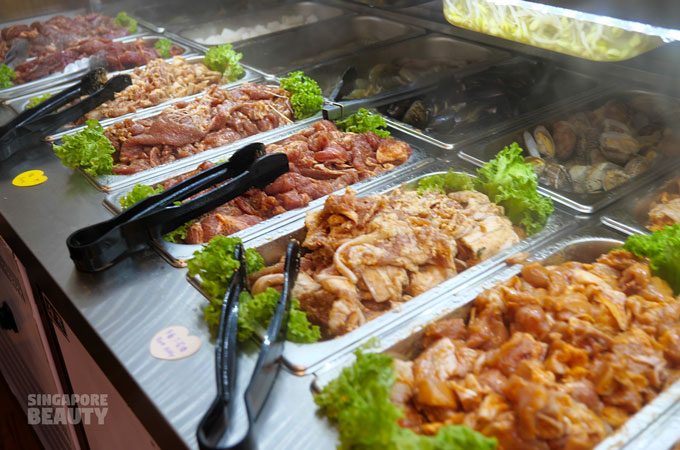 Help yourself to unlimited marinated meats in prized parts such as chicken thighs, drumstick and beef brisket.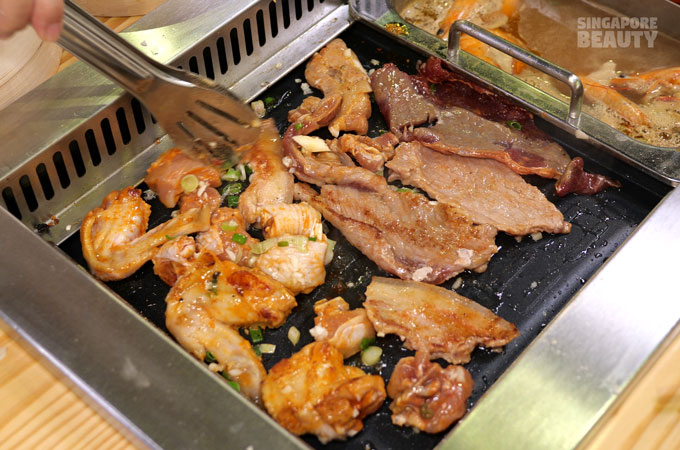 These marinated meats are best for the grills. Watch them sizzle away in these hot grills.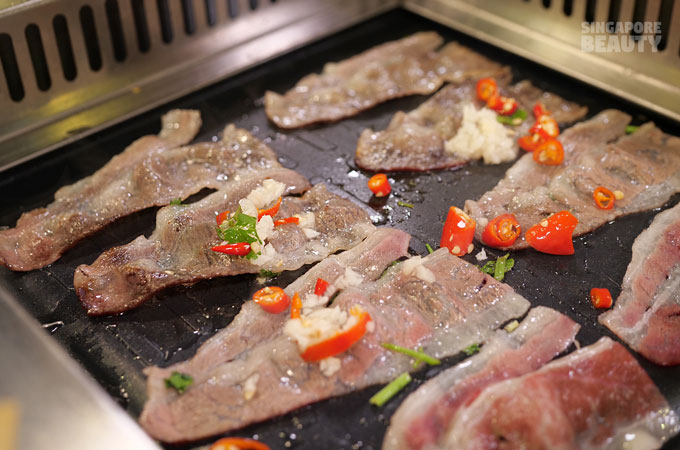 You can also bbq the shabu shabu meats and use the condiments provided to whip up your own BBQ marinated meats.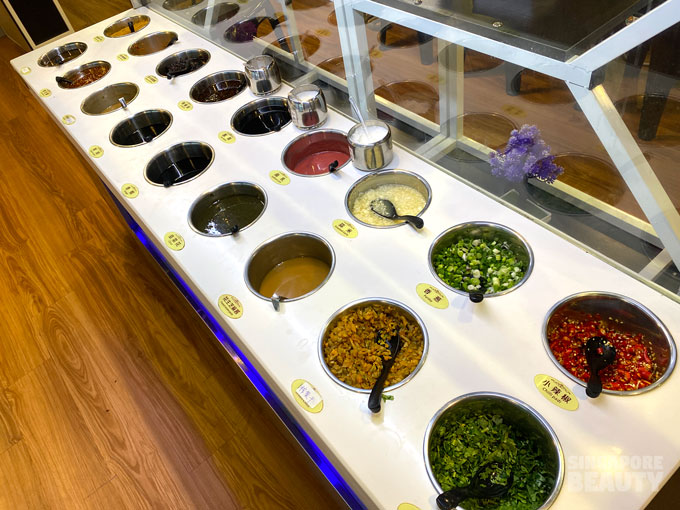 They have more than 20 types of condiments to choose from.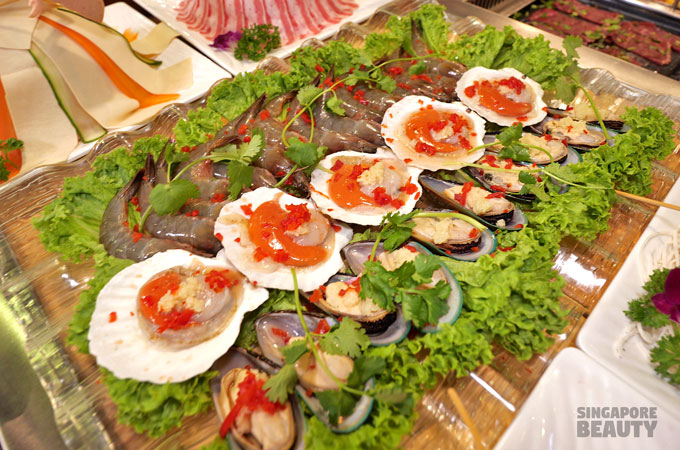 For those who are into seafood, you can ask for the seafood platter which is part of the buffet. The seafood platter consists of scallops, mussels and prawns that are already topped with chopped garlic bits and chilli pepper.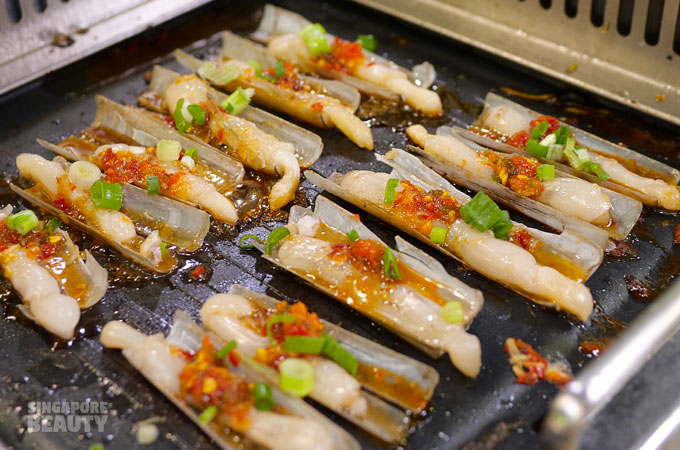 Other seafood such as bamboo clams are also available. Season them the way you like it.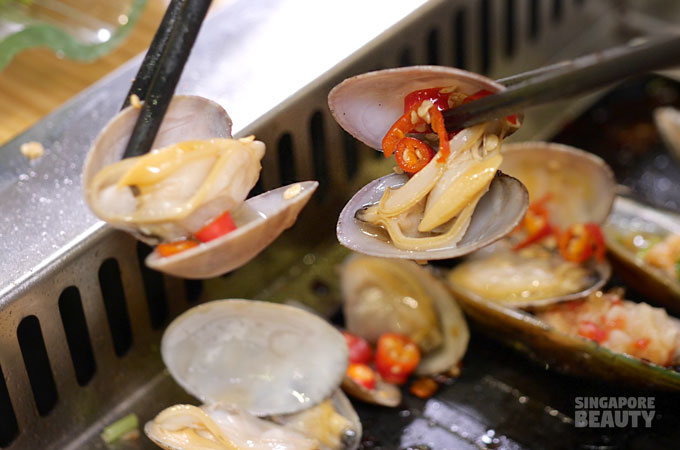 They also have asari clams that you can add to your hotpot or BBQ grills.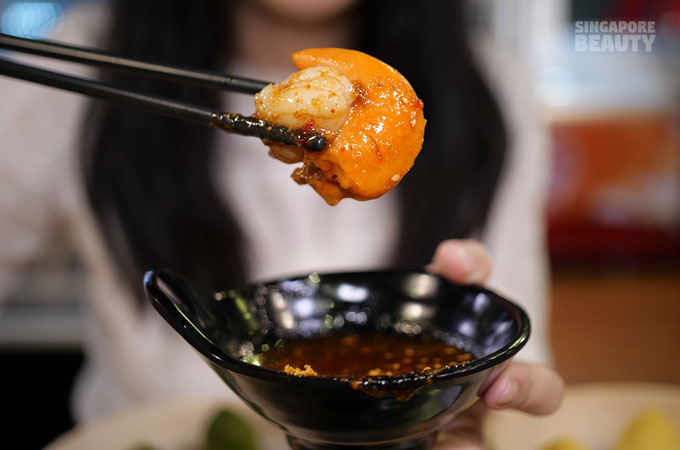 These scallops are best enjoyed with the sweet chilli dips or the thai chilli dips.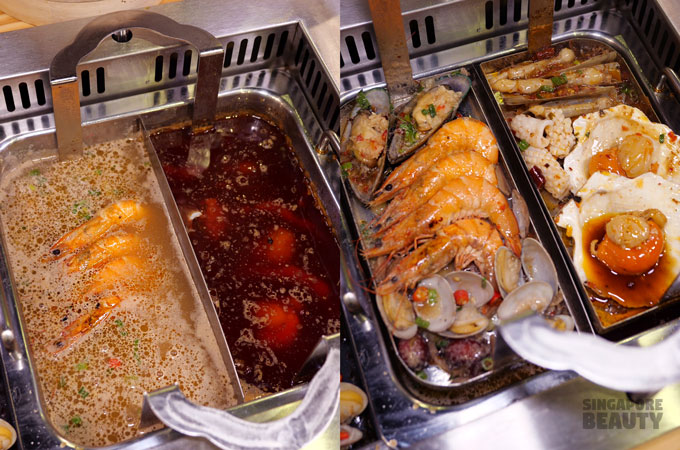 The hotpot here is automated with a self lift tray that bring up all the food from within the boiling soup once you have cooked them at the touch of a table top button. This makes it a breeze to find all the food you have cooked without having to shieve through the hot soup with a scoop.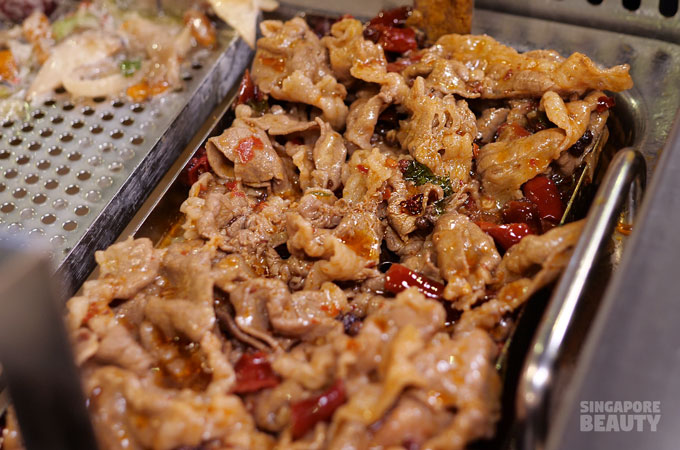 The meat cooked to perfection with this automated self lift hotpot tray. You will spend less effort searching for food in the soup and more time enjoying the food.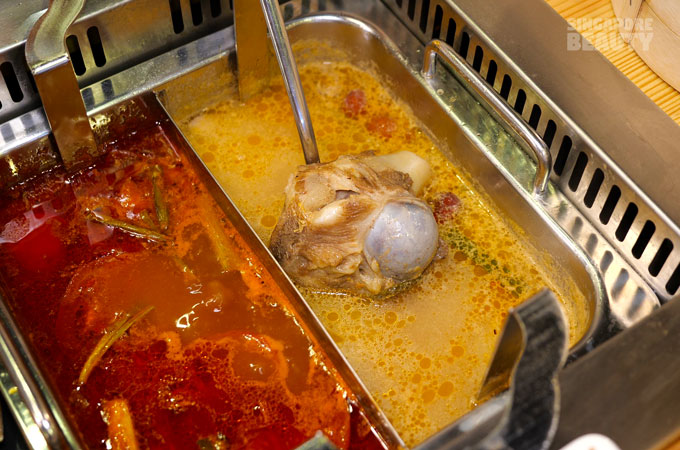 Chef recommend big pork bone soup, tomato soup, mala soup and the chicken soup. They also other soup flavours as well.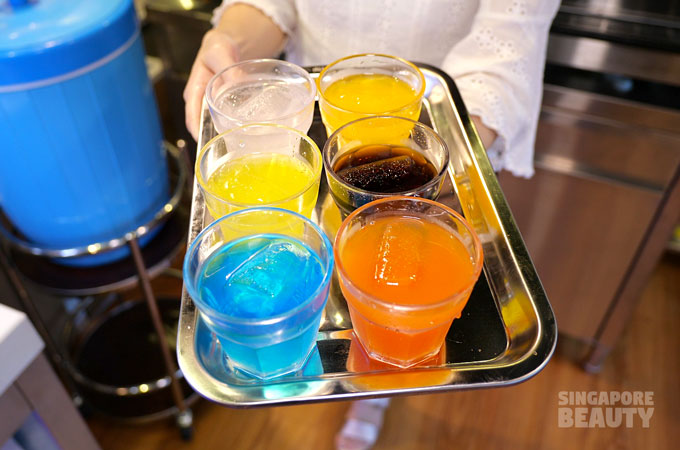 9 types of dispenser drinks – cola, lemon lime, sparkling peach, Kickapoo, iced lemon tea, iced water, squashes (mixed fruits, blueberry, orange) are included in the buffet too.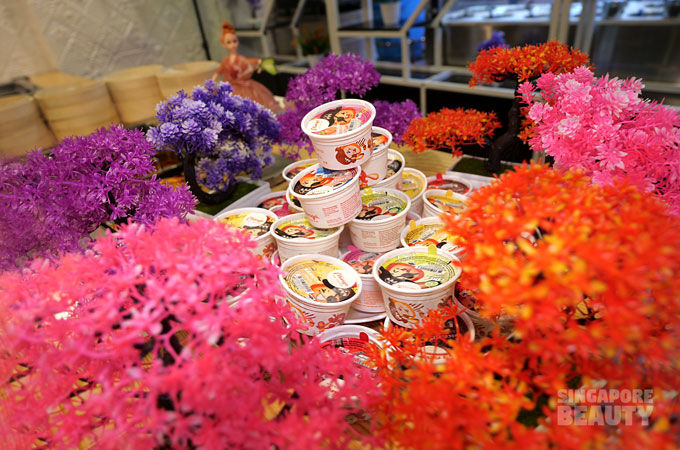 Free flow mini tub ice cream heaven after hotpotting and BBQ. They also have cut tropical fruits such as watermelon, oranges, cherry tomatoes and whole apples on a rotational basis.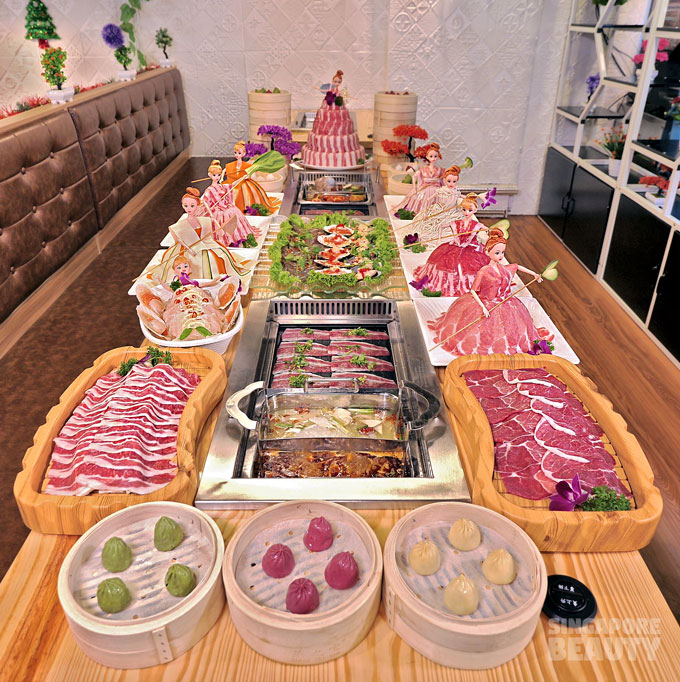 Head over to this feast today.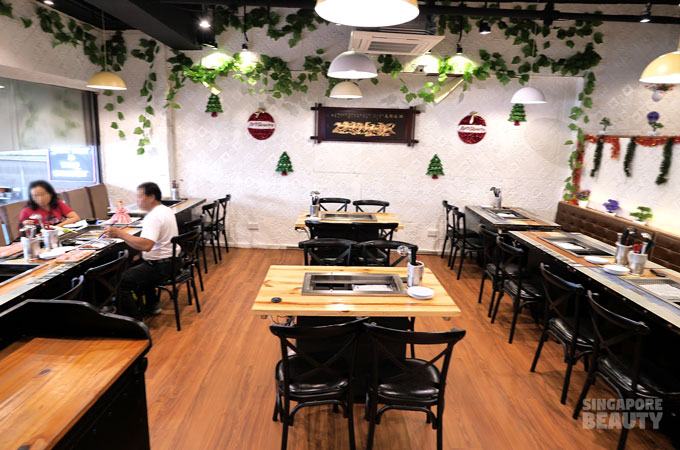 Spacious chic new interiors with festive decorations to celebrate the holiday season.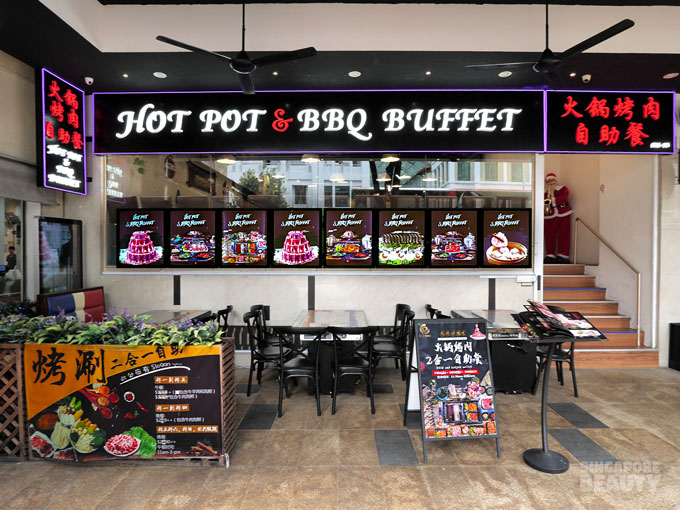 This newly opened Hot pot & BBQ Buffet restaurant is located right opposite Bugis Junction, the shopping belt for the young and trendy. They are opened for lunch and all the way till 2 am daily for supper. See you there!
Adult Daily(includes Eve & PH) Buffet Price:
Lunch Buffet $19.90++
Dinner Buffet $24.90++
Children (5-12 years old) Daily Buffet Price :
Lunch or Dinner $15.90++
Others:
Single/Dual soup add $9++ per table
++All prices subject to 10% service charge and 7% GST
Dine time:
90 mins
Minimum 2 pax to dine.
Dispenser drinks are included.
1 gown meat doll per table
Mermaid fish is complimentary for 6 pax and above.
5-tier meat doll at $38++ each.
All price in SGD$ and subject to 10% service charge and 7% GST.
Buffet operating hours:
Lunch hours: 11.30am till 3pm daily
Dinner hours: 3.30pm till 2am daily
Location:
Hot Pot & BBQ Buffet
470 North Bridge Road #01-05 , Bugis Cube, S188735
For Enquires:
Call them at (+65) 63383405
Brought to you by Hot Pot & BBQ Buffet (火锅烤肉自助餐)