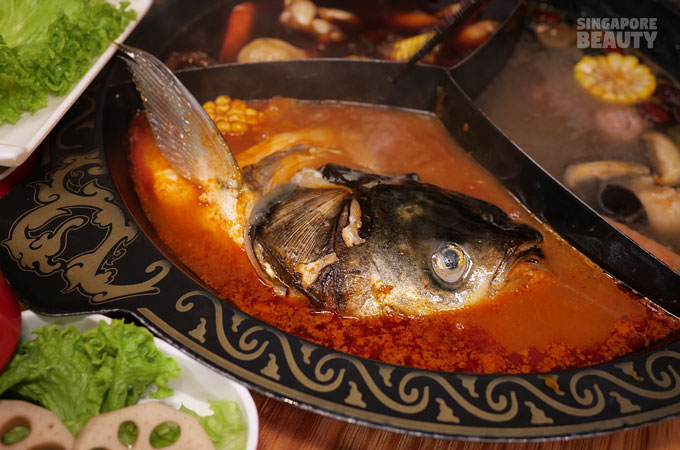 美蛙鱼头 Frog meat Fish head buffet restaurant specialize in frog meat and fish head hotpot soup base with unlimited seafood, shabu shabu meat, green, handmade meat balls and free flow brown sugar bubble milk tea.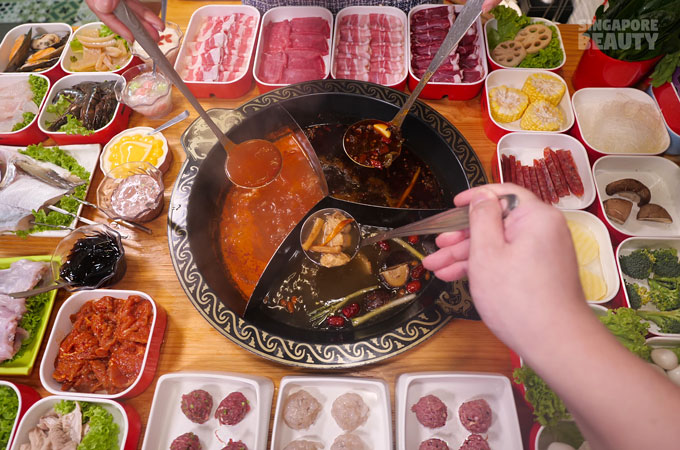 Their signature soup bases to go with the frog meat and fish head are mala spicy soup, tomato pork ribs soup and chicken soup.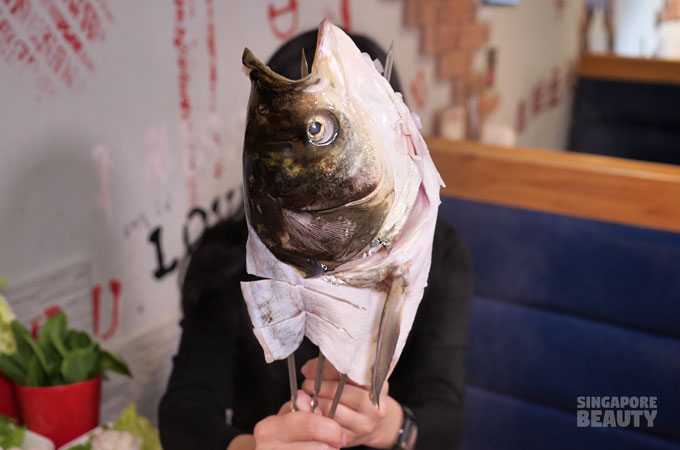 This is the size of the fish head you are looking at.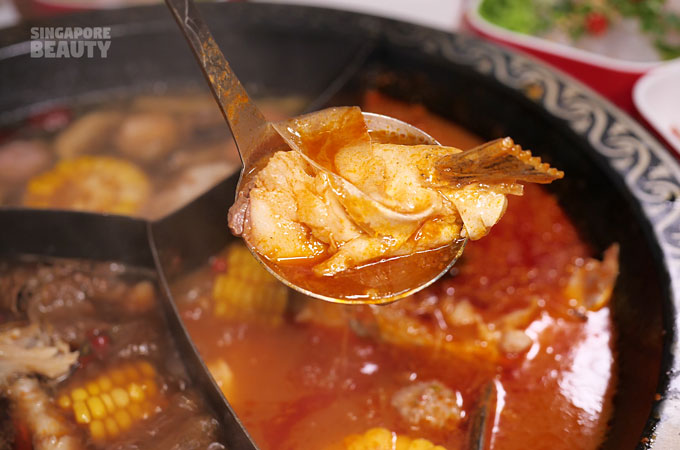 This fish head is great for hotpotting purpose as the meat is high in fish oil and fats. It remains tender and moist even after cooking. The fish head is rich with gelatinous parts, chewy fish cheeks and the gooey eye balls, great if you are a fish head lovers. The meat is melt in your mouth type.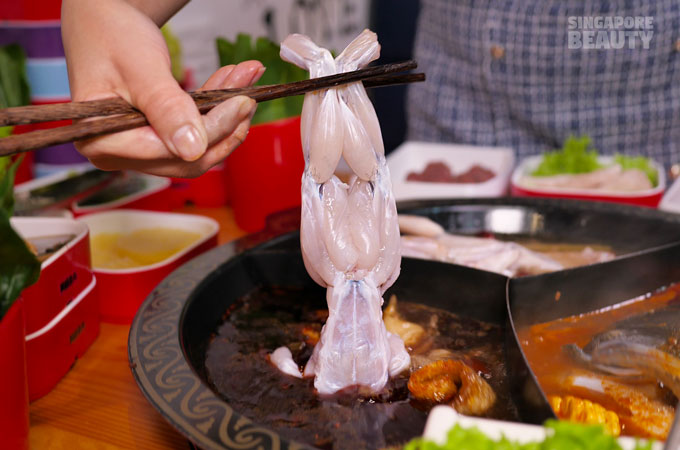 If you order the frog and fish head hotpot base, you will get 2 frog meat and 1 halved fish head. Photo of frog for illustration purposes, they will serve you chopped up frogs.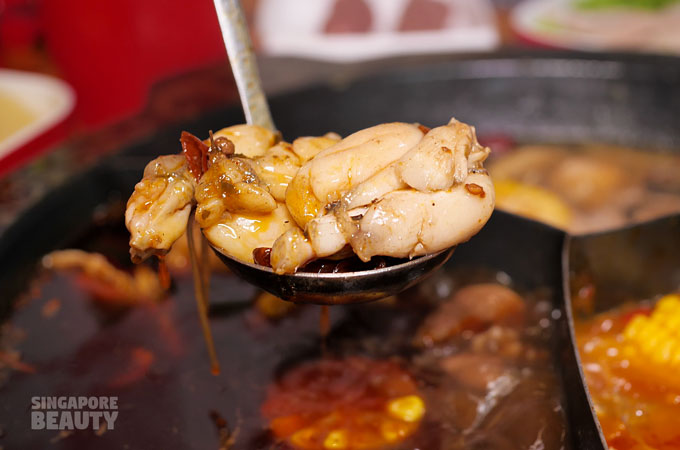 The frog is best enjoyed in the Mala pot. These frogs are meaty and are held together by gelatine like muscles. The textures are liken to very tender morsels of chicken if you do not overcook them.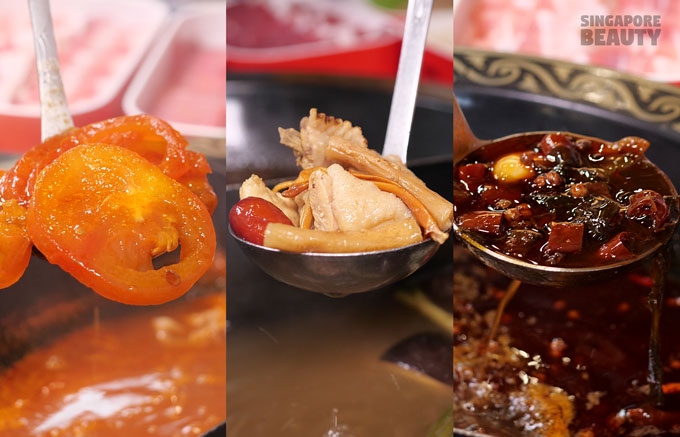 The soup bases are made from sketch. Soft tangy tomatoes with pork ribs boiled for hours on low heat, mala soup base using over 10 types of spices, nourishing chicken soup using pricier but healthier kampong chicken boiled with prized Chinese herbs such as dang shen, Cordyceps militaris and red dates. They have a total of 8 types of soup bases – Mala spicy, Thai style tom yam, mushroom, pickled fish, herbal, big pork bone, tomato pork ribs and chicken soup.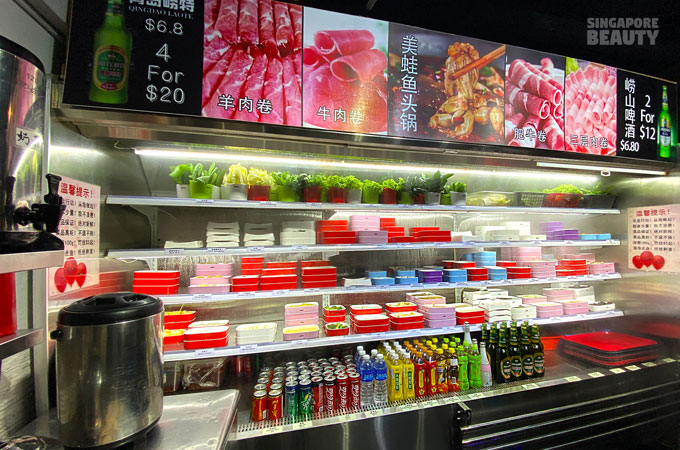 This is a buffet style hotpot, the colourful trays are purely visual (not coloured coded for pricing purpose), so help yourselves to the food at the display chiller. Canned and bottled drinks are not part of the buffet.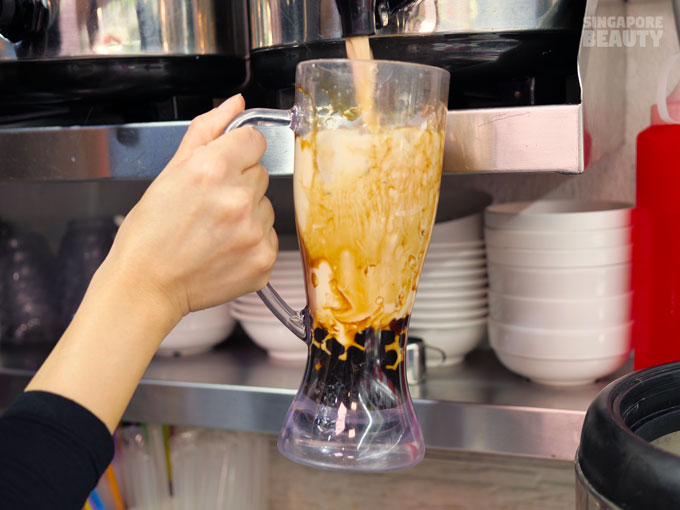 However, they have an ongoing promotion for free flow brown sugar bubble milk tea that is included as part of the buffet. If you love bubble tea, you will love this. The chew of the bubble/ brown sugar pearl is so legit and the milk tea is thick and rich without the overpowering "milky" flavour. This milk tea is a joy to drink! Top up $3 for free flow lemon tea or green tea.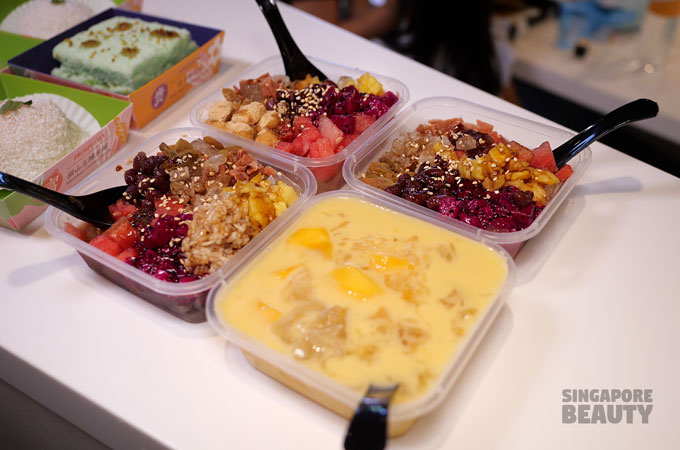 Inclusive of the bubble milk tea, they also have mango pudding with condensed milk, bean curd with wolf berries, Taiwan grass jelly, rice balls in fermented rice wine and magnolia scooped ice cream by F&N, the authentic chocolate taste. The selection of desserts are interesting especially the rice balls in fermented rice wine.
This is the thick broad rice noodles in red chilli oil. Savoury velvety rice noodles in mild aromatic chilli oil with a light vignette undertone. Part of the buffet, this is a must try.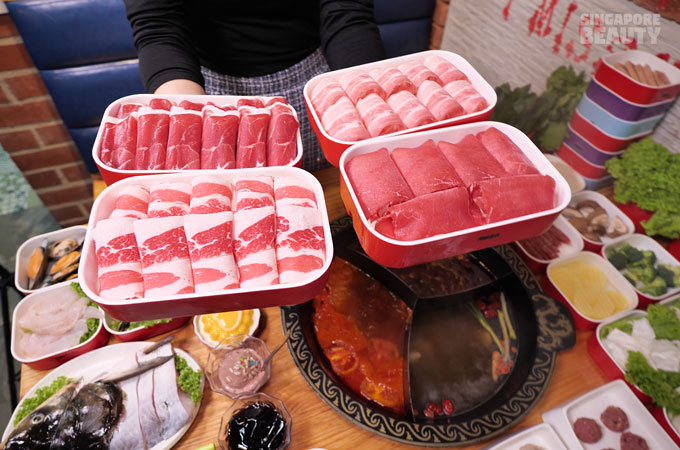 Meat lovers will rejoice at the sight of these neat rolls of shabu shabu meat. These are part of the buffet and needs to order from the staff ala carte buffet style.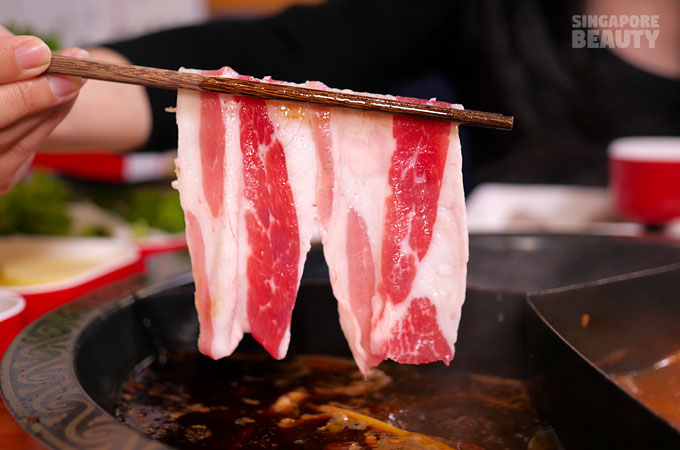 This should be music to meat lovers. The meat choices are US beef belly, mutton, beef and sliced pork belly.
Look out for the handmade prawn paste balls, beef balls and pork balls with chives.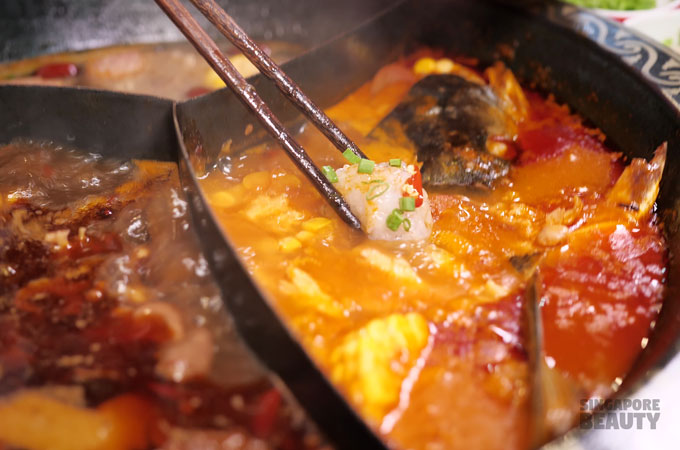 The prawn paste ball is recommended by the chef. Meat balls with a great chew and of the correct texture. Try it.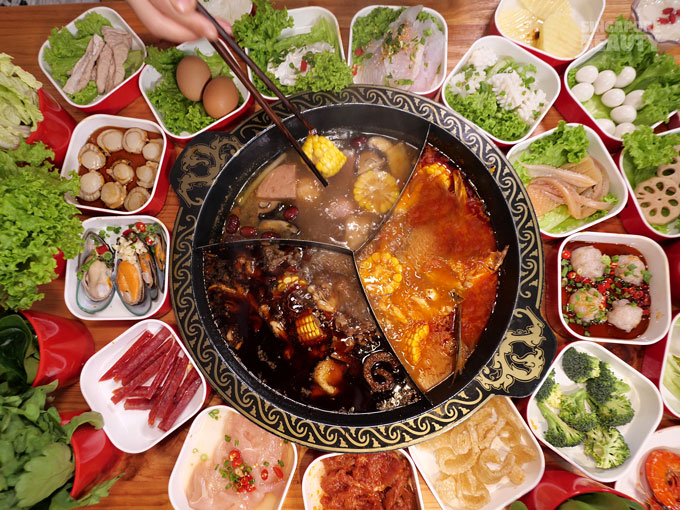 They also have a good variety of seafood – prawns, mussels, scallops, cuttlefish, dory fish chunks, squid rolls and even fish maw.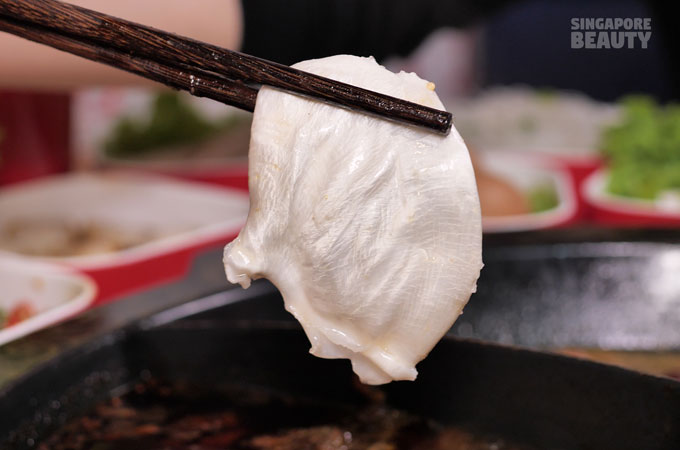 This is raw fish maw. Try this if you are feeling adventurous with your food, texture when cooked is like a very thin squid.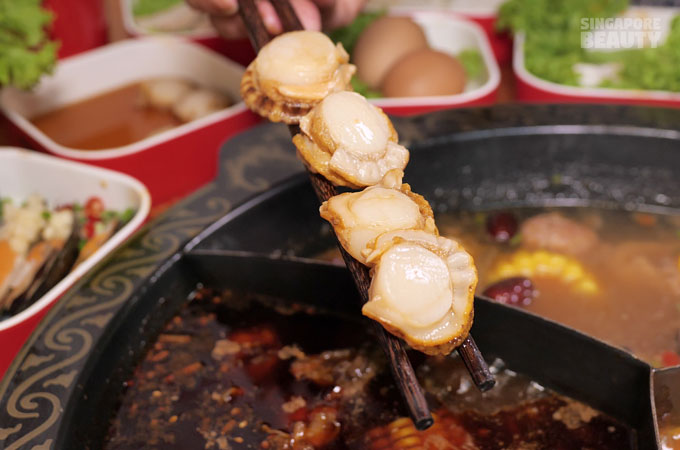 Check out the scallops – these are like hotate – goes well with the mala soup base or chicken soup.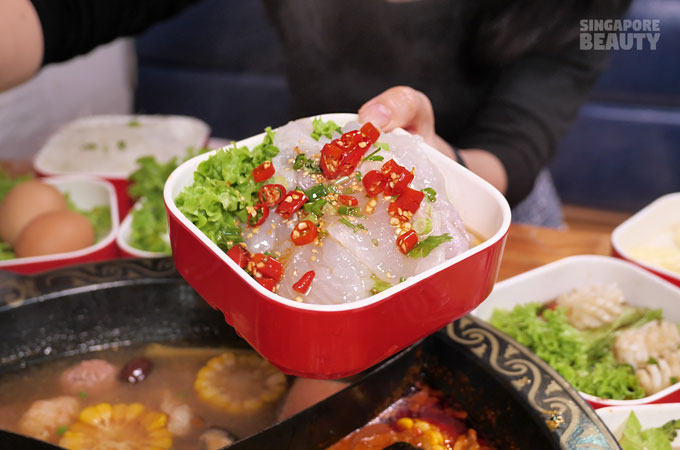 These chunks of soft dory fish are great for mala too.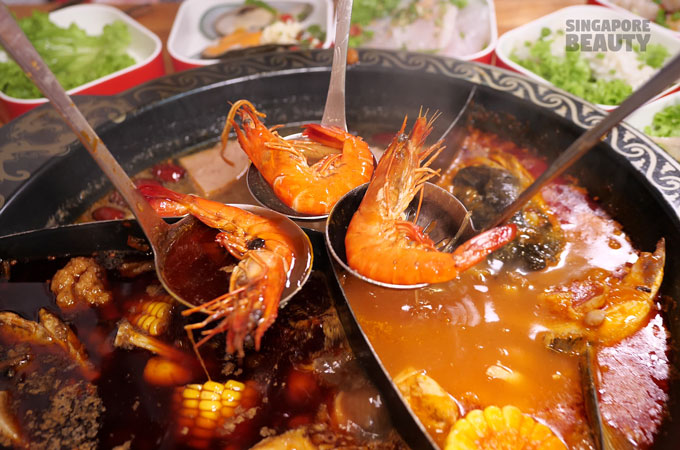 Sweet glass prawns in these 3 savoury soup bases.
Condiments are part of buffet, you can try their top 6 ways of mixing the perfect sauce as shown on.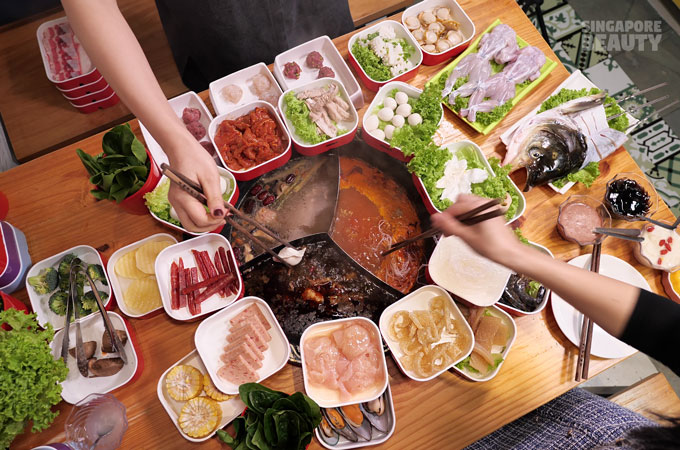 They have over 70 sides to choose from that is part of the buffet. Be spoilt for choice.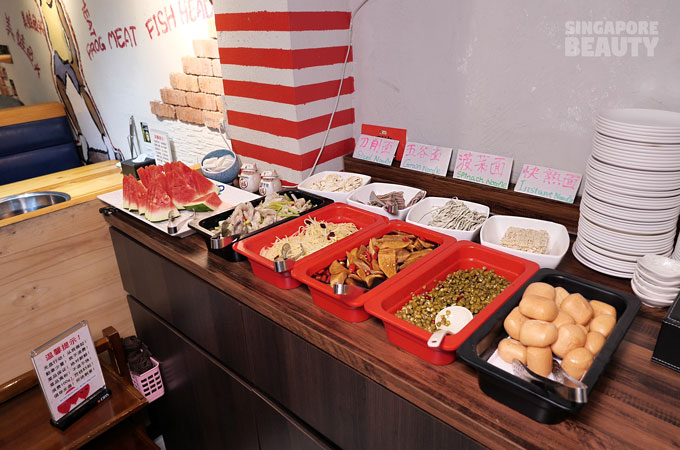 Appetisers inclusive of fruits are available too on a rotational basis.
Hotpot buffet with free flow brown sugar bubble milk tea – the best of both world – is waiting for you.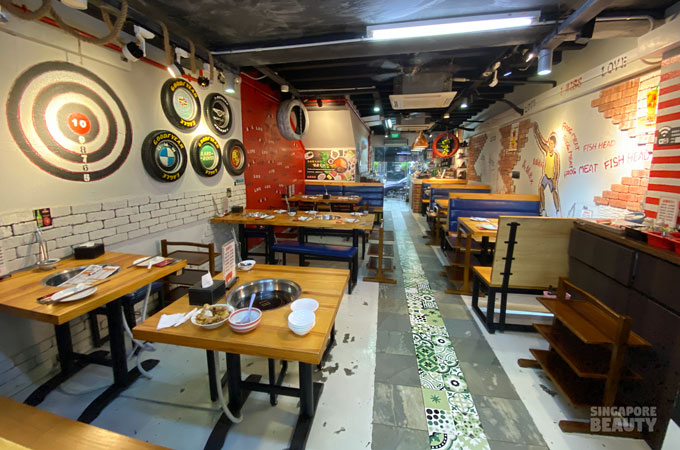 美蛙鱼头 Frog meat Fish head buffet restaurant is a 2 storey restaurant, intimate seating at level 1 and big group seatings at level 2 and also a private room for 8 to 10 people.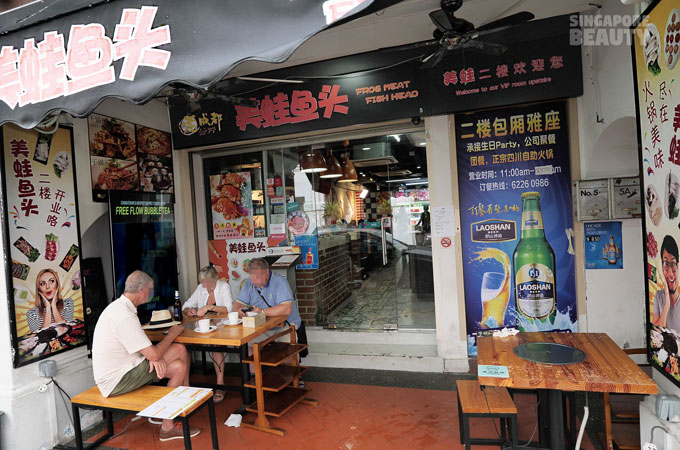 Head over to美蛙鱼头 Frog Meat Fish Head buffet restaurant today.
Special Weekday Promo
Monday to Friday includes eve but exclude PH (11am till 4pm)(last order at 3.30pm)
Hotpot Lunch buffet and free flow brown sugar bubble milk tea at $19.80++. Promotion end on the 23rd Jan 2020.
Basic Soup base starts from $8 for single, Mala soup base at $15, double $12, trio at $18.
Special soup base (includes 1 fish head and 2 frogs meat) starts from $18 for single soup, $20 for double, $25 for trio.
Promo Dine time: 120 mins or 2 hours
Adult buffet price (usual price):
Mon-Thurs: $23.80++
Fri-Sun, Eves & PH: $26.80++
Child(5 to 10 years old) buffet price:
Mon- Sunday, Eves & PH: $13.80++
Regular Dine time: 150 mins or 2.5 hours
Choice of 9 soup bases- mala spicy, Thai style tom yam, mushroom, pickled fish, herbal, pork bone, tomato pork ribs, chicken soup and frog meat fish head soup.
Operating Hours:
11am till midnight daily
Location:
5 Mosque Street, Singapore 059485
Reservations:
Call them at (+65) 62260986.
Brought to you by美蛙鱼头 Frog Meat Fish Head