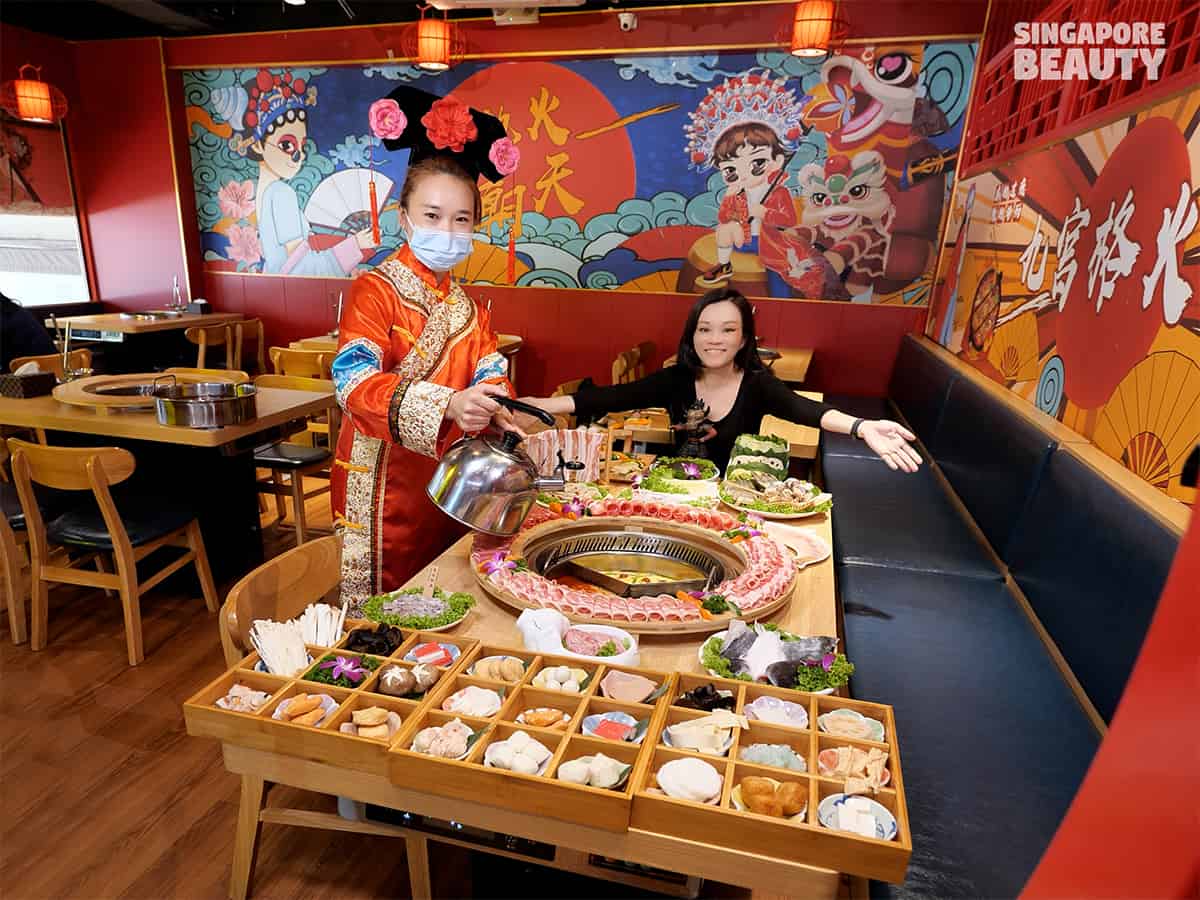 We are here at Jiu Gong Ge Hotpot to try their new menu additions at their new location at Bugis Cube unit 01-05. They have two options for their budget hotpot buffet, classic hotpot buffet A and premium option B with wagyu beef buffet. The soup options are more elaborate now with 9 choices and some special soup bases.  To heighten the experience, you can also get their frog meat fish head hotpot with choice of 1-3 soup base of your choice. The hotpot items have increased from previous 100 items to 120 items.
This is the new frog meat fish head mala single soup pot. You can also opt for their double or trio hotpot soup combo with frog meat and fish head in it. This frog meat fish head pot is price at $18 regardless of how many soup combo you choose. It comes with 1 frog and half a fish head. The fish head used are carp fish with super tender meat. If you are opting for the wagyu buffet hotpot B option, the fish head is free flow.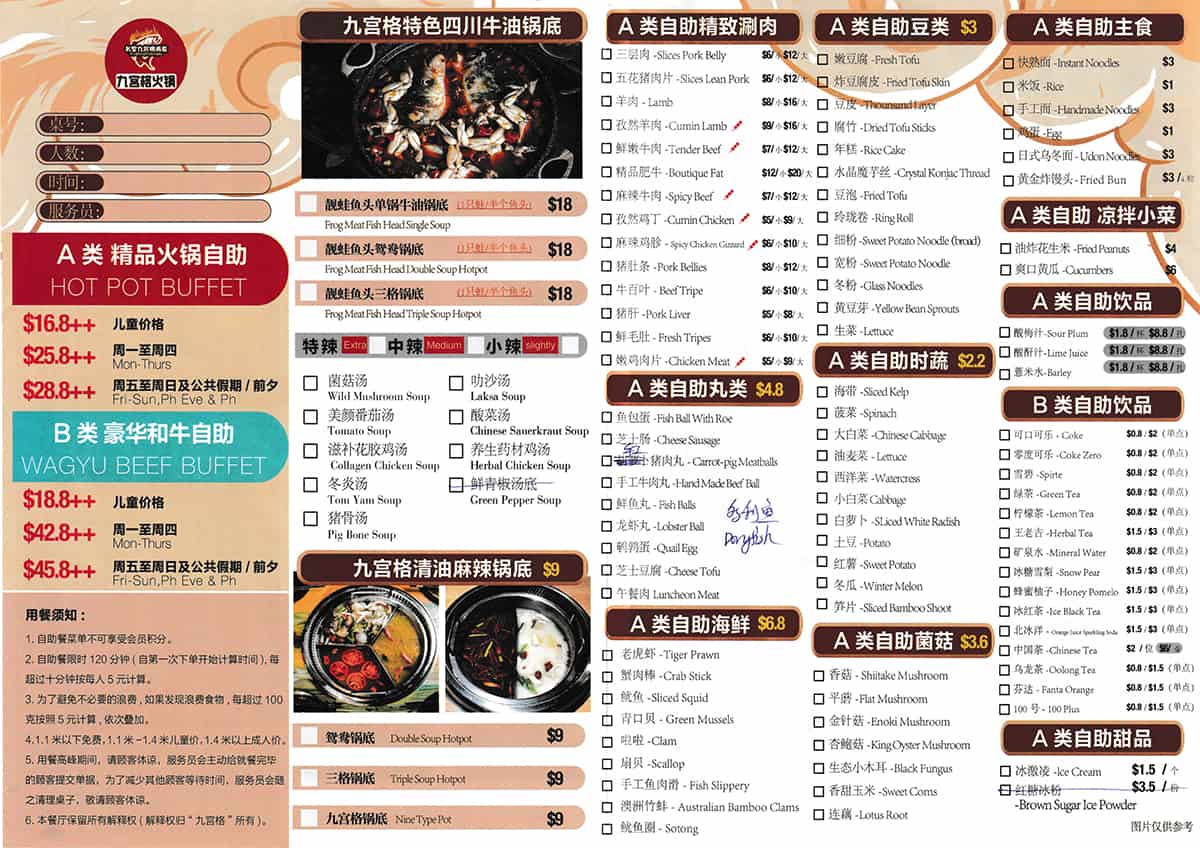 This is Jiu Gong Ge Hotpot menu for option A which is the classic option and more budget. The menu consists of smaller variety of items for hotpot compared to B. It consist of various types of shabu shabu meats, animal offals, marinated meats, handmade meat balls, seafood, greens, bean produce, carbs, root vegetables, fungi, appetizers, desserts and dispenser drinks.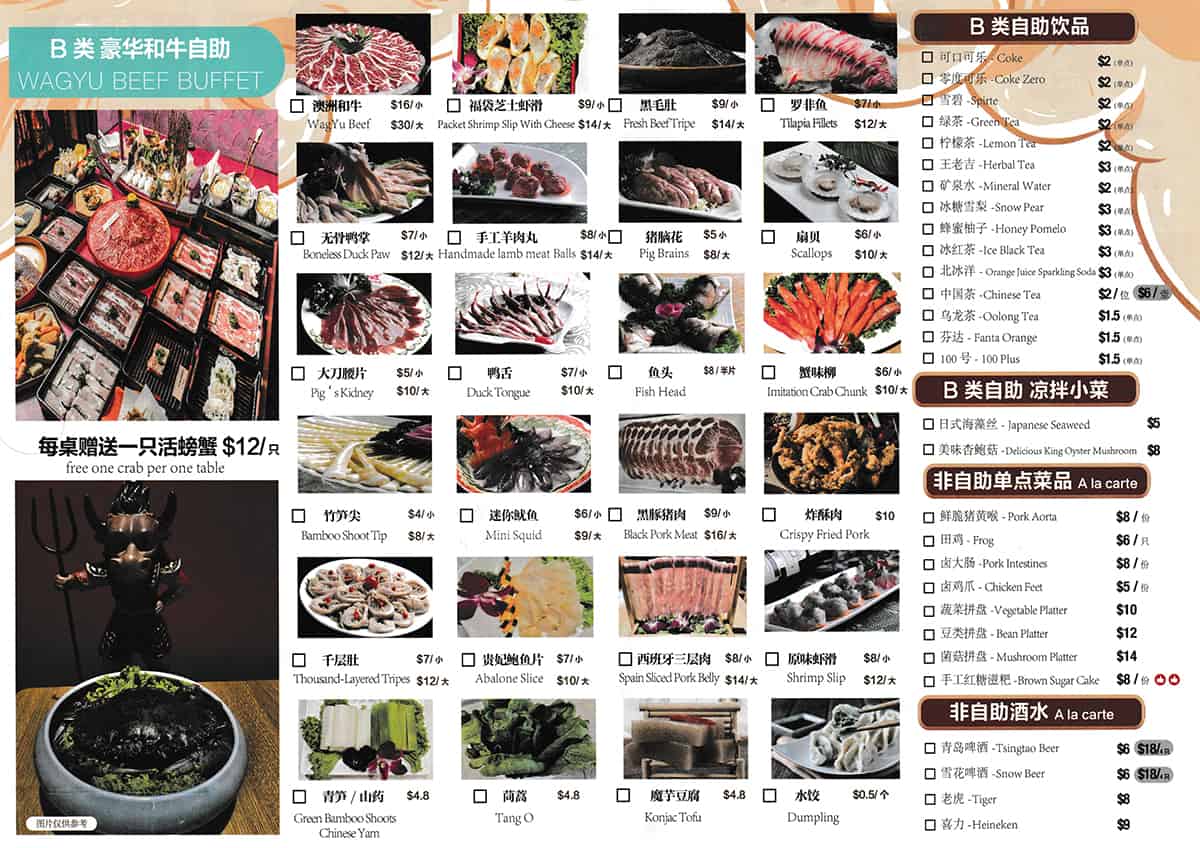 This is Jiu Gong Ge hotpot menu 2022 with 120 items to choose from for wagyu beef buffet hotpot option B. The price are for those having ala carte hotpot, so if you are having the wagyu beef buffet option B, you can choose any items under their buffet column from option A and B menu. For choosing option B option, there are greater variety of premium shabu shabu meats, free flow wagyu, Spanish pork belly, unique exotic animal offals, unlimited fish head, canned drinks, seafood, shrimp paste and more. There are some non buffet items such as beer and selected platters in the menu B.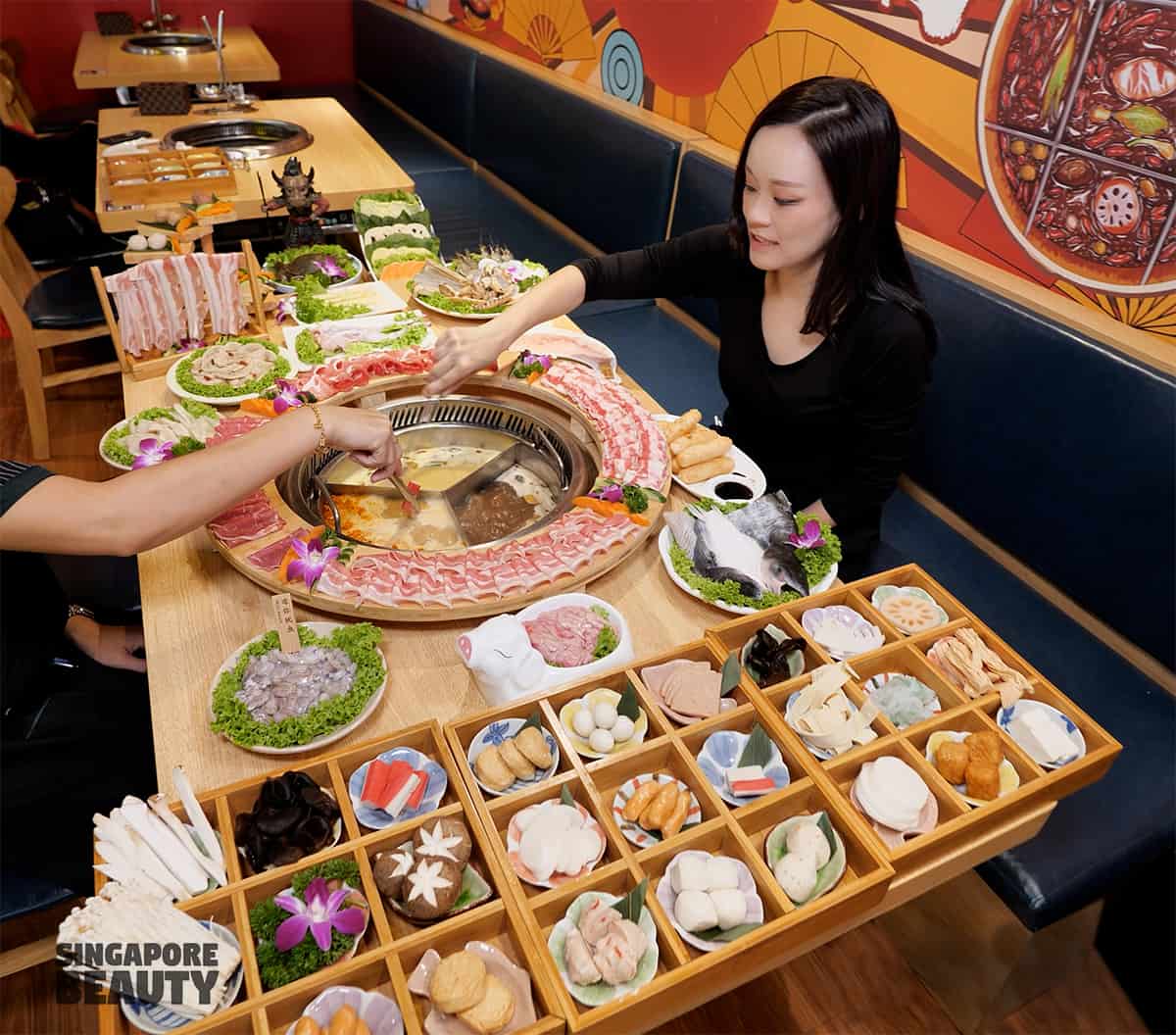 Here's our review of Jiu Gong Ge Hotpot buffet shabu shabu meats. There are a total of 13 type of meats to choose from for Buffet option B. There are pork, lamb, beef and chicken for hotpot. The varieties are sliced pork belly, sliced lean pork, lamb, cumin lamb, tender beef, boutique beef, spicy beef, cumin chicken, chicken meat, wagyu beef, black pork and Spanish sliced pork belly.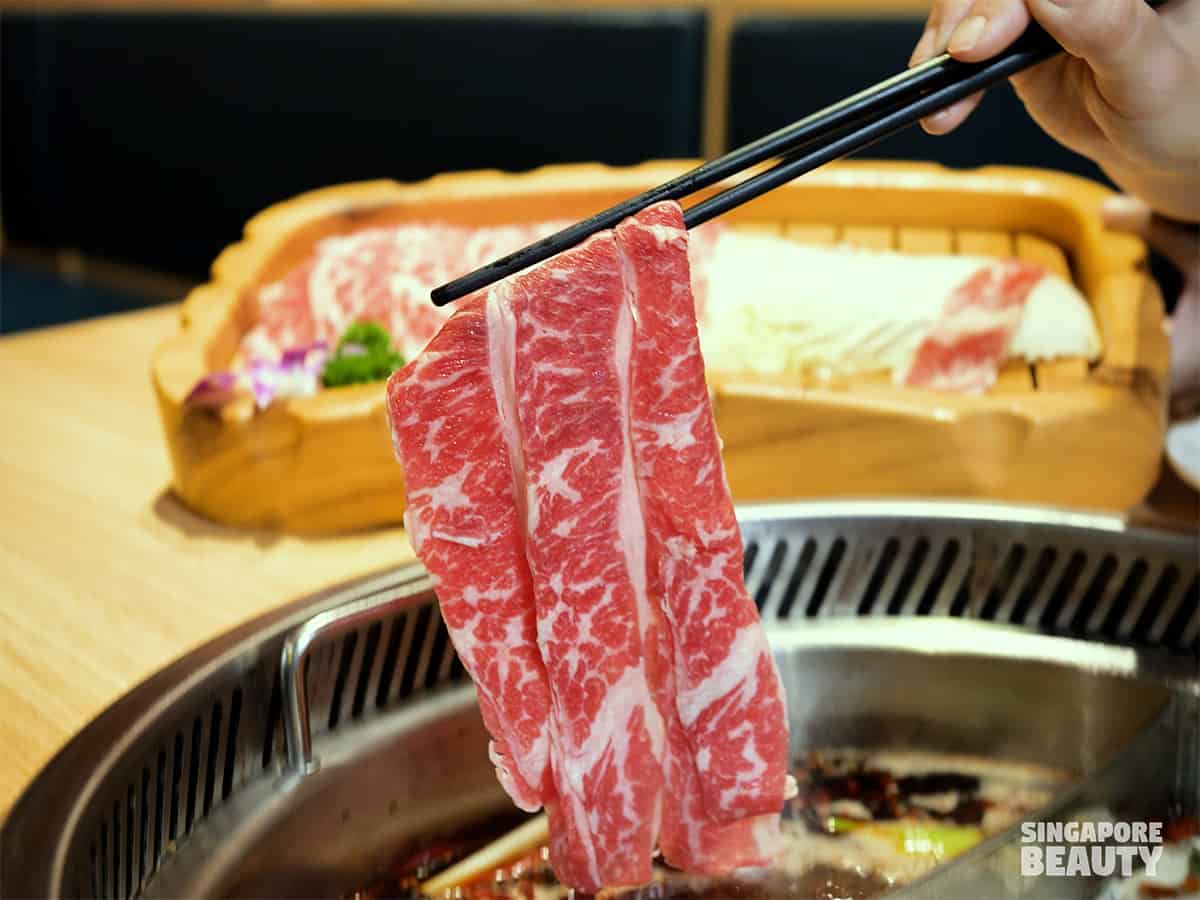 Our favourite is Jiu Gong Ge hotpot wagyu beef, black pork and lamb shabu shabu meats. We enjoy these as the proportion of fats versus lean meat ratio is on point. The texture is tender and a little springy concurrently. Check out the marbling on these free flow wagyu beef offered in this buffet. These are best enjoy on its own or with some DIY hotpot condiments that is included in the buffet at no extra charges!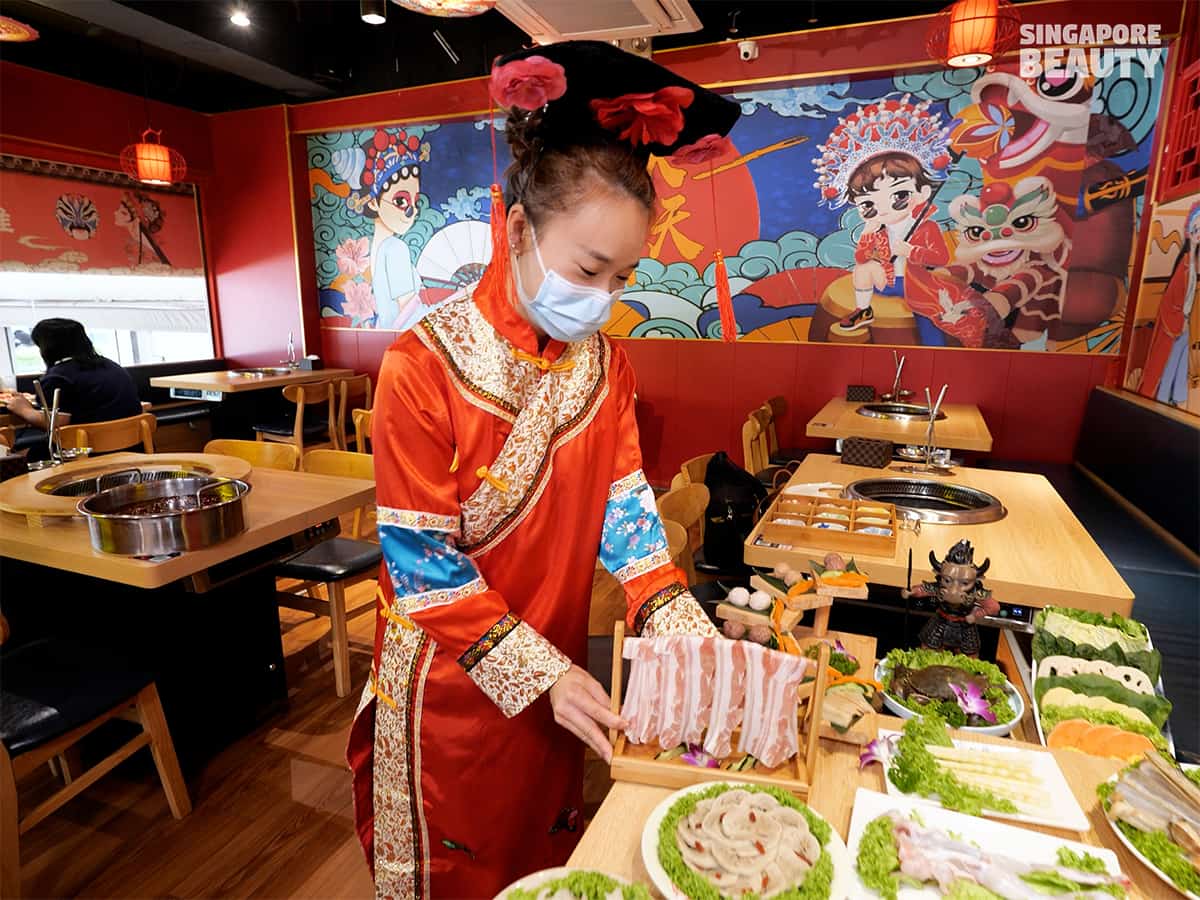 This is an ala carte buffet style hotpot restaurant which means food are served to you by the waitress. You can sit back and enjoy the hotpot buffet while getting your table service. Can drinks, condiments and ice cream are self service. The can drinks display fridge is at the 1st tier dining room and the ice cream fridge is at the 2nd tier dining room at a corner.
Redeem this huge meat ring for Wagyu buffet option B when you have 6 dine in paying adults to share amongst yourselves. Choose 4 meats of your choice to be enjoyed with this hotpot. This is a huge meat ring at Jiu Gong Ge Hotpot that feed at least 6 pax. This is meat galore at its best. Our top picks for meat ring are the black pork, Spanish pork belly, wagyu and lamb. This is a great foreground for photo taking during your hotpot session at Jiu Gong Ge Hotpot.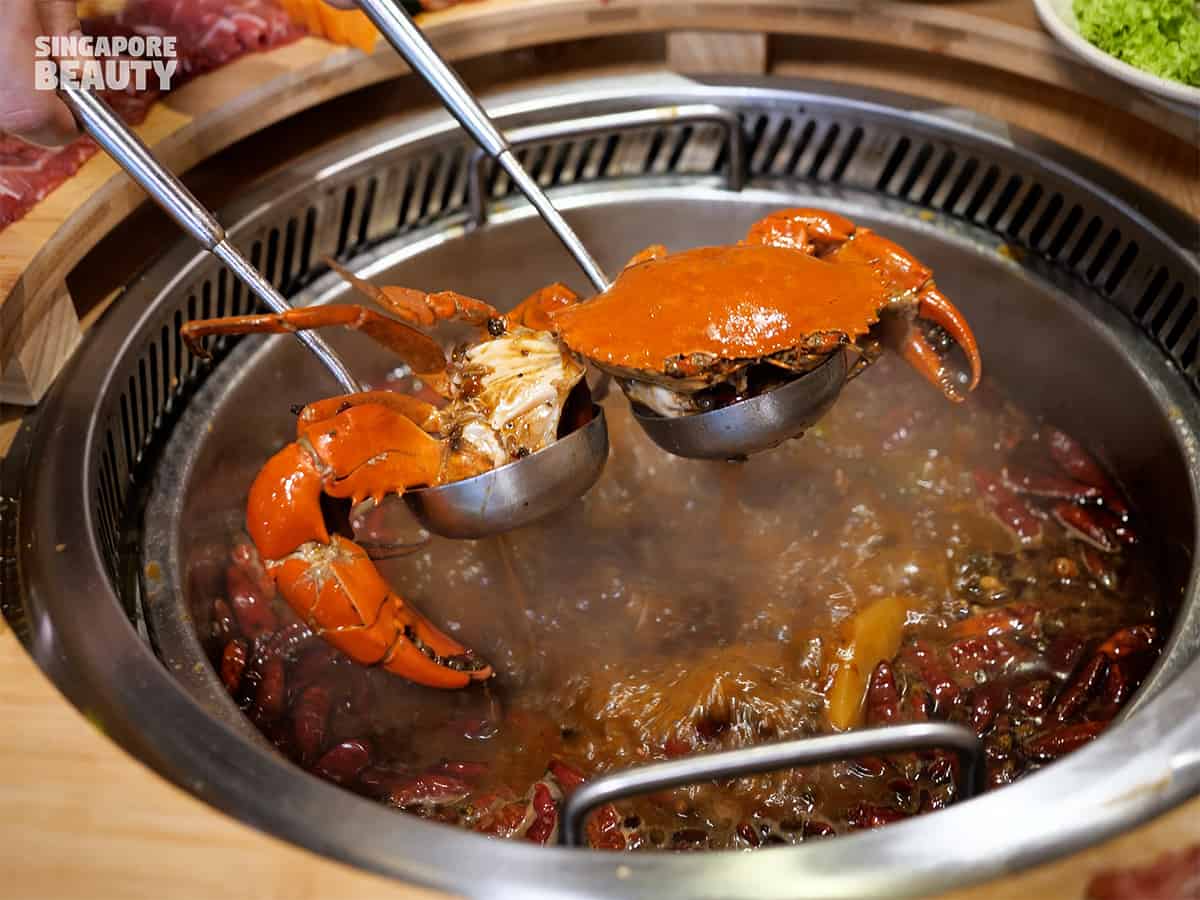 Redeem one live mud crab per table for wagyu buffet option B. The crab is dispatched for you and the claws are cracked for ease of consumption. The crab is best enjoyed on its own to enjoy the sweet succulent meat.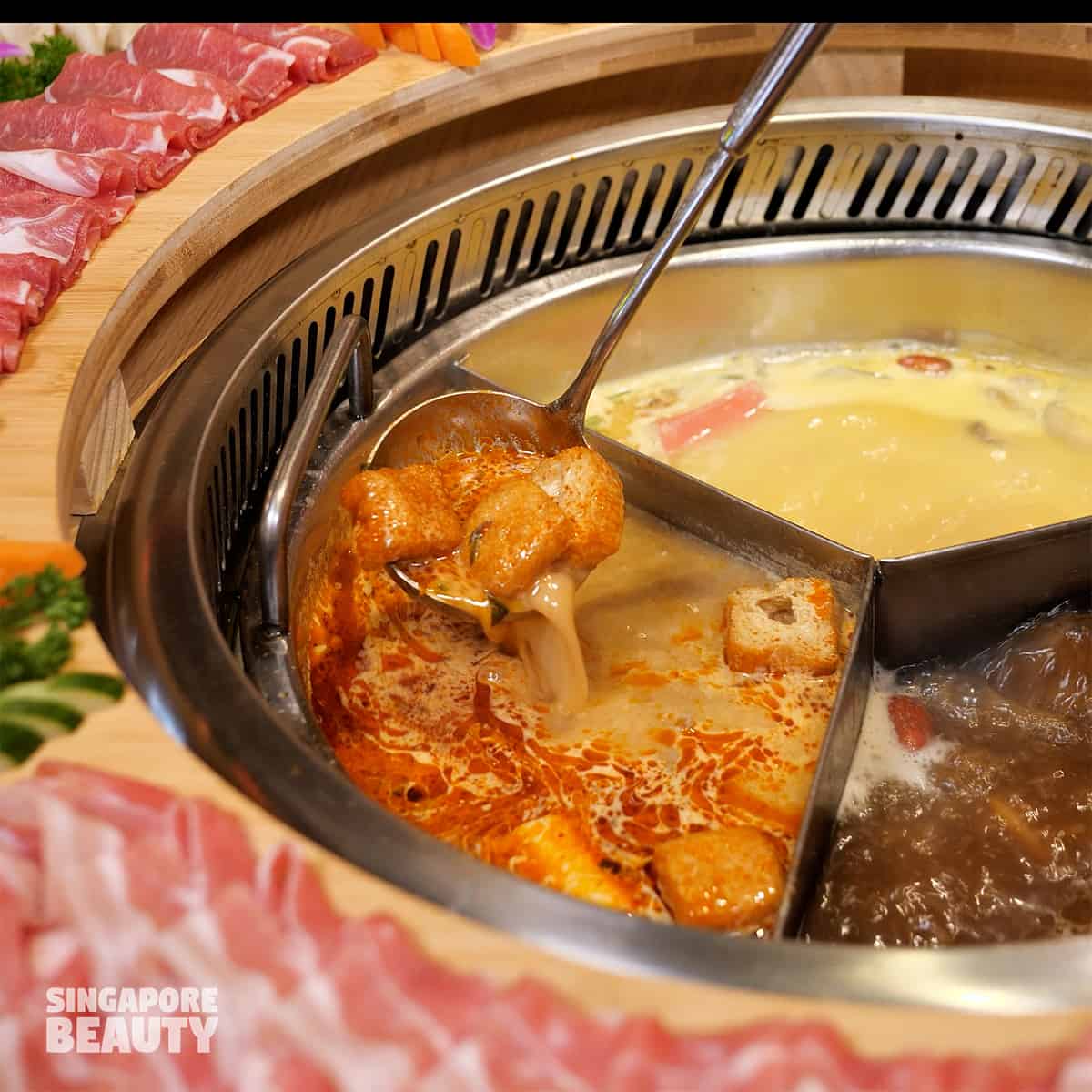 There are 9 types of soup to choose from the signature mala with frog meat fish head or without, wild mushroom, tomato, collagen chicken, tom yam, pig bone, laksa, Chinese Sauerkraut soup and Herbal chicken soup. Our top picks are their signature mala soup, chicken collagen soup and Laksa soup hotpot. That being said, the rest of the soup flavours are good too, it just boils down to personal preferences. No pun intended.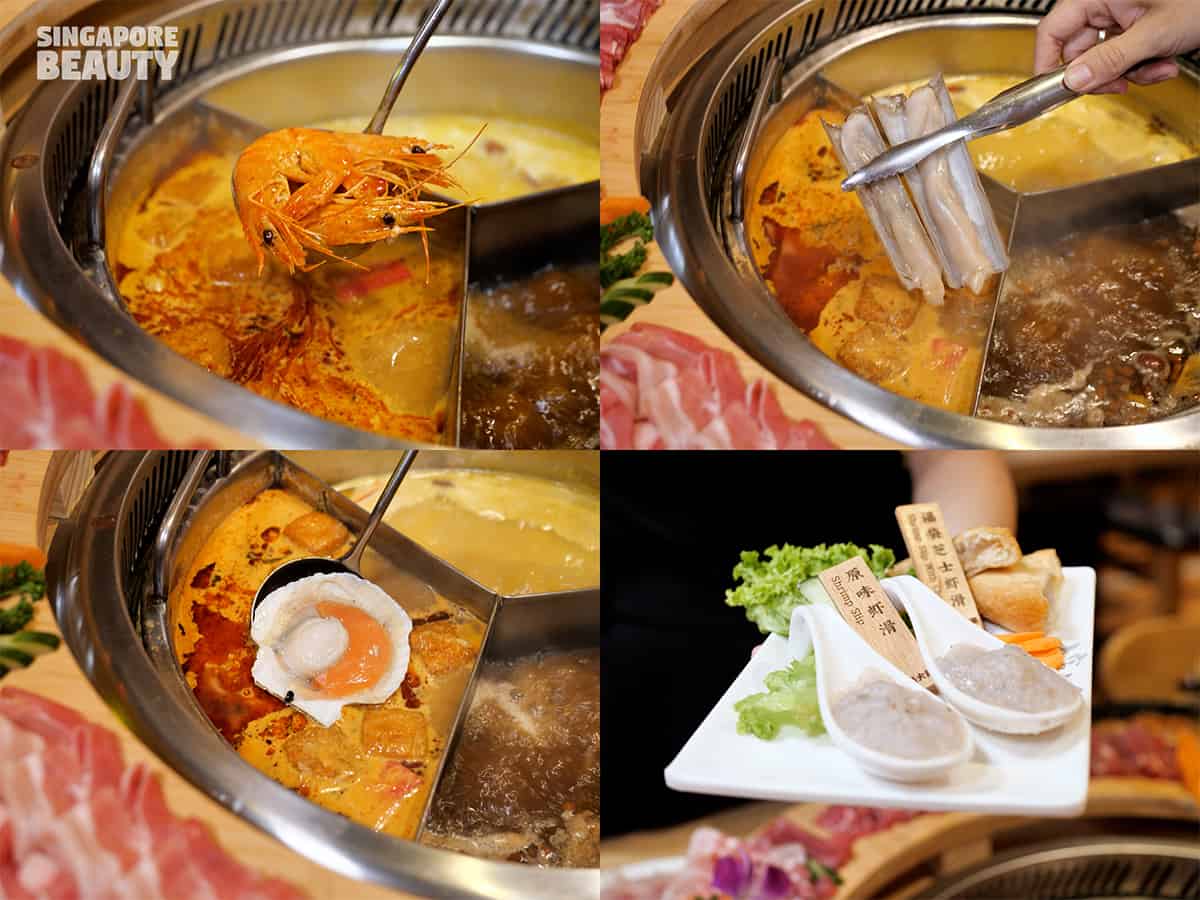 The laksa soup is the new popular soup base in Jiu Gong Ge hotpot. This laksa soup is thick and has strong notes of shrimp and coconut flavours. To best enjoy the laksa soup, the best combo are some tiger prawns, half shell scallops, shrimp paste, bamboo clams, quail eggs, fried tofu, fish ball with roe, all the handmade beef balls, fish balls, pork balls, ring roll and so much more. Noodle shall go in last to soak up all the goodness infused in the laksa steamboat broth from the seafood, meats and surimi. Laksa hotpot buffet is legit enjoyable for laksa lovers.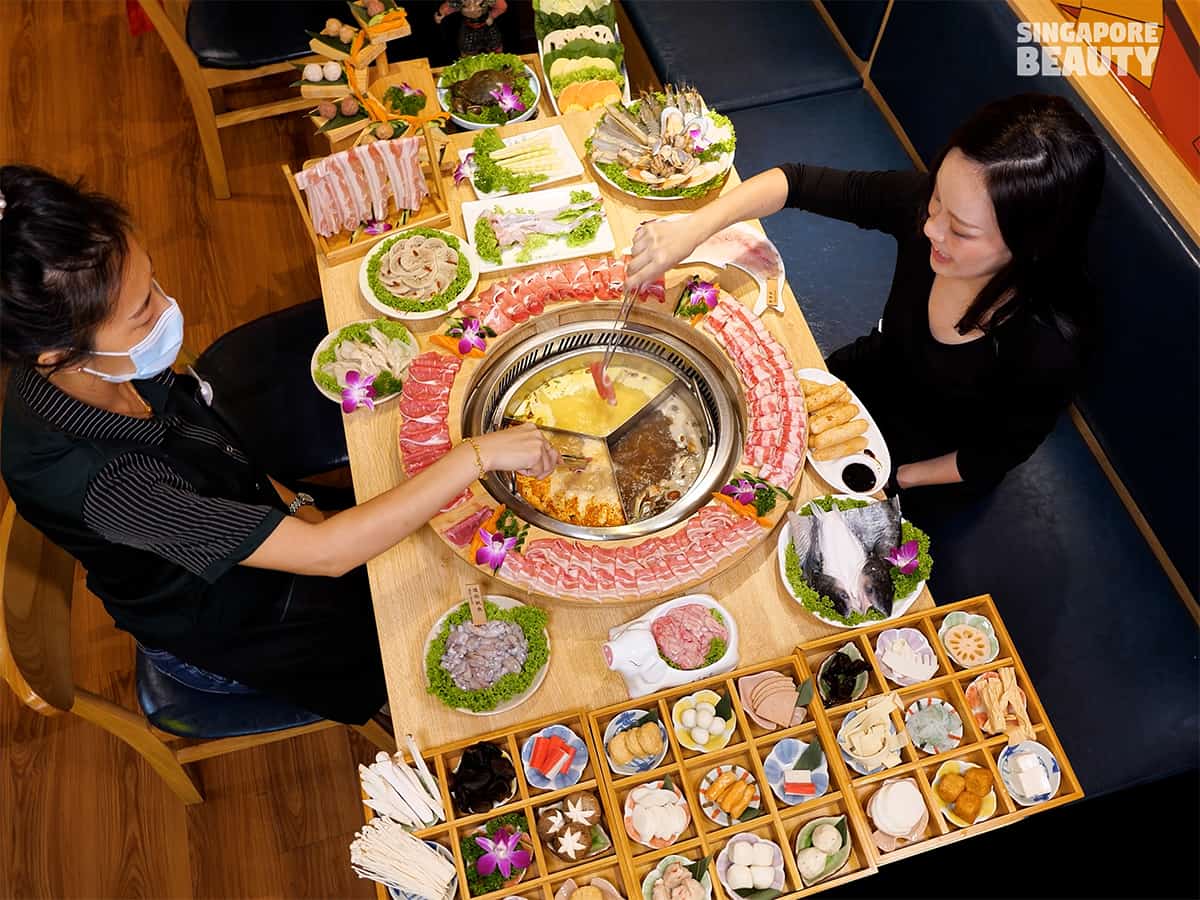 Here's Jiu Gong Ge Hotpot review for their wagyu buffet spread. These are some of the food items in their 120 items food menu that we have selected. From Top to bottom food item pictured above are the handmade meat balls spiral platter, oriental mascot Niu Mo Wang with live mud crab, vegetable and root bowl, Spanish pork belly stand, young bamboo shoots, mixed seafood bowl, beef tripes, frog meat, tilapia fish fillet, duck web, huge mixed meat ring, baby sotong squid, pork brain, fish head and their signature Jiu Gong Ge surimi box. For the buffet price that is charged, the spread of food is considered generous and value for money.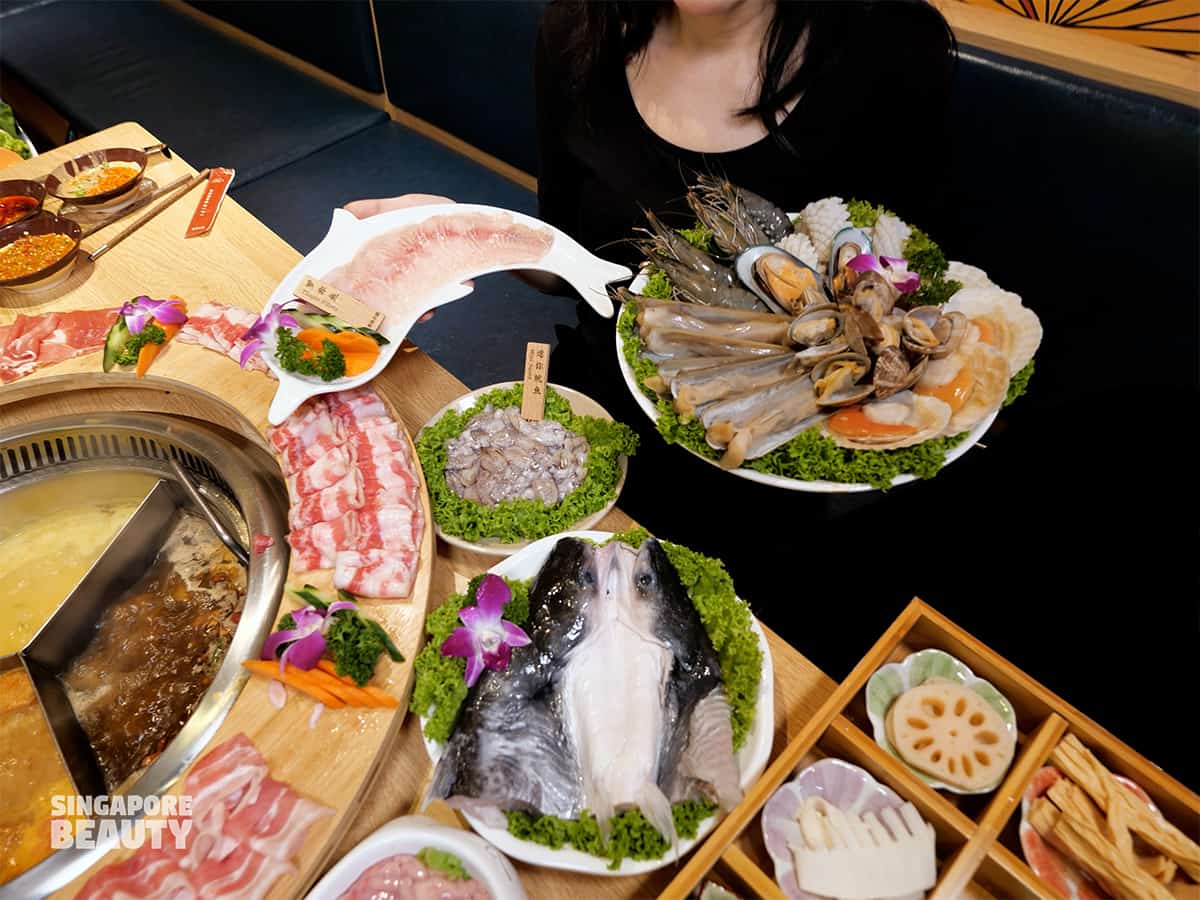 There are so much variety and you need to have lots of stomach space to enjoy every item on the menu. The items are unique and some are rare in a buffet setting such as the pork brain, duck web, mock abalone, and mini sotong squid. You also get prawn paste, fish paste, fish head, handmade meat balls, large seafood such as half shell scallops, bamboo clams, bamboo shoots, wagyu and black pork. Pictured above are some of the seafood available in this wagyu buffet, you are welcomed to enjoy these all you can eat seafood buffet to the max.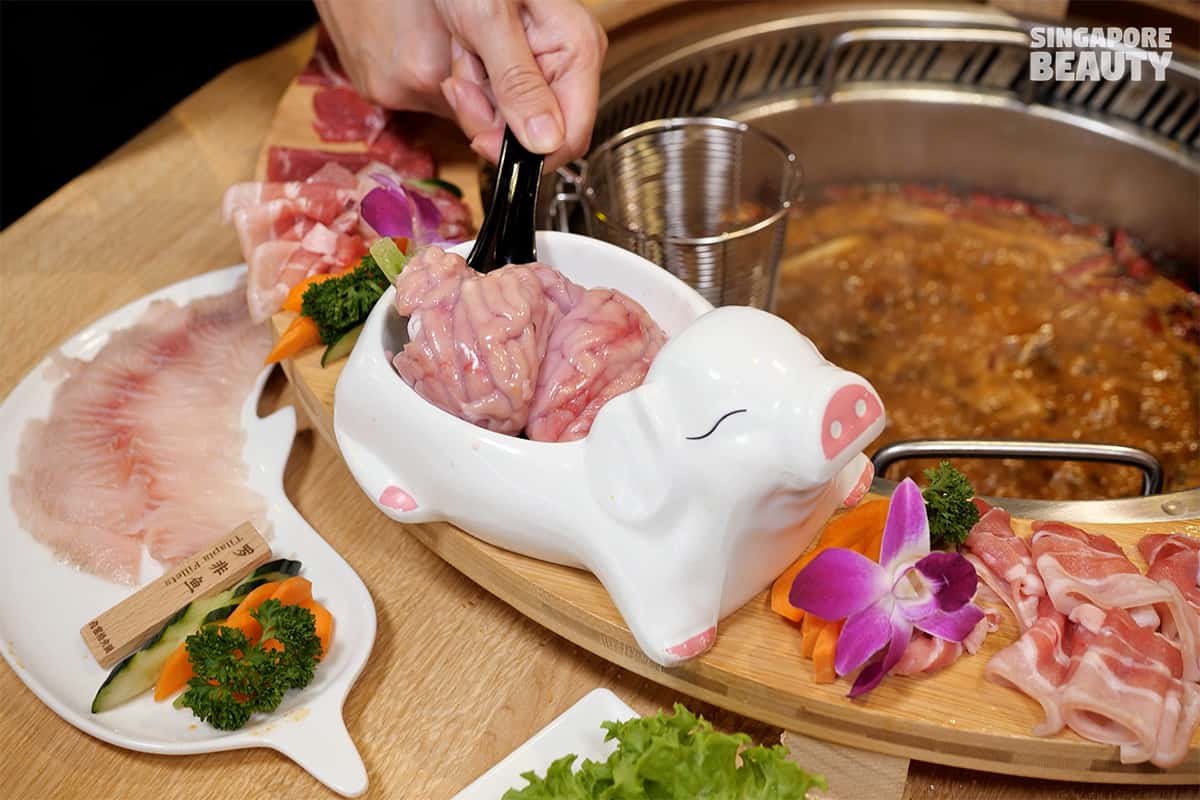 Animal offals and mala lovers will be very pleased with their selection of hotpot ingredients here. The animal offals might not look the best in terms of visual but their texture combined with the spicy and savoury mala is perfect combo. If you can stomach animal offals, you can try the pork brains, duck tongue, pork kidney, beef tripe (white or black), pork stomach, thousand layer beef tripe, duck web and more. The texture of these compliments well with the mala, some are soft and creamy, some are crunchy and springy, and some are buttery. Try this and let us know if you are an animal offals convert after this.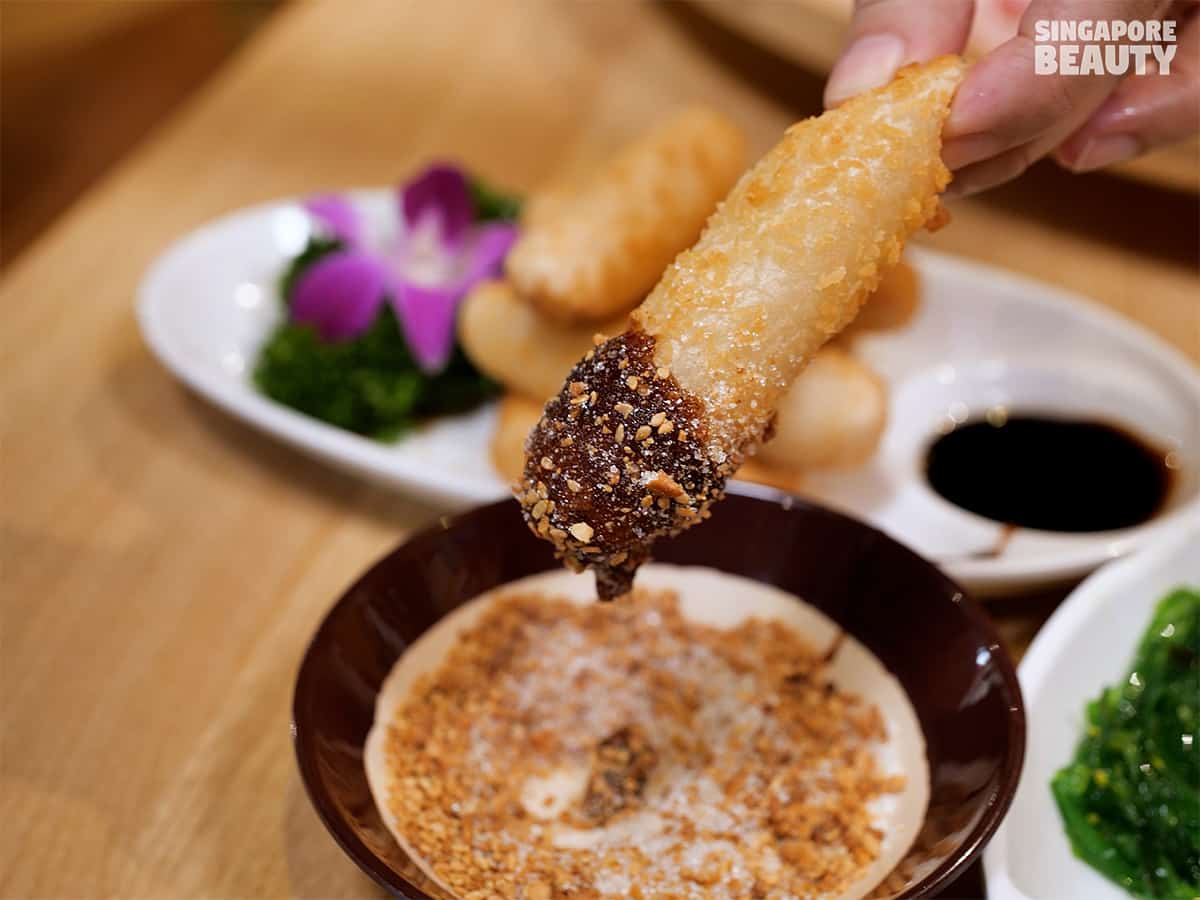 They have many appetizers aka small bites to choose from for wagyu buffet that is included. The appetizers are milk mantou buns, fried peanuts, cucumber, Japanese seaweed, delicious king mushroom salad and fried meat. These are great palate cleanser before and in between meals with Vinaigrette Dressing base fungi and sweet dips. The one sweet snack pictured above is the Brown Sugar Cake ($8 per set), although it is not part of the buffet, it deserves its air time in here as it is so good. It has a mochi like texture that is encased in a light crust. Dip it in their brown sugar dip and add on a sugar peanut for the perfect crunch. Eat this as soon as it is served to enjoy the warm stretchy texture. Try this!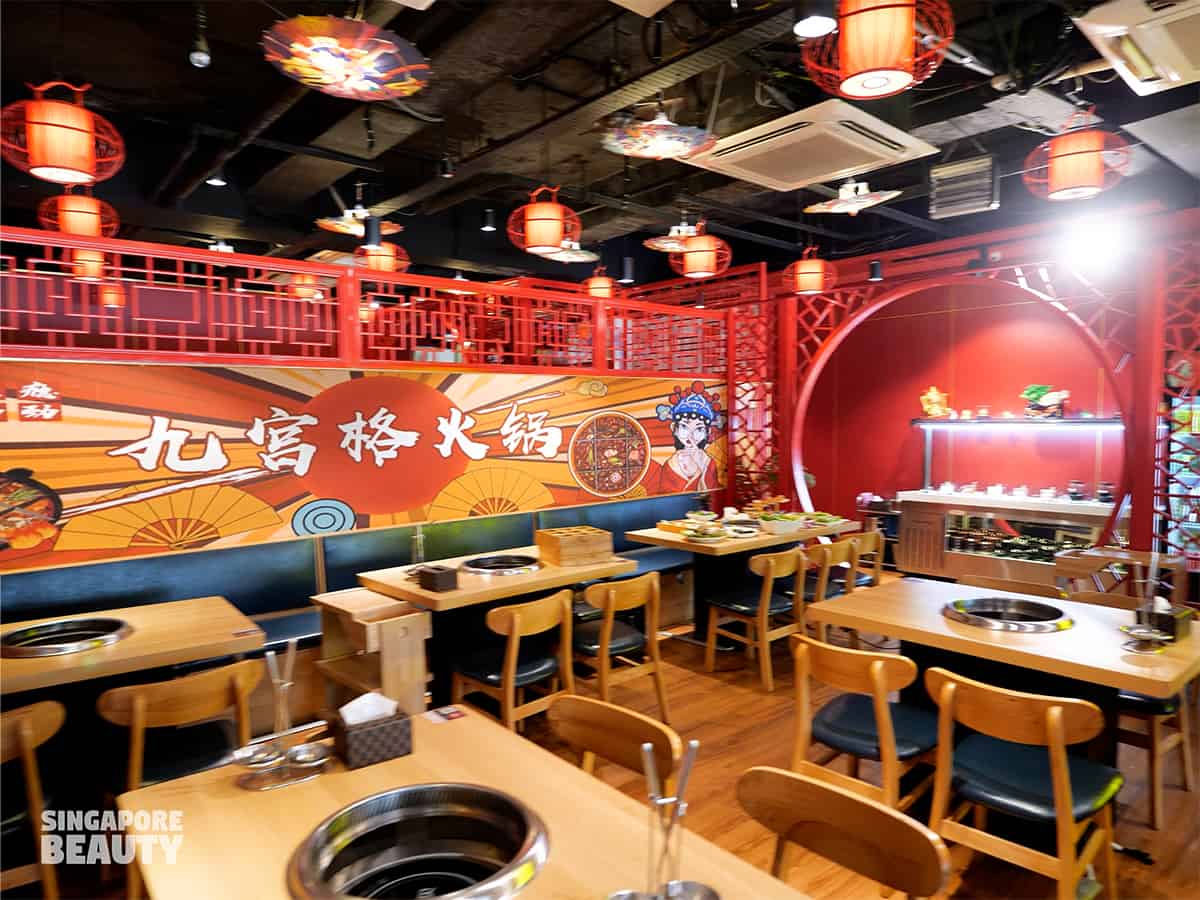 With its newly renovated oriental interiors, the hotpot experience is one you would like to experience with many photo worthy spots and instagrammable hotpot food items.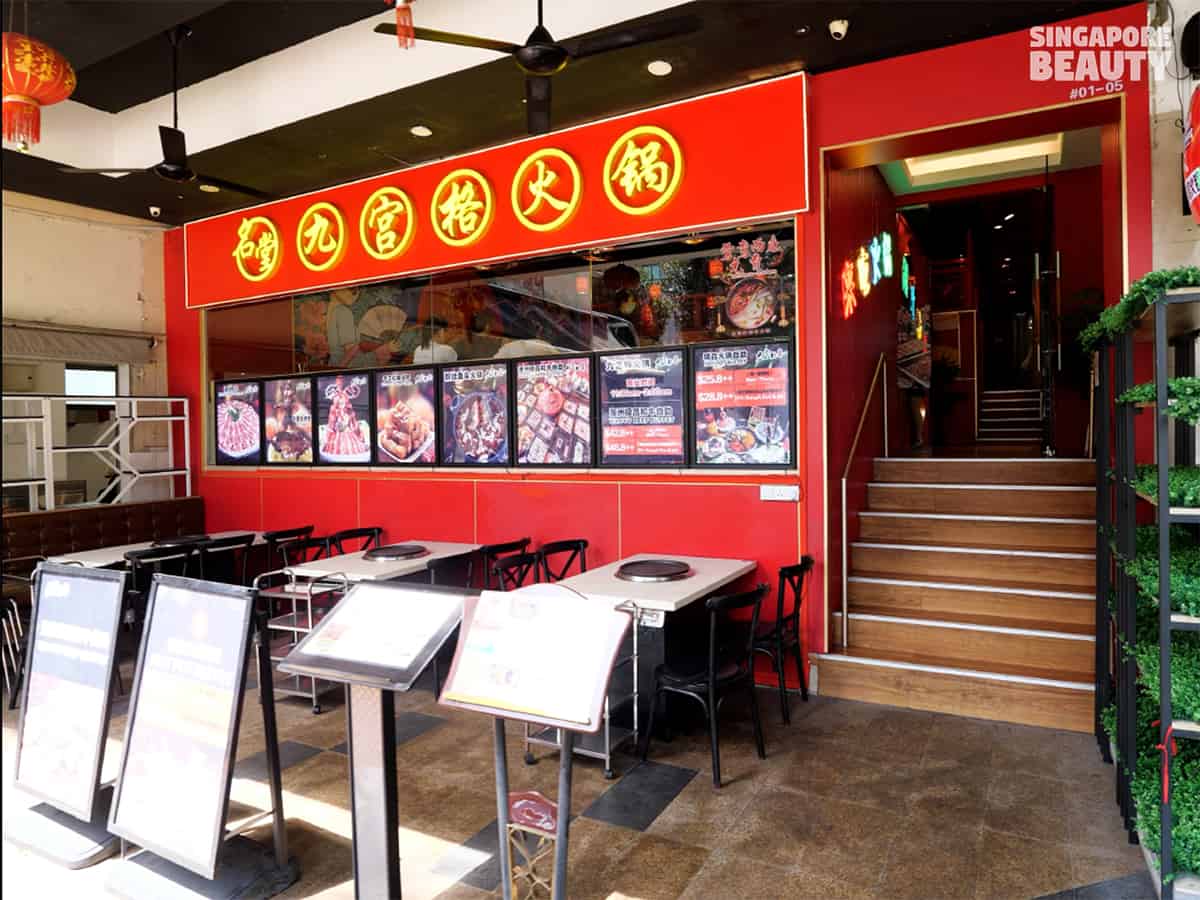 Jiu Gong Ge hotpot buffet is located at Bugis Cube, North Bridge Road opposite Bugis Junction. This is the place for some over the top hotpot ingredients and soup bases. With 120 items hotpot ingredients, you will be so spoilt for choice. Walk in is available and reservation is also recommended during peak hours to secure a place as this is a popular choice for hotpot in Bugis for hotpot lovers.
Address of Jiu Gong Ge Hotpot (名堂九宫格火锅) :
Bugis Cube, 470 North Bridge Road,
#01-05, Singapore 188735
Adult Price for Classic Hotpot Buffet option A
Mon-Thurs $25.80++
Fri-Sun, Eve and PH-$28.80++
Children (1.1-1.4 metre tall) price $16.80++
Dispenser drinks and ice cream included buffet A.
Adult Price for Premium Hotpot Wagyu Beef Buffet option B
Mon-Thurs $42.80++
Fri-Sun, Eve and PH -$45.80++
Children price $18.80++
Dine in time 120 minutes
Dispenser drinks, can drinks and ice cream included buffet B.
Soup Add on for both buffet A and B:
Choice of Soup with ingredients or Classic soup :
$18 for single, double or trio soup base with ingredients( half fish head & 1 frog)
$9 for double, triple or JGG- nine type classic soup.
For reservation, call :6338 3405/ 8399 9127
Brought to you by Ming Tang Jiu Gong Ge Hotpot (名堂九宫格火锅)