Celebrate Singapore 57th National Day with this grilled fish feast promotion at ChongQing Premium Grilled Fish at just $57 nett with free islandwide delivery till end of August 2022 available only for their Jurong Outlet. They are also popular for their signature Premium seafood platter that has a grilled fish and various seafood in it. This is one of their heartland outlet serving authentic Sichuan style charcoal grilled fish.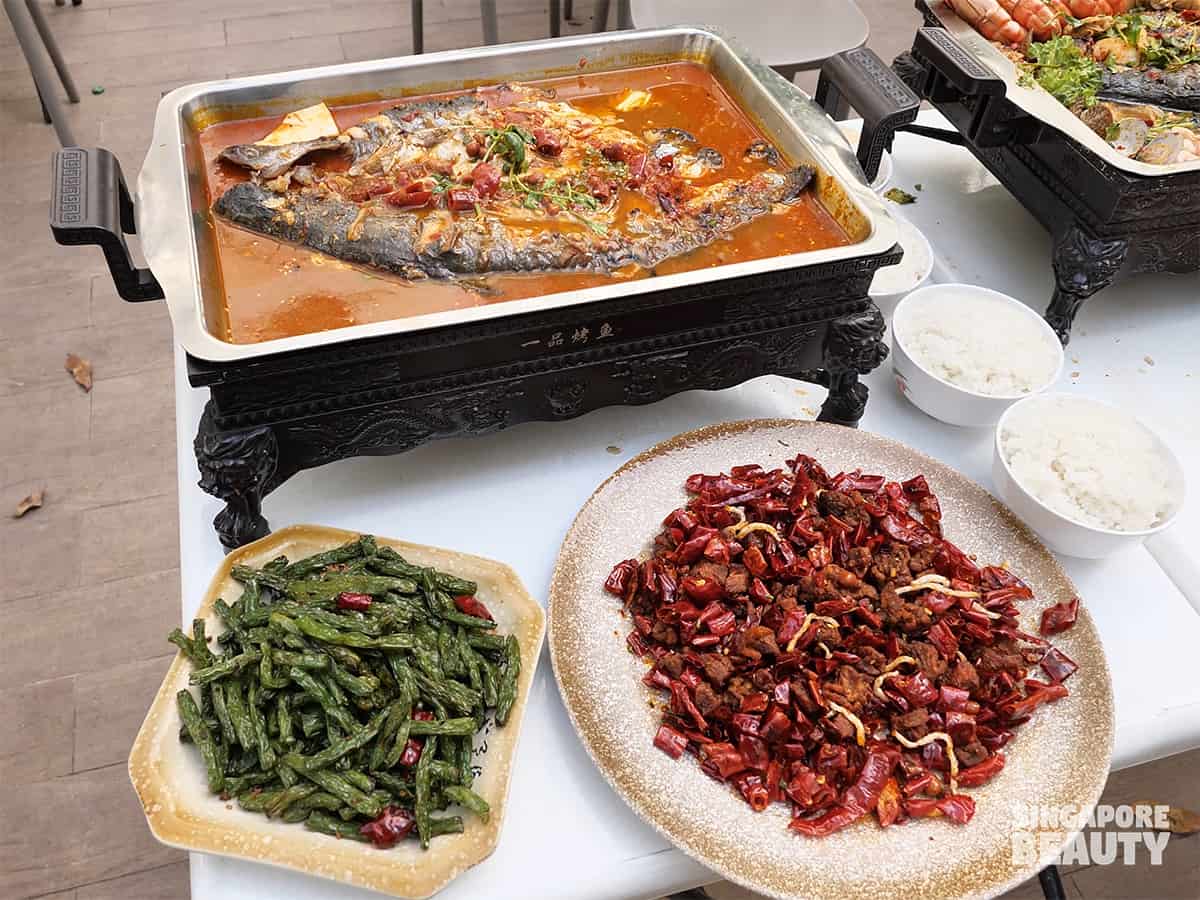 ChongQing Premium grilled fish $57 national day set promotion is a grilled fish set that consist of 1 whole grilled fish, 4 bowl of fluffy pearl steamed rice and 2 wok dishes. They have 2 choices for the $57 nett grilled fish set – either the spicy set or the non spicy set. This set shown above is their spicy set which consists of a whole grilled fish, stir fried French beans, ChongQing spicy chicken and 4 serving of rice. This promotion set is only available at the 429 Jurong Outlet for both dine in or self collect or islandwide free delivery on their platform.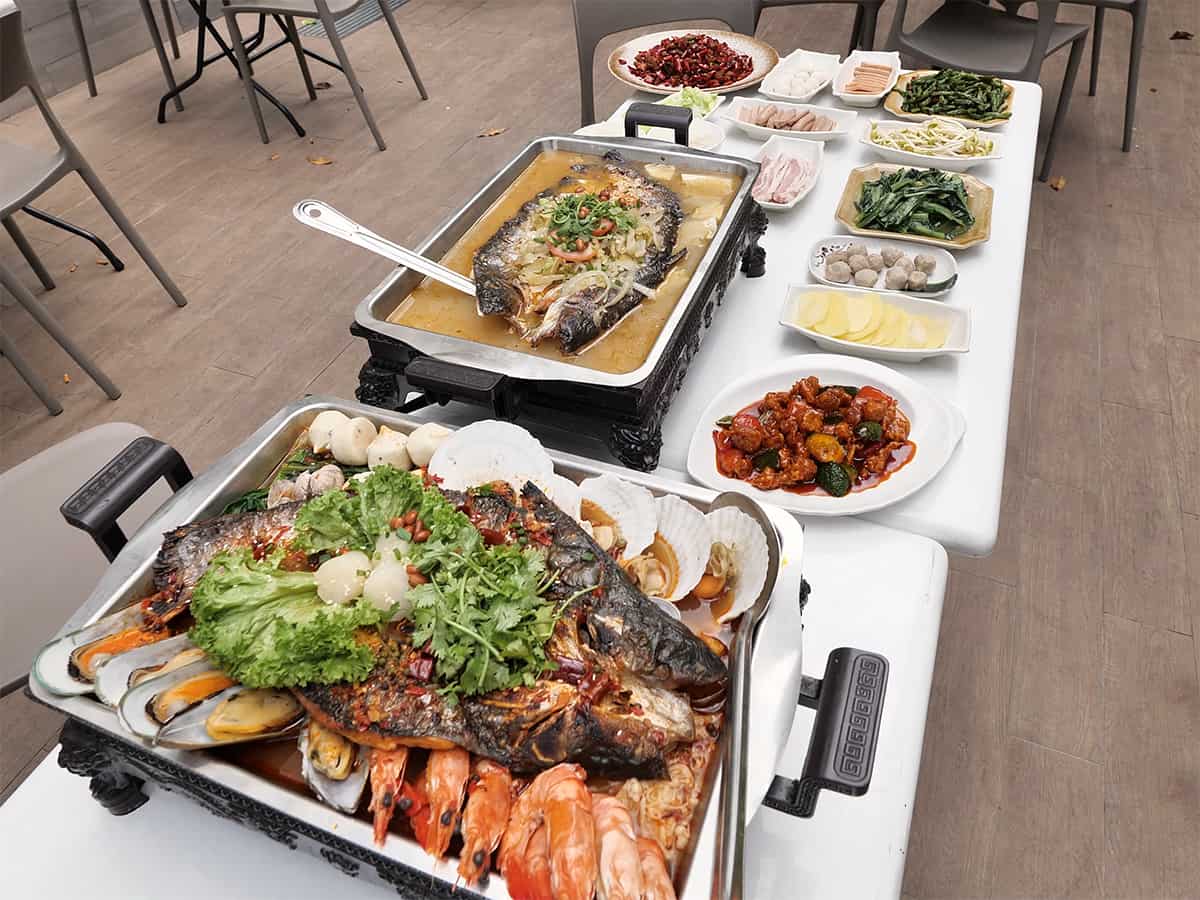 There is free islandwide delivery with any $57 spend on either this $57 national day set or any combined dishes on- Chongqing.mymenu.com.sg online ordering platform. Besides grilled fish, they also have a variety of zi char dishes, spicy numbing hotpot dishes, starters, premium dishes and hot dishes. All these promotions are available from now till end of August 2022. This promotion is only available for the 429 Jurong Outlet.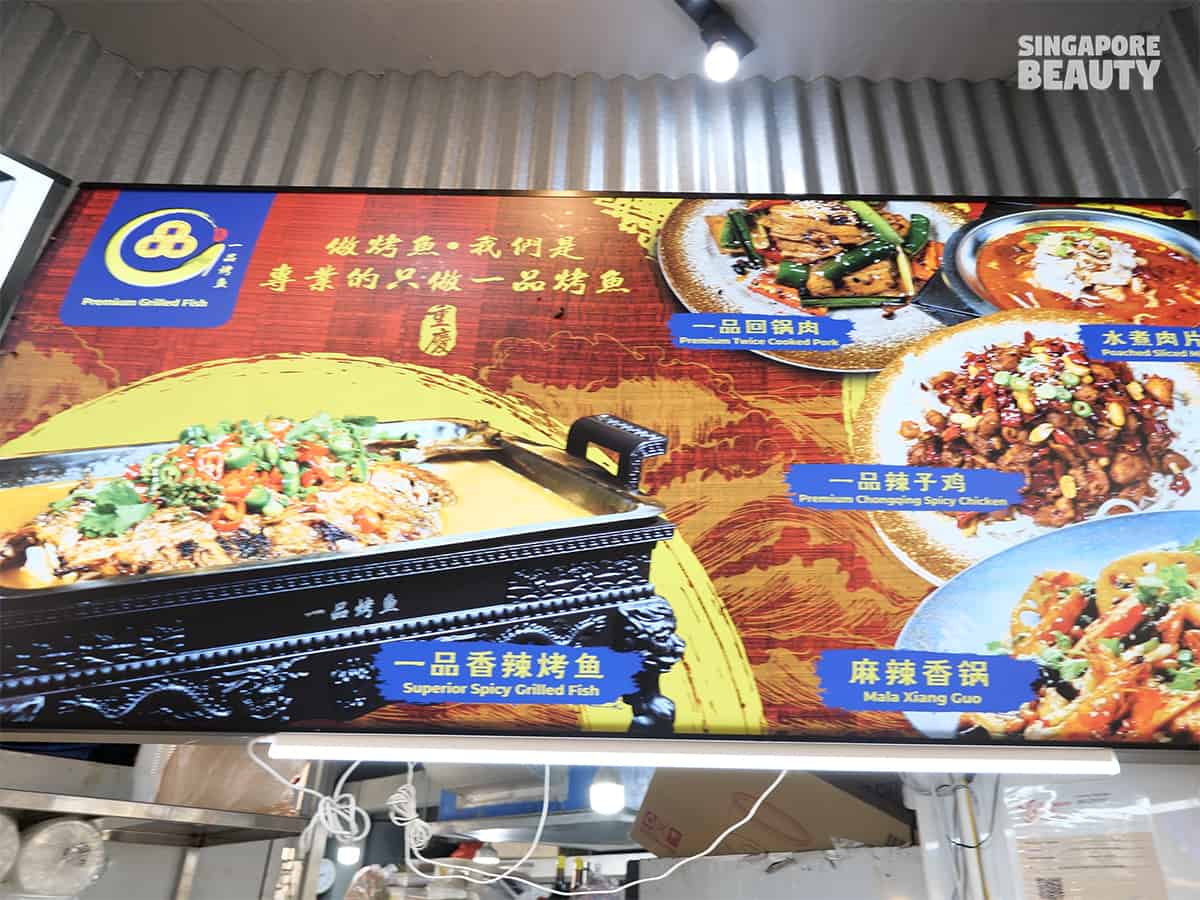 These are ChongQing Premium Grilled Fish signature dishes as shown on their shop front menu signboard. They are Superior Spicy grilled fish price from $28.80, premium twice cooked pork $16.80, poached sliced pork $18.80, premium ChongQing spicy chicken $18.80 and mala xiang guo from $9.50 onwards. You can order any of these dishes till a minimum of $57 total spend for islandwide free delivery.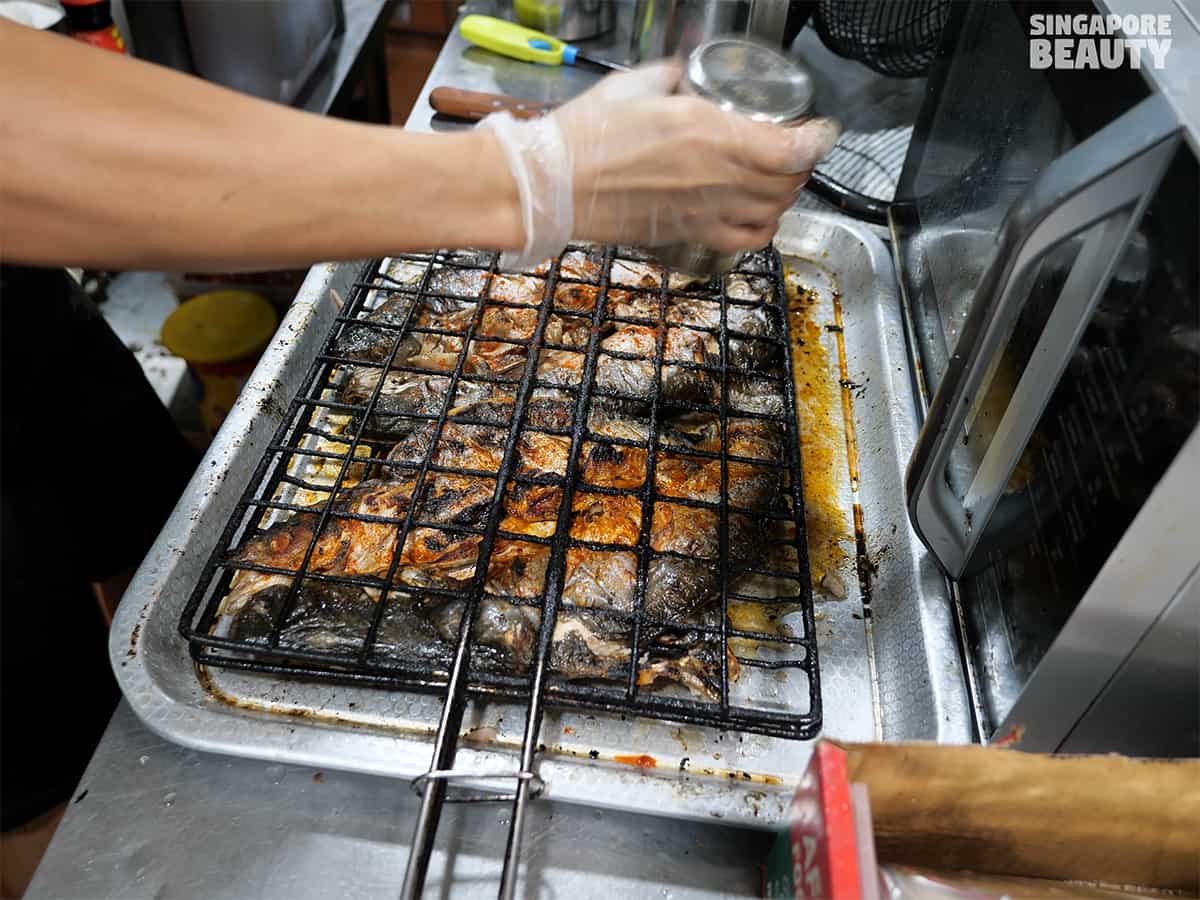 Two type of fishes are available at this Jurong branch – Seabass and Patin fish. For those who love firmer meat and more delicate meat texture, you can go for the seabass. If you prefer a fatty and meaty bite, go for the Patin fish. These two fishes are available in medium and large size. The fish as shown is the large size Patin fish.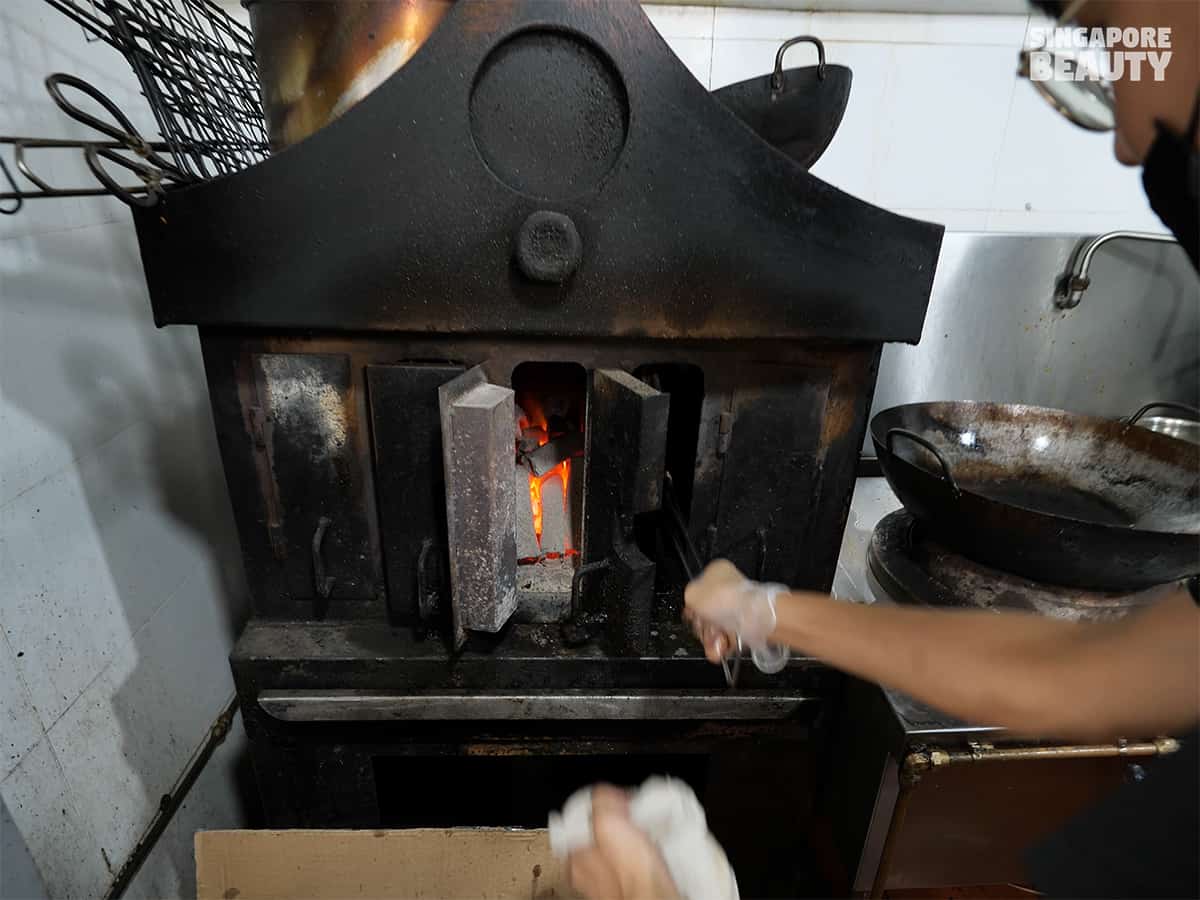 Here's a privileged view inside their kitchen on how to grill Chongqing Premium Grilled Fish. The grilled flavour of a real Sichuan style grilled fish relies greatly on the medium used to cook the fish. Using charcoal yields the great tasting flavour of a smoky fish but takes a longer time. They are able to grill up to 10 fishes at one go in their old school charcoal stove.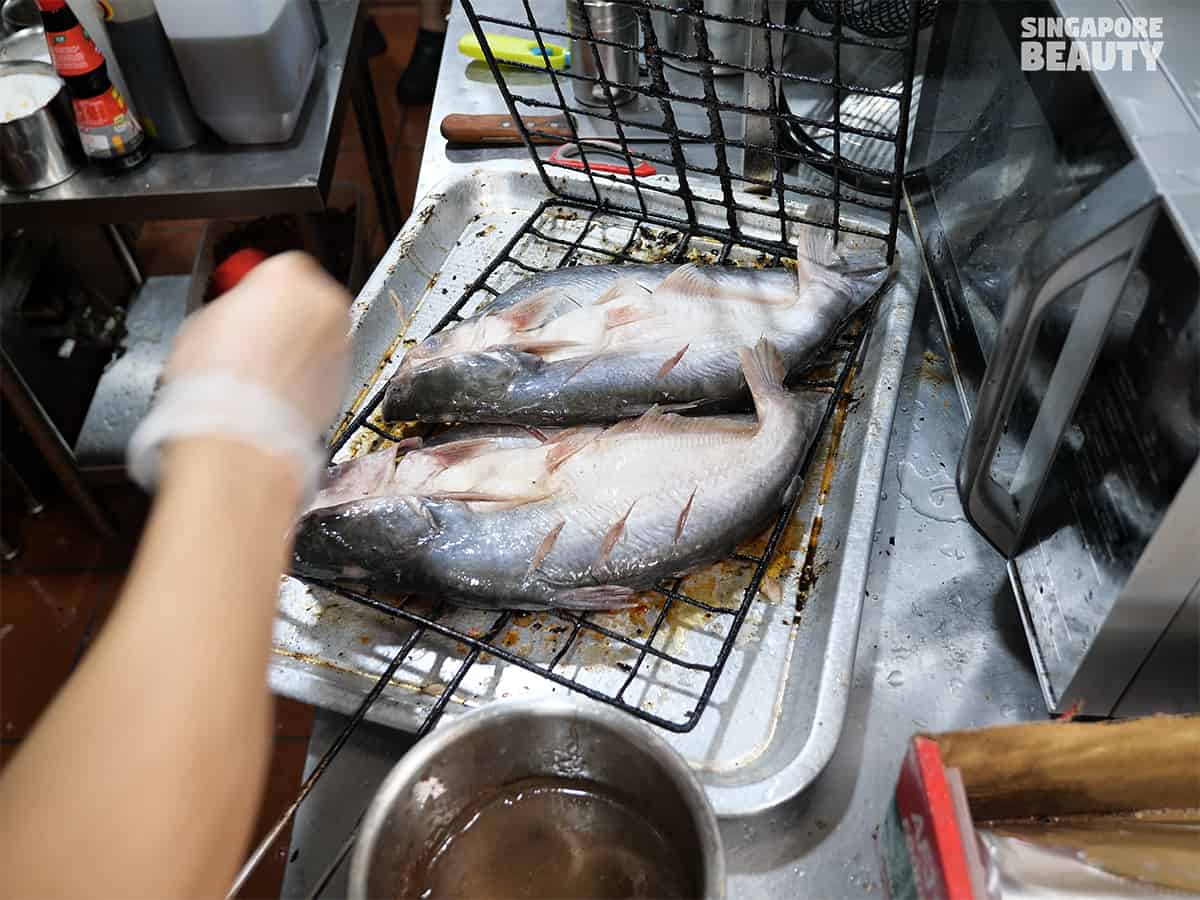 These fish are freshly made for each order and prepared on the spot by glazing them with special Sichuan style grounded mixed seasoning, oil and spices before popping them into the charcoal stove. They are butterflied so that the seasonings get infused into every nook and corner of the fish. Thee fish is brushed with seasoning on the skin as well as the inner stomach bone area.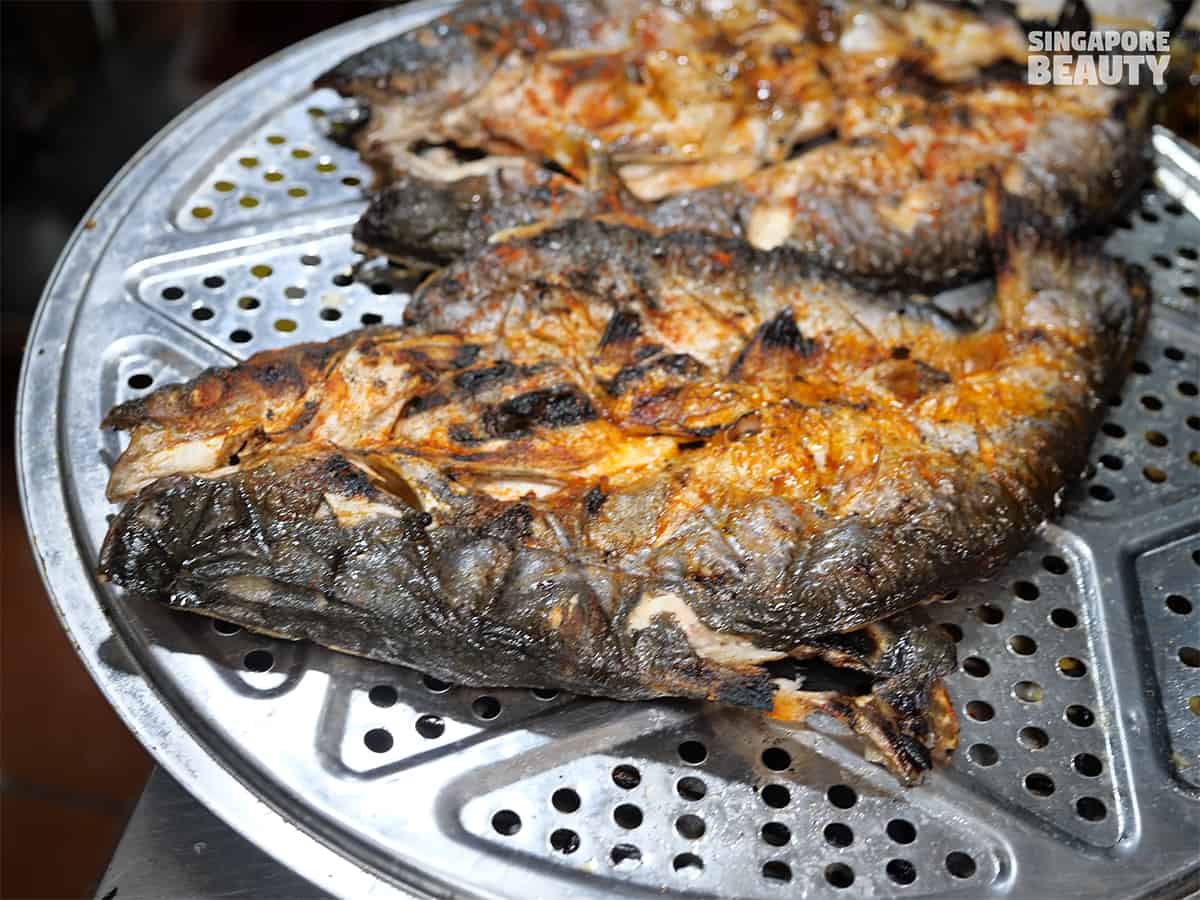 Check out the charcoal grilled marks on the skin. The butterflied whole fish is grilled till it turns a golden brown hue. The skin is lightly crispy and gelatinous while remaining tender and moist. This grilled fish taste great even after just roasting and even better with the sauce later. Some parts of the fish has a darker char and some has a lighter char, enjoyed as a whole and you have a nice balanced of various degree of smoky flavours to satisfy everyone at the table.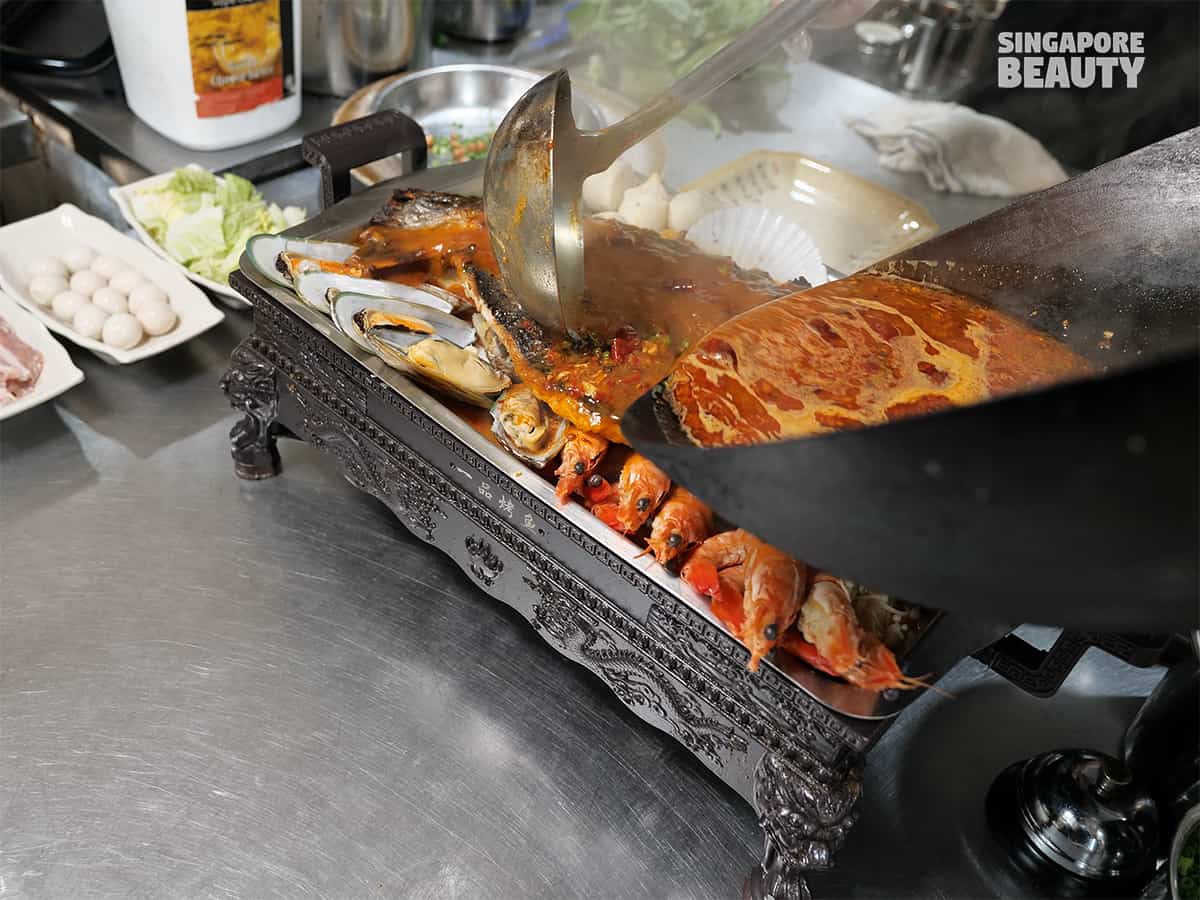 The grilled fish is available in 6 flavours namely superior spicy, double spicy, golden sour spicy, signature mala, sauerkraut salted vegetables and mushroom herbs. You can also customised your level of preferred heat from 4 variations from non spicy to the extreme hot spicy. Do note that only mala spicy broth is available for the seafood platter.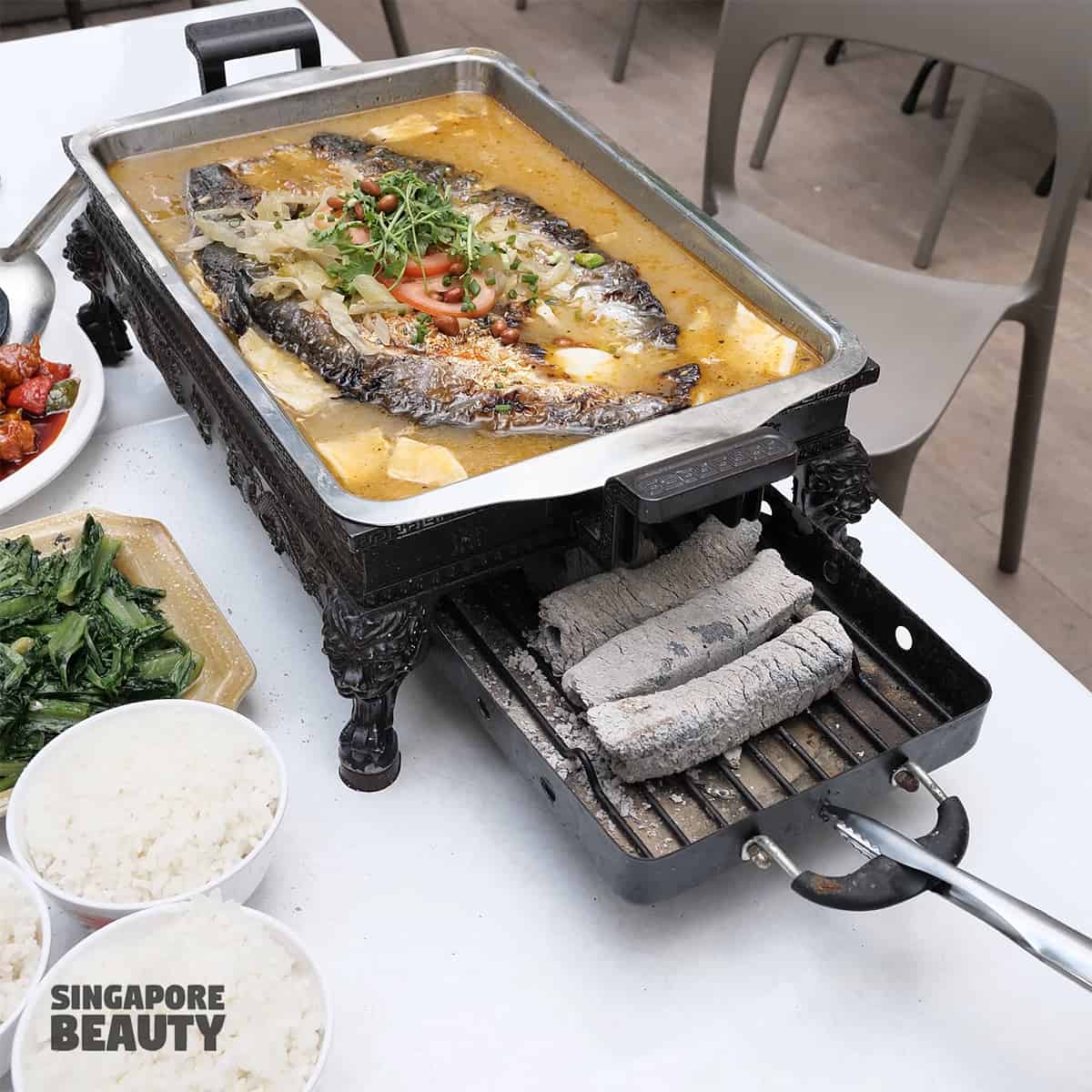 For those who dine in, the grilled fish is served atop a charcoal powered lifted grilled fish tray stand. This keep the fish simmering hot while you enjoy each bite. They are located within a heartland coffeeshop with indoor and outdoor alfresco seating. If you are heading there for dinner, they recommend the outdoor seating to enjoy the night breeze. The parking is just next to the coffee shop.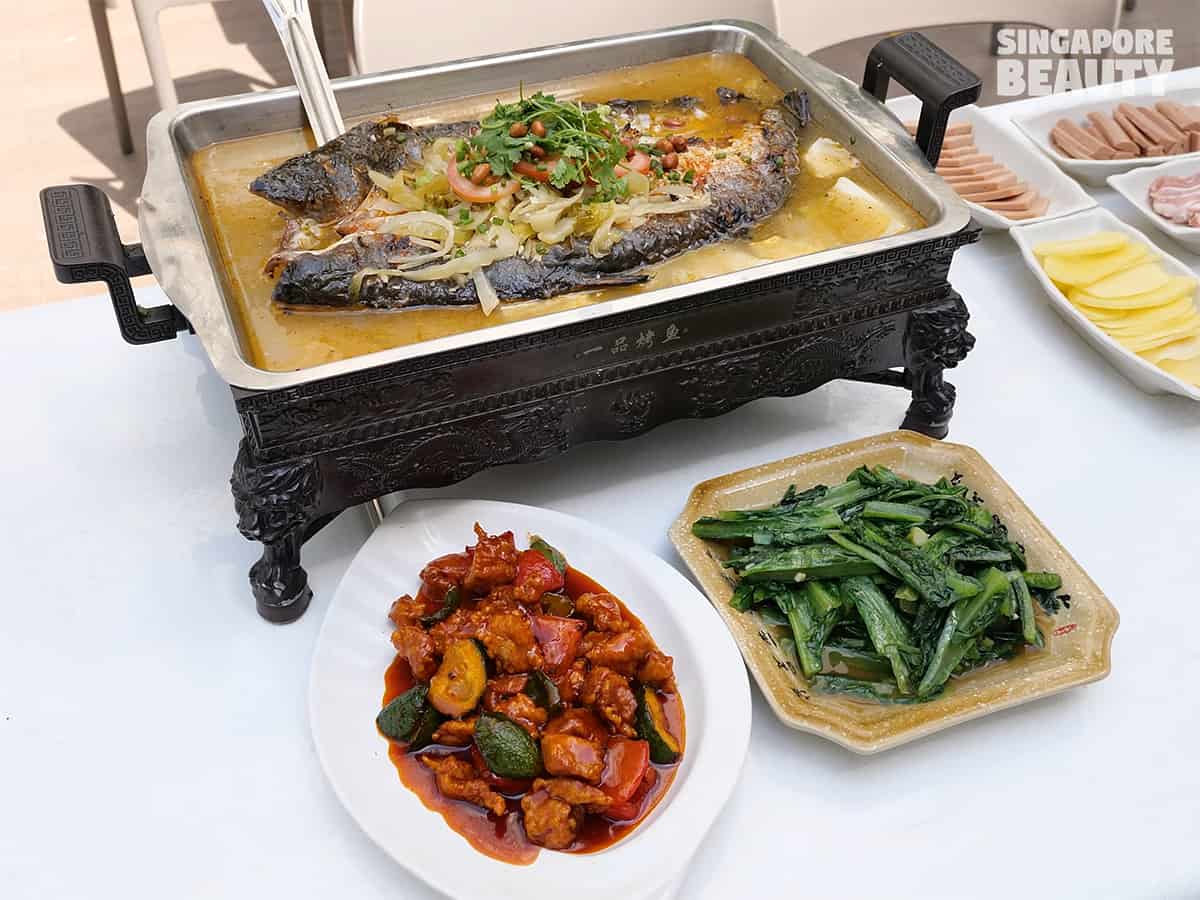 This is one of the ChongQing Premium Grilled Fish $57 57th national day set promotion. As shown above is the non spicy grilled fish set which consist of a whole grilled fish, sweet and sour pork, stir-fried Romaine lettuce and 4 servings of steamed pearl rice. The flavour for this grilled fish above is sauerkraut aka salted vegetable flavour. This set is good for sharing among 3-4 pax. It is available for dine in or free islandwide delivery till end Aug for Jurong outlet only.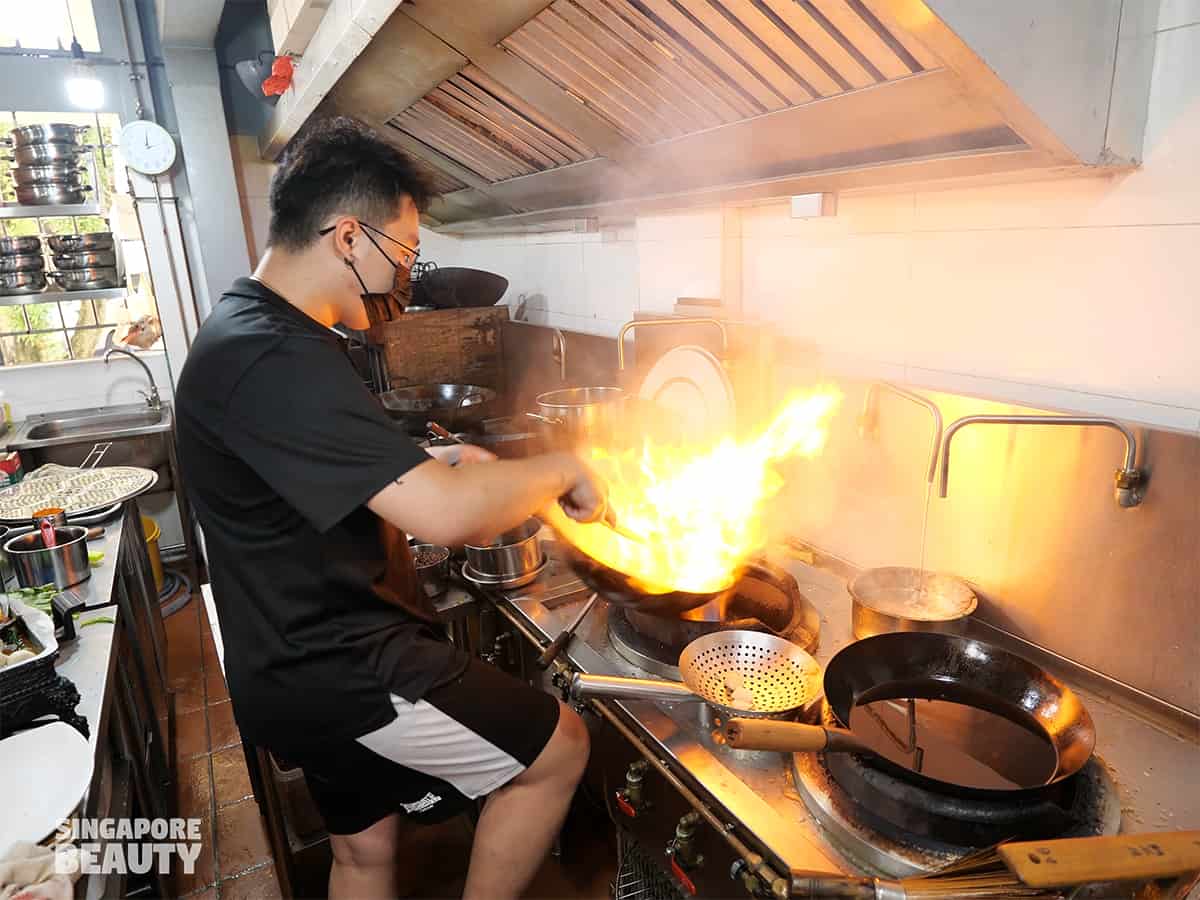 Check out this fiery chef in action whipping up some zi char wok dishes with a mixed of Sichuan style dishes and local dishes. The wok is helmed by their Malaysian chef who infused your zi char dishes with some real wok hei.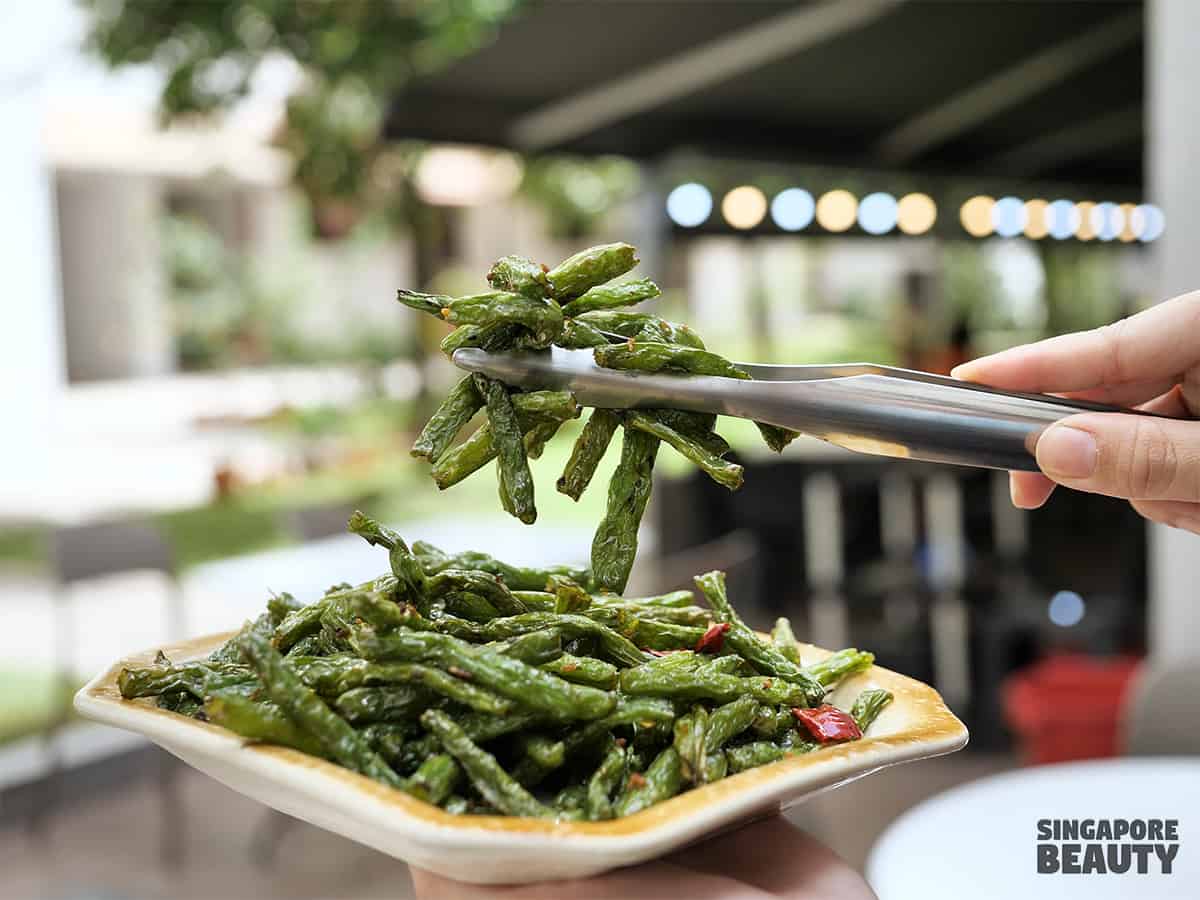 Stir fried French beans $9.80 ala carte. The beans are blanched in hot oil to remove the earthy flavours of beans. The beans are then stir fried quickly to impart a garlicky, savoury and smoky flavour to it. These bean has a mild saline crunch to it and is delightful to eat.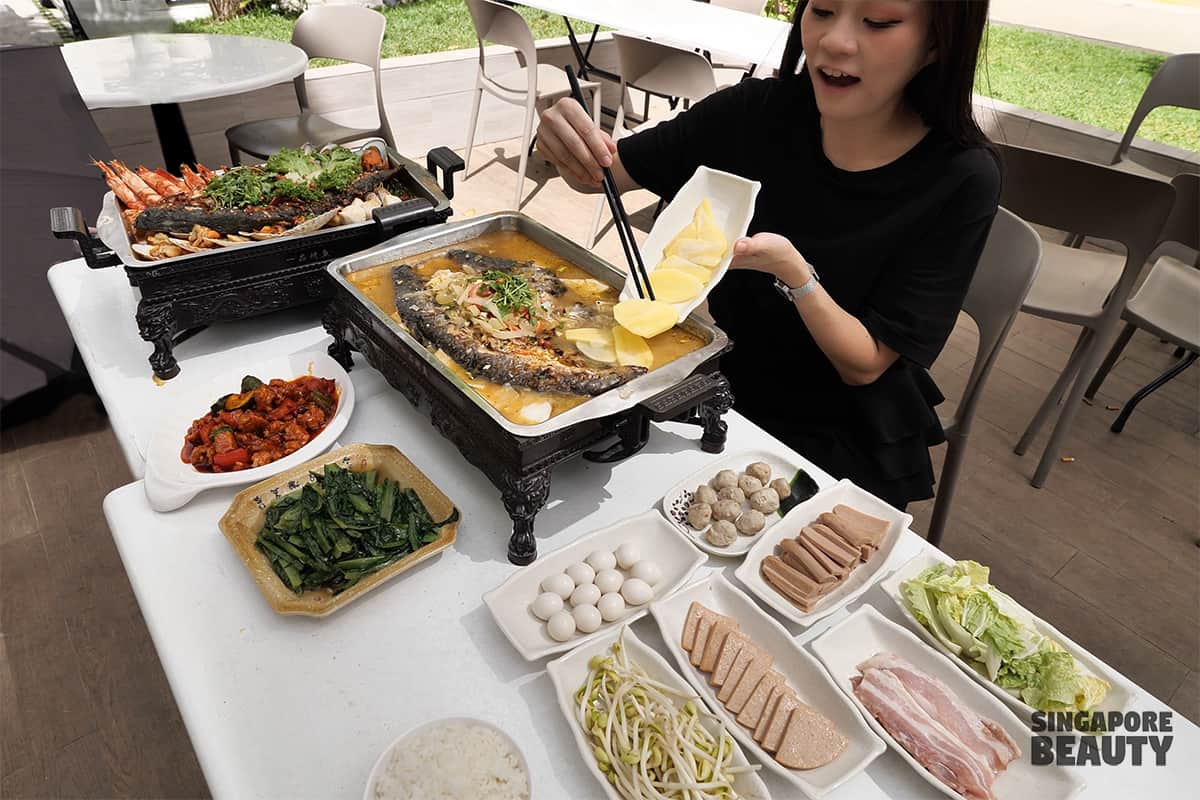 They also have add on options to your $57 national day grilled fish set too. The add on sides start from $1.80 each. The 31 sides dishes are cabbages, radish, soybean sprouts, sliced potato, Maggi noodle, lotus roots, fresh kelp, fried dou kee, beancurd, black fungus, romaine lettuce, handmade noodles, enoki, beancurd sheet, frozen beancurd, oyster mushroom, luncheon meat, fen tiao, ham, quail egg, pork balls, crab stick, sliced chicken, fried pork skin, cheese tofu, fresh prawns, sliced lamb, beef and squid. Add on some of these to best enjoy the savoury grilled fish broth.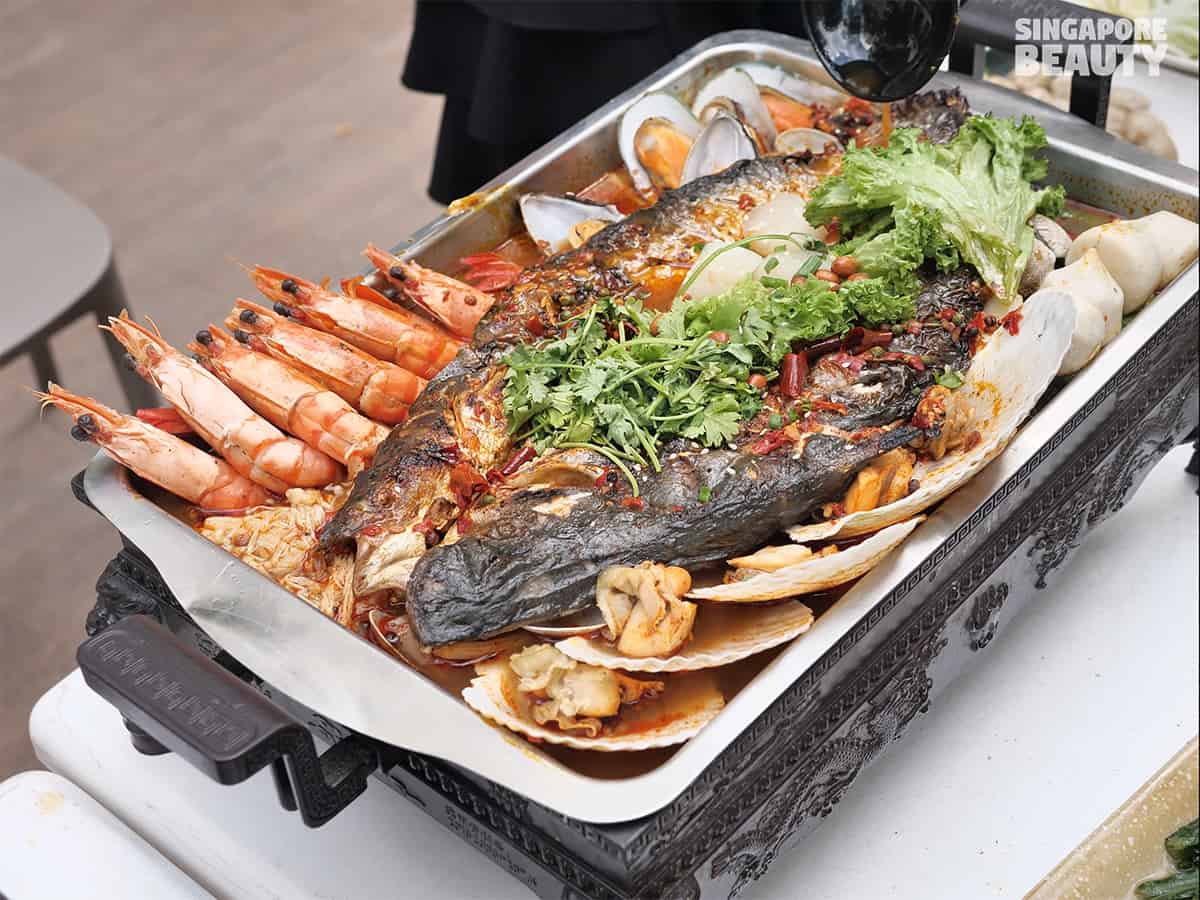 This is the ChongQing Premium Grilled Fish premium seafood platter. Get this to enjoy the best of both worlds with a variety of seafood. The seafood includes prawns, half shell scallops, Japanese hotate, mussels, clams and fish roe balls. This premium seafood platter starts from $98 for 3-4 pax and the larger platter $118 for 5-6 pax sharing.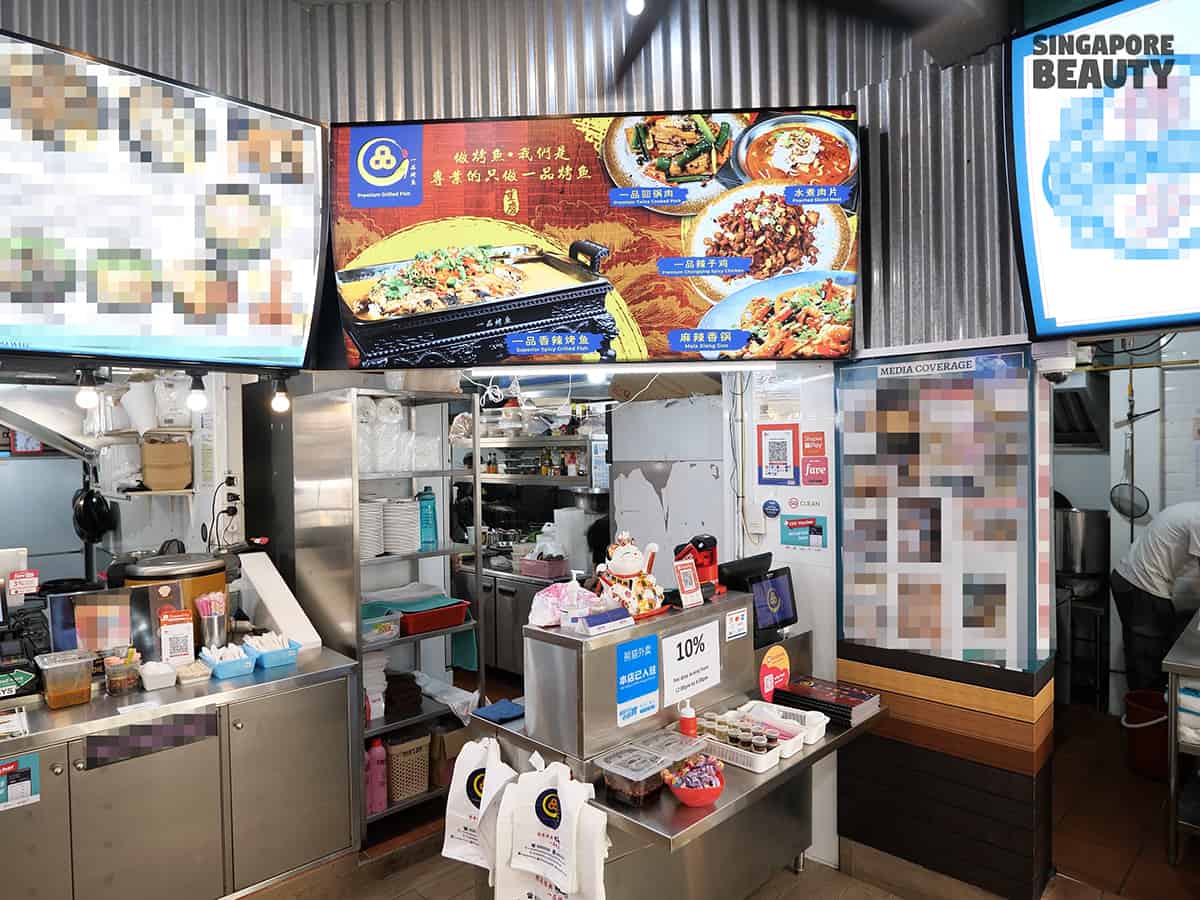 This is ChongQing Premium Grilled Fish shop front at Jurong. The $57 National Day Grilled fish feast promotion is only exclusive for this outlet for dine in, self collect or free islandwide delivery from their platform. This $57 set whole grilled fish promotion is only available till end August 2022. Grab hold of this grilled fish set now before it swims away.
ChongQing Premium Grilled Fish Address :
429 Jurong West Avenue 1, #01-322, Singapore 640429
Call for Dine in Reservations : 69777333/ whatsapp 94504150
Promotion:
$57 Nett National Day Set – one whole fish+ 4 rice + 2 selected wok dishes (consist of 1 meat n 1 veg)
Option 1: Spicy set consist of grill fish in flavour of your choice out of 6 flavours +Signature chongQing spicy chicken+Stir fried French Beans + 4 servings of pearl rice
Option 2: Non-Spicy set consist of grill fish in flavour of your choice out of 6 flavours +sweet & sour pork+ Stir fried Romaine Lettuce + 4 servings of pearl rice
For Delivery, order on Chongqing.mymenu.com.sg
Any 57$ spend will enjoy free Island wide delivery now till end Aug( Jurong outlet only)
Brought to You by ChongQing Premium Grilled Fish