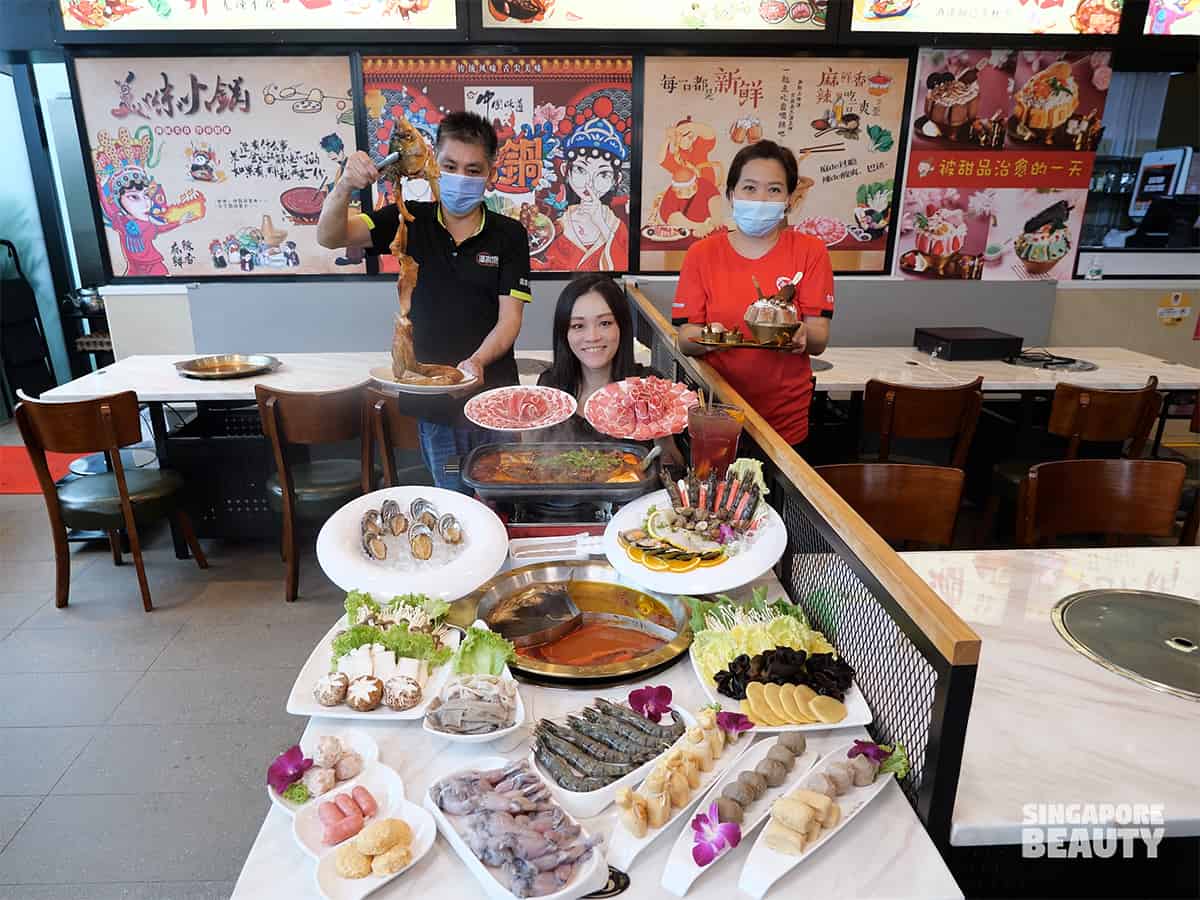 He Jia Huan Le Steamboat is a new hotpot place with more than 100 items on its menu. It is a secret hideout for hotpot lovers in the west. This is an all in one ala carte hotpot place with grilled fish, snow ice dessert, jumbo size glass of mocktail, chicken pot, bullfrog mala pot with selection of pork intestines or fish head and Chinese traditional steamboat. They also have premium selection of beef, abalone and ChaoZhou beef balls.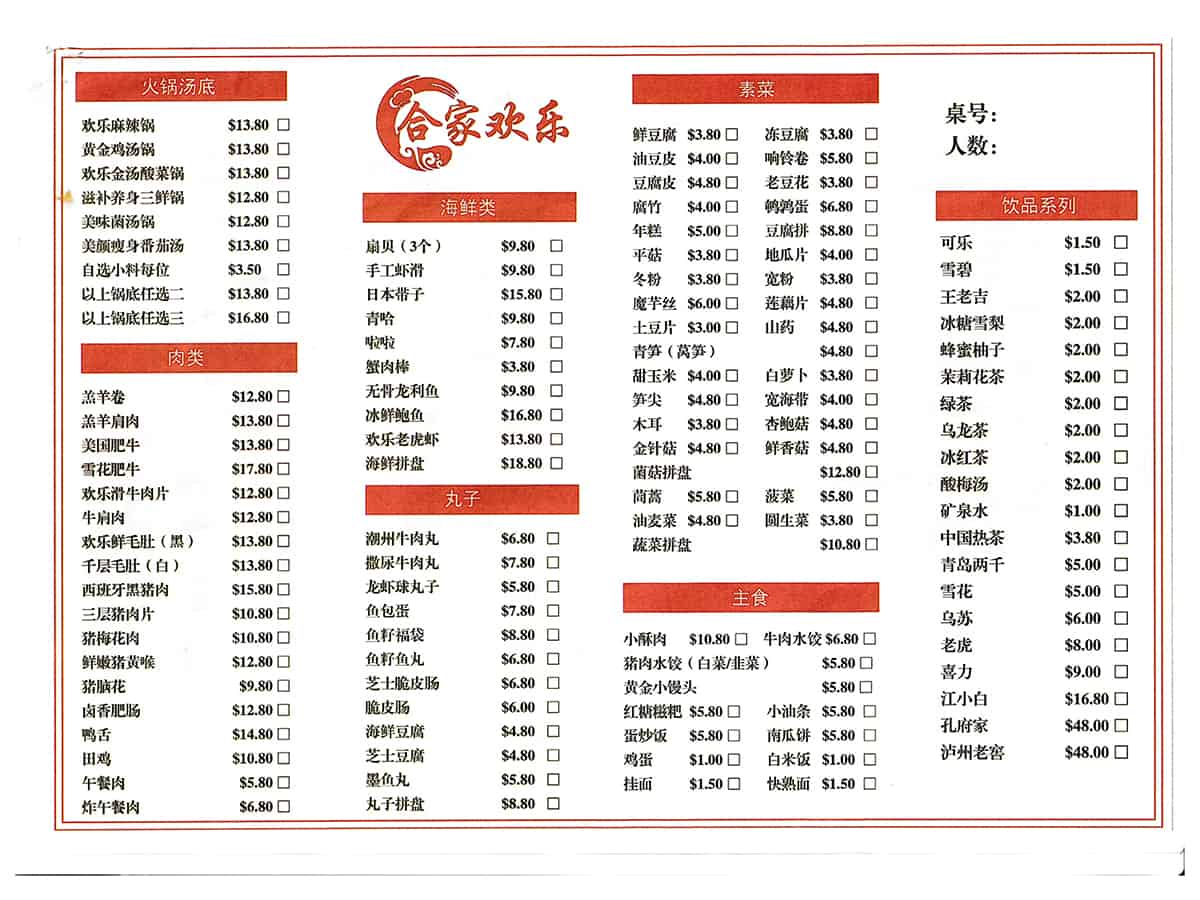 This is He Jia Huan Le Steamboat menu and price for their ala carte steamboat. The menu consist of hotpot bases, meats, seafood, meat balls, garden greens, fungi, root vegetables, carbs, light bites appetizers, drinks, hard liquor and beer. There is a second page of food menu with chef recommendation on the types of hotpot with ingredients such as stir fry chicken pot, bullfrog mala with choice of either fish head or braised pork intestines.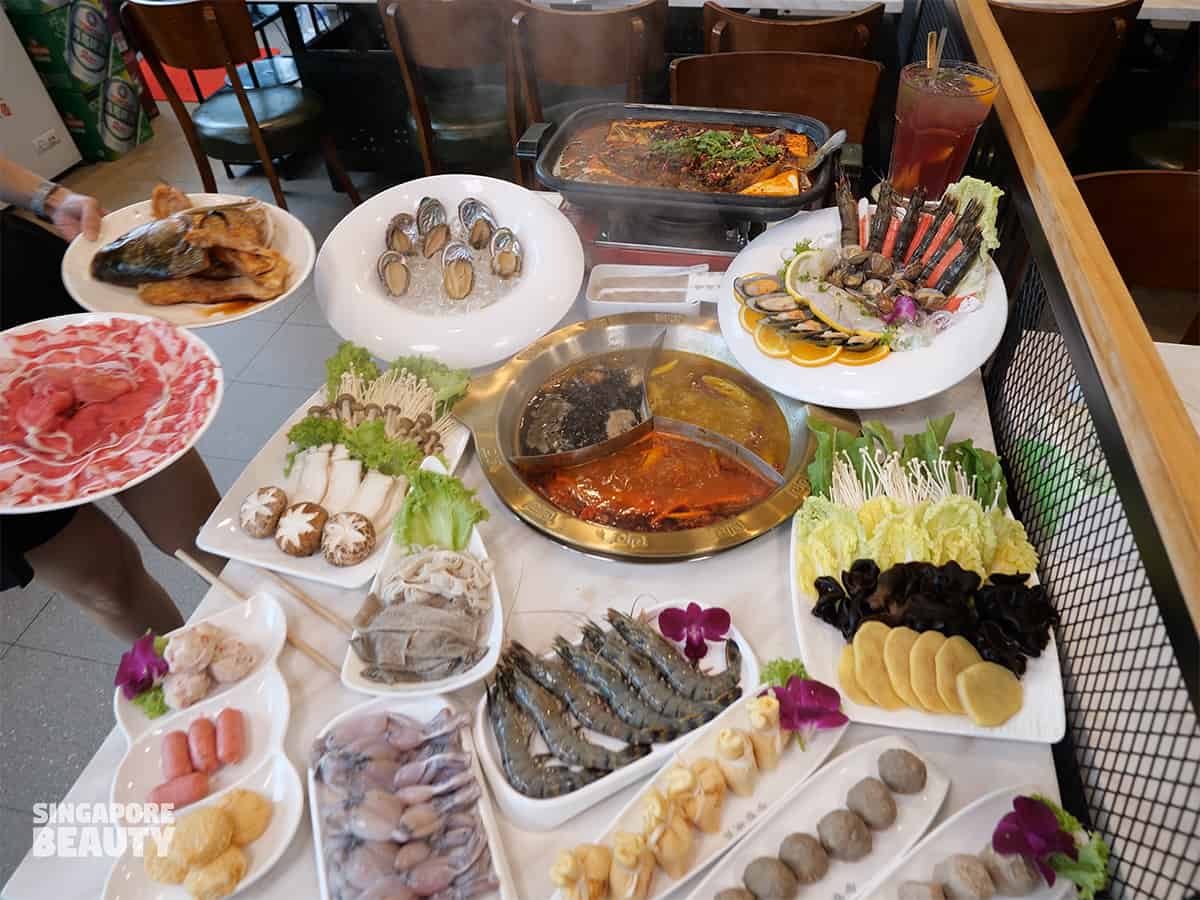 They are now having an opening special – He Jia Huan Le Steamboat promotion with 20% off all items from steamboat to desserts. This promotion is valid from 17 June till 16 July 2022. Free flow sauce is included for lunch steamboat from 11am till 4 pm. If you are heading over to try this new hideout for steamboat in the west, this is the best time to go with this He Jia Huan Le Steamboat promotion.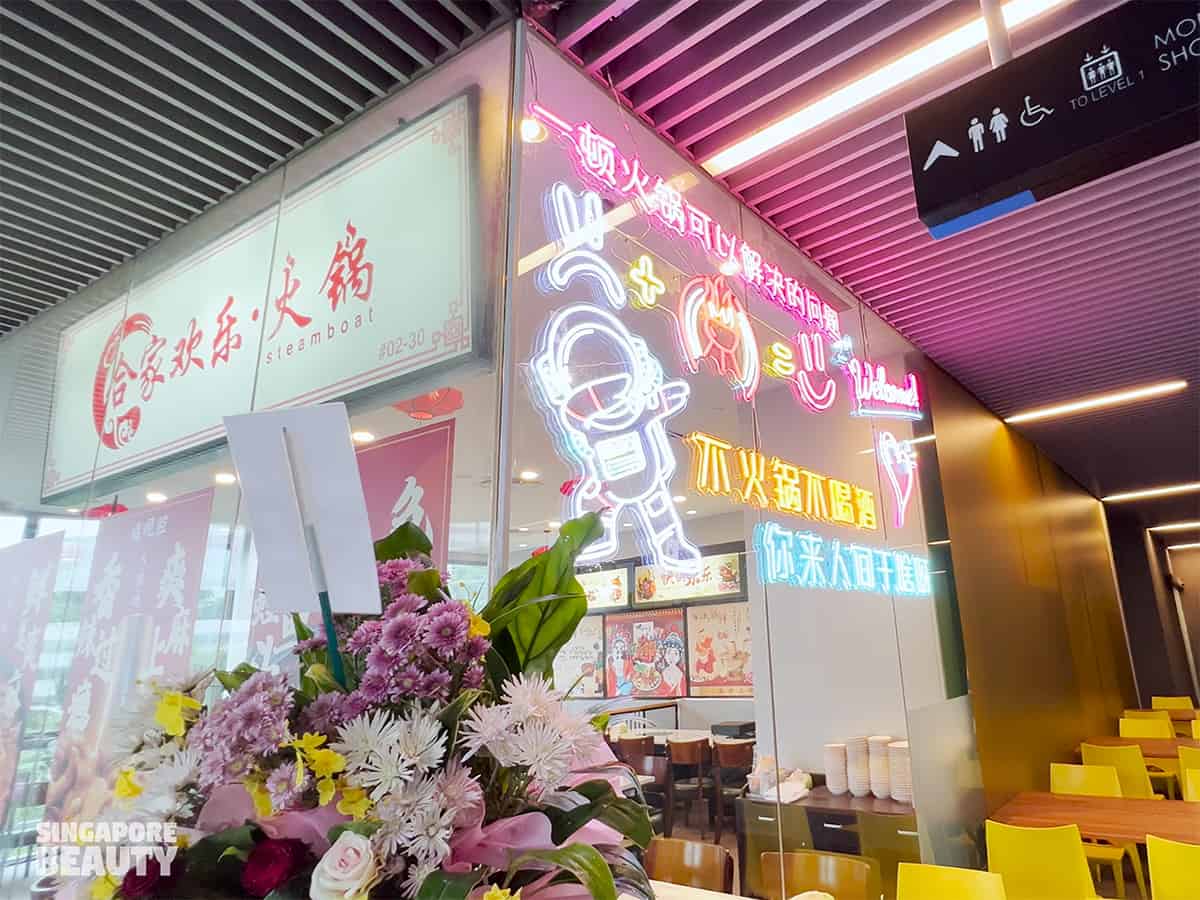 Their address is at 2 Venture Drive, #02-30 Vision Exchange. He Jia Huan Le Steamboat is the first shop along a stretch of eatery next to entrance of a sheltered walkway. It has a traditional festive red lanterns shop interior with a wall of trendy neon signages. These neon signs are playful catchy puns of steamboat and are great opportunity for photo taking. They also have a fun wall of anime style opera singer as the backdrop of the shop. For dine in, there are outdoor seating, window seating and island seating available.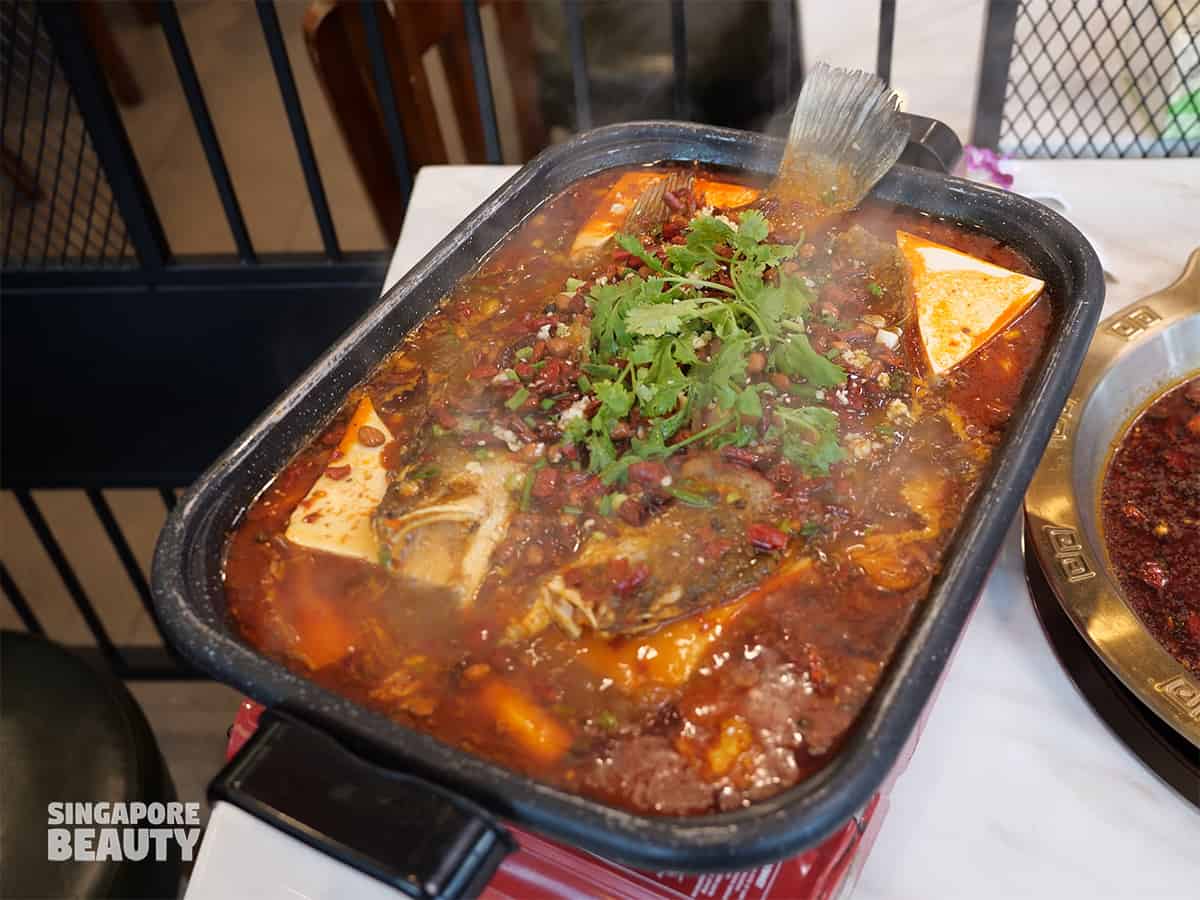 For those craving for popular grilled fish at Vision Exchange Jurong, they have 6 flavours of grilled fish at He Jia Huan Le Steamboat restaurant. The flavours are fragrant spicy, mala, sour pickled vegetable, bean paste, tomato and herbal grilled fish. These grilled fish are served atop a heated stove so it is constantly simmering while eating. Each whole grilled fish are priced at $28.80 +7% gst. You may wish to add on other meats and green to enjoy with the broth of the grilled fish.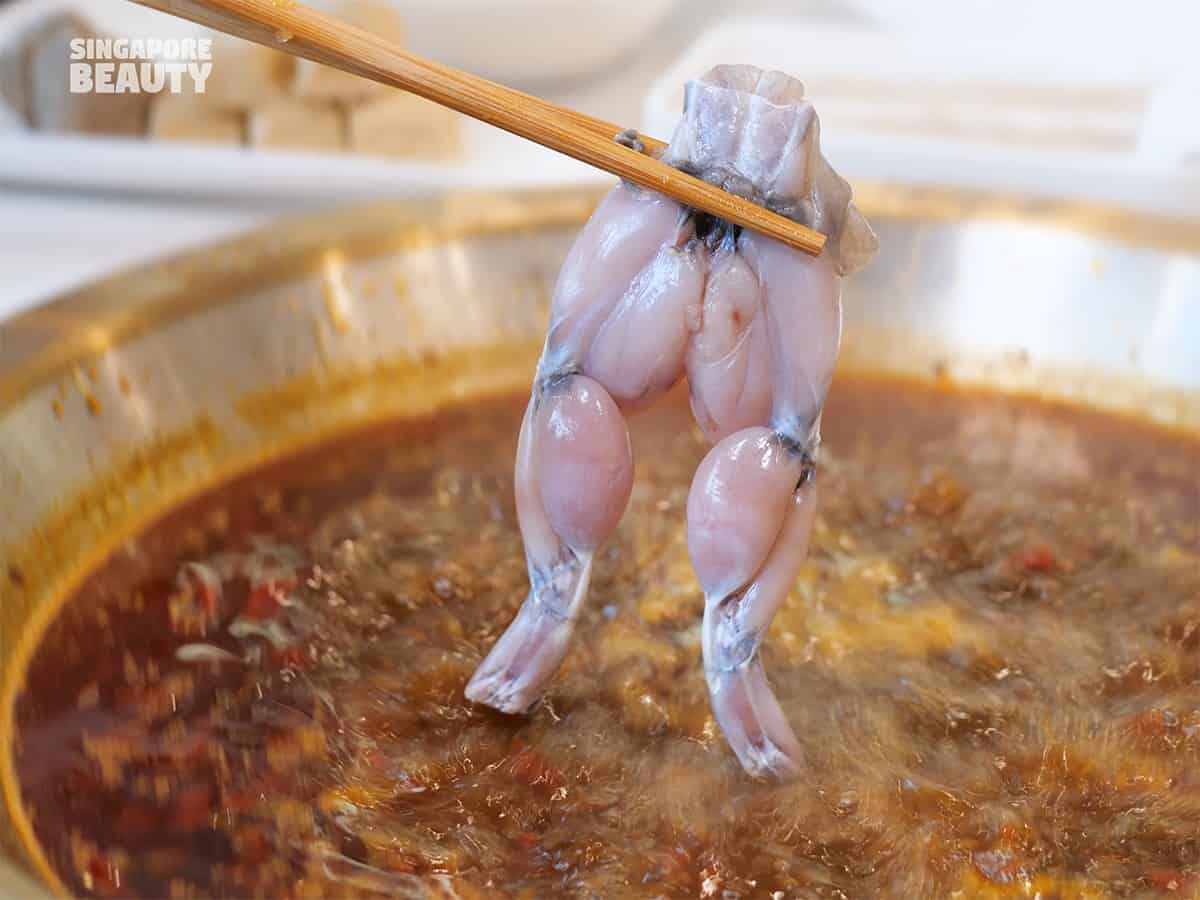 Those craving for a steamboat with ingredients may opt for their chef recommendations. He Jia Huan Le Steamboat with unique hotpot ingredients have 3 options to choose from – stir fry chicken hotpot ($38+), bull frog with braised intestines ($48+) and bull frog with fish head pot ($58+). These comes with four greens (ie mushrooms, bean produce or root vegetables) of your choice to add into your steamboat.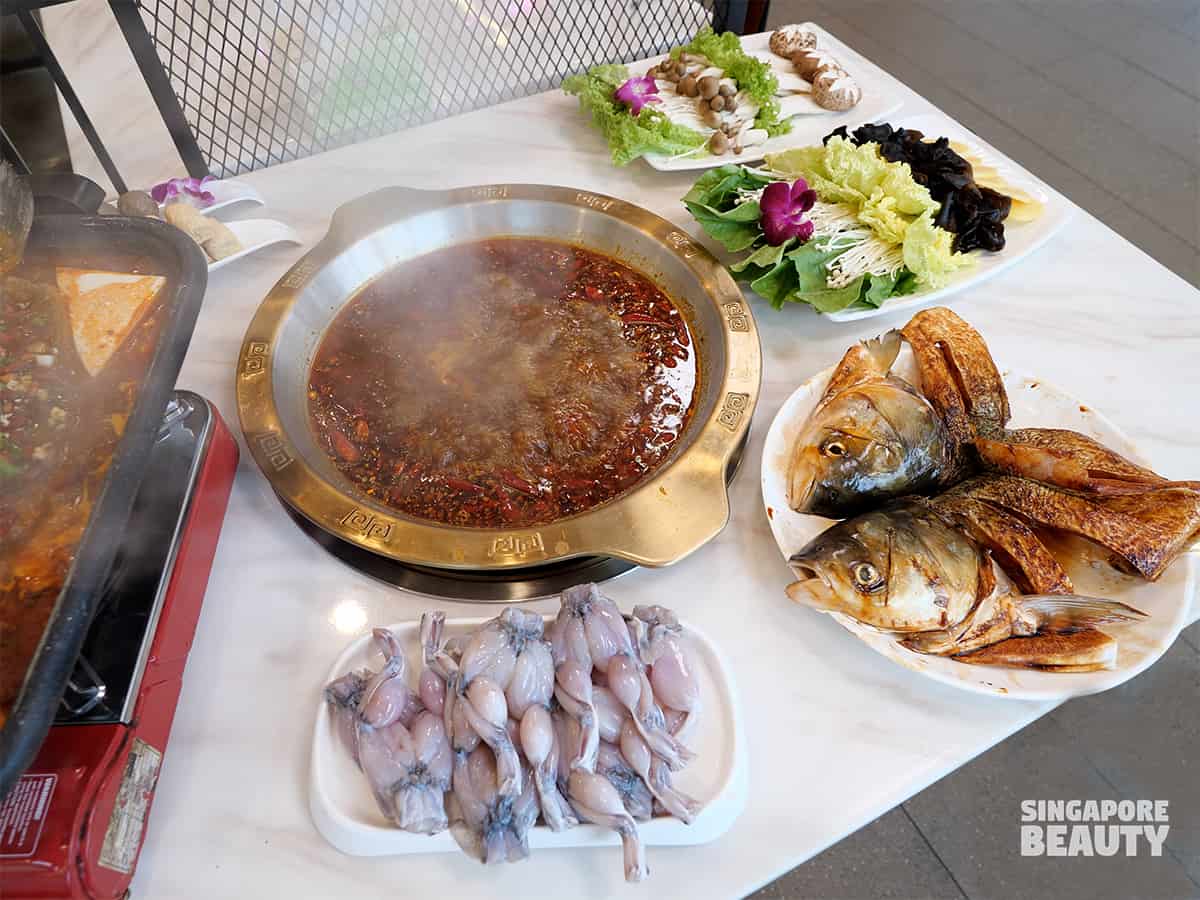 This is the bull frog fish head hotpot. It comes with a plate of bull frog legs and a marinated steak cut fish head and a mala soup pot of your choice of heat. The heat you can choose small heat, medium or super spicy. They use bull frog for an extra meaty bite and for better springy texture. The fish head is marinated to enhance the meat flavour and keep it tender when cooked.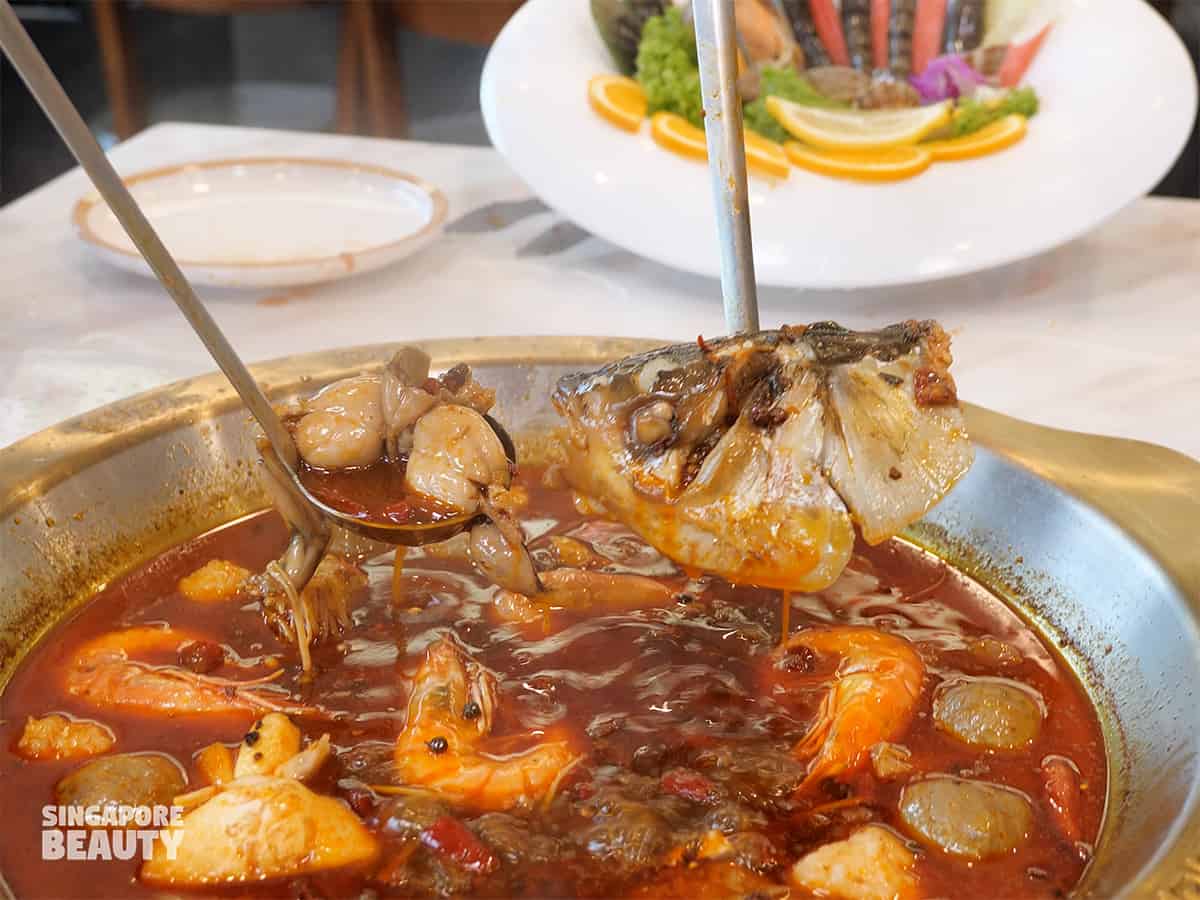 The fish head is an extra long ribbon of fish steak and halved fish head. The service crew will assist to lower the fish head into the pot for you. The fish head used in this pot is relatively big and is good for sharing for 2-3 pax. The frog meat is savoury with tender and springy texture. The fish head has a firm but delicate gelatinous meat fully infused with the spices from the mala flavours. Add on some seafood such as prawns, fish roe lucky bag and ChaoZhou beef balls to enjoy the savoury mala soup.
The frog meat hotpot with ingredients can also be paired with braised pork intestines instead of the fish head. The pork intestine used are braised for extra flavours and added in bite size in the soup served. These are the large pork intestines that are extra buttery and milky when cooked. The fatty pork intestines are soft and melty after cooking in the mala soup for some time. This is a unique bull frog and pork intestines hotpot that is quite rare in steamboat. The cleaning of the pork intestines is quite a laborious and tricky chore, therefore many shy away from including pork intestines in their menu.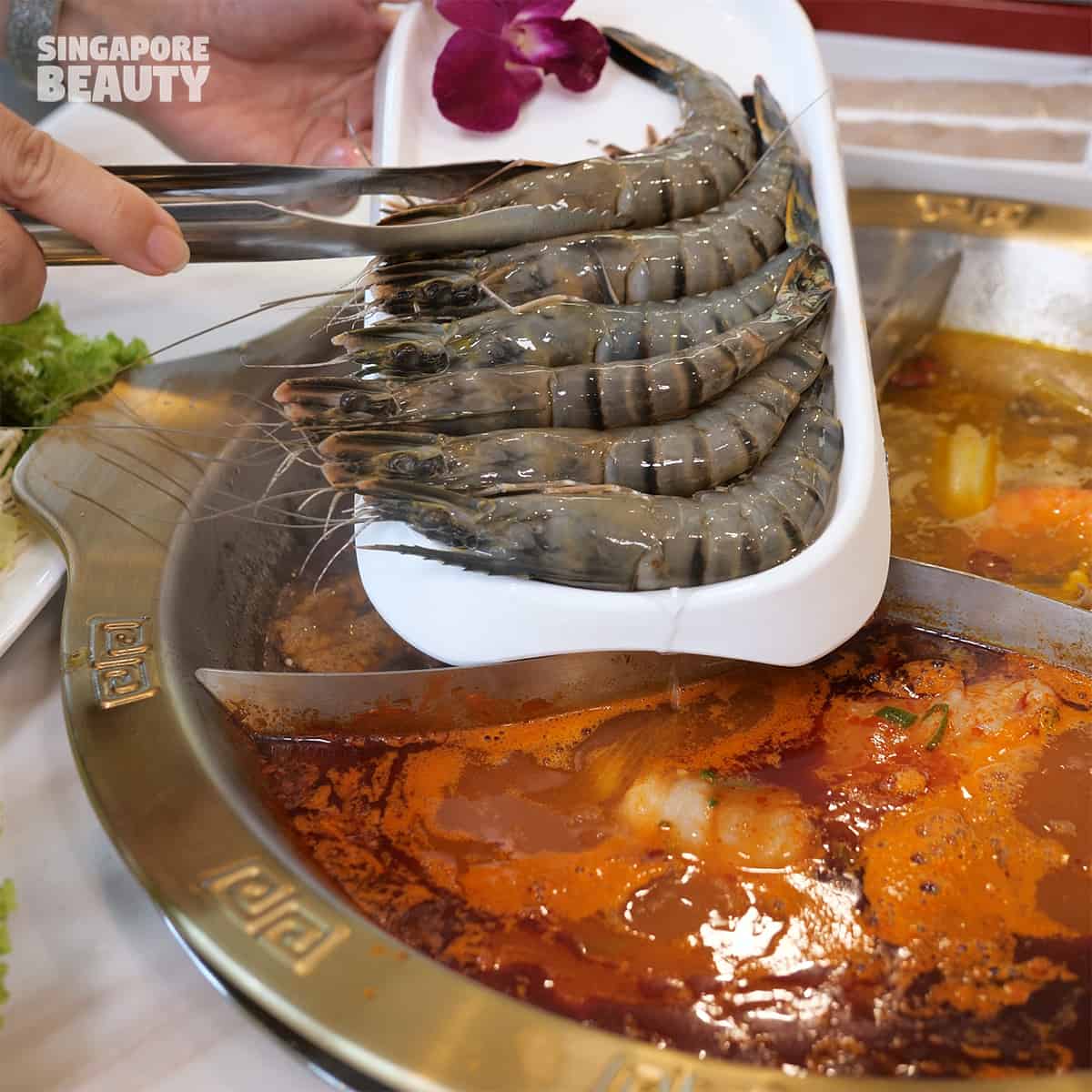 They have single ($12.80-$13.80), duo ($13.80) or triple ($16.80) soup hotpot base to choose from. The flavours are happy mala, golden chicken, happy sour pickled vegetable, nourishing triple fresh pot, mushroom and tomato soup base. The chef recommendation is the mala soup base, tomato soup base and the chicken soup base for the steamboat as their house specialty.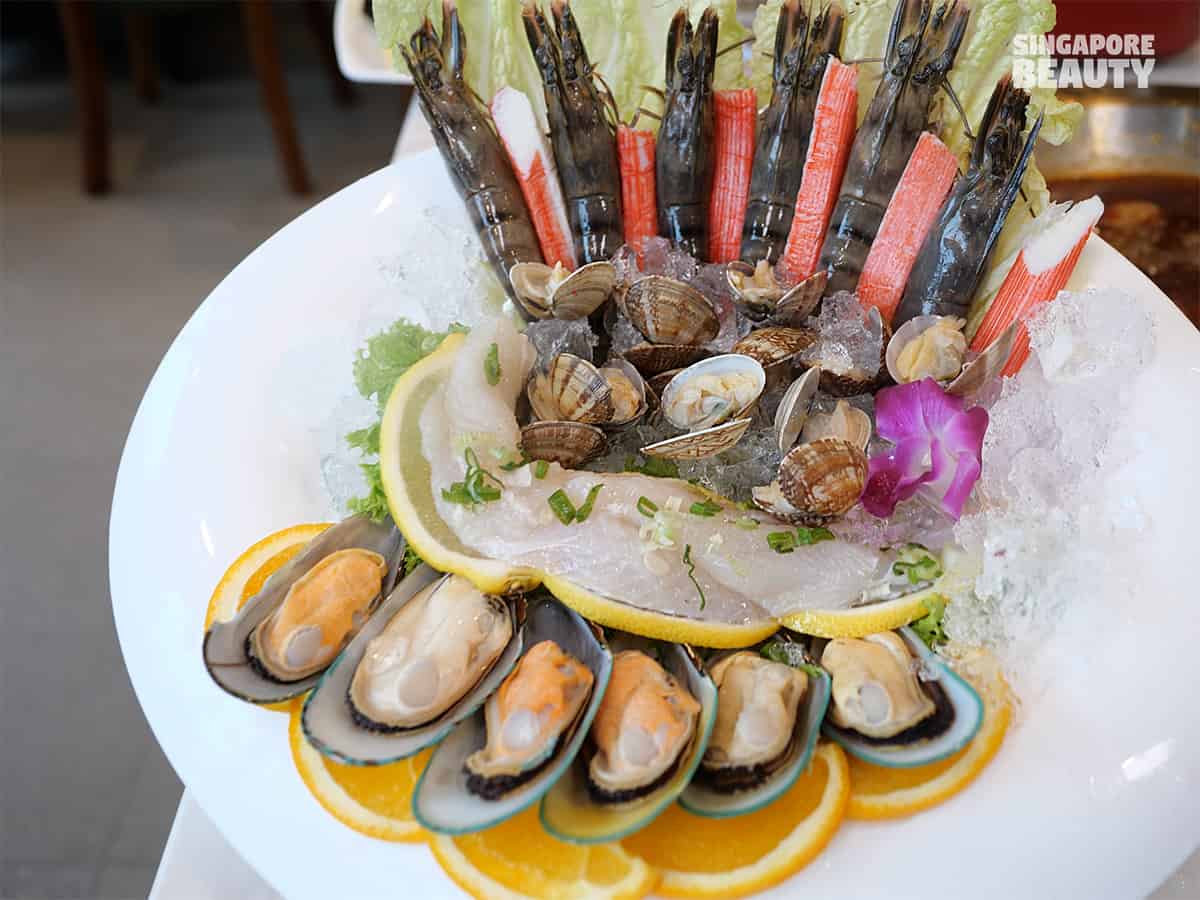 These soup base are best enjoyed with their seafood selection that consist of 9 types of seafood such as tiger prawns, half shell scallop, handmade prawn paste, Japanese scallop, green lipped mussels, lala, crab meat sticks, fish chunks, abalone. They also have a mixed platter of seafood ($18.80+) as pictured above that consist of 4 types of seafood and crab surimi.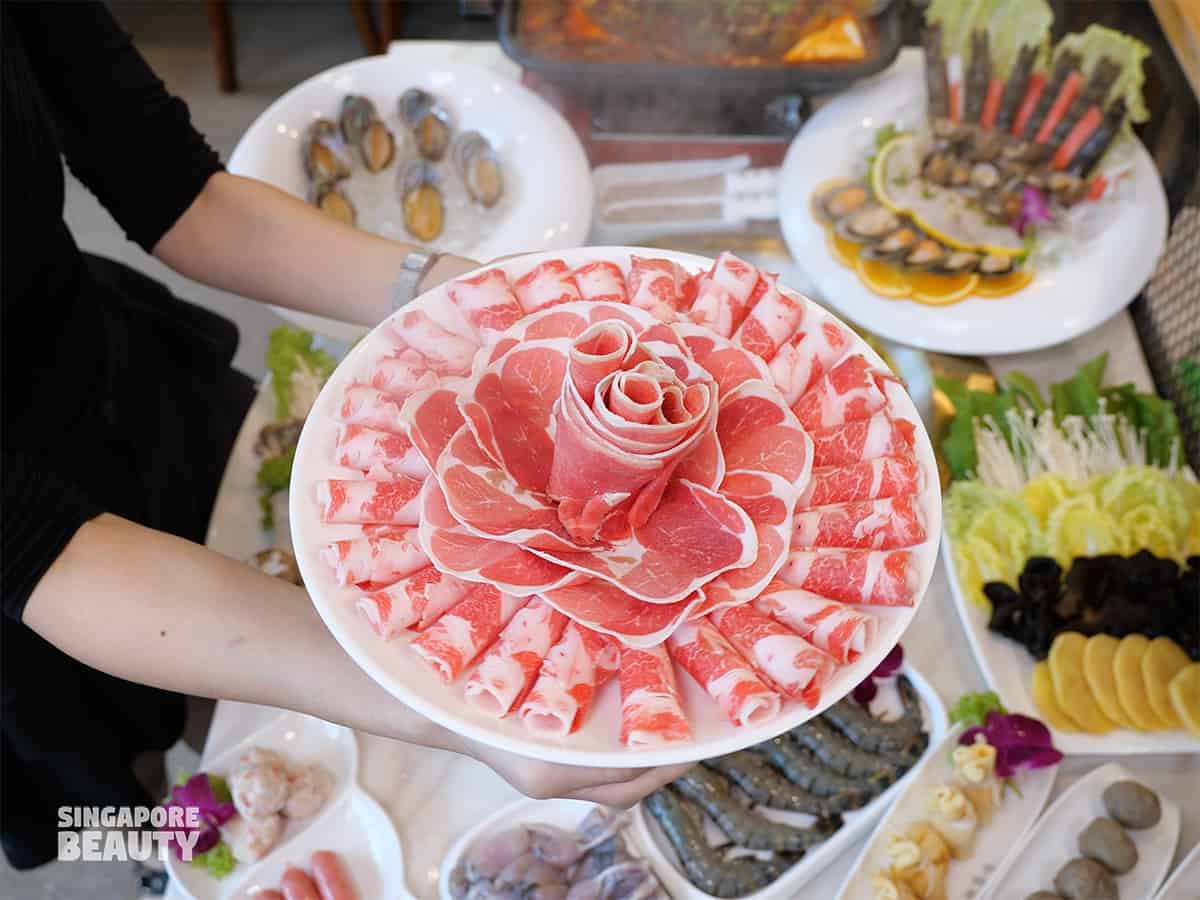 They have a variety of different cuts of shabu shabu meat for their steamboat menu. These shabu shabu meat are cut to order and presented in He Jia Huan Le Steamboat signature rose shabu shabu meat style plating. The meats are plated like a blooming rose on the plate.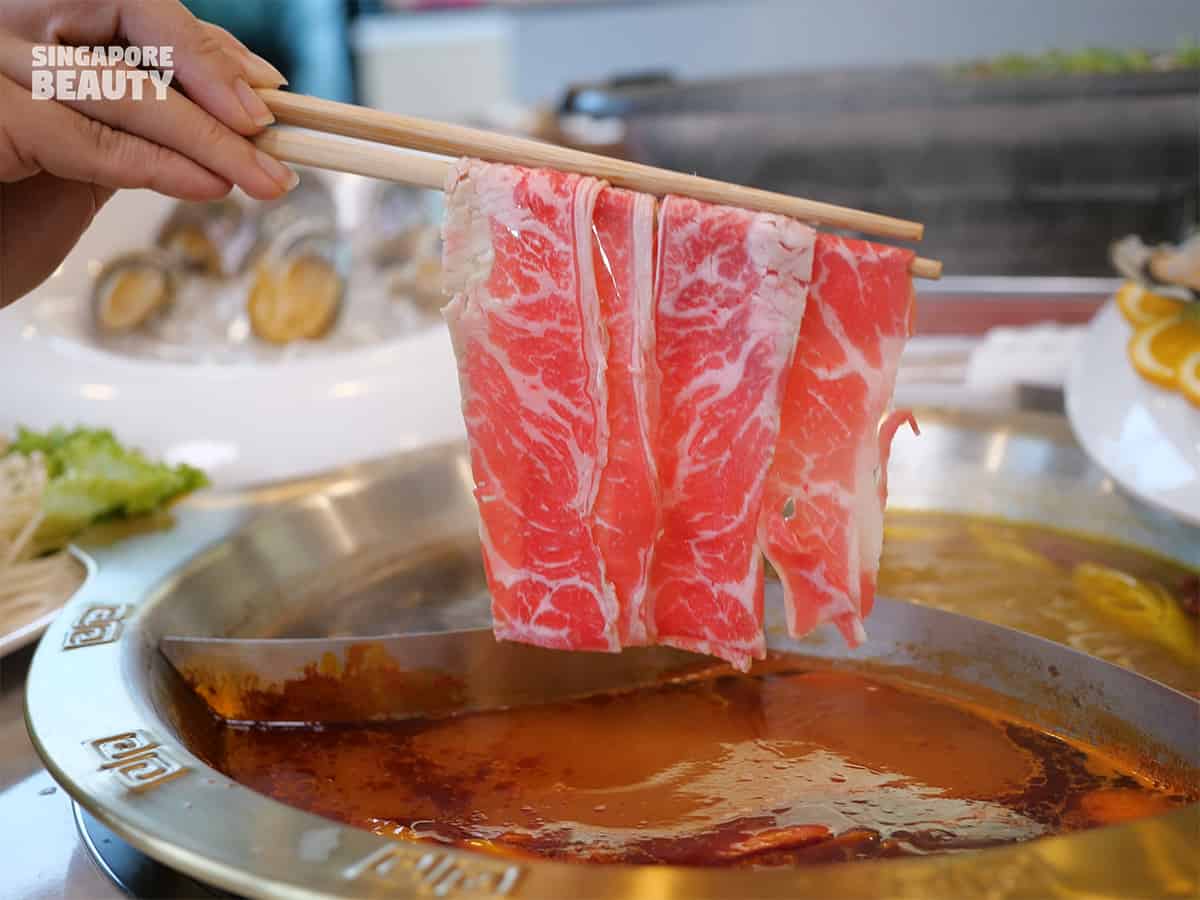 The shabu shabu meat are cut paper thin for a 6 second cooking time and better texture. The meat platters comes in a variety of size from $12.80  to $17.80. The meats available are lamb, beef and pork. These are some premium meats recommended by the chef such as the US fat beef, snow flake beef, Spanish black pork and lamb roll.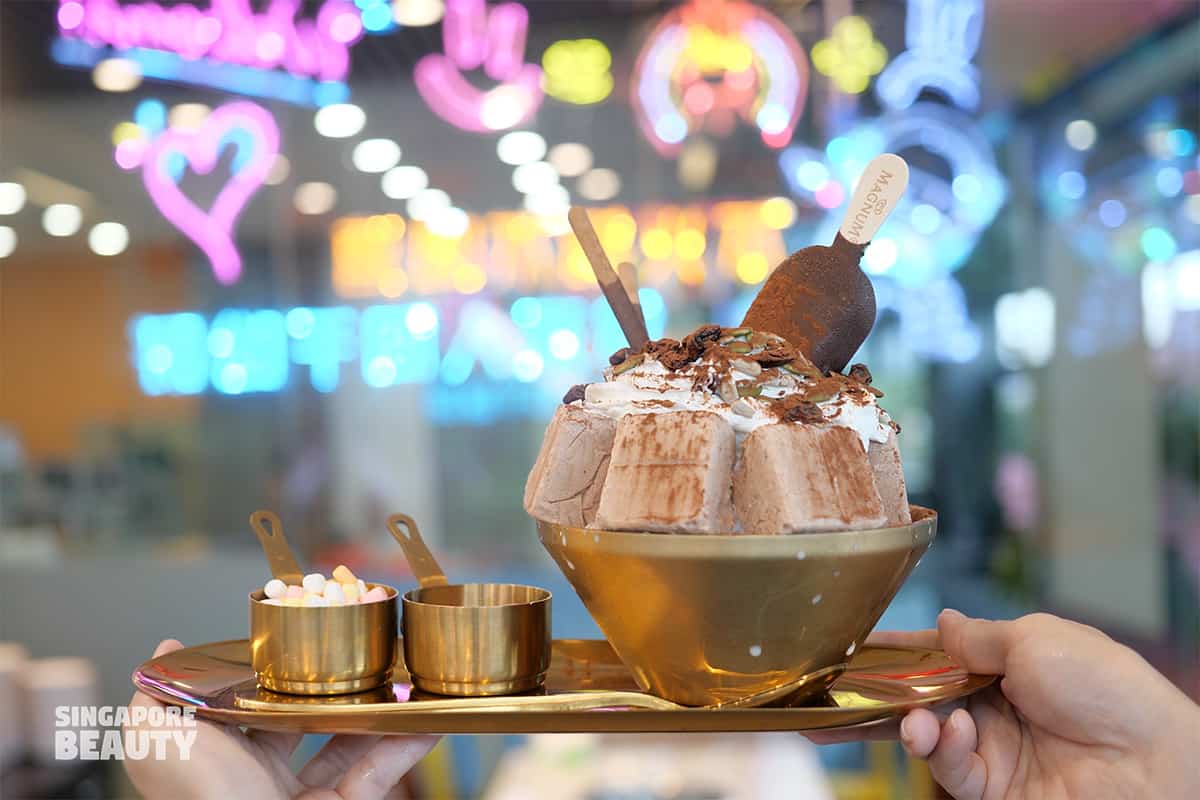 There cannot be a better way to end a steamboat session than a bowl of snow ice dessert ($13.80+) that is beautifully assembled. This is their chef recommended dessert with 4 flavours to choose from such as strawberry, matcha, mango and chocolate. Pictured above is the chocolate snow ice dessert which consist of milk base snow ice, yogurt cubes, chocolate biscuit stick, coco powder, whipped cream, Magnum Mini double chocolate ice cream and two toppers. The toppers are some mini mocha balls and marshmallows for a spring texture. The snow ice is made by shaving frozen milk around a ice cold roller resulting in super fine snowflakes-like shavings.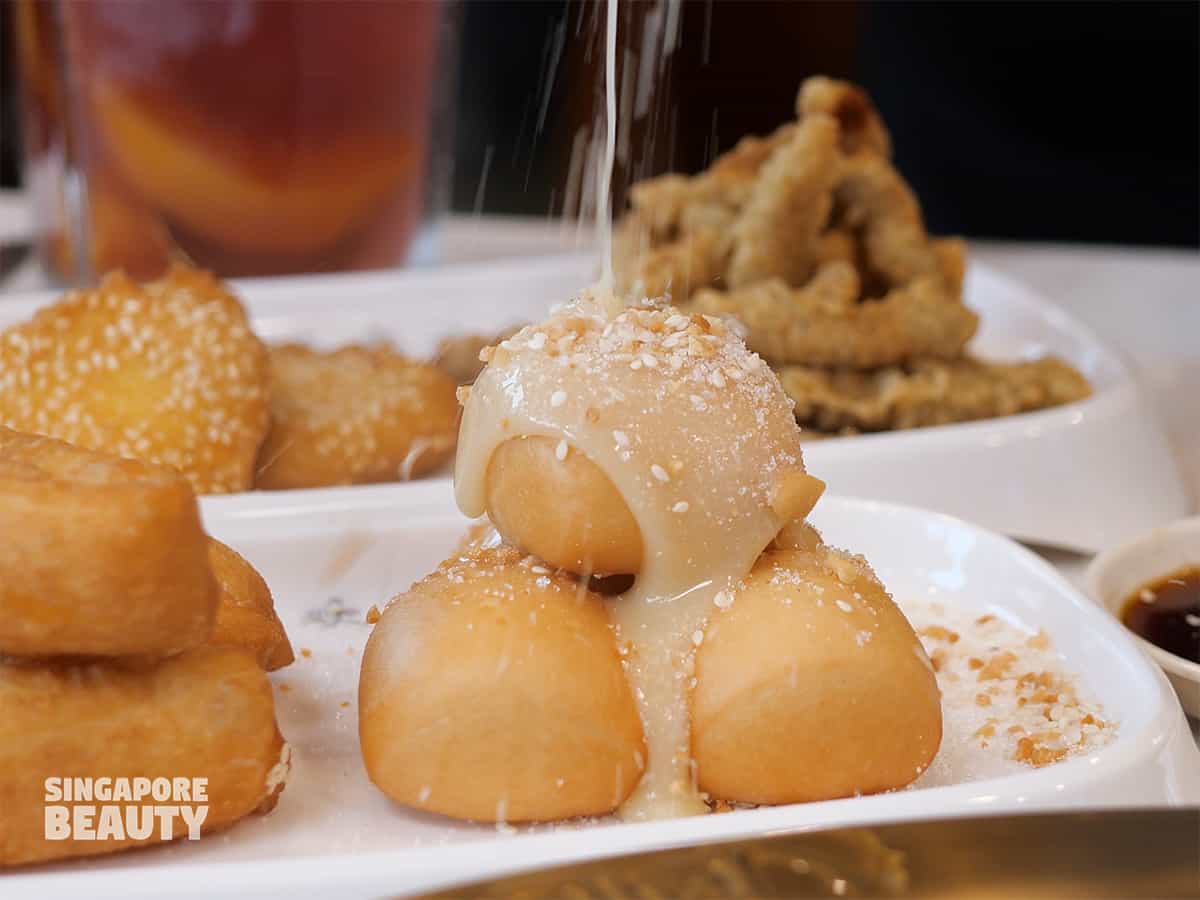 They also have a good variety of small bites such as fried meat sticks ($10.80+). If you are craving for some light fried snacks for lunch or coffee break place at Vision Exchange Jurong, get your hands on a takeaway/ dine in snack at ($5.80+ each) brown sugar rice cake, mini fried dough sticks, pumpkin mocha and golden fried bun. Get a cup of hot Chinese tea ($3.80+) to best complement the fried snack over tea break.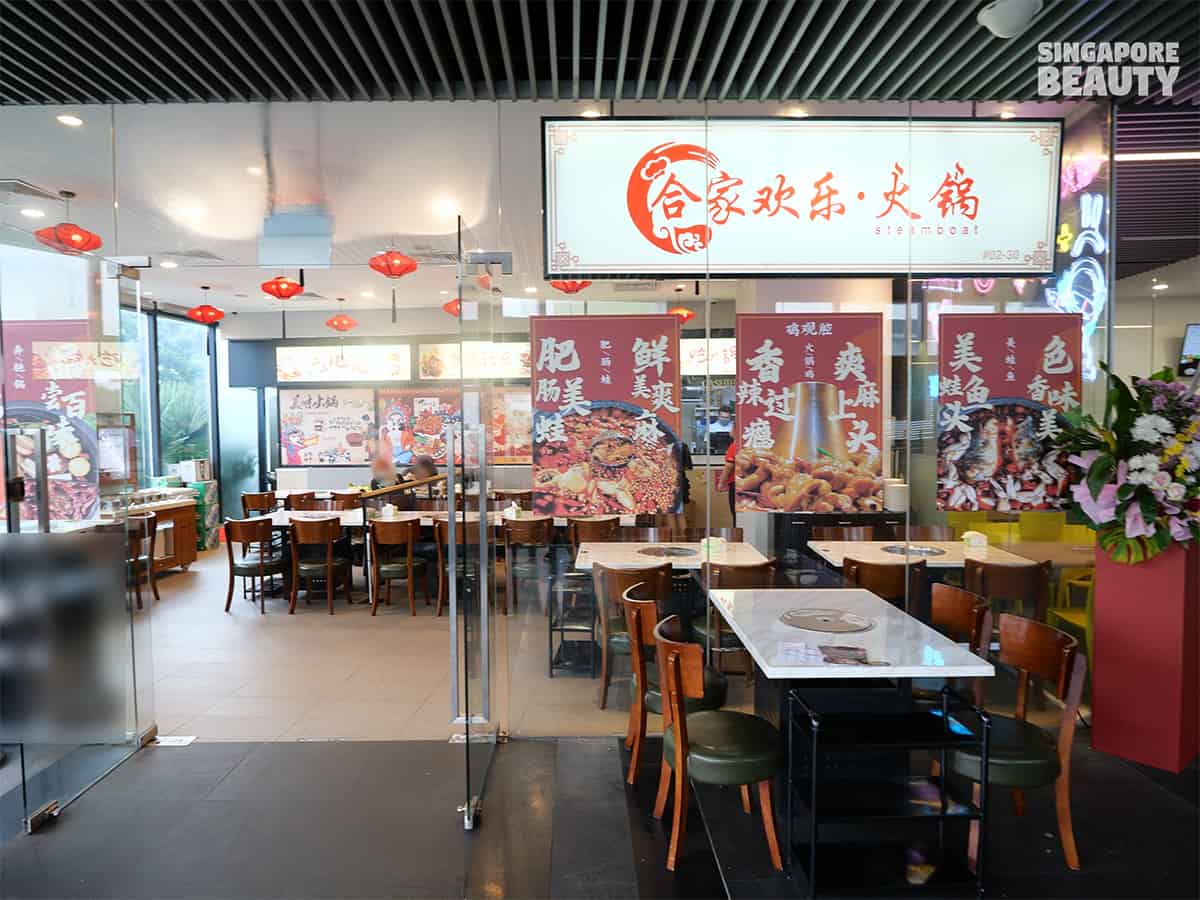 He Jia Huan Le Steamboat is a new steamboat place in Jurong located at Vision Exchange Jurong, venture drive.  Secret hideout for hotpot lovers in the west with extra long fish head and tofu grilled fish, premium meat and seafood, Snow ice dessert, abalone, photogenic plating of rose shabu shabu meat such as beef, lamb and pork, stuffed juicy ChaoZhou beef ball and Jumbo mocktails!
He Jia Huan Le Steamboat Promotion :
Opening Special 20% off storewide from 17 June till 16 July 2022
Free flow condiments for Lunch (11am till 4pm)
Get any of their special hotpot with ingredients, enjoy 4 free greens of your choice.
He Jia Huan Le Steamboat address :
2 Venture Drive, #02-30
Vision Exchange, Singapore 608526
Opening hours : 11.30 am till 11.30 pm daily
Call: 8719 7336 / 6908 5422
Brought to you by He Jia Huan Le Steamboat 合家欢乐。火锅