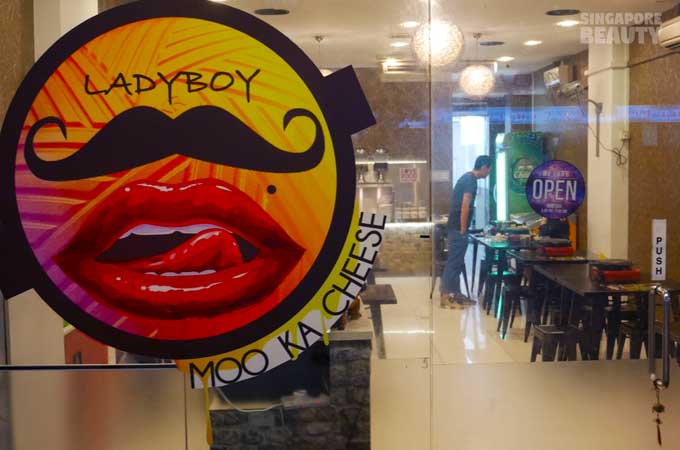 Ladyboy Mookata has launched a new mentaiko cheese dip for their mookata. Mentaiko also known as spicy cod roe is extracted from the Alaska Pollock or cod. This restaurant has ceased operations.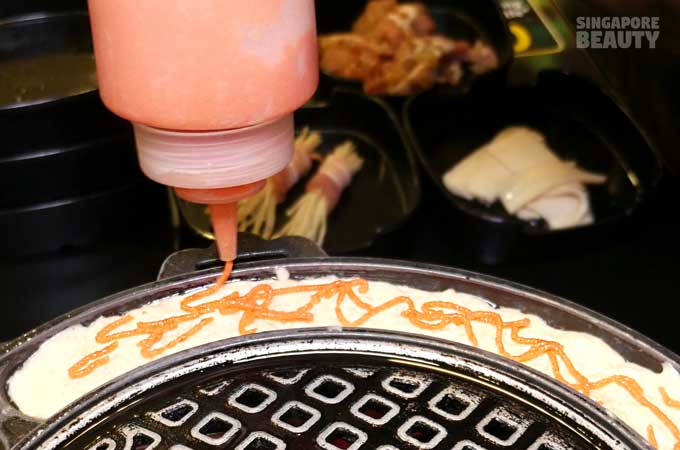 A Japanese favourite used for onigiri or pasta but in cheese dip, this could be the first mentaiko cheese dip in Singapore.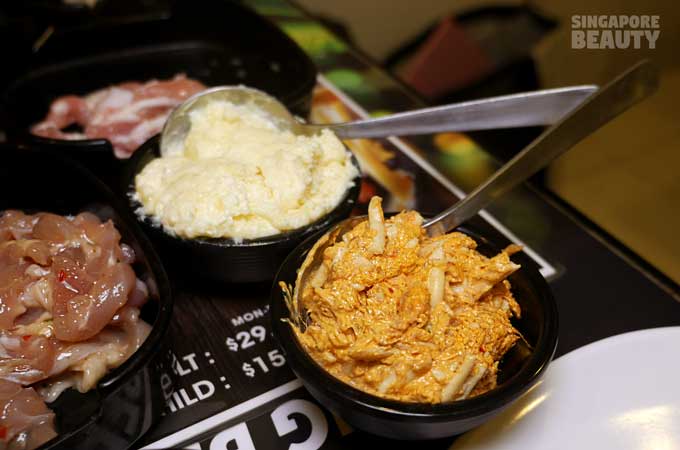 Ladyboy mookata takes pride in reinventing many flavours to the otherwise common molten cheese dips for her patrons. 8 types of cheese dips available are Ladyboy cheese, mayo cheese, truffle cheese, tom yum cheese, peri peri cheese, mozzarella cheese, golden salted egg cheese and their latest creation mentaiko cheese.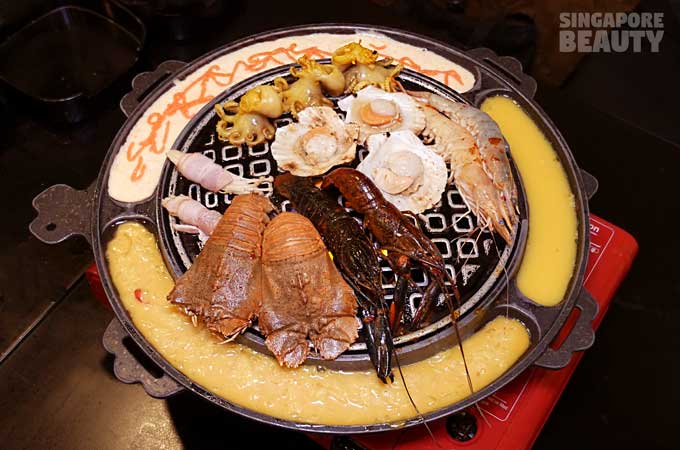 Free Flow cheese dips
You can order 2 type of cheese and 1 custard egg mix to start the mookata. The subsequent cheese refill can be any of the others on their menu.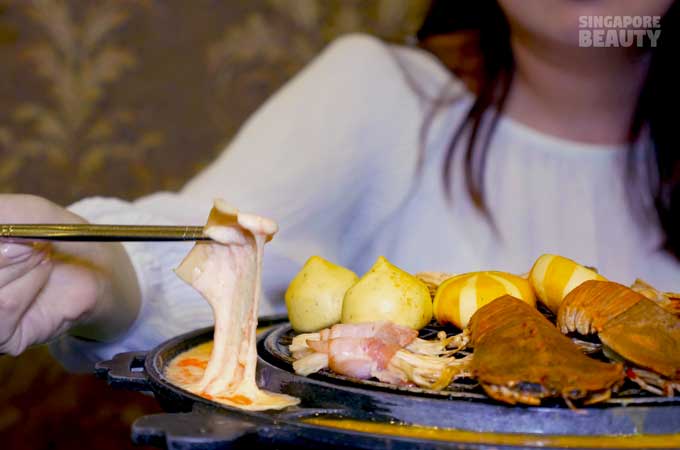 Mentaiko Cheese Dip (+$1 per serving) is more of an interesting texture, chewy cheese with popping roe that you could pick up with chopsticks and eat them just on their own. These roe are like popping candy that explodes in your mouth and creates surprising savoury outbursts within the chew. More mentaiko please!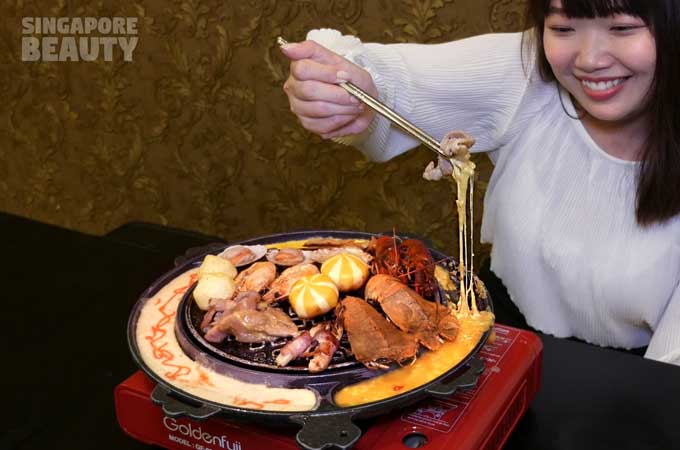 The favourite dip has to be the golden salted egg molten cheese, the savoury cheese against the subtle salted egg aroma, wrapped around a piece of sizzling tender bacon. Yum.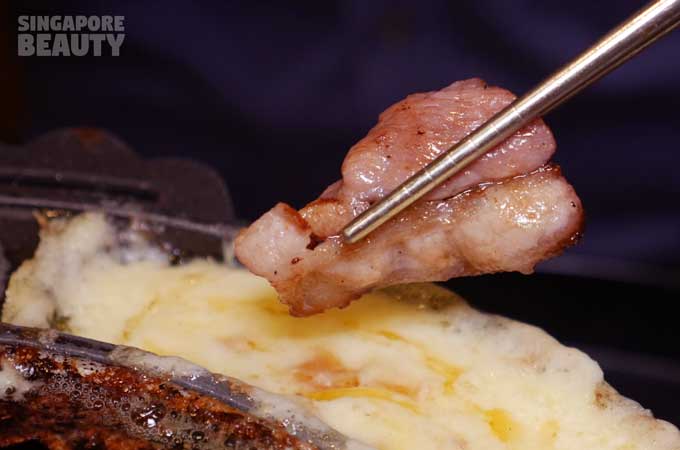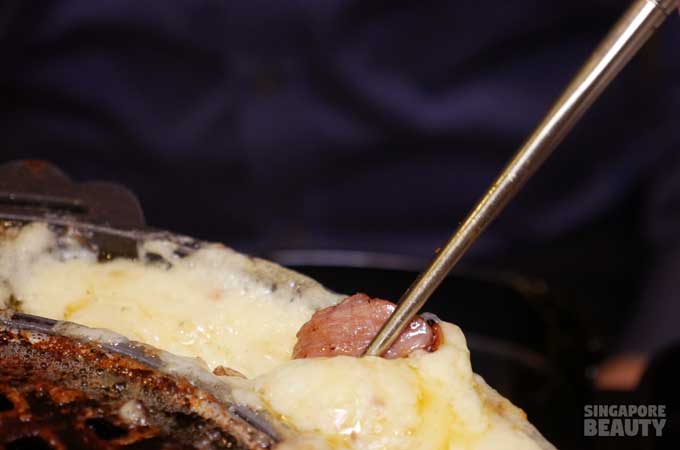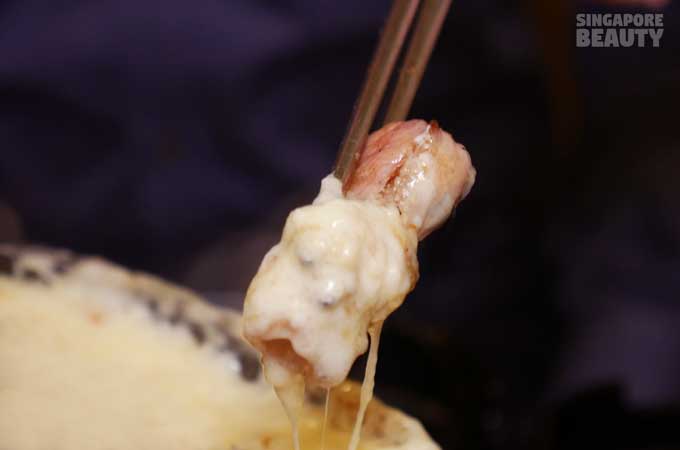 Truffle cheese dip pales in comparison to his more savoury counterparts above. However, if you are a lover of anything truffle, this strong pungent dip will appeal to your sensory senses and whet your appetite.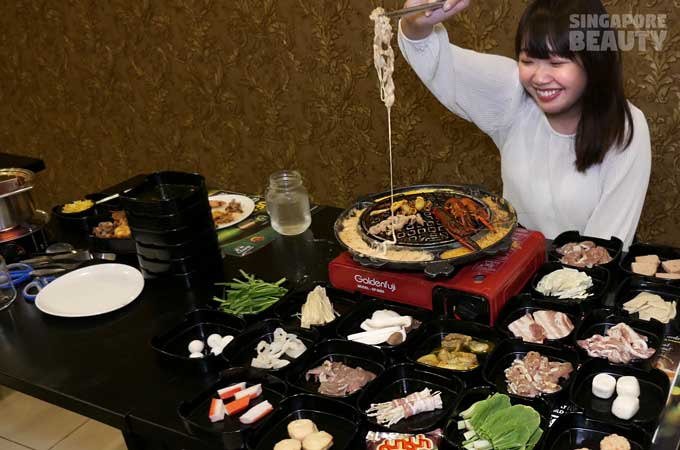 If you are craving for free flow cheese dips, marinated meat and tom yum steamboat, this is where you should be.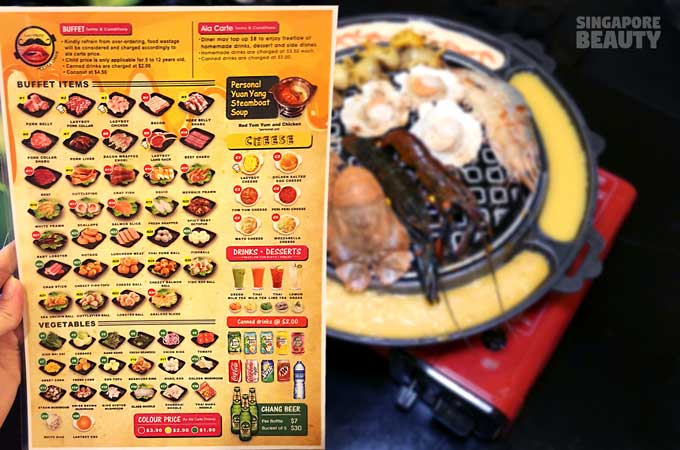 Buffet
With over 50 buffet items on their menu, you are literally having a spread like a feast. Served in personal portions so that you could order more variety to share. The chef's recommendations include Ladyboy pork collar, Ladyboy chicken and Ladyboy lamb rack. Bacon wrapped enoki, spicy baby octopus, sea urchin balls, abalone slices and Thai Mama noodles are also worth trying.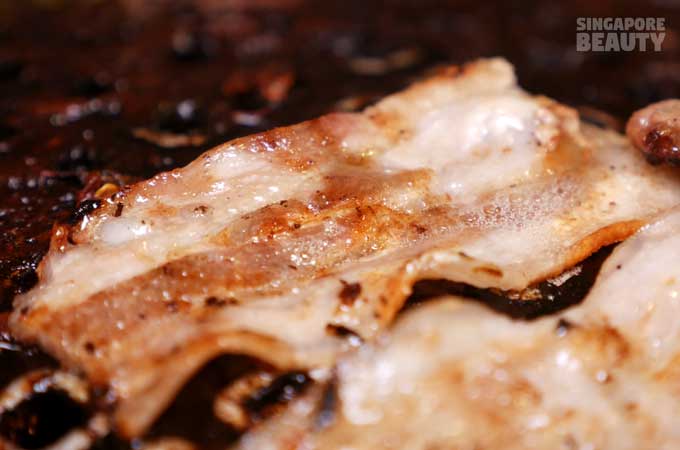 Pork Belly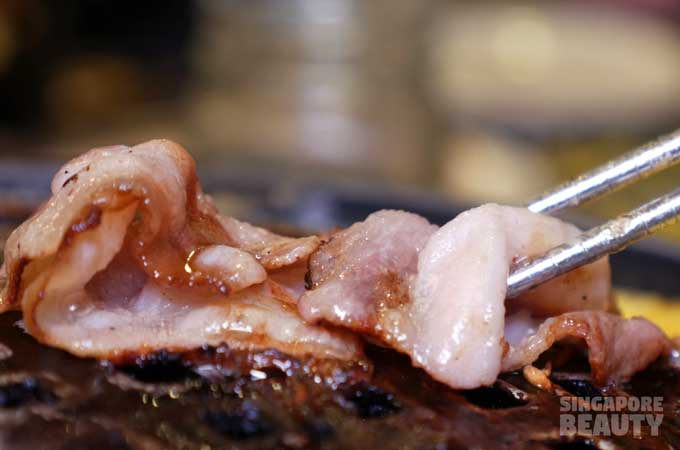 Bacon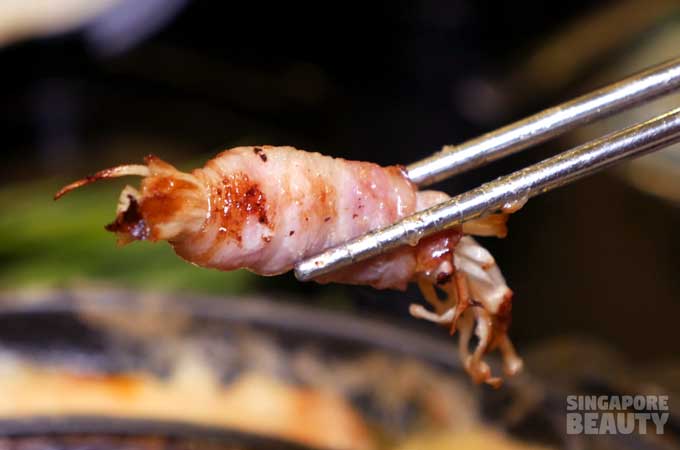 Bacon Wrapped Enoki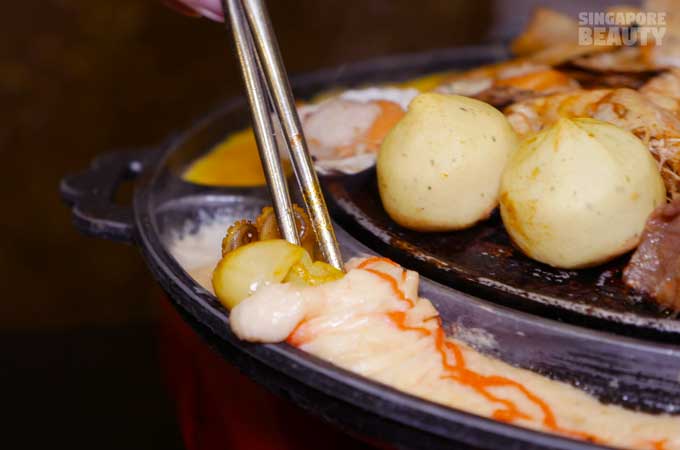 Baby Octopus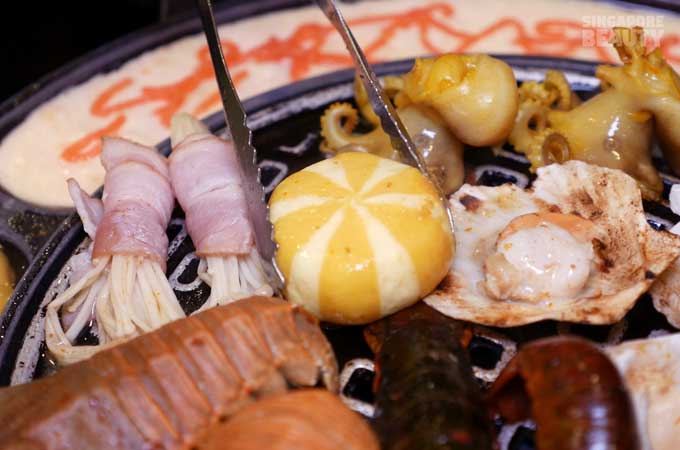 Sea Urchin Balls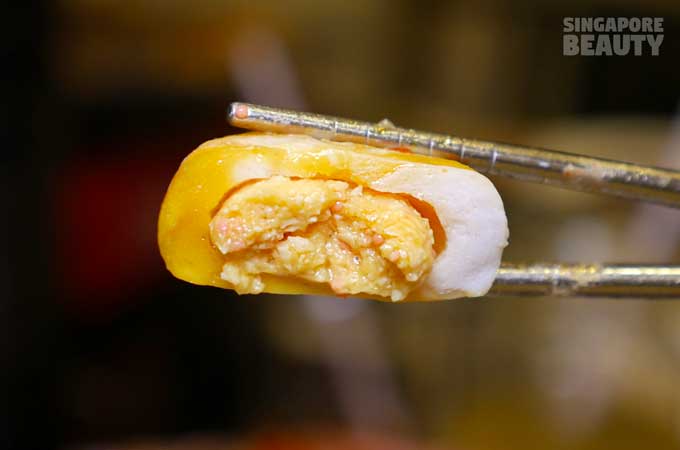 Look at the creamy roe.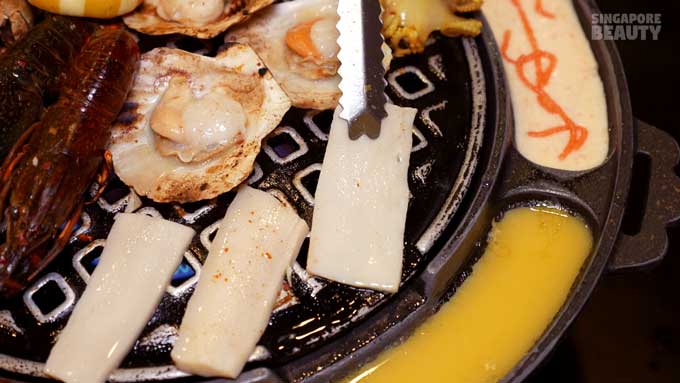 Abalone Slices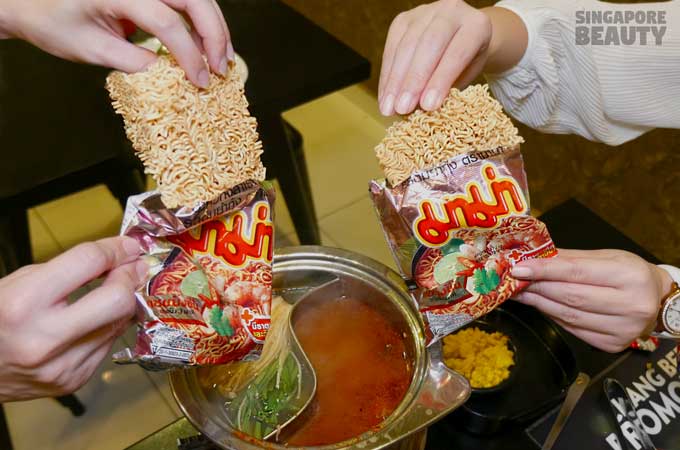 Thai Mama Noodles
Meat lovers will certainly be delighted with their variety of marinated meat.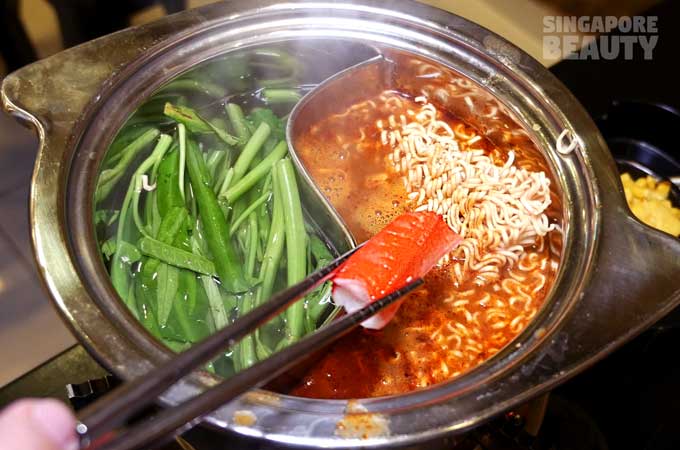 Personal Yuan Yang Steamboat (+$5 for buffet diners)
Each pot has 1 side of chicken broth and the other is homemade tom yum. The tom yum is light and flavourful. This tom yum with the Mama Thai instant noodle is a lethal combination. Thin springy noodles soaking up the tangy kaffir lime flavour. We ate half a dozen of their Mama Thai instant noodle in it just because the tom yum is so addictive.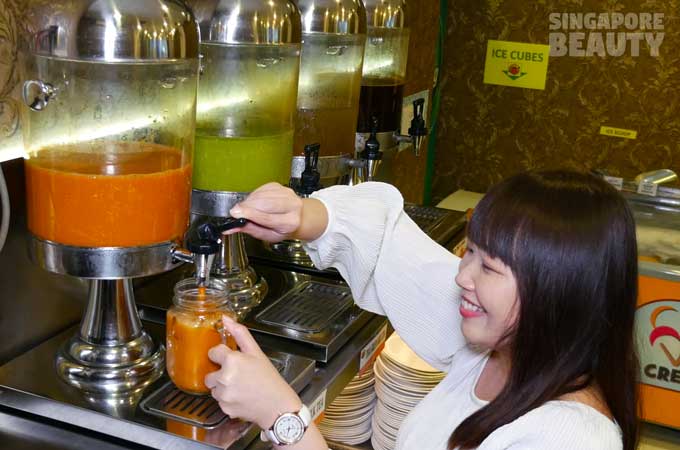 Free Flow Drinks (for buffet diners)
Also worth a special mention is Ladyboy mookata's wide range of free flow drinks and dessert for all buffer diners. Thick and silky milk tea is a must in any Thai mookata, you will regret not trying their free flow Thai milk tea, green milk tea, Thai lime tea and lemon grass drink. These are close to the Thai milk tea you paid for at speciality Thai Tea outlets for $3 to $5. Drink to your heart's content.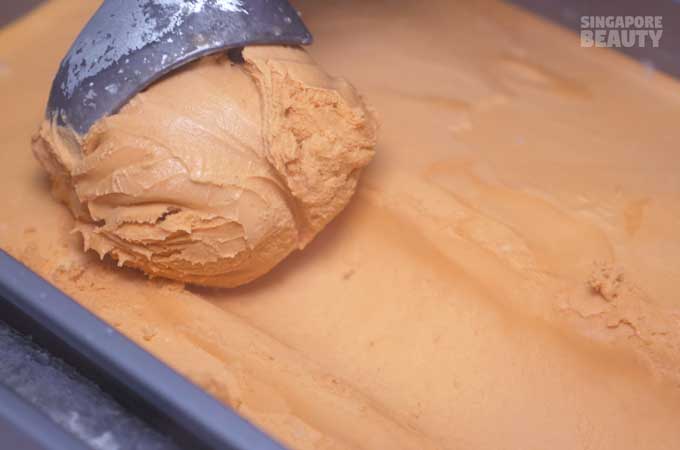 Free Flow Dessert(for buffet diners)
Dessert at Ladyboy mookata comes in flavours such as red bean, Milo crunch, lychee lime, brownies & cream. With so many temptations beckoning to me, I gave a shot at creating my own ice cream tower within their miniature one scoop cup.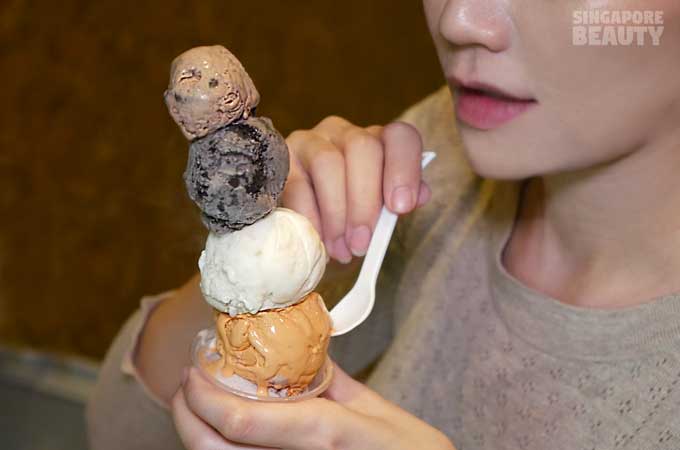 I managed to create a 5 tier ice cream tower with the hot favourite Thai milk tea as the largest scoop. This is heaven after the sizzling mookata.
Suction chimney has been a common practice in most mookata, it will be great if Ladyboy Mookata has this in place. The spacious and well cooled environment certainly does contribute to part of the pleasant dining experience though.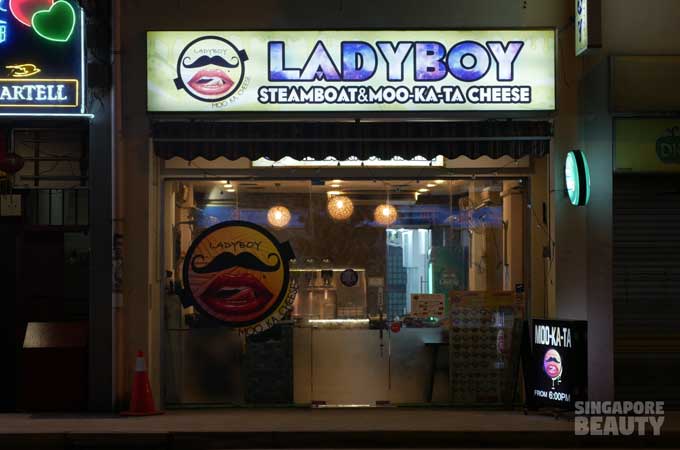 Parking can be found conveniently at an open air car park across their shop around Geylang Lorong 37. Do drop by Ladyboy mookata today to satisfy your craving for cheese dips, mookata and Tom yum steamboat.
Buffet Pricing:
Adult: $29.90 nett (Mon–Thurs), $32.90 nett (Fri–Sun/Eve/PH)
Child: $15.90 nett
*Mentaiko Cheese at $1 per serving.
Address:
[Restaurant is permanently closed]
Lorong 40
644 Geylang Road
S(389574)
Opening Hours:
Mon – Fri 6pm – 2am
Sat 5pm – 2am
Sun 5pm – 1am
Reservation:
+65 9836 5726 or +65 6743 0378
Brought to you by Ladyboy Mookata.