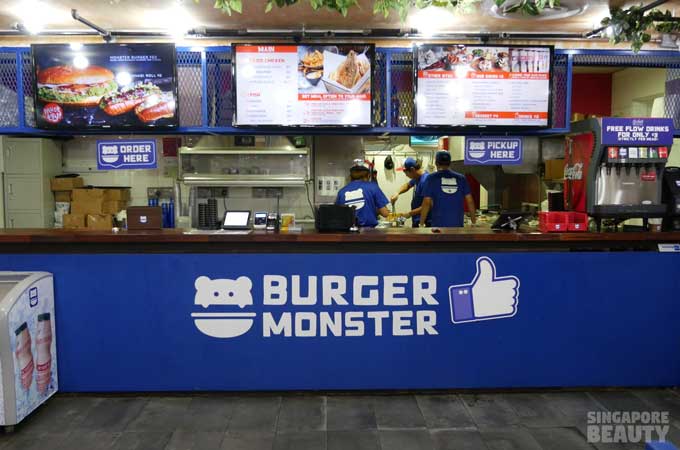 [Burger Monster is permanently closed] Burger Monster has opened its 1st Korean Burger Joint at the Ground floor of Jurong East MRT on 22nd Sept 2017. This is brought to you by the same people behind Chicken Up.
Burger Monster specialises in burgers, fish and chips and wings. These are not your mainstream burgers and fish fillets. They use premium fish fillet such as grouper, shark and unagi. Premium food sold at fast food prices.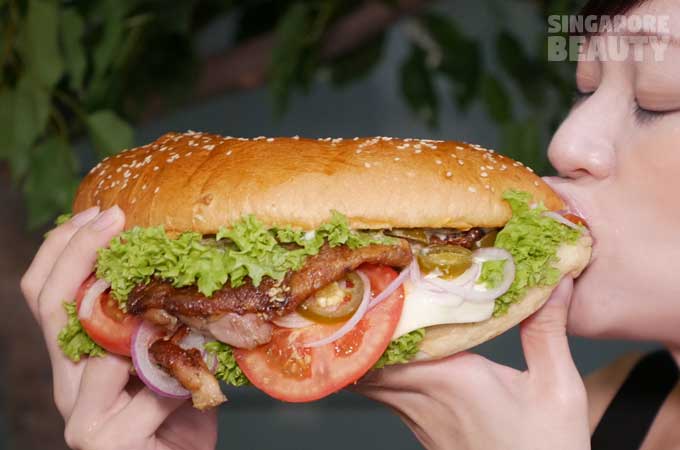 Monster Burger ($20)
The burger that make heads turn when it is served is no other than their signature Monster Burger.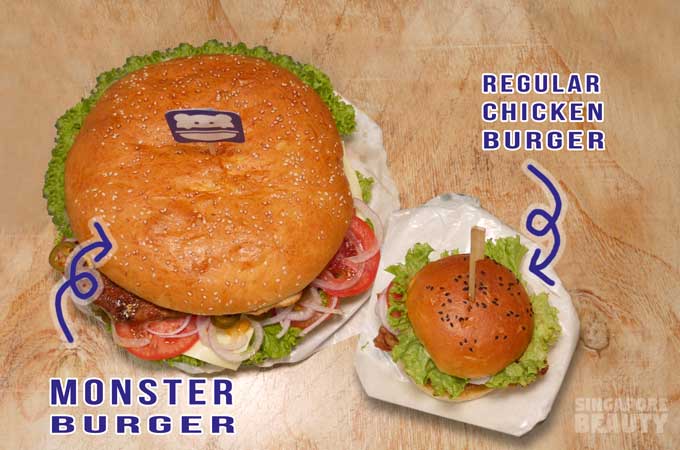 This is a burger that makes mainstream burger hide in fear. It looks like a burger on steroids, 20 cm in diameter. Sandwiched between sesame buns, with loads of thick tomato slices, pickled jalapeño, cheddar cheese, red onions rings, and lettuce atop the saucy meat patty. You get to choose either beef or chicken for the patty. We chose the grilled chicken patty, smoked grilled flavourful chicken thighs goes well with the refreshing greens. It feels like you are eating a salsa burger. I prefer burger with a bite, so do make special order for less dressing if you like yours this way too.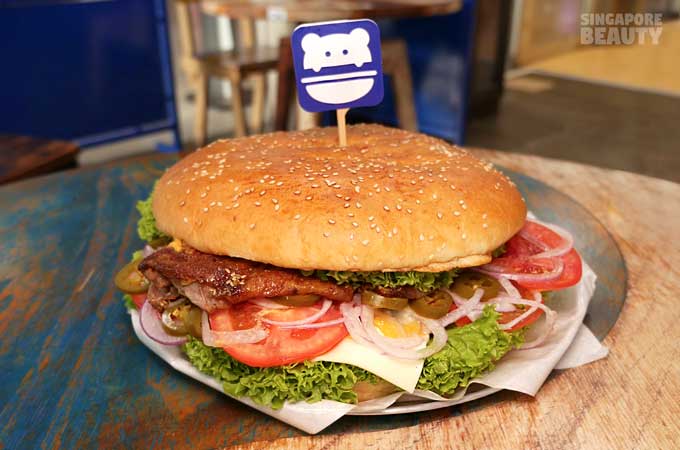 The portion is generous and it is best shared among 3 pax or more. You can consider having it as "birthday burger" to pamper yourself on your special day.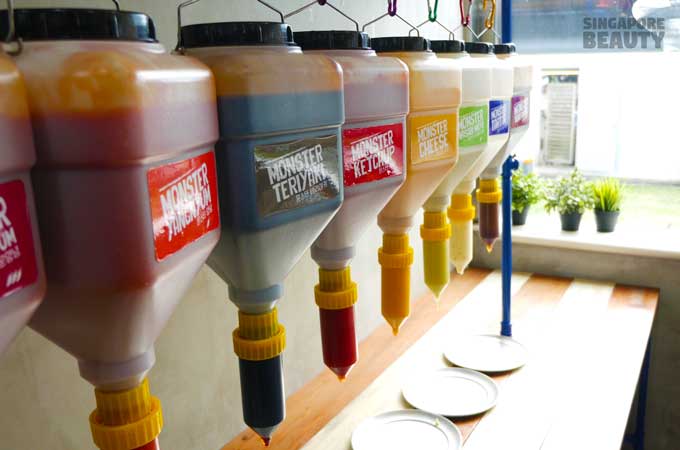 At Burger Monster, you can help yourselves to the 8 types of free flow sauce and dressing at their "Choose Your Destiny" counter. Spicy yangnyum, yangnyum, teriyaki, ketchup, cheese, wasabi mayo, tartar and Korean BBQ are available. You can customise your own cheese fries or buffalos wings here at no extra cost. Sounds like a real good deal.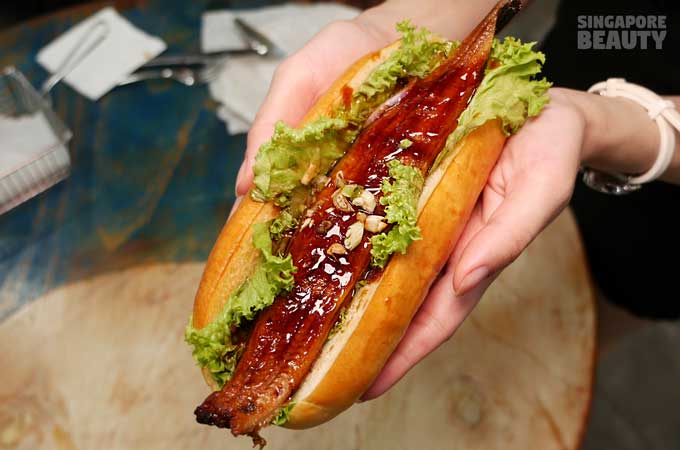 Unagi (Eel) roll ($8)
Delicious tare glazed unagi fillet sandwiched lettuce in a roll. The fillet is smooth and tender with heavy notes of sweetness. The look of it will make you drool.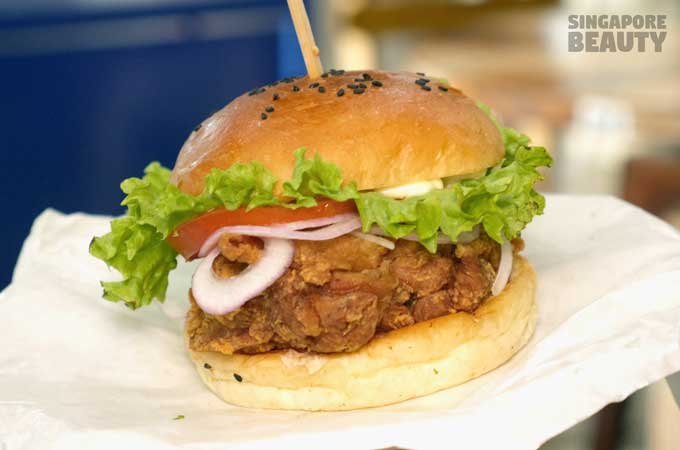 Fried chicken Burger ($5)
Sandwiched between 2 fluffy sesame buns are lettuce, thick slices of tomatoes, red onions rings and 1 thick deep fried crispy chicken thigh patty.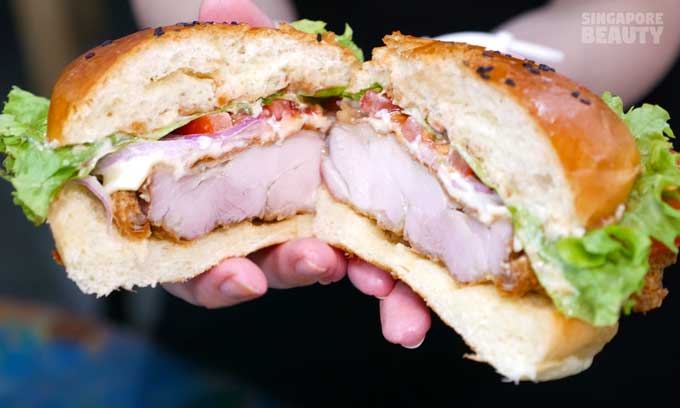 $5 for such a thick slab of patty, this is a bang for your bucks. Tender and yummy.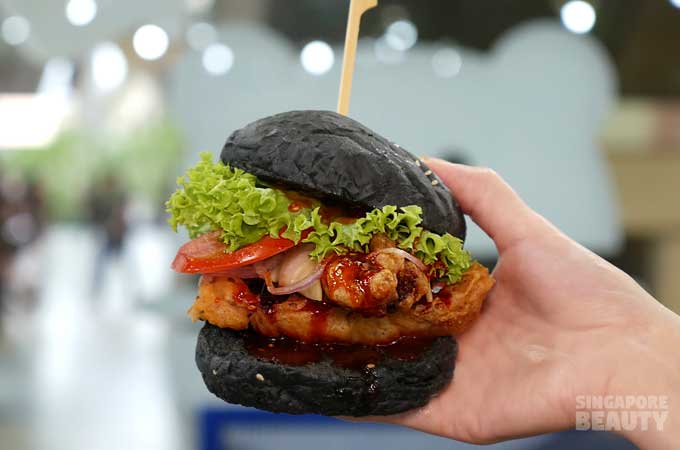 Shark burger $6 (+$2 charcoal sesame buns)
Sandwiched between 2 fluffy sesame charcoal buns are lettuce, cheddar cheese, thick slices of tomatoes and good amount of red onions rings and 2 shark fillets. Dressed in a sweet and spicy sauce, atop 2 crisp golden brown battered shark fillets, this dressing compliment the fish fillet well by adding some crunch and tangy juice to it.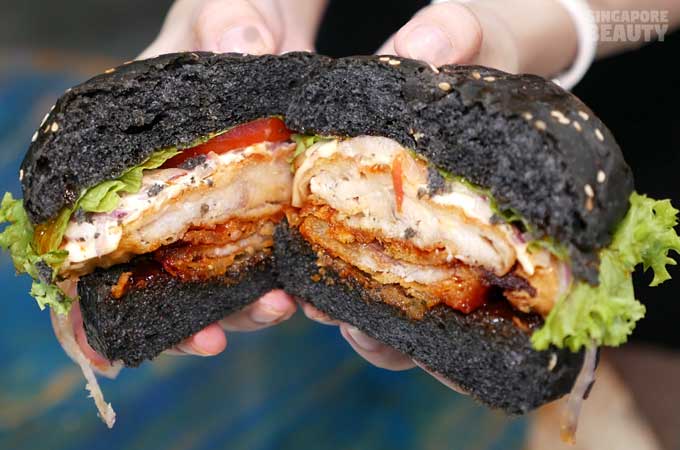 Shark meat is of a unique firm meaty texture and not your daily flaky fish fillet. This is a rare delicacy and may be for a limited time only. So hurry.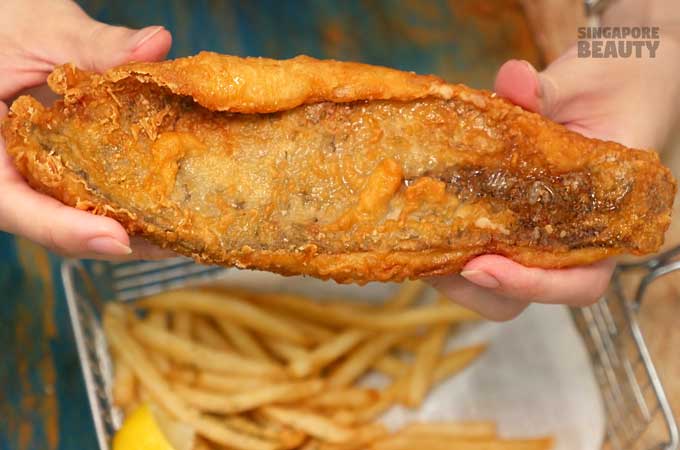 Fish Grouper fillet $9 (+$3 for fries and drink)
Lightly coated grouper fillet comes with a wedge of lemon, crispy fries and 1 refillable drink. Tender and crispy fillet with flaky texture. The fillet is of a good size and value for money too. Recommended!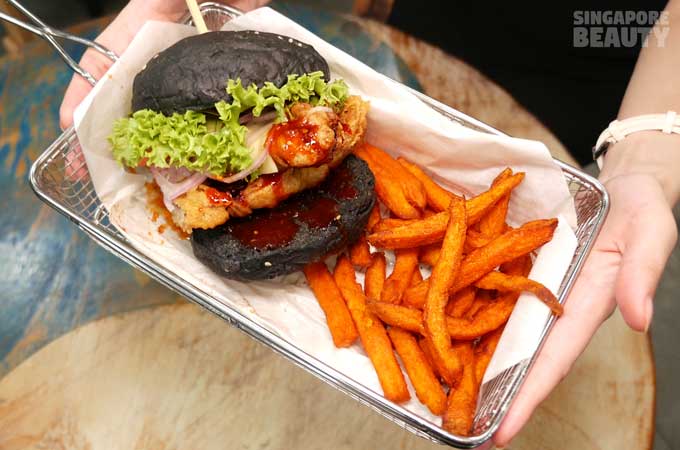 Add-on to make your mains more exciting
Top up $2 for sweet potato fries in deep sunset orange and the natural sweetness from sweet potatoes. These are those thick fries with a mash centre and savoury exterior. Best eaten hot.
Sides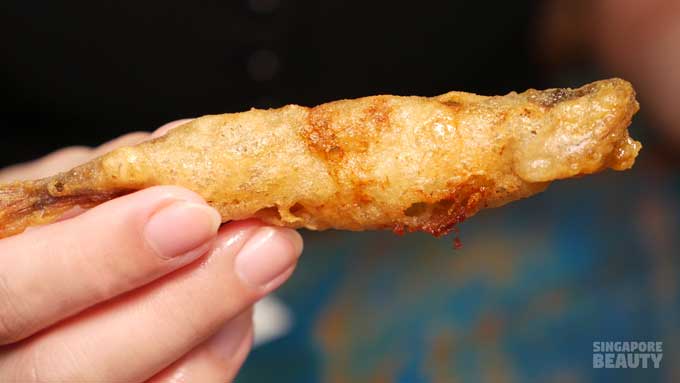 Fried Shishamo ($5)
Crispy golden brown Shishamo in thin batter with loads of white pearly fish roe.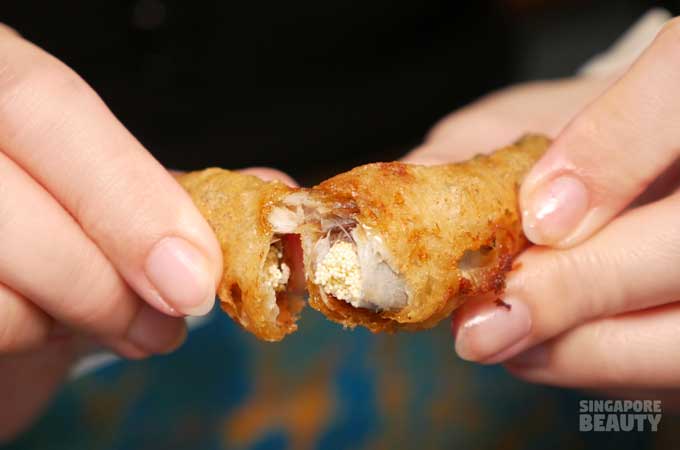 The crust is crispy with moist flesh and roe.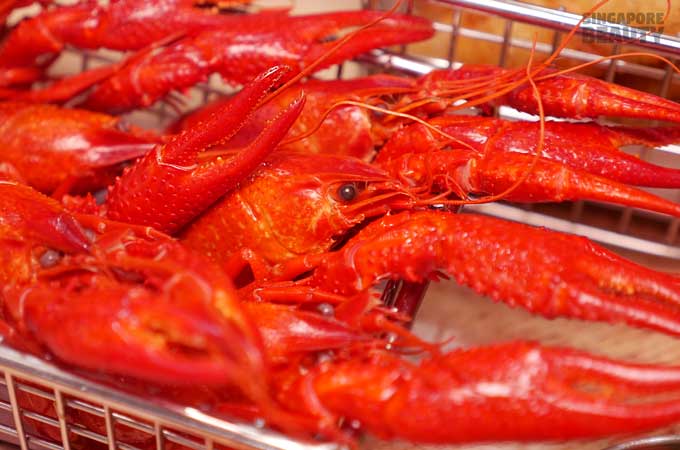 Mini Lobster ($12)
Baby lobster that comes with Singapore's favourite chill crab sauce dips. You can easily deshell the baby lobsters and savour that prized meat with the dip.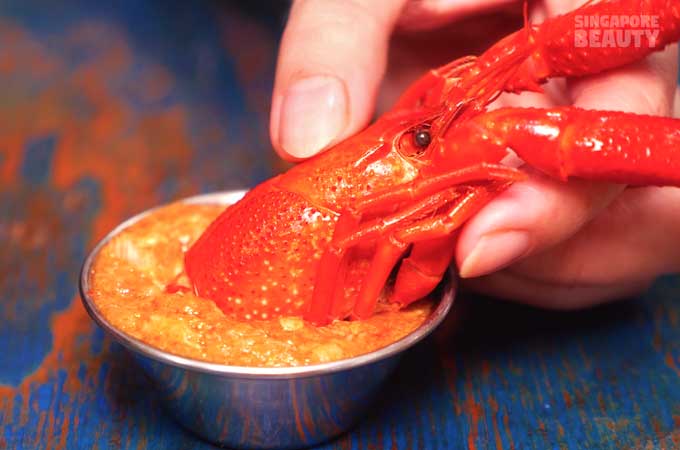 The portion is good for 1 pax and the chilli crab dips seems to be good for fries or any other fillets too. Yummy sauce.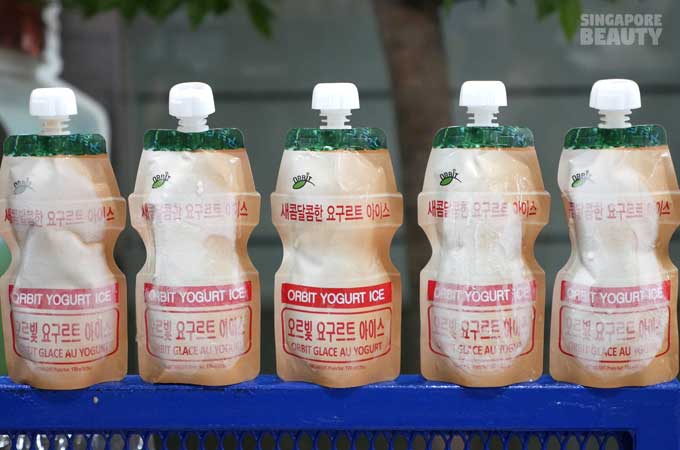 Dessert ($4)
Dessert is Orbit Yogurt Ice shaped in a Yakult shaped package-yogurt slush-good for digestion after feasting. The texture of the slush is like small ice crystal that melts in your mouth and kids will love this.
Squeeze the slush snow out from the package into your mouth. Good to takeaway as a dessert as it can be recapped.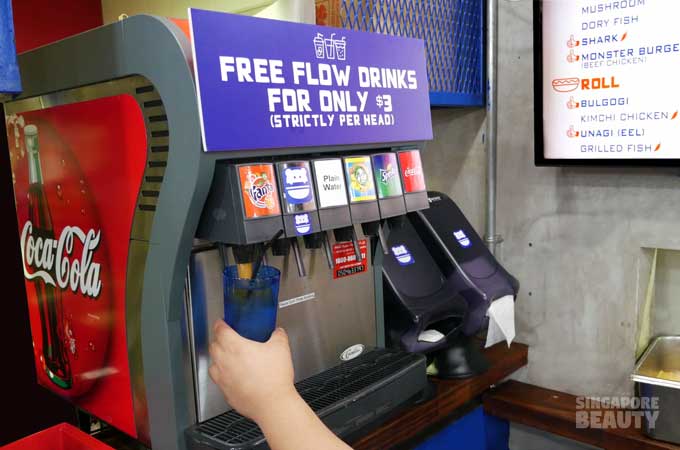 Drinks ($3)
When was the last time we had free flow drink in a fast food joint? Fret not, it is now back again at Burger Monster. Top up $3 to get fries or garlic fried rice + unlimited refill of drink. Or top up $5, to have fries or garlic fried rice + unlimited refills of drink + a side of your choice. Drink to your heart's content.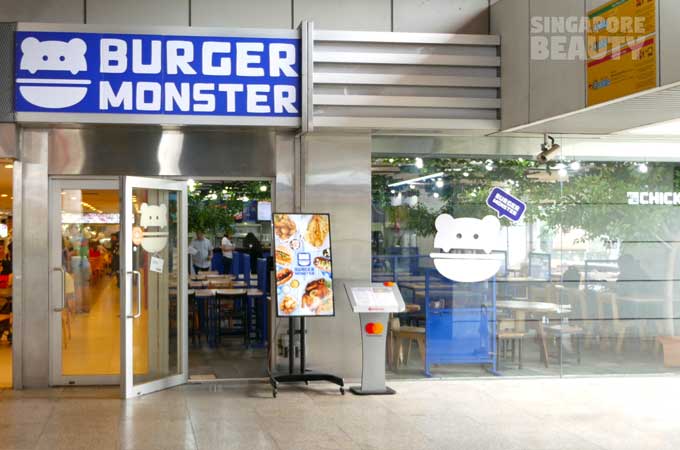 They have an opening giveaway of 100 Bulgogi beef rolls daily from 1St to 22nd Oct 2017 with no minimum spending required. Like, share and flash shared post to cashier to redeem your free delicious Bulgogi beef rolls. This is a great place to catch up with friends or celebrate your birthday with the Monster Burger.
With K-Pop MTV and great food, whats not to like about this hipster joint? Hurry over to Burger Monster today!
Location:
[Restaurant is permanently closed]
Ground floor of Jurong East MRT Station,
10 Jurong East Street 12,
Singapore 609690
Reservation:
9728 9964
Operating Hours:
11am to 10 pm, Monday to Thursday
11am to 10.30 pm, Friday to Sunday
Brought to you by Burger Monster.