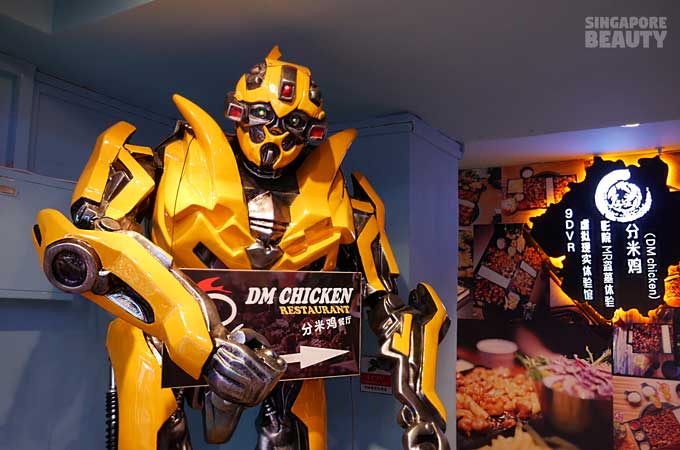 DM chicken has launched a new menu in additional to their hot favourites. Hotplate sambal squid is Singapore's favourite hawker food.
Lovers of hotplate squid can rejoice to a new flavour launched by DM chicken in Chinatown.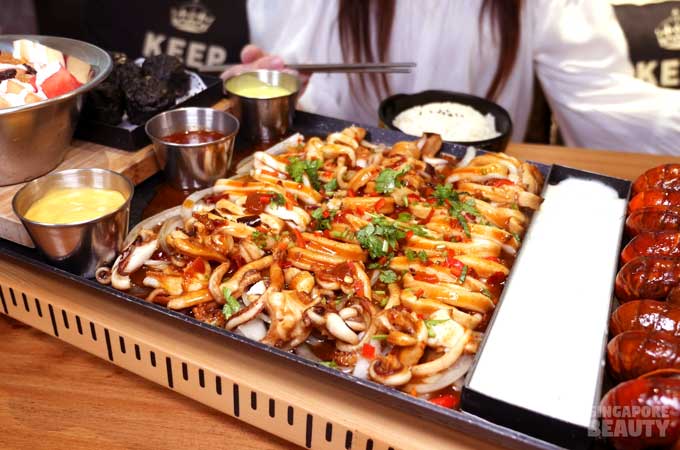 Hotplate Mala squid and mini lobster battleship platter ($65 for 50cm platter, $98 for 75cm platter & $138 for 100cm platter) to spice up your week. You have heard of Mala hotpot, Mala Xiang Guo pot and now – Mala Hotplate.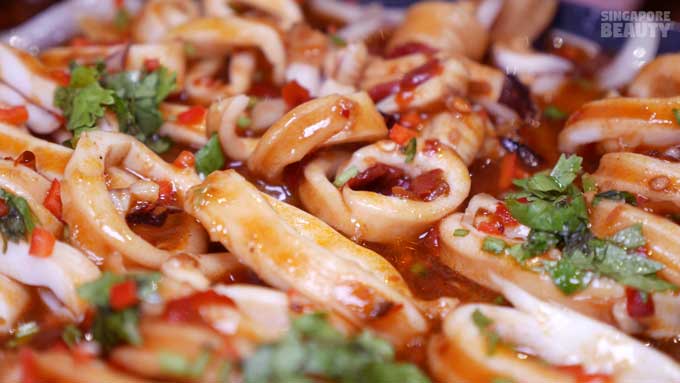 We tried it and fell in love with it at first bite. Good size squid in bite size rings soaking up the savoury mala gravy. Squid are steamed to perfection, fleshy and succulent. The pearly squid rings retain the sweetness of fresh seafood as it is steamed in its own broth. It is great that the squid rings are simmering while you eat, so that they will stay tender and not overcooked.
Blended Mala is sautéed with the dried chilli peppers till a layer of aromatic chilli oil emulsion is created. I must credit the chef for controlling the spiciness of this platter well, you get to enjoy the aromatic Mala squid and mini lobster without having to struggle to hold back your tears. The Mala gravy is addictive with petals of caramelised white onions and capsicum chunks. Savoury and sweet infused with roasted five spices undertones. The gravy is smooth and thick and coats each squid ring well. Get a bowl of flurry steamed rice to go with the platter. I am a happy camper!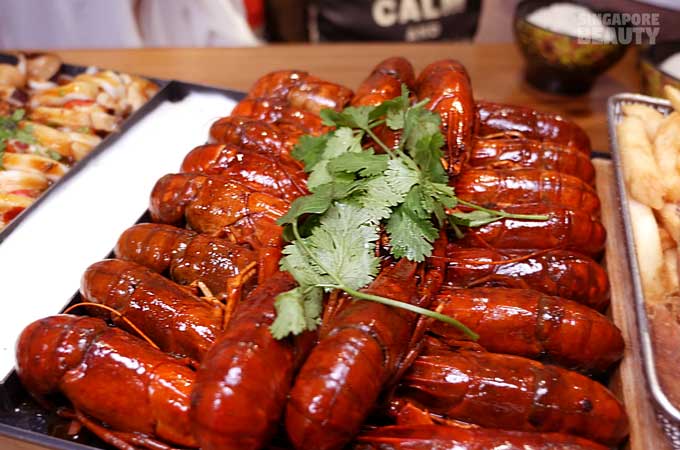 Mini lobsters are done Cajun style with a blend of seasonings like salt, pepper, onions, parsley and a secret in-house blend of spices. The mini lobsters are infused with the flavours from merriment of ingredients. Firm and succulent mini lobster flesh can be easily deshelled and enjoyed.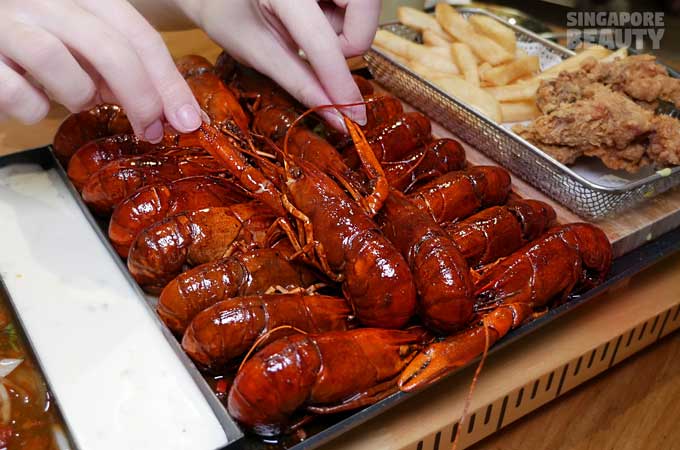 Just the look of these mini lobsters in its glorious red shield is enough to get you salivating.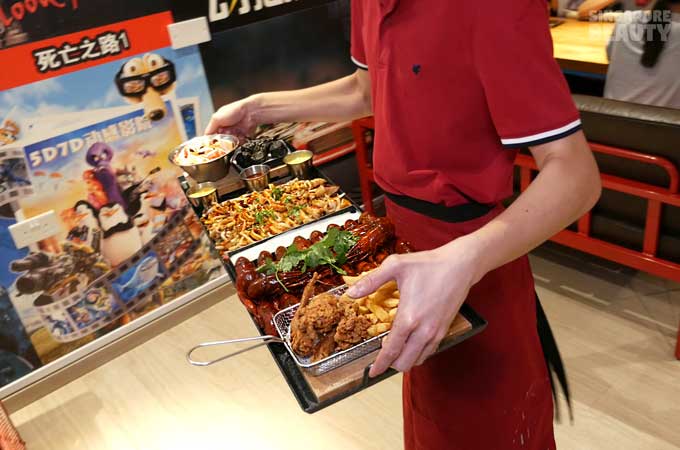 In this battleship platter, there are crispy fried chicken wings, crunchy black squid ink balls, cut fries, salad fruit bowl and dips.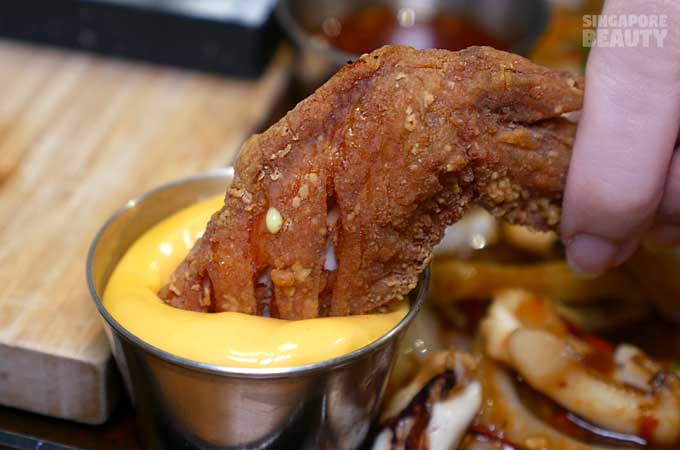 The marinade is massaged into the scores in the wings and coated a thin batter before they are deep fried to golden brown perfection. Pair this with their fondue cheese dip, this is a pair made in heaven. Creamy cheese with crispy skin and tender chicken. Chicken-licious.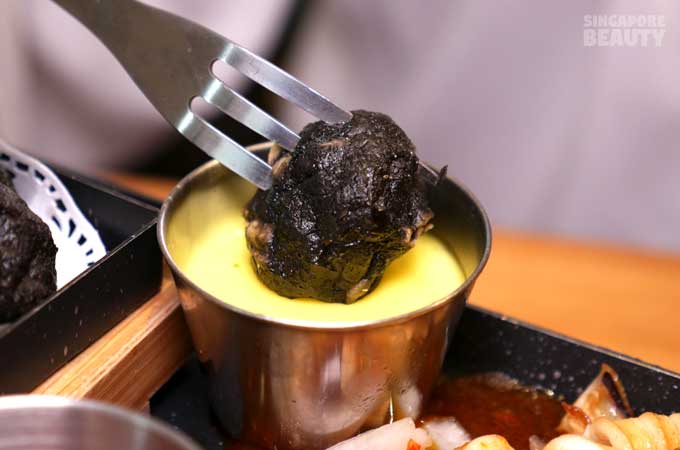 Crunchy black squid ink balls with bits of real squid chopped and blended into the squid ink paste. Deep fried with a crispy crust and chewy inside. Eat them with the cheese dip, mayo dips or on its own. These are snapped up fast as they are so good.
Similar cut fries to a Japanese fast food chain restaurant, these fries are so good in terms of quantity and texture. Crunchy but moist and creamy inside. Served in a wire basket to keep it crunchy. Dip them in their sweet and tangy chill sauce. The best deal is that these fries are not overly salty to overwhelm the goodness of the potato. All the good vibes you wished for in good fries.
Salad bowls are made of a variety of tropical fruits and dressed with their home-made mayonnaise. A generous serving of fruit salad (cubed watermelon, rock melon, orange, and apple) dressed in light mayonnaise and topped with golden raisins as a starter. Mixed these well with the dressing, creamy juicy and crunchy chilled fruit chunks.
Each DM battleship platter comes with 4 dips (yogurt cheese dip, mayonnaise dip, sweet and hot dip and honey mustard) to savour the wings, or create your own cheese fries with the sauce!
After a hot meal, it is a great idea to have chilled cold dishes to cool down before you head to their VR games rooms.
DM Chicken introduced a variety of appetisers to whet your appetite and some are good for detox.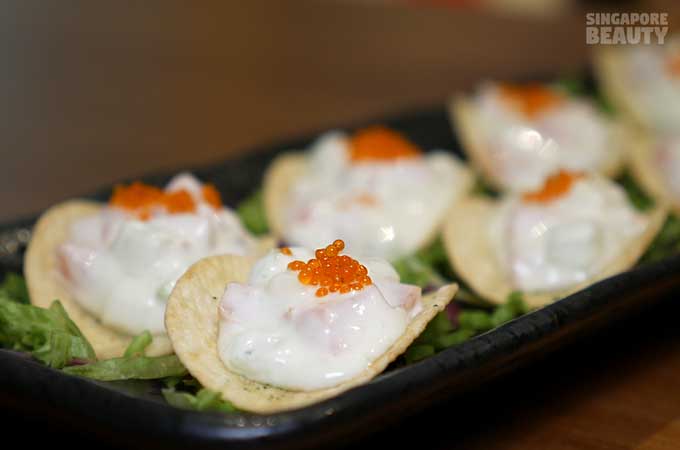 Surfing Salmon ($9.90) is a set of finger food consisting of 8 nos of bite size chips topped with salmon sashimi chunks in home-made mayonnaise finished with mentaiko. Salmon sashimi and mentaiko (roe) are always good together. Yum.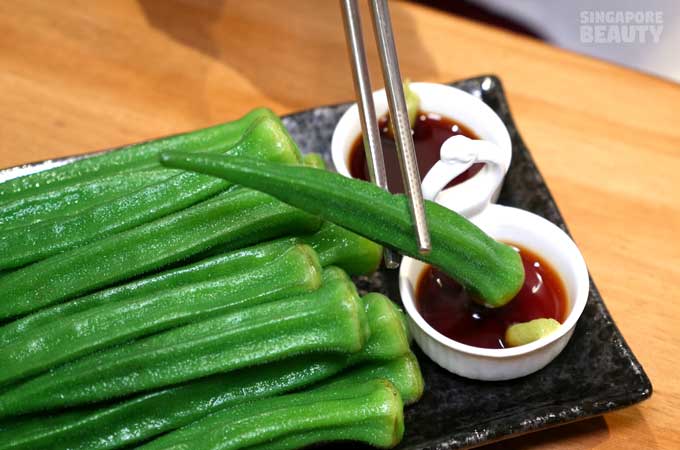 Iced Ladyfingers ($6.90) are blanched in hot water and ice bathed to stop the cooking process so that it is crisp and crunchy. The jade green lady fingers are served whole to retain the gooey texture and nutrients. Ladyfingers are known to be beneficial for constipation and good for digestion. Served with shoyu and wasabi to give you an extra pungent kick to the seemingly innocent looking greens. Recommended.
Iced bitter Gourds ($6.90) are prepared the same way as iced ladyfingers. These are chilled chunks of bitter gourd served with honey. We are a little nervous with this detox dish as we could anticipate the bitterness after taste of it. But we decided to give it a try. We are wowed over by the crunch of it and very refreshing too.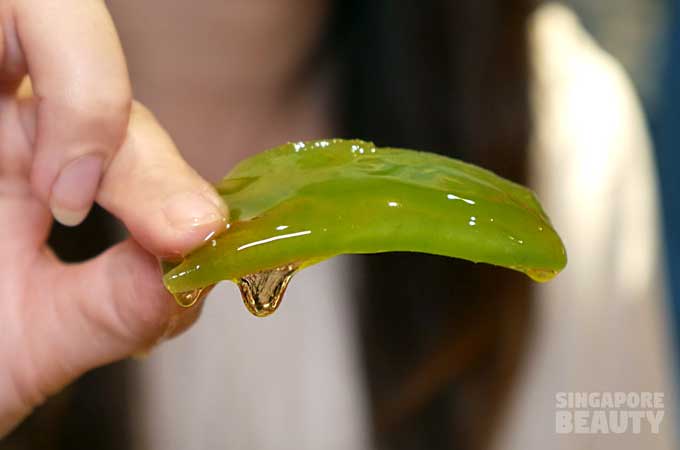 A piece of honey glazed bitter gourd. The bitter gourd is mellowed out by the rich honey glazing. Strange combination but it really works well.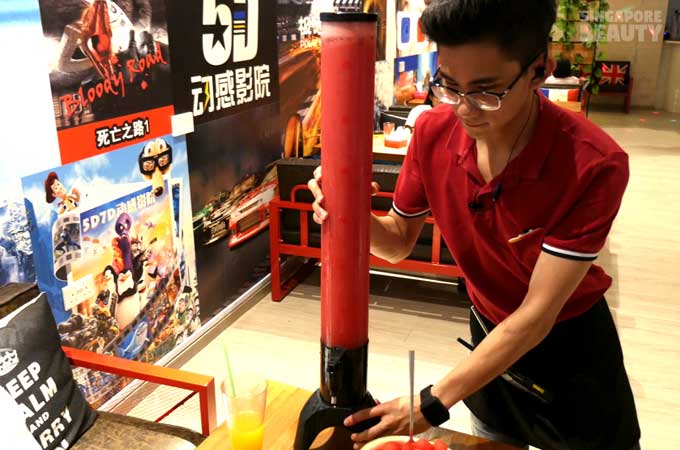 A meal is incomplete without good drinks. At DM chicken, you can expect fresh fruit juice and fruity mocktails. We ordered guava, orange and watermelon tower again. This is our return visit to DM chicken, the watermelon juice tower is legit and good value for money. Something you should order while you are there.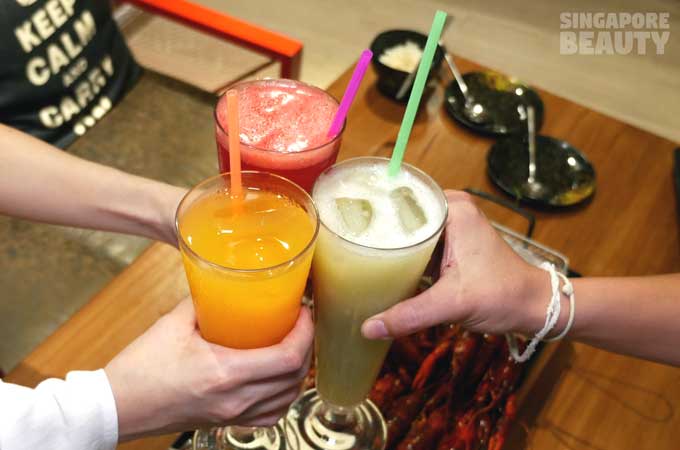 Guava juice and orange juice ($4.80 each) are on the to-drink-list as well, these are freshly juiced and you can feel the pulp in each sip. Cheers to DM chicken's fresh fruit juices!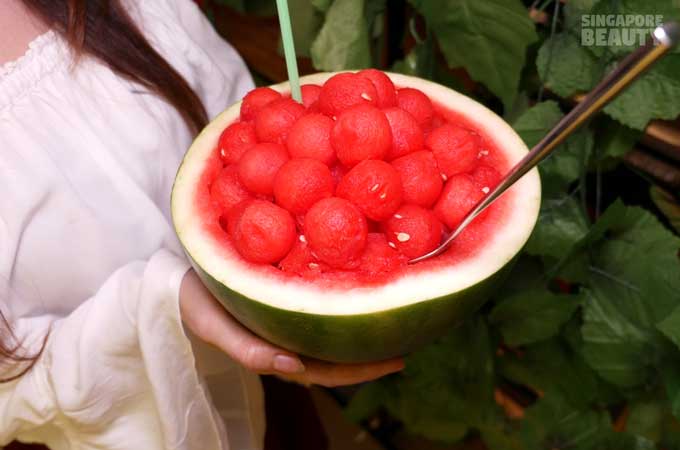 If you still have space for more food, try the DM chicken's Watermelon Cube bowl ($12.80).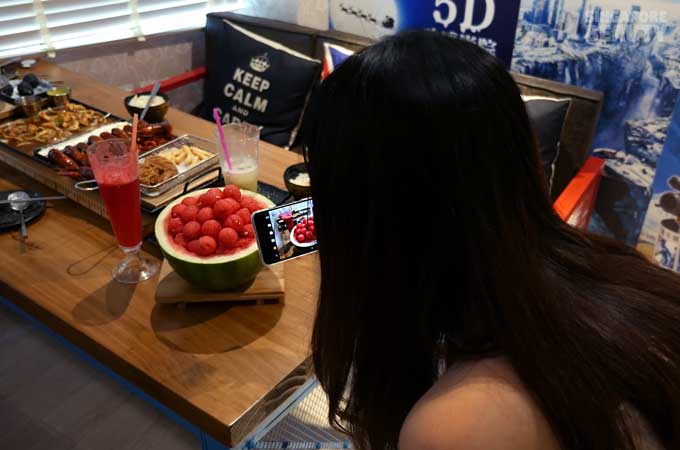 Balls of watermelons hand carved out in balls served in a halved watermelon bowl and very instagram-worthy. If you are in the mood for some localised "soju" watermelon cocktail, feel free to order some alcoholic beverage from them. They served a variety of local and imported "soju" like Tiger, Heineken, Snow beer, Tsingtao, Hite and red wine. With the variety of alcohol served, you are not too far from a beer party at DM Chicken.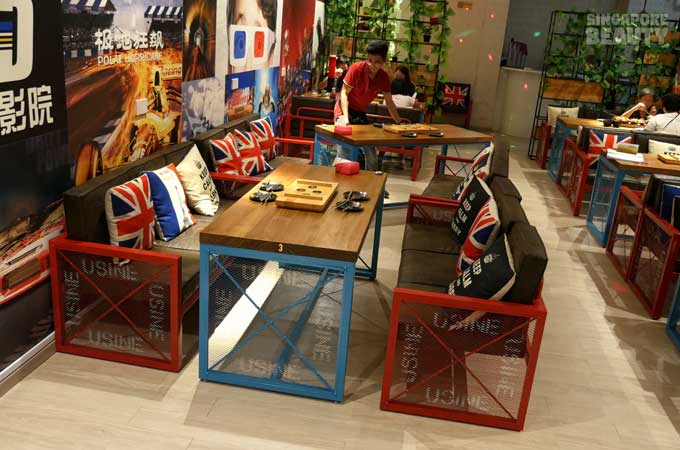 DM Chicken has flexible seating arrangement that can accommodate a large group of people. Just let them know when you make your reservations. This is a spacious venue for large gatherings and the ground crews are attentive to details.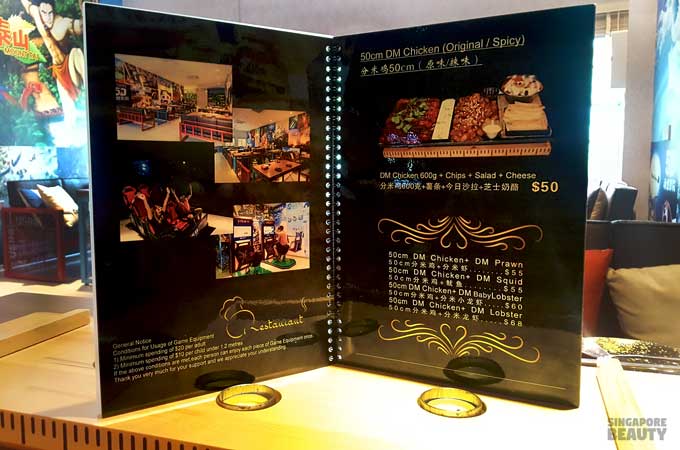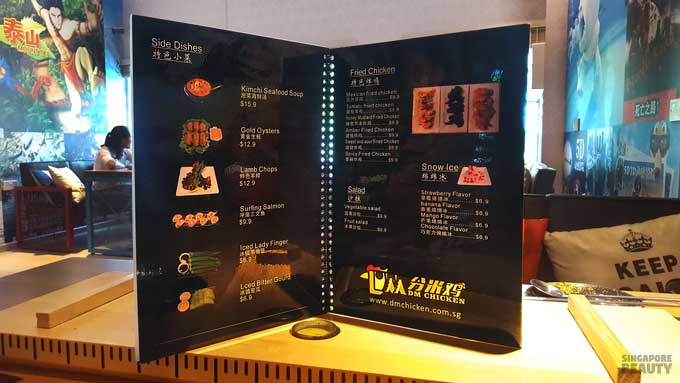 From 50cm-100cm platters, sides, snow ice to juices, with the variety of food served, you will be spoilt for choice.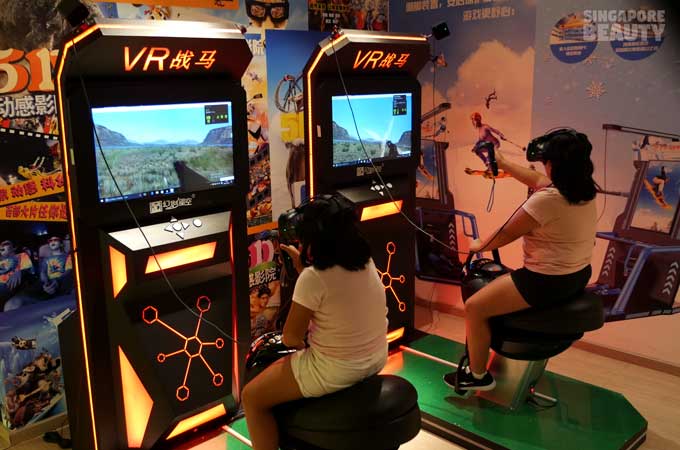 DM Chicken's concept of having fun while you eat is also a large pull factor for gathering and dining there.
Warning: The following pictures extracted from the VR games at DM Chicken may be disturbing to some viewers. Viewer discretion is advised and parental supervision is encouraged.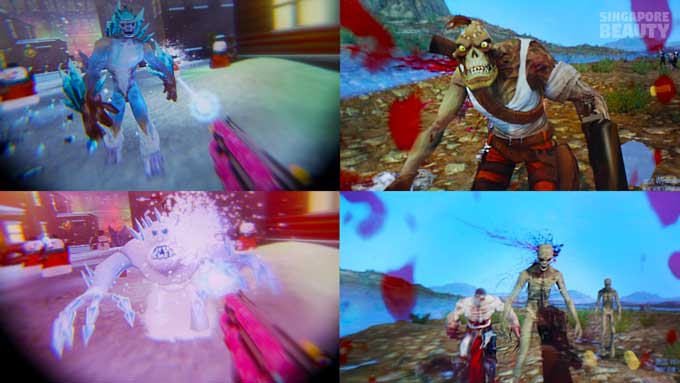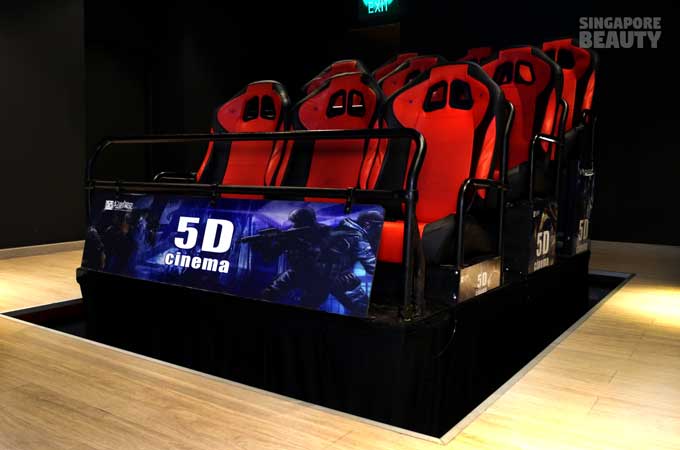 They boost of a mini 5D cinematic experience and a separate room for VR games. Do read our previous article for more details of these games – DM Chicken. Brace yourself for these VR rides, these are not for the faint hearted. Do take some time to cool down after your meal before heading for these games. Barf bags are not included in these rides! Have fun.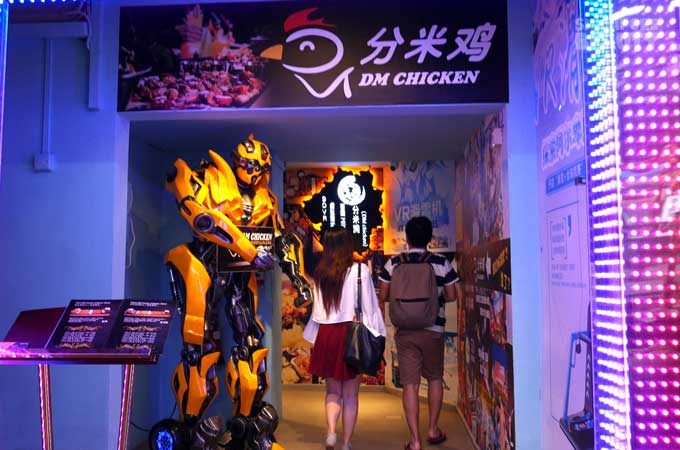 Now these look exciting, don't they? Find out more for yourselves by heading down today.
*Updated from  DM Chicken (17 September 2017) – Usage of Game Equipment
1) Minimum spending of $20 per adult
2) Minimum spending of $10 per child under 1.2 metres
Location:
Exit E or exit A from Chinatown MRT.
191B New Bridge Road (take their lift up to level 3)
Singapore 059423
Operating Hours:
11:30AM – 1:00AM
All day dining from lunch till supper.
Reservations:
6909 2756
Brought to you by DM Chicken.