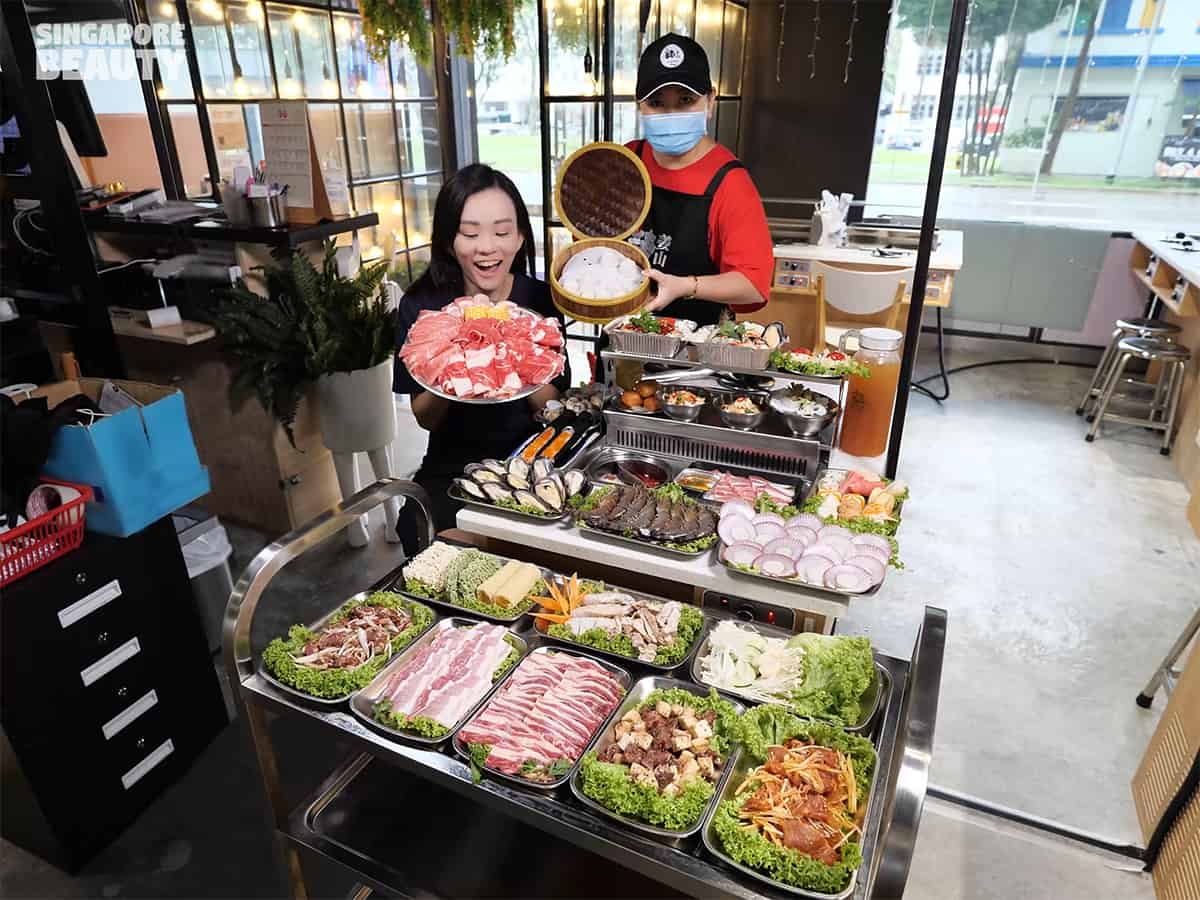 La Jiang Shan Hotpot BBQ is offering Singapore First individual BBQ and hot pot buffet with free flow marinated meats, greens, carbs and surimi for weekday lunch from $18.80++. Get unlimited marinated black pepper pork belly, secret spice chicken and beef sizzling on your personal bbq grill. Enjoy the best of personal BBQ and hotpot with a personal size hotpot while you grill. Add unlimited lobster ball, handmade pork balls, sausage, assorted fungi and luncheon meat for a superbly flavourful hotpot soup base. There are also a plethora of choices for greens offered in this BBQ cum hotpot lunch buffet. Enjoy large selections of healthy selections such as cheese tofu, mushrooms, melon, sliced lotus, lettuce, cabbage, kelp and more.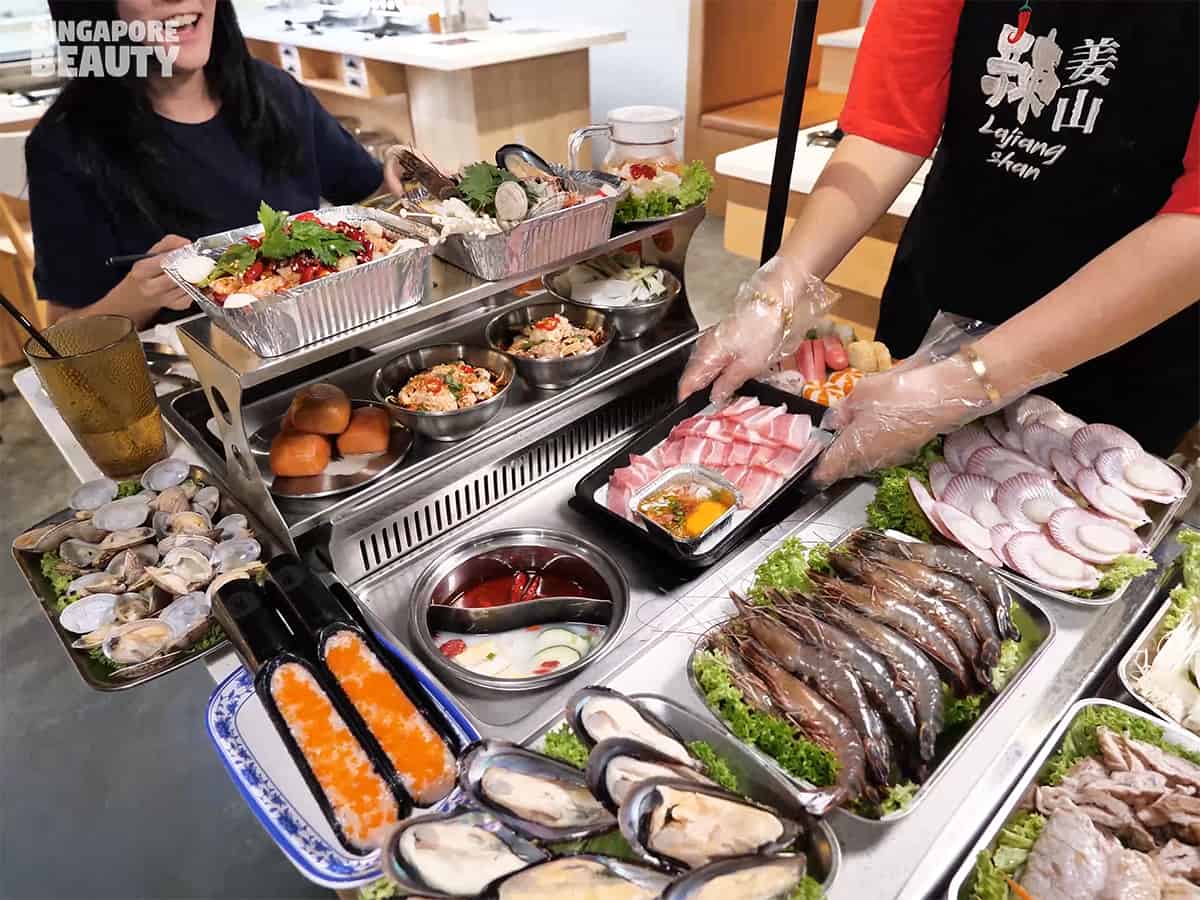 La Jiang Shan Hotpot BBQ is a great venue for groups or individuals who are looking for lunch venue which serve personal size hotpot and bbq grill. For those who are craving for some hotpot and BBQ during lunch and could not get any kakis, this is a perfect spot for you to satisfy your cravings. Having a personal hotpot and bbq grill means you can be perfectly sure no one is going to double dip or double "dig" into your hotpot. Lunch is going to be a wholesome "me" time where can enjoy some peaceful recharging for the rest of the day. For those who are after the full range of La Jiang Shan Hotpot BBQ menu which includes the premium offerings pictured above, their dinner buffet will be a better choice.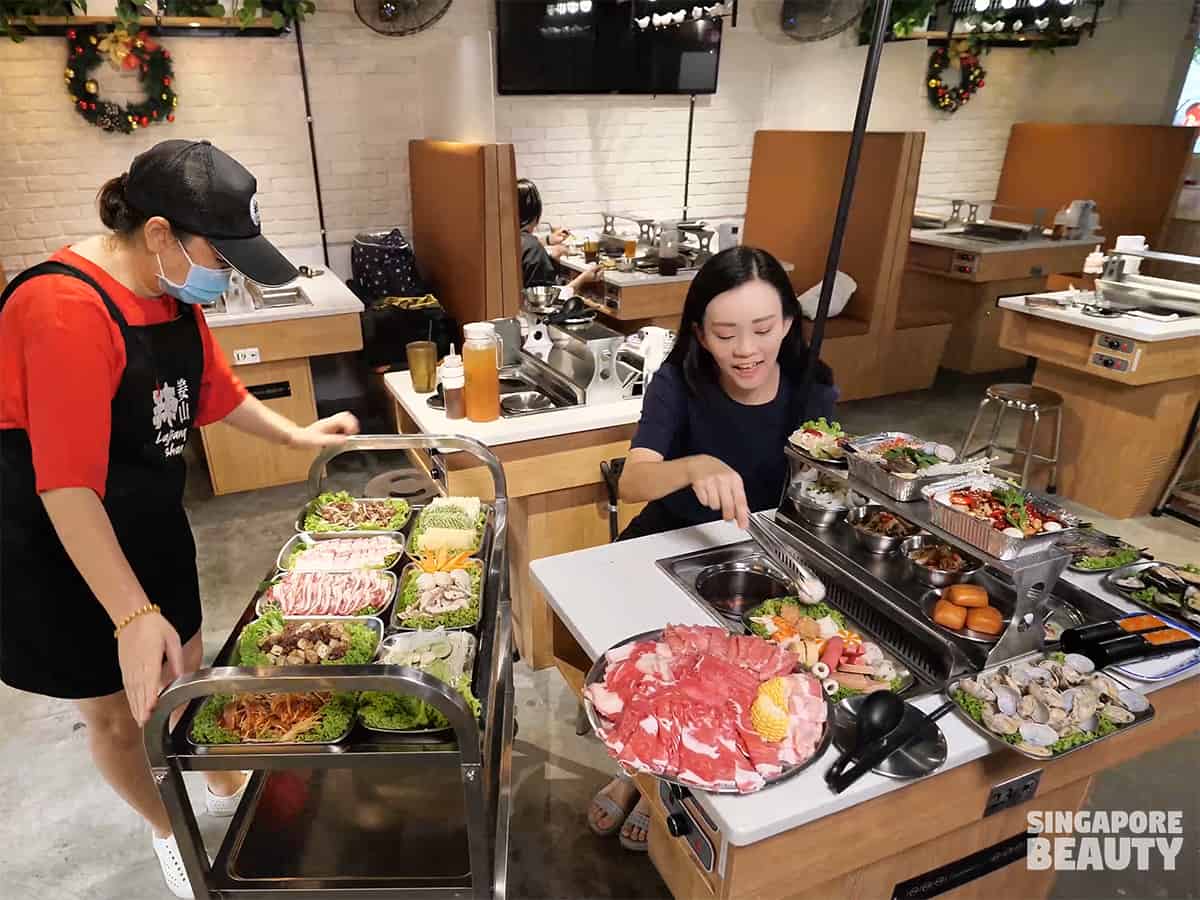 La Jiang Shan Hotpot BBQ full range of selection of dinner buffet includes a wide variety of marinated meats, shabu shabu meats, seafood, speciality dishes, appetisers and more. Expect a wide selection of American beef, black pepper beef, secret recipe pork belly, garlic wings, Taiwan sausage, wagyu, lamb, mala beef and more. Let's take a look what their hotpot and BBQ dinner buffet has to offer!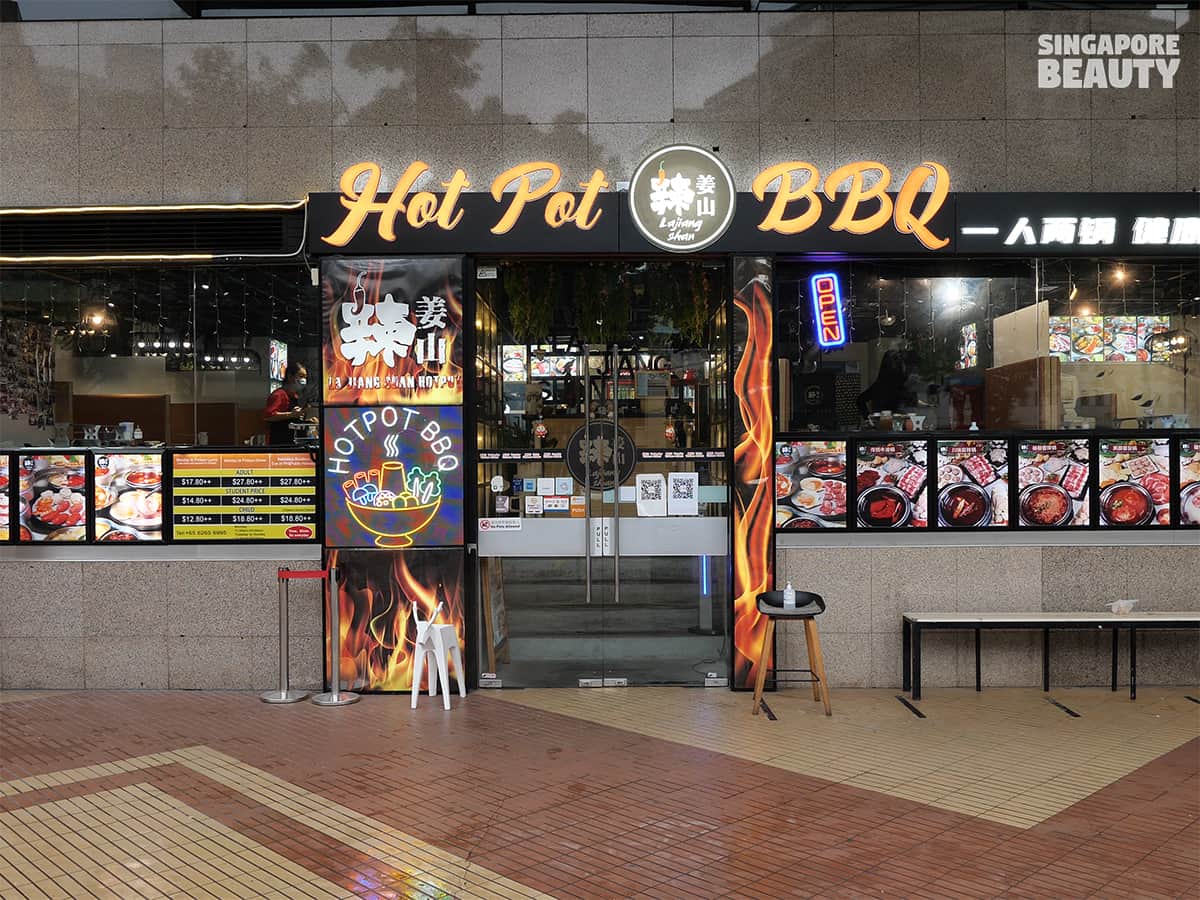 La Jiang Shan Hotpot BBQ buffet is located at Selegie Road along the ground level of Parklane Shopping Mall. For those who are done with their shopping, this is a great place to rest your feet and feast concurrently. It is a buffet place within orchard shopping belt and conveniently located next to Dhoby Ghaut and SOTA. They are elevated on a mezzanine like level from the ground floor. You can people watch from a vantage point within the restaurant while grilling and hotpotting.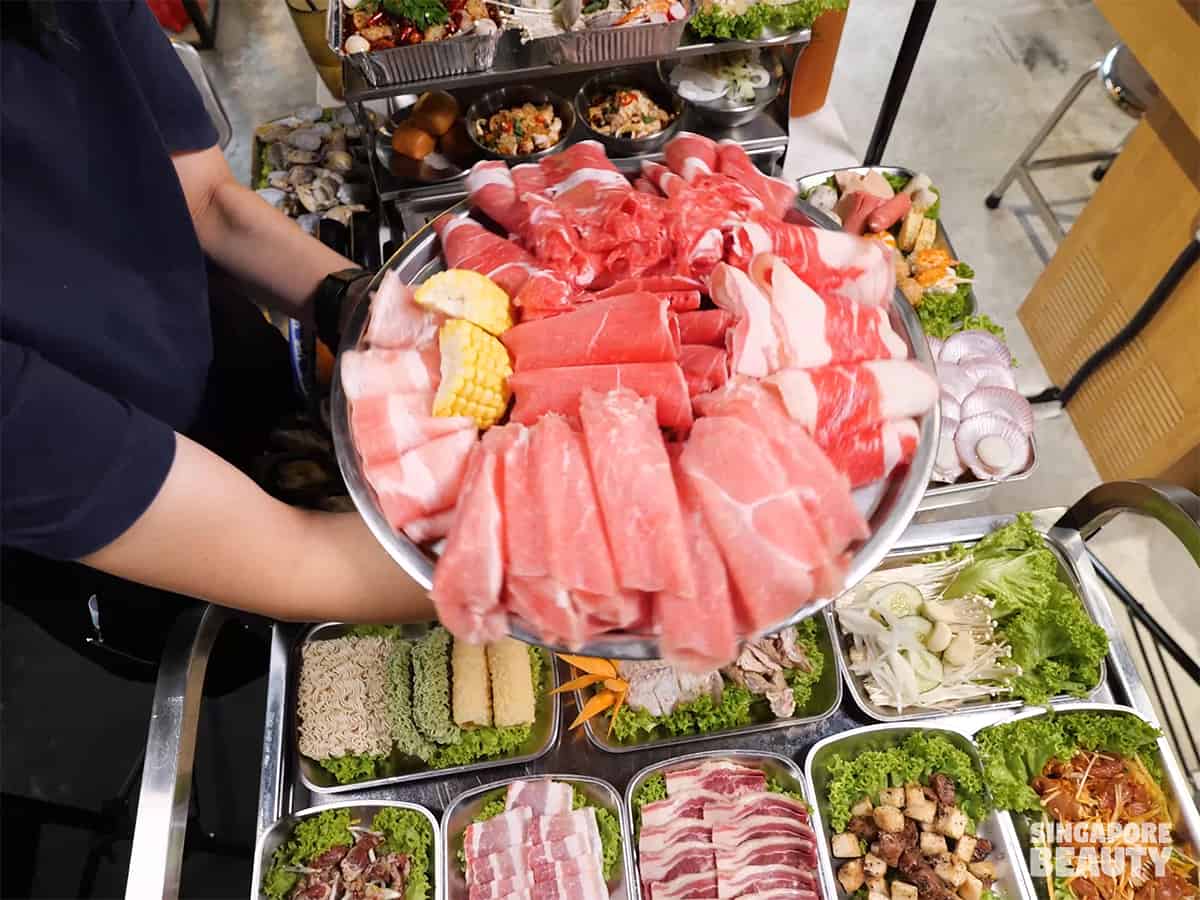 For those who are after the hotpot and BBQ dinner buffet, here is what they have to offer. Meats for grilling and hot potting in shabu shabu style, marinated style and stir fry style that consist of marinated meats paired with mushroom, onions and greens. Get a mixture of shabu shabu meat such as beef, pork and mutton. Do note that food wastage is chargeable as with most buffets, so order wisely and waste not.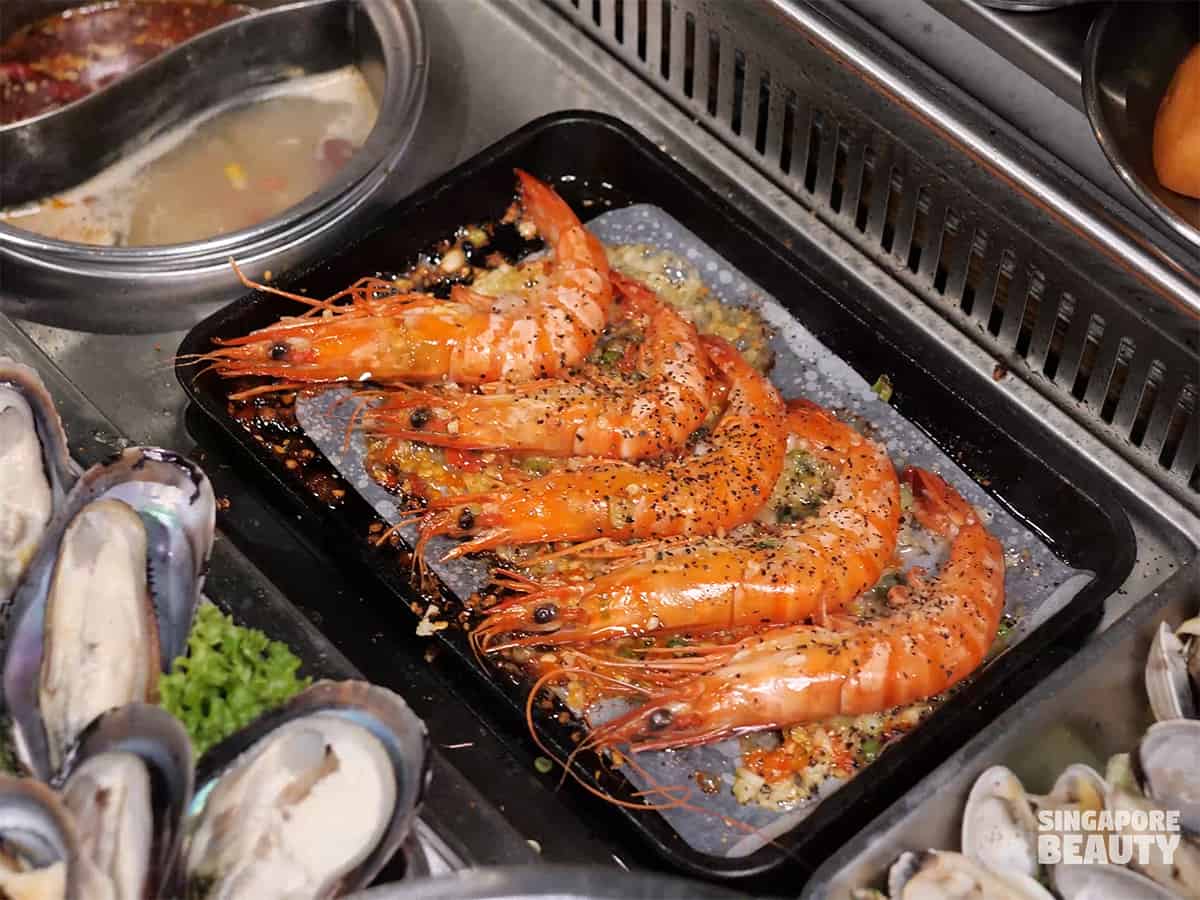 La Jiang Shan Hotpot BBQ dinner buffets also include seafood such as prawns, scallops, mussels, clams, sliced fish and surimi type of crab claws. Grill all these seafood on the grill pan with condiments provided at their mobile condiment pushcart.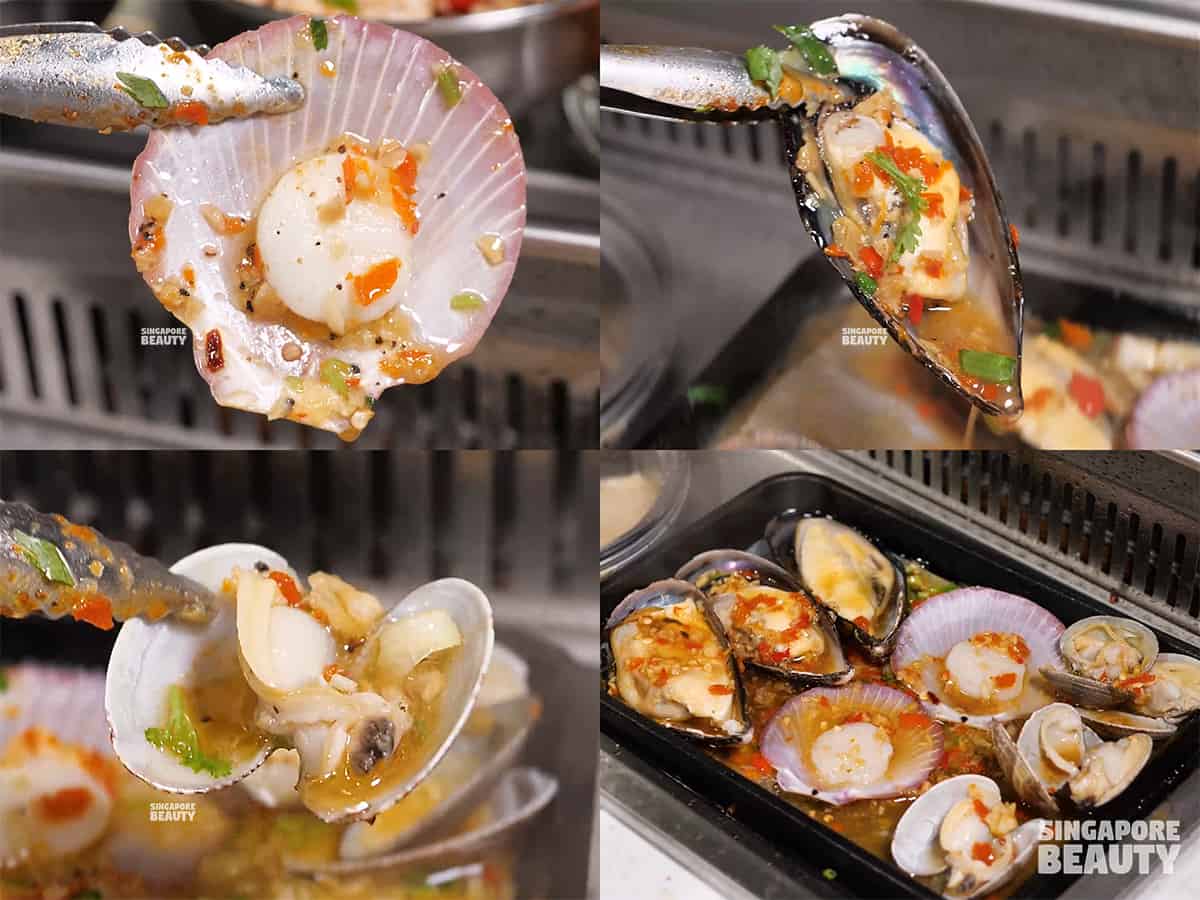 Enjoy succulent mussel, clams and scallops by grilling them with their in-house seafood chilli and garlic dressing. Check with the crew for the recommended dressing and sauce dips for seafood and meats.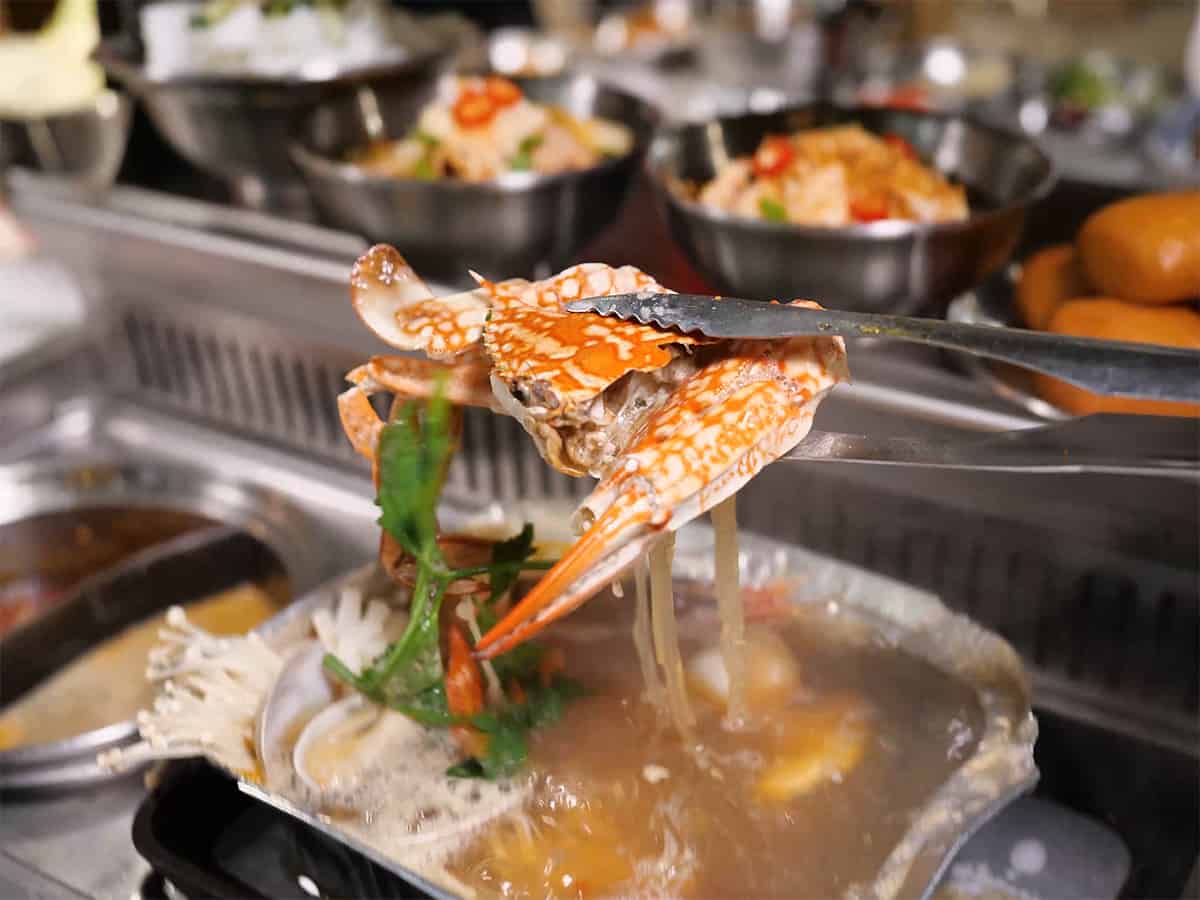 For the dinner buffet, they have speciality dishes on a rotational basis that can range from tin foil grilled seafood boat with halved flower crab, slipper lobsters, lala, mussels, cheese scallops, mini grill fish trays, handmade prawn paste (while stocks last) and roasted egg custard with garlic shrimps. These are limited to choice of 1 set per diner and subjected to the night's speciality dish of the day. Good news for flower crab lovers, the flower crab is free flow in their dinner buffet.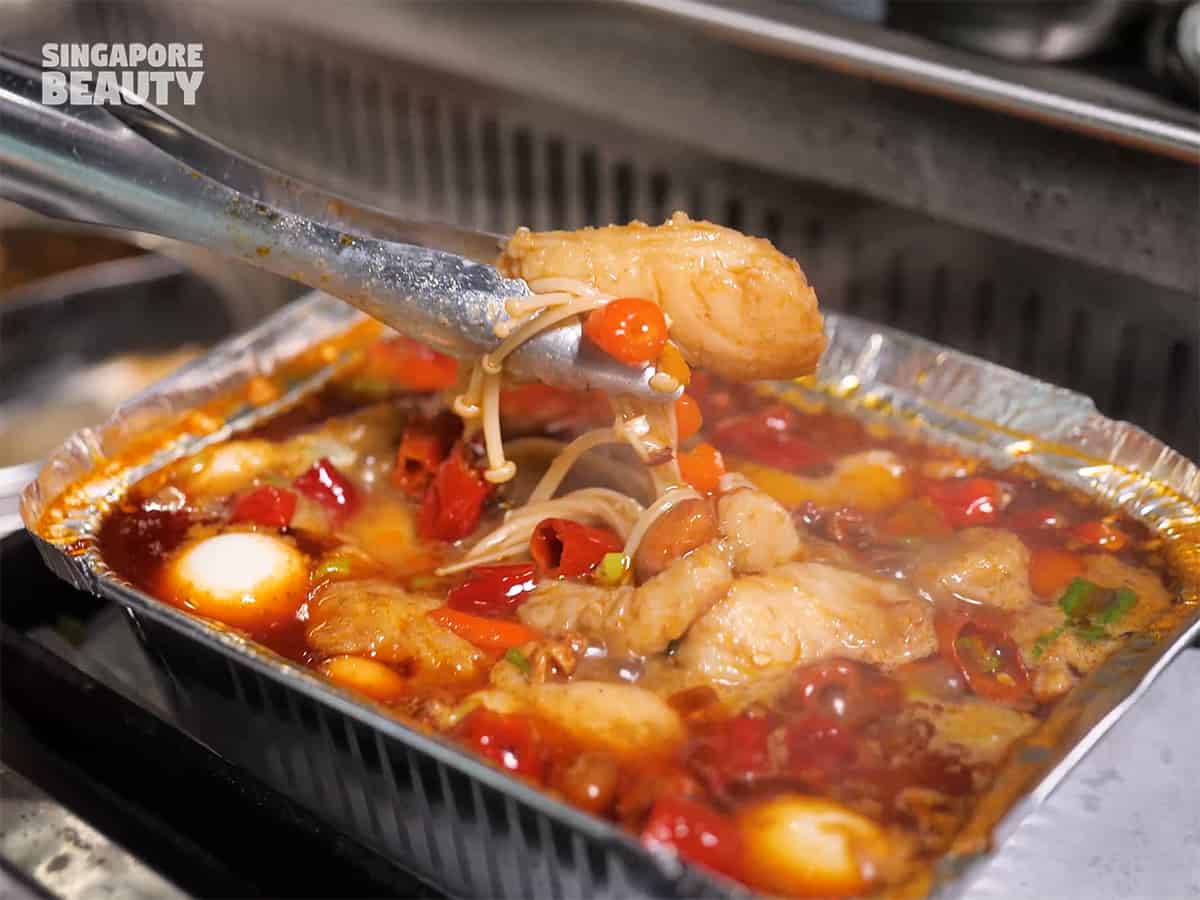 This is one of the speciality dishes for dinner buffet on rotational basis. This is the mini mala grill fish tray with enoki, onions, bean curd skin, fungus and more. It is in mala flavour and usually served either as a whole fish or fish chunks. Imagine having grilled fish but in a personal size on your grill pan. Feel free to add any noodles to it to soak up the spicy goodness after you finish the fish.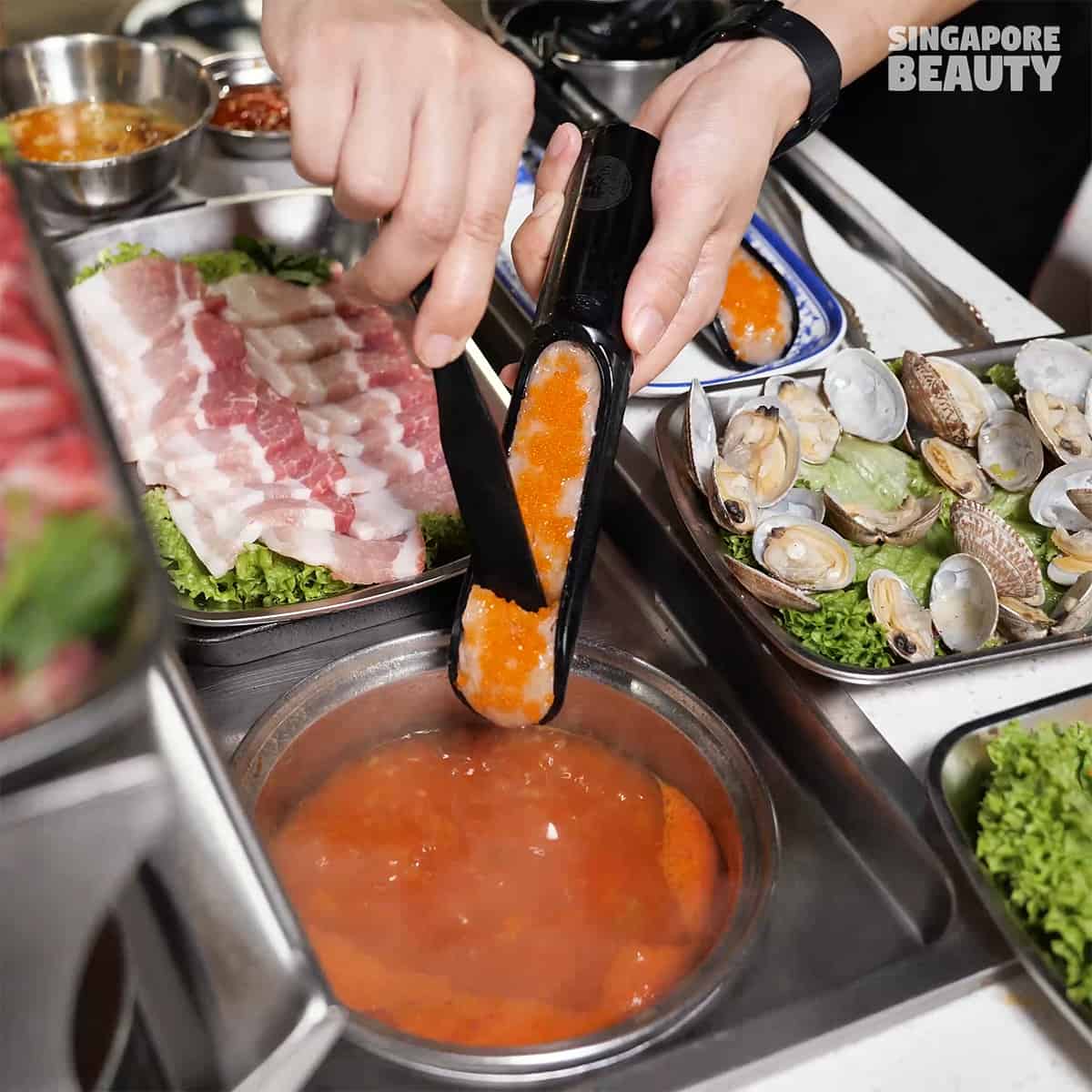 Handmade shrimp paste is also their dinner buffet specialty dish. The shrimp paste needs to be dispense from the holder and cooked till the paste doubles in volume. When the paste starts floating on the soup pot like golden orange nuggets, they are ready to be enjoyed. The shrimp paste has a nice bouncy texture and surprising pops of tobiko aka flying fish roe. If you after this shrimp paste, do check with the restaurateur before heading down. This shrimp paste is only available whilst stocks last for dinner.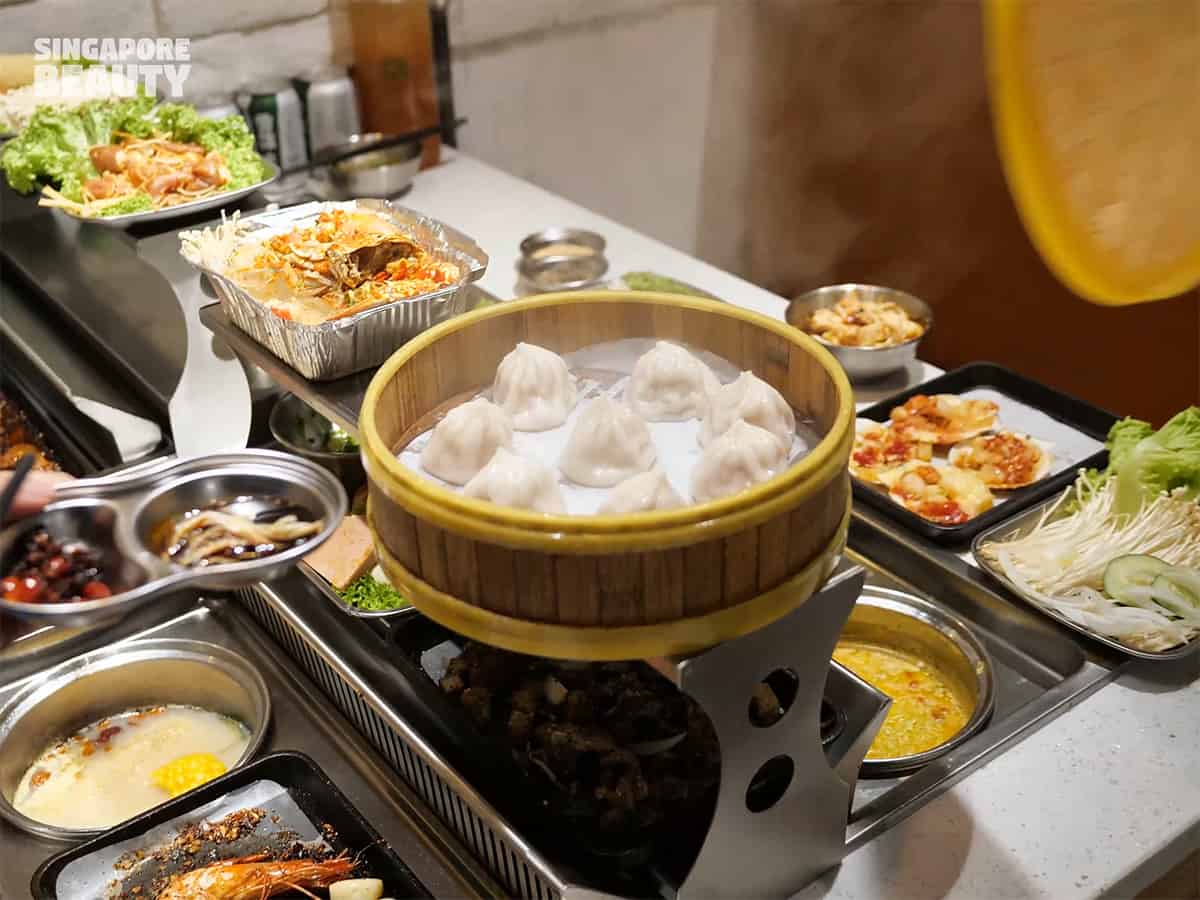 While waiting for your food to be cooked, enjoy unlimited free flow buffet appetisers such as xiao long bao, "liang pi" aka cold skin noodles mixed with chilli spices and crunchy greens, mantou with condensed milk dips and koushuiji aka mouthwatering chicken in chilli oil and suannibairou aka pork belly roll in garlic chilli.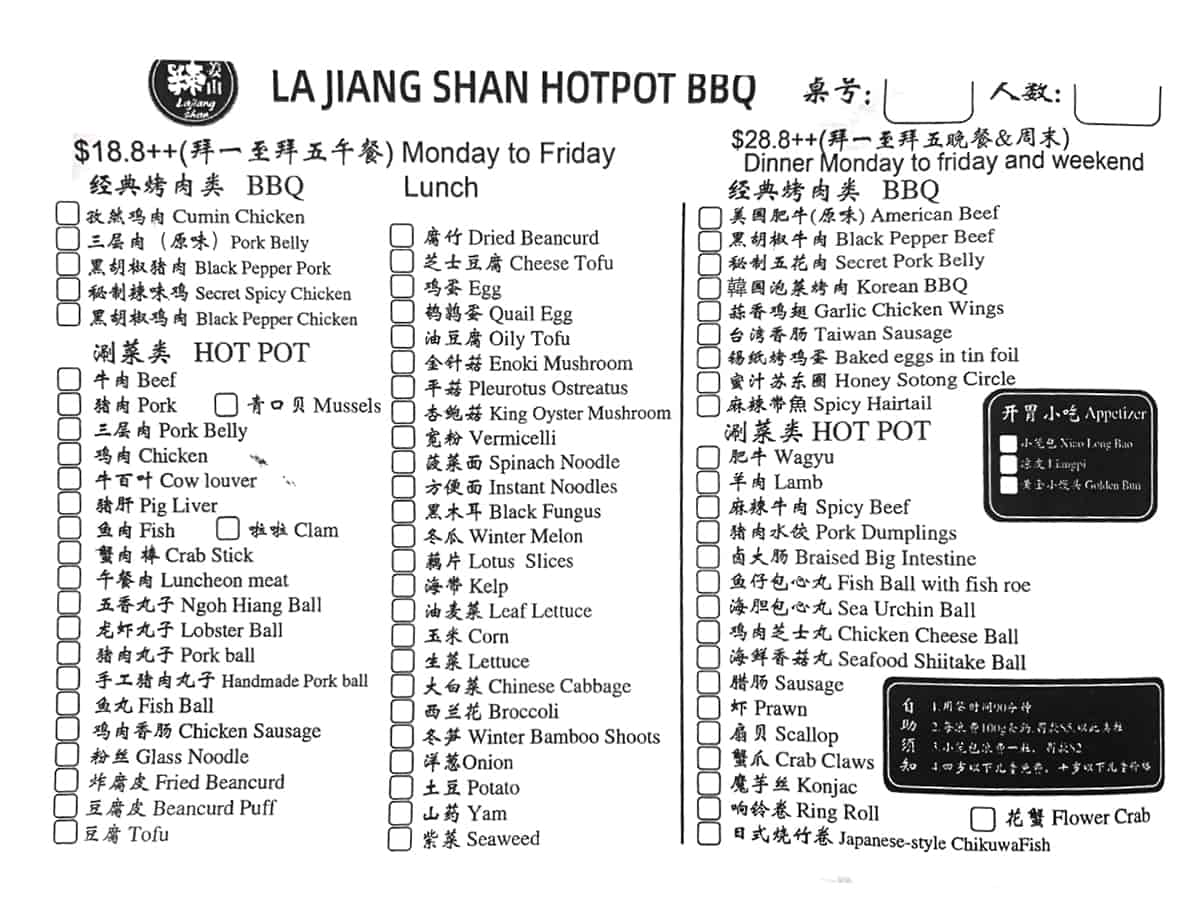 Here's La Jiang Shan Hotpot BBQ full lunch and dinner menu. For weekday lunch menu from $18.80++, you can order to your heart's content all that is under that column, do note that lunch do not include premium meats such as the American beef, wagyu, seafood, appetisers etc. For dinner from $28.80++, you can order from both the column of food inclusive of all the seafood, appetisers and more speciality dish of the night that is not on the menu. The menu image is courtesy of La Jiang Shan Hotpot BBQ.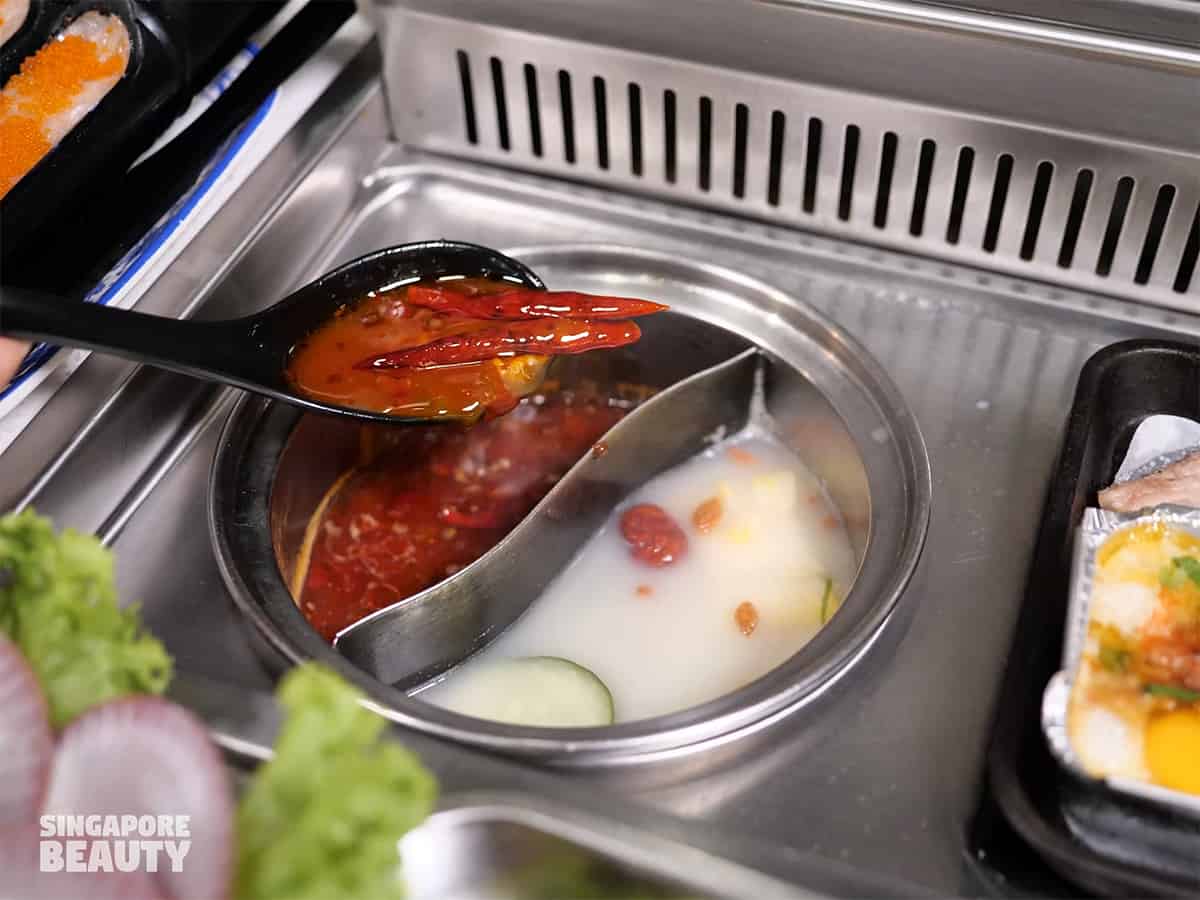 They have 9 choice of soup bases to choose from. The soup base is an add on of $2.80 for single and $4.80 for double soup bases. The choice of soup bases are spicy beef butter, mala, homemade fragrant, pig trotter, mushroom, Thai Tom yam, herbal chicken and sour spicy soup.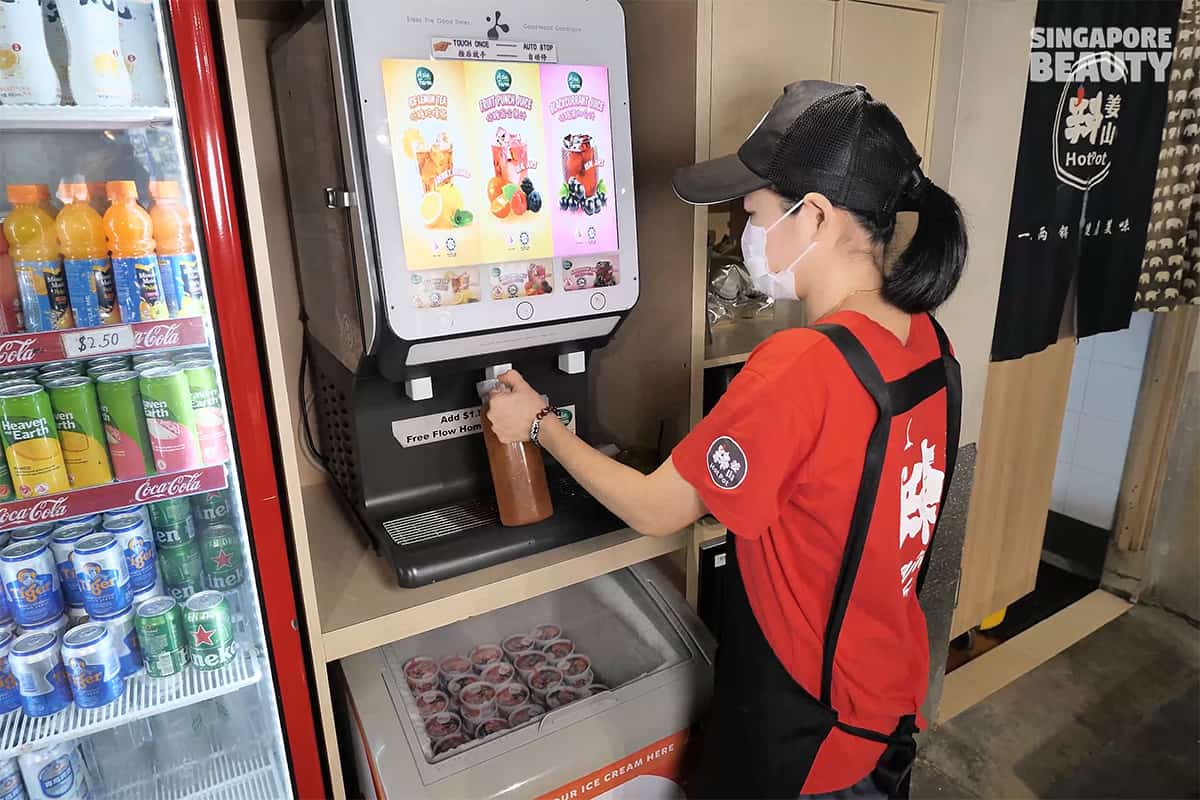 Add on $1.80 per pax for free flow dispenser fruit punch drinks in 3 flavours of the day and ice cream. The drinks can be served in a jar or glass as requested. Can and bottled drinks are chargeable as indicated at the drinks chiller. They are also having a Jinro soju bottle deals at 3 bottle for $40 and 3 for $10 selected can beers. Do check with them for more details.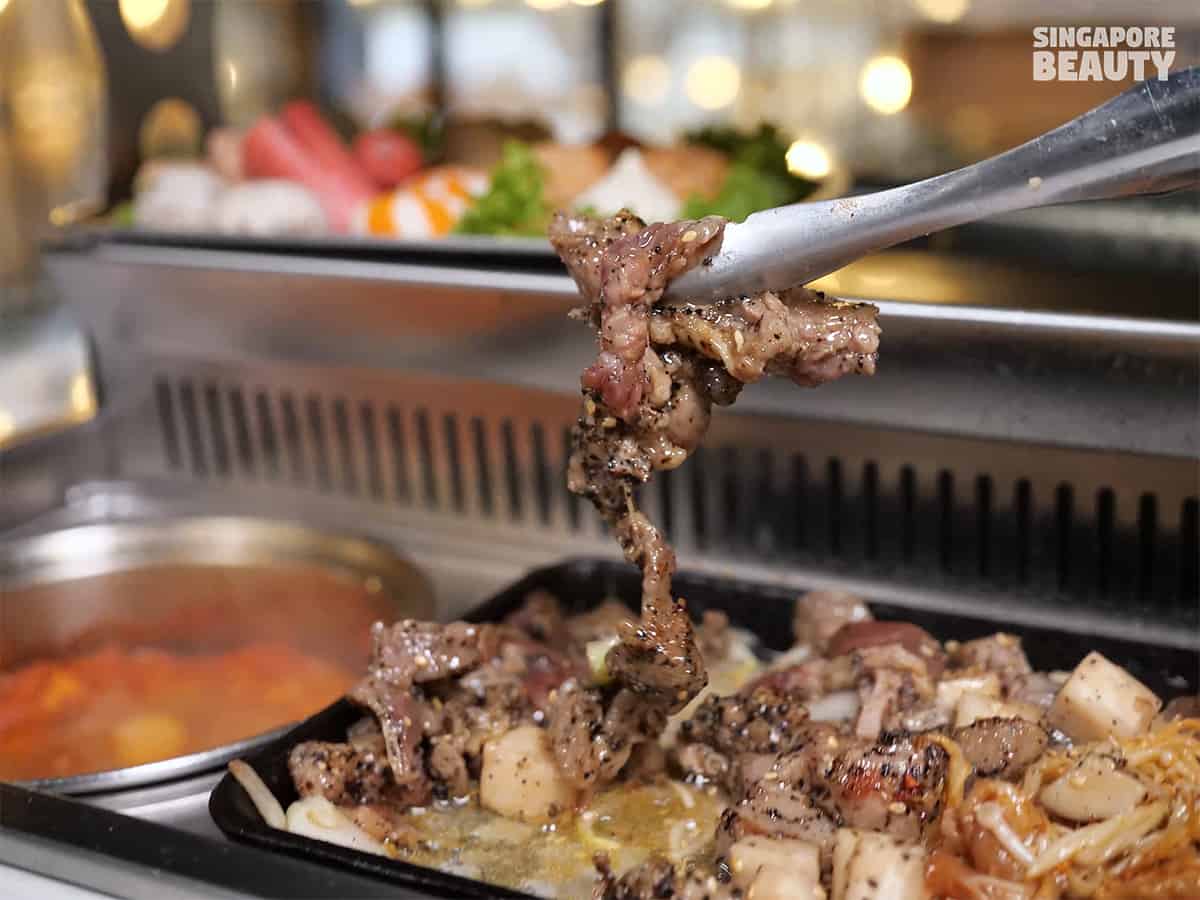 Head over today to try this personal bbq grill and hotpot experience. Enjoy savoury marinated meats sizzling hot off the grills. To heighten the kick, you can choose a variety of customised sauce for your bbq and hotpotting needs.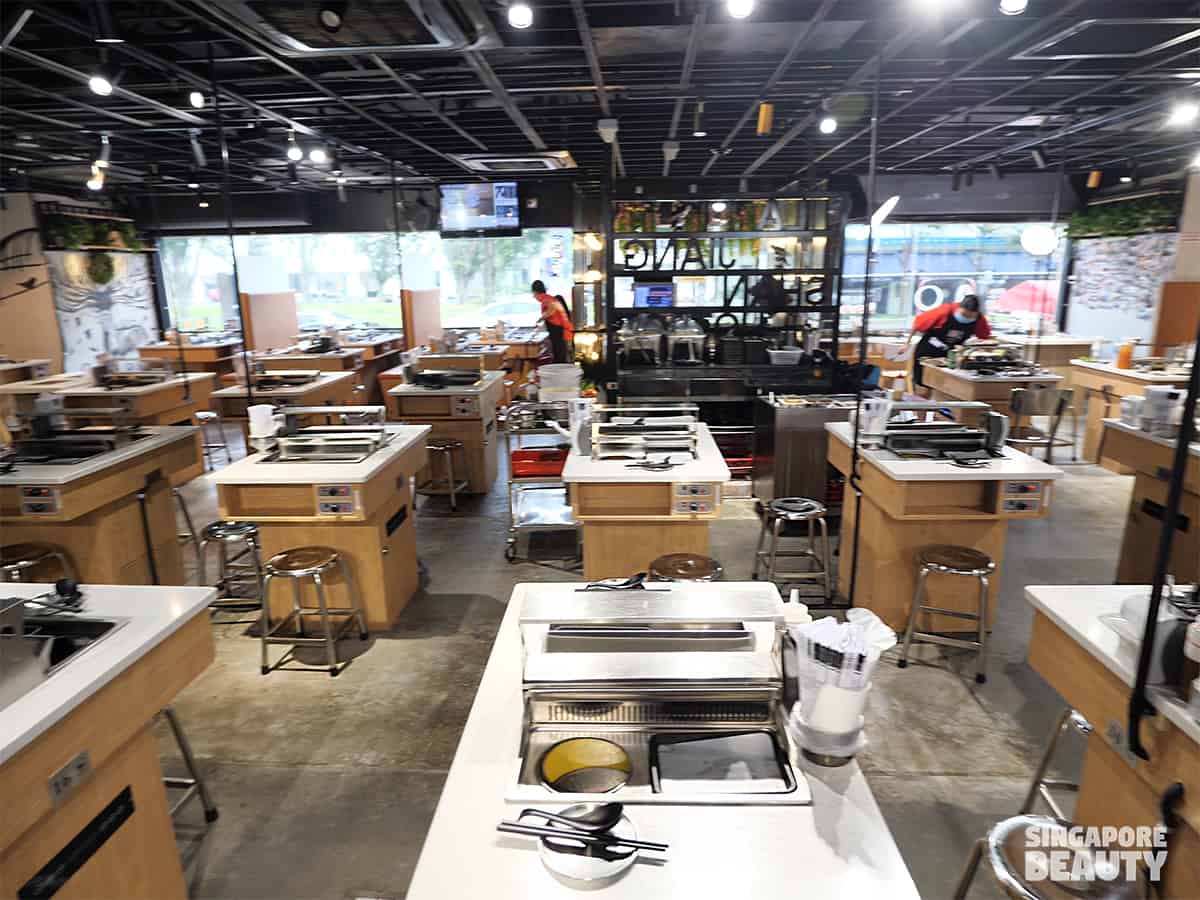 La Jiang Shan Hotpot BBQ is Singapore's first personal BBQ and Hotpot restaurant. This buffet restaurant has been around since 2017 and just renovated their restaurant to this concept on June 2021. This is a great dine in venue from 1-2 pax small to large groups. The food and shop featured here is their newly renovated Selegie outlet. They have a second outlet at Clementi as well with a different set of food selections in the buffet.
Address of La Jiang Shan Hotpot BBQ :
(Mon- Fri) Lunch (last order 4pm)
Adult $18.80++
Student $15.80++
Child $12.80++
(Mon-Fri & weekend/ PH & Eve) Dinner
Adult $28.80++
Student $25.80++
Child $18.80++
Child below 4 eats free
Note: Weekday -smaller variety of seafood & meats
Dinners & Weekend/ PH & Eve – larger variety of seafood & meats. Includes appetizers, free flow xiaolongbao, flower crabs. Prawn paste whilst stocks last
Hotpot soup (9 flavours)
Single 2.80
Double 4.80
$1.80 per pax for Free flow dispenser drinks
Jinro soju $15 per bottle
Selected Beer 3 for $10
Dine in time : 90 mins
Opening hours:
Parklane Branch
monday 11am-11pm
Tues to Sun 11am -6am
Clementi Branch
Mon to Sun 11.30am to 12am
Address of La Jiang Shan :
Video shot at
35 Selegie Rd #01-06, Parklane Shopping Mall, Singapore 188307
Tel: 6265 8995
2nd Outlet: ( Note :food variety may diff from branch at Parklane)
321 Clementi Ave 3 #01-09/10/11
Singapore 129905
Tel: 6970 6649
Brought to you by La Jiang Shan Hotpot BBQ