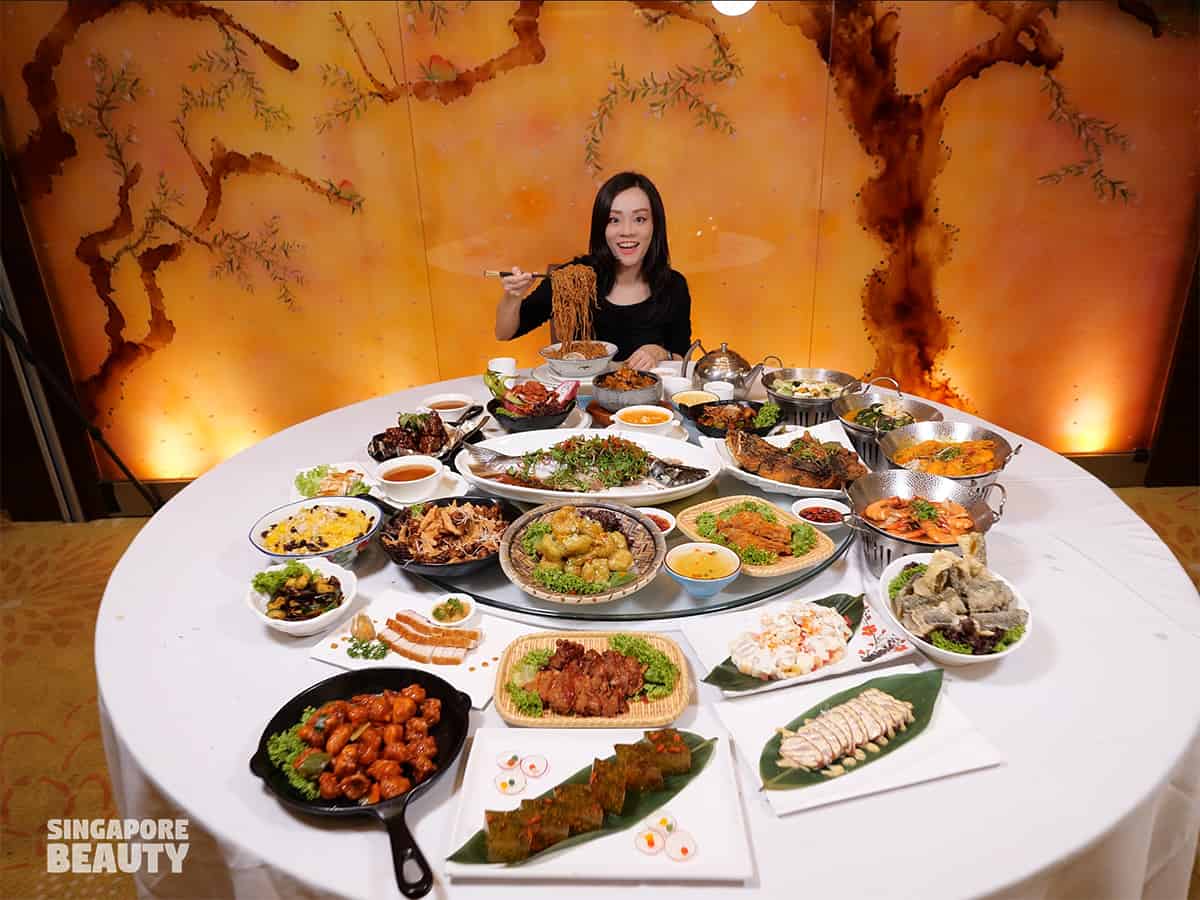 Peach Garden has a 1 for 1 Ala carte buffet promotion with free flow soon hock fish and live prawns. This Peach Garden buffet promotion is only available at Hotel Miramar Outlet daily and at Metropolis Outlet for weekday dinner only. The buffet menu of Peach Garden at Hotel Miramar outlet consists of 30 dishes to choose from as featured above. Peach garden is also popular with ala carte dim sum lovers.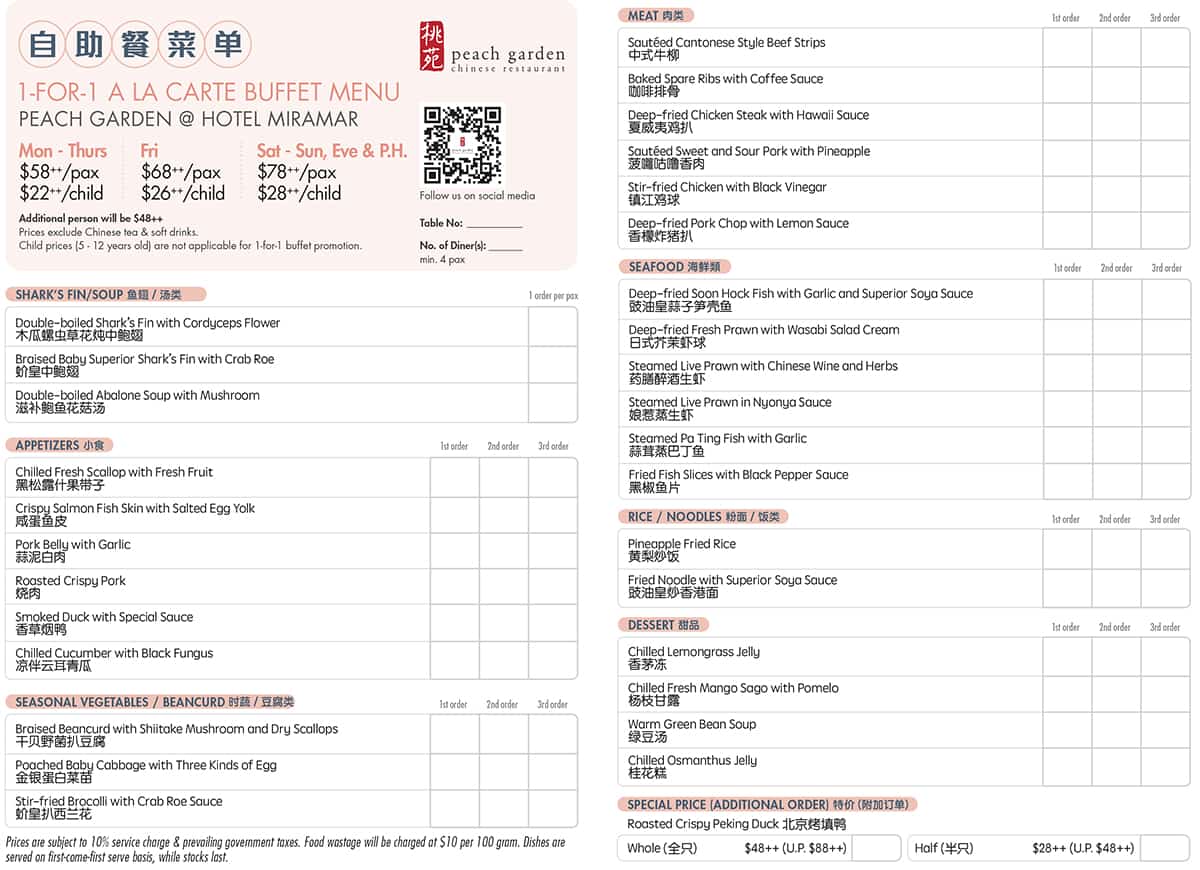 This is the Peach garden at Hotel Miramar buffet menu and price. Drinks such as Chinese tea are excluded from the buffet. The buffet spread consists of one complimentary shark fin soup or abalone soup of your choice. Free flow appetizers, seasonal vegetables, beancurds dishes, meats, seafood, rice, noodles and desserts.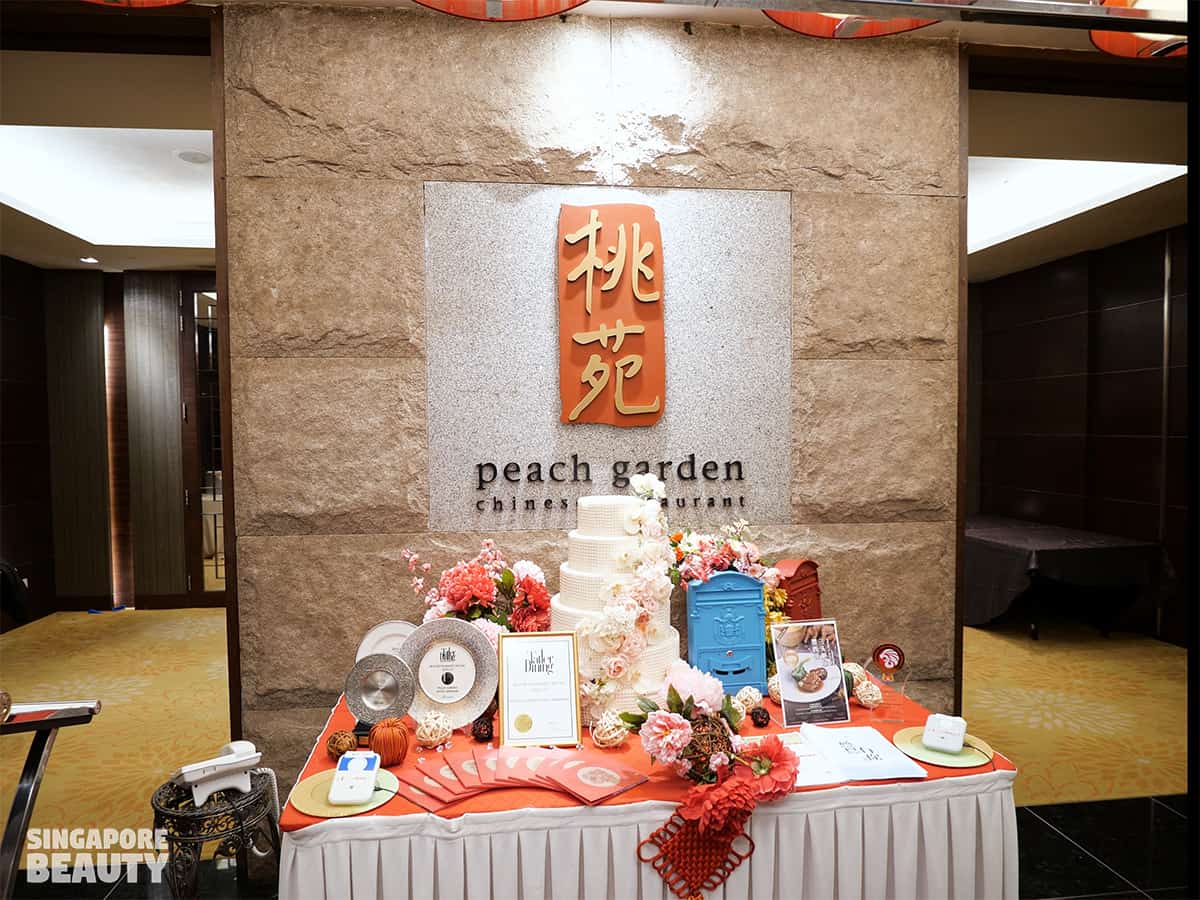 Peach Garden Buffet promotion is available at these 2 locations – at Hotel Miramar and at The Metropolis. Do note that for the outlet at Metropolis, the 26 menu items and quantity differs slightly from the 30 menu at the outlet at Hotel Miramar. Peach Garden at Hotel Miramar is an award winning Chinese Restaurant with Tatler Dining Best Restaurants Special 2020/21. You can get a closer look at these awards displayed at the restaurant lobby.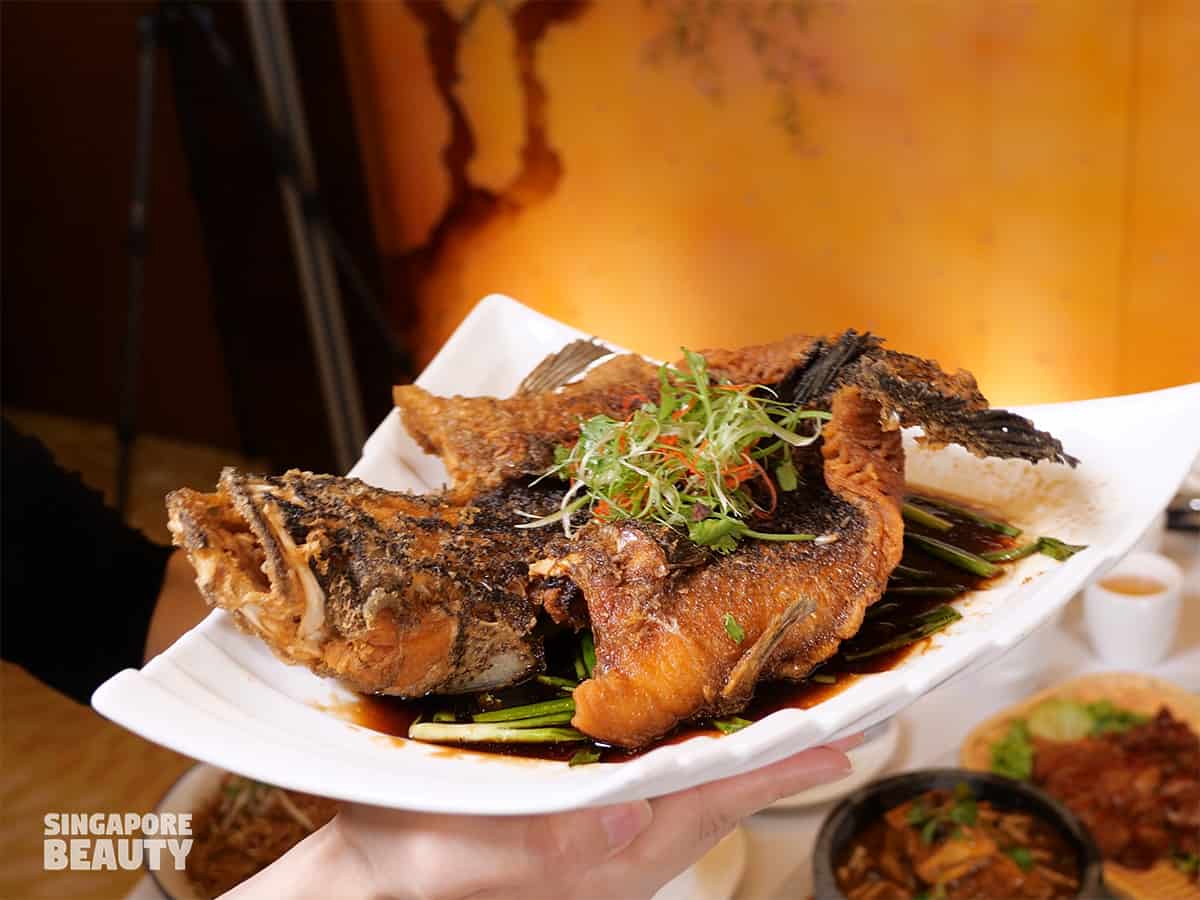 At this Peach Garden Buffet, get the bang for your bucks with their unlimited servings of soon hock, patin fish, wasabi prawns & steamed live prawns with Chinese wine and herbs. Their signature wasabi prawns cost $26 for an ala carte order and Soon Hock fish is about $88 or seasonal price per fish. At this buffet promotion, you can enjoy these premium items free-flow.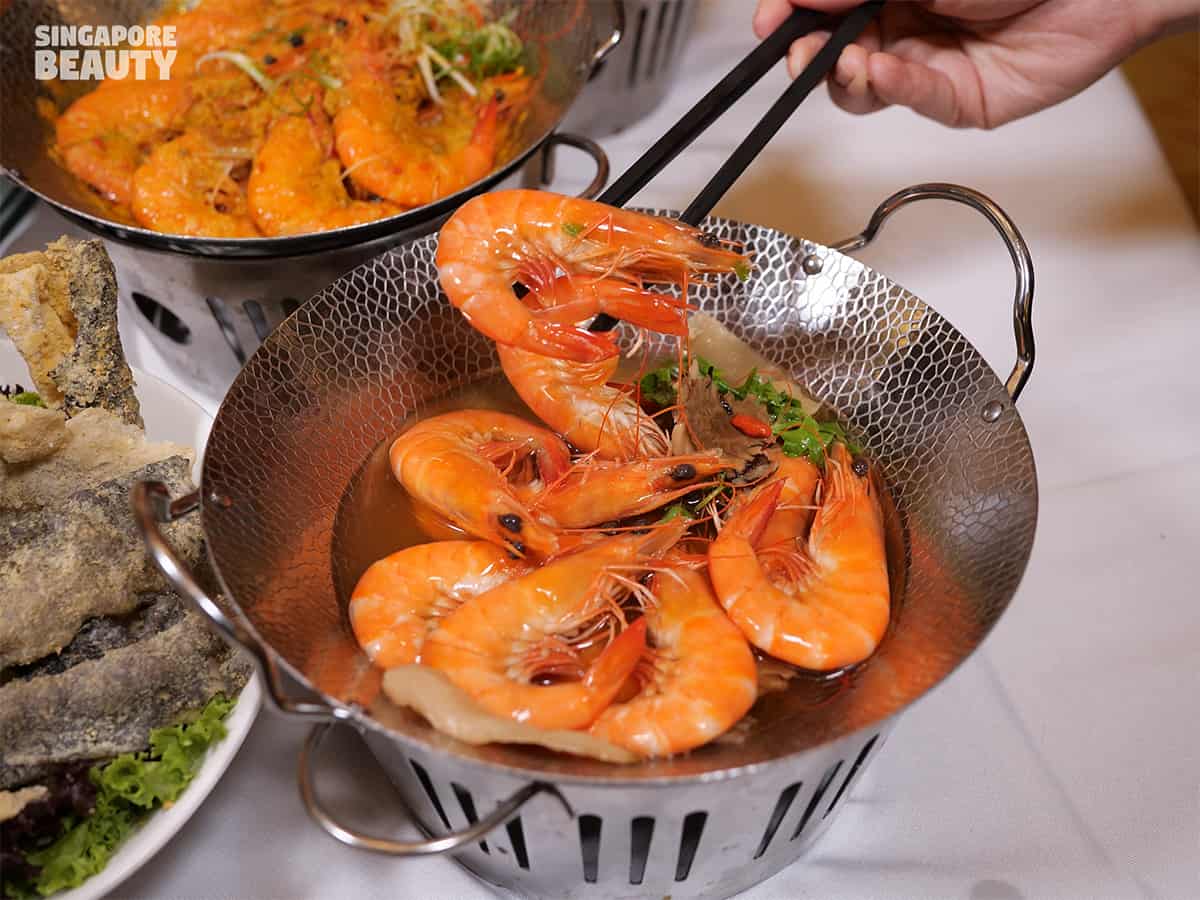 These steamed live prawns with Chinese wine and herbs are made with danggui, yuzhu, wolfberries and Chinese wine. They are also known as drunken prawns in Cantonese. The prawns are sweet and crunchy with a sweet and tingly wine undertone.
Peach Garden at Hotel Miramar Buffet is now having a 1 for 1 with minimum 4 to dine ala carte zi char style buffet. It means with 2 paying adults, 2 gets to eat free! Choose from 30 ala carte dishes which includes unlimited deep fried soon hock fish, steamed Patin fish with garlic, Steamed live prawn with Chinese wine and herbs, steamed live prawns dishes, wasabi prawns and more.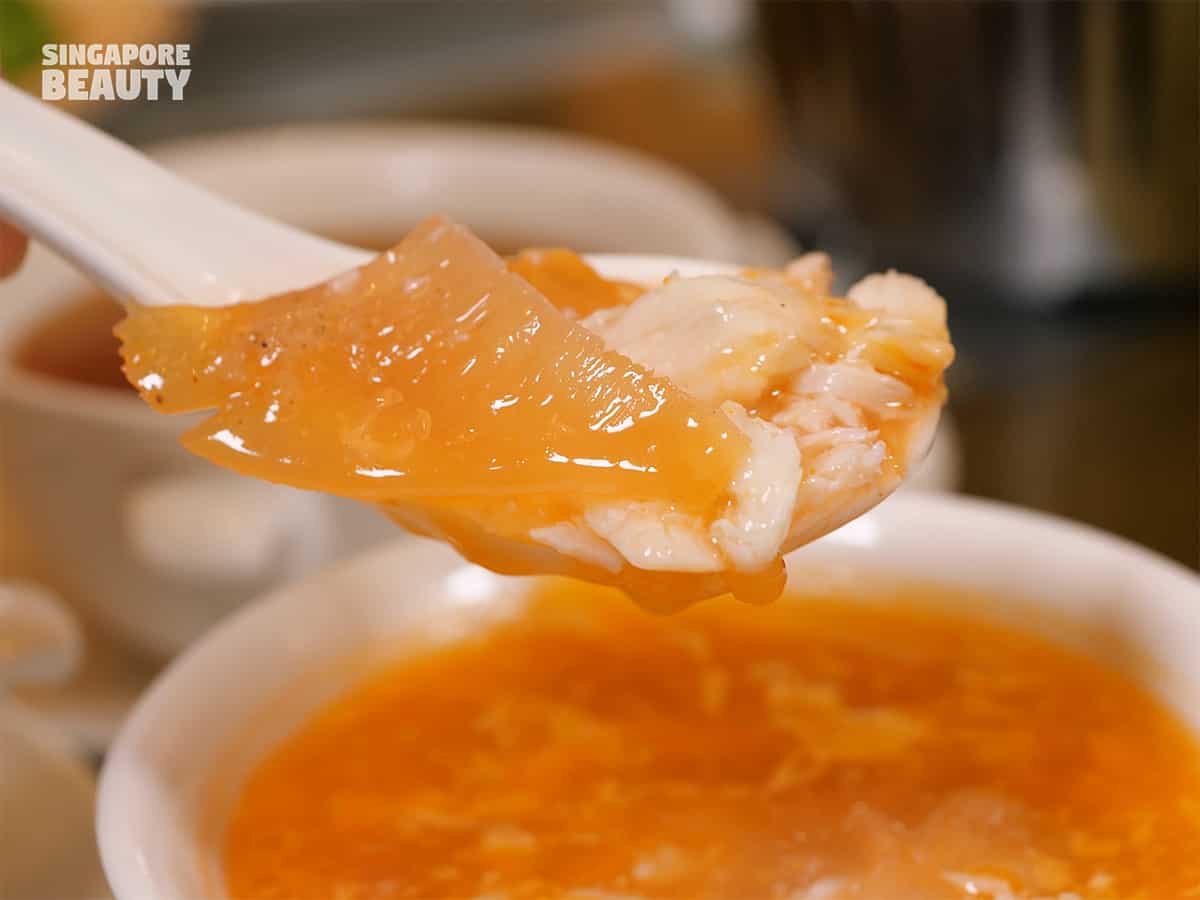 There is a complimentary One Person One soup for every paying diner. Choose 1 out of 3 Premium Soup 1 per pax. The choices are Double-boiled shark fin with cordyceps flower, braised baby superior shark fin with crab roe and Double-boiled abalone soup with mushroom. The savoury shark fin soup has soft cartilages and bits of crab meat. Heightened velvety soup texture and the flavours with their rose vinegar and white pepper for a mild spicy kick.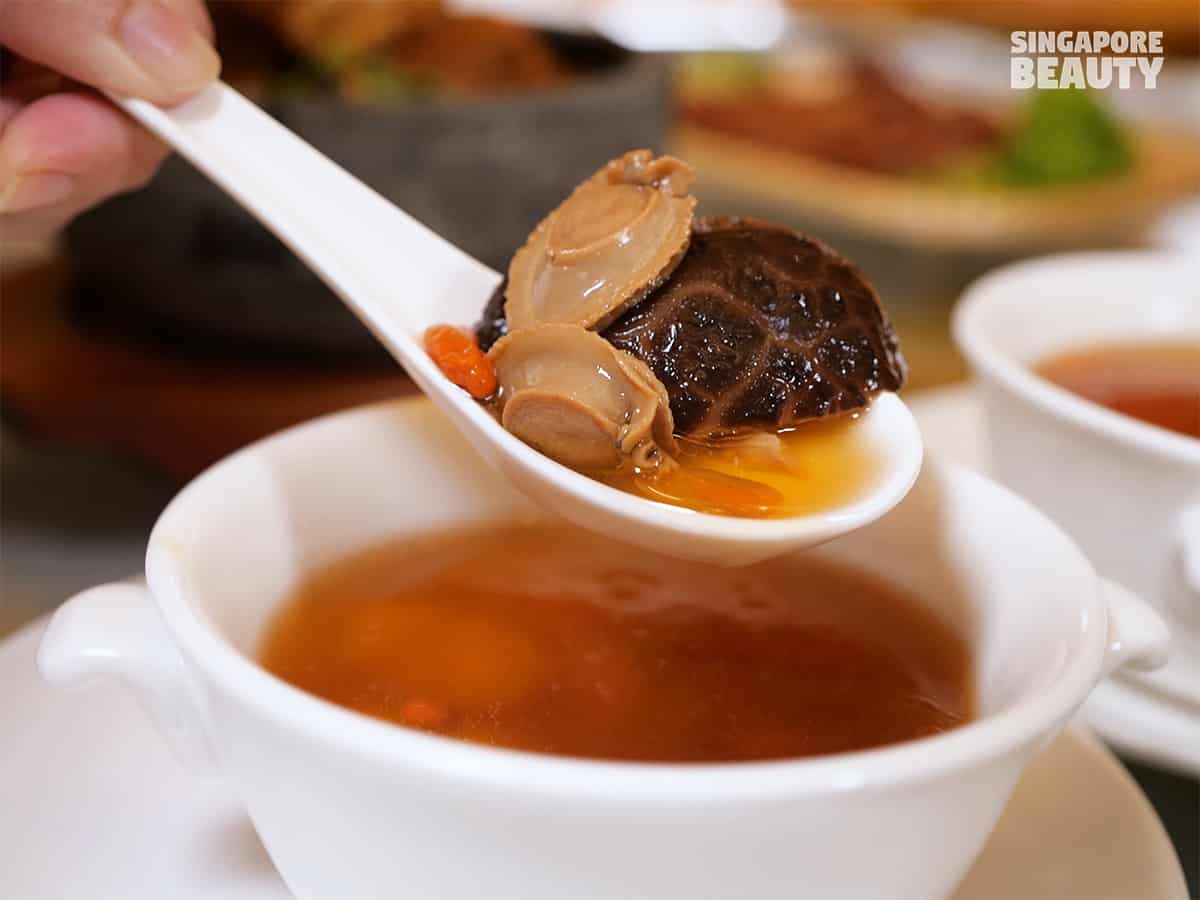 Premium soup option 2: Double-boiled abalone soup with mushroom – this soup is light and earthy. It is made with chicken broth, wolfberries, shiitake mushroom and mini abalones. If you are looking for some light savoury and comforting soup, this might be the soup for you.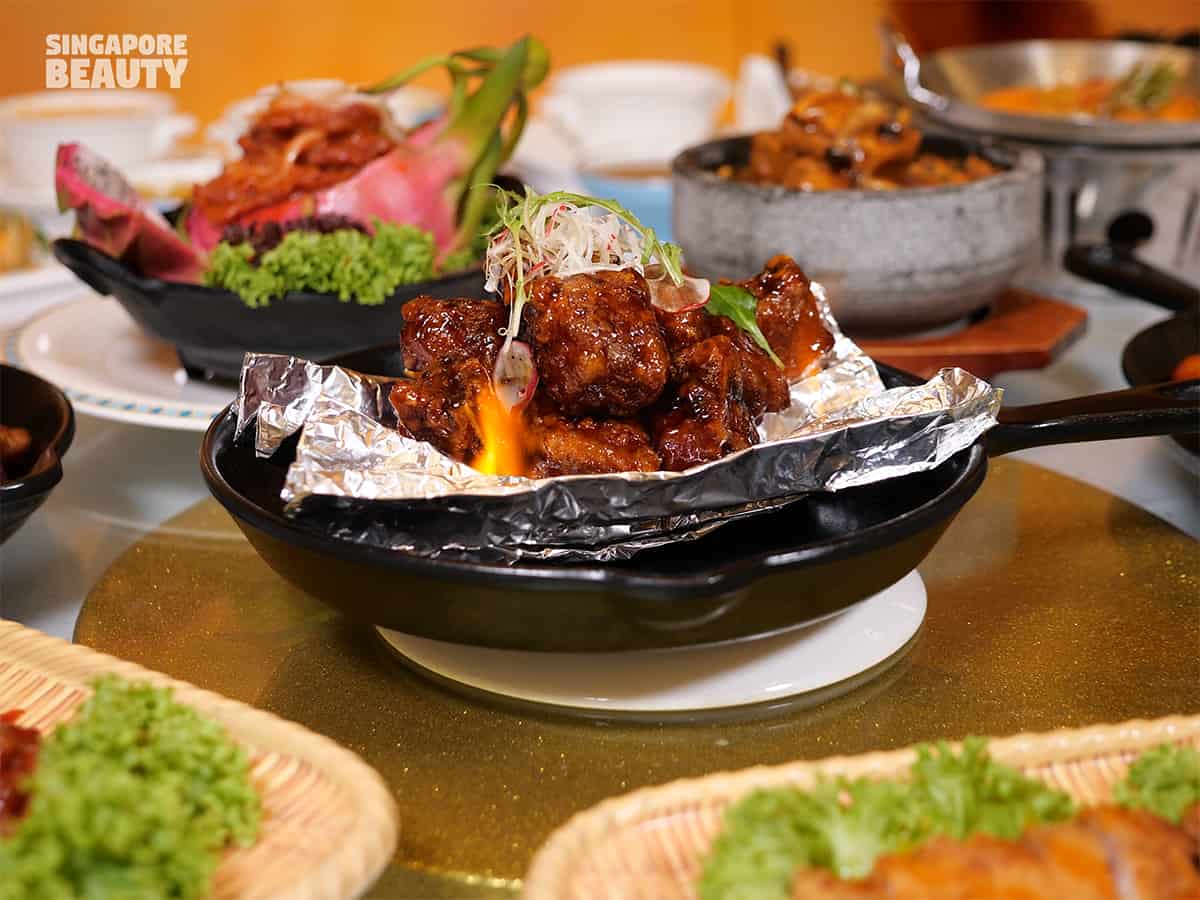 Before you start the buffet feast, they have a visual feast for your IG with this unique dish. This is their baked spare ribs with coffee. The spare ribs are deep fried and coated with a coffee based gravy. The server will set this on fire with some high concentration of rose wine to release the coffee aroma. The resulting spare ribs have a smoky and caramelised flavours. This dish will sit well with coffee lovers with its distinct coffee aroma.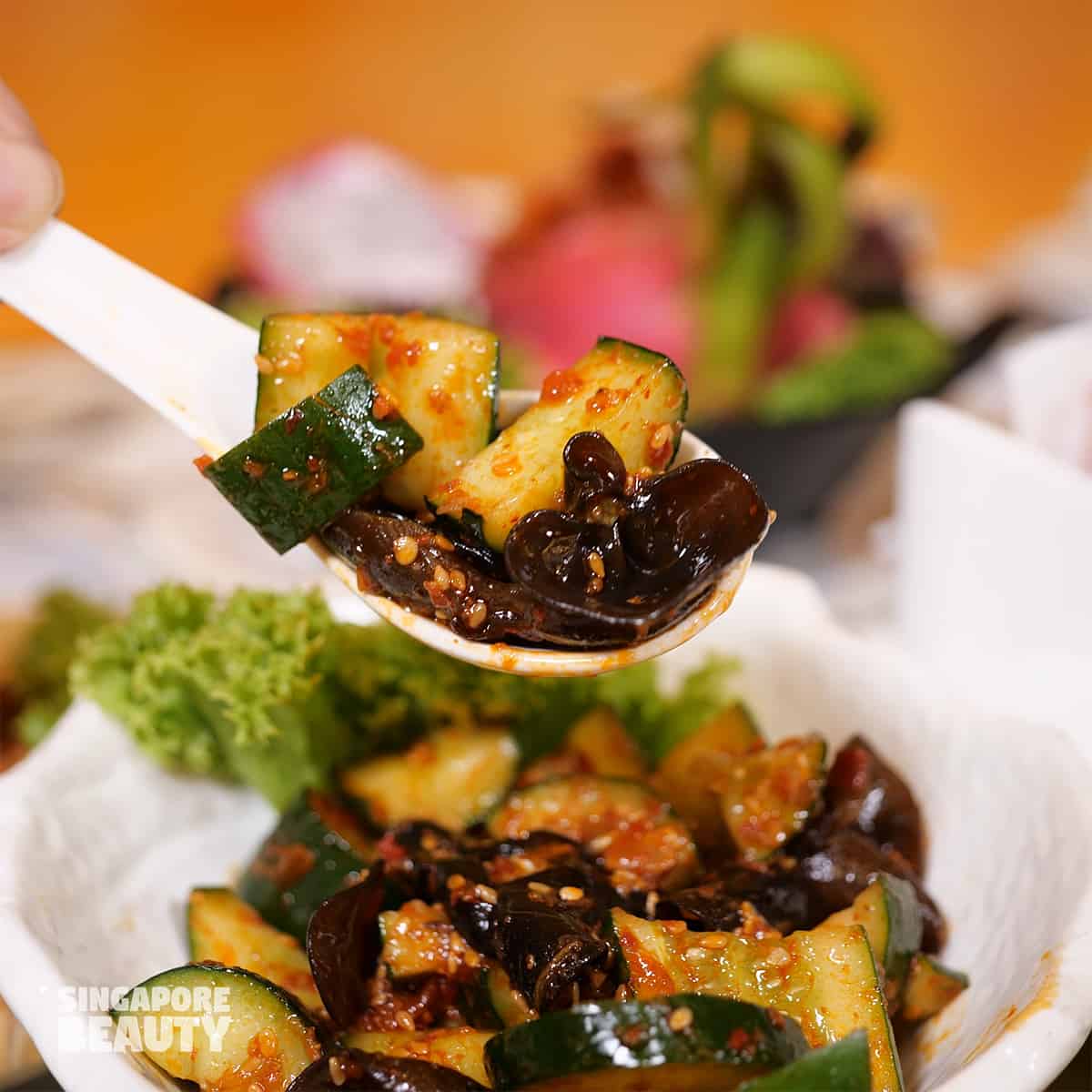 This is a cold dish with fresh cucumber and crunchy black fungus. The flavours are on point with the vinegar and the proportion of heat from the chilli oil flakes. A very refreshing dish to enjoy and clean your taste palate in between dishes.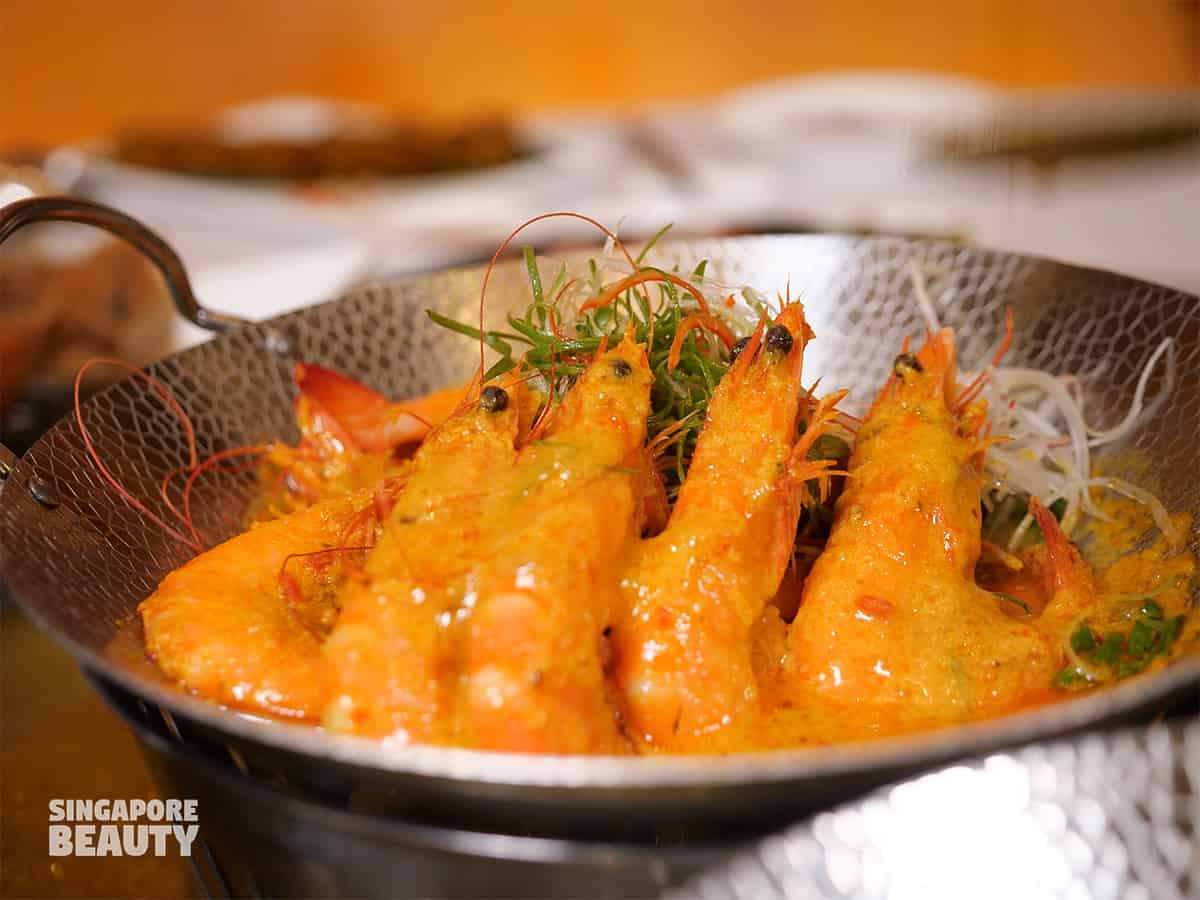 Steamed Live prawns in Nyonya sauce – is mildly spicy and a creaminess with strong tamarind flavours. The sour and citrusy punch makes this dish very appetizing and goes well with their pineapple rice. The textures of the prawns are springy and boast of some head butter.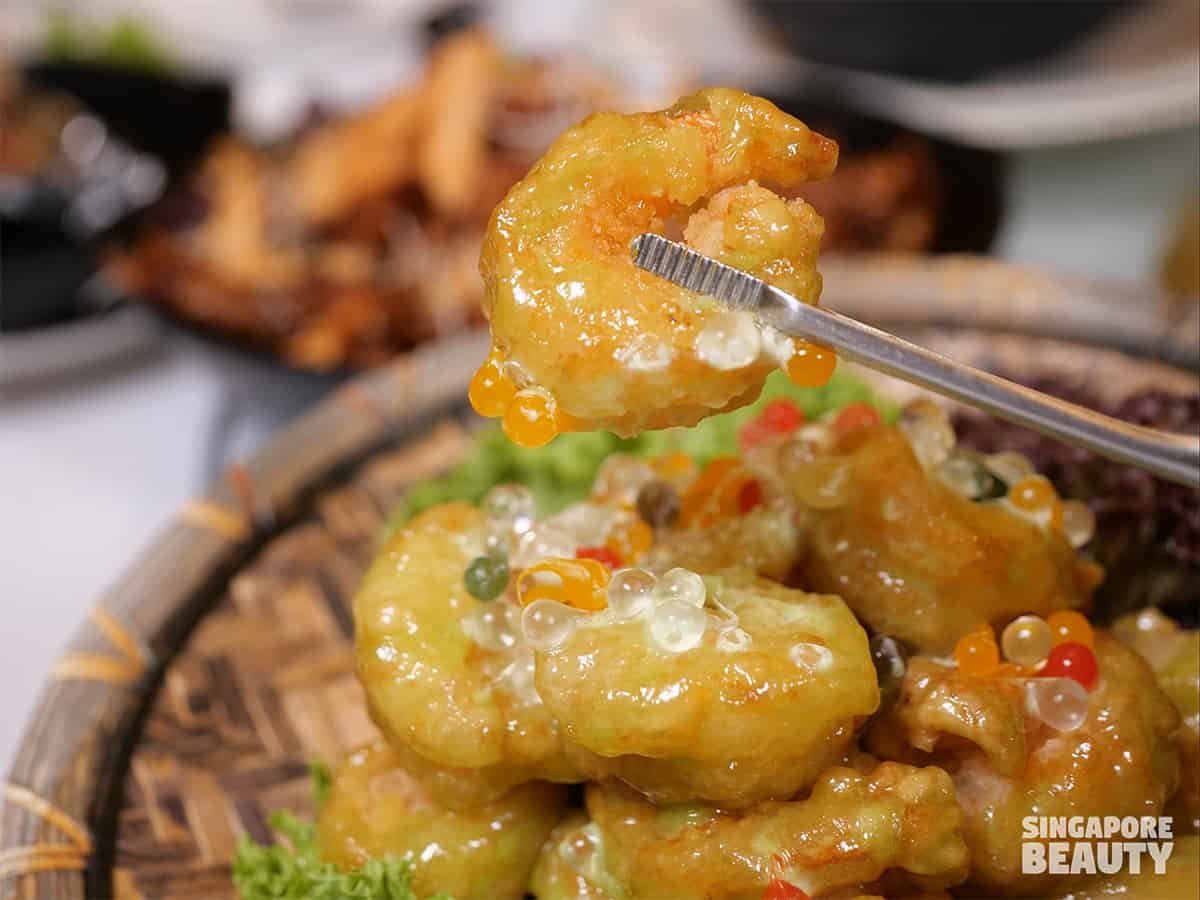 This is one of Peach Garden signature dish – deep fried fresh prawns with wasabi salad cream. The prawns are deep fried with a thin crust and tossed in wasabi salad cream. The prawn balls are sweet and creamy with a gentle pleasant wasabi rush up your nose after you pop them in, so beware!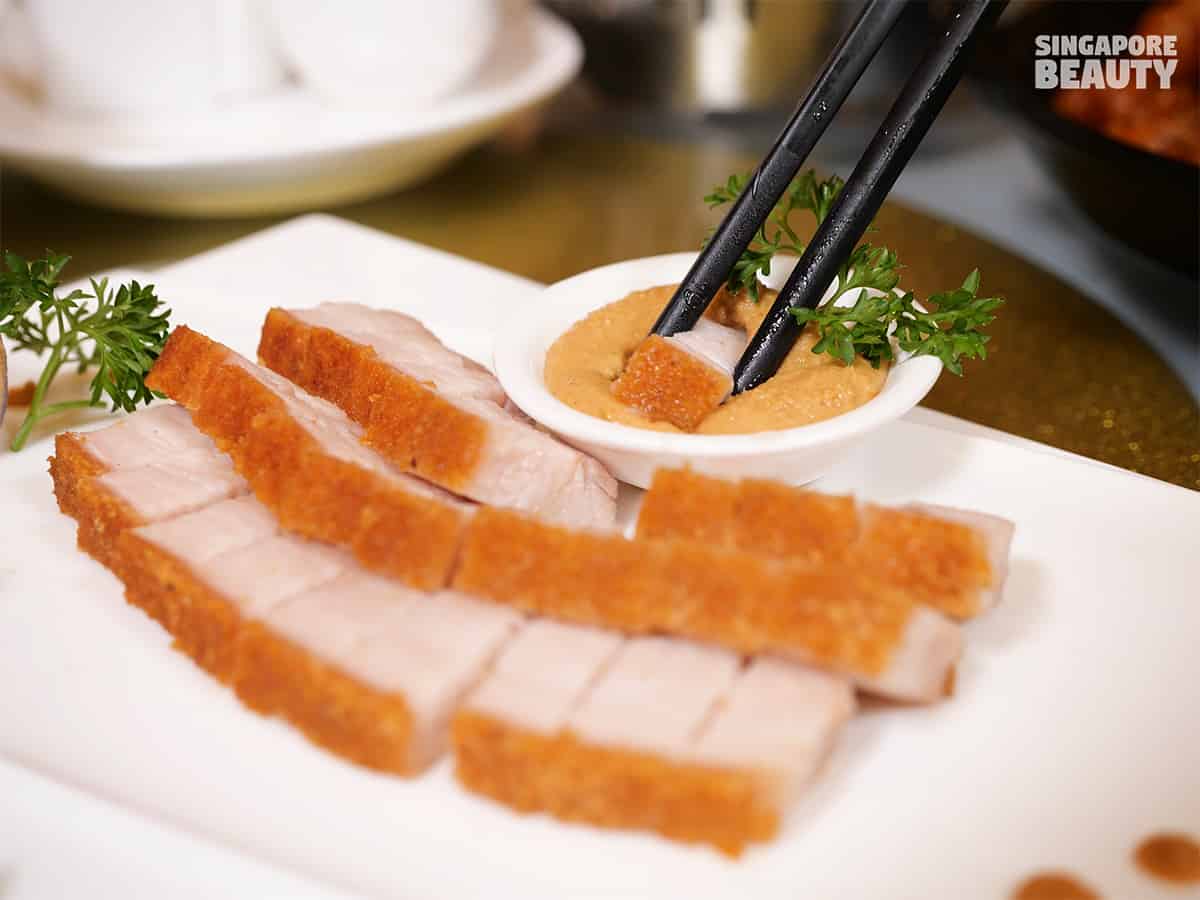 They have 6 types of appetisers such as chilled fresh scallop with fresh fruits, crispy salmon fish skin with salted egg yolk, pork belly with garlic, smoked duck with special sauce, chilled cucumber with black fungus and Roasted pork belly. The roasted pork belly has a good balance of fats and lean meat and not overly salted. It comes with a tangy dip to cut the greasy if any.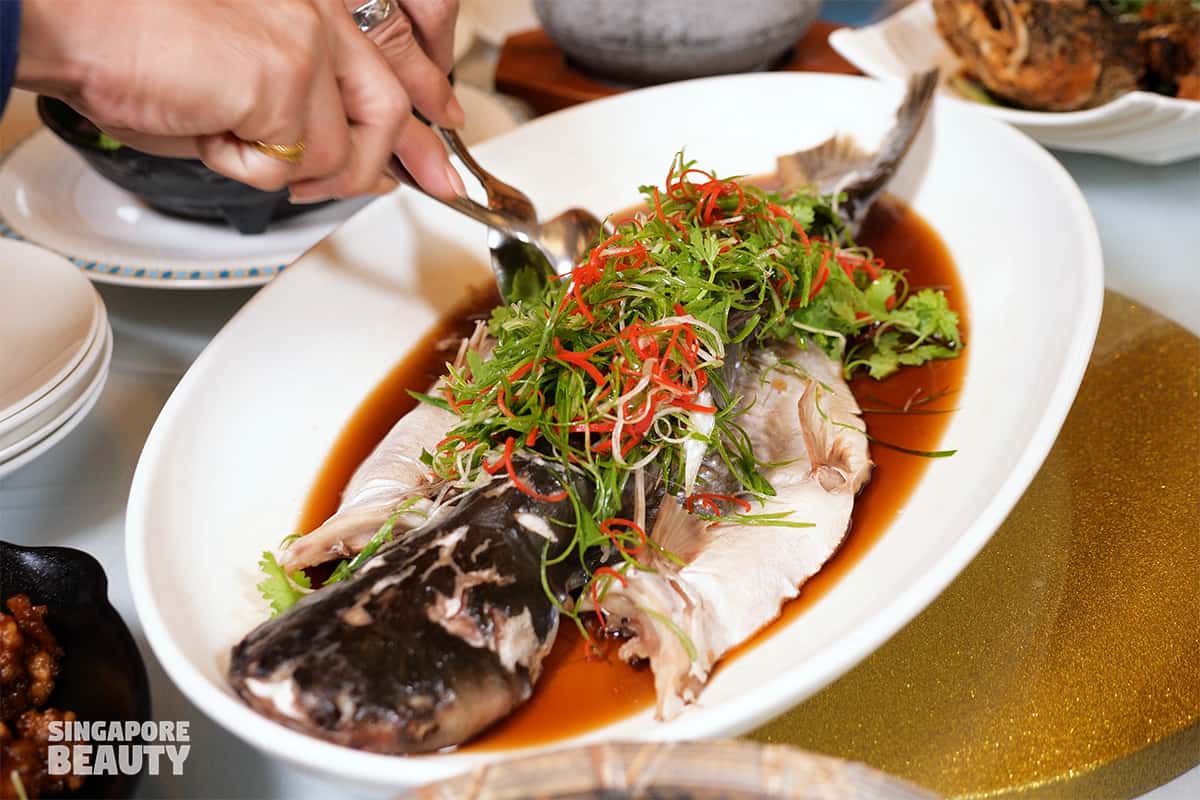 Steamed Patin Fish with garlic is also free flow in this buffet. This is a considerably large fish that is recommended for sharing for 4 pax and above. The preparation of this fish is simple with garlic and superior soy sauce to bring out the taste of the delicate fatty fish meat. Fish lovers who enjoy fatty fish meat will gravitate towards this dish.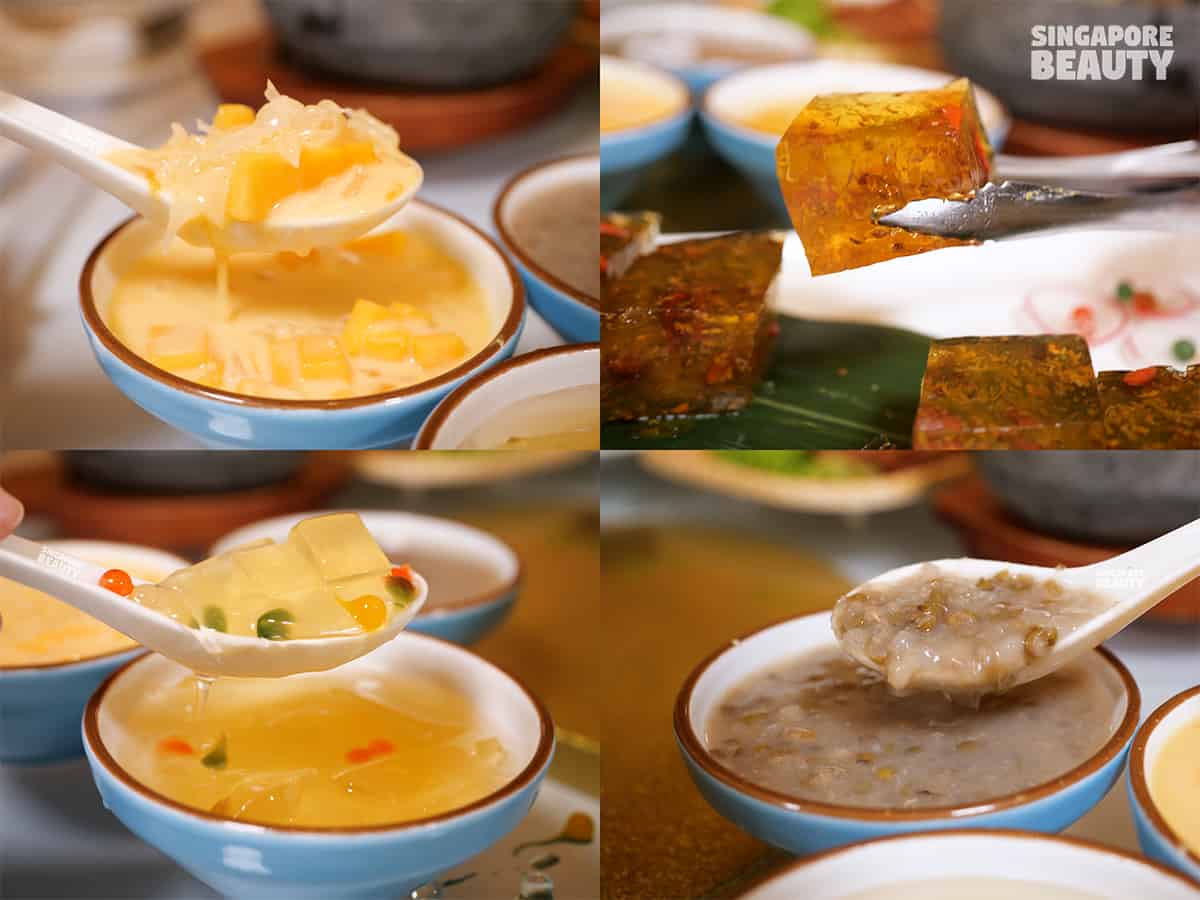 End your buffet on a sweet note with 4 choices of desserts such as chilled lemon grass jelly, chilled fresh mango sago with pomelo, warm green bean soup and chilled osmanthus jelly. If you are a dessert lover, you need to try all the four desserts. These are definitely great way to cool down after a massive buffet feast.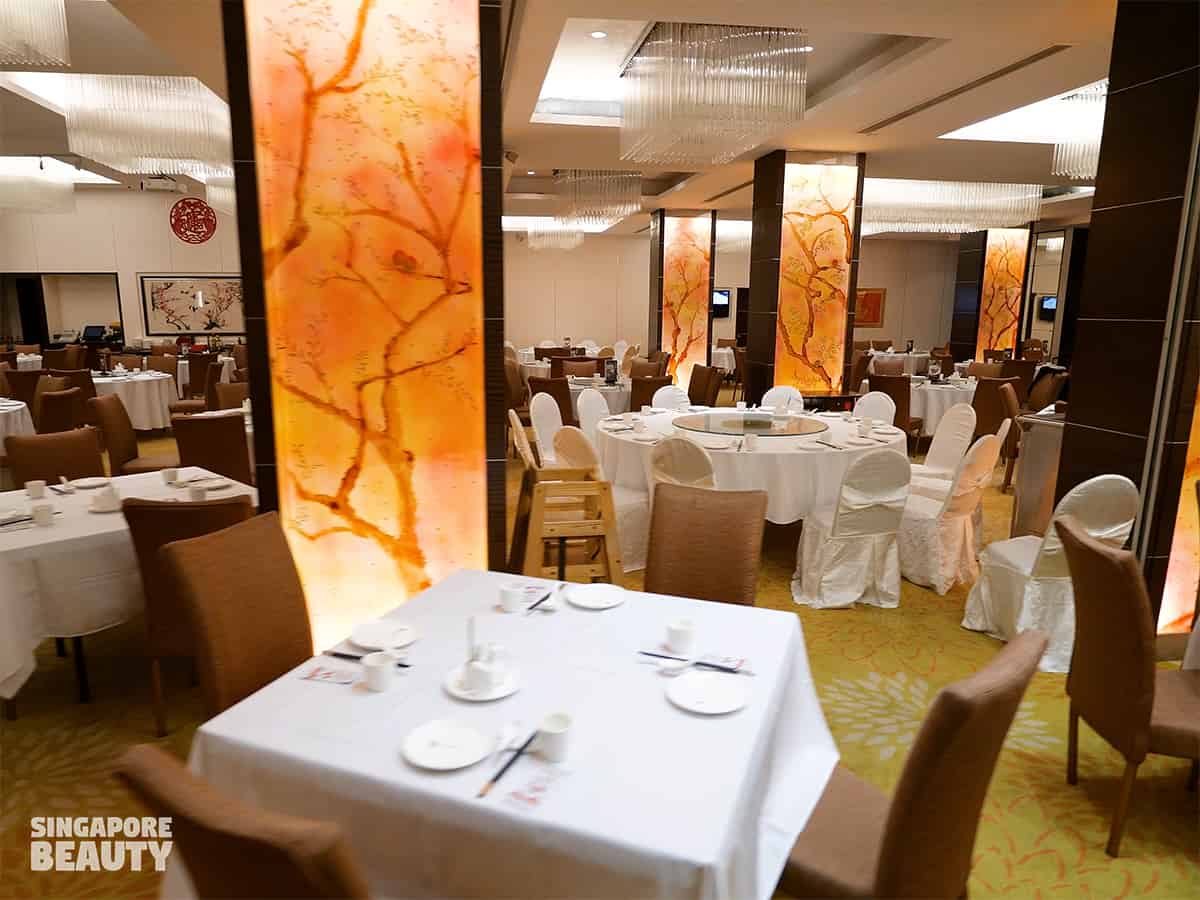 Make your reservation soon at Peach Garden ala carte buffet with 1 for 1 promotion from 1 Jun – 31 Aug 2022. Enjoy 30 dishes in the comfort of a large hotel style ballroom with nice soft music and cool aircon in style. With unlimited serving of live prawn dishes and soon hock, you need to give it a try. Minimum 4 to dine with 2 paying adults and 2 eats free!
Peach Garden @ Hotel Miramar 1 for 1 Ala Carte Buffet Adult Price from 1 Jun -31 Aug 2022:
Address:
401 Havelock Road, Hotel Miramar, level 3, Singapore 169631
(Mon-Thurs) $58++ per pax
(Fri) $68++ per pax
(Sat-Sun/Eve & PH) $78++ per pax
Child Buffet Price (1 for 1 not applicable for Child buffet price):
(Mon- Thurs) $22++ per pax
(Fri) $26++ per pax
(Sat-Sun/Eve & PH) $28++ per pax
*Child is from 5-12 years old. Child 4 & below dines for free.
Daily Opening Hours:
11am -3.30pm, 6pm-10.30pm
Reservation:
Call: 67363833
Peach Garden 1 for 1 Ala Carte Buffet Adult Price from 1 Jun -31 Aug 2022:
Address:
9 North Buona Vista Drive #02-02, The Metropolis Tower 1, Singapore 138588
Mon-Thurs $58++ per pax
Friday $68++ per pax
Child Buffet Price (1 for 1 not applicable for Child buffet price):
 (Mon- Thurs) $22++ per pax
(Fri) $26++ per pax
*Child is from 5-12 years old. Child 4 & below dines for free.
For Reservation:
Call: 63347833
Opening Hours:
5.30pm- 9.30pm (last order 9pm)
Note: For Metropolis branch, buffet only available for weekday dinner (exclude Eve & PH). Drinks such as Chinese tea and soft drinks are excluded from the buffet. Dishes are served on first-come-first serve basis while stocks last. 30 items Buffet menu @Hotel Miramar differs from the 26 items buffet menu @The Metropolis. Video food is shot @ Hotel Miramar.
Brought to you by Peach Garden