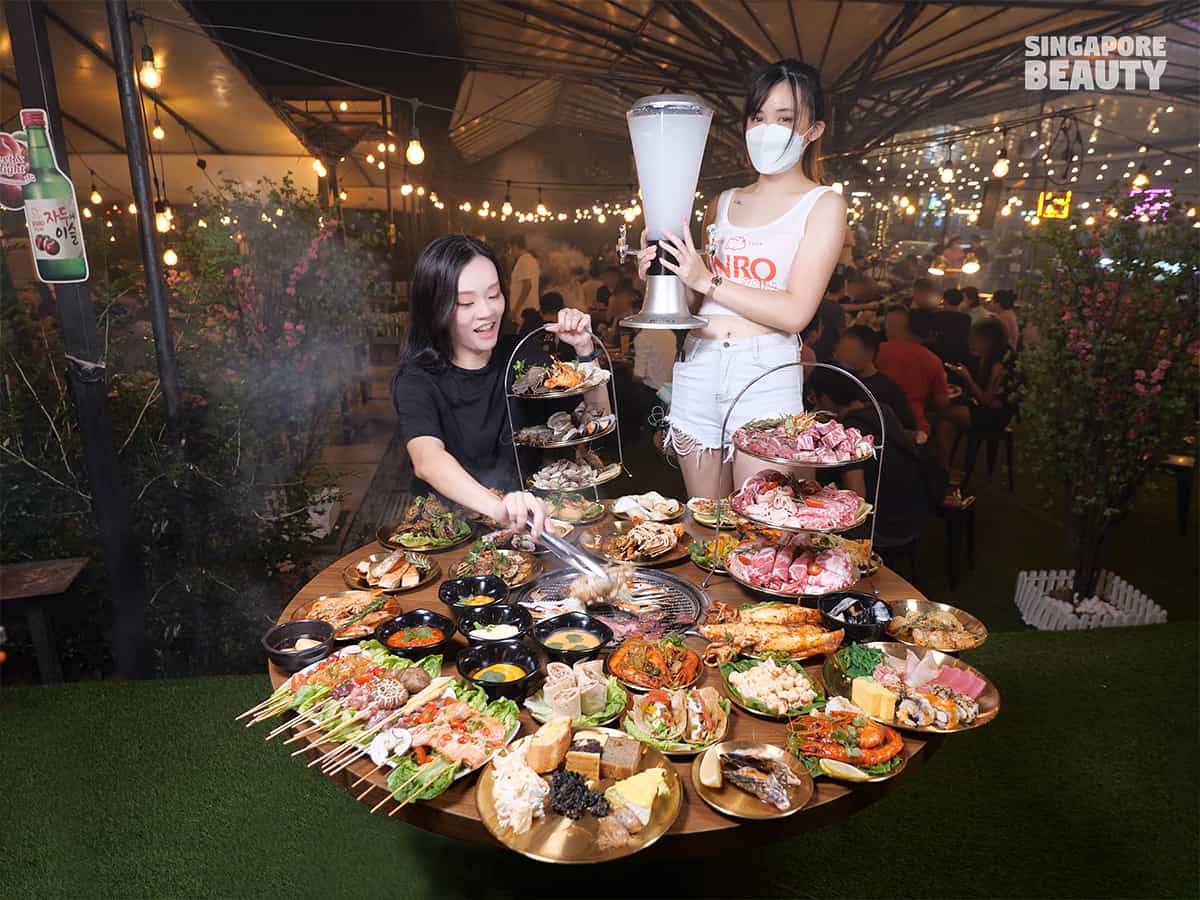 The Three Peacocks has unveiled a new look to their buffet food spread with dedicated bars, counters and stations. New live stations with cook for you service and a Japanese cum Italian food street is in place. Get your hands on a variety of western, Japanese, Italian and Chinese selections at this buffet spread. Enjoy the best of both worlds with BBQ and an option to add-on hotpot.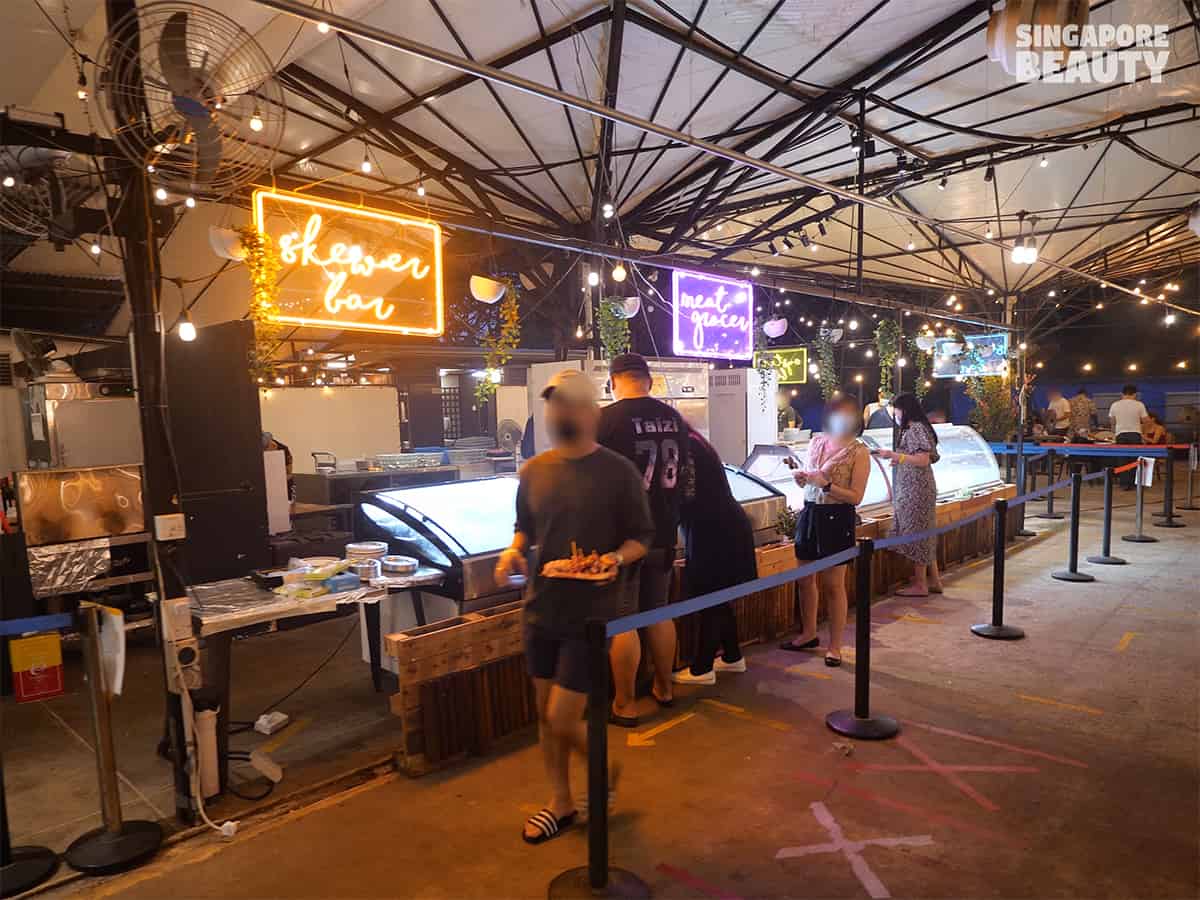 The Three Peacocks menu includes a massive spread of barbecue choices inclusive of seafoods on ice, live oysters, different cuts of meats, marinated meats, cooked food and cook-for-you food. There are 3 nested cluster of buffet spread to get your food from. Firstly is the BBQ section which consists of the skewer bar, The meat Grocer, The seafood bar and the oyster bar. Theses 4 bars are served by their crews and you are welcomed to mix and match different types of meats, greens & seafood.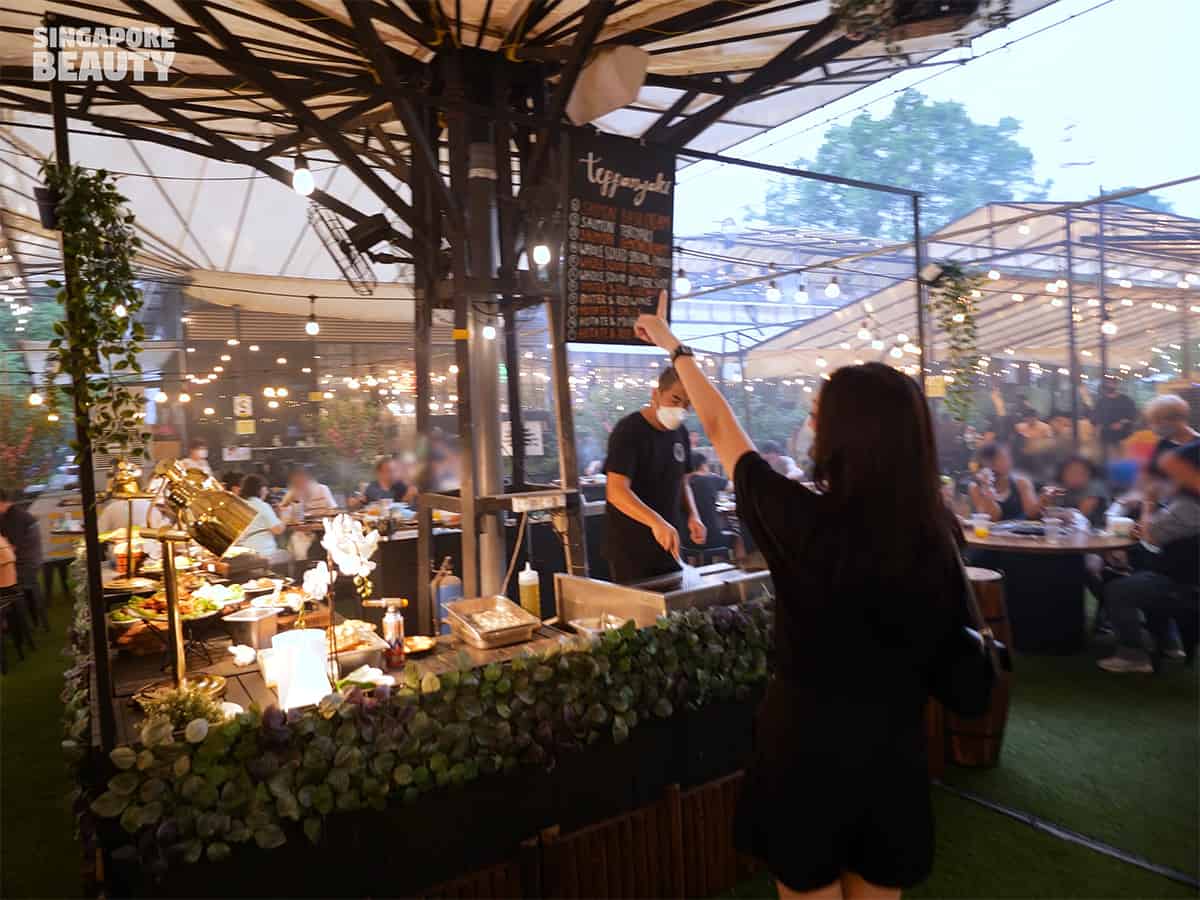 Secondly is the live stations where food are cooked-for-you-by their in-house cooks. There are 4 live stations at The Three Peacocks namely the Teppanyaki, pan roast, charcoal grill and deep fried stations. This is how you order at these Live stations: pick your seafood and flavours from the food menu above the station. The chef will cook on the spot for you based on your selections.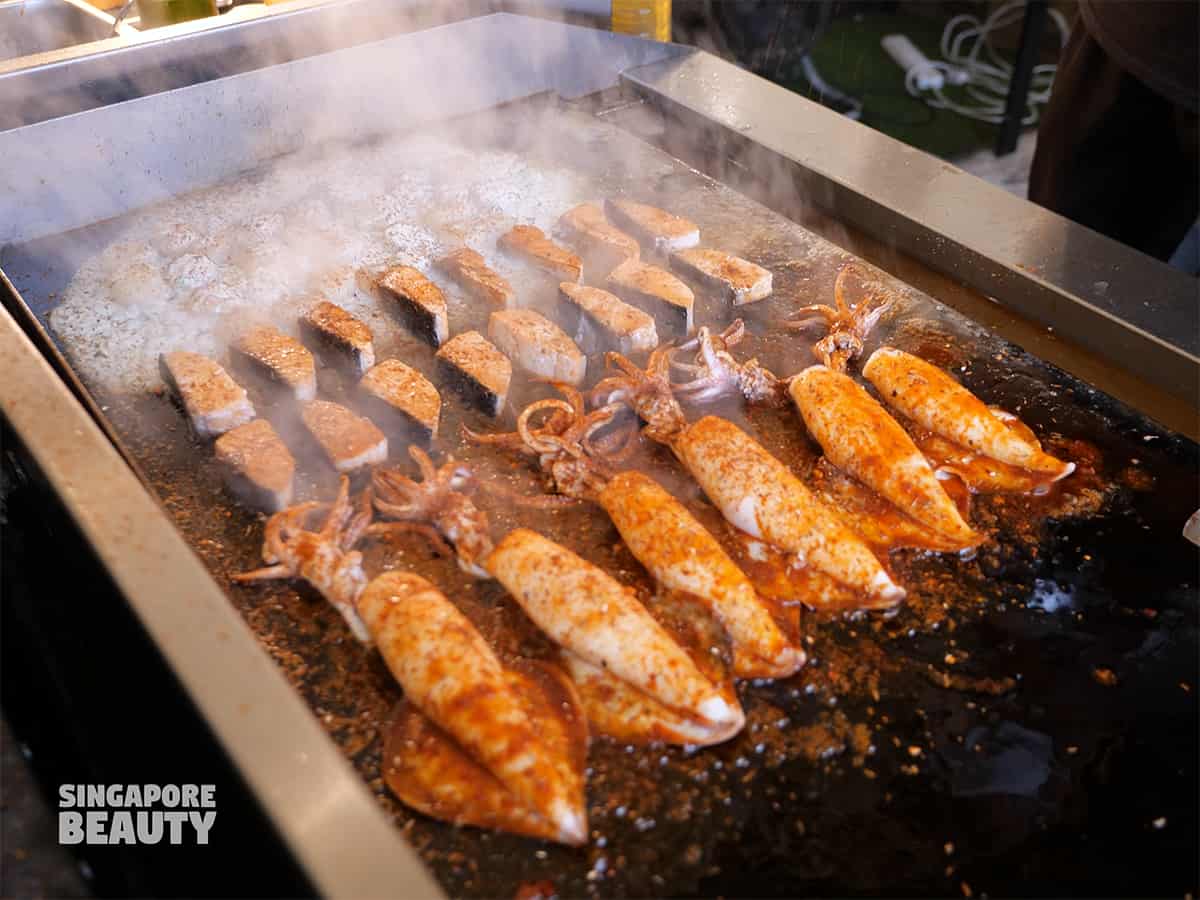 The Teppanyaki at The Three Peacocks has various seafood such as salmon steak, whole squid, oysters and hotate on rotational basis. Teppanyaki station has various sauce options such as basil cream, teriyaki, lemon cream, special chilli, butter soy, dill cream, red wine sauce, salsa and mushroom sauce.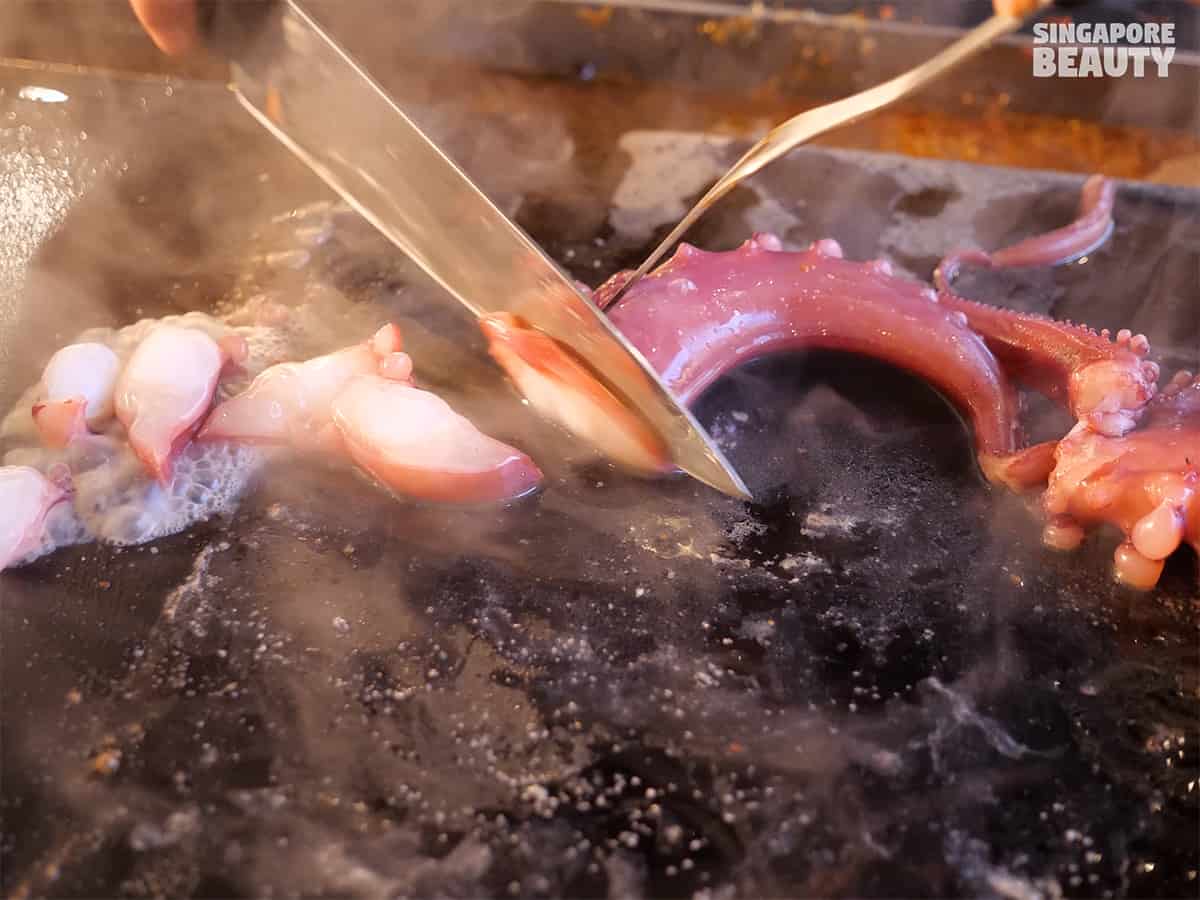 While you are there, look out for their premium items such as teppanyaki octopus legs, deep fried soft shell crabs various sauce and oysters in red wine. These premium seafood items are only available at the teppanyaki and deep fried live stations not at the iced seafood bed.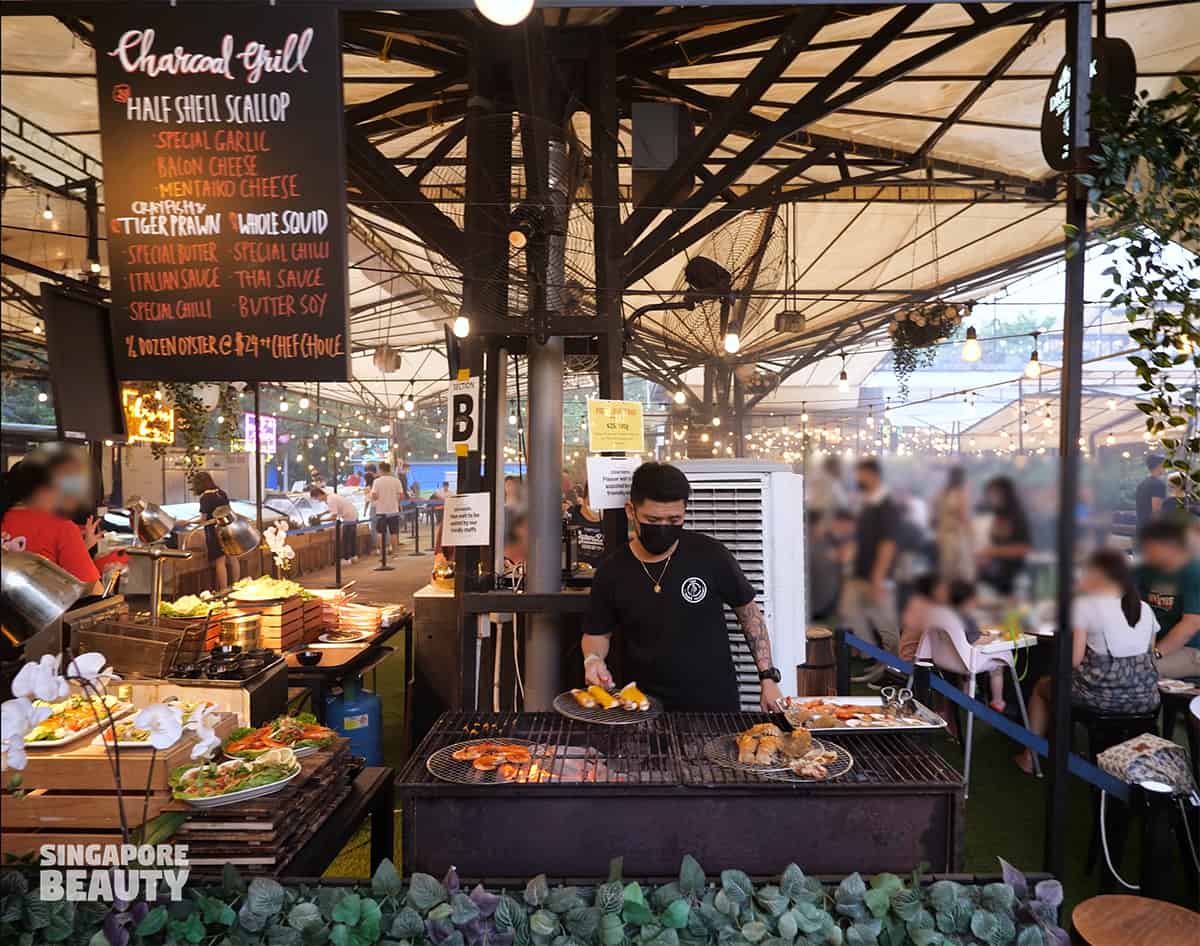 This is The Three Peacocks Charcoal grill for you service. This is a massive grills that can grill up to a table full of seafood at one go for many diners. Just pick your choice from menu of half shell scallops, slipper lobsters, tiger prawns and whole squid.
Enjoy authentic charcoal grill buffet with curated sauces such as special garlic, bacon cheese, mentaiko cheese, special butter, Italian sauce, special chilli, butter soy and Thai sauce. This is the hands-free grill-for-you experience, where you can enjoy the chef cooked food. Scallops topped with paprika and bacon cheese, garlic cheese scallop with basil cream and sea salt giant prawn will get your cravings fixed at the grill stations. Each adult buffet diner is able to redeem half a grilled mentaiko cheese lobster.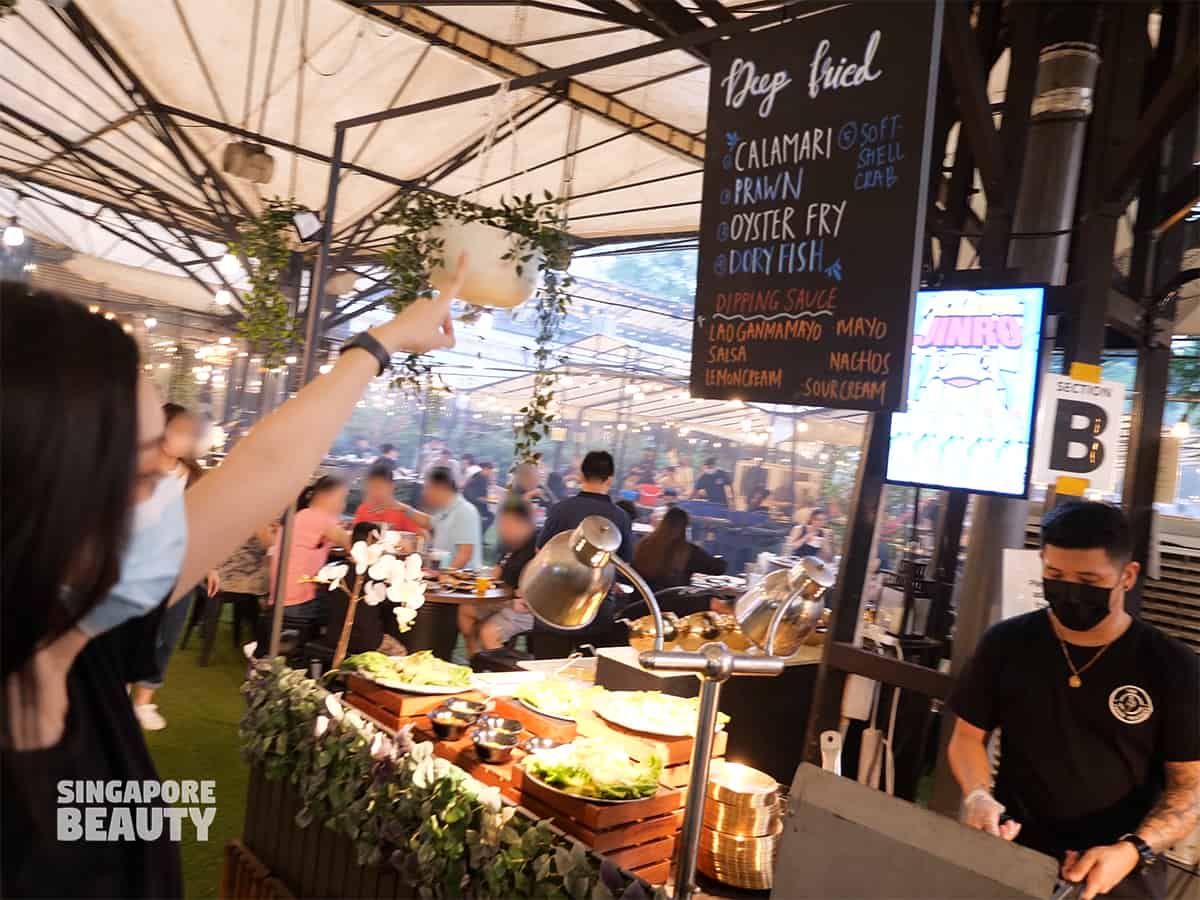 At the Deep Fried station, there are all the popular seafood that is great when crispy and fluffy. Get your hands on calamari, prawns, oyster, dory fish and the premium seafood selection soft shell crab that is included in the buffet. A platter of these hot off the fryer seafood is best matched with their dipping sauce such as laoganma mayo, salsa, lemon cream, nachos cheese and sour cream.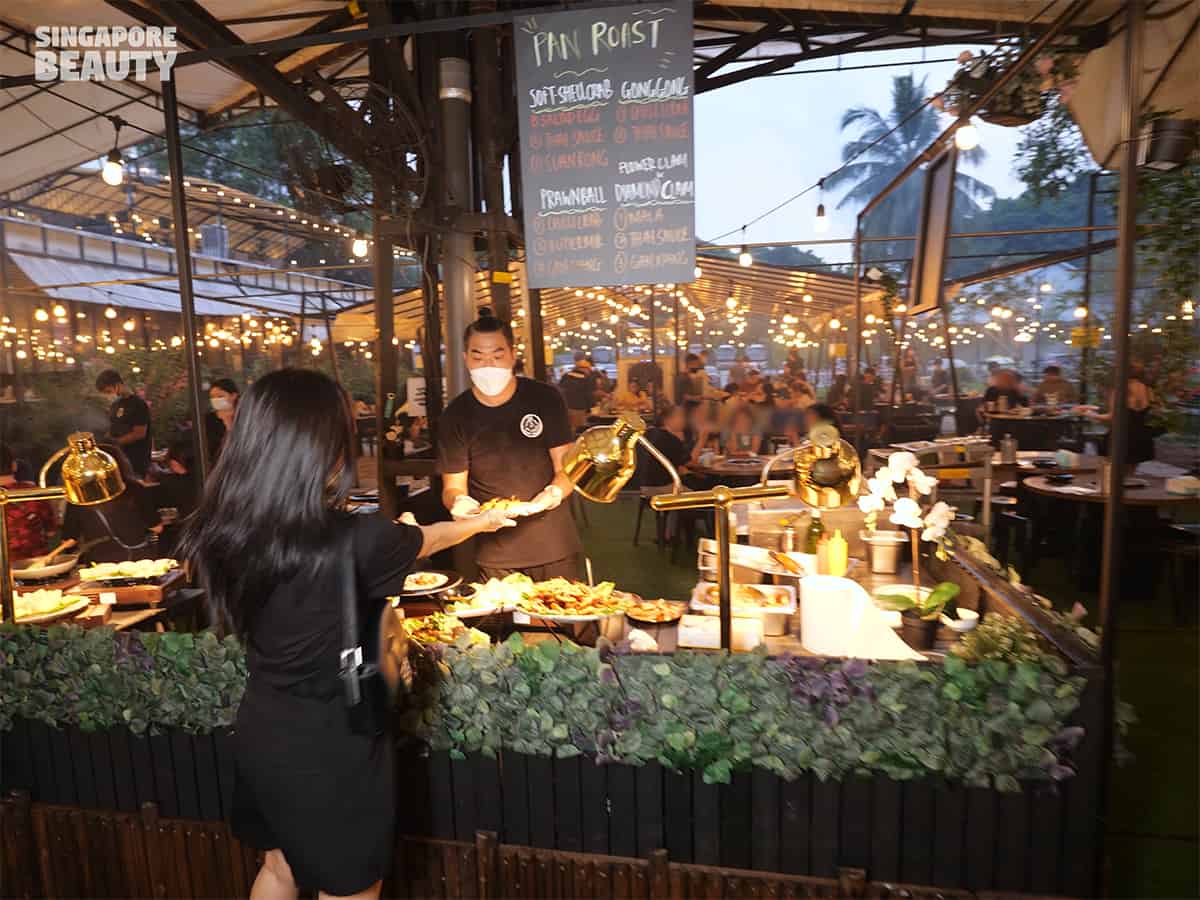 Pan Roast station are made for shellfish lovers. With gong gong, flower clams, diamond clams in various sauces. Your choice of sauces includes chilli crab, Thai sauce, mala sauce andganxiang Chinese style sauce. Get some prawn ball as well in buttermilk and chilli crab flavours.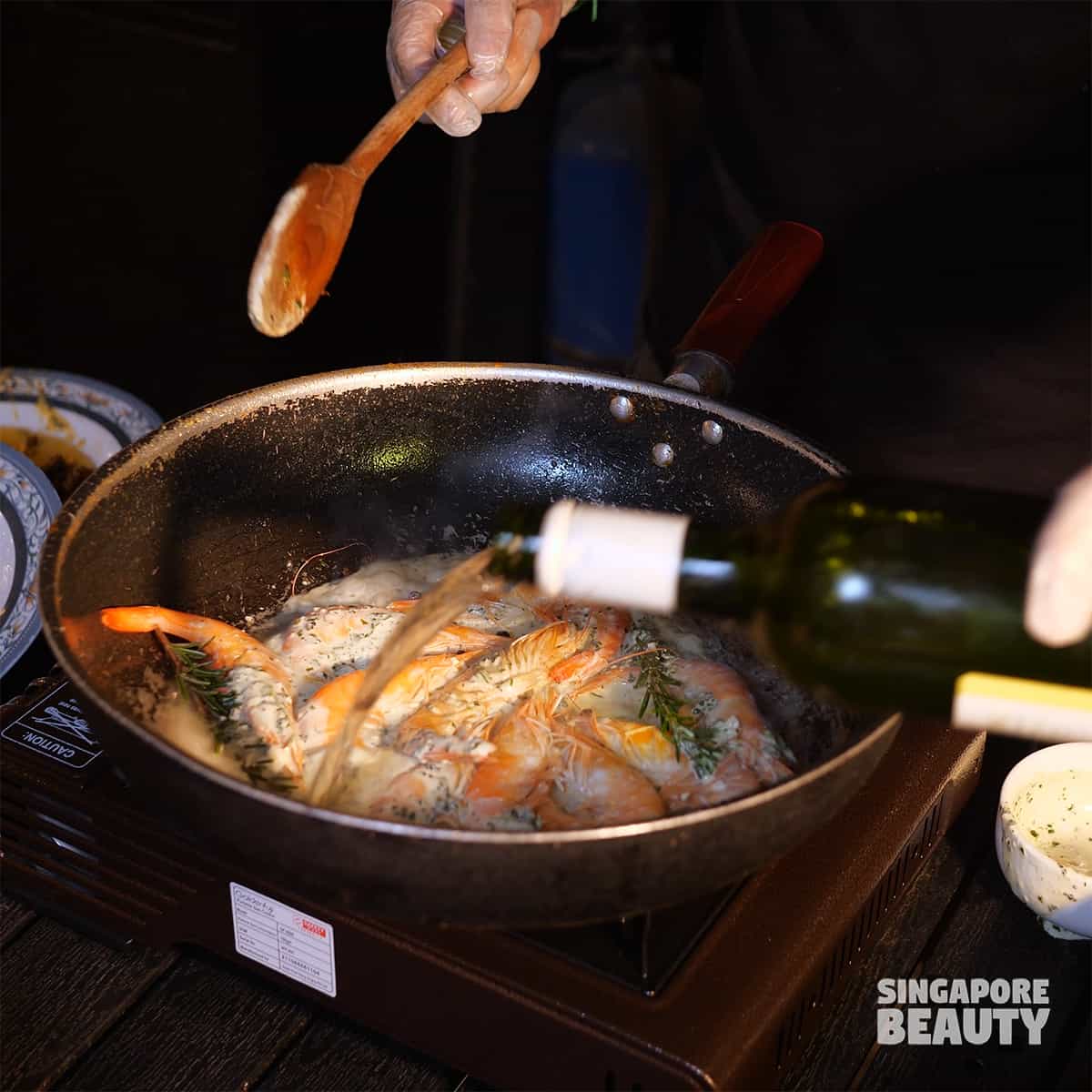 At the pan roast station watch out for their secret menu of prawns stew with white wine and chopped garlic cream. Seafood and white wine is one of the perfect offerings they have here at the pan roast station. Be caution not to get over tipsy on these wine seafood delicacies. You will also find seafood dishes with red wine as well for red wine lovers.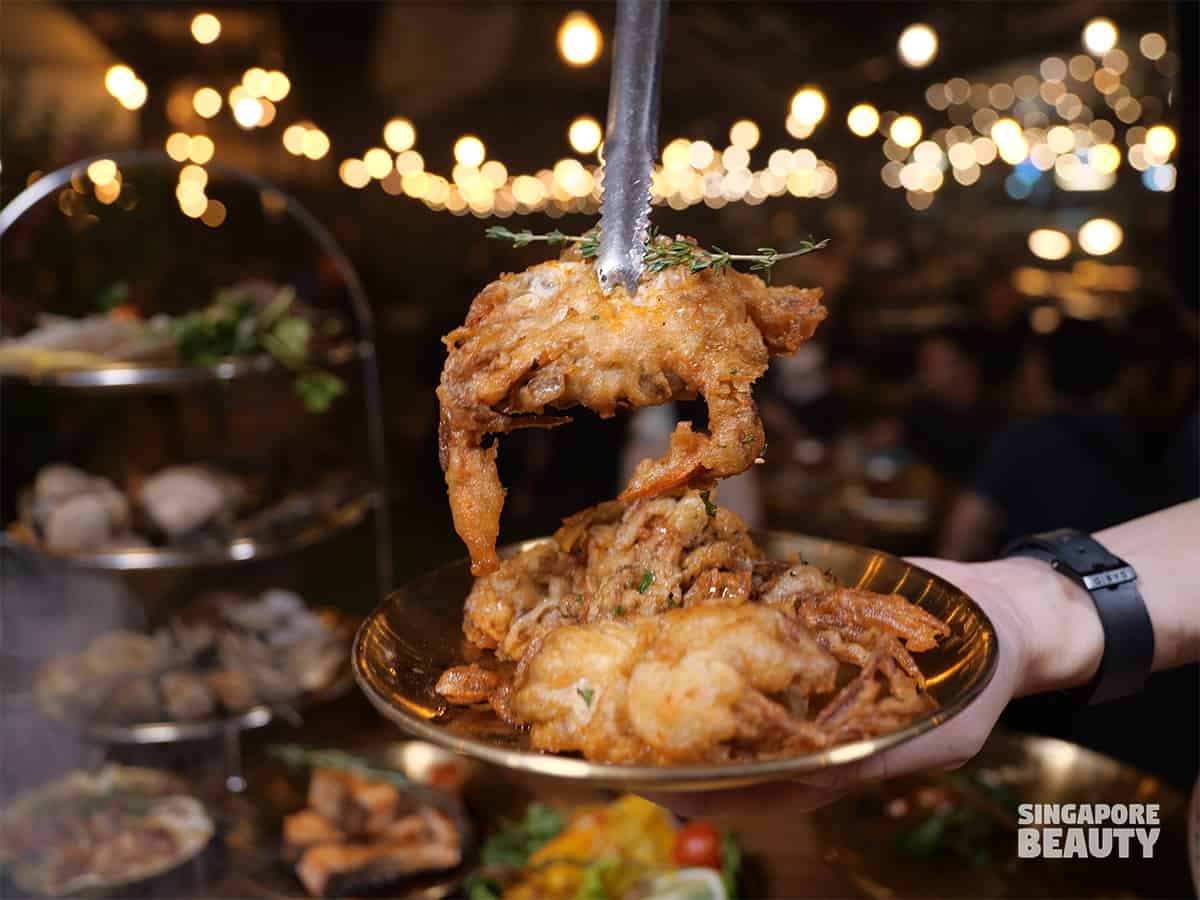 At the Pan roast station, the premium soft shell crab makes it appearance with one of Singapore's favourite salted egg sauce. There are also alternative sauce and dips to go with the soft shell crabs such as chilli crab, garlic, Thai sauce, nachos, mayo and salsa.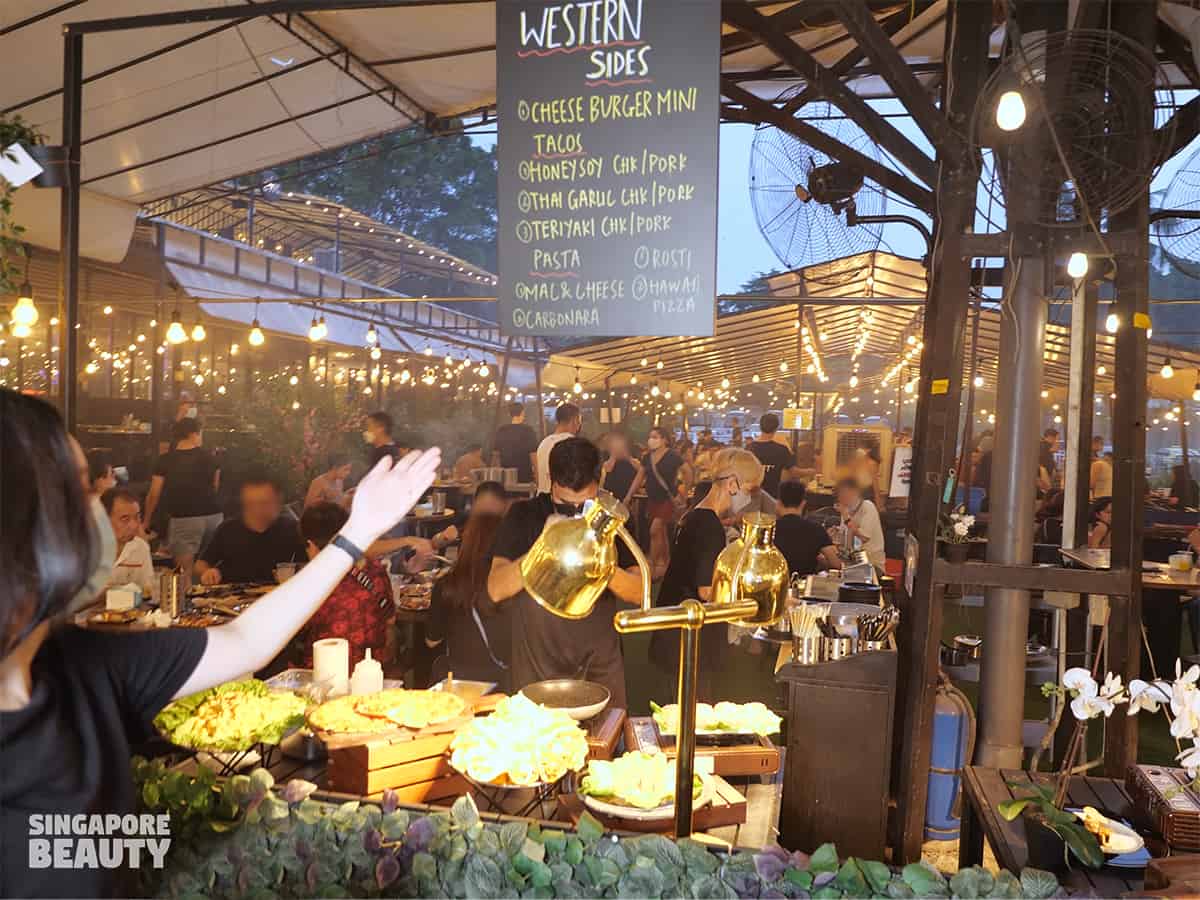 The Three Peacocks Western sides station is house to their fast food and finger food spread. Get crispy rosti with sour cream, mac and cheese, pasta carbonara,Hawaiian pizza, tacos and wraps in honey soy, Thai garlic chilli, teriyaki flavours in choice of chicken/pork and cheesy beef sliders.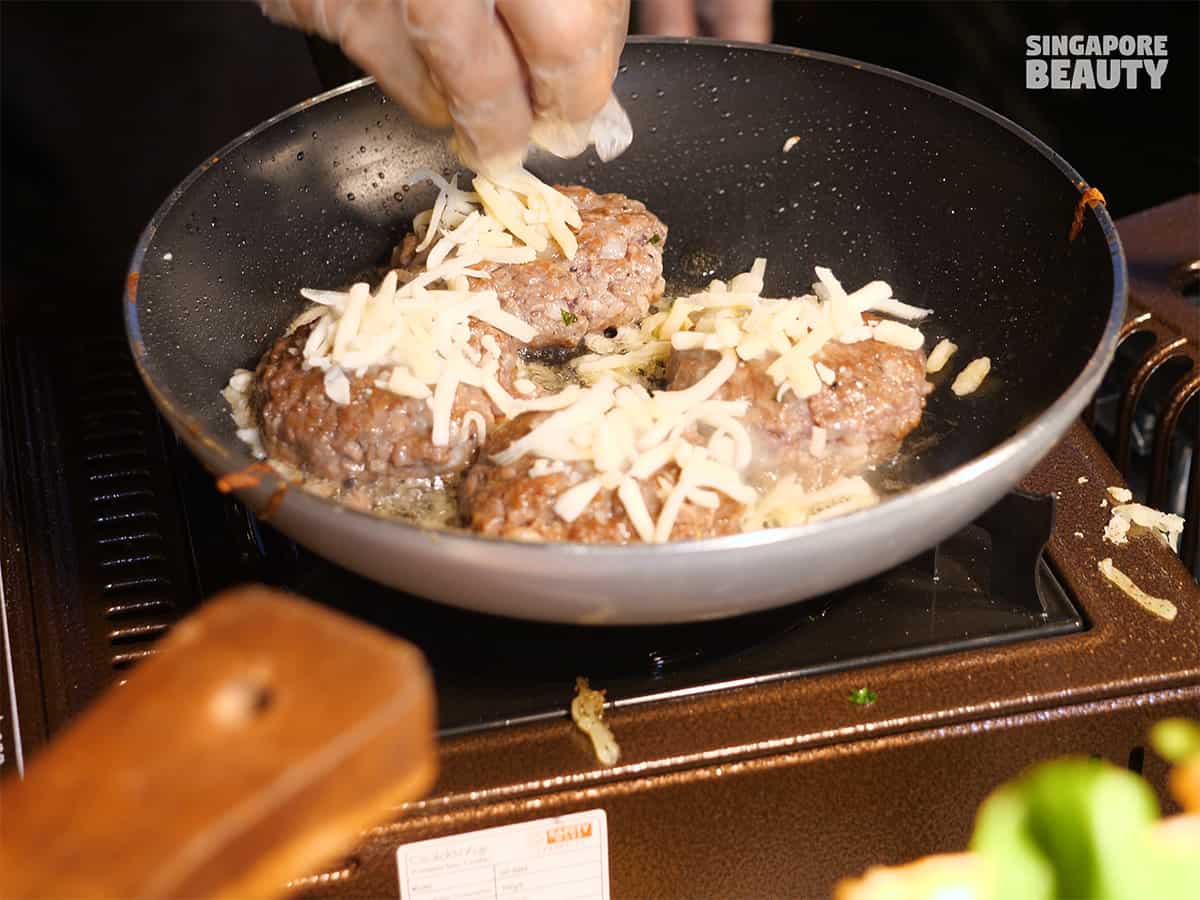 Cheese topped beef mini burger or better known as sliders. These are your best bet when you are looking for some juicy beef patty to munch on. The sliders are held together by a sizzling hot patty of springy beef with melted cheese.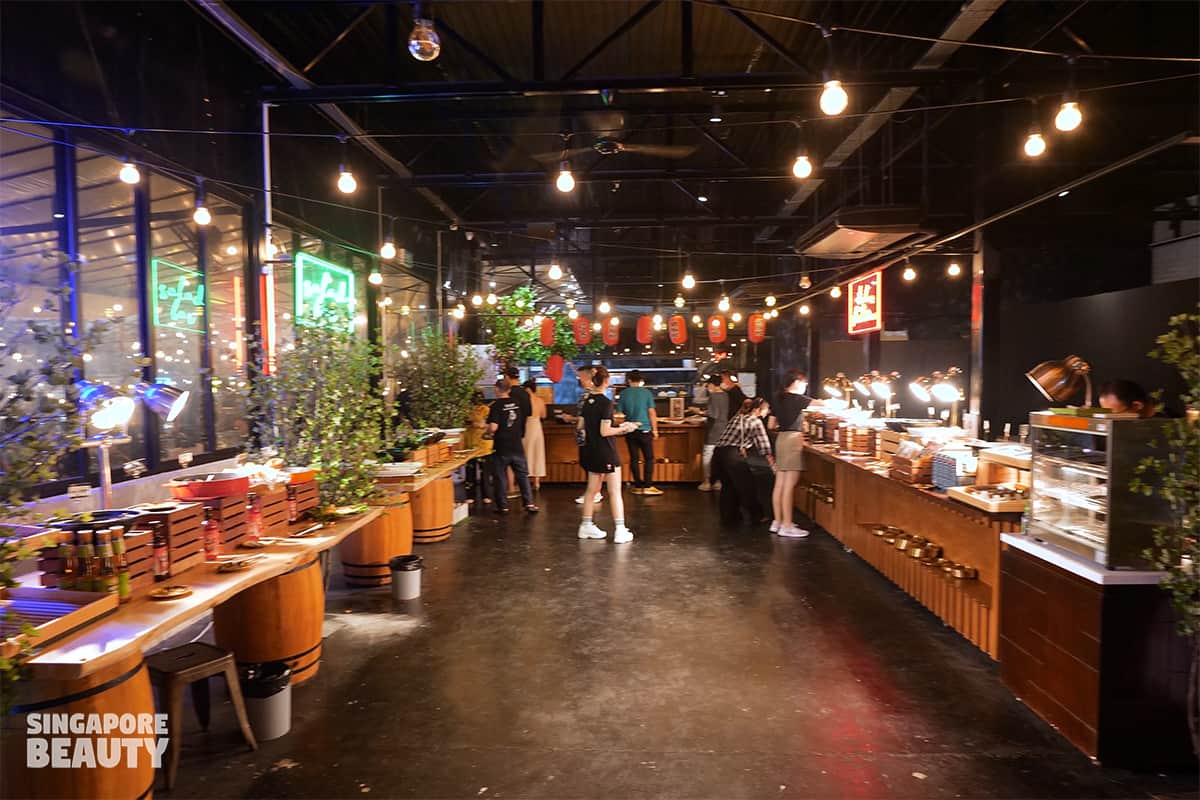 Hot station: The Japanese and Italian food street is located some distance away from the main cluster of buffet spread and live stations. This is an indoor air conditioned hot station with cooked food buffet spread. At the Italian spread there are seafood squid ink paella, pizza, pasta and more. The Japanese sushi bar within this has selected sashimi, maki, nigiri, appetizers, soba, tuna salad and more. This is also where you can get your sweet tooth satisfied with marble cakes, banana cakes, ice creams and others.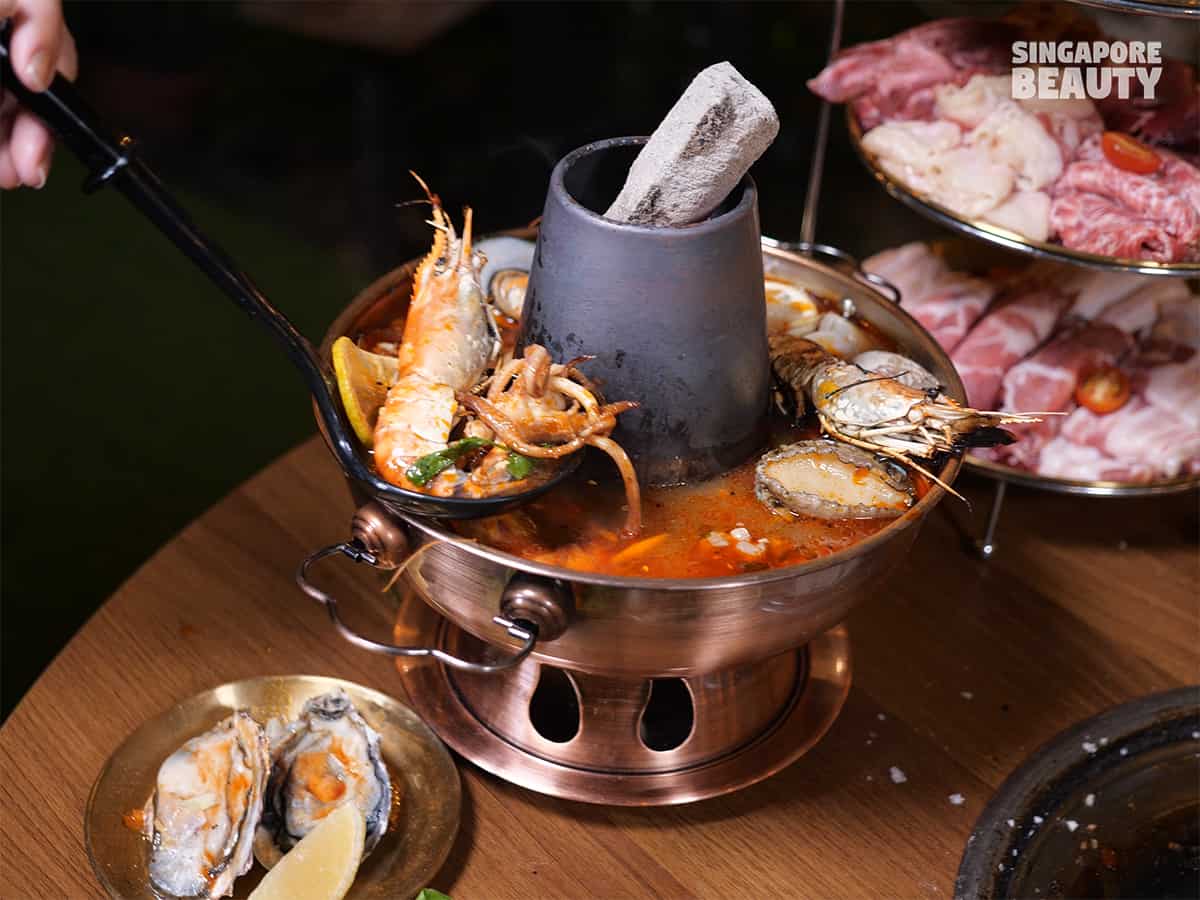 The Three Peacocks is popular for their DIY charcoal BBQ experience. An add-on option for charcoal hotpot is also available now. The soup flavours are Tom Yum or Herbal soup. If you are a seafood lover, tom yum soup hotpot will be more suitable to hotpot with. For meat lovers, you can try their herbal soup. For 4 pax and above, the hotpot is complimentary. Add-on ala carte tom yum hotpot, abalone and XXL Live oysters for a festive mood.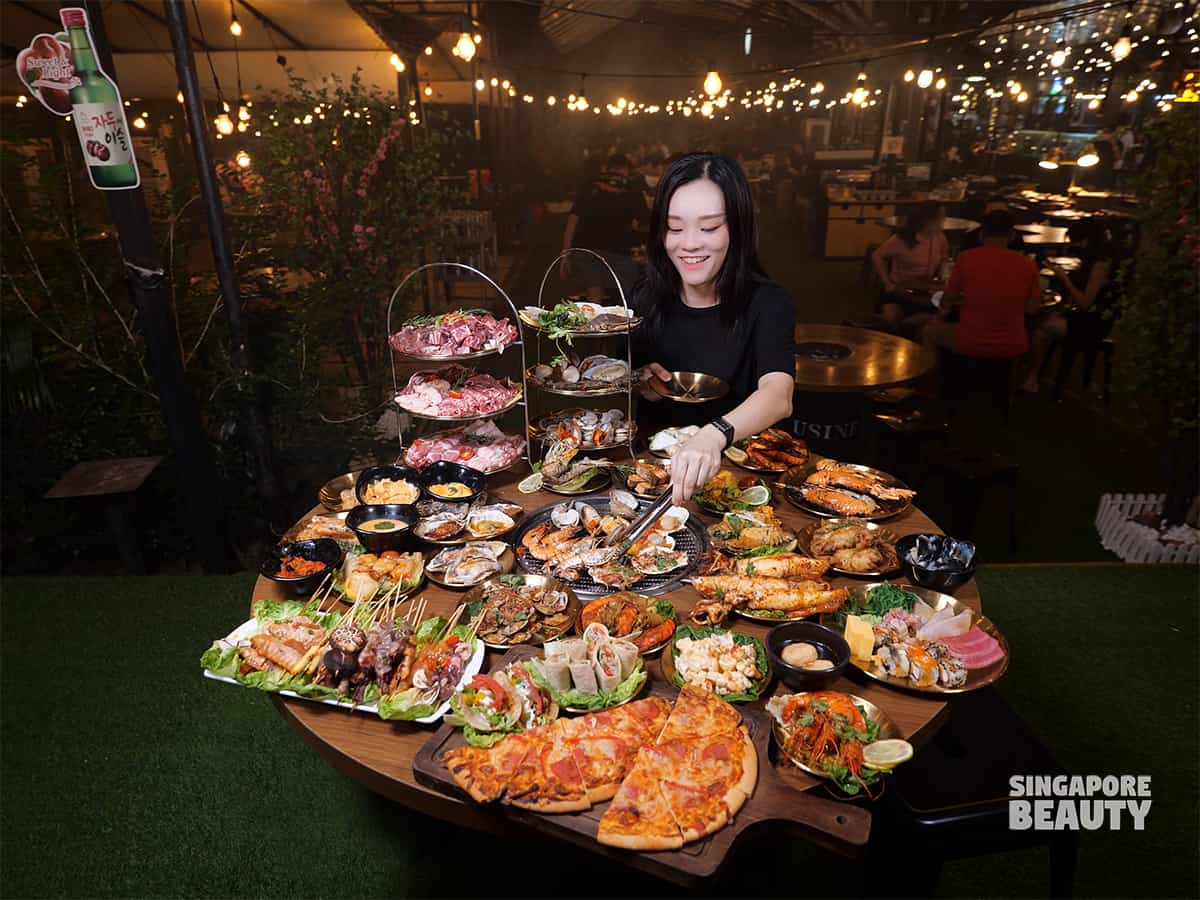 At Singapore's largest Buffet seafood meat bbq and hotpot The Three Peacocks, with dedicated stations with 100 food variety and a new indoor air-con Japanese Italian Food Street. This is your chance to indulge in unlimited meat and seafood. Get ready for an food adventure night with buffet starting at 5pm daily.
The Three Peacocks BBQ & Live Station & indoor food street buffet Price
Weekday (Mon – Thurs)
Adult – $ 50.90 ++
Senior – $ 47.50 ++
Child – $ 33.00 ++
Weekend (Fri-Sun)
Adult – $55.90++
Senior – $52.50++
Kids – $38 ++
PH / PH eve
adult – $58.90 ++
Senior – $55.50 ++
Kids : $41.00++
Addition $3++ per pax for free flow drink
Note: Octopus leg, softshell crab, squid, scallops on rotational basis only at live stations
Add-on Charcoal Hot pot (tom yum or herbal)
2-3 pax $15 ++
4 pax above free hot pot
Add-on Premium seafood
1/2 dozen abalone $24 ++
Opening hours:
5pm – 11 pm daily
Dine in time :
2-3 pax 2hrs
4 pax and above 2.5hrs
How to get to The Three Peacocks by Shuttle bus
5.30. pm daily every 30 minutes intervals, pick point exit Labrador Mrt (CC27) Exit A
Address of The Three Peacocks :
8 Port Road
Singapore 117540
For Reservations & enquiry:
Call  3129 2374
Brought to you by The Three Peacocks.