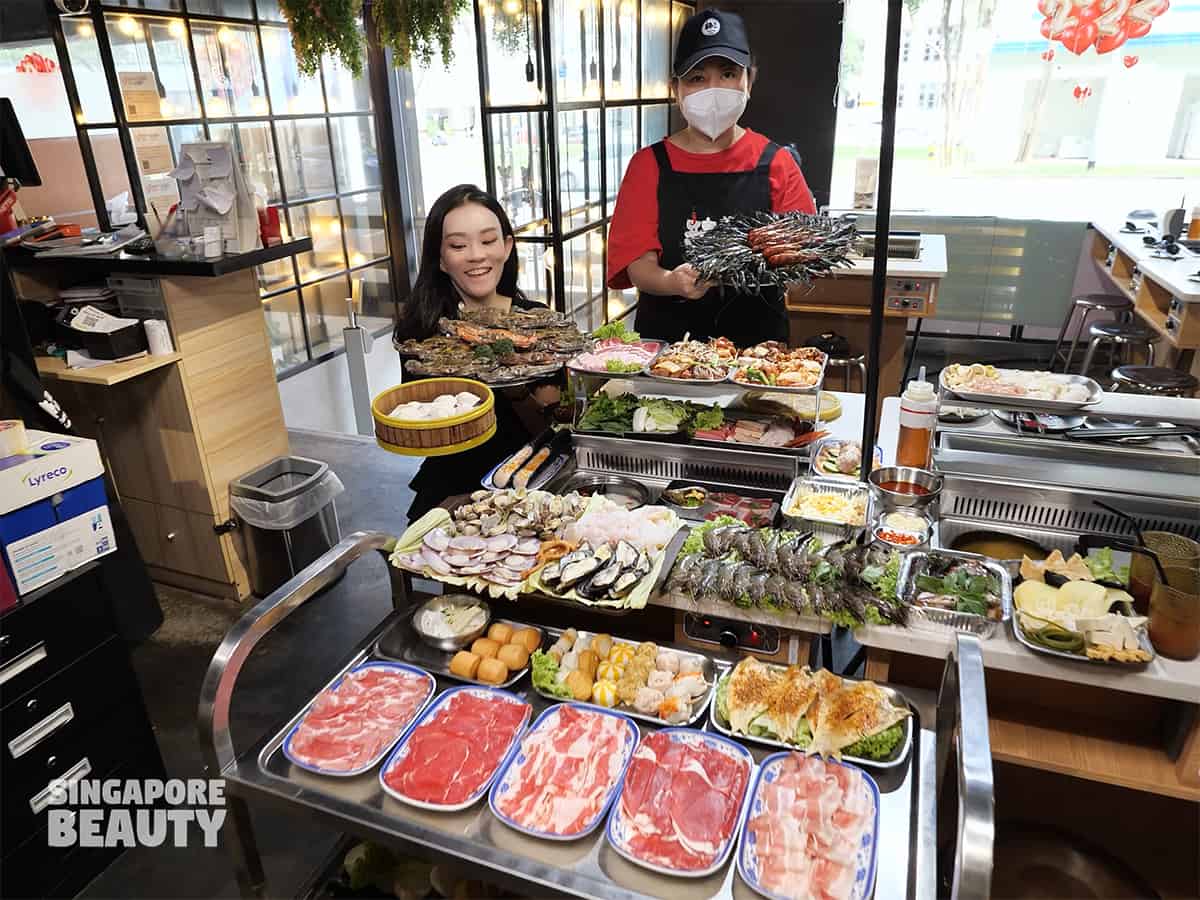 La Jiang Shan is Singapore first personal dual hotpot and BBQ buffet with all you can eat seafood menu including flower crabs, crawfish, shabu shabu meats and xiao long bao during their dinner buffet at Orchard Road Singapore.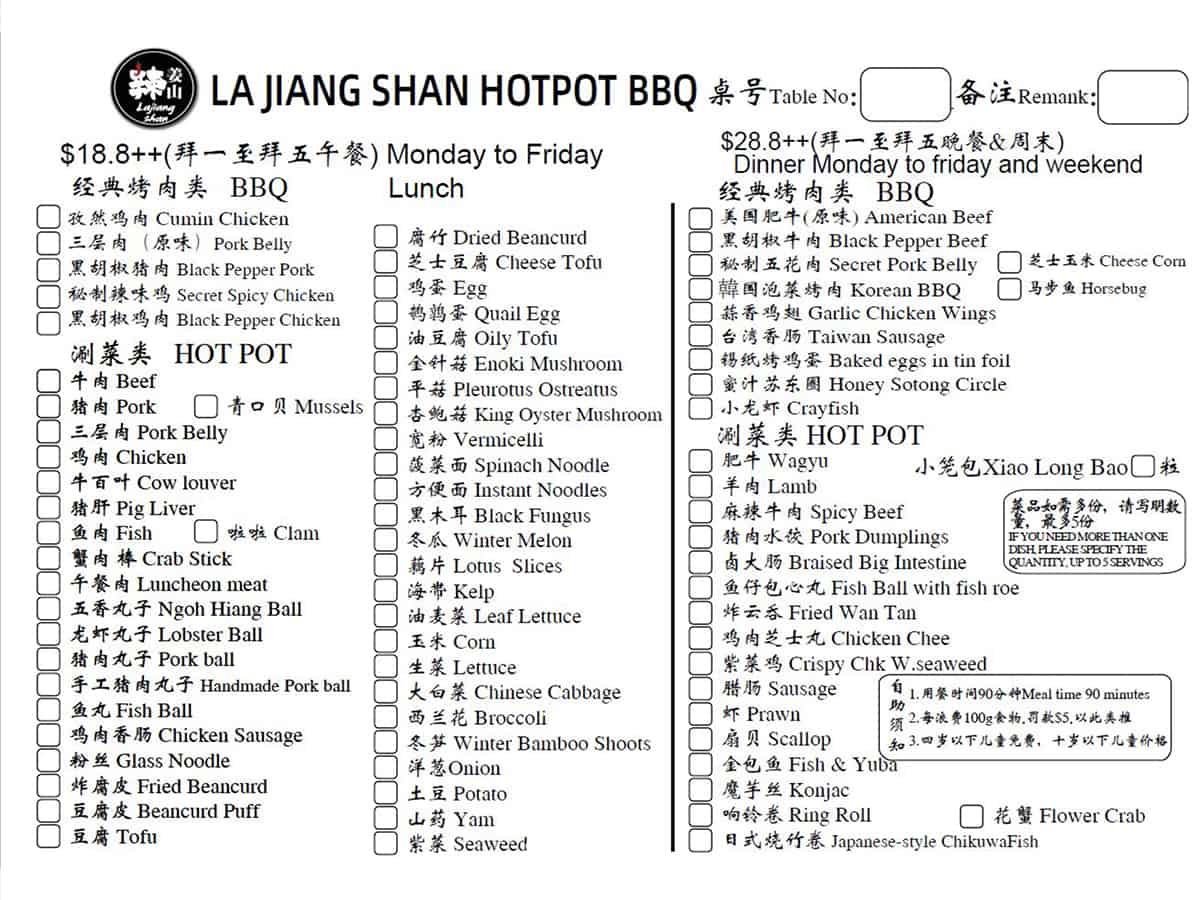 The dinner buffet menu for La Jiang Shan hotpot buffet has more than 80 items for you to choose from. Enjoy bbq marinated meats, hotpot ingredients, freshly cut shabu shabu meats, surimi, offals, garden greens, carbs, ready to eat sides and a variety of seafood. Besides the items listed in this menu, they also have ready to eat sides at their condiments stations, ice cream and add on freeflow dispenser drinks which you can help yourselves to.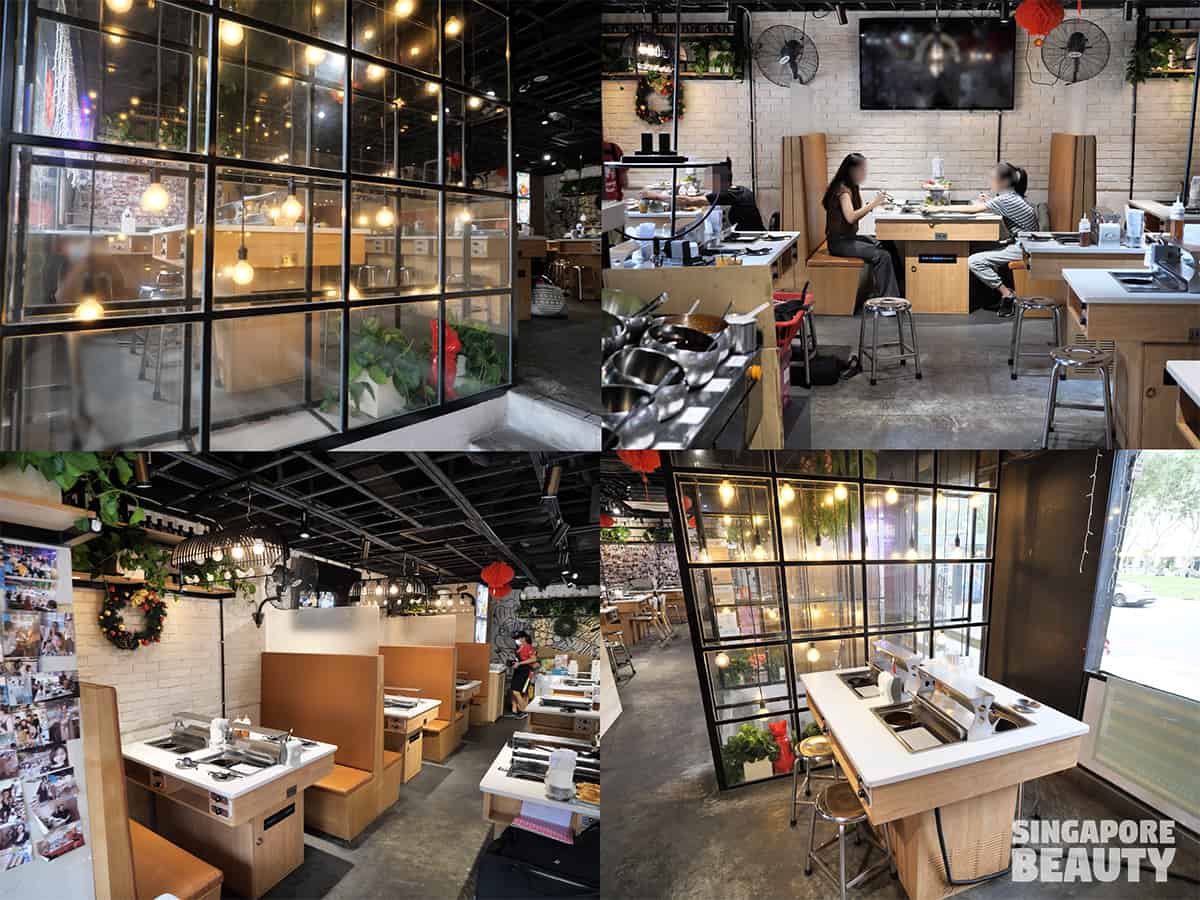 La Jiang Shan buffet currently has 2 locations in Singapore along Selegie road at Parklane Shopping Mall and at Clementi. Enjoy personal hotpot and bbq buffet in a clean & neat interiors with Korean vibes. They also have a La Jiang Shan noodles store selling noodles adjacent to their hotpot place at Selegie Road.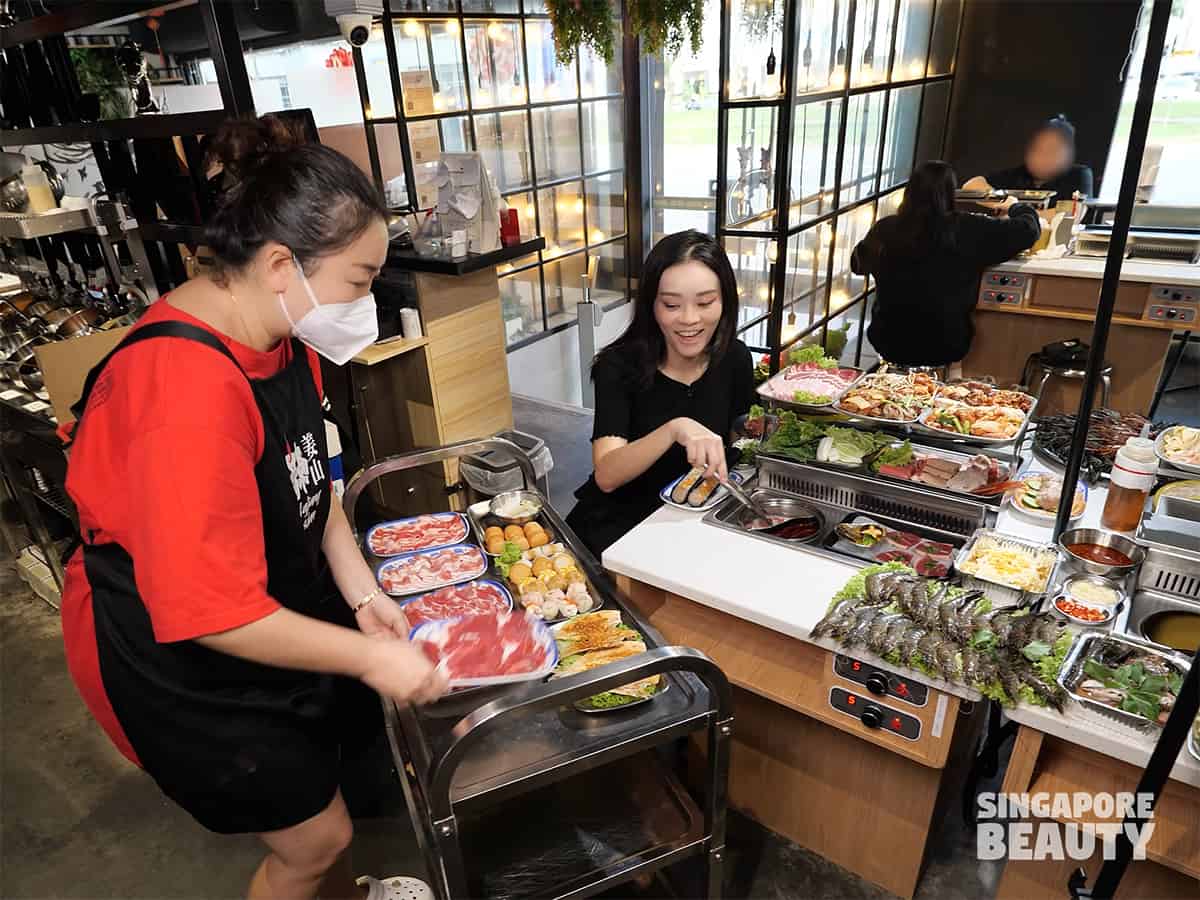 Here's our La Jiang Shan Hotpot review after trying the dinner buffet. Ordering the food is a breeze, just indicates the food portions you need on the menu slip, hands it to the service crew. Buffet here is ala carte style where food is served to your table. Your only job here is to bbq, hotpot and eat.  Hotpot soup base is also refilled pretty fast with a wave of the hand by the service crews.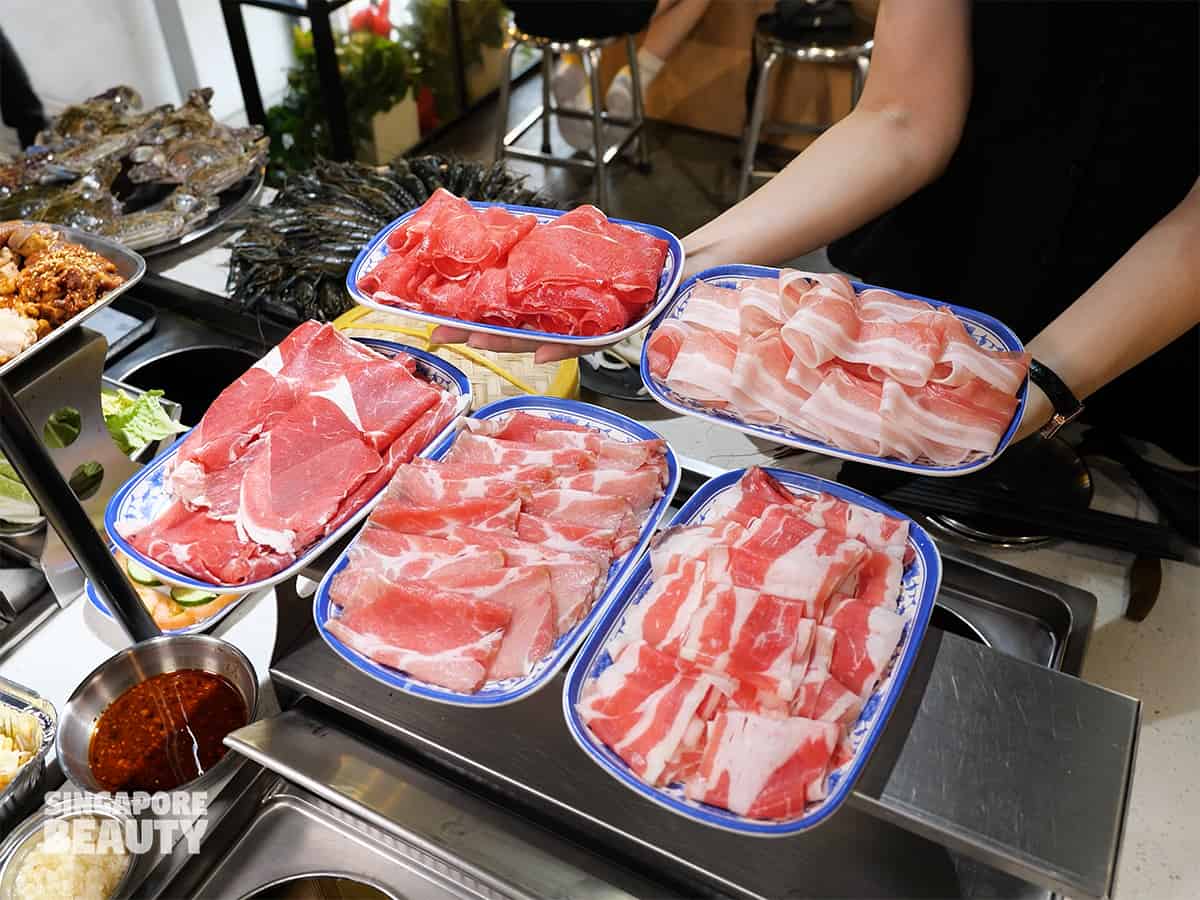 If you are a meat lover, you have come to the right place. They have a variety of shabu shabu meats that are cut to order and served in rolls. The meats are of bright red hues which are promising signs of freshly cut meats to me. Pictured above are US fat beef, lamb, and American beef, pork belly and pork collar. The meat is of a good thickness and takes seconds to cook for the perfect springy delicate texture.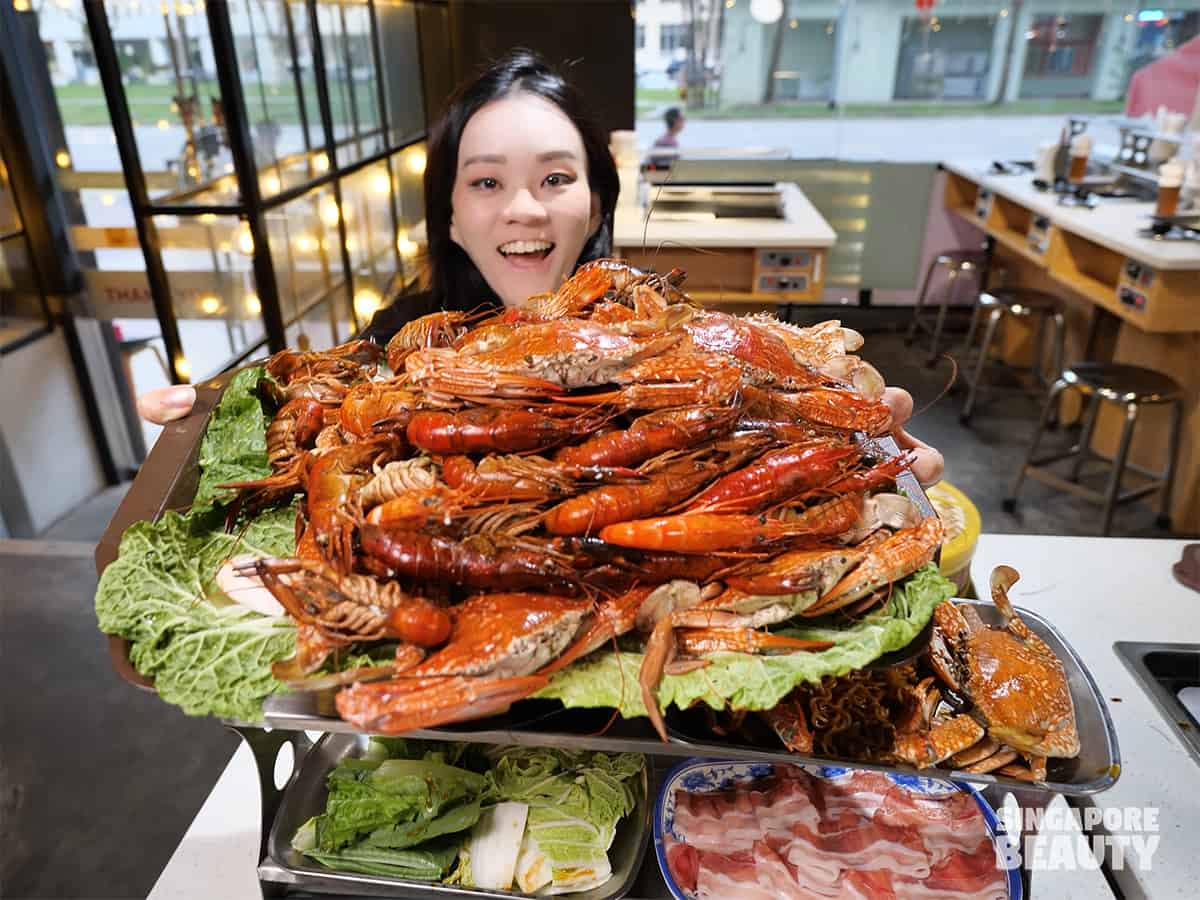 For seafood lover, this is your seafood dream come true. Just check out how happy our seafood lover friend is in the picture, grinning from ear to ear upon being told that the seafood in La Jiang Shan dinner buffet is free flow. The free flow seafood includes flower crab, crawfish, mussels, clams, prawns, fish meat, honey sotong rings and scallops. Do note that the weekday lunch buffet has limited selections of seafood which only includes fish meat, clams and mussels only, but is great if you are more of a meat lover.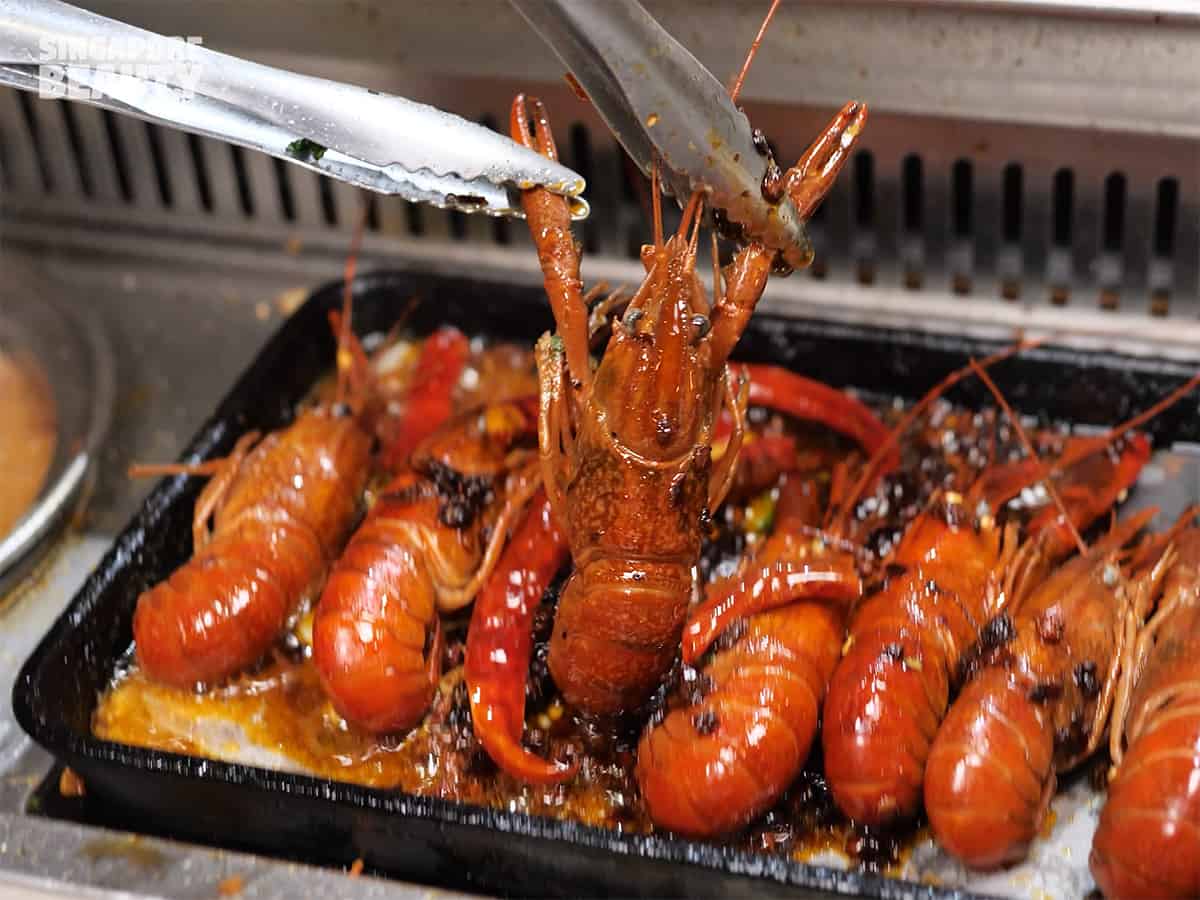 Enjoy this newly added crawfish item to the menu by either grilling them in spicy chilli pepper paste or hotpotting them in mala soup base. Grilled crawfish are more intense flavoured with the concentration of juices and infused spice from the chilli pepper sauce. If you are cooking them in the hotpot, mala flavour is recommended.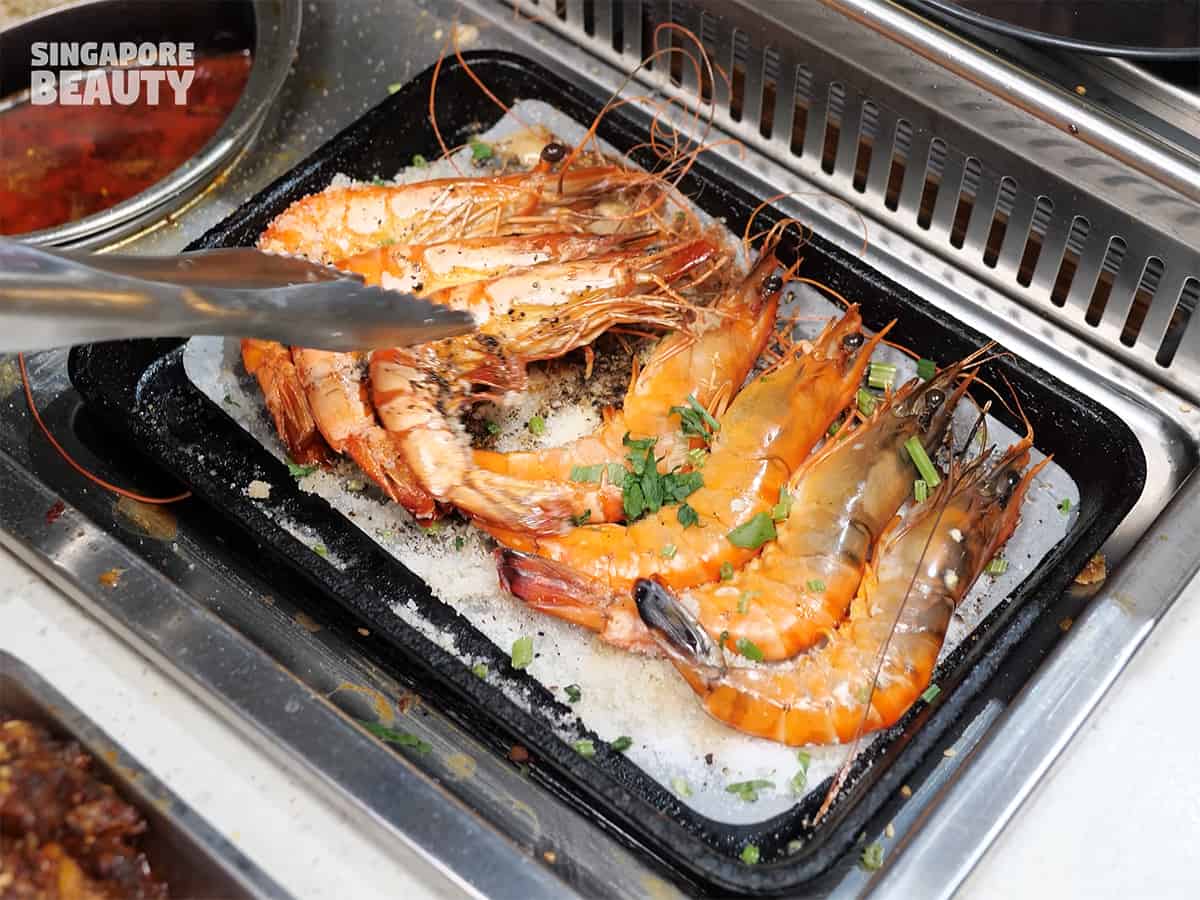 Being no new comer to this buffet, I make sure I get my hands on their prawns. I love how crunchy the prawns are after grilling and are very fresh on my various visits too. The prawns are of good size with sweet meats and buttery bitter head roe.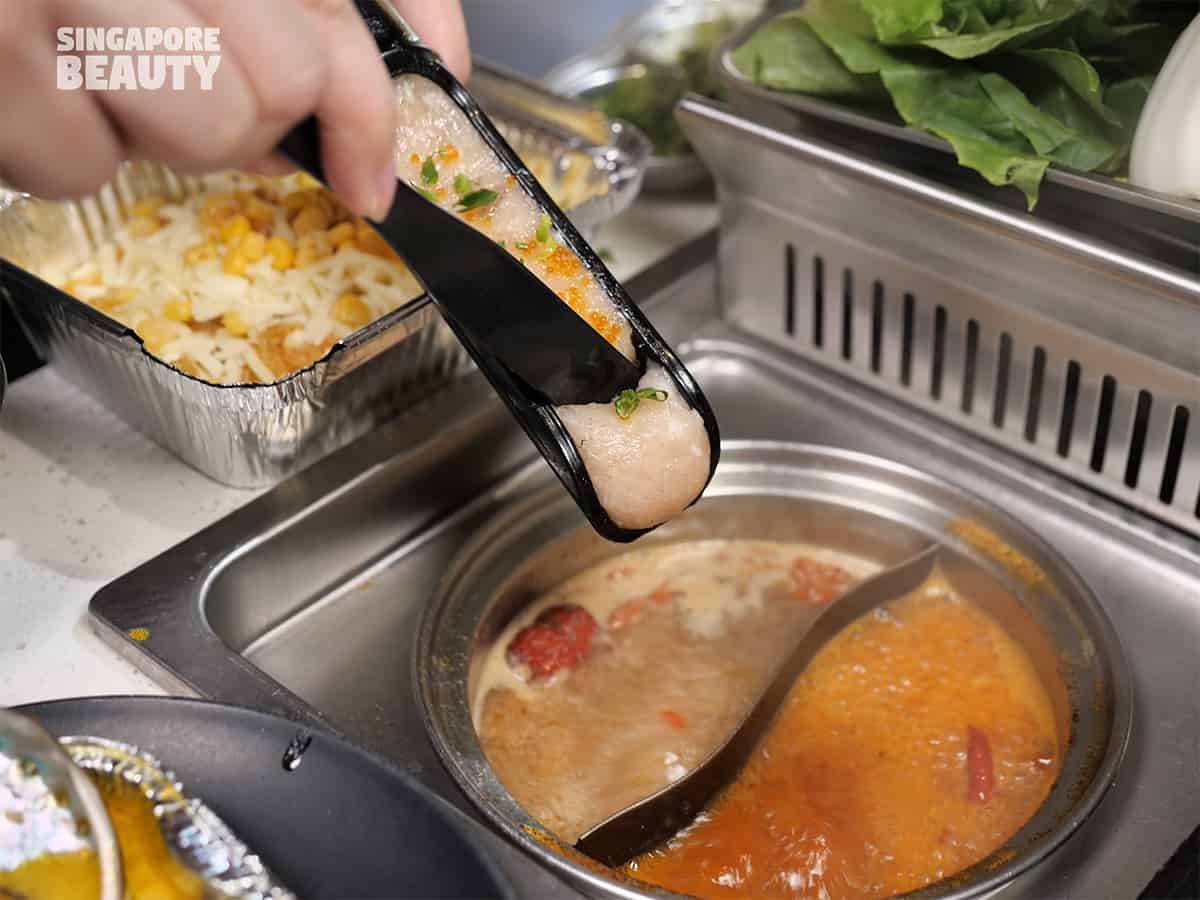 For the dinner hotpot buffet, every table based on the headcount will get to redeem special dinner tray – a set of baby abalone in chicken soup, seafood welcome platter in a tray and shrimp paste (whilst stocks last for the day). The shrimp paste (one time redemption) is hand beaten in house by the chef and topped with orange Tobiko flying fish roe. Scoop chunks of prawn paste into the soup and they are ready to be enjoyed when they float on the surface of the soup. This prawn paste is the bomb! The springy texture with real chopped shrimp and popping roe is so addictive. Must try.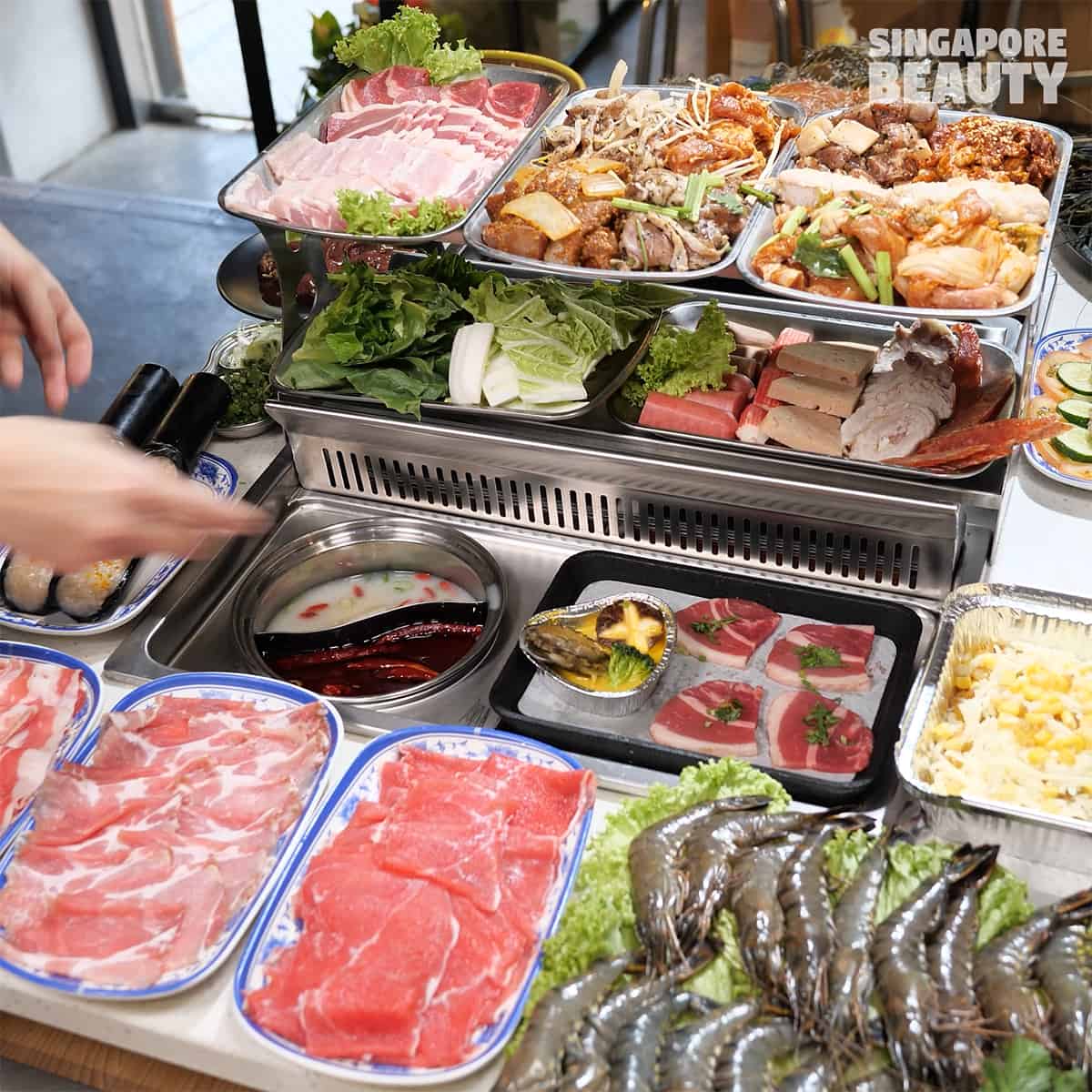 Every diner will have a personal hotpot soup in either single soup base or dual soup base. There are 9 choices of soup bases from spicy, sinful, and nourishing to comforting types. Choose from spicy beef butter, spicy mala, spicy secret homemade, tomato, pig trotters, fresh mushroom, Thai style tom yam, herbal chicken or sour spicy soup base. You will also have a personal BBQ plate to grill your ingredients at the same time. The center of the table comes with a two tier mini shelves for you to stack your food.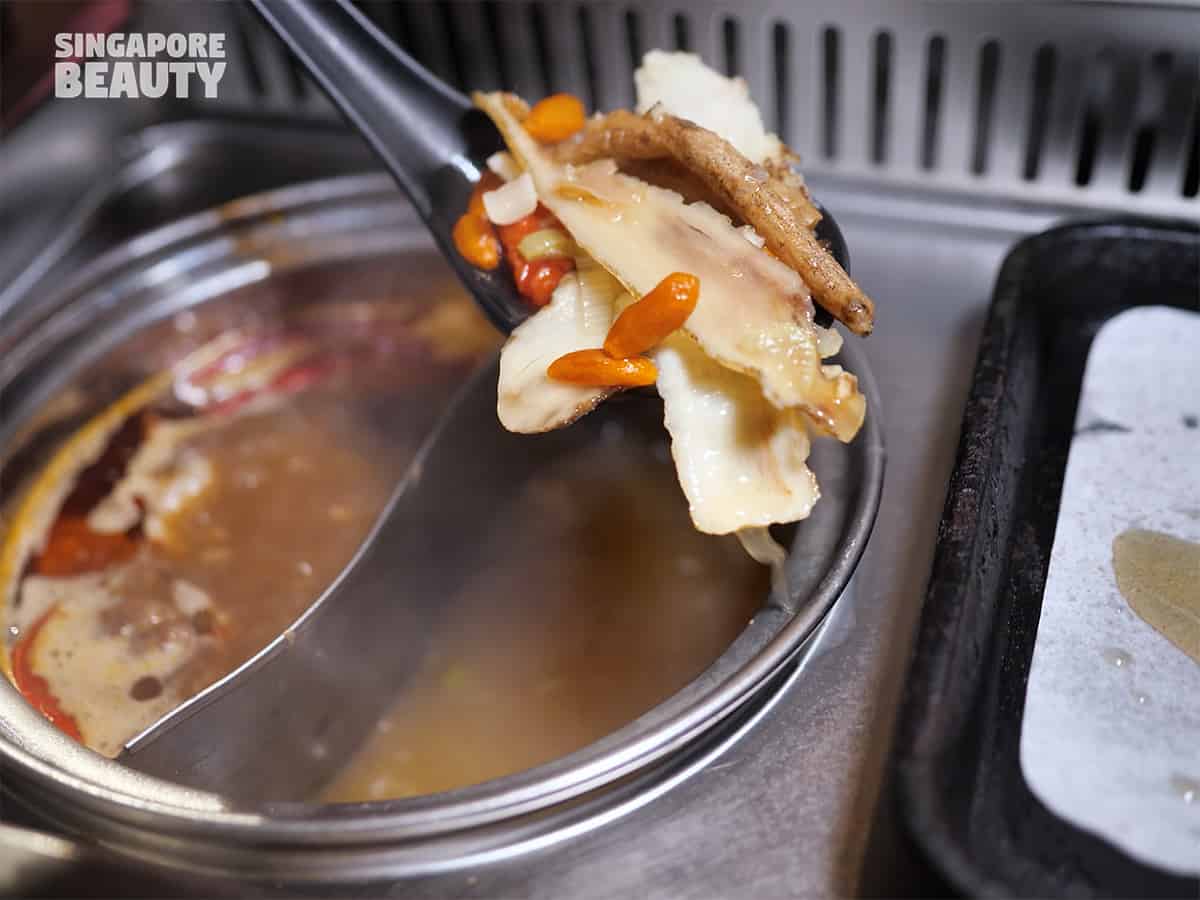 They recommend the herbal chicken soup and spicy beef butter soup, which coincidentally is also my choice of soup base. The herbal chicken soup base is full bodied type. The mala soup base has a clear red layer of chilli butter oil that makes your meat very aromatic when you hotpot.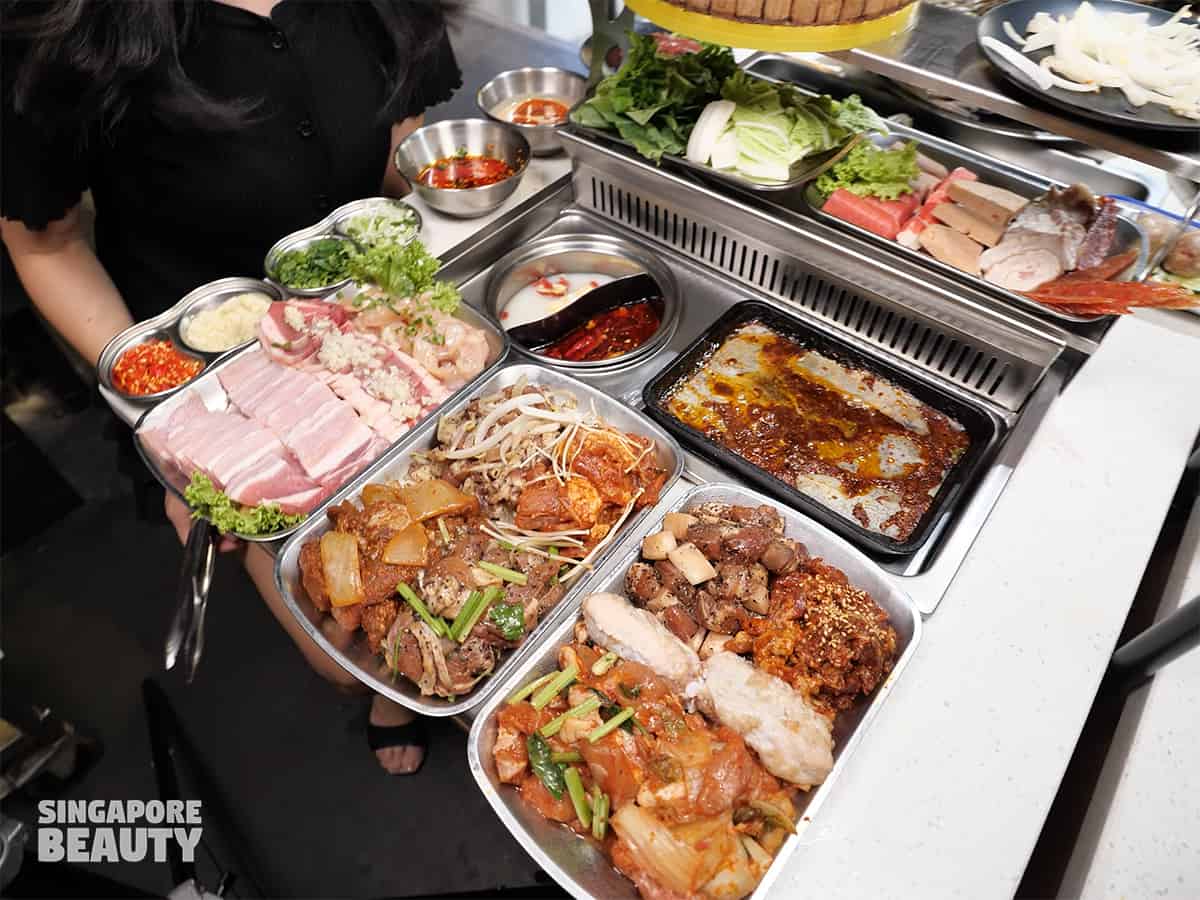 Based on the variety of meats and seafood available for dinner buffet at LaJiangShan, the buffet in my honest opinion is considered a good value for money. Every table comes with exhaust fumes suction to make it a better dining experience. The marinated meats are also of a interesting variety with marinated chicken with enoki, lamb with ginger & spring onion, black pepper beef with cubed radish, kimchi chicken with real kimchi and sesame seeds, marinated beef with white onions and more variations on a rotational basis.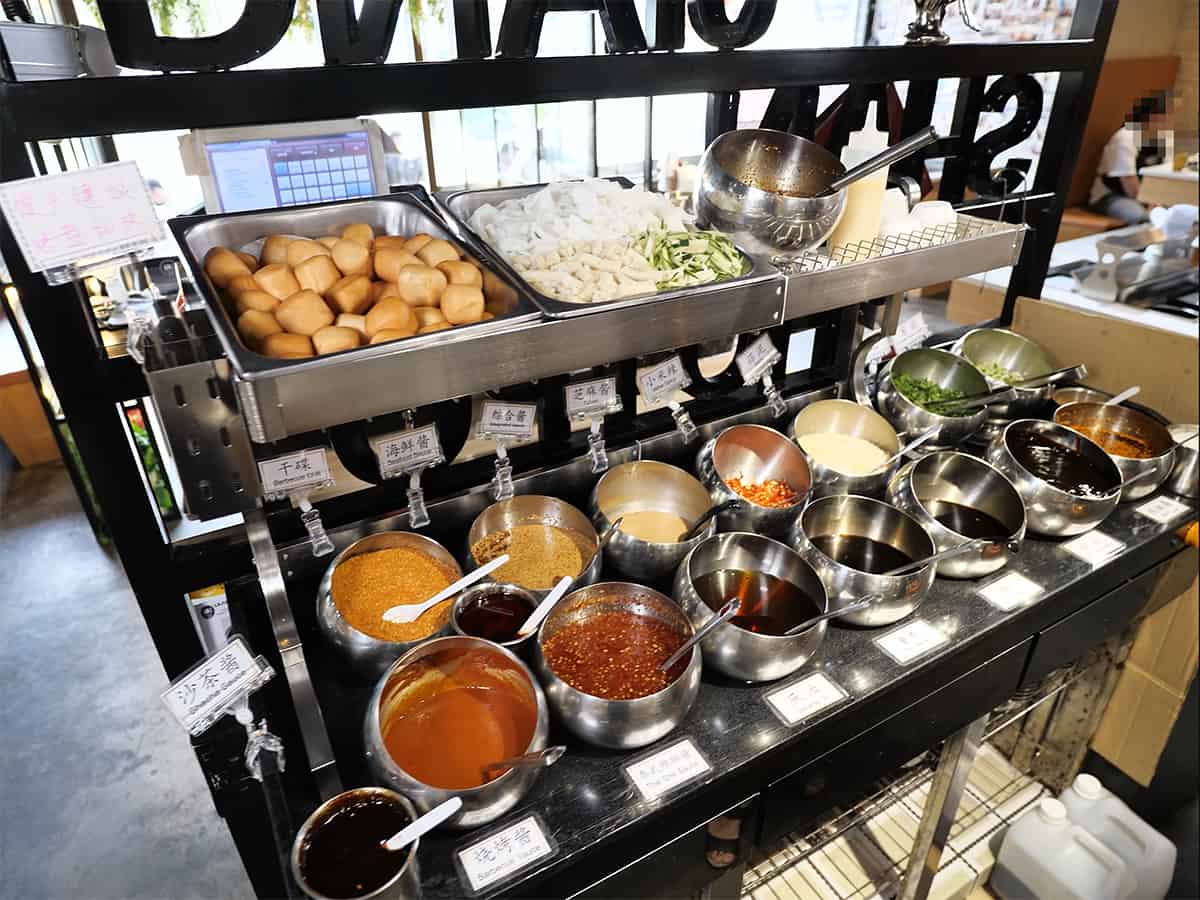 The condiments bar also stocks a pretty complete set of the essential needed for a hotpot dips and grills. This is also where you get ready to eat mantou that are fried till crispy on the outside and soft inside. Either enjoy these as desserts with the ice creams and condensed milk on it or use it to soak up the goodness from your hotpot and bbq grills. Enjoy some liang mian aka cold noodles with their spicy vinegary sauce with sides such as julienned cucumbers and taupok.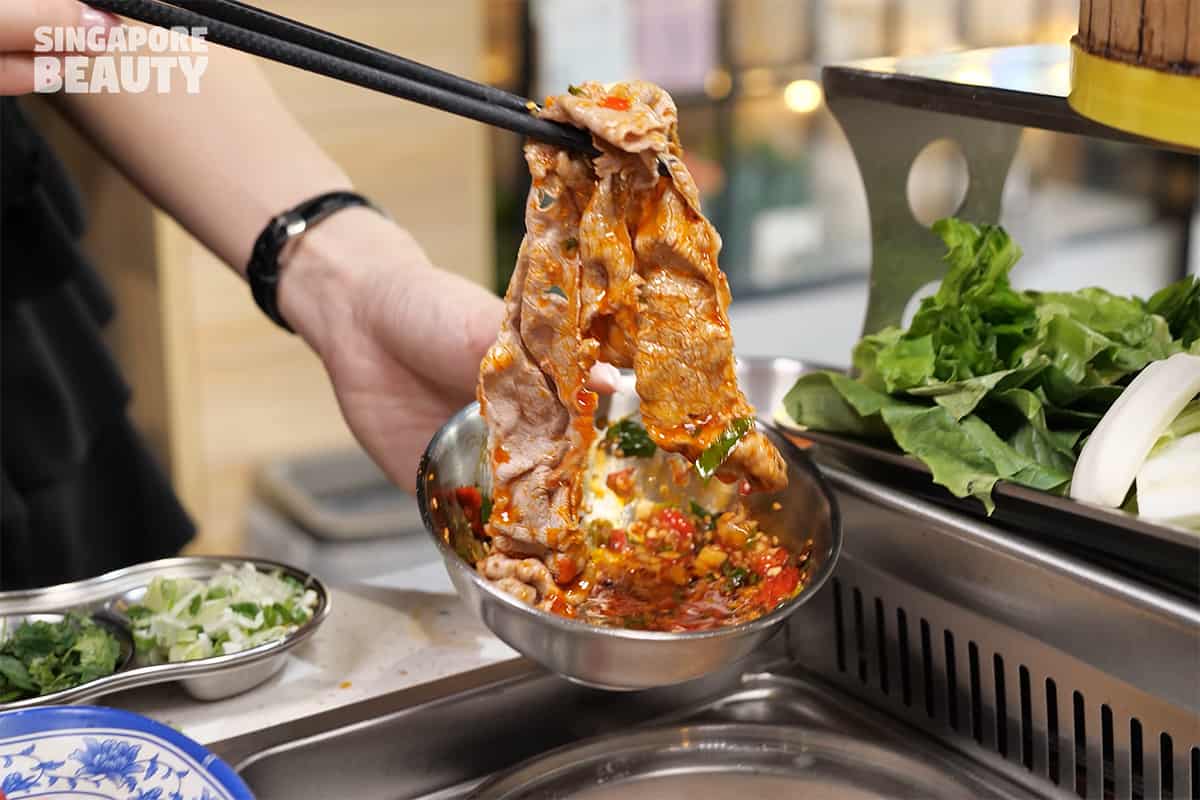 DIY your own dip for the many shabu shabu meats or bbq marinated meats. Meat available are beef, lamb, pork and chicken. I must praise them for the bbq meats which are well-marinated and flavourful. The condiments are a bonus to power up your food.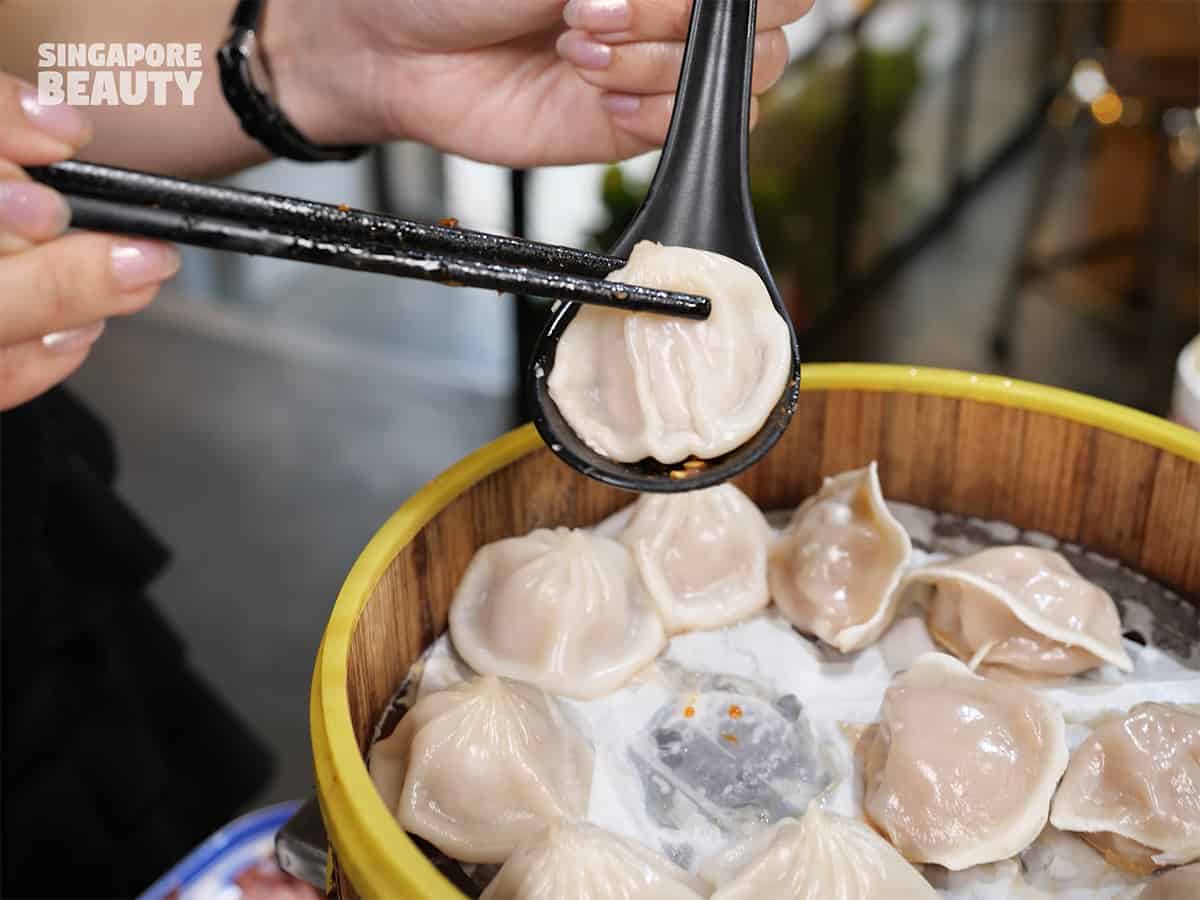 Free flow steamed to order xiao long bao and dumplings too. This is like a xiao long bao buffet and dumpling buffet with the full menu of meat and seafood buffet all in one. It will be a very filling dinner buffet for you, be warned. Not to mention, there are also cheese pull tray to grill, crispy bbq fish, ice cream in coconut, durian, chocolate crushed peanut nut flavours – all tried and approved by the lady boss herself- and so much more.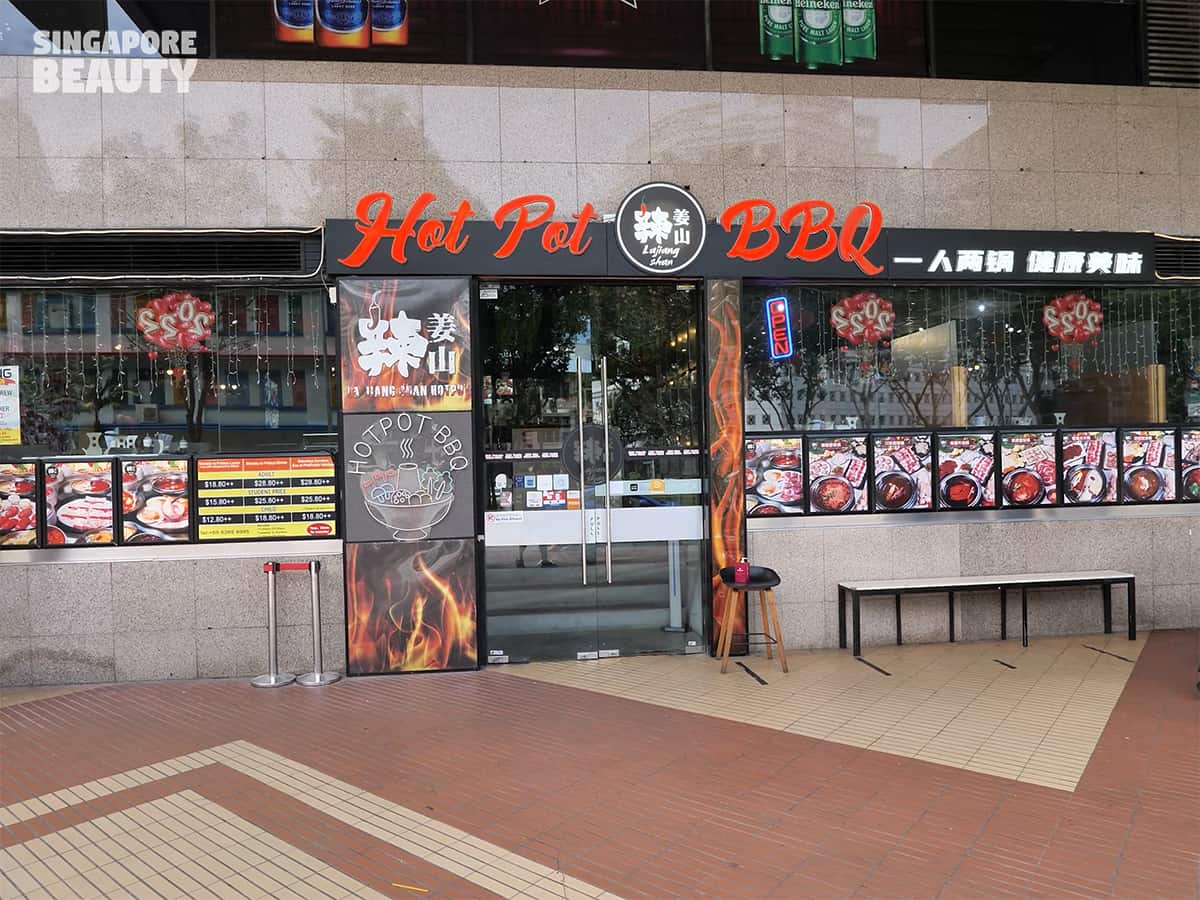 If you have not been to La Jiang Shan Hotpot BBQ buffet in Selegie Singapore, this is your sign to come and experience Singapore First Individual BBQ & Hotpot At Orchard with free flow crabs, crawfish & Xiao long bao. The buffet price is reasonable and varieties are great in a convenient location to meet up with friends and love ones.
Address of La Jiang Shan Hotpot BBQ buffet :
Outlet 1 (featured in article & video) :
35 Selegie Rd, #01-06
Parklane Shopping Mall, S188307
Call: 6265 8995
Outlet 2 ( Note: food variety may diff from branch at Parklane):
321 Clementi Ave 3, #01-09/10/11, S129905
Call: 6970 6649
Price of Buffet :
(Mon- Fri) Lunch (last order 4pm)
Adult $18.80++
Student $15.80++
Child $12.80++
(Mon-Fri & weekend/ PH & Eve) Dinner
Adult $28.80++
Student $25.80++
Child $18.80++
Child below 4 eats free
Note: Weekday lunch buffet -smaller variety of seafood & meats
Dinners & Weekend/ PH & Eve – larger variety of seafood & meats. Includes appetizers, free flow xiaolongbao, flower crabs. Prawn paste whilst stocks last
Add on
Hotpot soup (9 flavours)
Single 2.80
Double 4.80
$1.80 per pax for Freeflow dispenser drinks
Dine in time : 90 mins
Opening hours:
Parklane Branch
Mon 11am-11pm
Tues to Sun 11am -6am
Clementi Branch
Mon to Sun 11.30am to 10.30pm
Brought to you by La Jiang Shan Hotpot BBQ