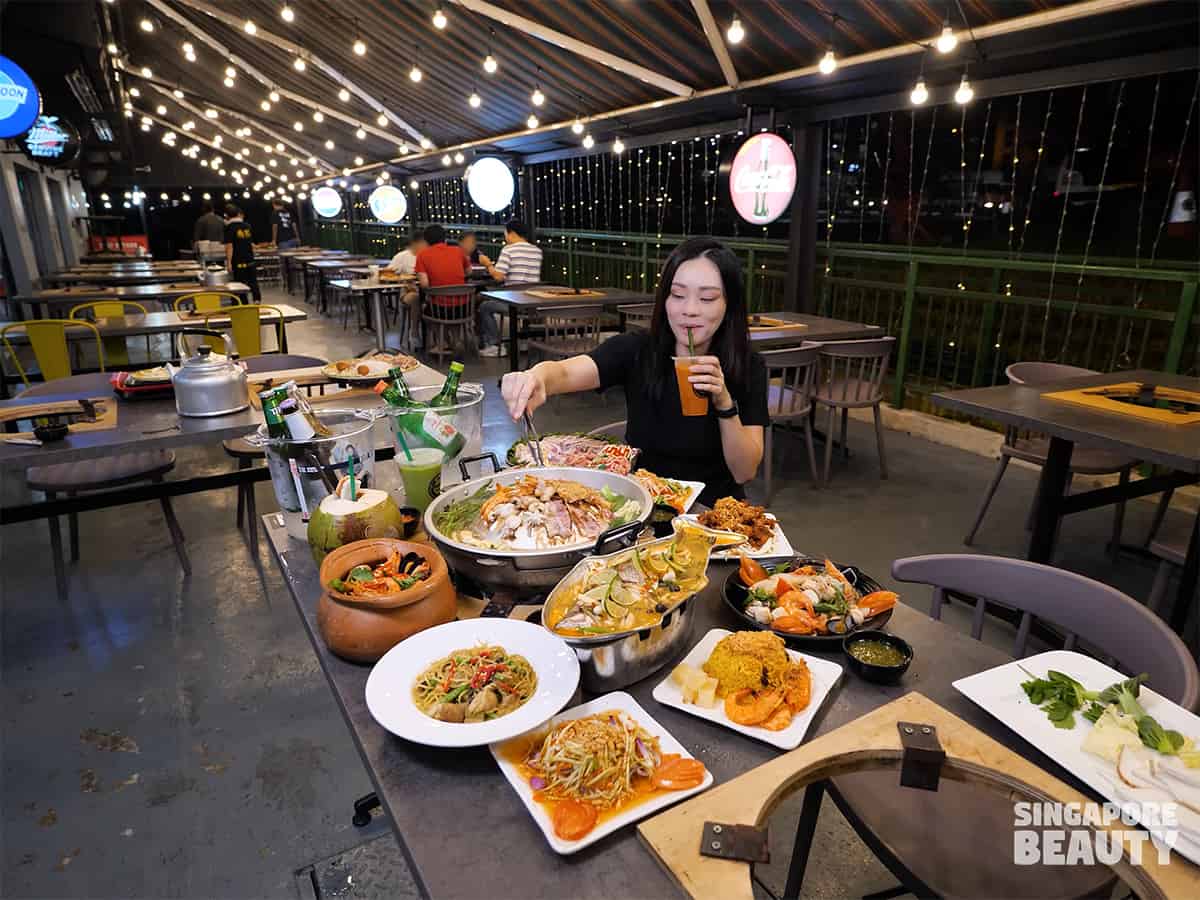 Looking for off radar place to enjoy mookata and Thai Street food without the hustle and bustle of the city? The Addiction Bistro is a newly opened eating place where you can enjoy your food in peace under some starry lights. It is located along the biking trail of Sembawang and is a pit stop for bikers or walkers alike.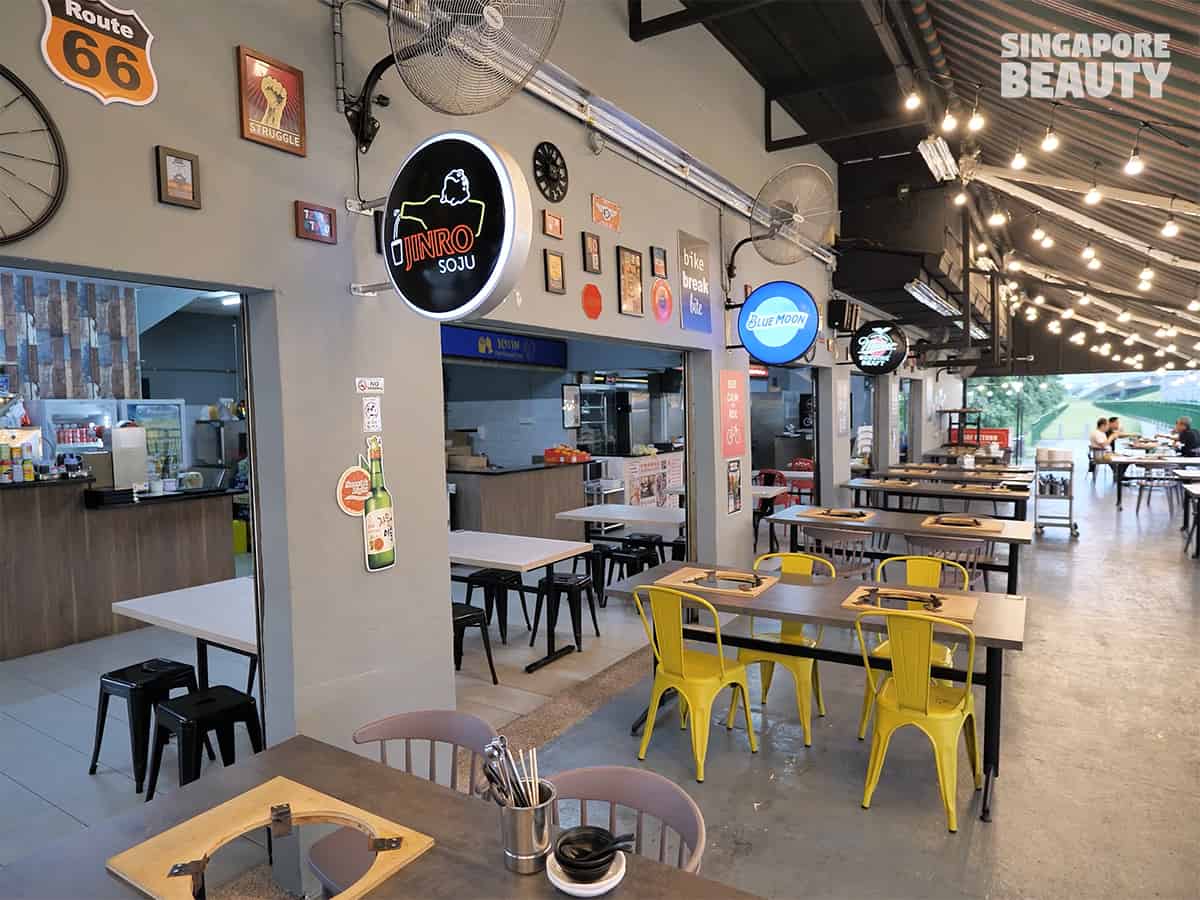 At The Addiction Bistro eating place, it is made up of a few stalls namely the Golden Mile mookata & Thai food, Yin Ji Hainan chicken rice and a bistro bar with booze, made to order croffle with ice cream dessert counter and even toast & bread for breakfast for bikers who made this their pit stop to rest. Their popular signatures are their mookata and Thai food.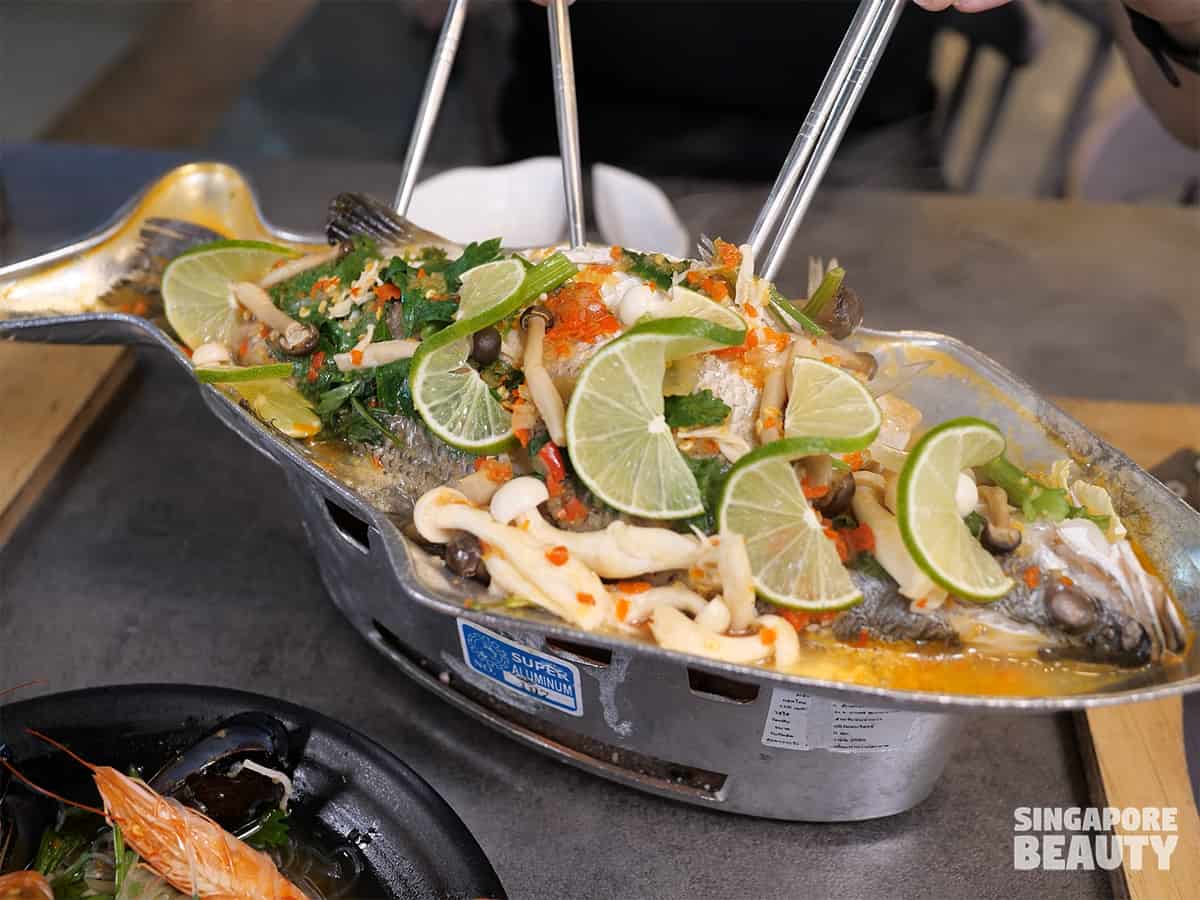 The Thai style steamed fish in Lime sauce ($29+) made an impression on us with the presentation. It was served piping hot with billowing steam from the fish served on a charcoal base. The cold night breeze makes this a great dish to enjoy. The tender meat is served in a spicy and tangy broth. The spiciness of the broth hit you after a while followed by the zest from the lime juice. You can even customise the heat level of the broth from 0, 1 to 2 being the most spicy. Enjoy the umaminess of the fish with some snappy shimeji mushroom.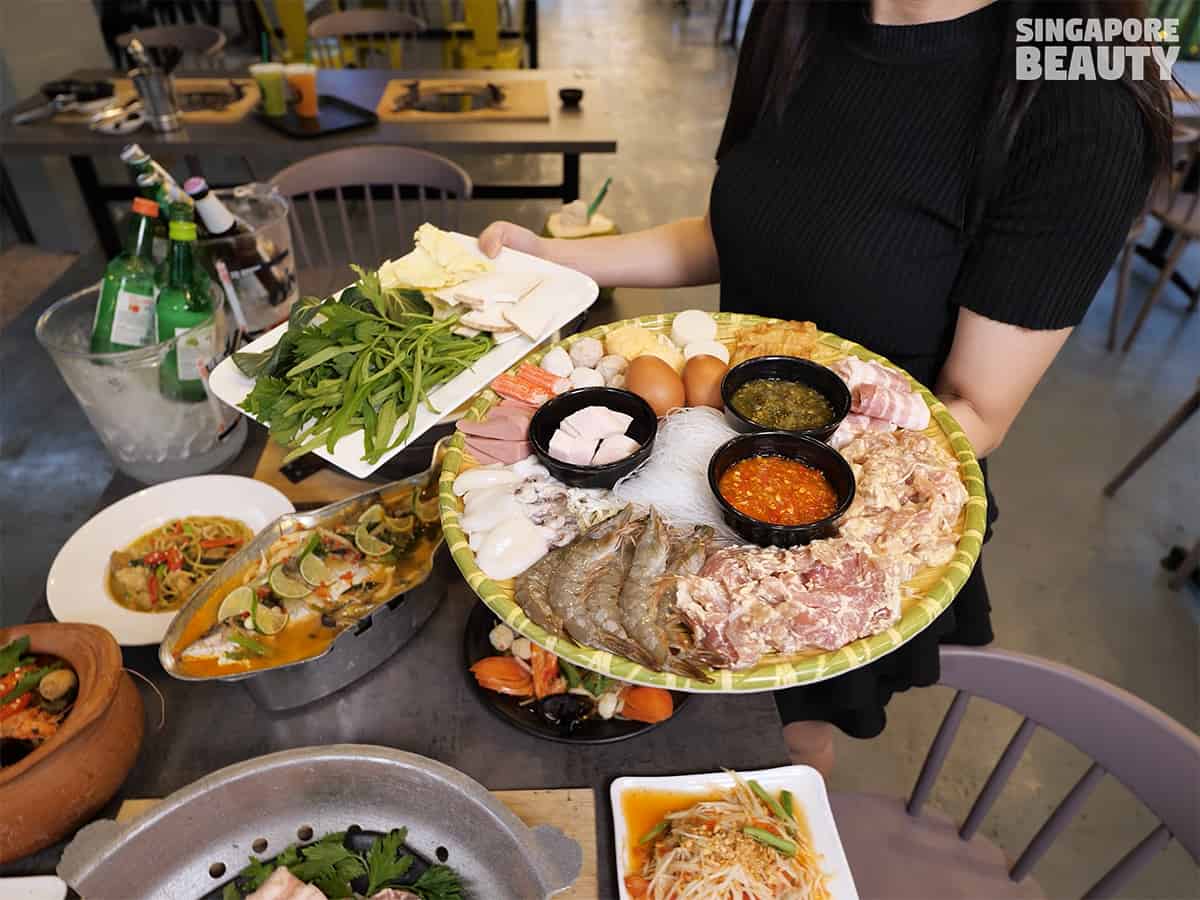 For mookata lovers, they have a value vegetable and mookata set ($39.90+) that includes 15 ingredients such as Thai marinated pork, Thai marinated chicken, pork liver, Taiwan sausage, eggs, fishballs, glass noodles, enoki, kang kong, spinach, xiaobaicai, crabsticks, chinese cabbage, cuttlefish and prawns. The pork liver was replaced with bacon on the day we visited as they ran out of pork liver, which I have no strong protest against. Grilled bacon has always been on my favourite food list. The set also includes some pork fats for you to kick start your mookata and end with some crispy smooth oozing crackings to munch on.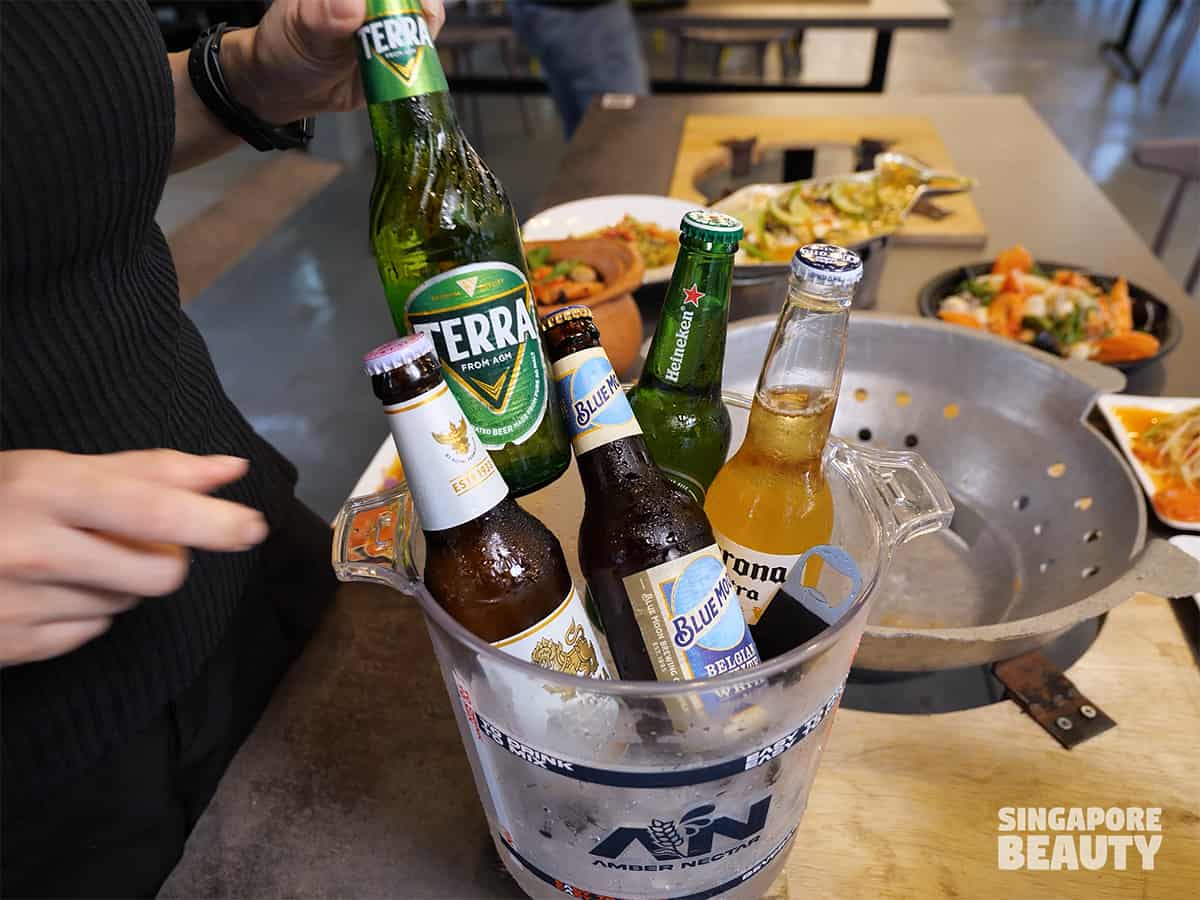 Since this is a chill and relax spot at Sembawang, they also have some beer promotion ongoing with order of mookata. Get a bucket of 5 bottle beer – you may mix and match – like we do as above for only $25+. Perfect cold booze to enjoy with the hot charcoal mookata bites. Choice of beer ranges from Heineken, Corona, Terra, Blue Moon and Singha.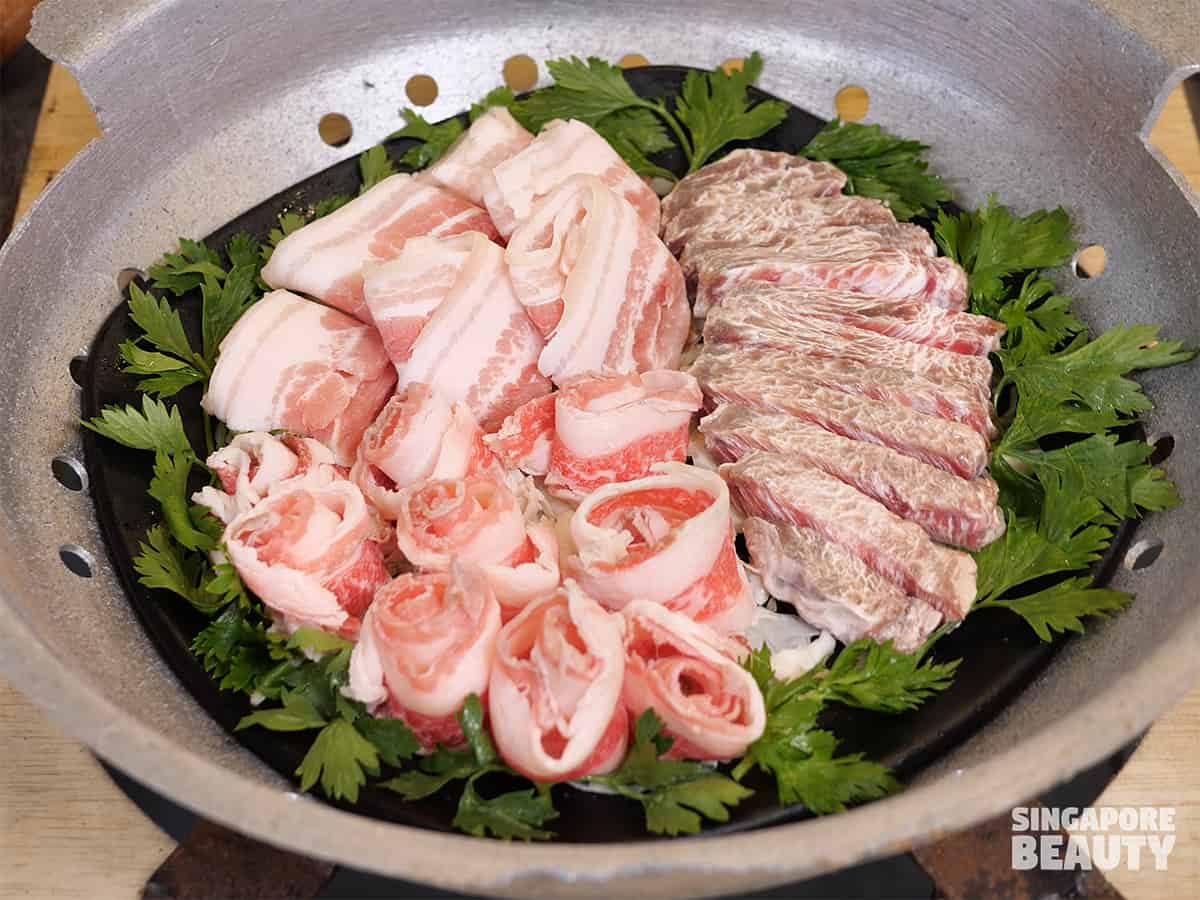 They also have 25 types of add on seafood, surimi and premium meats for the charcoal mookata at The Addiction Bistro. Get your hands on their premium cuts shown above such as marbled beef steak ($18.90+), beef short plate ($12.90+) and bacon ($6.90+). This is their chef recommendation for those who are looking into some tasty meat to grill on their mookata, the perfect balance of fats and lean meat ratio without burning a hole in the pocket.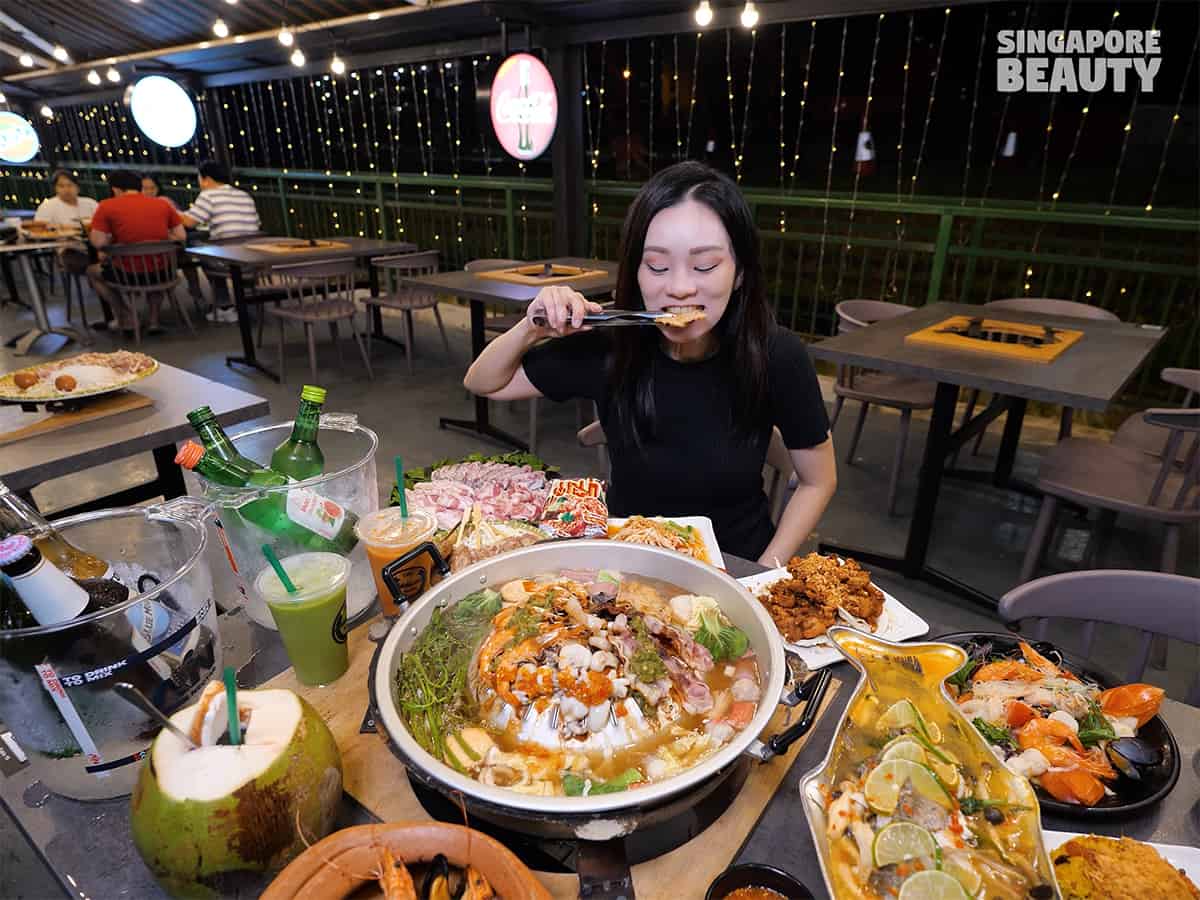 The menu consist of more than 40 items for the charcoal mookata, 65 types of Thai cooked food, street food, appetizers, mains, signature Thai style spaghetti, soup, steamed seafood, stir fry vegetables, stir fry meats, finger food and bar snacks.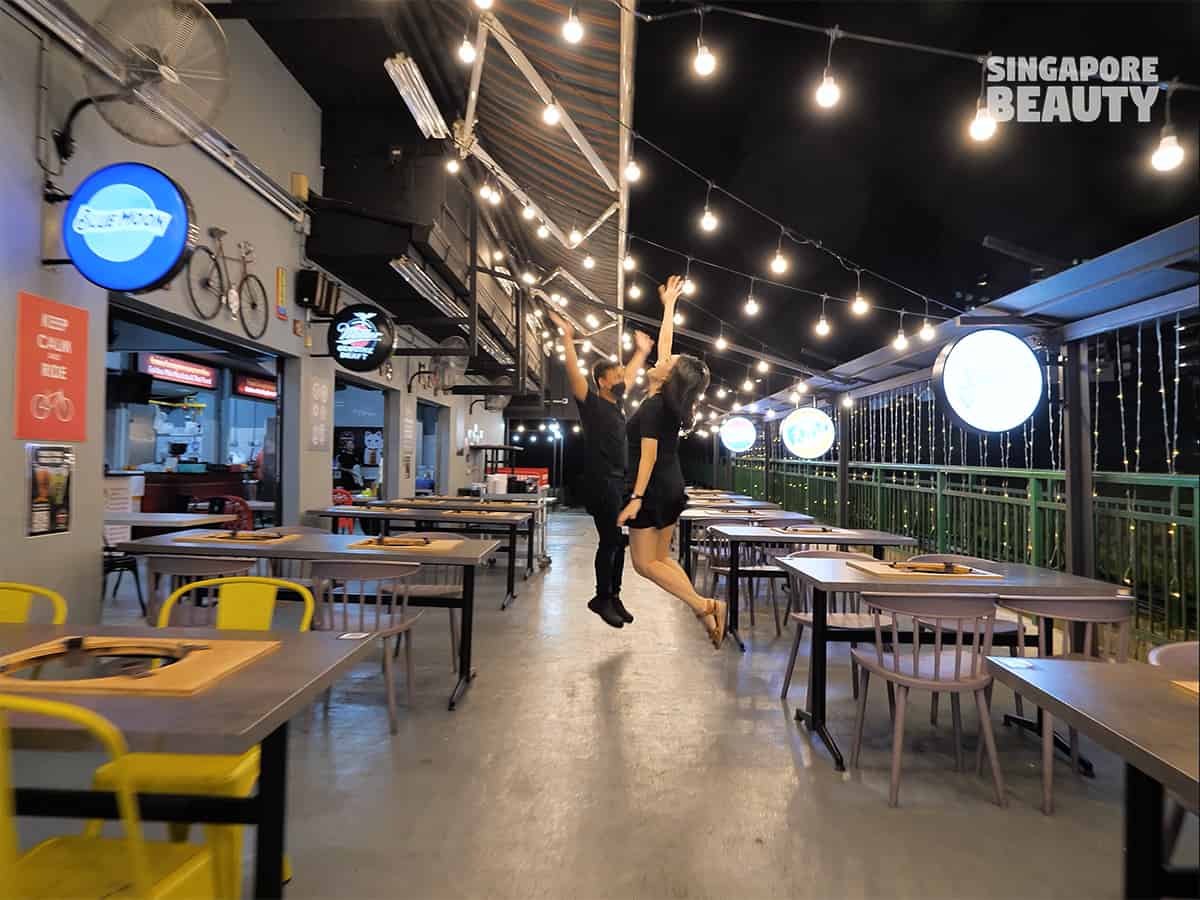 You literally can have a Thai Themed food feast party here with friends surrounded with some magical fairy lights that gazed the whole eating place from ceiling to walls. Enjoy your charcoal mookata under the starry night on a perfect weather night with the canopy retracted. Cool night breeze caressing your face while eating hot off the grill bites, washing it all down with some ice cold beers. This could be that new instagrammable mookata place to gather with your love ones.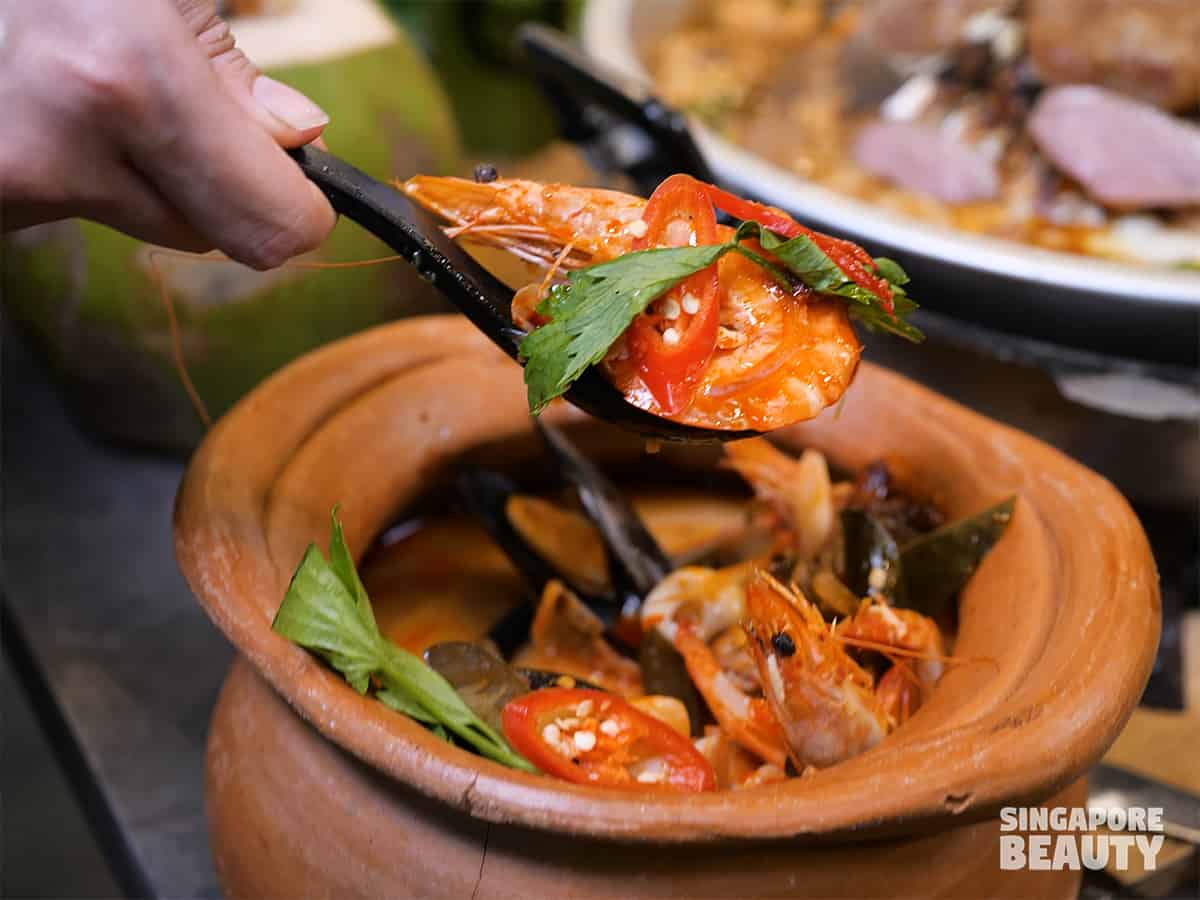 Tom Yum creamy red soup seafood ($14+) is served in a red earthen pot to keep the soup warm while you sip and enjoy. The gravy has a rich consistency with a variety of seafood in it. This seafood pot comes with prawns, mussels, squids and a variety of mushrooms. Besides seafood, you can also choose chicken ($12+), pork ($12+) or beef ($13+). The tom yum soup is available in red or clear version.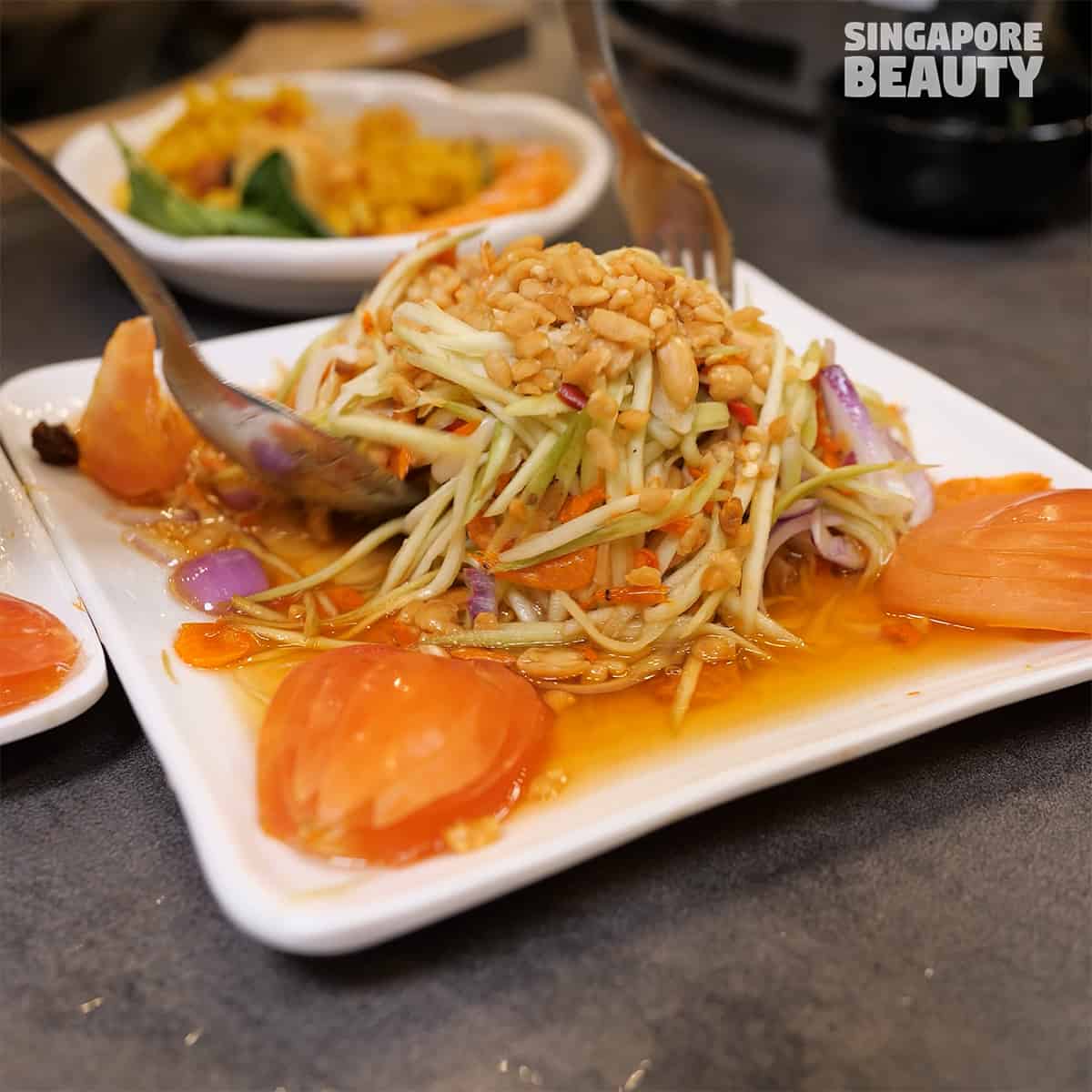 The appetizers available are Thai papaya salad($8+), Thai mango salad ($8+), Mango sticky rice($8+), seafood vermicelli salad ($15+) and seafood salad($15+). Our pick is their Thai mango salad, the kick is definitely on point with the right balance of dressing. The finely shredded mango soaks up the dressing without losing the fruitiness of mango. Peanuts are chopped coarsely for the crunch with the smokiness from some dried sakura shrimps that are larger and more umami than our normal dried hae bi. Great dish to get to go with their booze.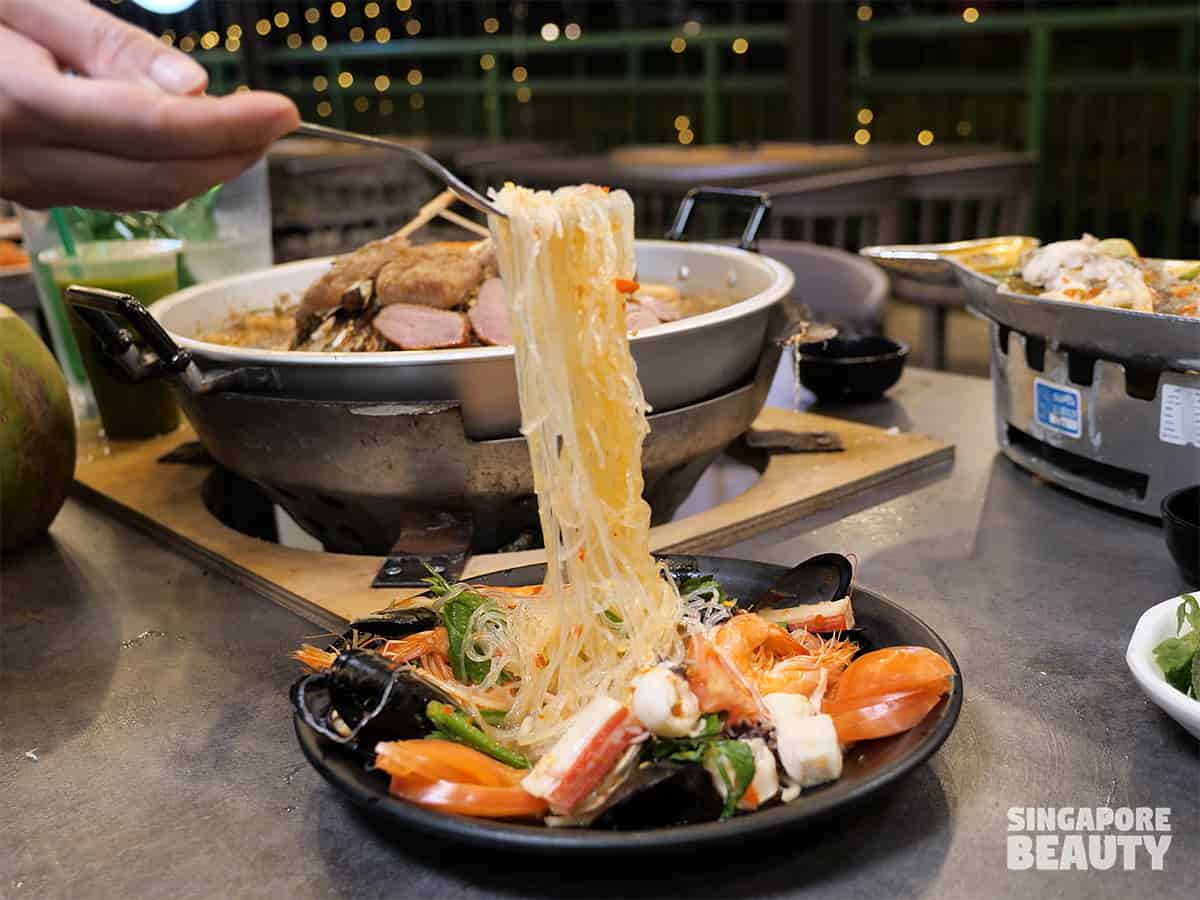 Seafood vermicelli salad ($15+) is served with a garland of seafood such as prawns, mussels, crab sticks and baby cuttlefish. Yum woon sen is a type of light Thai glass noodle tossed in a spicy and sour Thai dressing that is so addictive after the first slurp. The texture of the glass noodle is the slippery type that is difficult to pick up with chopsticks, use a fork to get the job done. Toss the glass noodles well and slurp this down effortlessly in small mouthful to fully enjoy the myriad of flavours & texture it has to offer. The tiny spackles of chilli flakes and seasoning on the glass noodle, is the tell tale signs of a flavourful salad.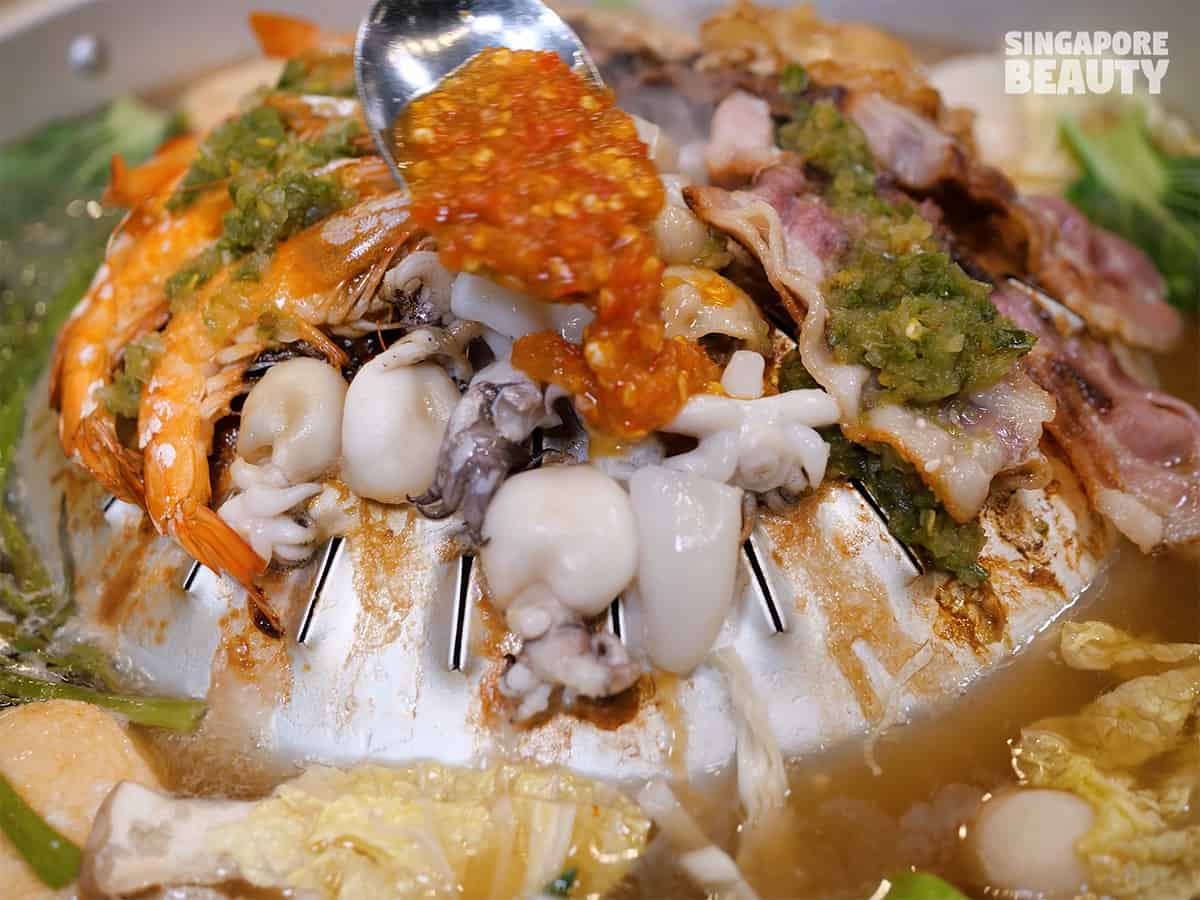 With mookata, my preference is always leaning towards the charcoal type. The charcoal imparts a certain type of char aroma to the grills that I enjoy. Here's our review of The Addiction Bistro charcoal mookata, the seafood are relatively easy to cook on the hot charcoal grills and the soup gets tastier as we grilled. They have the Thai style chill sauce for meat and seafood which I adore and is a must have for me in any Thai style mookata. The bonus is the open air alfresco dining which help to remove most of the lingering smell from mookata. Since this mookata is under the radar, it means a more peaceful and quiet dine in atmosphere where you can enjoy the company of your companions before the crowd floods in.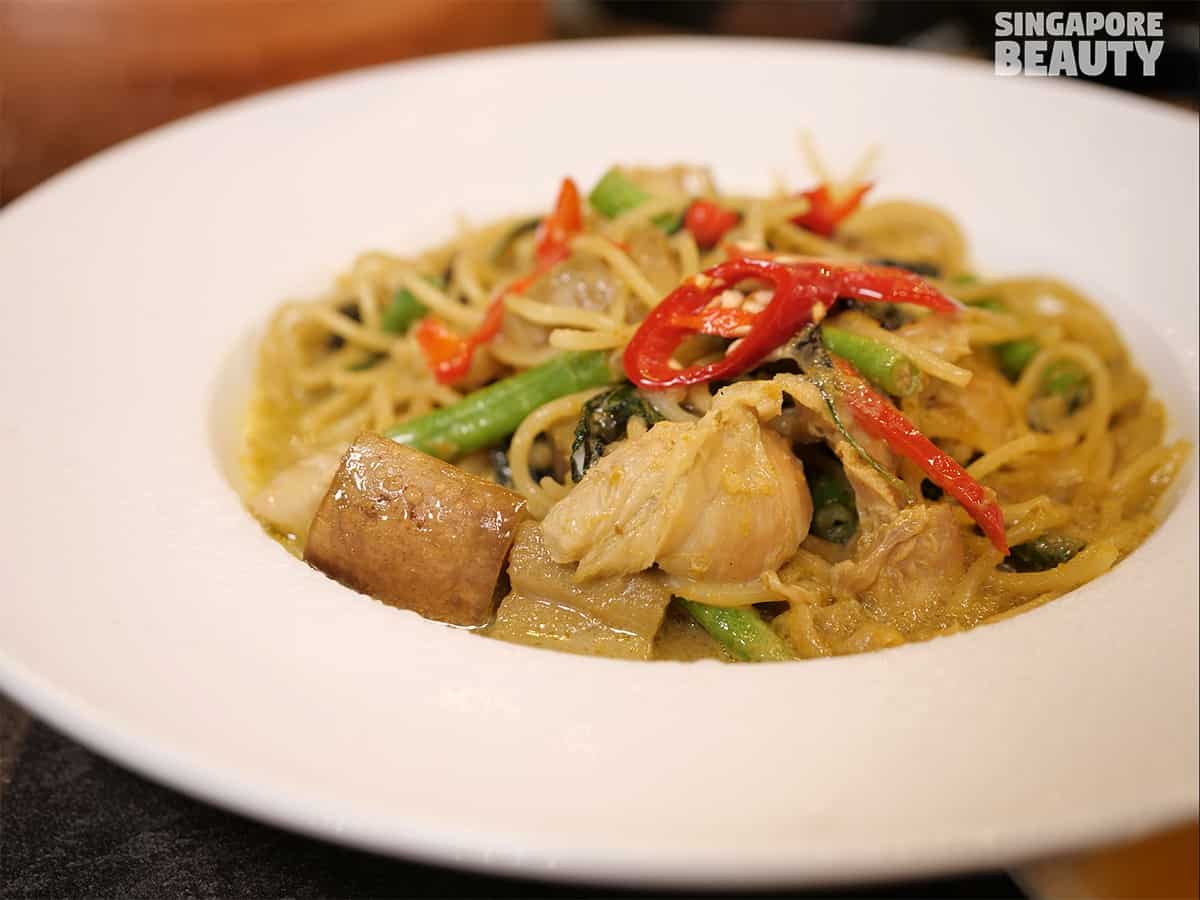 Thai Spaghetti chicken($8+) is a fusion dish of al-dente spaghetti tossed in Thai green curry. For a start, I was sceptical about how a western dish and Thai style curry can be good. After the first bite of tossed spaghetti in the hot green curry, I am somehow converted. There is a choice of heat level from 0, 1 to 2 and choice of meat – chicken, pork or beef for this dish.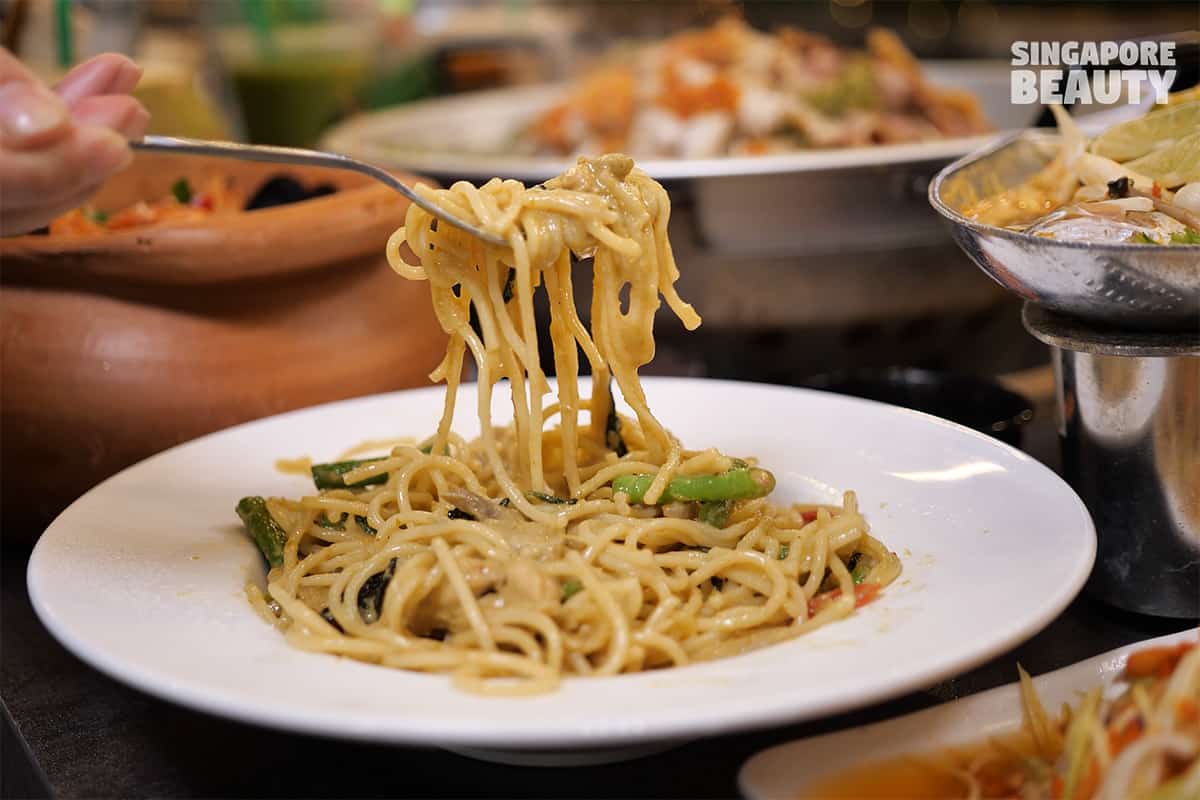 The marriage was a blissful one, the curry coated each strand of noodle and I can enjoy the rich green curry with the ingredients as well. It is the best of both worlds. This is a yes for those who love to explore fusion food. Besides this, they also have Tom yum spaghetti, basil spaghetti and curry spaghetti.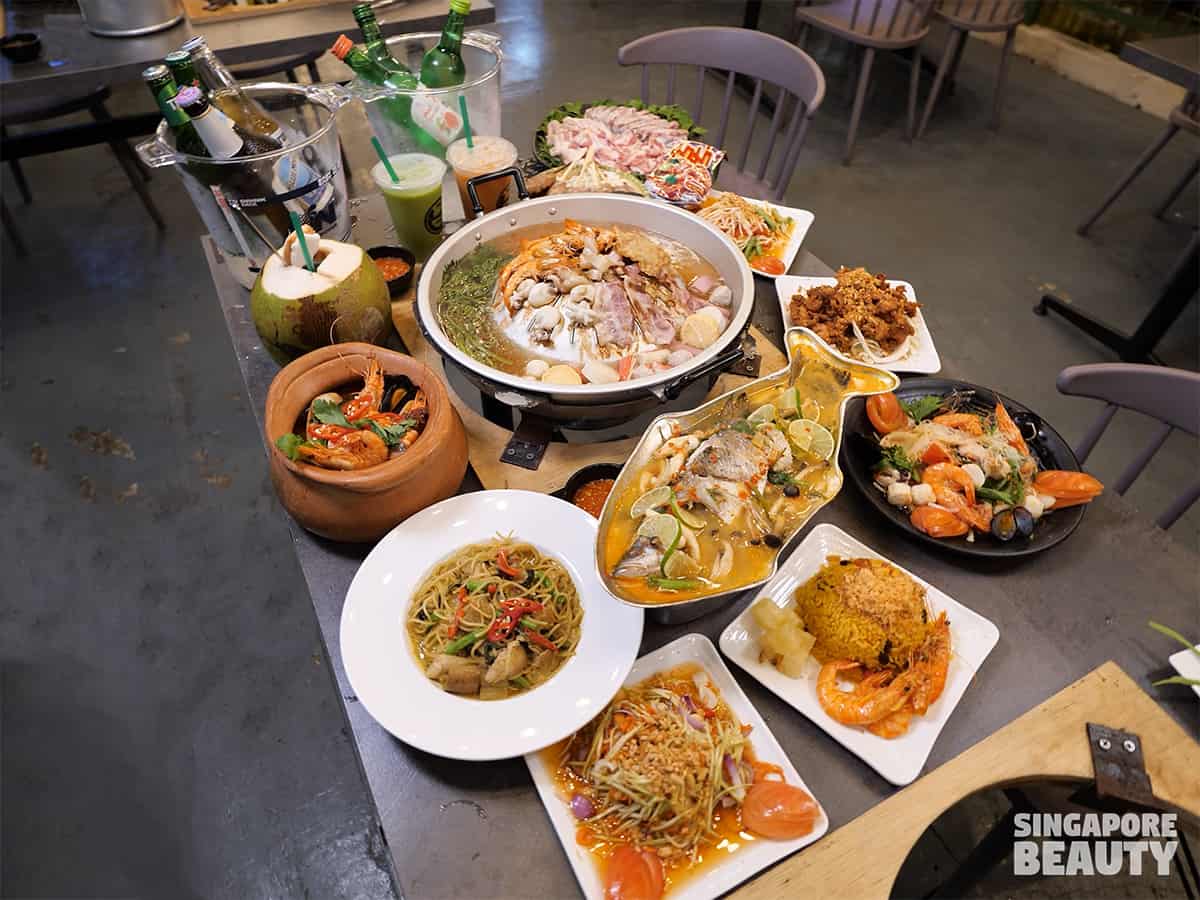 If you are looking for Thai food in Sembawang that is affordable and tasty, you can give this a try. These are the chef recommendation from clockwise – mookata value set, papaya salad, garlic fried pork, seafood vermicelli salad, Thai steamed fish in lime sauce, pineapple fried rice, mango salad, Thai green curry spaghetti, red creamy tom yum seafood soup, fresh Malaysia coconut and Thai milk tea.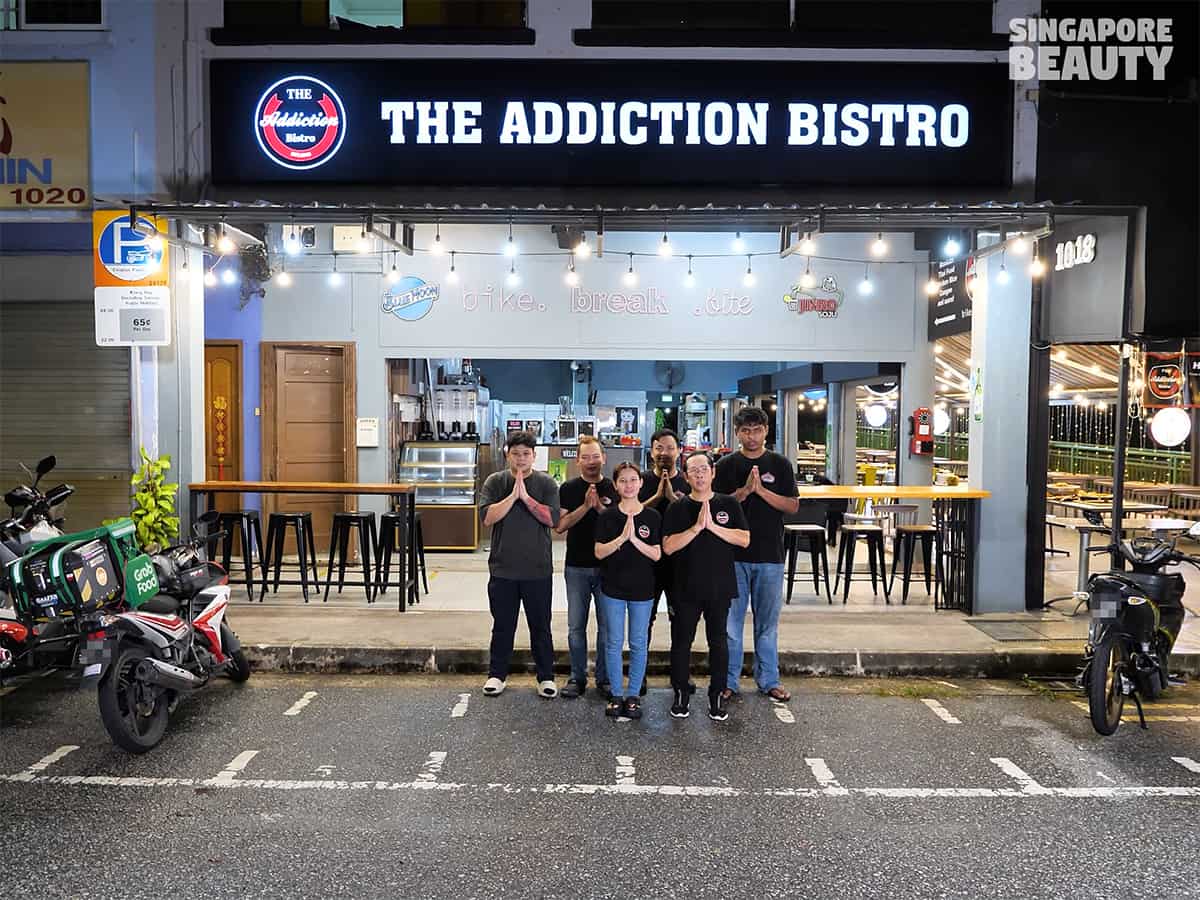 The Addiction Bistro is headed by a Thai chef from Thailand who speaks fluent Thai and his young team. Well versed with Thai style cooked food that is affordable and tasty. With salad, stir fried mains, Thai fusion spaghetti and snacks starting from $8+, I think it is worth the trip to head over to this hidden place with dreamy ceiling to wall cladded fairy lights. This might be your next secret stash for Thai food.
Beer promotion :
A bucket of 5 selected bottled beers for $25+ (Choice of Heineken, Corona, Terra, Blue Moon and Singha (with mookata order)
2 +1 free soju for $36+
Mookata value set :
$39.90+ with meat, seafood and vegetable platter good for 2-3 people
Affordable salad, stir fried mains, Thai fusion spaghetti and snacks from $8+
no service charges, only gst
Address of The Addiction Bistro :
1018 Sembawang Road, Singapore 758495
Opening hours : 11.30am to 11pm daily , last order for cooked food at 10.30pm
Updated Opening Hours :
Sunday, Tuesday-Thursday 11.30am to 11pm
Friday-Saturday 12 noon till 12 am
Monday Closed
Note: Last order for cooked food at 30 mins before closing, last order for mookata is 1hour before closing.
For reservation, pls DM their IG
Brought to you by The Addiction Bistro