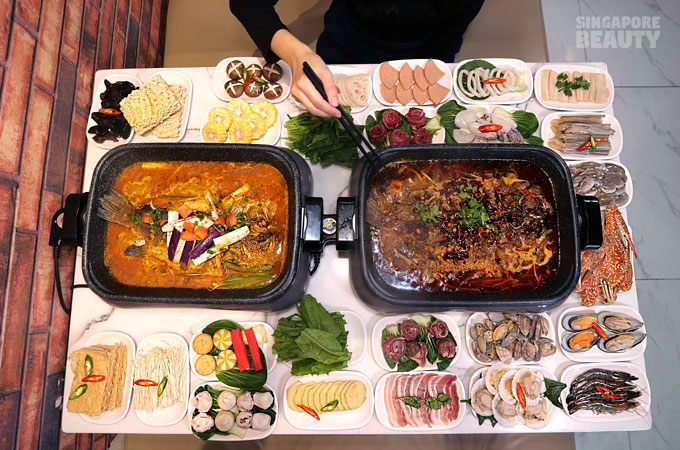 Orchid Roast Fish (宽窄小巷) has introduced 3 new flavours of paper wrapped fish to the existing menu of grilled fish flavours, with a total of 9 flavours to choose from. It is a grilled fish (limited to 1 grilled fish per pax) with sides buffet of seafood, meats, surimi and greens. There is no dine in time limit, the only restriction is that order of food must be done within 2 hours.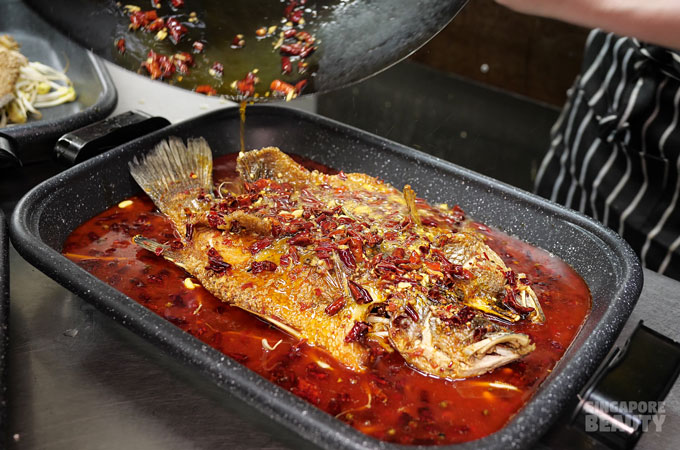 The Chef recommendation is the fragrant spice aka "mala grilled fish" (一品香辣).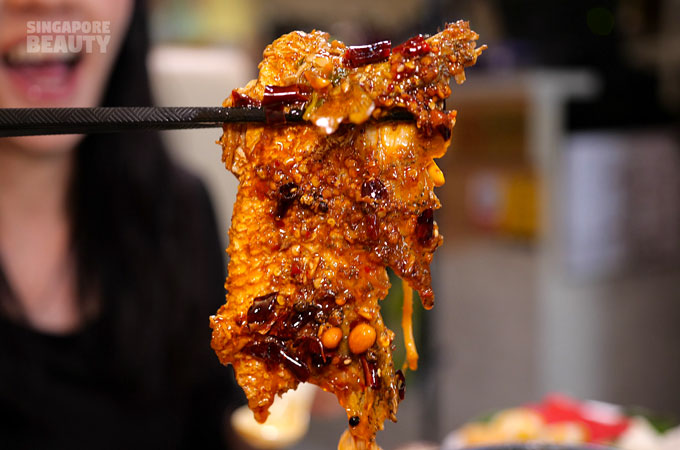 The golden fried fish soaks in all the flavours of the intensely savoury mala spices. If you love a spicy mala, you should try this.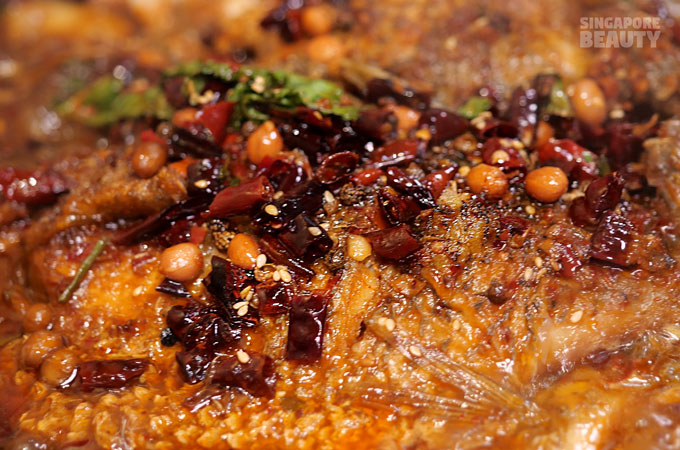 Peppered with lots of grounded spices, dried chill pepper and chilli pepper oil, this mala is not for the faint hearted.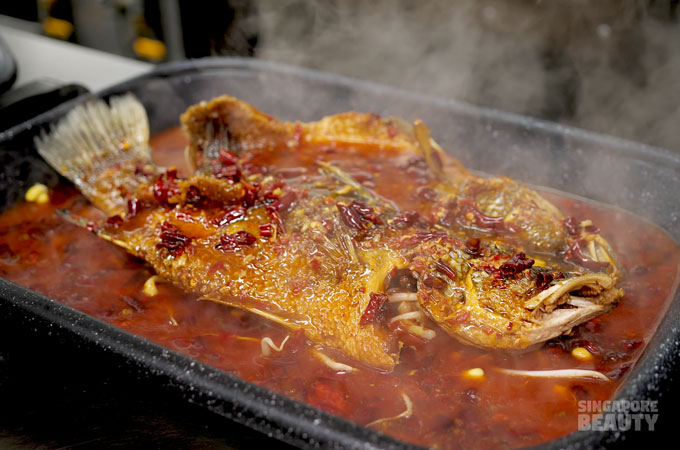 All the grilled fish are served on a heat pan piping hot in a pool of savoury gravy of your choice.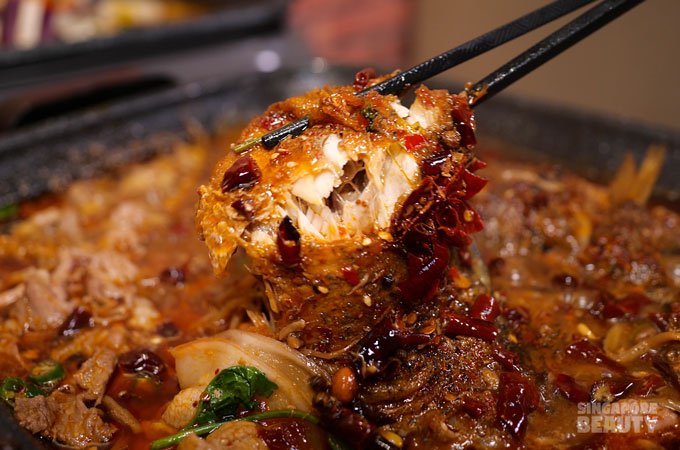 The grilled fish is considered as medium size and has chunks of tender flesh with gelatine like skin with a little mild chewy texture.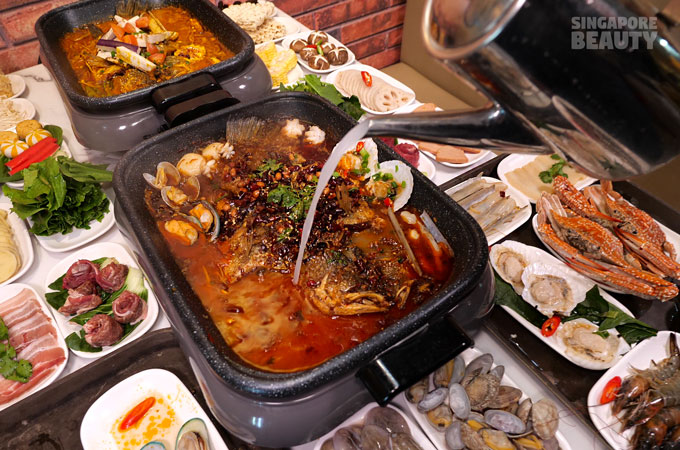 When you are done with the fish, do not let the mala gravy go to waste. Ask for an unlimited top up of white broth and get the mala gravy going again. The mala is so intense, you do not have to worry about your gravy being diluted.
You can add unlimited seafood to it and create your own instant mala seafood platter at no extra cost.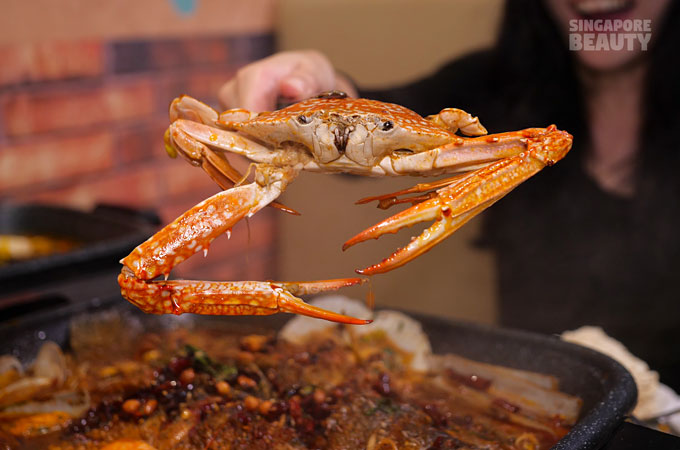 The highlight of the seafood has got to be the unlimited free flow flower crab. These flower crab are medium size crabs and you might get some roe crabs if the season is right.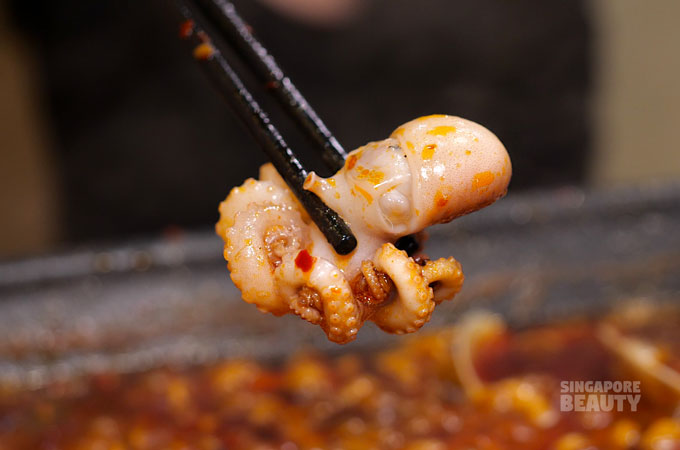 These baby octopus with the little pout are just too cute to be eaten. Cuteness aside, these are delicious when cooked correctly and they come with the ink sac that is slightly rich and briny.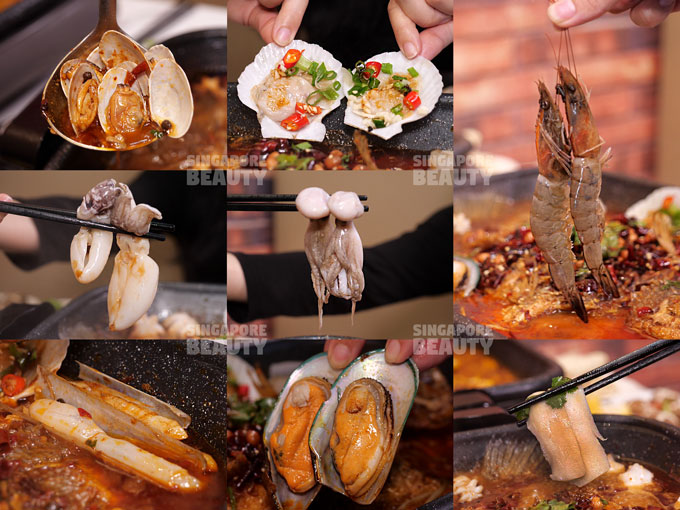 They have a total of 10 seafood – prawns, slipper lobsters, abalone, scallop, flower crab, lala, mussels, bamboo clams, baby octopus and baby cuttlefish.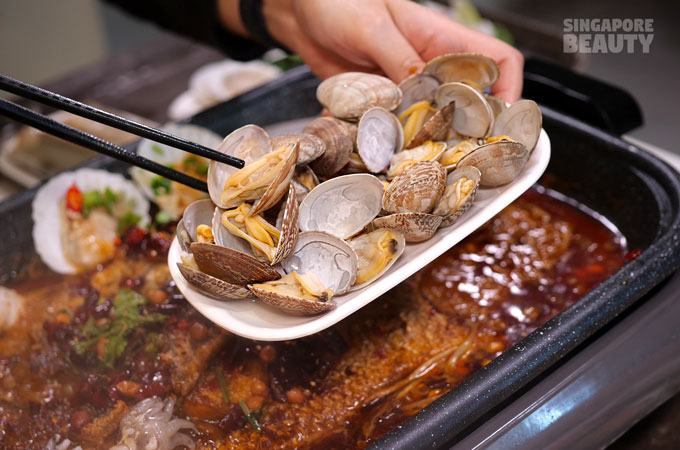 How about some mala lala?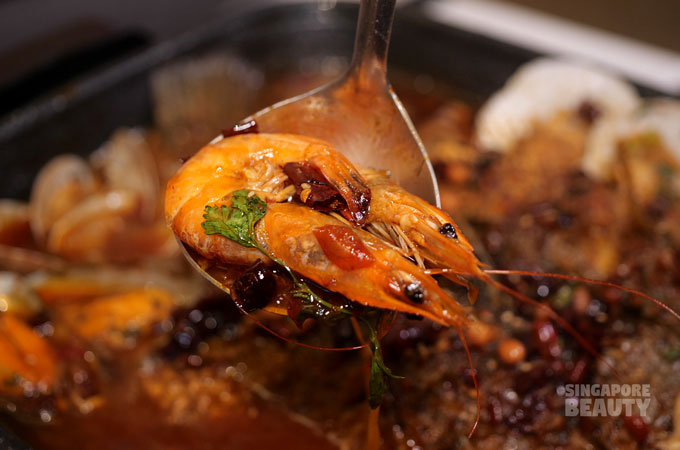 A bed of mala prawns in piping hot mala.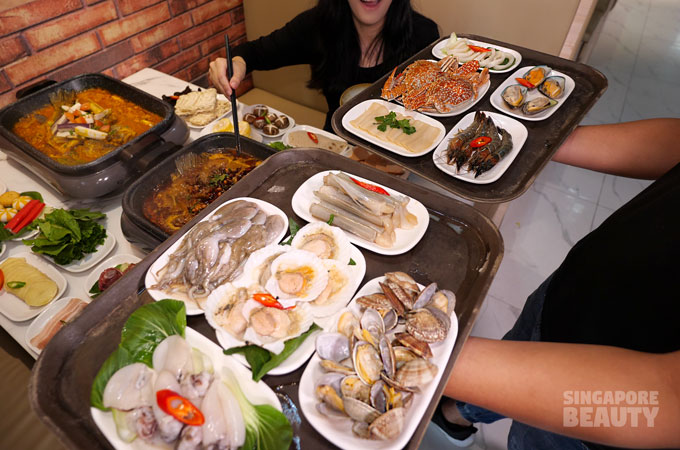 Have an unlimited Mala seafood feast as part of the grilled fish.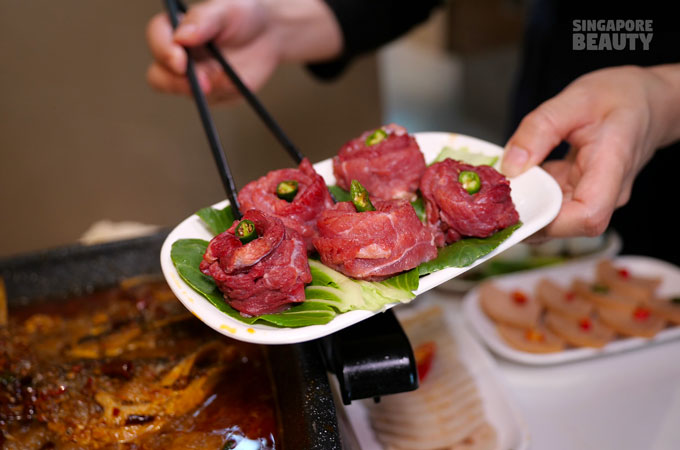 If you are a meat lover, you can also have a meat buffet at no extra charge too. They have pork liver, luncheon meat, pork belly, lamb and beef.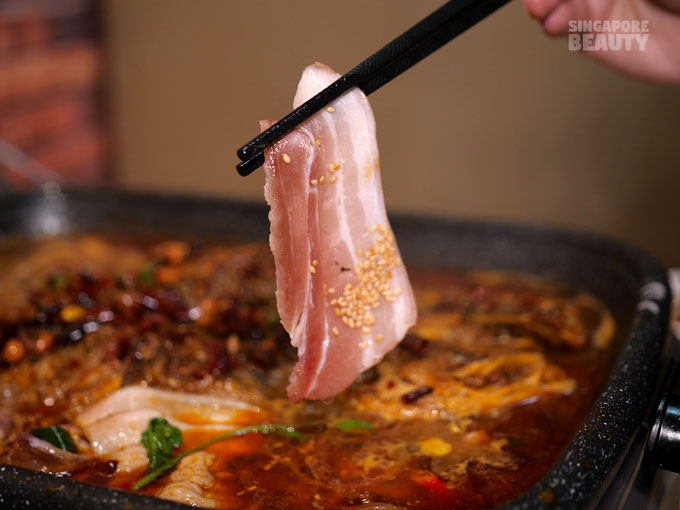 The bouncy ribbon of cooked pork belly has an interesting chewy texture.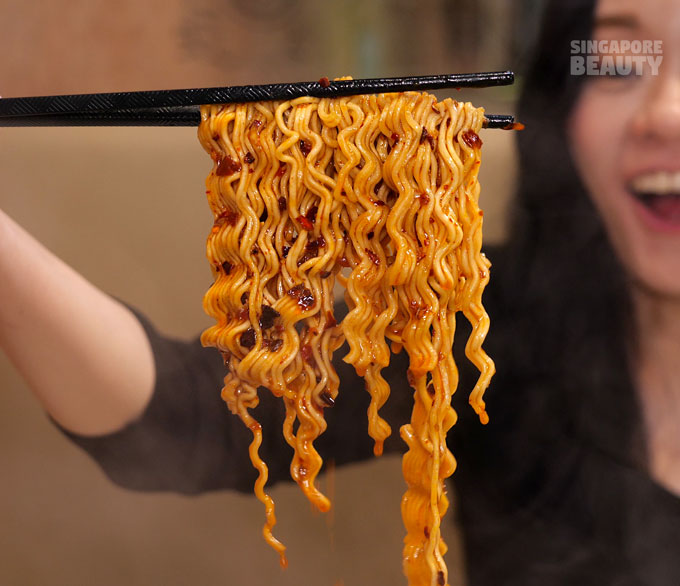 Soaked up the rest of the concentrated mala broth with the extra Q instant noodles. Check out the amount of chilli and grounded spices that is embedded within the curls of the noodles, speaks volumes of the intense flavours of this mala.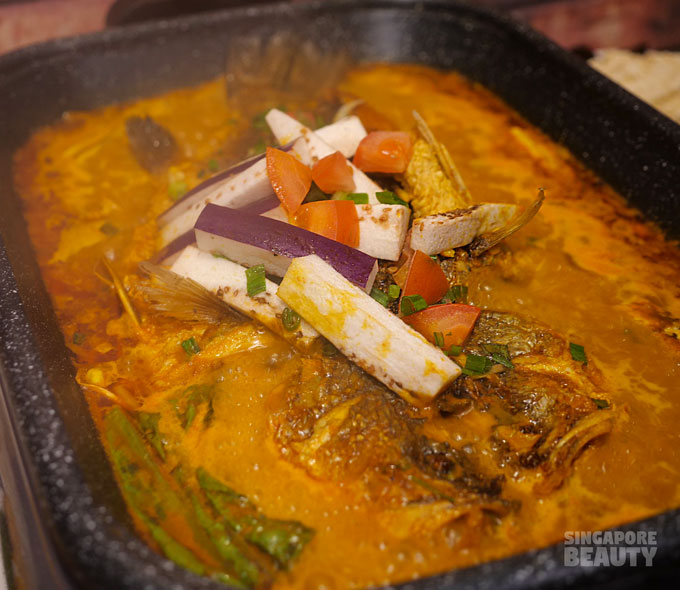 Curry fish(鱼香咖喱)is cooked in a gravy of grounded curry spices and chilli oil. Topped with freshly cut egg plant, tomatoes and long beans for an additional sweet undertones. Gravy is extremely thick and gets thicker as you eat.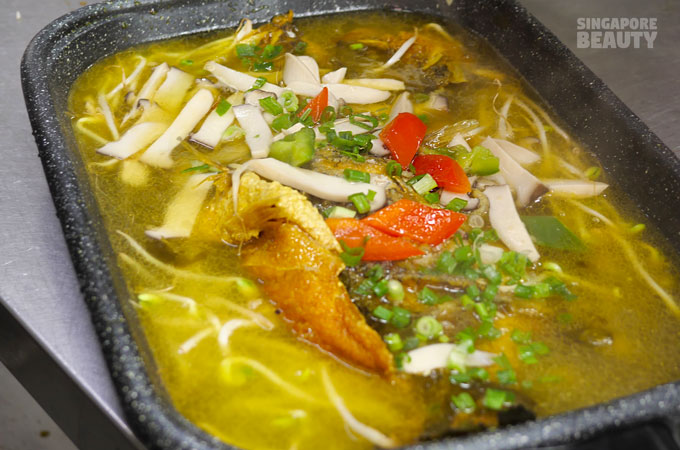 Chicken broth with mushroom is cooked with savoury broth with king mushroom slices.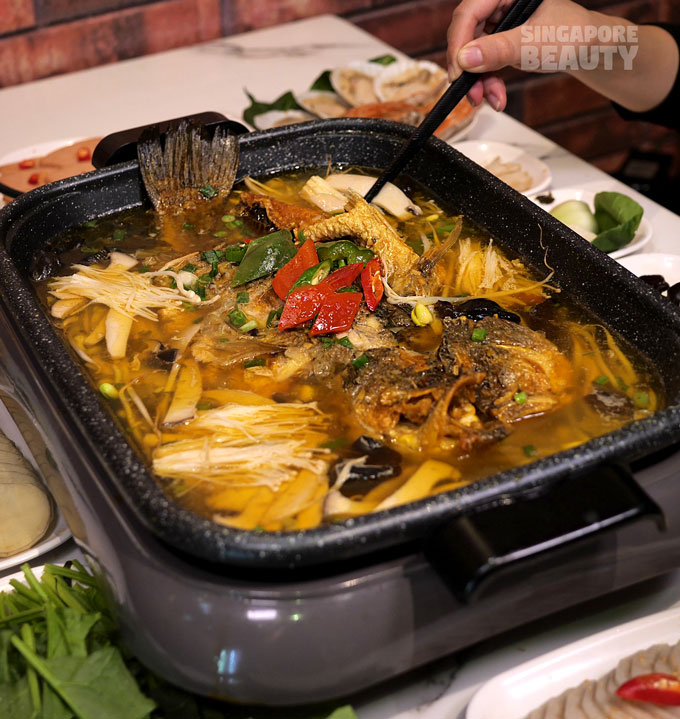 Add on more fungi such as enoki and shitake mushroom to release the depth of earthy flavours for fans of mushroom flavoured grilled fish.
Special recipe flavoured fish is cooked in a thick broth of soy bean paste and a secret sauce made in house.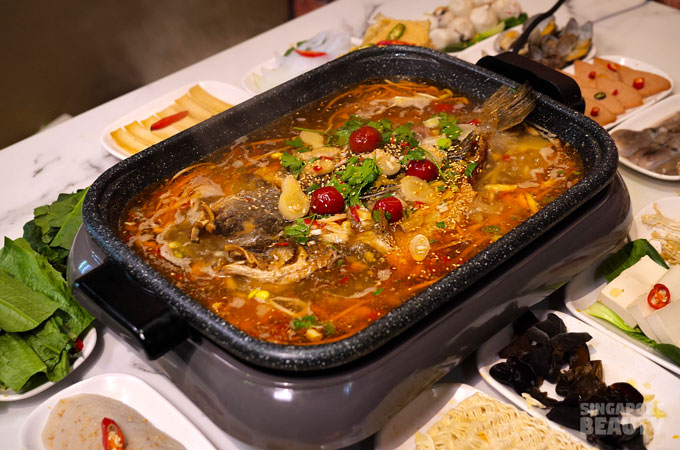 Pickled red pepper fish simmering in a tangy gingery gravy with the sharp contrasting pickled chilli flavour.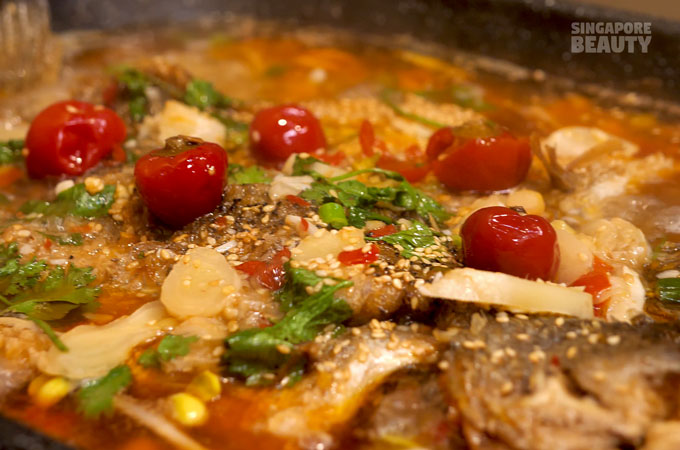 These red peppers are flavour bombs with the seeds intact, break open these bombs to better enjoy the pickled flavours.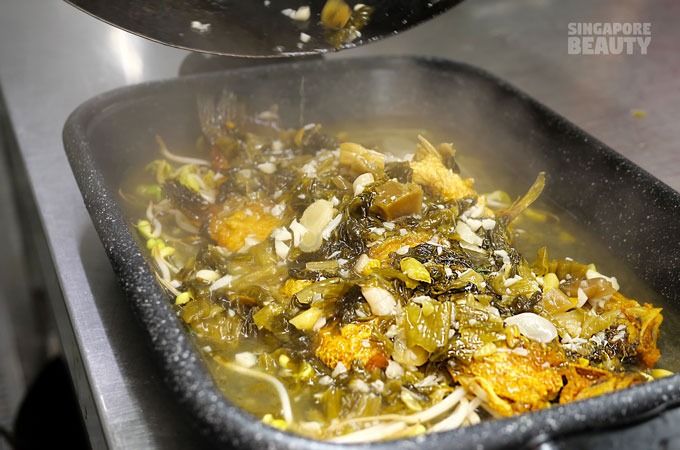 Pickled cabbage flavour fish simmers in a golden broth with pickled soft and melty cabbages on a bed of soy bean sprouts.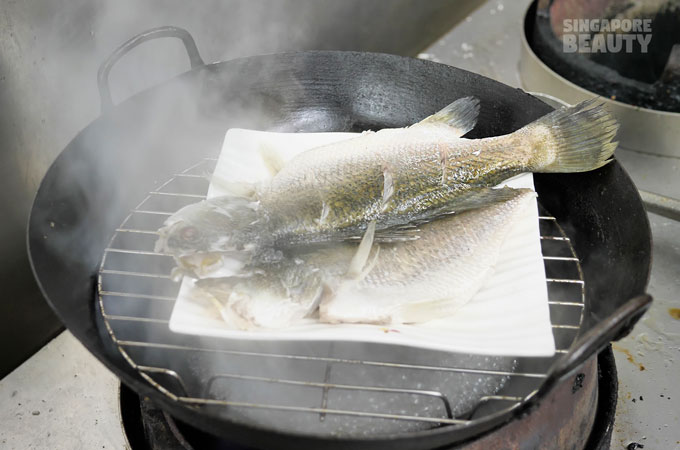 The difference between the grilled fish and the paper wrapped fish, the former fish served in golden crisp style and the latter is steamed Chinese style.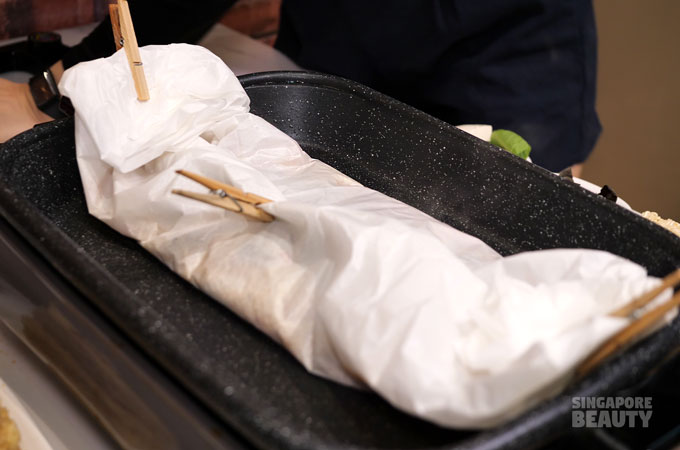 The fish is wrapped to contain the boiling gravy within the baking paper and place on a hot grill pan on your table. When the pan is heated up, the paper bag of fish will simmer with the gravy within and create a bag of steam within the bag. When the bag is slightly bloated, the fish is ready to be opened and enjoyed. Beware of the hot steam, when you open the bag.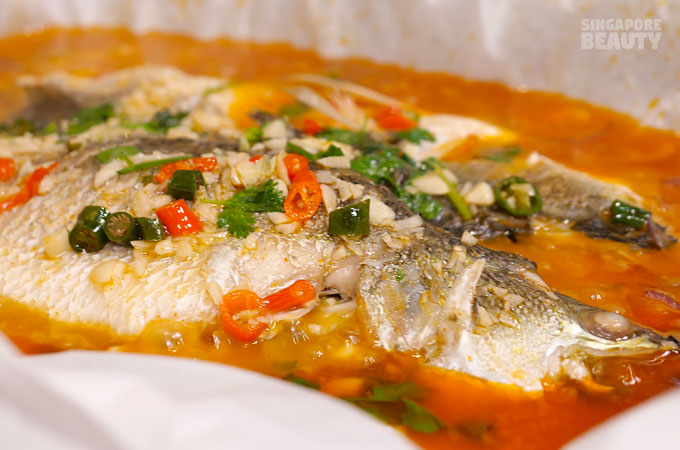 The 3 newly added paper wrapped fish flavours are green pepper, garlic and mala. For those who loves garlic with chilli, this garlic flavoured paper wrapped fish might please your taste palette with it mild spicy but heavy garlicky aroma.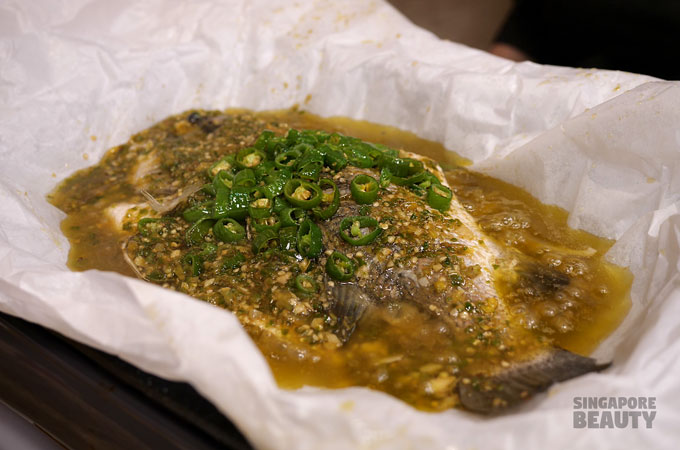 How about this paper wrapped green pepper chilli fish?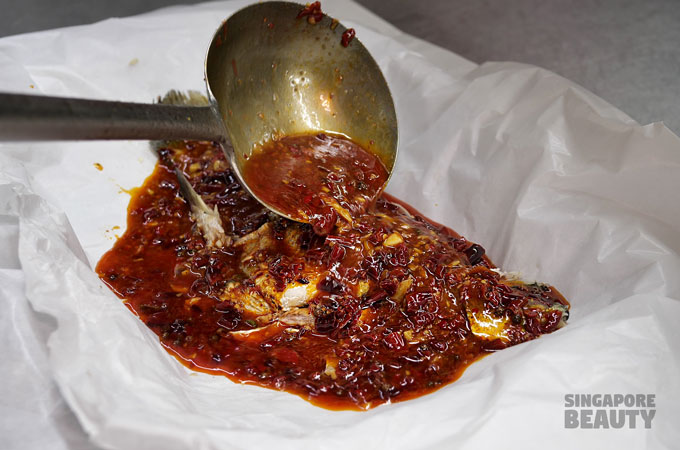 The star of the show has got to be this paper wrapped mala flavour fish. The paper wrapped technique helps to fully infuse the fish with the flavours of the mala gravy.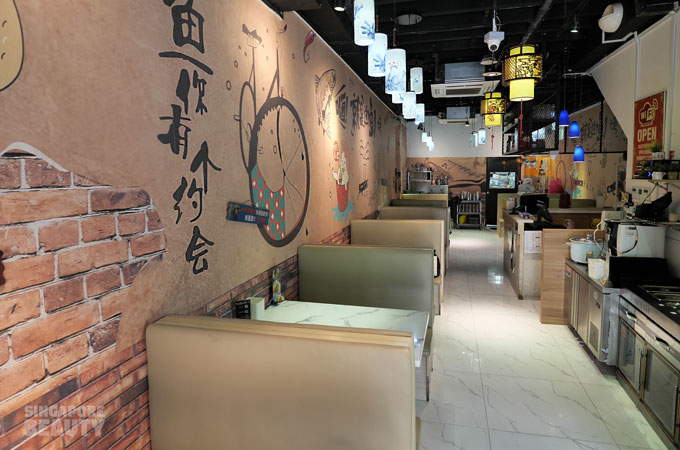 Big groups are welcomed at this double storey restaurant. Level 1 cosy seating for small groups.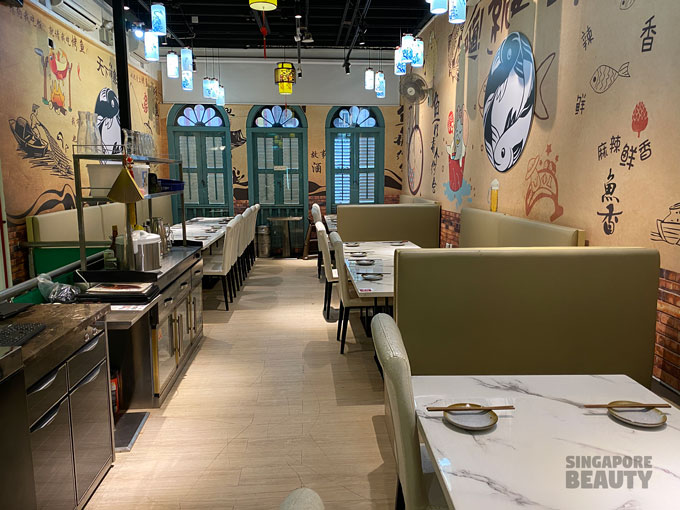 Level 2 of restaurant for bigger groups of diners.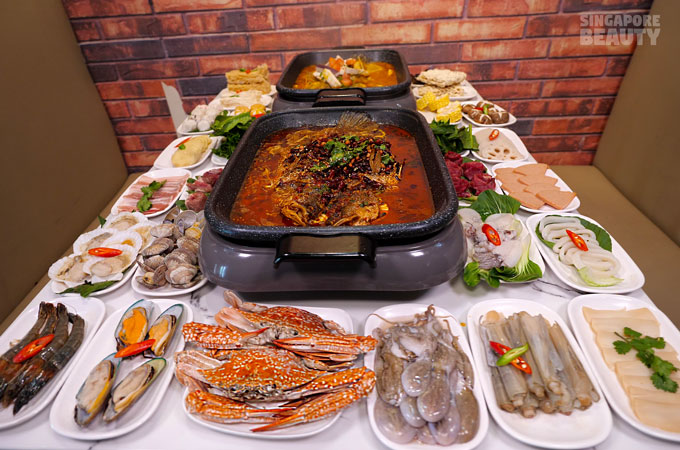 Head over to kuan zhai xiao xiang (宽窄小巷) aka Orchid Roast Fish today.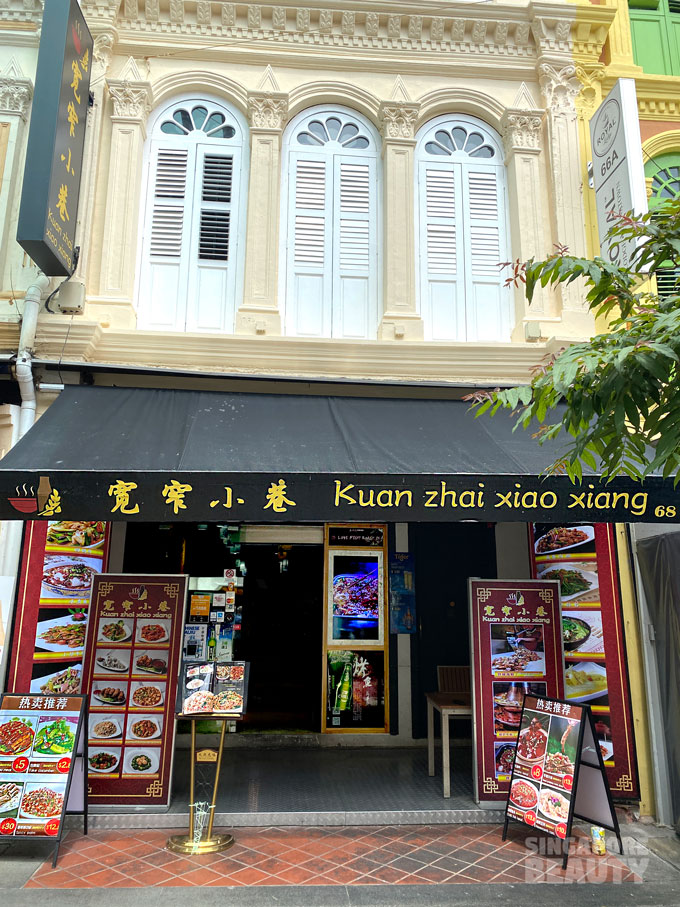 Conveniently located at the footstep of Chinatown MRT Exit A. See you there soon!
Adult Pricing (limited to 1 fish per pax)
Weekdays (Mon – Thurs)
1xFish + unlimited sides(includes meat, surimi and greens) buffet $22.80+
1xFish + unlimited sides + unlimited seafood buffet $40.80+
Weekend (Fri to Sun, Eve & PH)
1xFish + unlimited sides(includes meat, surimi and greens) buffet $24.80+
1xFish + unlimited sides + unlimited seafood buffet $42.80+
Children (2 to 12 years old)
Children (Mon – Thurs)
1xFish and unlimited sides buffet $10.80+
1xFish and unlimited sides and unlimited seafood buffet $20.80+
Children (Fri to Sun, Eve & PH)
1xFish + unlimited sides buffet $12.80+
1xFish + unlimited sides + unlimited seafood buffet $22.80+
Kids below 2 years old eat for free
Price quoted subject to 10% service charge.
Shop Operating Hours:
11am till 5am next morning daily. (last order at 3am)
Dine in time unlimited, food orders for buffet needs to be done within 2 hours.
Location:
68 Pagoda St, S059227
Chinatown MRT Exit A (left side)
Reservation:
(+65) 6221 6369
For ala carte Island wide delivery(11am till 4am ) last order is at 3am, please call 62216369 or Wechat 312179866.
Brought to you by Kuan Zhai Xiao Xiang (宽窄小巷) aka Orchid Roast Fish