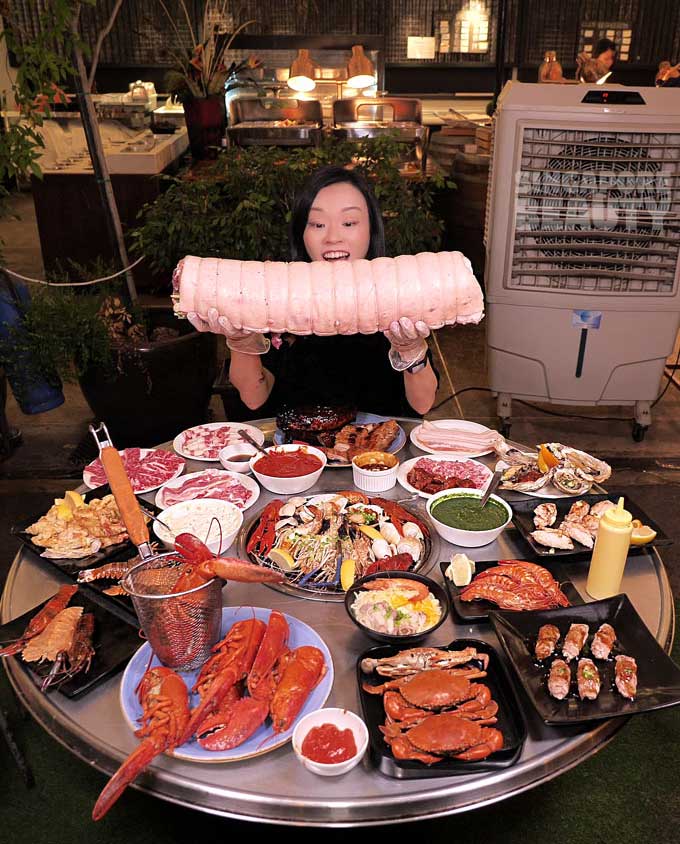 The Three Peacocks alfresco seafood buffet has launched a new menu with Japanese flair.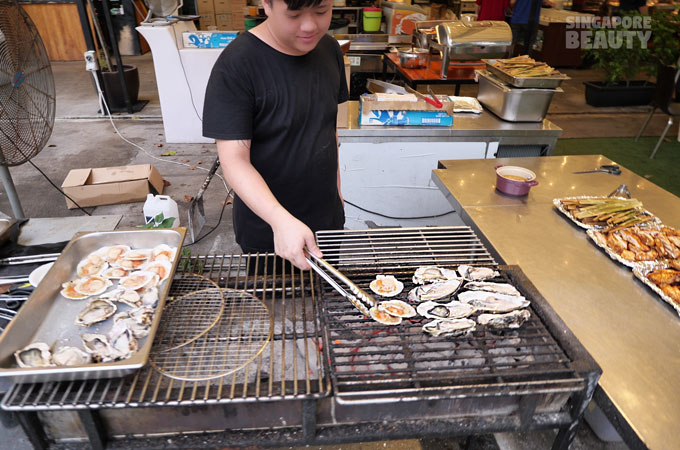 They have a live BBQ station serving Japanese oysters, miso chicken thighs, Teriyaki BBQ pork belly and half shell scallops.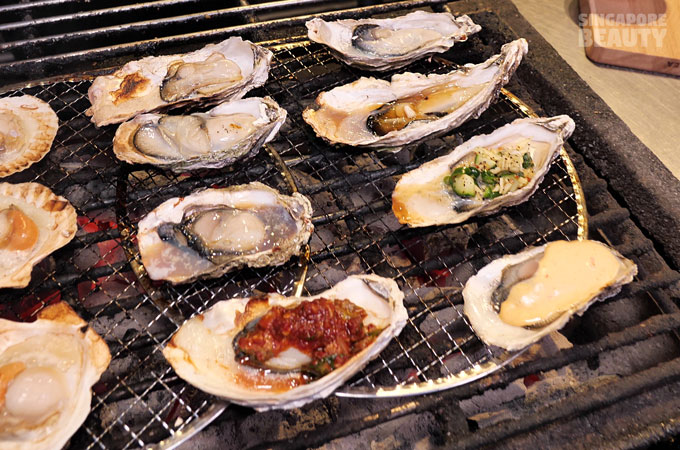 Choice of 6 types of sauce for the Japanese Oysters-Korean Gochujang, spicy mayo, green chilli ginger, sweet onion, citrus ponzu and sweet fish sauce.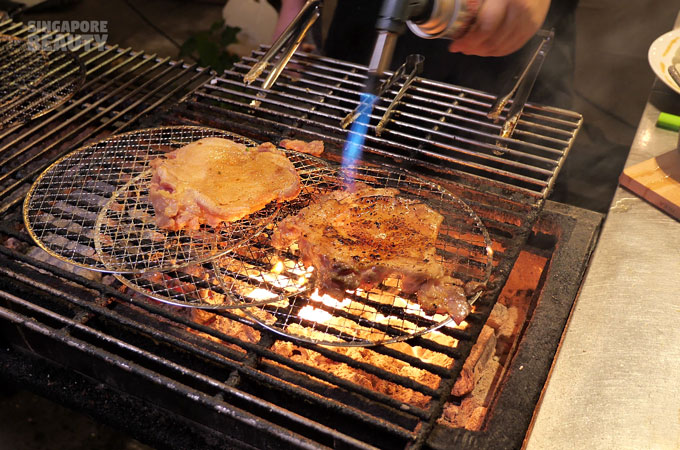 Marinated whole deboned miso chicken thighs with salty tender skin and strong tones of umaminess and rich soya undertones.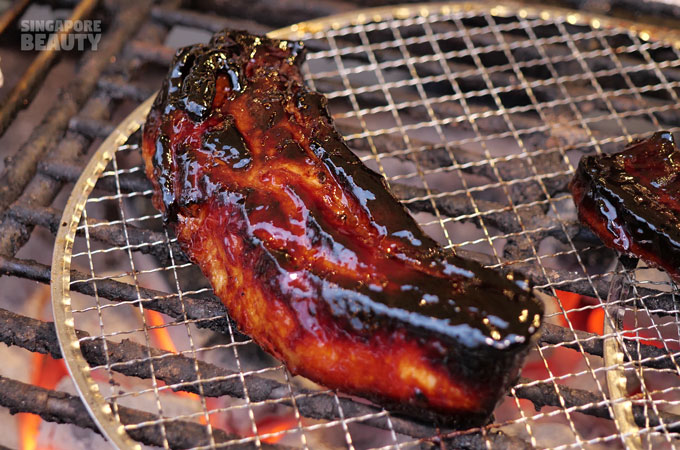 Teriyaki BBQ pork belly roasting lightly over charcoal and glazed with a sweet gooey teriyaki sauce. Tender and soft melty morsels of chashu to go with ramen or beers.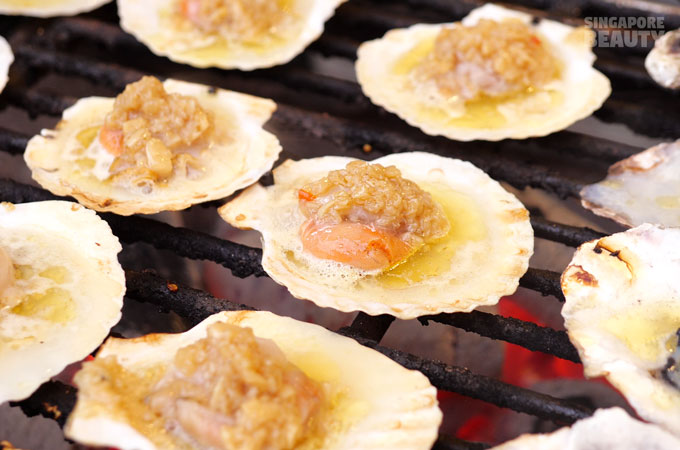 Half shell scallops barbequing in golden garlic dressing and their own briny juices over authentic charcoal grill.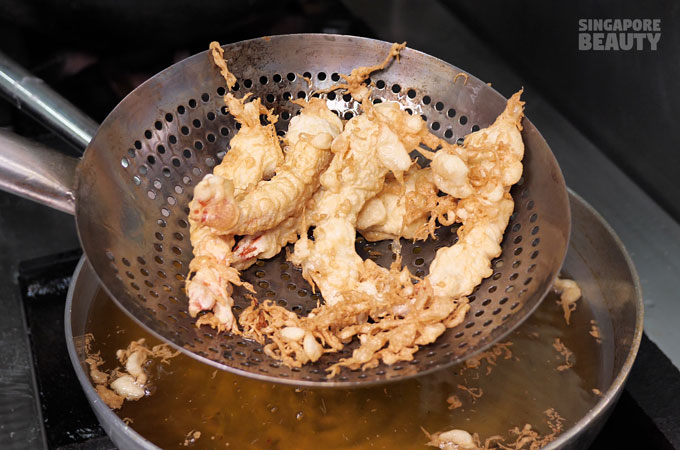 There is also a newly added deep fried seafood and meat counter serving tempura, calamari, oysters and crispy pork belly.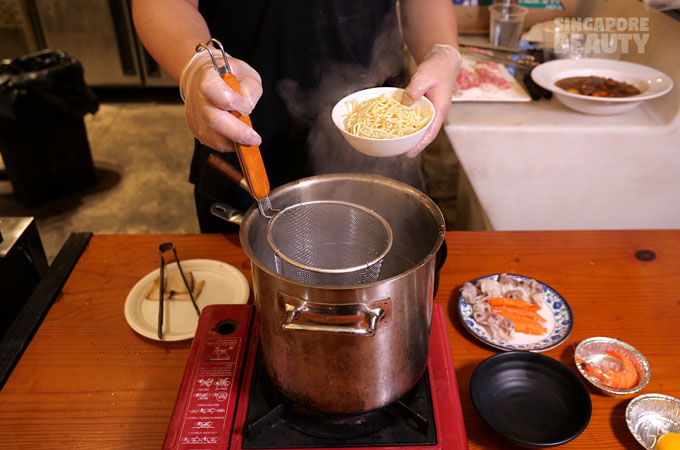 To wash it all down, get a bowl of hot piping ramen at the Japanese mini bowl station.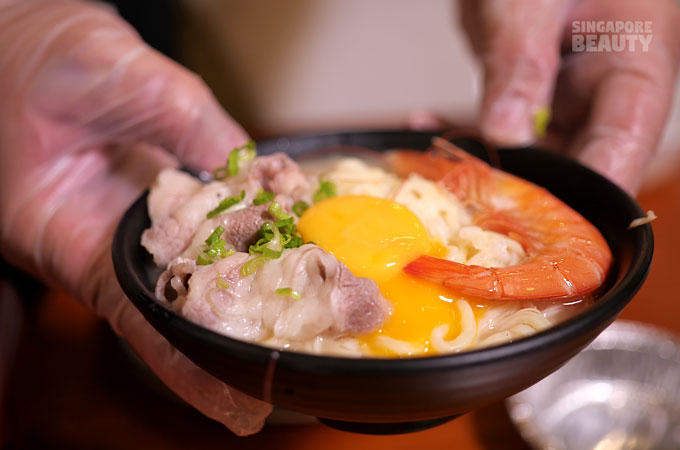 Serving up ramen in tasting size in a broth of the day (Pork broth or XO fish broth).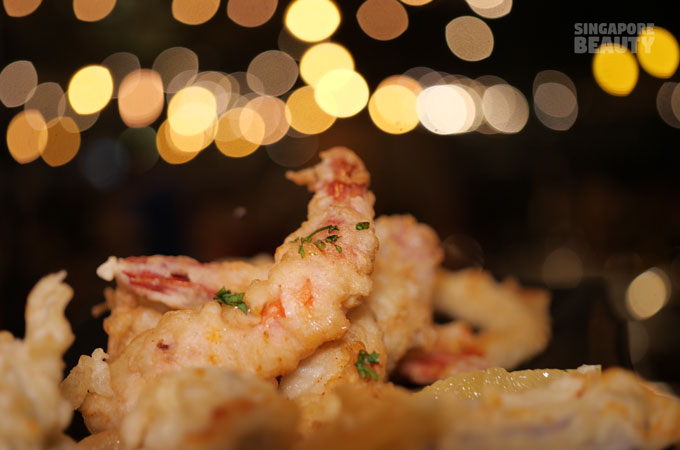 They also serve mini bowls of wagyu beef sukiyaki bowl and tendon on a rotational basis.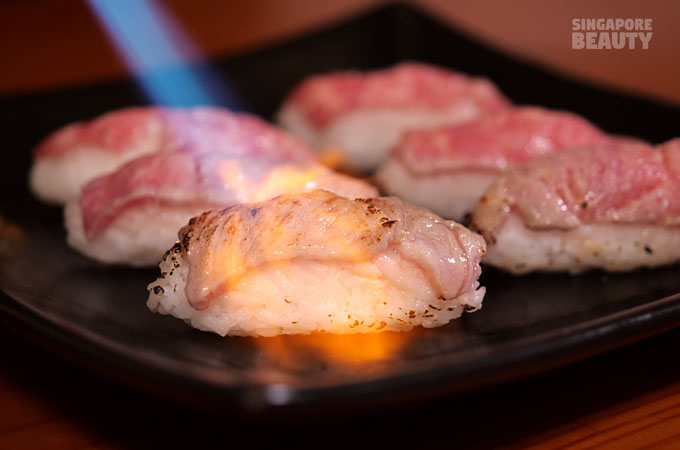 Not forgetting their wagyu beef sushi, torched to perfection before your eyes.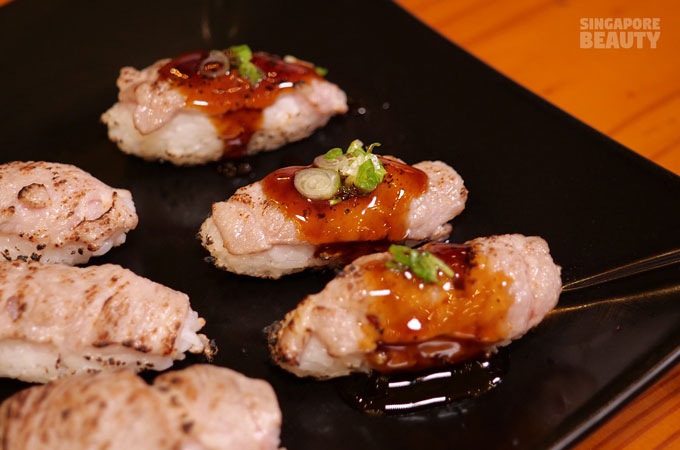 Drizzle on a glaze of Yakiniku sauce for a sweet and savoury flavour.
If you fancy some fatty rich salmon sushi with a creamy top, you should try the Aburi salmon sushi.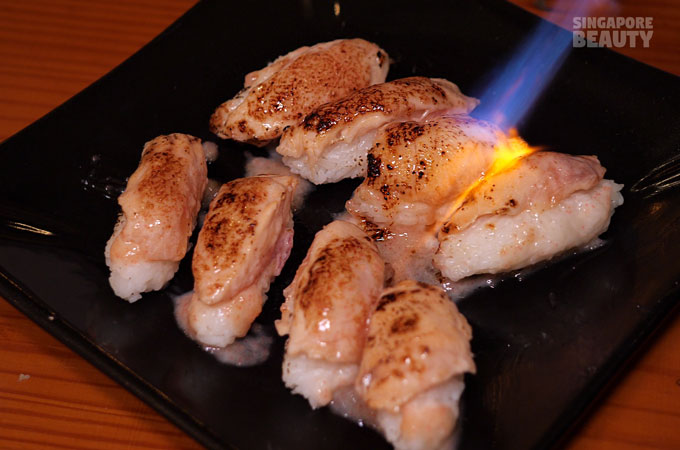 Blow-torched every piece of Aburi sushi till they are slightly brown and melts in your mouth.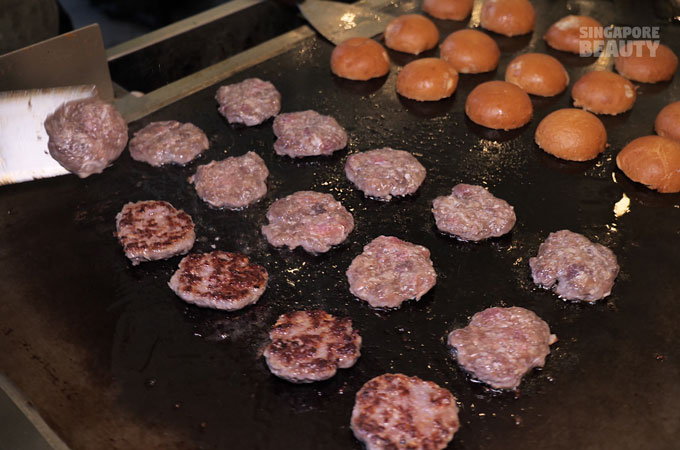 Mini wagyu beef burger is also a must try at the teppanyaki station. Palm size juicy wagyu patty sandwiched between two toasted buttered burgers.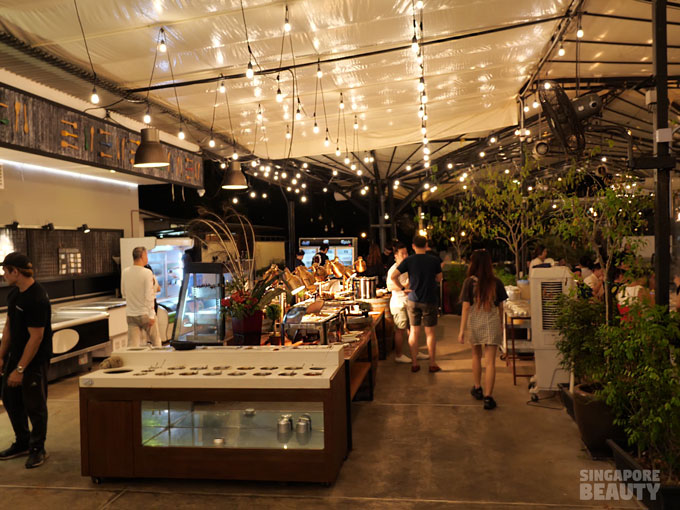 They also have an international spread of Western, Chinese and Indian cuisine such as tandoori chicken, naan, butter chicken and mixed curry vegetables, ready to eat spaghetti Bolognese, Tortilla chips and crispy wings, Thin crust pizza, onion rings, salted egg French fries, chicken pop corn, nuggets, potato wedges and many more.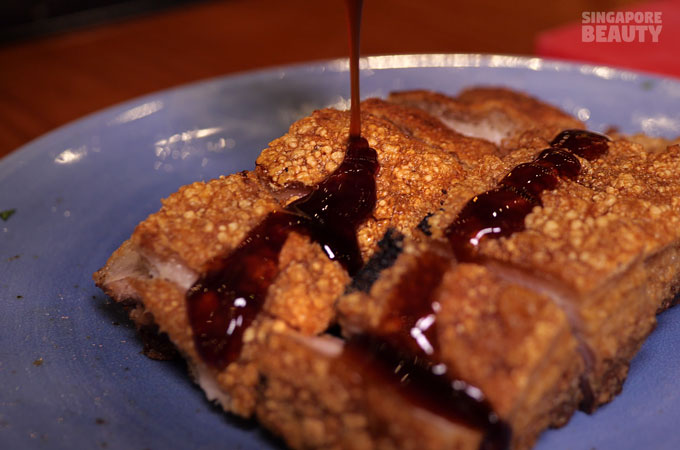 The crowd favourite is their roast platter such as the Chinese roasted pork, Lechon and roasted chicken.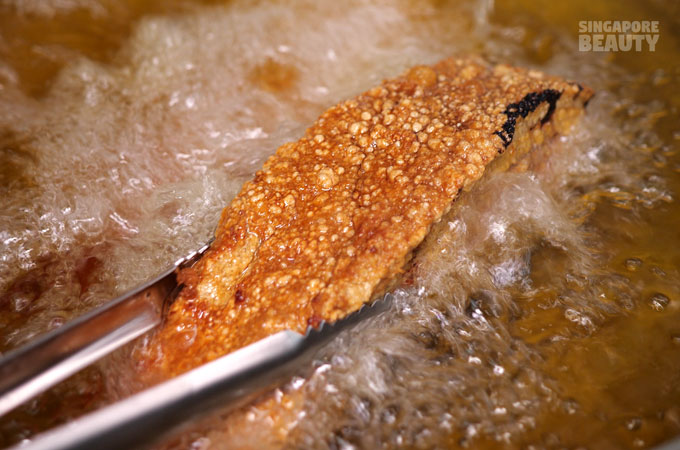 Roasted pork belly made in house daily to ensure the pork stays crispy and juicy.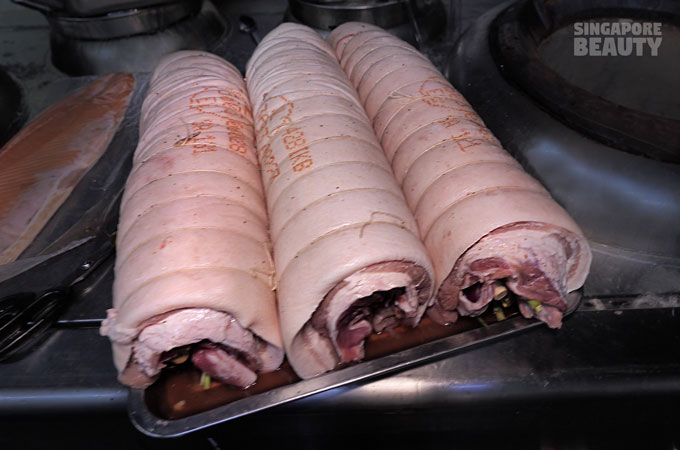 Lechon is a national dish that is enjoyed by the Filipinos on happy occasions to celebrate community gatherings and family bonds. It is also a dish that symbolizes happiness.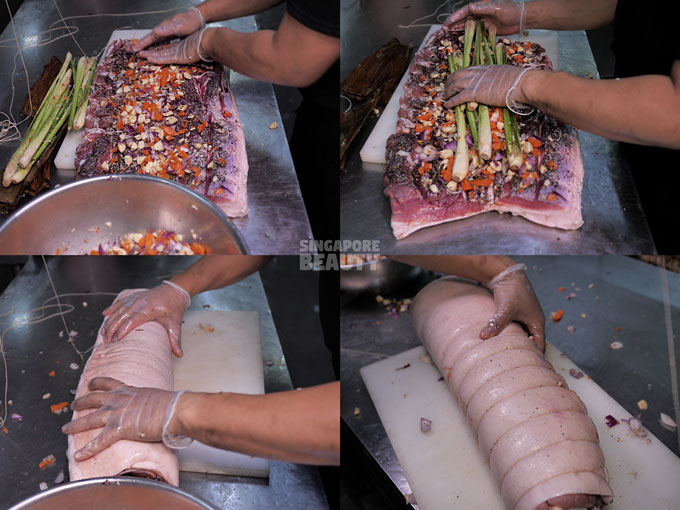 This is a labour intensive dish that requires hours of preparation and cooking. The Three Peacocks prepares this Lechon daily in the in-house kitchen where the preparation starts from the night before the buffet.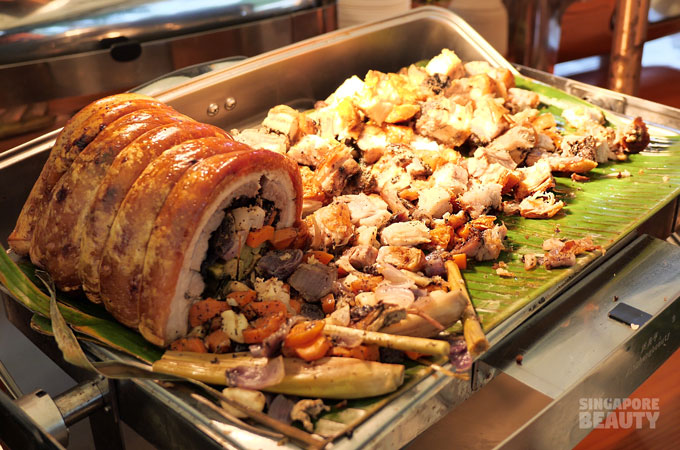 Here is the sweet fruits of labour – Lechon presented to the buffer patrons in the "limelight".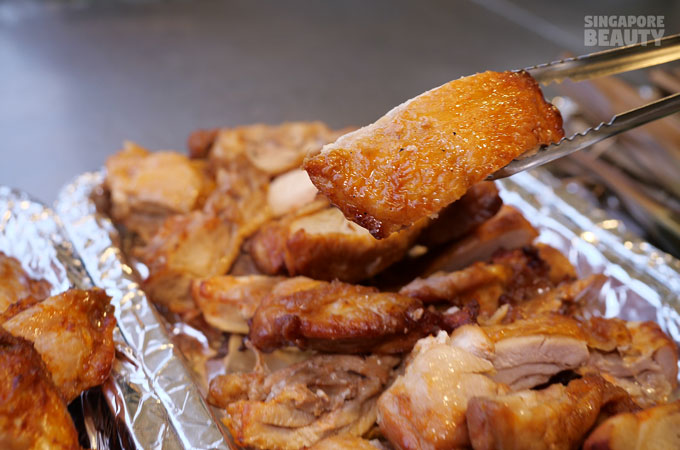 Roasted soya chicken and some Mexican wings are available at the ready to eat counter.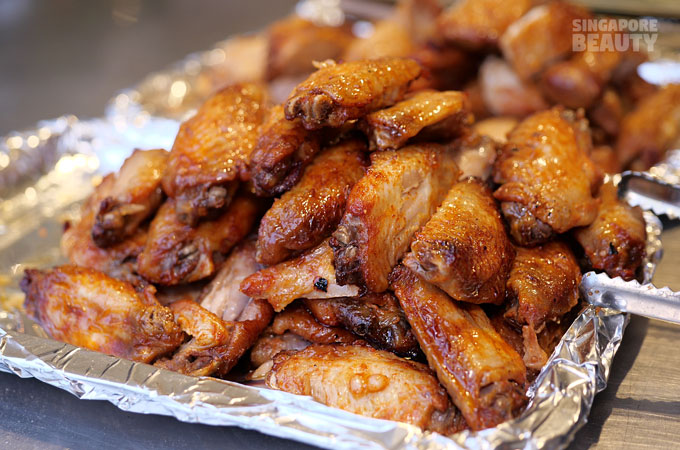 Mexican mid wings that are glazed with a sweet honeyed coating.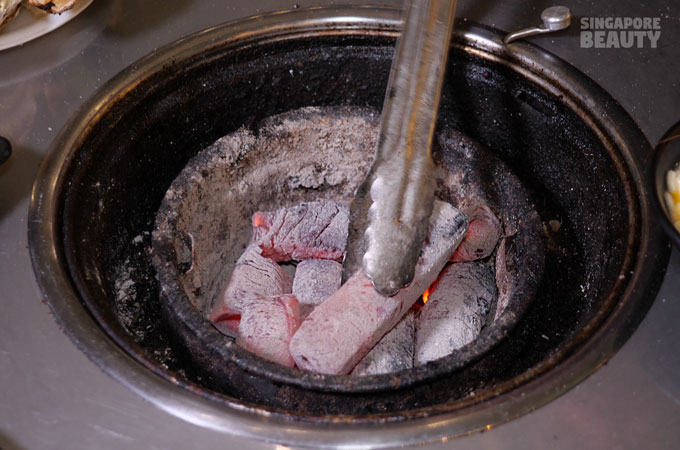 The highlight of The Three Peacocks has to be the meat and seafood BBQ on charcoal.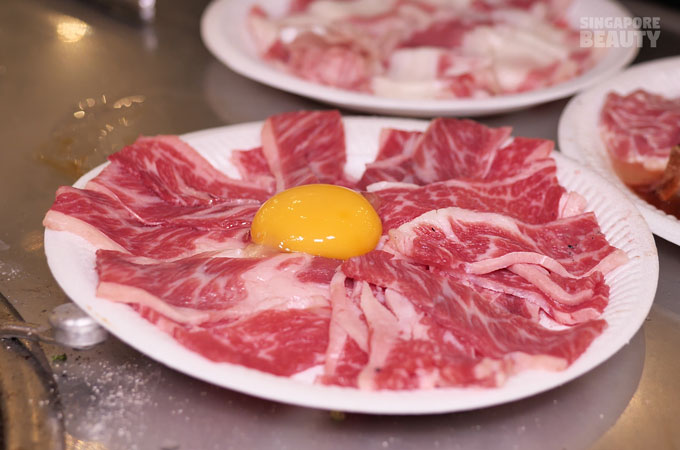 There are over 20 types of shabu shabu and marinated meats for BBQ and hotpot.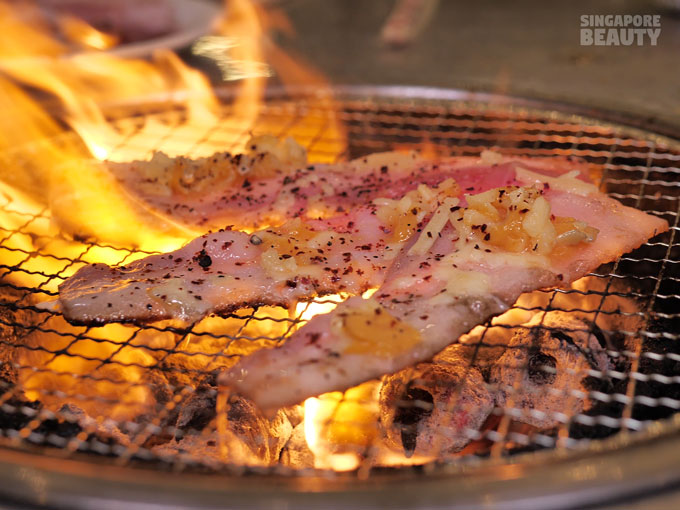 For bacon lover, help yourselves to unlimited bacon with cheese topping.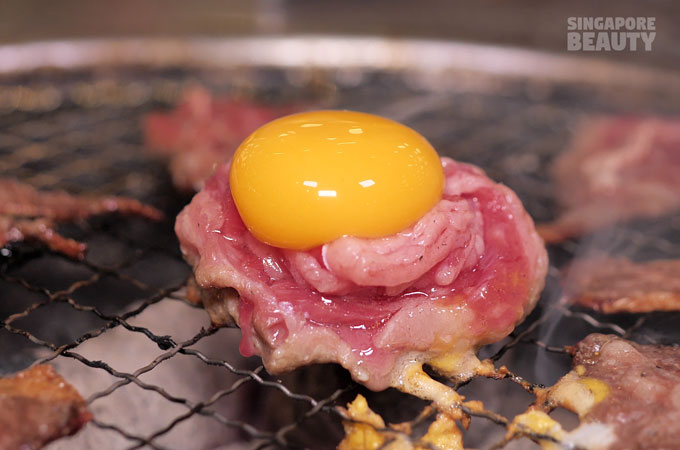 How about a "gudetama" style beef rolls?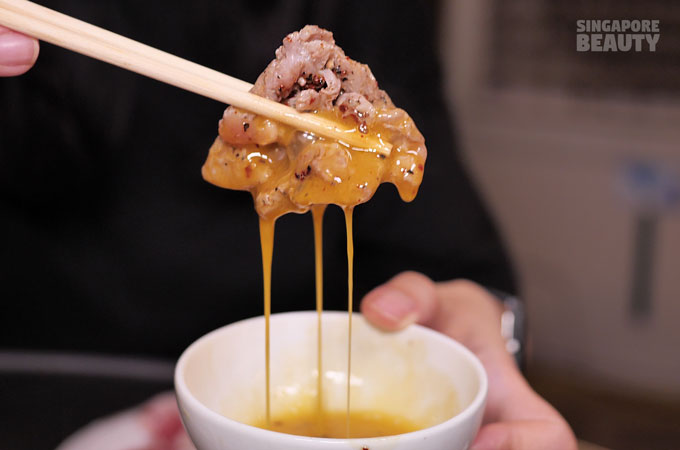 Dip the cooked beef in egg wash for that extra silky texture.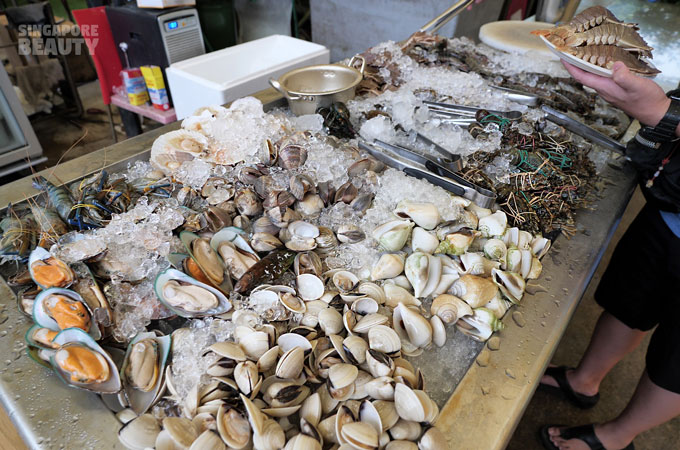 Help yourselves to unlimited seafood on ice from the DIY iced seabed.
Get freshly shucked oysters by the crew. These oysters are sashimi grade and good to eat with a dash of fresh lemon juice or Tabasco sauce.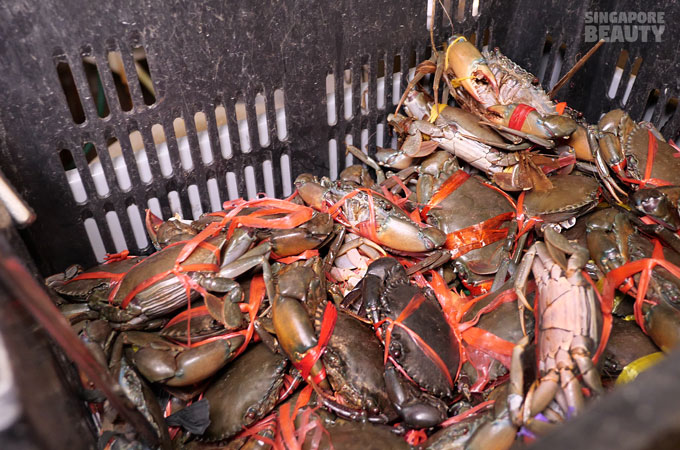 Check out the live mud crabs too. These are free flow and will be dispatched by the crew for your ease of cooking. They also have a catch-your-own live prawn tank if you love some fresh bbq prawns.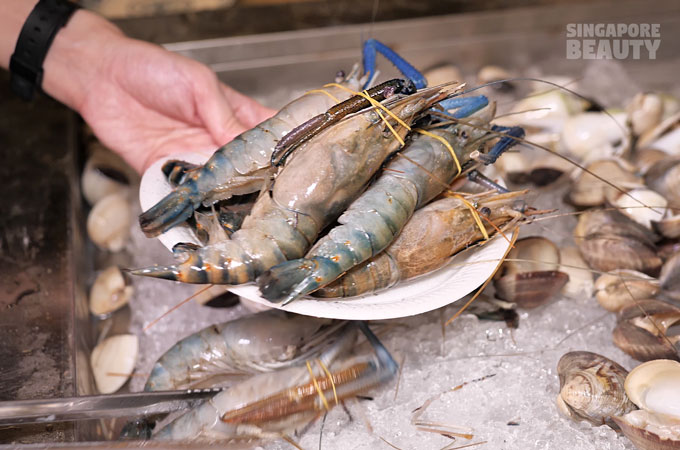 The Three Peacocks Thai River prawns are back in season now. Load up on these giant prawns with head roe. Barbecue these in butterfly style with cheese or just some sea salt to enjoy the naturally sweet and crunchy texture.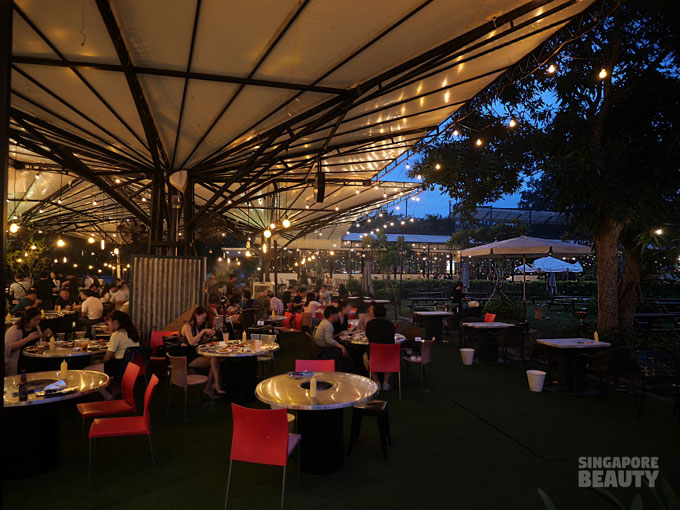 Head over for some magical alfresco authentic charcoal BBQ experience amidst the lush landscape, beneath the cold blue skylight while drinking the stars and getting caress by the night breeze.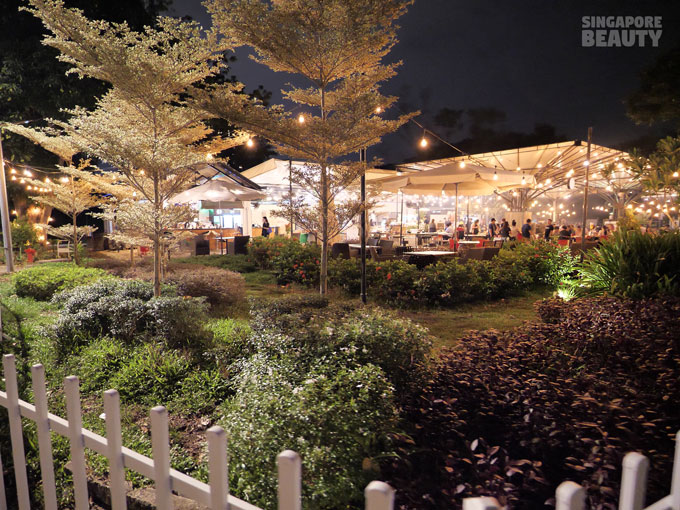 Chill and enjoy a stroll along the beach right next to The Three Peacocks alfresco buffet. Perfect for large get-together, dates and family gatherings.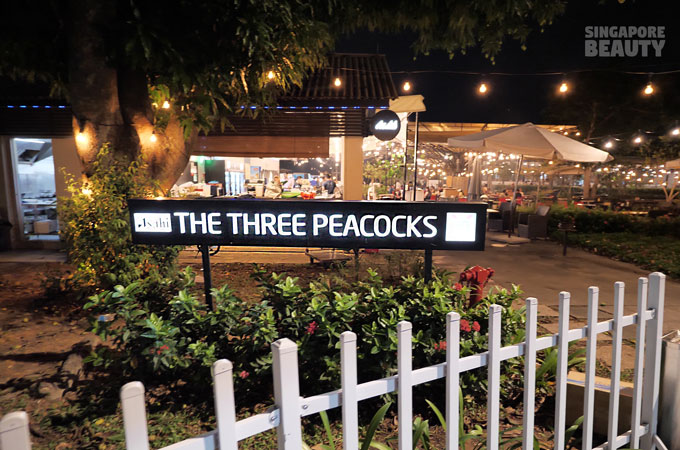 See you at the Three Peacocks soon.
Adult outdoor BBQ buffet price:
Mon-Sun (including PH and Eve)
Adult $41+
Kids (7-12 years old) $20.50+
Kids (6 and below) eats free!
Senior (60 and above) $31+
Add $3.99+ for free-flow drinks
All prices subject to 10% service charge, no GST.
Free half Boston lobster (cooked) per pax
Dine time:
No time limit
Buffet operating hours:
Monday – Sunday: 5pm – 1am
Last walk-in : 10pm
Location:
8 Port Rd, Singapore 117540
(Close proximity to Labrador Nature Reserve)
If you are driving, parking is free with plenty of space available.
15 mins walk from Labrador MRT station (CC27)
Reservations:
Call them at 62510213
Brought to you by The Three Peacocks