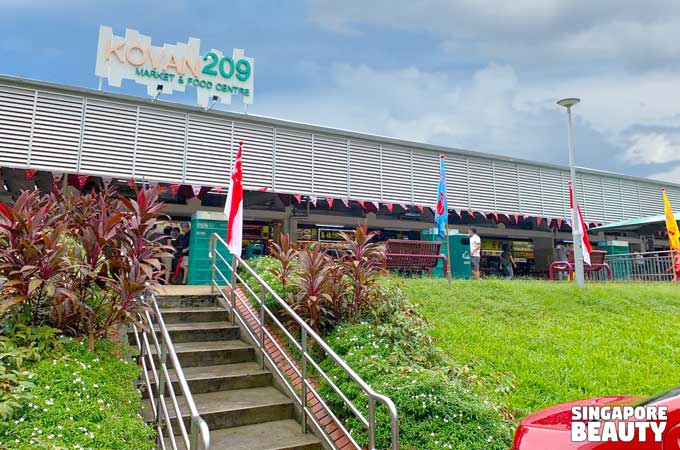 Kovan 209 Market & Food Centre is a local hawker gem that is next to Heartland Mall. It is approximately a 2 minutes walk from Kovan MRT and boost of a big carpark for those who are driving. This market cum hawker centre is renovated in 2010 for SGD4 million and is one of the airier hawker centre in Singapore. This famous hawker centre house many stalls with some that has been around for more than 35 years. The regulars are here for good food such as fish soup, claypot rice, chicken rice, mala, Japanese bentos, prawn mee, old school eats and drinks that starts at an unbelievable price of 30 cents.
At Kovan hawker centre, you can find a variety of food that are unique to Singapore. It is no surprise that during weekends, this hawker is packed with foodies looking for cheap and good food gems. Here are some of the must visit and try hawker food stalls in Kovan serving maybe the best hawker food in the North East of Singapore. Since it is right next to Hougang, people often mistaken it as Hougang hawker centre.
Kovan 209 Market & Food Centre
1. Sun Kee Drinks 山记饮品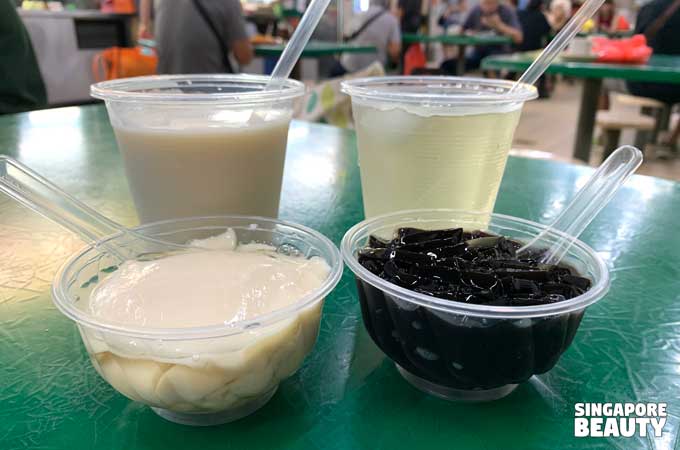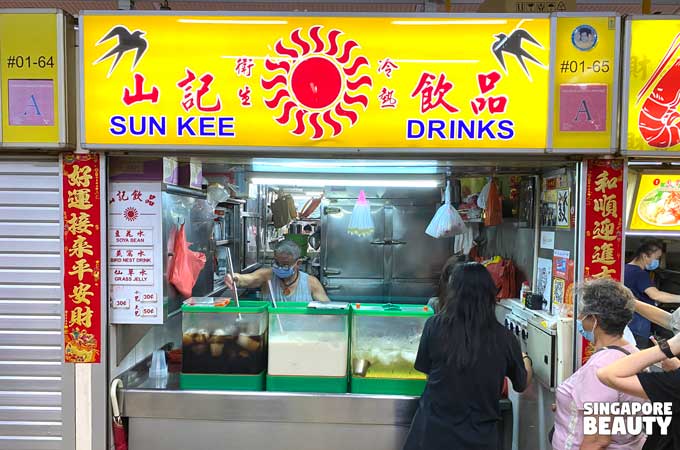 Sun Kee Drinks is one of the popular stalls that still sells old school drinks and eats from 30 cents to 50 cents. The drinks and jelly bowls here are legit in terms of flavours and richness. The hot items are the soya bean curd jelly, soya bean drink, the grass jelly bowl and their old school bird's nest drink. The bird's nest drinks are not of real bird nest though but is the old school version of agar agar jelly in real pandan syrup. This is a must eat and drink every time I am there. The bean curd pudding for 30 cents get sold out pretty fast so be there early in the morning if you wish to get your hands on some. Probably the cheapest you can find in Singapore.
Opening hours: Mon- Sat 6am to 3pm or till sold out
Closed every Sunday
Unit no. of Sun Kee Drinks: #01-65
2. Chai Kee Prawn Noodle 财记虾面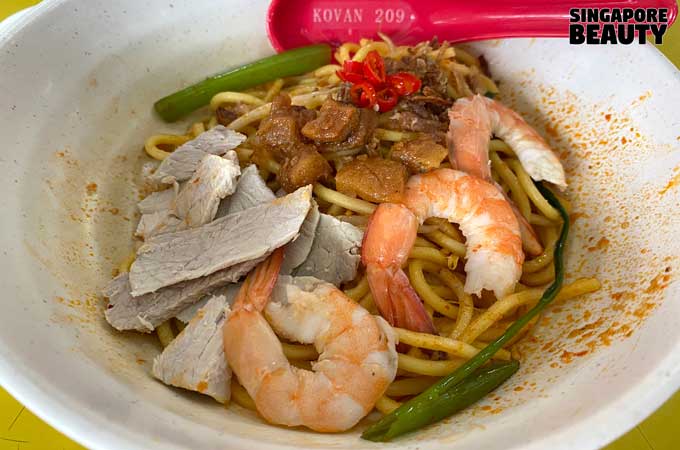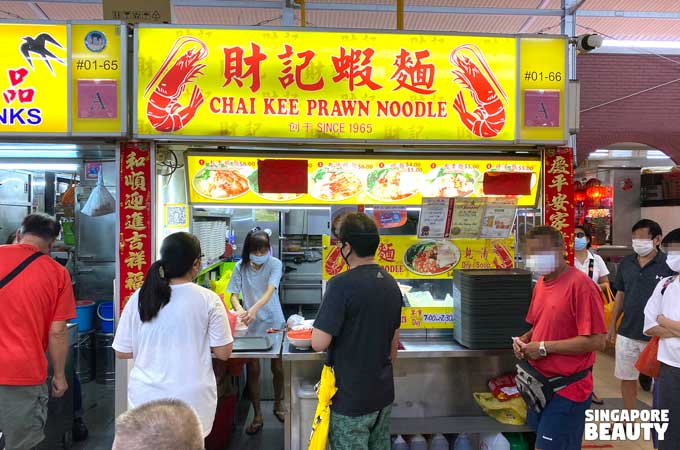 Chai Kee Prawn Noodle is big on flavours and is great for budget food hunters. A basic bowl of dry prawn noodles is going for $4. Noodles is packed full of umaminess of shrimpy flavours imparted by the chilli paste, handful of al dente yellow noodles, generous amount of crispy pork lard, shallots and pink prawns. The prawn soup is also a hit with its intense briny prawn flavours.
Opening hours : 6.30 am to 2 pm daily
Unit no. of Chai Kee Prawn Noodle: #01-66
3. Chun Fu Fishball Minced Meat Noodle. Laksa 春福鱼丸肉脞面。叻沙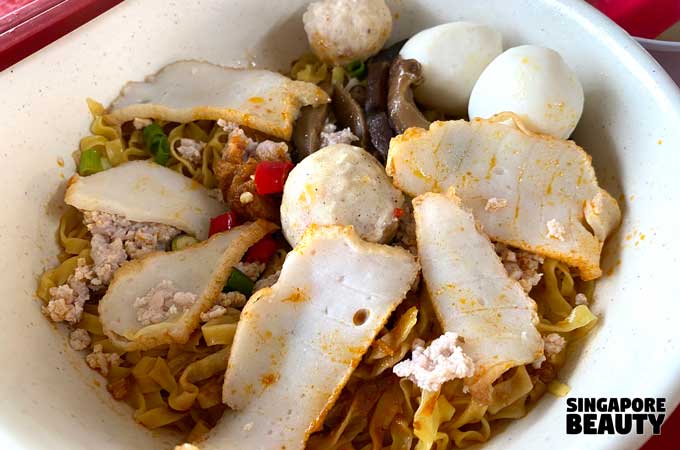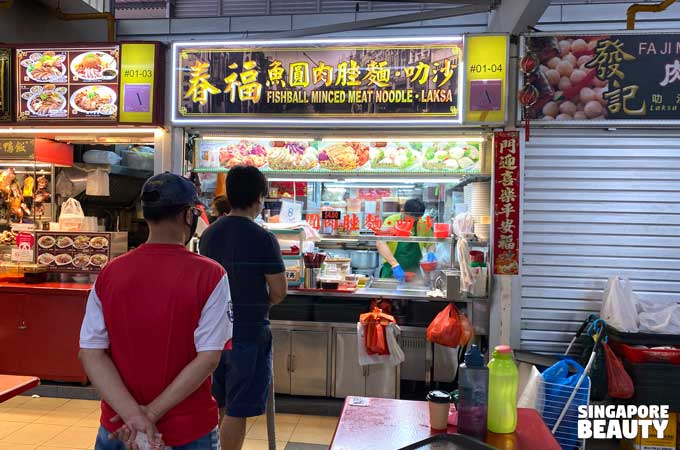 Chun Fu Fishball Minced Meat Noodle. Laksa(春福鱼丸肉脞面。叻沙)is one of the stalls that always has a snaking long queue. Smacked right at the front row of Kovan food centre, this stall is one of the hot favourite for Singaporean's favourite fishball minced meat noodle. The basic bowl of bak chor mee ($4) comes with noodle of your choice, 3 types of balls (in fish, meat and vege paste), braised shitake mushrooms, pork lard and sliced fish cake. That's quite a good variety of ingredients for the money.
Opening hours: 11.30 am to 8.30 pm
Closed on Tuesday.
Unit no. of Chun Fu Fishball Minced Meat Noodle. Laksa: #01-04
4. Fa Ji Minced Meat Fishball Noodle 发记肉脞鱼圆面 (#01-05)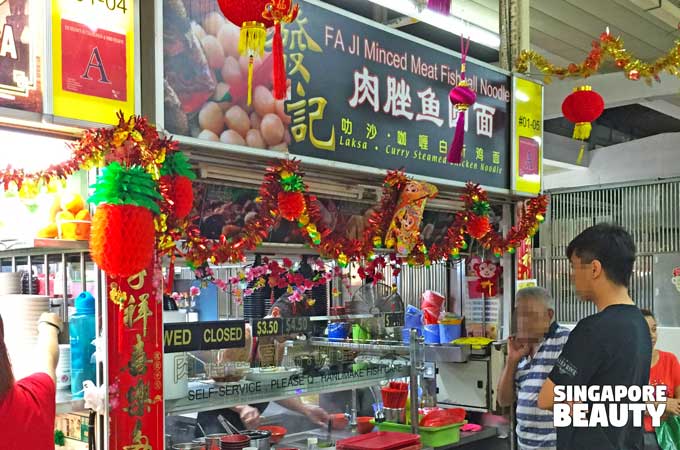 Fa Ji Minced Meat Fishball Noodle sells Singaporean all time favourite fishball minced meat noodles starting for $3.50 with quite a lot of ingredients from pork balls, sliced meats and good amount of dry noodles with sambal chilli that will power you up with their heat. The queue for this stall is a pain though and expect to wait for your good food.
Opening hours:
Monday to Friday: 7.30am-9.00pm
Saturday & Sunday: 7.00am-7.00pm
Closed on Wednesday.
Unit no. of Fa Ji Minced Meat Fishball Noodle: #01-05
5. Yam Mee Teochew Fishball Mee 炎成潮州鱼圆面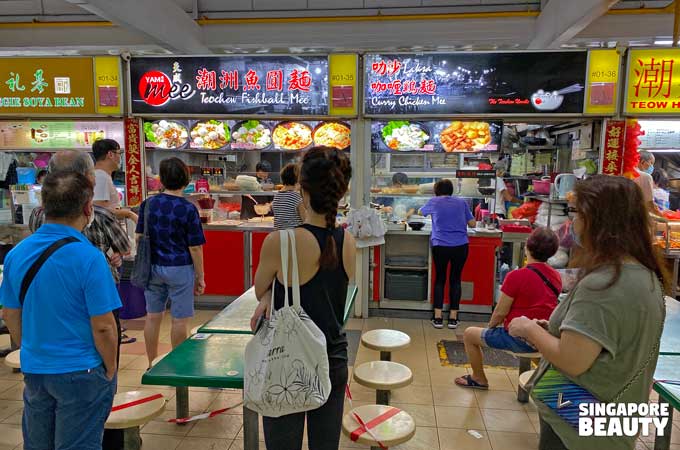 Yam mee Teochew Fishball Mee is run by the third generations with the parents. For $4 you get a good bowl of fishball noodles that is umami good. The ingredient are generous too, no wonder there is always a long queue.
Opening hours: 7.00am to 9.00pm
Closed on Monday.
Unit no. of Yam Mee Teochew Fishball Mee: #01-35
If you think there is a Bak Chor Mee battle going on at Kovan Hawker Centre, you are just half right. These three stalls are actually on good terms and they take turns for different off days from Monday to Wednesday. Therefore on any given day, you will have at least a choice of 2 or more Bak Chor Mee stalls to choose from.
6. Hajjah Mariam Muslim food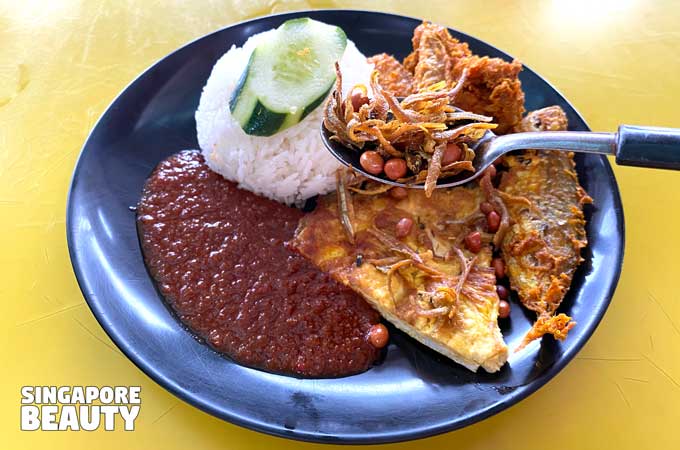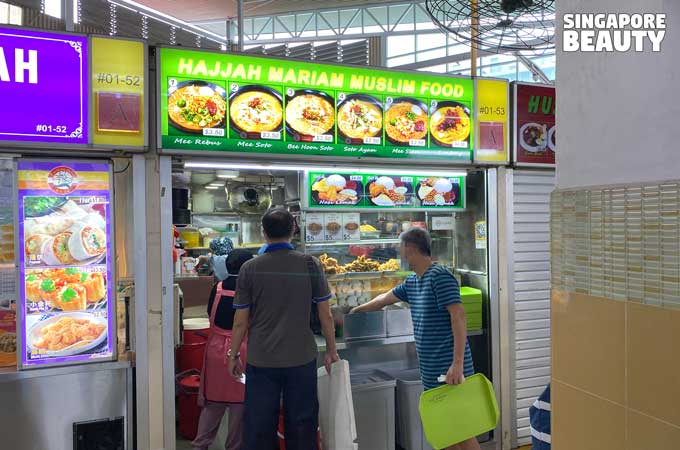 Hajjah Mariam Muslim food is one of the morning and lunch crowd favourite. With 9 items on her menu such as mee rebus, bee hoon soto, lontong, nasi lemak combos, soto ayam, mee soto and more, this stall is a magnet to all the foodies who are in the mood for Muslim food. The basic plate of nasi lemak ($4) with ikan bilis add-on ($0.80) should be good enough to satisfy your cravings.
Opening hours: 7.30am till 1.30pm
Unit no. of Hajjah Mariam Muslim Food : #01-53
7. Fatt Soon Kueh 发笋粿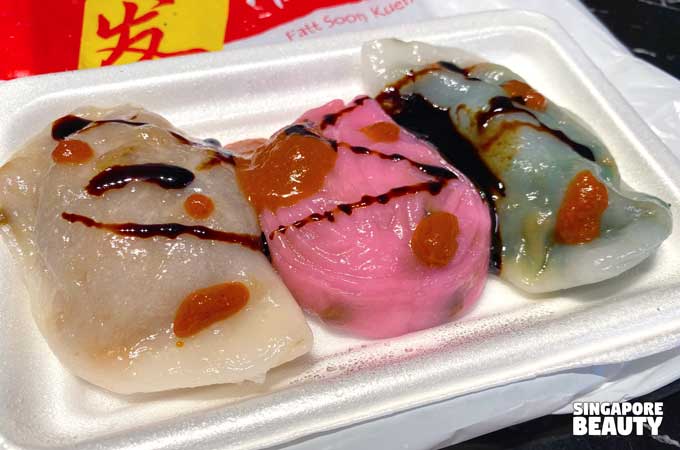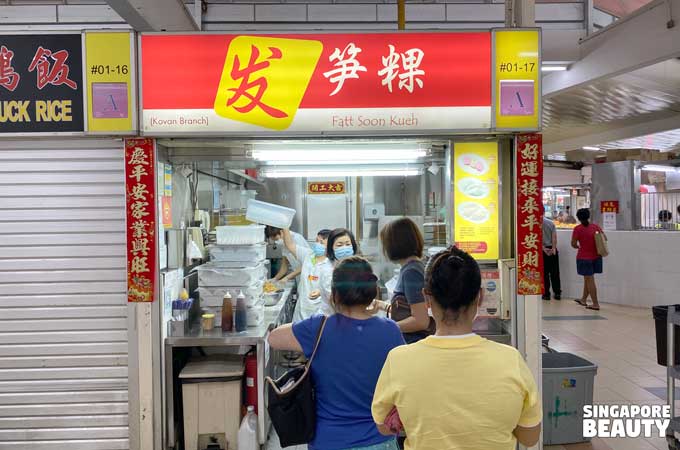 Fatt Soon Kueh sells only 3 type of old school Teochew style steamed kueh. These are all handmade in stall including the making of the skin, the ingredients and the steaming of the kueh. These one dollar kueh – Soon kueh (jicama), peng kueh (glutinous rice) or ku chye kueh(chives) are great as a light snack. Locals eat these with sweet gooey dark sauce and chilli sauce. This is a chain stall and you can find many branches around Singapore.
Opening hours: 7am till 6.30pm
Closed on Monday
Unit no. of Fatt Soon Kueh: #01-17
8. Lee Kwang Kee Fish Soup 潮州鱼粥大排档李廣记集团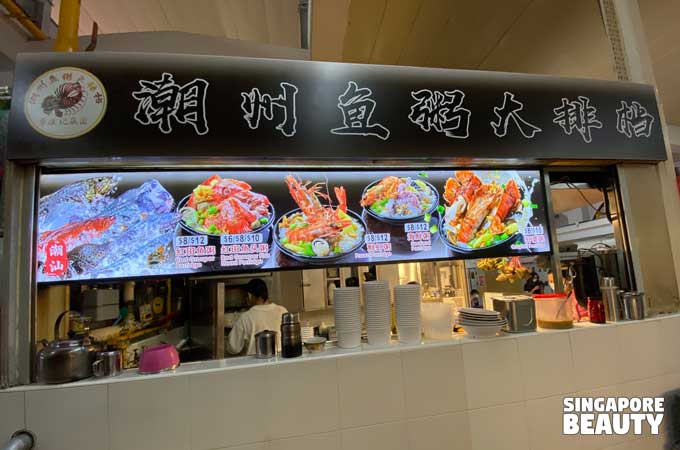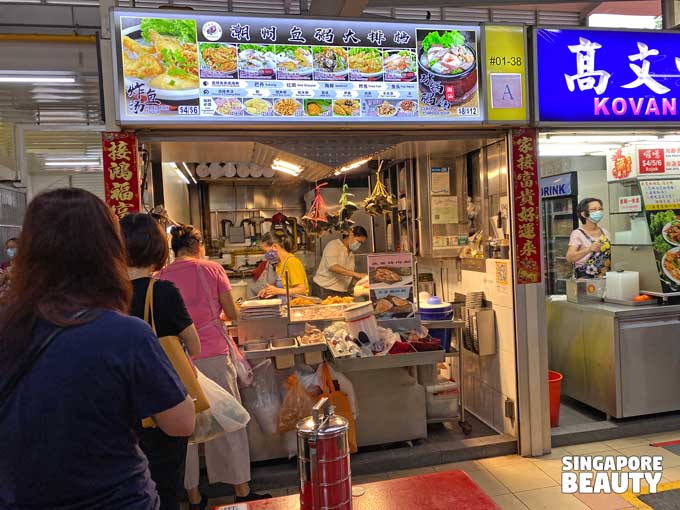 Lee Kwang Kee Fish Soup (潮州鱼汤大排档李廣记集团) specialized in Teochew style clear sliced fish soup that is full of umami and super fresh bouncy sliced fish. The basic fish soup starts from $4. They also offer a good range of premium seafood soup at hawker price. Here is how you order: choose the type of fish or seafood and the cooking style you would like. The choice of seafood include Batang fish, red grouper, seafood (consist of prawns, squid & fish) and even the exotic fish head. The fish head is usually sold out quite fast hence you need to be there early to get it. The cooking style includes with noodles, as porridge or soup style with steamed rice. During festive period like the Dumpling Festival, they sell handmade Teochew style rice dumpling as well.
Opening hours: 11 am till 9pm
Unit no. of Lee Kwang Kee Fish Soup: #01-38
9. DeliSnacks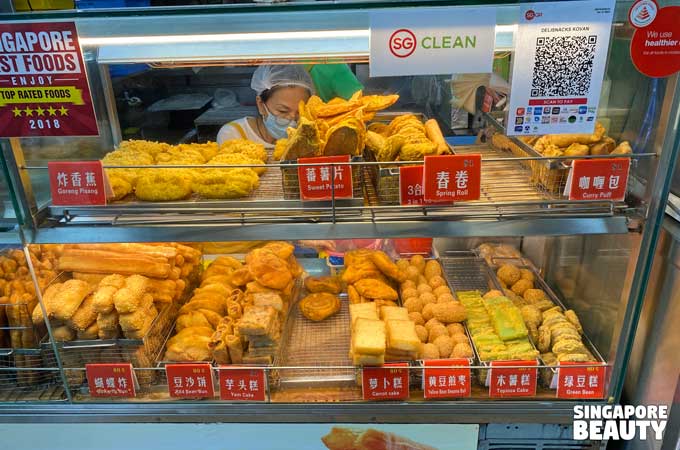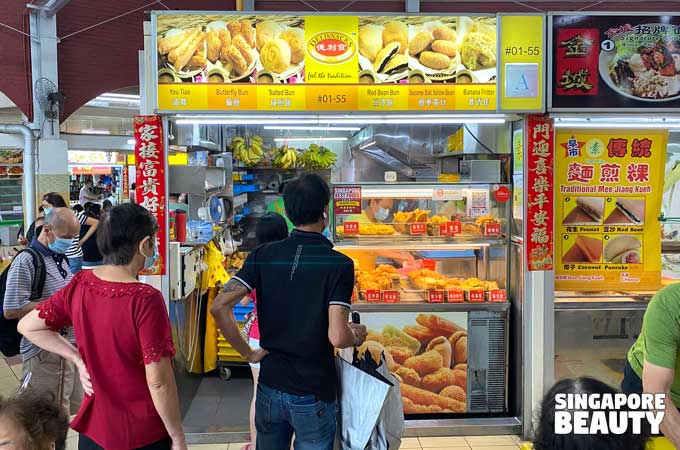 DeliSnacks specializes in selling handmade fried Chinese dough cullers and pastry that are great for vegans. These are made in store daily and only fried in small amount each round. You can be assured that the cullers are always fresh and warm. These are sold at 3 for $2.20 unless otherwise stated. This is the best snack to go with morning coffee.
Opening hours: 9 am till sold out
Unit no. of DeliSnacks: #01-55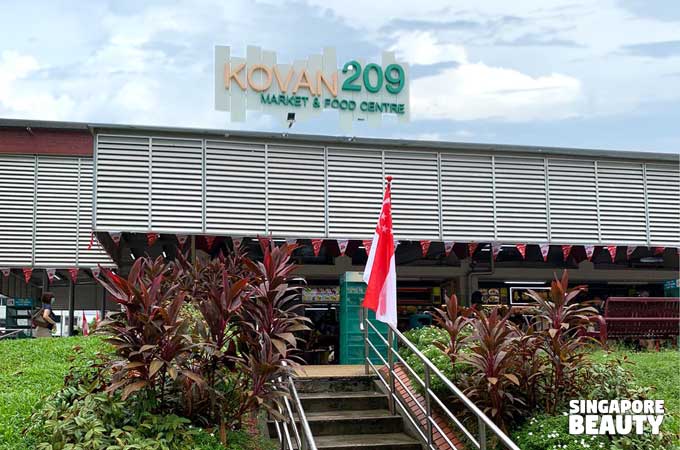 Do come over to Kovan 209 food centre if you are looking for a variety of local Singaporean food at reasonable price and some above average standards since some of these stalls has been operating for more than 35 years. This is the best Kovan hawker centre you can find in the hougang/ Kovan area.
Address of Kovan 209 Market & Food Centre
Blk 209 hougang street 21, Singapore 530209
Nearest MRT : 2 mins walk from Kovan (NE13)