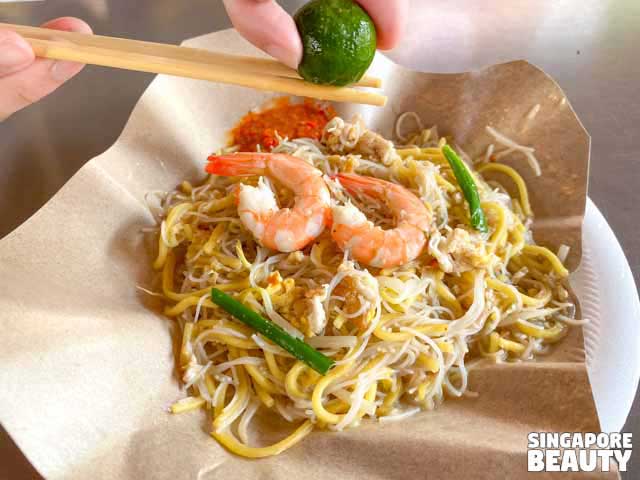 Choon Hiang (春香) – char kway teow and Hokkien mee is some of the "National dish" that Singaporean loves on a daily basis. It is one of the must eat food to order at any family food adventure outing. Does this stall live up to its title of Top 10 Char Kway Teow in Singapore as rated by City Hawker Food Hunt in 2008?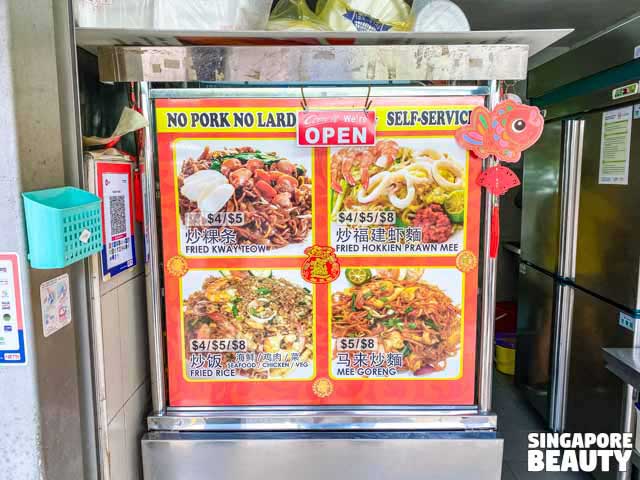 Choon Hiang is a hawker stall in East Coast Lagoon Food Village selling only four items on her menu – char kway teow, fried Hokkien mee, fried rice and mee goreng.
Choon Hiang Char Kway Teow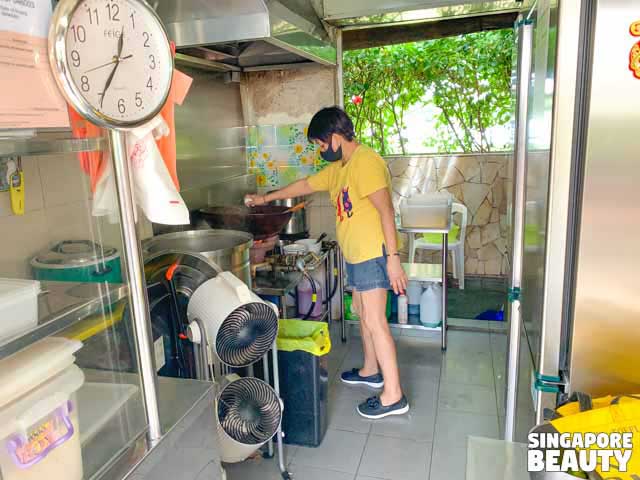 Choon Hiang used to be in Macpherson before settling down in East Coast lagoon Food Village in 1979. Run by self taught Aunty Mui Mui who has been polishing her skills of cooking a good char kway Teow. Since the age of 12 during her schooling years, she has been helping out her mother at their then food stall at Macpherson. Her daughter is now the second generation to this family business of fried noodles.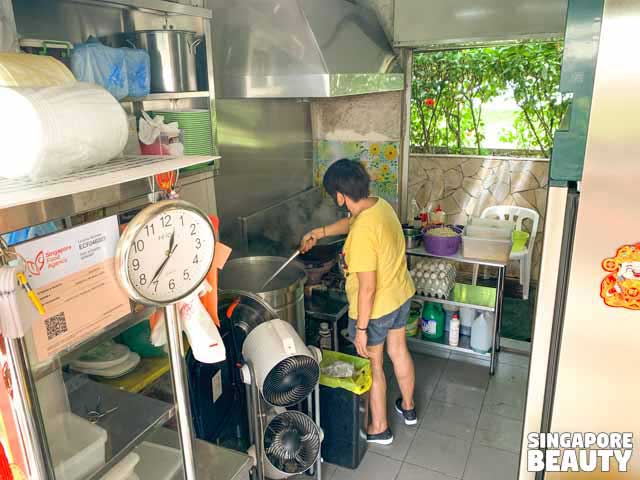 Her secret lies in the wok hei, the broth for the fried Hokkien noodle and the moist soft scrambled garlicky egg curds for her fried kway teow. Choon Hiang has been in the business for more than 40 years to date.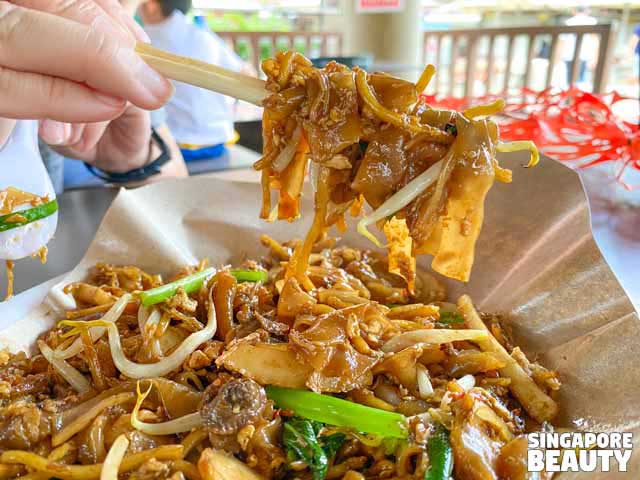 The fried kway teow ($4) is more of the moist garlicky type with a good amount of sweet sauce and some blood cockles that quickly toss in before serving. The kway teow are fried till they are slightly curled at the edges and glistening in the daylight before being plated.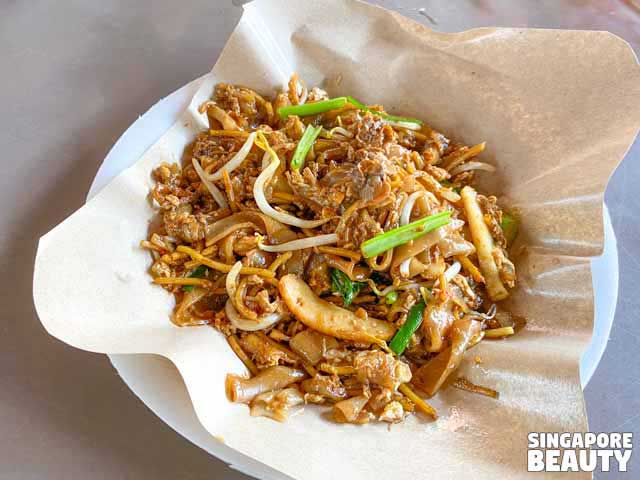 Not the overly char type with a bitter tone to it. The noodles are neither overly sweet nor salty but teases with just a light hint of sweetness and the umami of the sliced fish cake. The noodle has a chewy and almost elastic texture to it as you pick it up from the heap of CKT hill. The raw crunchy sweet bean sprouts also add to the delight of this dish with the chewy sweet Chinese sausage – lap cheong. The good news is that for those who are health conscious, there is no pork lard used in this CKT.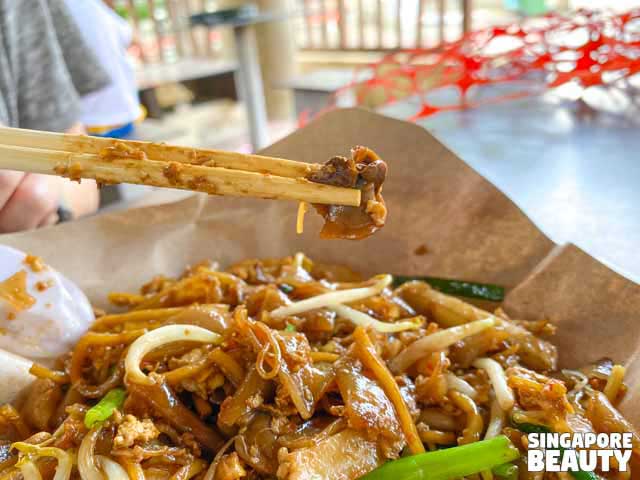 The cockles tend to be slightly on the overcook end as the heat of the noodles sucks the life out of it literally shrinking it to a smaller size than when it was raw. I guess that is why some of these cockles are kept in an iced bath till they are ready to be used to keep them as succulent as possible – like kind of raw in a way. The cockles connoisseur mostly like these cockles raw with a blood flavour, silky and a little on the slimy end. The burst of soft curds inside the cockles is an indescribable satisfaction in any plate of char Kway teow. Overall, we much prefer their Hokkien mee.
Choon Hiang Hokkien Mee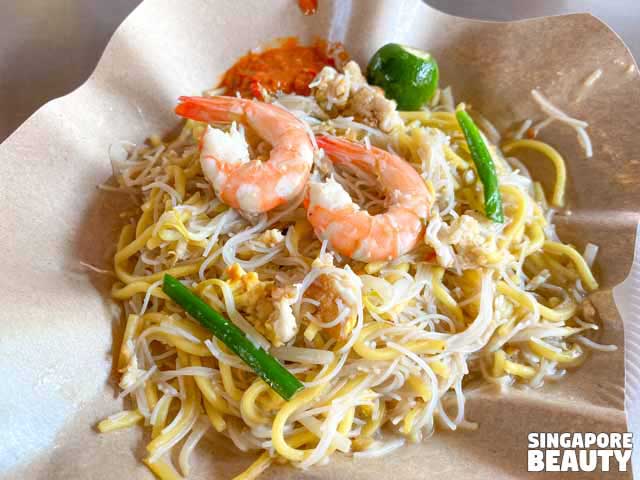 The fried Hokkien mee ($4) is a combo of bee hoon (thin rice noodle) and yellow bean noodle with some seafood such as prawn and squid rings. The proportion of bee hoon is more than the yellow mee so that the broth can be fully absorbed into the noodle, whereas the yellow mee helps to give it a chewy texture with more body.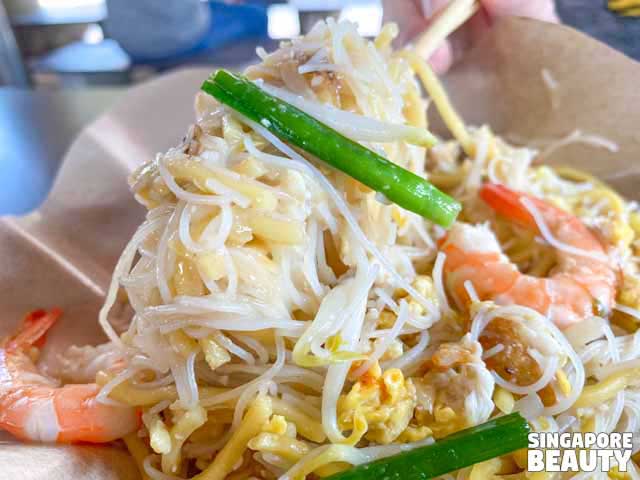 It is also less starchy than the usual type as more broth is used in the frying. It is a wet variant type of prawn mee. You can literally slurp up the noodles with the chicken broth used. They are very generous with the broth when frying this prawn noodles.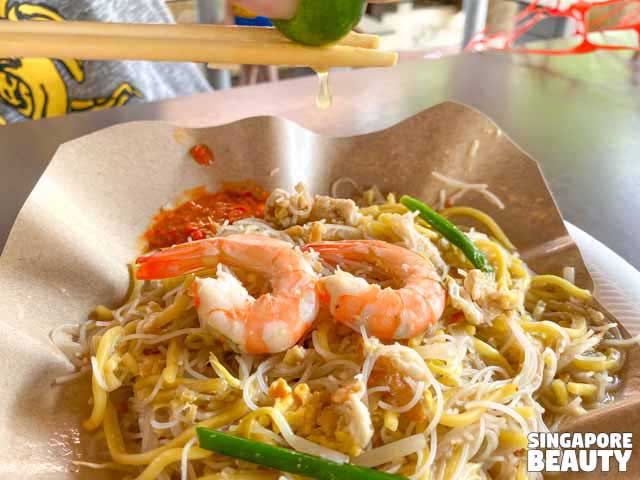 The lime that comes with the dish is supposed to be juiced into the noodles and mixed with their homemade sambal chilli for extra tang and spicy kick.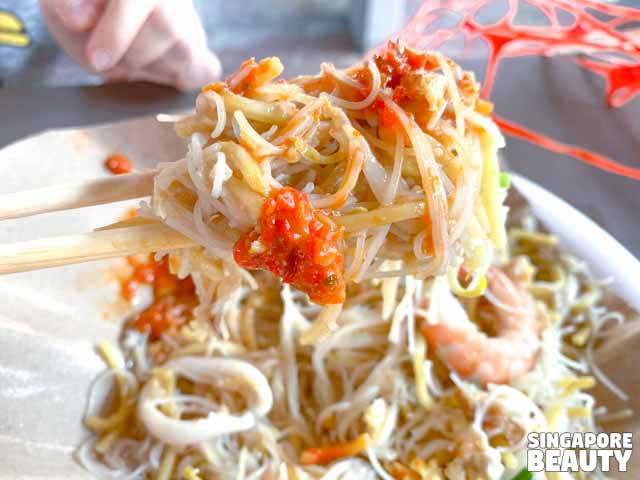 Their chilli has a nice heat to it that lingers for a while on your tongue with some shrimpy belachan flavours. Something worth mentioning is that they do not use pork or lard in their fried Hokkien mee and Char Kway Teow. Hopefully, they will get Halal certified soon so more can enjoy their fried noodles.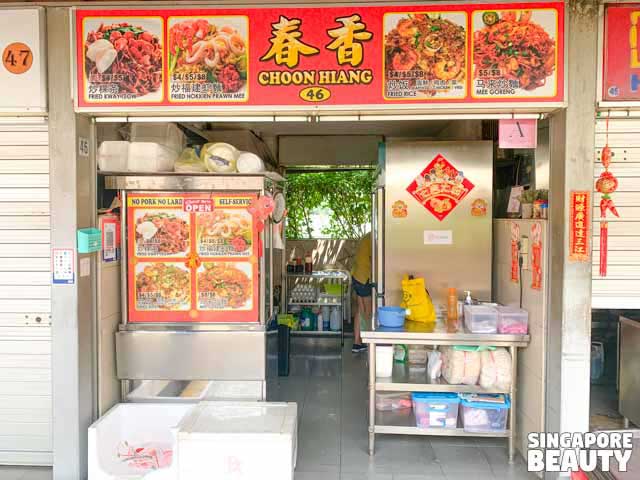 The overall review for Choon Hiang is that the fried Hokkien noodle kind of outshines the fried kway teow in terms of flavours and texture. I believe is the rich stock base used in the noodles that is playing the tricks on my taste palate or maybe the sweet deshelled prawns. Do head over for the fried Hokkien noodles if you are craving for some moist umami noodles.
Opening hours:
Opening hours 12pm till 9 pm.
Choon Hiang (春香) Location:
East Coast Lagoon Food Village
East Coast Park Service Road, unit #01-46, Singapore 468960