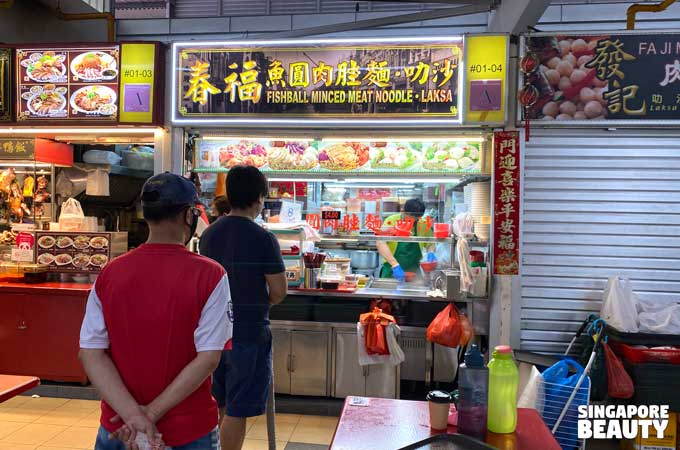 Chun Fu Fishball Minced Meat Noodle Laksa(春福鱼丸肉脞面叻沙)is one of the many fishball noodle hawker stalls in kovan selling Singapore favourite lunch choices. Besides this popular fishball stall, there are two other stalls selling similar noodles that are often spotted with long queues. They are Fa Ji Minced Meat Fishball Noodle(发记肉脞面#01-05)and Yam Mee Teochew Fishball Noodle (炎成潮州鱼丸面 #01-35) which spans two shop front.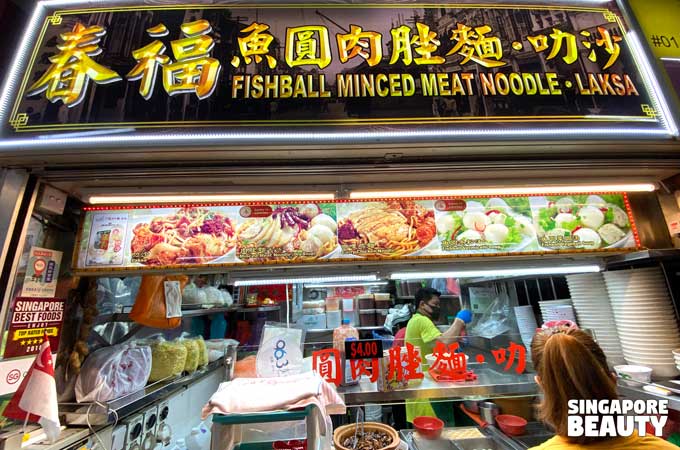 The menu on their menu are laksa, minced meat noodle, curry chicken noodle, fishball vermicelli soup and fishball vegeball soup. Most of the regulars goes for their bak chor mee ($4) as it has a bit of everything or the laksa for those days when you are craving for something rich and heavy.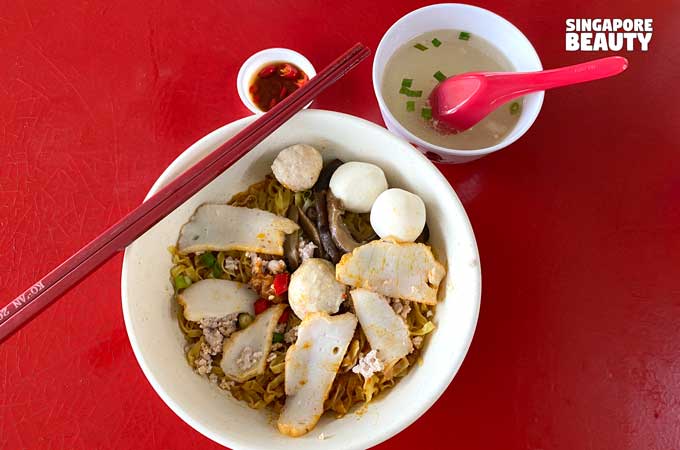 We ordered the Chun Fu bak chor mee that comes with a good handful of springy mee pok, fishball, vegeball, meat ball, minced meat, fish cake, braised mushroom, pork lard nibbles in a saucy base of spicy sambal chilli sauce and a clear soup.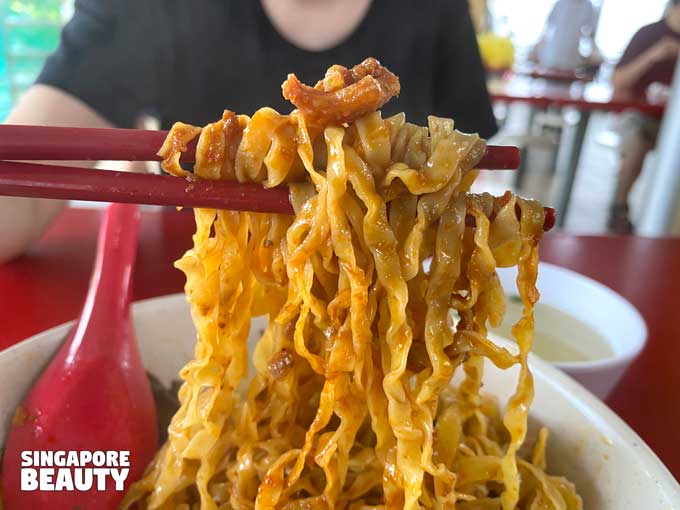 The noodles are well cooked retaining the chewy and firm texture. Each strand of noodle is well separated in the cooking and coated with the fiery chilli paste that has strong notes of sambal. The noodles also feel rich with the lard oil and crunchy nibbles of pork lard.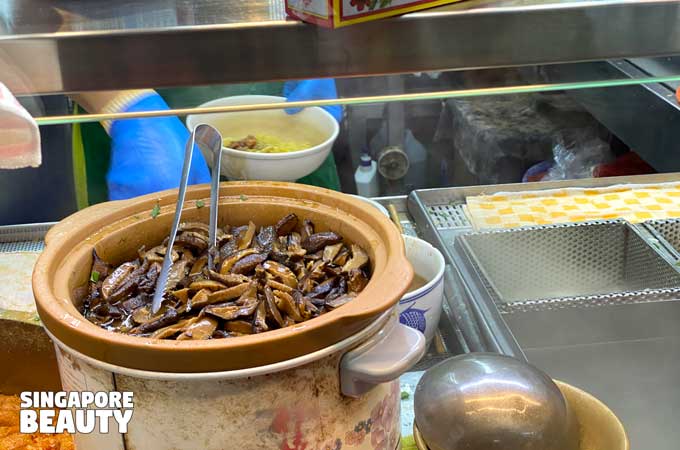 Sitting by the side of the cooking station is a pot of sliced shitake mushroom that has been braising in a sweet and spice base sauce for hours. The beige slices of mushroom has taken on a rich caramelized brown hue that shouts intense flavours.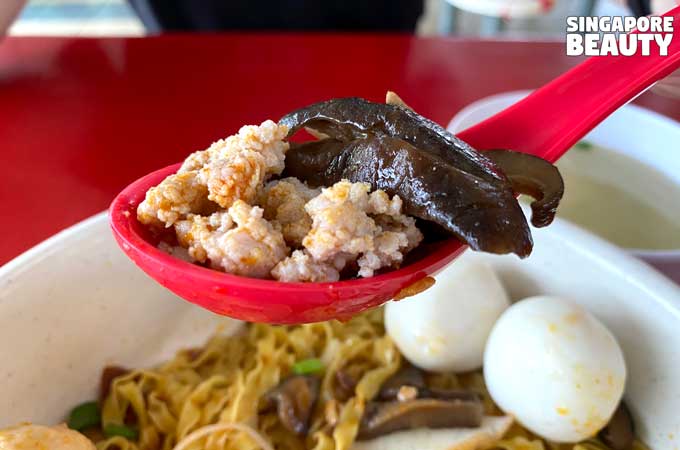 The well braised soft tender mushroom slices goes well with the chewy minced meat, the sweet with the savoury.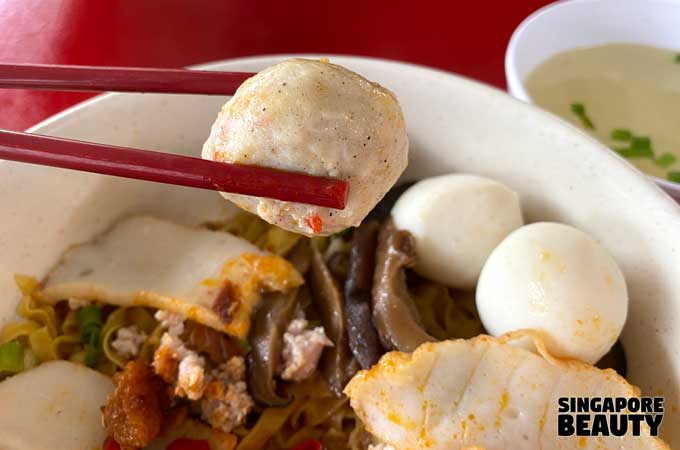 On a closer look, you will realize that one of the whitish fish ball is actually their vegeball. The difference in the fishball and the vegeball is that the vegeball somehow feels more solid in terms of the texture of the meat, although both the balls are using fish paste. The vegeball seems to have more of a handmade ball then the other fishballs with bits of chopped chilli and spring onion. The vegeball is the item that makes a difference to her adjacent stall with about the same items on the menu. By the way, both the stall owners are on good terms and this is just a personal preference of mine.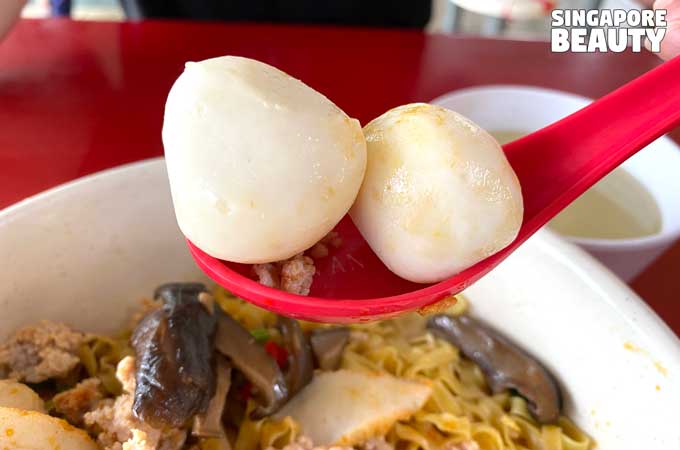 The fishballs are the average springy type of fishballs with a smooth texture and almost non existence of any fishy flavours.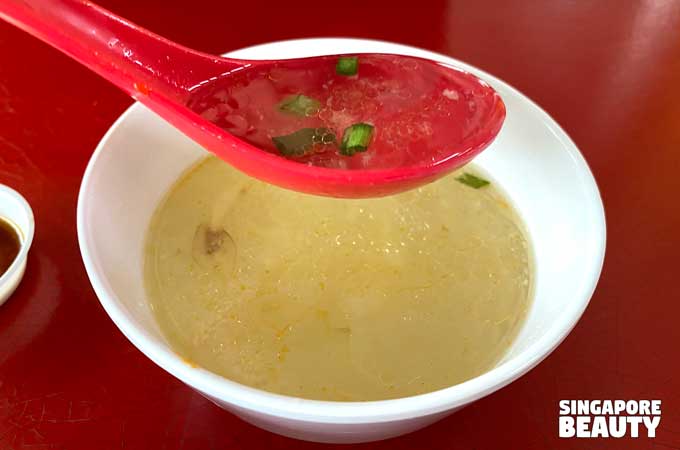 The clear soup looks deceivingly bland but has the umaminess of pork lard and some light spring onion flavours. The thin layer of flavourful oil also helps to keep it warm while you are busy wolfing down the noodles.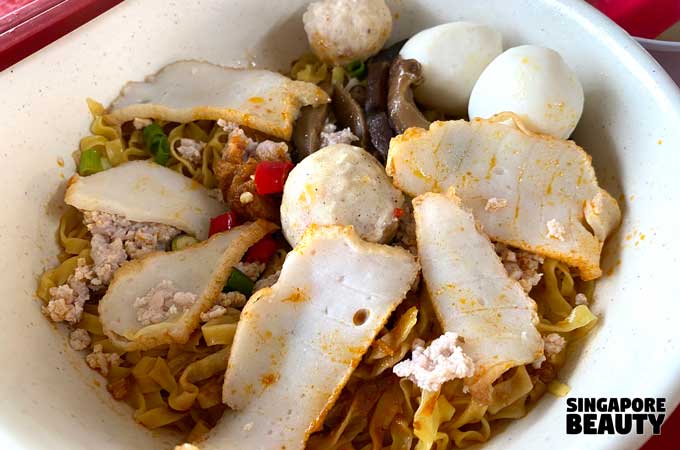 This is a bak chor mee that is quite worth the wait with it arrays of ingredients. Do give this a try when you are at Kovan Market and Food centre.
Operating hours:
11.30 am to 8.30 pm
Location:
Chun Fu Fishball Minced Meat Noodle Laksa(春福鱼丸肉脞面。叻沙)
Kovan Market and Food centre
Blk 209 hougang street 21, #01-04, singapore 530209