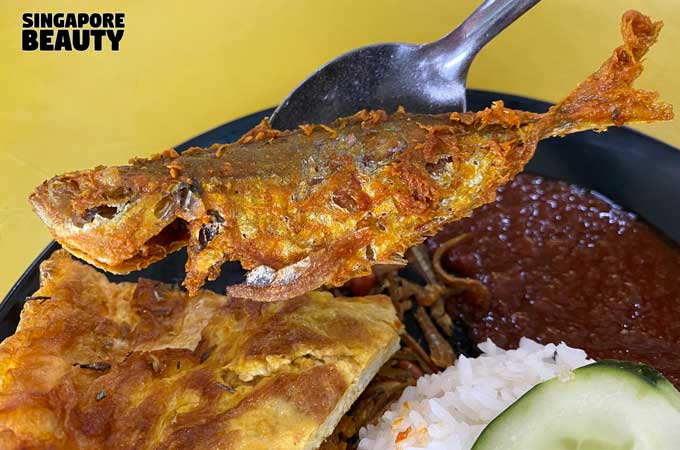 Hajjah Mariam Muslim food has 9 dishes on it menu to choose from. Their popular halal food for breakfast are mee rebus, mee soto, bee hoon soto, soto ayam, mee siam, lontong and 3 nasi lemak combos. In additional to that, they also sell their popular sambal chilli, fried ikan bilis with peanuts and fried ikan bilis in container for take away. This is one of the muslim food stall that is often seen with a snaking queue during breakfast and lunch hours. The popular items are the nasi lemak sets and mee siam.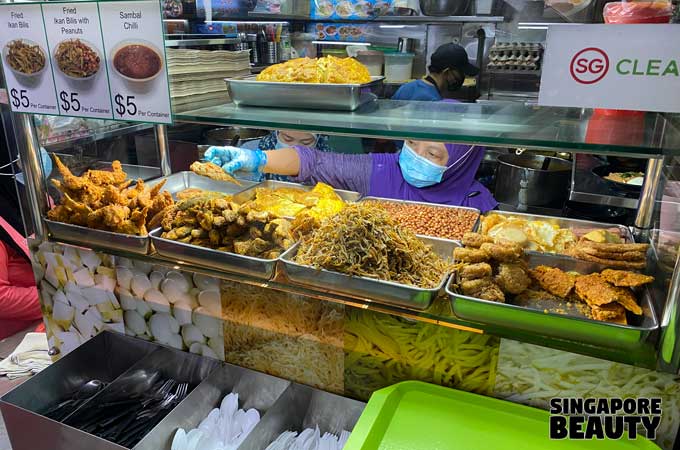 The immaculate display of food such as fried chicken wings, fried selar fish, heaps of ikan bilis, begedil, tempeh, fried sunny side up eggs, ground nuts and egg omelette entice many hungry eyes to make a bee line for them. Most of these items are available for add on to either the nasi lemak sets or the noodle dishes. The items are prepared and deep fried in small batches so that the serving remains moist and slightly warm when served to the customers.
These ikan bilis are the must haves for the nasi lemak sets. Split and deboned to remove the bitterness and leaving only the umaminess of the deep fried crispy body.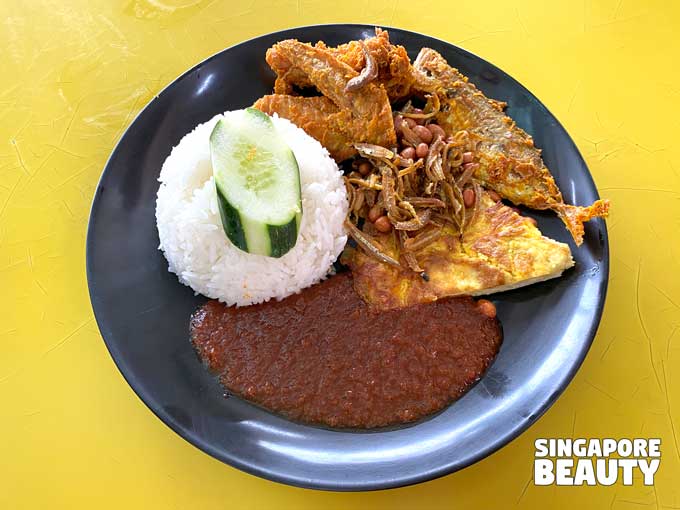 This is set A ($4) with ikan bilis add ons ($0.80). Set A consist of a whole fried chicken wing, selar fish, a slice of omelette, cucumber, sambal chilli and coconut flavoured rice.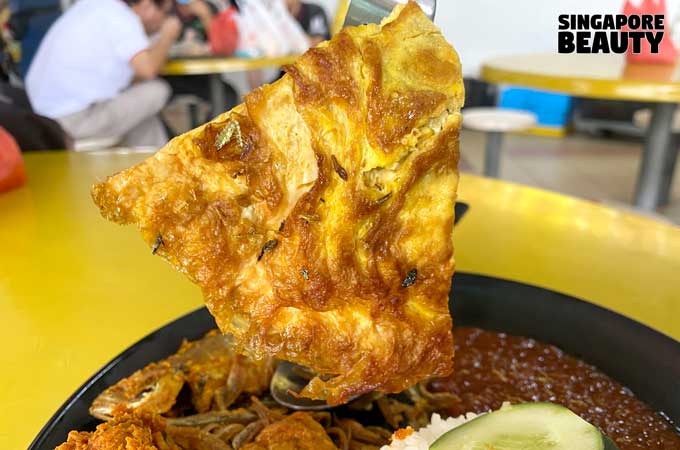 The fried omelette is considered thick and lightly browned to release the eggy aroma. The omelette has layer of scrambled moist egg curds within the crisp egg pouch.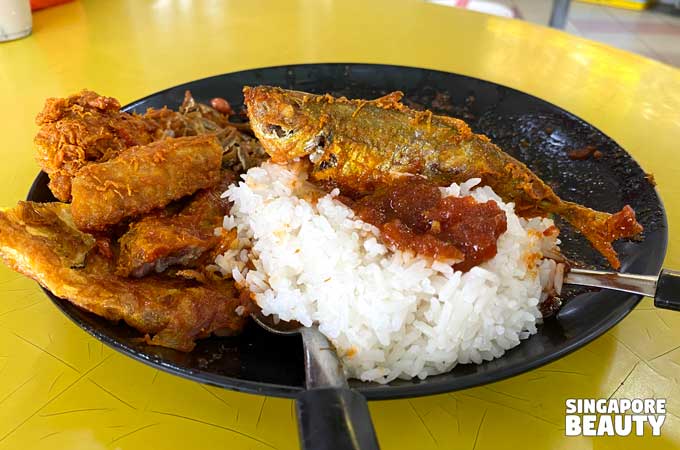 The selar fish is well fried. The crispy fins and head of the fish are like fish crackers. The exterior has a light turmeric curry flavour, the inside is moist with firm flesh.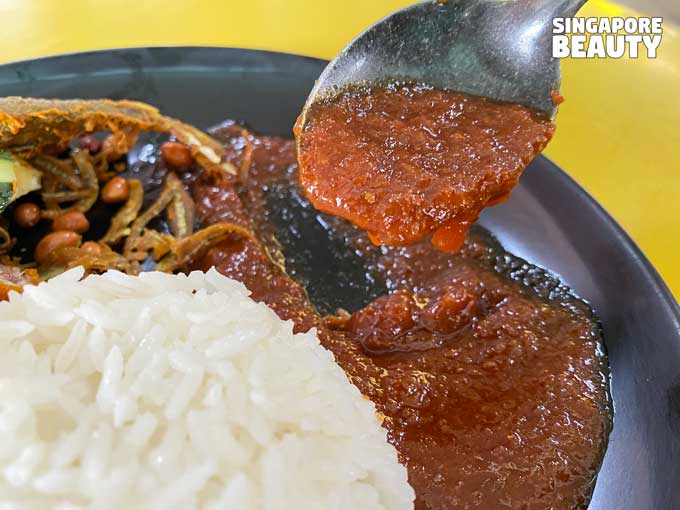 Mixed the sweet sambal chilli into the steamed coconut milk rice with crunchy ikan bilis.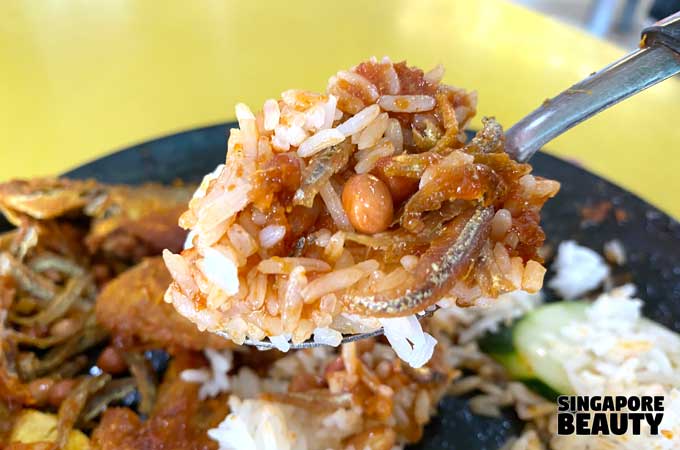 Each mouth of these is explosive flavours of savoury, nutty and fluffy delights.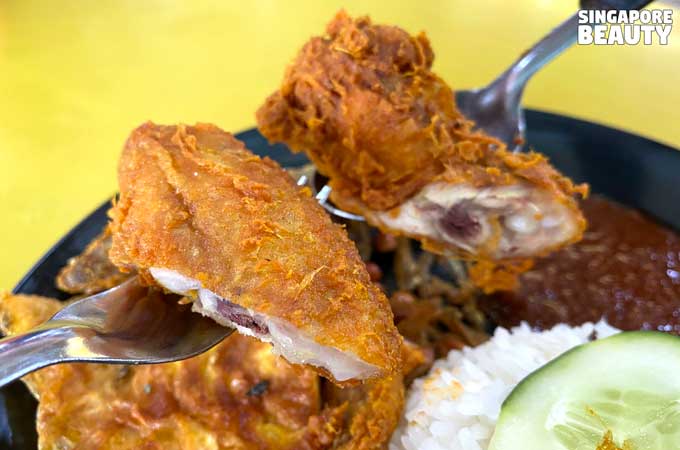 The chicken wings are lighted coated with a thin layer of umami seasoning that is not overpowering. The meat is light in terms of flavour compared to the crunchy skin. The thin golden crust boost of a mild turmeric flavour and slightly warm when we bite into it. The bite brings with it some chicken oil that oozes from the meat.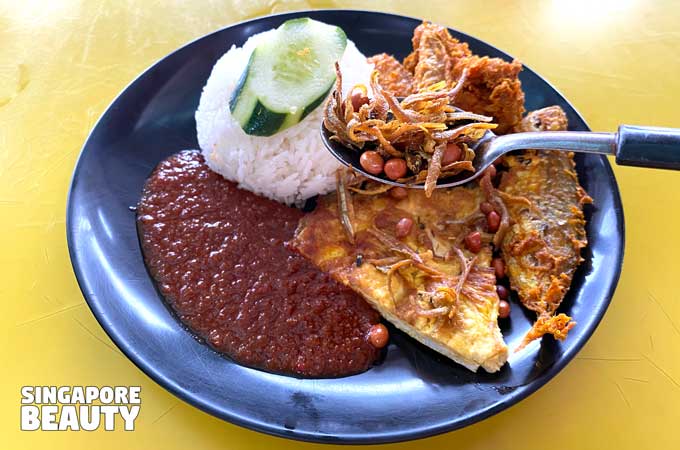 Overall verdict for this plate of nasi lemak set A (ikan bilis is add on) that comes with 6 items, is considered a worthy eat and the flavour is not overwhelmingly saline which we like.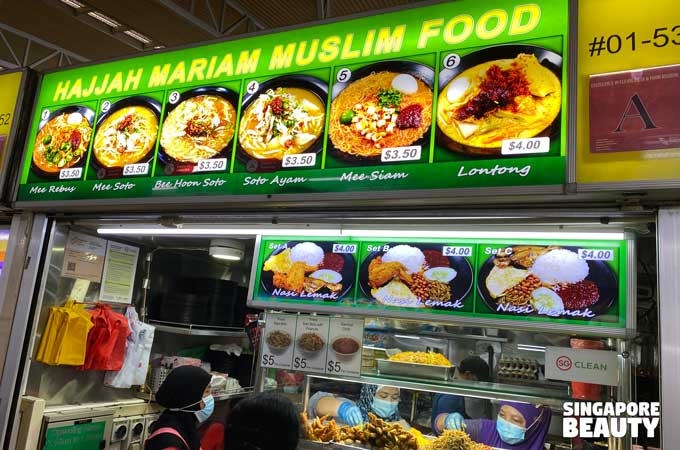 Here is the menu of Hajjah Mariam Muslim Food at Kovan market. Noodles start from $3.50 and nasi starts from $4.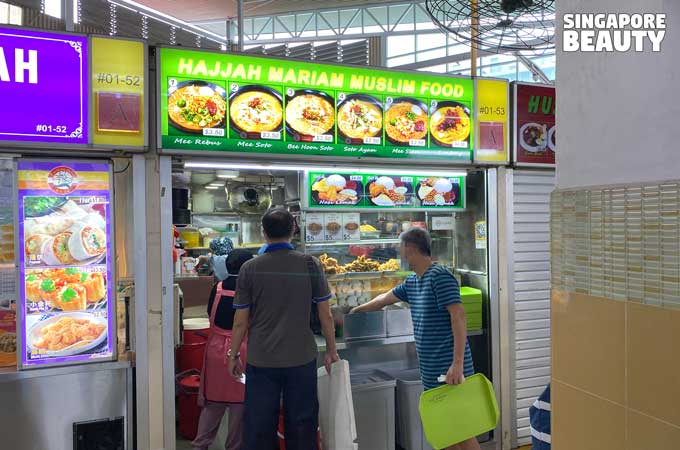 Do try this nasi lemak if you have craving for kovan halal food.
Operating hours:
7.30am till 1.30pm
Location:
Hajjah Mariam Muslim Food
Kovan Hougang Market and Food Centre
209 Hougang Street 21, #01-53, Singapore 530209