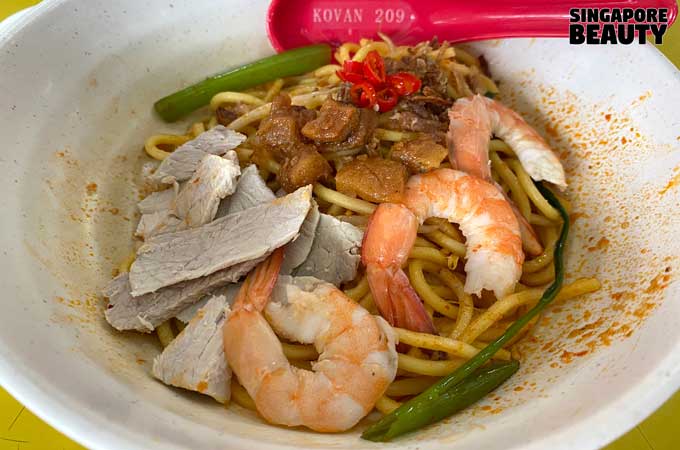 Chai Kee Prawn Noodle sells simple old school type of prawn noodle that always draws a long queue in Kovan hawker centre. They have been selling this traditional noodle since 1965 and amazed a huge followings.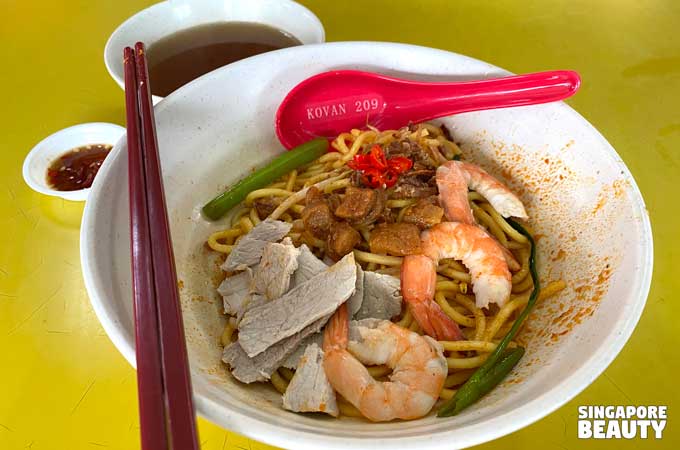 We ordered the basic dry prawn noodles ($4) that comes with good amount of sliced lean pork, 3 halves of shrimps, some water spinach, generous amount of fried shallots, pork lard, a handful of noodles with chilli paste and a prawn broth.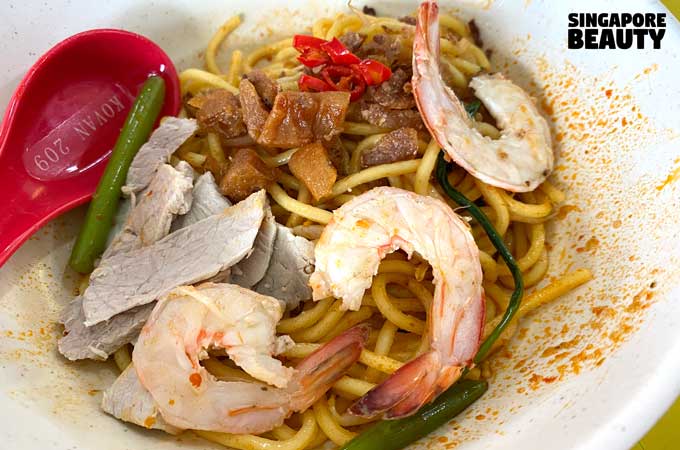 The highlights of this prawn noodle are the deep fried pork lard cubes, shallot with shallot oil, the chilli paste, prawn broth and the freshly peeled sweet prawns.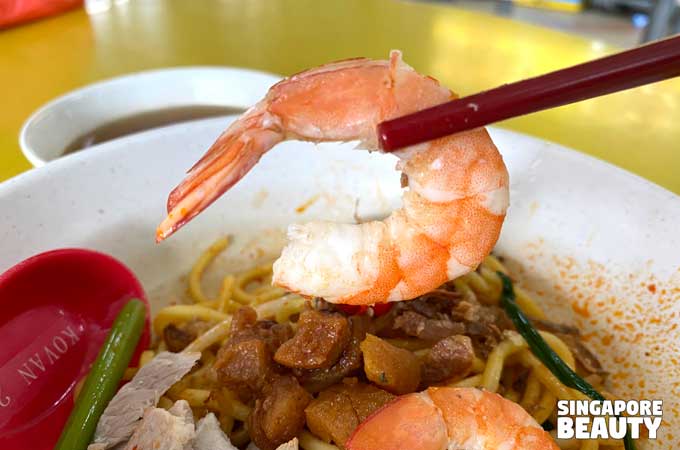 The prawns are sweet and fresh and has an oceanic aroma to it. The distinctive pinkish hue of the prawn and the firmness of the meat says it all about the freshness of the prawn.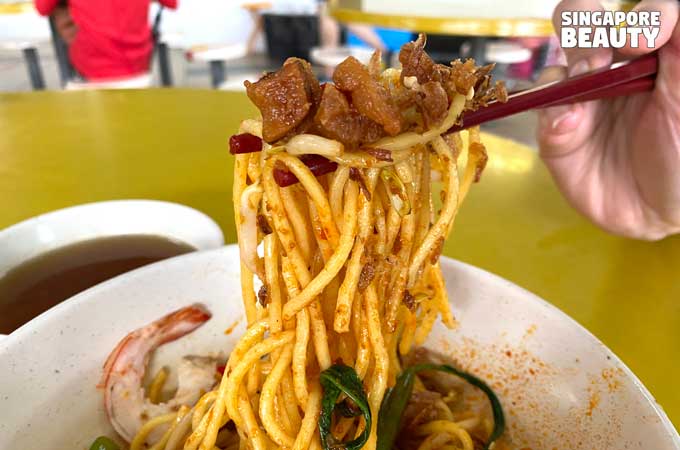 The noodle are al dente. Mix the yellow noodles well with the sambal based chilli paste and chilli oil, you are set for a journey of umaminess. Each strand of noodle is well coated with the saline aromatic pork lard's essence, shallot bits and chilli oil.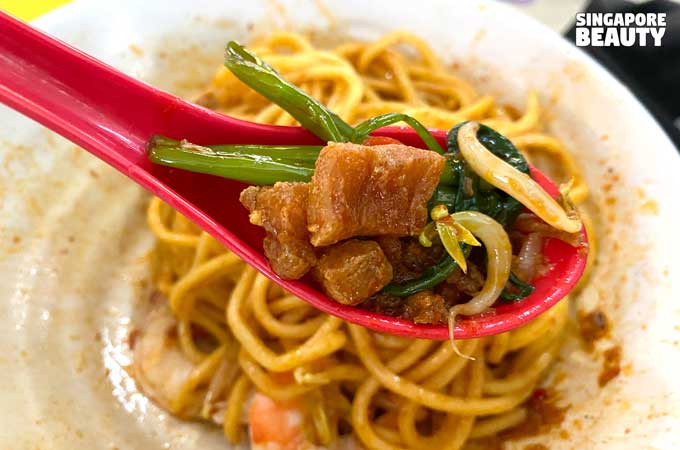 The pork lards are explosive bombs of fragrant oil and the pork lard cubes eventually melts to grainy bits with each bite.
The kang kong and fat bean sprouts also adds an additional refreshing break and sweet crunch to the dry chilli noodles. The chilli paste has a prominent shrimpy flavour.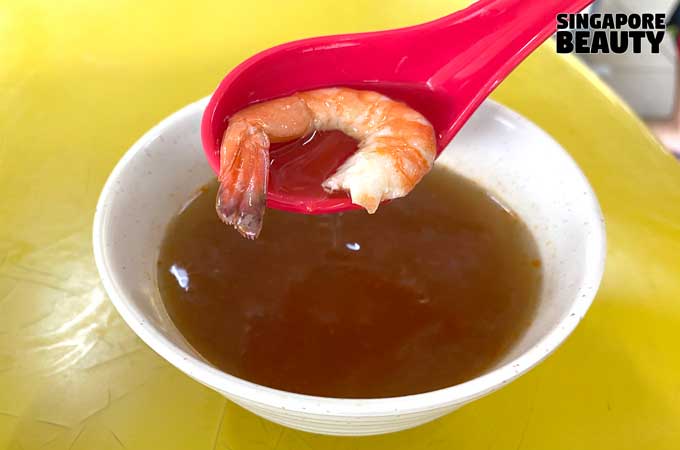 End the prawn noodle adventure on an umami prawn broth with strong shrimpy notes and the full bodied flavoured with pork bones.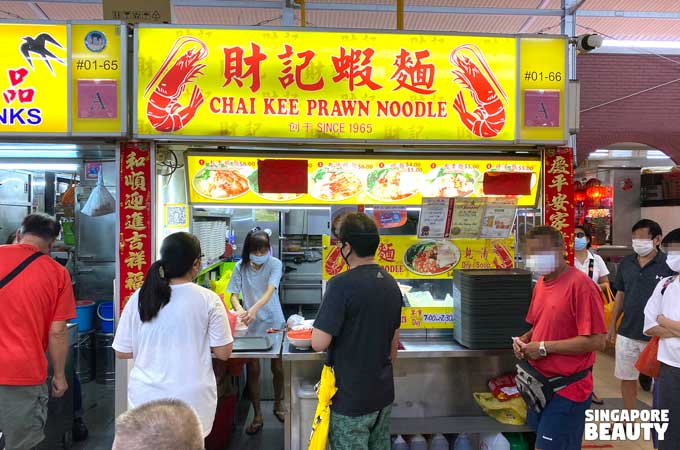 This old school traditional prawn mee has a 50 plus years of history and currently run by the daughter in law. Queue can be insane though, avoid weekends and expect a bit of wait for this popular bowl of prawn noodles.
Operating hours:
6.30 am to 2 pm daily
Chai Kee Prawn Noodle 财记虾面 Location:
Kovan Market and Food centre
Blk 209 Hougang Street 21, #01-66, Singapore 530209