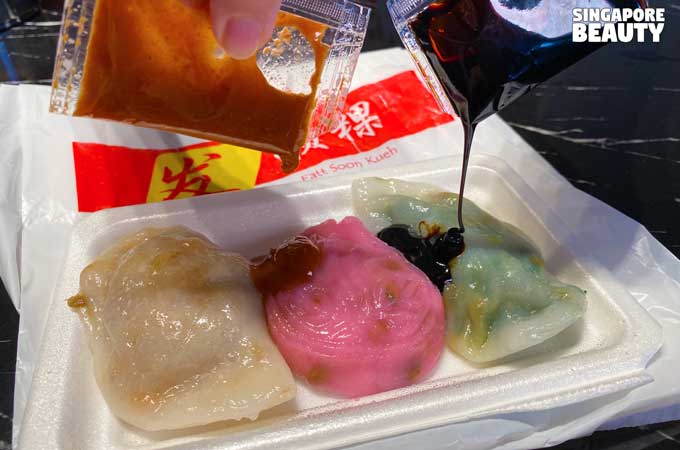 Fatt Soon Kueh hawker stall sell three types of Teochew kueh that are handmade in store at the Kovan hawker centre. These are popular takeaway for much older generation or as a light breakfast choice at Kovan to go with a cup of coffee or tea. Many Teochew communities are equipped with the skills and recipe handed down from the grandmother to the mother to make this traditional kueh.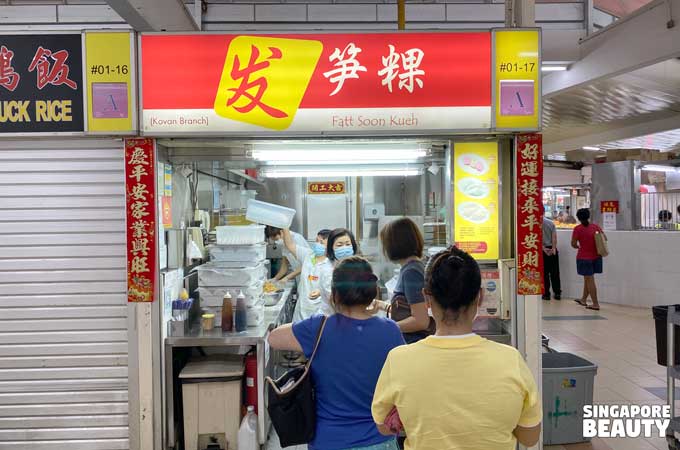 History of Fatt Soon Kueh
Fatt soon kueh is founded in 1999 by Mdm Lim who started off as a soon kueh home business for 20 years. She has since expanded to 3 branches of Fatt Soon kueh outlets at location such as Kovan Market at Hougang, Bedok Interchange Food Centre and People's Park Complex Food Centre.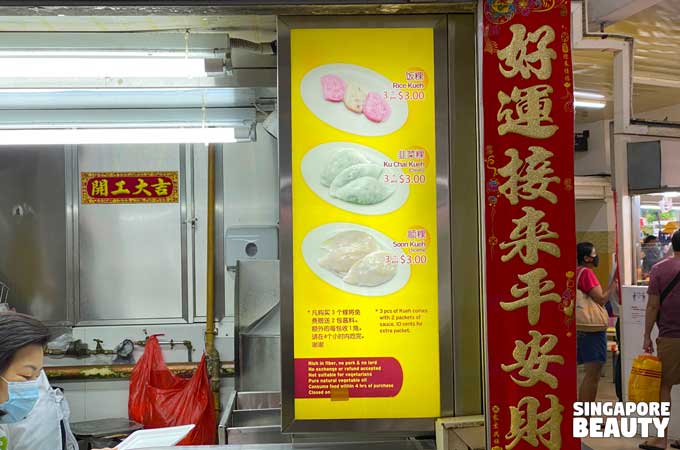 Her traditional soon kueh stall dishes out three type of traditional Teochew kueh such as soon kueh, peng kueh and ku chye kueh.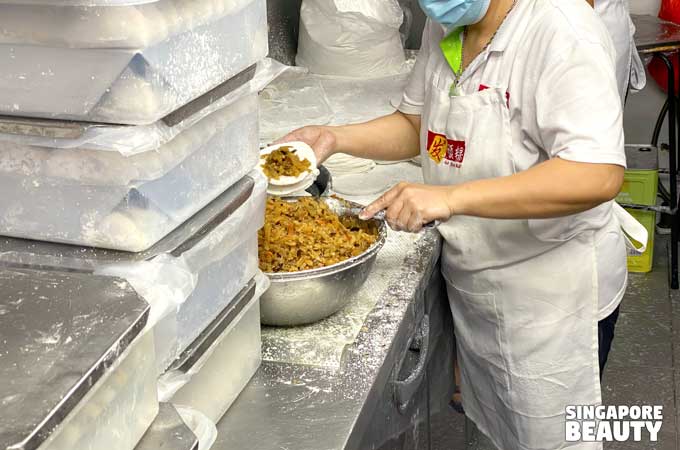 These labour intensive kueh are handmade from scratch and goes for only $1 each. This is very affordable to the older generation or school going children as an after school kind of snack while on their way home.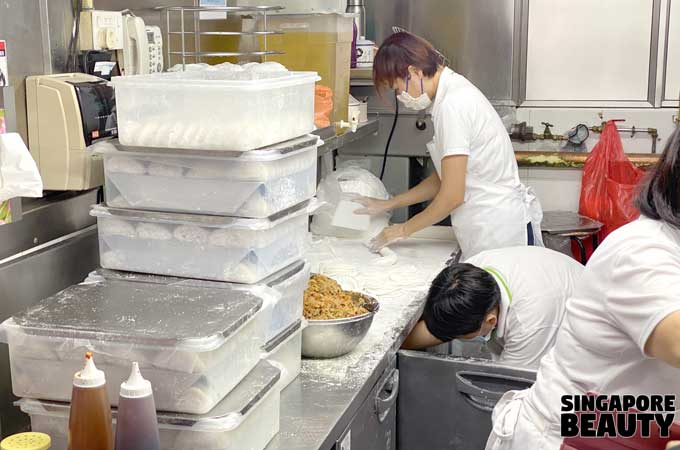 Kueh Making
Every morning, the aunty at the stall will knead the dough for the skin. These dough are then cut into smaller portions and rolled to a thin skin. She then uses a mould to cut all these skin into shape. Using a dumpling maker mould, the skin is laid on it and topped with the pre-made fillings. She then folds the dumpling mould and seals the filling within the skin. A kueh is born.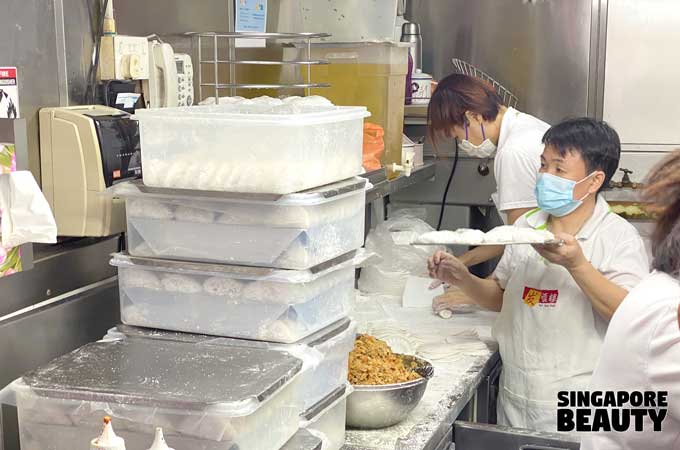 These kueh are loaded into a greased multi-tier circular tray and steamed with a commercial customized steamer that is almost 1.5 m tall.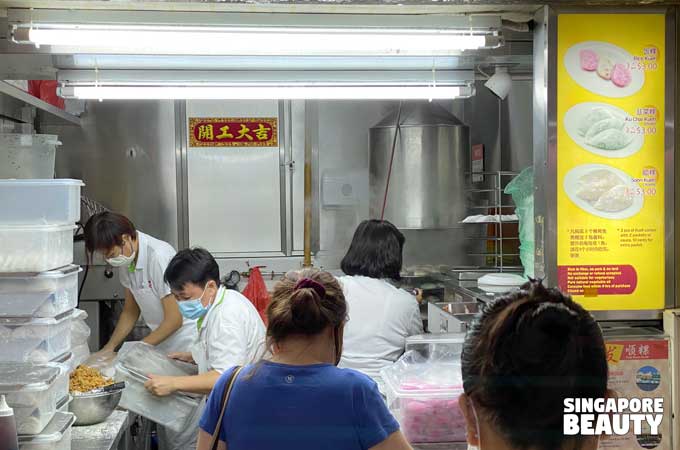 The cover of the steamer is like a large bell that is lifted using a pulley system. The customized steam rack is placed inside this steamer that can hold up to at least 6 tiers of kueh at one time.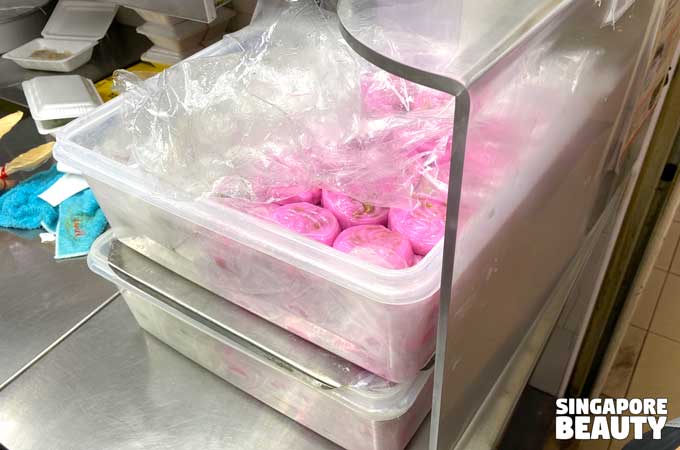 After steaming the kueh, they are allowed to cool down. The kueh are then stored inside large translucent containers separated by grease paper waiting to be sold.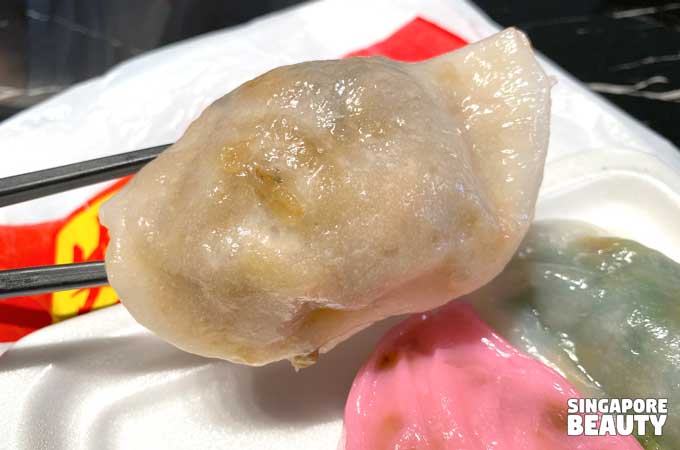 The classic and traditional soon kueh ($1) are stuffed with matchsticks of jicama, carrot bits, shreds of black fungus, julienned bamboo shoots and chopped up shrimps (hae bee). The skin which is made of rice and tapioca dough is almost translucent as the plump filling peeps through the crystal like skin.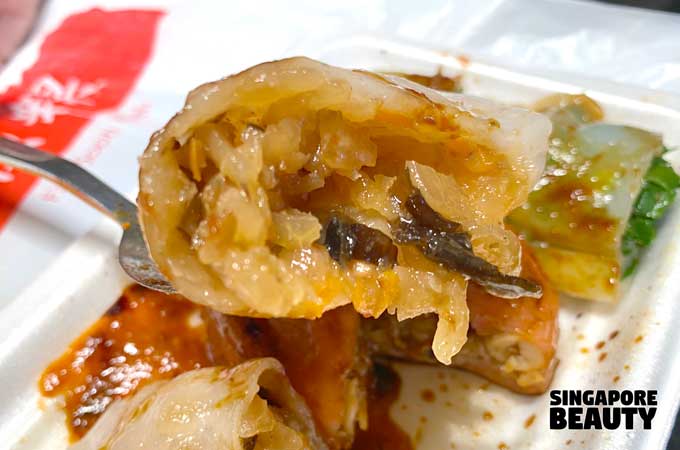 The filling are well seasoned with notes of light crunch from the jicama, saline notes from the rehydrated shrimps and the woody texture from the black fungus. The skin is the chewy type and not overly sticky. The overall flavour is on the sweet end of the spectrum with lots of juicy savoury jicama. Do add some of the red chilli sauce for an extra light spicy kick.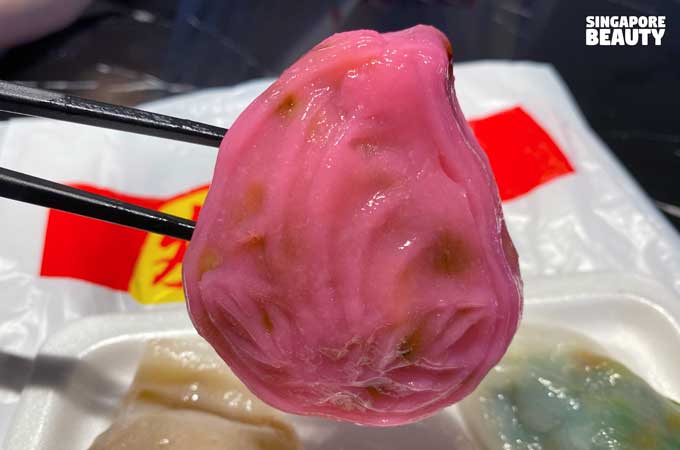 The rice kueh also known as peng kueh ($1) is one of the traditional iconic kueh of Singapore. It is moulded into the shape of a peach. The peng kueh has a stickier skin than the soon kueh. It is more filling with glutinous rice and some other savoury ingredients. This peng kueh comes in 2 colours – white and pink. The white ones are made for daily consumption and the pink ones are made to be used as offerings to gods during Chinese festivals or eaten on special occasions like birthdays.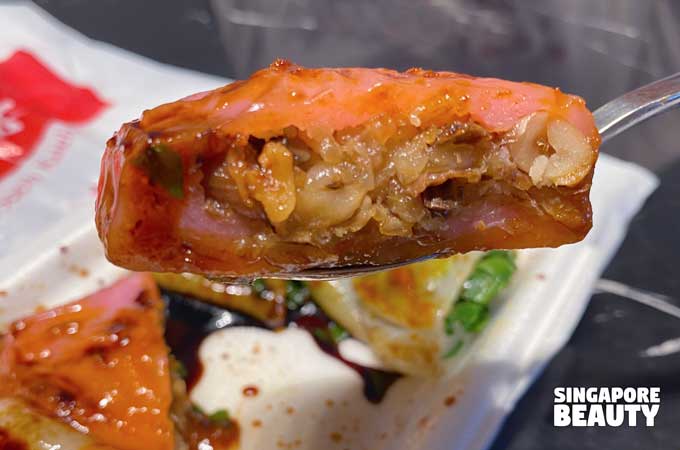 The peng kueh is filled with seasoned glutinous rice mixed with braised ground nuts of a semi soft texture and shrimps. The overall flavour of the peng kueh is on the savoury end.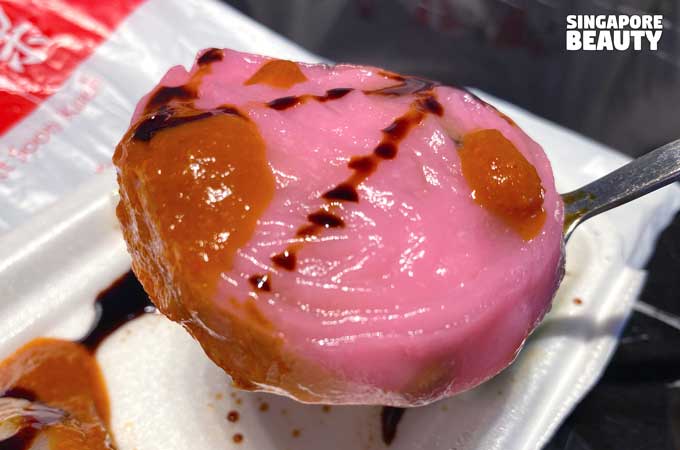 These peng kueh are best eaten with the gooey dark sweet sauce that is provided and a dollop of chilli sauce.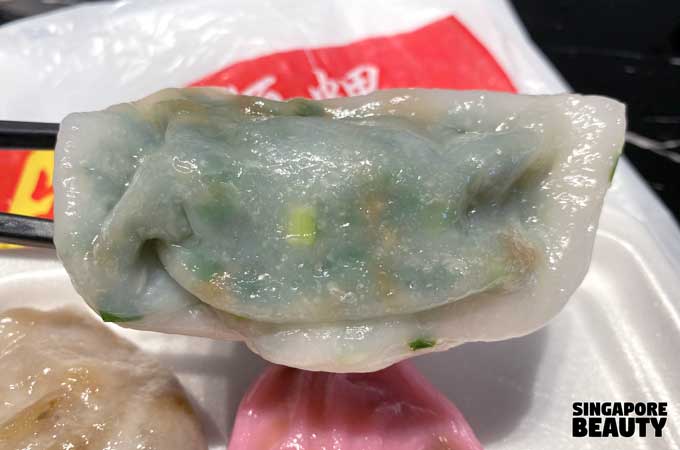 Ku Chai Kueh ($1) is using the same glutinous skin as the soon kueh. These kueh are filled with chopped chives that are saline and sweet. You will be surprised with a sharp green oasis when you bite into it.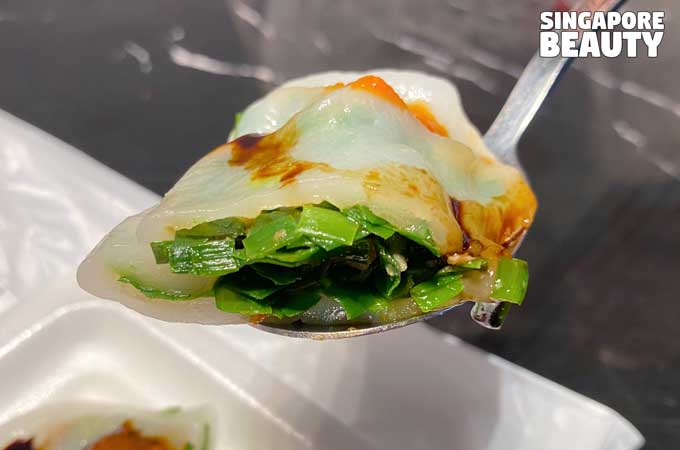 Chives by nature has a strong earthy flavour which some may not enjoy. It can be said to be a kueh for acquired taste. For those who love chives, this is the right kueh for you as it is filled to the brim with chopped chives that is bursting with garlicky and sweet pungent aroma.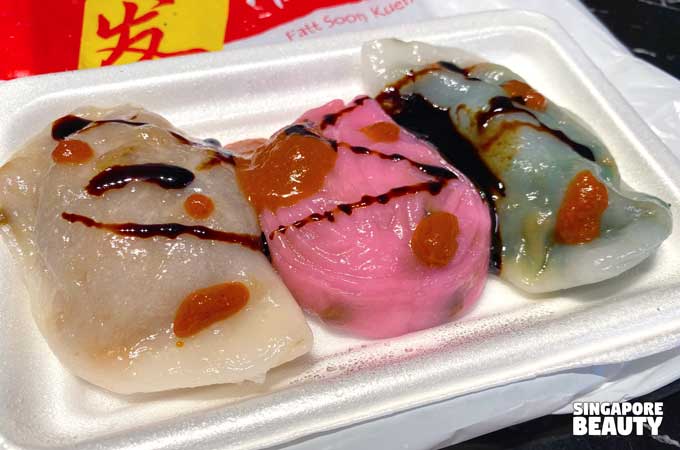 They do have a special off menu combo set ($3) of each type of kueh if you want to taste all the three kueh. Do drop by this traditional Singapore kueh stall to try some of these Teochew delights.
Operating hours:
7am till 6.30pm
Closed on Monday
Location:
Fatt Soon Kueh
Kovan Hougang Market and Food Centre
209 Hougang Street 21, #01-17, Singapore 530209