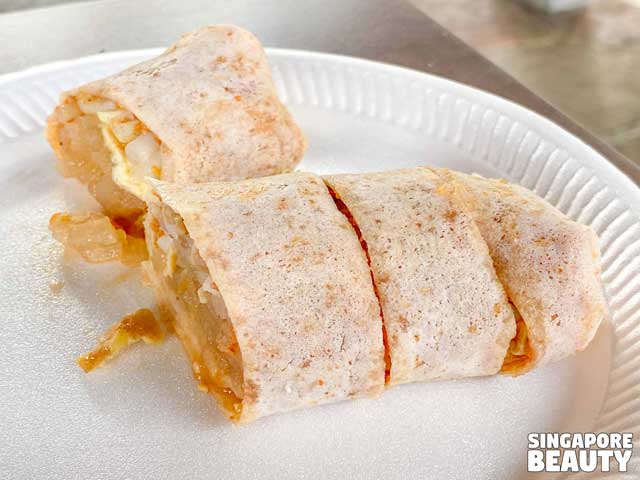 Lagoon famous carrot cake 人工湖驰名萝卜糕 has been in the food trade for more than 55 years since the second generation father's era at Macpherson. Currently run by Mr Ang who specialised in selling carrot cakes combo and popiah. Ironically for this hawker stall who is selling their famous carrot cakes, we are giving the popular popiah menu of Lagoon famous carrot cake a go as it looks too good to pass. It happened that we hit jackpot and it is actually a gem.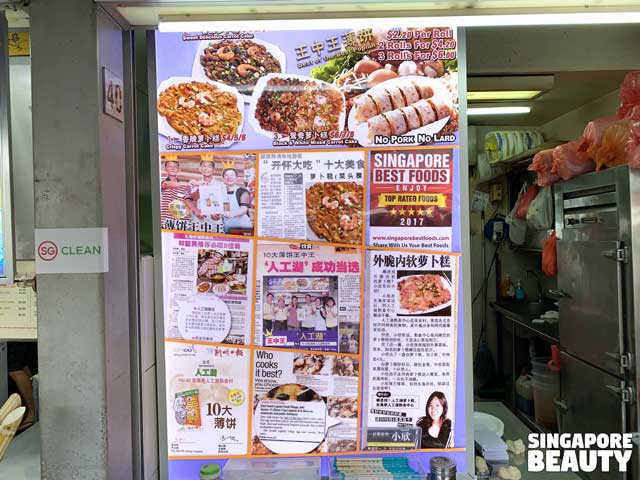 It is named as best of the best popiah based on City Hawker Food Hunt 2015 and he is being projected as being the king of popiah. Does it live up to the hype? We bought a piece of popiah to test it out.
Lagoon Famous Carrot Cake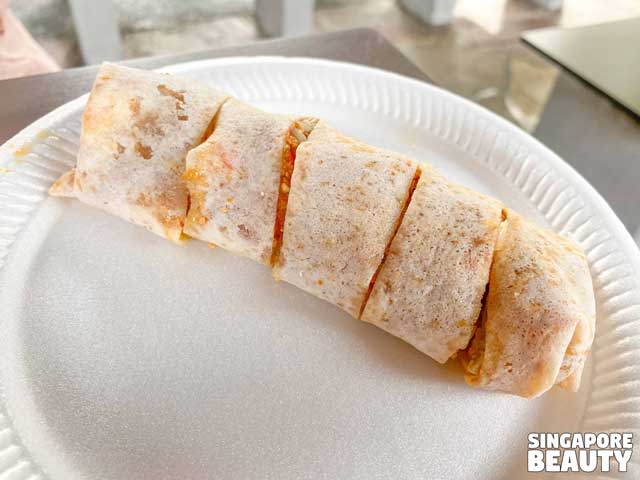 This popiah uses no pork no lard and is a hit among the beach goers here which I later found out. They are also famous for their carrot cake as indicated from their name Lagoon Famous Carrot Cake.
The popiah is a tightly rolled package with a thin skin. Encased within it are crispy thingies such as crunchy jicama, beansprouts, soft sweet carrots, sugared chopped peanuts, thin shredded fried egg omelette, garlic paste, crab sticks, some chopped spicy hae bee hiam (dried shrimps), some thick savoury prawn hoisin sauce, bean sauce and chilli paste.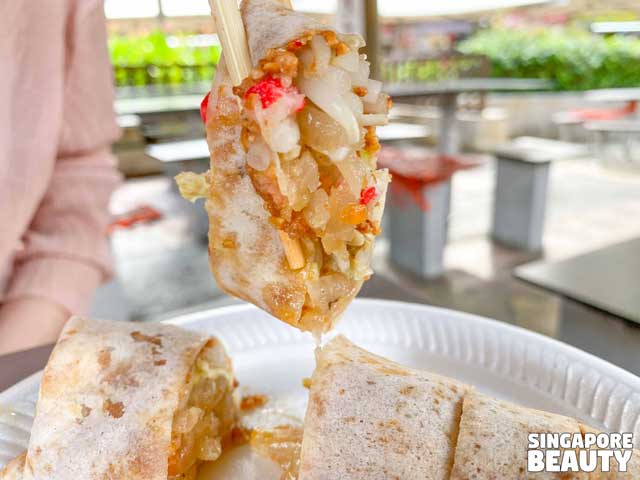 The skin holds the ingredients well even after been cut into wedges of bite size sushi roll like. The chilli has a nice kick to it and more of it would be more desirable.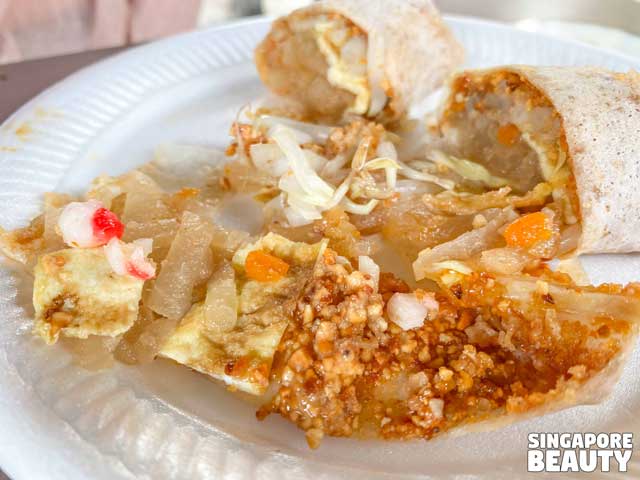 Pardon me for the dissecting the popiah, but am trying to find out the ingredients used.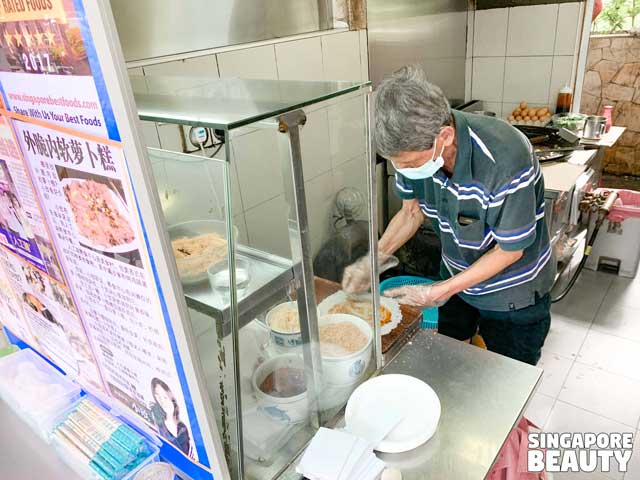 The making of the popiah becomes highly "secretive" behind the newspaper covered shop front. I can hardly catch a glimpse of the glorious making process of it, which is a shame.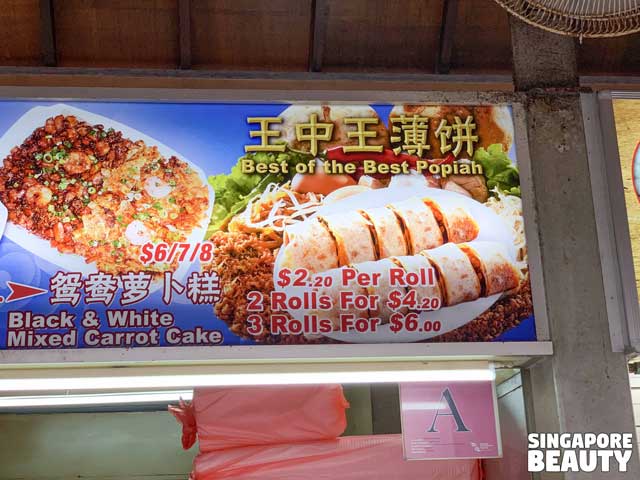 One roll of popiah goes for $2.20, 2 rolls for 4.20. So I suggest buy 2 at least because one is never enough for something so addictive. Get it at $2 each for 3 rolls, not the cheapest popiah but definitely one of the must eat food in east coast lagoon food village.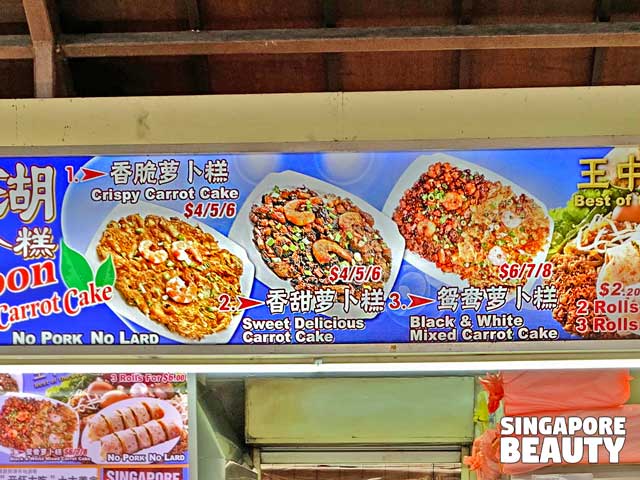 Before we set out to review the fried carrot cake, we have a few benchmarks for a good fried carrot cake. The good carrot cake need to be in visible mini blocks, soft with crispy edges, good amount of egg omelette, enough cai poh and a little bit of wok hei would be crucial. If it is the white carrot cakes it needs to be savoury and for the black carrot cake the sweetness of the black gooey sauce needs to be prominent. The details is all in the balance of all the above, neither too much nor too little.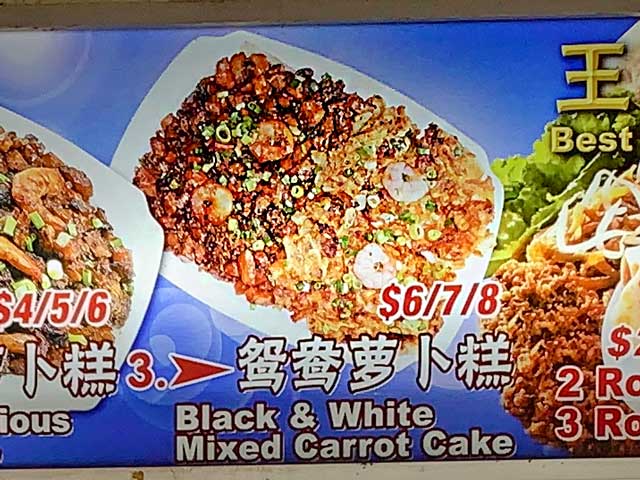 They have something that is special on their menu. Lagoon Carrot Cake's Black & White Carrot Cake ($6), the yuan yang or yin and yang carrot cake – the sweet black carrot cake and the white savoury carrot cake, you get the best of both world. Since it comes with crunchy prawns, it seems quite reasonable priced. This is fried with generous amount of garlic and oil on a round flat sizzling pan into a flat piece of "pancake" like style.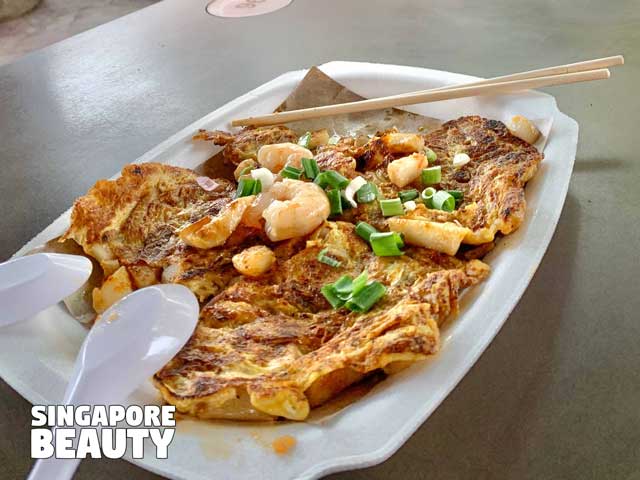 Here is the white carrot cake ($4). The carrot cake or chai tow kway has crispy edges with lots of cai poh and garnish with some fresh scallions. Great soft curd-like texture but firm enough to be picked up using chopsticks. It will sit well with those who loves very savoury white carrot cakes and awesome garlic flavours. It has strong radish earthy flavours. These are nice crisp moist carrot mini blocks with a buttery garlic flavour and melts in your mouth.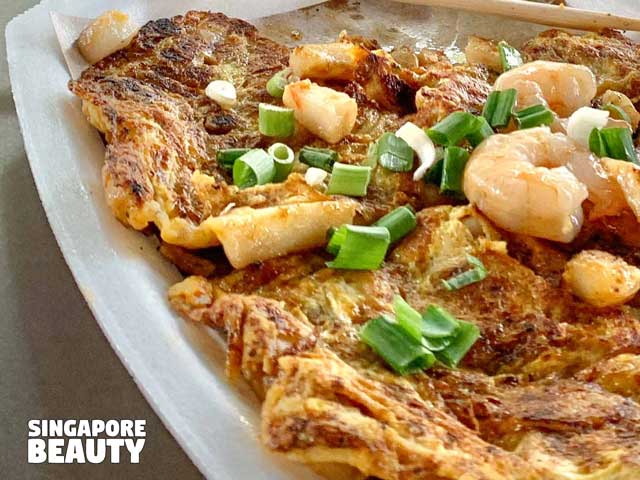 The carrot cake is full of wok hei with Lego like blocks of spongy white carrot cake wrapped with egg.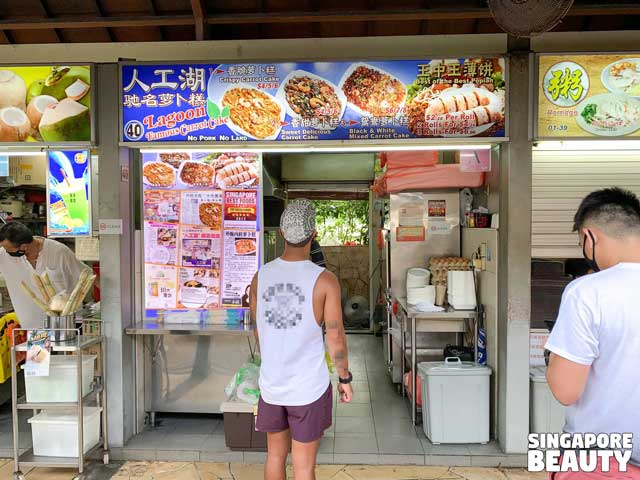 Served freshly fried in batches and piping hot when dished out to the customers. The queue at Lagoon famous carrot cake can be insane on a weekend. If you can only choose one dish at this stall, go for the popiah.
Opening Hours
Weekdays 11.30am to 9.30pm
Weekends & Public Holiday 8.30am to 9.45pm
Closed on Every Tuesday except for Public Holidays
Lagoon famous carrot cake 人工湖驰名萝卜糕 Location :
East Coast Lagoon Food Village
East Coast Park Service Road, unit #01-40, Singapore 468960