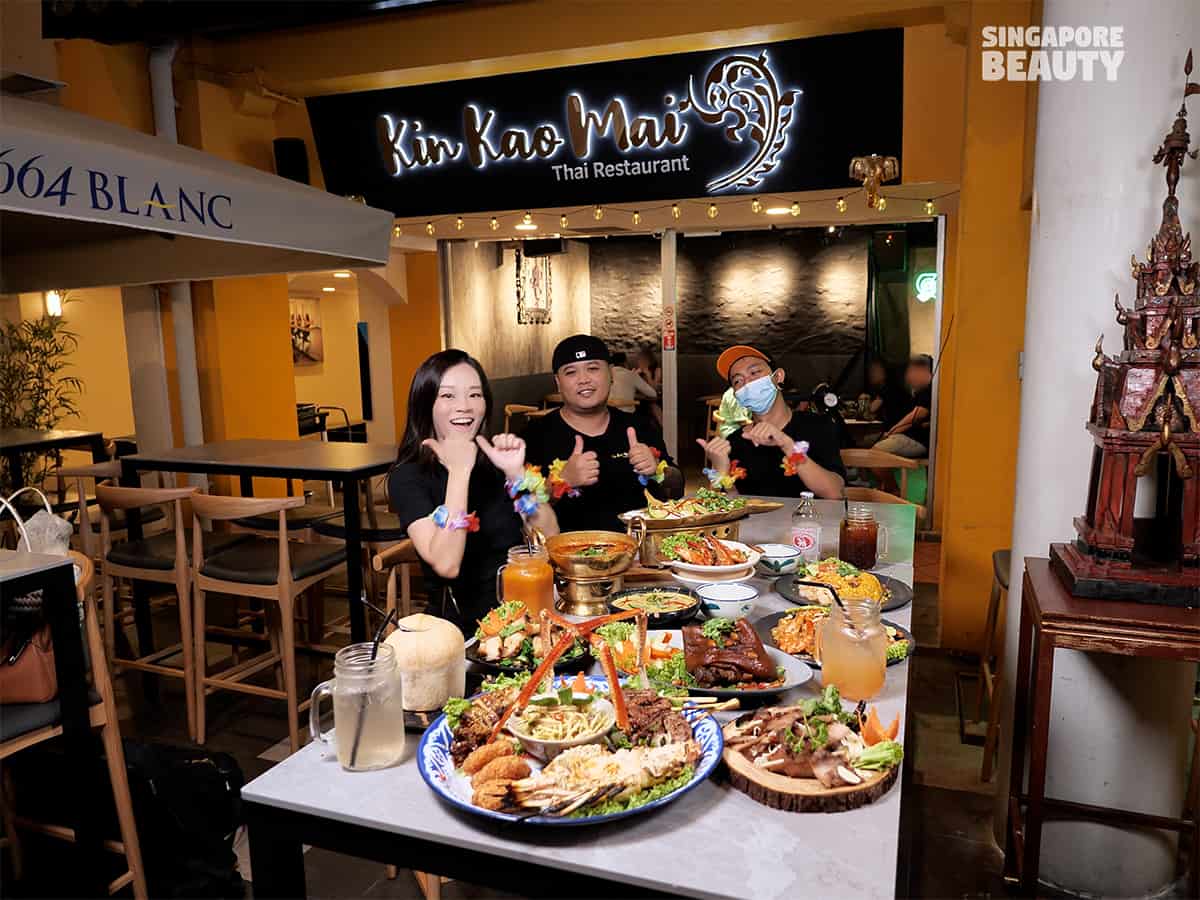 Kin Kao Mai Thai restaurant at Pickering street is a popular place to get your authentic Thai street food craving fixed. They are known for their Thai lime fish on a heated stove, tom yum hotpot, BBQ giant river prawn platter and Braised Pig Trotter. If you are looking for a place for Thai food in the CBD near Chinatown, Kin Kao Mai are open for lunch and dinner here.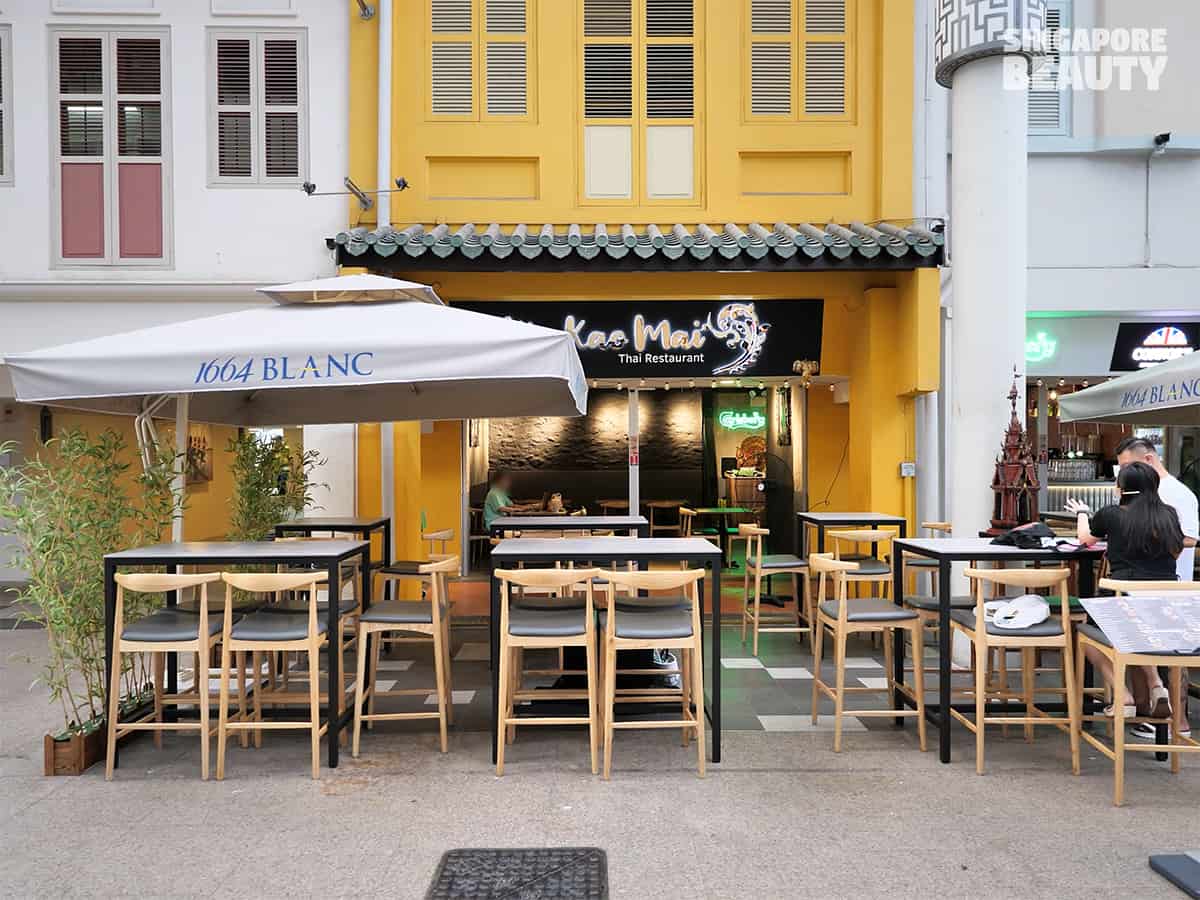 Kin Kao Mai Thai restaurant at Pickering Street has neat indoor air conditioned dining, a drinks bar and outdoor alfresco bar dining under a high atrium glass roof. The indoor plays T-pop music and has a soft lit relaxed ambience. The outdoor are high bar dining where you are elevated from the main walkway and can people watch while dining or watch the clouds float by.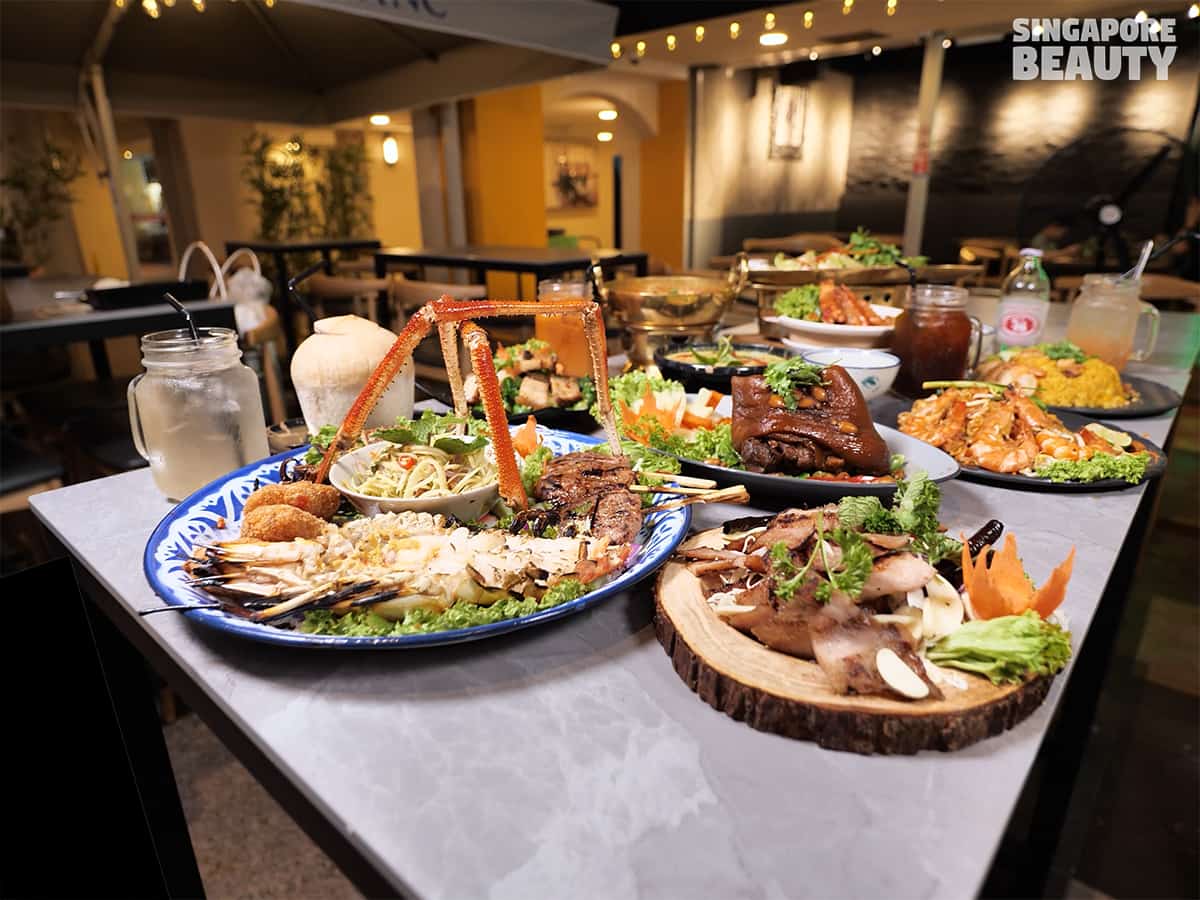 Kin Kao Mai Thai restaurant at Nankin Row has over 70 items on their menu, you get to enjoy a massive feast of Thai food such as steamed seabass with lime & garlic, glass noodles with prawns in claypot, braised pork trotter and pineapple fried rice with prawns. Stir fry vegetables in various style such as stir-fried kailan with crispy pork, soup selections such as tom yum soup hotpot, green curry chicken, Thai BBQ beef salad.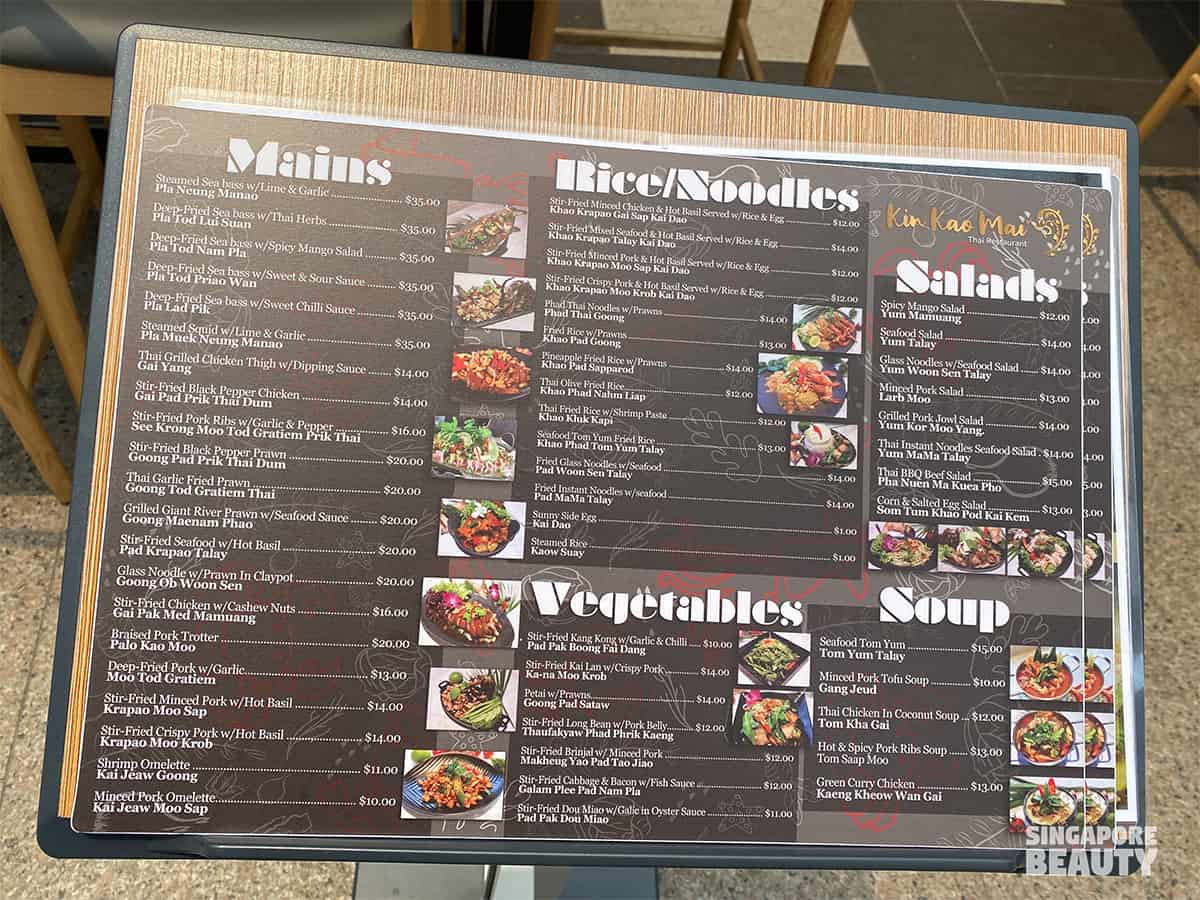 Here's Kin Kao Mai menu and price of over 70 items of Mains with seafood and meats in various cooking style steamed, deep fried, grilled, bbq, stir-fried and braised. For those who are into carbs, get their rice and noodle selections from ($1-$14) such as steamed rice with sunny side egg ($2), stir fry crispy pork & hot basil rice with rice and egg ($12), seafood tom yum fried rice($13), fried instant noodle with seafood ($14), pineapple fried rice with prawns($14) and more.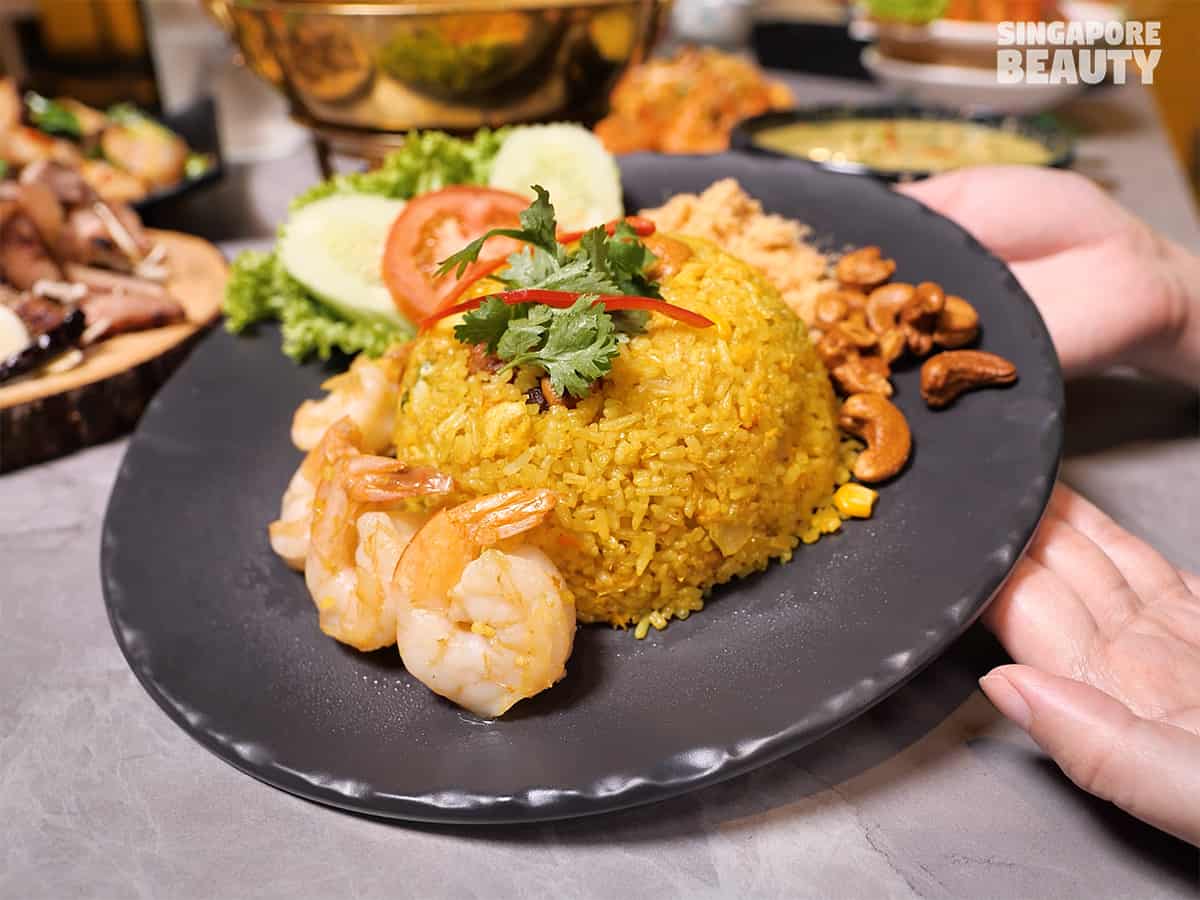 For those looking at affordable Thai food lunch sets that are quick and filling without breaking your bank, try them. They have various lunch sets with drinks at only $10.90 nett in a CBD area is considered a good deal. The mains available for this lunch set are Thai Olive fried rice w/ minced pork, stir-fried minced pork served w/ jasmine rice, stir fried crispy pork rice, phad Thai chicken, pineapple chicken fried rice. They also have $13.90 nett lunch set with mains and drinks. The mains available are Green curry chicken w rice, Phad Thai seafood, (khao pad sapparod) Pineapple fried rice with seafood, Braised pork trotter rice, seafood and tom yum soup with rice/rice noodle. The choices for drinks are Thai milk tea, Thai lemon tea and lemon grass tea. Add on 1 appetizer at 50% discount for more shiokness!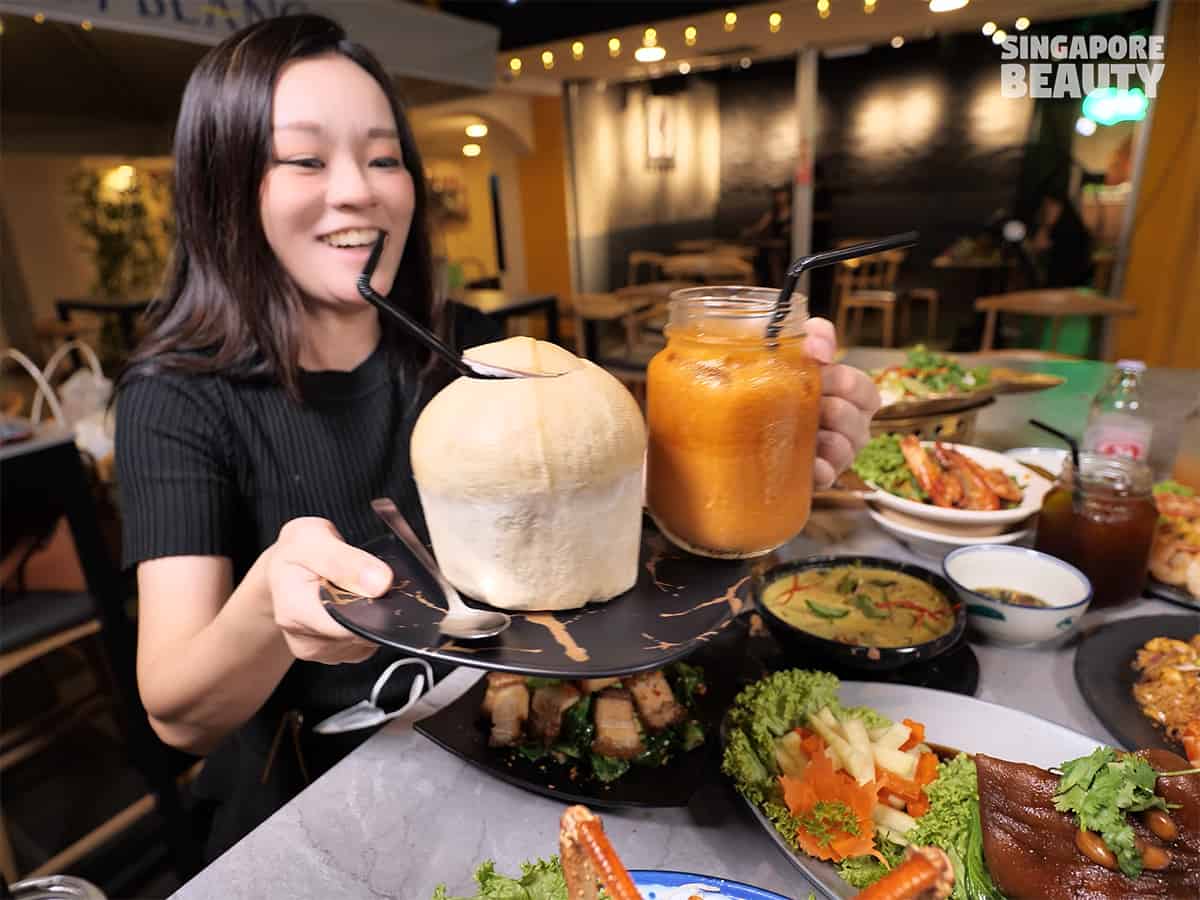 Here are our Kin Kao Mai food reviews after trying their most popular Thai street food. The food are well plated with a generous amount of savoury food. We love that the food here are not overly salty or sweet but seasoned just on point. Price wise in our opinion are affordable and in our opinion are cheap in a CBD district. Prices are nett here with no gst and service charge. We were told that the authentic Thai dishes are prepared by an all Thai team of chefs, with many types of homemade sauces to go with seafood and meat. The Thai milk teas are thick and rich with a strong aroma of tea and served ice cold.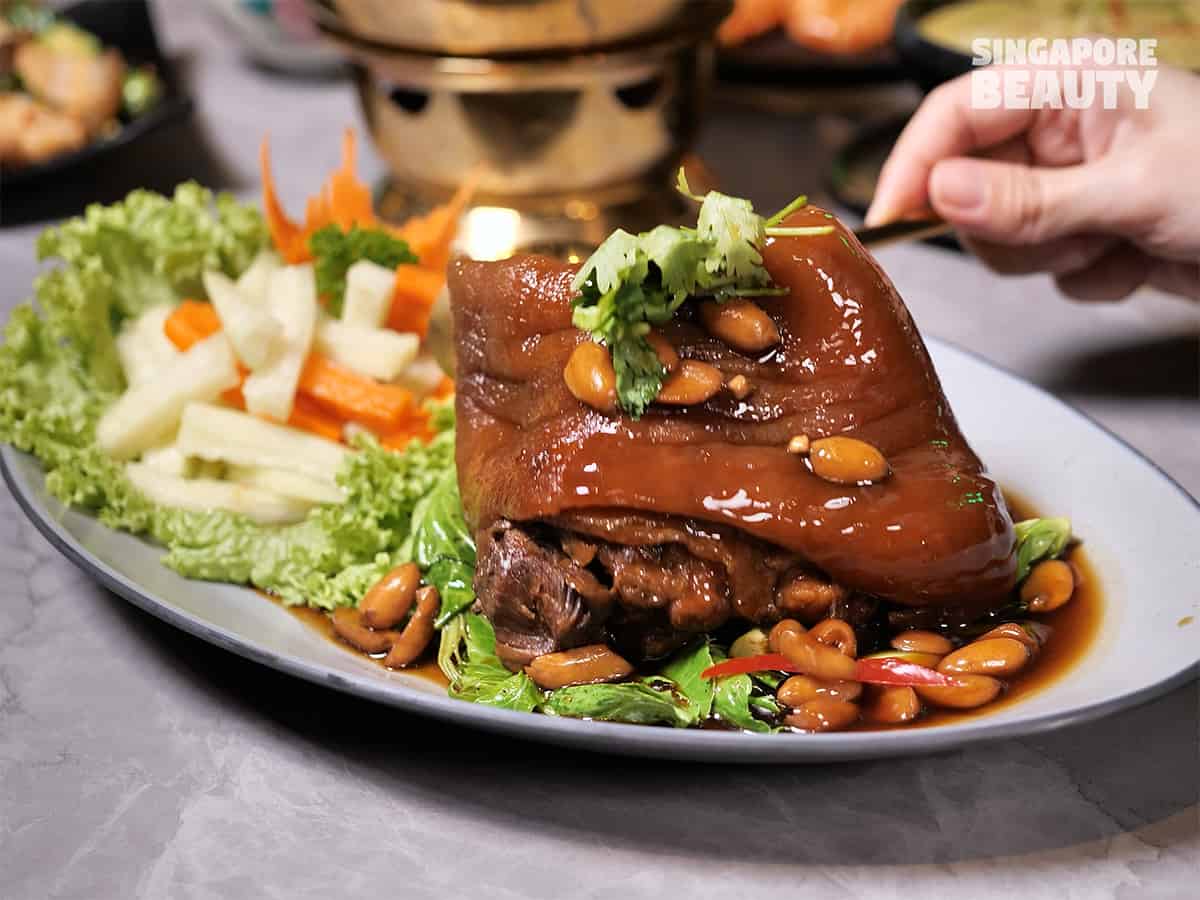 You can also find many types of exciting traditional Thai cuisines such as grilled pork jowl, braised pig trotter, grilled giant river prawns that is rare in Singapore Thai food's dining scene. This is our favourite dish here, (Palo Kao Moo) Braised Pork Trotter ($20). The meat is super soft and fork tender, with the bones sliding off the meat with the flick of the fork. The skin is mildly elastic with the collagen melting in the mouth without much effort. The trotter is so tender & juicy that it even jiggles like a pudding when served. It has a balanced savoury flavour, you can even eat it on its own without rice.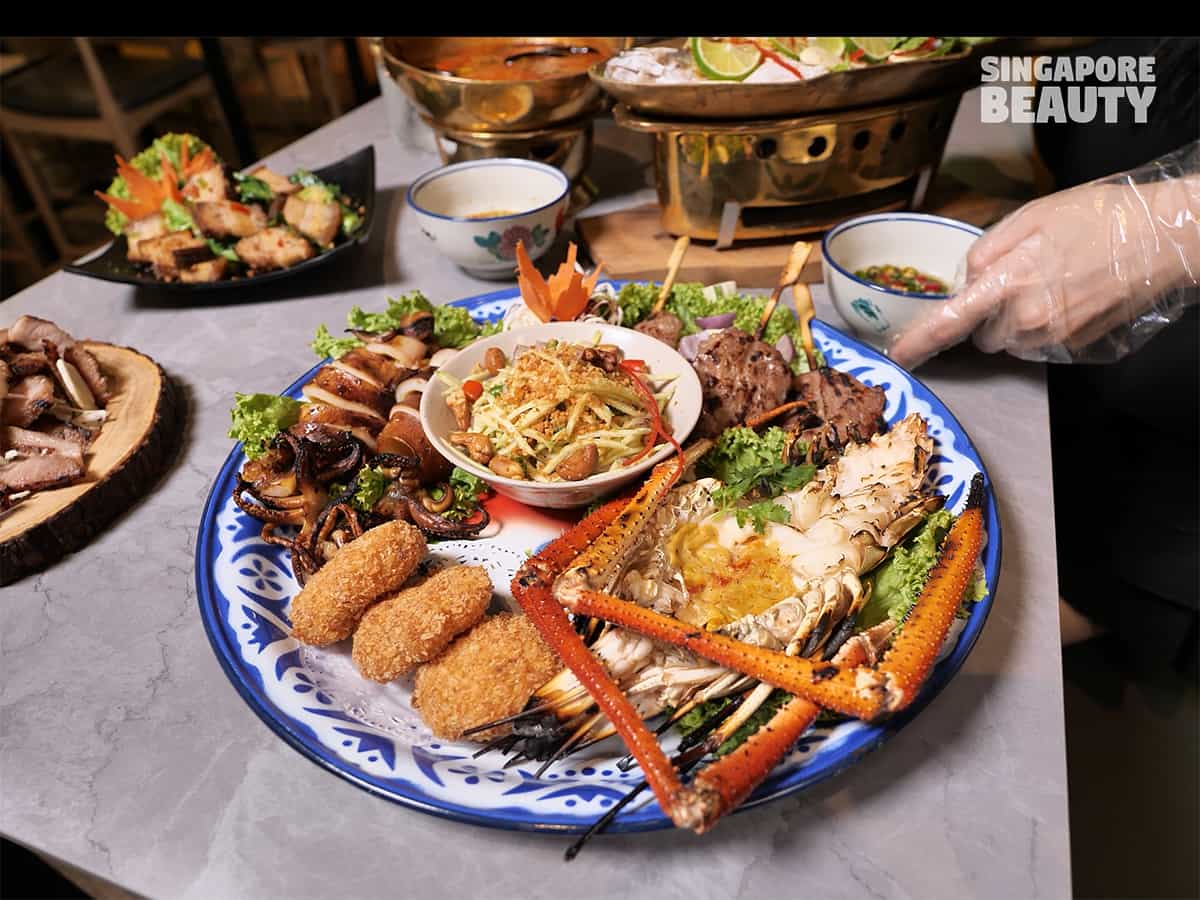 Kick start this Thai feast with appetizers such as chef recommended Kin Kao Mai Special Platter ($48), a must try with giant river Thai prawn, 2 whole squids, 3 prawns cakes, 3 moo ping and mango salad. This platter is great for sharing for 2-3 pax before starting on the mains or as bar bites.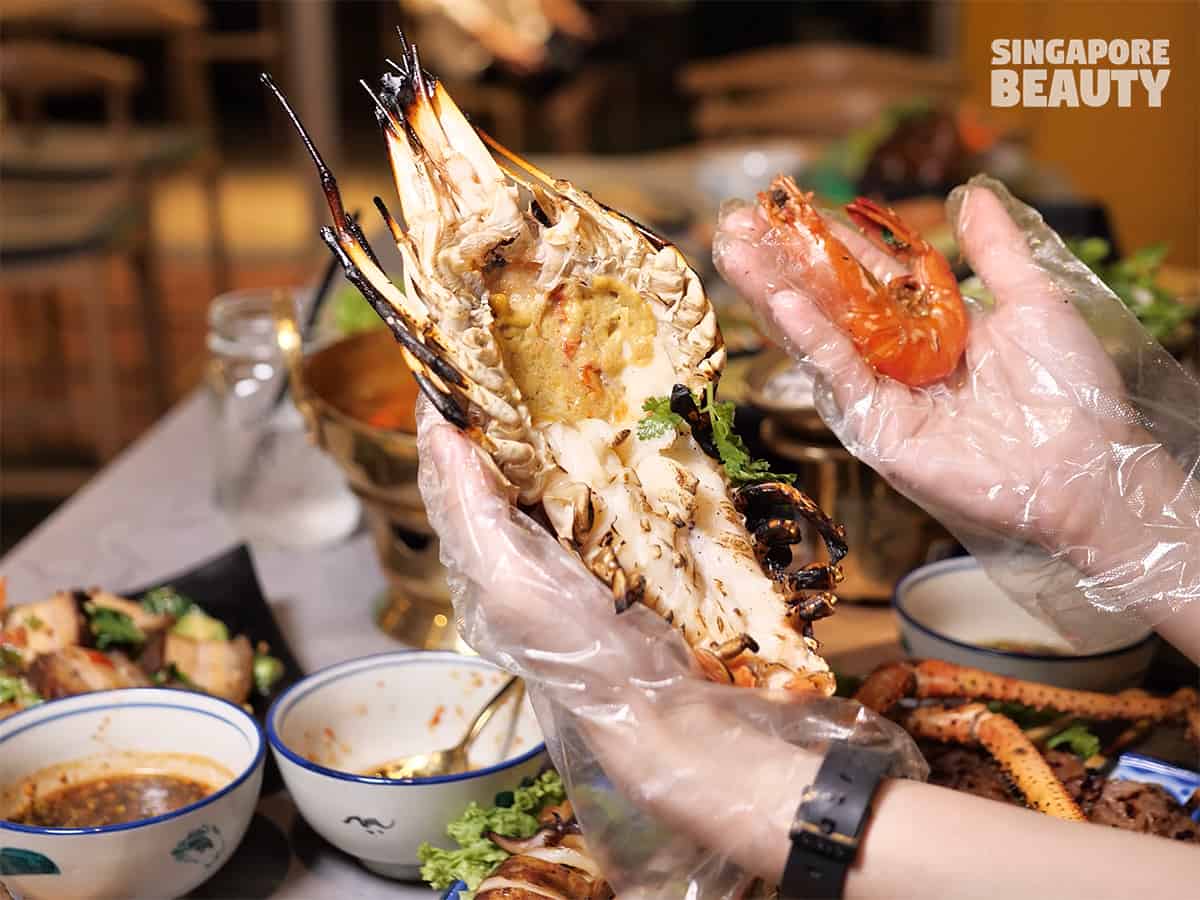 The highlight of this platter is the giant river prawn with buttery head roe that can be used as a dip for the prawn cake or enjoyed with rice. Check out the size of this giant river prawn versus the size of a mild size prawn. The prawn is grilled till charred and the flavour of the meat is intense and robust.  Dip the meat into their seafood sauce for more tang and a spicy kick!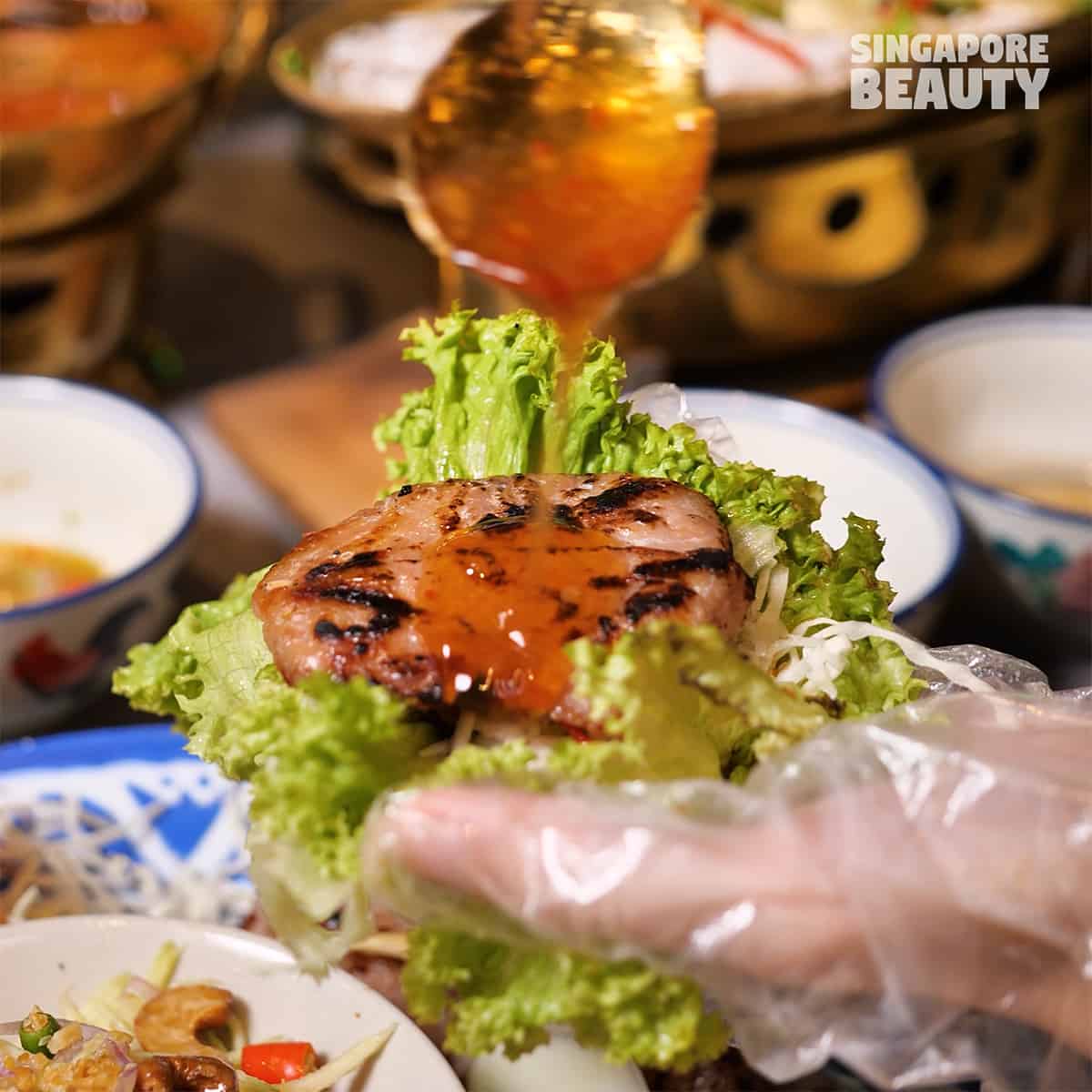 Moo Ping (part of the platter) is grilled with charred on both face best enjoyed with the sweet chilli sauce that is a little gooey in texture. Create your own moo ping wrap with the lettuce, garlic, beanspouts, mango salad, shredded sweet cabbage and crunchy nuttiness from the roasted cashew nuts. Refreshing burst of green and savoury springy meat patty with citrusy notes of lemon grass.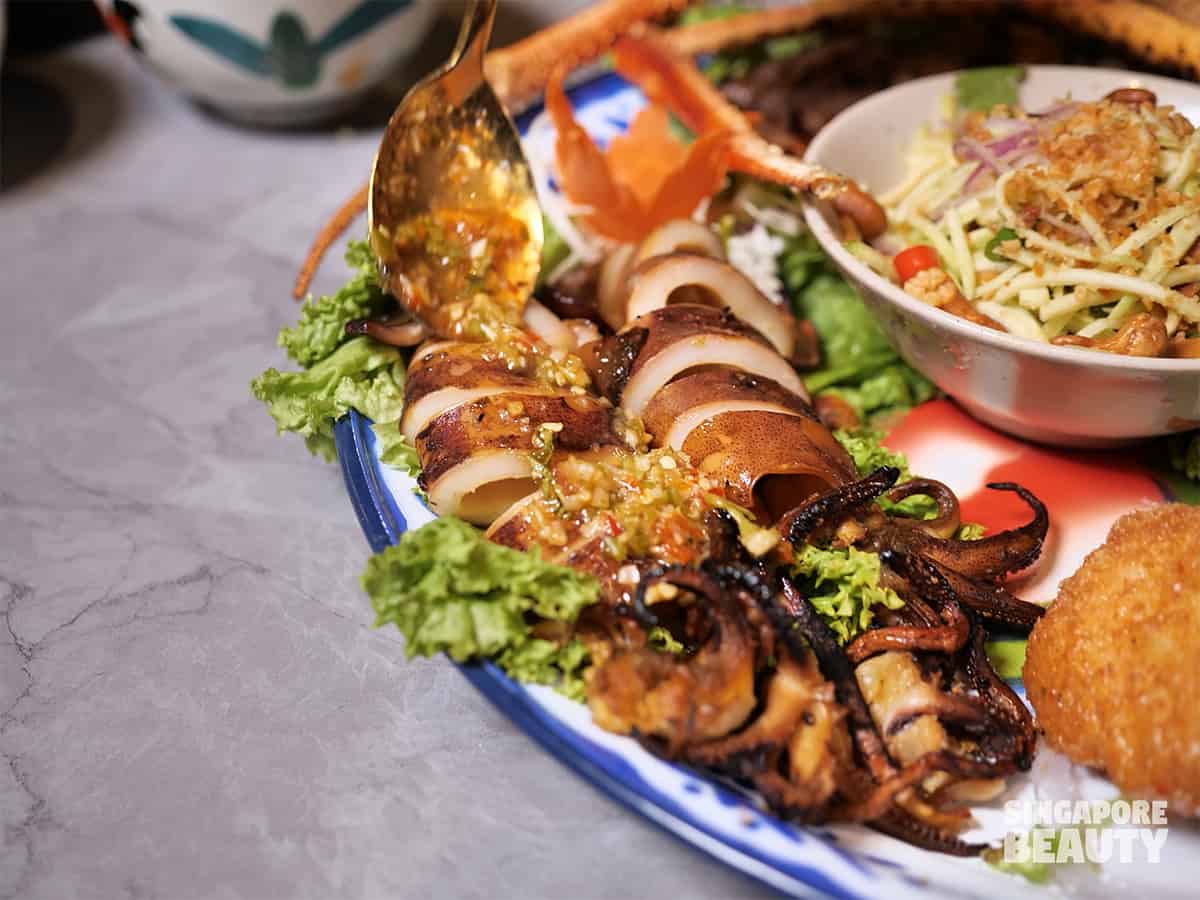 Grilled whole squid (part of platter) topped with citrusy seafood sauce is the best combo. The squid has a thick succulent meat and a spring bite. The tentacles are more charred for smoky flavour, the mild bitterness and with the briny flavour of squid.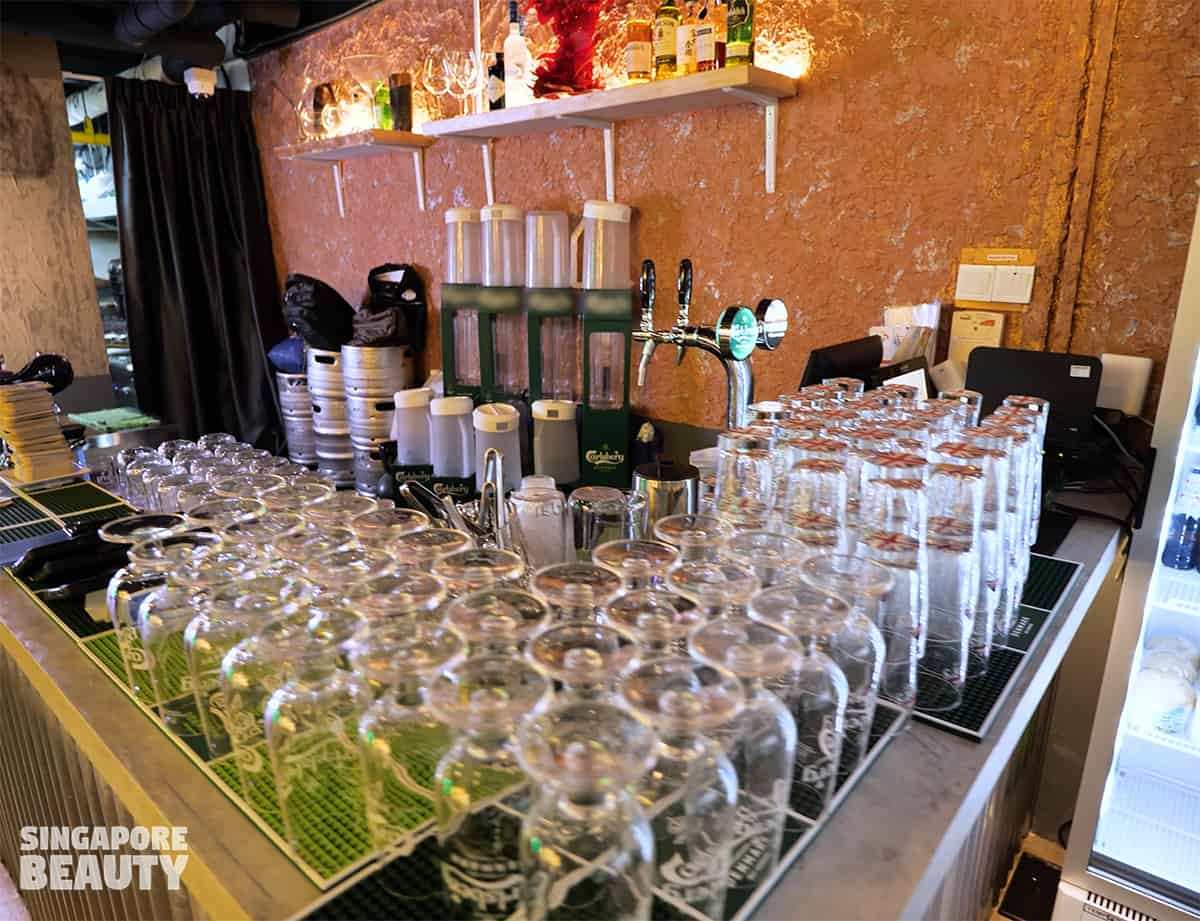 Kin Kao Mai Thai restaurant also has a bar that serves liquor, wine, draught beers, wine, frizzy drinks, hot coffee, hot tea, cold canned drinks, soda, fruit juices, Thai milk tea, fresh coconut, ice jelly desserts and more. If you are looking for a affordable place to drink wine, liquor by glass or promotion for beer tower from tap, get it at Kin Kao Mai Thai restaurant's bar. For a quick pick me up after lunch or over tea break, they have coffee, latte, cappuccino, macchiato and various tea to sip on.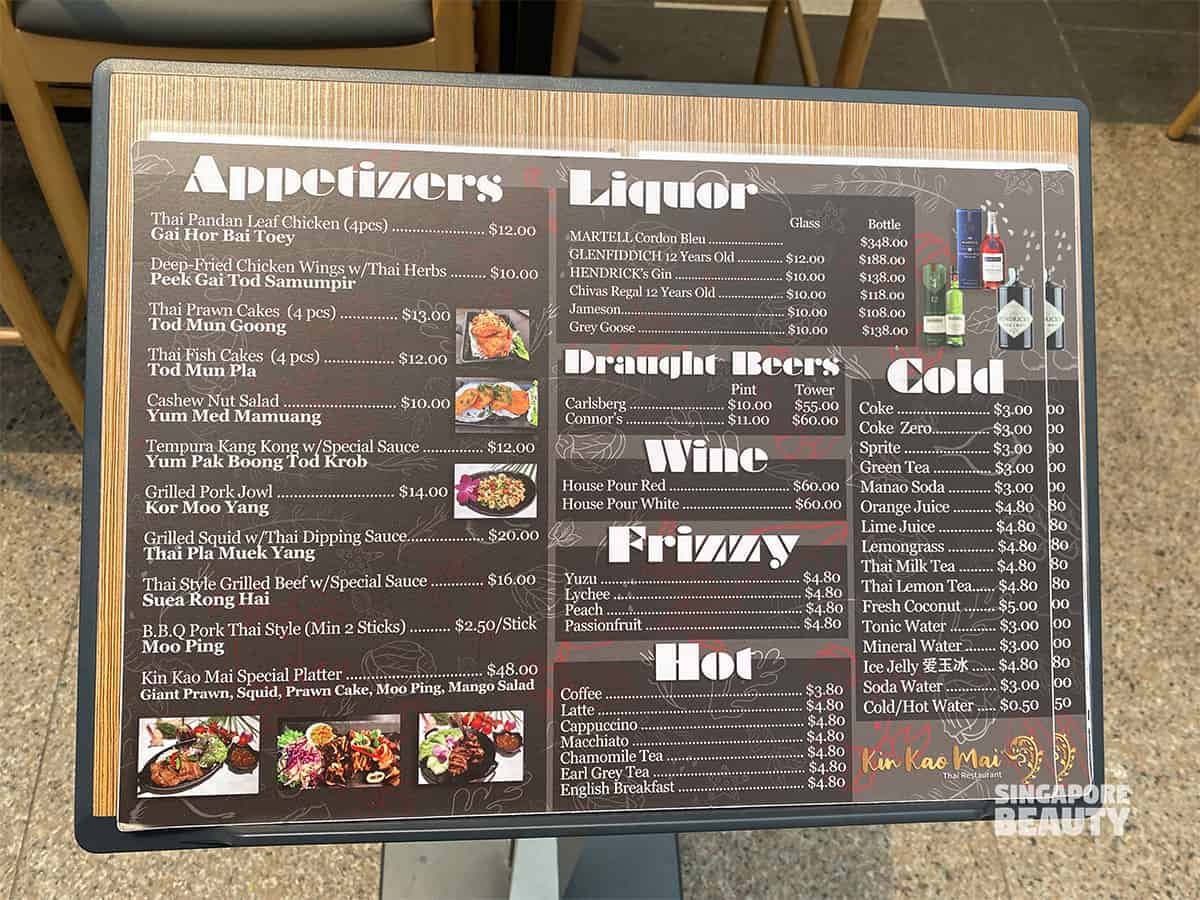 Check out their wine and liquor selection below and do look out for their happy hours  beer promotion that are displayed at their shop front. Sometimes a pint of booze mid day is all you needed to relieve that mid day work stress that has been building up plus some T-pop music that gives the Bangkok's holiday chill vibes.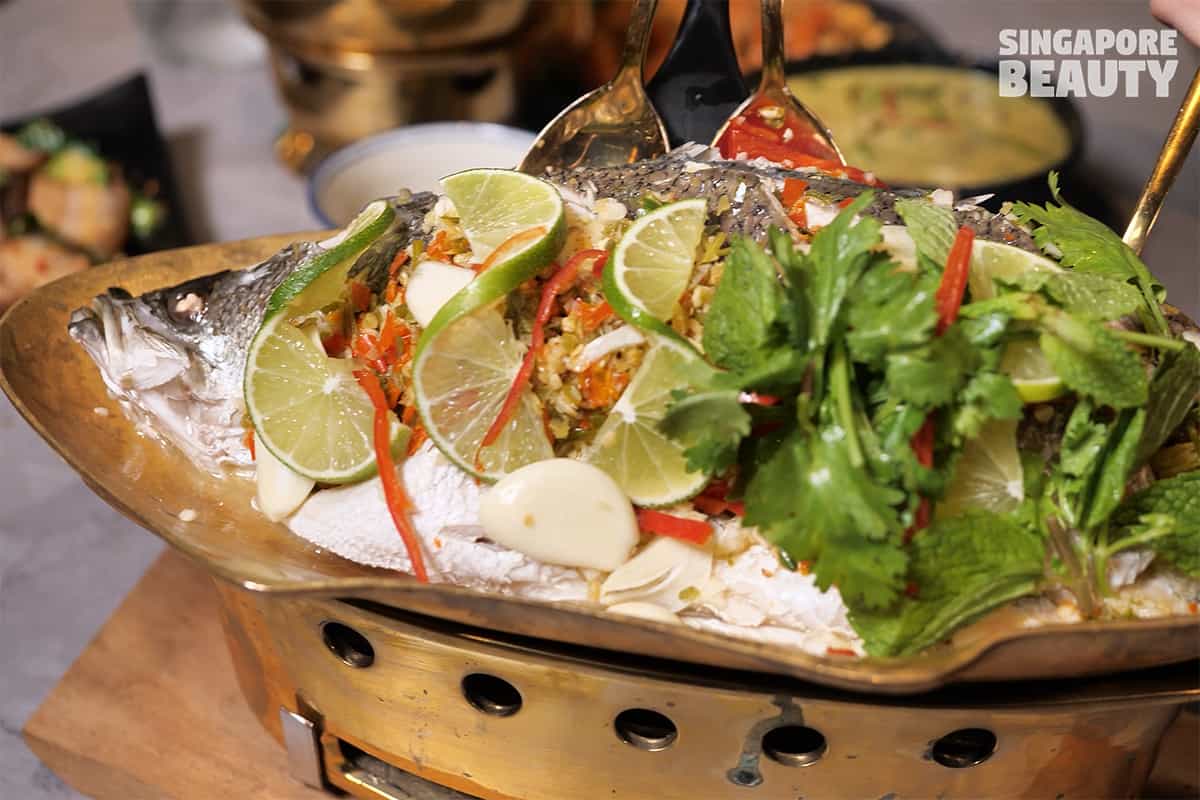 Steamed seabass w lime and garlic ($35) is the first item in their menu and the most ordered dish in the restaurant. A whole seabass is steamed and served in citrusy lime juice and sliced garlic dressing topped with slices of freshly cut lime. The fish is considered good for sharing for 2-3 pax with steamed white rice to enjoy the savoury sauce. Served piping hot on a mini stove, the fish is kept warm for a good while. Besides the giant prawn Kin Kao Mai platter, this steamed fish is seen on almost every table here with draught beer in hand.
Seafood Tom Yum ($15) is served on a min stove with an assortment of seafood that includes fish chucks, prawns and squid. By the look of the bright red hue are tell tale signs of a rich and savoury tom yum. There are also other greens such as straw mushrooms, lemon grass and herbs to bring out the aroma of the soup. Ingredients are pretty generous for a $15 pot of piping hot soup. The rich consistency goes best with a plate of their steamed jasmine fragrant white rice which has a flora scent.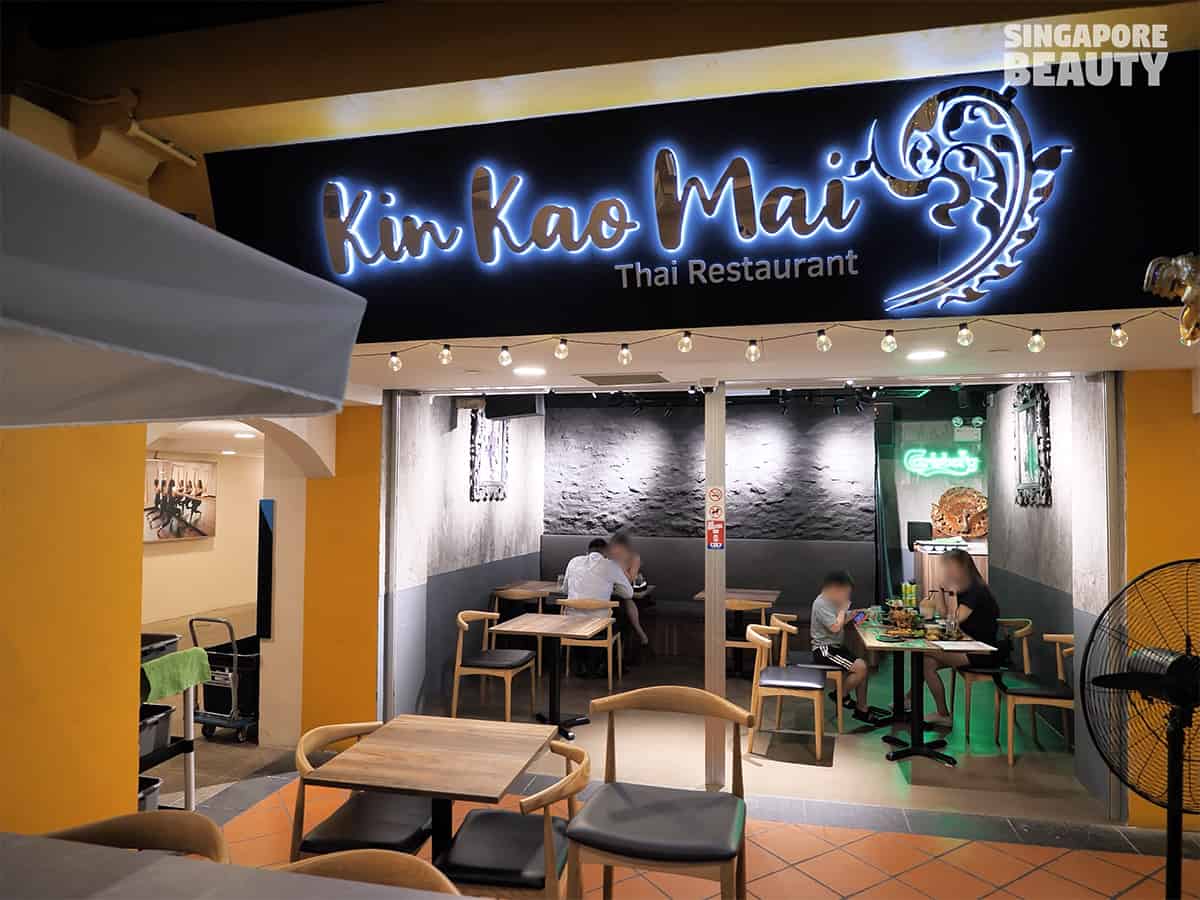 There are also many other dishes that we tried that are non spicy such as Goong Ob Woon Senclaypot Glass noodle with prawn ($20), (Kor Moo Yang) Grilled pork jowl ($14), (Ka-na Moo) Krobstir fry kailan with crispy pork ($14), (phad Thai goong) fried Thai noodles with prawns ($14) and so much more unique food menu from Thailand to Singapore that we hope to try on our next visit. Kin Kao Mai Thai restaurant at Nankin row is also a family friendly place with clean and neat dining ambience. Come chill under the night sky with light breeze that goes through the open sky lit atrium with your colleagues or friends too.
Kin Kao Mai Address:
3 Pickering Street, #01-34/35
Nankin Row, S048660
For reservations, pls call: 8760 8585
Opening hours:
Monday- Saturday 11.30am – 2.30pm , 5.30pm – 10.30pm
Sunday closed.
Nearest car park: Great Eastern Centre car park (a stone's throw away from restaurant)
Nearest MRT: 6-7 minutes walk from these stations – Chinatown Mrt (DT19), Telok Ayer (DT18), Raffles Place (EW 14/NS 26)
Brought to you by Kin Kao Mai Thai restaurant